---
Disclaimer: I borrowed this watch from a friend, who recently purchased it pre-owned. This is a 2016 piece, and appears to be worn extensively. Since this watch was worn/used, please make note that the experience might differ from that of a brand new watch. This review is in no way sponsored by Sinn, or any other entity.
---
---
Contents
---
Intro
This will be the third Sinn watch that I've reviewed so far, and this brand manages to impress me on each occasion. As you might already know, I reviewed a lot of German watches last year, and Sinn makes some of the best watches you can get in the tool watch category.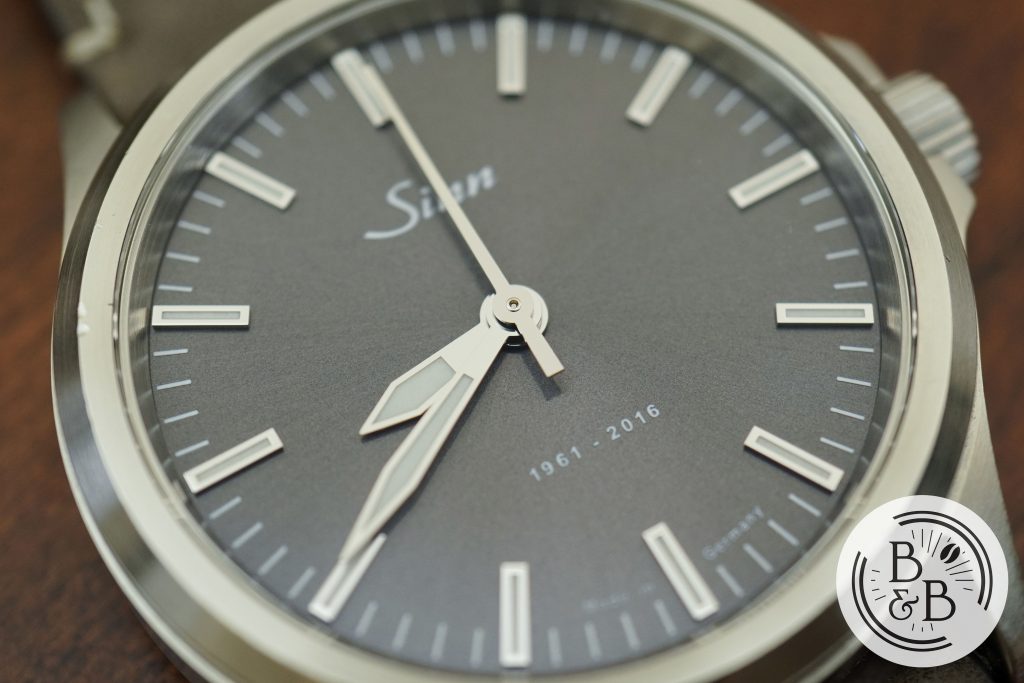 But among their watches, the Sinn 556 seems to be a fan favorite. I'm not sure that is because it is one of their more affordable watches, or because it just gets the functional and practical watch aesthetic right. But to be completely honest, the 556 is one of the few Sinn watches I wouldn't personally buy. I think the 556 lacks most of the key characteristics that make Sinn watches what they are, like their tegimented cases, de-humidifying technology, superior anti-magnetism and being resistant to widely fluctuating temperatures. So what you're left with is an incredibly well built watch, but it just doesn't bring enough to the table, when compared to some other key players in this category, like the Damasko DS30 and the Archimede Outdoor Protect, just to name a few.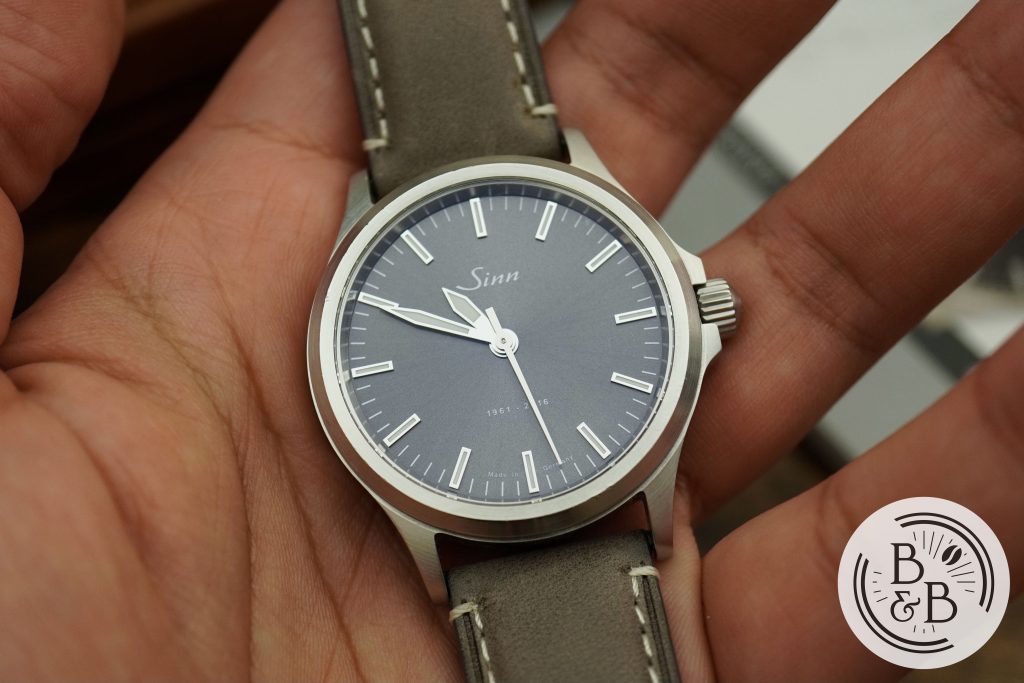 But this isn't just any regular Sinn 556. This is their 55th Anniversary LE Sinn 556 that isn't trying to be just another tool watch. To me, this is a versatile everyday watch that can be dressed up with ease, while also providing the same tool watch robustness as the regular 556 watches. And comparing it with the DS30 and Outdoor Protect would be inaccurate, since this watch isn't playing in the same category anymore, and brings a lot more 'luxury' dress watch DNA to the table with it's beautiful dial, applied indices, and excellent overall finishing. So this Sinn 556 is somewhat of an anti-thesis to the standard production 556 models, but is exactly the kind of Sinn 556 I'd be convinced to part with my money for.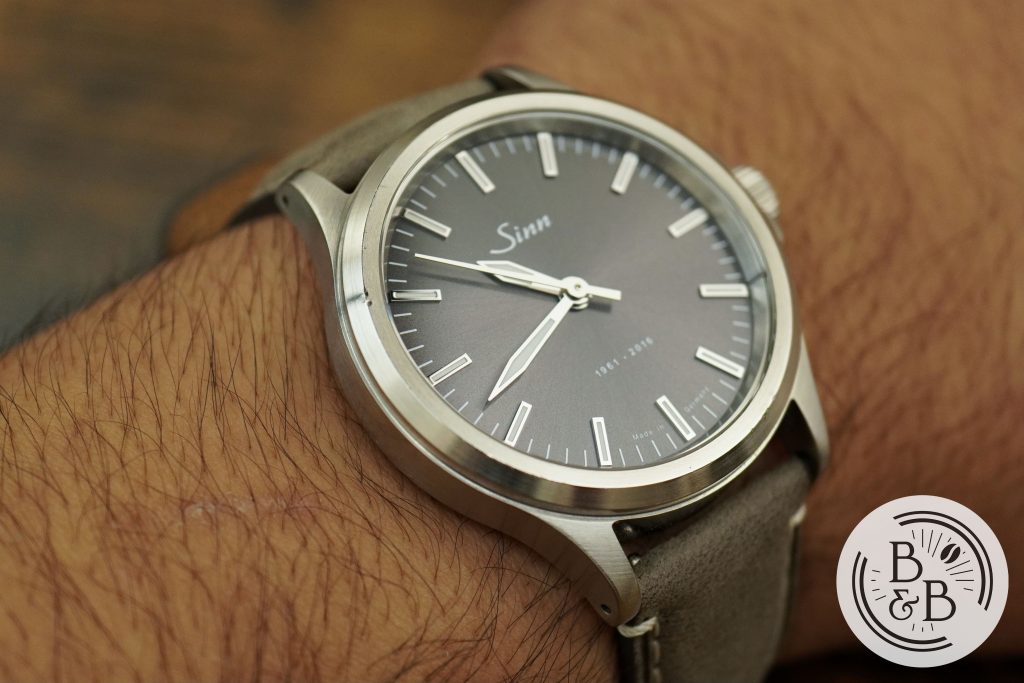 I believe these watches retailed for around $1200 back in 2016, but what is more relevant is their secondary market prices which are anywhere between $900 and $1200, and some outliers attempting to seek $2000 too.
Let's check it out!
---
Case
I measured the case to be 38 mm in diameter, 45 mm from lug-to-lug and 11.15 mm in height. The case is identical to the regular Sinn 556 models in that it is entirely brushed, and appears to be very well constructed.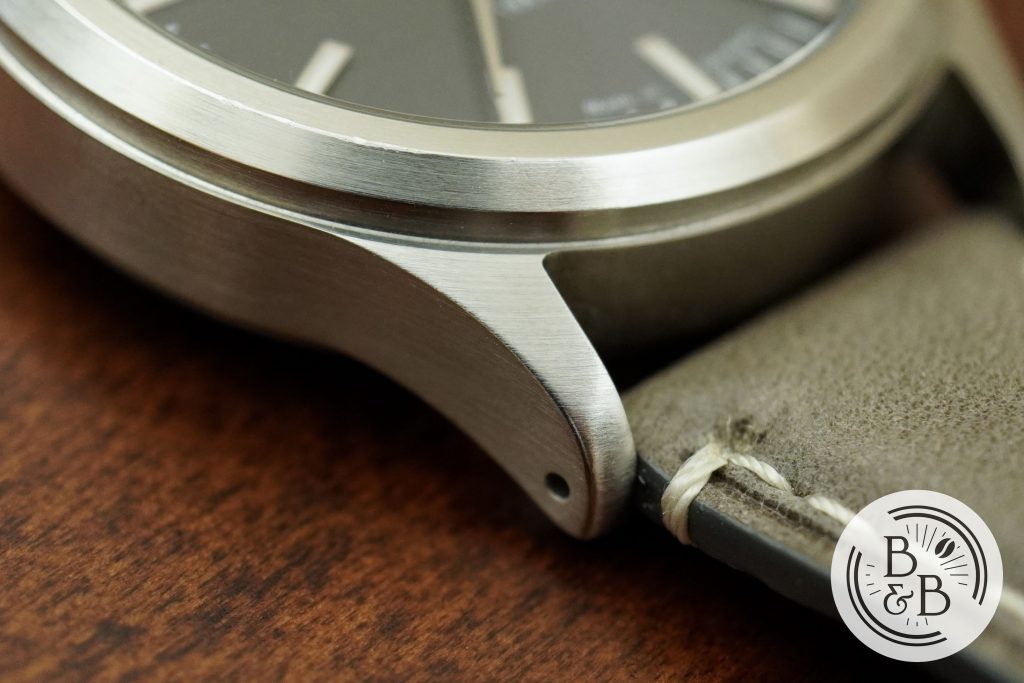 The mid-case section extends out into a pair of slim lugs that curve down towards the wrist. In true tool-watch fashion, the lugs are drilled through and the lug width is 20mm.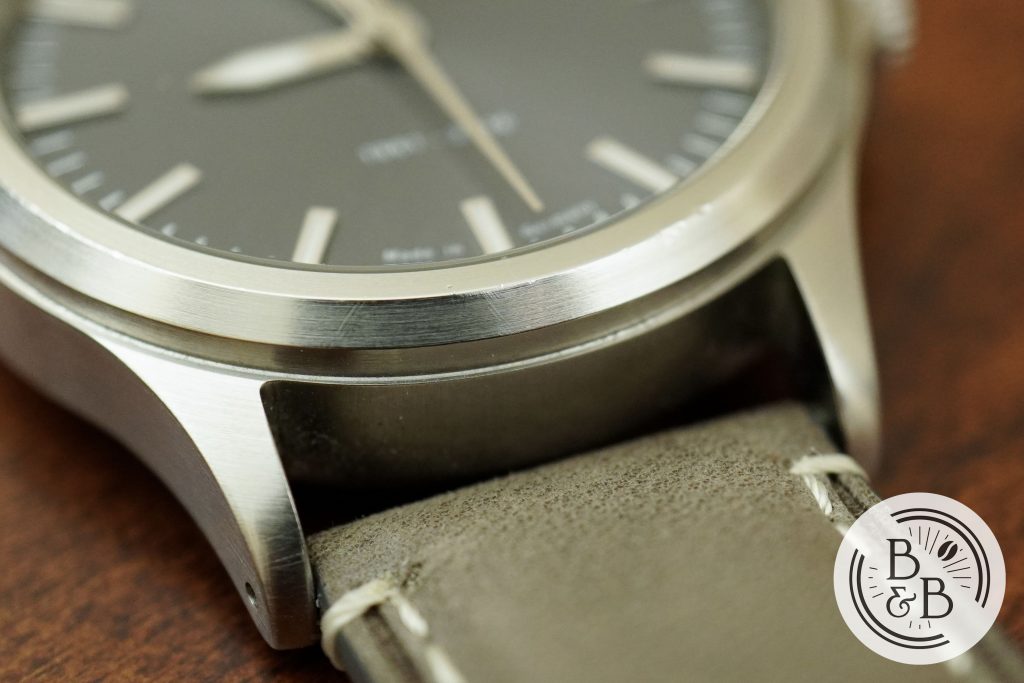 There is a brushed fixed bezel section that seats a flat sapphire crystal with AR coating.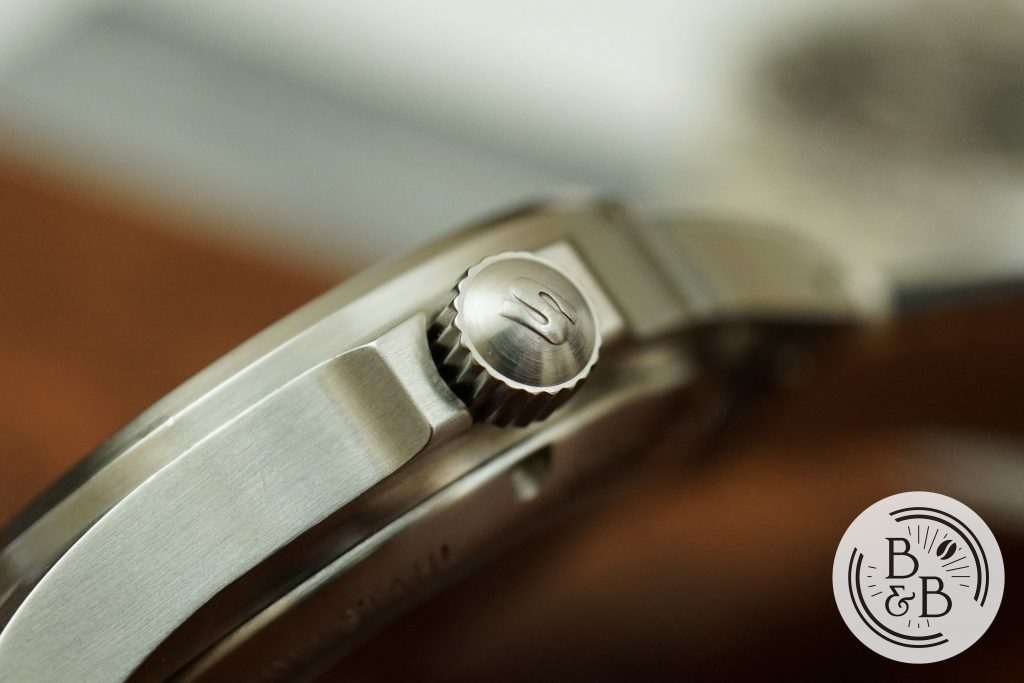 You then have a signed 5.5 mm screw-down crown at the 3 o'clock position that is excellent to grip and operate, and protected by a well designed crown guard layout. As always, there isn't any crown or stem wobble and this watch feels solid.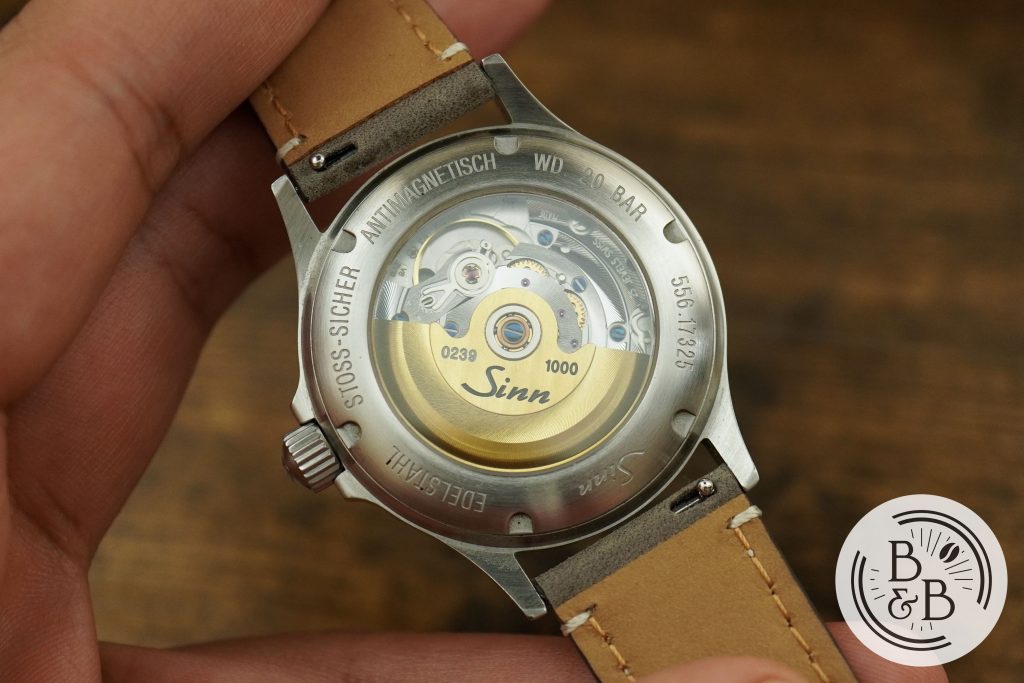 Flipping it over, you have a screw-down case-back with an exhibition window. This watch is rated for up-to 100m of water resistance.
---
Dial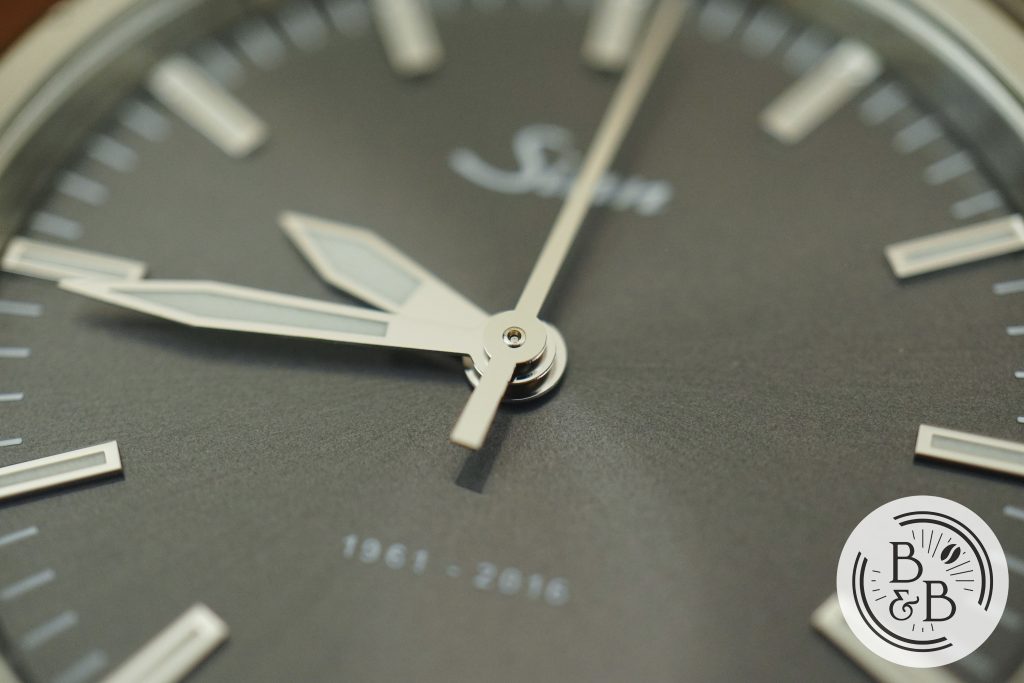 The only real difference between this 55th Anniversary LE 556 and the standard production 556 series is the dial. While the regular 556 dials are true to the tool watch DNA, with two dimensional and high contrast printed dials, this puts a more "luxury" watch spin on this design with a beautiful anthracite sunburst dial.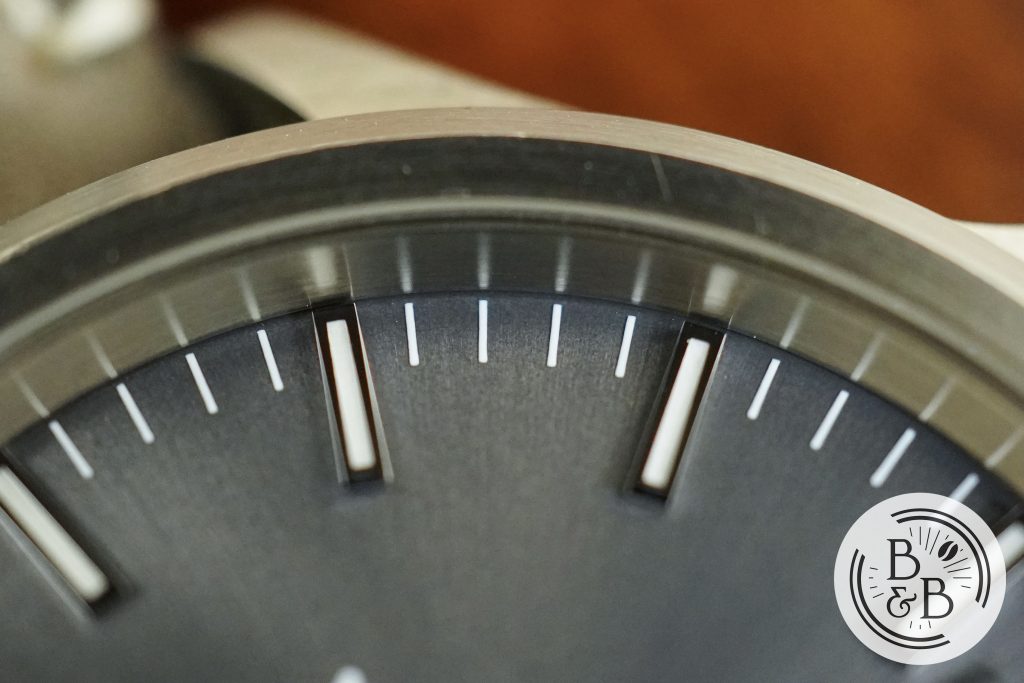 You have a printed outer minute track, printed in white, against the anthracite background. The quality of printing is great; not uncommon to Sinn.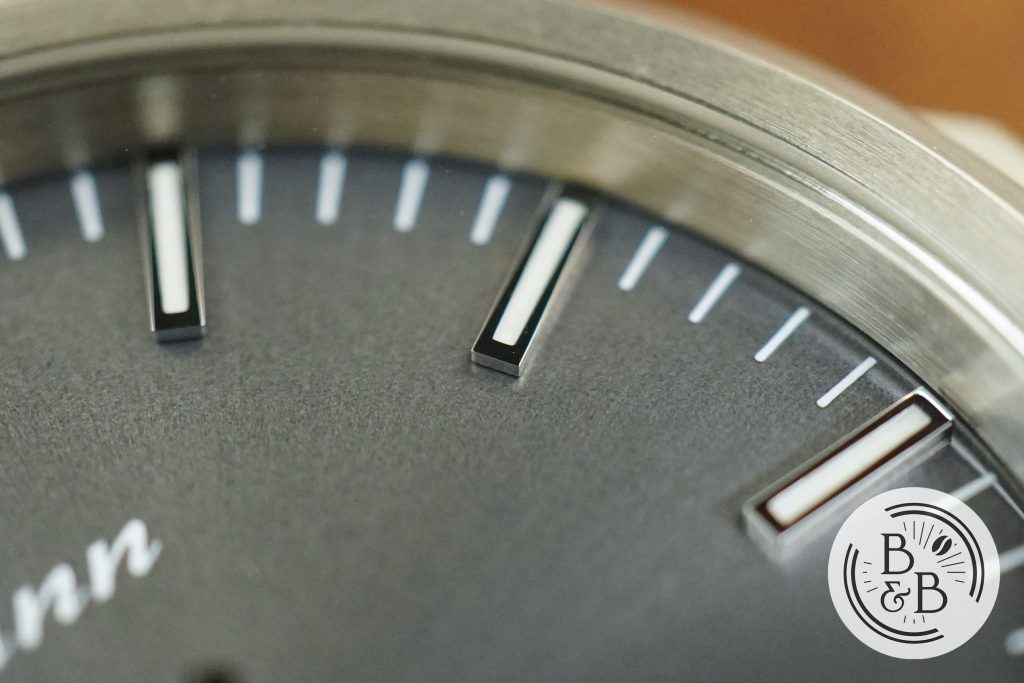 Next are the applied stainless steel indices that are high polished and generously filled with lume. This is perhaps my favorite aspect of this watch, as it really goes against the traditional 556 DNA, but does a brilliant job anyway. The indices are finished well and the quality control is good. I did notice some particles around the indices, but these were difficult to find.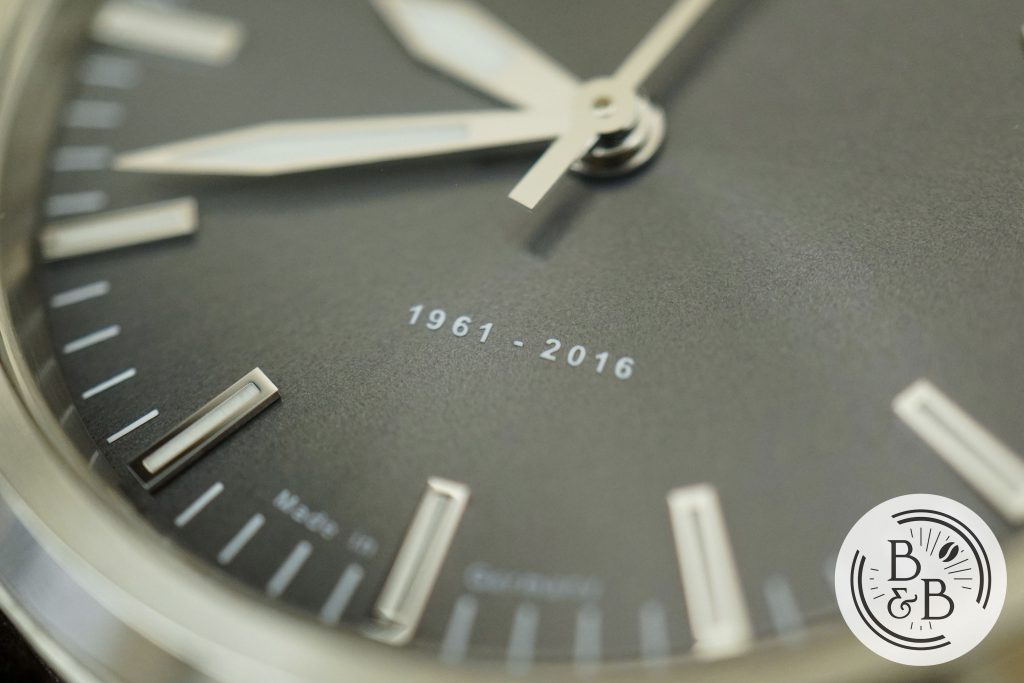 You then have the brand's name printed under the 12 o'clock index, and Sinn's 55 years of existence printed above the 6 o'clock index.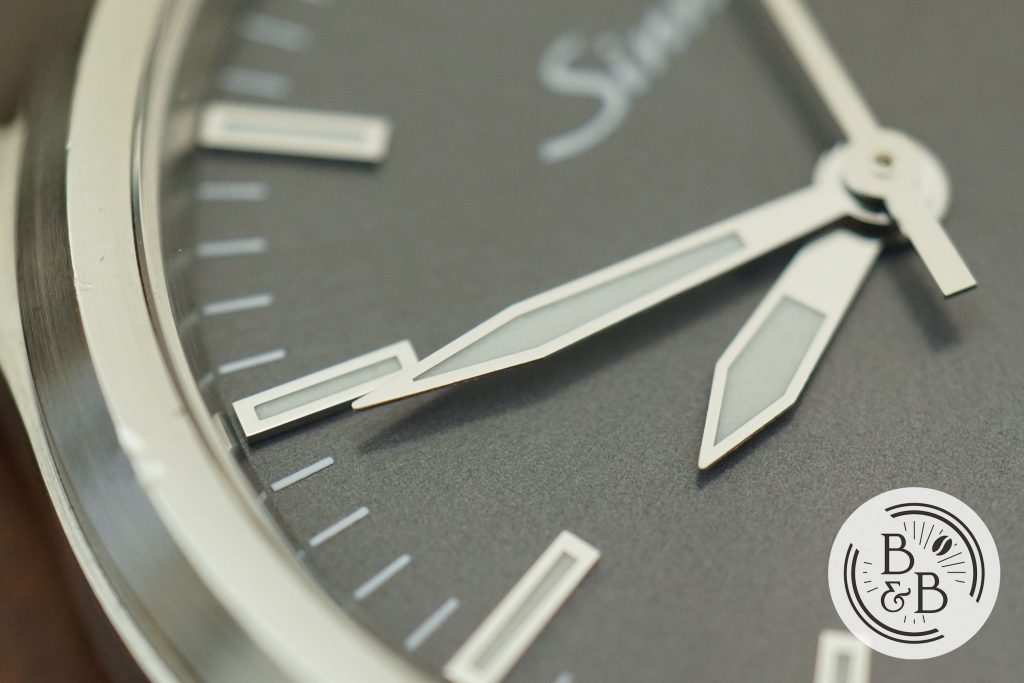 To match, what in Sinn terms would be an extravagant dial and indices, you have polished sword style hands. The hour and minute hands have lumed elements and the seconds hand does not. The finishing on the hands is excellent, and it looks amazing.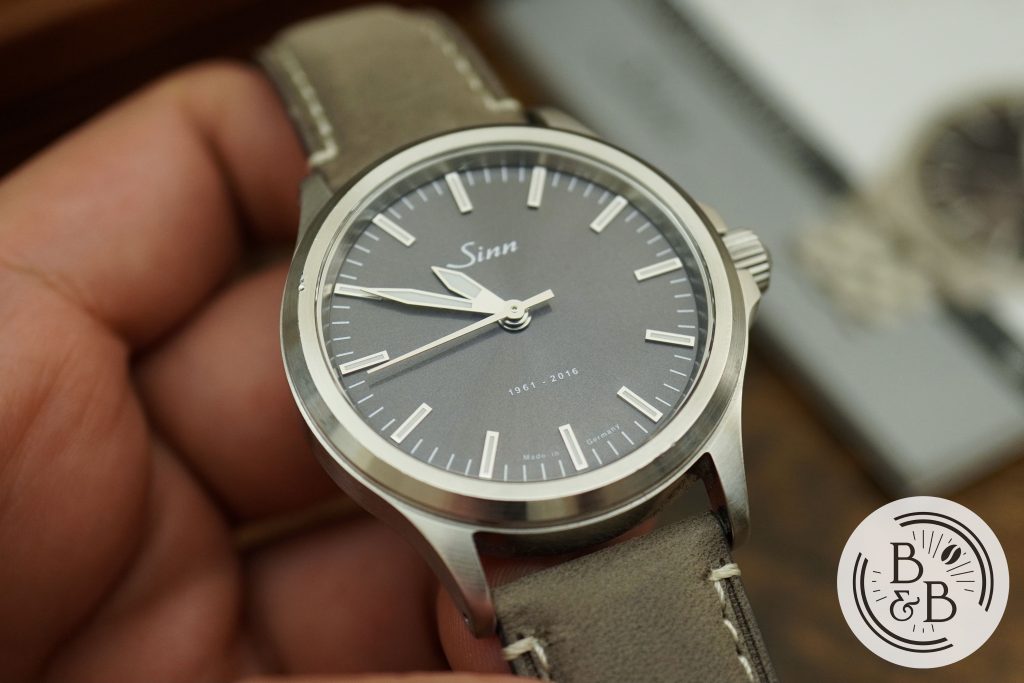 Overall, I love this dial, and I think this is the only kind of Sinn 556 that I would buy. The standard Sinn 556 dials are great too, but I would be drawn more towards the Damasko DS30 or the Archimede Outdoor Protect if I was looking for a purely functional everyday tool watch in that category.
---
Lume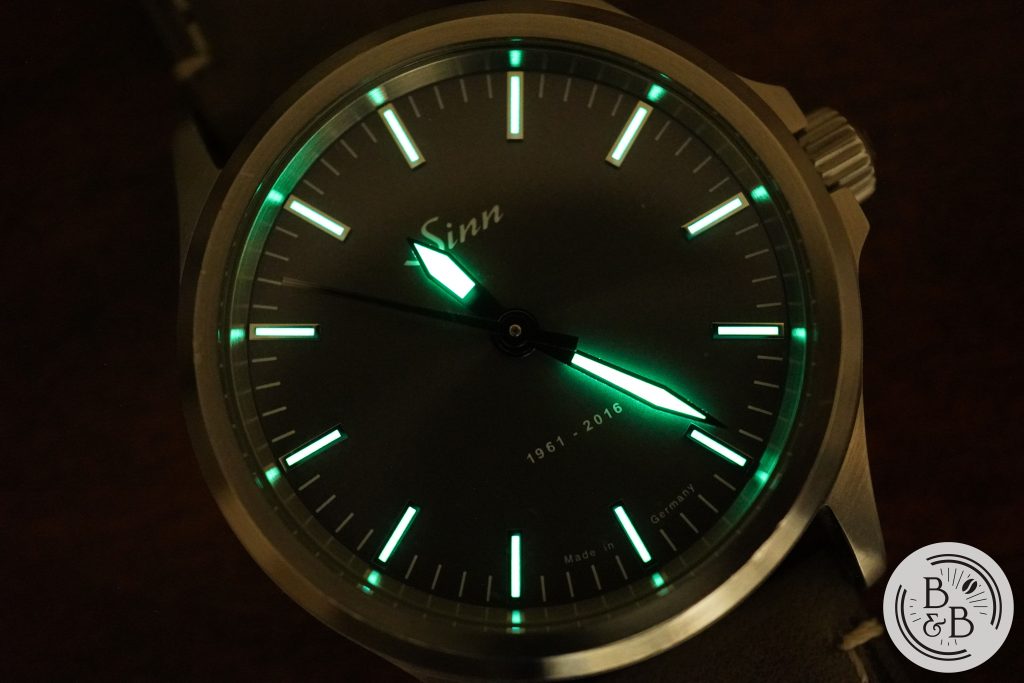 Unlike the standard Sinn 556 models, the lume on this watch is quite good, and comparable to the good experiences I've had with the Sinn 104 and the Sinn EZM 3F.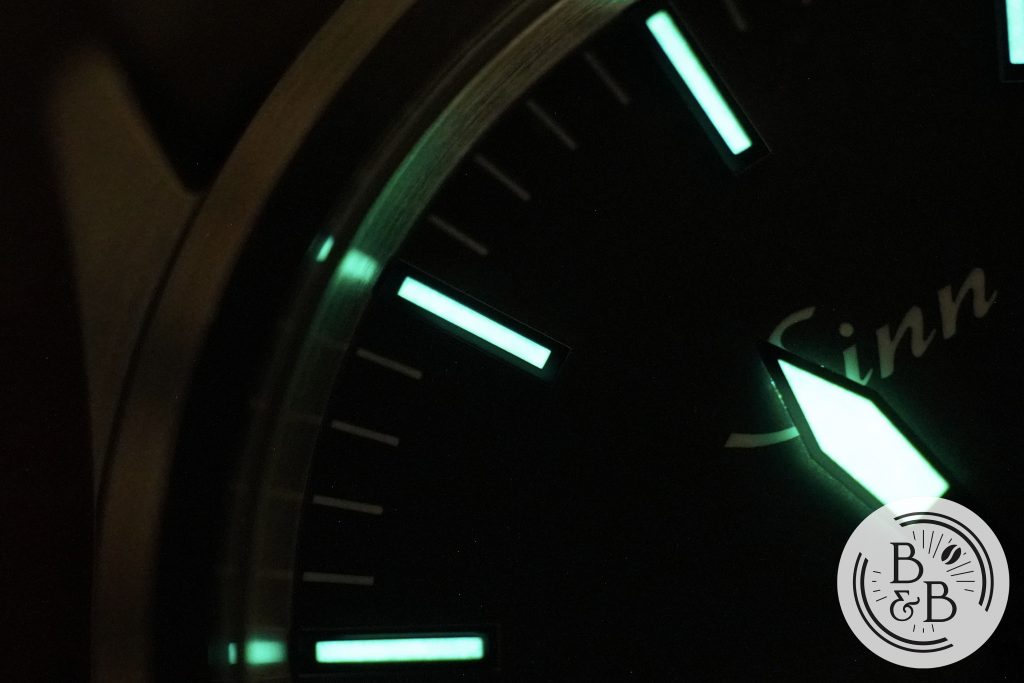 All the applied indices are generously filled with lume, and the glow bright and hold their charge well.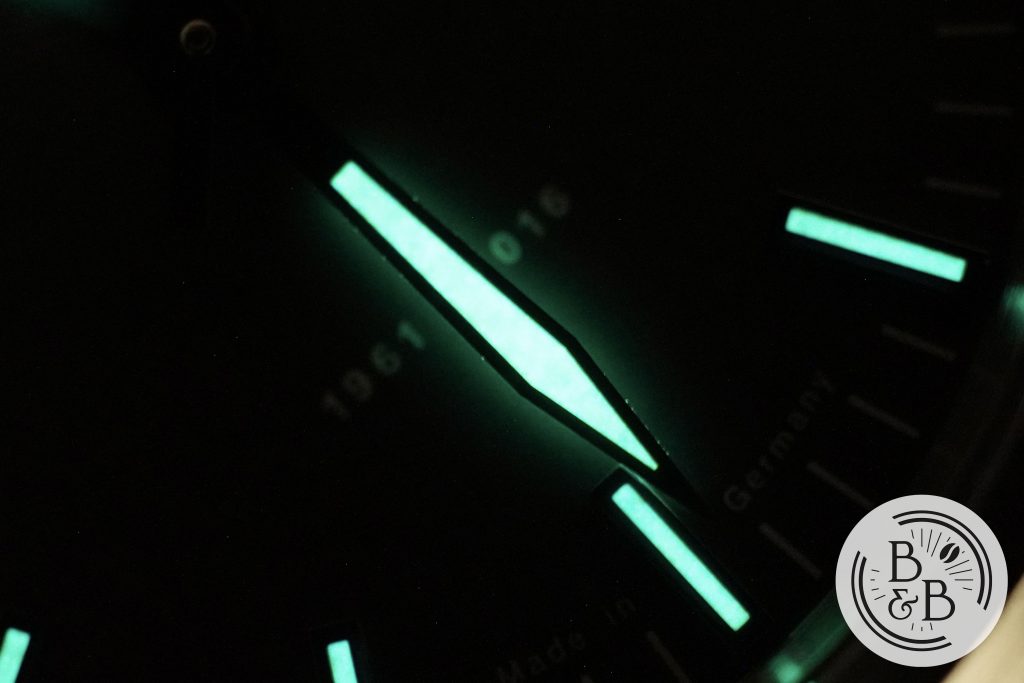 The hour and minute hands are also lumed and are plenty legible in the dark. I wish the seconds hand was also lumed, but I think the lack of lume is somewhat justified, since the overall dial design is a bit more dressy than their other tool watch dials.
---
Movement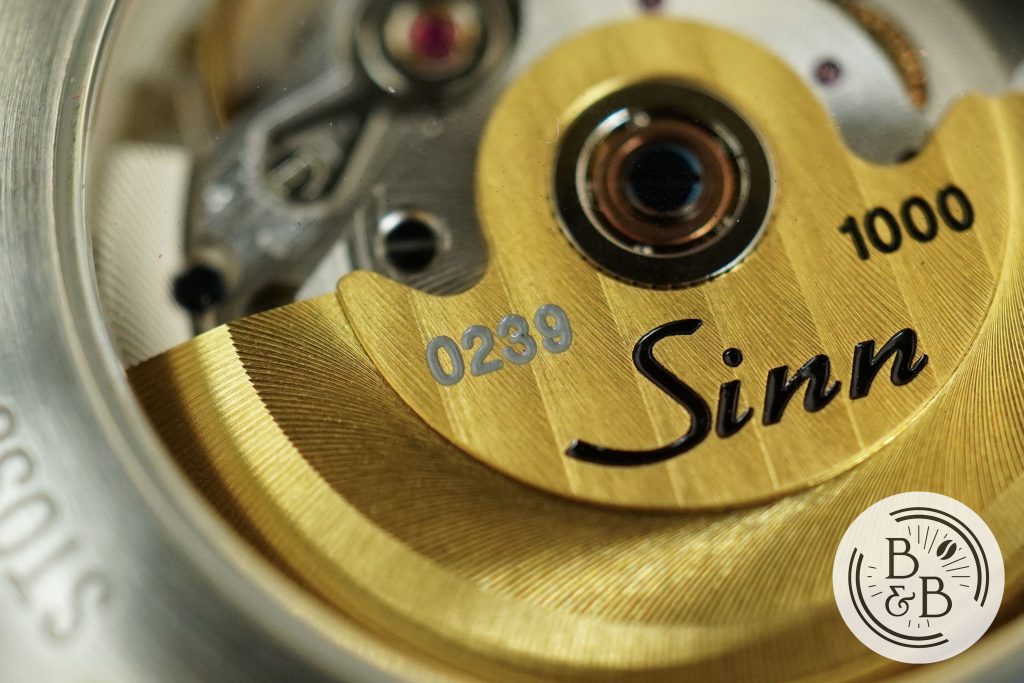 This watch uses an ETA 2824-2 movement, with a gold rotor that has it's limited edition serial number engraved and filled with paint. I love the gold rotors that they use on their watches, and I think it really elevates their perceived quality.
I'm also quite pleased with their quality control, as this movement is cleaner than most watches in this category. Sinn typically uses top grade movements in all their watches, so there's a reasonable amount of decoration too, in addition to the very well decorated rotor.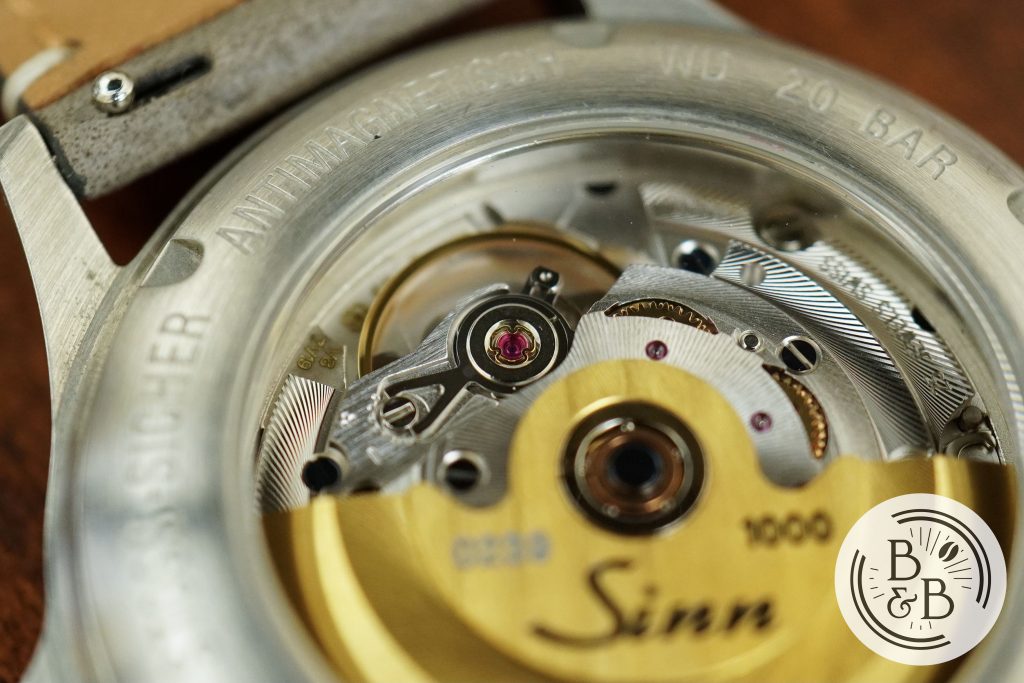 I was on a very tight schedule with this review and forgot to do an accuracy check on this watch, so feel free to throw stones at the screen to indicate your disappointment.
---
On The Wrist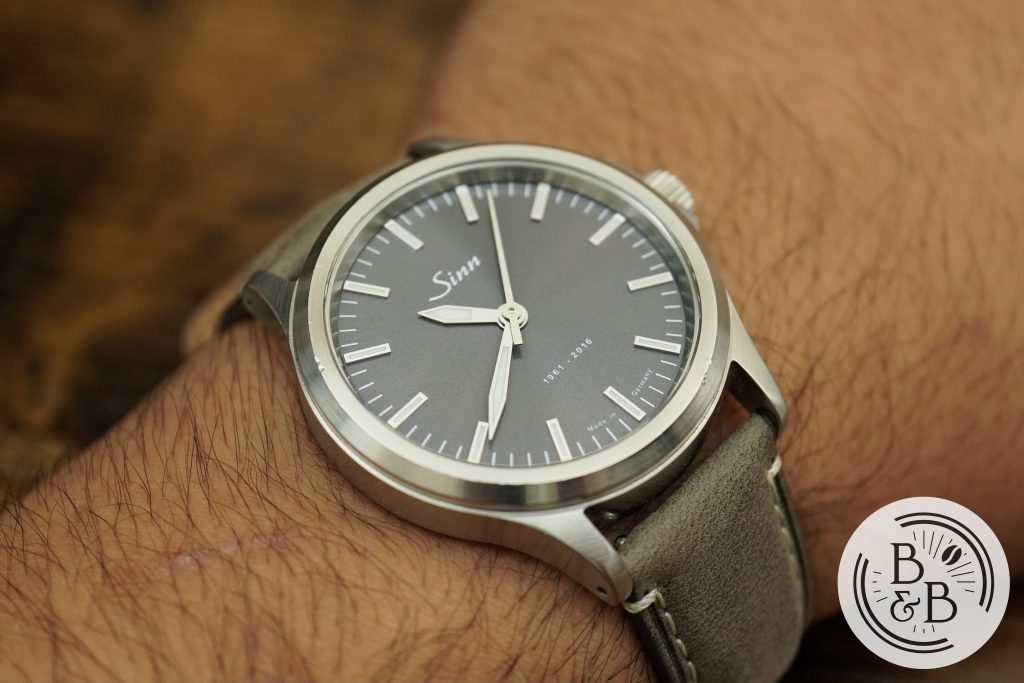 As you'd expect, the 38 mm diameter and 45 mm lug-to-lug width wear great on my modest 6.25" wrist. I know that this watch is a fan favorite among small and medium size wrists, and there's no secret as to why.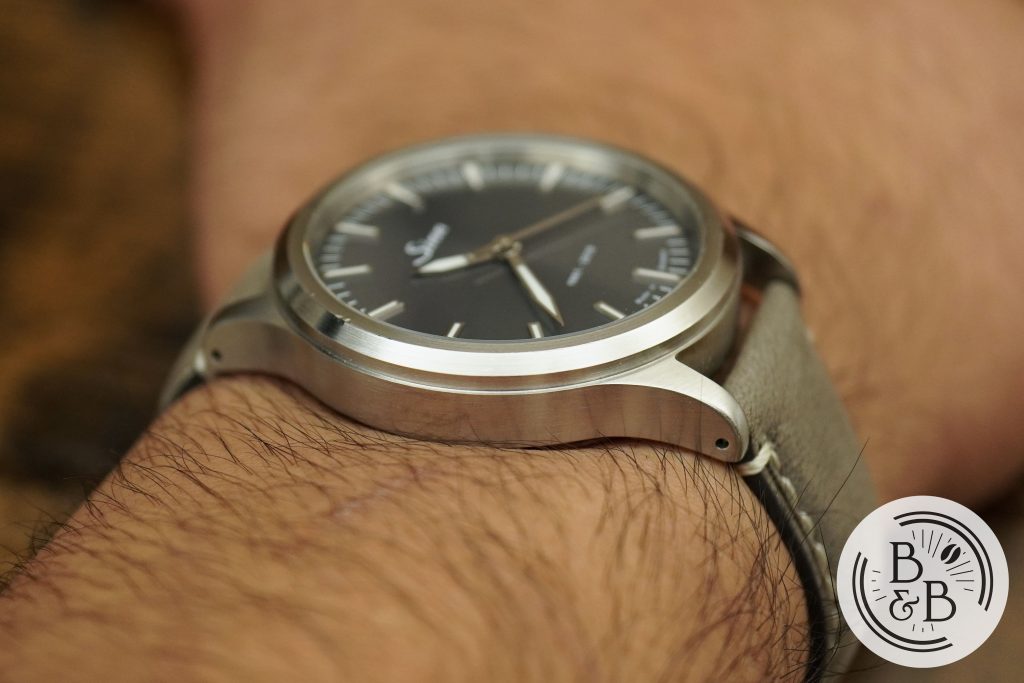 The overall 11.15 mm height is great too, and the watch feels very well balanced on the wrist, even the the case-back does protrude out of the mid case quite a bit.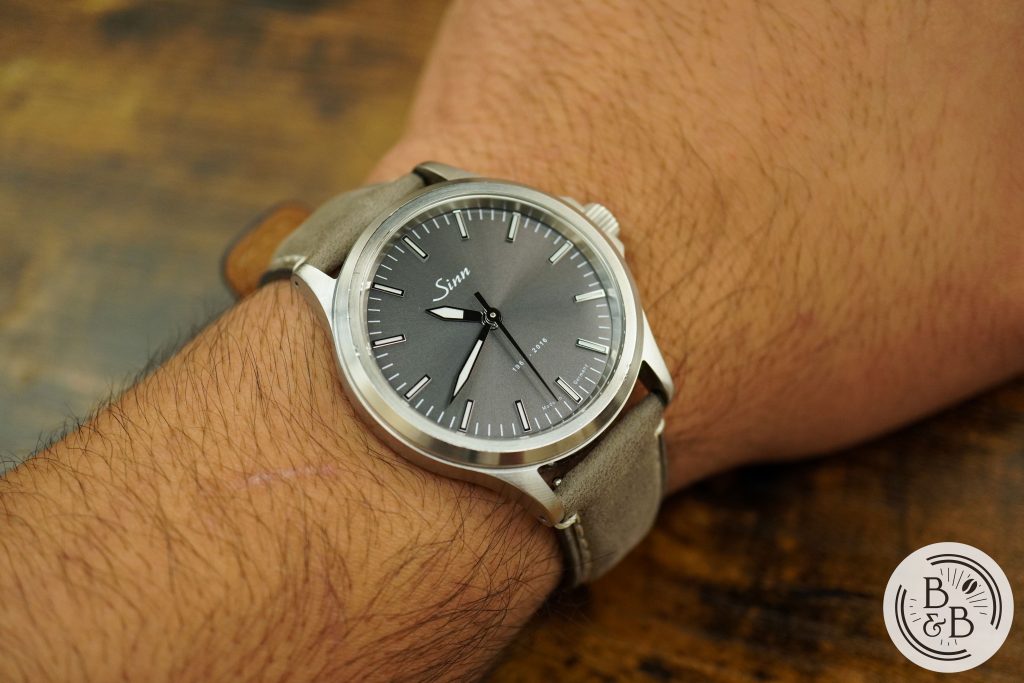 I have no complaints about the wrist presence, and from my experience, I think Sinn knows how to make a comfortable watch.
---
Concluding Thoughts
To wrap this up – I really like this watch, and the fact that it is very different from the regular Sinn 556 watches makes it very appealing to me. The standard 556 lineup doesn't really have that much to offer, when put up against it's competitors, but this one definitely stands on it's own two feet (or four lugs?) since it comes across as being a dress watch in a tool watch case, if that makes any sense.
If you can find any of these special edition and limited edition 556 watches for under $1000, I'd say give them a shot. They hold their value quite well on the pre-owned market, so even if you decide you don't like it, you can move it on fairly quickly without taking a hit. And I think the experience is worth it!
---
Strap Change
---
Thanks for reading!