---
Disclaimer: I purchased this watch on the secondary market, and was not externally incentivized in any way to make this review. This review is in no way sponsored by Grand Seiko, or any entity. All opinions here are my own.
---
---
Contents
---
SBGX339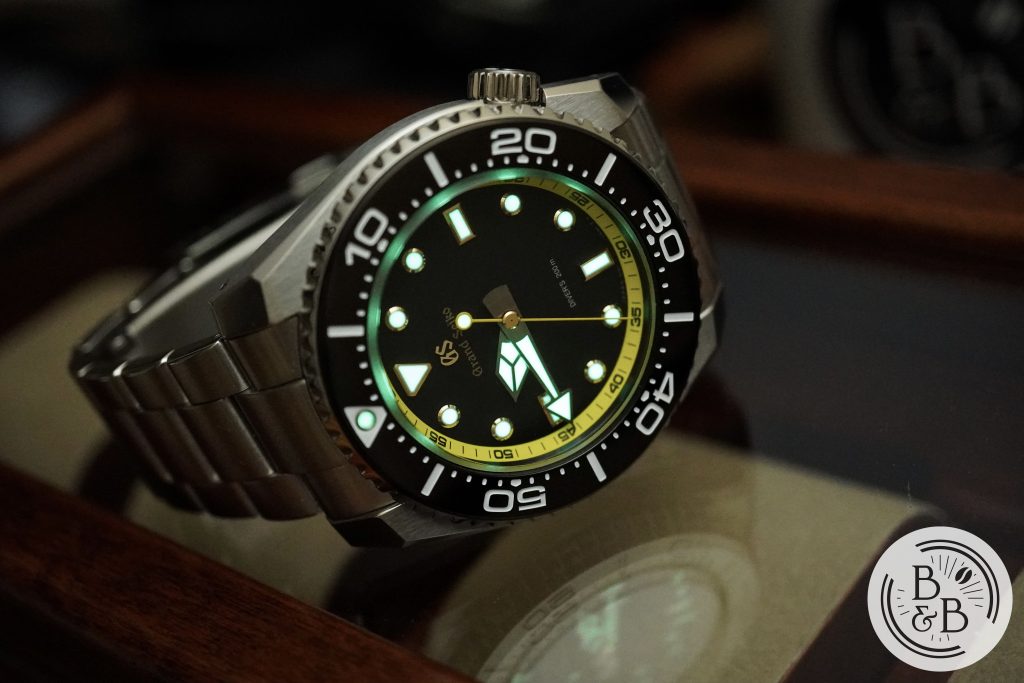 This is the third Grand Seiko watch that I'm reviewing here on B&B, and so far it's been two Spring Drive watches – the SBGA415 "Winter" from the Four Seasons collection and the SBGE245 Limited Edition GMT. This time I'm going to be looking at something more sporty and robust, with a mean looking case and a dial that has just the perfect amount of color. It is a great summer watch that doesn't need to be put away once summer is over.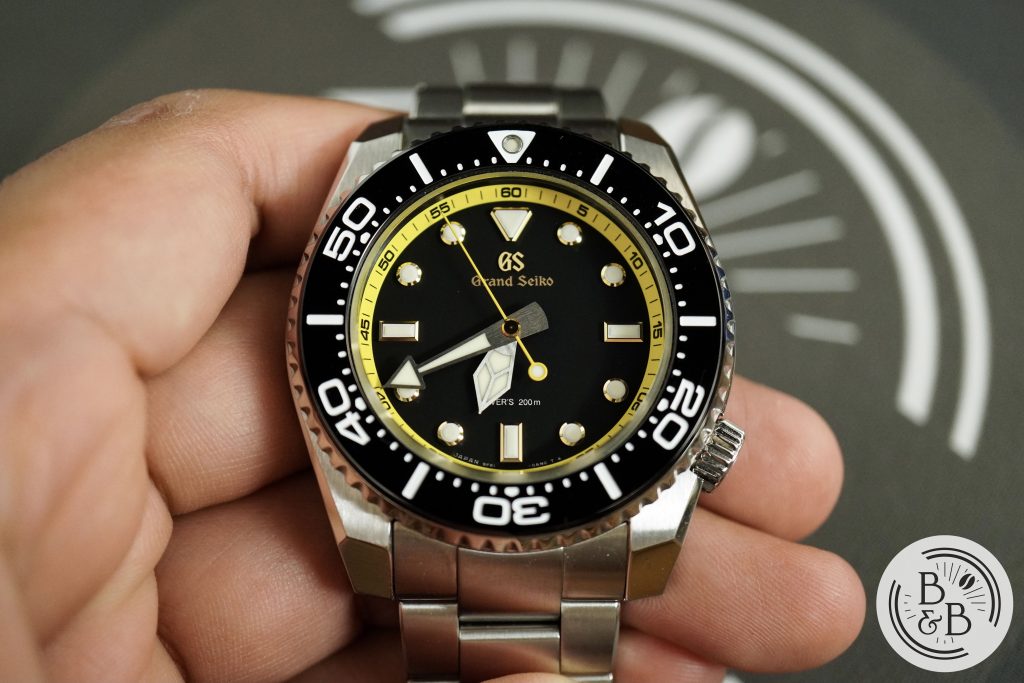 This is the SBGX339, a limited edition release that was announced along with the SBGX335 and SBGX337. These monstrous looking dive watches were released in late 2019/early 2020 at around $3800 for the standard models and about $4000 for this limited edition yellow dial. These watches use Grand Seiko's 9F high accuracy quartz movements, so if you're on #teamnoquartz, this review will not be of any use to you, but maybe stick around anyway for my charming personality.
Let's check it out!
---
Case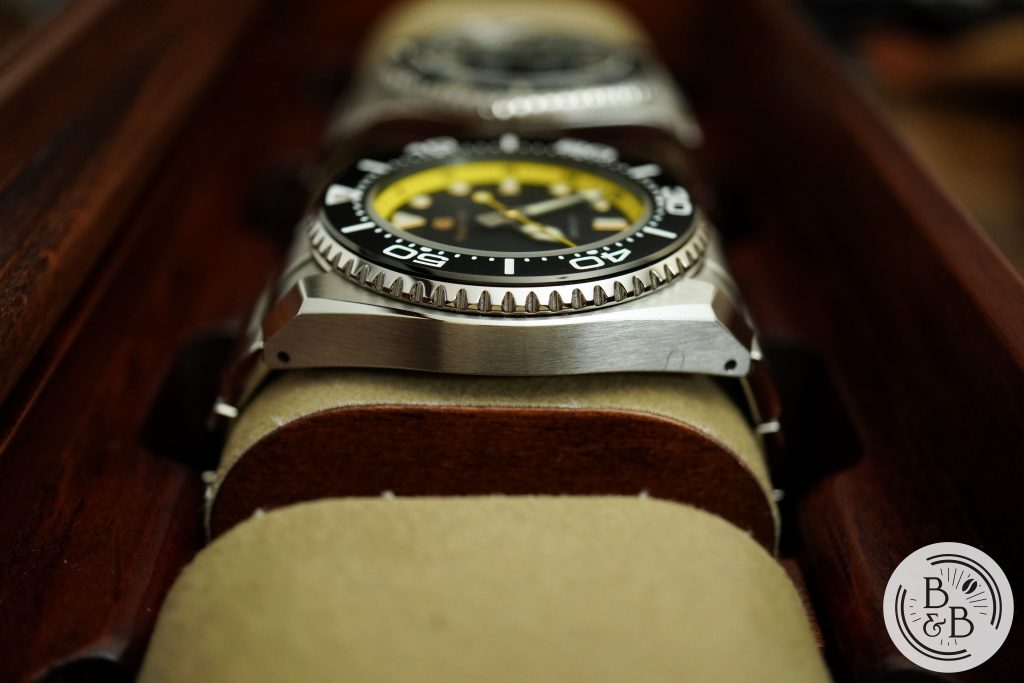 I measured the case to be 43 mm in diameter (across it's widest points), 49.75 mm from lug-to-lug and 13mm in height. Unlike a lot of luxury dive watches (Rolex Submariner, Blancpain Fifty Fathoms), the sides of this case are brushed, and I think that's a great design decision.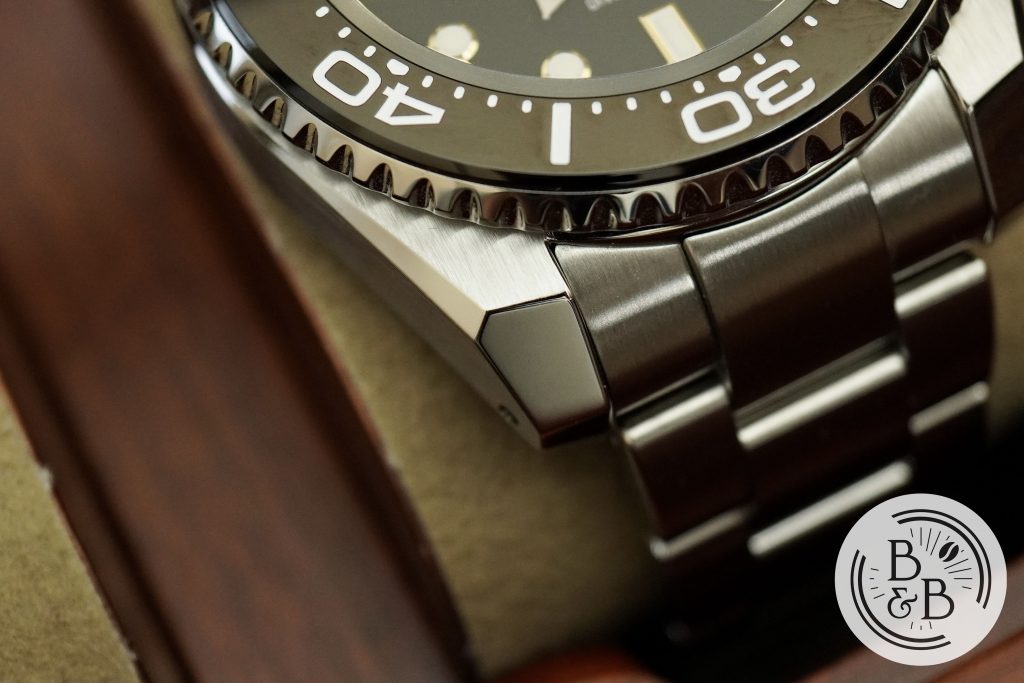 The mid-case is pretty much a slab of metal that has a single polished edge that leads to the lugs. The lugs have large angular front surfaces that are polished with the infamous Zaratsu technique, resulting in a mirror-like finish. The top of the lugs are brushed, which is pretty smart, and indicates intention; the intention is for this to be a serious tool watch that still has enough of Grand Seiko's refinement and DNA.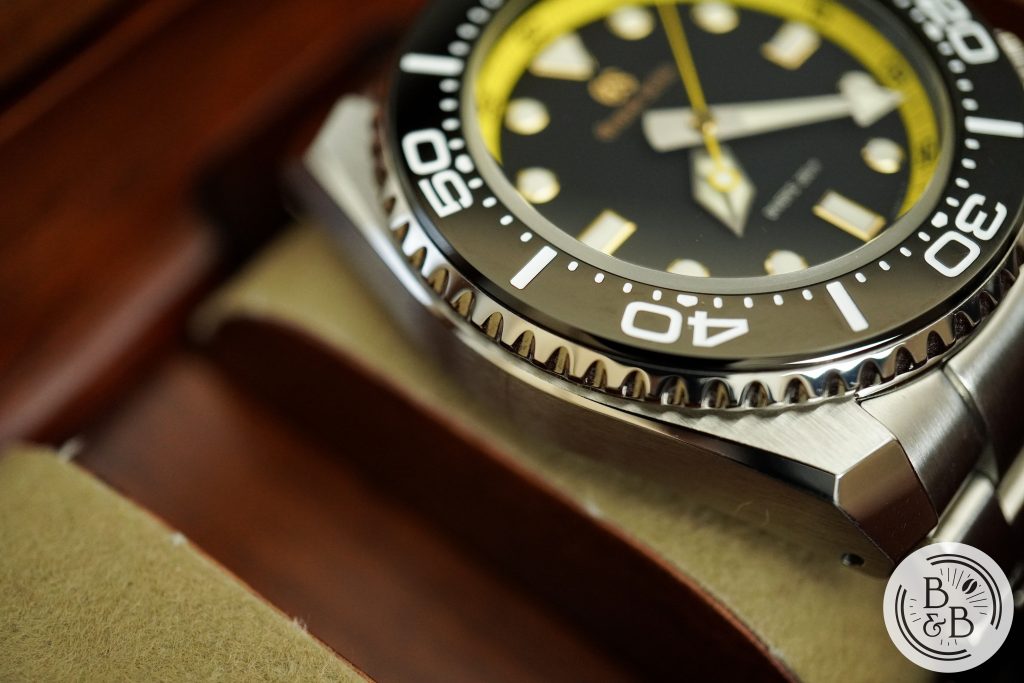 There's a 120 click uni-directional dive bezel with teeth that are easy to grip and operate. The bezel isn't very tall and hugs the mid case quite nicely. The insert looks like ceramic but it isn't. It is some kind of treated metal bezel that makes it more resistant to scratches and also looks like ceramic. I'm not sure why they don't just use ceramic here. The bezel action is interesting and very much like the Seiko Tuna I reviewed a while ago. It feels elastic-y, yet tactile, with soft but audible clicks. The bezel aligns well and there is little to no back-play.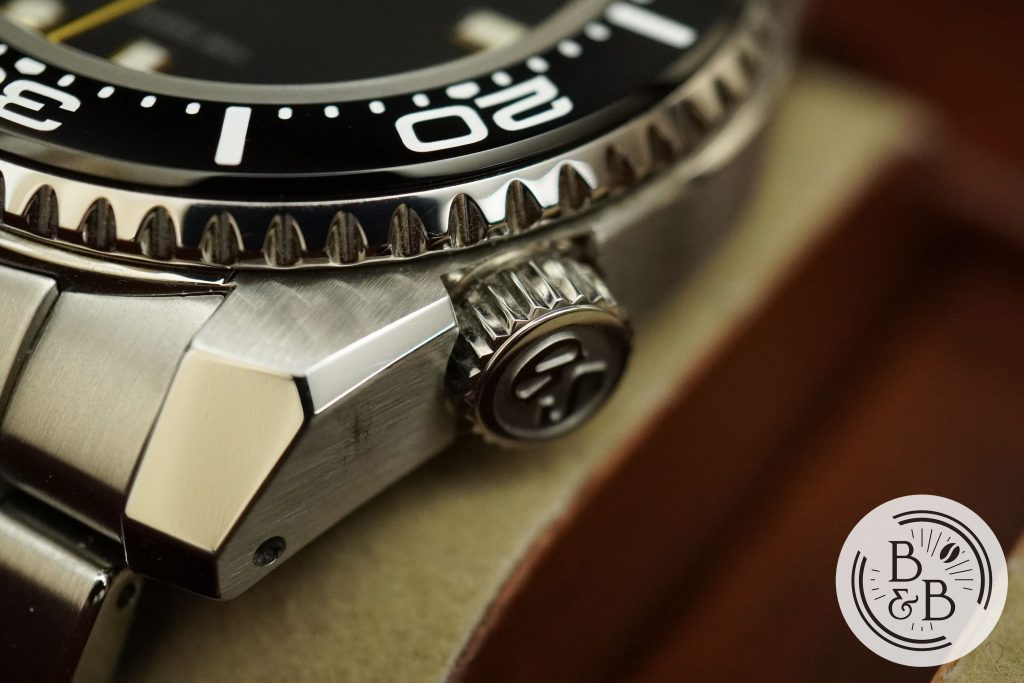 There is a 6.75mm screw-down crown at the 4 o'clock position that is very easy to grip and operate. The crown action is excellent and there's no crown or stem wobble. The crown is signed and I'm a huge fan of the 4 o'clock crown placement, specially on larger watches like this one.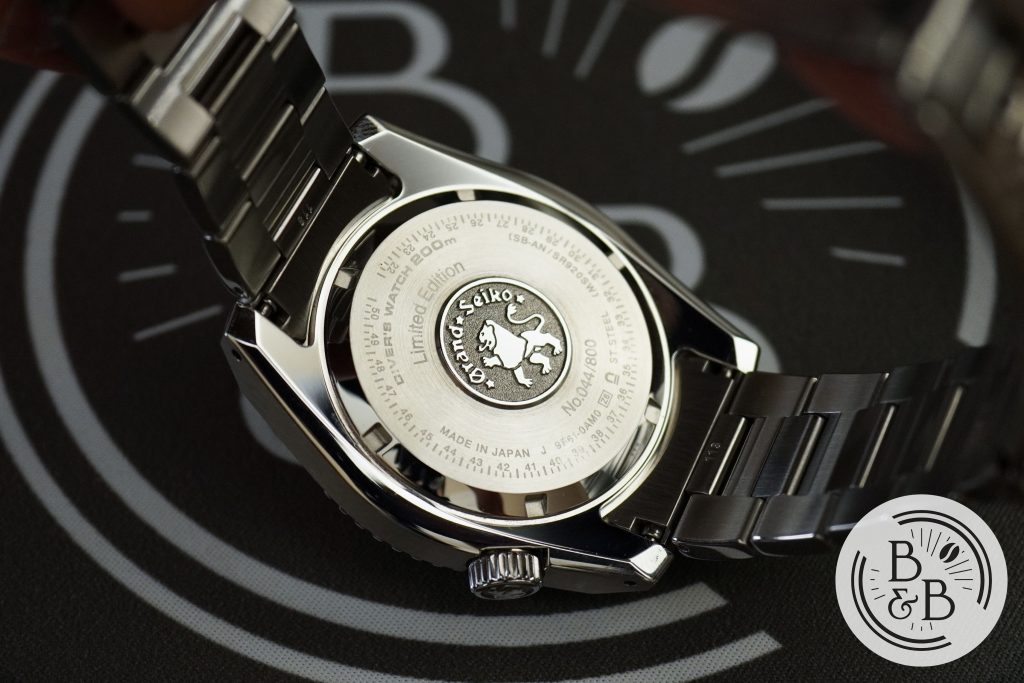 Flipping it over, you have a solid screw-down case-back with some specs and case-back artwork. I love the fact that the flat case-back is almost flush with the mid-case. This always makes for a comfortable wrist experience for me. This watch is rated for up-to 200m of water resistance.
---
Dial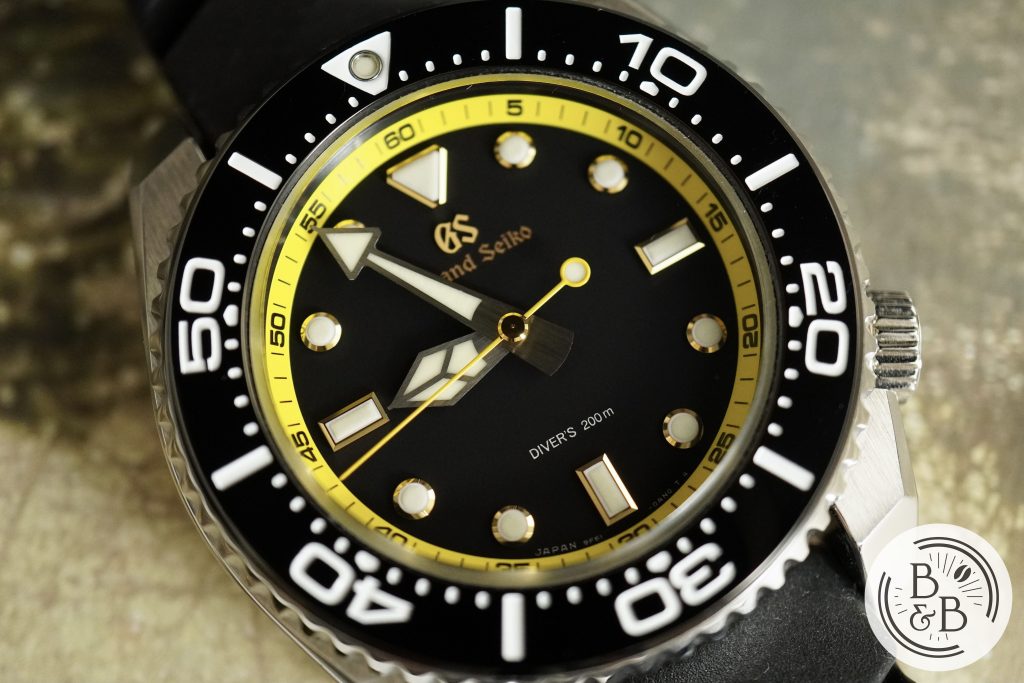 I've been trying to get hold of a watch with a yellow dial for some time now, just to try prove to myself that it is possible to find happiness outside the color blue. Most watches have either too much yellow or just not enough. I found this one to hit the sweet spot, where it isn't as obvious and bright as a Doxa dial, but also isn't just a few letters printed in yellow to make you feel summery and special.
The fundamental dial layout and design might look familiar – a triangular marker at the 12 o'clock position, rectangular markers at the other cardinal indices, circular markers for the rest, a large multi segment hour hand, and a seconds hand with a lumed circular element.
I tried to find the origin of this design, and it appears to date back to the Rolex Turn-o-Graph and the Blancpain Fifty Fathoms Tournek-Rayville dial that seems to have followed soon after (or around the same time). I think that Grand Seiko isn't trying to hide which family of watches it looked at for inspiration, but it does a good job of putting it's own DNA into the design wherever necessary.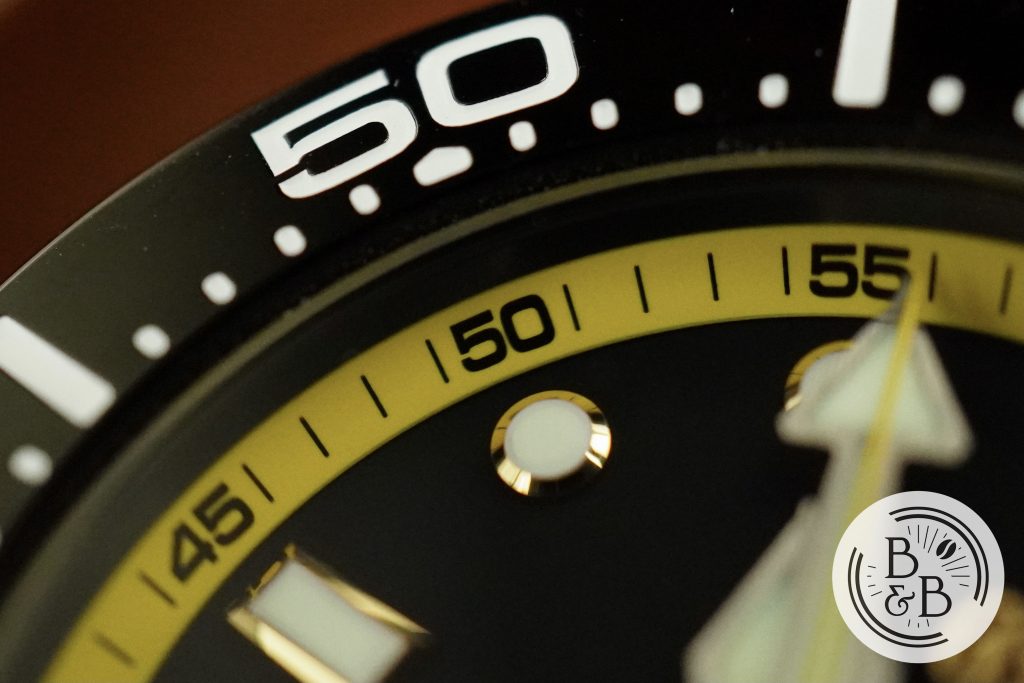 To start with, you have a yellow chapter ring that is sloped and has Arabic numerals for each increment of five, and ticks for the rest. The printing quality is excellent, and I like the shade of yellow that they used here. It isn't too bright, and is almost pastel-like.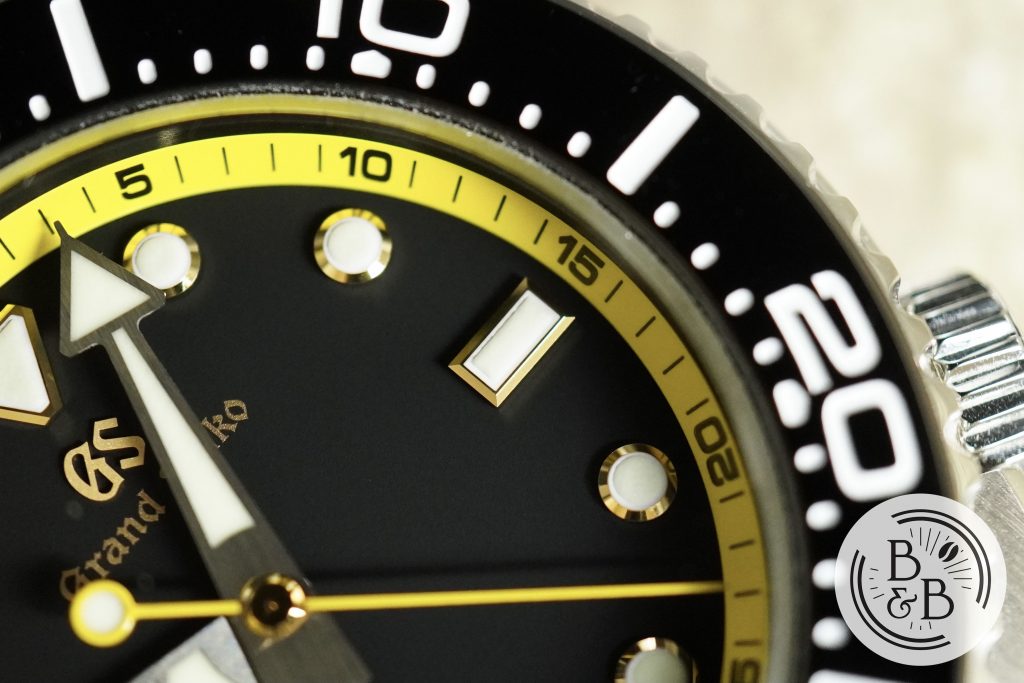 The base of the dial has a matte finish and is black in color. There isn't anything going on here – just a simple texture and color, and I think that wass a great decision given the bold use of color on the chapter ring.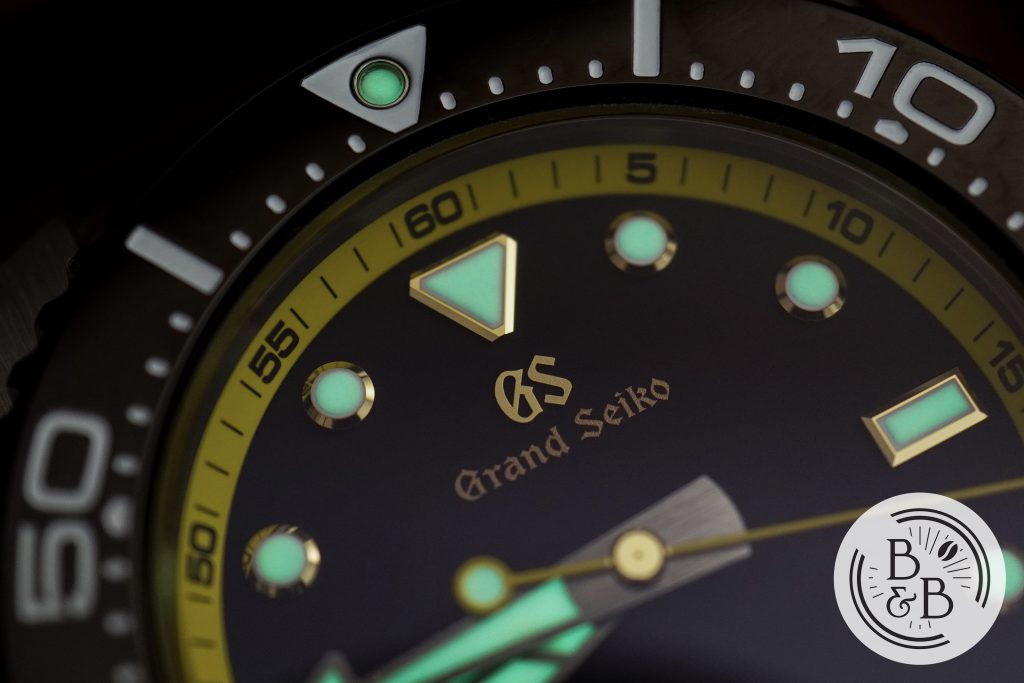 You have high polished stainless steel indices for all the hour markers that are finished exceptionally well, and generously filled with lume. Grand Seiko does indices like nobody else, and even this simple design is executed to the highest degree. The indices look like gold most of the time, because they reflect light from the yellow chapter ring. I can't help but think that is intentional, and I think it looks incredible.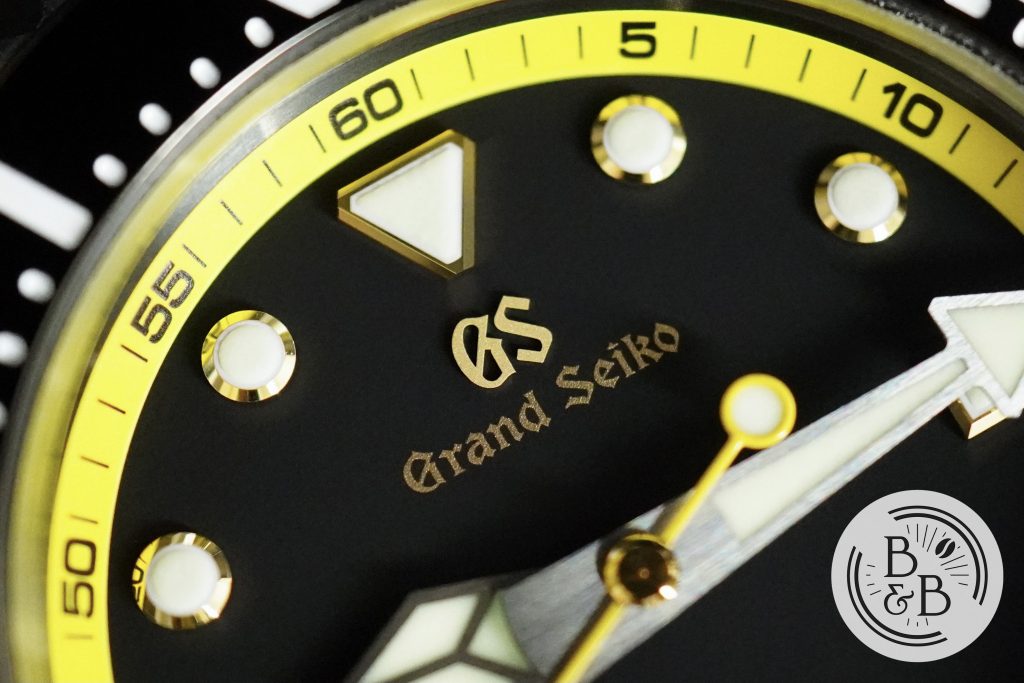 The brand's logo is applied under the 12 o'clock index and the name printed below it. These are gold in color and the applied logo is either media blasted or brushed. As you'd expect, the finishing is excellent.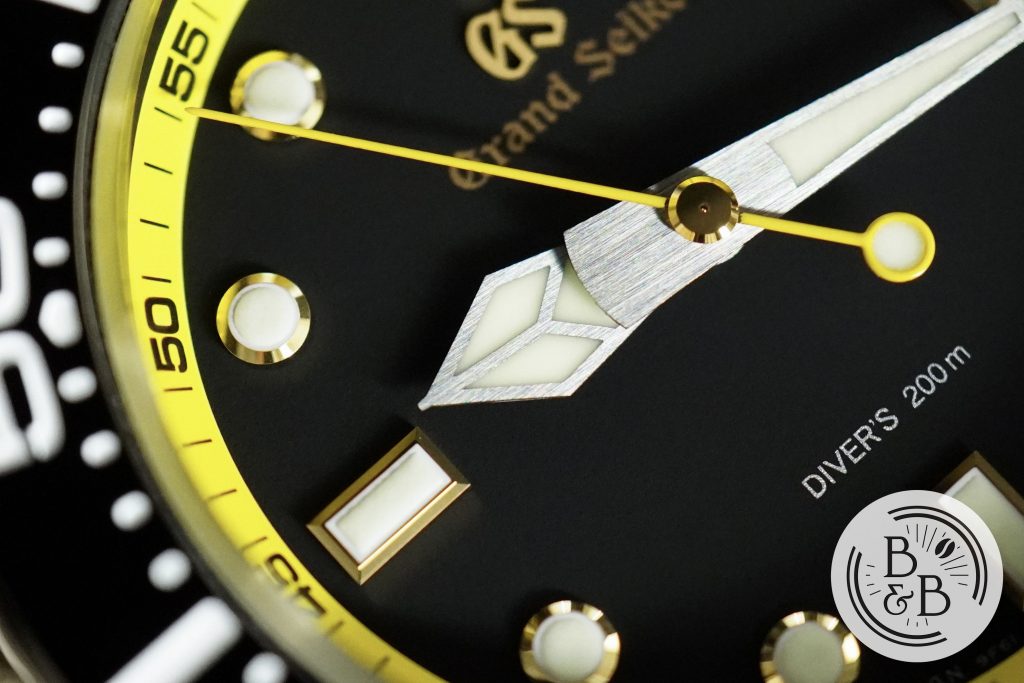 I think they did a terrific job on the oversized handset, and brought in a lot of Seiko and Grand Seiko DNA into this design. The hour hand is a large multi-segment cathedral style hand with big lumed sections. The minute hand has two segments that are generously lumed, one of which is a large arrow tip. This handset is very easy to read, and the brushed finishing on it is excellent as you would expect from Grand Seiko.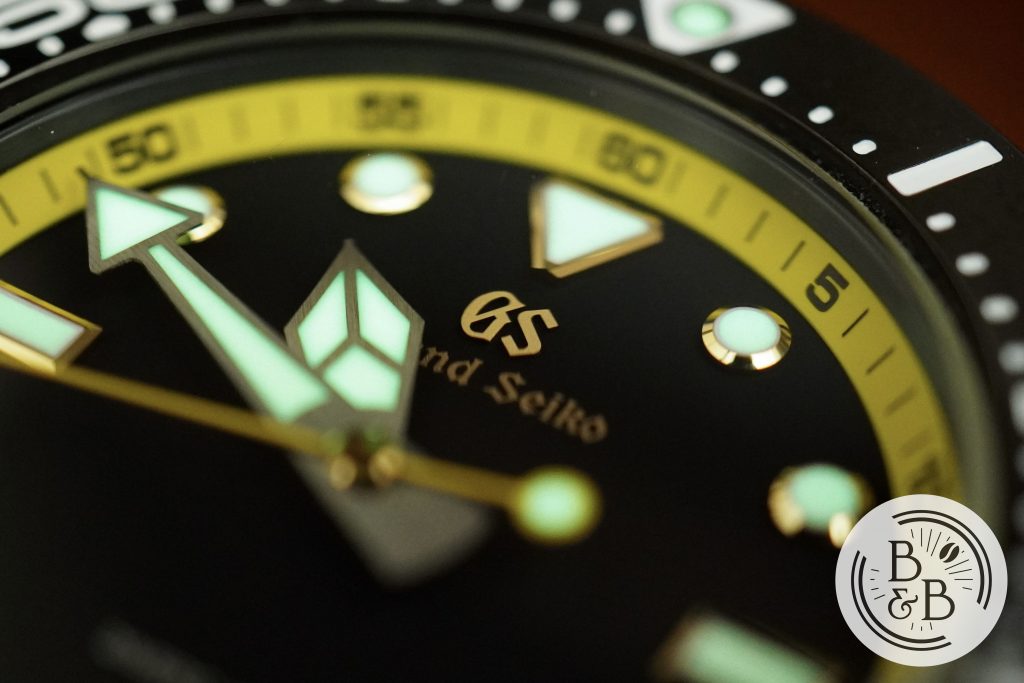 The seconds hand is painted yellow and has a gold capped pinion. The proportions are great and it is very well finished. There is a lumed circular counter balance element that is pretty interesting. Overall, I'm a huge fan of this dial. I think every element was chosen carefully and tastefully, and the result is a dial that looks fun, serious and legible.
---
Lume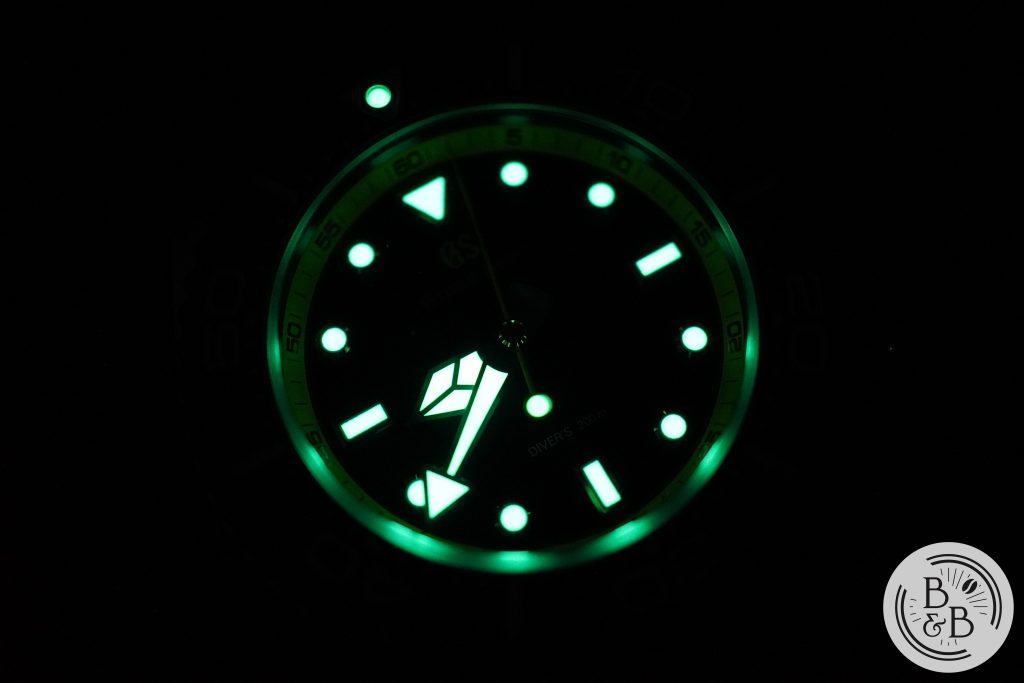 Seiko's lume is easily one of the best in the industry, and this watch does not disappoint, with generous amounts of Lumibrite.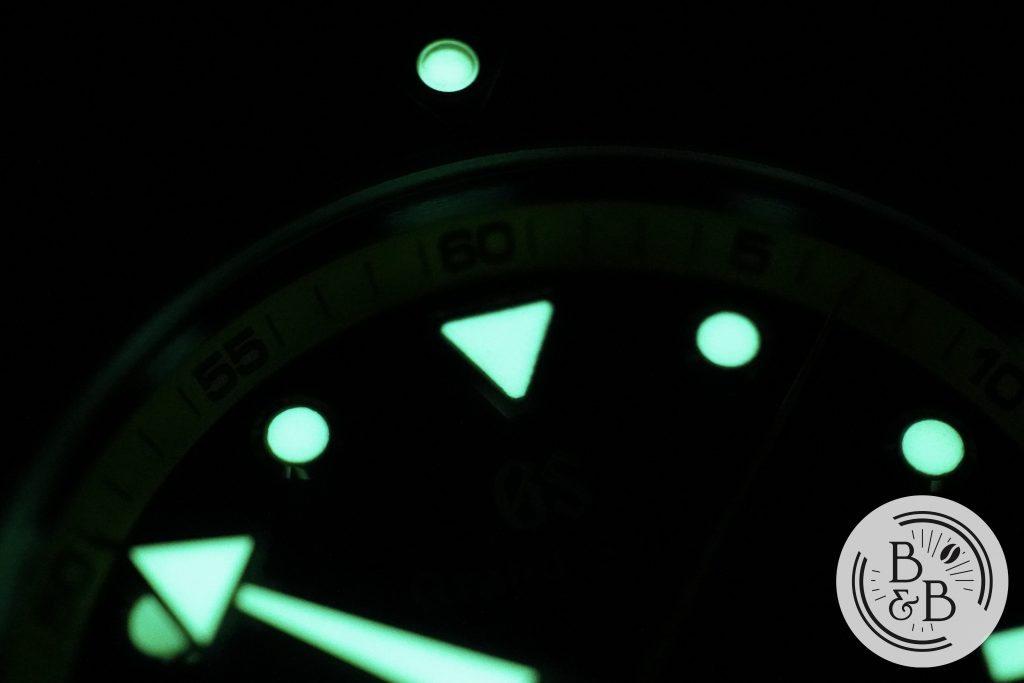 Similar to the Rolex Submariner and Tudor Black Bay, only the 12 o'clock pip is lumed on the bezel. The pip glows bright and holds it's charge as well. More lumed elements would've been nice to have though.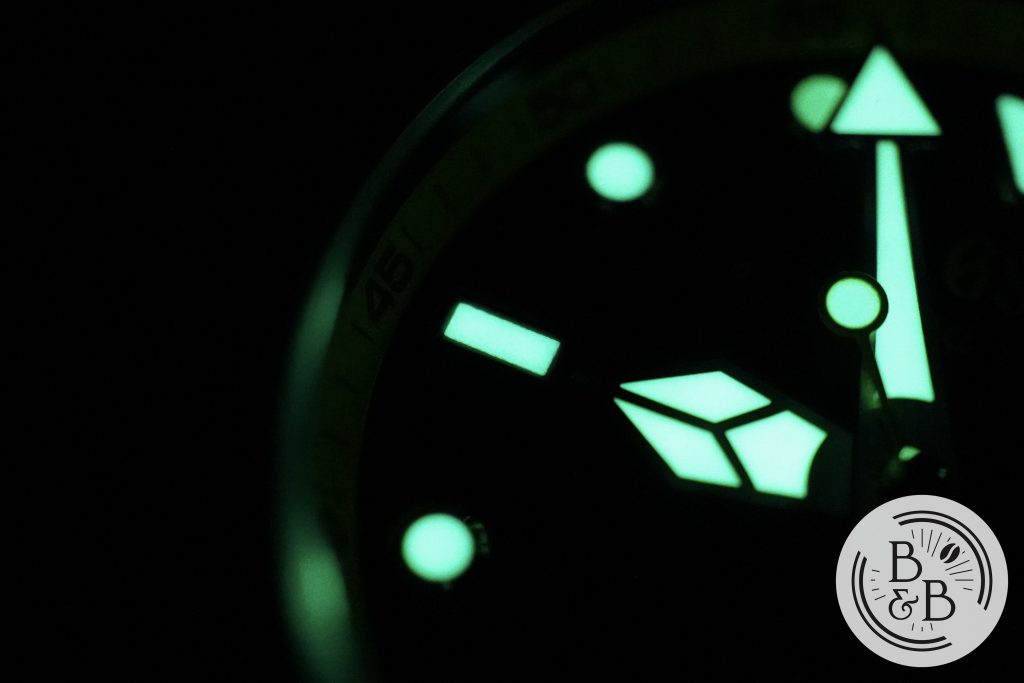 All the indices are generously lumed, glow bright and hold their charge well. The absence of a date window means that you have a beautifully symmetric lumed dial experience, and I love it.
The hour and minute hands are also well lumed, with pretty large lumed sections that glow bright. The circular counterweight element on the seconds hand is also lumed. I prefer the Rolex way of a forward facing lollipop element, but this works too.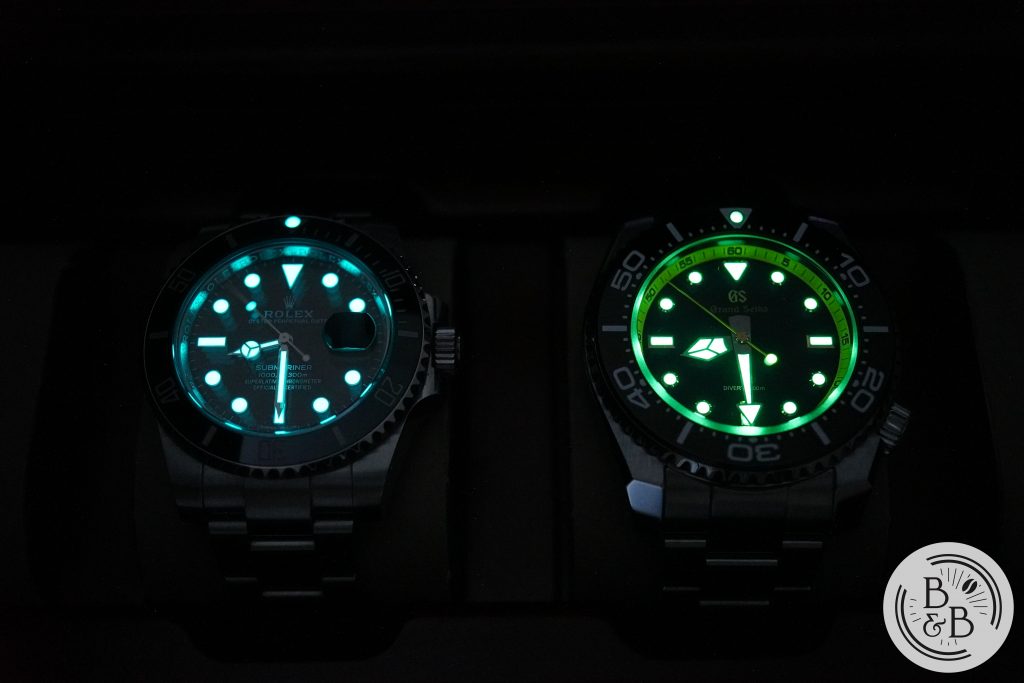 Speaking of Rolex, I did a five minute lapse of the Submariner and the Grand Seiko. I think the performance is pretty close, and I'd hesitate to pick a winner here, but maybe the GS won this round.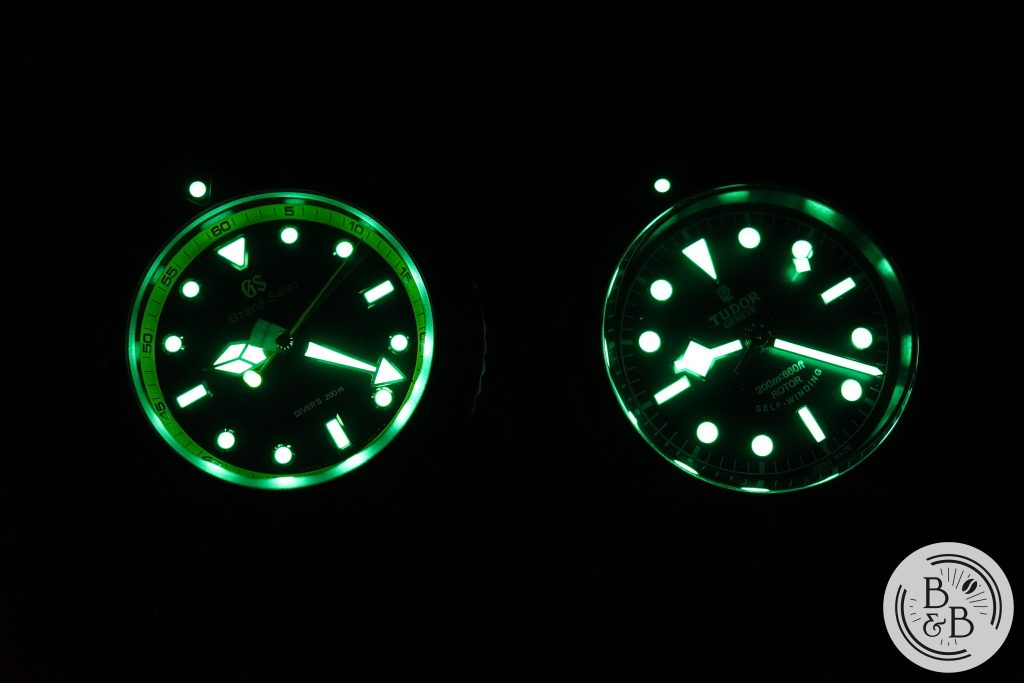 I also compared it with my Tudor Black Bay and I think the Grand Seiko comes out ahead. The Black Bay is seven years old though, so I think the competition wasn't entirely fair.
---
Movement
This watch uses the Grand Seiko 9F61 Quartz movement. This isn't the same kind of $5 quartz movement you'd find in a $15 fast fashion watch. This movement means business, and Grand Seiko's quartz technology is perhaps the one innovation that went on to getting them global recognition.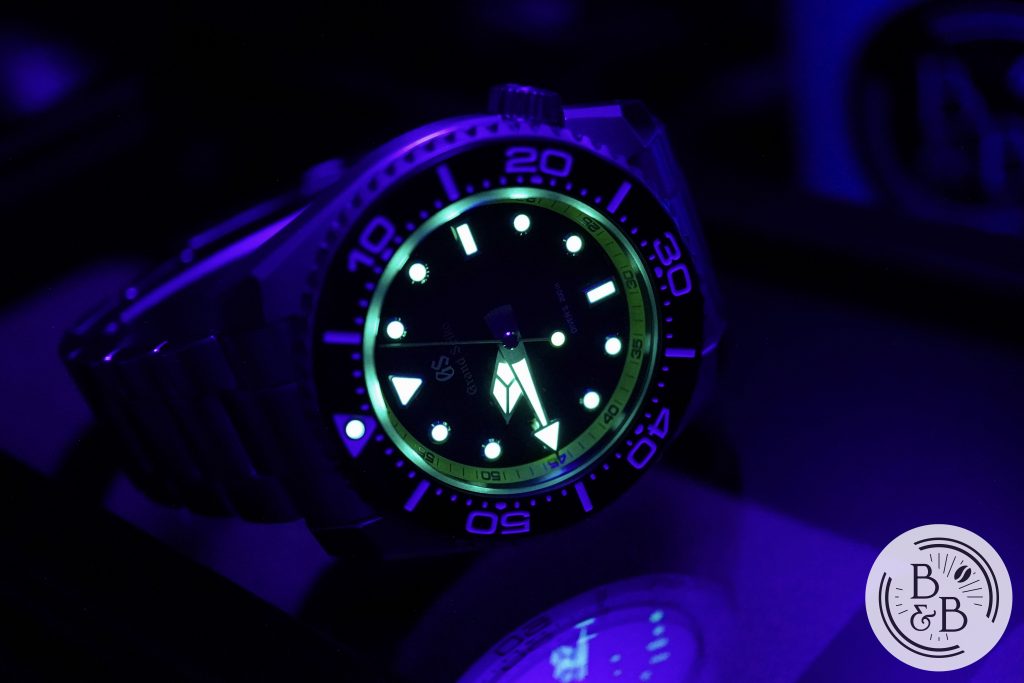 I'm typically not a fan of quartz watches, and a big part of the watch experience for me is having a smooth gliding seconds hand. But I cannot argue with the practicality and precision of a high accuracy quartz movement. And as a collector, I can't think of a better quartz watch to own than one from Grand Seiko.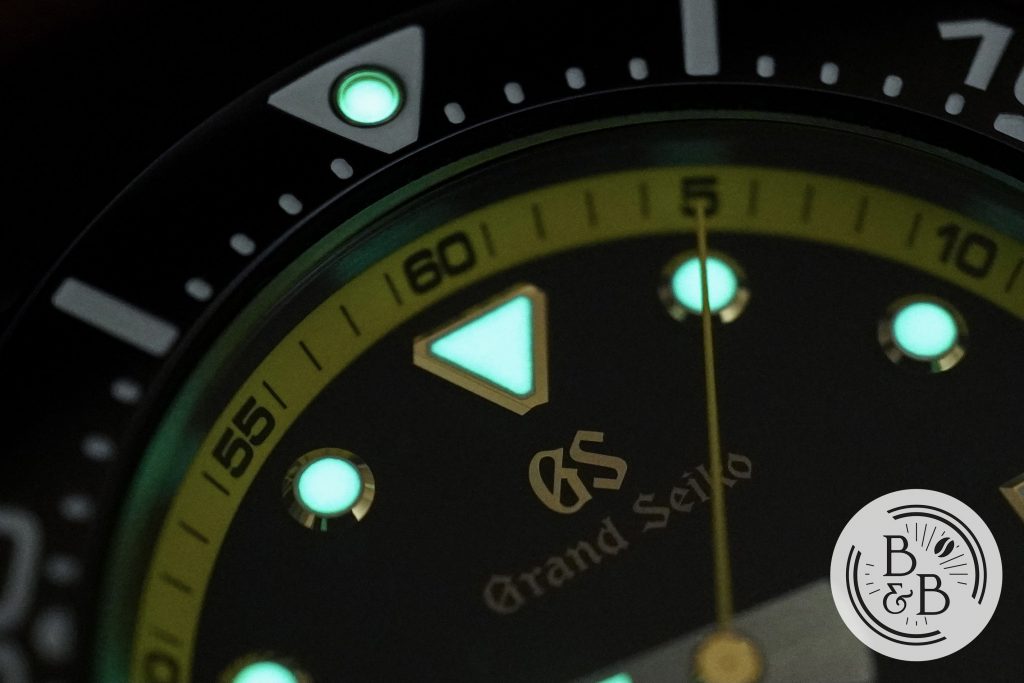 I've had this watch for about 4 weeks at the time of creating this review, and the watch has not gained or lost a single second. These movements are rated for up-to +/- 10 seconds per year, and require a battery replacement every 3 years. The layout of the movement allows for a battery replacement to be performed without opening the actual movement enclosure, which I think is pretty neat.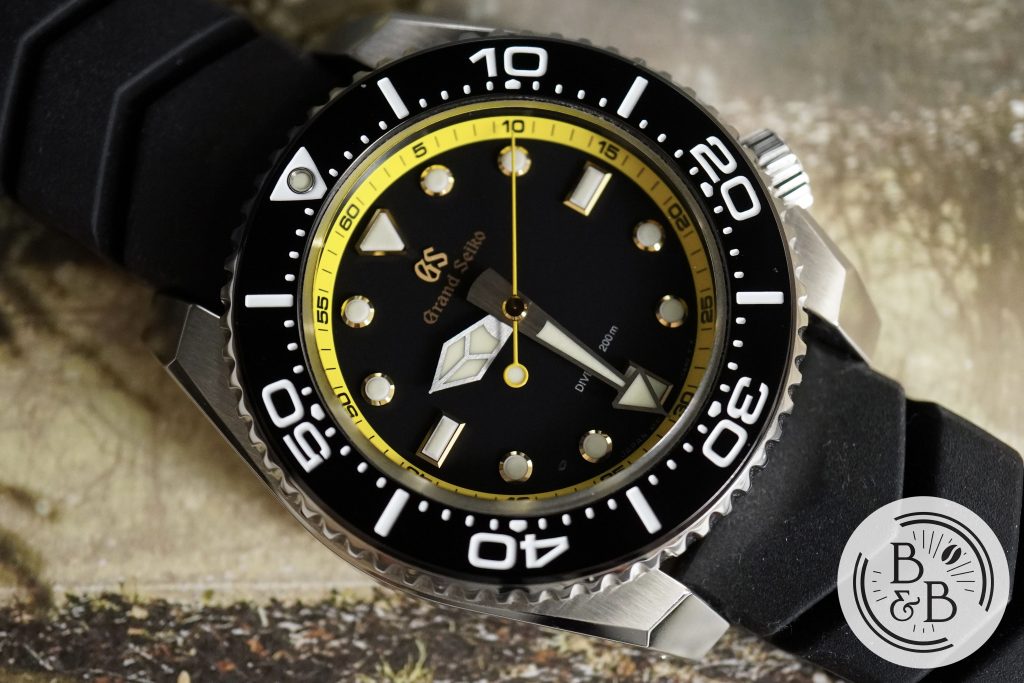 The seconds hand hits all the markers almost perfectly. I say almost, because it is impossible for these movements to hit them precisely and exactly and there are tolerances within fractions of a millimeter. To the naked eye this looks spot on though.
---
Bracelet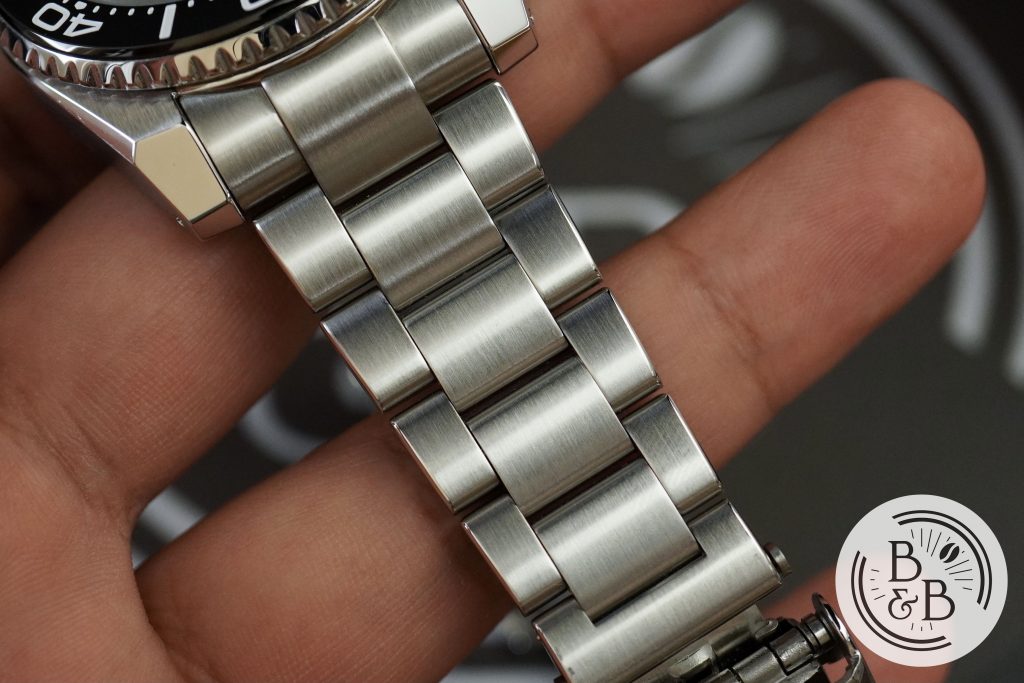 I've complained about Grand Seiko bracelets before, in my review of the SBGA415 "Winter", and after the review my opinion of that bracelet only got worse. Grand Seiko insists on releasing watch after watch, without any kind of micro-adjustment or quick-adjustment, and I think it is silly that they continue to do this even with numerous customers and potential customers stating that they wish to see more flexibility in their clasps.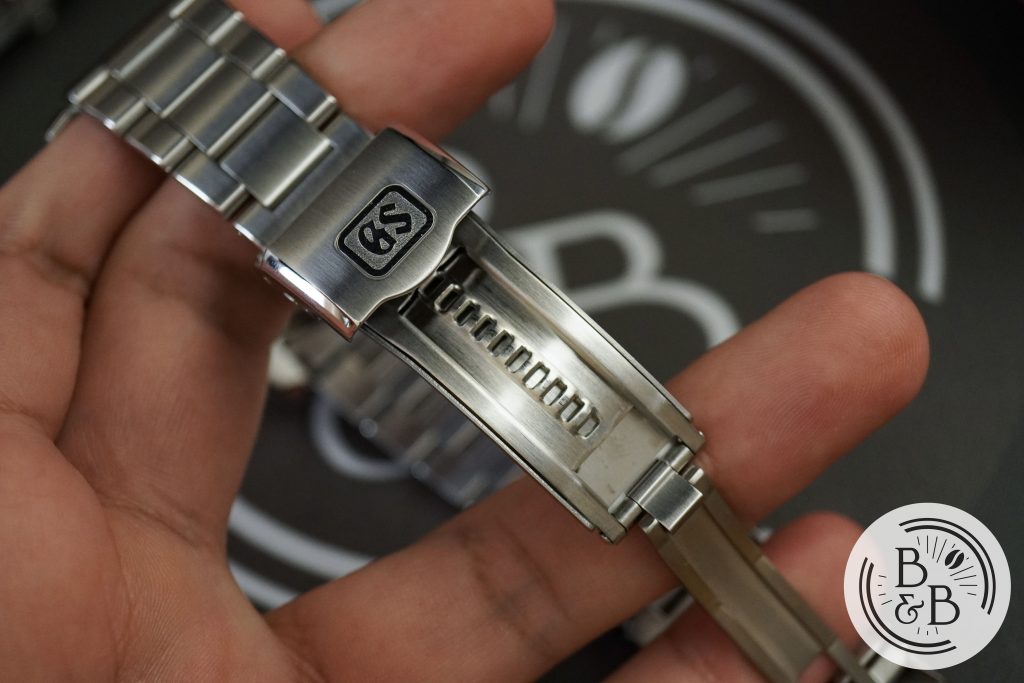 That said, in terms of functionality, this bracelet does not hold back. You have a Seiko Marine Master 300 style clasp with both a ratcheting extension and four micro-adjustment slots. I use the ratcheting extension through the day when my wrist expends and use the micro-adjustment slots to better balance the clasp on my wrist. I'll accept this clasp as I've managed to get a pretty great fit and have had a comfortable overall experience with it.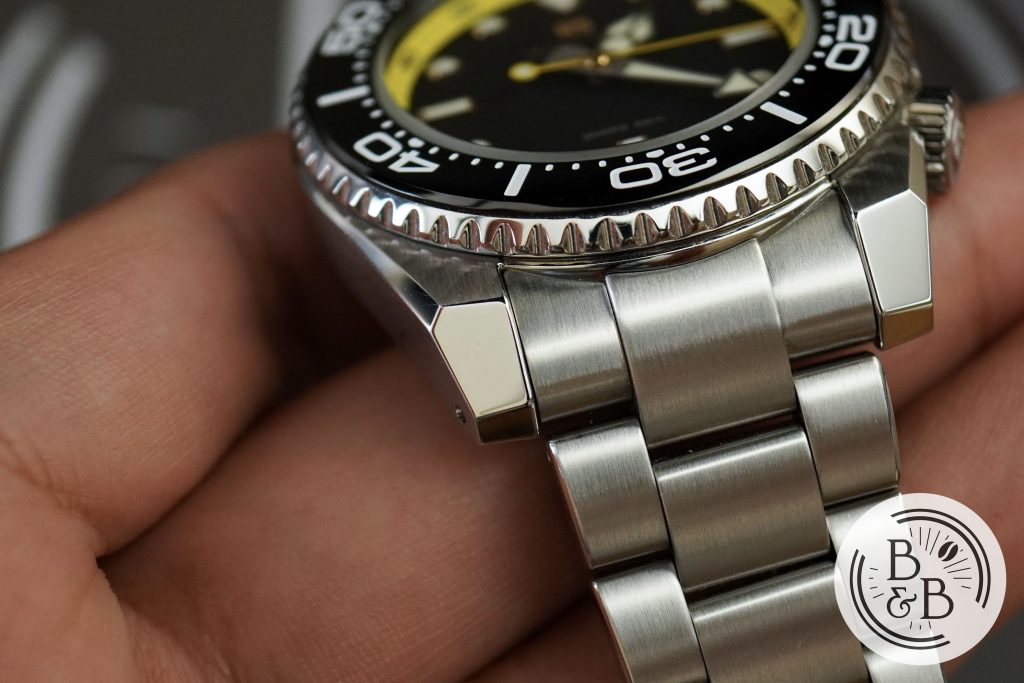 Now that I've given, I shall also take away. I think Grand Seiko designs their bracelets in a silo, and independently of their watches. I wouldn't be surprised if they hand off bracelet design to their interns, while the master watchmakers and designers toil away at the cases. There is absolutely no design continuity between the case and bracelets, both on this watch and the SBGA415 that I owned.
---
The end link fitment here is very good though, and the bracelet tapers from 22mm at the lugs to 17.5 mm at the 20 mm clasp. The clasp is pretty bulky, due to the slightly ridiculous fold over lock that also activates the ratcheting adjustment. While this works, I think the design is pretty amateurish and silly, given that this watch was released in 2020 and not the late 60s. I urge Grand Seiko to look at some of the clasp designs from brands like Monta, Formex, IWC, Glashutte Original etc. Even my $750 Halios has a more elegant clasp solution to this, and that one gets criticism for not being elegant enough.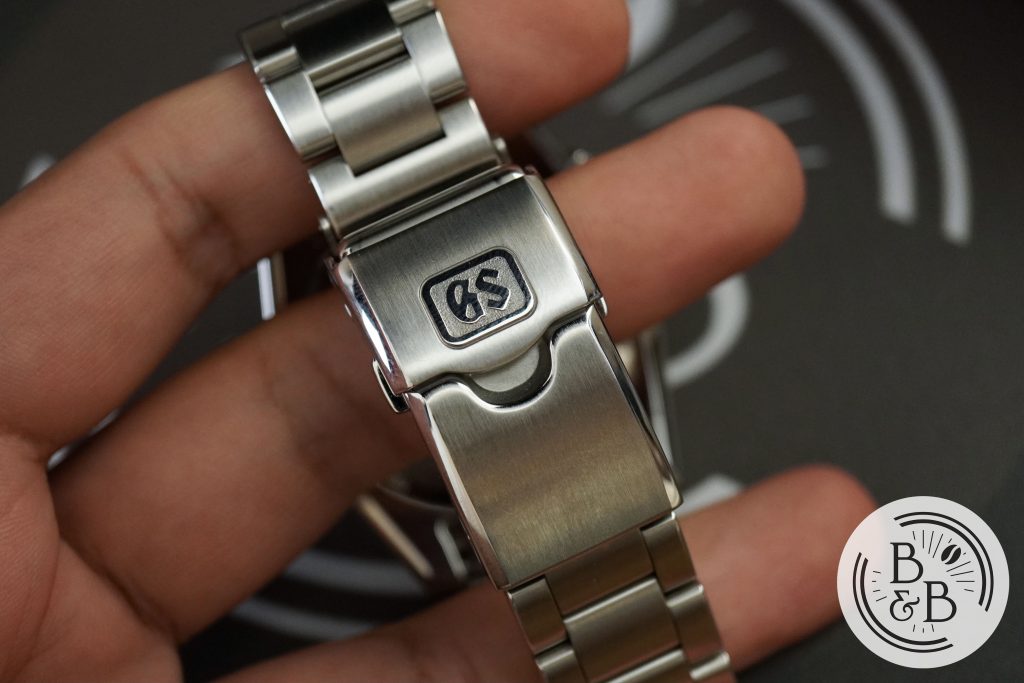 So my overall opinion is that the bracelet is good, but Grand Seiko needs to do better across the catalog. This is one aspect where they're heavily lagging behind almost everybody. But getting back to this particular bracelet – it is good and delivers a comfortable experience, albeit a slightly bulky looking one.
---
On The Wrist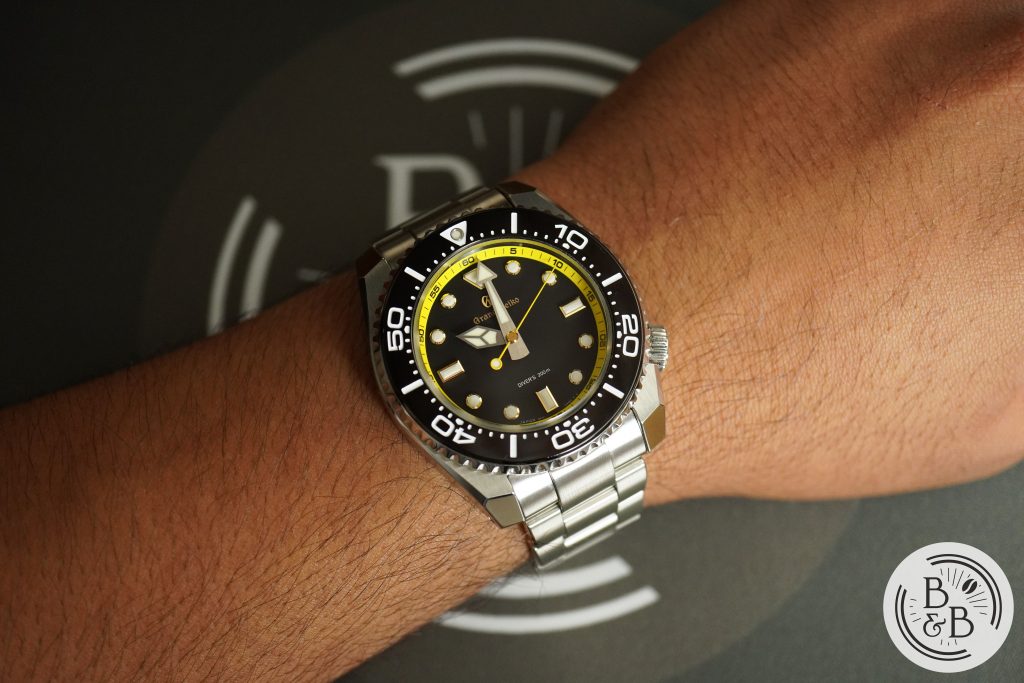 I bought this watch sight unseen, and was very worried about the 43 mm diameter and 49.75 mm lug-to-lug width. But over the last few months, I've realized that Grand Seiko has learned to wield ancient Japanese magic to design their large watches to be shockingly accessible to smaller wrist sizes. And this one is no exception.
It obviously doesn't wear like a small watch, but I'm very comfortable wearing this on my 6.5″ wrist, and I don't have any overhang. The watch is also well balanced, and it's weight is distributed well given it's flat case-back and compact 13 mm height.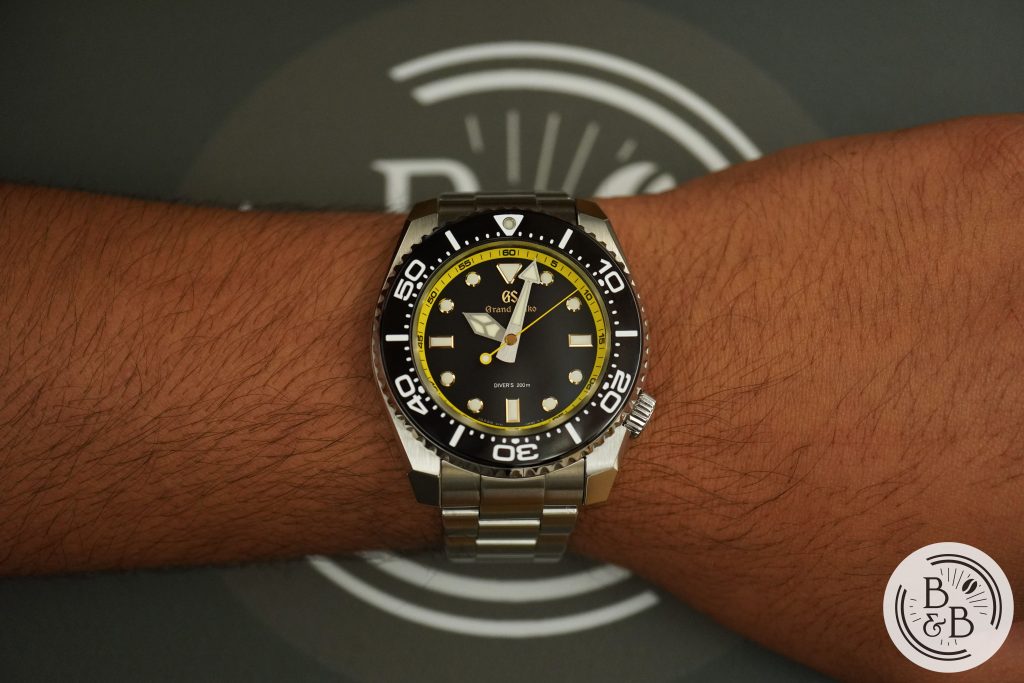 Speaking of weight, this watch weighs roughly 195 g on the bracelet. When I picked it up for the first time, I was shocked at how heavy it is, but after wearing it for a few days, I don't actually notice it anymore. You will only notice it if you switch between this and a lighter watch, but on it's own it's manageable.
---
---
This watch has "big watch" wrist presence and is certainly going to command attention. Maybe not from all the normal non-watch related folks in your life, but you'll certainly be checking out your own wrist and going "Wow, that's a badass watch".
---
Concluding Thoughts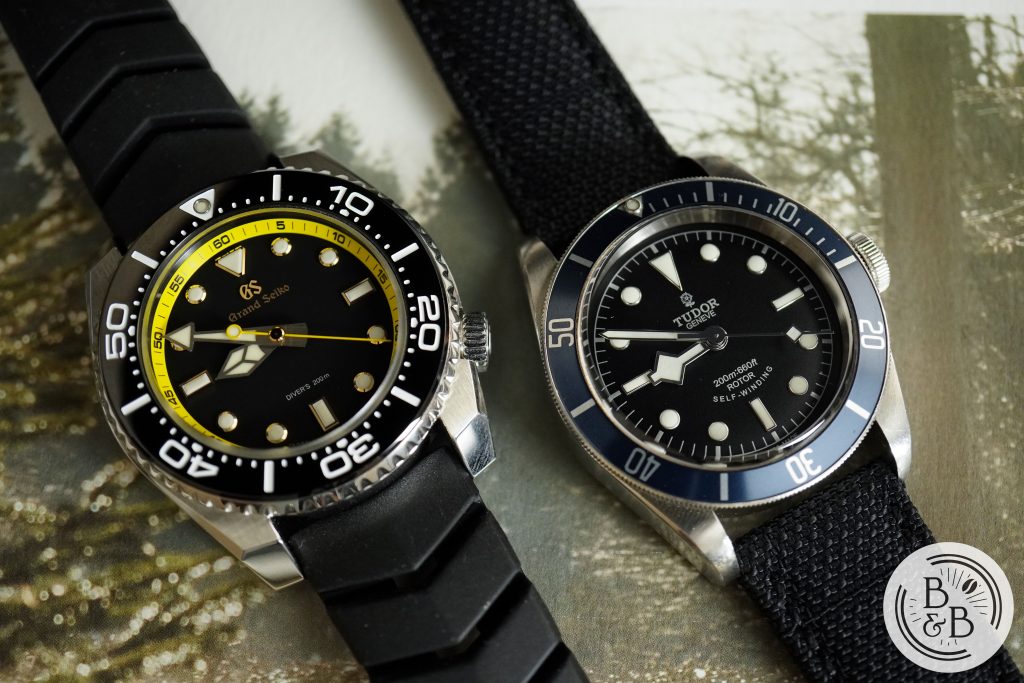 To wrap this up – I think this watch is excellent. It has a terrific case design, solid build quality, great finishing and an iconic quartz movement. You can argue all you want about the fact that it is a "$4000 quartz watch", but then this watch really isn't for you. And the good news is that there are plenty of excellent options in this price range for dive watches with in-house automatic movements and Swiss brand pedigree, like the Tudor Black Bay and the Omega Seamaster Professional 300.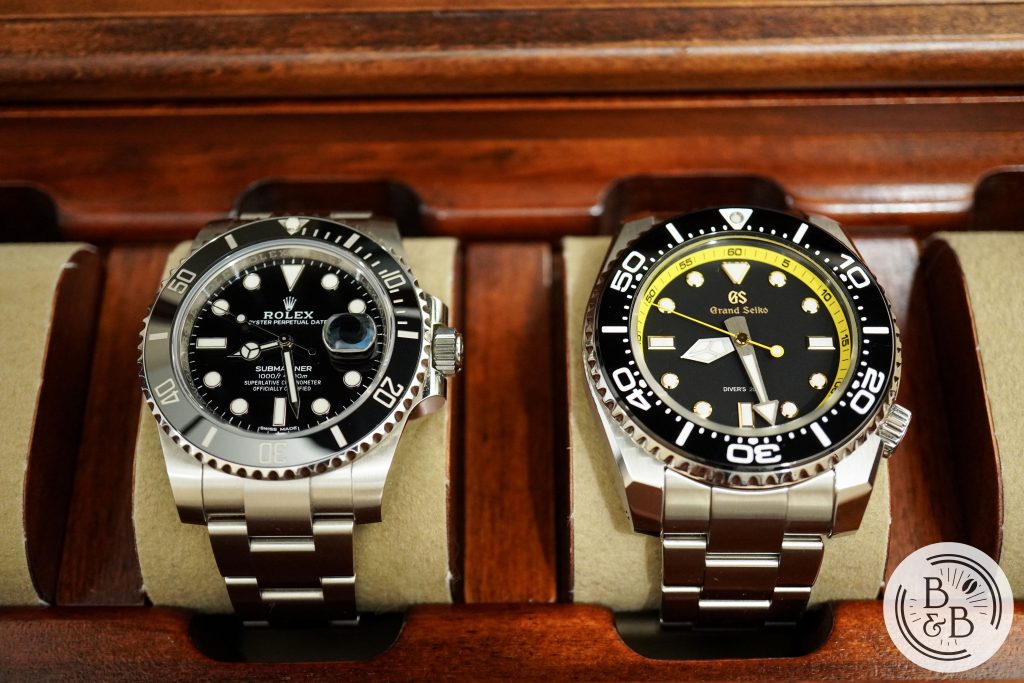 But if you're drawn towards the aggressive and angular case design of Grand Seiko's "tough" watch lineup, and are impressed and attracted to the idea of a worry-free high-accuracy quartz movement experience packed in a very capable dive watch, this may be perfect for you. And if you think this watch is too large, feel free to join the tens of thousands of other enthusiasts who have been begging Grand Seiko to release a smaller dive watch. Who knows, they might actually listen. And while you're at it, ask them to upgrade all their bracelets too.
---
Strap Change
---
Thanks for reading!