---
Disclaimer: I borrowed this watch from Mike Razak, a friend and expert watch reviewer. I kept asking him questions about his Seaforth, so I think he sent me this just to shut me up. This is not sponsored by Halios or any other entity. All opinions here are my own.
---
---
Contents
---
Halios Seaforth
The Halios Seaforth is one of the first ever micro-brand watches I came across, and I thought it was very well designed, and put it on my list of watches to look into. But like most of the uninitiated, I only learned about each Halios release after they were all sold out, and I felt disappointed and confused. I wasn't aware of the crazy demand, and I was oblivious to all the production constraints going on behind the scenes. The good news is that Jason at Halios seems to be getting this stuff under control, and the most recent Fairwind release appears to be going smoothly. I recently reviewed the grey Fairwind, and that made me get back into this brand.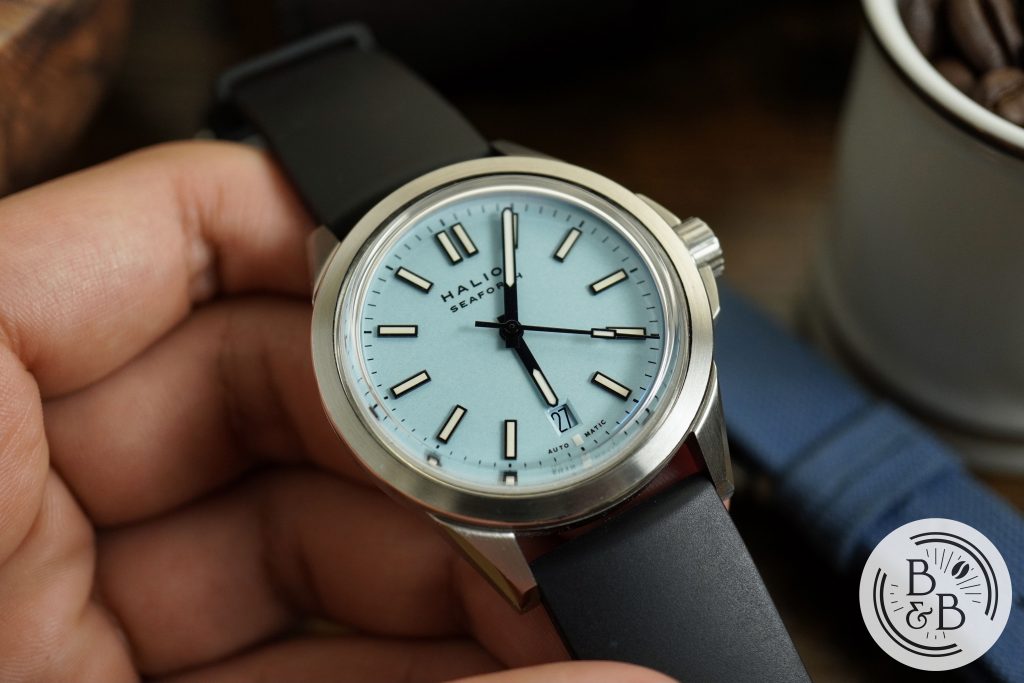 But I've been revisiting some of their older designs, and the Seaforth remains a watch I'm still very much interested in. I love the design, and I particularly love this pastel blue dial. I began to annoy my friend Mike, who writes excellent watch reviews for The Time Bum and Watch Clicker, with a bunch of questions about his pastel blue Seaforth. In an attempt to shut me up, he kindly offered to let me borrow his Seaforth for a few days.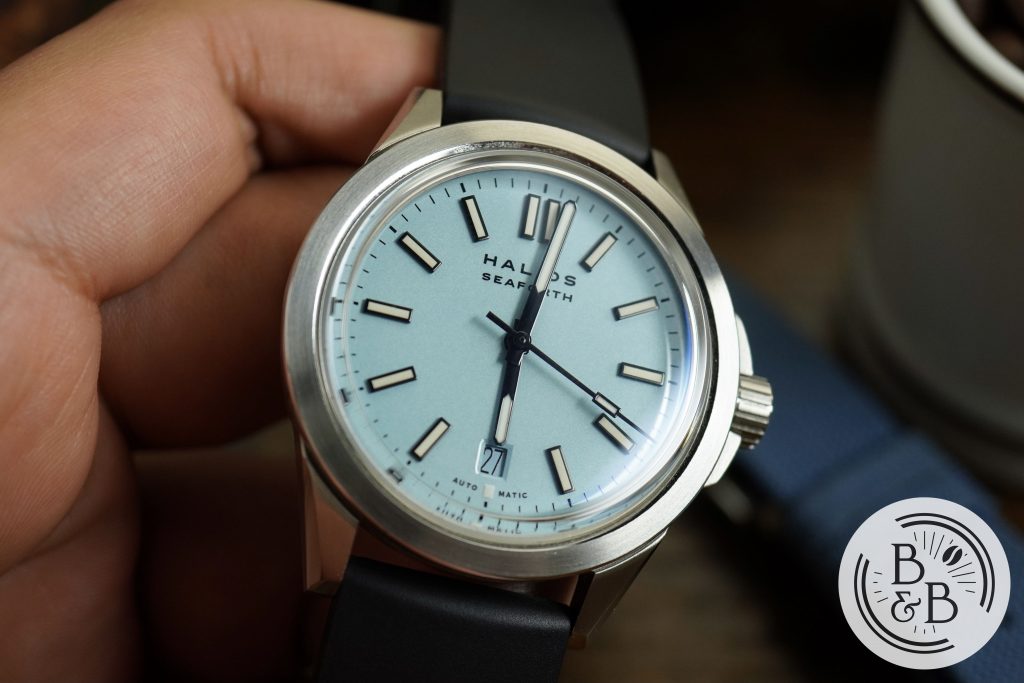 This is the Halios Seaforth III with a pastel blue dial, and no bezel. Halios Seaforth watches in general can be found on the secondary market from anywhere between $600 and $1300, depending on how popular the dial and bezel combo is.
Let's check it out!
---
Case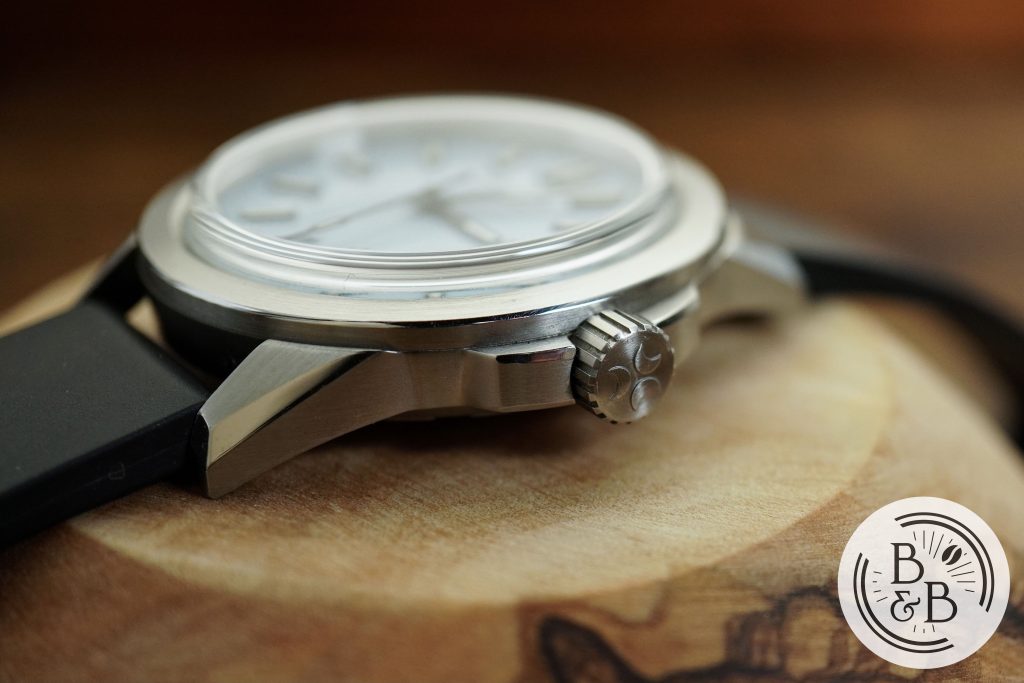 I measured the case to be 39.5 mm in diameter, 46 mm from lug-to-lug and 11.80 mm in height. The stainless steel case is primarily brushed, but has some polished edges on the case and lugs.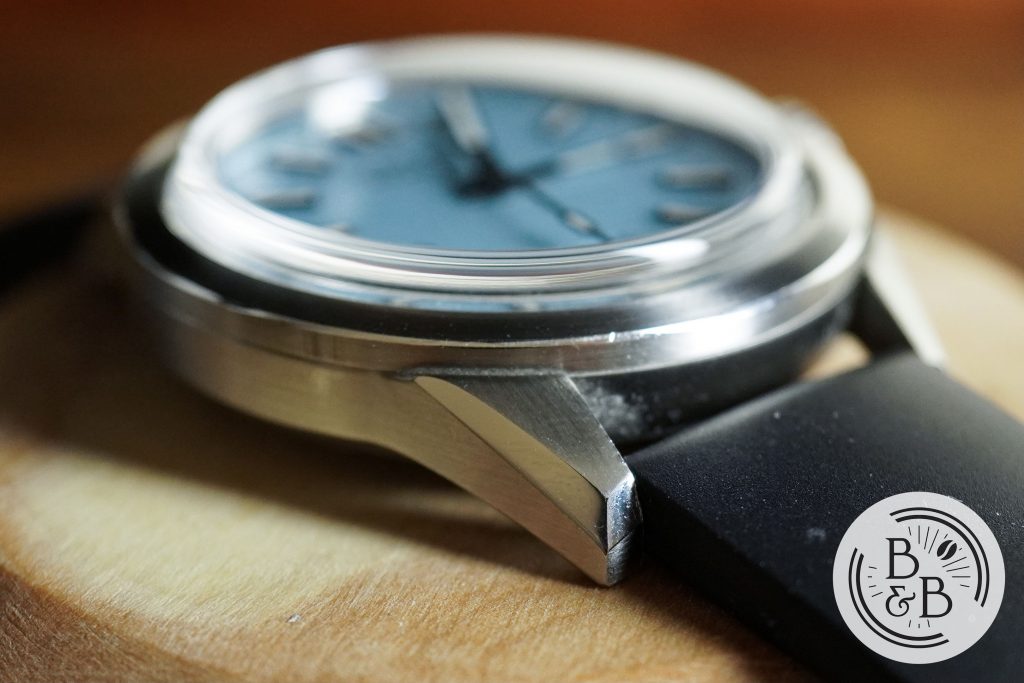 As someone experiencing the Seaforth after the Fairwind, I appreciate the Fairwind a little more now. The designs are definitely related, and the large faceted lugs that angle downwards towards the wrist appear to be fundamental to this design DNA.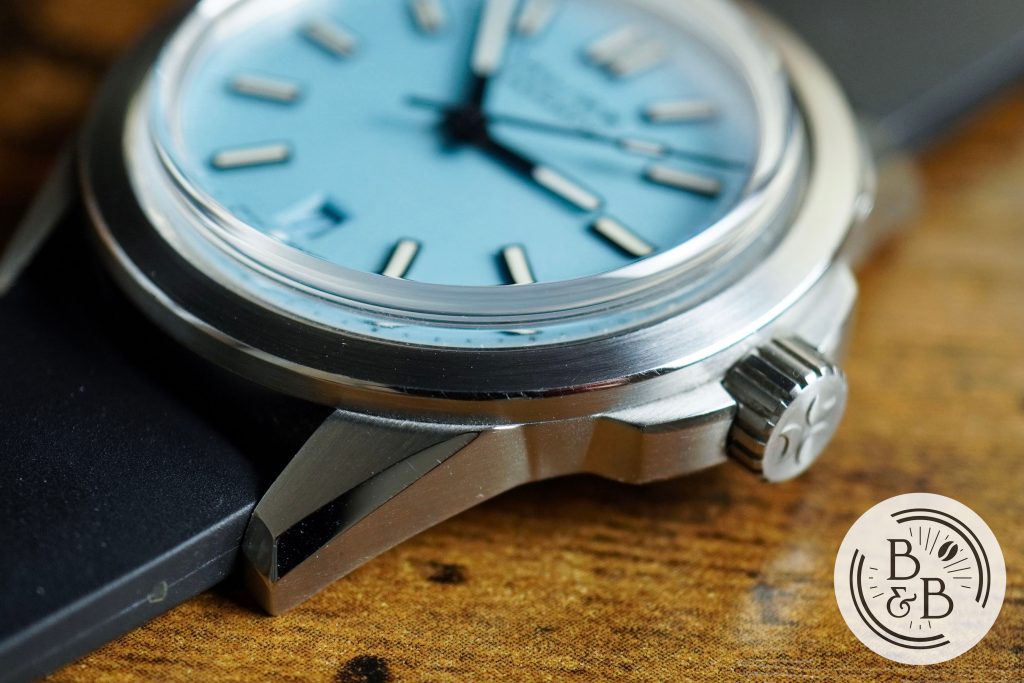 There is a flat bezel section that is brushed, and seats a conspicuously protruding boxed sapphire crystal. I don't typically like crystals that protrude so dramatically out of a case, but it just seems to work here. The crystal doesn't affect legibility in any way, and it looks great.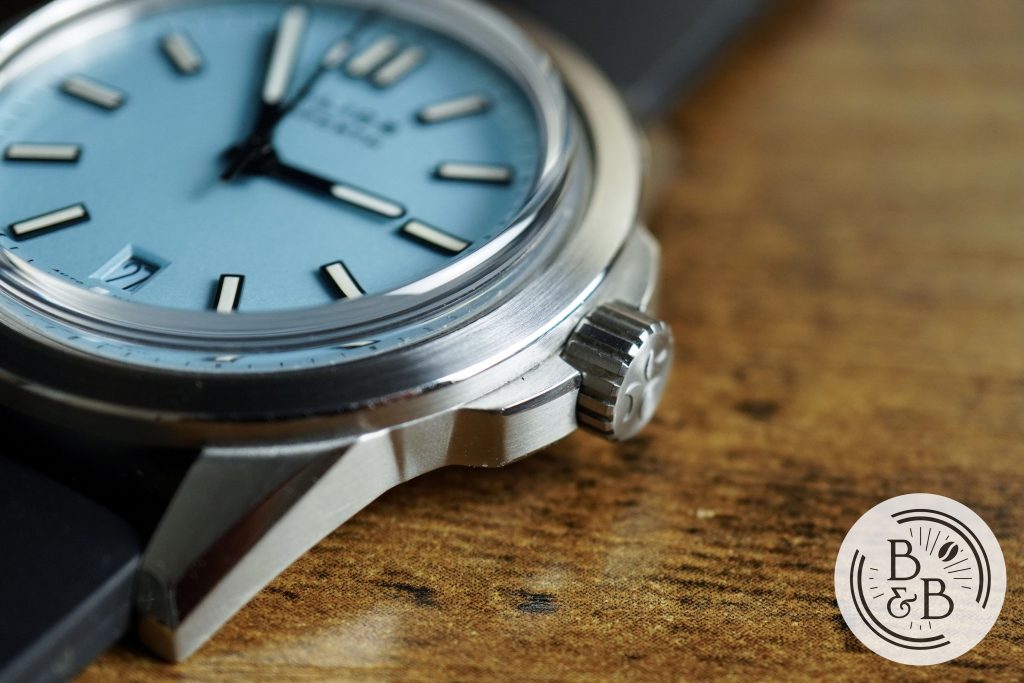 You have a 6 mm screw-down crown at the 3 o'clock position that is incredible to grip and operate. I love big crowns, and this one is just perfect. The crown is accompanied by a crown guard design that give off a strong tool watch vibe.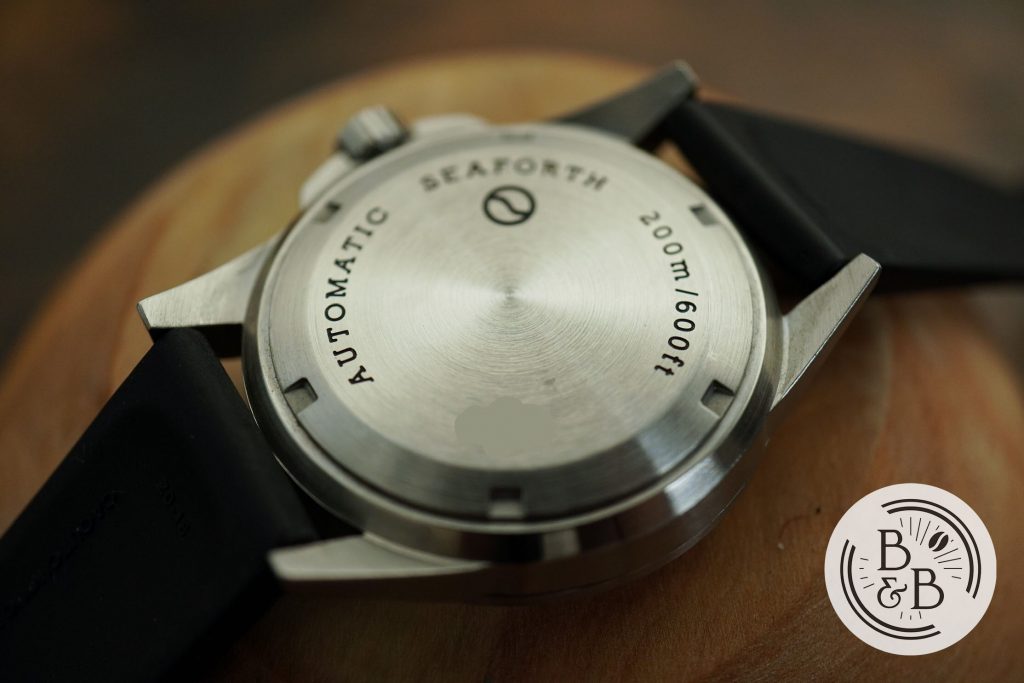 Flipping it over, you have a solid screw-down case-back with some information etched onto it. This watch is rated for up-to 200m of water resistance.
---
Dial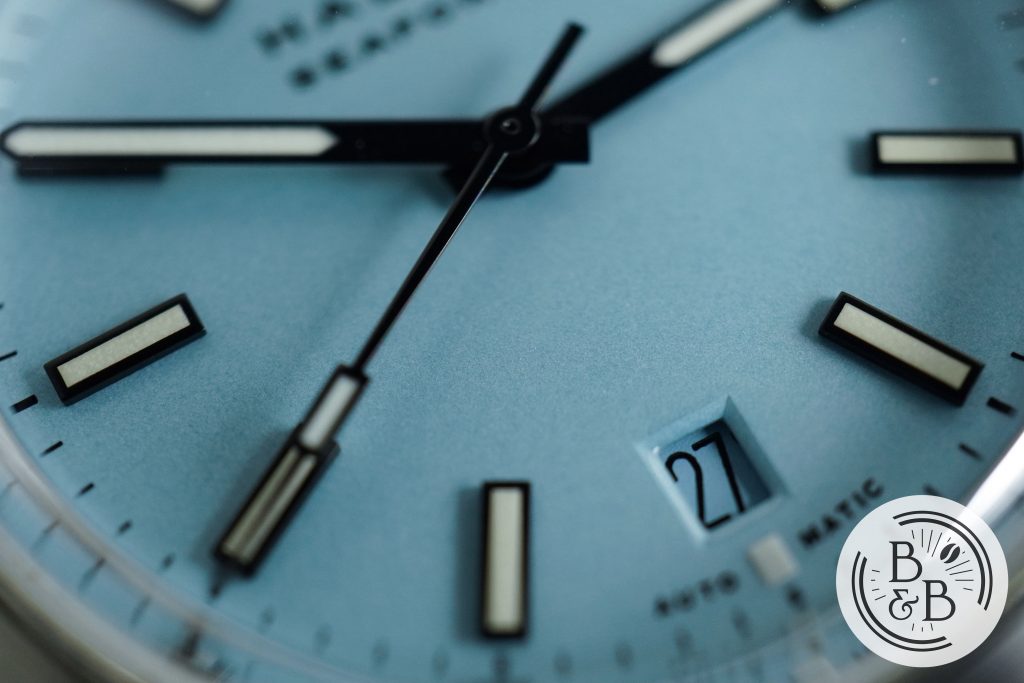 This is the pastel blue dial option, and is probably one of the most popular dial options that Halios has offered so far. The base of the dial has a soft matte finish, and I'll just say right away that this is one of the cleanest dials I've reviewed.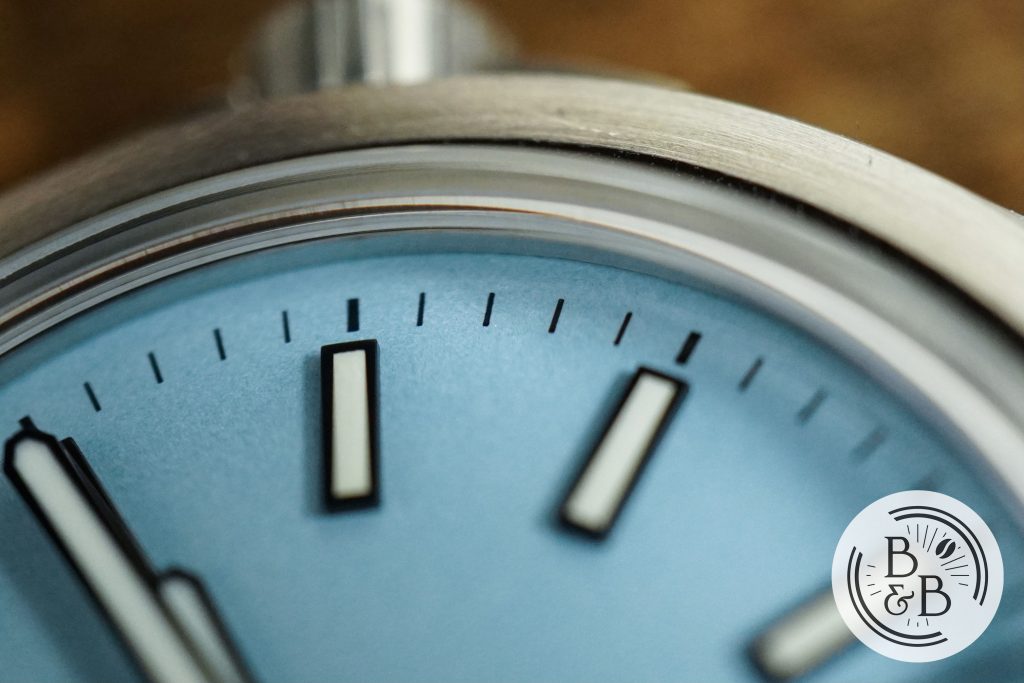 There is an outer minute track, printed in black, with slim white ticks for the minute markers and bold ticks for the hour markers. The legibility is excellent, and is perfectly positioned to avoid any crystal distortion.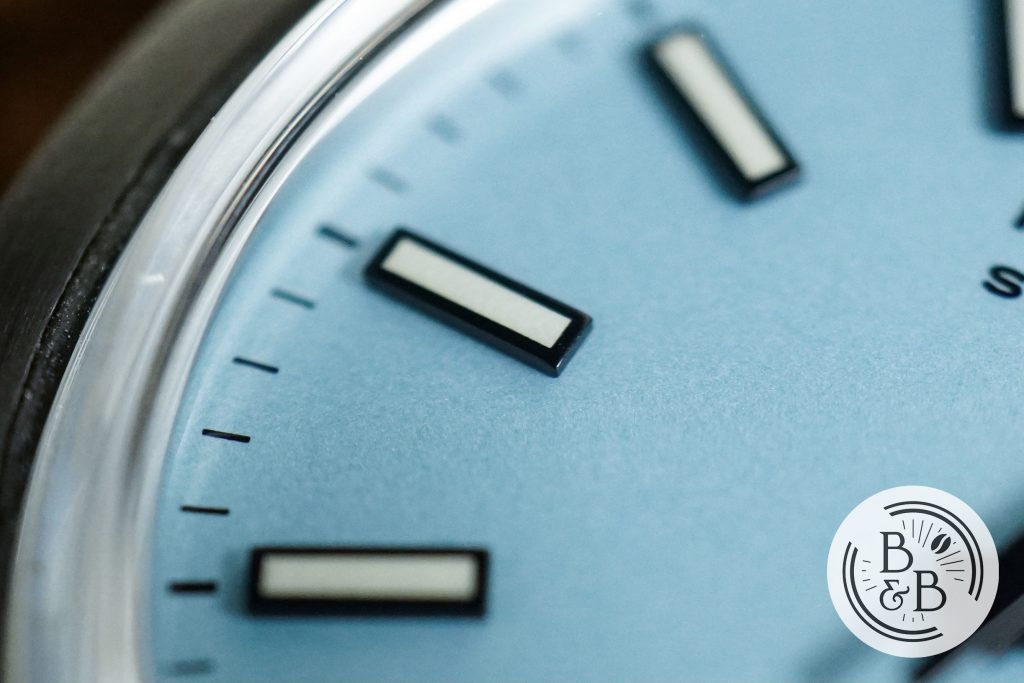 You then have large rectangular applied indices for the hour markers, that have flat black borders and are generously filled with lume. The finishing on the indices is excellent, and I love the fact that the indices are black, and not polished or brushed metal.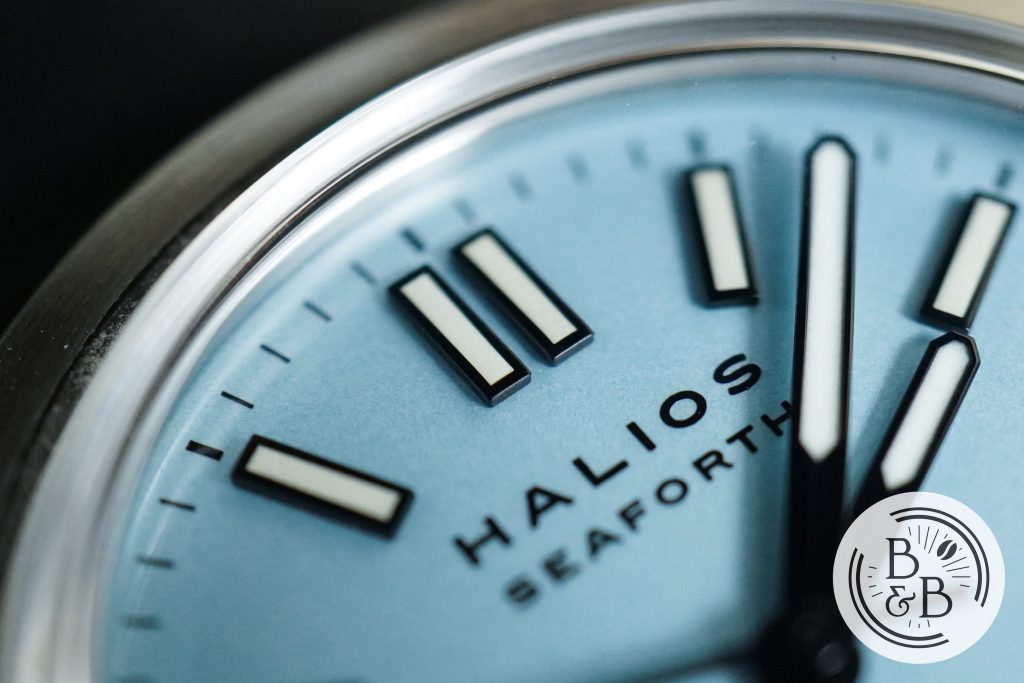 The 12 o'clock hour marker is a pair of double indices, below which is the brand's name and watch series. Excellent printing quality here.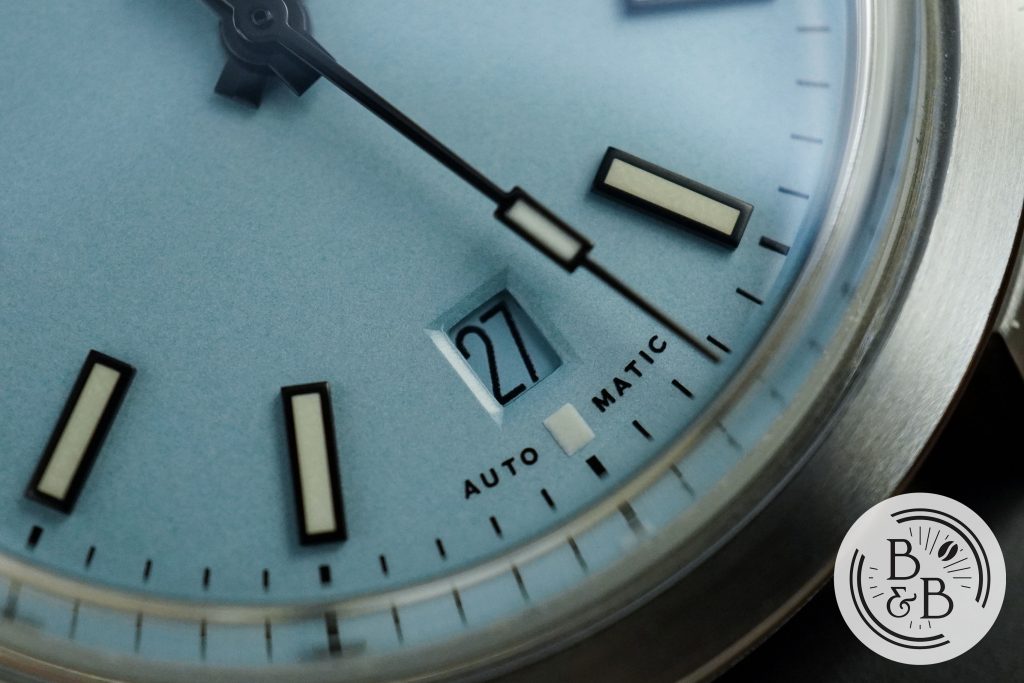 You should know by know that I'm a sucker for 6 o'clock date windows, so this date window is all kinds of perfect for me. The window is cut into the dial with sloped surfaces and a wonderful dial matched date wheel background. Again, great finishing here on the window and the surrounding areas.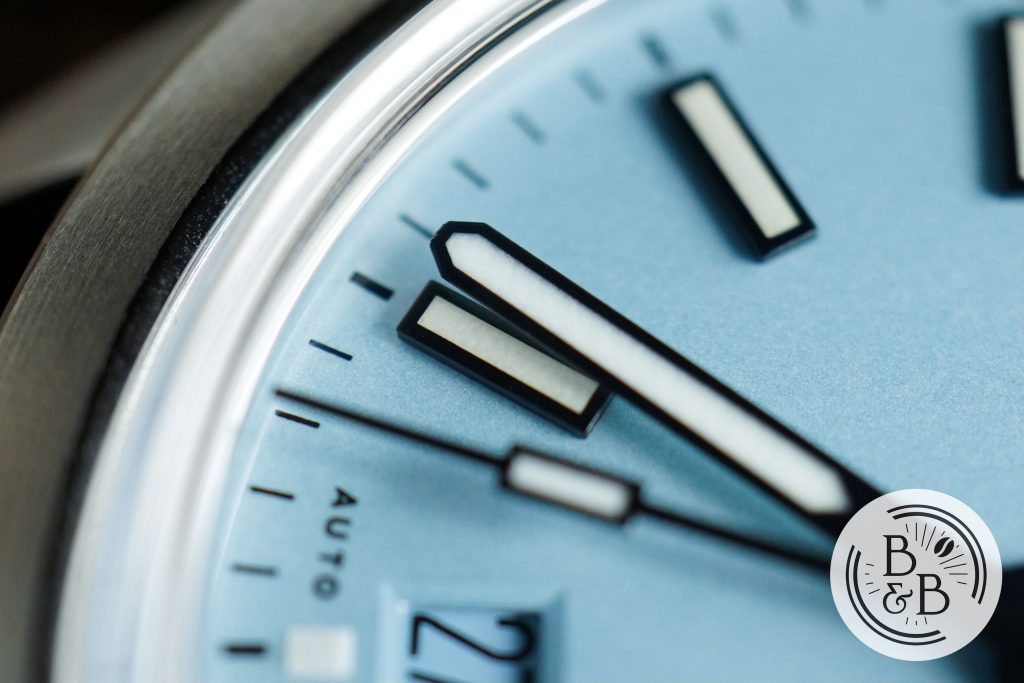 The hands are well proportioned, and follow the design of the indices, with black borders and filled lume. The only area where this dial falls short at being excellent is in the slightly mismatched lume on the hands and indices. The indices seem to be slightly more off-white.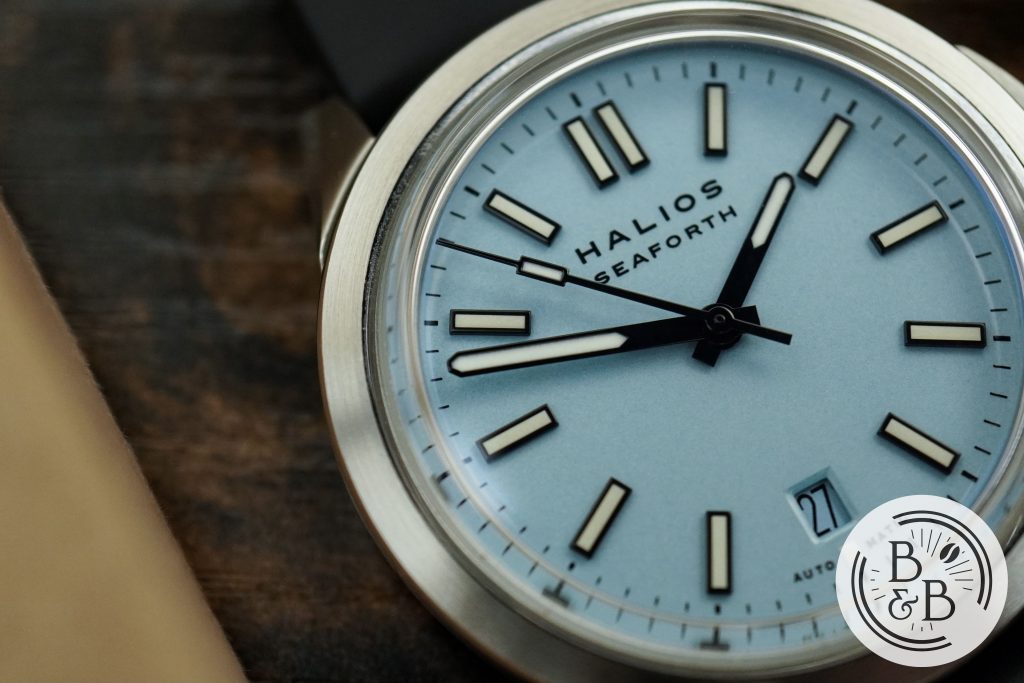 The length of the seconds hand is perfect, and it has a large rectangular lumed element that gives it plenty of visual weight.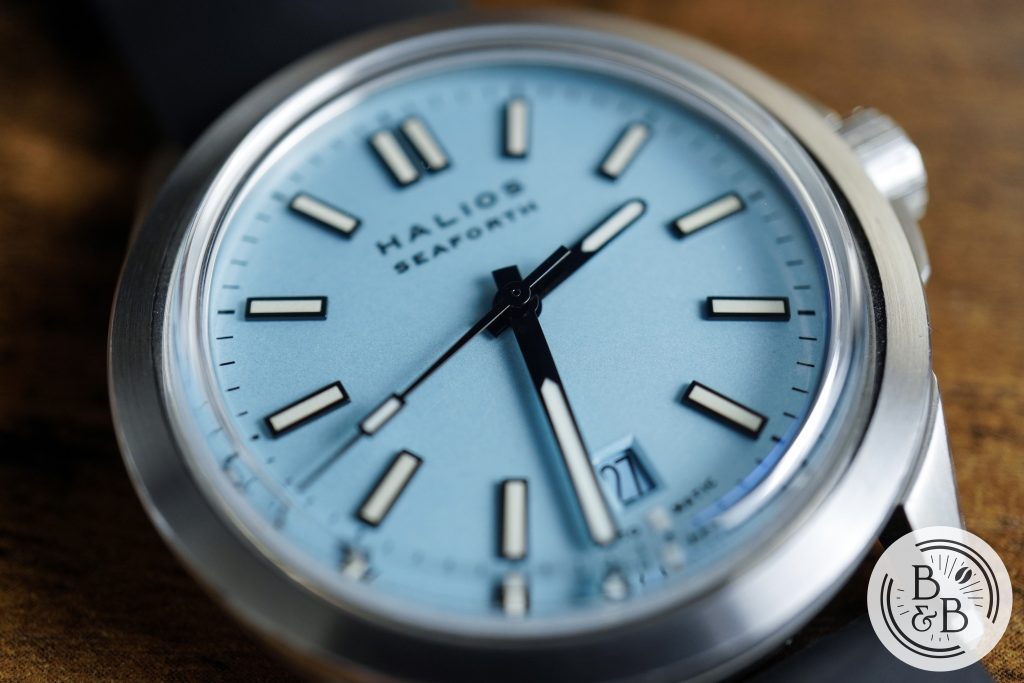 Overall, the legibility of this dial is beyond excellent. The finishing is great, and the design is incredibly appealing to me. I must sound like a complete fanboy right now, but that's because I am.
---
Lume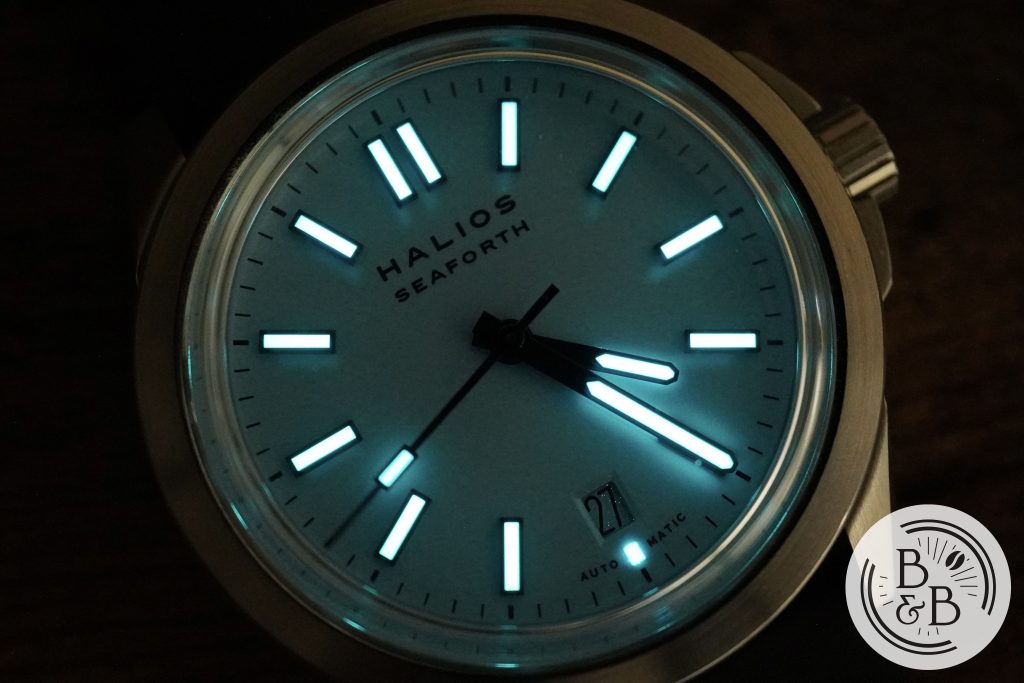 All the indices and hands are lumed, and quite generously so. The lumed elements are all BGW9 Super LumiNova, and the blue glow looks beautiful on the pastel blue dial.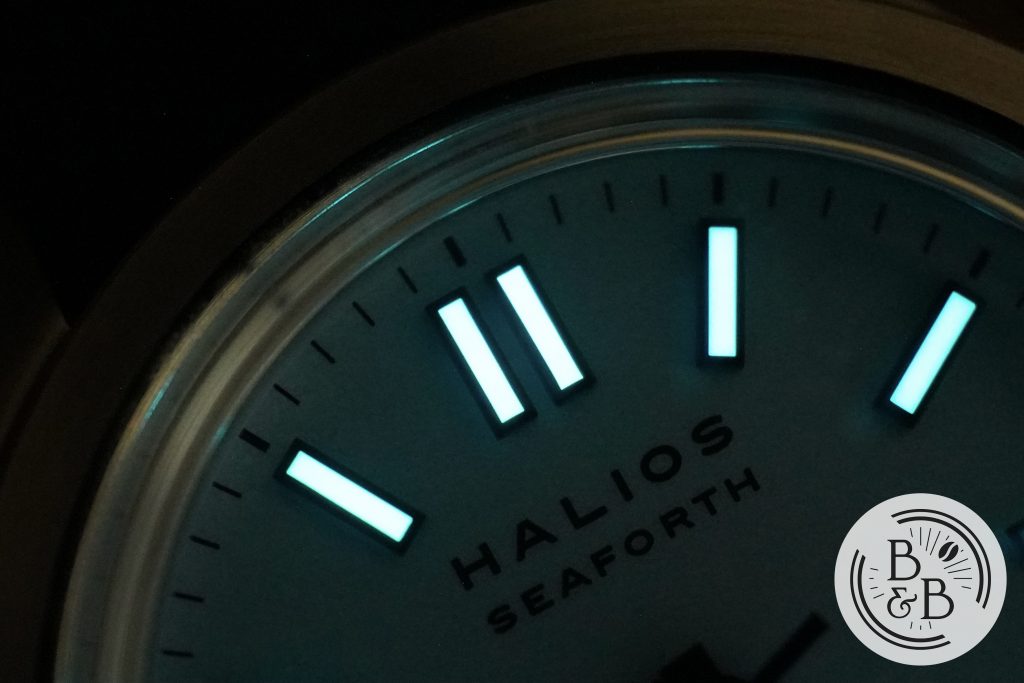 The indices appear to be very generously filled with lume, aided by the depth overall size of the indices. The lumed element at the 6 o'clock marker lacks a definitive border, so the lume here is slightly less defined there. But it works great from a dial design perspective, so I think the lume should be treated as a bonus.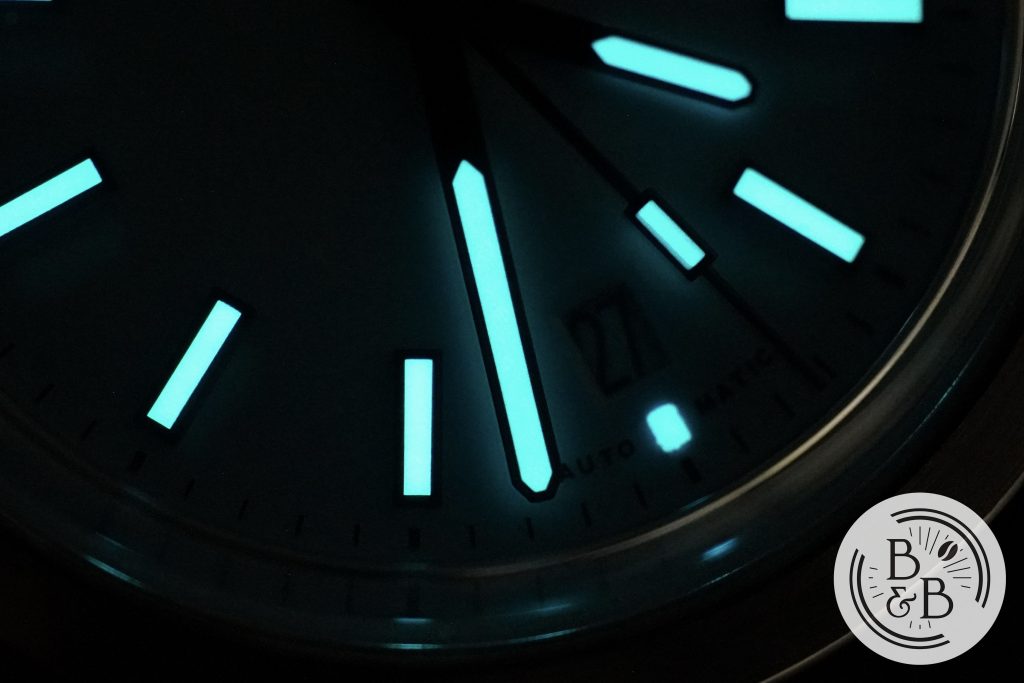 The hands are great too, with large lumed sections that glow bright and have excellent longevity. The seconds hand has a well proportioned rectangular lumed element too. This lume on this watch does not disappoint.
---
Movement
This is the third generation of the Seaforth lineup, and features an ETA 2824-2 movement. These are good movements, and for the original retail price as well as most of the secondary market prices, I can't complain.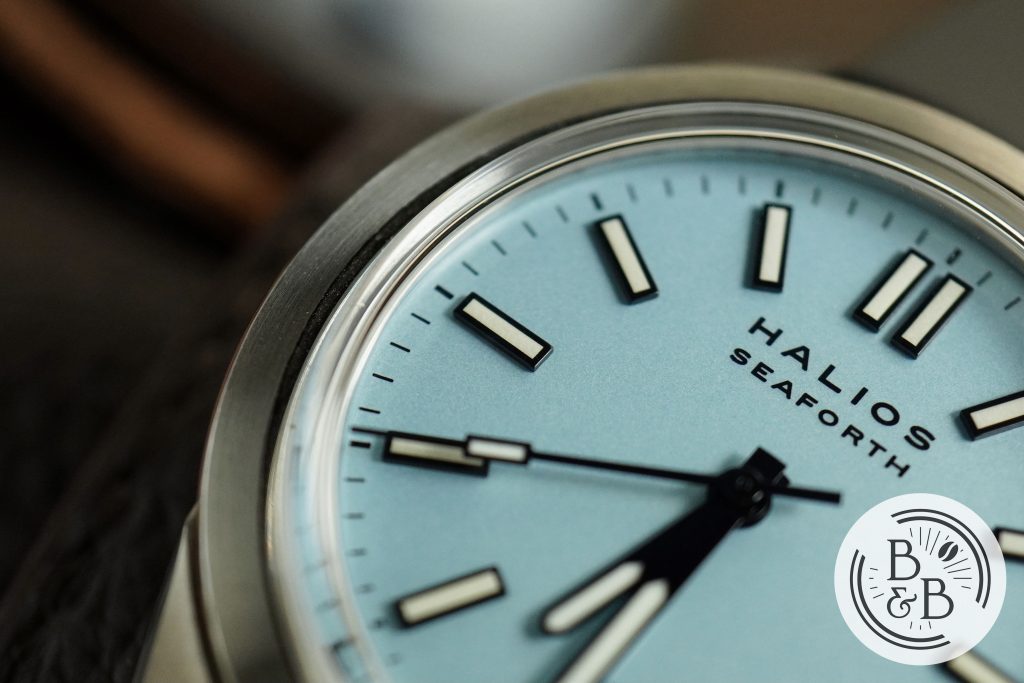 I've had mostly good experiences with this movement, and just because of how globally serviceable they are, I'm happy to have watches with them. I'm not sure if Mike had this serviced since he bought it, but it was running at a solid +5 spd in the dial up position and +6 spd in the crown up position.
---
On The Wrist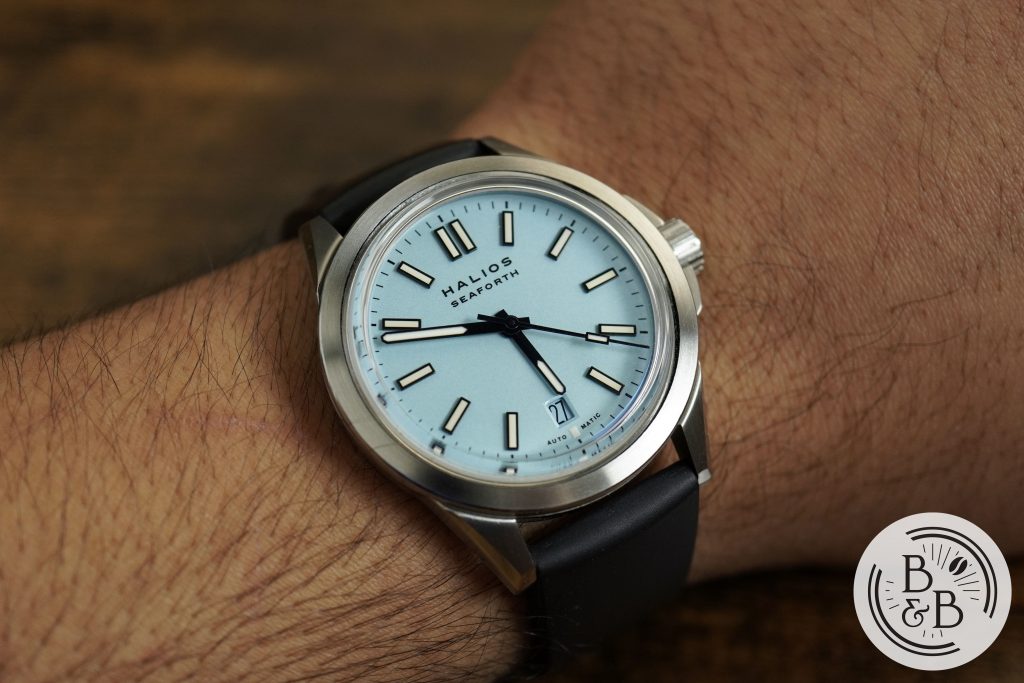 This watch fits incredibly well on my 6.25″ wrist, and I think that is one of the main reasons I've gone full fanboy on this one. The 39.5 mm diameter has a definitive presence on the wrist presence, which is reigned in quite a bit by the 46 mm lug-to-lug width.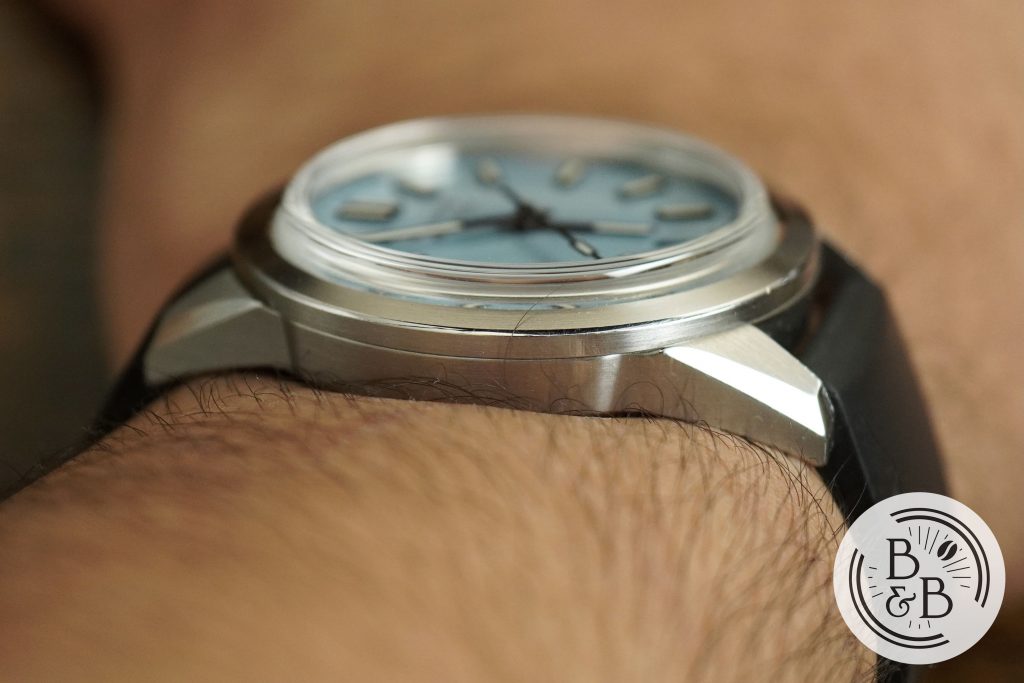 The height of 11.80 mm is perfect for this watch, and together with the flat case-back and angled lugs that extend beyond the case, this watch seems to just fit me like a glove.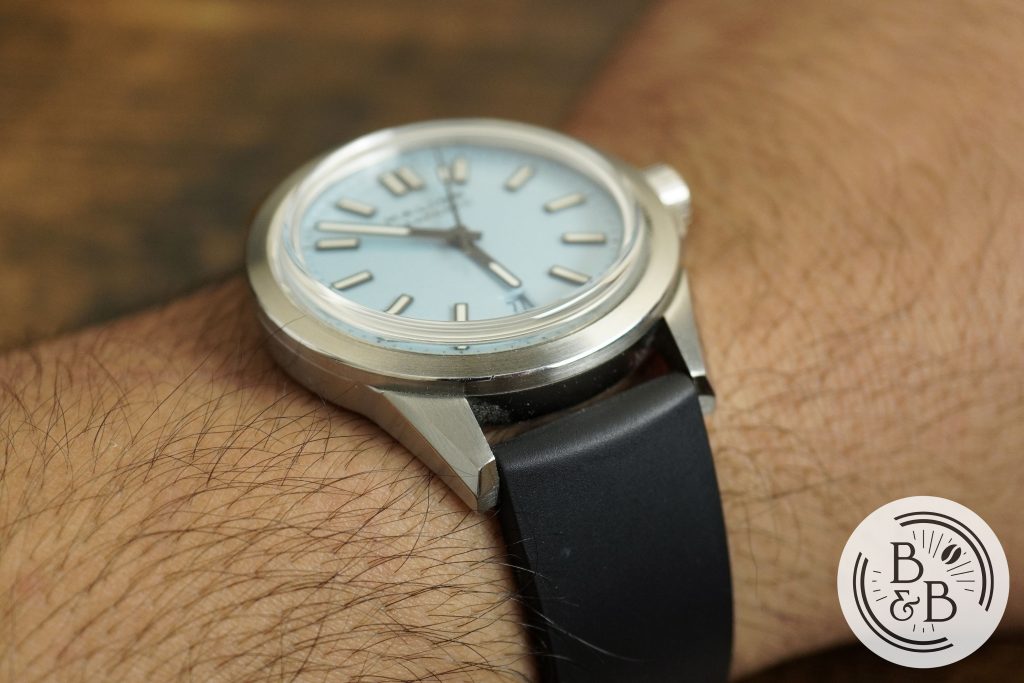 I'm a huge fan of rubber straps, and the strap on this watch is great. It is surprisingly thin, and has plenty of flex. Overall, the way this watch feels on the wrist is enough for me to want to buy one of my own.
---
Concluding Thoughts
To wrap this up – I wish I could say go out and buy this watch. Sadly these beautiful dials don't pop up very often, and even when they do, they don't last very long on the secondary market. The secondary prices are also slightly volatile, and you could be paying anywhere between $600 and $1300 for Seaforth watches in general. I think for the popular dial colors like this one and the light grey, around $1000 is realistically where they are at.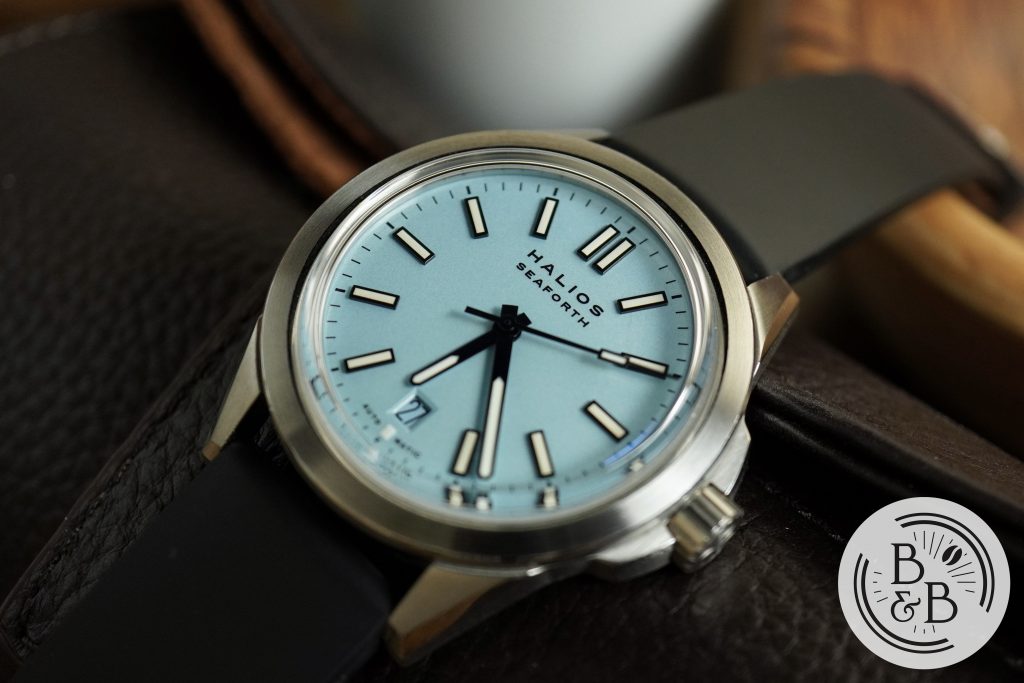 I love this dial, and I enjoyed checking it out. I will be looking to get a Seaforth for myself soon, and maybe one day grab one of these pastel blue dials. The good news is that the Seaforth IV is on it's way, and there will be Titanium involved! So if you can't find the right Seaforth on the secondary market, just hold on to your wallets and wait for Jason to work his magic.
---
Thanks for reading!