---
Disclaimer: I purchased this watch on the secondary market, and was not externally incentivized in any way to make this review. This review is in no way sponsored by Seiko, or any entity. All opinions here are my own.
---
---
Contents
---
SRPF35K1 Yellow Monster
Seiko has so many watches in circulation that it is hard to keep track of what they release and when. I didn't even know this watch existed until I saw this one for sale a few weeks ago. At first I thought "Wow, this is a great looking Seiko mod.", and then after a quick Google search, I realized this was an actual Seiko release from late last year, and a special edition release for the Asian market. You may think I'm choosing to review only limited edition and special edition watches, but this is completely unintentional, and it is purely co-incidental that every Seiko I've been reviewing has something special or limited about it.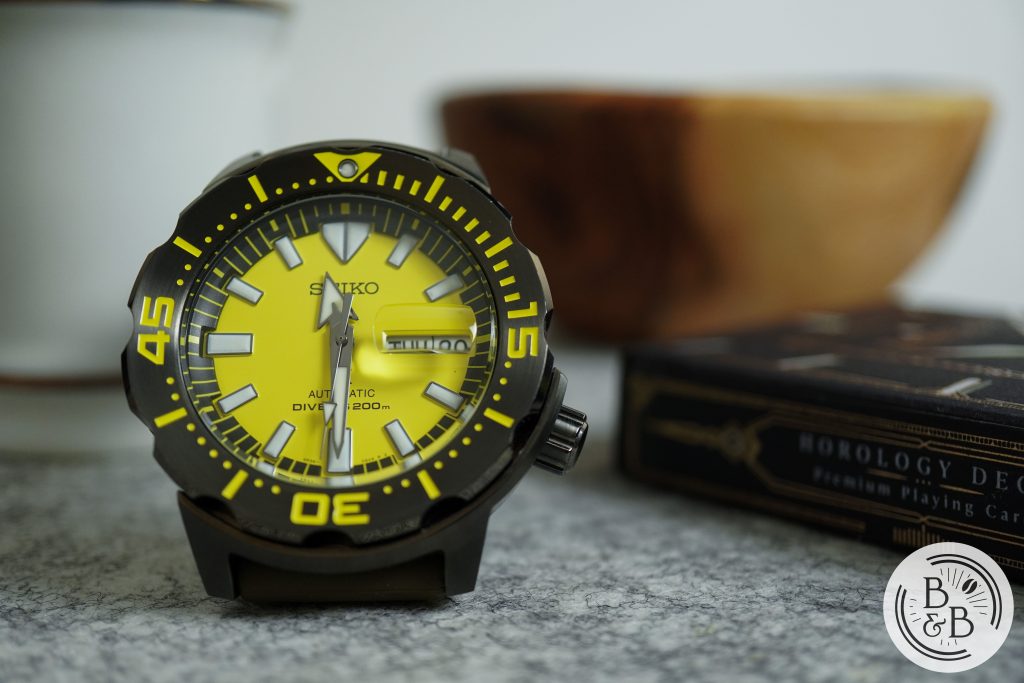 This is the Seiko SRPF35K1 and is a special edition black case, yellow dial twist on the monster dive watch platform. I'm not sure how many are/were made, and frankly I don't care. I bought this watch to review because I think it looked amazing, and it may just be one of my favorite executions of the black and yellow color style. Seiko knocked it out of the park with this one, and managed to create something that was both fun and still quite reassuring as a robust dive watch. This watch had a retail price of around $450.
Let's check it out!
---
Case
The Seiko monster case is an interesting one, and to me feels like an evolution of the tuna case. I think of it as a tuna with well designed lugs and an interesting bezel.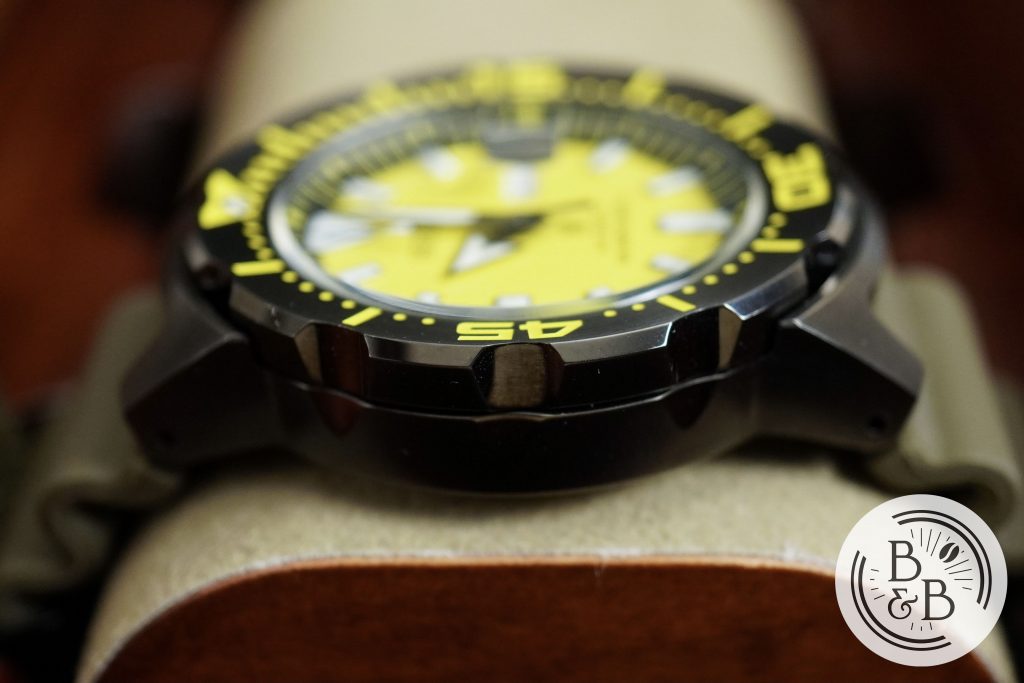 I measured the case to be 41.8 mm in diameter, 48.5 mm from lug-to-lug and 13.15 mm tall. The case is made of stainless steel and coated with Seiko's black hard coating. The finishing on the case is great. This is a pre-owned watch, so there are some signs of wear, but I'm surprised to see that the black case coating has aged quite nicely and doesn't look flaky like some cheaper PVD coated watches.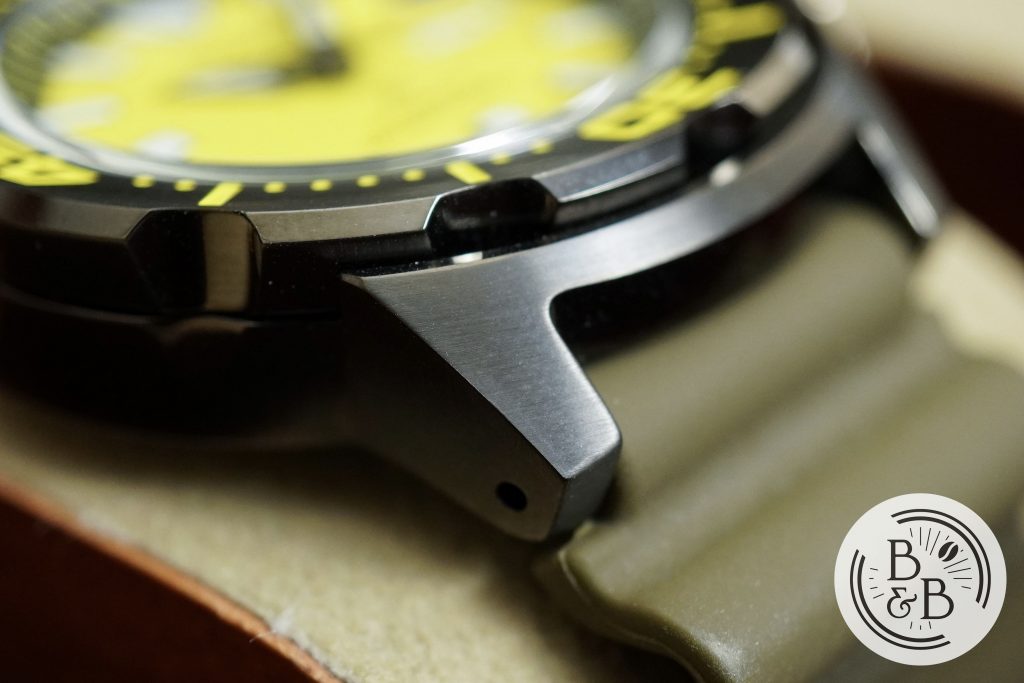 The lug section is part of the mid-case and also happens to wrap around the bezel at the 12 o'clock and 6 o'clock, acting almost like the shroud on the Seiko tuna. I love this aspect of the case, and I think the dramatically sloped and short lugs add tons of character to this watch. The lug width is 20 mm, and in true Seiko tool watch fashion, the lugs are drilled through.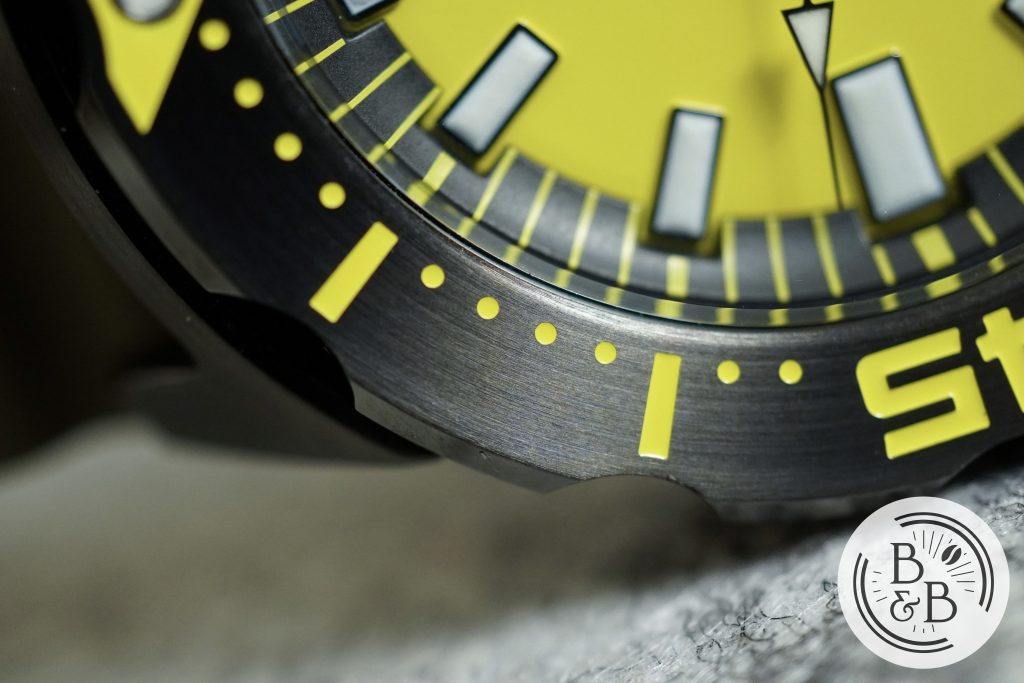 The single piece bezel is uni-directional with 120 clicks. The bezel slops inward and is radially brushed with yellow bezel markings and a lumed pip at the 12 o'clock position. The bezel action is very Seiko-like, and the bezel aligns perfectly, which is a pleasant surprise.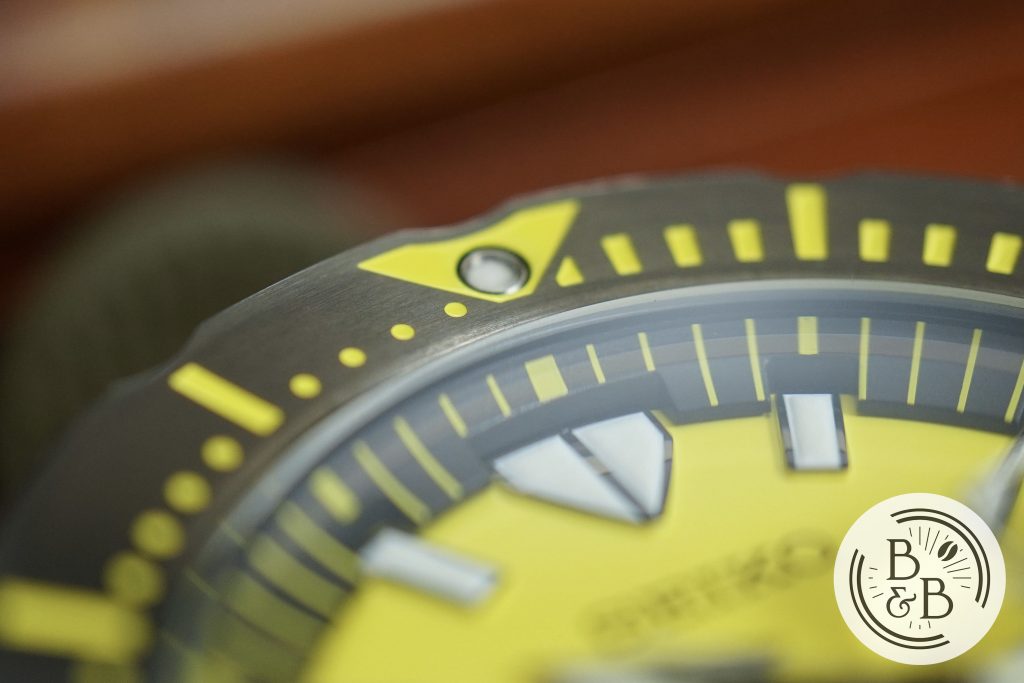 The crystal is hardlex with plenty of AR coating. The hardlex doesn't bother me too much on this, since it is well protected by the sloped bezel, but at $450 I can see a lot of folks wanting sapphire, and that is entirely reasonable. There is a wide cyclops window above the 3 o'clock position, that is a bit of an eye sore, but one that has now become part of the design DNA.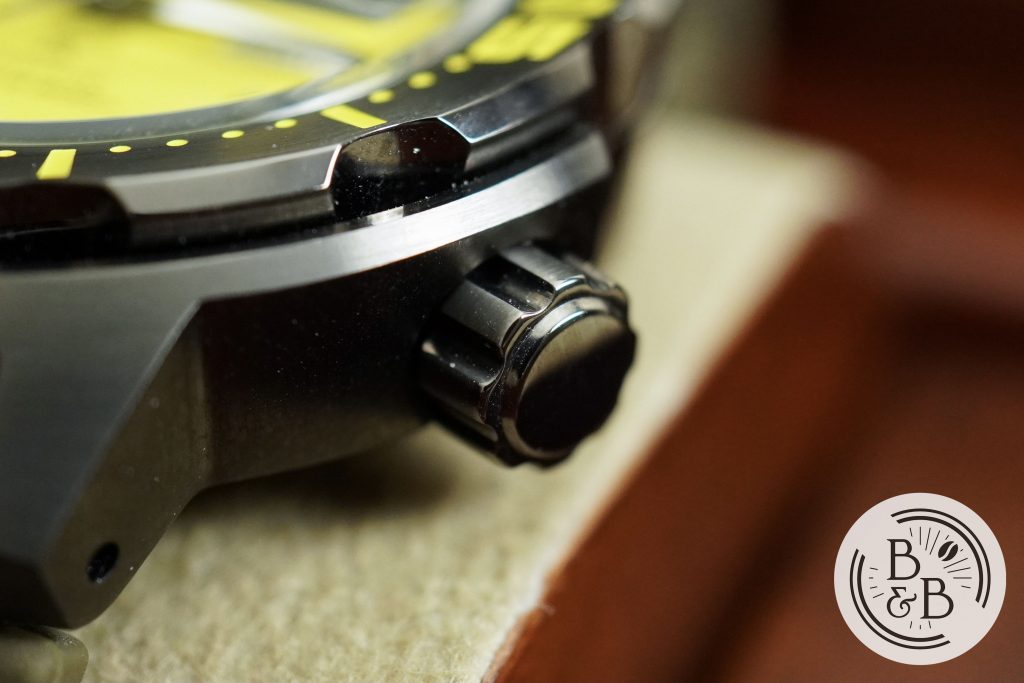 There is a 6.4 mm screw-down crown at the 4 o'clock position that is easy to grip and operate. The action on the crown is good, and there isn't much crown wobble which is another pleasant surprise for a Seiko.
Flipping it over, you have a solid screw-down case-back that is very typical of a Seiko diver. This watch is rated for up-to 200m of water resistance.
---
Dial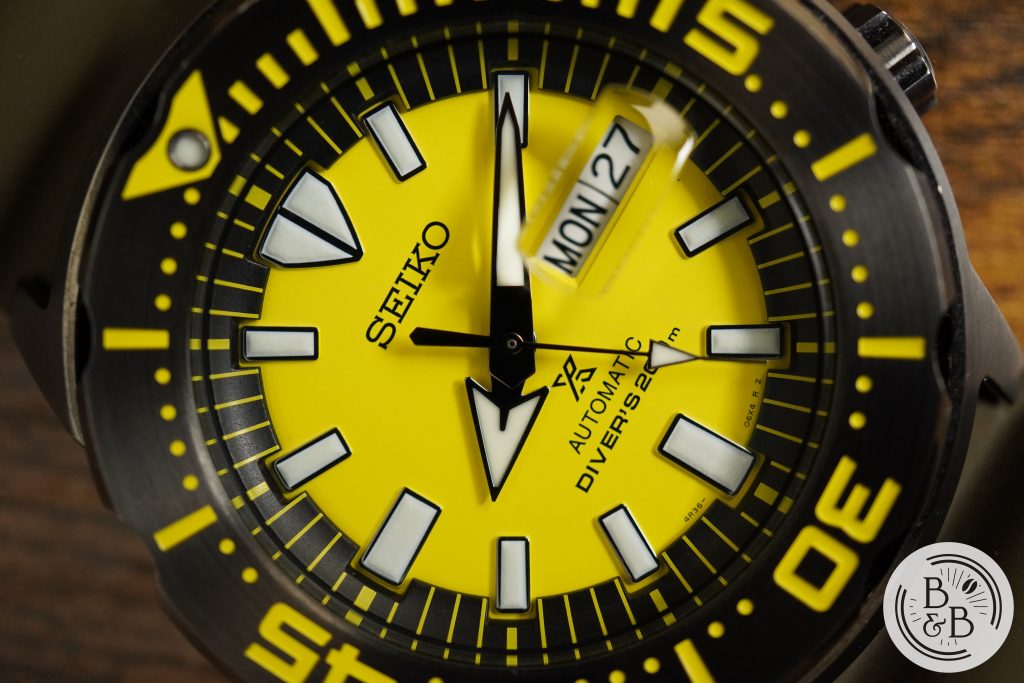 I love this dial. Seiko did a fantastic job with the black and yellow theme, and I'm so glad they didn't try to throw in more colors into the mix. The base of the dial is a matte yellow without any fancy texture or finishing. The only colors you see on the watch are a solid black, yellow and white.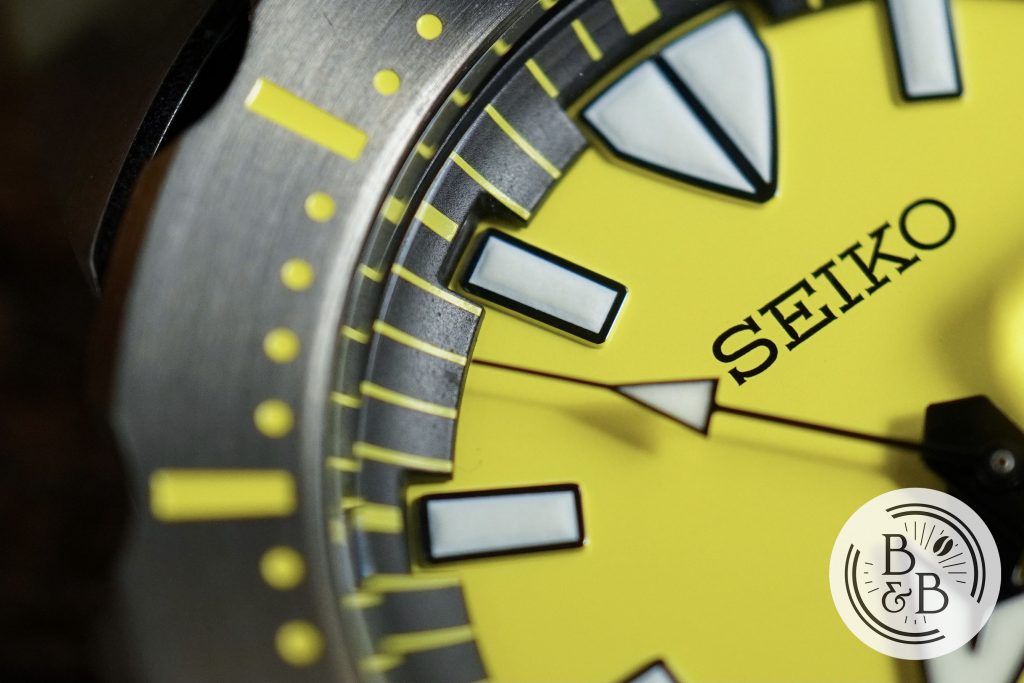 There is a raised black chapter ring that is more convex than sloped, with yellow painted markers. The chapter ring aligns reasonably well with most markers, except for the 5 o'clock marker. The printing quality is good, and the design is excellent.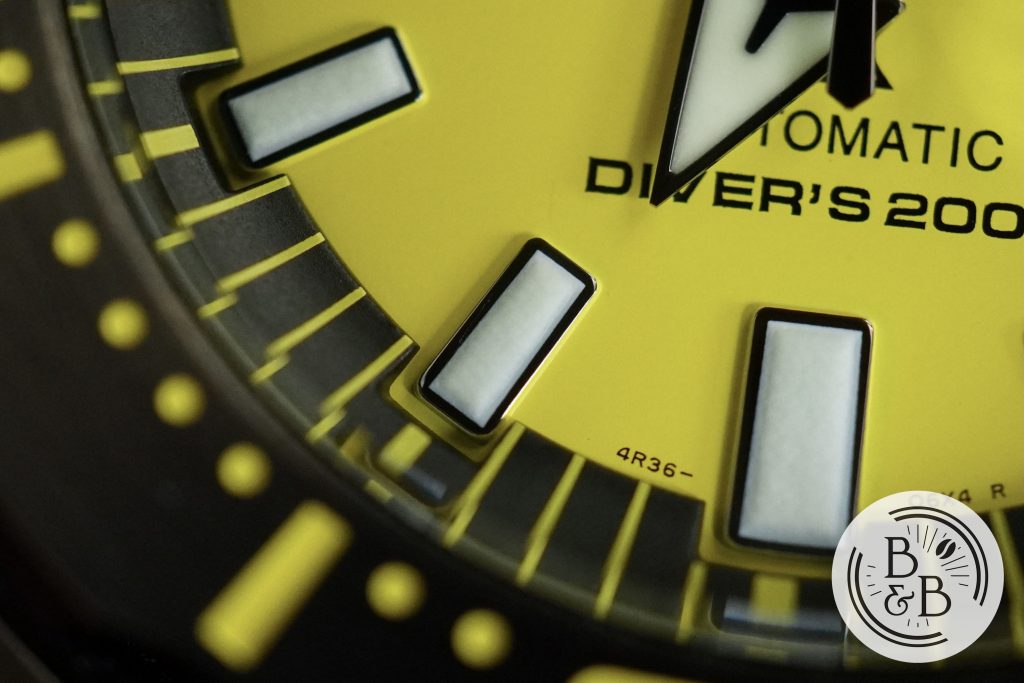 You have typical Seiko style indices, which are large, generously lumed and very easy to read. There is a triangle style index at the 12 o'clock position, and rectangles for the rest. The finishing is quite good for the price, and even the quality control on these indices are impressive for a $450 Seiko.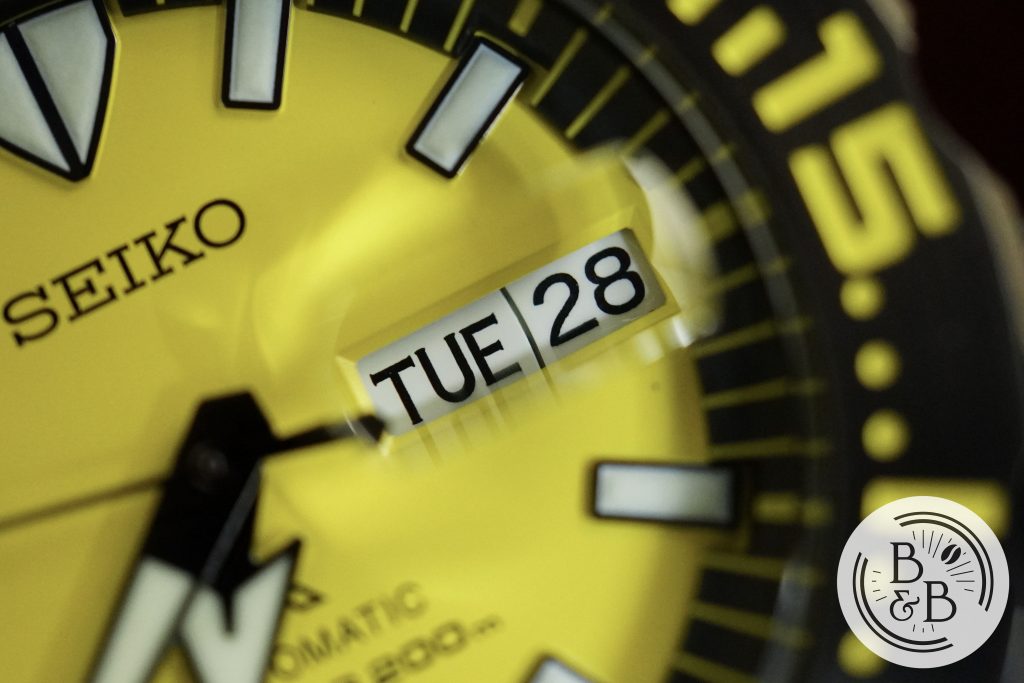 There is a day-date window at the 3 o'clock position, with a large cyclops window on the crystal for better legibility… supposedly. I could do without the cyclops, and I could do without the day date window. But this is part of the Seiko DNA now, so it is what it is.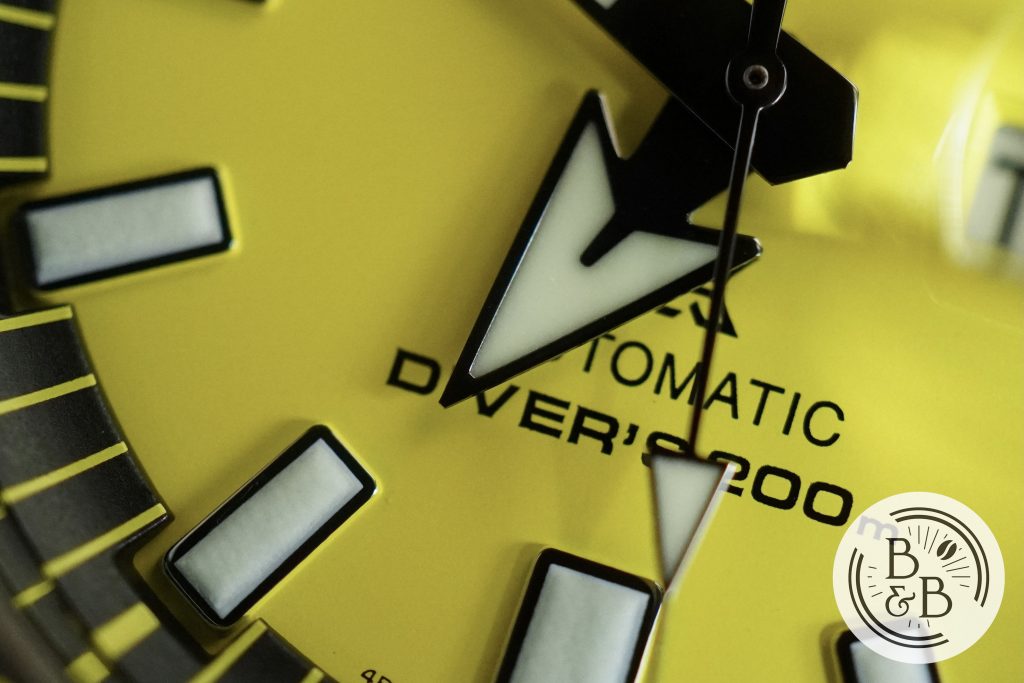 The handset is quite interesting, with big hands that are sharp and monster-like. I wish the minute and seconds hands extended a bit over the chapter ring, but these are my comments regarding most Seiko watches. The legibility is good, and the finishing on the hands is pretty good too.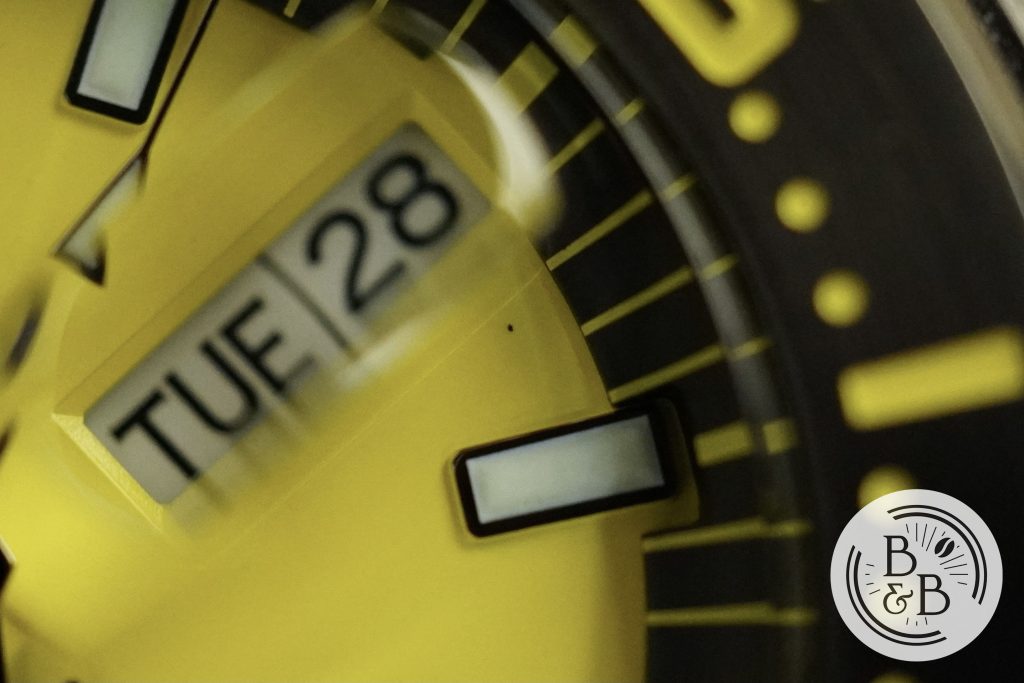 This dial was doing great in the finishing and quality control department, until I noticed a small black particle near the date window. This is an easy fix for a watchmaker with 10 minutes to spare, but is still unfortunate to see on an otherwise excellent dial. So close Seiko… so close.
---
Lume
As expected, the lume on this watch is great and all the LumiBrite elements glow bright and hold their charge well.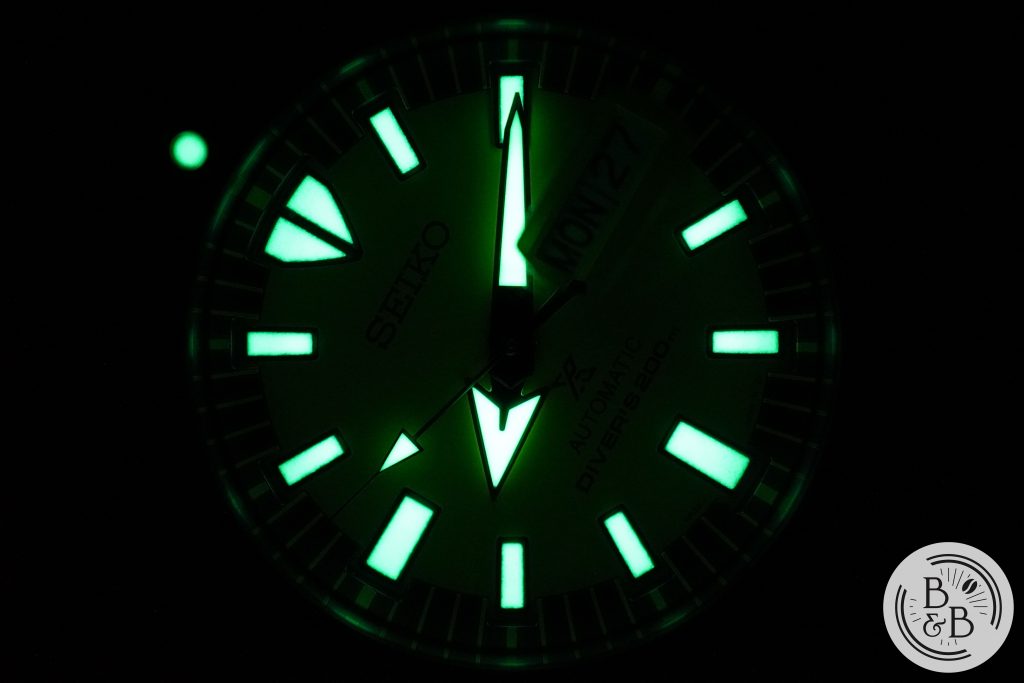 Seiko knows how to design dial elements that are big, bold and designed for lume application. All the hour markers are large and generously filled.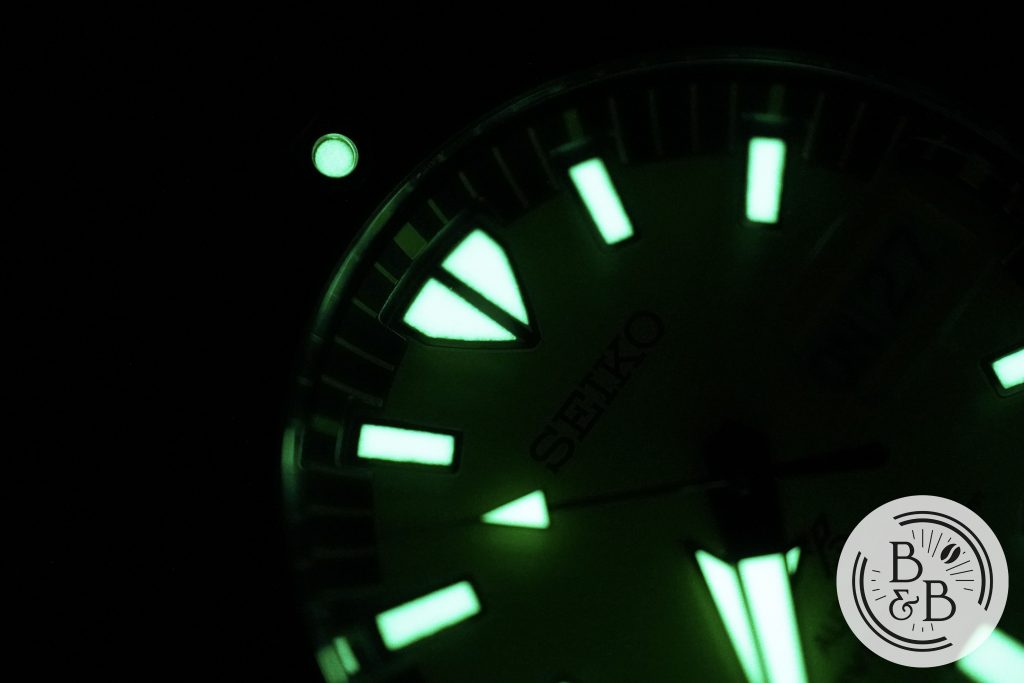 The hands are excellent too, seconds hand tip included.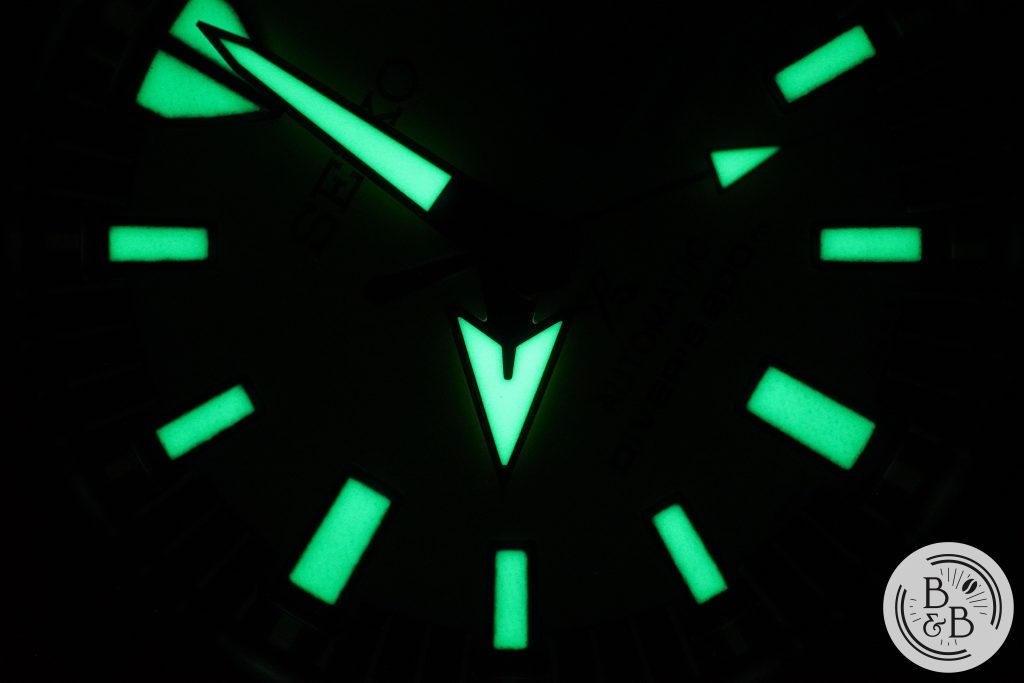 Honestly, there isn't anything you can complain about with the lume on this watch, except for maybe more lumed elements on the bezel. In the sub $500 price range, I think the only other brand that can out-shine and out-design Seiko's lume is Zelos.
---
Movement
This watch uses the Seiko 4R36 movement. I've covered this movement over a dozen times already, in all it's different incantations, so I'll just say that these are decent movements for the $200-400 price range. Beyond that, I'll start to expect something with a higher beat rate, better bounds on accuracy and something that doesn't look hideous.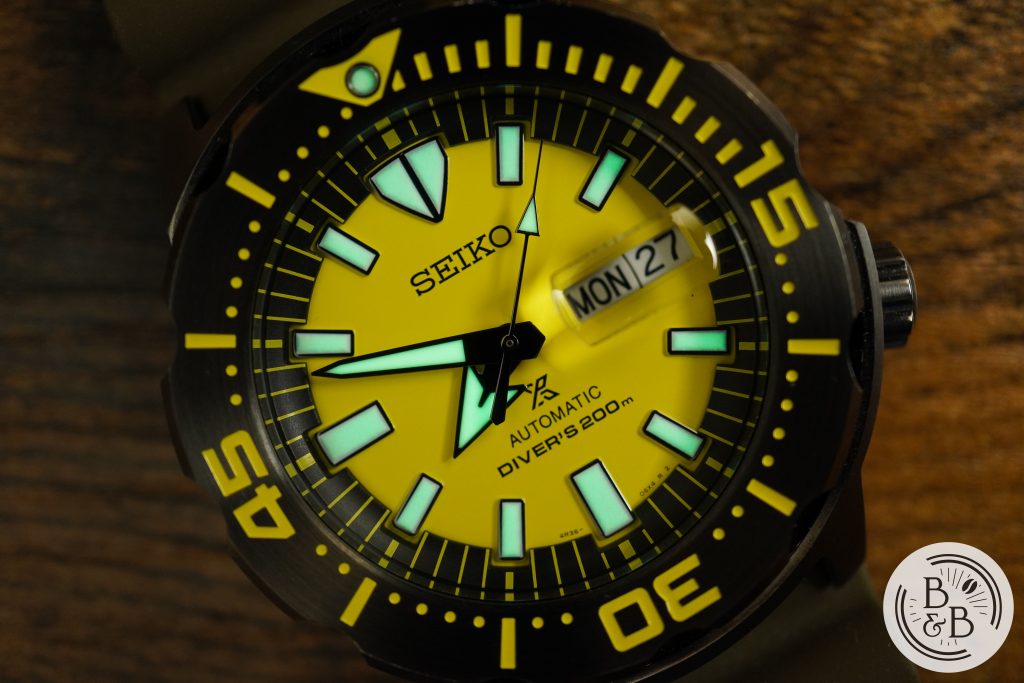 On my time grapher, I observed roughly +12 spd in the dial up position and +14 spd in the crown up position. Decent numbers for this movement, but I know these movements can be regulated better.
---
On The Wrist
I find the monster case to be quite comfortable on wrist, even though I'm aware some people don't like this case style. The 41.8 mm diameter and 48.5 mm lug-to-lug width are pretty compact and fit well on my 6.5″ wrist.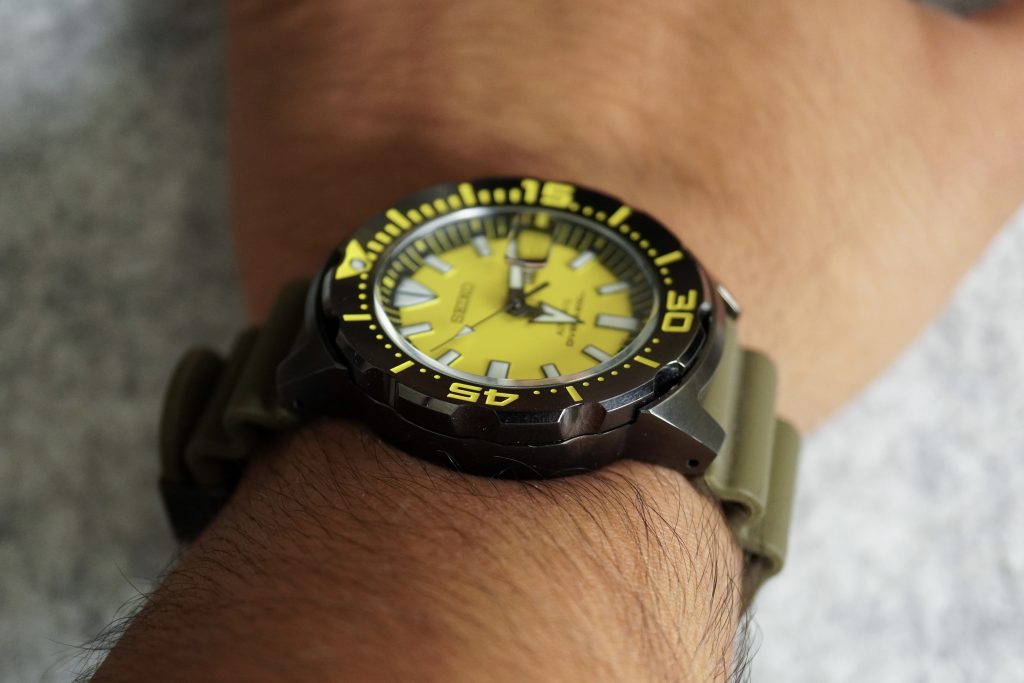 The 13.15 mm height is also quite manageable for a watch like this, but it does tend to have a hockey puck-like wrist presence, just a bit more stylish compared to the tuna cases.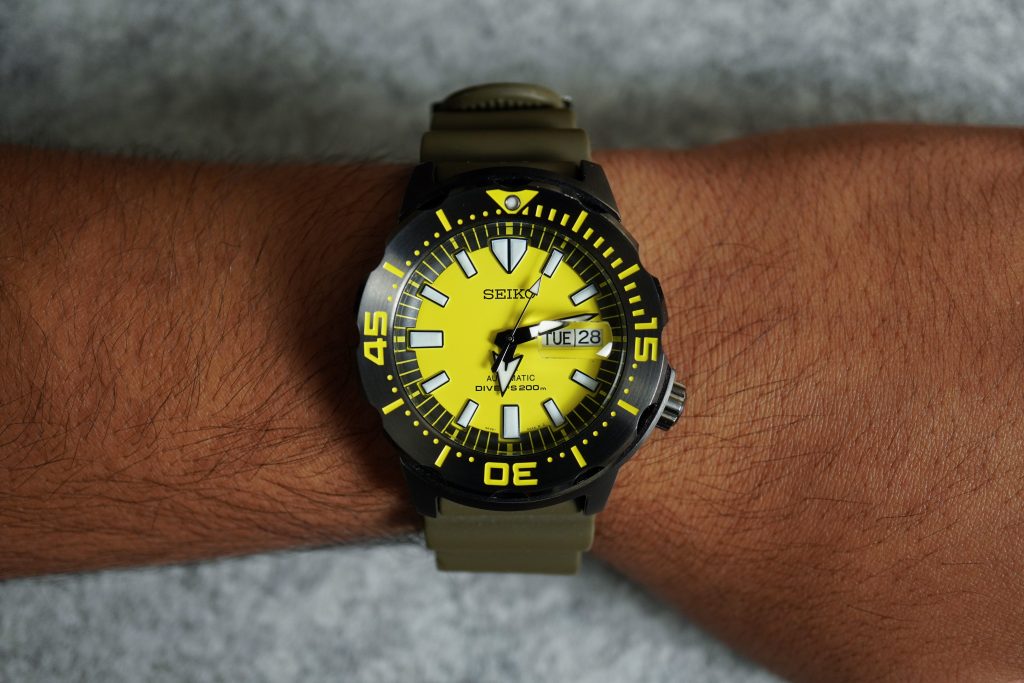 Overall, I like the wrist presence and my only real criticism is regarding the choice of color for the silicone strap. I think a black strap would've looked so much nicer than this green one.
---
Concluding Thoughts
Overall, I like this watch and love this dial. I think this is an incredible design, and a fantastic execution of the black and yellow color scheme, in a watch that still maintains enough of it's dive watch ruggedness. The black case is another excellent choice, and I think Seiko knocked it out of the park while designing this one. I suppose when you crank out 500 designs a month, you're bound to strike gold at some point.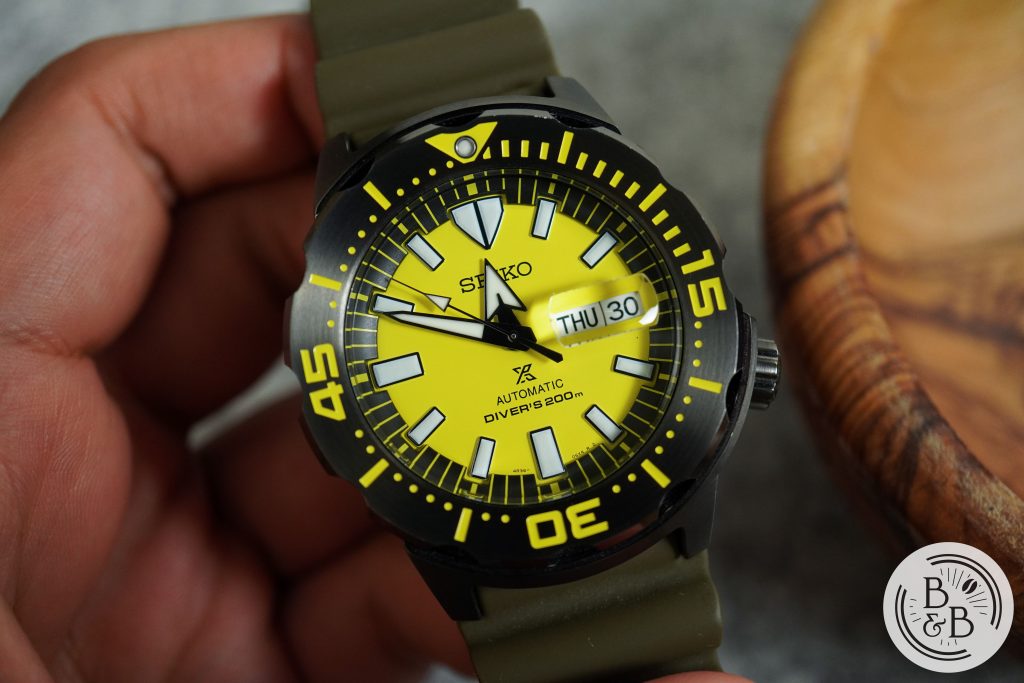 I think the dial quality control was very close to excellent, apart from that one particle on the dial, which in reality will be easy to rectify for any watchmaker. The chapter ring was also very close to being perfect, except for one hour marker. The bezel lined up well and the lume was fantastic. And at the original retail price of around $450, I think this watch is an excellent buy if you're looking for something colorful.
---
Strap Change
---
Thanks for reading!