---
Disclaimer: This watch was sent to me to review, and I don't need to return it after my review is complete. This, however, was done without restriction and is not contingent upon a particular outcome for my review. All opinions here are my own, and Vandaag had no influence over the opinions stated here.
---
---
Contents
---
Vandaag
Vandaag is a German micro-brand, and they're relatively new to the market, but the team behind these watches are passionate watch enthusiasts and have been in the watch industry for more than two decades.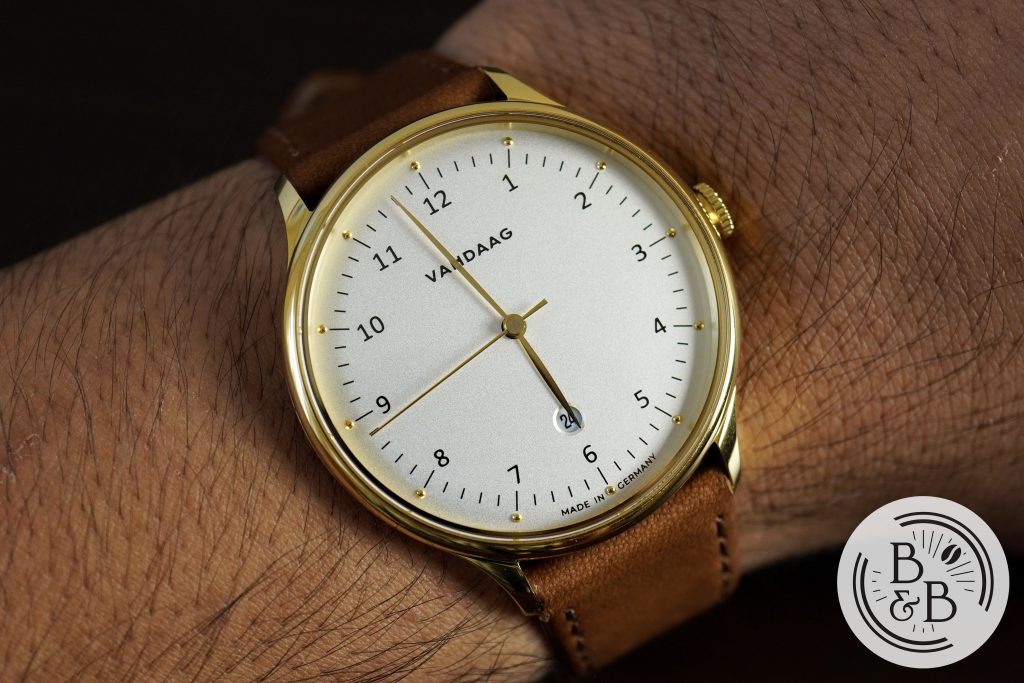 If you browse their website, you'll see that their watches are very much driven by minimalist design, and they have entered the micro brand watch world with two affordable Quartz watches – the Schallmauer, and more recently, the Primus. Both these watches have German watch design influence, and these watches are assembled in Germany by their watchmaker. I have been sent both these watches to review, and I can verify that while they are beautiful to look at, both watches are clearly designed with functionality in mind.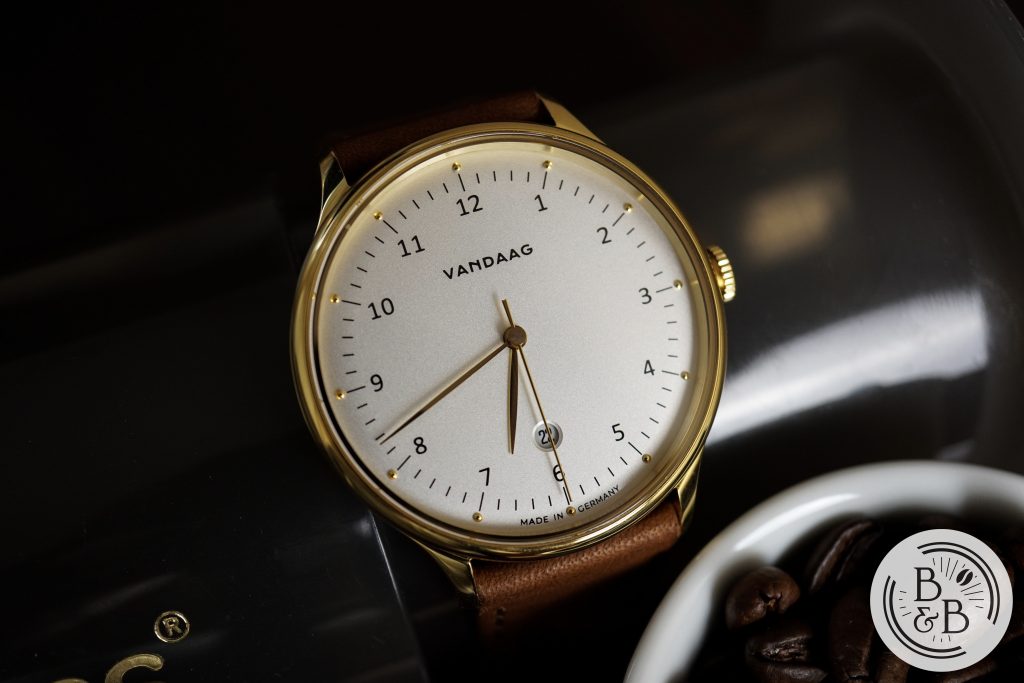 Today we'll be looking at the roughly $250 Vandaag Primus in Gold-Silver. This is somewhat new territory for me, since I spend most of my days reviewing divers and tool watches, but I had a blast doing it and I'm happy to present and review this piece.
---
Case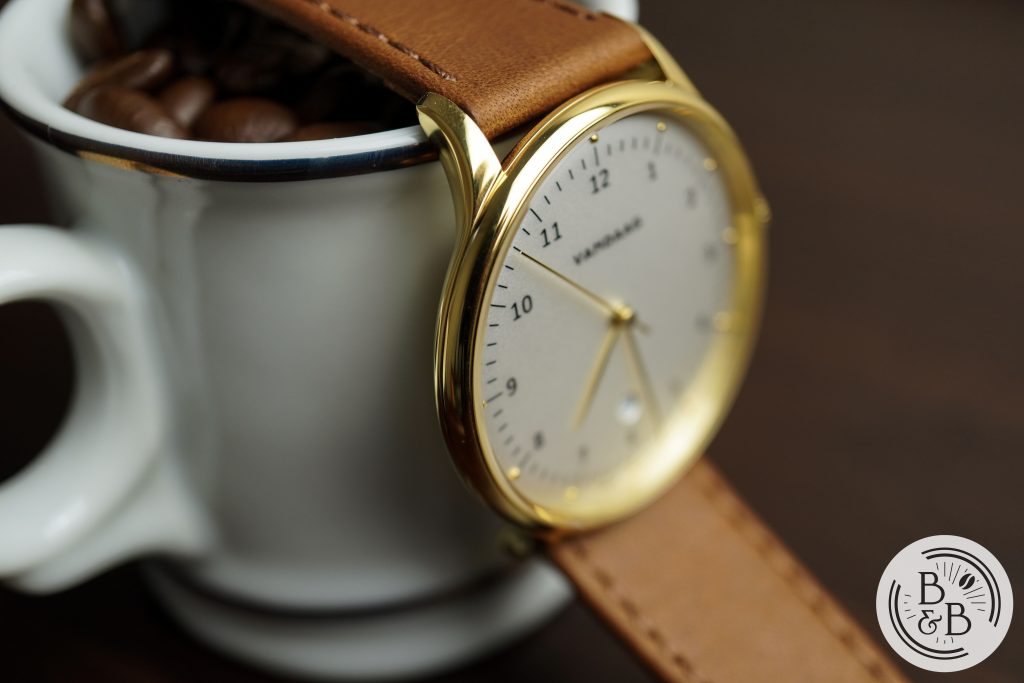 The case, like most of the watch, follows a 'less is more' design philosophy. The 40mm diameter, 46mm lug-to-lug width and 8mm height case is made of 316L stainless steel and is hand finished. The 8mm case includes the slightly domed sapphire crystal. I received the Gold Silver variant, which appears to have some form of gold color plating. I managed to scratch it in a few places, and to my surprise, it didn't reveal any steel surfaces. So the plating or coating appears to be reasonably thick. But considering this is a $250 watch, I wouldn't push this too far.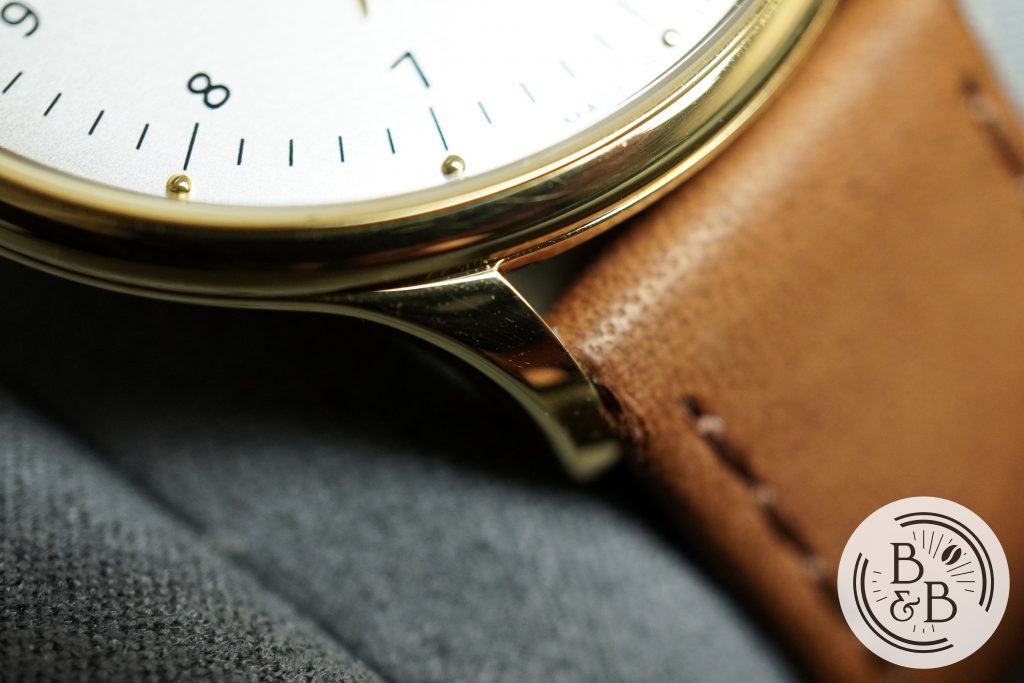 The short lugs dramatically curve out of the case and angle towards the wrist. There are no straight surfaces on this watch, except for the inner lug surfaces. I like this, and it definitely works for an elegant dress watch case. The lug width is 20mm, and the lugs are quite slim.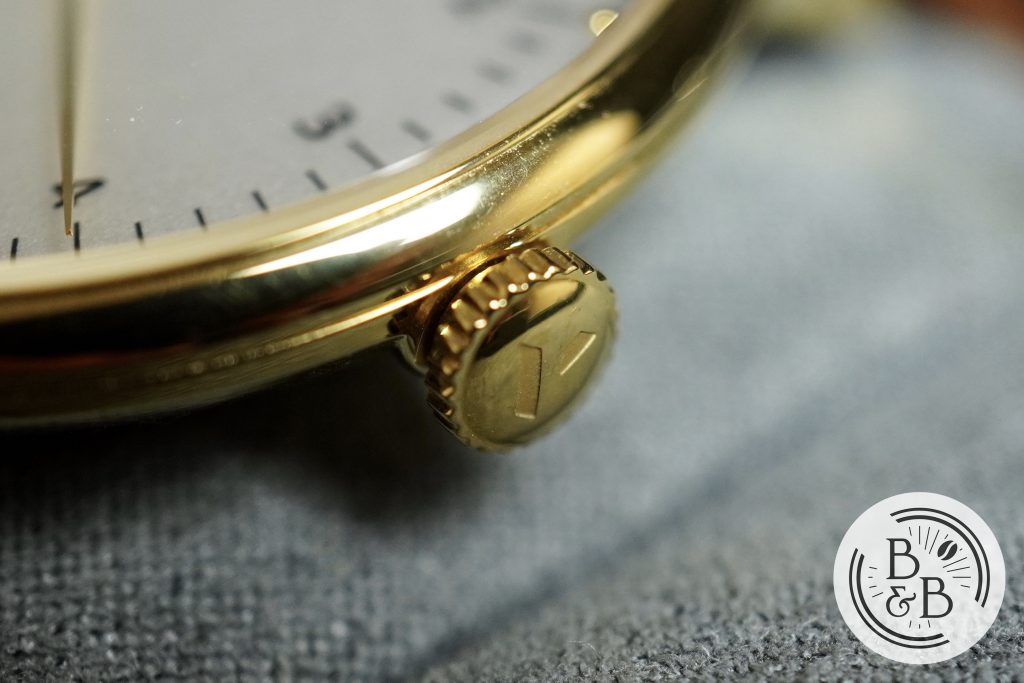 There is a very slim crown at the 3 o'clock position, which seems to have a lot of vintage dress watch inspiration. They've managed to design deep ridges into this narrow crown,which make it very easy to adjust. The crown is stamped with the brand's logo, and has no crown or stem wobble.
As I mentioned earlier, there aren't any straight lines on the case except for the lugs. This continues over to the case-back as well, which is completely curved. I like this a lot, and it's quite refreshing after looking at flat diver watch case-backs all day. The case-back is actually quite impressive because I think this is a screw-down case-back! The crown does not screw-down, and this watch is rated for only 50m of water resistance. But that shouldn't come as a surprise, since this is a dress watch.
---
Dial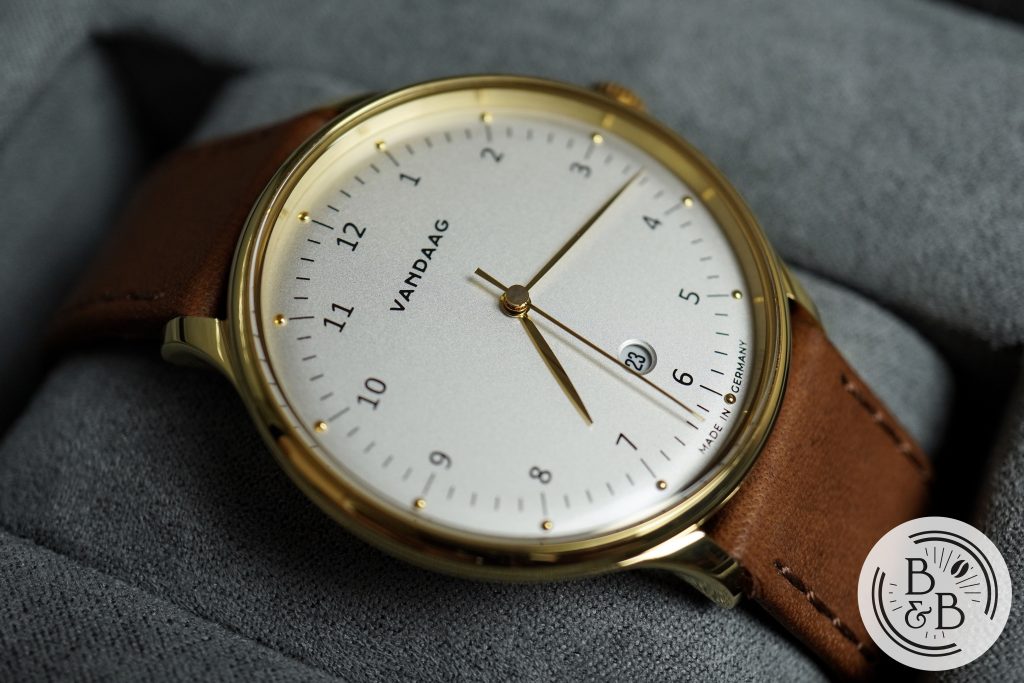 The dial on this watch is gorgeous. Both the design and execution are spot-on. As with most dress watches, the dial is really where they must shine, and this watch definitely does. The base layer of the dial is off-white / beige and has a metallic finishing. I think this looks great with all the gold hardware!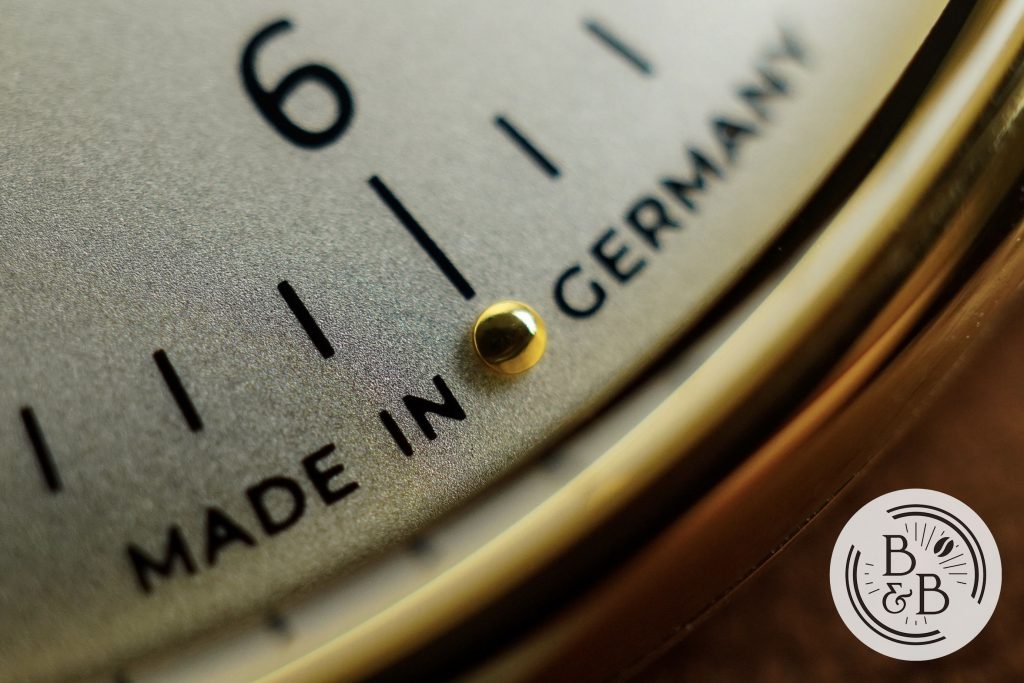 The design is quite minimal, and begins with a set of golden pips that serve as the outer-most hour reference markers. The finishing on these is excellent, and I couldn't find any problems on any of them.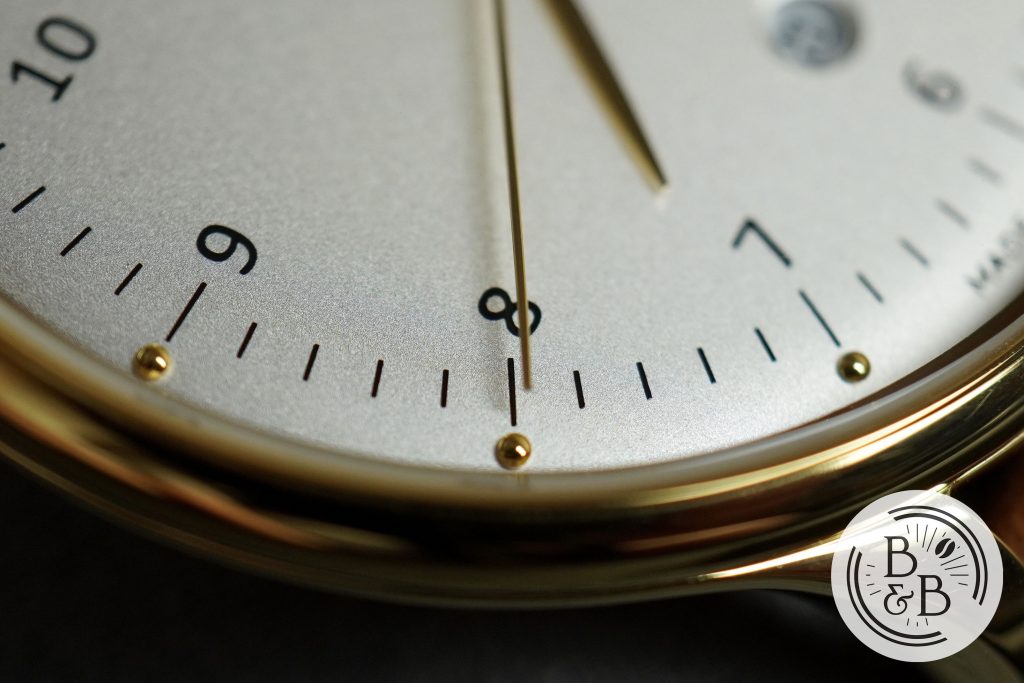 Moving inward, you then have a sequence of minute and seconds markers in the form of ticks. Each increment of five is marked by a larger tick, and also an Arabic numeral hour marker. Apart from the golden pips, all the dial elements appear to be printed on the dial, and the quality of printing is excellent.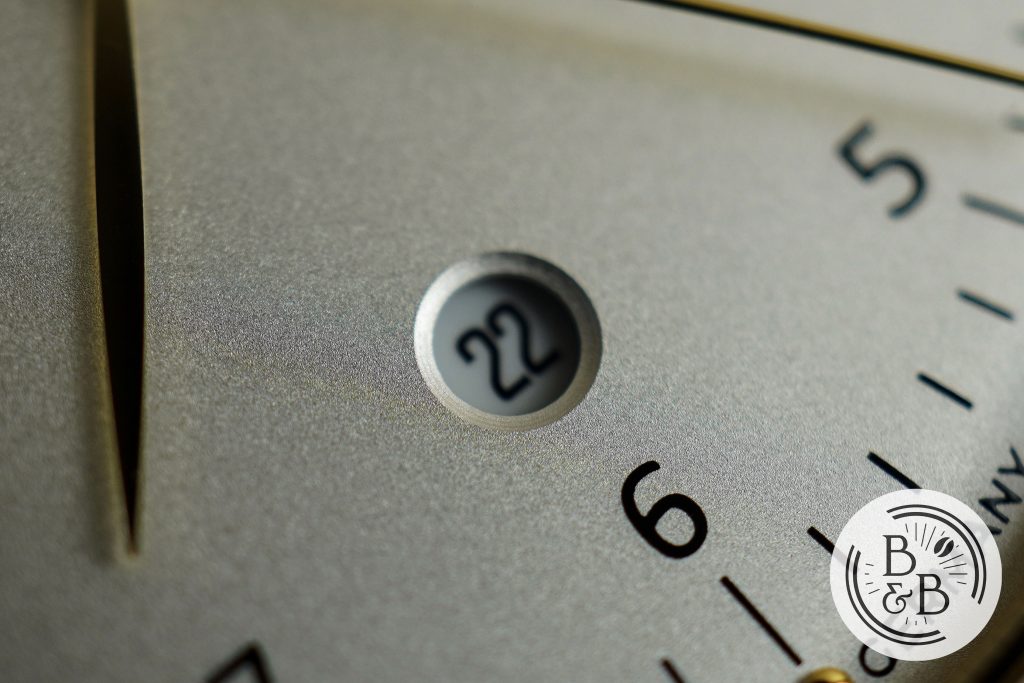 There is a well integrated circular date window at the 6 o'clock position. This date window manages to preserve the symmetry of the entire dial and does a great job at not drawing too much attention away from the dial. The date wheel has a white background and black text. I would've liked to see a date wheel that matched the dial either in color or finishing. I know that even a lot of more expensive watches don't match date wheels, but considering the entire watch has a beautiful off-white and gold color palette, it seems like an off-white date wheel background might've suited it better.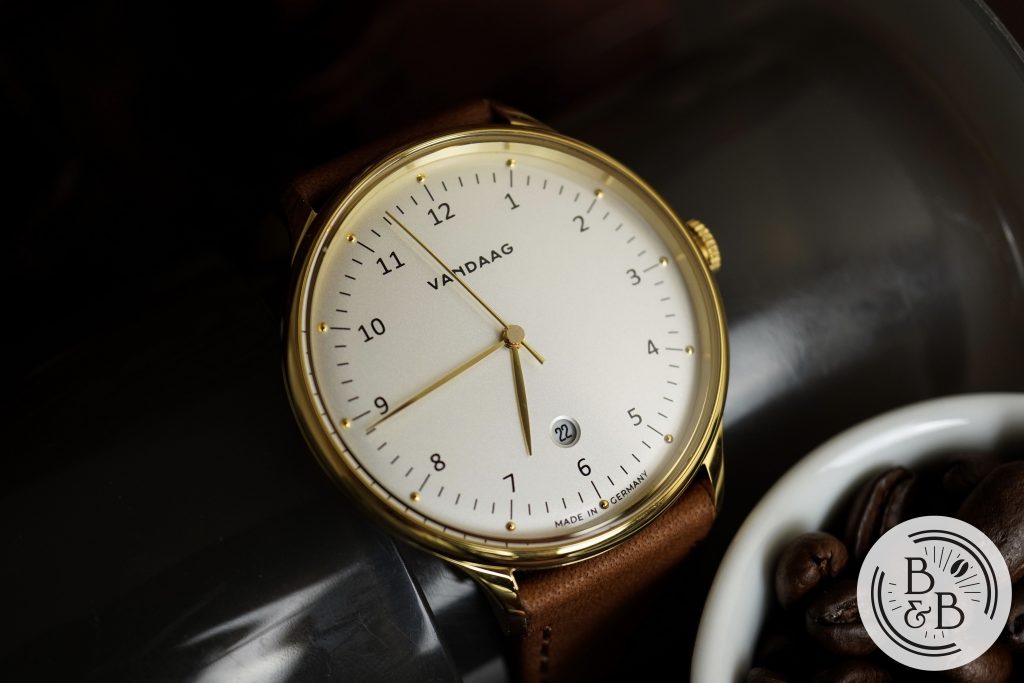 The hands are simple and well proportioned. They are color matched to the rest of the gold elements and are finished quite well. I also appreciate that the top of the seconds hand does not have an exposed stem or hole, and has a polished cover instead.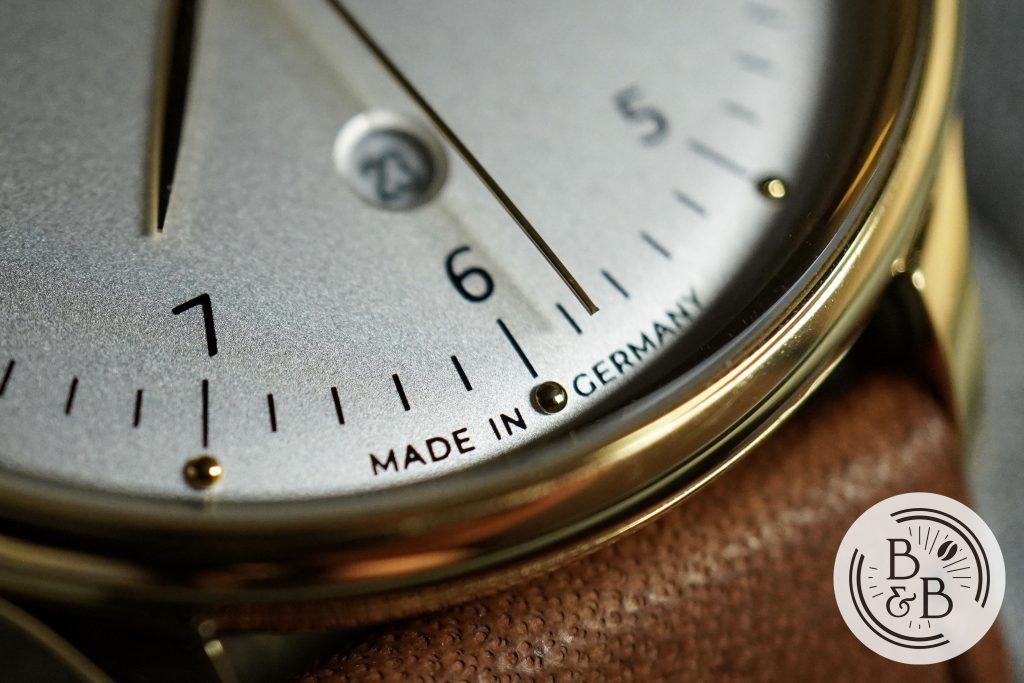 The minute and seconds hand extend up-to their respective markers with the seconds hand hovering just over the small ticks, making it very easy to read.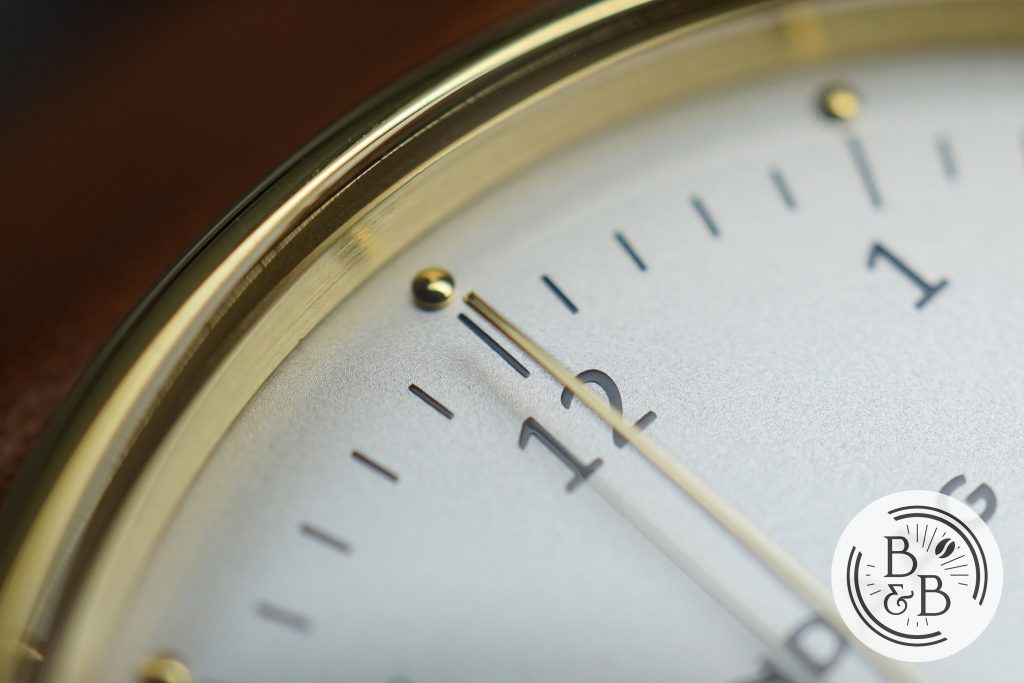 Overall, the finishing on the dial is excellent for a $250 watch. There really isn't anything to complain about here. I didn't find any dust or rough surfaces, and the printing is great. Both the elegant design and the impressive execution give some insight into the brand's attention to detail. At the time of writing this, I am also well into my review of their Quartz Chronograph, the Schallmauer, and I see the same level of finishing on that watch too.
---
Movement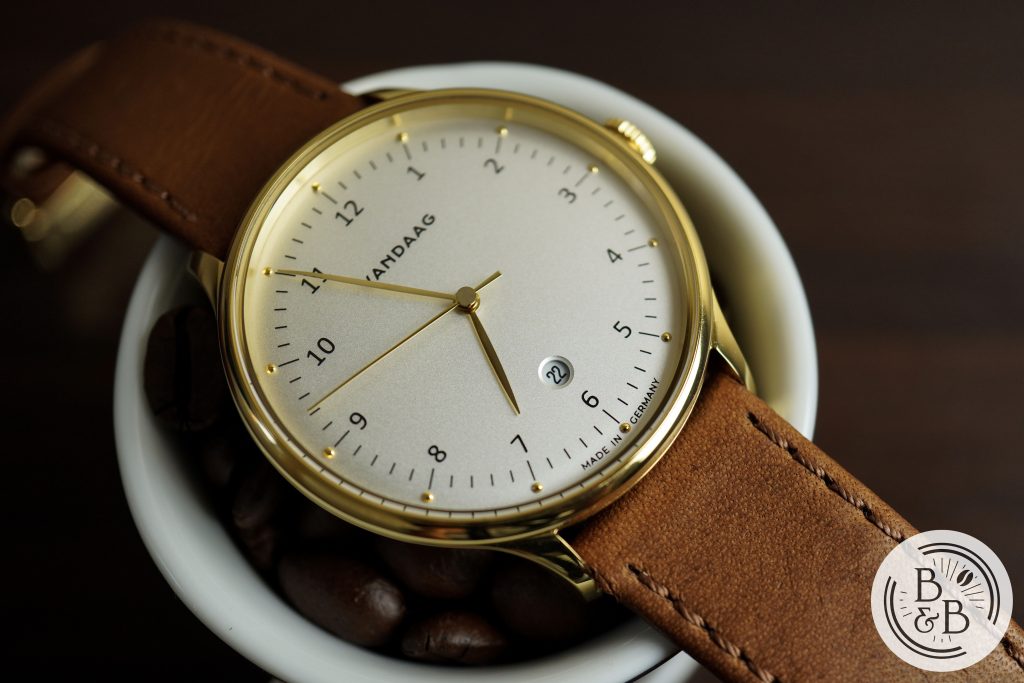 As you would expect, this 8mm thick dress watch, that costs roughly $250, is powered by a Quartz movement. This watch is using a Miyota/Citizen GM10 movement. This movement is rated for approximately +/- 20 spm (seconds per month). I doubt that anybody that is in the market for a $250 Quartz based dress watch really cares about the accuracy, but +/- 4 minutes a year isn't a bad number anyway. If you like the watch, but are not interested in a Quartz movement, hang tight – Vandaag might just have something brewing.
---
On The Wrist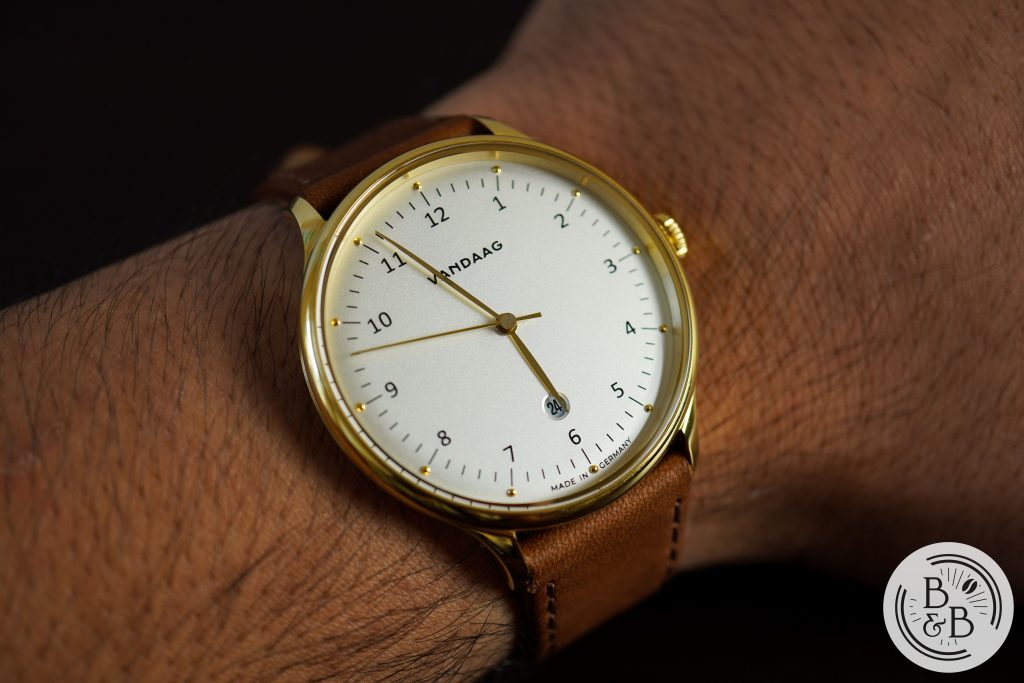 The 40mm diameter and 46mm lug-to-lug width case is larger than typical dress watches. But the short lugs and the slim case result in a very comfortable wrist experience. This watch wears comfortably on my 6.25″ wrist, and is shockingly light for someone like me, who is used to hefty tool-watches.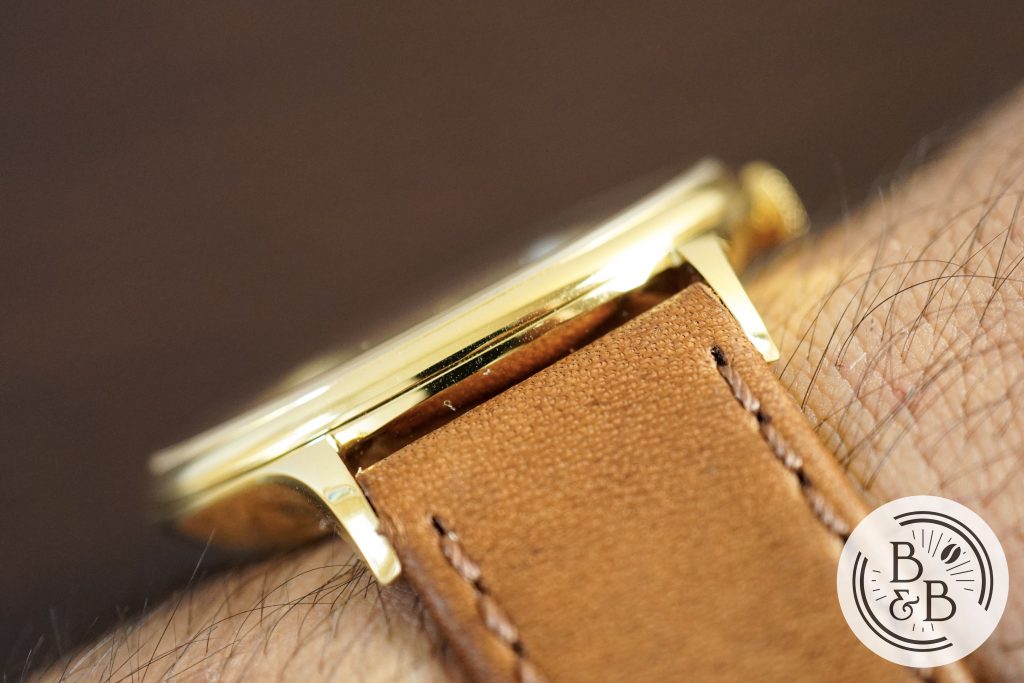 It sits very low on the wrist, as most dress watches do, and looks beautiful on the brown leather strap.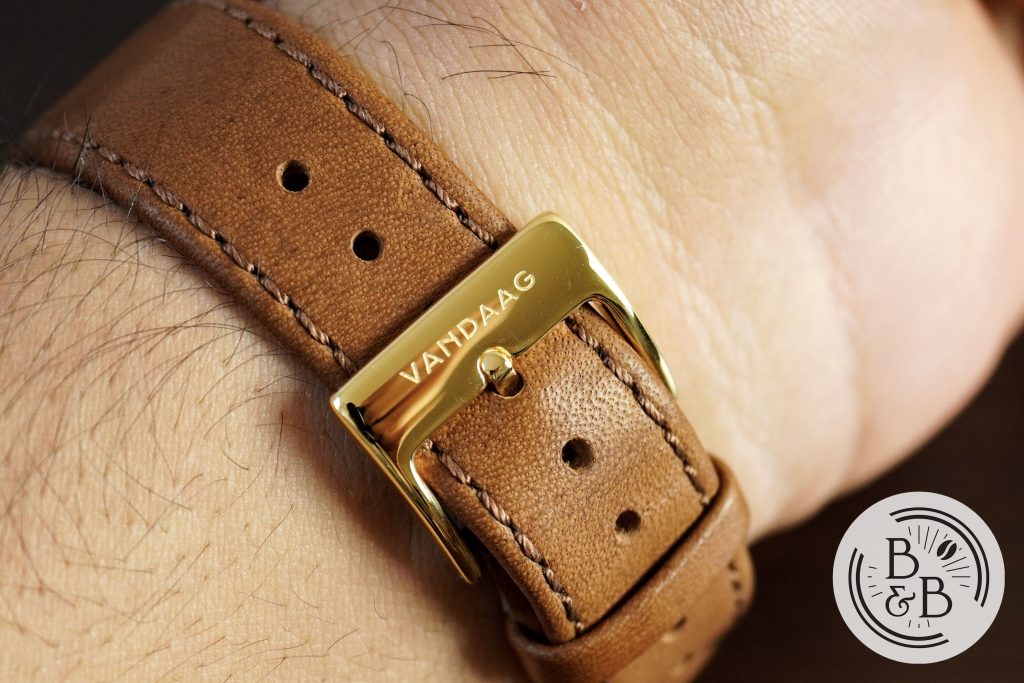 You can also opt for a green leather strap (shown below), or a black one. The straps are of very good quality, don't need to be broken in, and have quick-release pins for an easy swap.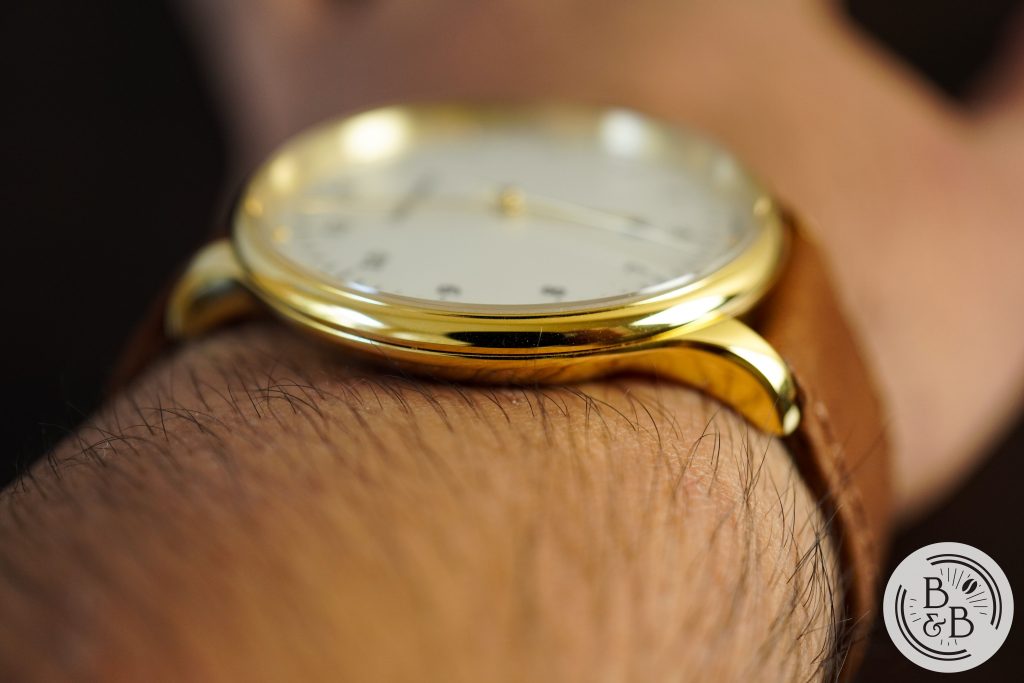 While I didn't get a chance to actually wear this to a fancy event, one that required me to clean up and wear a dress watch, I did wear it as my 'daily' for about five consecutive days, and I have no complaints whatsoever. In fact, I could've gotten used to wearing a watch that felt like a feather, and not a toolbox, on my wrist 😉 But I returned to my precious automatics, and purified my mind of these evil thoughts.
---
Concluding Thoughts
I enjoyed wearing this watch and reviewing it. It isn't the type of watch I typically wear, i.e diver watches and tool watches, so I appreciated the change of pace. The Primus has been well designed, and it has very good manufacturing and QC to back it up.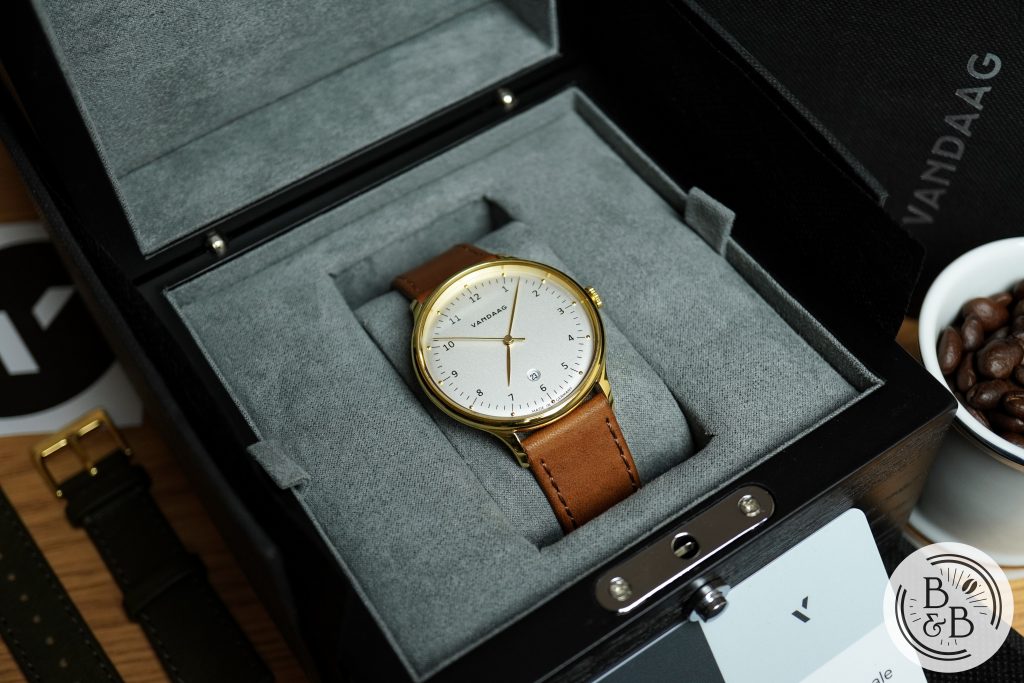 I don't expect this watch to resonate with a lot of the micro-brand watch enthusiasts that typically follows my reviews, but if there's anything to take away from this, let it be this – Vandaag are worth keeping tabs on. They've got all the right ingredients (design, build, finishing and price), and once they enter the mechanical/automatic watch category, they will be sure to grab your attention. Also keep an eye out for my review of the Vandaag Schallmauer, which is their first release, and a fantastic one too.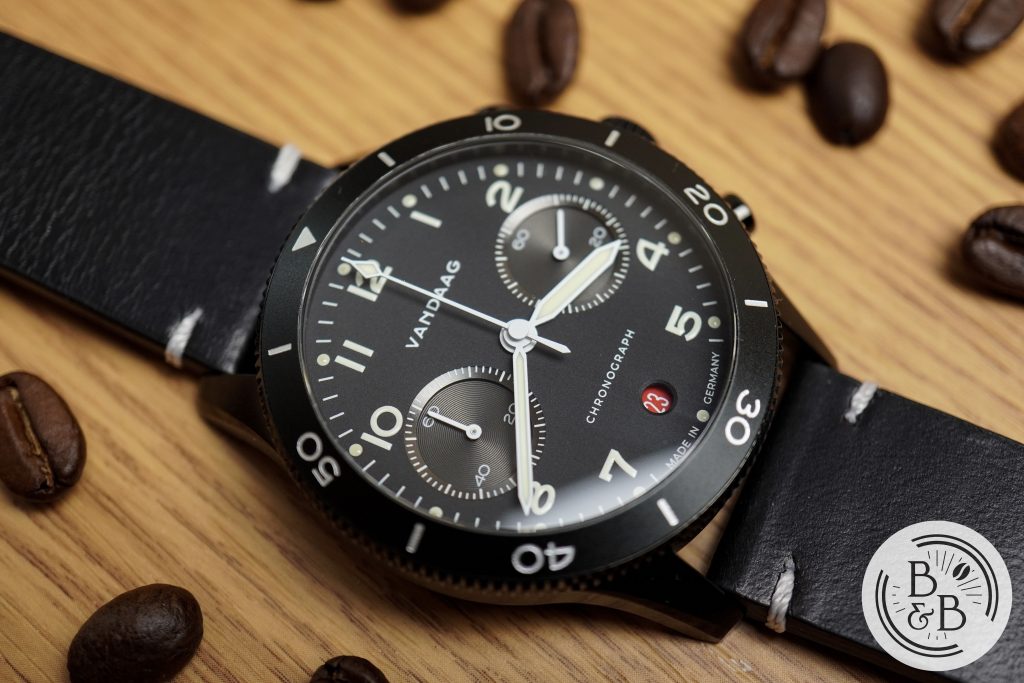 ---
Strap Change
---
Thanks for reading!