---
Disclaimer: This watch was sent to me to review and I was not paid to write this. This is in no way sponsored by DuFrane, or any other entity. All opinions here are my own. Since this watch is a prototype and was worn/used by other reviewers, please make note that the experience might differ from that of a brand new watch.
---
---
Contents
---
Waterloo
DuFrane is a brand I've previously looked at, when I reviewed their City Limits GMT watch. I enjoy their designs as they don't follow the same watch design rule book that most micro-brands seem to be following these days. Their designs are bold, their inspiration is clear, and the few DuFrane watch owners that I've talked to, have nothing but good things to say about the brand and their customer service.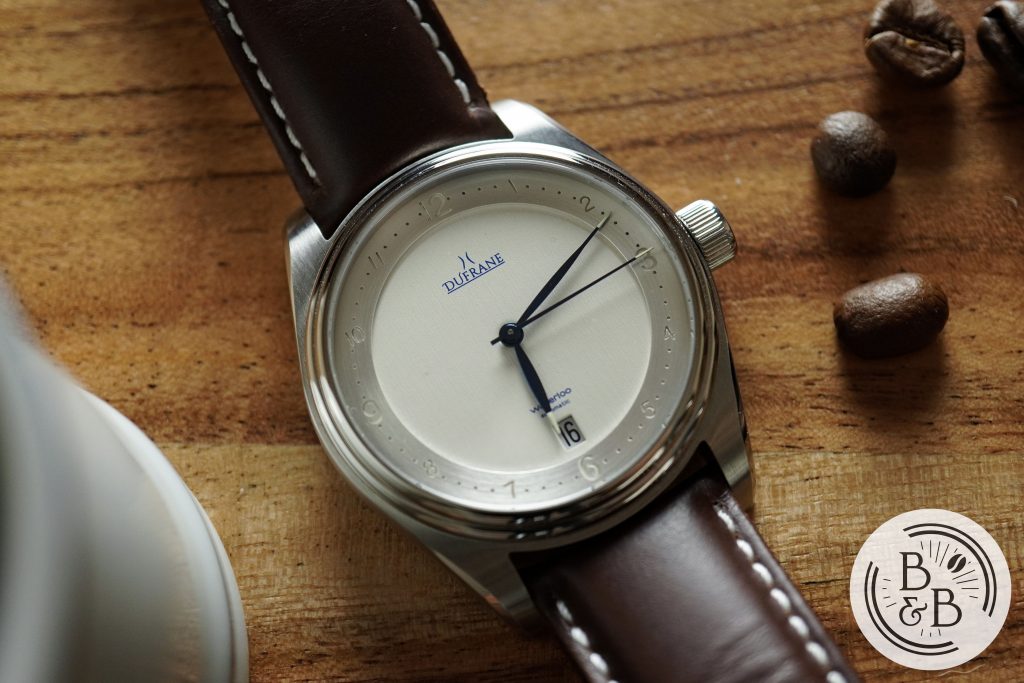 Today I get to take a look at a prototype of their latest release, the Waterloo. Just like the City Limits, this watch is inspired by the city of Austin, TX. While the City Limits was a bold, casual and cheerful watch, the Waterloo takes a more subtle and refined approach, and fits somewhere between a dress watch and a sports watch. The Waterloo is currently available for pre-order, and costs $575 for the Automatic movement and $399 for the Quartz movement.
Let's check it out!
---
Case
The case measures 39mm in diameter, 47mm from lug-to-lug and a wonderful 10.5mm in height. The case is mostly brushed, with a few polished accents on the lugs and bezel.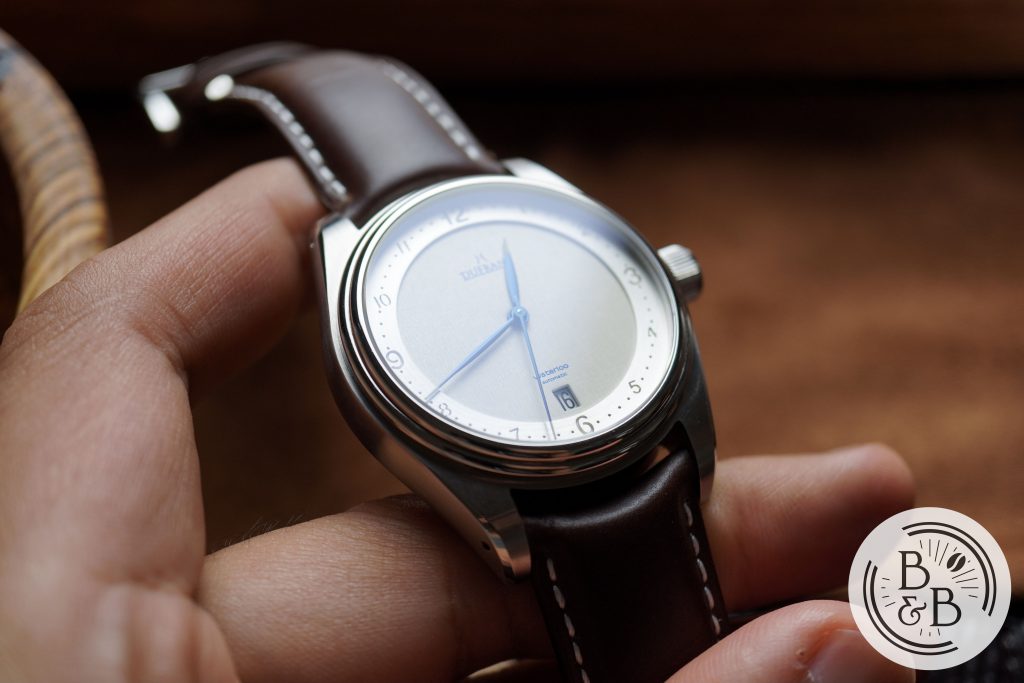 The case reminds me of my own Tudor Black Bay, but is closer in dimensions to the Black Bay 58. This isn't a bad thing at all, as I love the case-shape and wrist presence of those cases.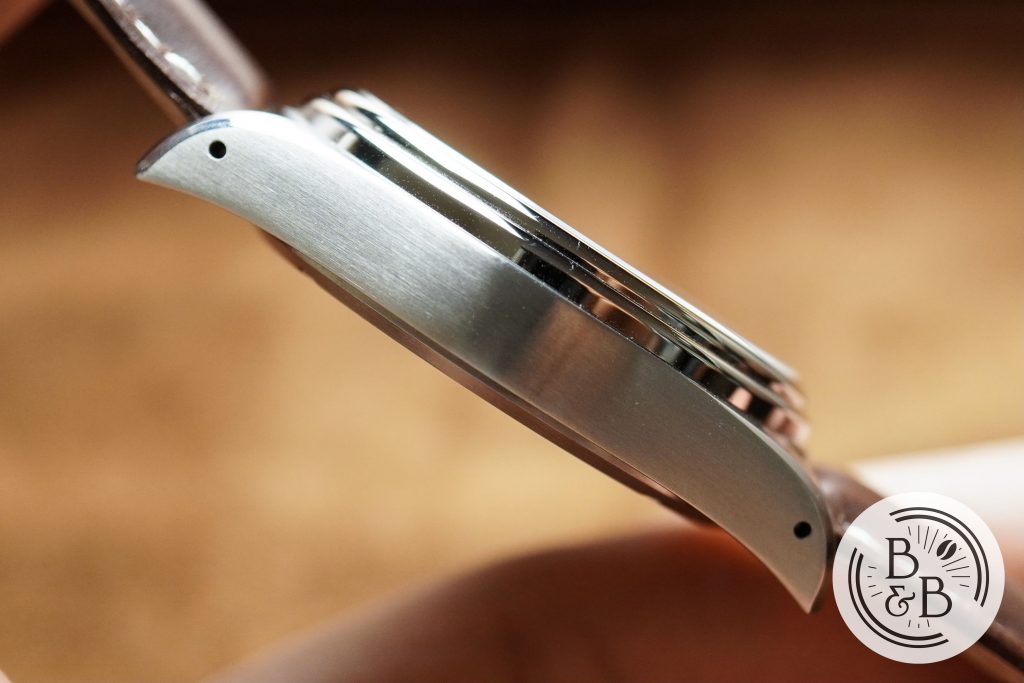 The lugs curve down very slightly, but given the short lugs and short lug hole position, the watch is still well balanced and doesn't feel like a watch with straight lugs. The end links are drilled through, but DuFrane is adding another set of lug holes for standard non-curved lugs which will not be drilled through.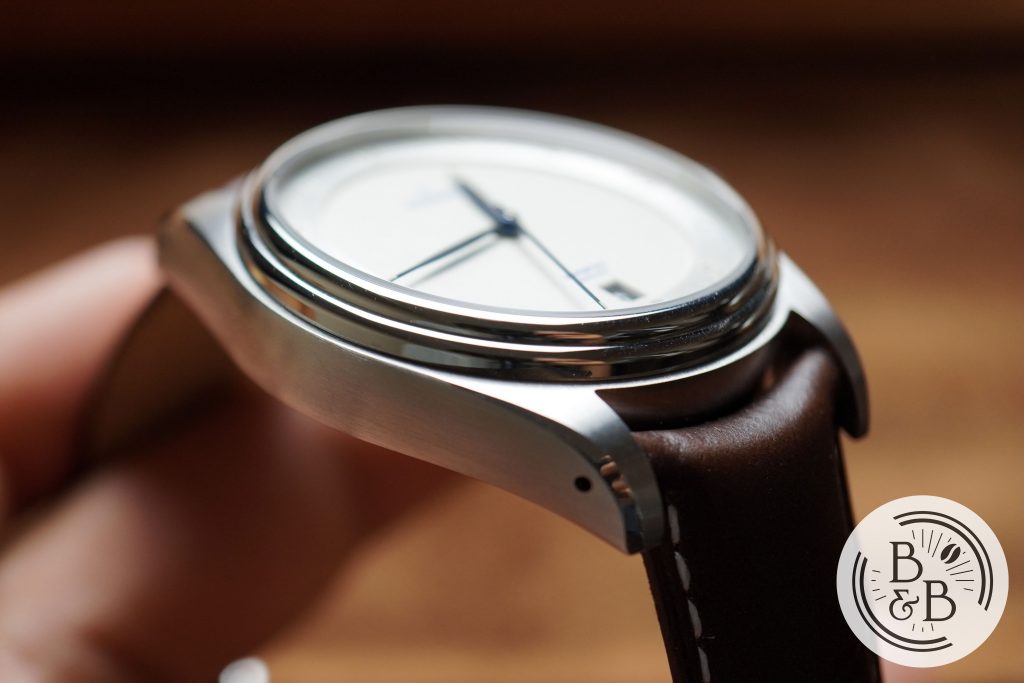 There is polished bezel surface that has a two step design. This isn't a hack-job of taking a watch with a bezel, removing the bezel and polishing what's left under it. This bezel was intentionally designed this way, and it looks good.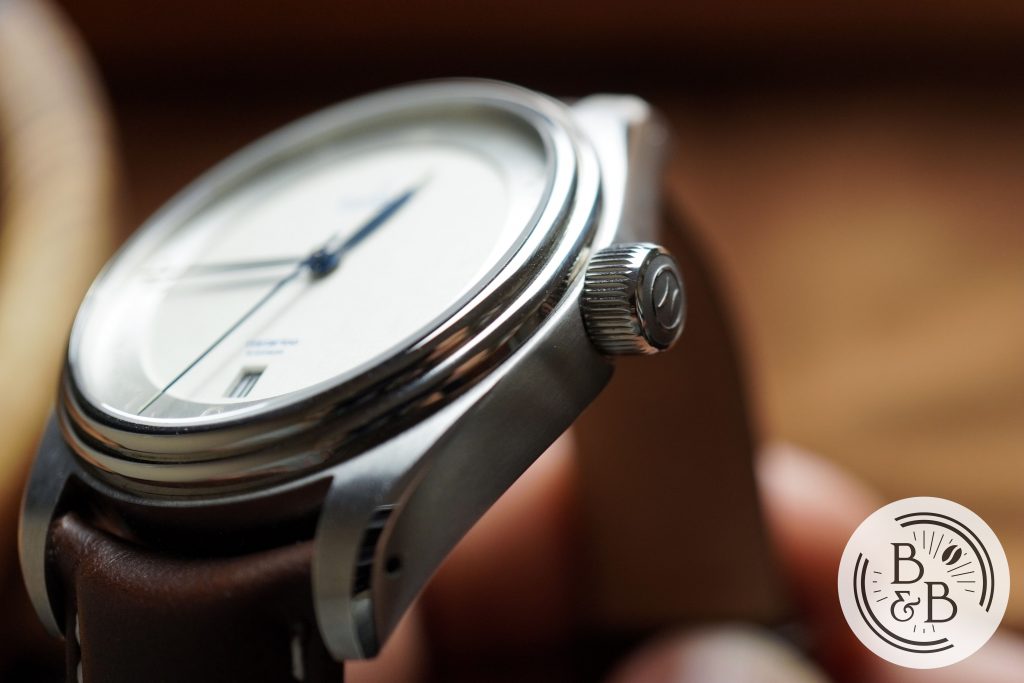 There is a signed push-pull crown at the 3 o'clock position that is recessed into the case by a fraction of a millimeter. I like this a lot and it feels reassuring. DuFrane says that the crown height will be reduced on the final production units, but I see no problem with the way it currently is.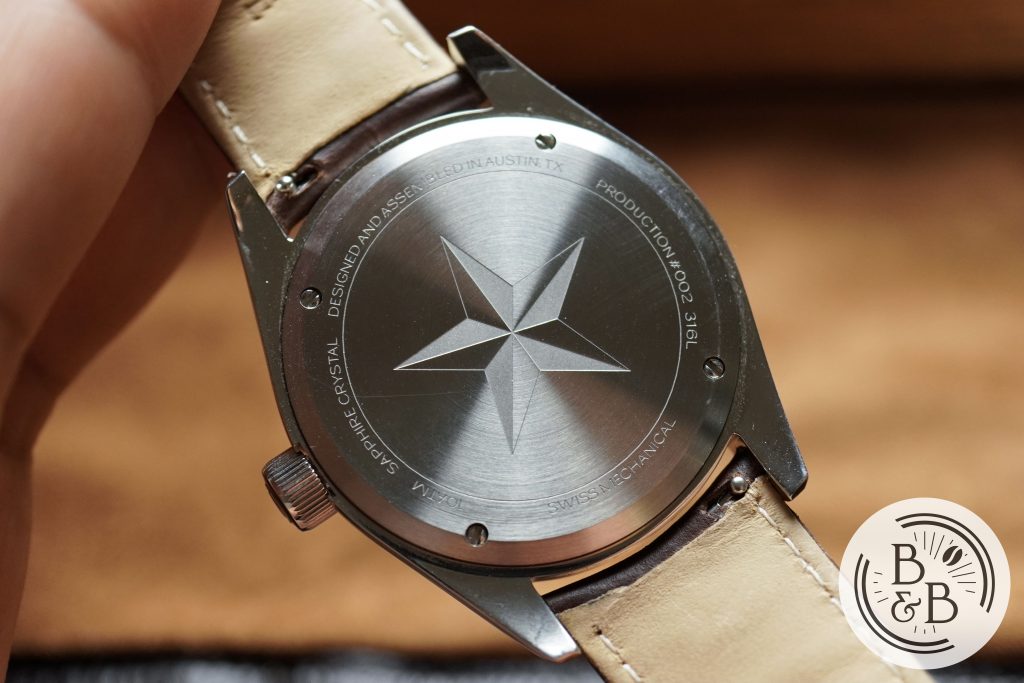 Flipping it over, you have a solid case-back that is screwed into the case by means of four screws, with a star etched onto the back. I think this is another nod to Texas, and their flag. This watch is rated for up-to 100m of water resistance.
---
Dial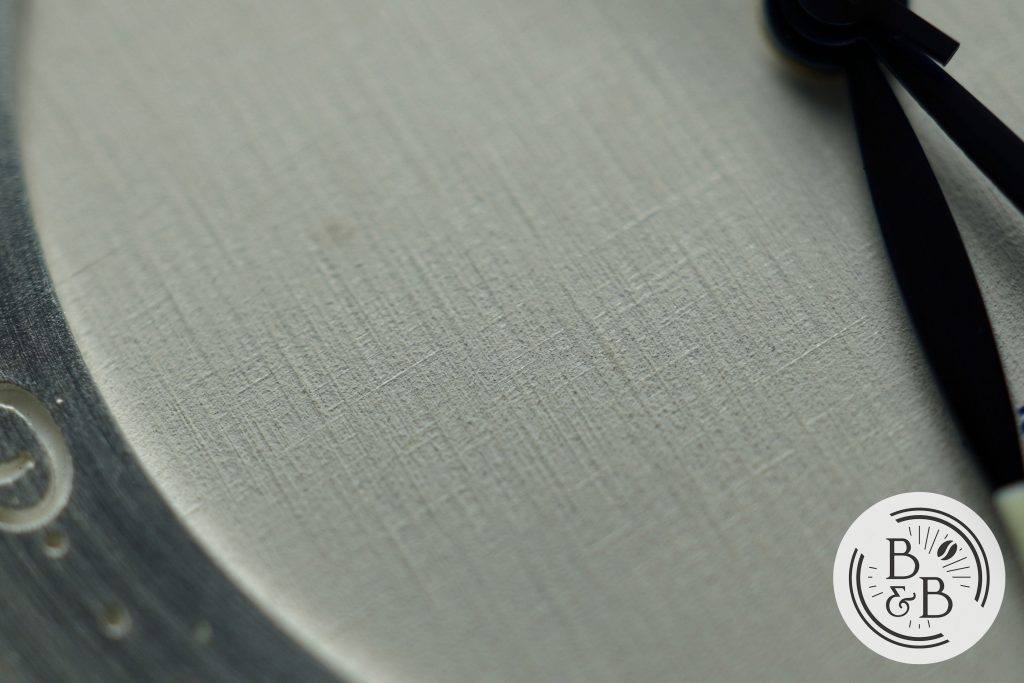 The dial is very interesting, and unlike anything I've reviewed on B&B. The base of the dial has a linen texture and the color comes across as being creamy and off-white. Lovely finishing here, and it looks very elegant.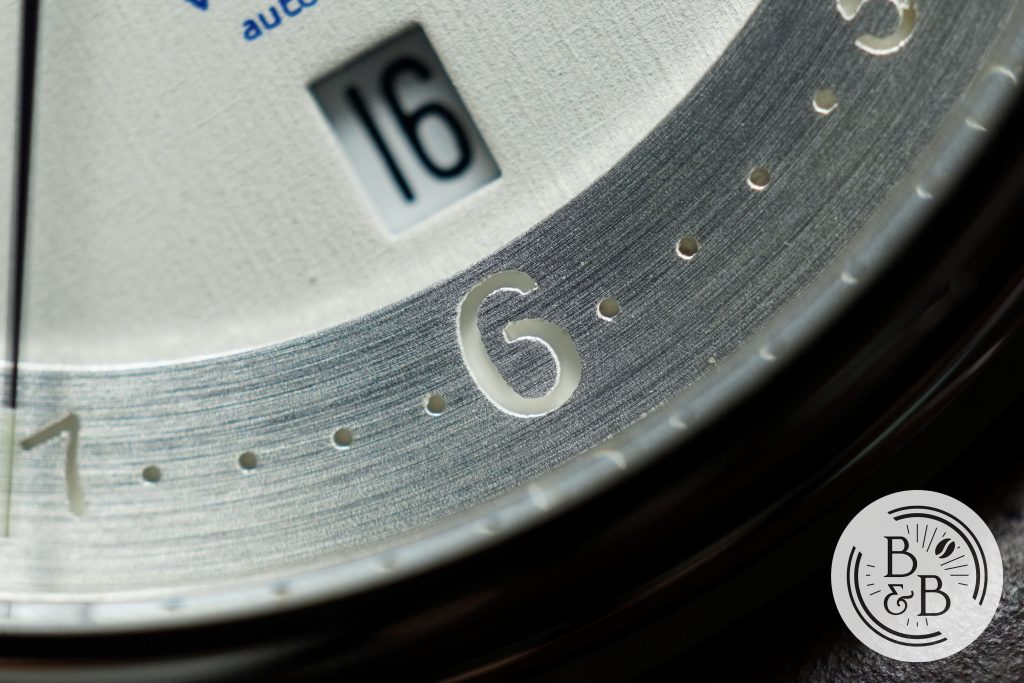 This is a sandwiched dial construction, with a brushed stainless steel ring that surrounds the base material, a fraction of a millimeter above it. The quality of the radial brushing is good, and you have a combination of circular dot markers and Arabic numerals cut through this steel surface to serve as indicators.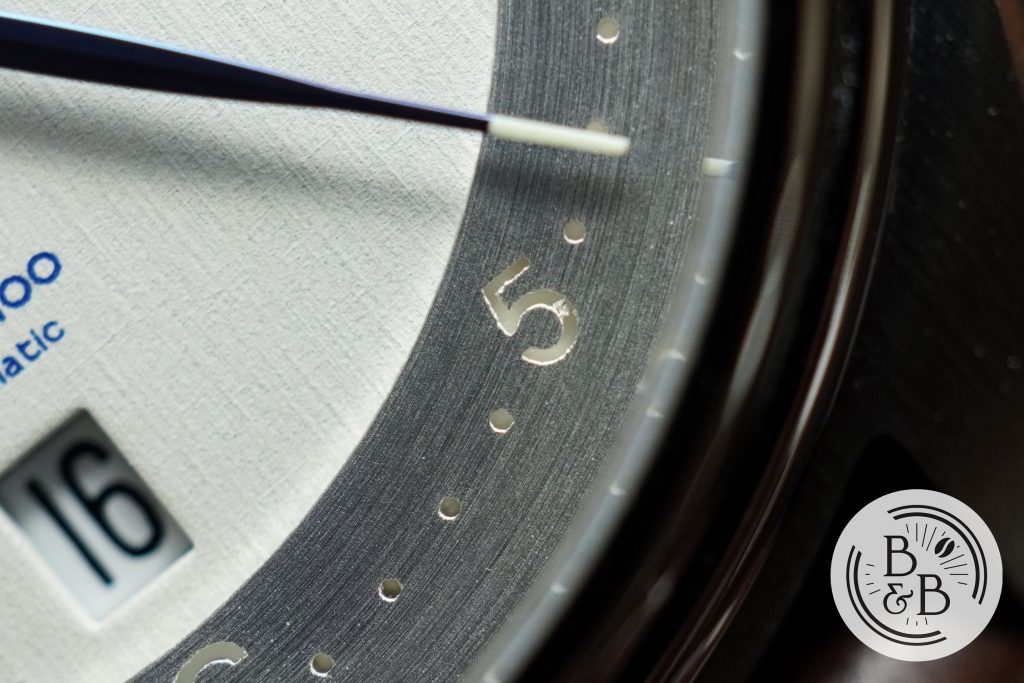 Some of the cut-out numerals are finished better than others, but this is a prototype, so it isn't unreasonable to expect better on the final units. The numerals at 3-6-9-12 are larger than the rest, and lumed on the lower recessed surface.
You then have a rectangular date window at the 6 o'clock position, and you should all know by now how much I love 6 o'clock date windows. The finishing around the window is excellent. A color / texture matched date wheel would've been nice, but they're practically indistinguishable from far away.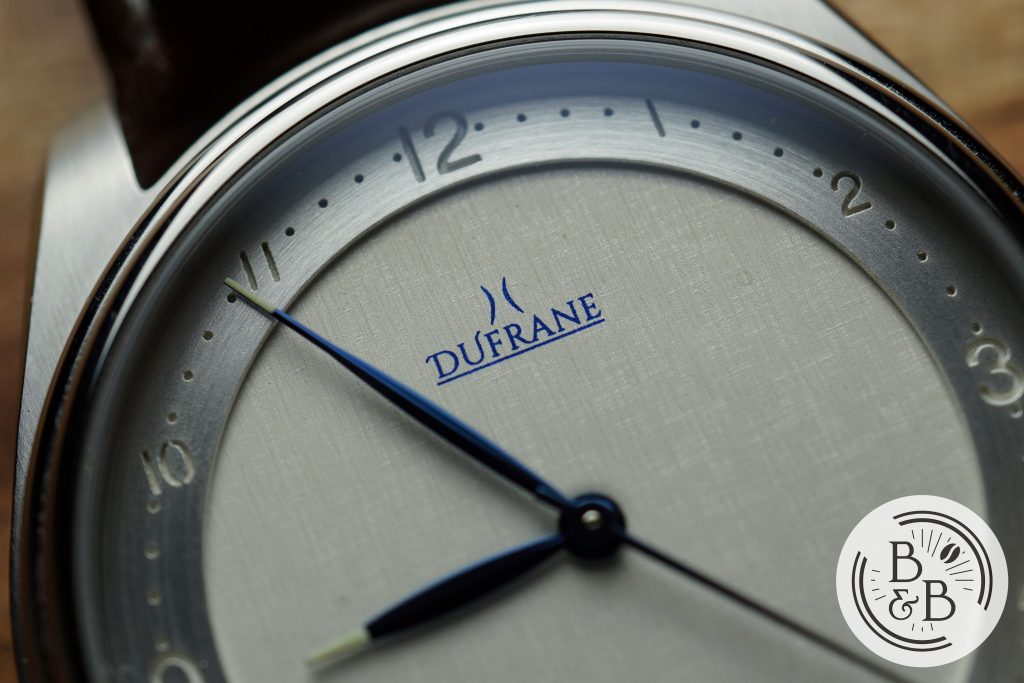 The brand's logo is printed in blue under the 12 o'clock, and some more text above the date window. The quality of printing is excellent, and I didn't see anything to complain about.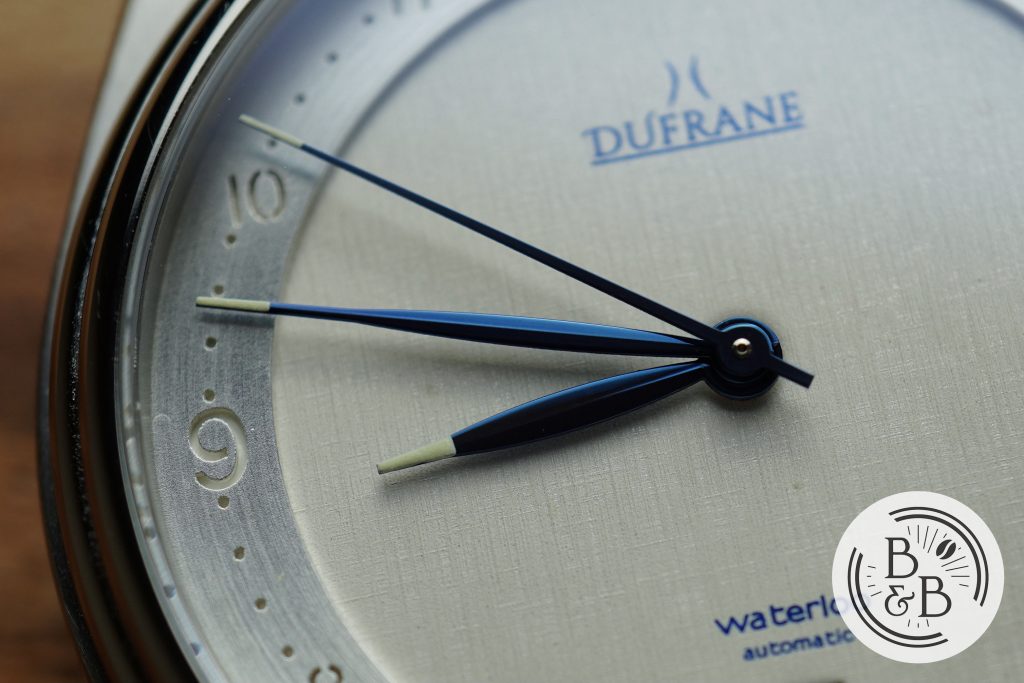 The hands are thermally blued, which means they look gorgeous in person but are painful to photograph well. All three hands have lumed tips, which is something I have not seen before.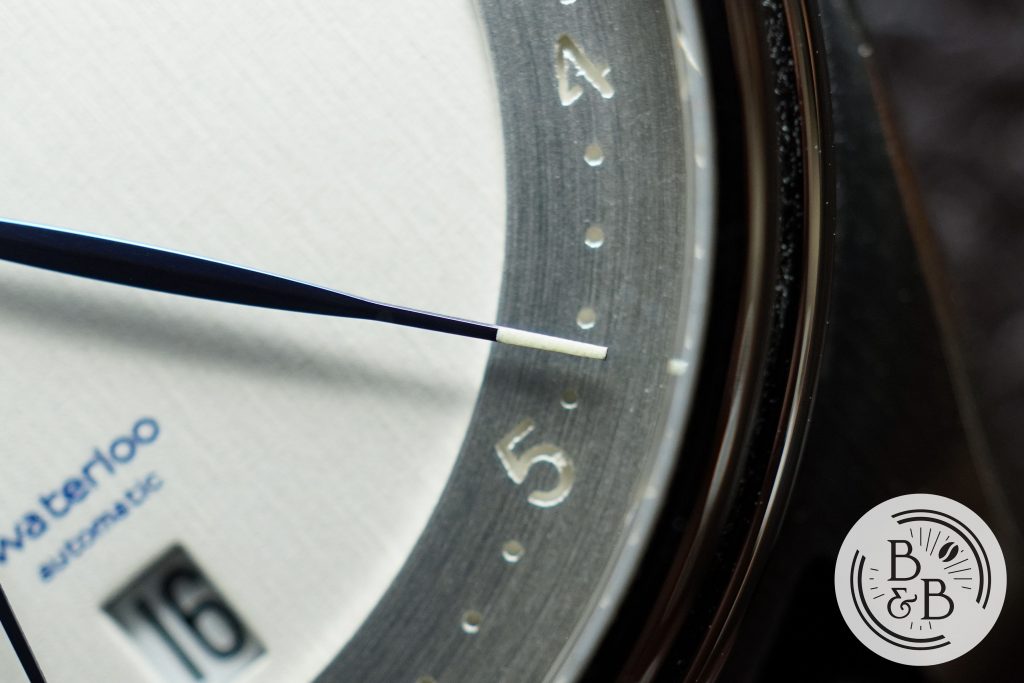 The delicate leaf styled hands are very well proportioned, with the minute and seconds hands crossing over into the stainless steel ring, making it easy to read the time.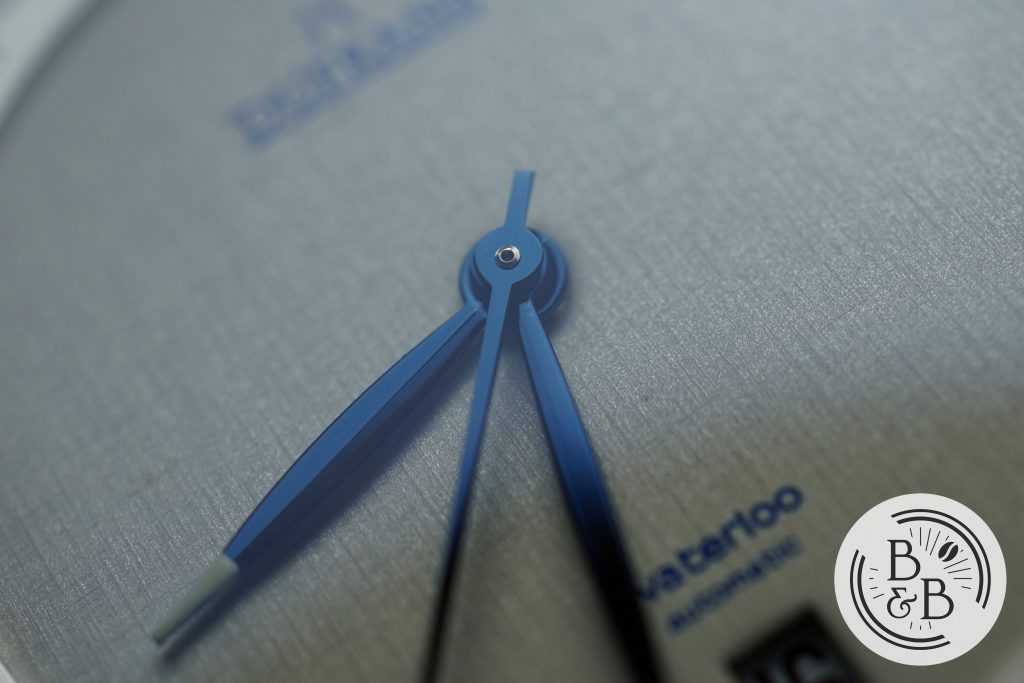 The finishing on the hands is good. I noticed a few very minor surface irregularities near the base of the hands, but for a $575 watch with a very well built case, a good movement and a well designed dial, I think this is acceptable.
---
Lume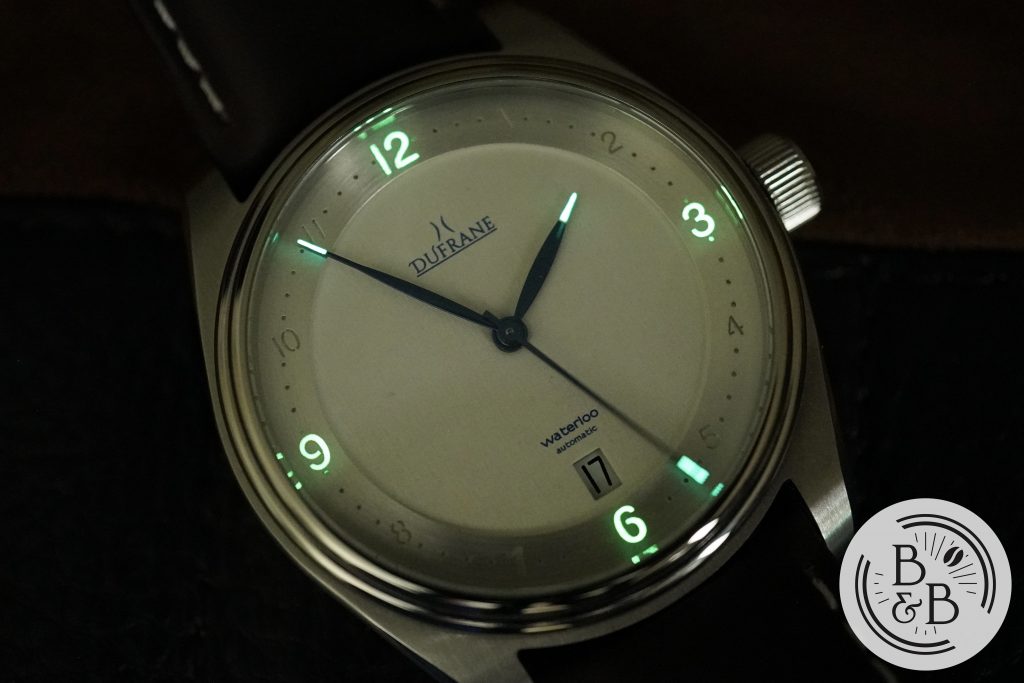 I'm not entirely sure how demanding to be when reviewing a watch that has a hybrid sporty and dressy design. The dial here is clearly more dressy than sporty, so I will keep my expectations low.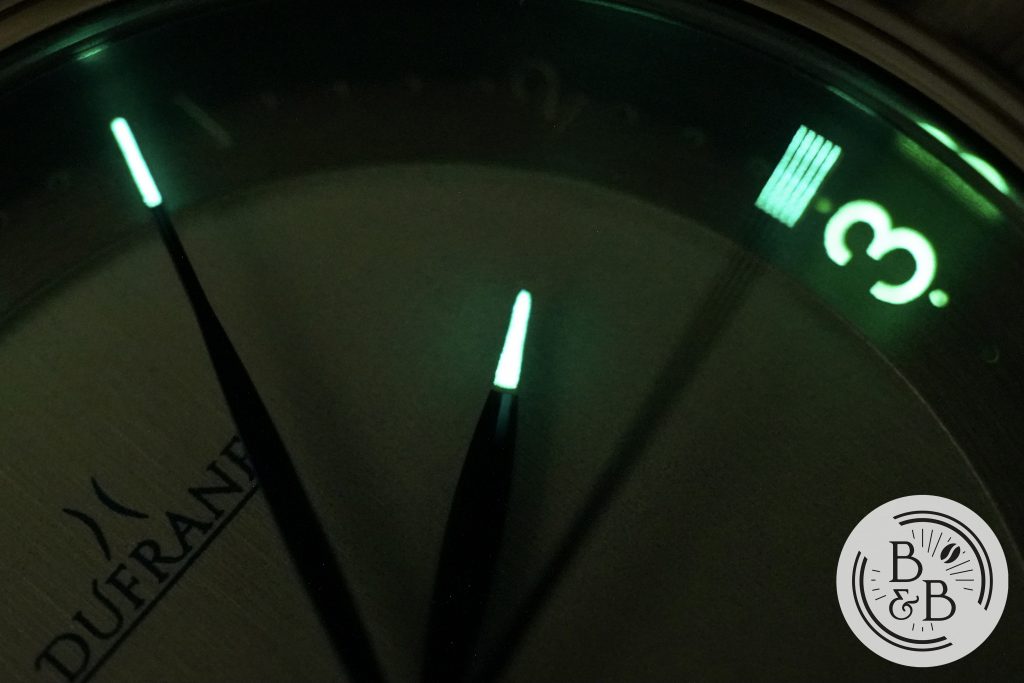 All three hands have lumed tips that are painted with C3 Super LumiNova. Given how small the surface area is, the brightness and longevity is satisfactory.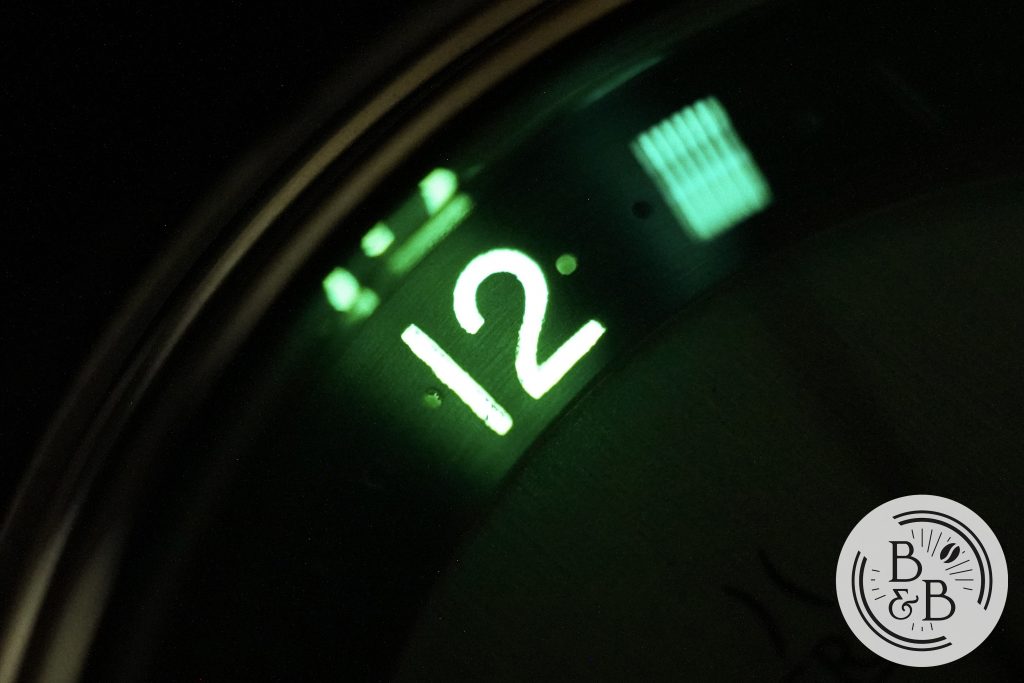 The recessed numerals for 3-6-9-12 are also lumed, but not as bright as you would expect. I have heard from DuFrane that this will be improved on the final production units to be brighter.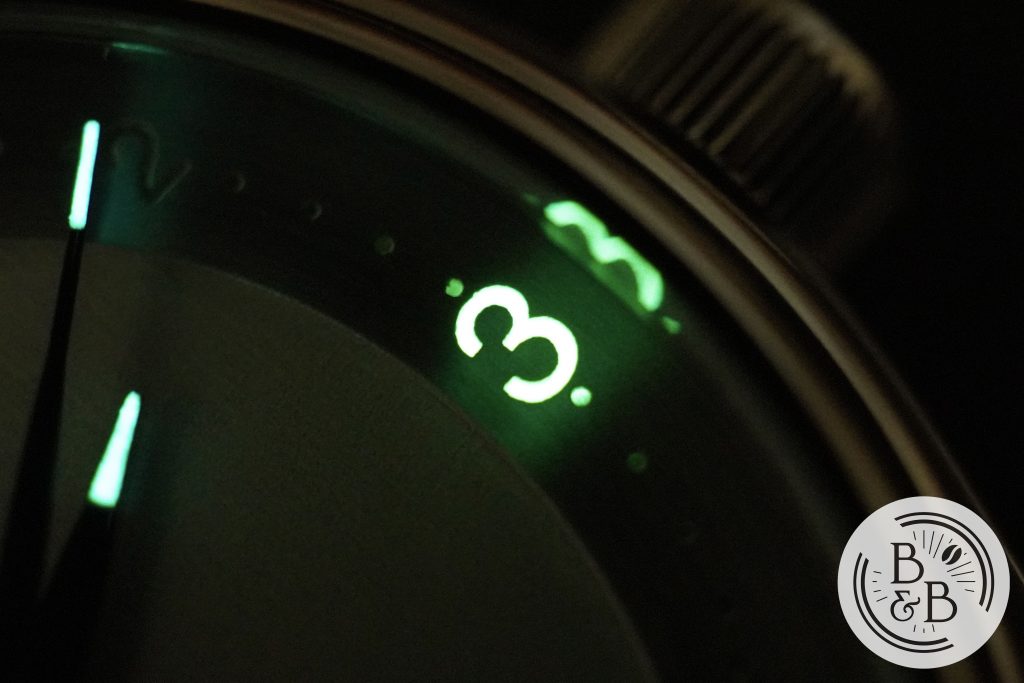 I understand that they didn't lume the rest of the numerals because they're much smaller than the four primary indices, but I would've loved to see more lumed elements on the dial.
---
Movement
This particular unit has a Sellita SW200-1 automatic movement (at $575), but this watch is also offered with a Swiss Ronda 715 quartz movement (at $399). The SW200-1 is a popular automatic movement in the $500-$1000 category, and I've discussed this movement plenty of times and even own a few of watches with it.
I logged the accuracy of this watch over a 3 day period, and observed roughly +8 spd. So everything looks good, and it's keeping time within a healthy range.
---
On The Wrist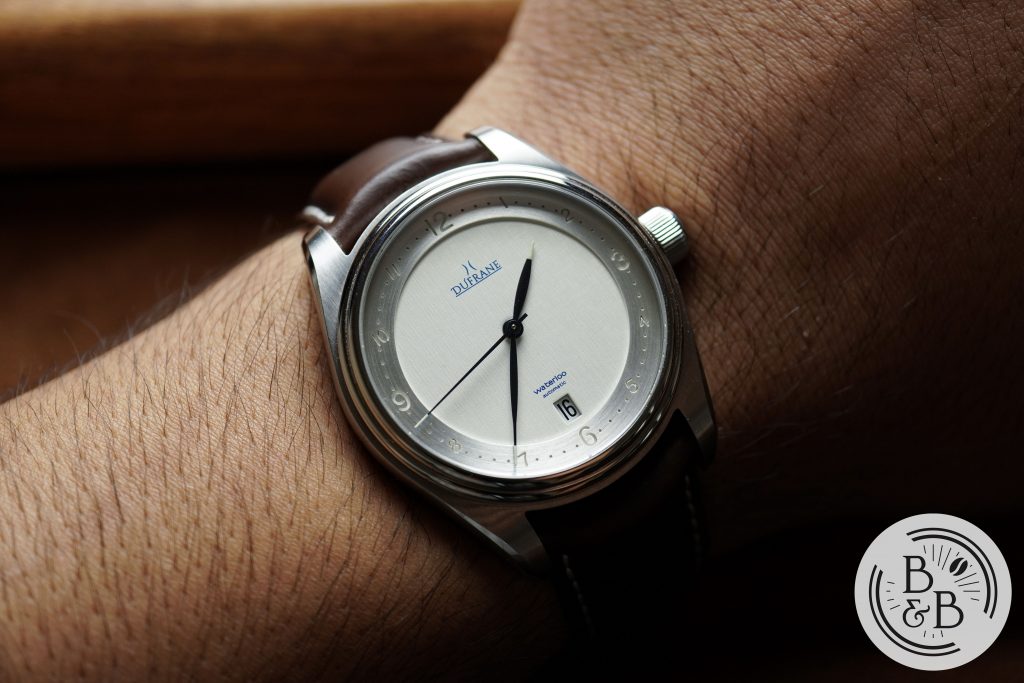 These dimensions make it fit perfectly on my 6.25″ wrist. The 47mm lug-to-lug width is great, and the overall wrist presence is definitely more sports watch than dress watch.
You don't need to worry about the lack of curved down lugs. The overall case height is roughly 10.5mm with a flat case-back, so the watch sits very low on the wrist.
The curved strap ends might appear as an area of concern for some that wish to use their own straps on this watch. But the final production units will have an additional set of lug holes for standard straps as well. That said, the stock leather strap is very well made, with signed hardware.
---
Concluding Thoughts
To wrap this up – I like this watch. I think you're getting a really well constructed case that feels like a solid sports watch. You're also getting a good movement, and an interesting dial that you're unlikely to otherwise see in a package like this.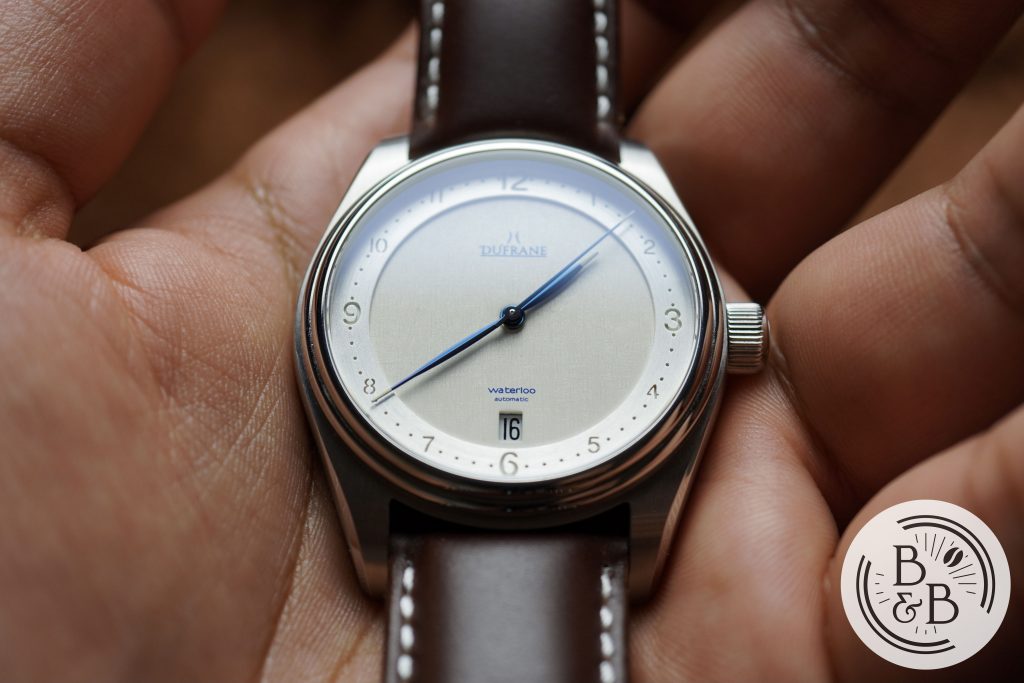 At $575, this is going to be one of those reviews where I say, "If you like what it looks like, you won't regret it". Because just like the previous DuFrane watch that I reviewed, I don't think this watch is going for mass appeal. But to those that have been looking for an everyday watch with a sporty construction and a dressy dial aesthetic, this is it.
---
Thanks for reading!