---
Disclaimer: This watch was sent to me to review and I was not incentivized in any way to make this review. This is in no way sponsored by Heinrich or any other entity. All opinions here are my own. Since these watches are prototype and were worn/used by other reviewers, please make note that the experience might differ from that of a new production unit.
---
---
Contents
---
Heinrich Taucher
If you haven't already noticed, most of the watches that I've reviewed so far are either from German brands or micro-brands. And this isn't an accident – I intentionally seek out these watches because I really enjoy them. So when I first heard about Heinrich, a German micro-brand that is developing a 70s inspired dive watch, I was ecstatic. I quickly got in touch with the owner, Wolfgang Heinrich, and requested to be put on the list of reviewers. Fast forward 3-4 months and I finally got my hands on the Heinrich Taucher. 'Taucher' means Diver in German, and these watches are fantastic in the metal.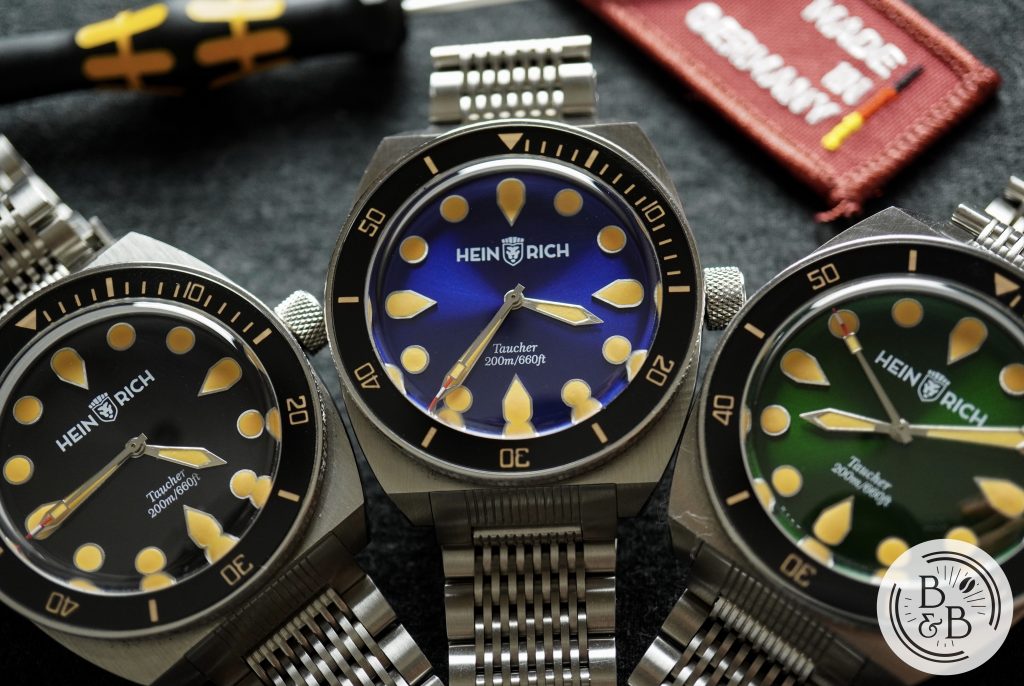 There's a few things I repeatedly echo on this page, and among those is my love for 70s watch design, dive watches, and more generally tool watches. And that's putting aside my illogical love for blue! So you can already see why these watches appeal to me. The Heinrich Taucher will be released on Kickstarter later this year, with an early bird price of $639. They will be available in three standard models – Black, Blue and Green. And Wolfgang was kind enough to let me spend time with all three.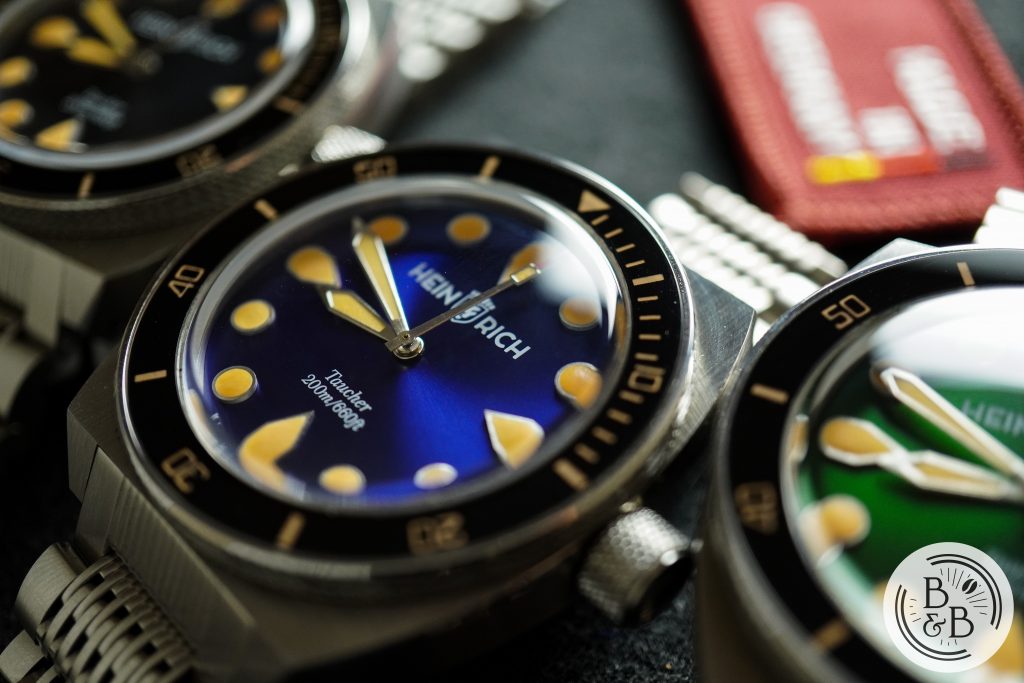 The $639 price tag is on the higher end of the micro-brand diver spectrum that we're seeing today. But when you consider the fact that this watch is 'Made in Germany', (i.e. a significant portion of the finishing and all the assembly and quality control is taking place in Germany), this isn't unreasonable at all. Wolfgang has been very transparent with his entire manufacturing and assembly setup; with basic manufacturing occurring in Hong Kong and the rest in Germany. According to him, these watches will be audited by the Chamber of Commerce in Pforzheim and will be issued a certificate of origin indicating that it meets all the regulations to have the 'Made in Germany' label on the dial and case-back. He has shared the entire breakdown with me, and I believe he will also make this available to you if you request him. Much respect to him for choosing to maintain this level of transparency.
Let's get to the watches now!
---
Case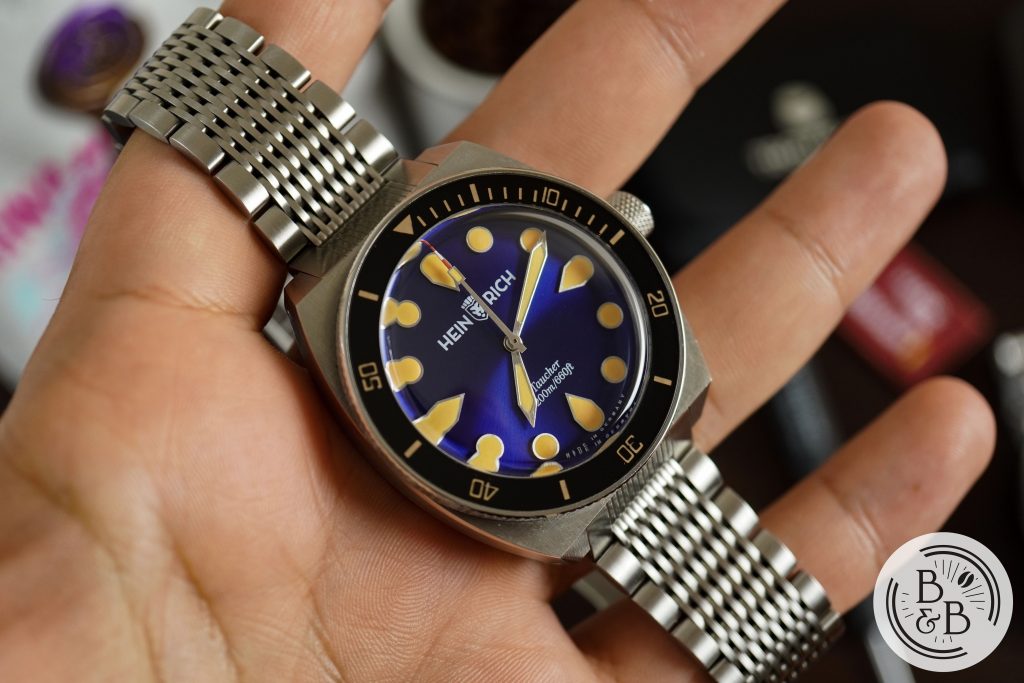 The case measures 41mm in diameter, 48mm from lug-to-lug and 13.5mm tall. Realistically, it is closer to a 11.5mm watch, since the 2mm crystal protrudes out of the case a fair bit. The case design is very 70s and very appealing.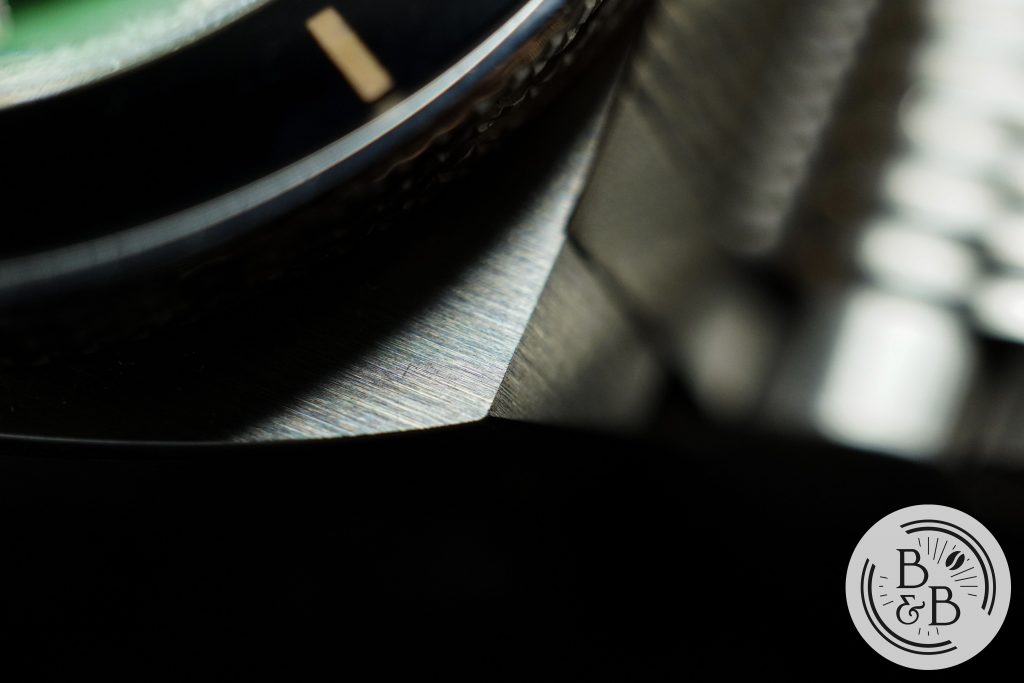 It looks like a watch that was cut out of a slab of metal, and I love all the angular surfaces. It is a very aggressive design, and just screams tool watch. The case is almost entirely brushed, with thin polished edges on the top surfaces.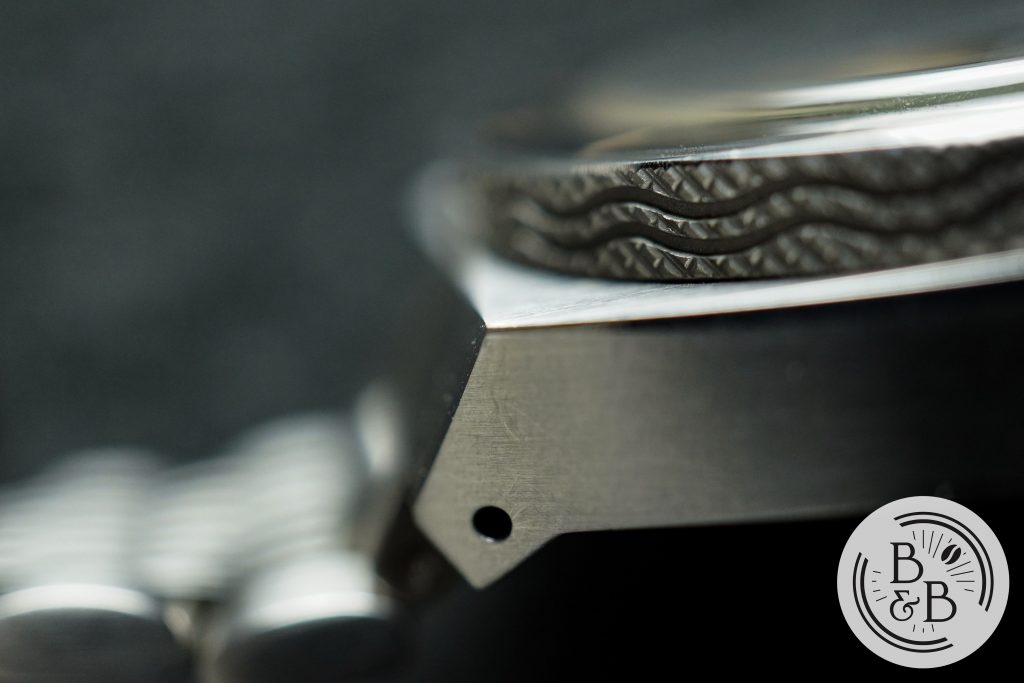 There are short lugs, if you can even call them that, and they pair with the bracelet to give you an almost integrated bracelet aesthetic. The lug width is 20mm, and you have drilled through lugs. Everything here is vertically brushed and the finishing is great.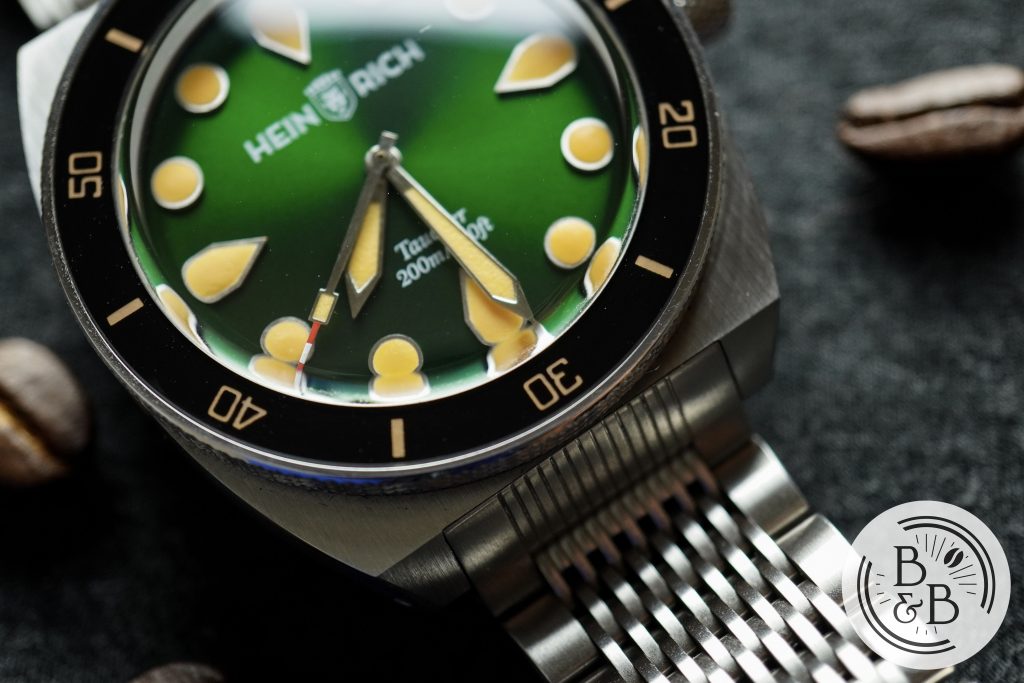 There is a 120 click unidirectional bezel that has a sapphire insert. The bezel has Arabic numerals for every 10 minute marker, and ticks for every 5 minutes. All these are lumed with a colored BGW9 pigment. The bezel action is excellent and I didn't notice any back-play.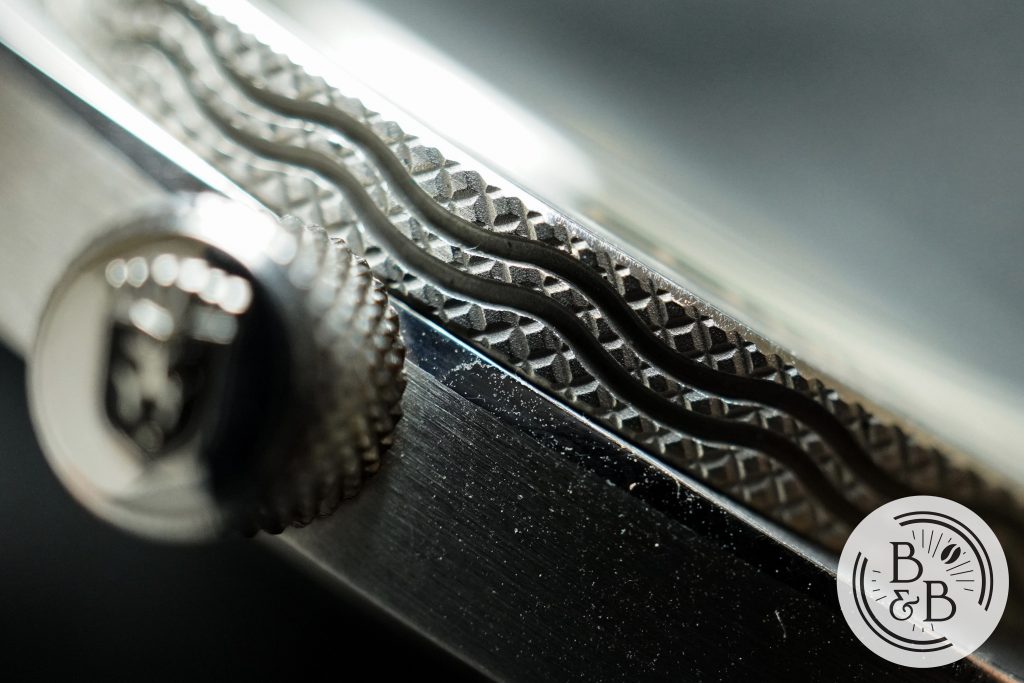 Most impressive is the terrific knurling and patterning on the bezel edge that makes it very easy to grip and operate. Excellent functionality aside, this looks pretty awesome too.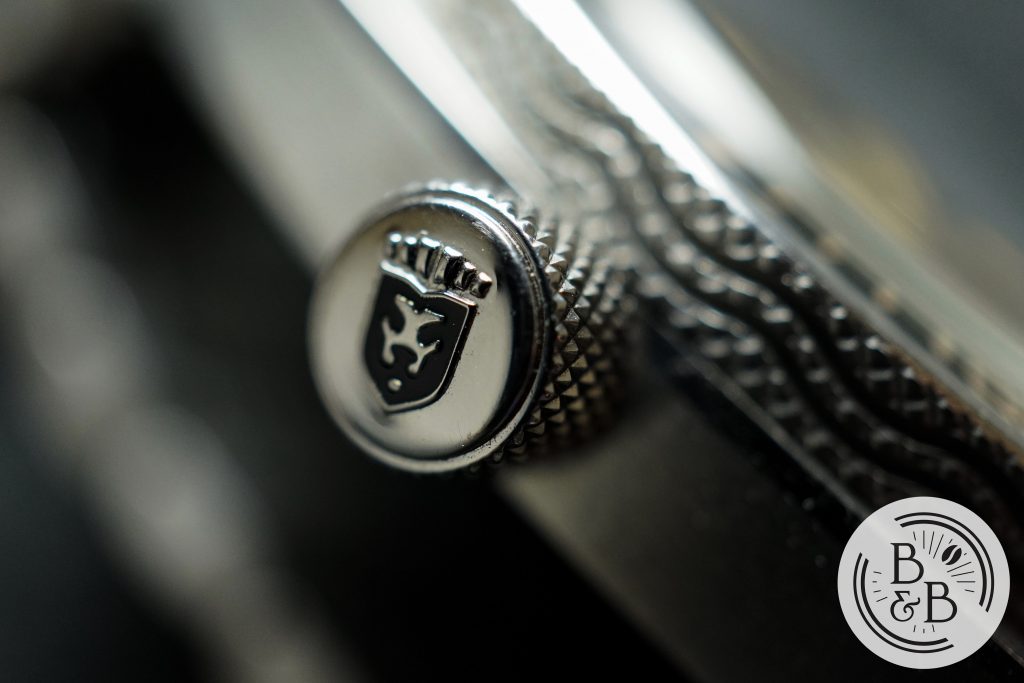 There is a signed screw-down crown at the 3 o'clock position that is well proportioned and also has excellent grip thanks to the aggressive knurling. I didn't notice any crown or stem wobble. The signed crown has the brand's logo that seems to be also filled with some kind of paint. Unnecessary, but definitely looks cool. I did notice that the stem seems a bit short (or the crown tube in the case is too tall), because the first position of the movement, that is the manual winding position, is too close to the case's threads, and you end up just screwing the crown down if you try to manually wind the watch. This is a prototype, so I suspect (and hope) that this will be fixed on the production units.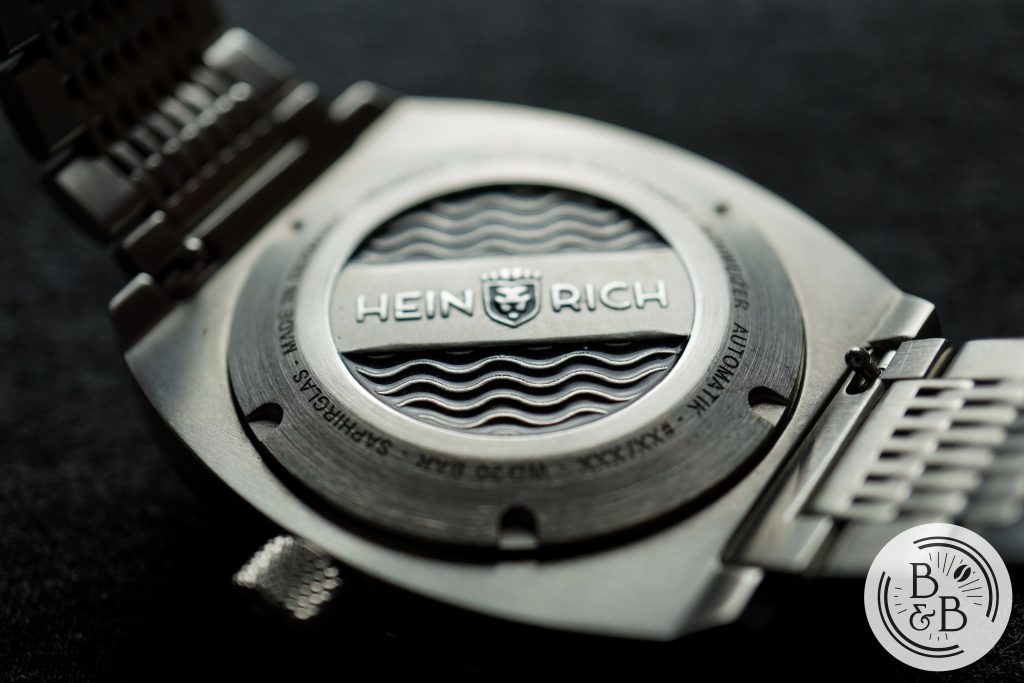 Flipping it over, you have a screw down case back that is also stamped with the brand's name and logo. There is a very neat wave pattern surrounding this, and once again it is painted like on the crown. The case-back isn't very tall, and helps improve the overall comfort on the wrist. Good job here. This watch is rated for up to 200m of water resistance, which is more than reasonable for a 11.5mm diver.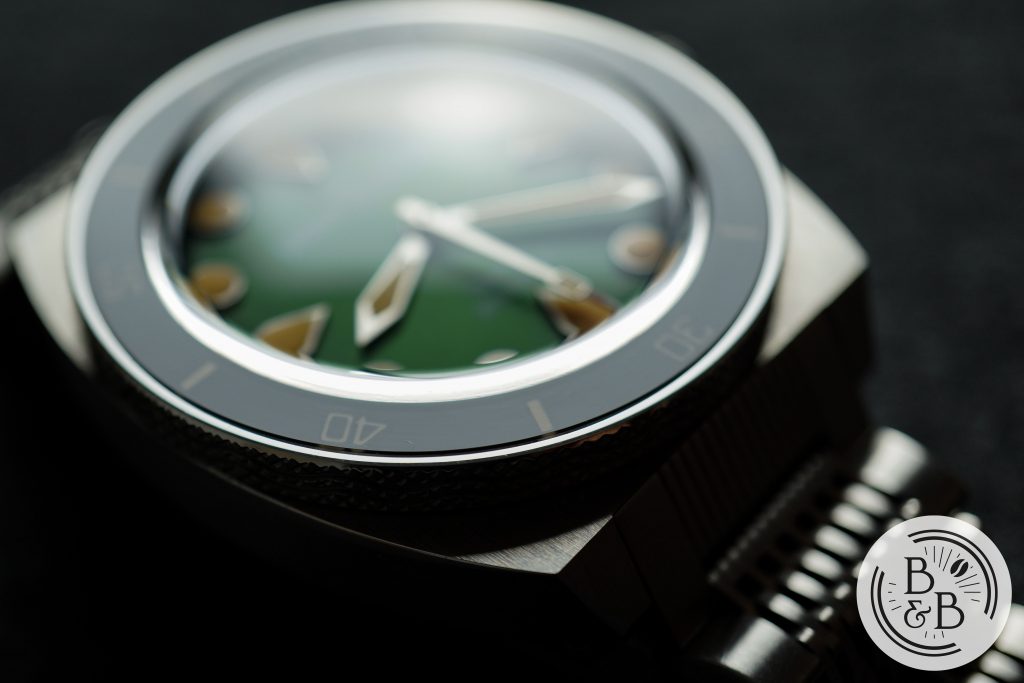 Overall, the case is a huge success and I don't have any problems with the design or execution. The bezel and crown are particularly impressive!
---
Dial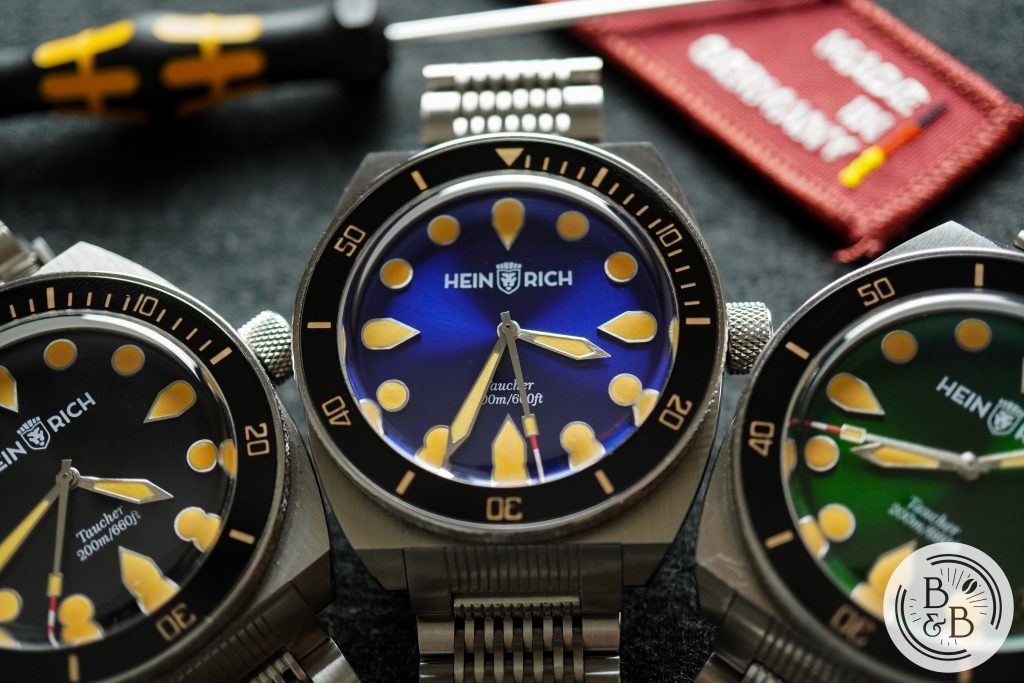 I was sent all three dial options – black, blue and green. I ended up wearing the green dial the most, but the blue one looks awesome too. The base of the dials have a sunburst finish, and this comes through beautifully on the blue and green variants.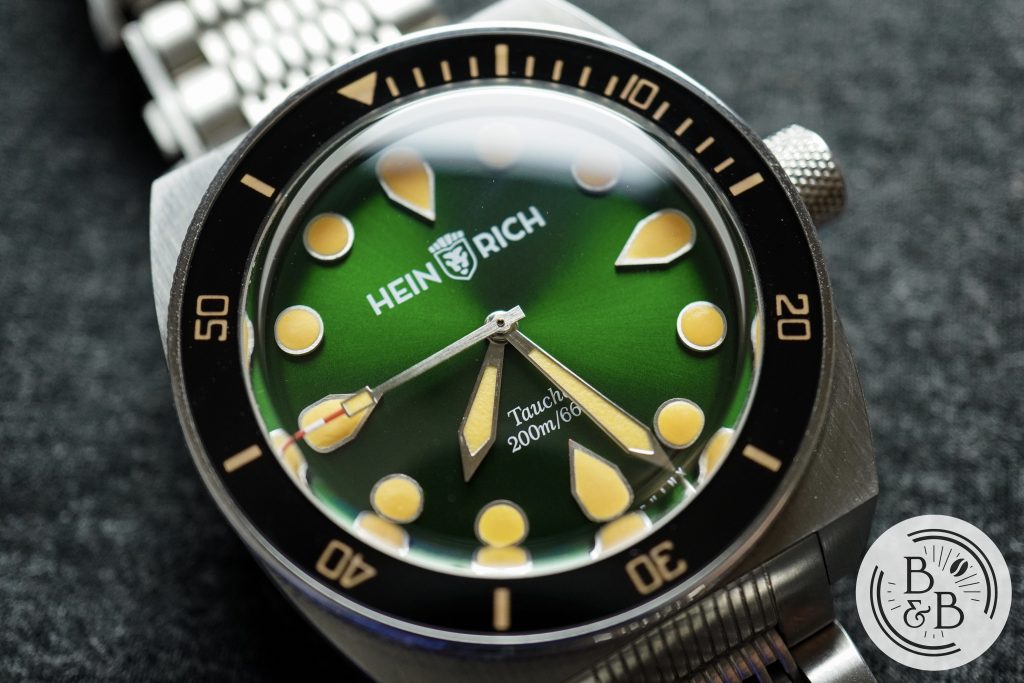 According to Wolfgang, he's open to adding new colors to the Kickstarter campaign based on feedback. I think Green and Red are going to be the new popular colors for 2020-2021, so I expect to see the Green fly off the shelves.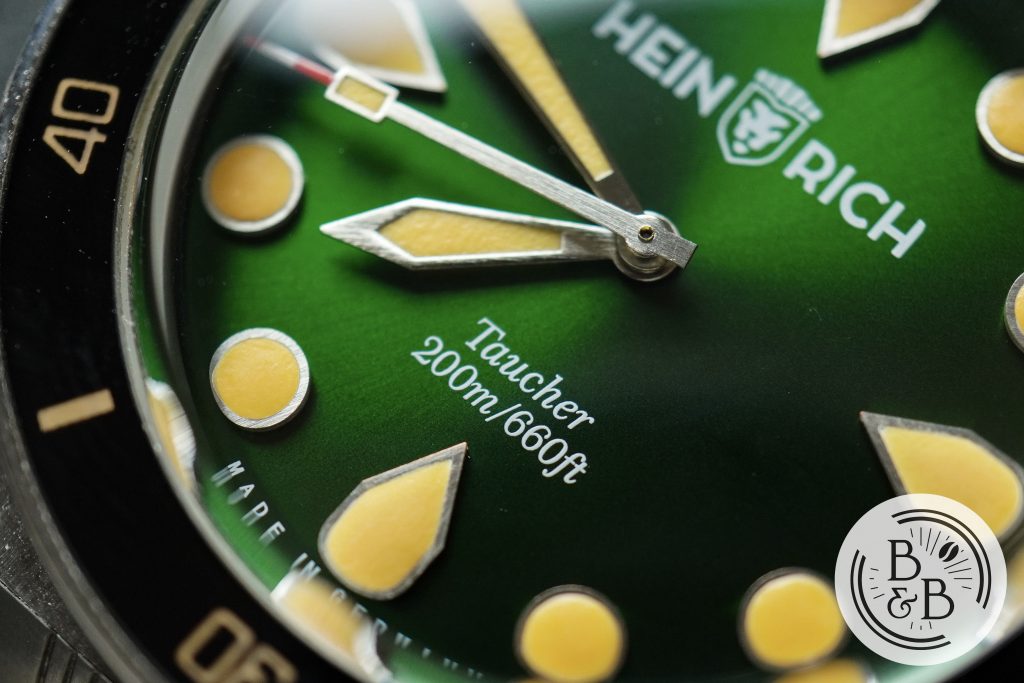 As you'll see throughout this review, the Taucher takes many steps forward in establishing itself as a robust and weather proof tool watch. But there is one area in which this watch trades functionality for form, and that is with the absence of a minute or seconds track. This is a bold move, and one that Wolfgang stands by. Realistically, this watch is unlikely to be used as a serious diving instrument.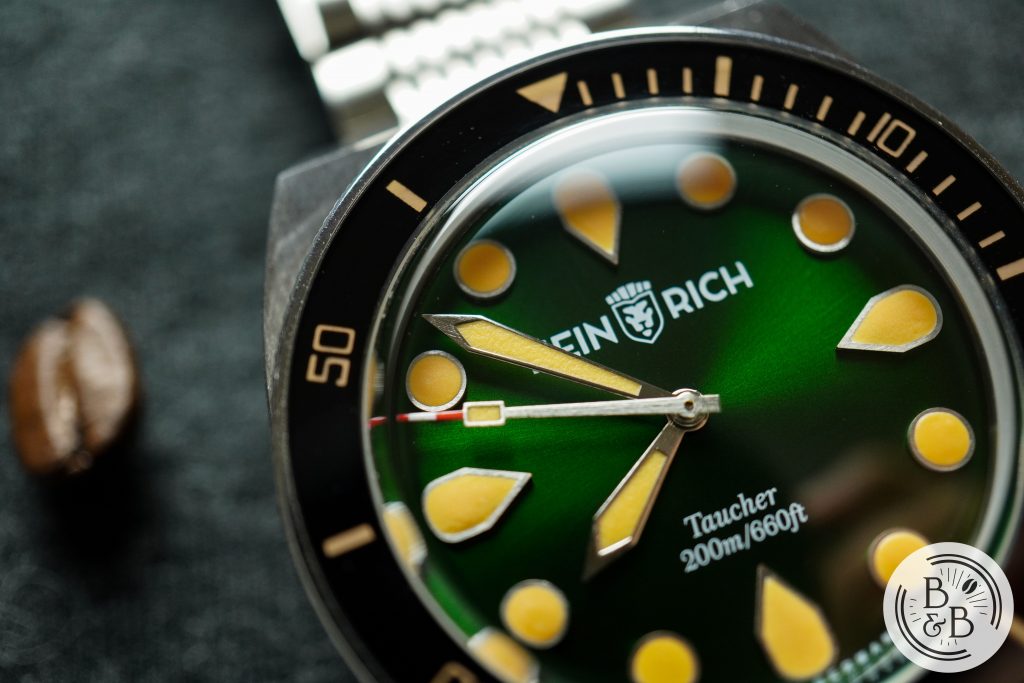 But even as an everyday tool watch, some method of short interval tracking would've been nice. That said, it doesn't take away from the design, and if anything, the negative space really allows the hour indices to come through.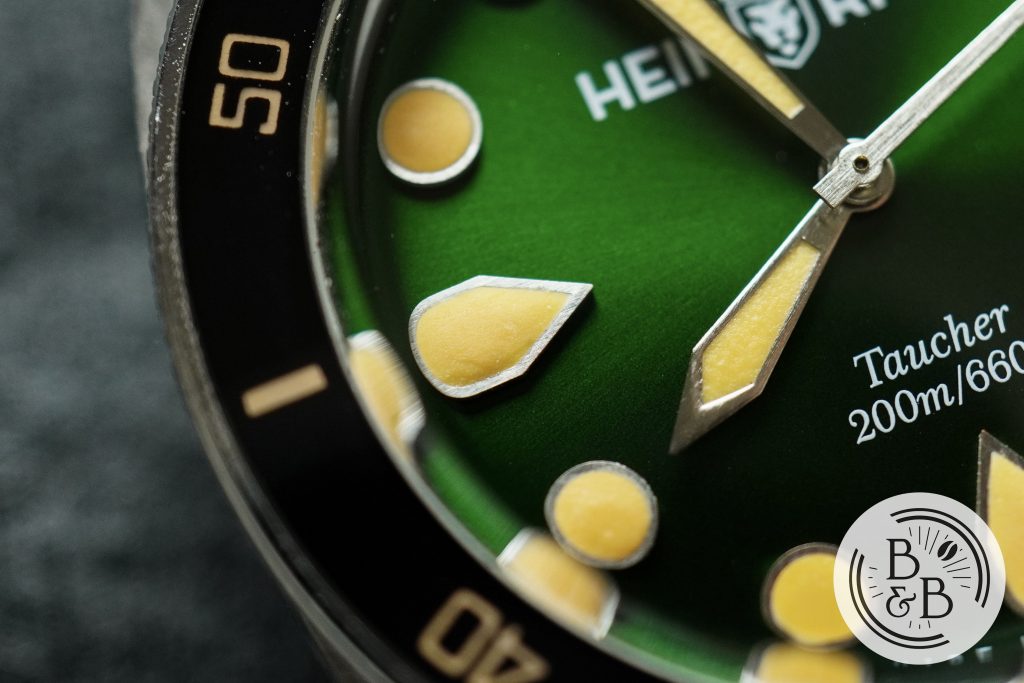 The oversized and applied hour indices look quite amazing. You have a perfectly symmetric distribution of indices, with tear drops at the 4 extremities, and circular indices for the rest.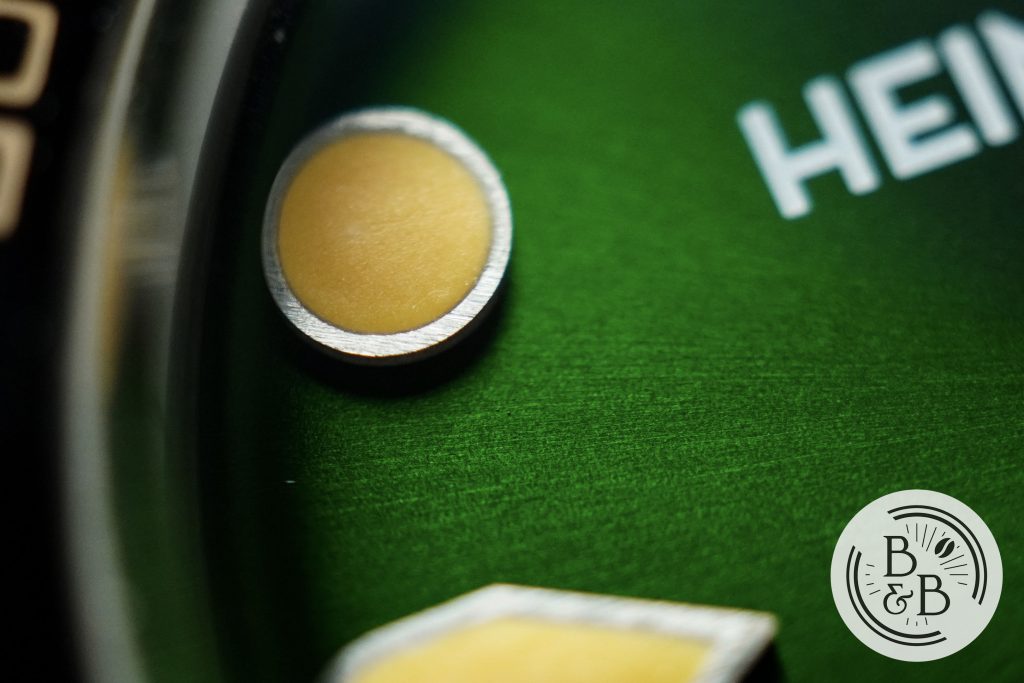 These indices, like the rest of the metal dial elements, are brushed stainless steel. They do have enough of a shimmer to them under lighting variations. The indices are filled with a colored BGW9 pigment, and quite generously so.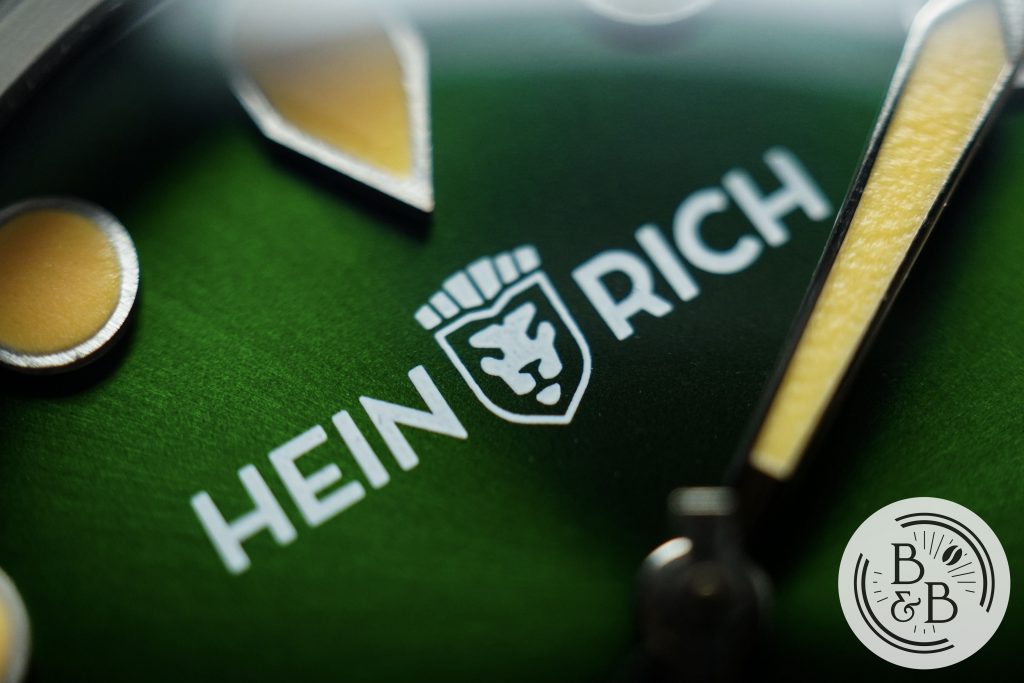 You have the brand's name and logo under the 12 o'clock position. There was a survey conducted regarding the size of this logo, and I believe the final production units will have a smaller logo. It looks pretty large in renders and photographs, but it never felt that way in person. Making it smaller should be fine though, and that's what the people wanted!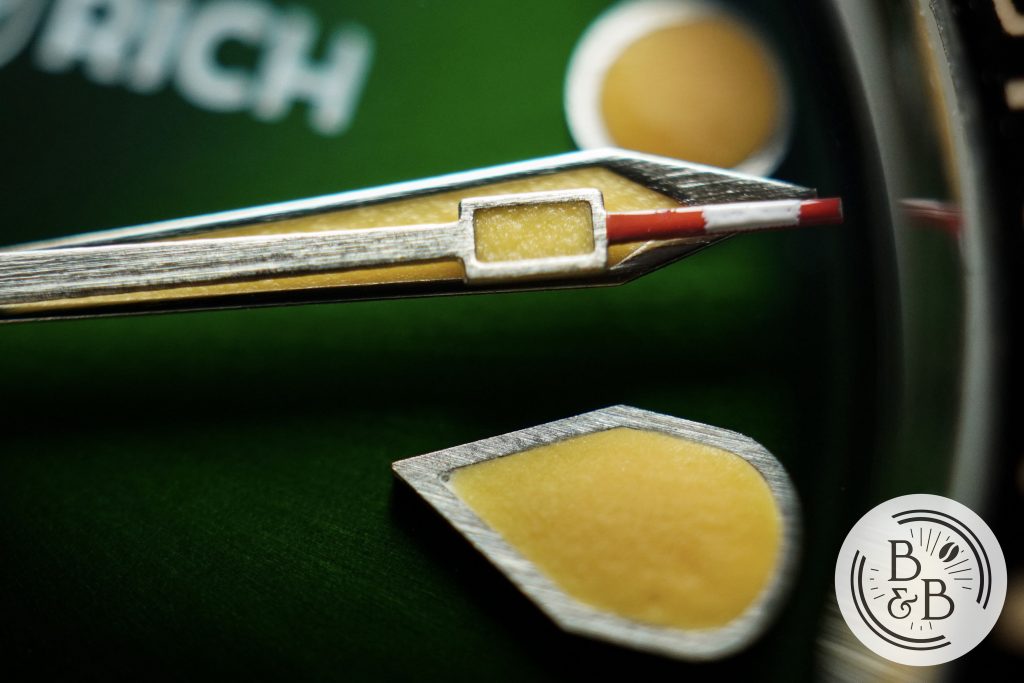 The hands are also brushed, and the hour and minute hands are generously filled with the same colored lume.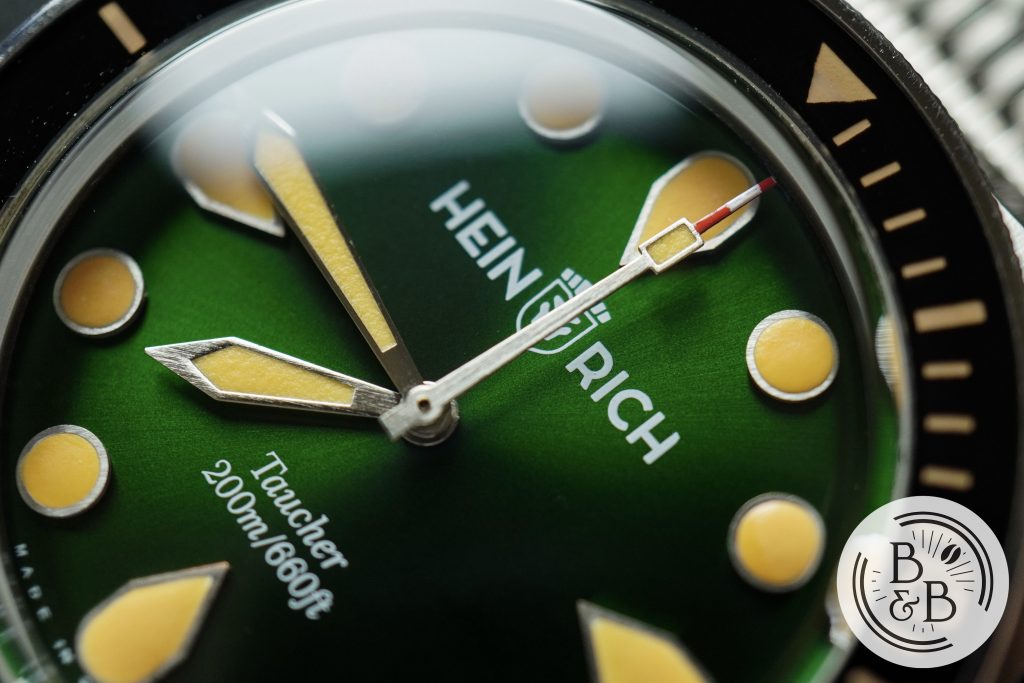 I like the handset design and I think the simple design allows the dial to really shine. The finishing on the hands of all the watches is good, but under my macro lens I did notice some residue on one of the hands of the green dial. This is a prototype, and the quality control on the final units will be much tighter. Wolfgang also mentioned to me that there are some printing imperfections on this logo that will be fixed.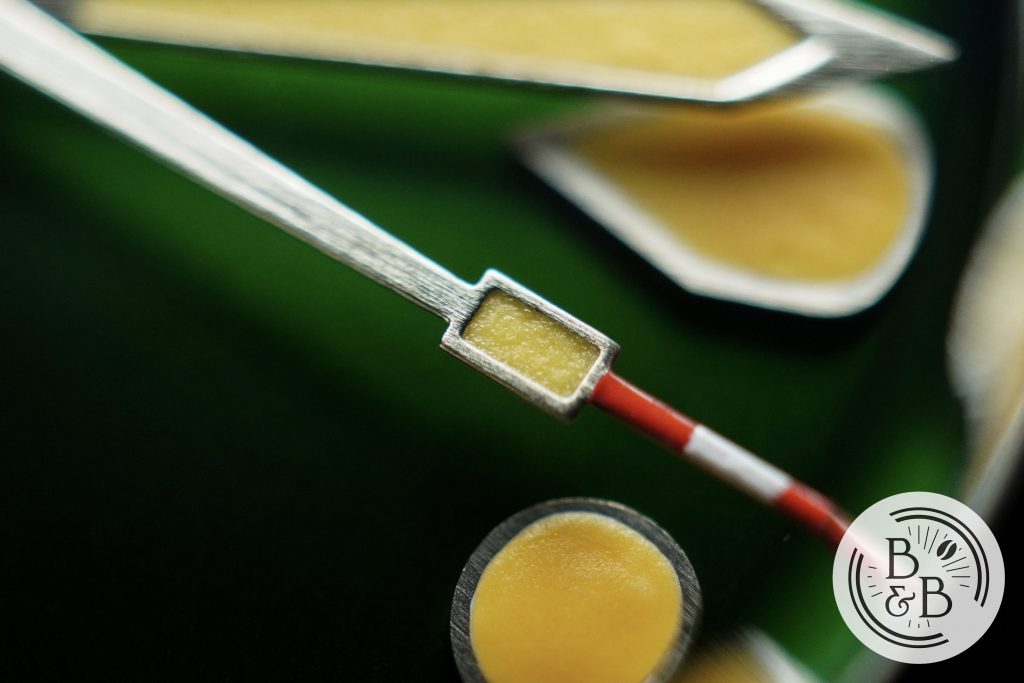 The seconds hand has a lumed rectangular element, which is always a win in my book. But the really neat part of this is the painted tip. The tip is painted with red and white stripes, and is a subtle nod to Wolfgang's hometown of Stuttgart. The painted tip was added to resemble the Stuttgart TV tower (Fernsehturm Stuttgart). I think this subtle splash of color works amazing on all three dials, and particularly so on the green dial.
---
Lume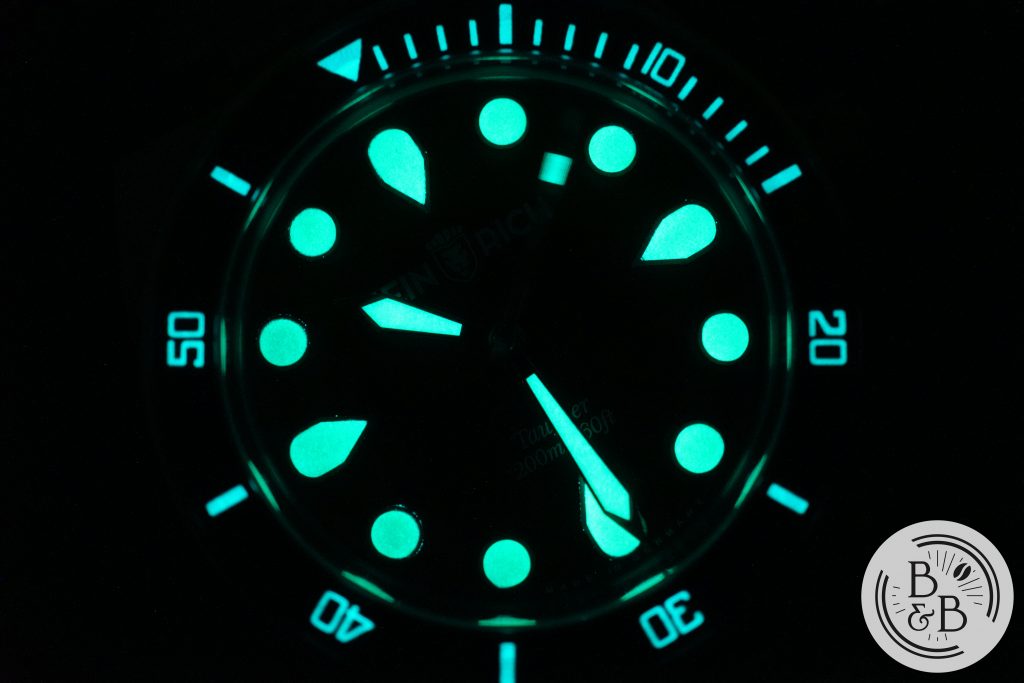 As mentioned above, all the dial elements are lumed with BGW9 Super LumiNova. The pale yellow color of these elements has been created by mixing BGW9 with some sort of pigment (I think?). The lume wasn't great initially, but after a short blast of UV light, it seemed to be very good and held it's charge really well.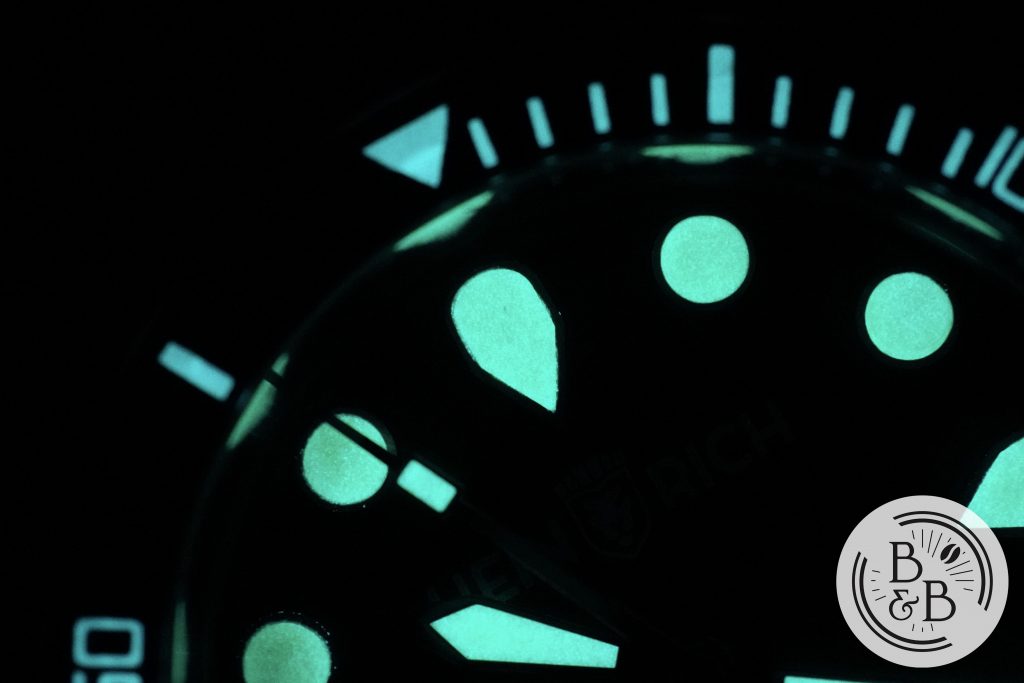 I think this mixed pigment or custom lume color alters the luminosity of this material a bit, because I noticed a similar performance from the Goodspeed Sonoma that I reviewed a while ago. The daylight to darkness transition seems to better 'charge' the material than just transitioning it from indoor lights to darkness.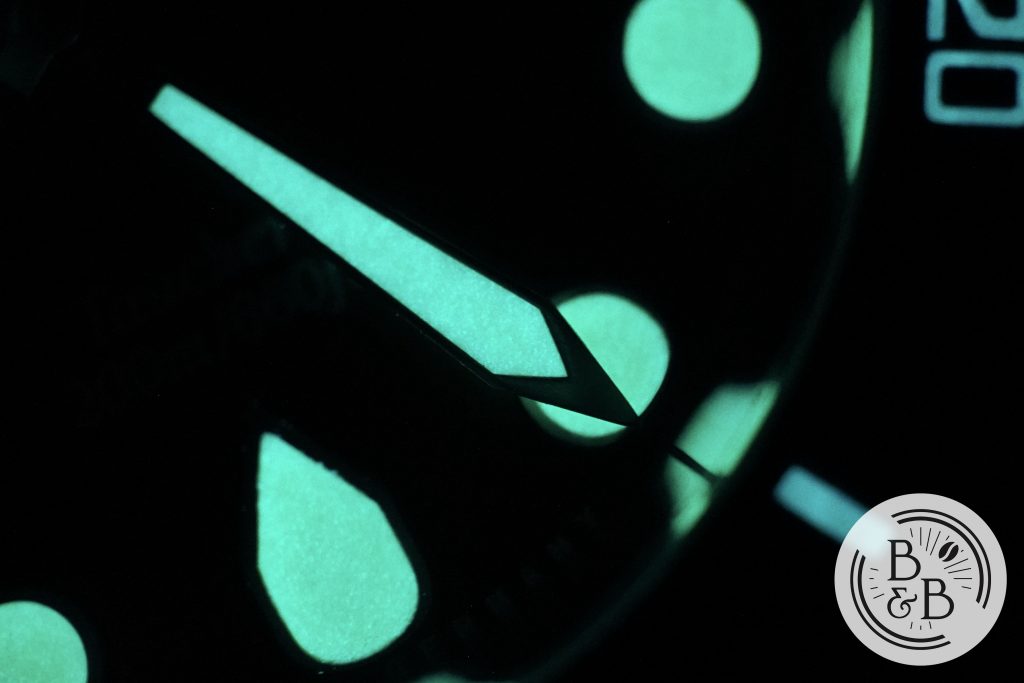 I've talked to Wolfgang about the lume, and he says he will look at improving it, and if he can improve the charging capacity of this mixture, this will be perfect.
In terms of lume layout, I don't think you can ask for better. All the bezel markers and numerals are lumed. The hour indices are huge and are generously filled with lume. The hour and minute hands are well lumed and I also love the fact that the second hand is also lumed.
---
Bracelet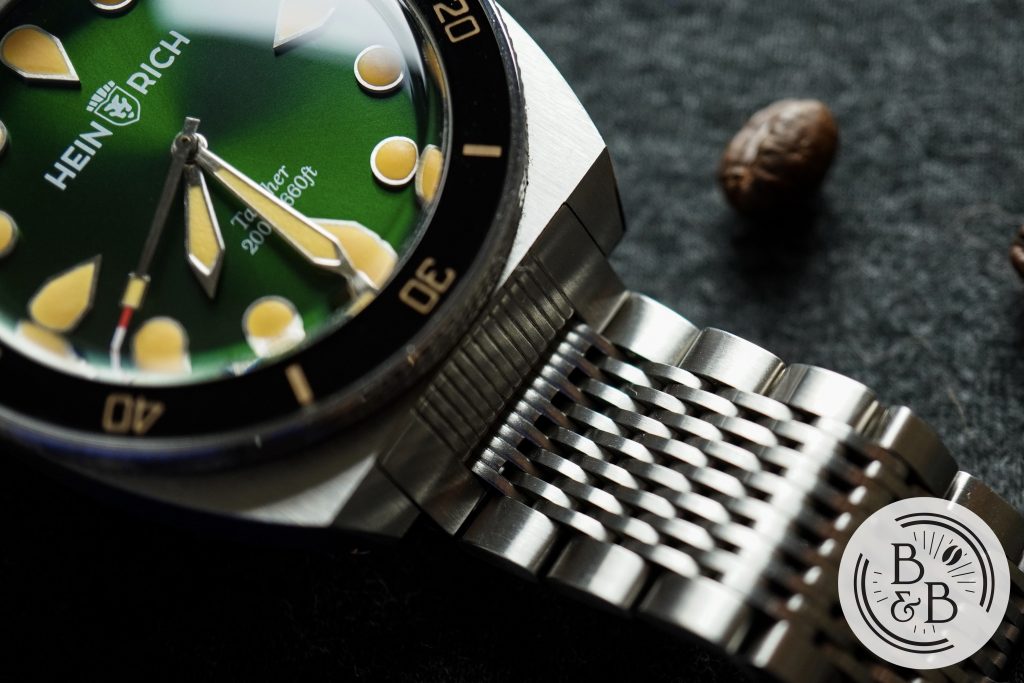 The bracelet is awesome, and it fits the 70s aesthetic perfectly. The links are machined very well, and the vertical brushed finishing is quite good.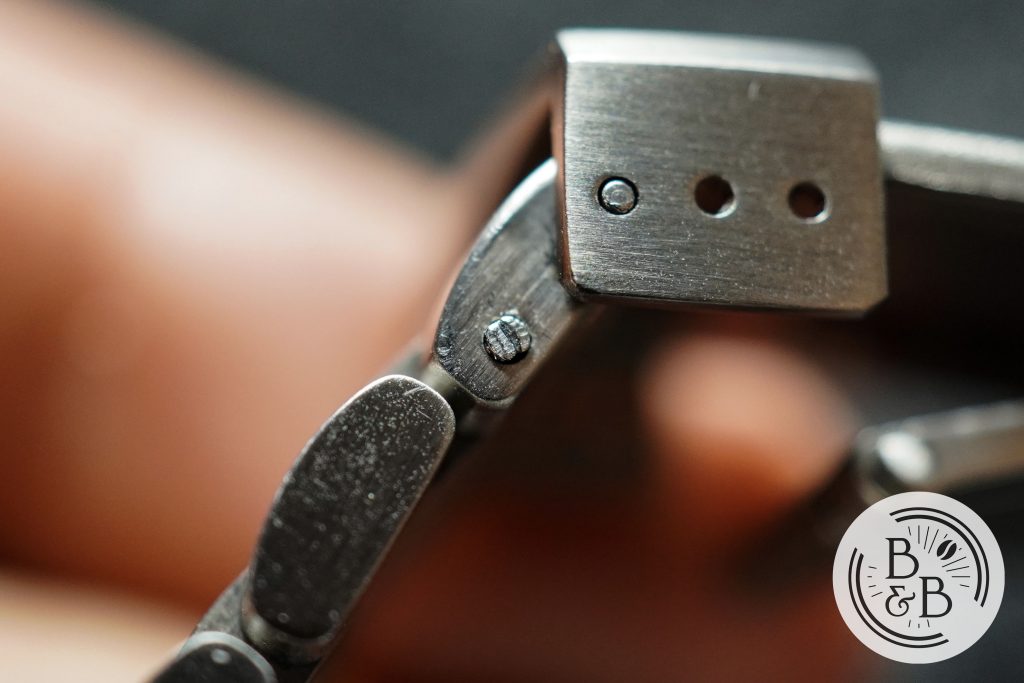 The links are push pin based and I would've preferred if they were screw based instead. But this was fairly easy to size, so I'm not too bothered.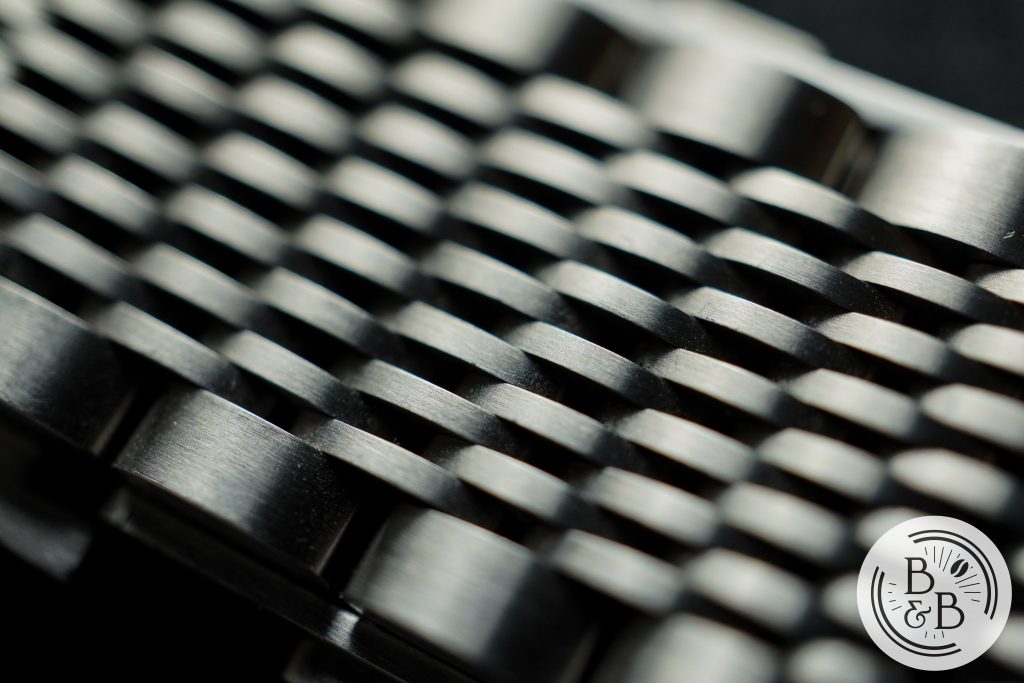 The links articulate wonderfully and the bracelet almost feels like a fabric and flows effortlessly.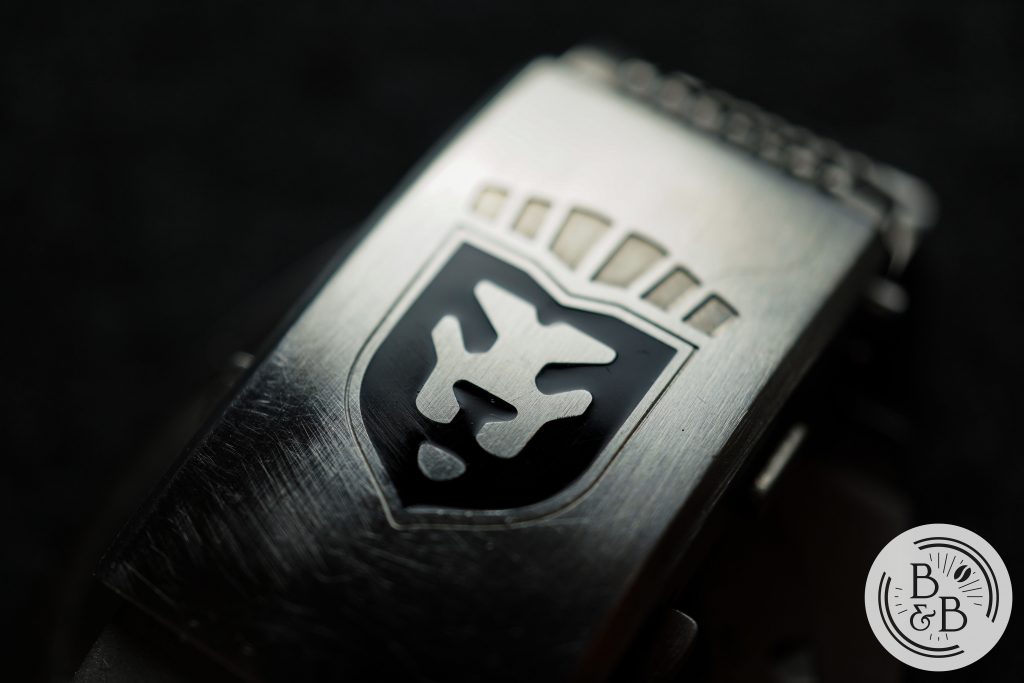 The clasp is pretty typical of micro-brands and I believe the Helson that I reviewed a while ago had the same clasp. I love these clasps as they're packed with functionality. It is a ratcheting clasp, allowing for on the go quick adjustment and also has three micro-adjustment slots. For a rugged tool watch like this, I couldn't think of a more appropriate clasp.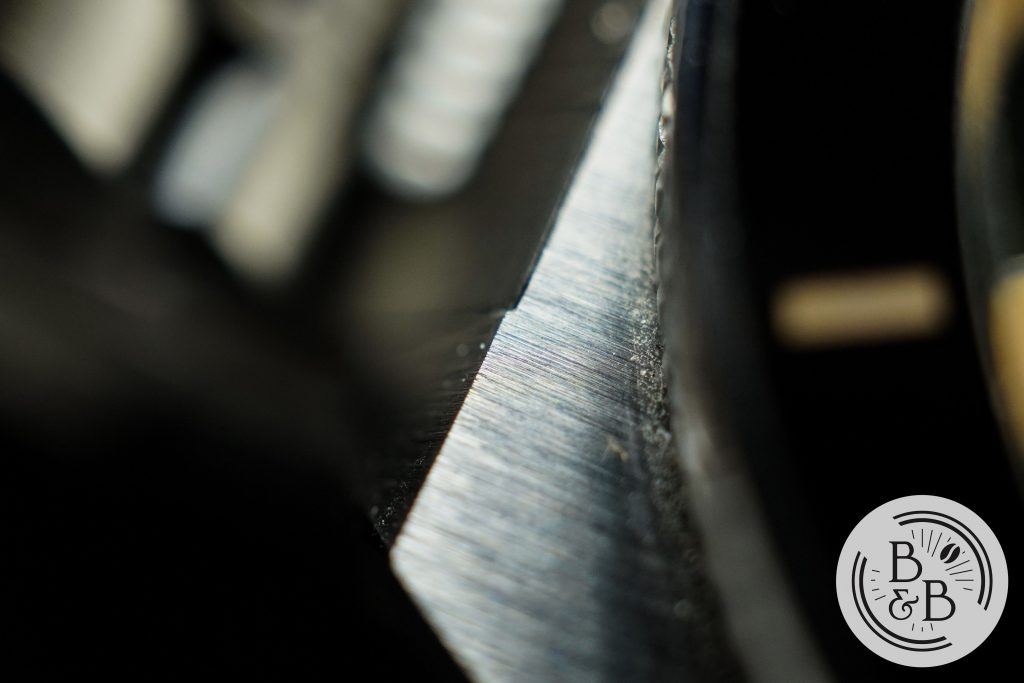 Given the angular case shape, I expect the case and bracelet fitment to be perfect. And I'm glad to report that it is. All three watches had exceptional case and bracelet fitment.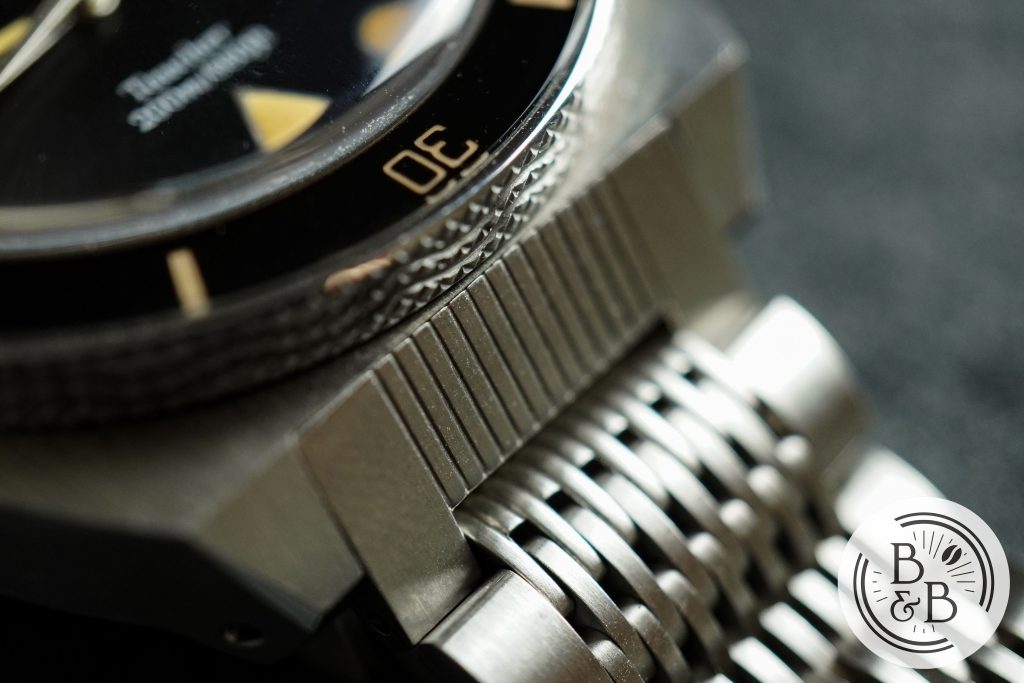 The end links extend out of the case a bit before it reaches the point of articulation, and I've heard from Heinrich that this will be changed to align perfectly with the case.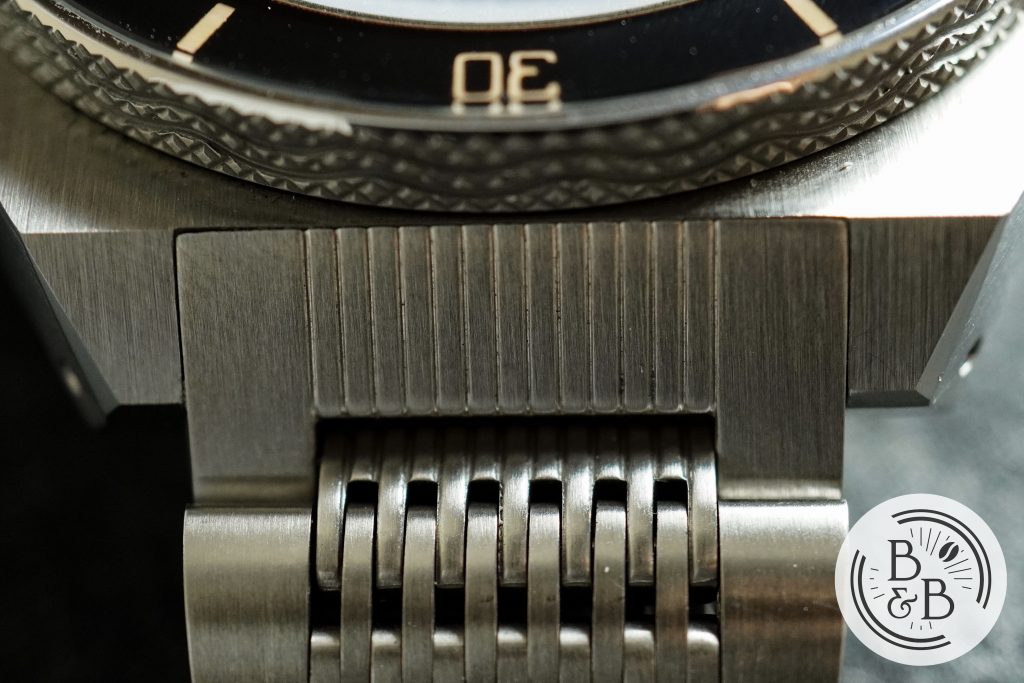 I'm happy to hear that they are going to extend the lugs and not shrink the end links, because the way it is set up right now allows for a perfect wrist fit, and that has a lot to do with how the end links are situated.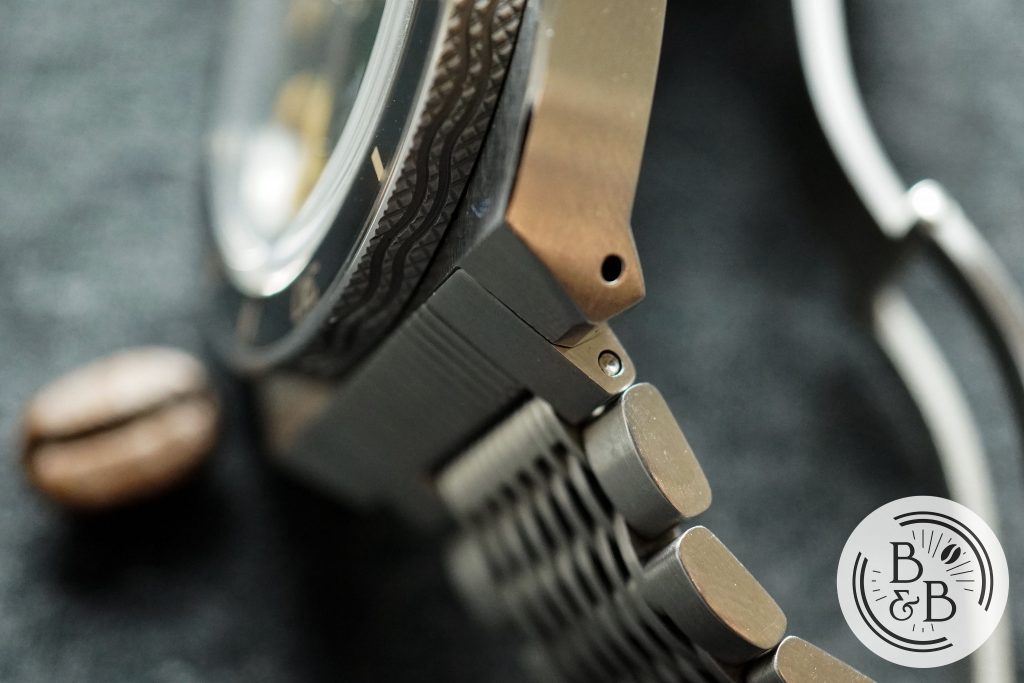 With the current lug design, I was unable to use any of my straps on this watch. I tried to slide a few NATOs under the spring bars, but they wouldn't fit. But with the extended lug design on the final units, this should be possible. You can look at the renders here. That said, this watch was born to be on it's metal bracelet, and a lot of the character comes from that bracelet. So I don't expect a lot of strap swaps to look very good. Maybe a simple NATO or a rubber strap could work.
---
Movement
These watches are using a Sellita SW200-1. I didn't get a chance to properly log the accuracy of all three watches over a reasonable period of time, but I was observing roughly -5 spd on the green dial for about 24 hours. I had way too many watches in for review the week of this review, so my apologies.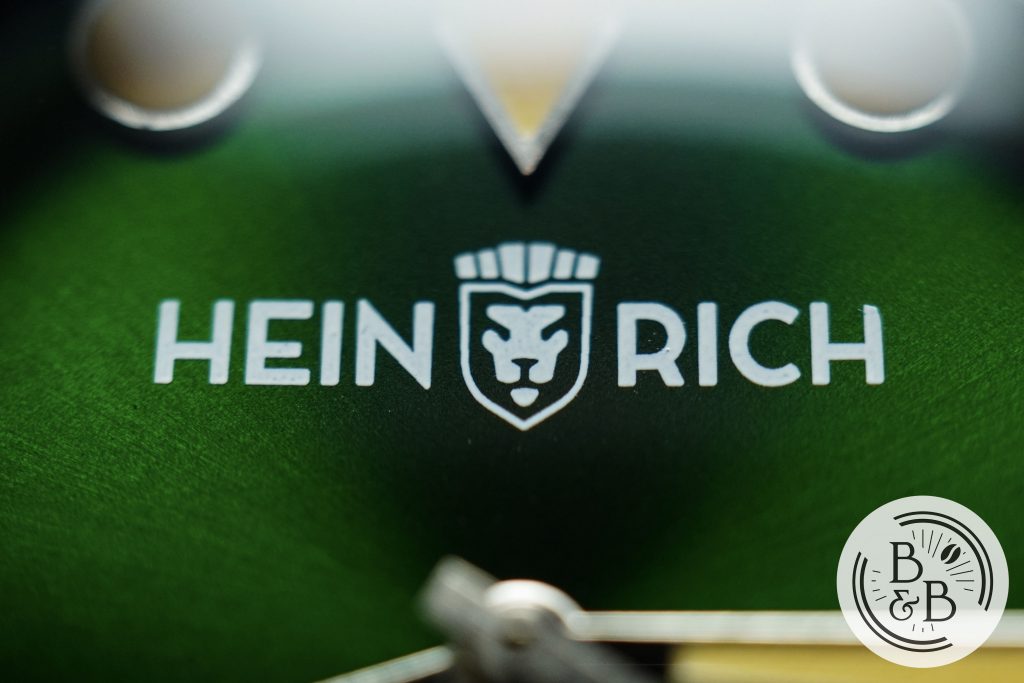 But for a well designed and robustly constructed $639 watch, I think the SW200-1 is quite a good deal. I've got a few Sellita 200s in my personal collection, and I think they're pretty good movements. There is currently a ghost date position on the prototypes, but this will be removed on the production units.
---
On The Wrist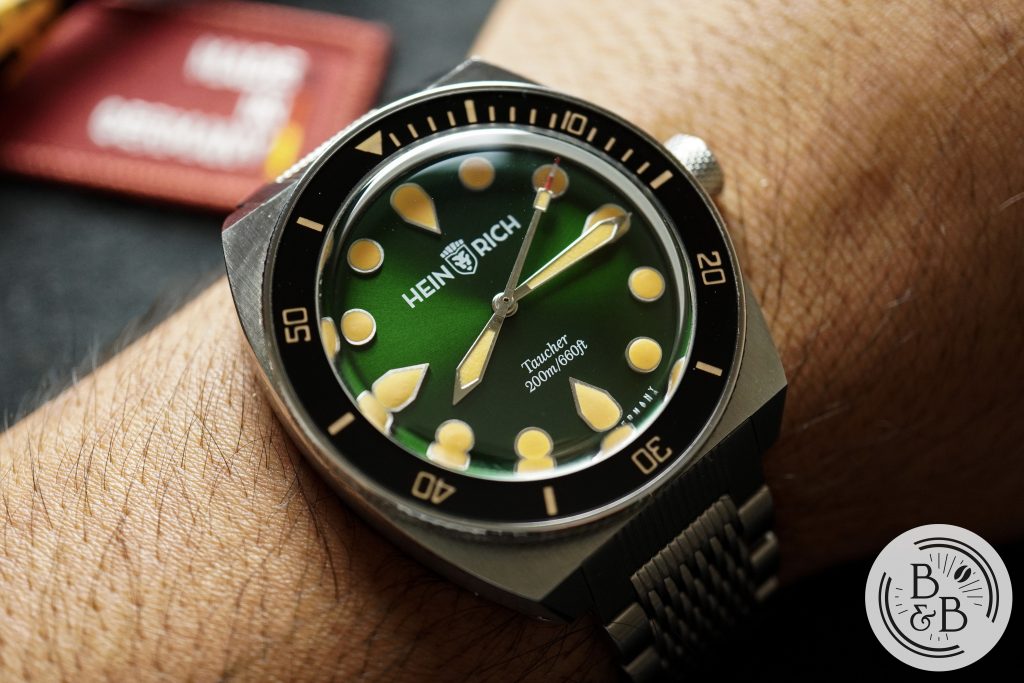 This almost-rectilinear case design might give you the impression that it would feel awkward on the wrist, but it is quite the opposite! The 41mm case diameter, 48mm lug-to-lug width and 11.5mm height sits very comfortably on my 6.25″ wrist. I'm ignoring the 2mm tall crystal here.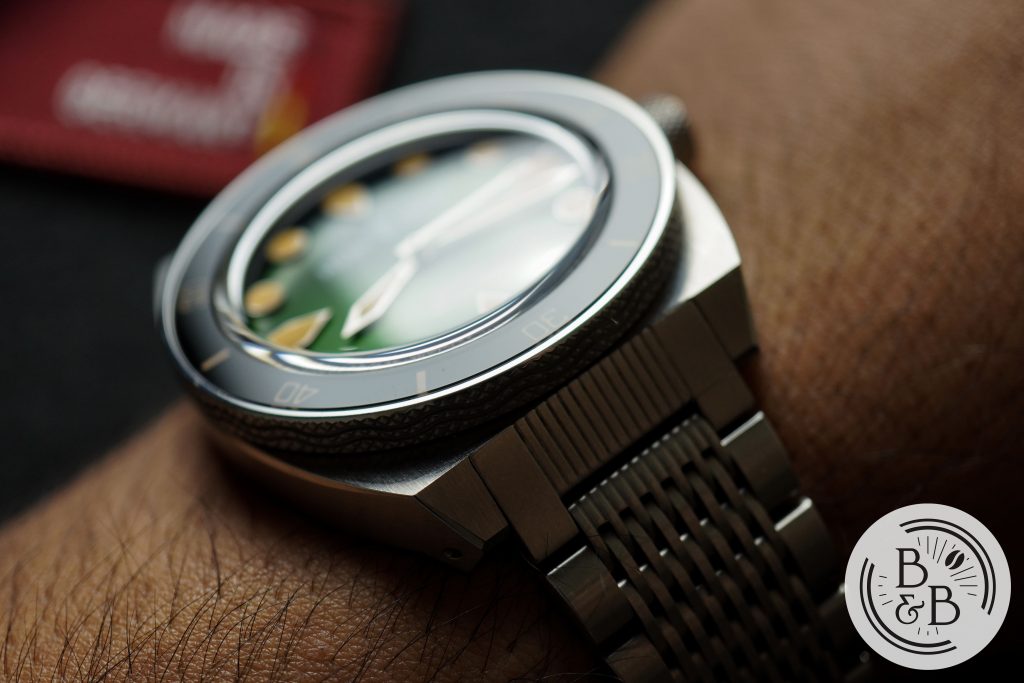 In my opinion, this comfort is a byproduct of the case-back and lug design. The short angular lugs, together with the extending end link define the point of articulation to be around the same height as the bottom of the case-back.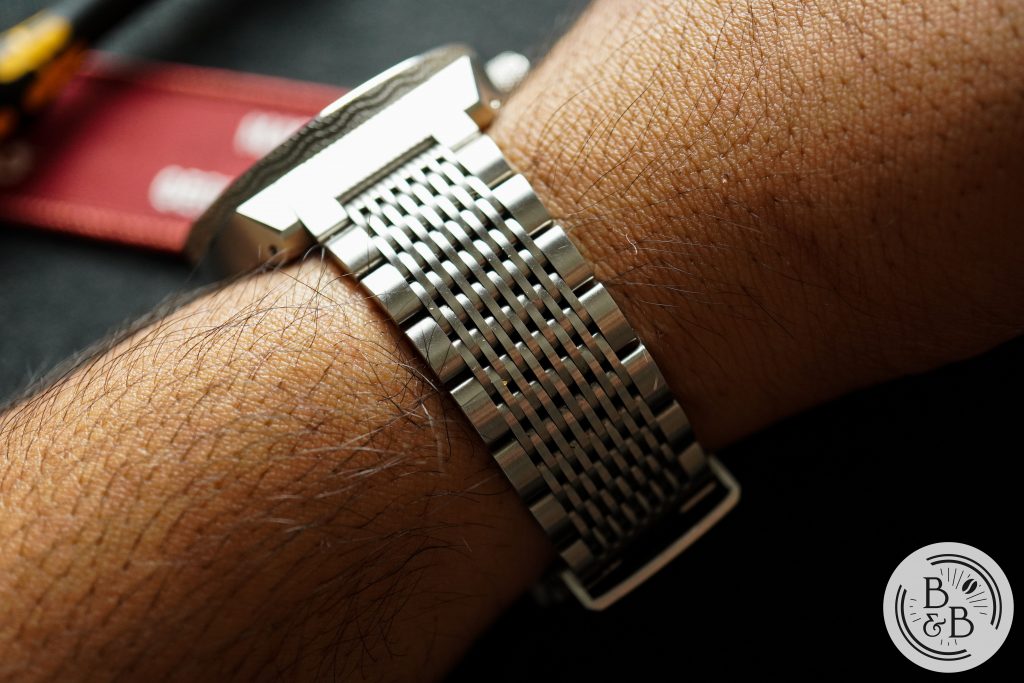 This allows the watch to sit very low and hugged my wrist very comfortably.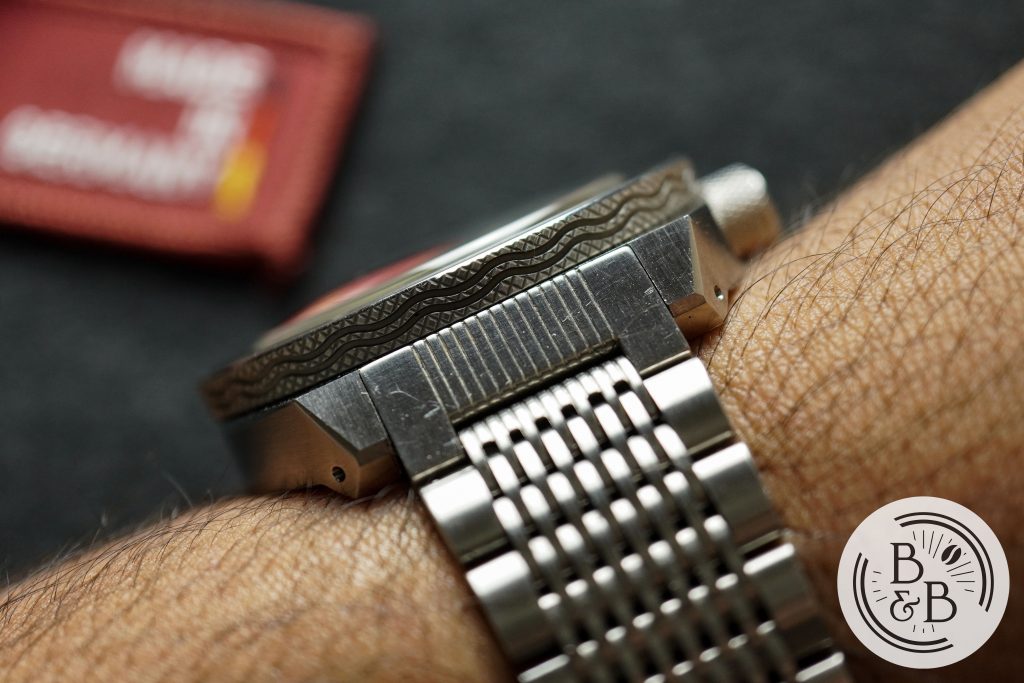 As you would expect from a watch that looks like this, this watch is a bit heavy on the wrist, and the clasp is quite chunky too. Adjusted to fit my 6.25″ wrist, this watch weighed roughly 150 g. But the wrist presence is strong, and feels robust. I feel like this watch can take anything you throw at it, and that's just the way I like my watches.
---
Concluding Thoughts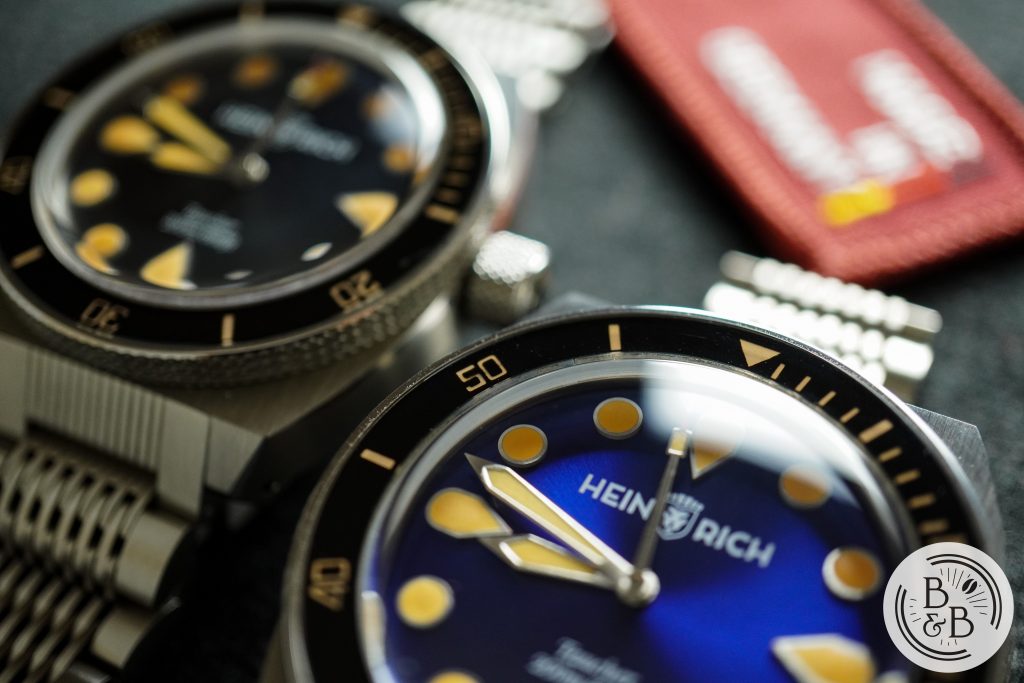 This has been a long review, so I won't take any more of your time. To put it plainly, if you like how it looks, go ahead and back this one. It is a solid piece of metal that is likely to survive most of what life can throw at it, and it also manages to look beautiful while doing it. This is not another Submariner homage, and it has enough of it's own personality to warrant a place in any collection. Also, brands that are willing to be completely transparent and disclose their entire manufacturing chain earn a lot of respect from me.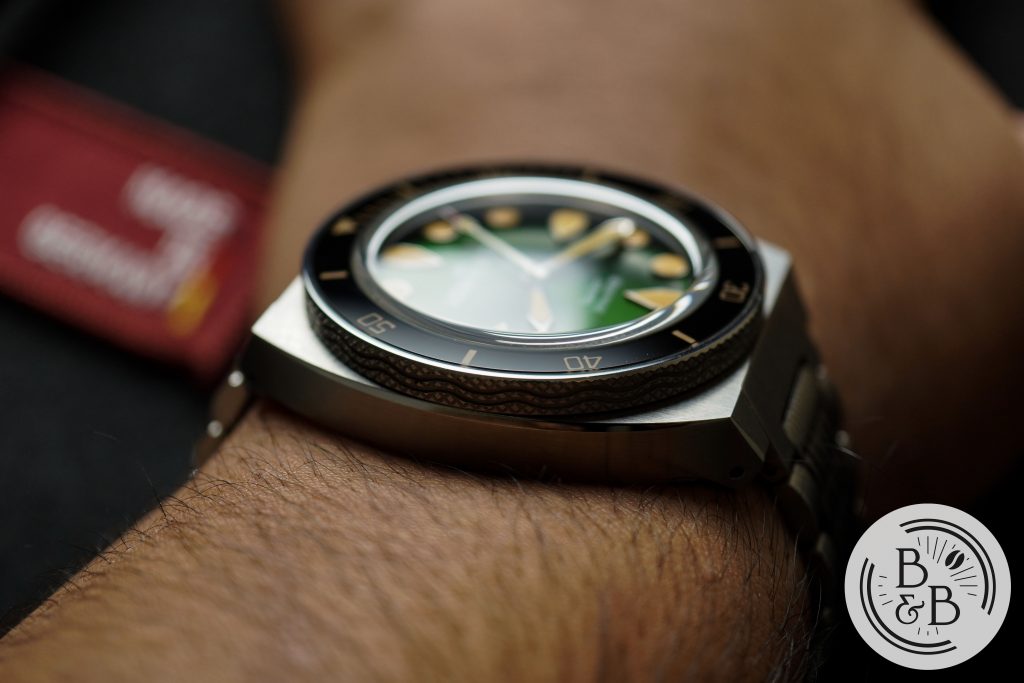 In terms of price, your money is getting you very good components – from a good movement, to a well designed and engineered bezel and crown and a great choice of clasp. The dial choices are great, and the overall case construction looks like it's built for the long haul.
As with any Kickstarter project – exercise caution, develop a good relationship with the owner, and most importantly… be prepared to wait. But more often than not, the wait is worth it… and with the Heinrich Taucher, I think it will be.
---
Thanks for reading!