---
Disclaimer: I purchased this watch new and was not externally incentivized in any way to make this review. This review is in no way sponsored by Seiko or any other entity. All opinions here are my own.
---
---
Contents
---
(Grand) Seiko's Sales Practices
This review is going to start off with some broader opinions on the Seiko and Grand Seiko brands, based on some of their sales practices this past year. Feel free to jump to the next section if you're not interested in watch industry drama.
In October 2020, Seiko released a limited edition Alpinist, nicknamed the "Mountain Glacier", because of it's icy blue dial. Fratello watches seems to have taken point on the release of this SPB199J1 limited edition watch, and even sold it via their web-store for 880 euros (roughly $1035 USD), and said that it was a limited release of 2020 pieces, and even included a great looking Fratello branded strap. As you'd expect, this watch sold out very quickly, with collectors from all over the world trying to acquire one of these beautiful watches.
Fast forward to a few months later, when Seiko released this particular watch pretending it was a completely new release, the SPB197J1, and had a retail price of roughly 600-700 GBP (roughly $850-$950). This watch was not a limited edition, but a European market exclusive. And what's worse, is that this watch is a bit cheaper, and also ships with a well made bracelet.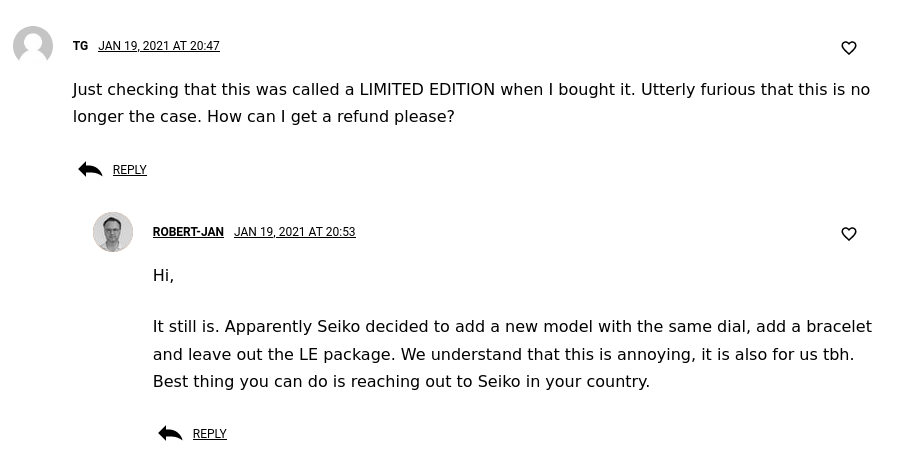 Fratello's Robert Jan Broer on January 2021 even commented on their original article expressing some disappointment in the way Seiko handled this by saying this in response to a customer's message about this new release – "Apparently Seiko decided to add a new model with the same dial, add a bracelet and leave out the LE package. We understand that this is annoying, it is also for us tbh. Best thing you can do is reaching out to Seiko in your country."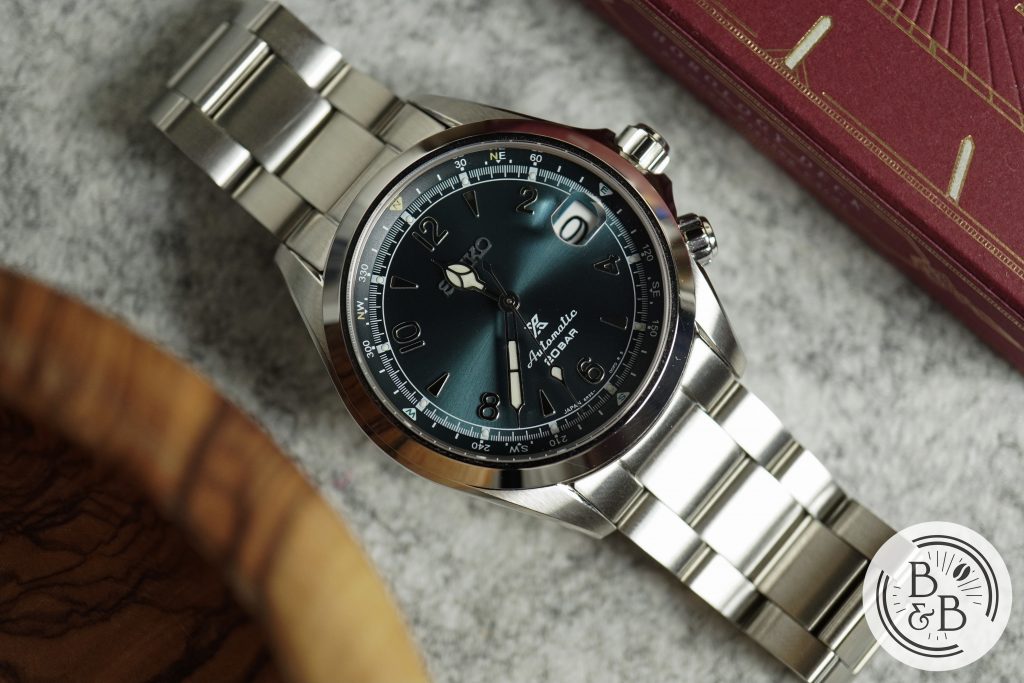 And people did contact their respective Seiko representatives, and Seiko mostly ignored their appeals. The best solution they could come up with was offering a refund to those that bought the SPB199J1, according to some rumors. You'd expect a brand to learn from their mistakes, and try to not upset their target audience. But maybe not…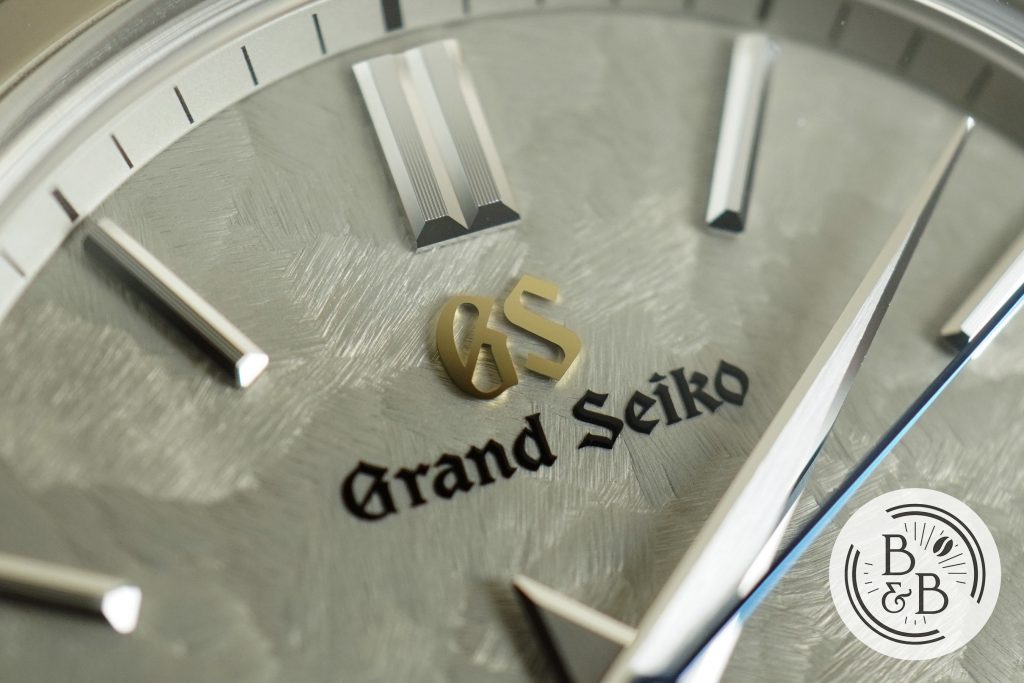 Fast forward again, to about a month ago, and switch gears to Grand Seiko. Grand Seiko is aggressively attempting to distance themselves from the Seiko parent company because Seiko has long been a powerhouse of affordable and value driven watches. And this image doesn't do them any favors as they try to position themselves as a luxury brand that now demands prices in the $8500-9200 range for their regular production steel watches. But their recent sales shenanigans has made it hard for me to separate the Seiko from the Grand.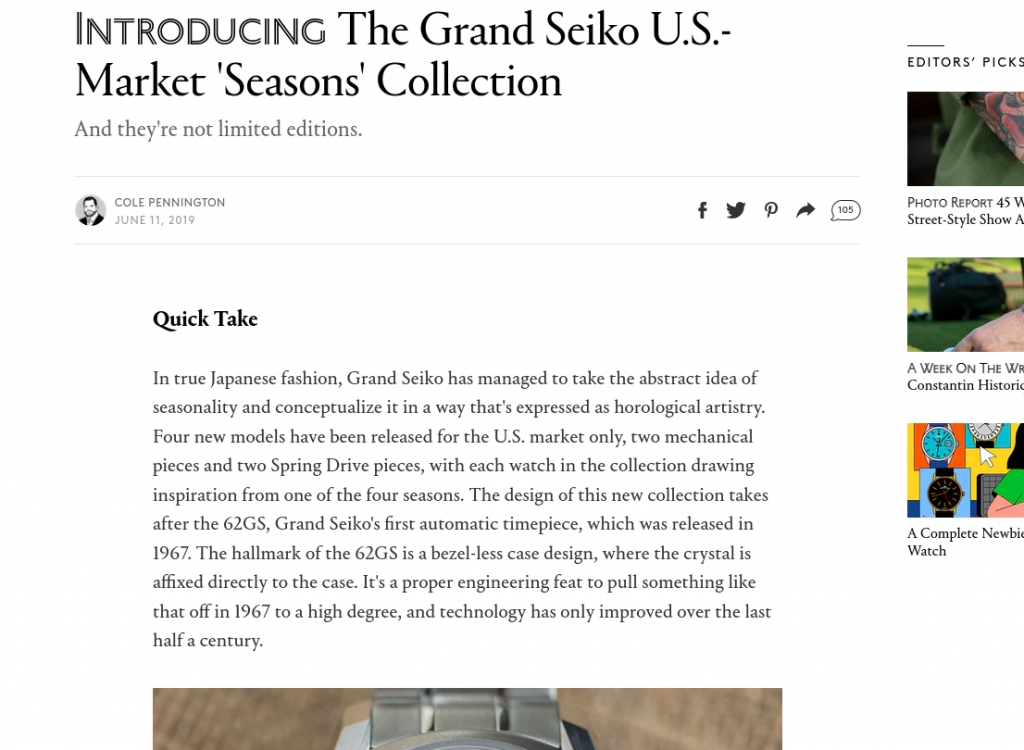 In 2019, the Grand Seiko Four Seasons collection was launched as a US Exclusive Edition, as seen on their own website (now amended) as well as all the media platforms that followed.
Together with the Snowflake, these watches were immensely successful and the SBGA413 was growing to become a collector favorite. When I was shopping for my SBGA415, there was 4-5 month wait list for the Spring and a 2-4 month wait-list for the winter. So it was clear that this product line was doing very well for them, even nearly 2 years after it's launch in the US.
Recently, rumors started to circulate that Grand Seiko boutiques and dealers across the globe have begun to take orders for this series, and one of these models popped up on the Grand Seiko UK online boutique – so much for a US market exclusive, right? No changes to the watch, no insult to your intelligence. Just an insult to their own integrity, and a reminder that the two brands are joined at the Seiko hip. And I've heard people defend the brand by saying this is a good move for those customers around the world that want these watches, and I can't disagree with that. But the fundamental idea that they are so easily willing to trade short term profits for long term customer trust is an indicator that this brand has not thought through their long term sales plan, and they're just moving fast and breaking things quickly like a micro-brand operating out of a garage.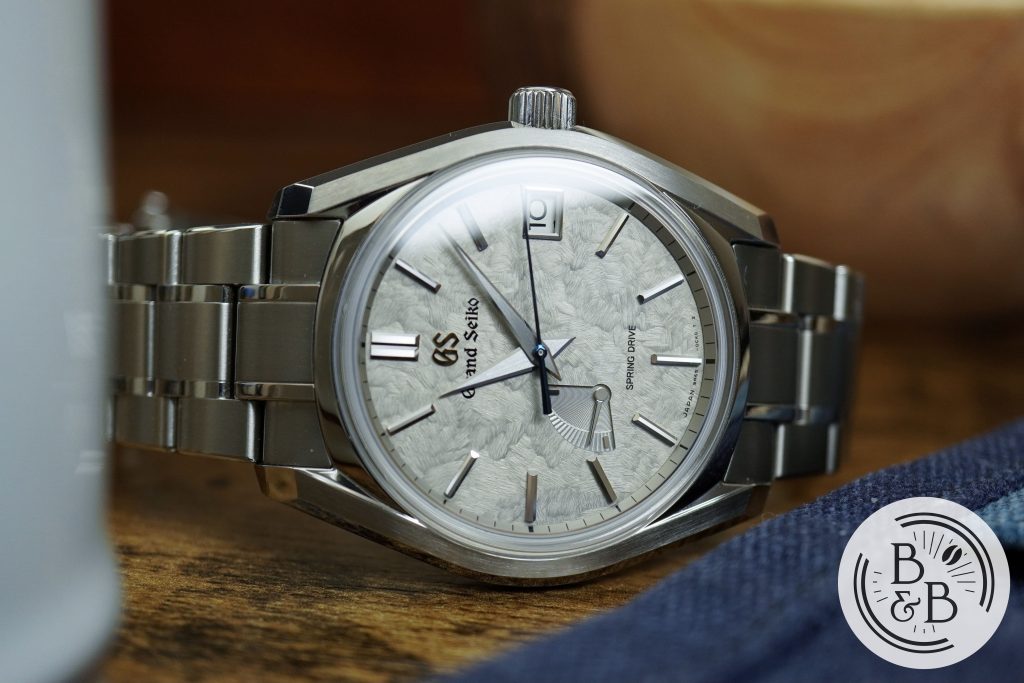 Since I did own an SBGA415, I should clarify that I sold mine before all of this went down, so I'm not just a salty collector throwing a tantrum because his watch won't sell for 10x the price after it was supposed to get discontinued. While I'm glad the rest of the world will soon be able to experience these watches, I've also lost a lot of faith in the abilities of this brand to respect their collectors. Whether you like the idea or not, it feels disingenuous to sell a product with the promise of exclusivity, and then change your mind after. And this wishy-washy attitude does not reaffirm the idea of sophisticated luxury watchmaking and brand building that Grand Seiko so deeply desires to portray.
But let's switch back to the Seiko Alpinist SPB197J1 now!
---
Case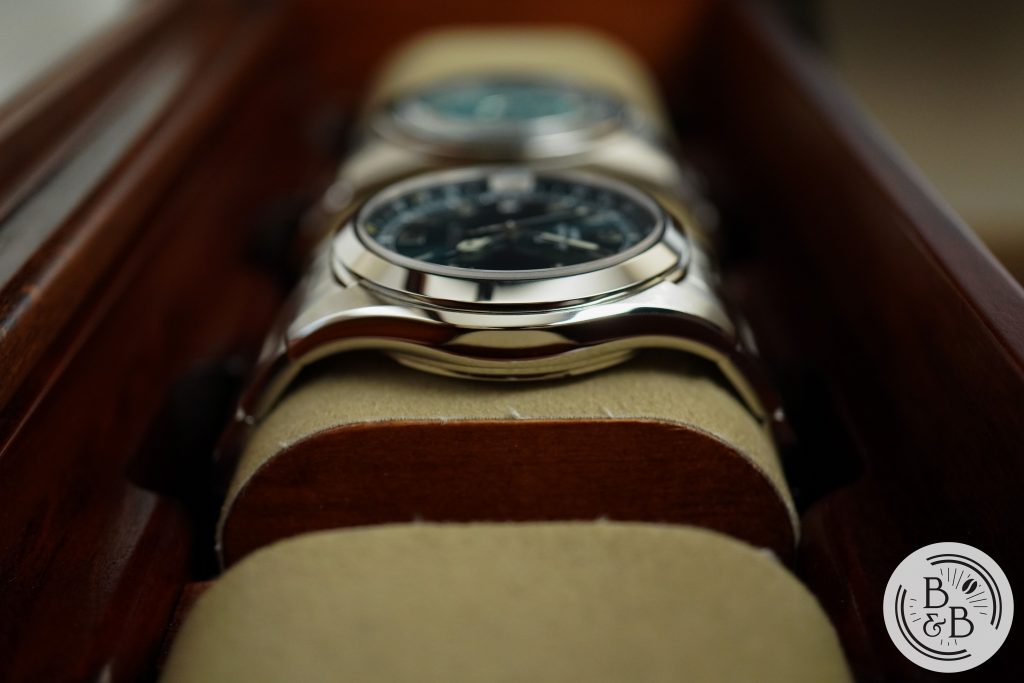 I measured the case to be 39 mm in diameter, 45.9 mm from lug-to-lug and 12 mm tall. The case is made entirely of stainless steel, and the finishing is excellent. It is identical to the last Alpinist I reviewed, so I won't go into this again.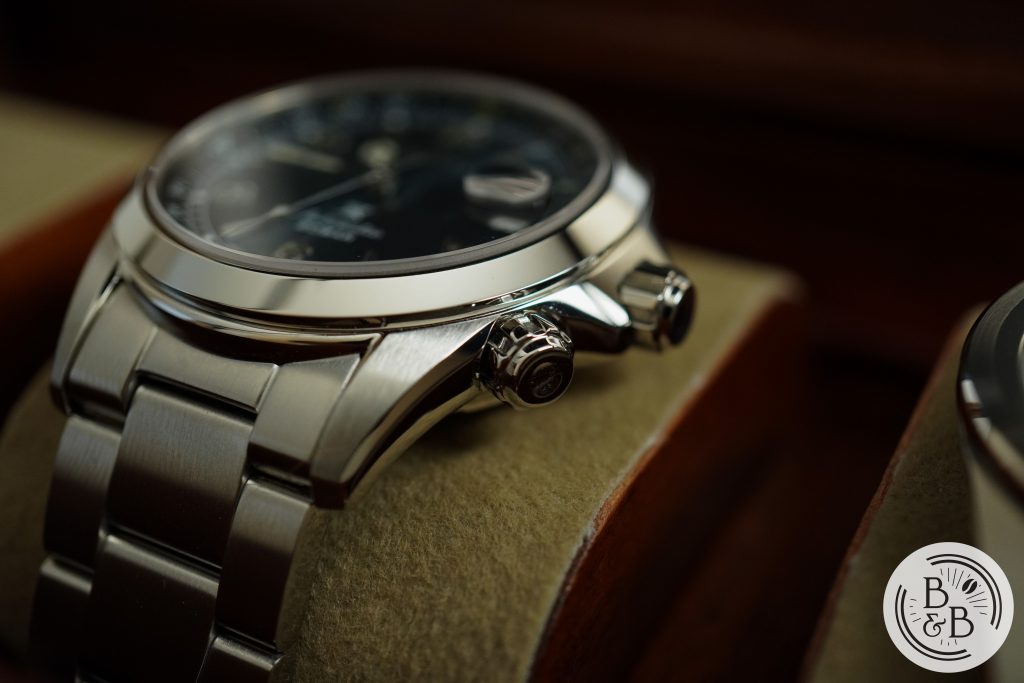 The inner bezel crown does feels a bit more tight on this one, and doesn't move as easily when accidentally touched.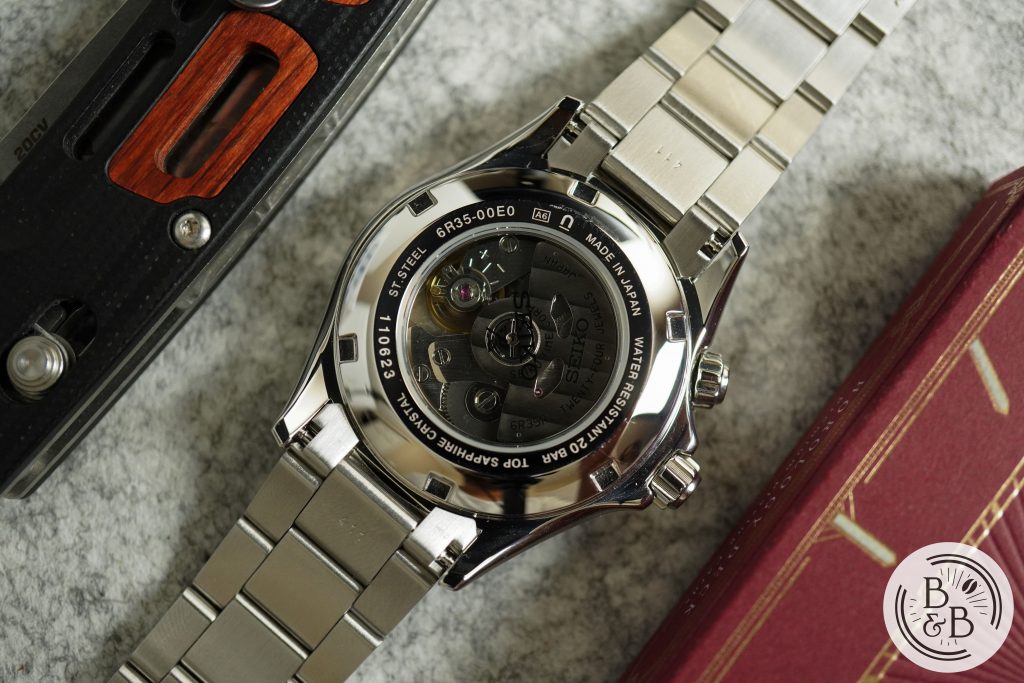 The other difference is that this watch has an exhibition case-back, showing you a pretty underwhelming Seiko 6R35 movement. I much preferred the closed case-back on the SPB089, as it does a better job of conveying the tool watch design heritage. This watch is rated for up-to 200m of water resistance.
---
Dial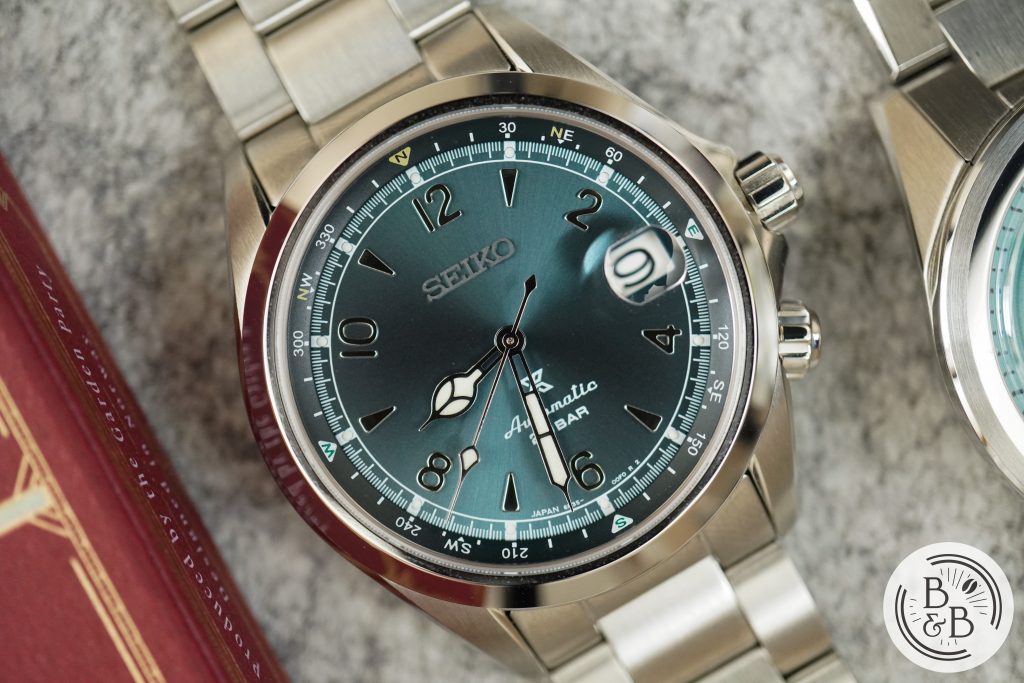 The dial layout and design is also identical to the limited edition Blue Alpinist I reviewed recently. This dial manages to combine grey, blue and green into a beautiful metallic dial color that lives up to it's original "Mountain Glacier" nickname, and it's limited edition doppelgänger. And if there are any differences between the SPB199 and the SPB197 dials, it isn't significant enough to notice in stock images, and I don't think the difference is significant enough to launch an entire new product line for.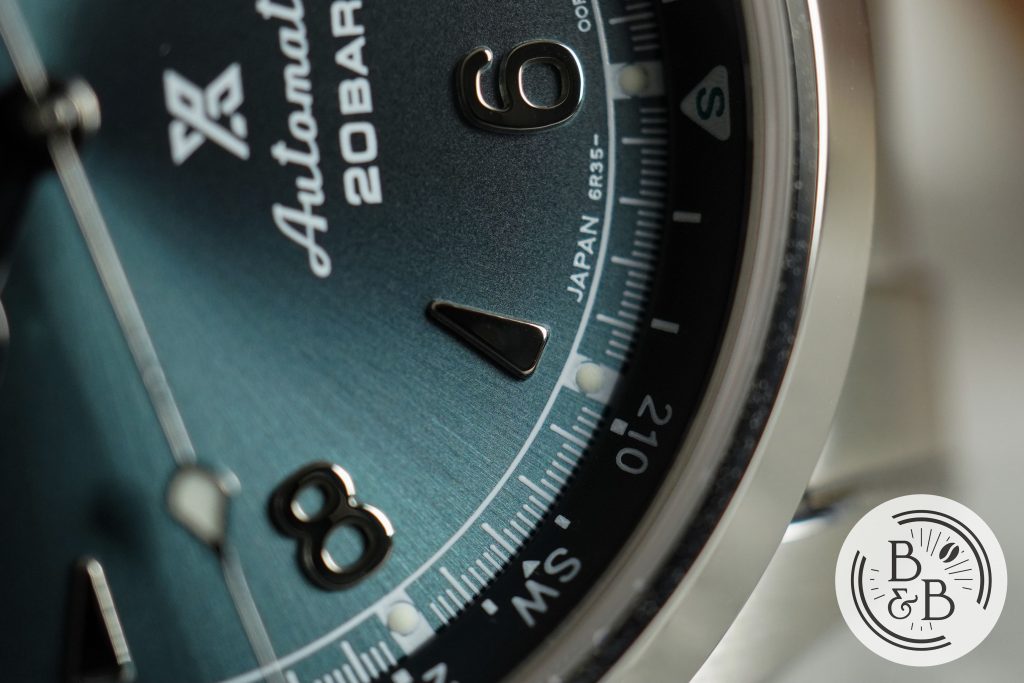 The design of the inner rotating bezel, outer track and hour markers is identical to the rest of the Alpinist family, and the finishing is mediocre.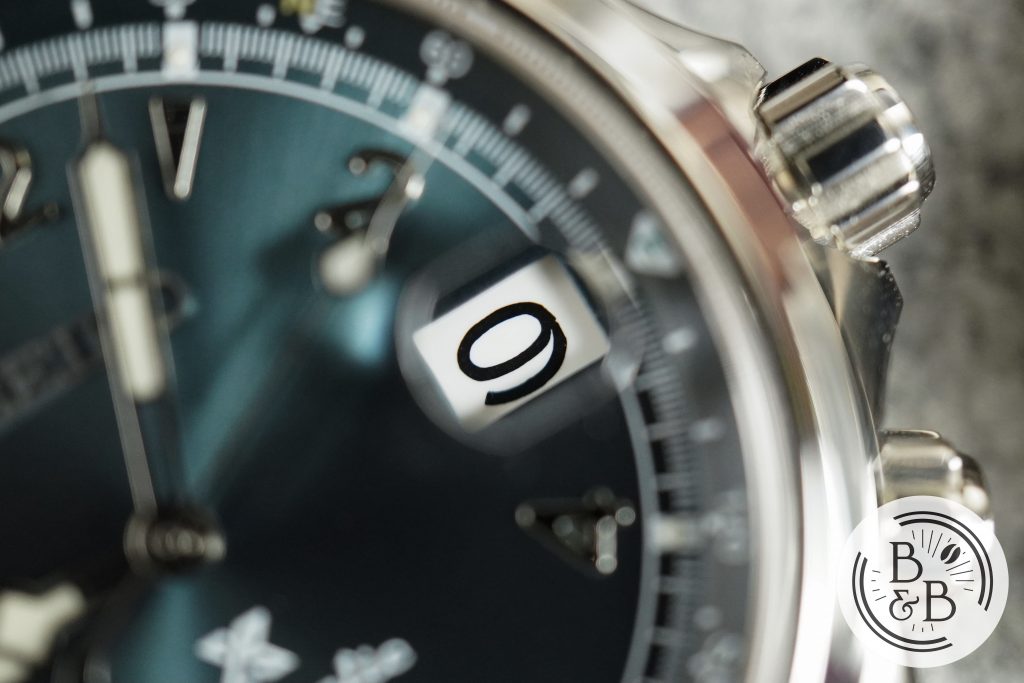 One of the key differences between this Alpinist and the last one I reviewed is the presence of a cyclops date window at the 3 o'clock position. I'm not crazy about these, and much prefer this watch without it. But considering the cyclops was on a few of the heritage designs, I think it is a good throwback for the fans that like it.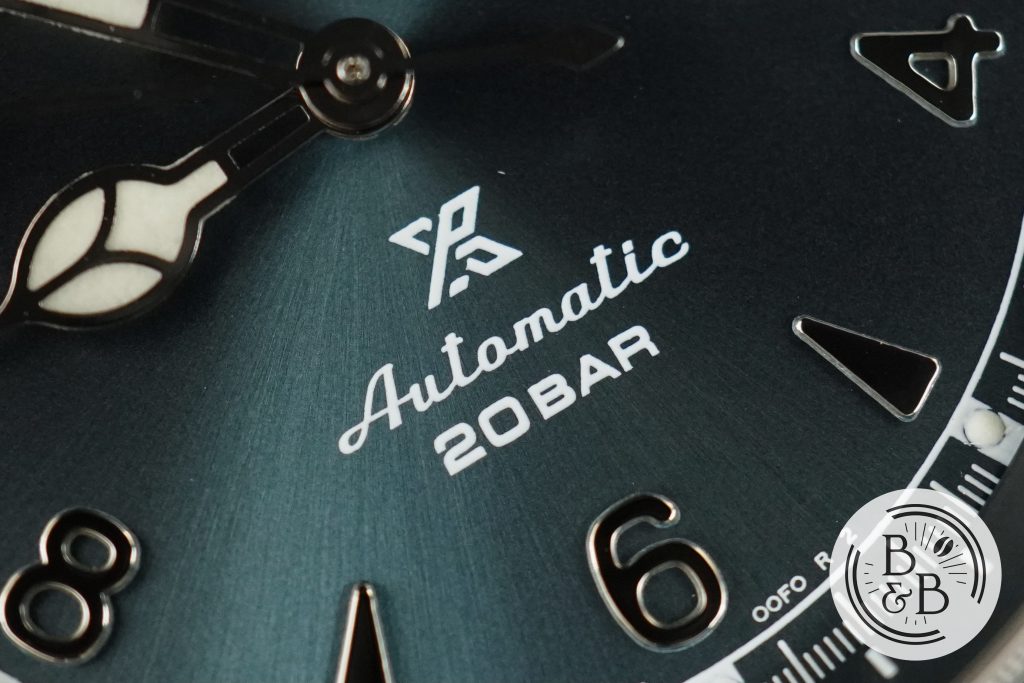 The other difference is that this watch trades the more vintage looking text at the 6 o'clock position for their more modern layout of the Prospex logo, 'Automatic' and its water resistance. While this looks a bit neater and more in proportion, I think the previous gen text felt more authentic to the original designs.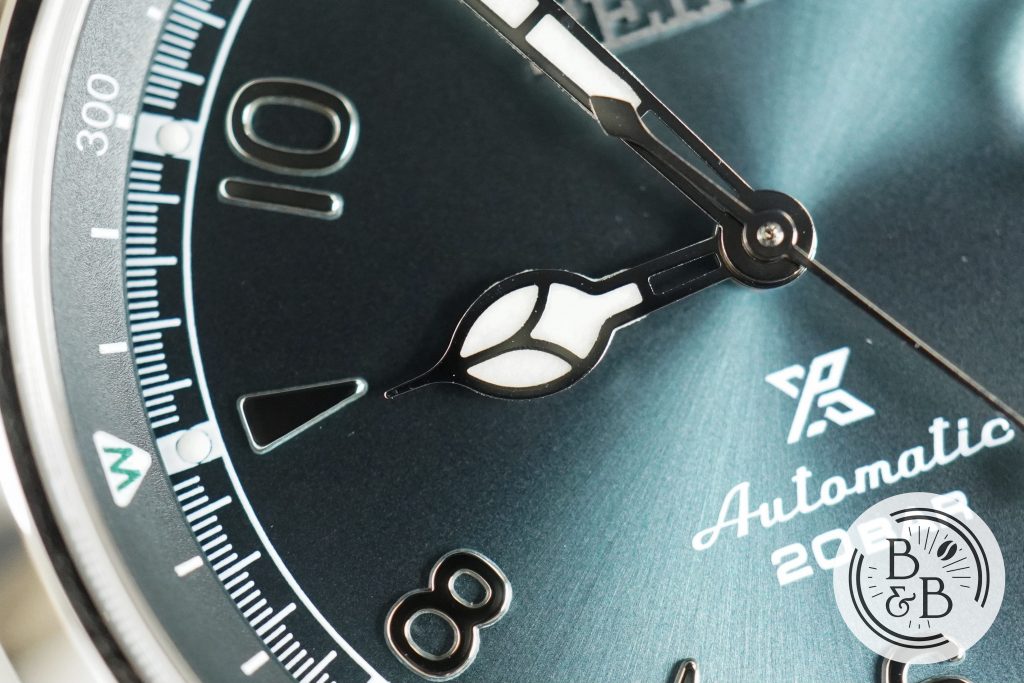 Like the SPB089, this watch has the very easily identifiable 'Alpinist' cathedral hand set, with large lumed sections, good design and mediocre finishing. Overall, this is a beautiful looking dial, with a unique color tone that definitely nails the cold and icy mountainous region theme.
---
Lume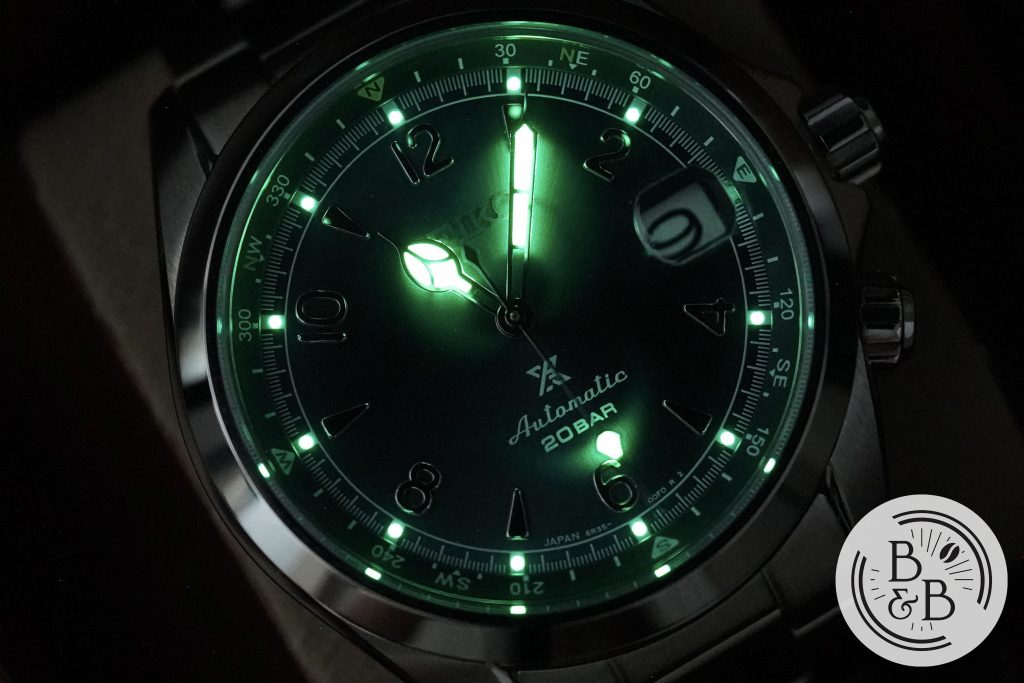 The lume on this watch is good, and like I mentioned in my previous Alpinist review, I think it does a great job given the amount of surface area it has to work with. The small lumed plots glow bright and hold their charge well. As you'd expect, the hands are more legible and should last through the night.
---
Movement
This watch uses a Seiko 6R35 movement, which is one tier above their entry level movements. They're not the nicest movements to look at, which is why I don't enjoy having this exhibition case-back. But I know a lot of others that love an exhibition case-back irrespective of the movement inside, so this is more of a personal preference it seems.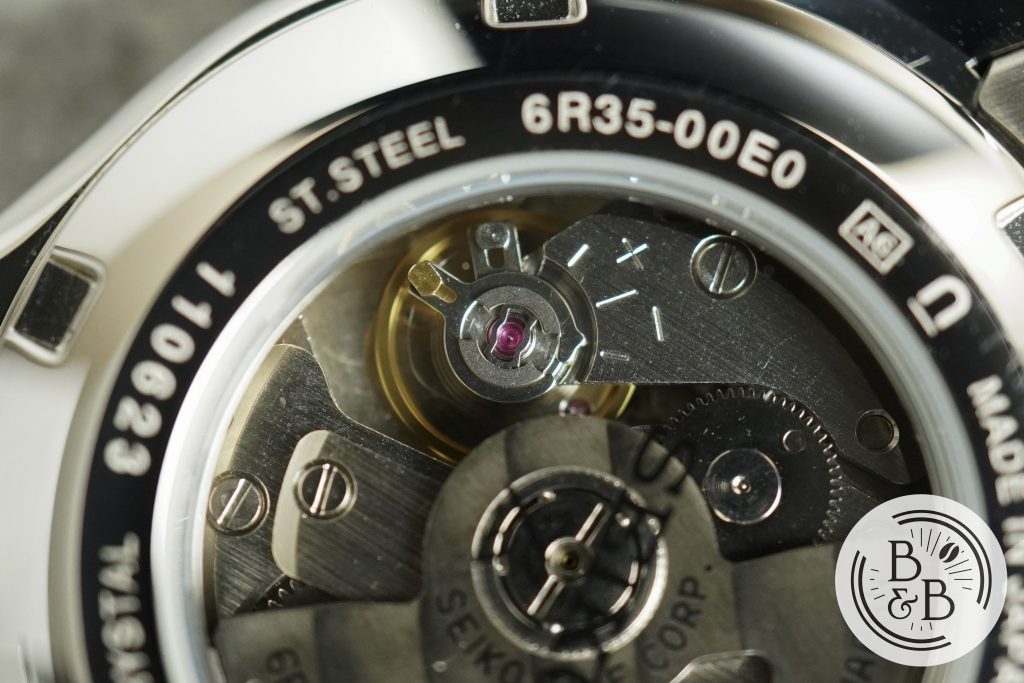 The finishing is nothing worth noting, and the quality control is only slightly better than the previous Seiko 4R35 that I reviewed on the Seiko Presage.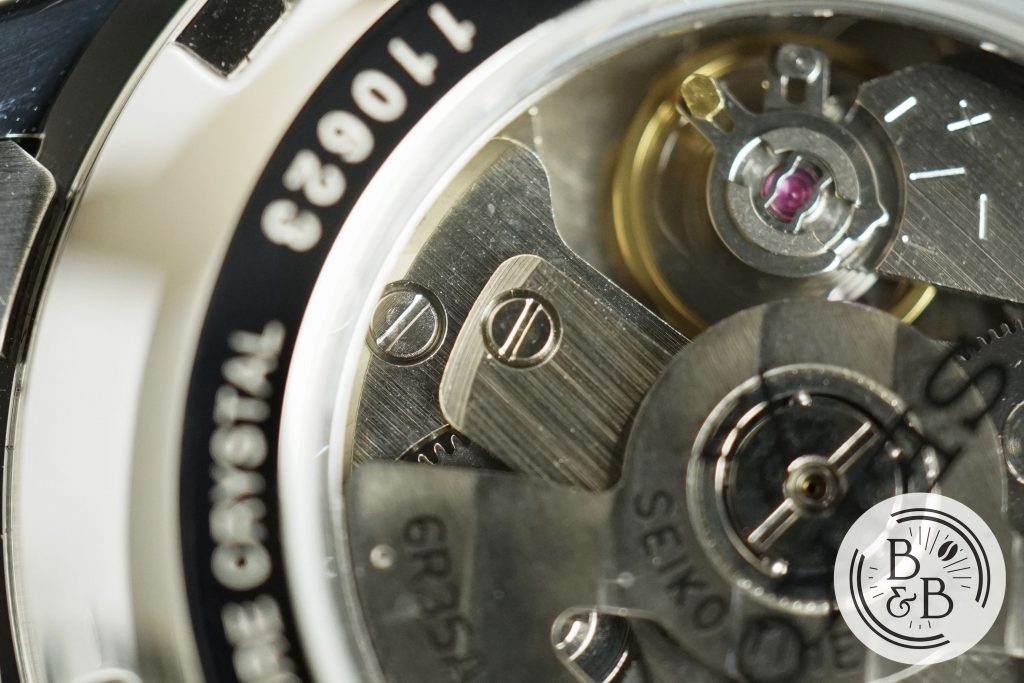 On my time-grapher, I observed roughly +6 spd in the dial up position and +8 spd in the crown up position, so pretty good performance.
---
Bracelet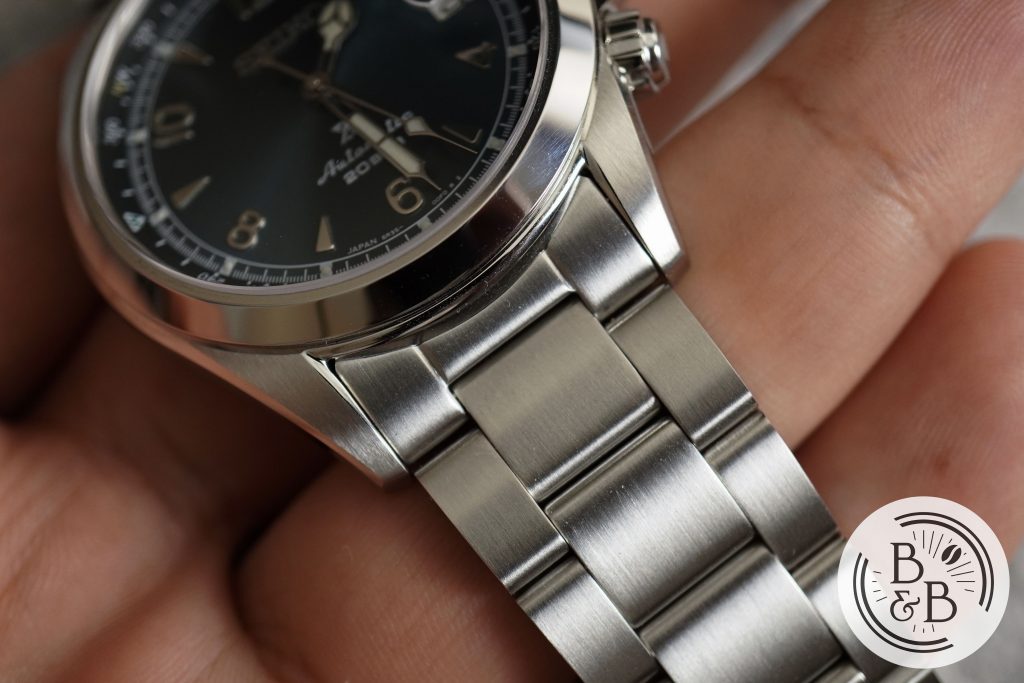 The bracelet wears great on this watch, and a lot better than the Strapcode bracelet that I had on the last Alpinist. The end link fitment is surprisingly good, with not much wiggle in any direction, and good finishing across the entire bracelet.
The links are pin and collar based, but they're finished well with good polished accents and uniform brushing on the top.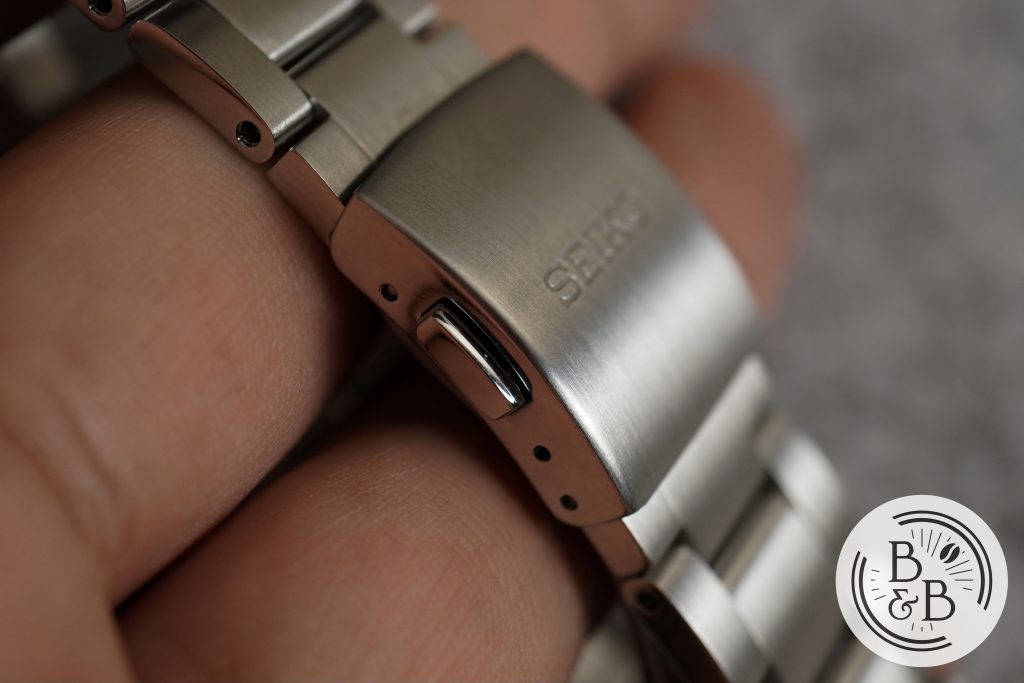 The clasp is alright, and has two micro-adjustment slots and push button release. For a tool watch, I think more micro-adjustment slots would've been appropriate, and maybe even a tool free adjustment system like Zelos and Christopher Ward.
---
On The Wrist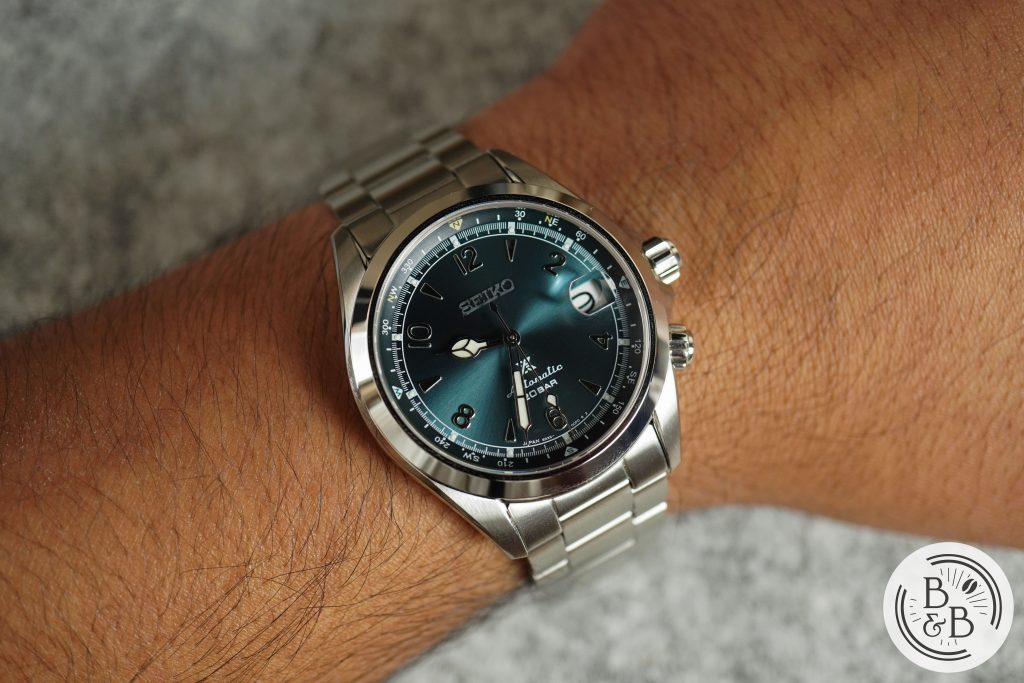 This watch wears well on my 6.5″ wrist. The 39 mm diameter and 45.9 mm lug-to-lug width are great for small and medium size wrists. And I think it looks and wears a lot nicer on this stock bracelet than it did on a leather strap. It definitely feels more like a no non-sense tool watch, if you can ignore the nonsense that the brand gets up to, that is.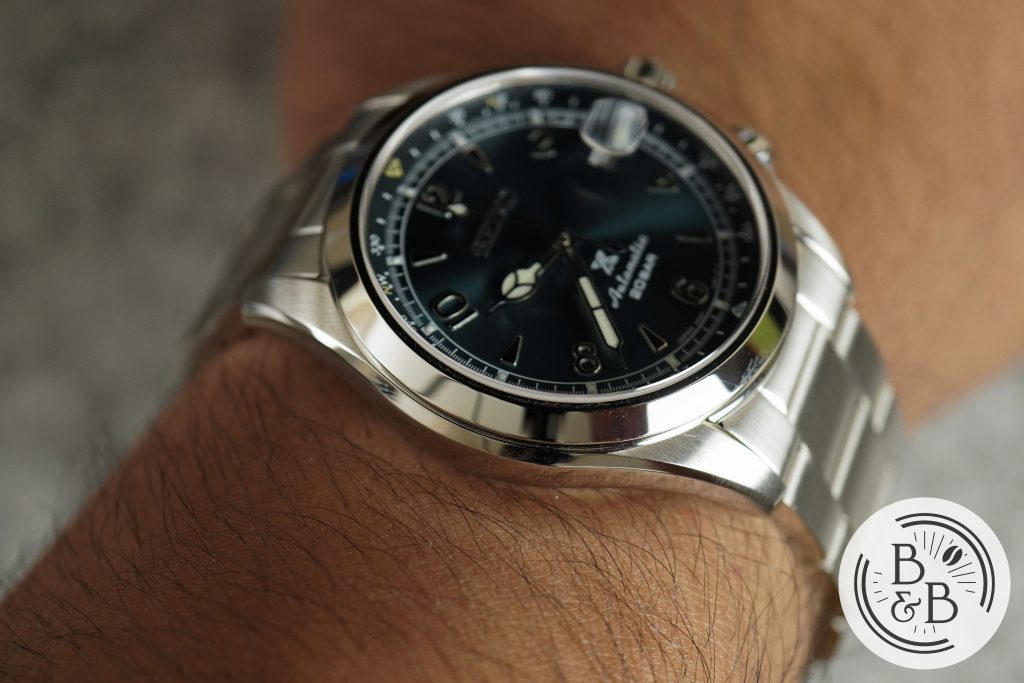 The height of 12 mm wears better on bracelet than it did on strap, and I think leather and NATO straps tend to accentuate that height more than I like.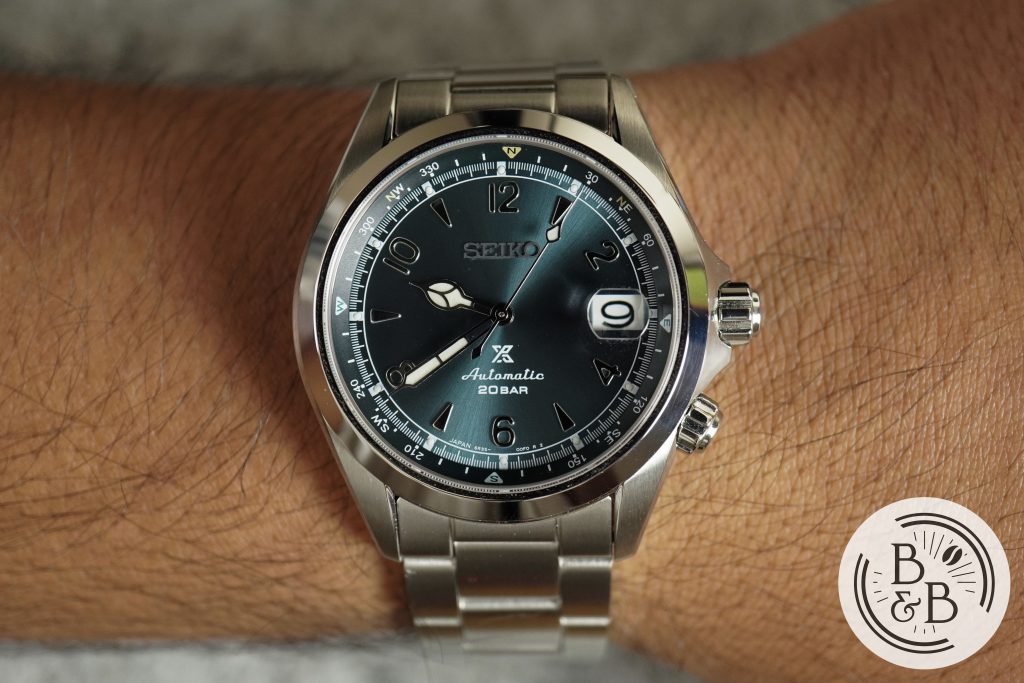 But overall, I think it's a pretty comfortable watch and should suit a variety of wrist sizes well.
---
Concluding Thoughts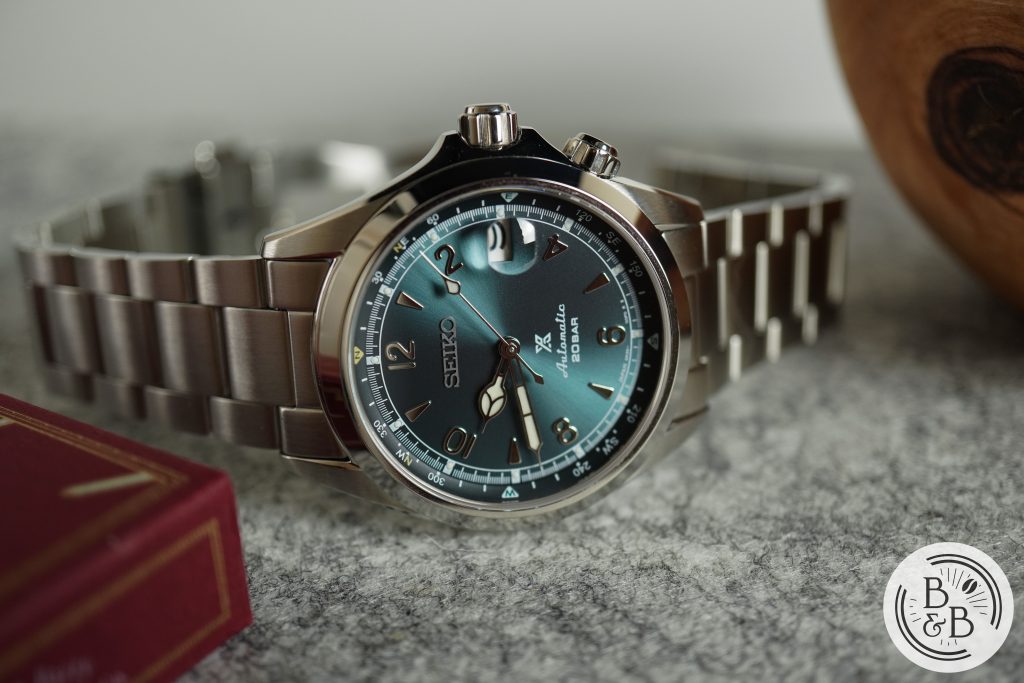 To wrap this up – I think this is a great looking watch with a gorgeous dial. I wasn't a fan of the legibility on the Blue Alpinist and that didn't really change on this one either, but there's no doubt that this is a unique looking dial and there's a reason the first limited edition launch was as popular as it was. It is just a shame that both Seiko and Grand Seiko would risk ruining their own reputation for some short term profits. But if you like this watch and are looking to pick one up, these are still available via European Seiko dealers, so you shouldn't have trouble finding one.
---
Thanks for reading!