---
Disclaimer: This watch was sent to me to review, and I do not need to return it after my review is complete. This watch was given to me without restriction and is not contingent upon a particular outcome for my review. All opinions here are my own, and Rotary had no influence over the opinions stated here.
---
---
Contents
---
Rotary Heritage
Rotary is a Swiss watch brand established in the 1895 in La Chaux de Fonds. Rotary was started by Moise Dreyfuss, was owned and operated by The Dreyfuss Group until recently, and is now under Citychamp Watch & Jewellery Group Ltd. umbrella, whose subsidiaries include Rotary, Dreyfuss & Co, Corum and Eterna to name a few. Rotary's headquarters continue to be located in the United Kingdom, and their watches don't often get much visibility here in the United States. But if you've traveled through Europe, you've likely seen their watches, or at least heard of them.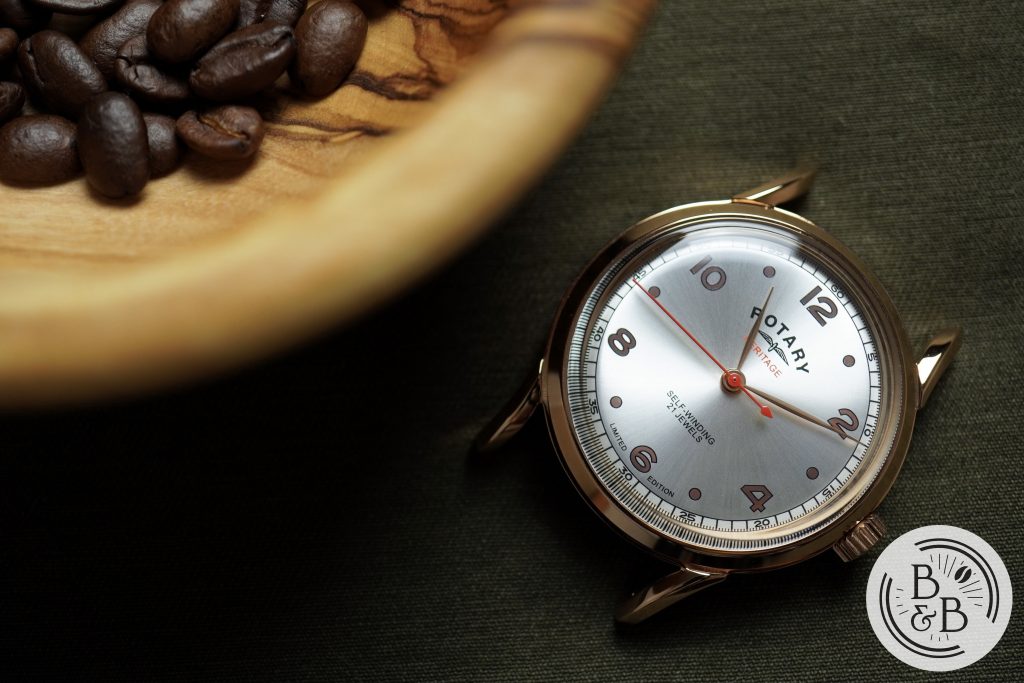 Rotary celebrates 125 of watchmaking this year, and marked this occasion by releasing a lineup of heritage pieces that reboots some of their designs from the last century. This is the Heritage GS05144/70 in Rose Gold color, and is an accurate reissue of one of their watches from the 1940s. This is a limited edition release of 300 pieces, and Rotary was kind enough to send me one to review. This watch costs $339 from the Rotary website, but you can often find special offers from third party retailers.
Let's check it out!
---
Case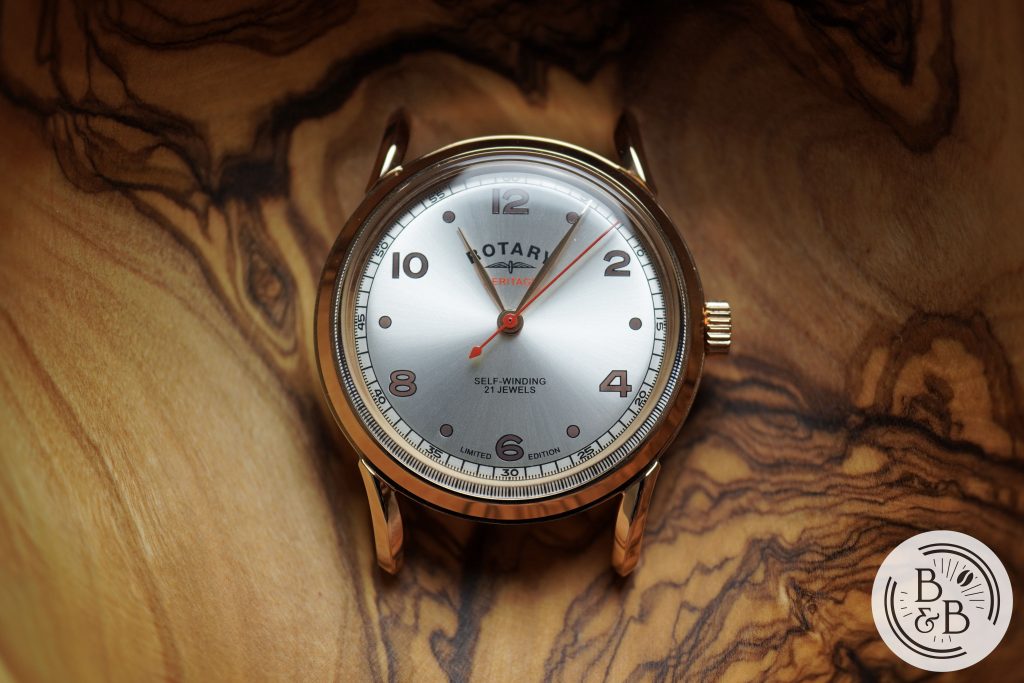 The case is 40mm in diameter, 50mm from lug-to-lug and 12.75mm thick, but almost 2.75mm of that thickness is the domed mineral crystal. The case is stainless steel, entirely polished and has a PVD rose gold coating.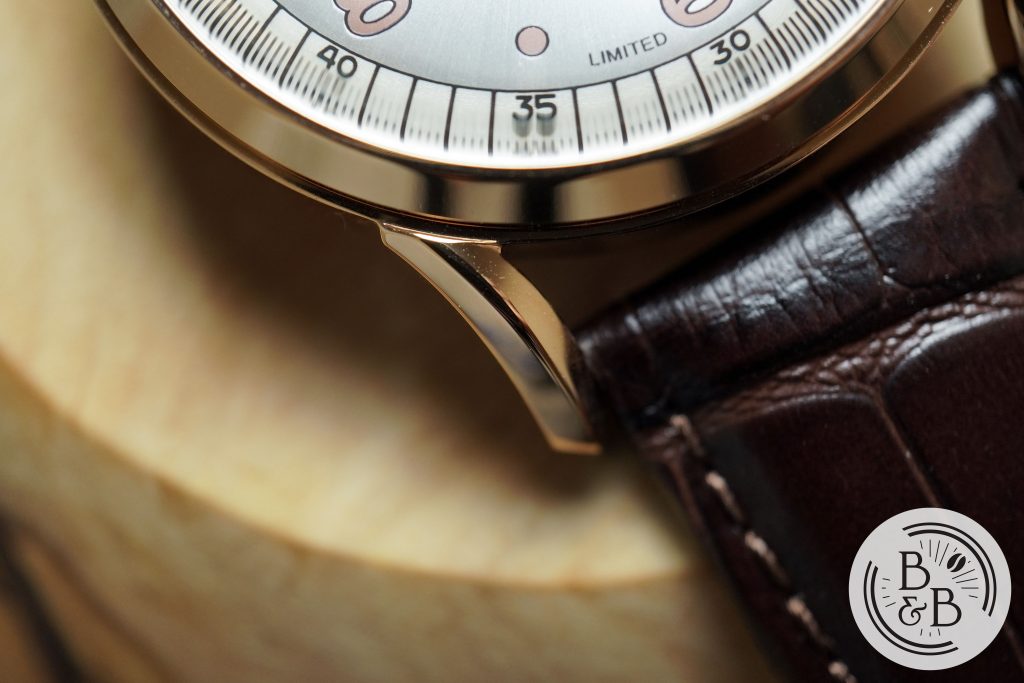 The lug design is very interesting. The lugs are long, slightly twisted and flared, and drastically curve down towards the wrist. Unfortunately this ornate lug design comes at the cost of the 50mm lug-to-lug width, and the 21mm lug-width also made it difficult for me to try on different straps since I didn't have a single 21mm strap in my collection.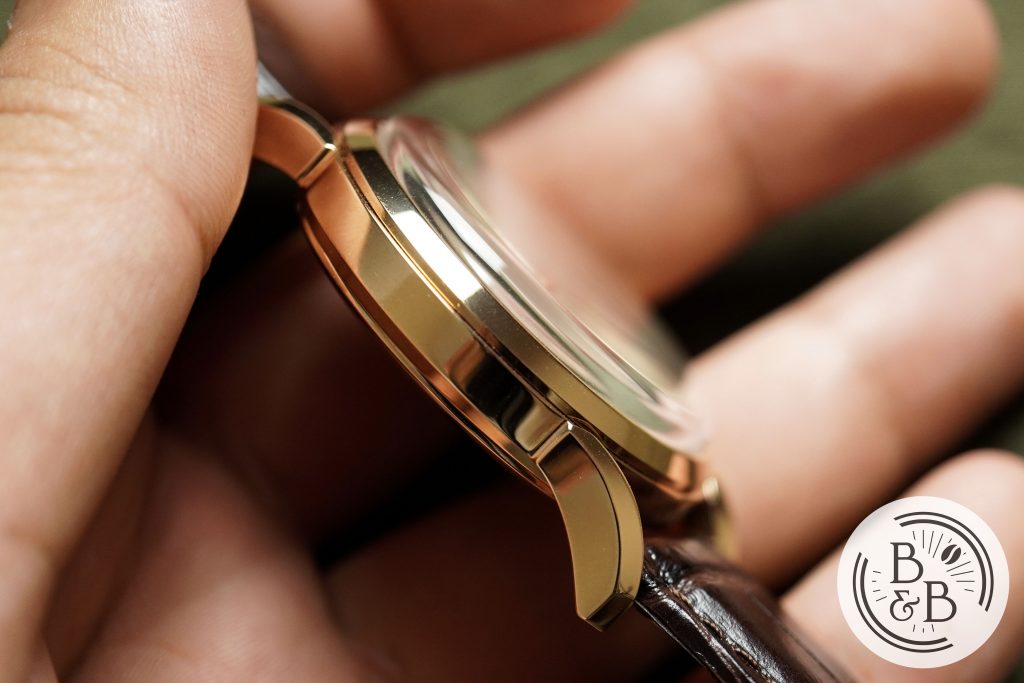 At the roughly $325 (closer to $275 if you shop around) price category a sapphire crystal would've been nice to have, but I don't mind the mineral crystal here. It is a bit easier to digest considering this is a vintage reissue dress watch. I do like the thickness of the crystal and the distortion at the edges. It doesn't come at the cost of legibility and adds a lot of character to the dial.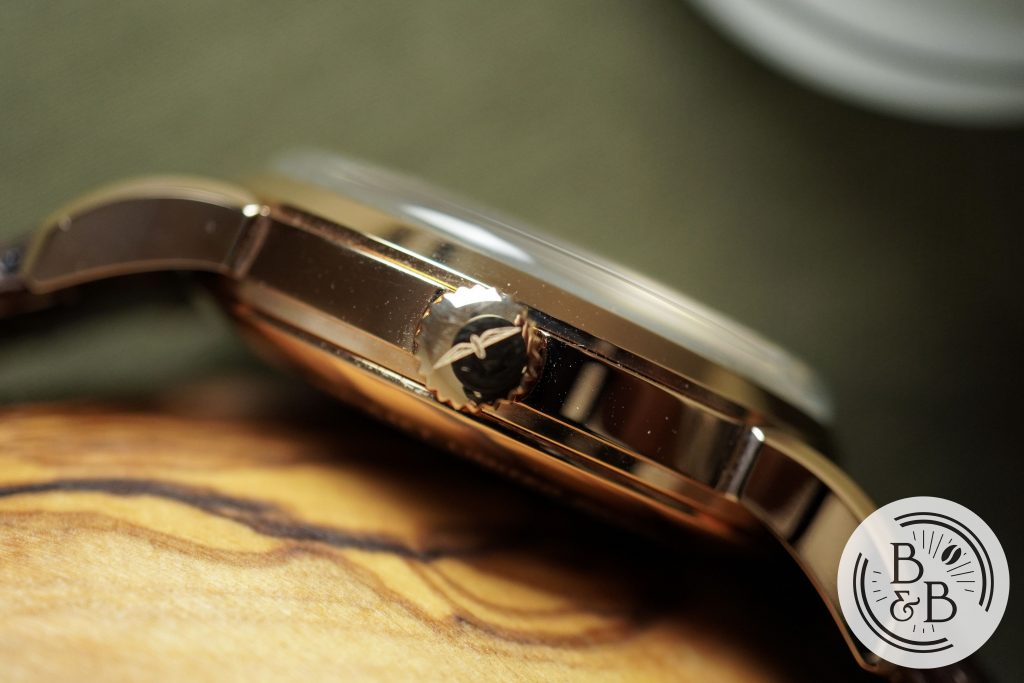 There is a push-pull crown at the 3 o'clock position that is signed with the brand's logo. The crown is very easy to grip and operate. There wasn't any crown or stem wobble.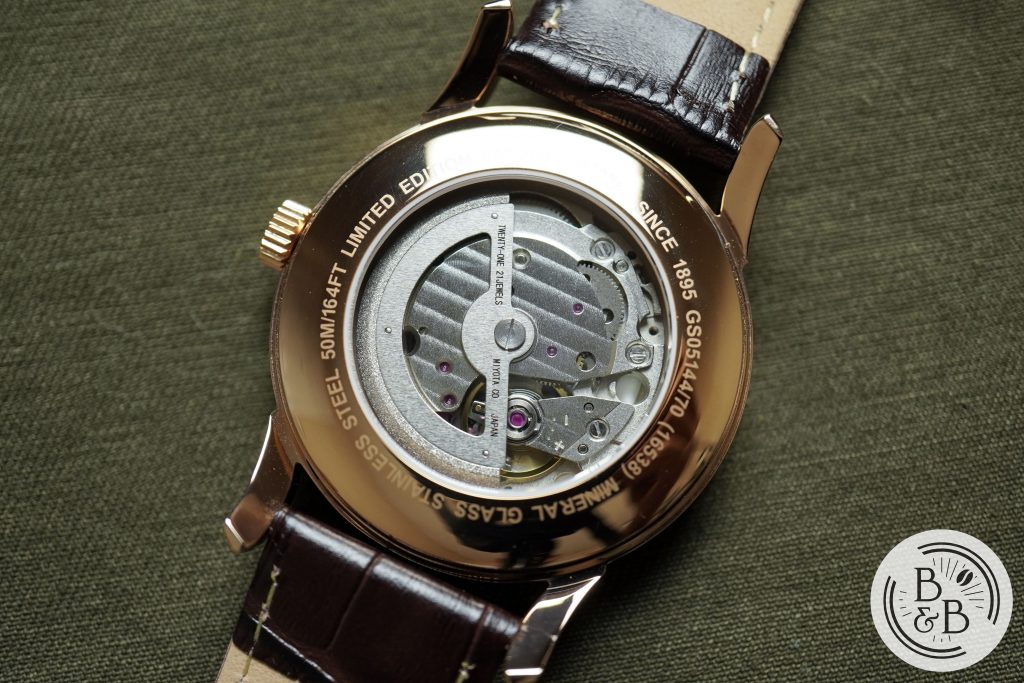 Flipping it over, you have a mineral crystal exhibition window in a press fit case-back. This watch is rated for up-to 50m of water resistance.
---
Dial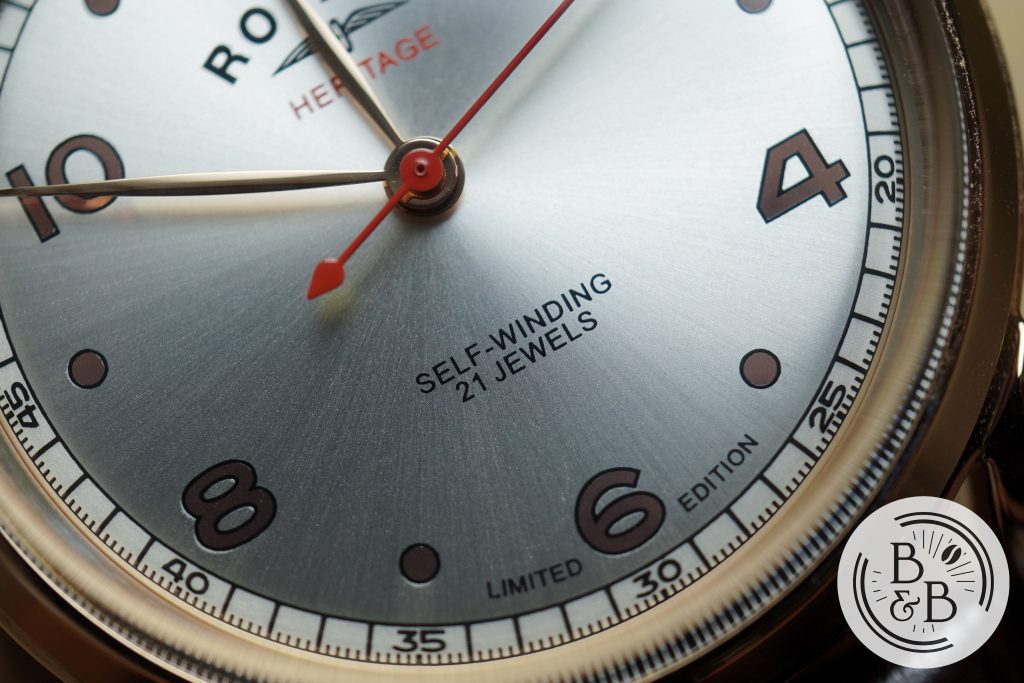 The dial is nearly identical to the original design from the 1940s, with a few subtle additions. The base of the dial has a beautiful sun-ray finish, and is close to an off-white color tone that matches the rose gold case nicely.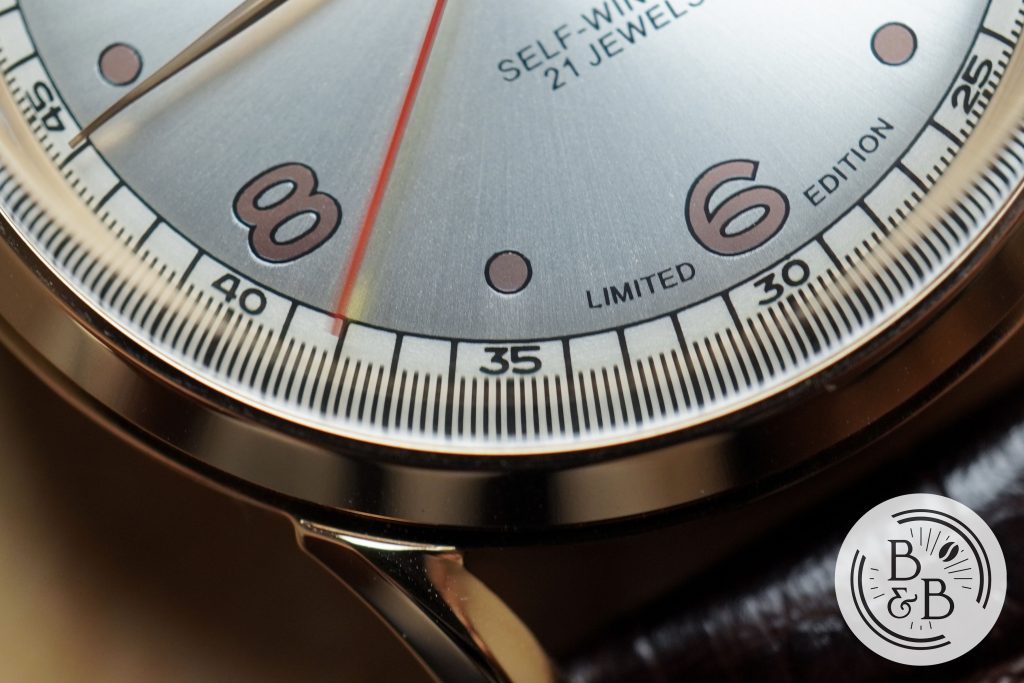 You have an outer railroad style minute track, with small ticks for millisecond increments. For every increment of five, you have Arabic numerals within the cells of the minute track, and I really like this design. The distortion of the mineral glass doesn't affect visibility of the track, and it is easily legible.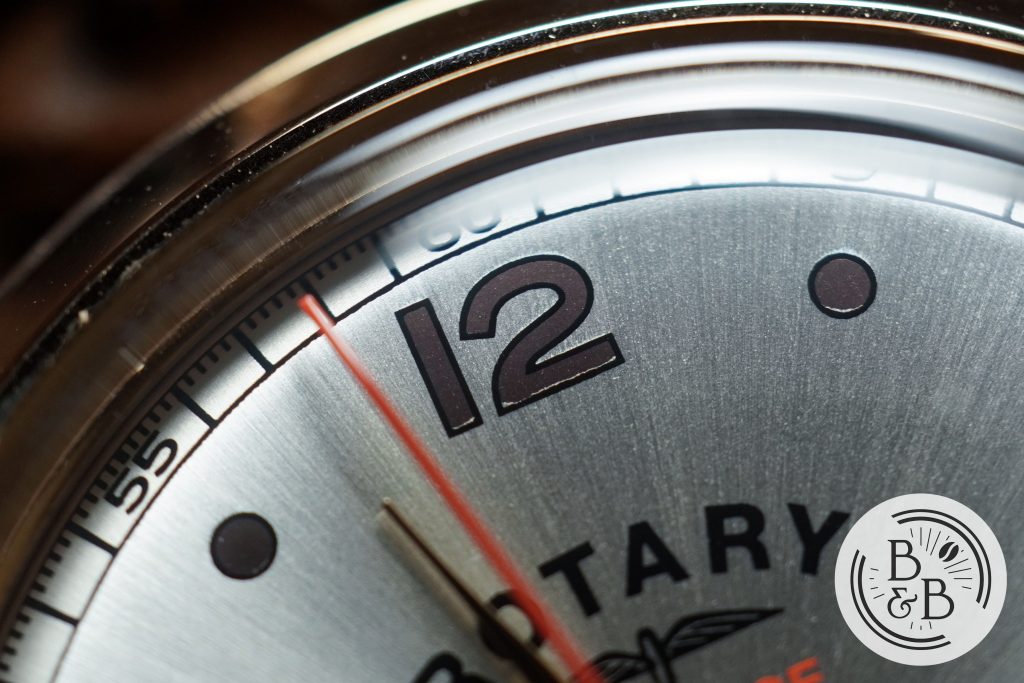 There are Arabic numeral hour markers for all even digits, and circular markers for the odd ones. These have a metallic rose gold finish to match the dial and look like a fine layer applied onto the dial, with a thin black border. Again, a very nice design choice. I did notice some residue along these indices, but these are not visible to the naked eye.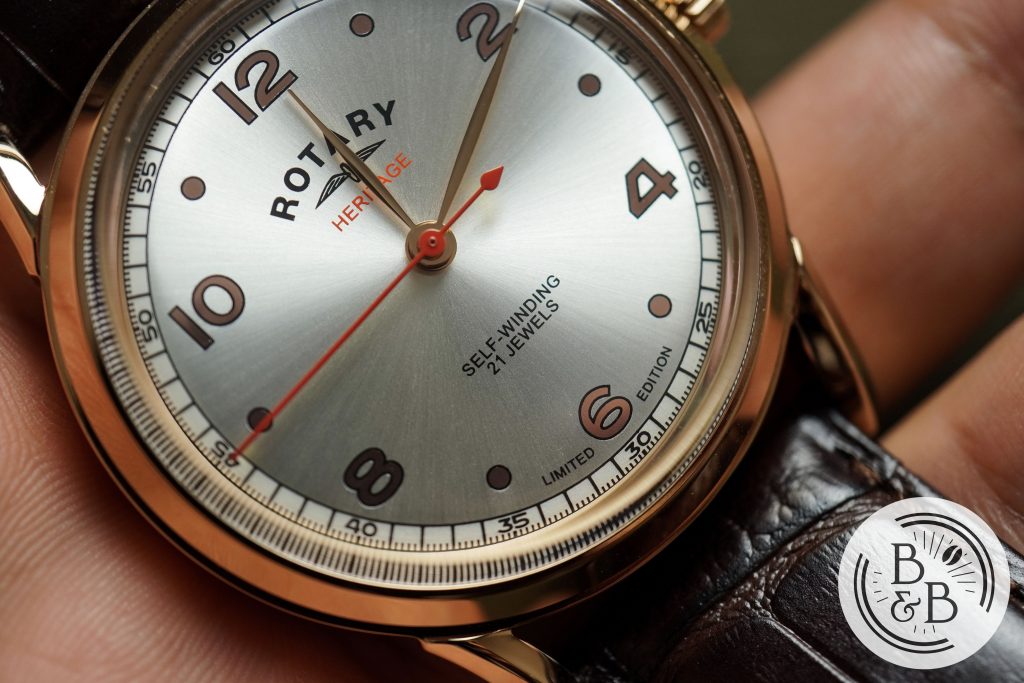 The brand's name and logo is under the 12 o'clock with heritage printed in red. If I could change just one aspect of this watch, I would remove the heritage text, or change the color to black. I think it throws the dial off just a bit, even though it is matched by the red seconds hand.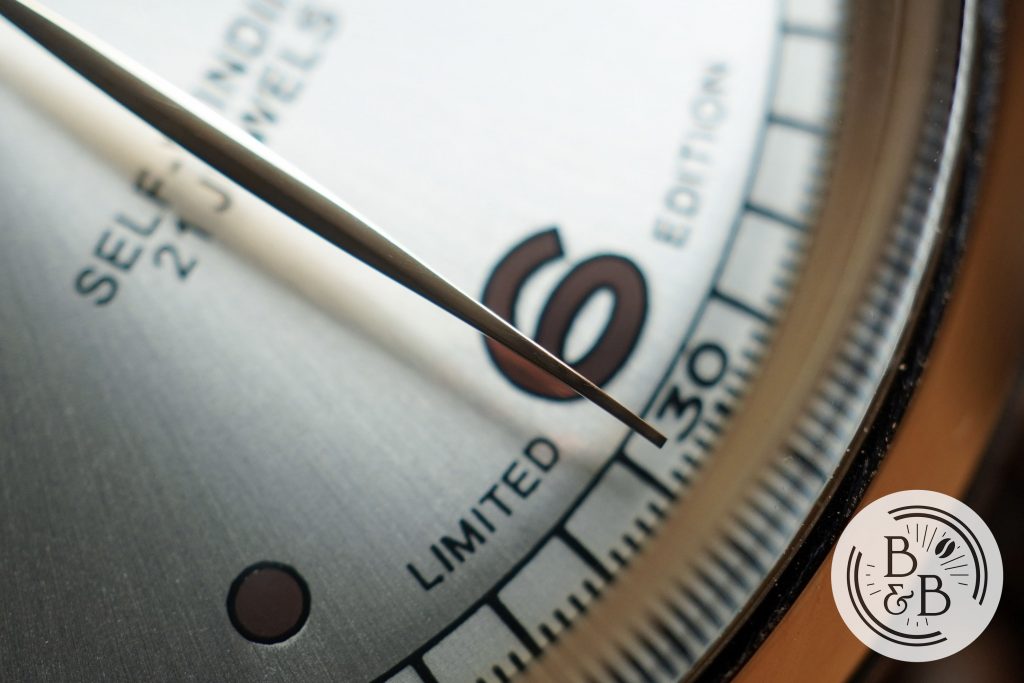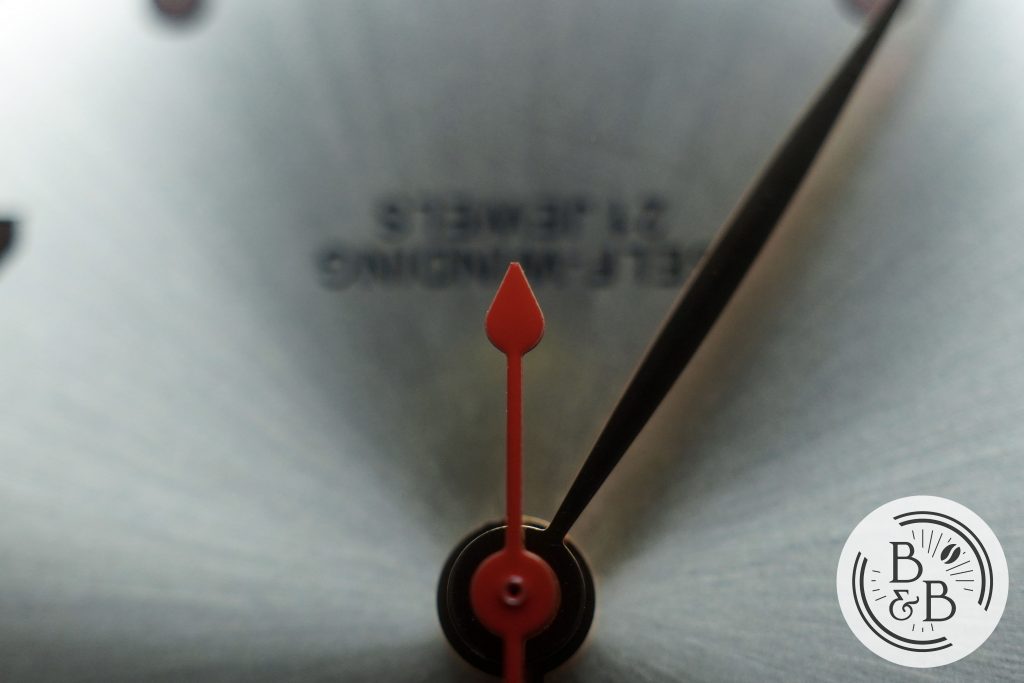 The handset is also nearly identical to the original, with leaf styled hour and minute hands that are also rose gold in color and polished. The finishing of these hands is surprisingly good for a $325 (closer to $275 if you use the powers of the Internet) watch. The seconds hand is painted red with a counterbalance.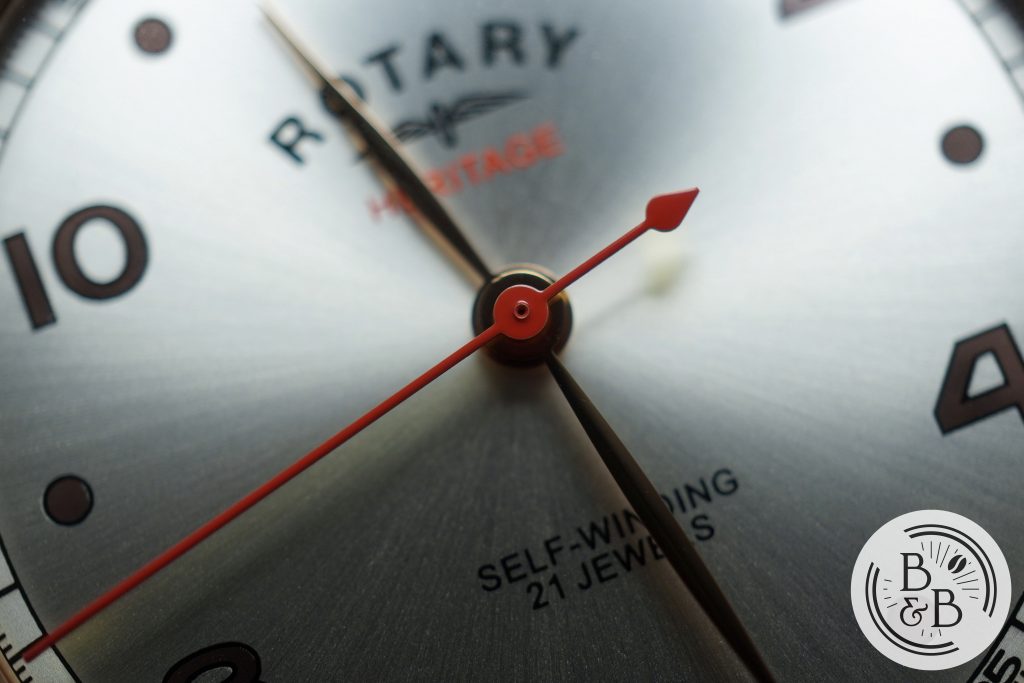 Overall, the dial is well finished for the money and the design very closely follows the original Rotary watch from the 40s, so there isn't much to complain about here at all.
---
Movement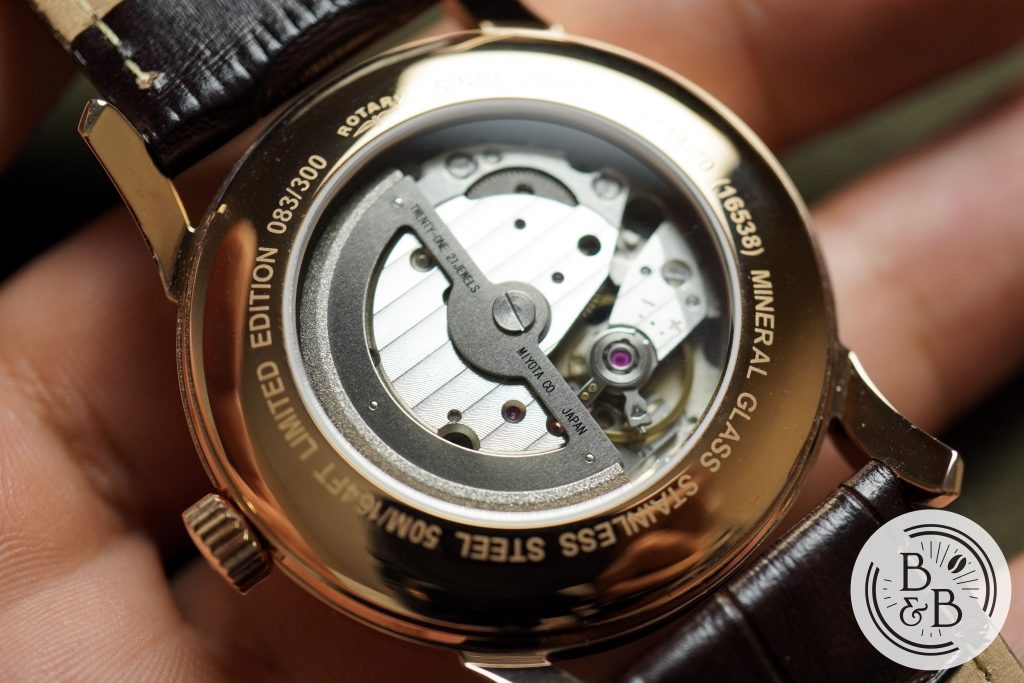 This watch uses a Miyota 821A movement. For $325 (closer to $275 if you spend 2 minutes on Google), this isn't surprising and a reasonable choice to fit inside a 10mm tall case (ignoring the crystal).
This movement gets mixed feedback from owners and enthusiasts, but there are plenty of brands that currently use this movement in sub-$400 watches and mostly with success – Baltic, Laco and Vandaag to name a few that I've reviewed.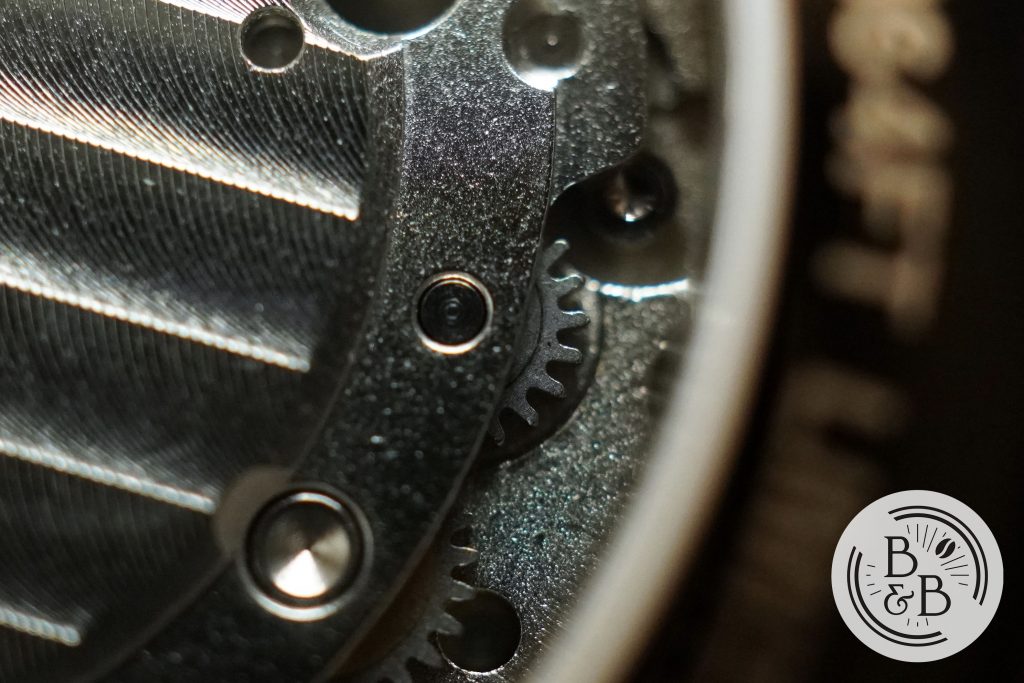 Rotary has pretty good clean room practices because there isn't much visible dust or dirt in the movement, and that is to be expected considering there is an exhibition window here.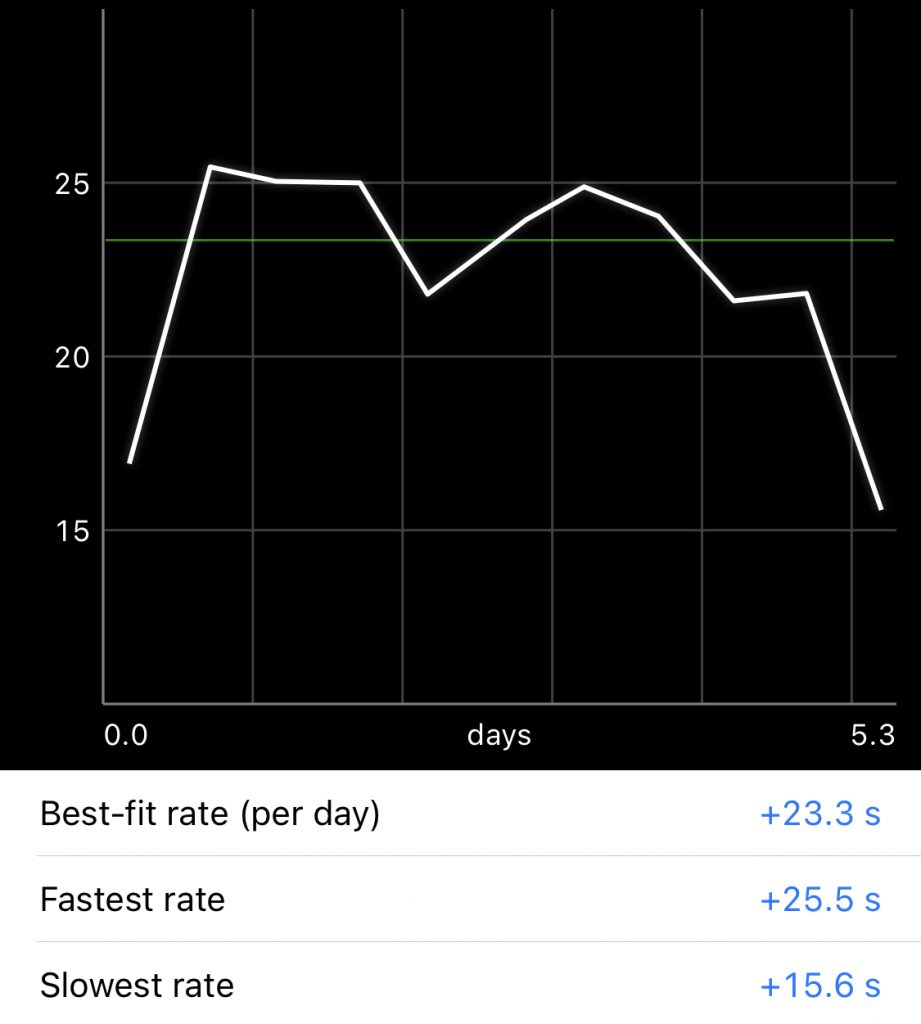 I logged the accuracy of this watch over a 5 day period and observed roughly +23 spd. These aren't great numbers from a movement in general, but within spec for this movement and the mostly consistent accuracy is reassuring. I've noticed some 821As swing drastically from day to day, and that bothers me a lot more than lower average performance. So this movement wouldn't bother me at all.
---
On The Wrist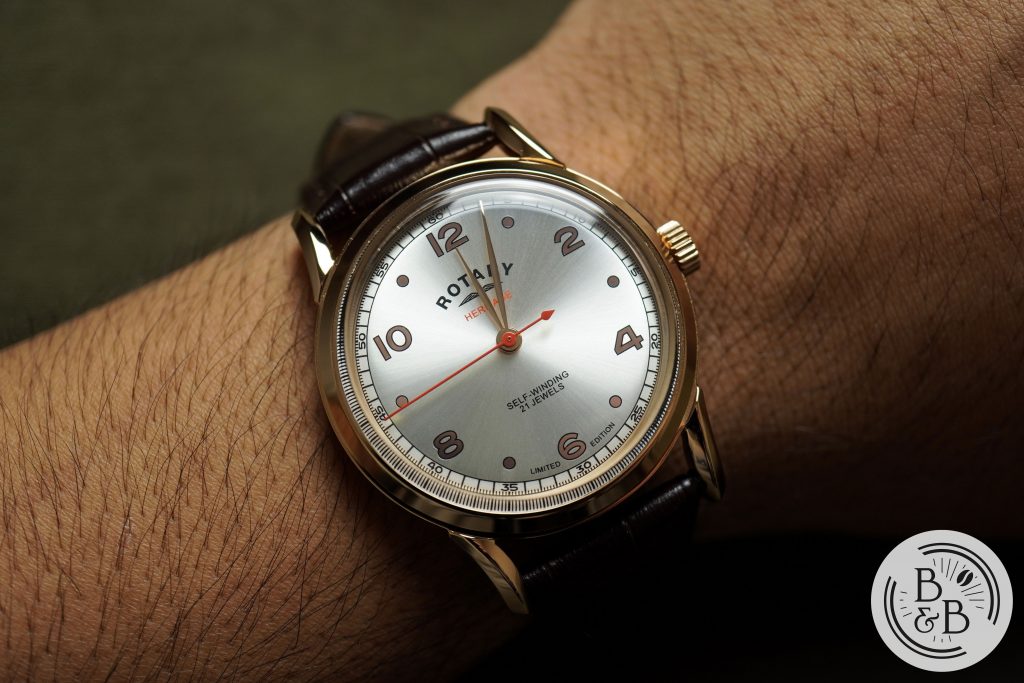 The 40mm diameter case is a good size, but the 50mm lug-to-lug width catches you by surprise.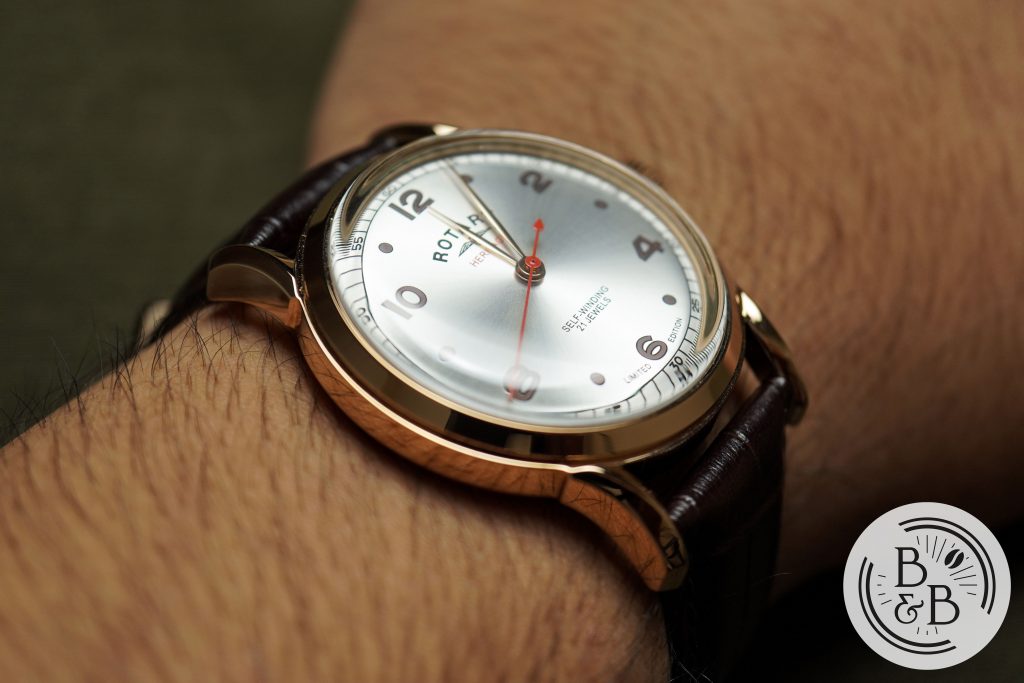 The drastic curvature helps it not look awkward, and I didn't find it too large for my 6.25″ wrist. I would not recommend it for wrists smaller than that though.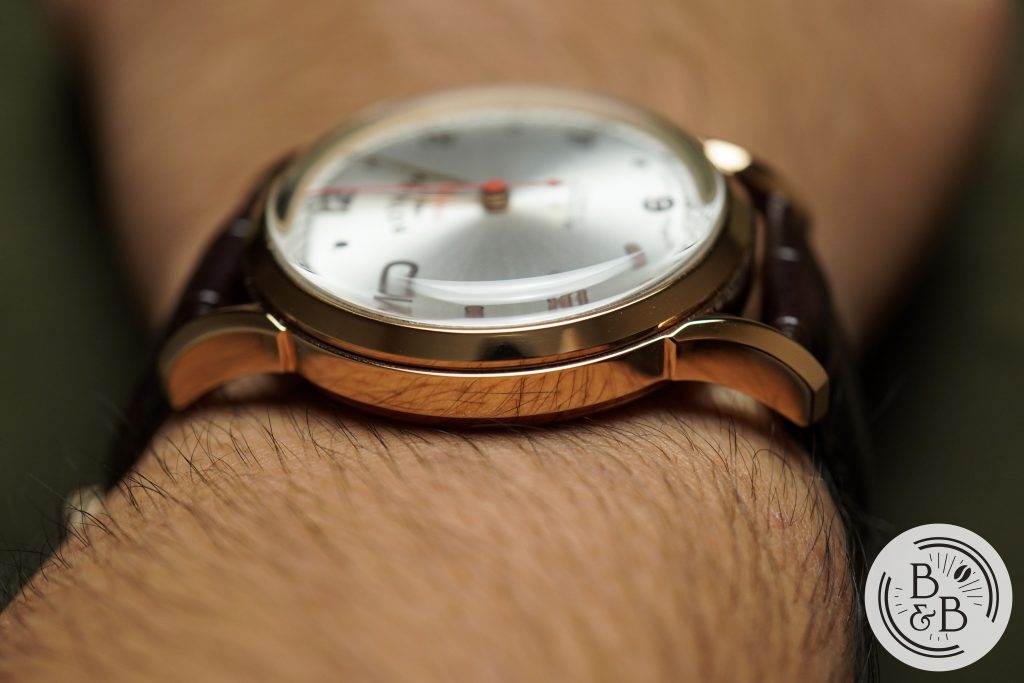 The 12.75mm height also goes unnoticed because of the 2.75mm mineral glass. And the 60g overall weight adds to the easy wear-ability of the watch.
This watch ships with an alligator grain leather strap with matched rose gold hardware that is also signed. I don't much care for the strap, but that's usually the case with sub $400 watches. Unfortunately the 21mm lug width means you'll have to actively seek out a good alternative, and none of your 20mm or 22mm straps will do the trick.
---
Concluding Thoughts
While this watch has a retail price of around $325, you can find them available for around $275 online. If you like what it looks like, and if you can find it at that price, this is a difficult watch to not recommend. The build quality is good, the finishing is good and it has an interesting design history from a heritage watch brand.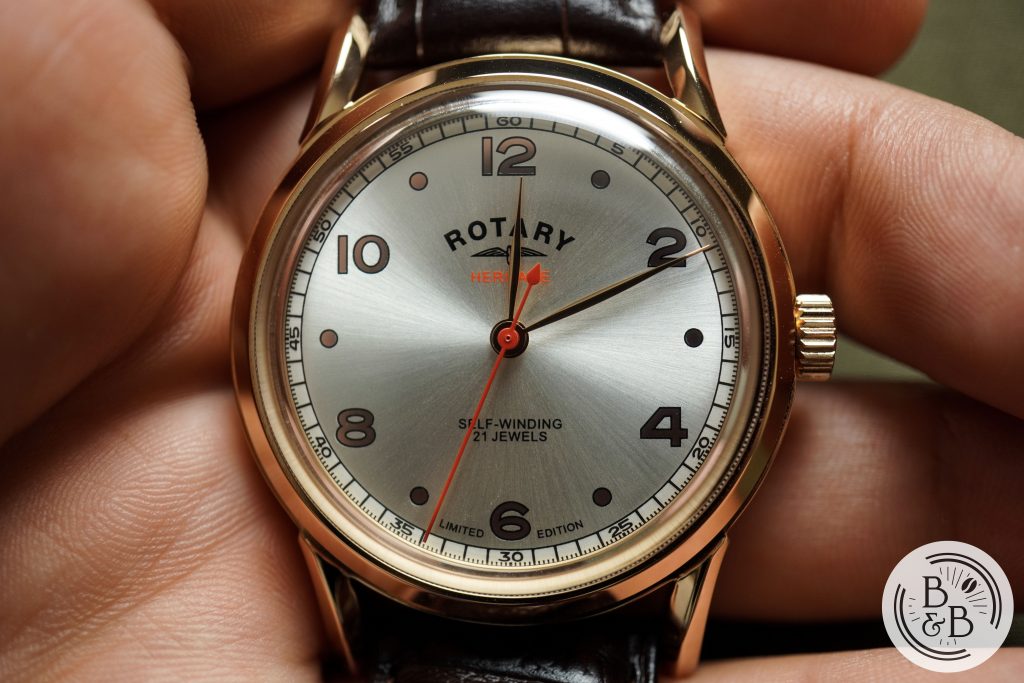 At $325–$350, you can make the argument for a sapphire crystal. But in the $275 price category, you're already getting plenty. My only real word of caution would be for those with wrists sizes smaller than 6.25″. The 50mm lug-to-lug width might not give you the best wrist experience in that case.
---
Thanks for reading!