---
Disclaimer: I purchased this watch new from Ming for 3250 CHF (~$3700), an additional $275 for the Jean Rousseau rubber strap, and was not externally incentivized in any way to make this review. This review is in no way sponsored by Ming, or any entity. All opinions here are my own.
---
---
Contents
---
18.01 H41 – The Diver
In 2019, Ming released a small batch of their 18.01 Abyss Concept watches, which were a limited edition run of 10 of their first ever dive watches. I didn't know about Ming at the time, but became aware of these divers soon after I learned about the brand. I fell in love with them, but they were impossible to get. I don't believe any of the 10 have ever set foot onto the pre-owned watch market either. So when I heard that Ming was diving back into this design, I pulled out my credit card and prepared myself, weeks in advance, for the first batch pre-order in August. I was lucky enough to grab one of the earliest pieces, and took delivery of this watch on the 30th of November, which was exactly on time given Ming's estimate.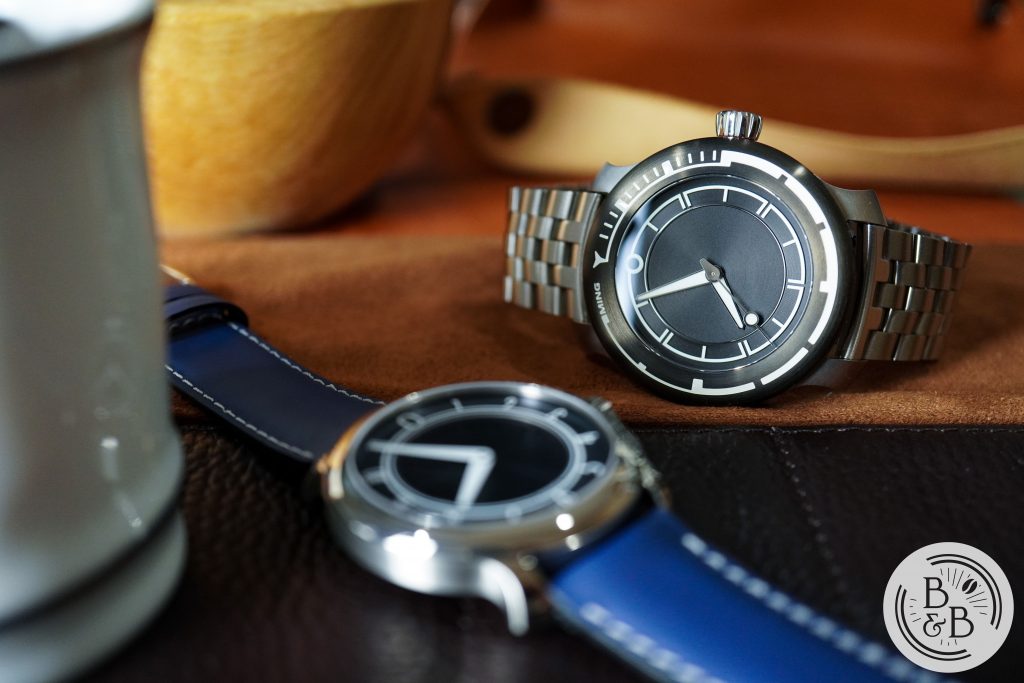 This isn't an inexpensive watch, and sold for roughly $3700 on the metal bracelet, making it the second most expensive watch I currently own, so I have set my expectations accordingly. I've noticed that when many seasoned watch collectors add a Ming watch to their collection, it is usually among their more lower end pieces. For me this is the opposite, so maybe this somewhat fresh perspective can be useful to others in a similar position. There are aspects of this watch that I love, some that I dislike enough to rant about, and then there's the final question of whether I believe I got my money's worth.
Let's check it out!
---
Case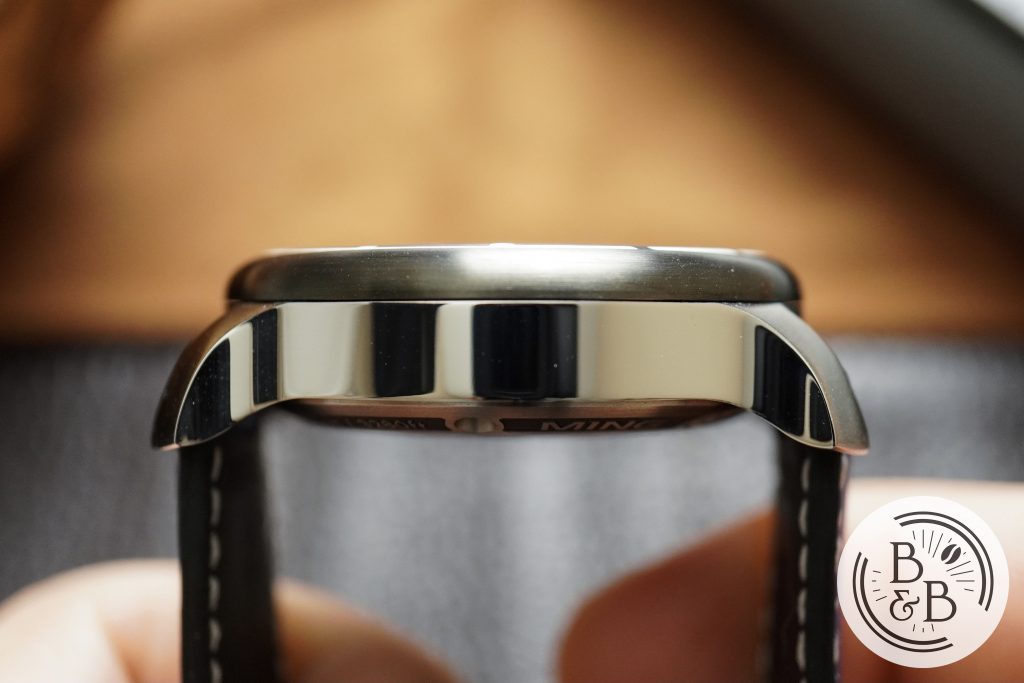 I measured the case to be 40mm in diameter, 46.25mm lug-to-lug width and 13.3 mm in height. It is made entirely of grade 5 titanium, which is a harder alloy than grade 2. I've had it on my wrist since the moment it arrived on the 30th of November, and the case has little to no signs of wear, which is great for a titanium case that lacks any kind of ceramic or titanium nitride-like coating (to increase it's hardness on the Vickers scale). I still wouldn't expect this to age as well as good quality 316L stainless steel, but that's a trade-off worth making for a comfortable titanium case.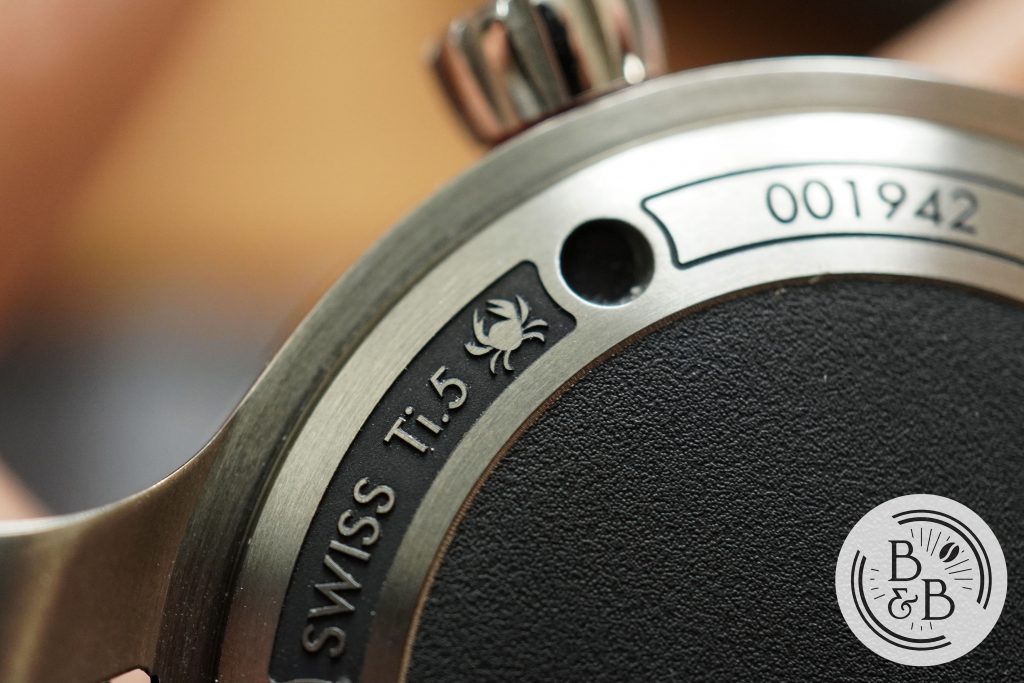 The case design is very much Ming-like, and follows their "crab" design closely, with brushed top surfaces and polished sides. This crab looks like it has been fed a lot more than the other crabs in the Mingverse, but that's OK as this thicc crab boasts of up-to 1000m of water resistance.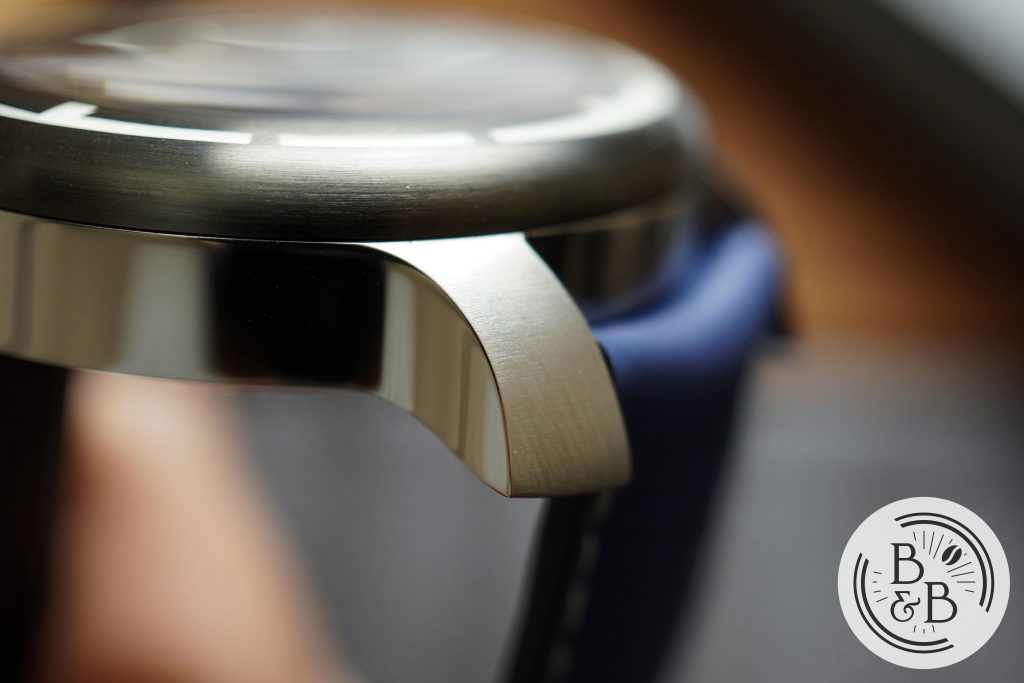 I'll give credit where it is due; this design is very unique, and the way the lugs extend outward and curve down towards the wrist indicate that much thought and many revisions (41 of them, maybe?) went into perfecting this case design. The lugs are 20mm, but will only accommodate curved spring bars unlike the dual spring bar lugs of their previous watches.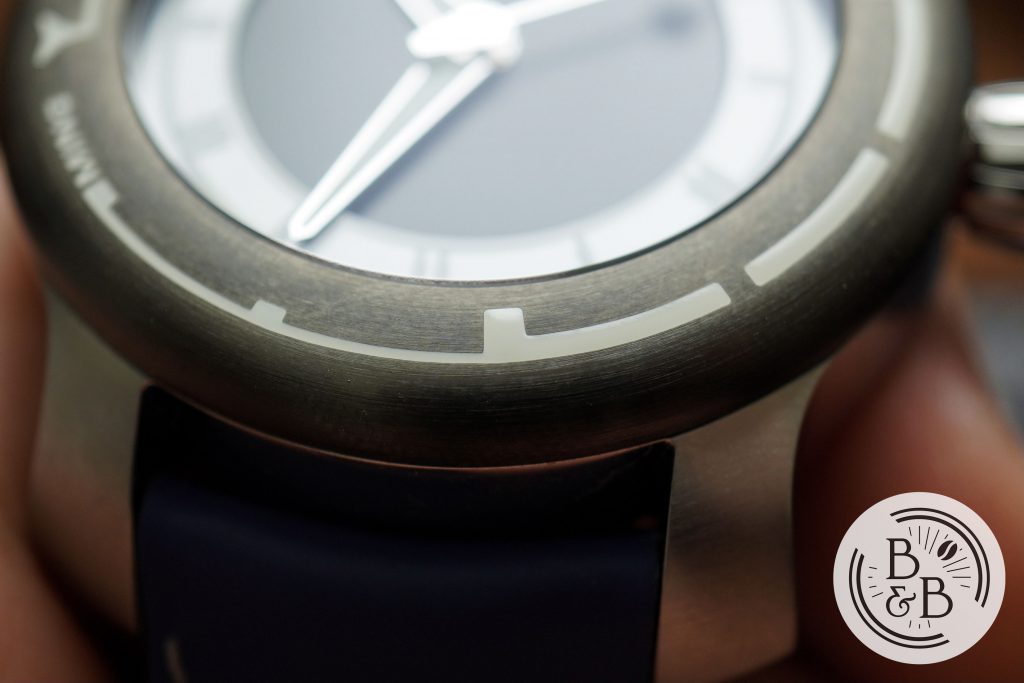 I wasn't expecting to be impressed with the bezel on this watch, since it lacks any kind of traditional dive bezel grip; meaning you're going to have a tough time operating this bezel if you have wet, sweaty or oily fingers. But for regular operation, the DLC coated stainless steel bezel offers sufficient friction.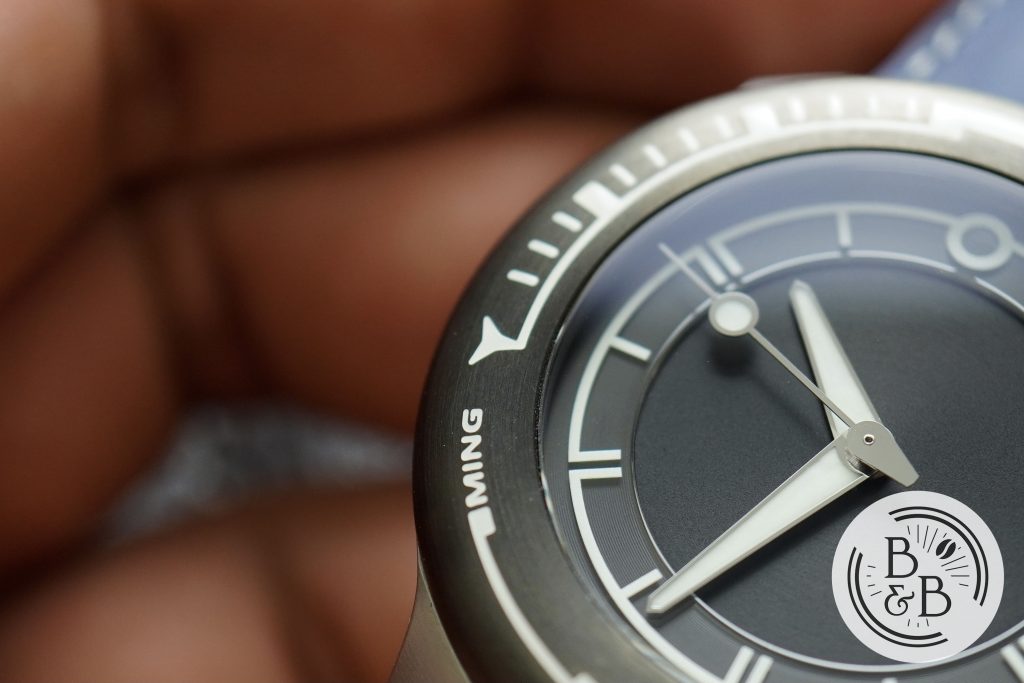 Where this bezel impressed me was with the action – absolute perfection in each click, with not a discernible fraction of back-play or wiggle. I have no idea what magic went into this, but it is terrific. The bezel markers are filled with lume, and the design is quite intuitive. The bezel also sits perfectly in line with the mid-case, and if you run your fingers across this watch it feels like a single solid unit.
The crown is pretty typical to what Ming have been using so far, which is a very comfortable conical style crown design with deep ridges that make it extremely easy to operate. I really liked their idea of an indicator crown base, that upon crown unscrewing, exposed a red ring. It is mostly true, but the crown doesn't screw down all the way to the case, so there's always a bit of the red ring that is exposed. A great design idea, but not the best execution. There isn't any crown or stem wobble, but the action of screwing the crown down into the case is a bit scratchy when you're getting the last few turns in. But this could be related to the issue I'm having with the movement, as I talk about later.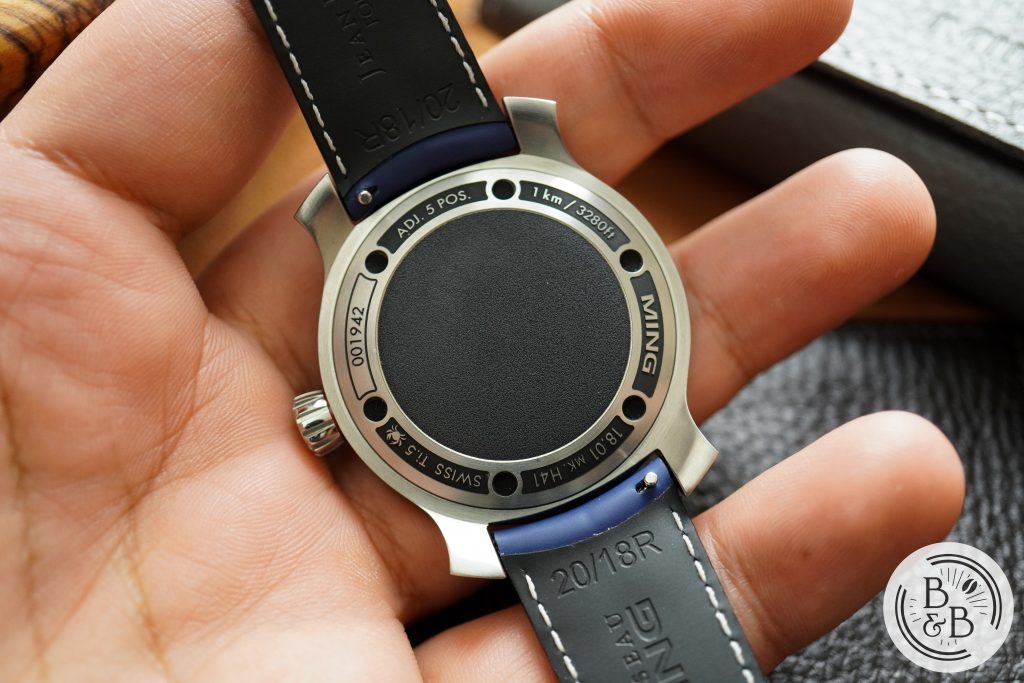 Flipping it over, you have a solid screw-down case-back which has a slight curvature to it, giving the crab it's very own beer belly. It's got a bunch of tech specs engraved or etched onto the back, and the center section is coating with something to increase friction against your arm or a wet-suit.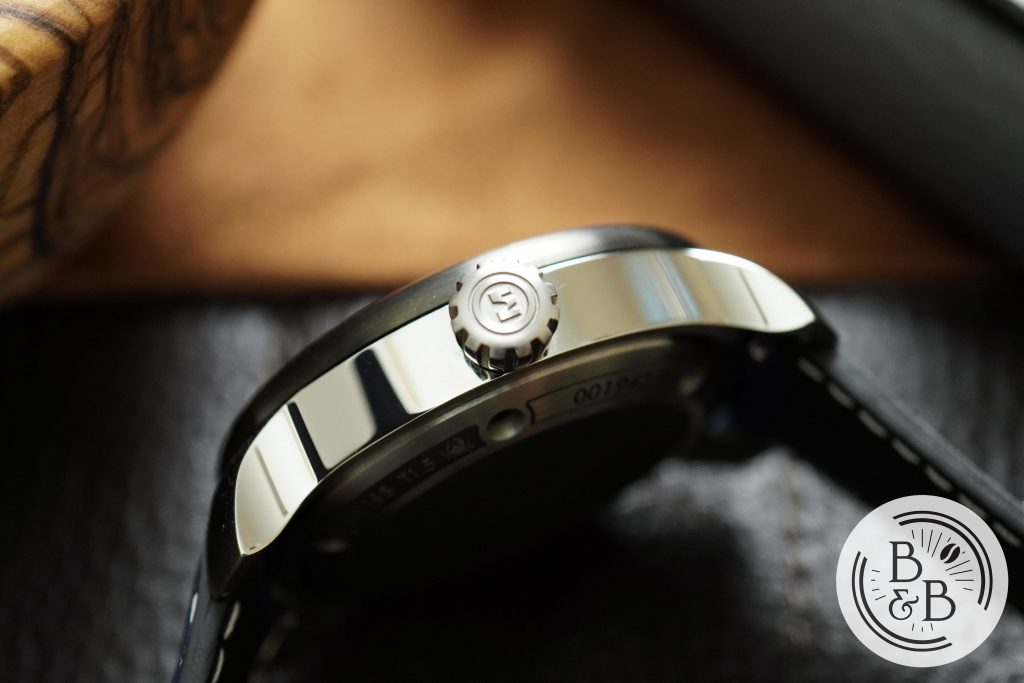 Overall, I love the case design and I think it's very comfortable considering the dimensions and the fact that it is rated for up-to 1000m of water resistance. I personally think the 1000m of water resistance is purely a bragging right, since nobody is actually going to use this watch while diving. The bezel can be tricky to operate when wet, and the bezel markers may be more complicated than is desired by a diver. But I'm not a diver, and this doesn't bother me at all.
---
Dial
As with most Ming watches, the dial is the reason you're buying it and the reason you're frantically hitting the refresh button 10 seconds before product launch. Ming has done a great job on the dial here, and has delivered a clean and functional dial that is incredibly photogenic. It helps than Ming Thein is a professional photographer and knows exactly what it takes to for a watch to be captured well.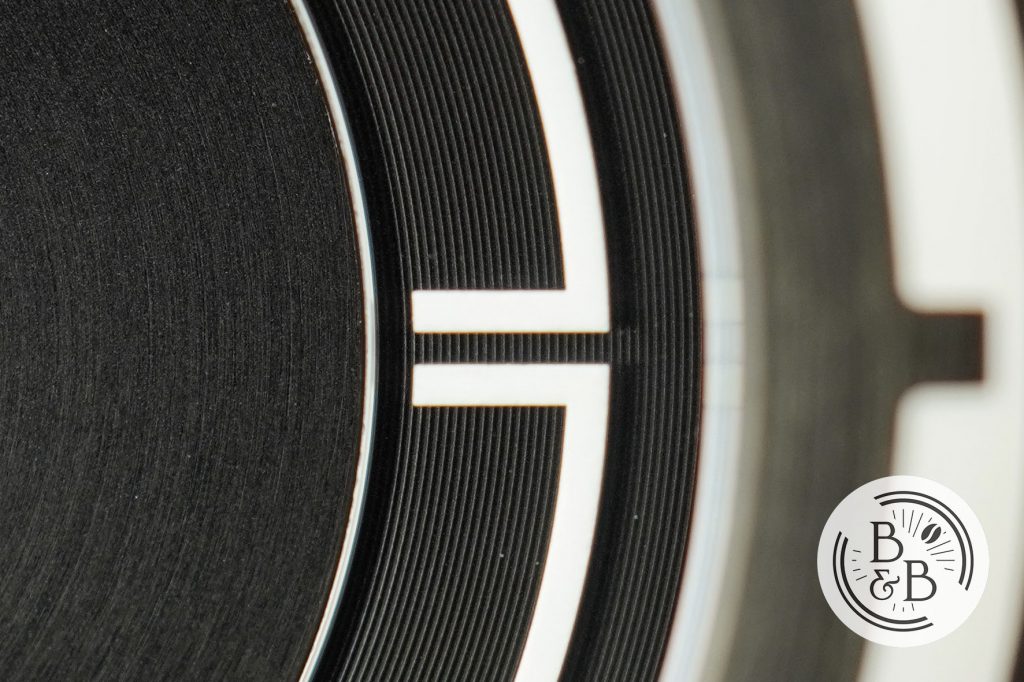 The outer track is similar to the 17.01 in that it has a base layer with finely spaced concentric rings, above which sits a sapphire crystal layer into which the lumed hour numerals are fused, using HyCeram. The finishing of this layer is really well executed, and as we'll see in a bit, the lume has drastically improved since the 17.01.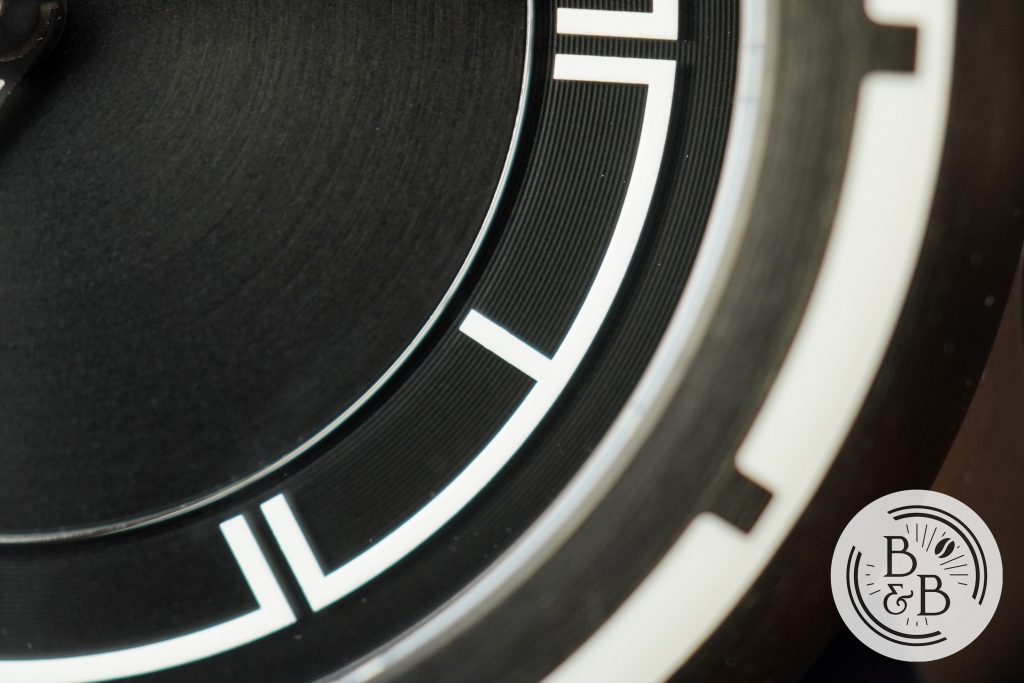 In terms of design, I think this is very well done. I've read some comments about legibility, and the lack of more gradations for minutes and seconds, but I think it is perfect the way it is.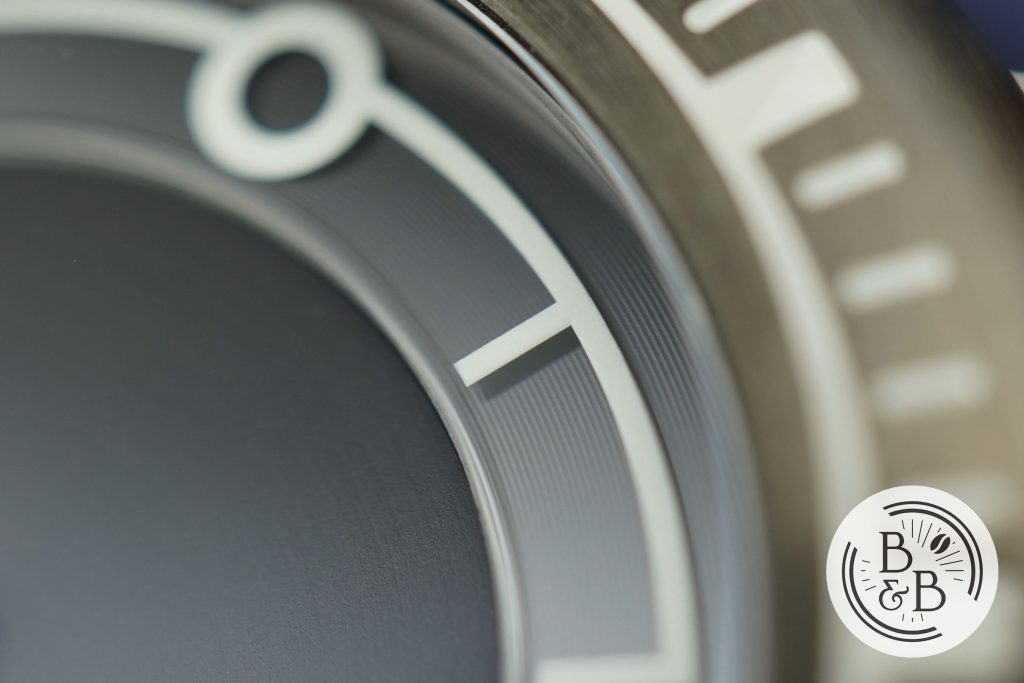 Reading the time is easy and intuitive since you have different symbols for 5 minute and 10 minute increments, and a circular 12 hour marker to orient your watch. I think it is a much more practical design than the one on the Abyss 18.01 concept watch.
The next element is the radially brushed circular center section. This is very simple, and lacks the intricate patterning that you often see on Ming dials. But for a utilitarian watch, I think this is the right way to go. The finishing is good here, with very good quality control too.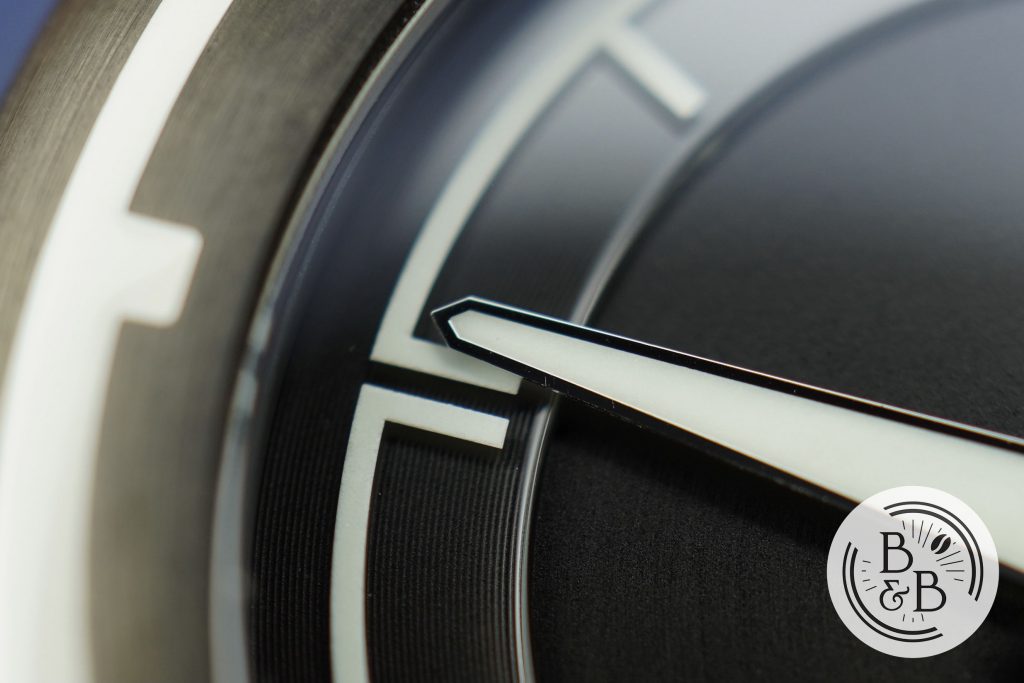 The hands are similar to the Abyss concept and this design can be seen on most Ming watches now. I think the hands are well designed and suit their dial design aesthetic. Unlike the 17.01, these hands have polished stainless steel frames with a block of lume as an insert. The finishing on the hour and minute hands are good with a few micro scratches that I think are acceptable. The proportions of both hands are great for legibility.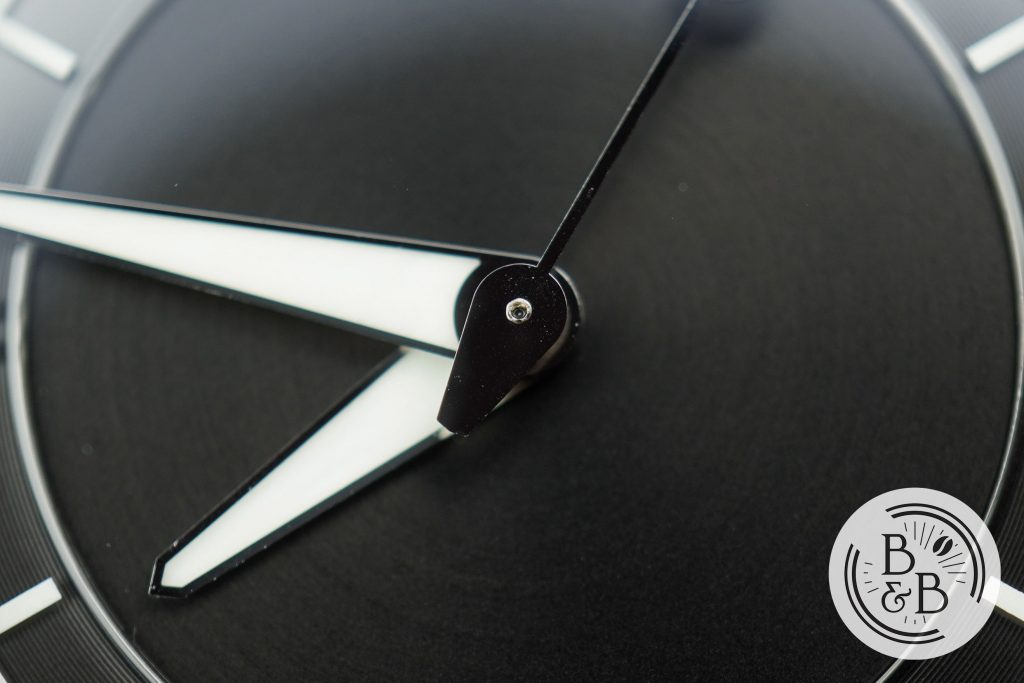 The seconds hand is also very well proportioned and extends all the way to the edge of the dial, and has a circular lumed element too. The finishing on the seconds hand is good, but I did notice some micro particles on the base of the seconds hand at the center stack.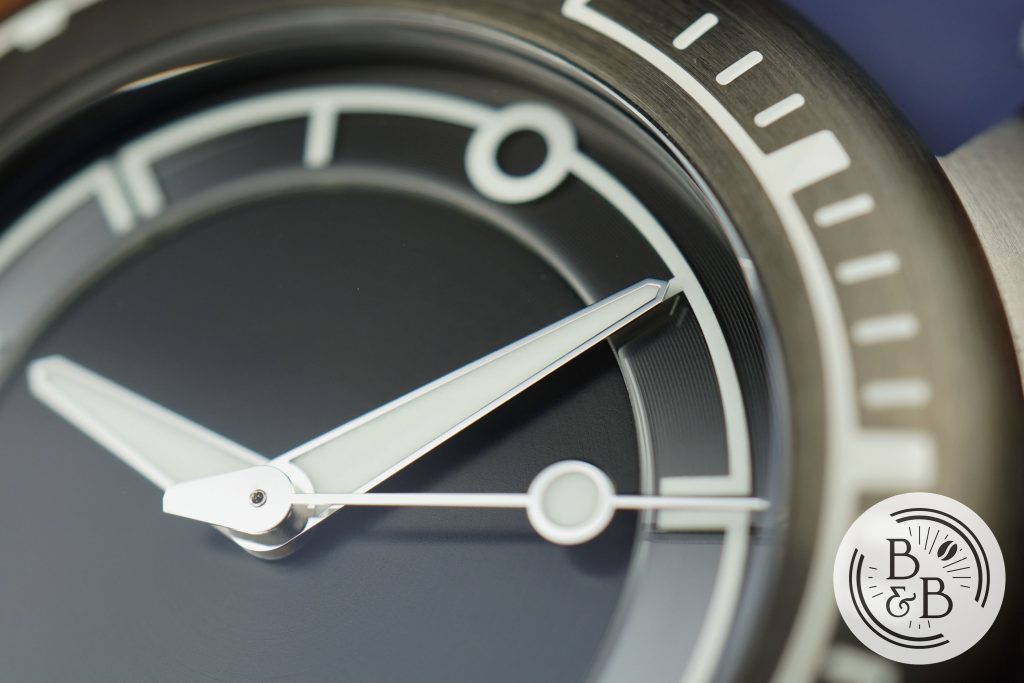 As I mentioned early on, these dials are extremely easy to photograph well, and very challenging to catch them in unflattering angles like the two shots above. You're unlikely to ever see these micro-particles and/or scratches, because this dial has a way of seducing light into doing it's bidding. Really brilliant work here in terms of design and finishing.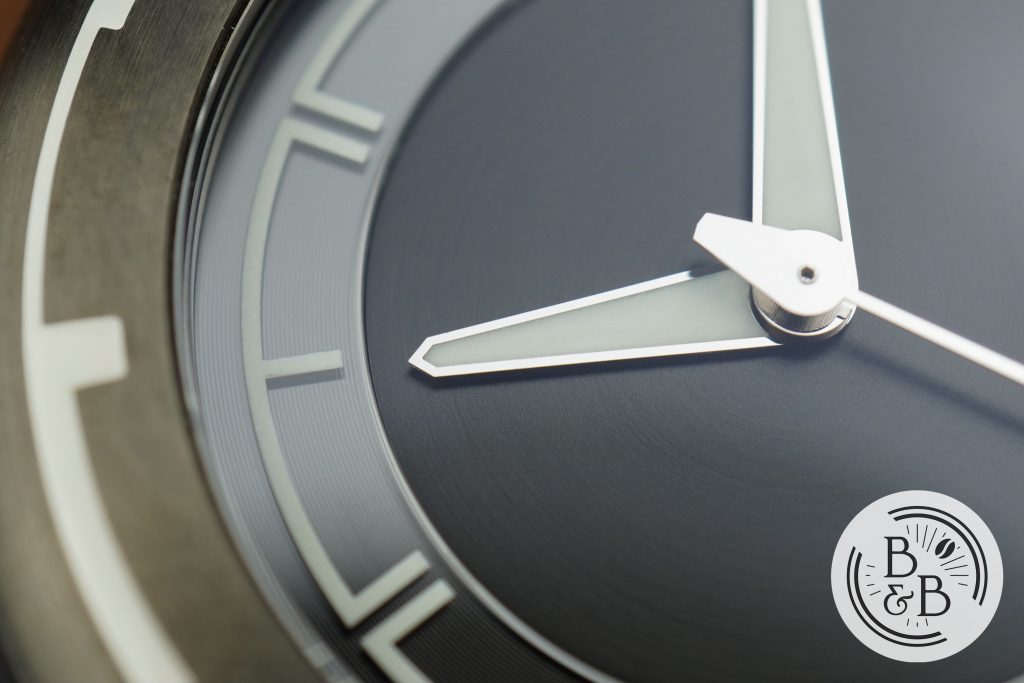 Another feature of this dial, and all other Ming dials (I think?) is the appearance of dial contrast inversion. At certain angles, the outer ring appears to flip from dark to bright, and changes the appearance of the dial entirely. A neat lighting trick made possible by clever use of materials and textures. While I'm not entirely sold on some design choices on this watch, I think this dial is absolutely stunning, and deserving of all the praise and hype that it receives.
---
Lume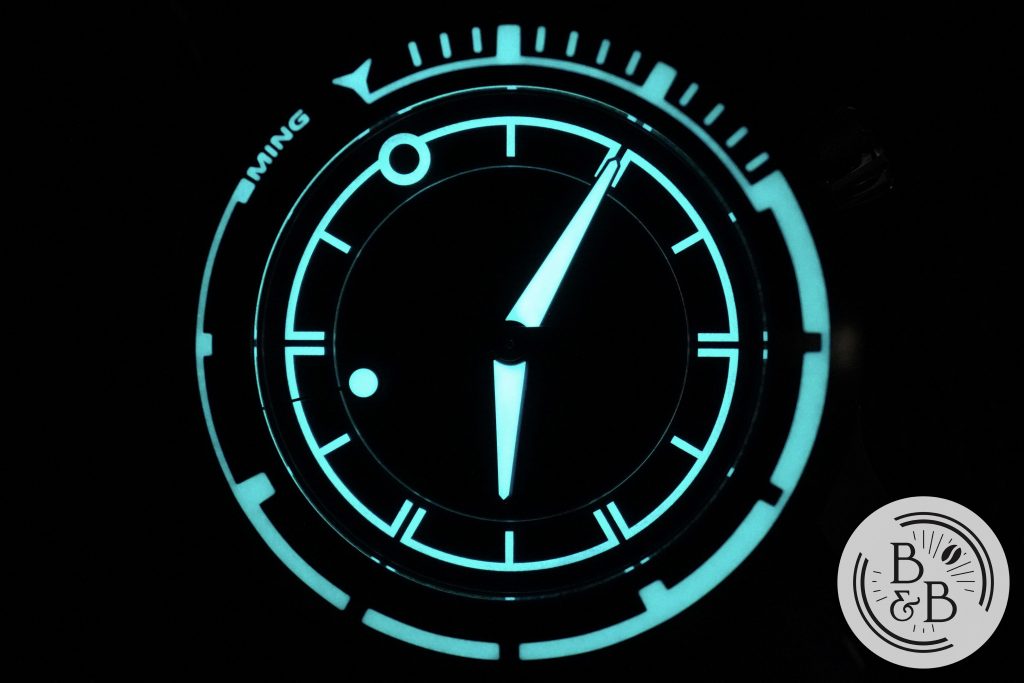 After purchasing the 17.01 and being disappointed by it's lume, I was a bit worried about my incoming 18.01. I had read that Ming's lume game dramatically improved after the 17.01, but I was still a bit skeptical given how much money I had put into this. I'm happy to say that the lume on this watch lived up to my expectations, and then some.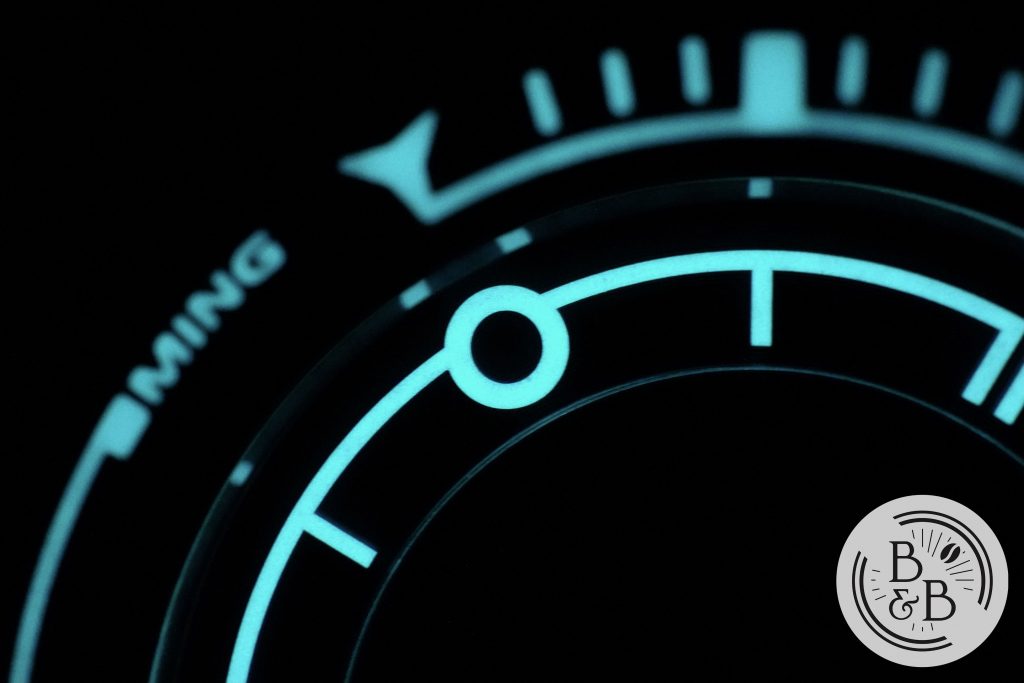 The whole watch lights up like a scene from Tron, and all the lumed dial elements are sufficiently bright. The outer dial ring was what I was worried about the most, and it seems to hold it's charge as well as the hands. I'm very, very happy with this. This is using HyCeram, a sapphire-fused ceramic application process executed by DM Surfaces.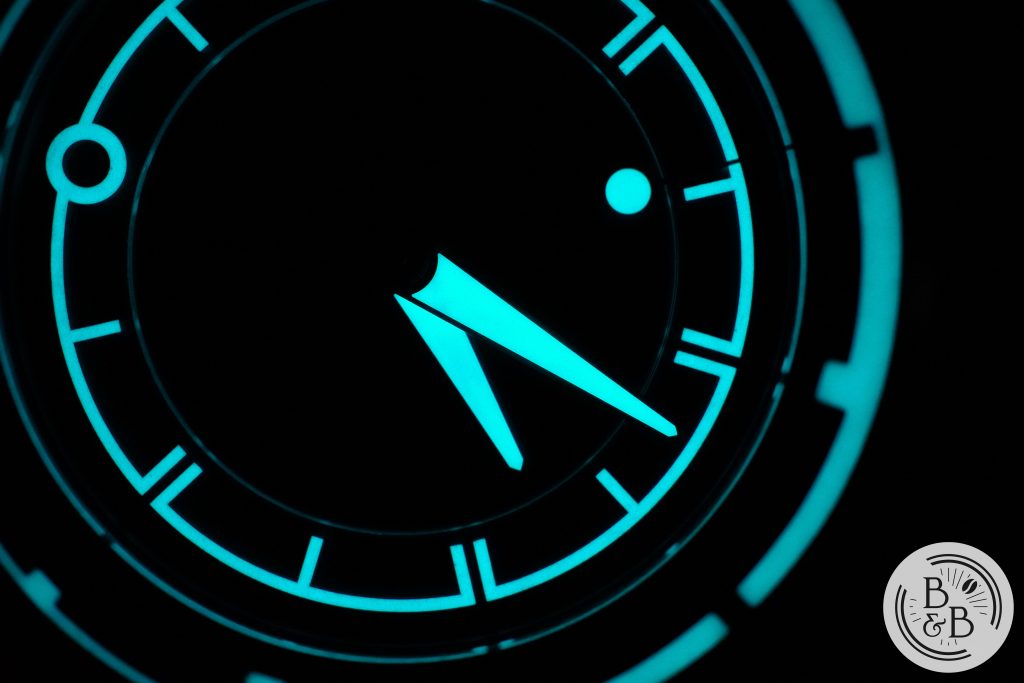 The hands are very generously lumed, and very cleanly lumed as well, with no spillover on the underside that sometimes gives you a ghost glow on the borders of the hands; typically seen on a lot of sub-$1000 watches. I believe this is because the lume on the hands are solid blocks rather than filled sections.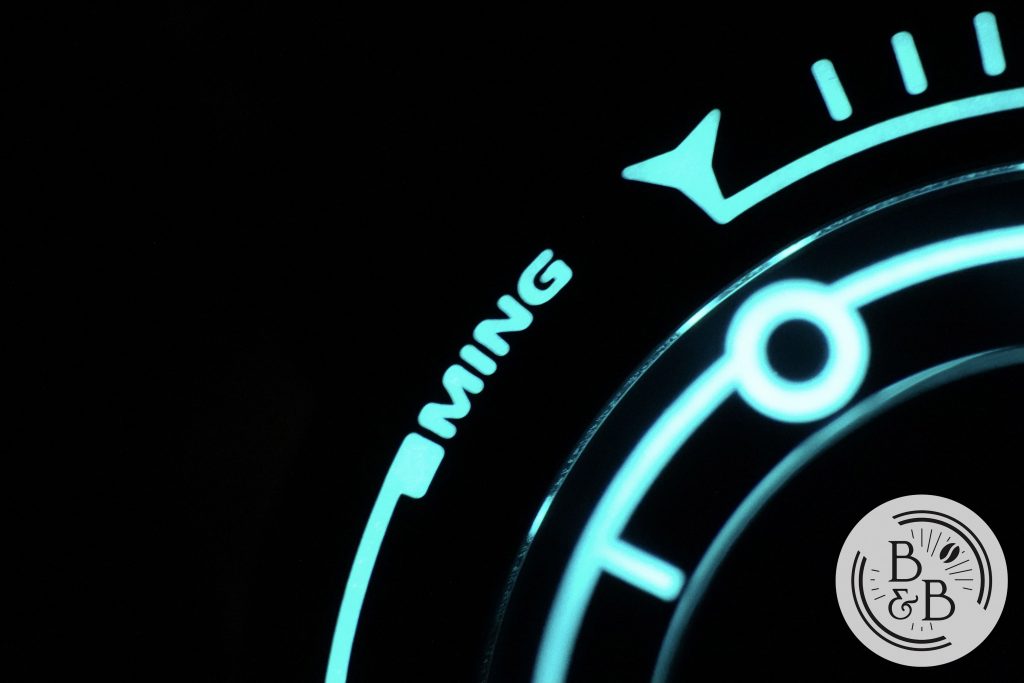 As expected, the lumed bezel elements are a bit narrower in sections and therefore dim down a bit quicker than the rest. But either way, the bezel puts on a terrific show, with brighter than expected performance. All the lumed elements on this watch are Grade X1 Super LumiNova.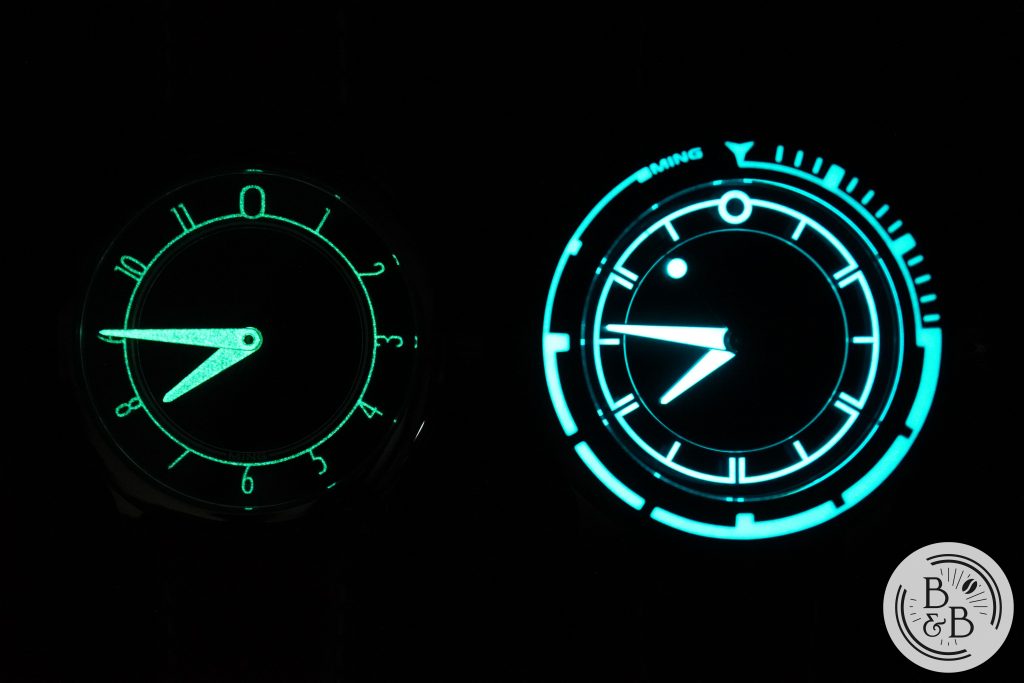 The first comparison was obviously with the 17.01, and 18.01 drastically out performs that watch in both brightness and longevity.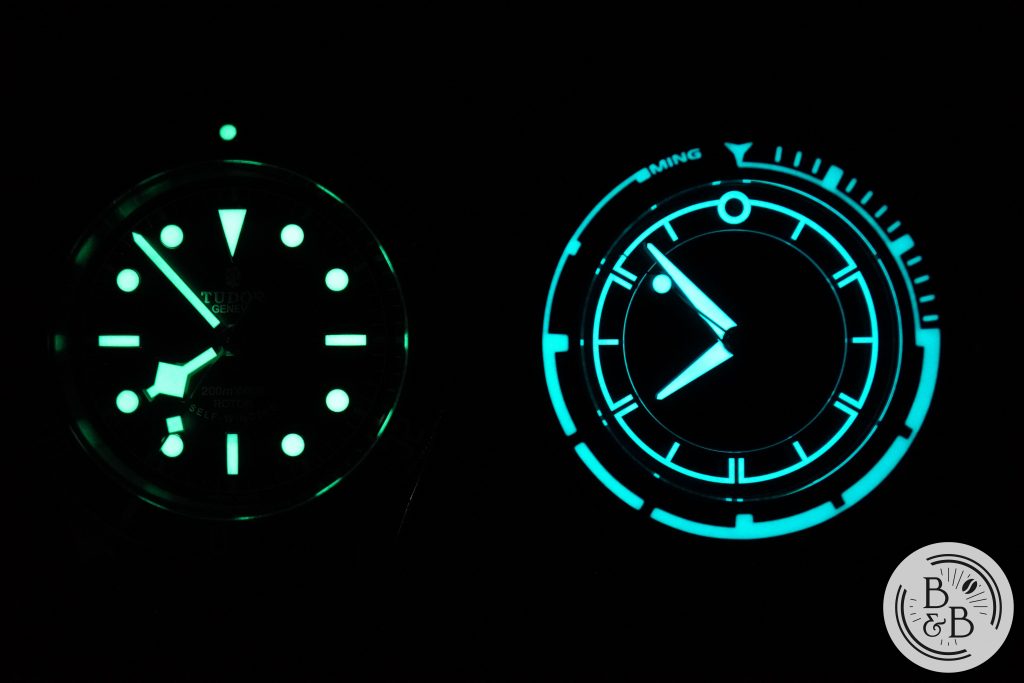 The next comparison is with my 6 year old Tudor Black Bay, that is in many aspects a logical competitor to the Ming, in terms of price, category and market placement. The Tudor doesn't have the world's greatest lume, but I was very impressed to see that the Ming performed better than the Tudor in terms of brightness and longevity.
---
---
Bracelet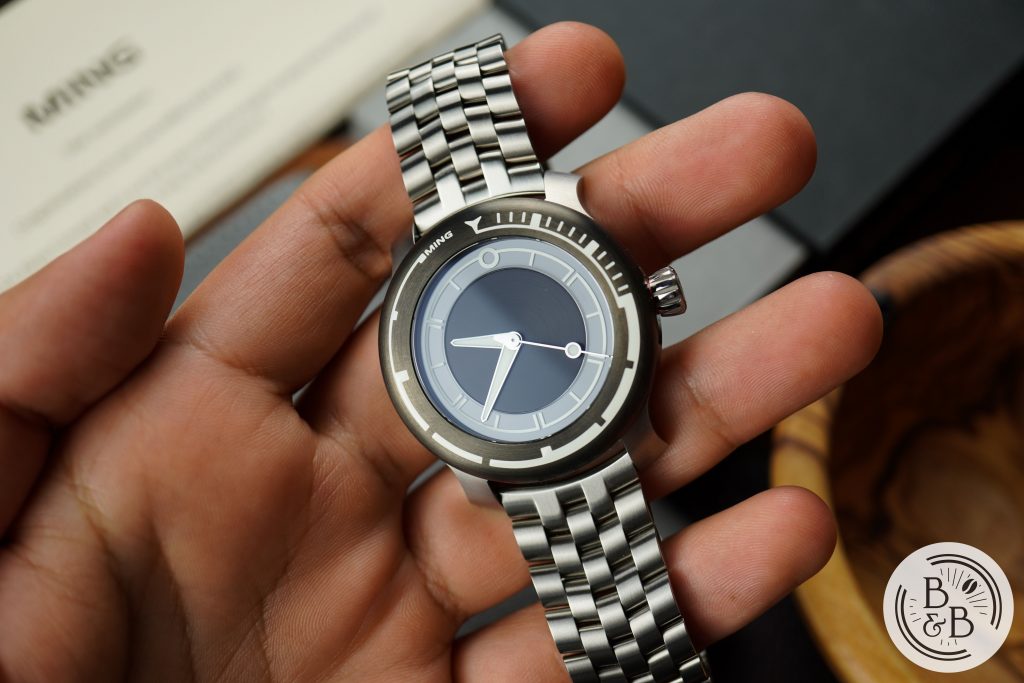 Let's move onto the bracelet, and bare with me as I rant a bit. First, let's talk pricing. The Universal Bracelet retails at 500 CHF, or roughly $550 USD. So we're not in the price range of the rumored $2000 Rolex Oyster bracelet with it's glide-lock system. Next, let's talk about the price of this watch as a whole – it costs roughly $3650 on the bracelet. So about $1000 less than a Titanium Tudor Pelagos (which has an incredible bracelet and clasp), and $100 less than a Tudor Black Bay 58 (which has a decent bracelet and clasp). On the relatively cheaper end, you're looking at $1800 for the Formex Reef, which has a brilliantly designed and engineered stainless steel bracelet and clasp, that costs about $300 on it's own.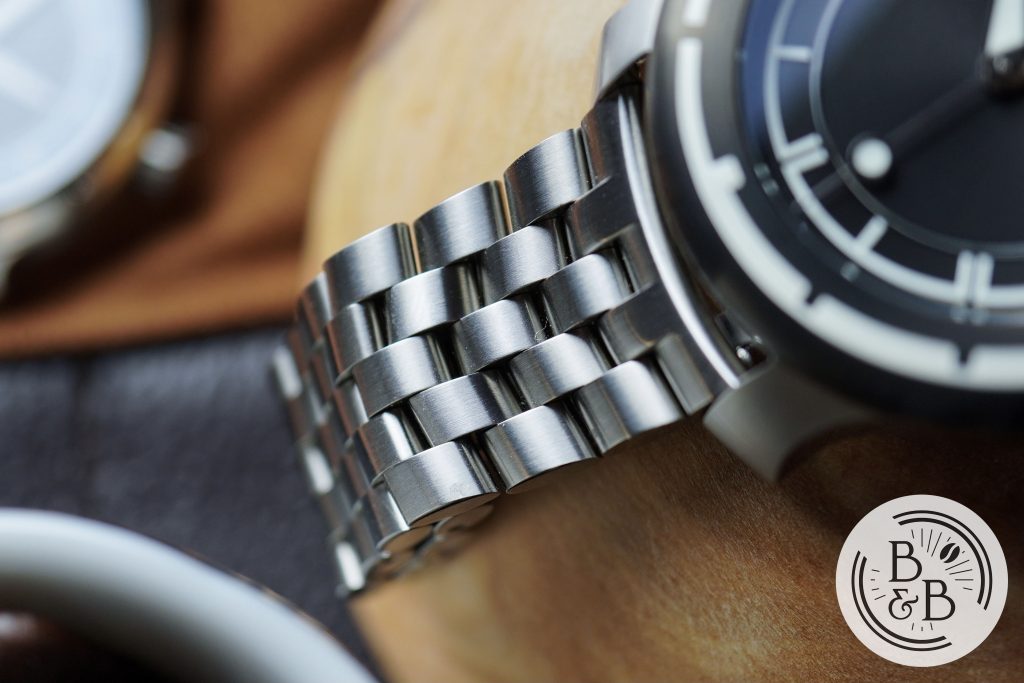 Now, let's talk about Ming as a brand and why I think people, including myself, have gravitated towards this brand so hypnotically. When I think of a Ming watch, I see a watch that has been very carefully designed, after being iterated upon countless number of times, by a team obsessed with design perfection. This usually means that each design element has fought to earn it's place on the said watch, and for each element exists a well specified and unarguable function. So in a diverse catalogue of dress watches, sports watches and jaw dropping conversation pieces, the idea of a one size fits all feels like a cop out.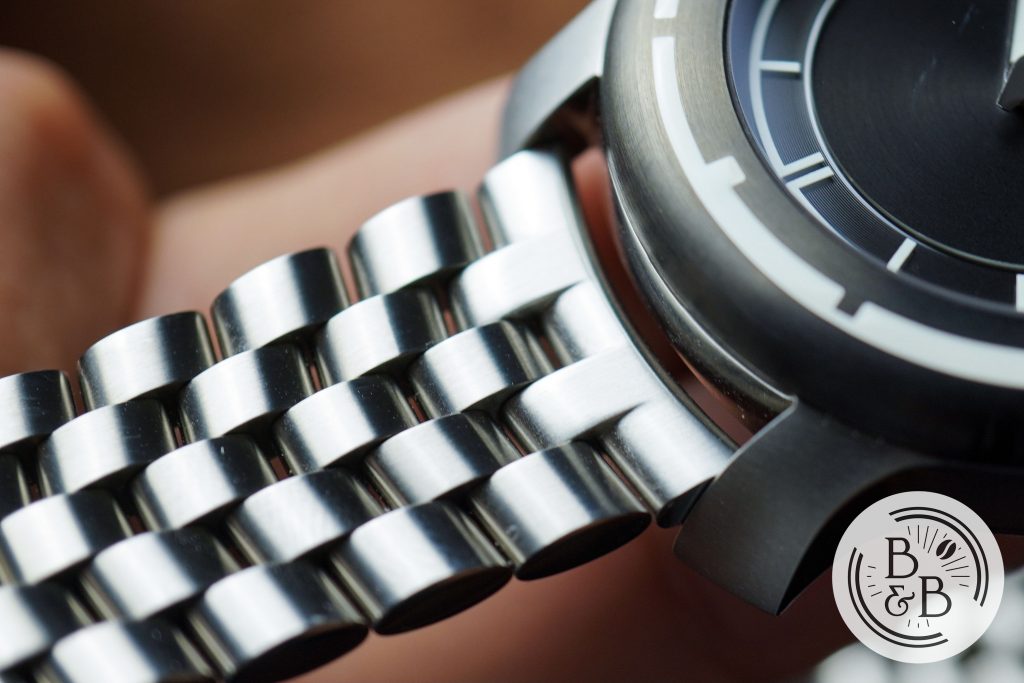 If you put aside their marketing mambo-jumbo, this feels more like a practical business decision. Given how small some of their batches are, to have dedicated bracelets made for each of them would drive up the price of each bracelet significantly, given that each bracelet would need custom tooling etc. But a good business decision doesn't necessarily equate to a good design decision, however hard you try to polish and bedazzle it. Given that this brand, on numerous occasions, has been willing to take the difficult but rewarding way out, I was disappointed by their lack of ambition here.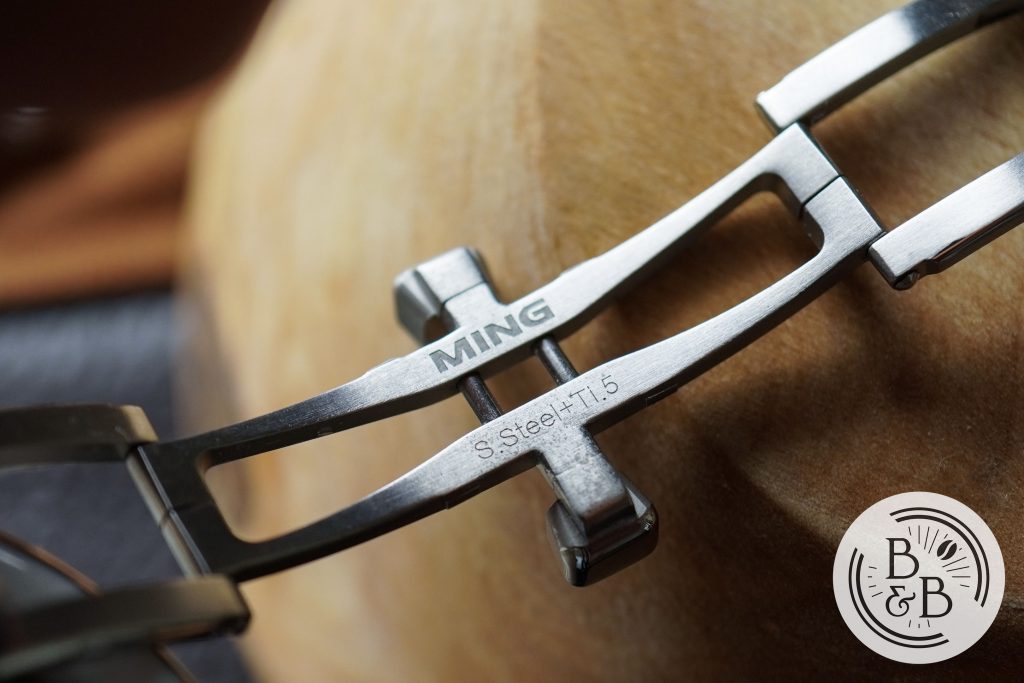 What you're left with isn't a great bracelet that was built with the design and functionality of the 18.01 in mind, but a mediocre bracelet that will look presentable across their entire catalogue of watches. If you need an analogy, one that comes to mind is my hideous brown leather belt that I wear with my suit, my jeans and my shorts. It works, but I really should have nicer belts for my suits, but all my money went into paying for this Ming.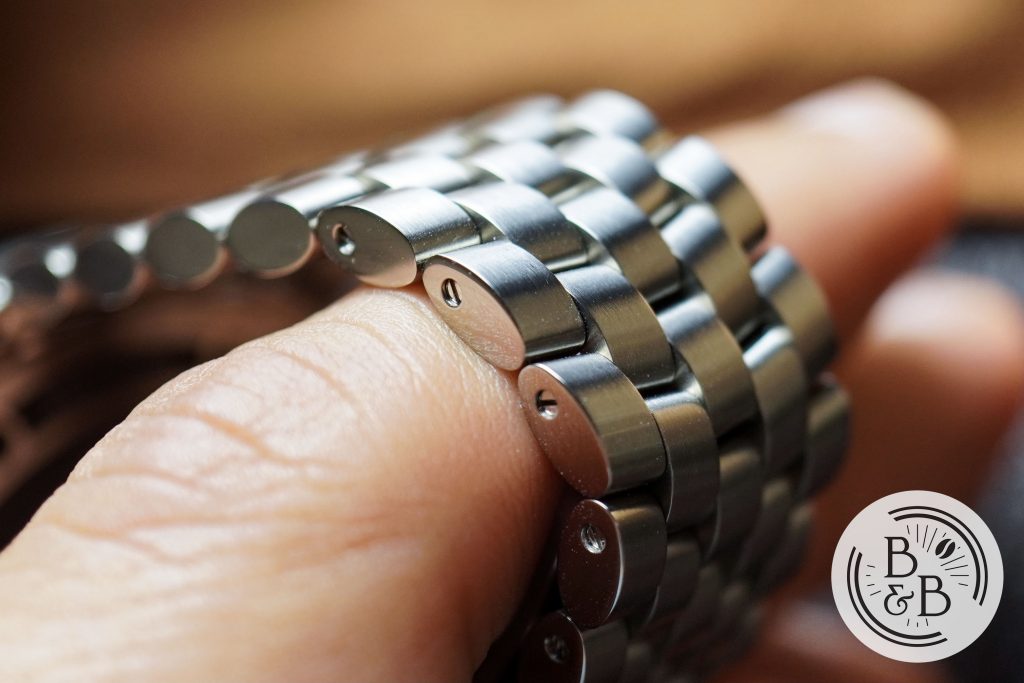 Onto the bracelet itself… the actual quality of construction and finishing is good, with well articulating five piece links that are fastened together by means of screw-based pins. I might have misunderstood their original listing, where they mention 1/2 links and 2/3 links, but there's only two kinds of links here with two 1/2 links near the clasp.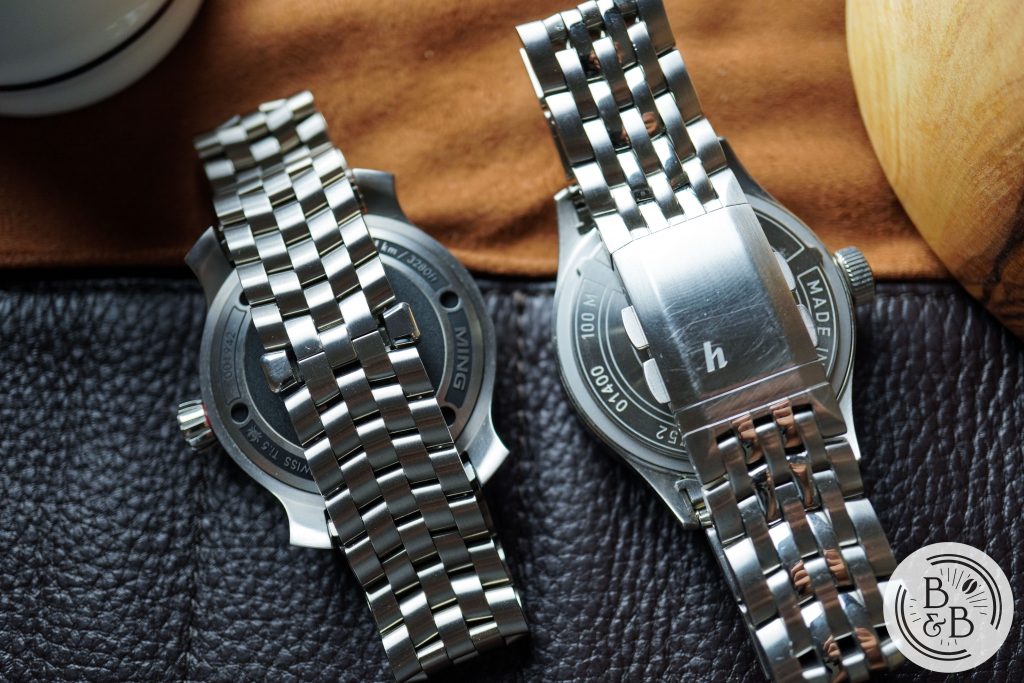 My biggest issue here is that the bracelet lacks any kind of micro-adjustment system or a quick-adjustment mechanism. For a utilitarian dive watch, this is a huge oversight, in my opinion. If an ugly clasp is what they were trying to avoid, they should look at what Hanhart offers as a well integrated bracelet and clasp system that offers on-the-go quick adjustment, costs $230, and is quite seamlessly integrated. If they had to have a butterfly-style clasp, then I would expect a brand like Ming to pool in their intellectual resources and attempt a more flexible design, like Formex have on their $260 flexible butterfly clasp system.
My last tantrum is regarding the lack of fitted end links. This actually doesn't bother me that much, and it has a somewhat vintage beads of rice diver bracelet aesthetic that I can live with. But do I think it looked better with the fitted end links like on the initial prototype run? Yes. Would it have been that much more expensive to manufacture dedicated end links for each watch? No. I've also read that this was done with articulation in mind, and all the watch journalists cheered, and echoed their agreement. But to assume that a fitted end link inherently restricts articulation is plain silly, and my own Hanhart is a testament to that fact.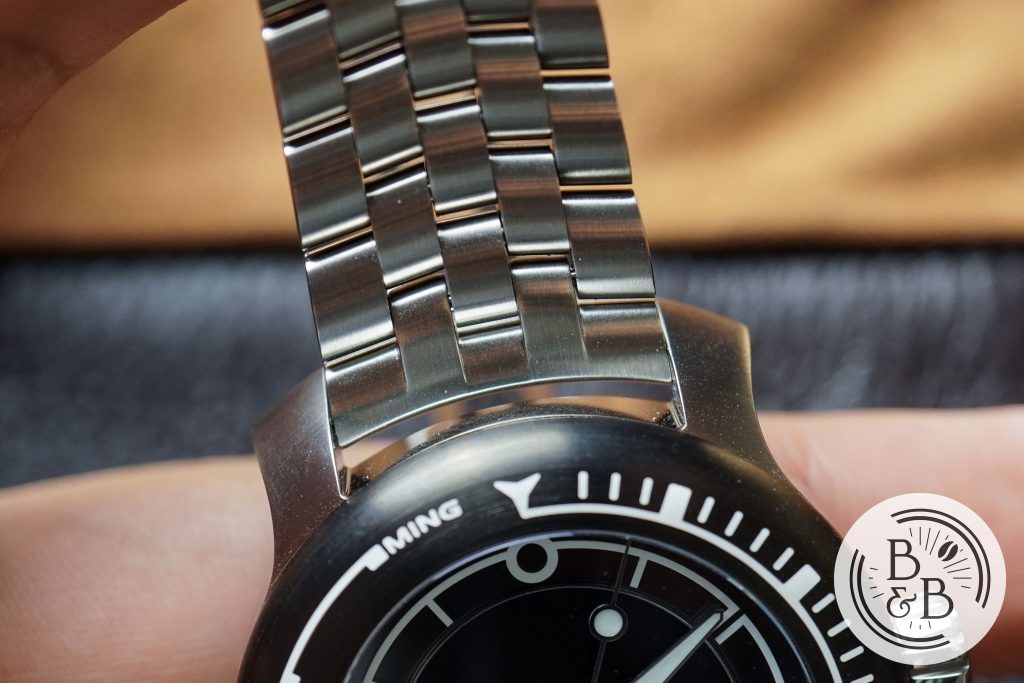 Overall, if you're expecting "a" metal bracelet for your 18.01, you're going to be pleased… because this is a metal bracelet. But if you're expecting a functional bracelet to supplement a dive watch, don't bother. Get the Jean Rousseau rubber strap instead. Those are pretty damn impressive.
And for those that have more than one Ming in their collection and can easily afford the $550 bracelet, I might suggest getting one anyway. I've found that it is much better suited to match the dimensions and design of my 17.01, and I suspect will become a permanent addition to the 17.01's arsenal.
---
Movement
This watch uses a top grade ETA 2824-2 movement that was modified by Schwarz-Etienne to remove the date complication. I don't want to sound like a movement snob here, but for roughly $3500, I usually look for something with a bit more oomph than a top grade 2824, like a Chronometer grade movement, or the incrementally more refined ETA 2892.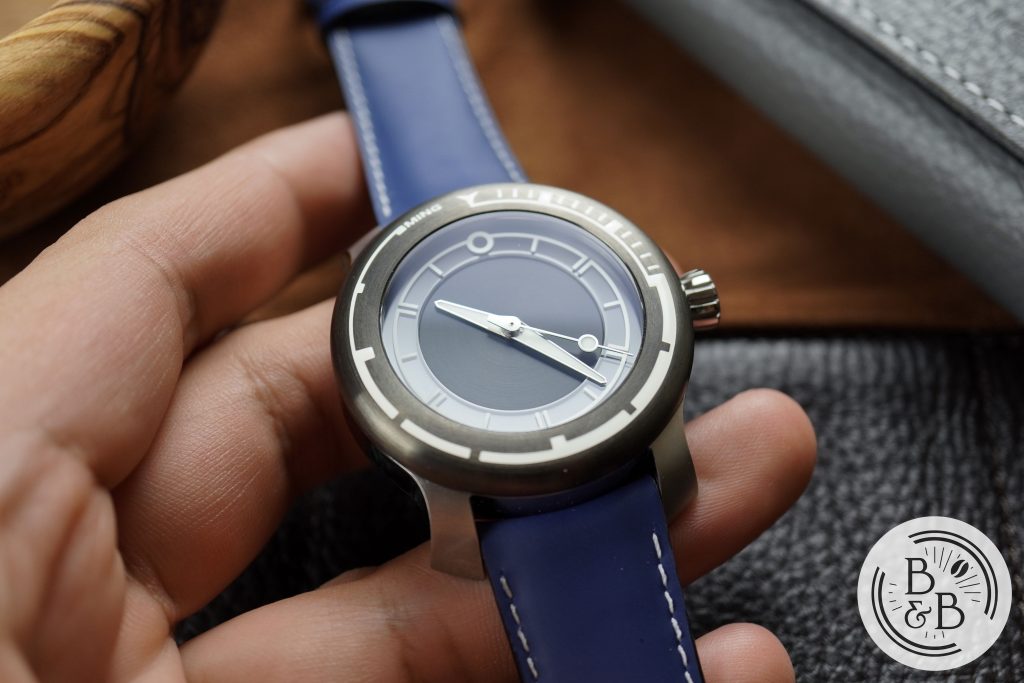 The 2824-2 is known for it's reliability and ease of service, and good accuracy. That said, this isn't close to a deal breaker for me as I've had a Tudor Black Bay with the 2824-2 for the last 6 years. I wore it everyday for 4 years, and it is currently running at around +5 spd, even though it has never been serviced. So I'll take an experience like that over anything else, to be completely honest. I've been logging the accuracy of the Ming for about 3 days now and I'm seeing around +5 spd. So definitely within spec, and within what I consider to be acceptable for this movement and a watch like this.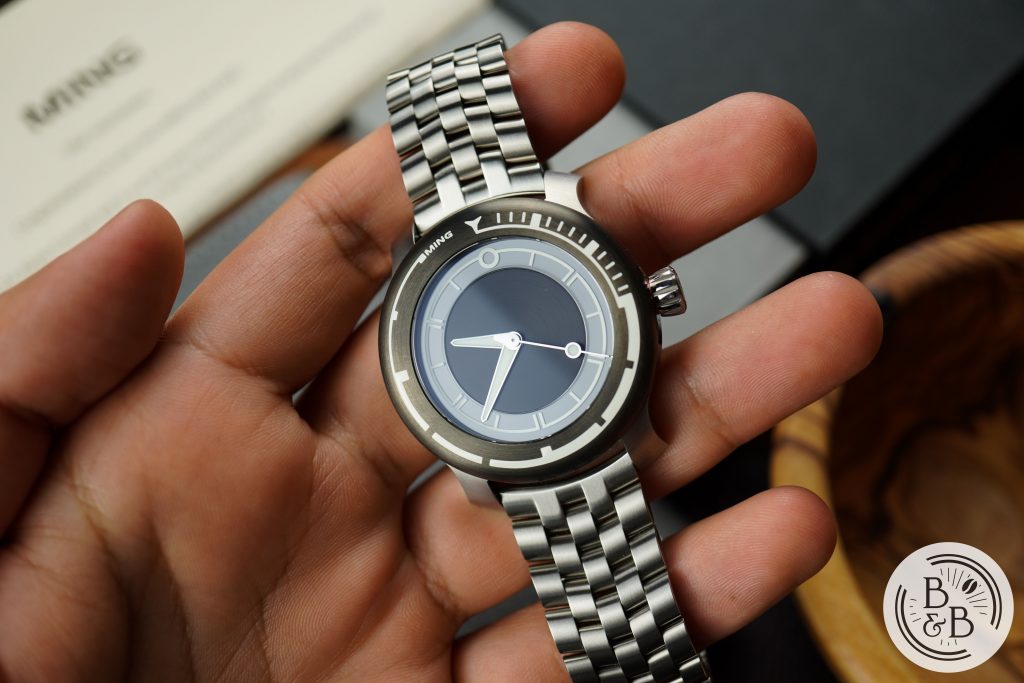 Unfortunately this brings me to my current state of this ownership experience. About 8 days into ownership, I realized that if I were to manually wind the movement, the rotor beings to spin wildly. This isn't Ming's fault, and appears to be a somewhat common issue with the 2824 architecture. After spending a few hours on Google and declaring myself watch expert, there might be an issue with the reverser wheel (A, B, C, D, E, F), which is a $10 replacement and/or easily fixed with a second round of lubrication. Ming has been very helpful so far, and were quick to set up a warranty request. Unfortunately, the timing couldn't have been worse as everyone is shutting shop for Christmas, so it looks like it can only be repaired in January and I'll only see this beauty again 4 – 6 weeks after that. I've been collecting watches for long enough to know that these issues are bound to occur, and what matters more than an excellent product is excellent service, and Ming has been good to me so far.
On The Wrist
Speaking purely in terms of the case design, this is a very comfortable watch. While the proportions make it appear like a tall watch, I haven't found that to be the case and I'm usually sensitive to tall cases (I recently sold my Guinand Flight Engineer because of this).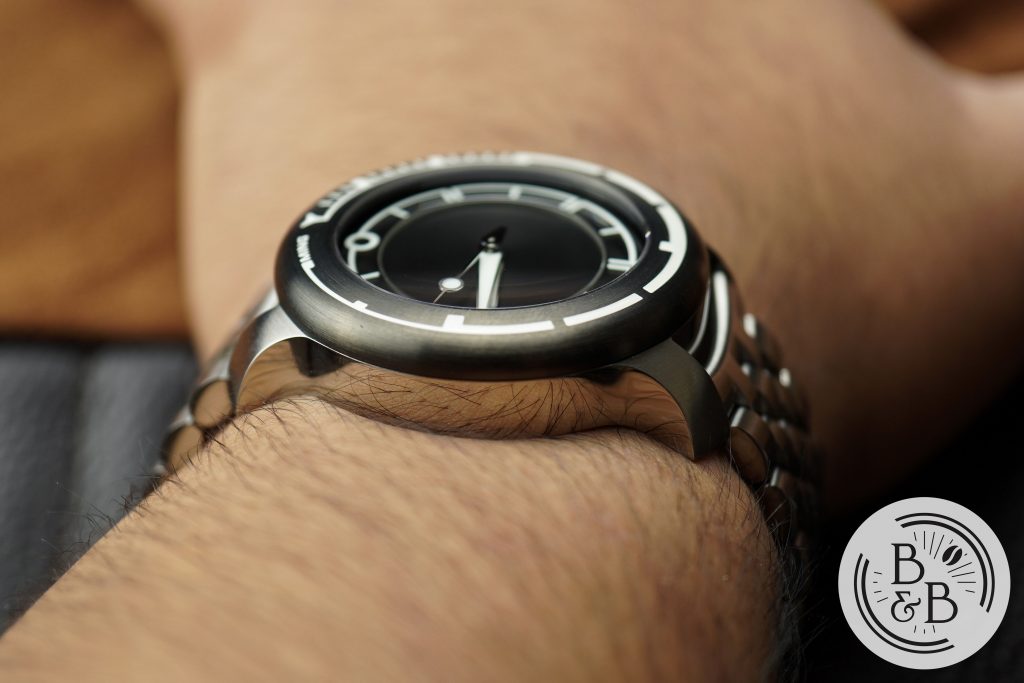 The 13.3mm overall case height is objectively taller than a lot of three hander dive watches, but I suspect the 1000m water resistance rating drove up the overall height a bit.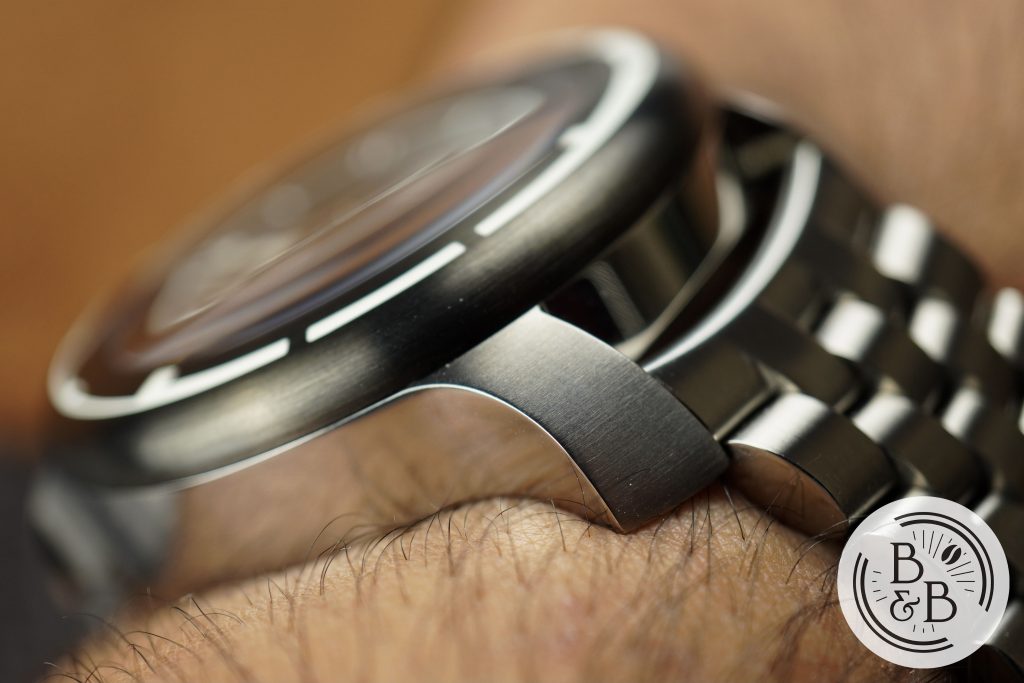 The lugs have a well thought through curvature, and also extend slightly beyond the level of the very slightly curved case-back. So if you're able to dial in a good fit on the bracelet and strap, the case is well balanced on the wrist, and sits low.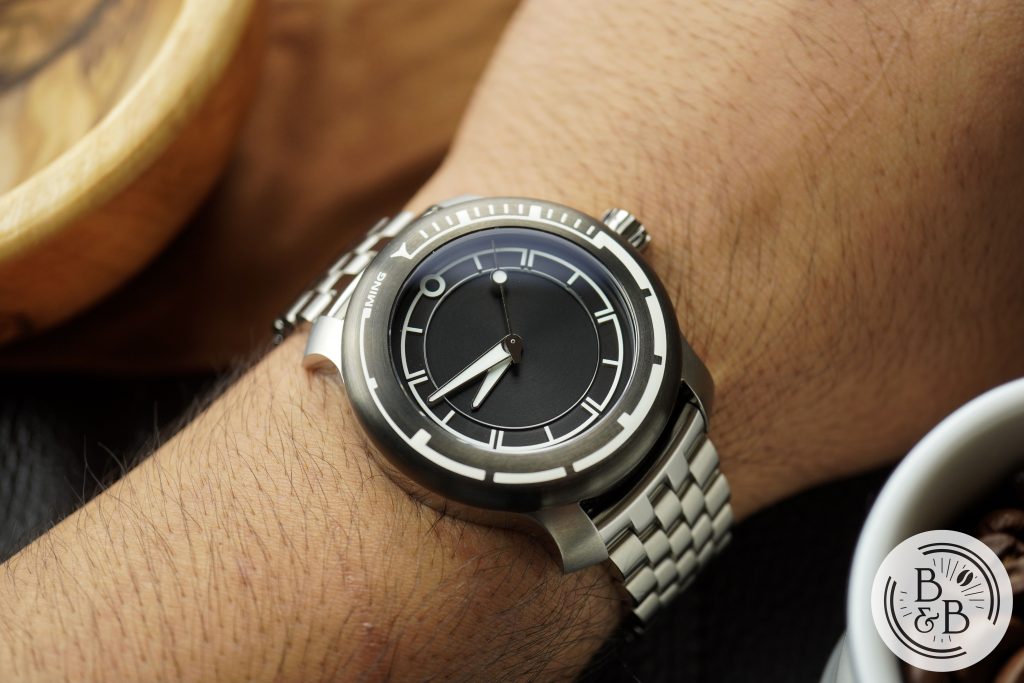 In terms of the 46.25mm lug-to-lug width and 40mm diameter, they're both comfortable dimensions for my 6.25″ wrist. And I actually love how it wears on my wrist.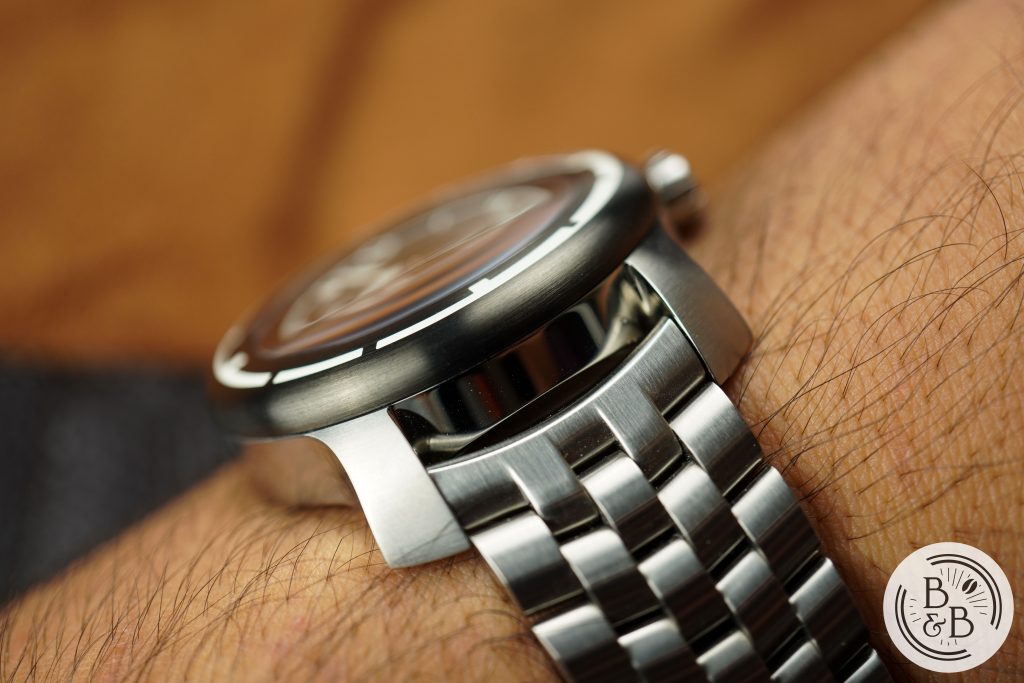 Since this watch lacks a few key features that could make it a serious diver's watch, maybe they could've held back on the 1000m of water resistance and aimed at an overall height of around 12mm. But I suspect the bragging rights of 1km of water resistance will go further in fueling the hype train, than a slightly slimmer case.
---
Concluding Thoughts
So this has been another long review, but with a watch like this, I feel obligated to go into the details. In terms of value, I think most Ming watches (and other hype watches like Kurono Tokyo) come into existence with a terrible disadvantage. They have to not only live up to their retail prices, but also the prices that you can get for them on the secondary market. While this is a great advantage to the person holding one of these pieces, I think for a collector such as myself with a limited budget and a limited collection, to hold onto and appreciate a watch like this is a bit stressful, and means that it needs to deliver enough value to justify what I paid, as well as what I could get for it, which I suspect is between $500 – 750 bucks more.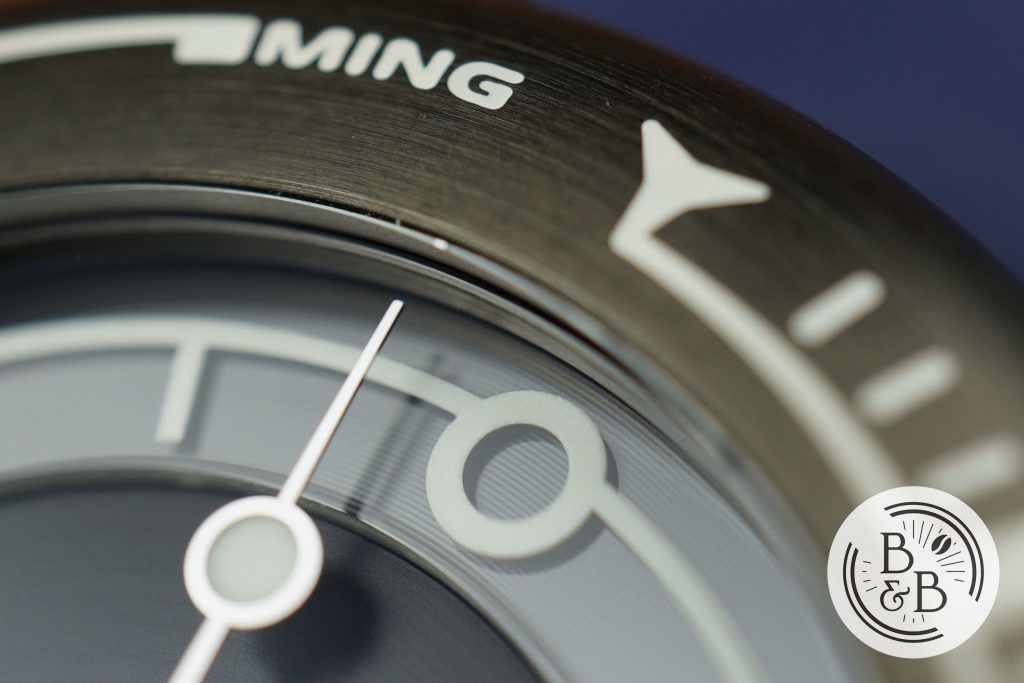 I'm still undecided on both fronts. I absolutely love the design; I love the way it wears on my wrist; I love accidentally looking at my wrist and being thoroughly impressed by the unique design; I love the sci-fi vibes from the lume. But, time will tell if this one is a keeper or not, and the pressure is on. Maybe distance will make the heart grow fonder, and sending it back for a month to be serviced will help me decide.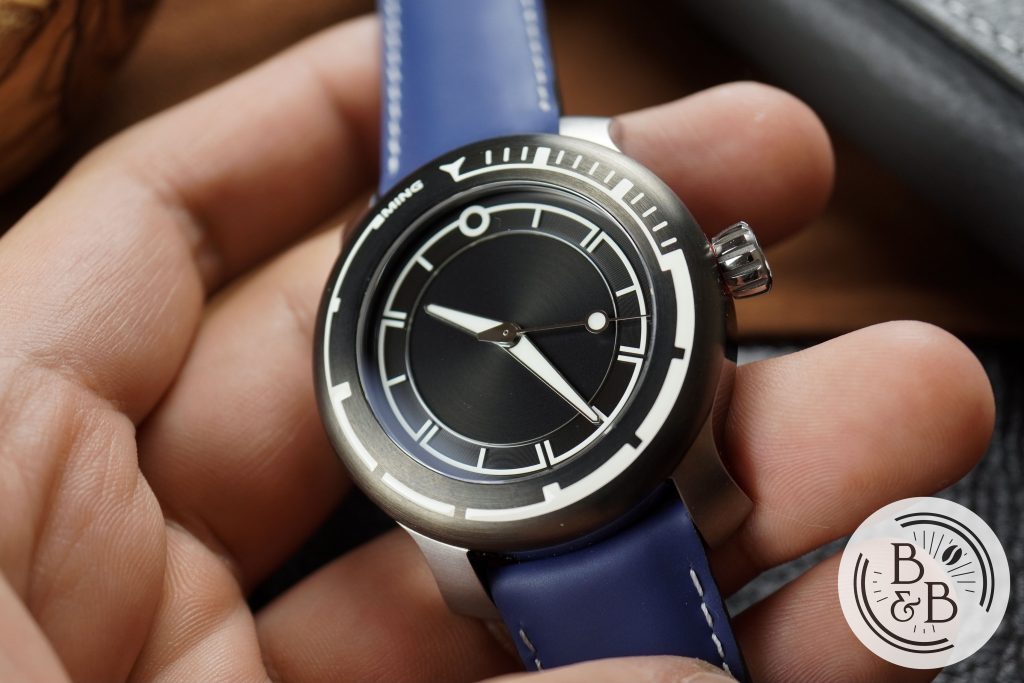 So to put it all together – excellent case, incredible bezel action, beautiful dial, terrific lume, disappointing bracelet, adequate movement and a fabulous wrist experience. And as a cherry on top, reasonably good service so far. But I plan on updating this review once I have it back in my hands without a windmilling rotor!
---
Thanks for reading!