---
Disclaimer: This watch was sent to me to review, and I was not incentivized in any way to make this review. This is in no way sponsored by Goodspeed or any other entity. All opinions here are my own.
---
---
Contents
---
Goodspeed
I recently came across this brand when I saw a mockup for their upcoming field watch, appropriately named the Scout. I loved that design, and reached out to the owner Jeremy to ask if I could review one of his watches. The Sonoma is Goodspeed's second watch, and is a vintage racing inspired Chronograph and was successfully launched via Kickstarter last year, so I am a bit late to the Sonoma party, but I'm happy to share this with you anyway, as it is quite an interesting piece.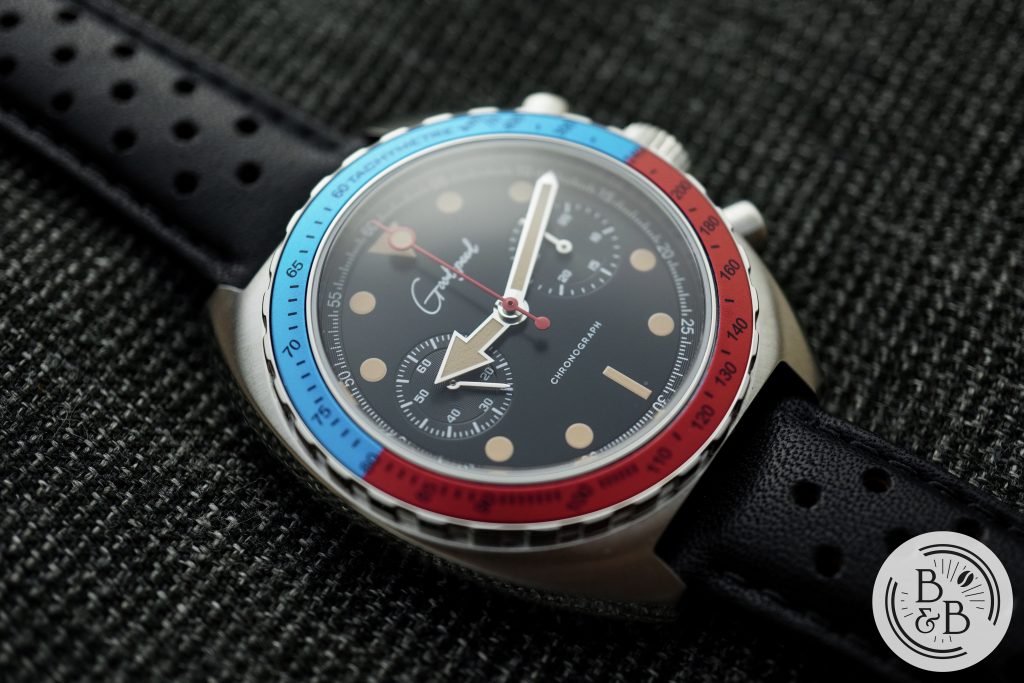 The Sonoma is made in both Quartz and Mechanical variants, with four options for different bezel and case configurations. The mechanical pieces retail at $395 and the quartz at $185, so those looking for an affordable chronograph should definitely keep reading!
---
Case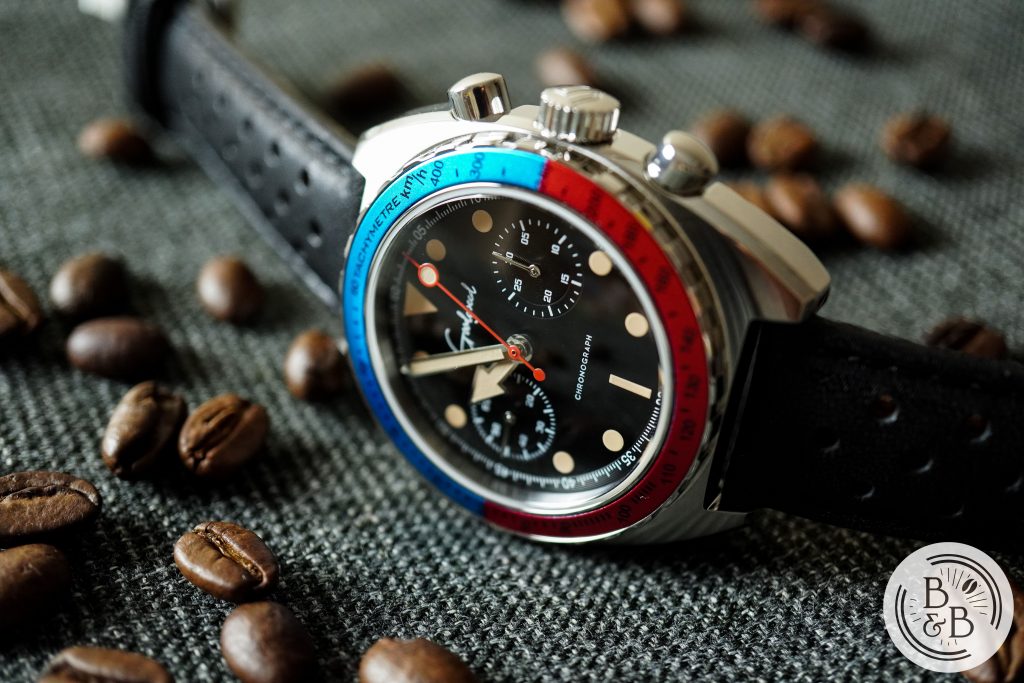 This case has some serious vintage vibes, drawing inspiration from vintage Heuer pieces like the 11063P Diver, as spotted by Mike Razak. The tonneau style case measures 42mm in diameter, 46.5mm from lug-to-lug and 13.7mm in height. The case is brushed on the top and bottom, with some polished sides and a polished bezel. Great choice there, and the polished beveled edges play with light beautifully.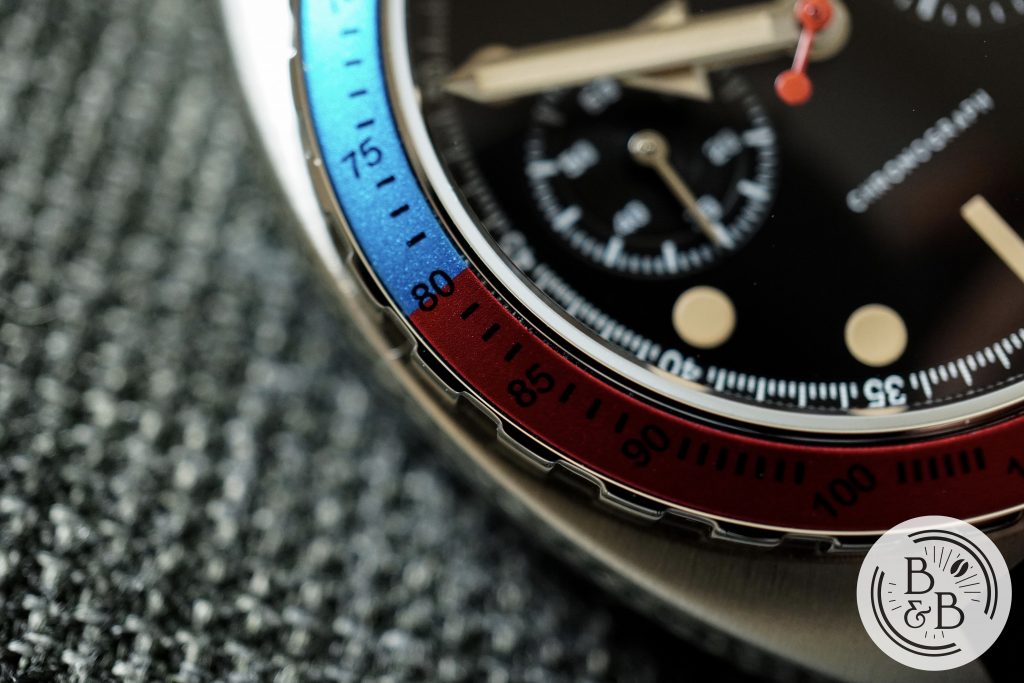 I opted to review the stainless steel with the fixed pepsi bezel. The finishing on the aluminum insert is excellent and the colors are spot on.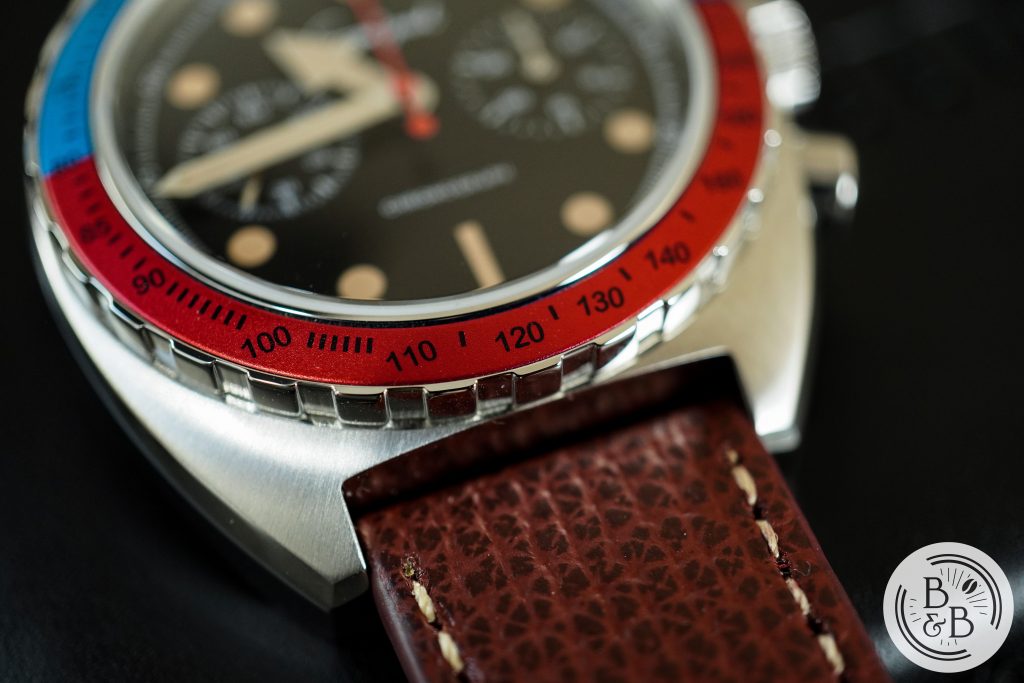 The lugs are short, curved and perfectly suit the case design. The lugs are not drilled through, but that isn't surprising given the beveled edge design of the case.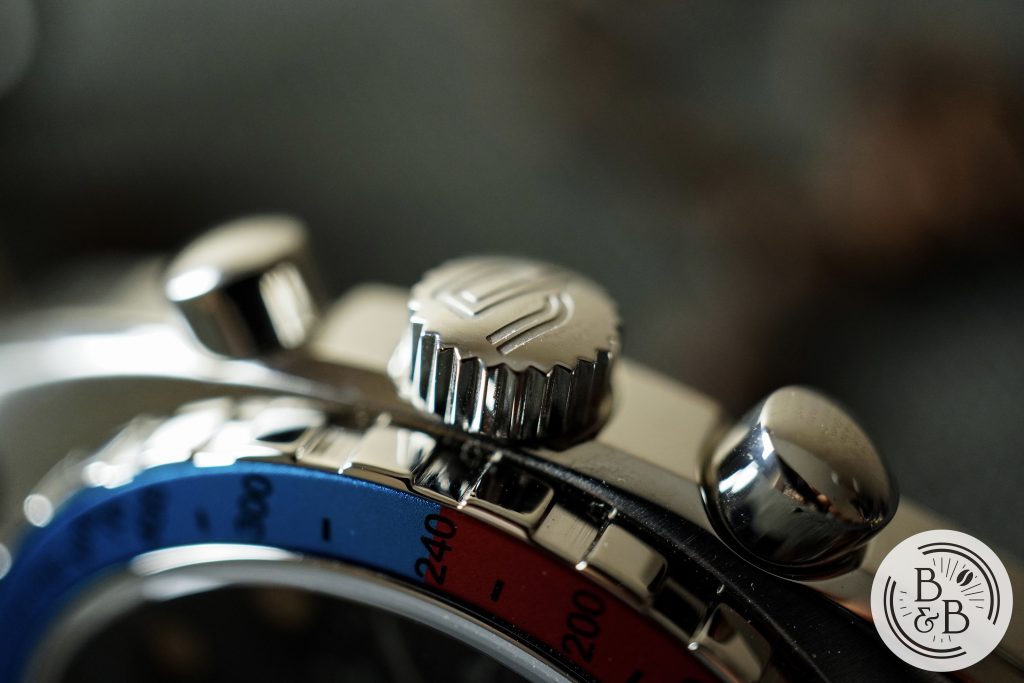 There is a simple push-pull style signed crown at the 3 o'clock position, that is accompanied by the two chronograph pusher buttons. The crown grip is good, and the operating experience is good too, without any crown or stem wobble.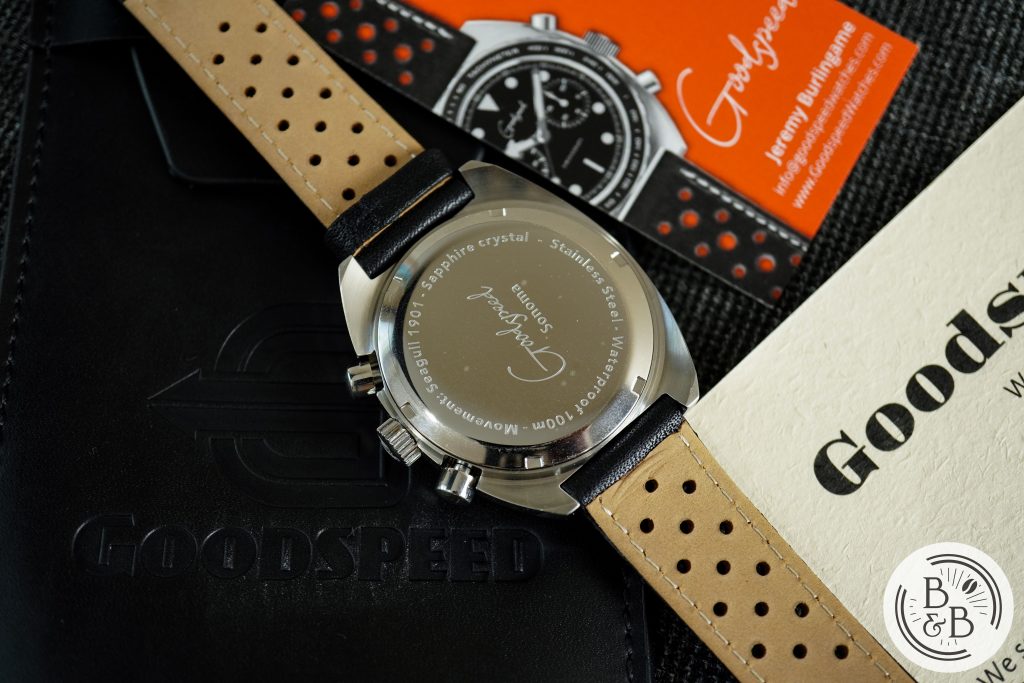 Flipping it over you have a simple solid case back that screws down into the case. Nothing much to see here, but even without a screw-down crown and pushers, this watch is rated for up-to 100m of water resistance. Pretty cool.
---
Dial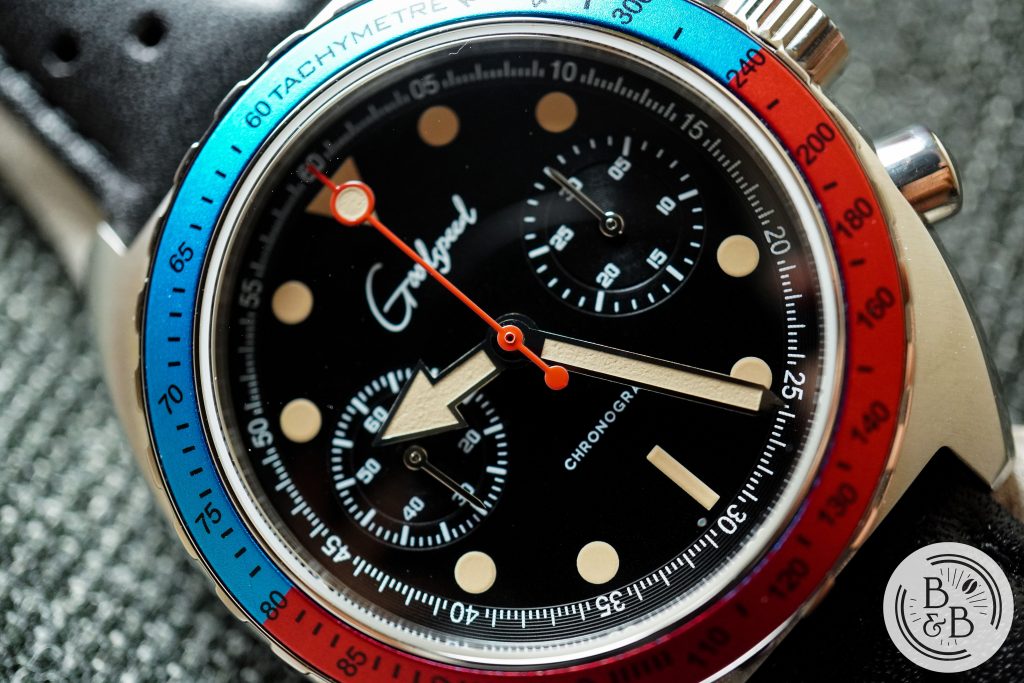 As with most Chronographs, we've got a busy dial here. But this one appears to be very well laid out, and easy to read.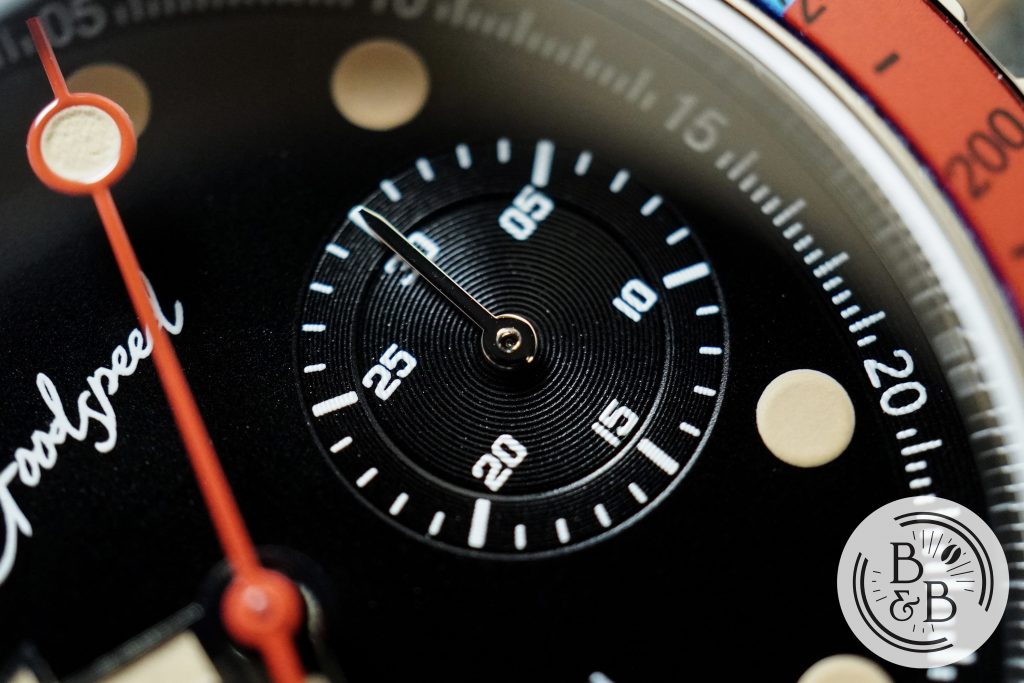 This is a two register chronograph with a running seconds hand on the left, and a 30 minute counter on the right. The registers are actually more intricate than they look, with flat marker rings and concentric ridges for the base sub-dials. The concentric rings give it an almost glossy finish that looks quite neat.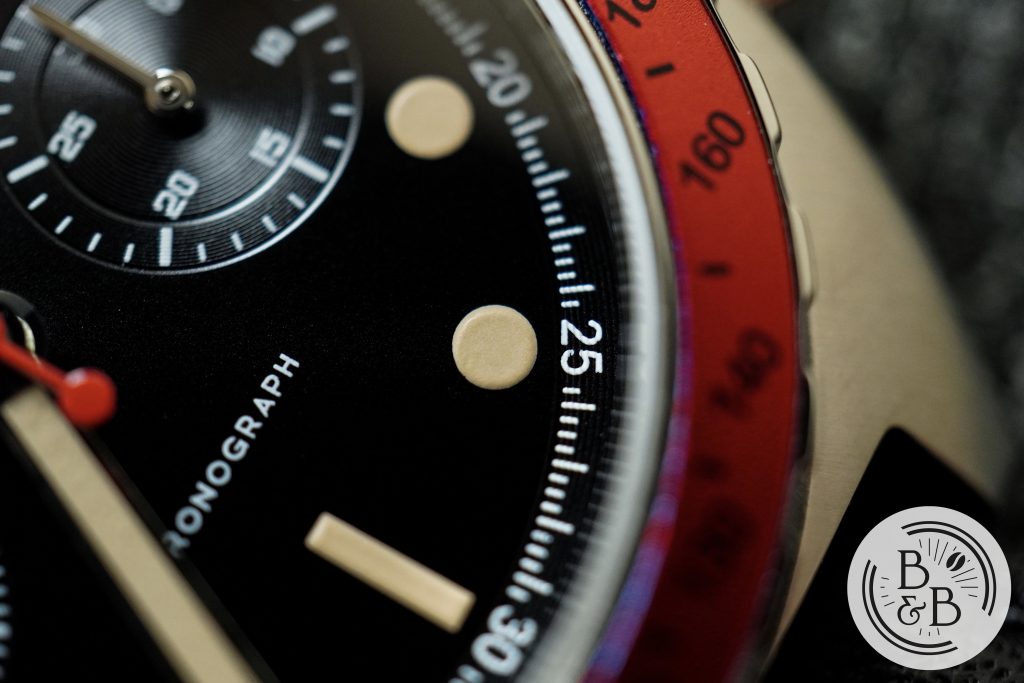 There is an outer chapter ring that follows the same concentric ridge design, with clearly printed seconds and minute markers. The legibility of this chapter ring is spot on, and the finishing appears to be good as well.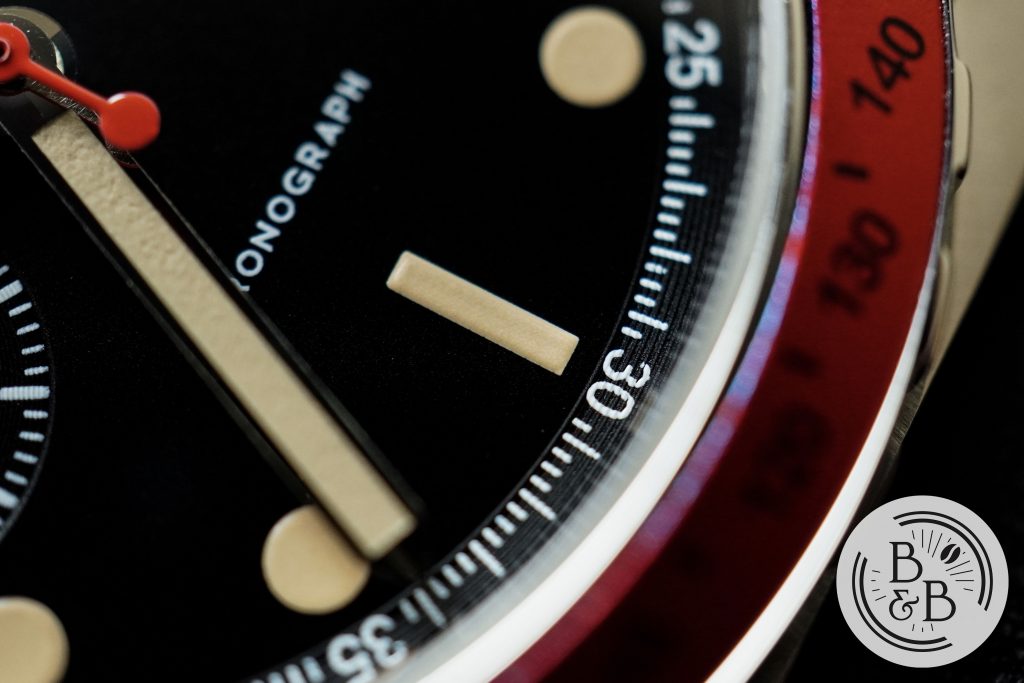 The lumed hour indices have a faux-vintage finish, and are a combination of rectangular and circular markers. They are well proportioned and well finished.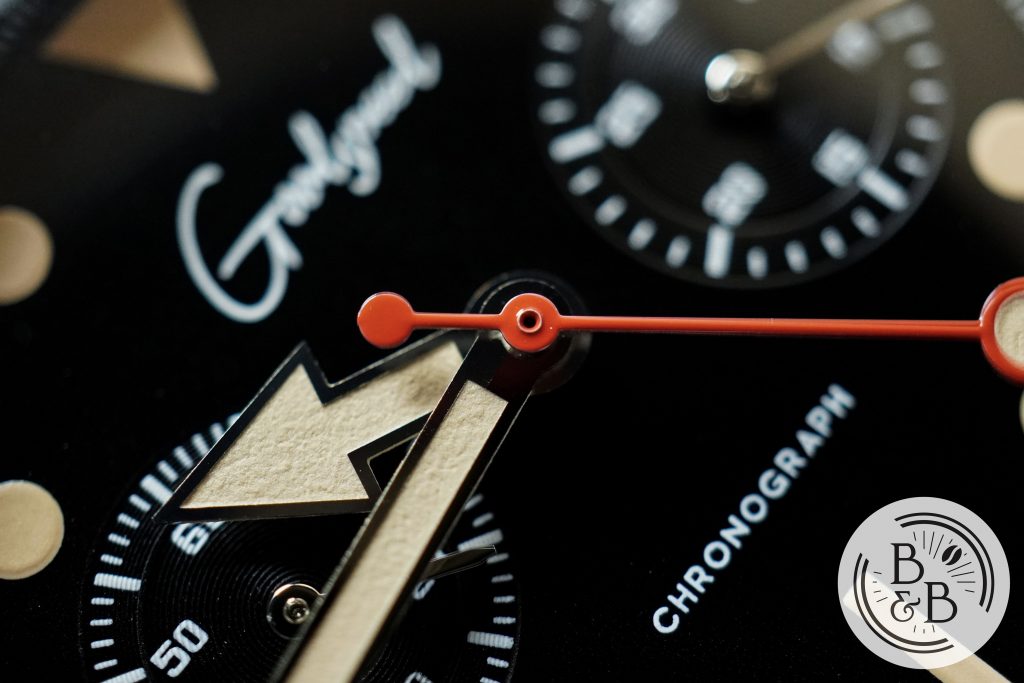 The hands are filled with the same aged-lume material and appear to be quite well finished for the price.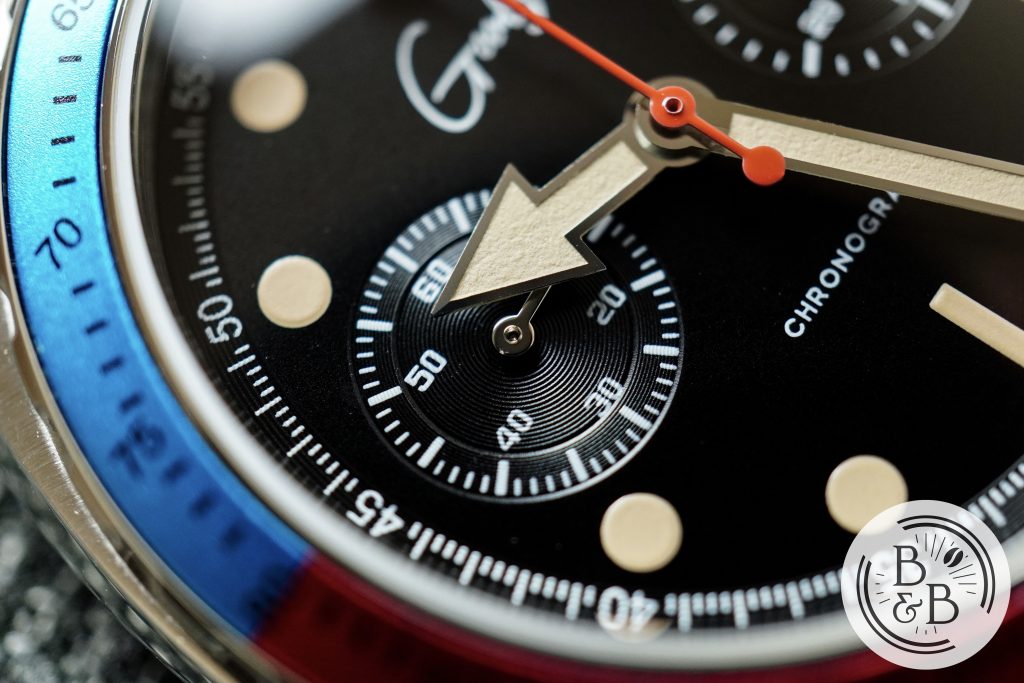 The hour hand is an oversized arrow style hand, and the simple design of the minute hand pairs well with it. The minute hand extends all the way upto the chapter ring, and over it, which earns this watch some extra credit.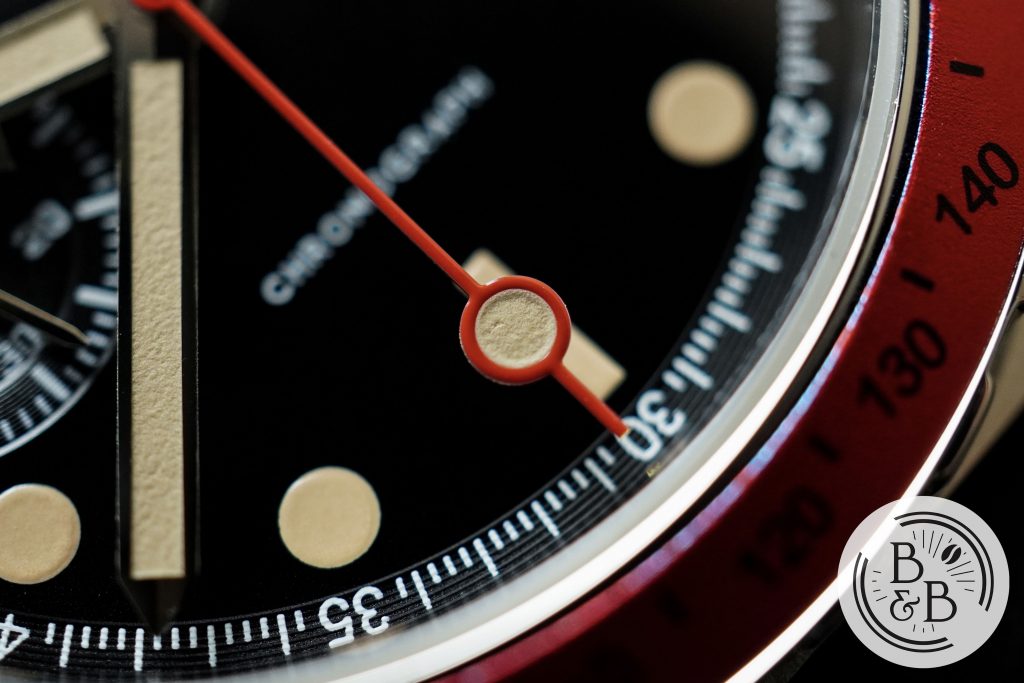 The seconds hand is similar, making accurate time keeping possible, which is what you'd expect from a racing chronograph. So Goodspeed have definitely done all the right things with the dial here.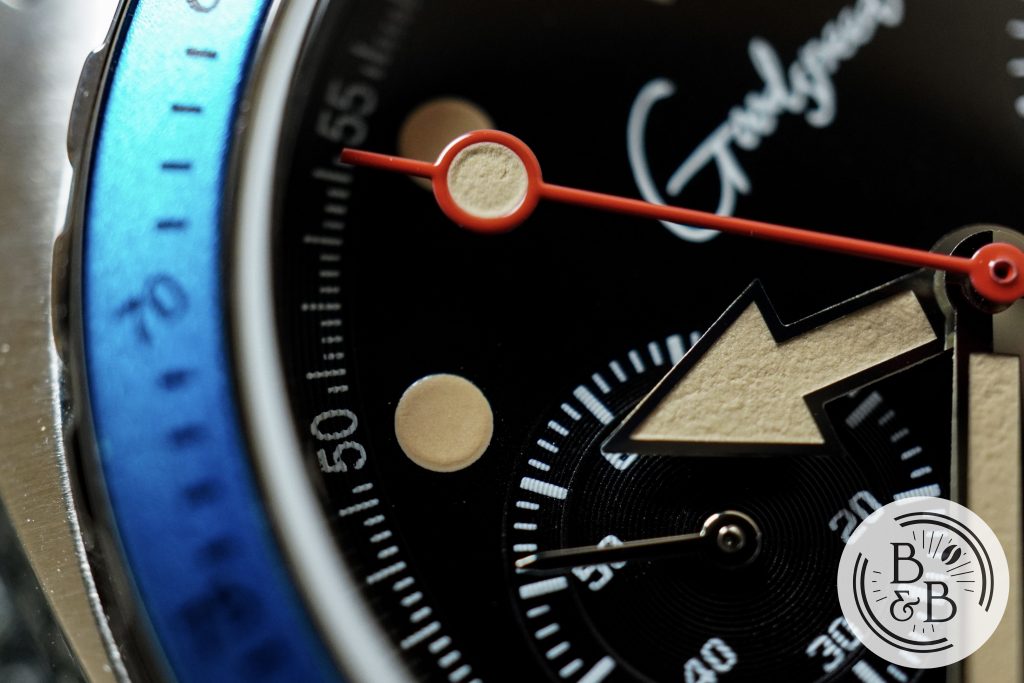 The finishing across the dial is very good, I only noticed a few micro-particles on one hand and on the sub-dials, but none of this is visible to the naked eye, and is more than acceptable for a $400 watch.
---
Lume
All the lumed elements are using a yellowed or faux-patina style lume material. I'm not sure what lume they're using exactly, but its a bit weaker than typical white Super LumiNova, possibly because of the coloring added (don't quote me on this).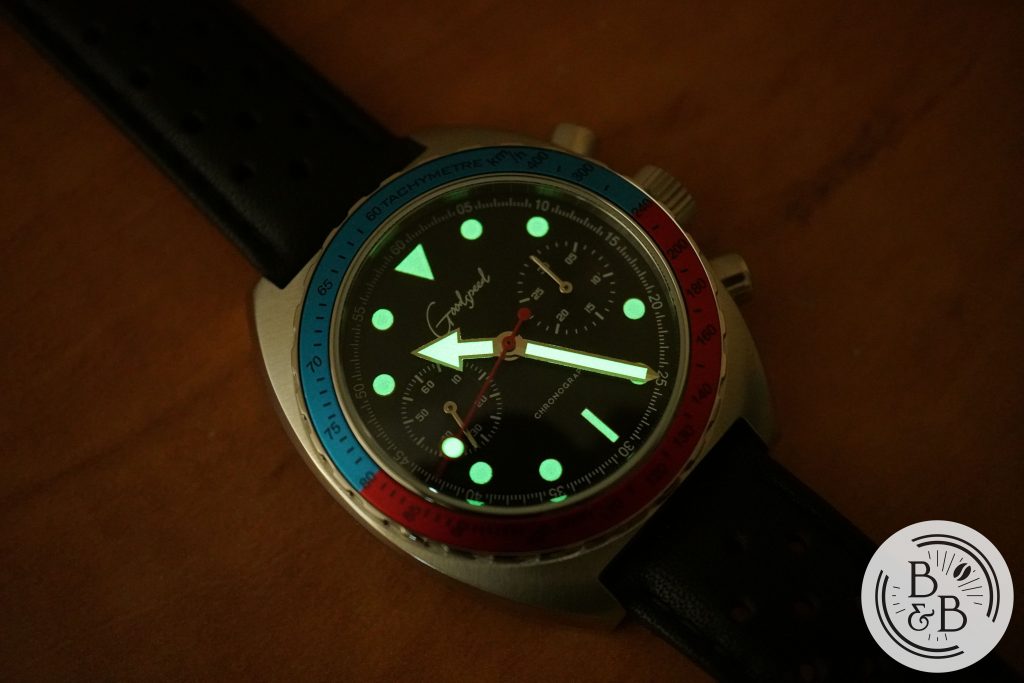 It glows reasonably bright initially, but is quicker to fade than your C3 Super LumiNova equivalent. Lume junkies might not approve of this, but those less hardcore about lume, this is more than sufficient. This watch definitely earns extra credit for the large lumed circular seconds hand element. It (almost) looks like a floating hour index!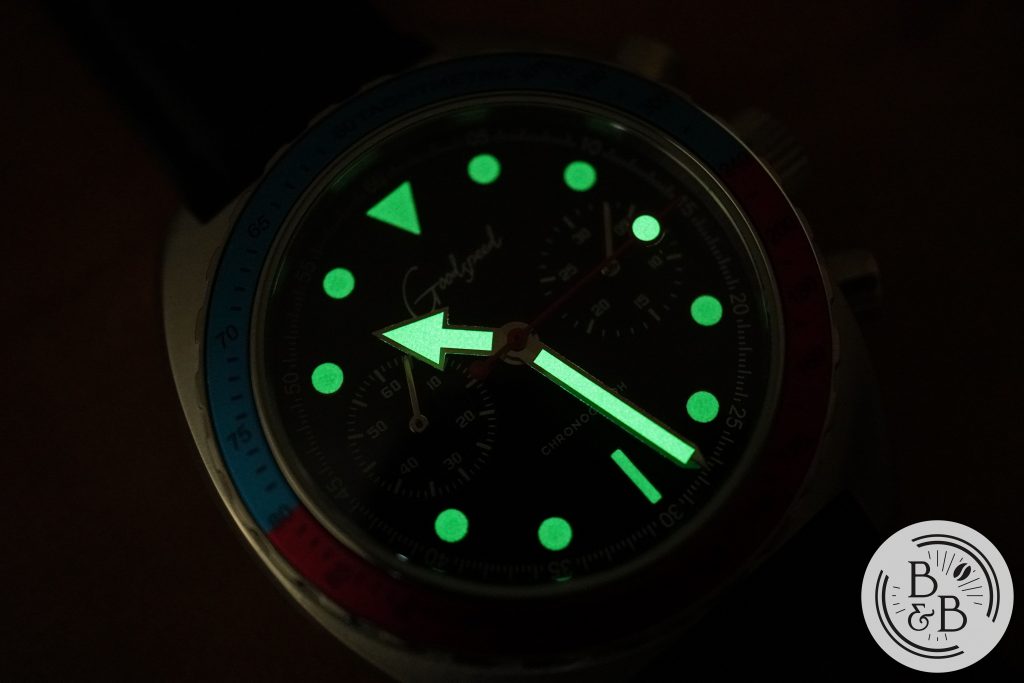 ---
Movement
I've tried, on more than one occasion, to enjoy the Seagull ST19 movement. But I don't think I can and I've grown to dislike this movement, so take everything I say here with a pinch of salt, because I'm just not a fan. Before you ask.. Yes, I am aware of it's history and the connection to the famous Venus 175, and I am also aware that it is almost impossible to find a better Chronograph movement at this price. I'm also very well aware of the cult-like following this movement has.
But… with each ST19 equipped watch, I feel frightened that I'm going to break something, because of how delicate the entire (crown operating) experience feels. This isn't Goodspeed's fault, and if anything, the movement on this watch feels a bit sturdier than the Lorier Gemini that I reviewed a while ago. If you do happen to agree with me, but like this watch, Goodspeed has the same model available with a Miyota 6S21 Quartz movement.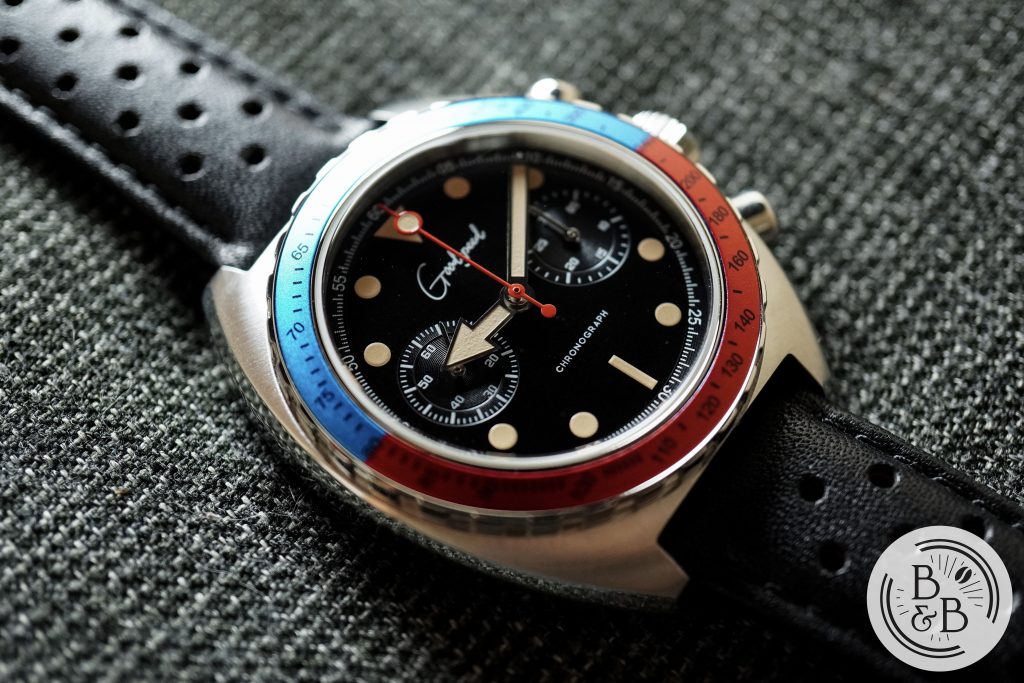 The ST19 boasts a 51 hour power reserve, but I wasn't able to cross 40 hours with this watch. I attempted this a few times with no luck. Maybe I just didn't wind it enough? Maybe the ST19s just don't like me? Either way, I logged the accuracy of this watch for about 30 hours or so, and observed an average accuracy of about -5 spd.
---
On The Wrist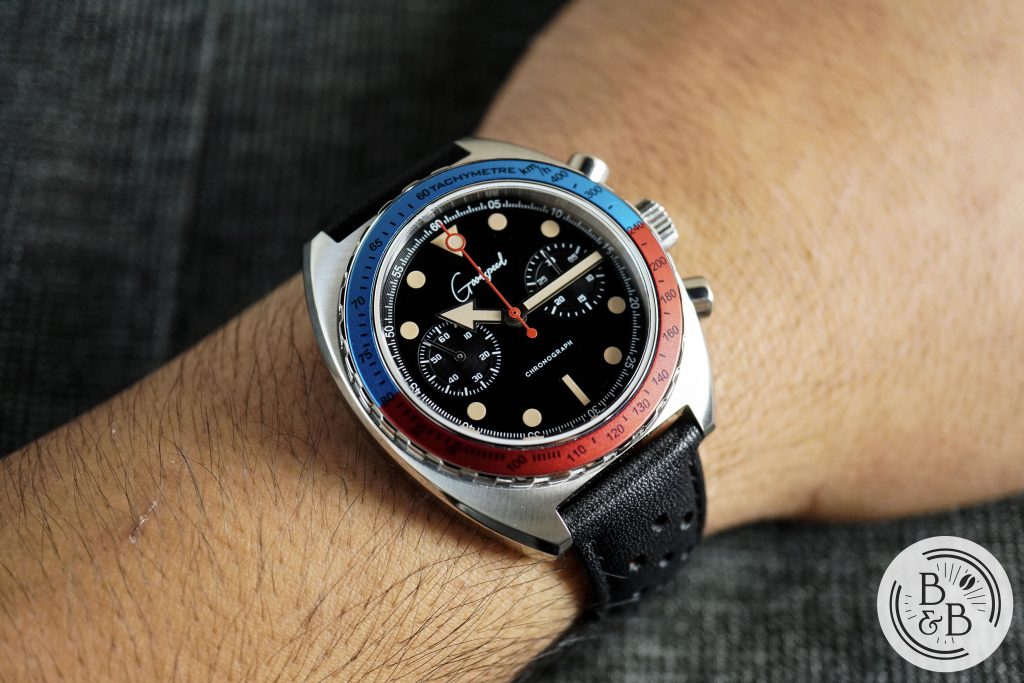 On paper, the 42mm diameter and 46.5mm lug-to-lug width might fool you into thinking that this is a small watch. But every millimeter of those 46.5mm is being utilized by the hefty tonneau style case. The case is 13.7mm thick and has a fair bit of weight to it, measuring in at x g on the leather strap. This watch feels solid, and almost has that 'chunk of metal' feeling on the wrist.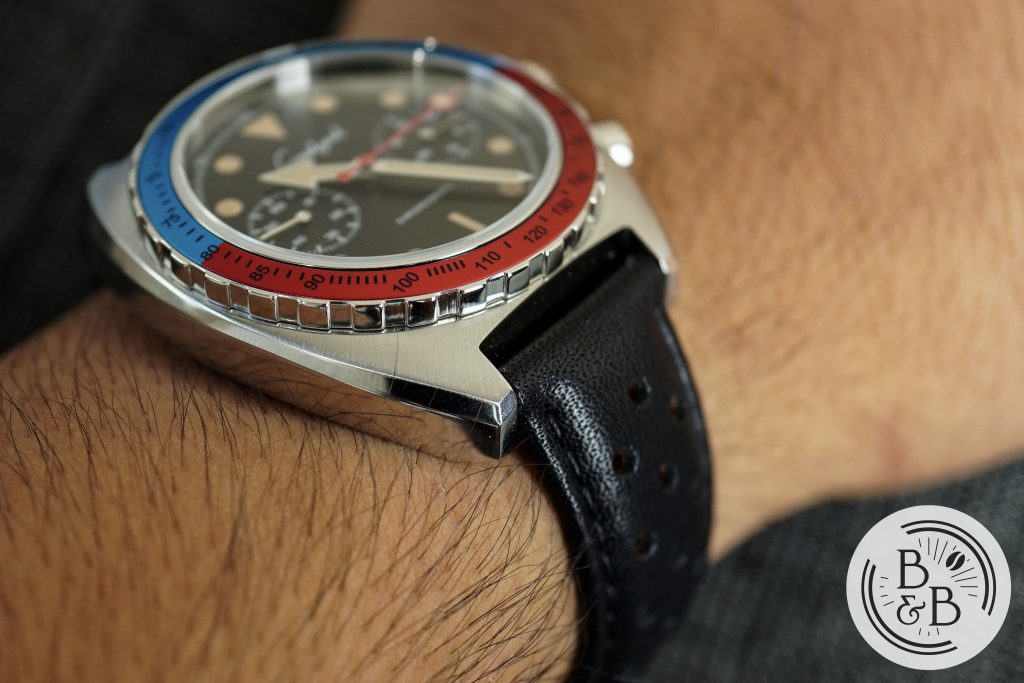 I think my 6.25″ wrist is just about right for this watch and I wouldn't recommend it for wrists smaller than 6″. It ships with a black leather rally strap, but I believe you can get a tropic style rubber strap or beads of rice bracelet too.
---
Concluding Thoughts
To wrap this up, I think this is a neat vintage racing inspired chronograph, that is budget friendly. Goodspeed have done a good job in creating a dial that is both interesting, and simple. The case is well designed and manufactured, and I really can't think of anything negative to say about it.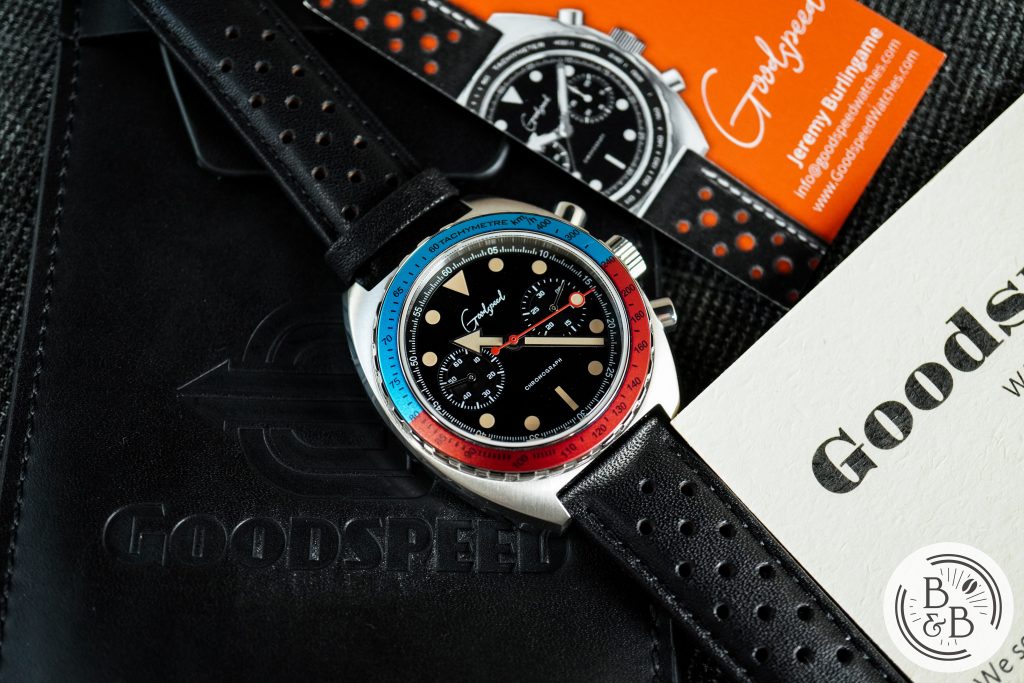 I think the affordable watch market still has plenty of room for another racing inspired chronograph, and at $400, this watch is a worthy contender. If you're not committed to getting a mechanical movement, I would definitely recommend giving their $185 quartz variant a look. I'm starting to lean towards quartz and meca-quartz, over entry level mechanical chronograph movements, and I'm glad that Goodspeed has made that available.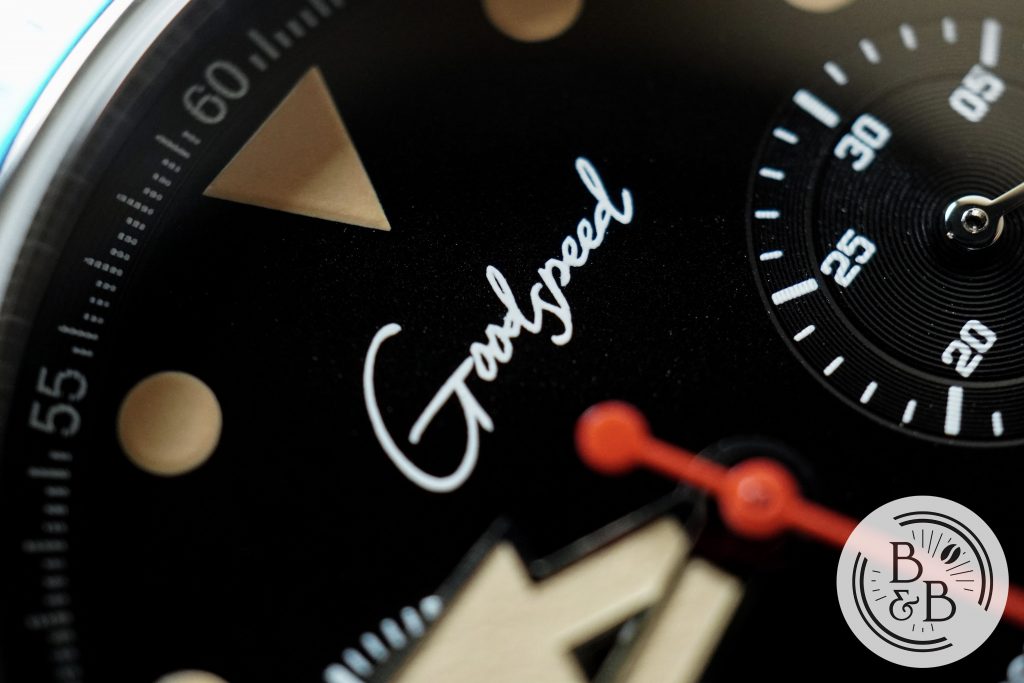 So go check out their watches, you might find something you like! And keep an eye out for their upcoming field watch, it is quite the looker.
---
Strap Change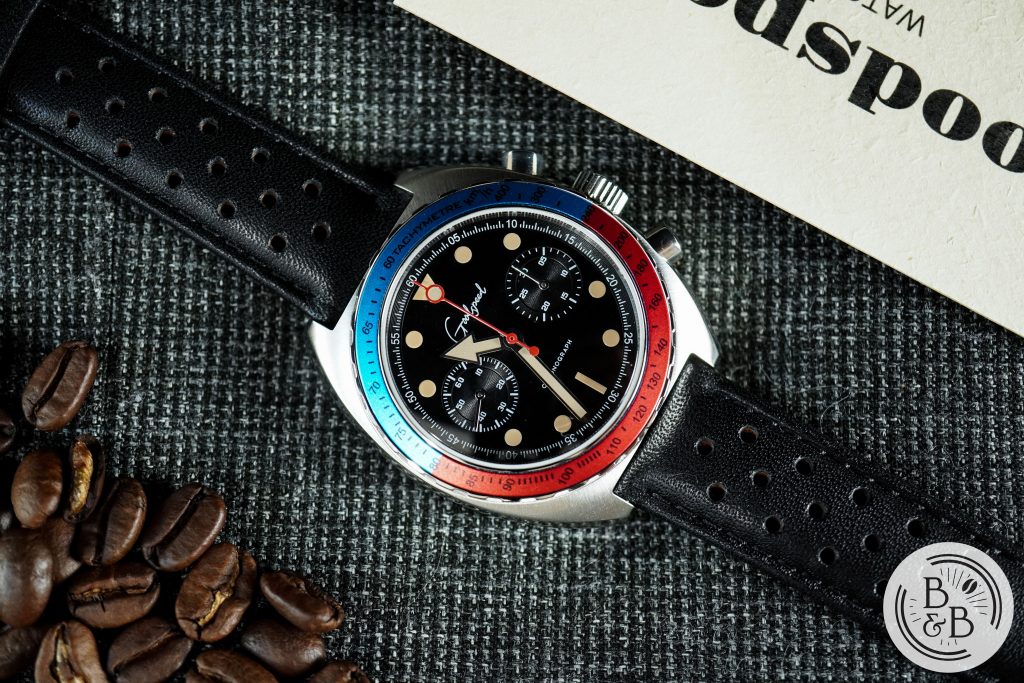 ---
Thanks for reading!