---
Disclaimer: I got to review this watch by being part of Random Rob's patreon group, and I was not incentivized in any way to make this review. This is in no way sponsored by Direnzo or any other entity. All opinions here are my own.
---
---
Contents
---
Direnzo DRZ 03
Direnzo is micro-brand that was established in 2016, and is pretty much a one man operation, fronted by Sergio Godoy Di Drenzo. I became aware of this brand in 2020, during their release of the DRZ 03 that we'll be taking a look at today. This watch was presented as a Kickstarter project, and was successfully funded, reaching roughly $350,000 instead of their goal of $20,000. I think that itself is quite an achievement!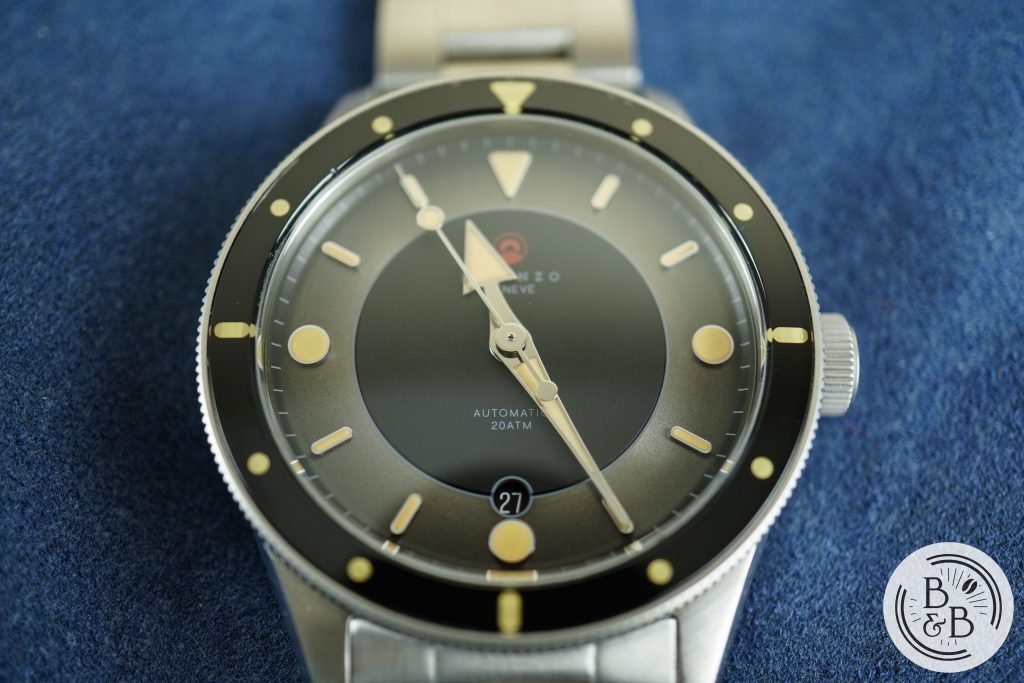 I had my eye on the DRZ 03 Red (a.k.a Blood Moon) and the DRZ 03 Blue, but I try to avoid backing Kickstarter projects since it ties up too much of my money for long periods of time, and I could be using that money to buy watches to review instead. Fortunately, I was able to finally get my hands on one of these watches as part of a watch tour on the Random Rob patreon group, so thanks Rob for making this possible.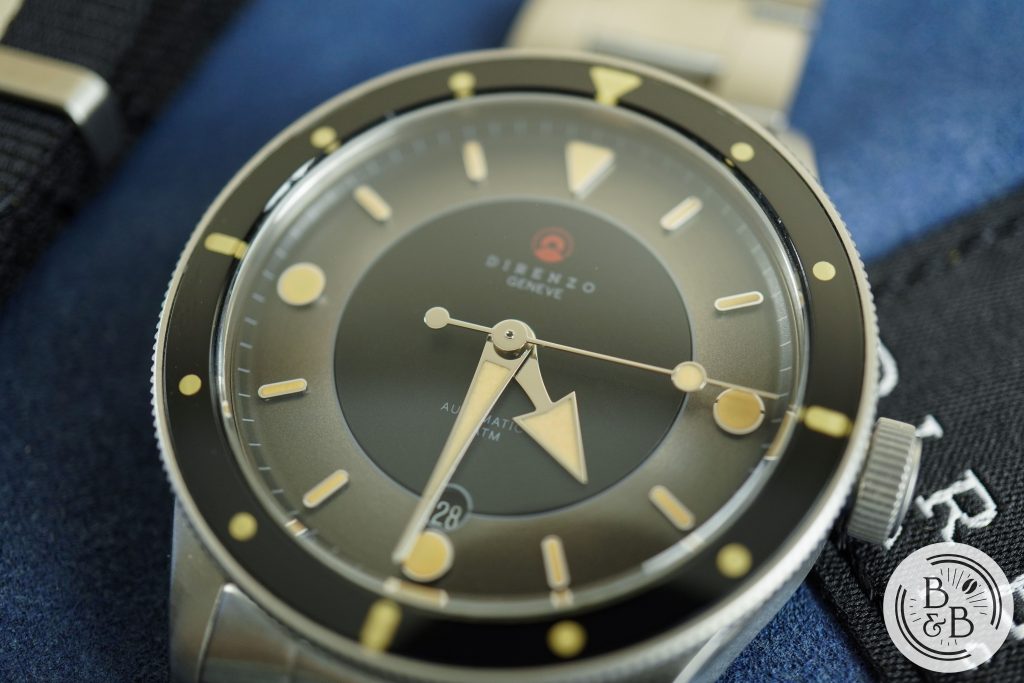 This watch had a Kickstarter price of around $550, and had an eventual retail price of $750. Unfortunately, it is currently sold out, so this review is more likely to help you if you're looking to snag one on the pre-owned market.
Let's check it out!
---
Case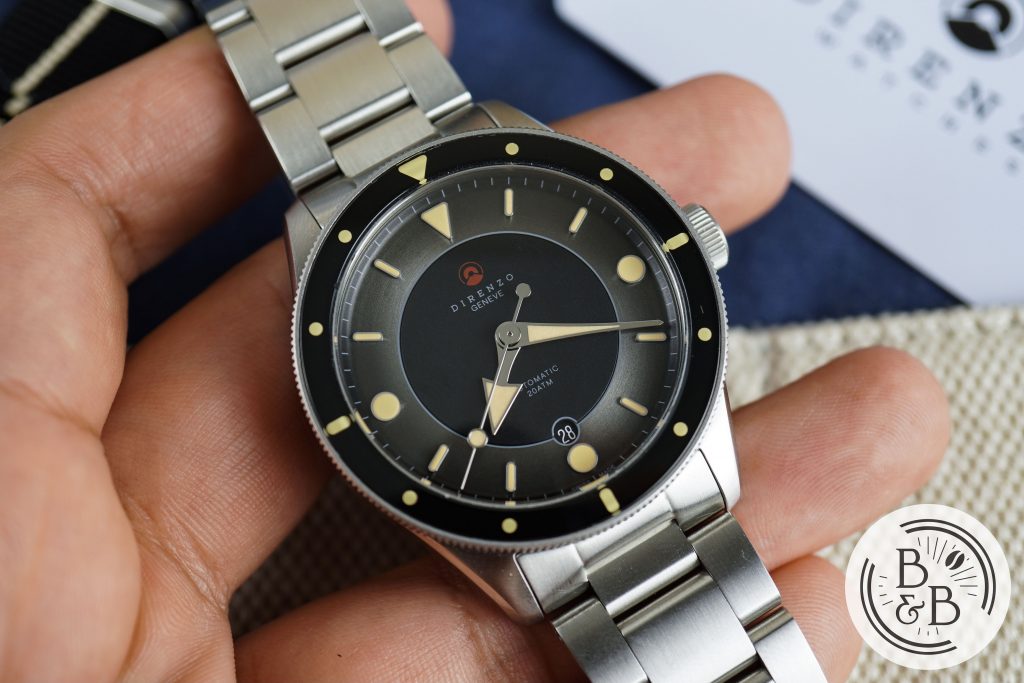 I measured the case to be 40mm in diameter, 47.5mm lug to lug width, 49.5mm if measured from articulating link ends, and 12.5mm tall. The case is mostly brushed. with a few polished elements. The case design follows the Tudor Black Bay family very closely, and also reminds me of the DuFrane Waterloo that I recently reviewed.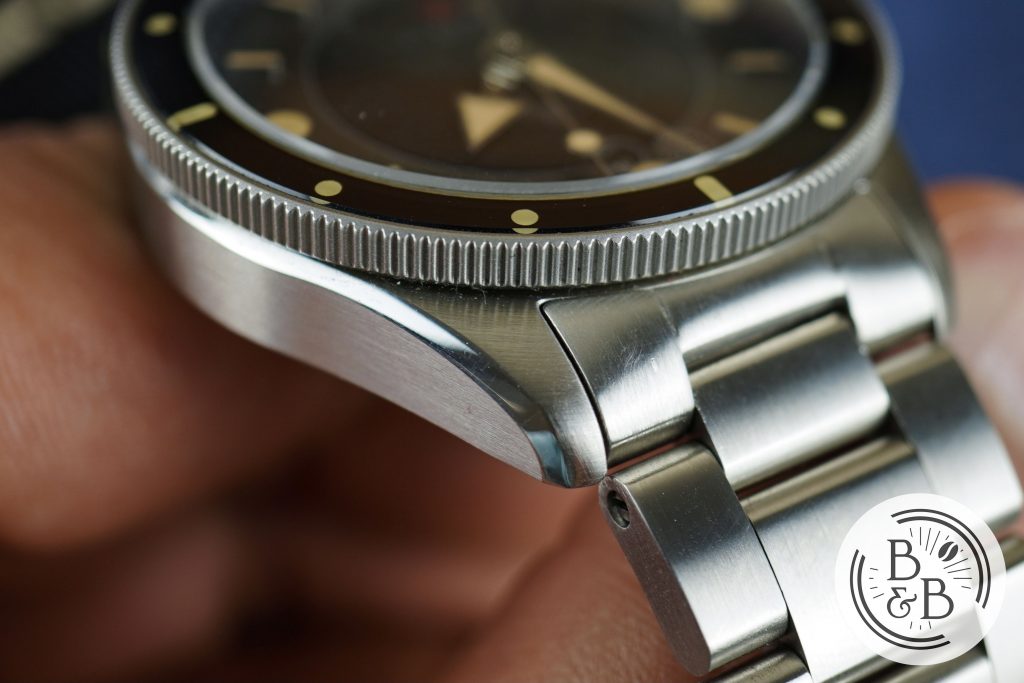 The case is mostly flat, and the mid-case extends into a pair of lugs with a beveled edges. The finishing on the case is decent, and the lug width is 20mm.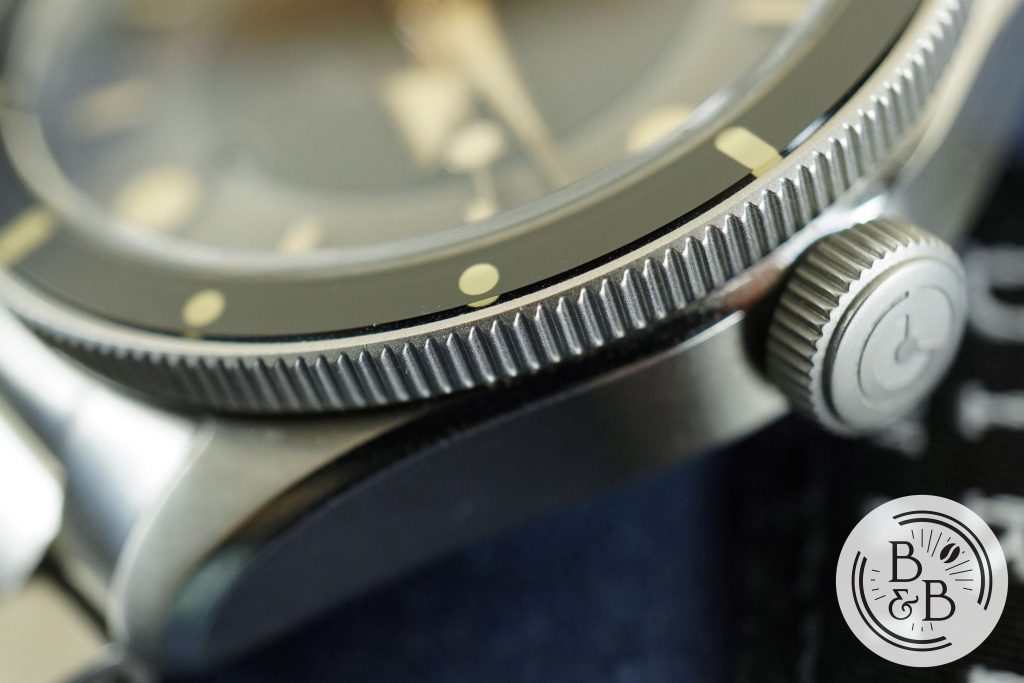 There is a 120 click uni-directional bezel that is easy to grip, but the operating experience is a bit tough with certain areas offering a lot more resistance than others. There isn't any back-play here, but the bezel action isn't the best.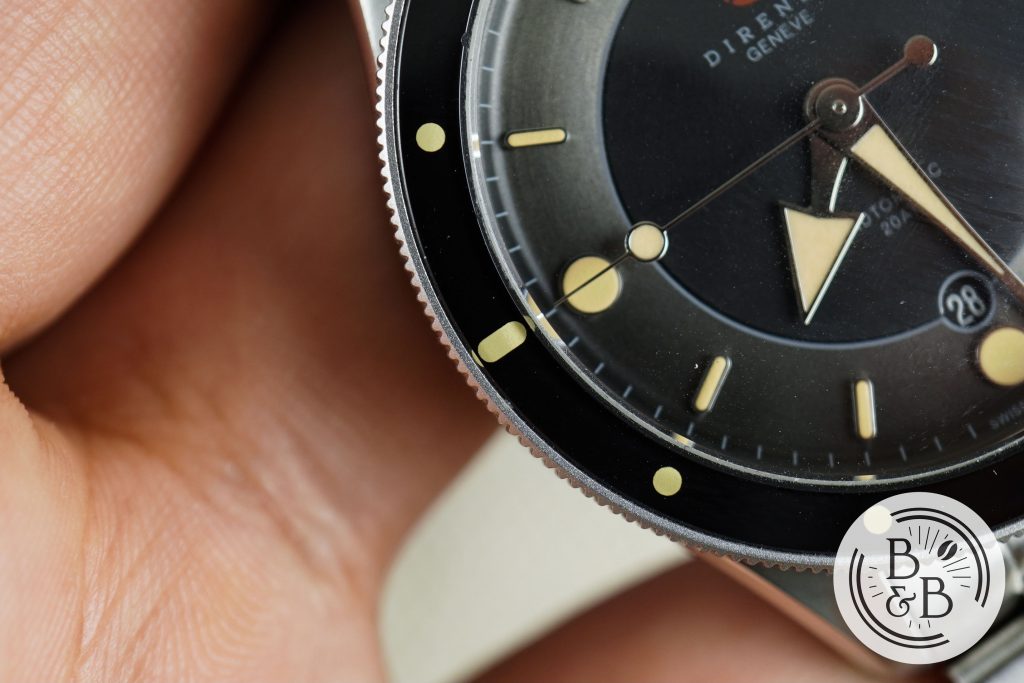 The bezel insert has aged markers that are also lumed, and covered with a sapphire crystal insert. I like the design, and I love sapphire inserts.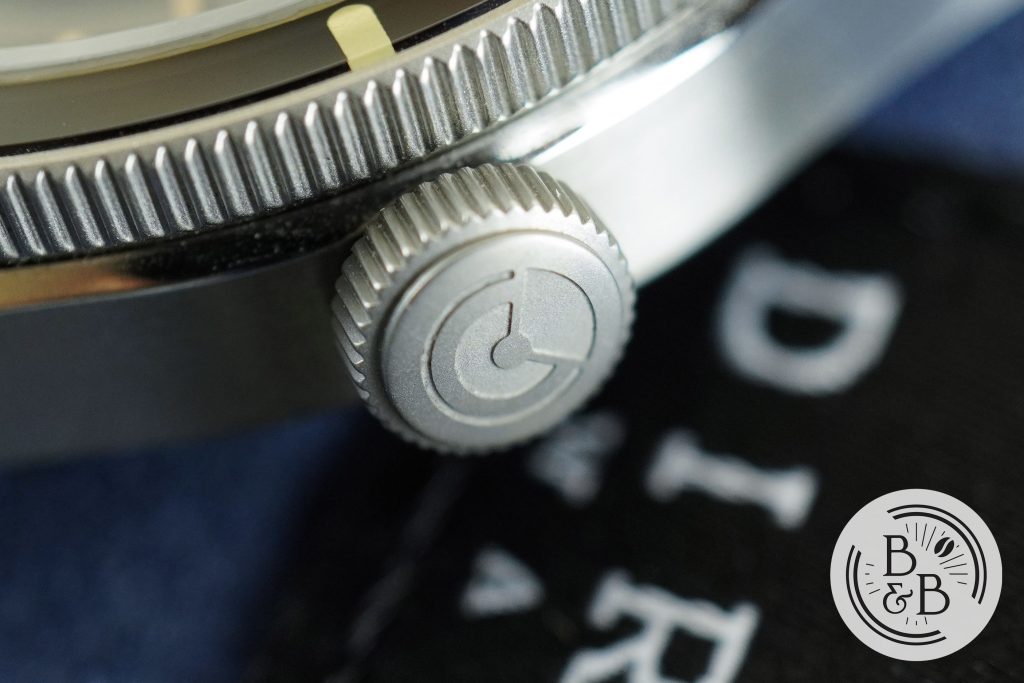 There is a 6.5mm signed screw-down crown at the 3 o'clock position that appears to be bead blasted instead of brushed, so it doesn't perfectly match the rest of the case finish. But the crown is easy to grip and operate, and there isn't any crown or stem wobble.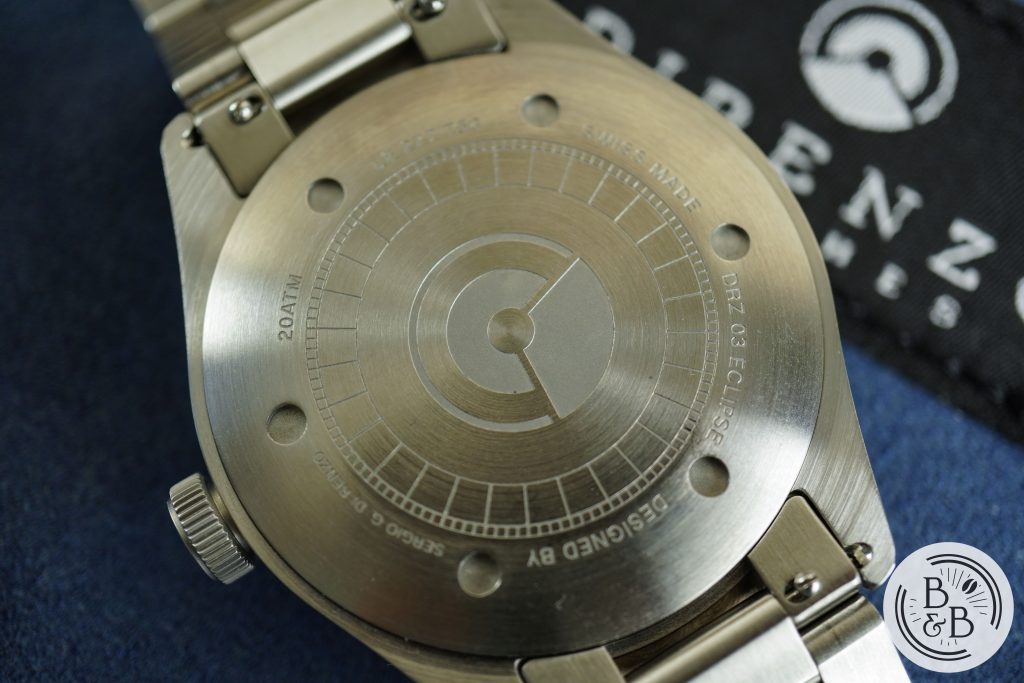 Flipping it over, you have a solid screw-down case-back with some engravings on it. This watch is rated for up-to 200m of water resistance.
---
Dial
The dial is what is most interesting about this watch, and the only aspect of this watch I really like. The design is familiar, yet it is also interesting, compared to all the other divers we saw in 2020. I love the symmetry, choice of colors, and the quality of finishing.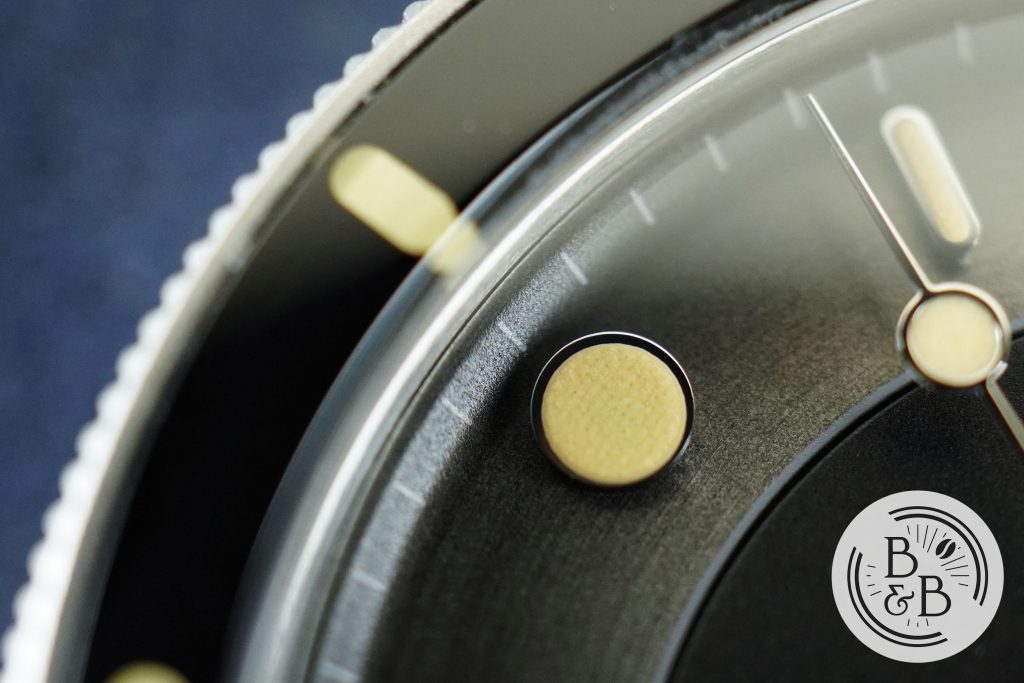 There isn't an explicit chapter ring, but the dial curves up slightly to behave like one, and this adds tons of depth to the overall dial layout. The minute markers are printed on this concave surface in white, with good printing quality.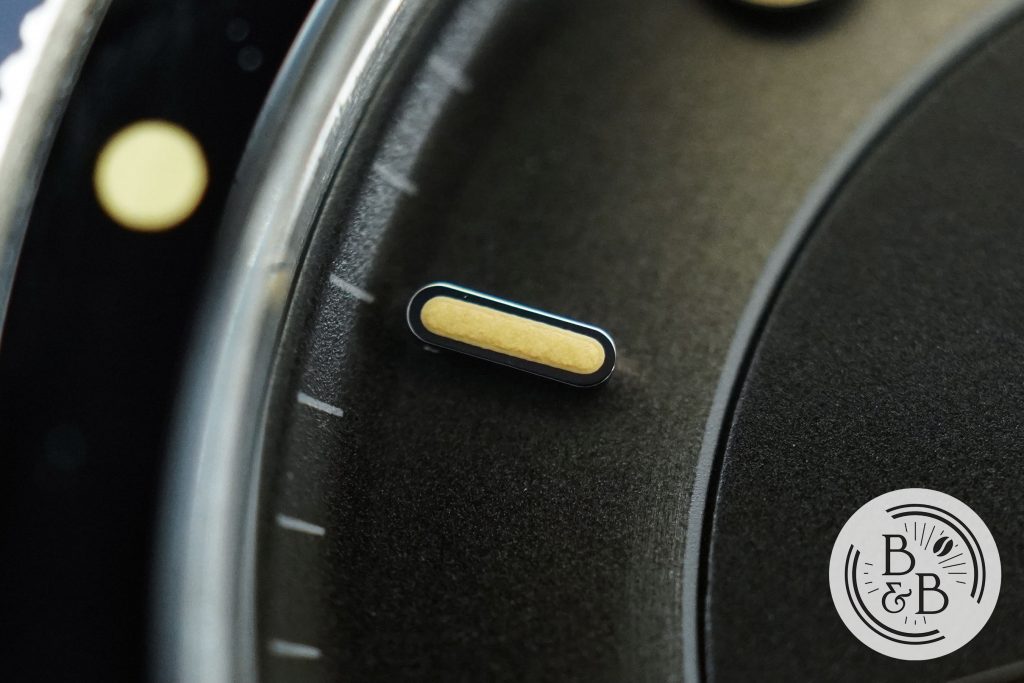 There are applied indices for the hour markers, which combine circles, rounded batons and a triangle. The quality of finishing here is excellent, and they're all filled with lume.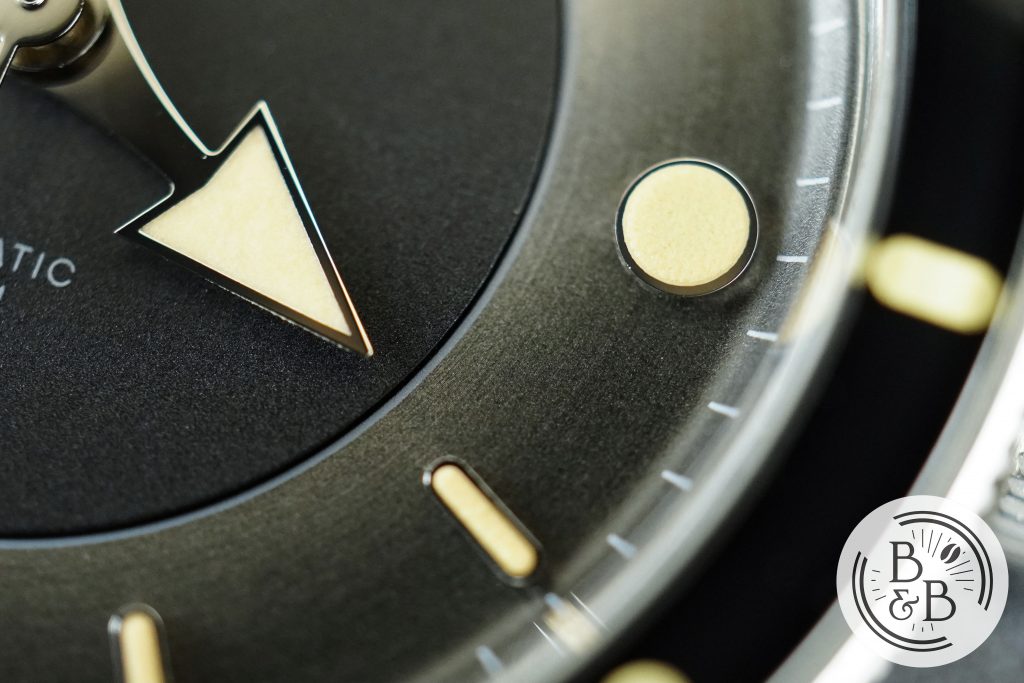 The above elements lie on a radially brushed surface that has a grayish brown metallic gradient. This is really well executed with clean finishing and great colors.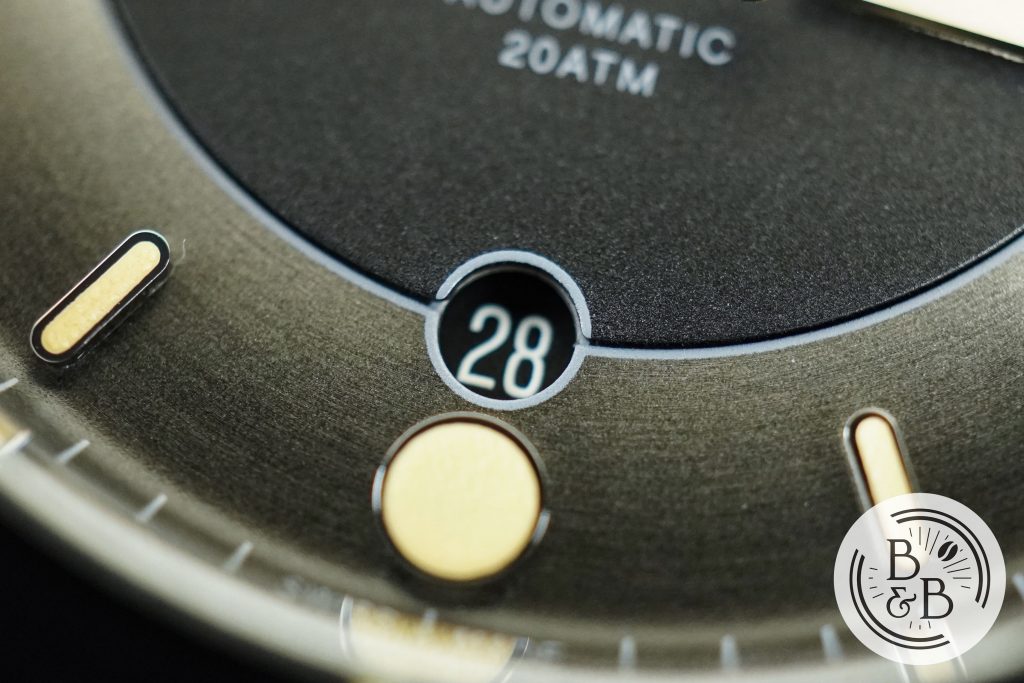 There is a circular date window above the 6 o'clock index, that is brilliantly positioned as if it were planet in orbit. The date window is highlighted with a grayish white border, which ties into the border of the inner black dial section. I also like that they managed to preserve the 6 o'clock hour index. Really good stuff here!
You then have the brand's name and logo below the 12 o'clock index and 'Automatic' above the 6 o'clock index. Good printing quality here, and a fairly clean surface too.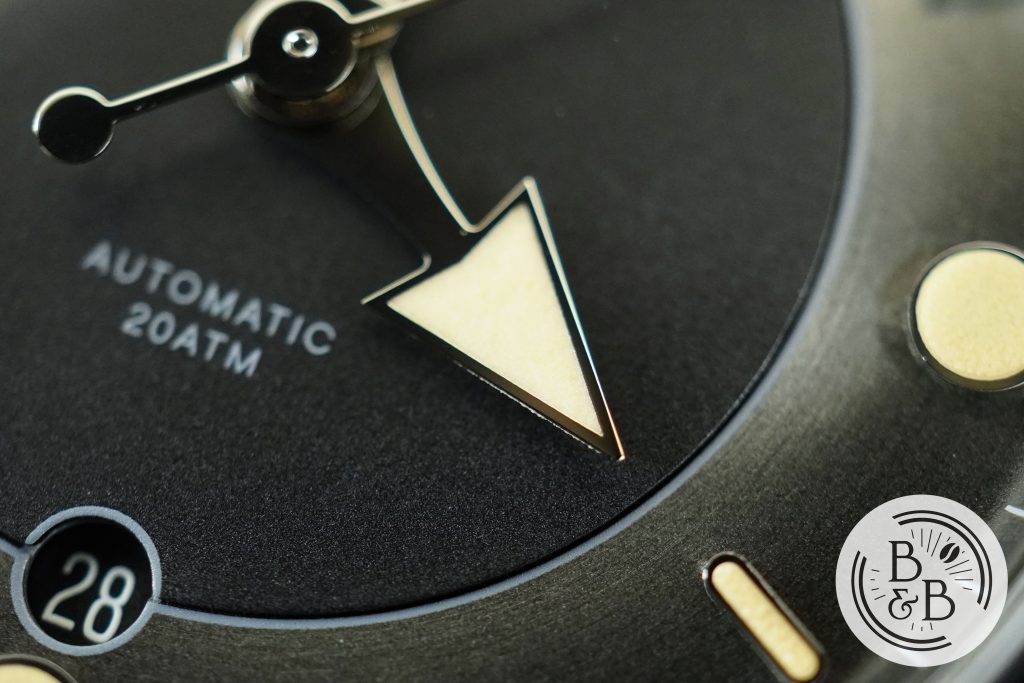 The hand set gets interesting, with a big triangular hour hand, and a minute hand that has some Sarpaneva design influence. Both hands have large surfaces for lume, and the seconds hand also has a lumed element.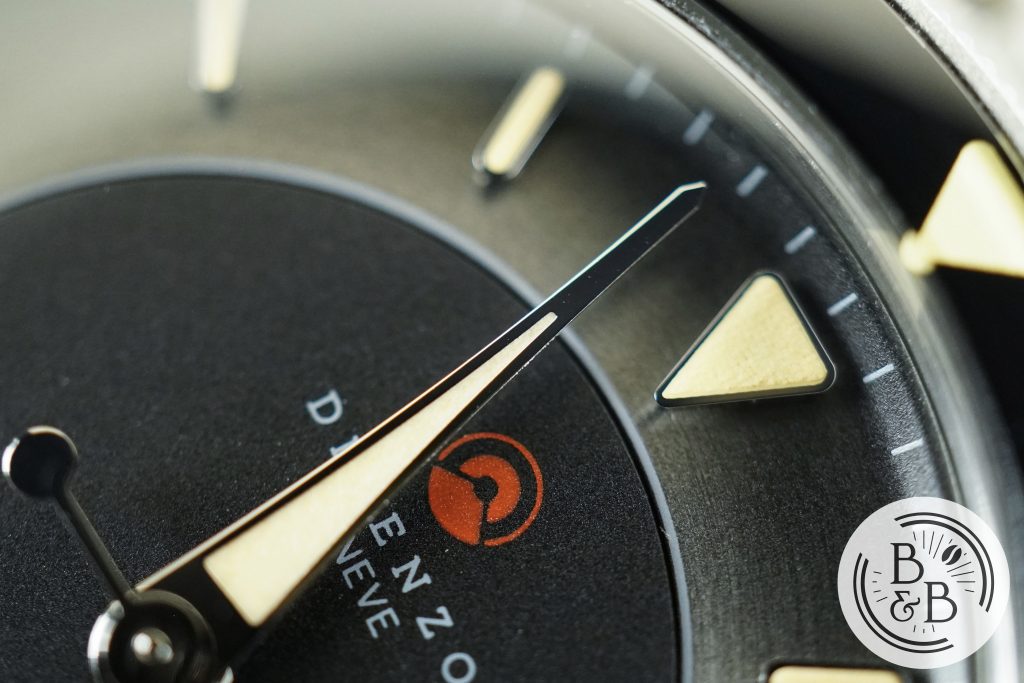 Overall, I really like the dial design here. I also think they did a great job on finishing and overall quality control of the dial.
---
Lume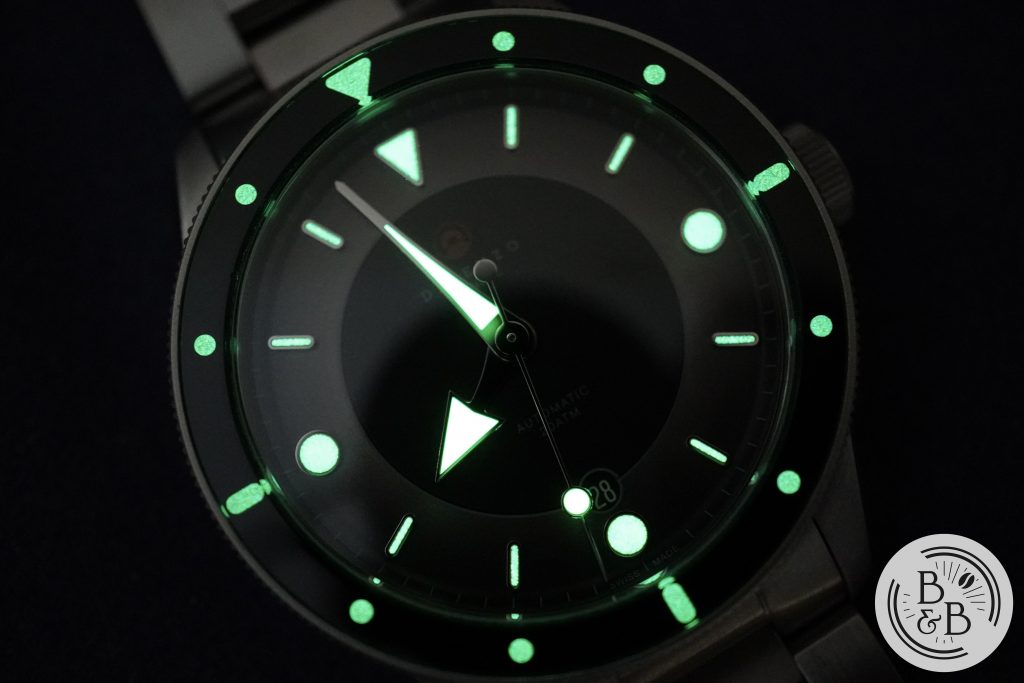 Unfortunately the lume on this watch is quite poor, and only got this bright because I used a UV torch to charge it up. But even then it faded away pretty quickly.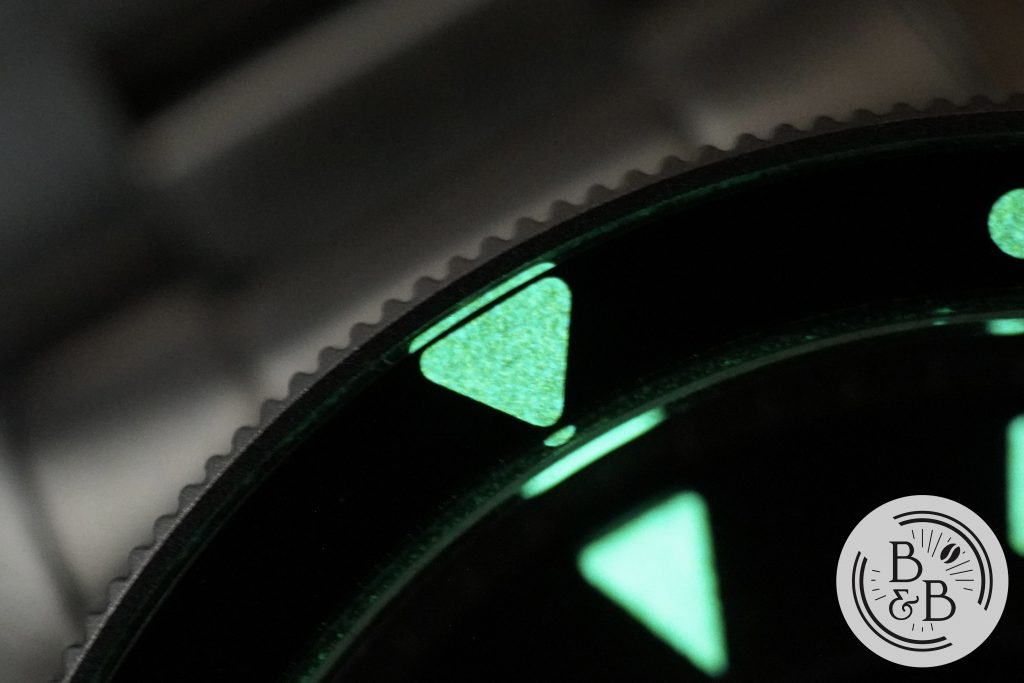 I think insufficient lume was applied on the bezel insert as that one was the quickest to fade.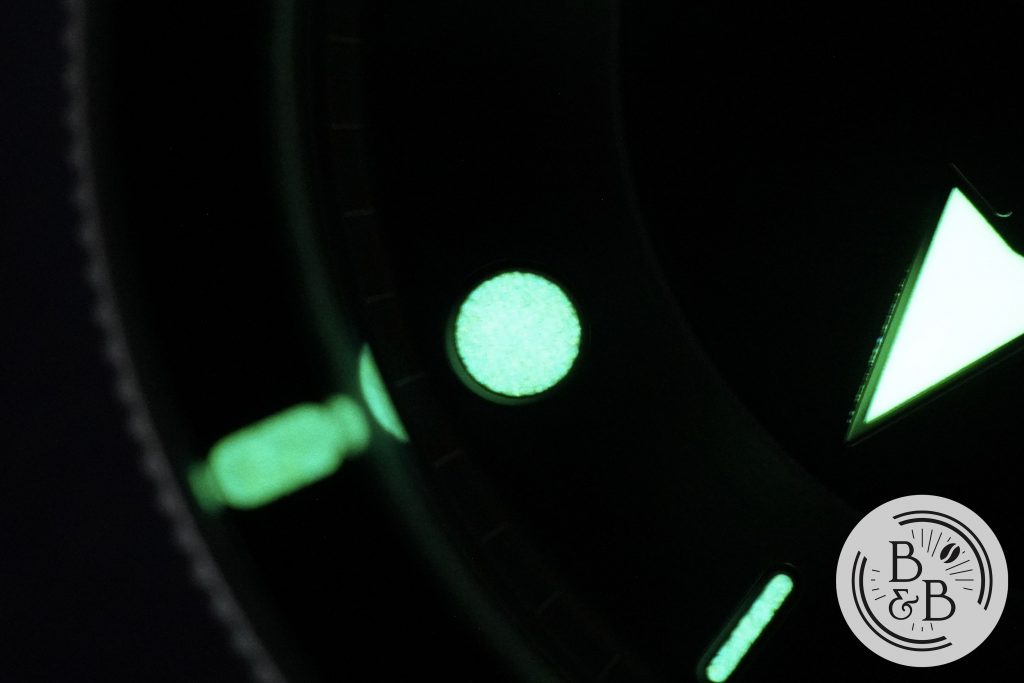 The indices are next, and fade pretty quickly too.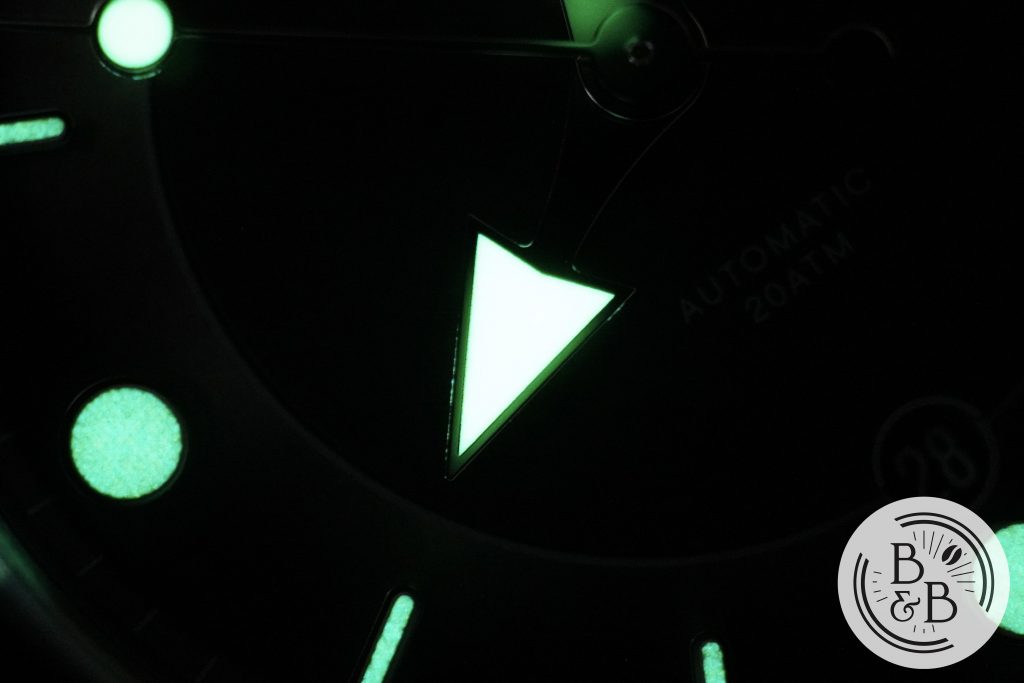 The hands are slightly better, but it's overall a bit underwhelming. I've seen similar behavior from a few other aged lume watches, so it could have something to do with the mixture used to create the color.
---
Bracelet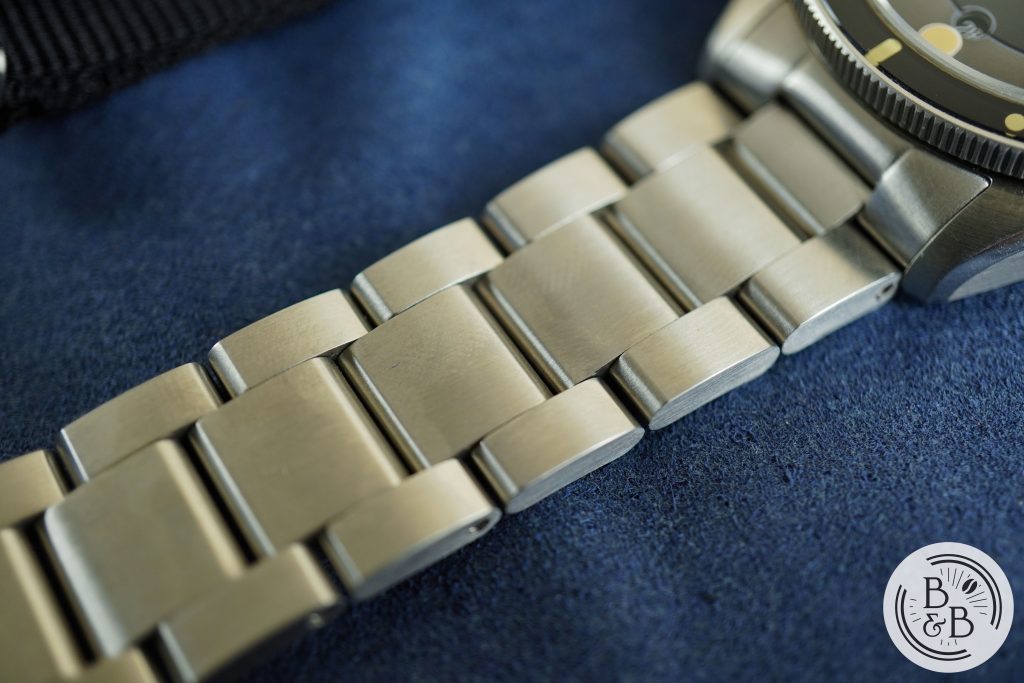 The bracelet is nice, and is a pretty typical micro-brand bracelet based on the Rolex Oyster bracelet. The finishing is good for the money, but the links were a bit difficult to size, with tough screw pins. It tapers from 20mm at the lugs to around 17.5mm at the clasp.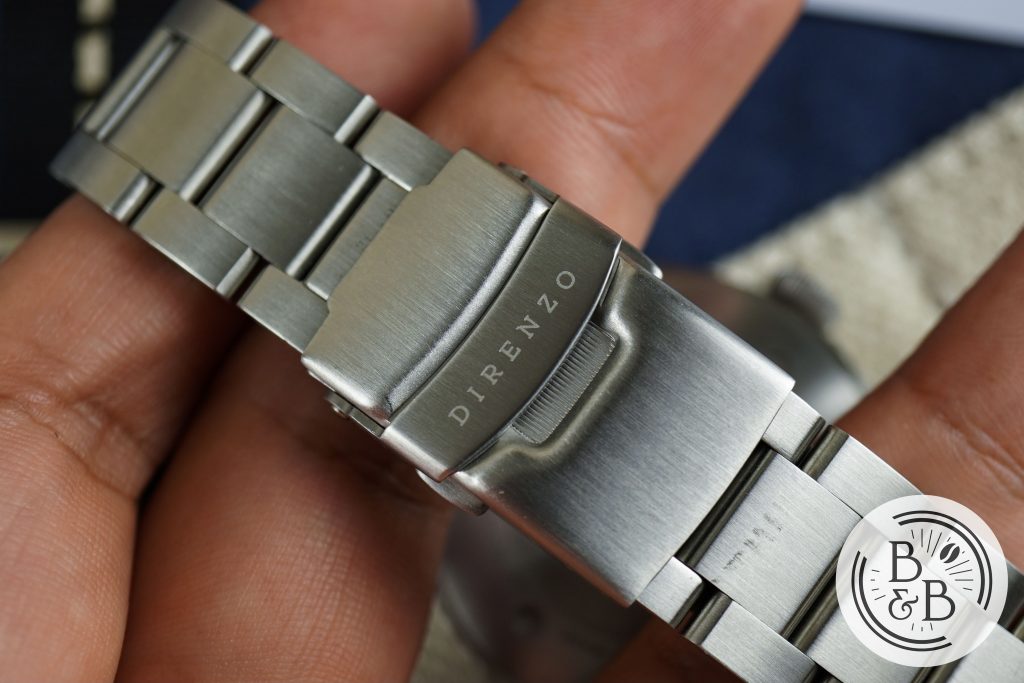 The clasp is also standard micro-brand stuff, with a pressed clasp that has a milled inner fold over mechanism. The clasp does have 3 micro-adjustment slots, which is nice.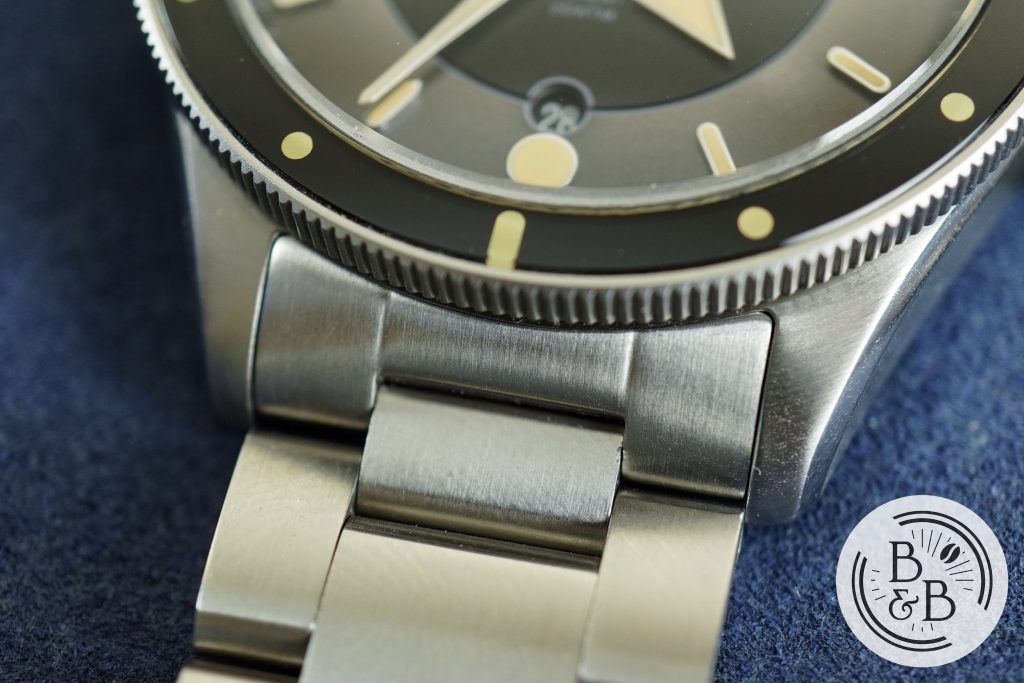 The end-link fitment is great, with no wiggle whatsoever and matches the case well.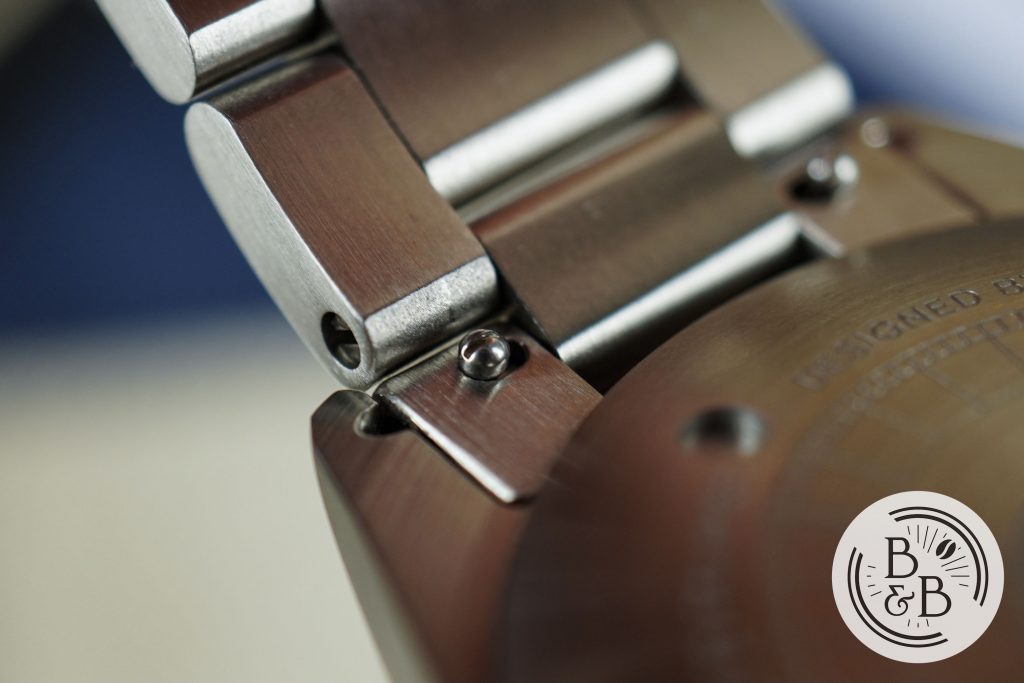 The bracelet has quick release pins, with recessed holes to guide the link pins into the case – a small, but very nice design element.
---
Movement
This watch uses an elaboré grade Sellita SW200-1, which is a good movement at both the Kickstarter price of $550 and the final retail price of $750.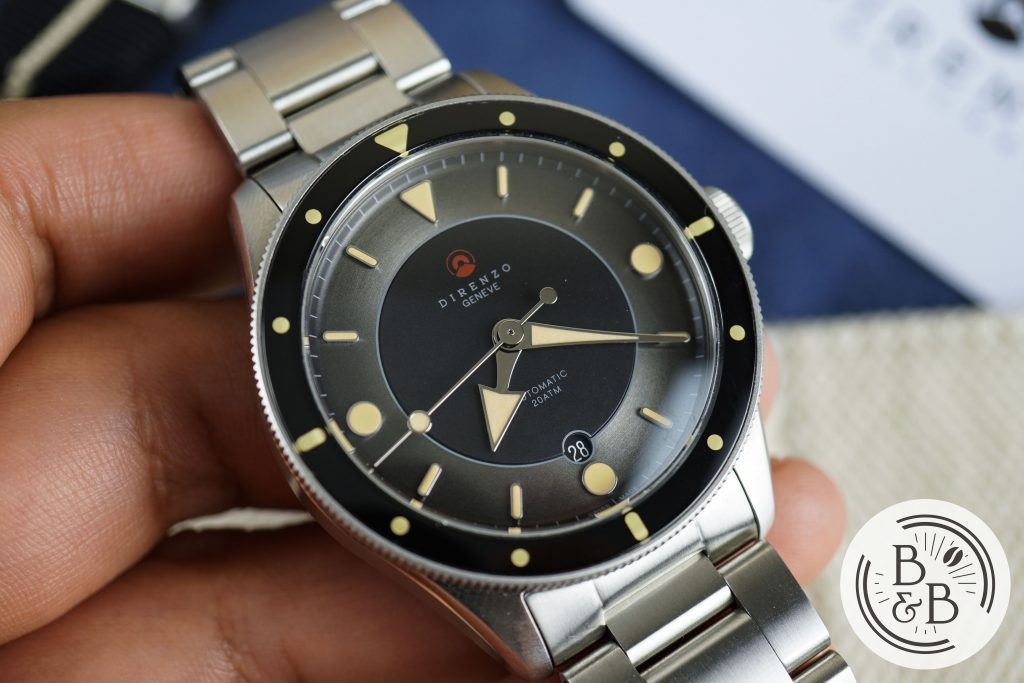 I put this watch on my time grapher and observed roughly +1 spd in the dial up position, and 0 spd in the crown up position, so a very healthy movement too.
---
On The Wrist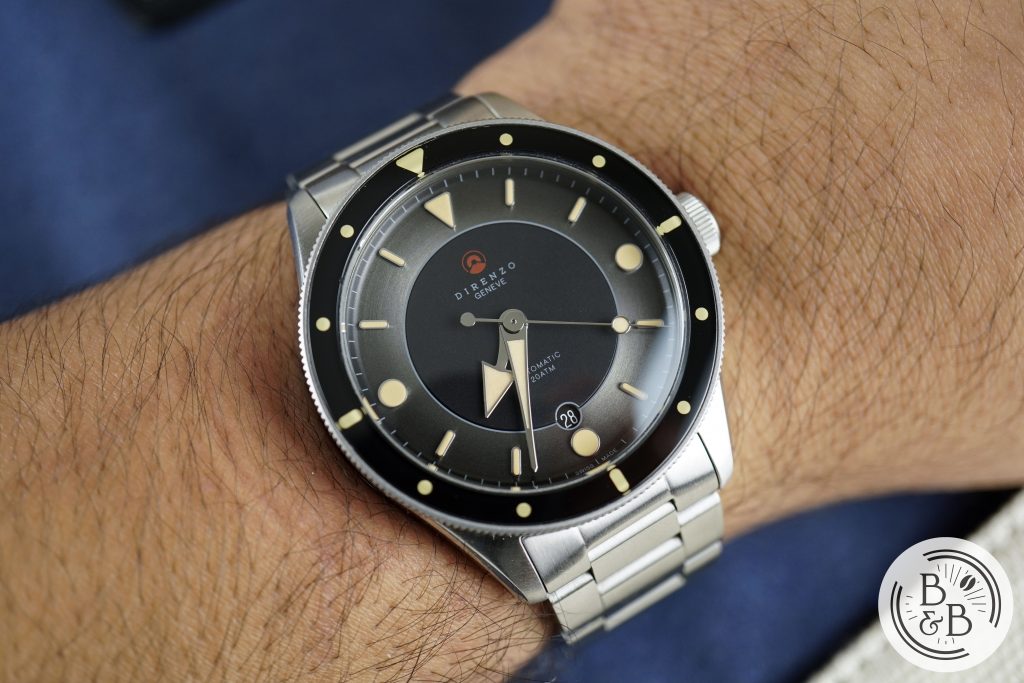 This watch wears nicely on my 6.25″ wrist, and the case shape and dimensions feels very much like a Tudor Black Bay, with a sleeker case like the Black Bay 58. The 40mm diameter works well, but the 47.5mm lug-to-lug width is extended to 49.5mm on the bracelet because of the end links.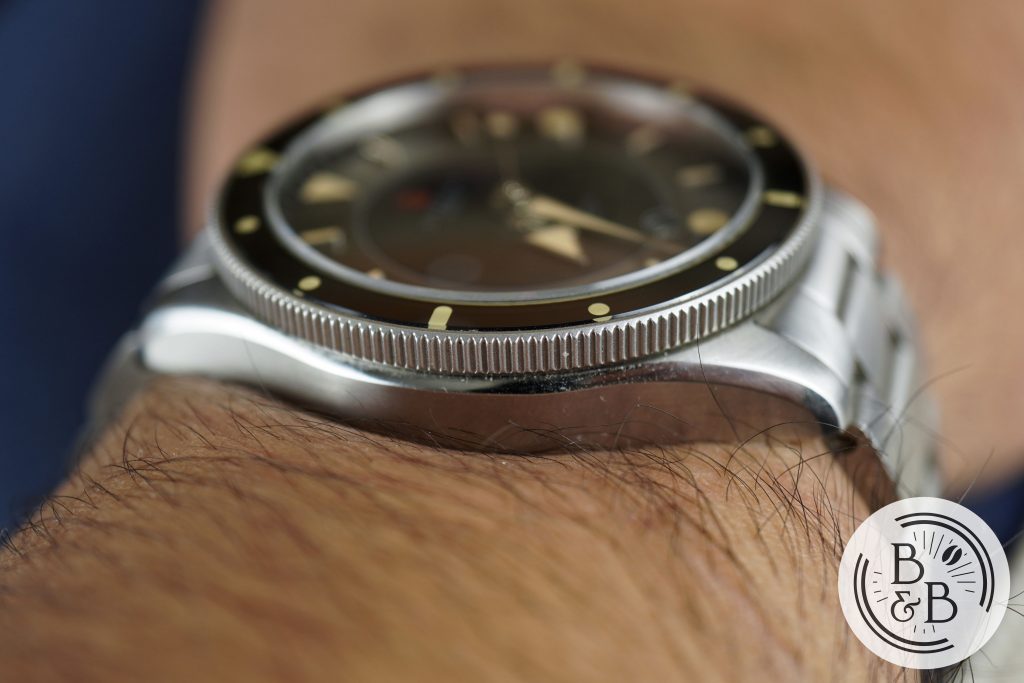 The height of 12.5mm feels great on the wrist, and the case-back is only very slightly curved, so it is well balanced and sits low.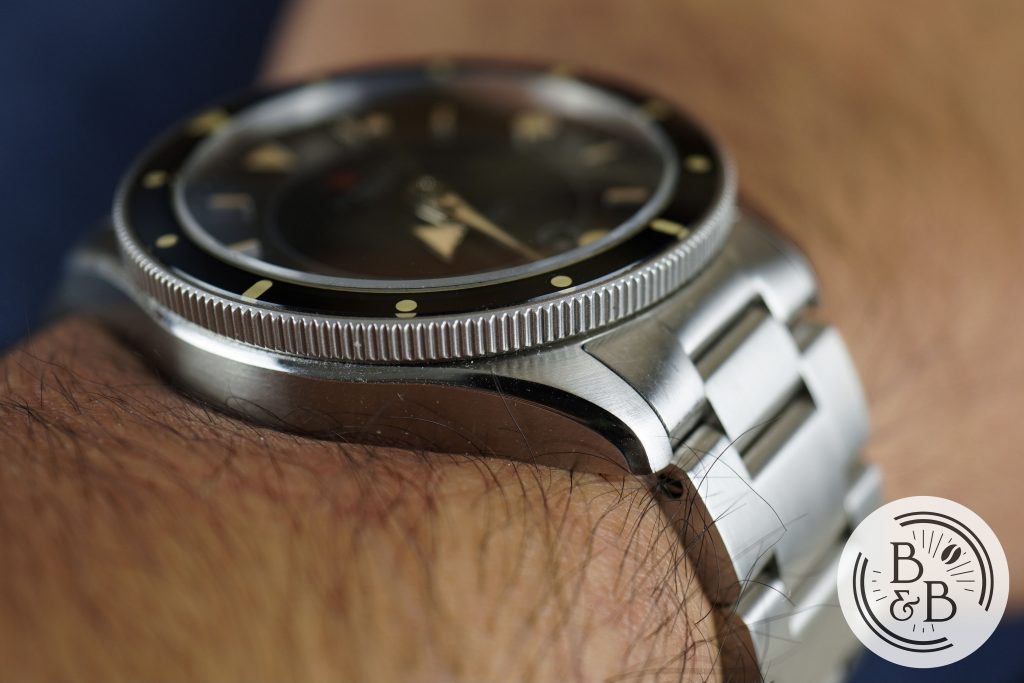 Overall, it's a comfortable watch and should wear nicely on medium to large sized wrists.
---
Concluding Thoughts
At the $550 Kickstarter price, I'm certain that most folks that backed this project are very happy with their purchases. But at $750, I find this one tough to accept. The lume is underwhelming, the bezel left room for improvement, and the bracelet wasn't the best I've seen in this category.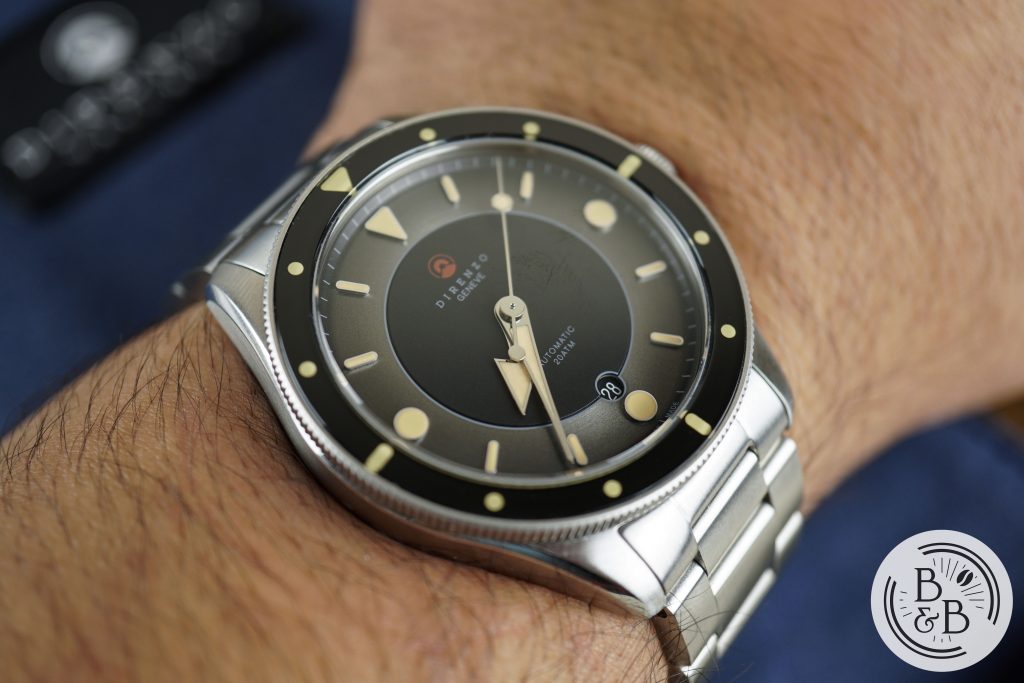 But where this watch does shine is in it's interesting design. I love the dial layout, symmetry, and overall retro futuristic minimalism. So for $750 it really depends on how much you value design, and how much you value the rest of the watch experience.
---
Strap Change
---
Thanks for reading!