---
Disclaimer: This watch was sent to me on loan to review and I was not incentivized in any way to make this review. This is in no way sponsored by Defakto or any other entity. All opinions here are my own. This watch was a pre-owned unit, so the experience may differ slightly from that of a brand new watch.
---
---
Contents
---
Transit
This is the third Defakto watch that I've reviewed (review #2 will not be released due to a QC issue with the Defakto Mono that I received), and even on round #3 I continue to be impressed by the work of Raphael Ickler. I wasn't completely in love with the Defakto Mono, but this Defakto Transit and the previous Kinetik are definitely winners.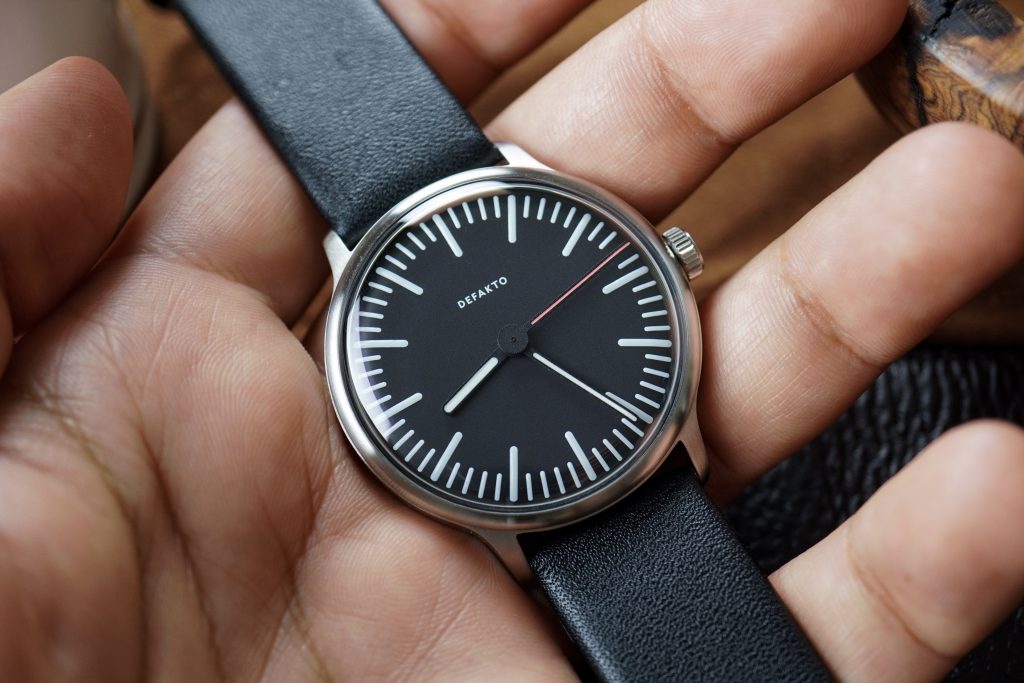 According to the Defakto website, the Transit Standard was a German Design Award Winner in 2020. There's no doubt that this is a very good looking watch, with minimalist design and Bauhaus design influence. The Transit standard costs roughly $860, which puts it in the furthest end of the affordable watch spectrum.
Let's check it out!
---
Case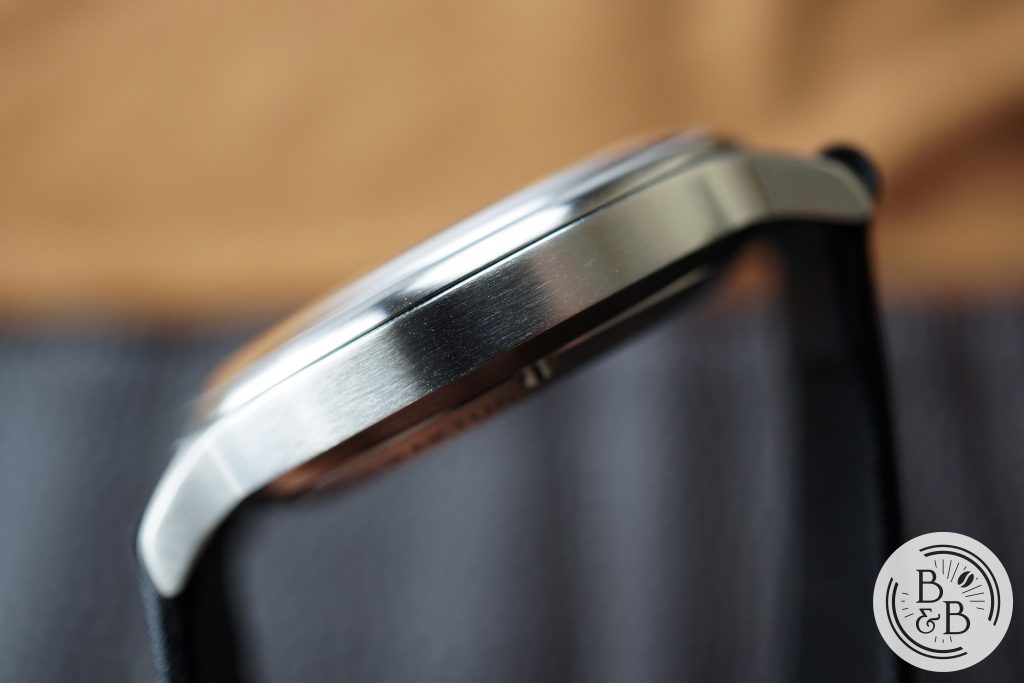 The case measures 40mm in diameter, 44mm from lug-to-lug and 9.8mm in height. The case is entirely brushed, and follows a similar design to the Defakto Mono that I previously reviewed. The build quality and finishing on this case is excellent; this is the 5th watch that I've reviewed from Ickler and I find myself saying the exact same words each time.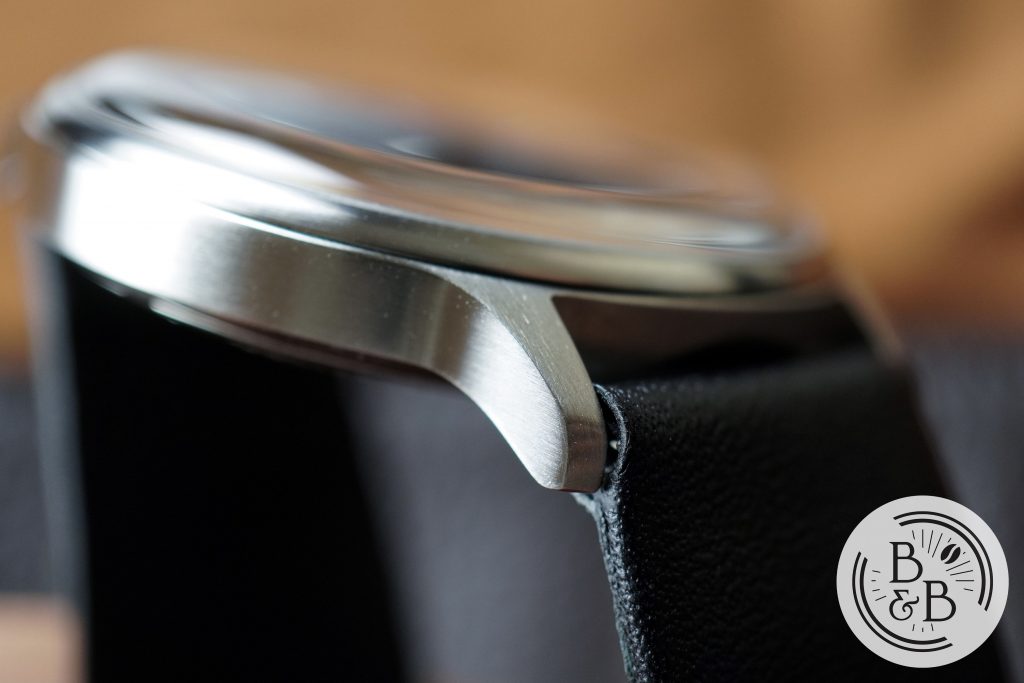 The short and slim lugs extend out of the case and curve down towards the wrist, with a lug width of 20mm.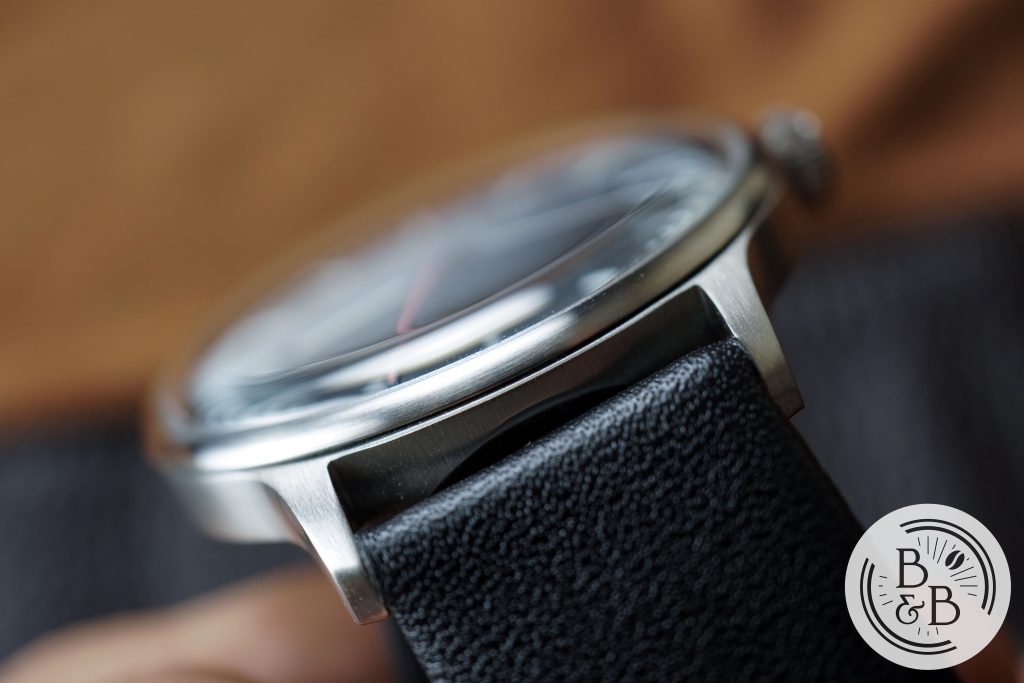 You have a brushed bezel section that seats a domed sapphire crystal with AR coating on the lower surface. The domed crystal is actually a great choice here and makes the dial appear to be very three dimensional.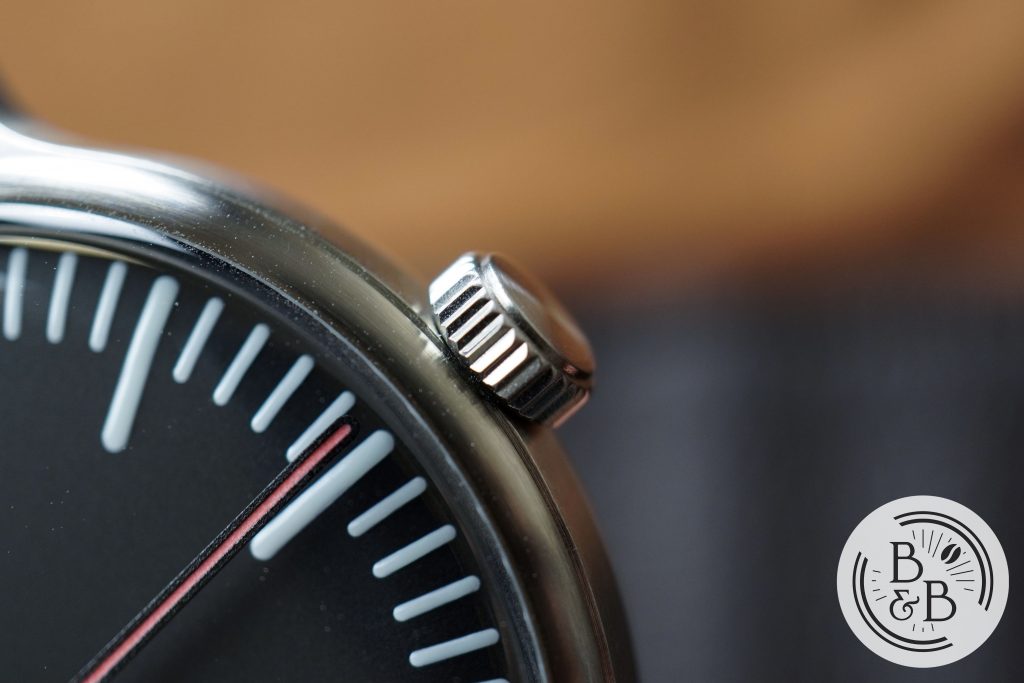 There is a well proportioned push-pull crown at the 3 o'clock position that is very easy to grip and operate, with no stem or crown wobble. Crown systems seem to be something Ickler has perfected over the years.
Flipping it over, you have a slightly curved screw-down case-back with an exhibition window that gives you a good look at the ETA 2824-2 movement inside. This watch is rated for up-to 50m of water resistance.
---
Dial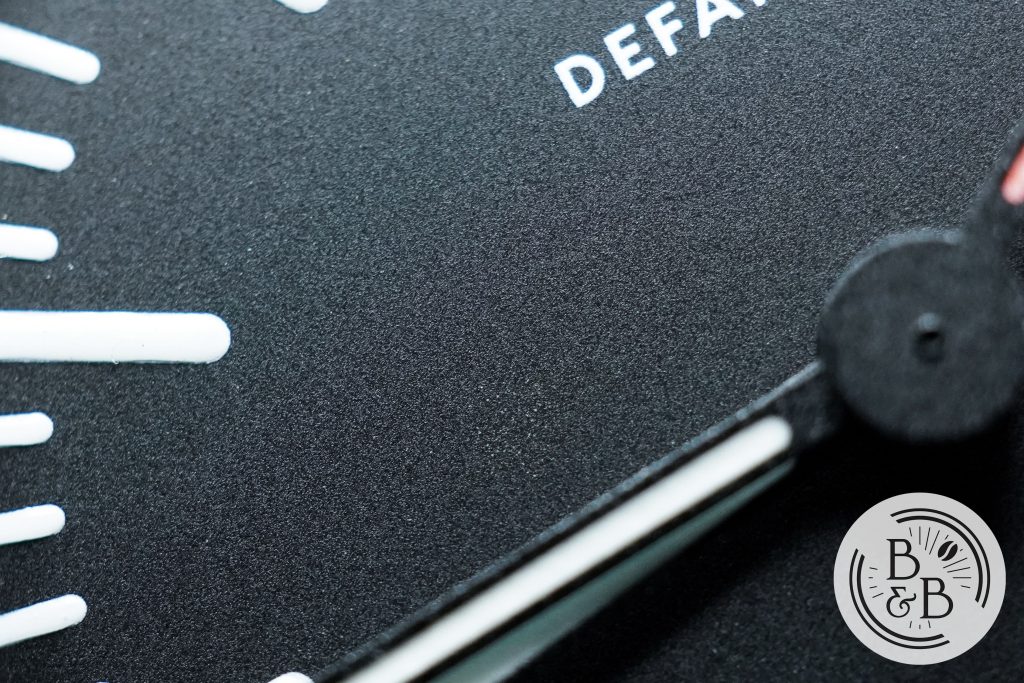 The base of the dial is media blasted and painted black, so the overall texture has a matte finish. The finishing and quality control on this dial is better than both Defaktos I previously reviewed.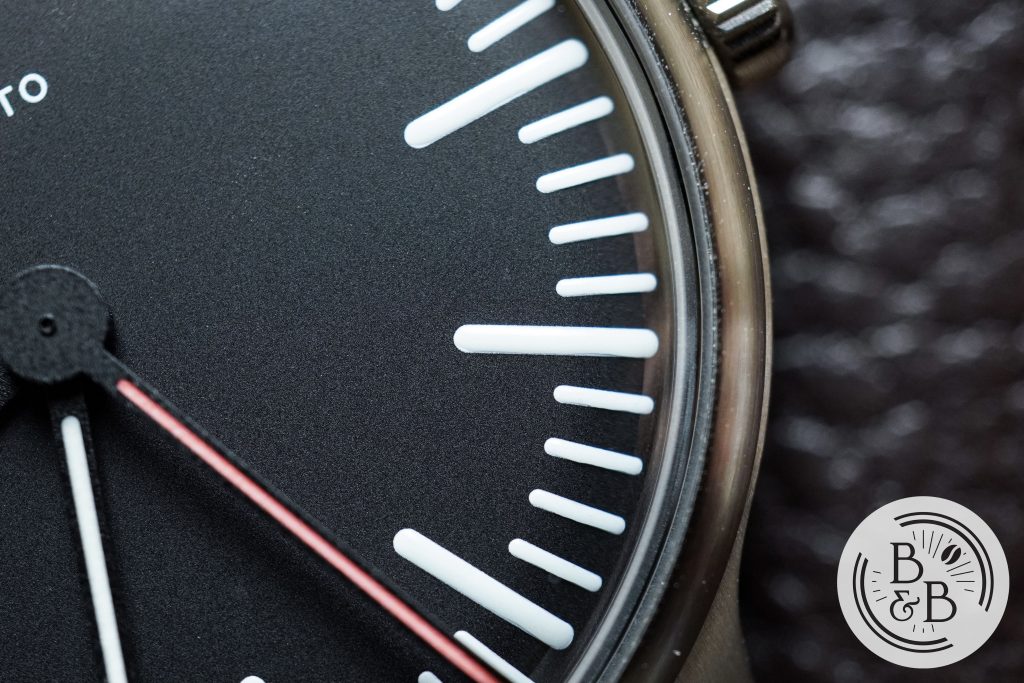 There is an outer track that has medium and large sized white ticks for the minute and hour markers respectively. These are printed and then lumed, and are quite thick, making it very easy to read.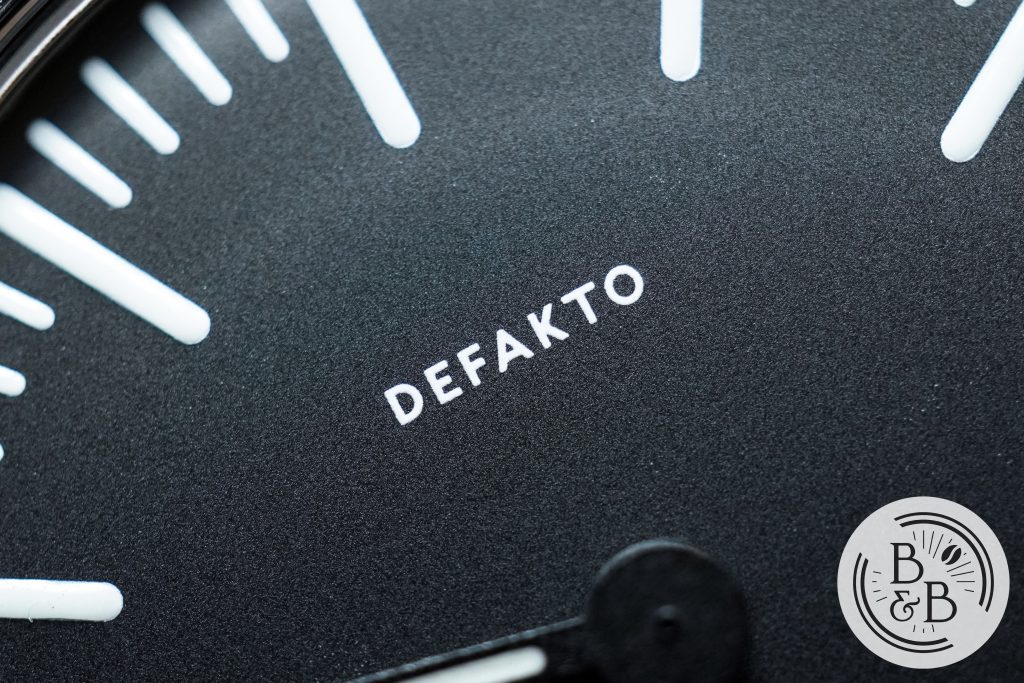 You then have the brand's logo printed under the 12 o'clock since this is the Standard version. You can also get it without the logo. On this particular dial, I think I might prefer it without the logo. But the quality of printing is great.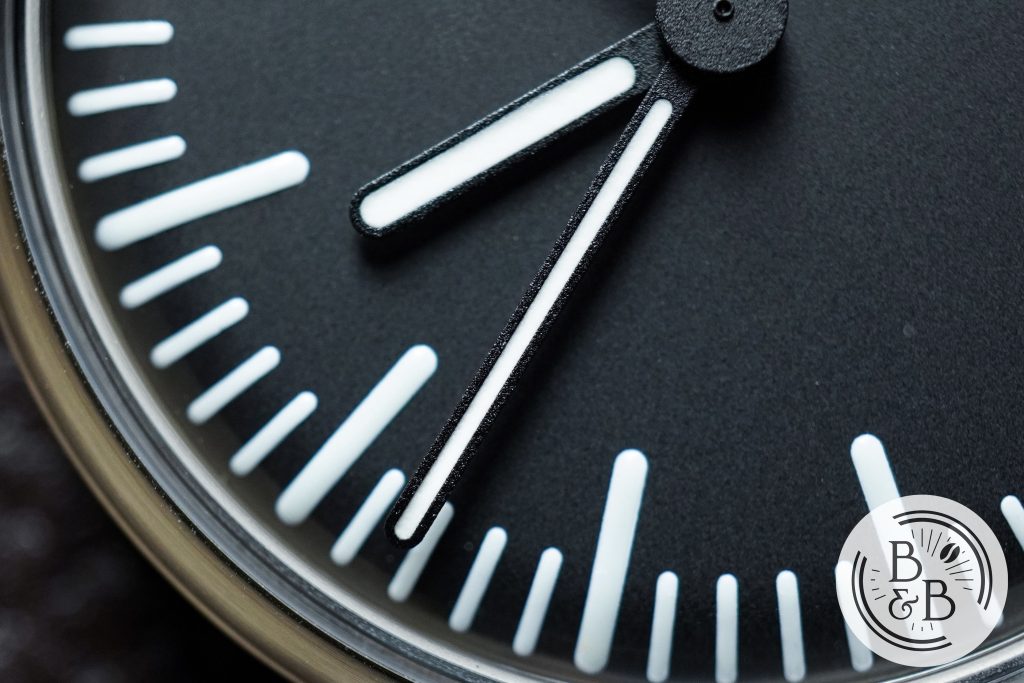 I really like the handset on this watch. They are rounded off batons, with thick black borders, and generously filled with lume. They have a similar 'invisible' base design as their other watches, and the finishing is very good here.
The seconds hand also has a thick black border but is filled with a redish-pink pigment that glows in a similar color too. All three hands reach their respective tracks, making this watch a pleasure to read.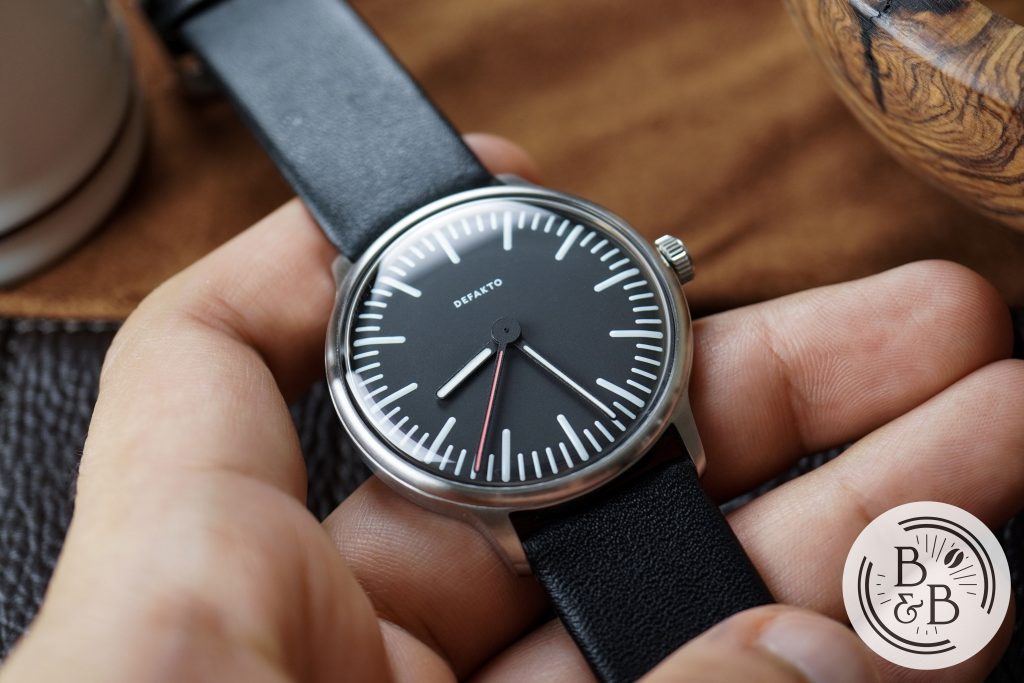 Overall, I have absolutely no complaints about the dial design, finishing or quality control. I think this is a very fine specimen of a Defakto watch, and the best of the three that I've reviewed.
---
Lume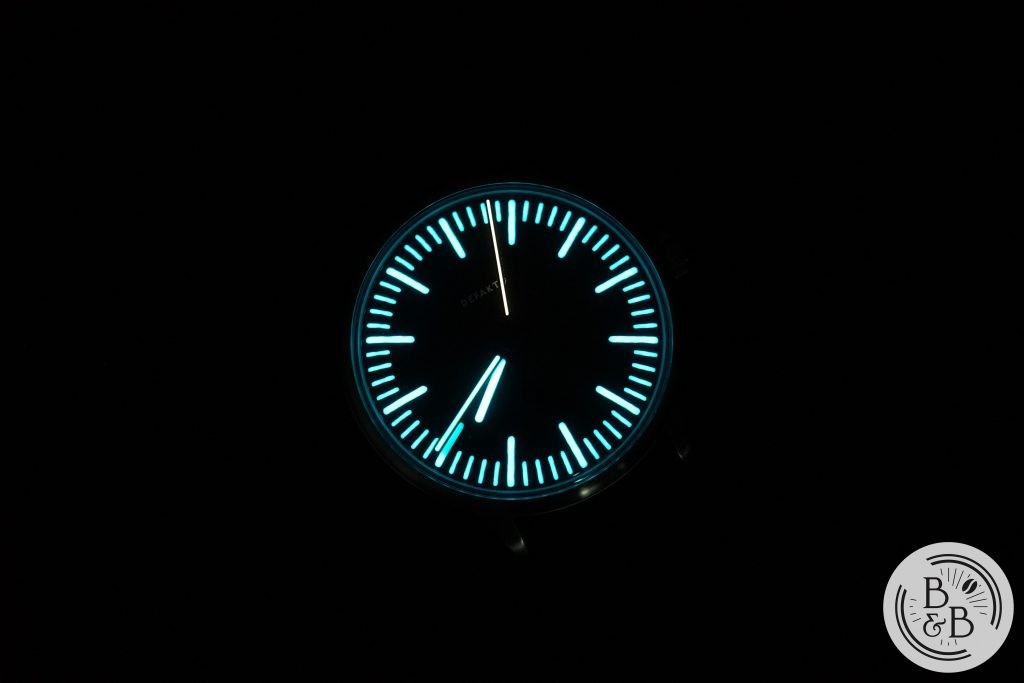 Given the larger surface area on the indices and hands, I think the lume on this watch is better than on the Defakto Kinetik. And this one puts on quite a show as well.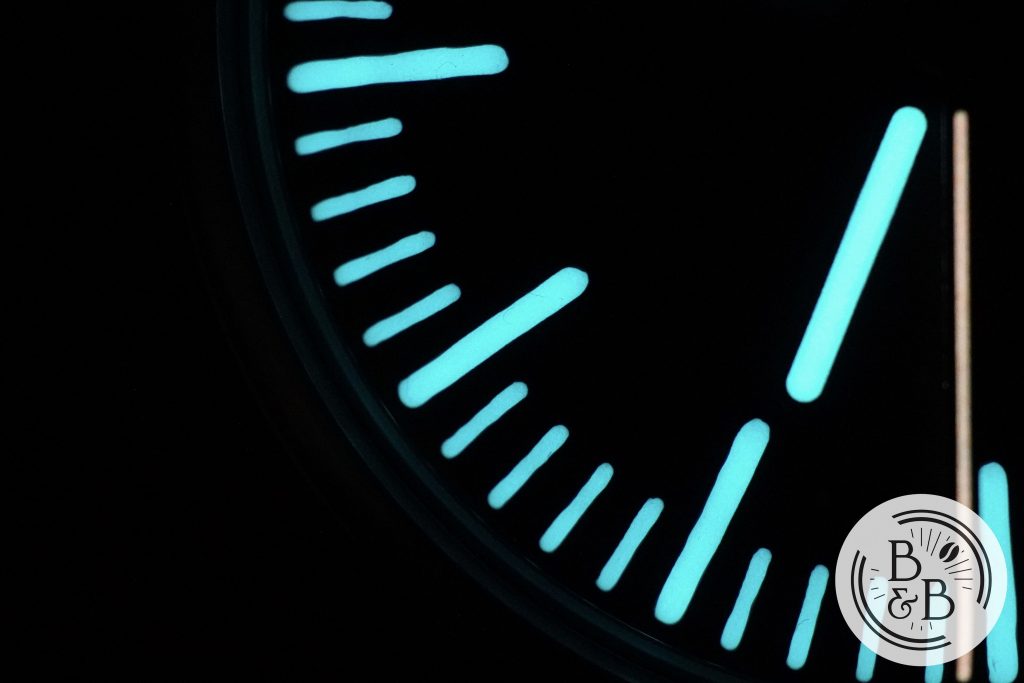 All the dial elements except for the logo are lumed, and reasonably well too.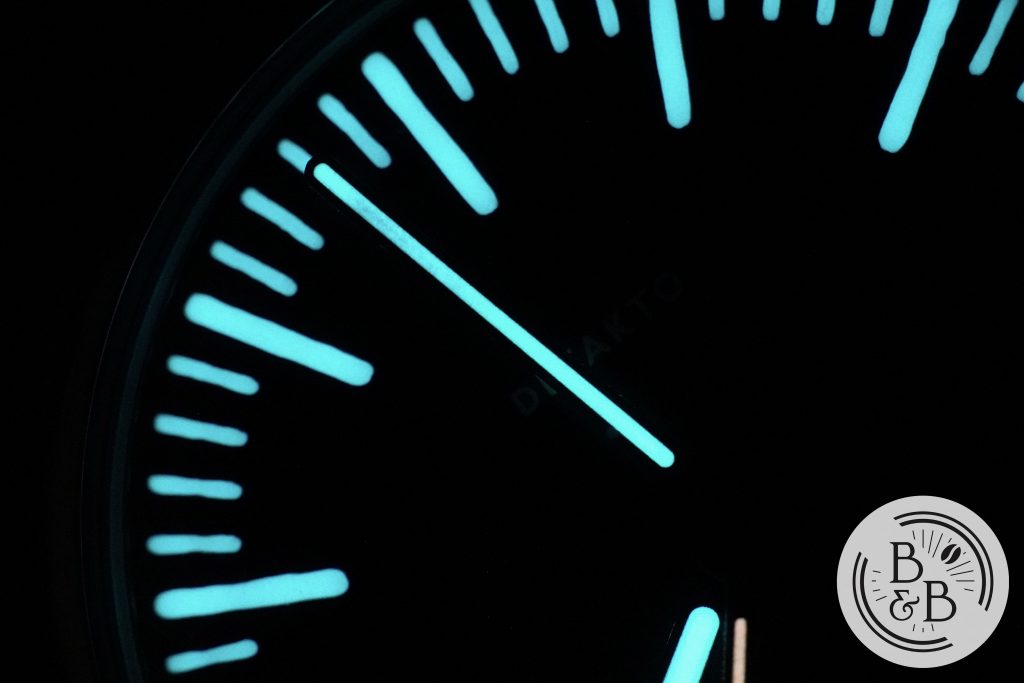 The hour and minute hands are lumed with BGW9 and look great.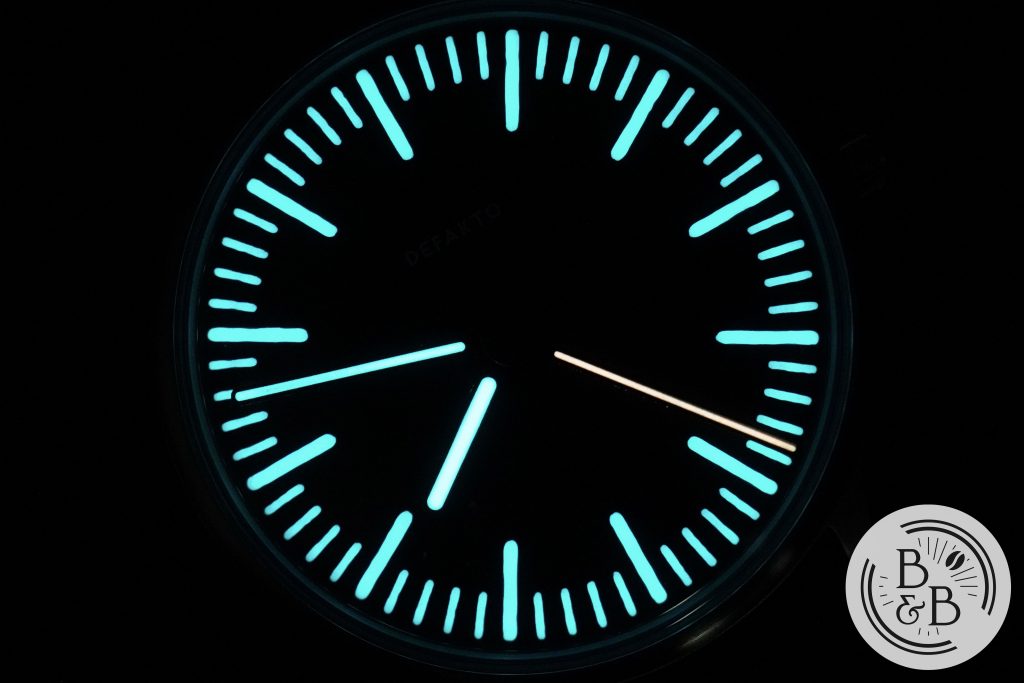 As with the Kinetik, the red seconds hand is also lumed and glows in an orange-red color. Overall, I definitely approve of the lume and I think it delivers great design and more than adequate performance.
---
Movement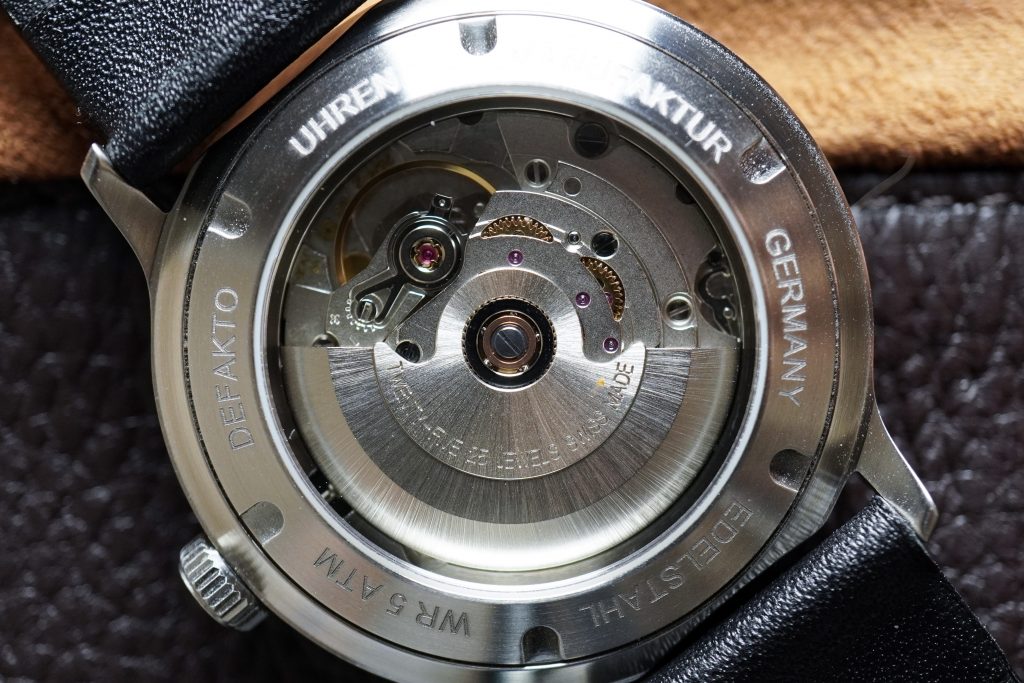 This watch uses an ETA 2824-2 movement, which is very appropriately selected given the $860 price tag. This movement keeps good time, is reliable and easy to service.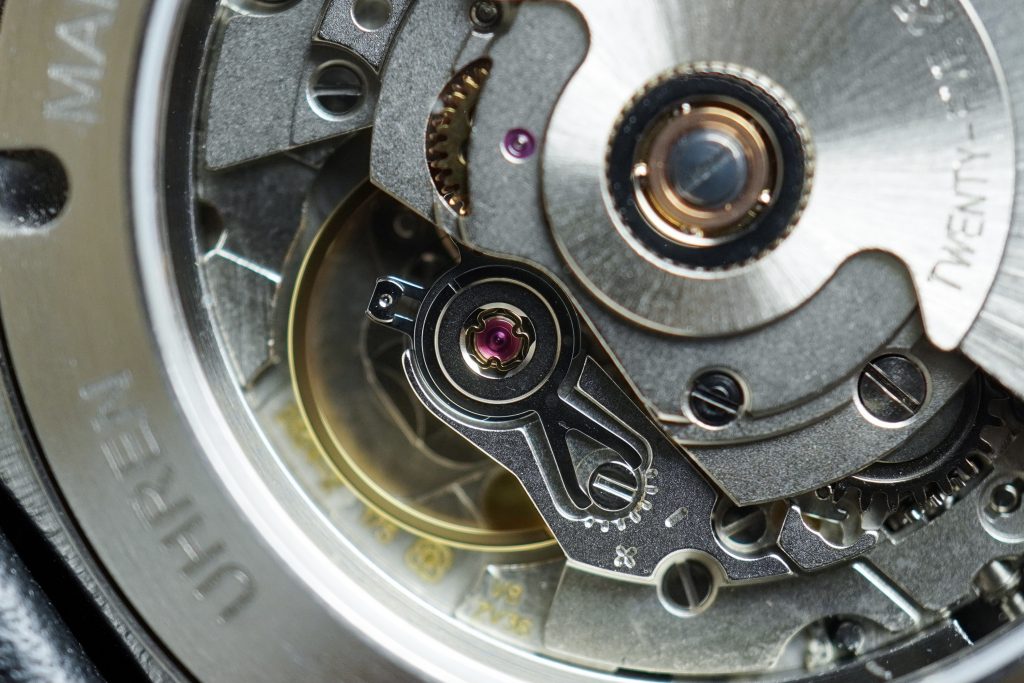 The guts of this watch appear to be very clean too, and slightly better than the two other Defakto watches I've reviewed.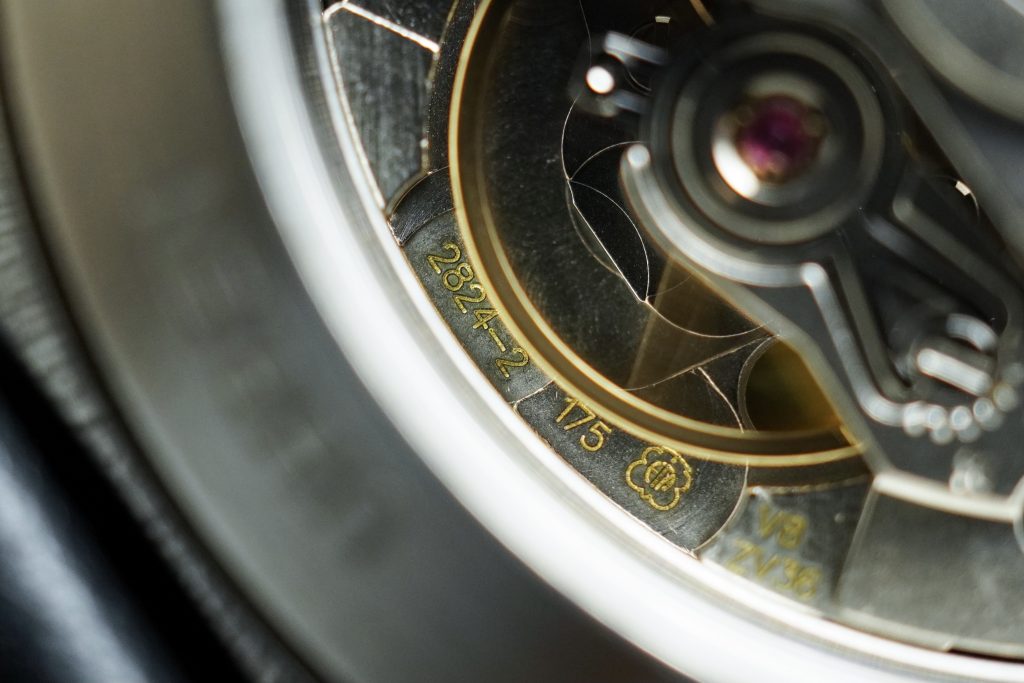 I logged the accuracy of this watch over a 2 day period and observed roughly +3 spd. So given that it is pre-owned, it is keeping good time as well.
---
On The Wrist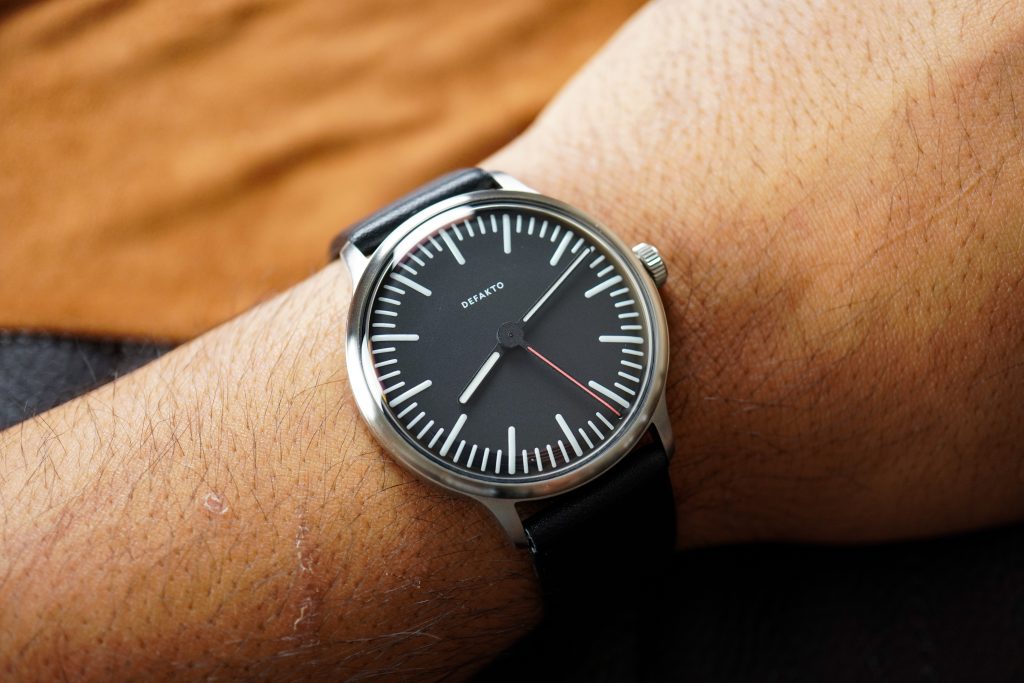 This watch is very comfortable on the wrist, and feels a bit nicer than the 39mm Kinetik. The 40mm diameter case is essentially the same as the Defakto Mono, but with a slightly protruding case-back to house the larger automatic movement.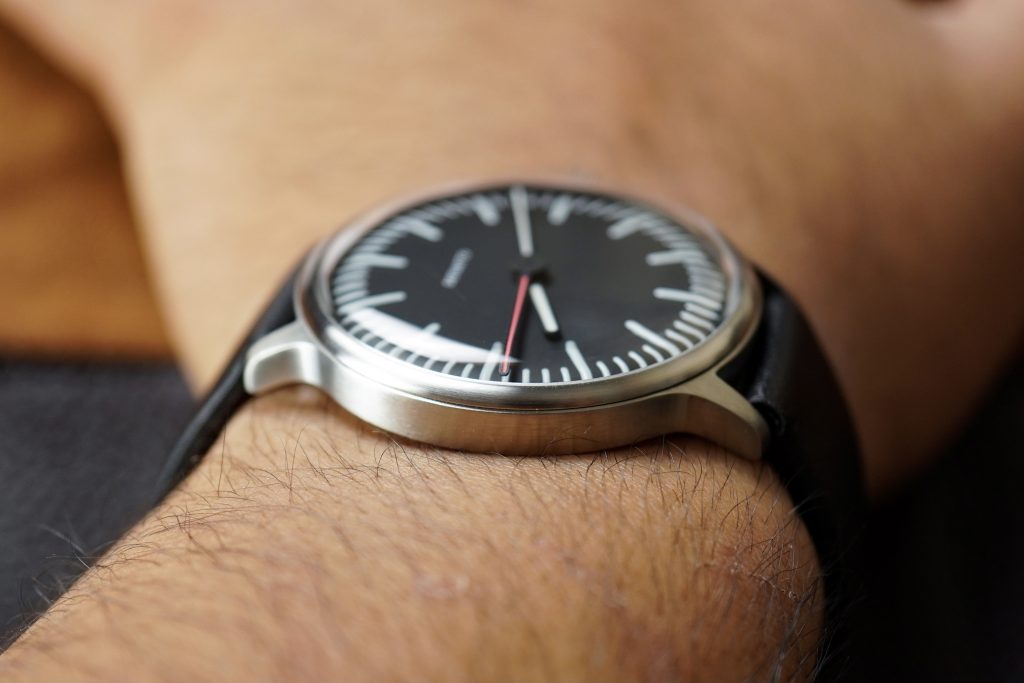 The lug-to-lug width is 44mm and the height is just under 10mm, so it is well balanced and sits low on the wrist, even with the slightly curved case-back.
No complaints with the comfort whatsoever, and it is quite lightweight as well, coming in at around 60g. I like the very simple stock strap, and I think they work well with these watches.
---
Concluding Thoughts
This watch is a bit more expensive than the Kinetik Standard, but I think it does earn that premium over the Kinetik with the much sleeker case design, stronger lume layout and a more widely appealing dial design. If I were to pick between these two watches, I'd have a tough time. I think I prefer the more intuitive and clever dial design of the Kinetik, and the slightly sportier case on that watch is a bit more appealing to me too. But you can't go wrong with either.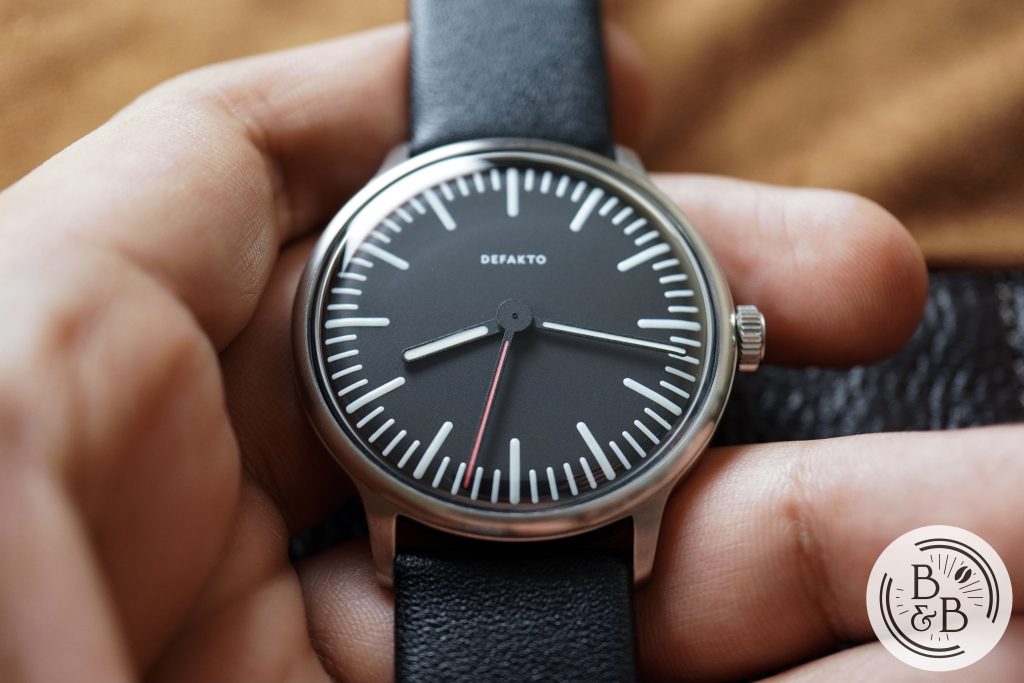 That said, this is a lot of money to spend on a watch that is primarily driven by simple design. So I mainly see this as a watch for someone who can deeply appreciate the design, and also appreciate the fact that this watch is made by the Ickler family. It does provide a good movement to reaffirm it's value, so if you find this design interesting, this one is worth putting at the top of your list.
---
Strap Change
---