---
Disclaimer: This watch was sent to me to review, and I was not incentivized in any way to make this review. This is in no way sponsored by Dailos or any other entity. All opinions here are my own. Since this watch is an prototype, please make note that the experience will differ from that of the final production units.
---
---
Contents
---
Dailos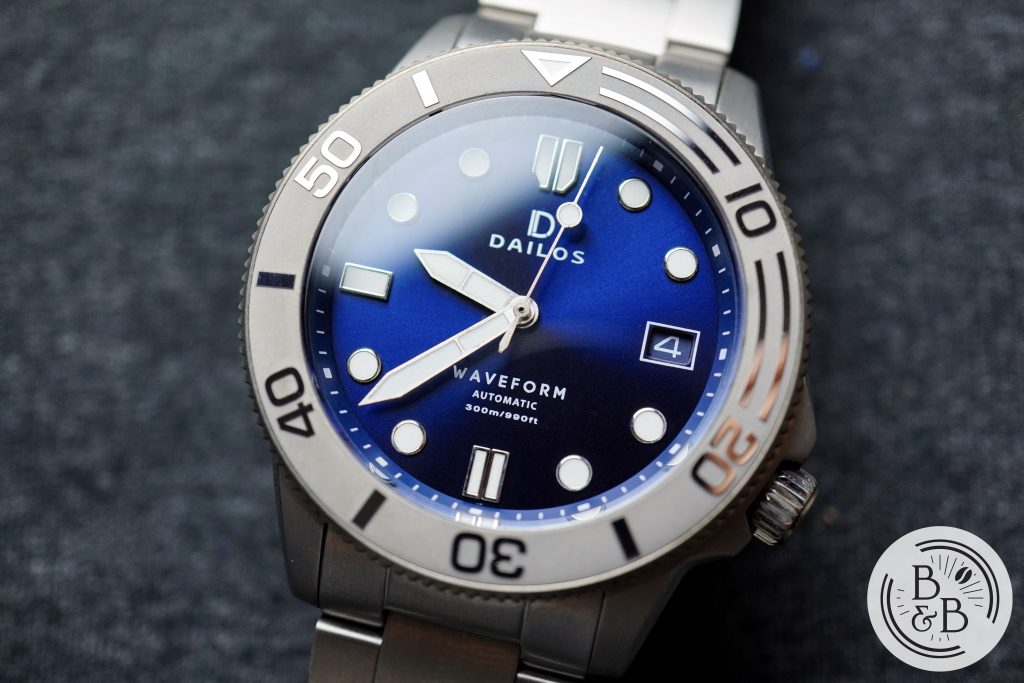 Dailos is a new Singapore based micro-brand, and they are about to release their first watch, the Waveform. The Waveform is a titanium diver, with an accompanying titanium bracelet and clasp, that is scheduled to be released on Kickstarter for $299-$339 in October.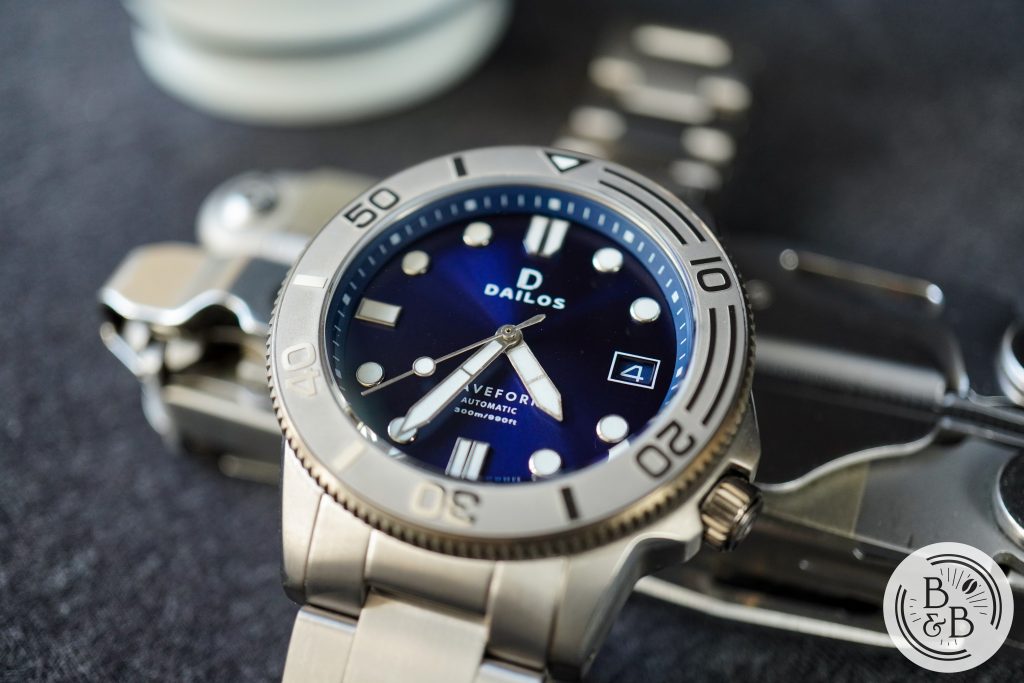 This watch will be offered in four dial variants (Jet Black, Midnight Blue, Aurora Teal and Ghost). The Midnight Blue and Aurora Teal have beautiful sun-ray dials, and Dailos was kind enough to send me the Midnight Blue to review. These prices sound almost too good to be true, for an all titanium dive watch with beautiful dial options.
Let's check it out!
---
Case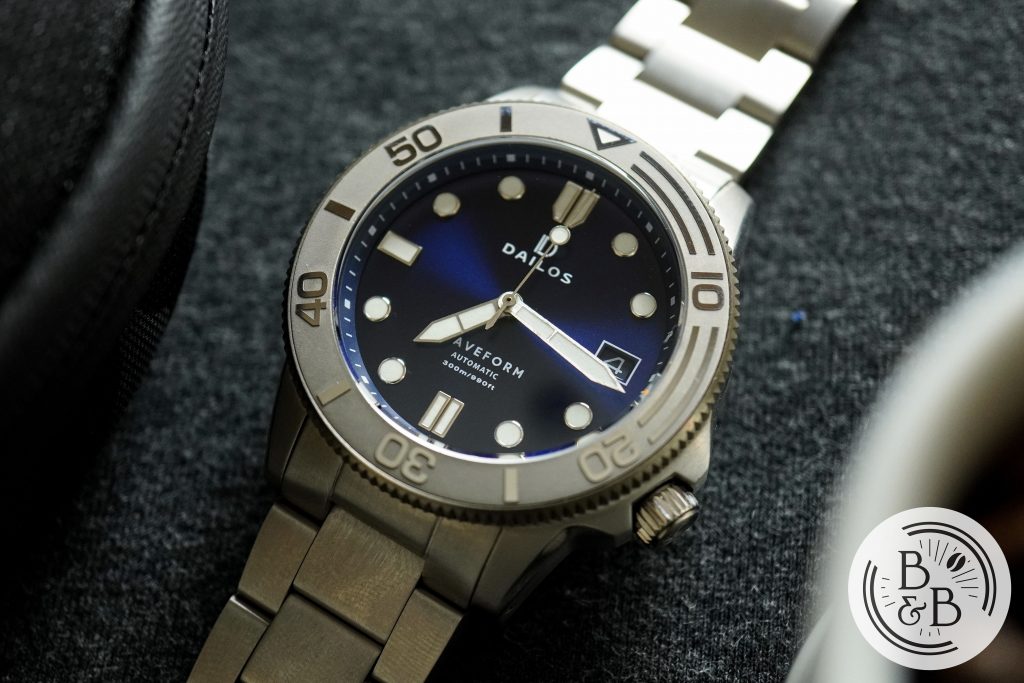 The case is 40mm in diameter, 47mm from lug-to-lug and a debatable 14.1mm in height. I say debatable because I measured it to be slimmer (closer to 13.5mm) but Dailos lists 14.1mm on their website, with 1mm dedicated to the almost flat sapphire crystal.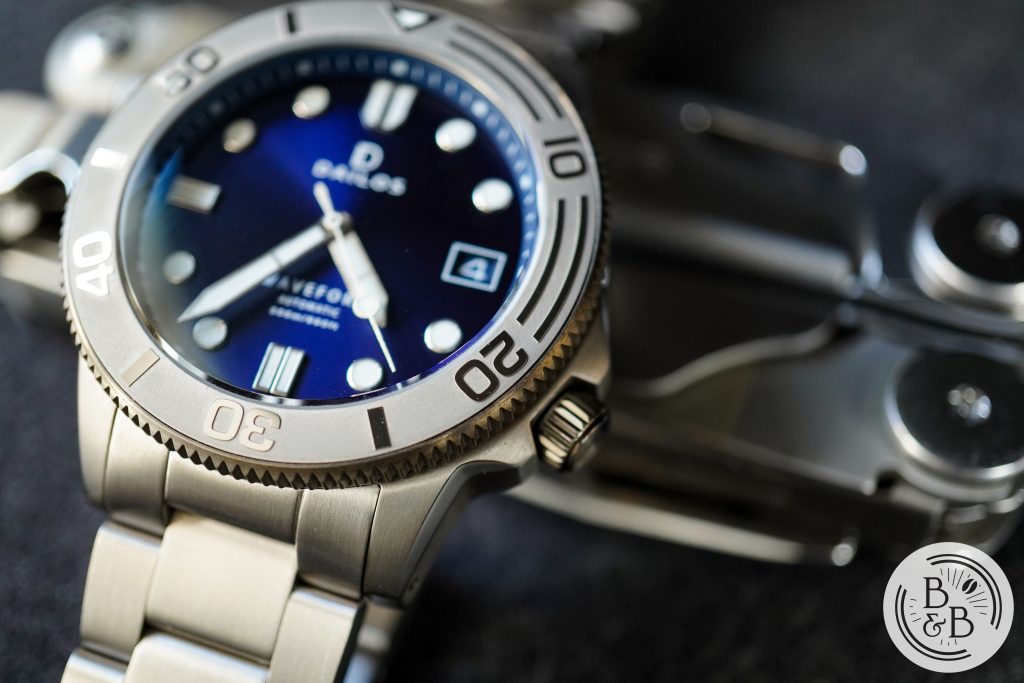 The case is made of Titanium and is hardened to be resistant to scratches. This process of coating steel and titanium to increase it's Vickers rating seems to be getting popular now, and I definitely welcome it. Hopefully all sports and tool watches will start using this process. The titanium case is machined well and reminds me a bit of the Traska Freediver, in terms of the side case profile.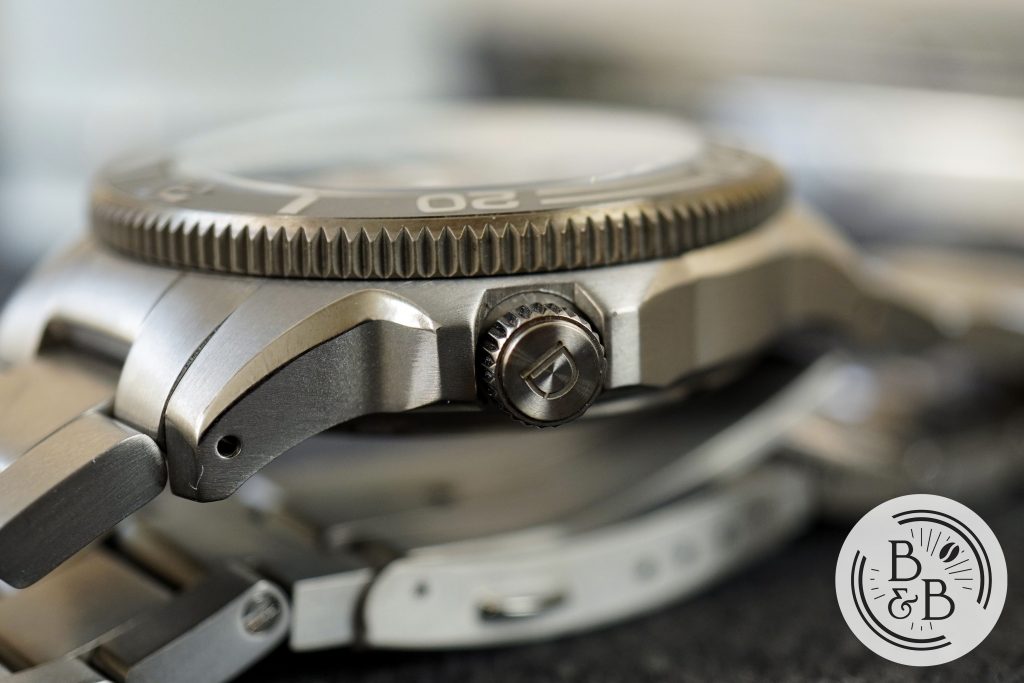 The crown is located at the 4 o'clock position, and is accompanied by a pair of crown guards. The crown looks a bit small for the case but is still easy to grip and operate. I didn't notice any crown or stem wobble.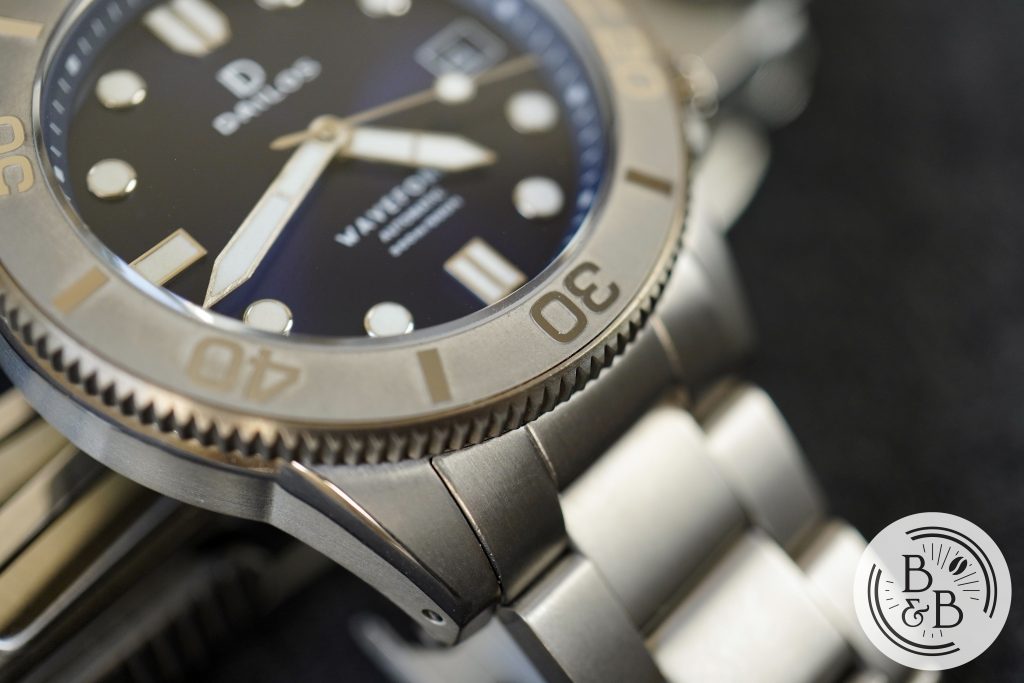 The bezel is made of Titanium and has a ceramic insert. I've been informed that the color of this ceramic insert will be slightly lighter on the production units, but I think this is nice too. It almost matches the entirely grey aesthetic of the watch case and bracelet. Unfortunately, the prototype has a pretty loose bezel with a bit of back-play. I've been told that this will be improved for the final production units.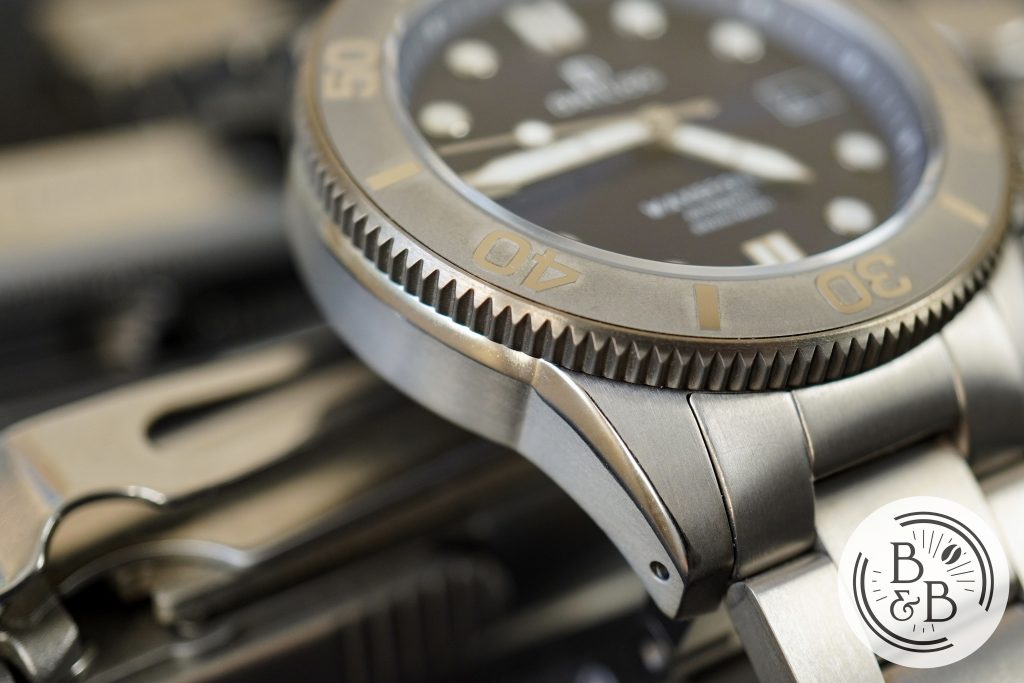 The lugs are similar to that of the Traska Freediver, but here there is a very neatly executed polished bevel (chamfer) along the case that also extends over the lugs. I think this is a great design decision, and it gives the otherwise serious and tactical looking case, a bit of flare.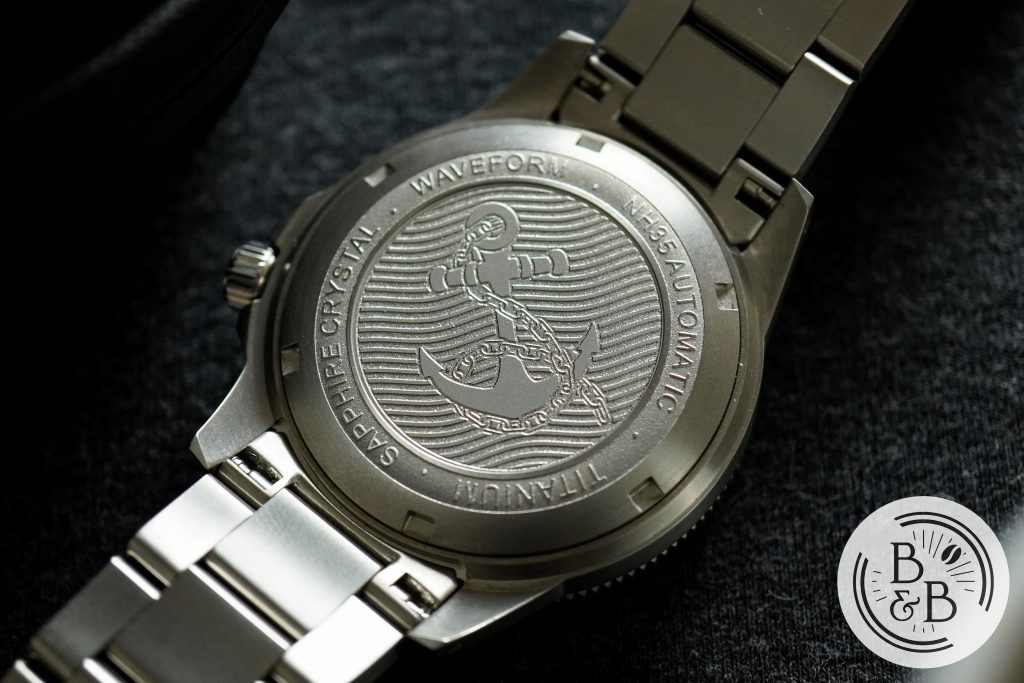 Flipping it over, you have a solid case-back with a neatly engraved anchor that is surrounded by some of the watch specifications. The case-back and crown screw down into the case and this watch is rated for up-to 300m of water resistance.
---
Dial
Dailos was kind enough to send me their blue dial variant of the Waveform, and this sun-ray dial is a beauty. This dial reminds me of my Baltic Aquascaphe, and I think it mirrors it's characteristics very closely. In low light environments there isn't much blue to be seen, but directly under a light source (preferably natural), this watch just shines!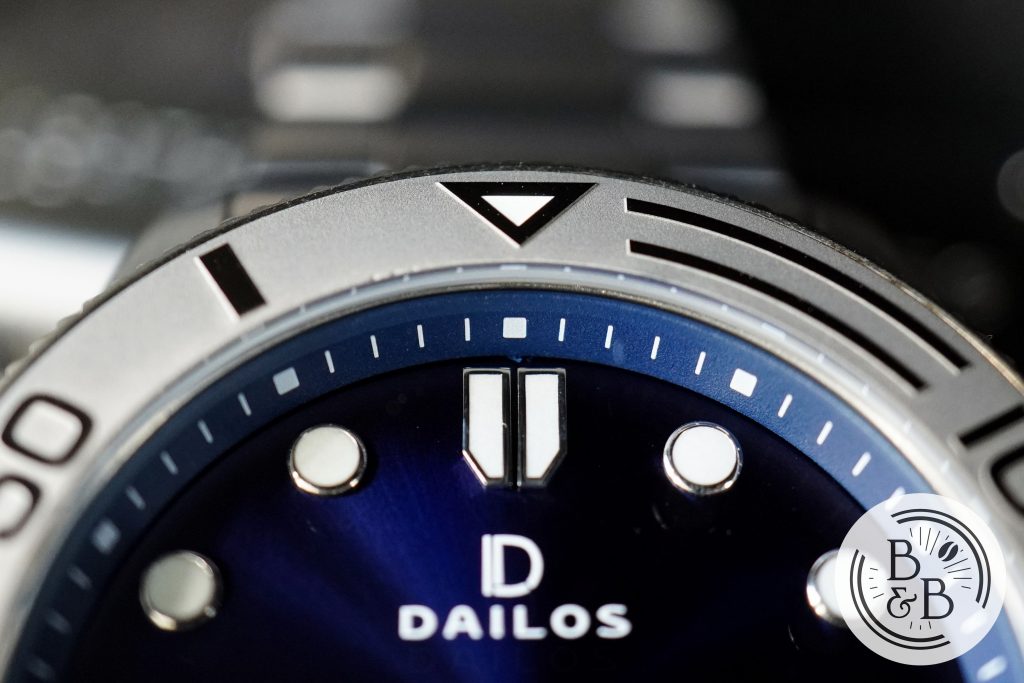 There is a navy blue chapter ring with alternating white squares and ticks for markers. The chapter ring is aligned perfectly with the dial and is easy to read.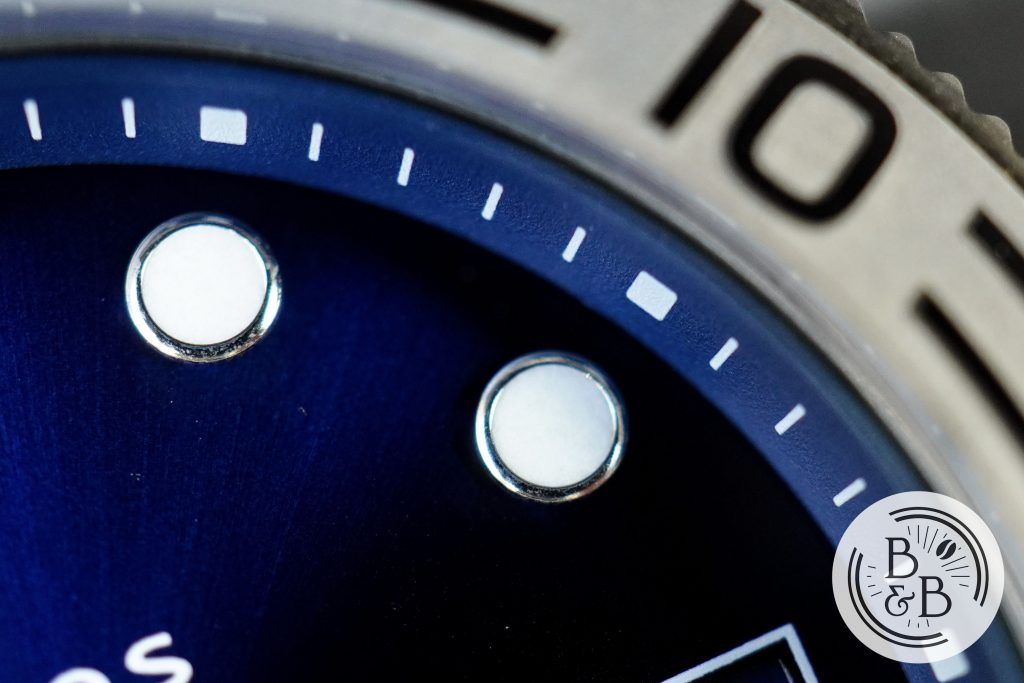 You then have applied hour indices that are generously filled with BGW9 Super LumiNova. There are double indices at the 12 o'clock and 6 o'clock positions, a rectangular index at the 9 o'clock position, and circular indices for the other hour markers.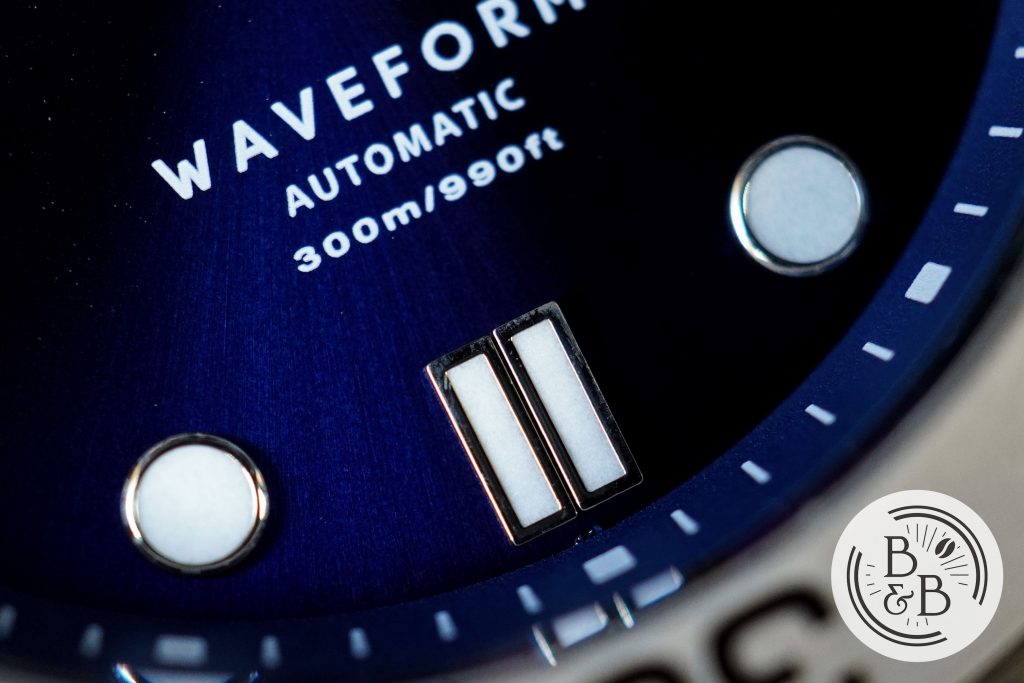 While these look very good to the naked eye, under the macro lens the finishing definitely could be improved. Many of the indices have finger prints, and what appear to be small scratches. I understand that no watch in this price category has perfect finishing at this level, but I have seen better from watches at this price point, and I think this is an area that Dailos must improve upon for their final production units. I've talked to Dailos about this, and they are going to address this by introducing more rigorous QC for the production units.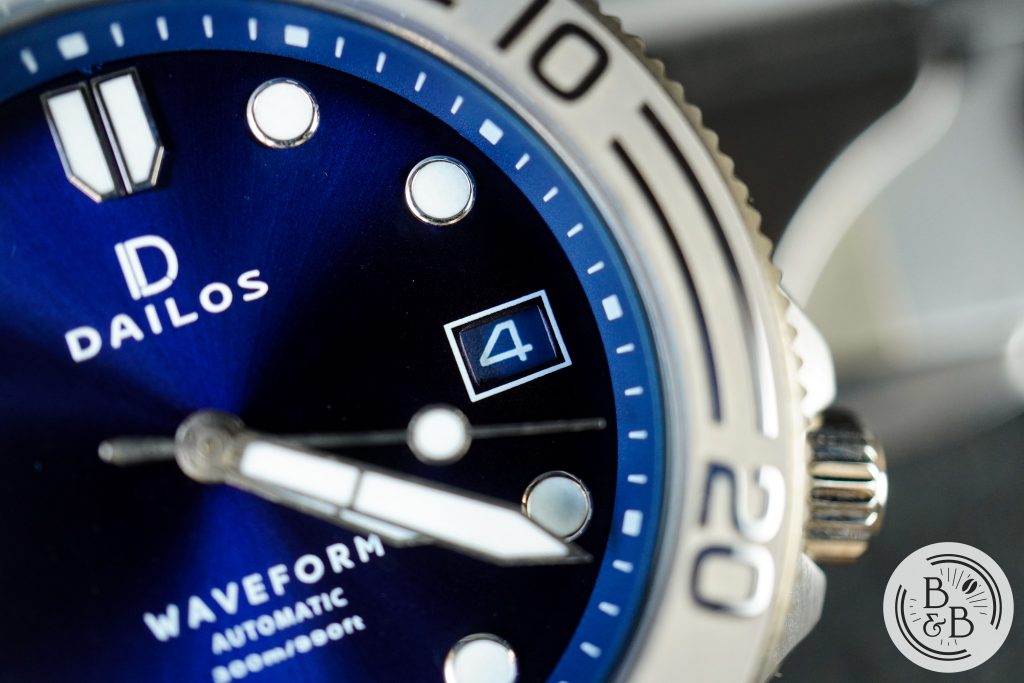 There is a date window at the 3 o'clock position with a painted white frame. I like this design and I think it works well, specially with the color matched date wheel. I prefer date windows at the 6 o'clock position, but I don't think this is bad at all.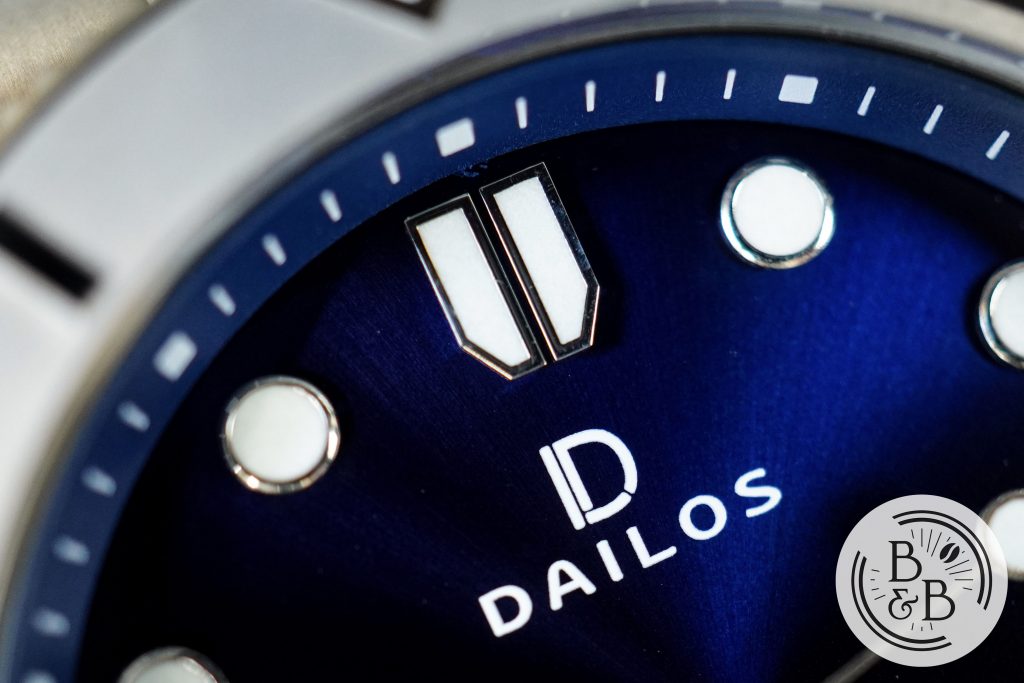 The base of the dial is a beautiful sun-ray blue with the brand's logo under the 12 o'clock, and some text at the 6 o'clock positions. All the printed elements on the dial are executed well and the quality of the printing is good. The actual dial base does appear to have minute dust particles on it, which is a not uncommon in sub-$400 watches, but a bit unfortunate considering how beautiful the dial is.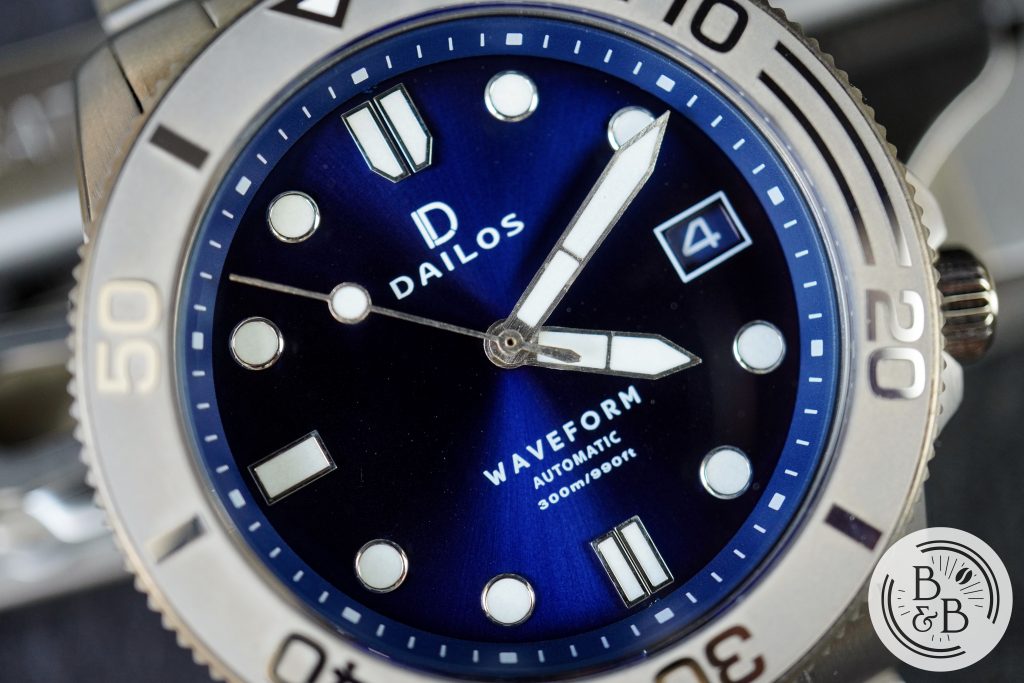 We then have a set of brushed stainless steel hands that are well designed to be generously filled with lume. In terms of design, the hands work very nicely with the rest of the watch. The seconds hand has a lollipop style lumed element and in terms of functionality it couldn't get better than this.
But in terms of finishing, this is another area that leaves room for improvement. The finishing on the hands is OK, and I noticed some uneven edges on the tips of the hour hand. I also noticed some dirt on the minute hand. Once again, it appears as though the QC on this dial was overlooked. As mentioned earlier, Dailos are committed to improving this on the final units.
---
Lume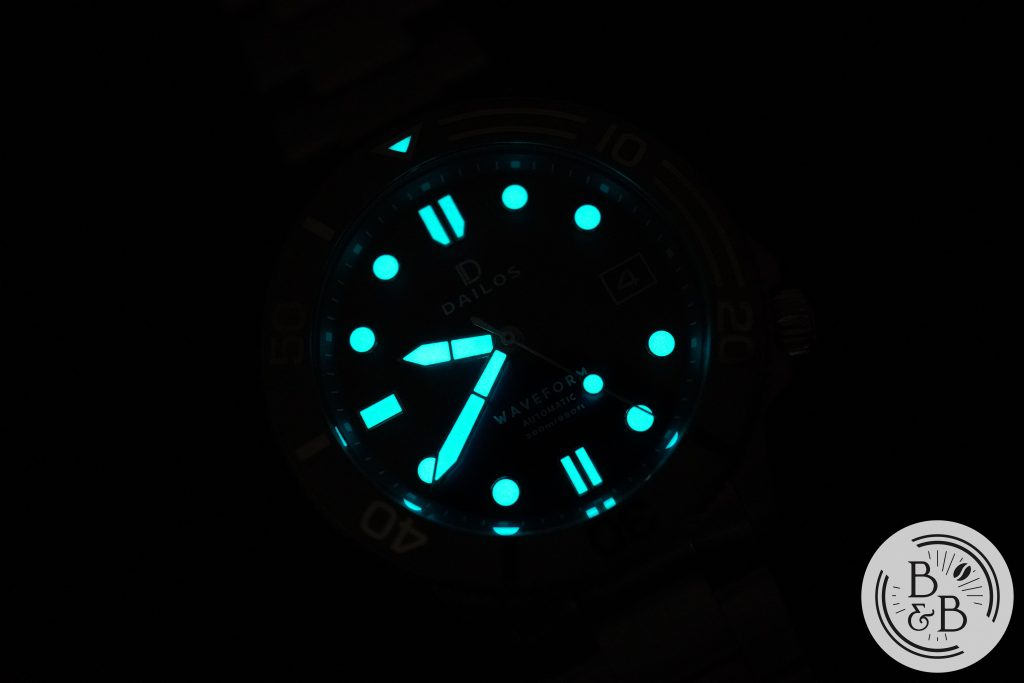 All the lumed elements are generously filled with BGW9 Swiss Super LumiNova, including the triangle marker on the bezel at 12 o'clock.
The lume is bright and holds it's charge reasonably well. Each lumed element is quite large, so I think this helps them stay bright for longer. No complaints with the lume whatsoever, so I'll just leave you with these nice lume shots!
---
Bracelet
The bracelet is also made of titanium, with the same hardened coating as the rest of the watch. The grey color of the titanium case is also matched well by the bracelet.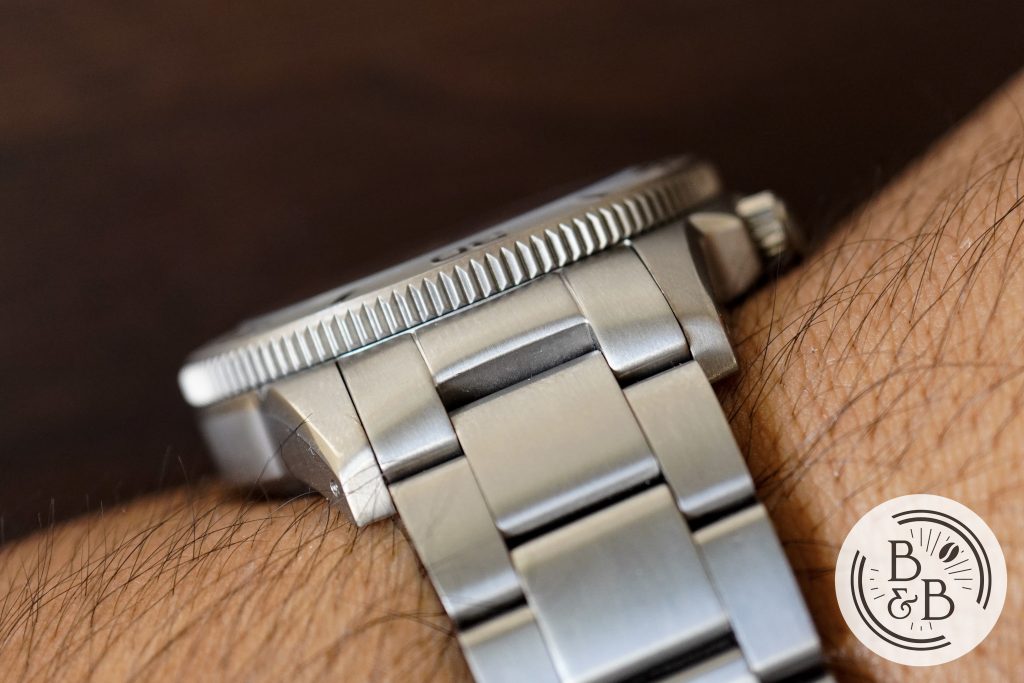 The links are very well made and the prototype uses a dual screw link design. Personally, I like these links for the added robustness, but I've been told that this will be changed to a single screw link design to make it easier to adjust.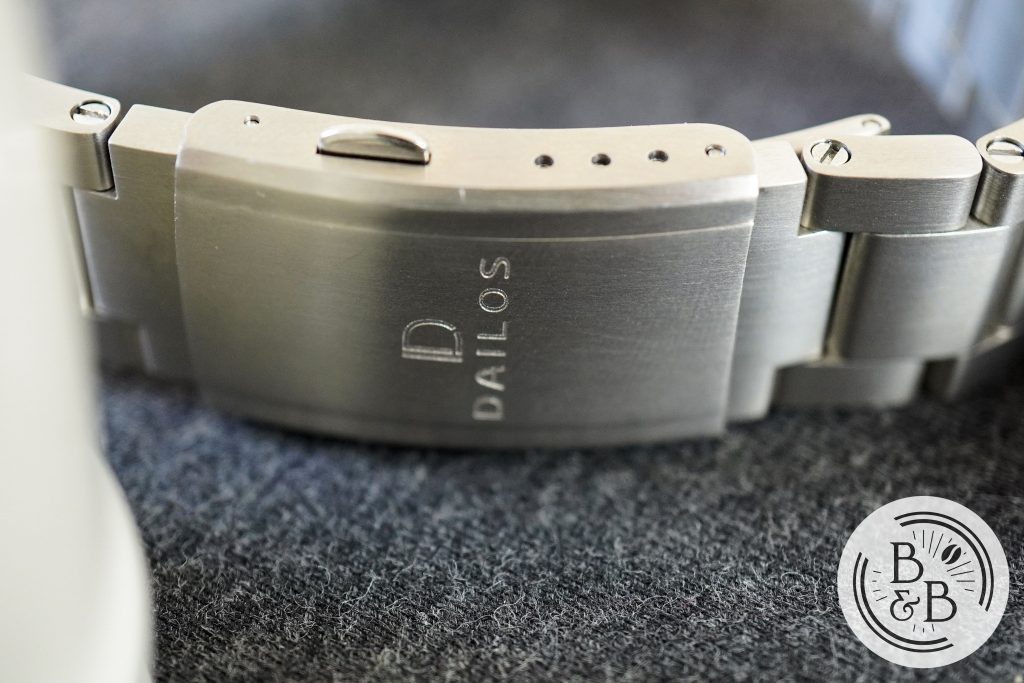 The edges of the links are a bit sharp and I would've liked to see slightly smoother edges everywhere on the bracelet. But this is purely superficial and didn't affect comfort in any way. The clasp is quite impressive and is almost entirely milled out of titanium. I don't think I've seen a titanium clasp before, but this sure looks and feels very good. The push buttons appear to be the only stainless steel elements here, apart from the screws and spring bars.
The case and end link fitment is OK. It's not bad, but there is a bit of wiggle on both sides. Hopefully they can improve this just a little for the final production units. But when you consider the $299 early bird and $339 Kickstarter prices, I think this is more than acceptable.
---
Movement
The waveform uses a Seiko NH35. The prototype I received was smooth to operate and wasn't scratchy like some NH35s I've reviewed in the past.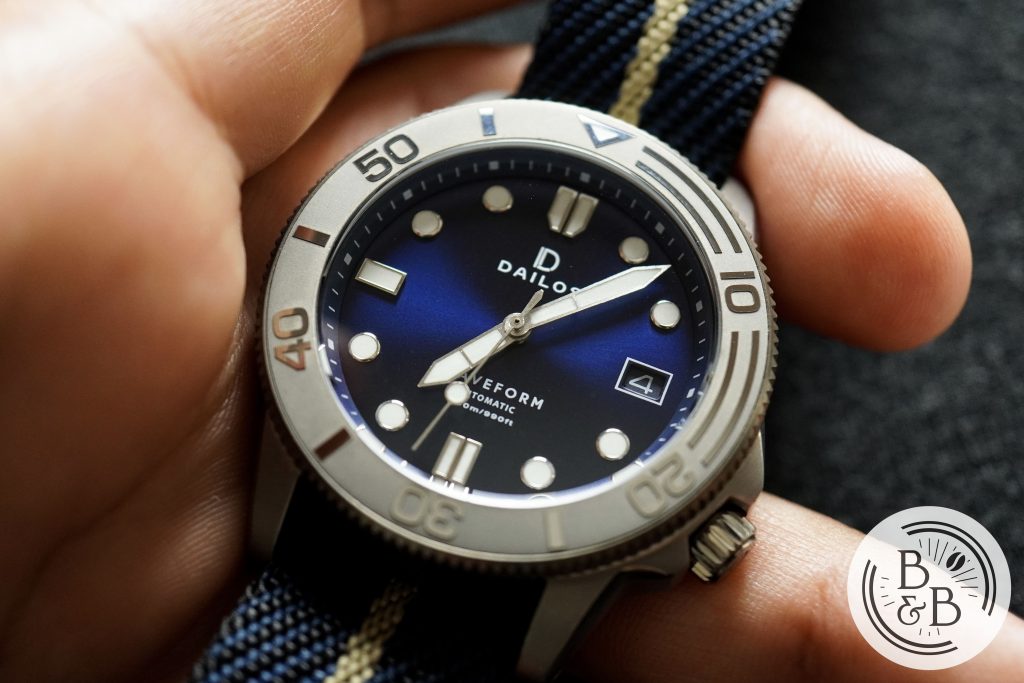 I logged the accuracy of this watch over a roughly 30 hour period and observed roughly +5.7 spd.
---
On The Wrist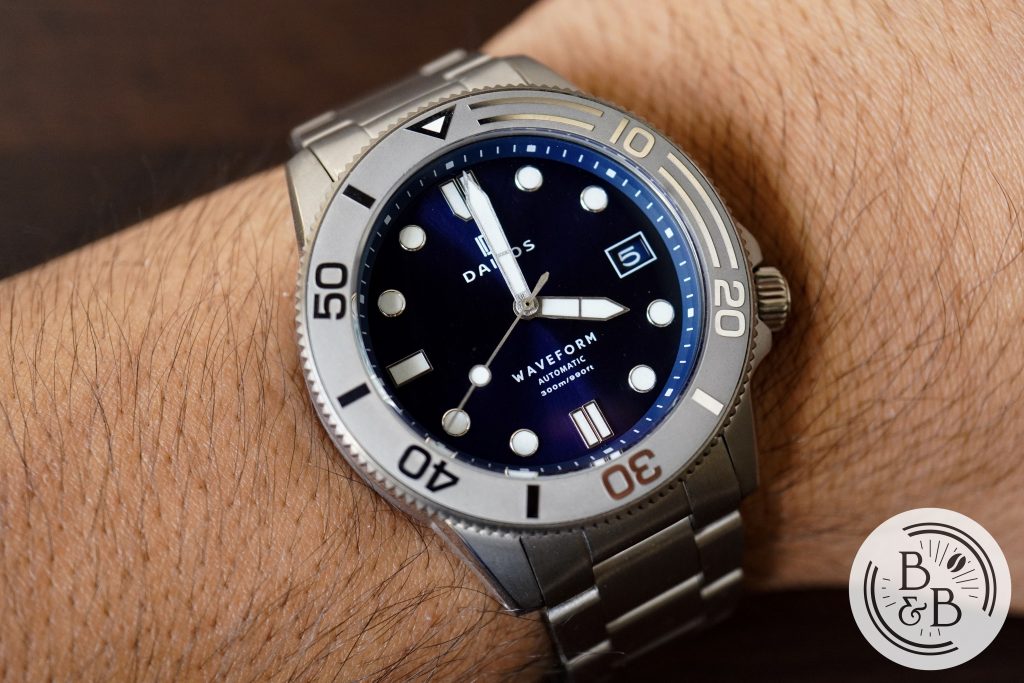 This watch wears great on my 6.25″ wrist, with a diameter of 40mm, lug-to-lug with of 47mm and a thickness of about 13.5mm. The weight plays a big role in this, and the watch on the titanium bracelet weighs in at only 100 g.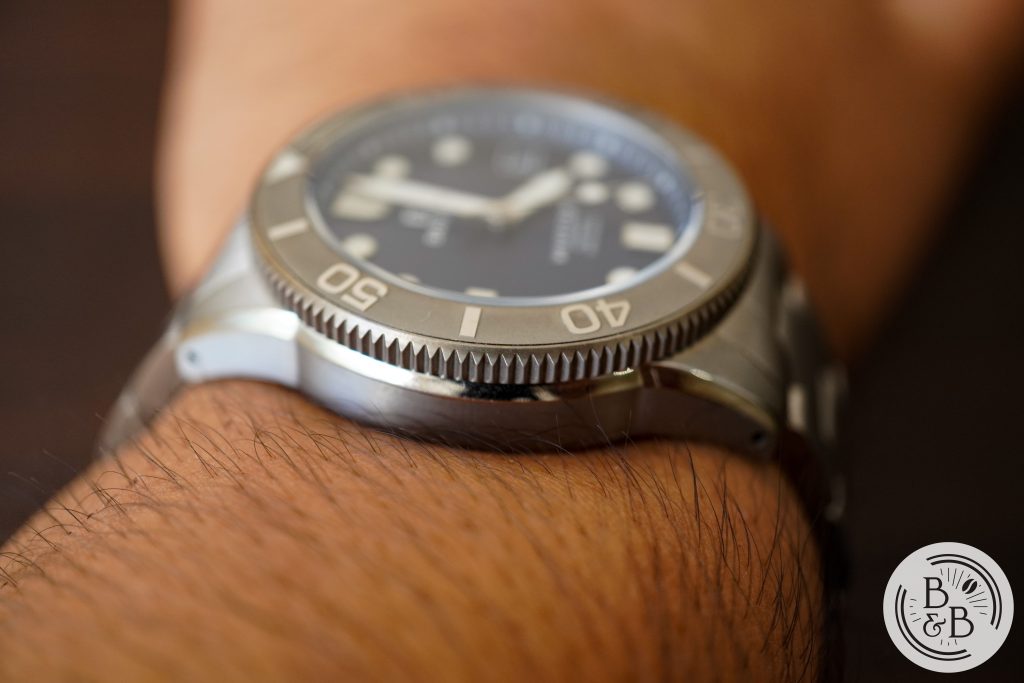 So in terms of comfort, this watch is clearly a success. Absolutely no complaints here!
---
Concluding Thoughts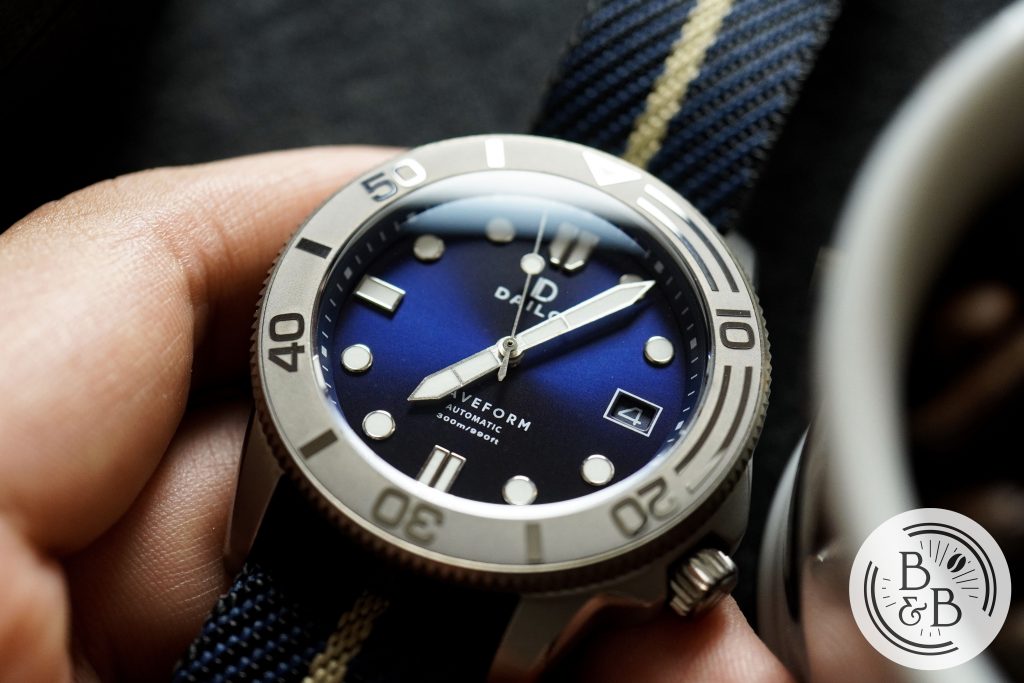 Overall, I think Dailos have attempted to deliver tons of value with this $299 dive watch. And they have mostly succeeded. I'm sold on the case design and execution. I'm sold on the dial design and colors. I'm sold on the very cool titanium bracelet and clasp. The watch is also very easy on the wrist and gets all the points for comfort. The only areas of concern for me are – the very light bezel action (which they are already aware of; and this will be fixed), and the somewhat lazy quality control of the dial elements (in particular the indices).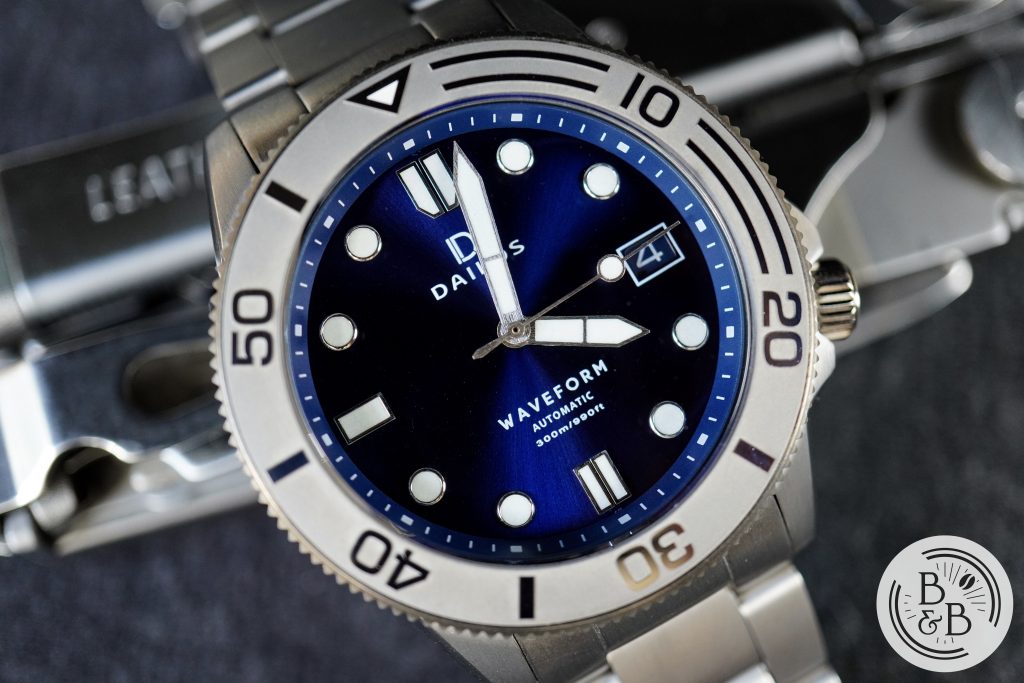 Once they fix that, this watch will be an incredible package for a sub $500 dive watch. And so far they've been very receptive, and have indicated that they will actively seek to fix both issues. So once they do, this will be a watch to keep an eye on, because all the other ingredients are already in the mix to make this the next successful Kickstarter project.
---
Strap Change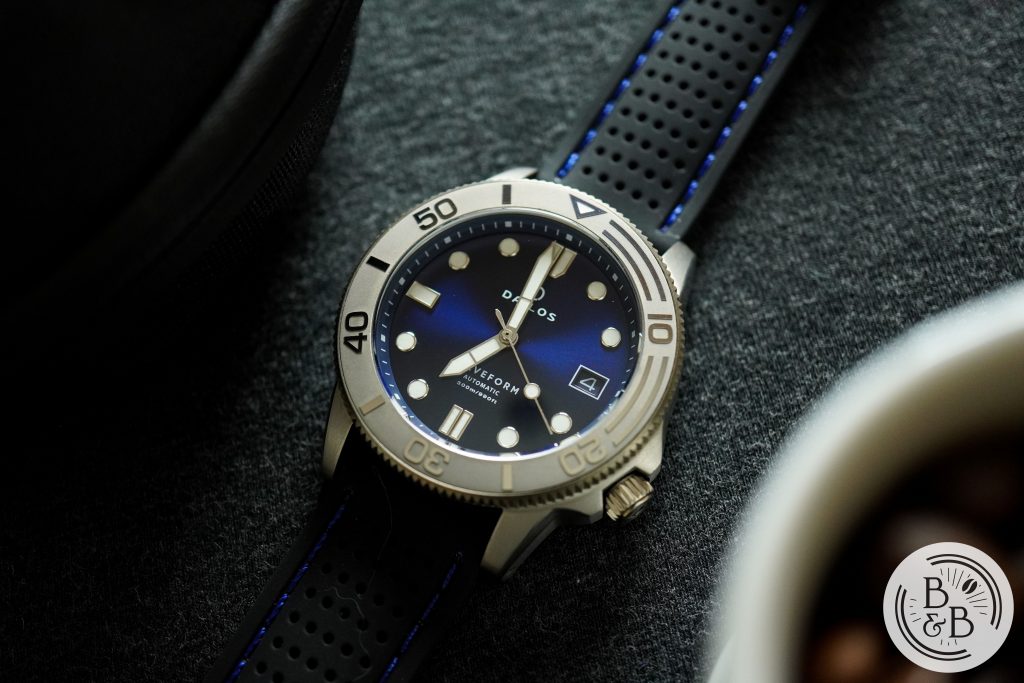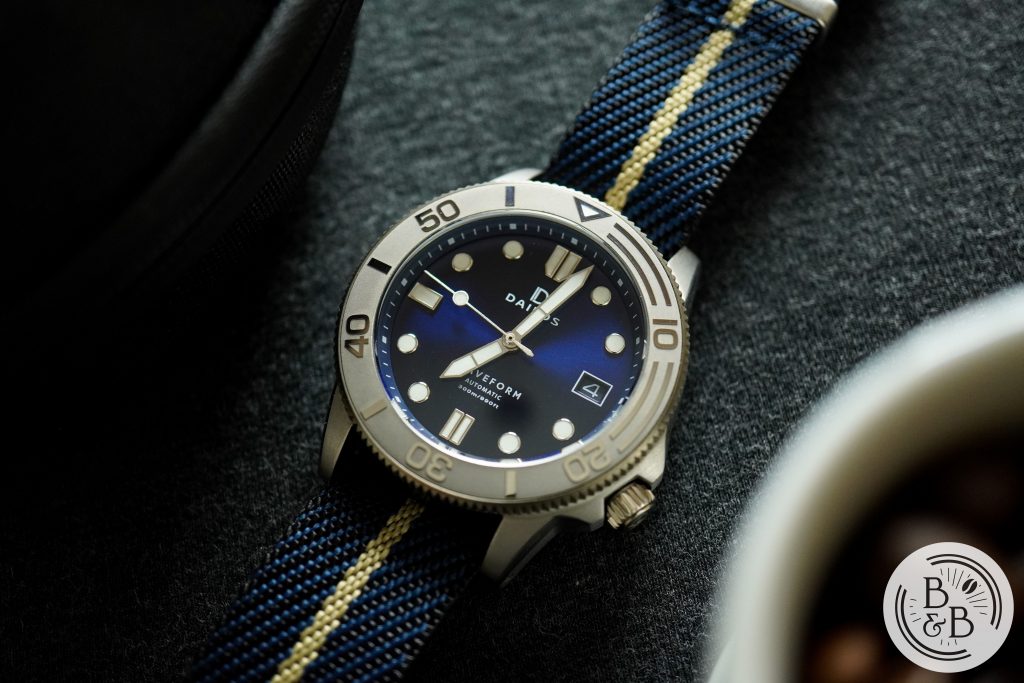 ---
Thanks for reading!