---
Disclaimer: This watch was sent to me on loan to review and I was not incentivized in any way to make this review. This is in no way sponsored by Circula or any other entity. All opinions here are my own.
---
---
Contents
---
Circula
I previously reviewed the Circula AquaSport, which is their latest release. I enjoyed that watch, and I was very impressed with the value that was being delivered. I only had one minor criticism of that prototype, and that was the dust and micro-particles on the dial surface. None of that was visible to the naked eye, so not a deal breaker, and definitely not when you considered the overall package.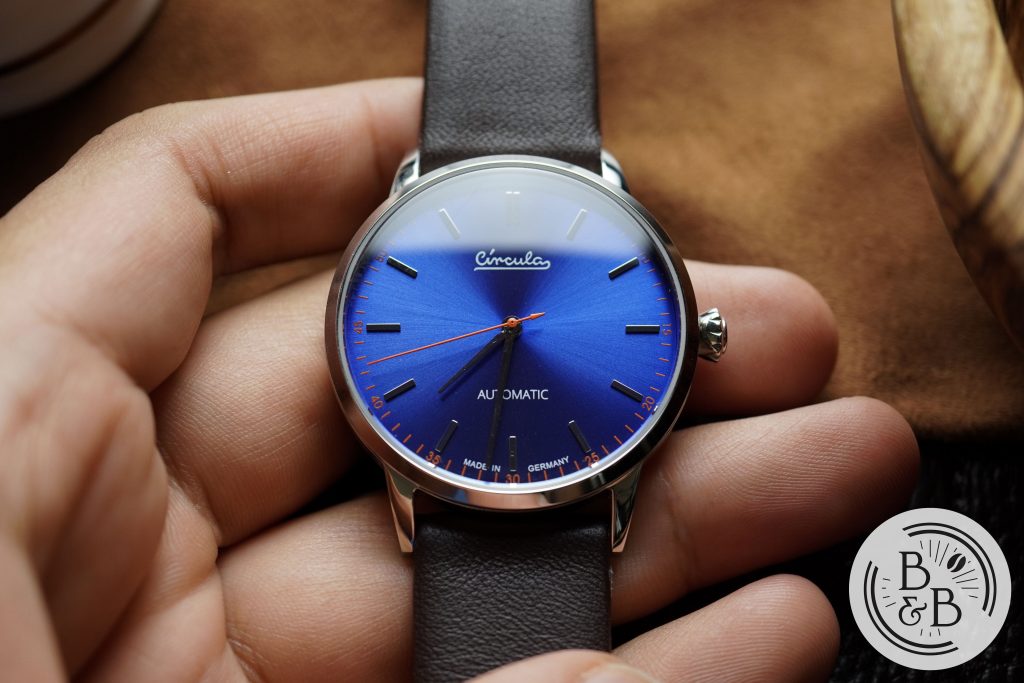 Today I'll be looking at one of their earlier releases, the Circula Classic, which is a well designed and well proportioned dress watch, that is offered in four different dial designs. These watches retail at roughly $350, and use a Miyota 9015 movement, which I think once again delivers a great amount of value.
Let's check it out!
---
Case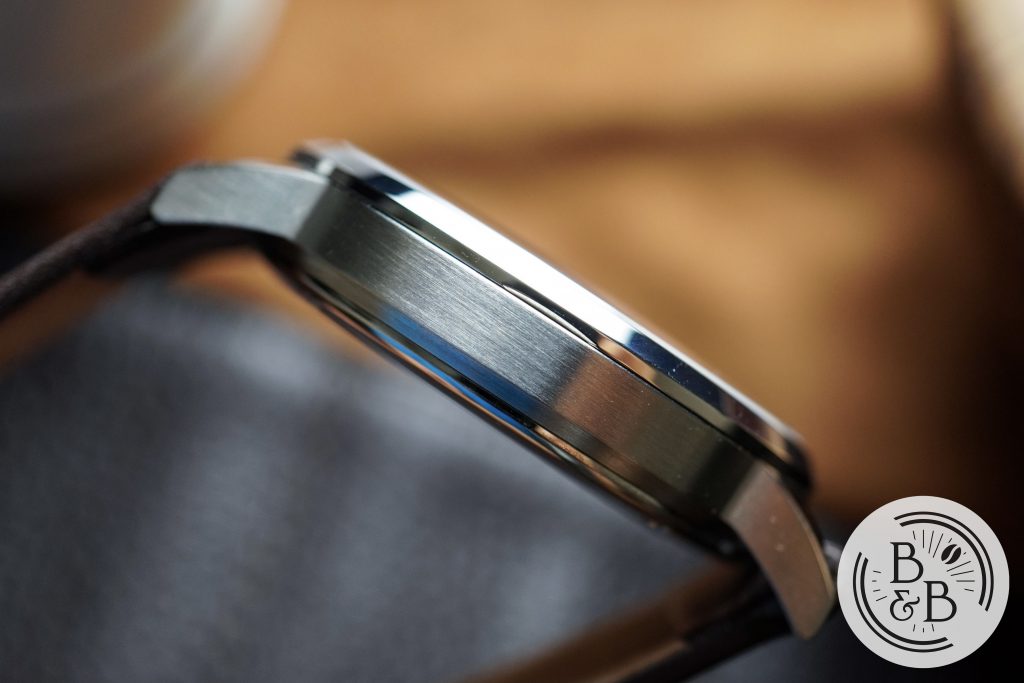 The case is quite simple, just as you'd expect from a dress watch. The case is 39mm in diameter, 45.5mm from lug-to-lug and just over 10mm in height. The case has all brushed sides, and polished top surfaces. The finishing on the case is very good and better than the AquaSport prototype that I previously reviewed.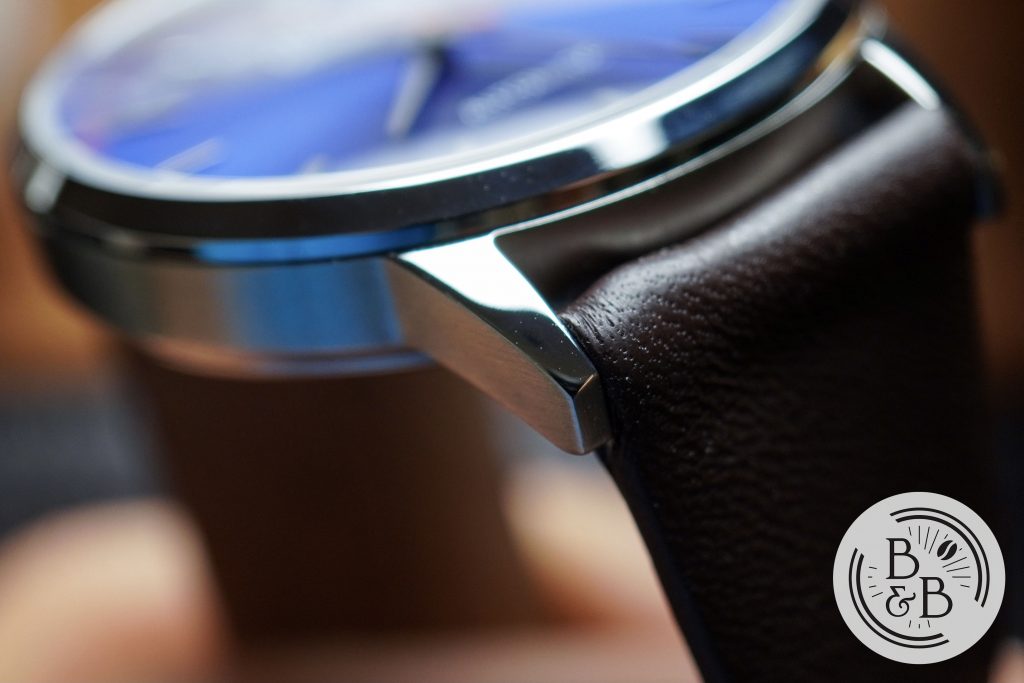 You have a pair of slim lugs that curve down towards the wrist, with a lug width of 20mm.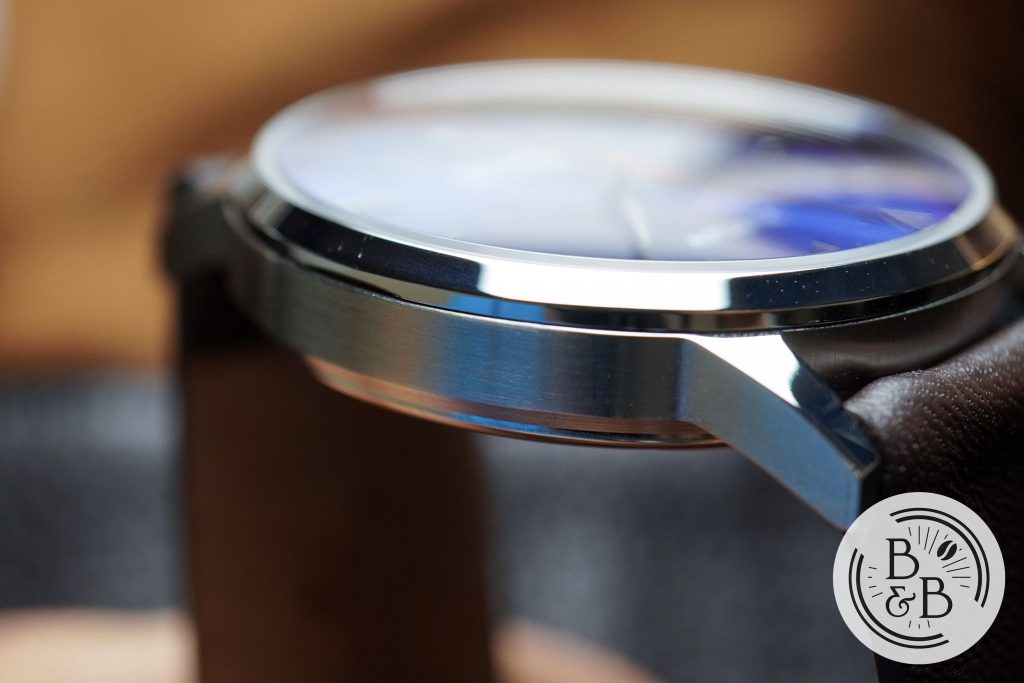 There is a polished bezel surface that seats a slightly curved sapphire crystal with two layers of AR coating underneath and an anti-fingerprint coating as well. I haven't heard of that before but I'll take it.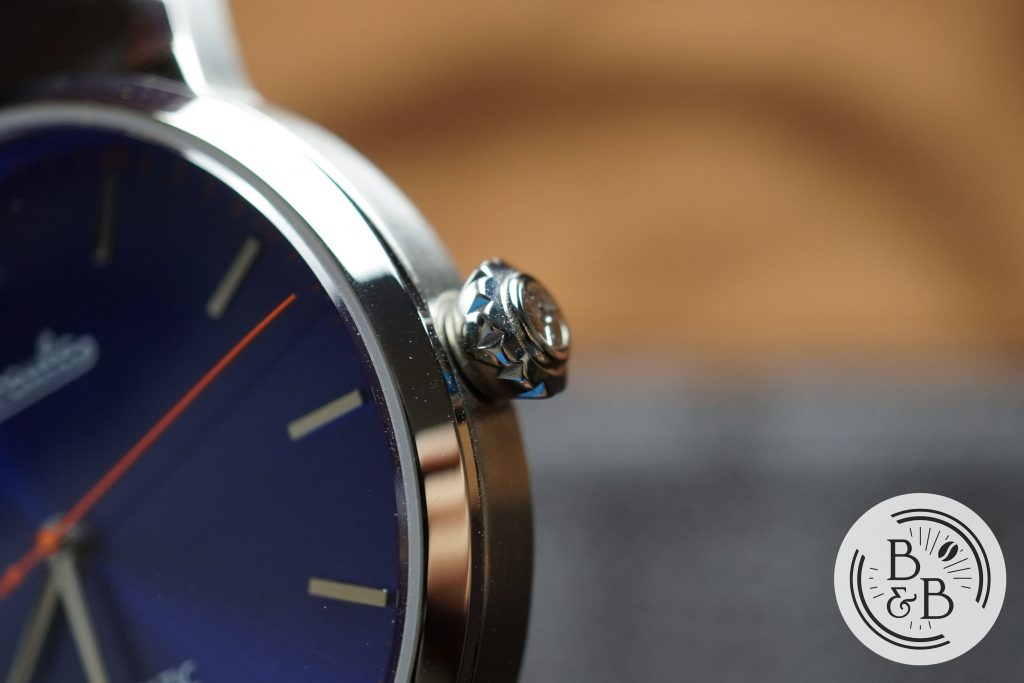 There is a beautiful push-pull crown at the 3 o'clock position that is shaped like a rose and is actually very easy to grip and operate. I like this a lot.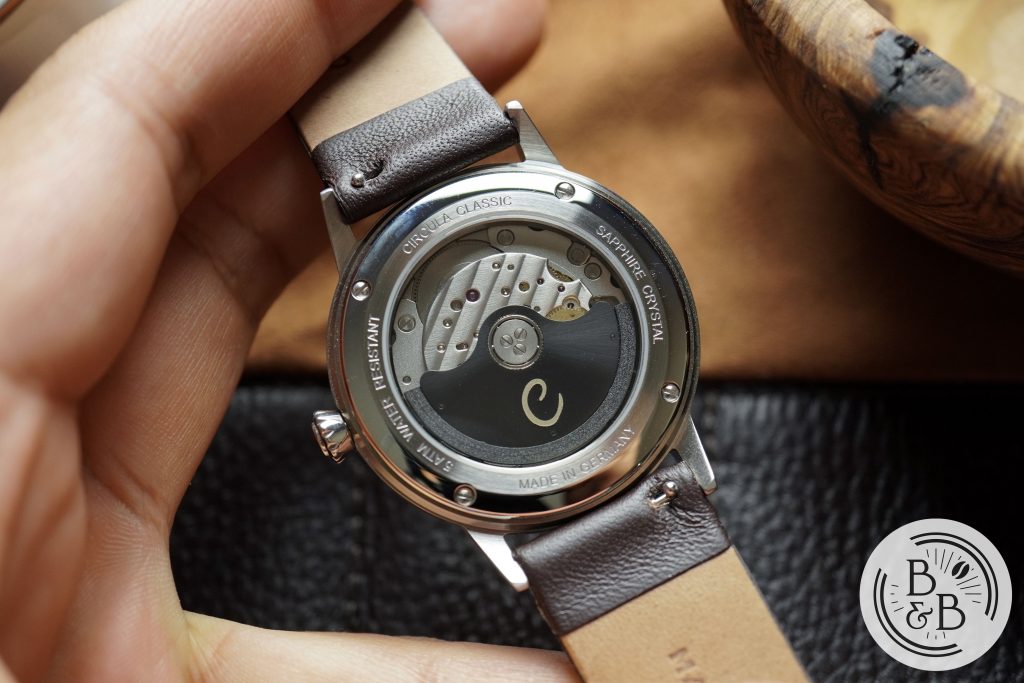 Flipping it over, you have an exhibition case-back that is attached to the case by means of 4 screws. This watch is rated for up-to 50m of water resistance.
---
Dial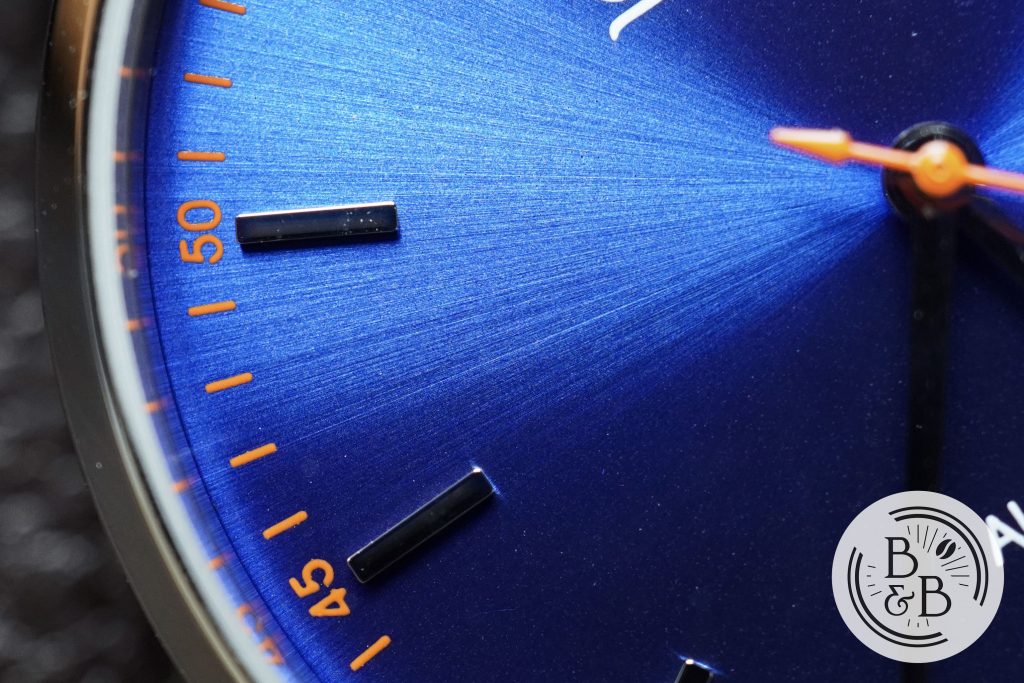 The dial is beautiful, and they've done a great job selecting their colors here. The sun-burst blue base is an excellent shade of blue, and works well with all the orange accents.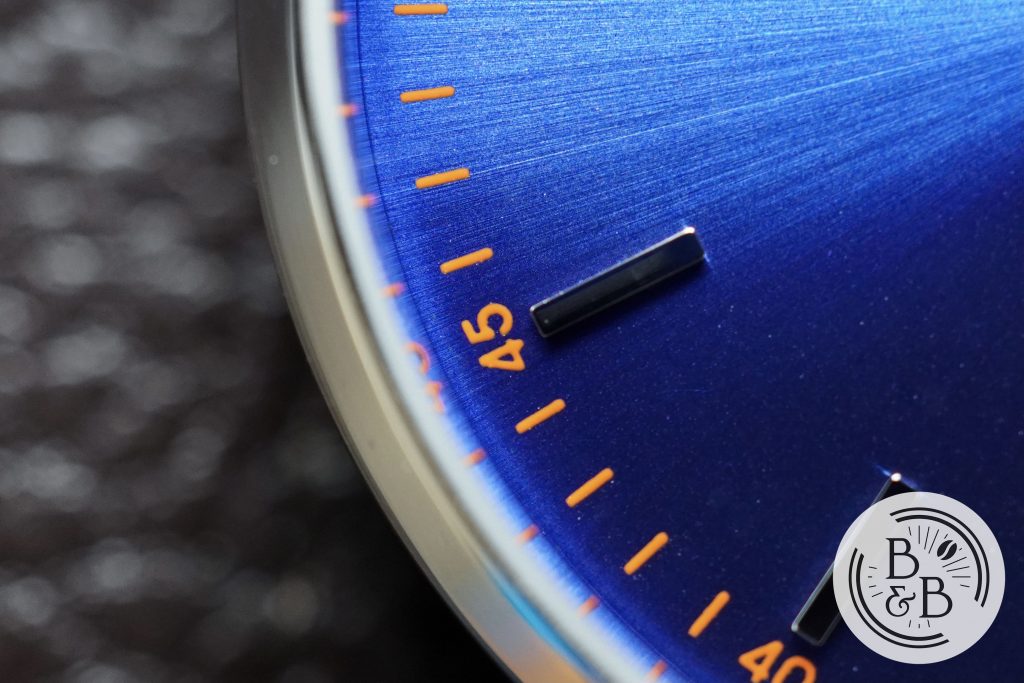 You have an outer minute track that is printed in orange, with Arabic numerals for every 5 minute increment. The quality of printing is good.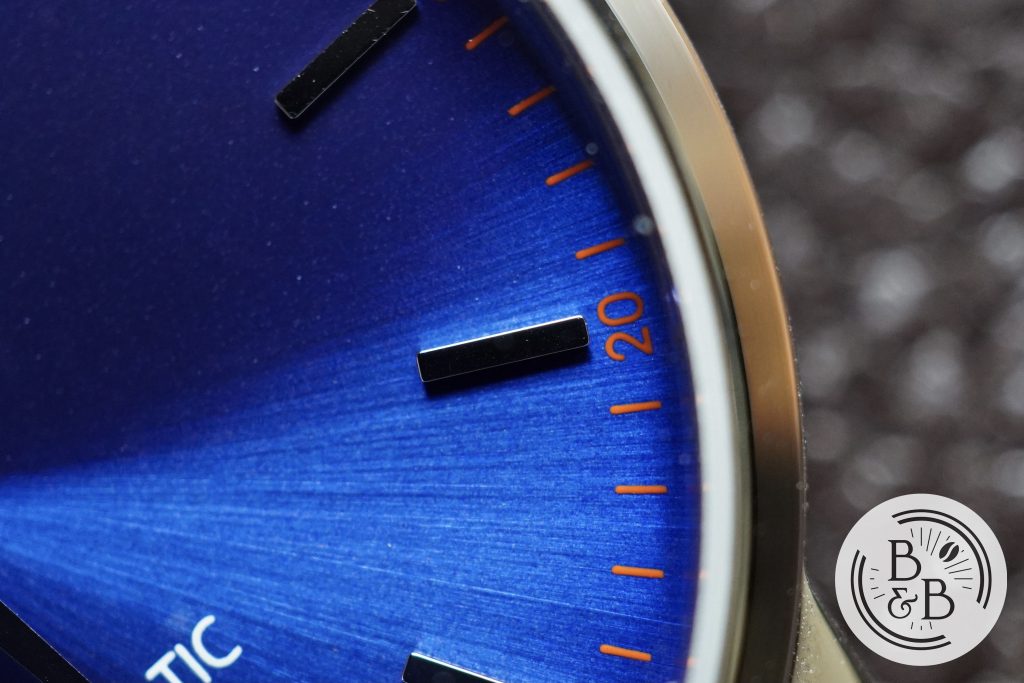 You then have polished applied indices for each hour marker. The finishing is good, but I noticed a bit of dust and dirt on most indices. Not uncommon for a $350 watch, and none of this is visible to the naked eye, so we're good.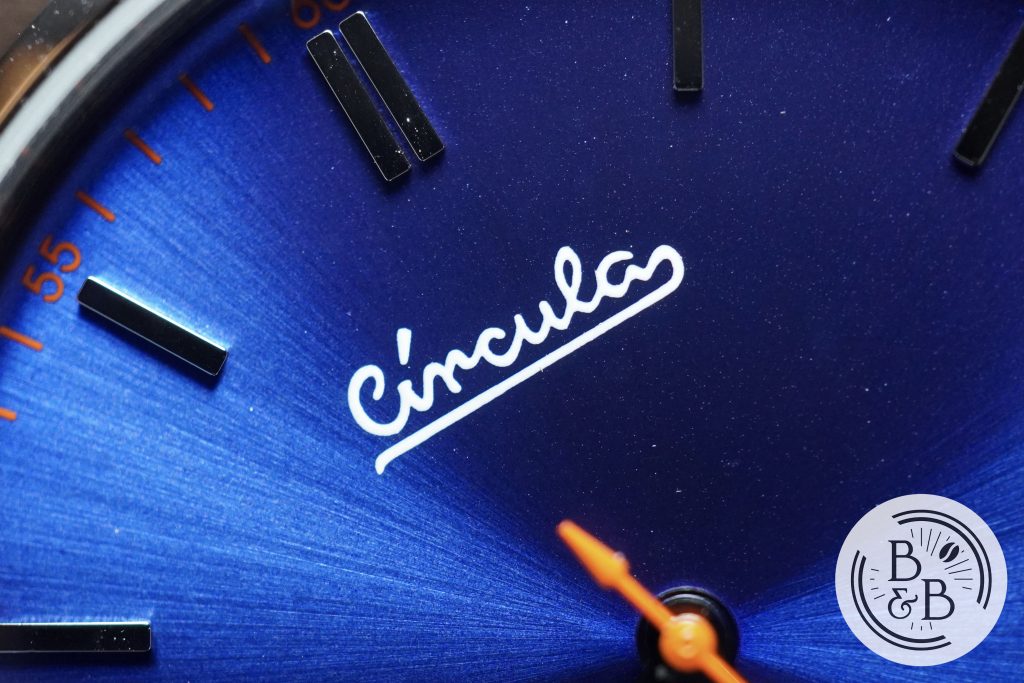 You then have the brand's logo printed below the 12 o'clock, and automatic above the 6 o'clock. Good printing quality, no complaints here.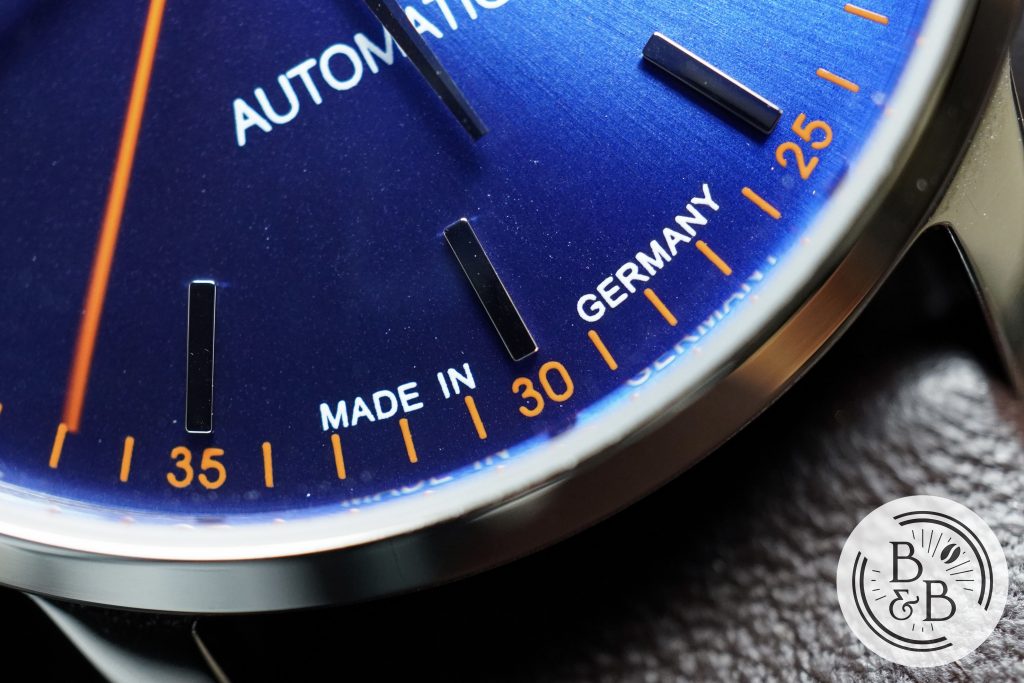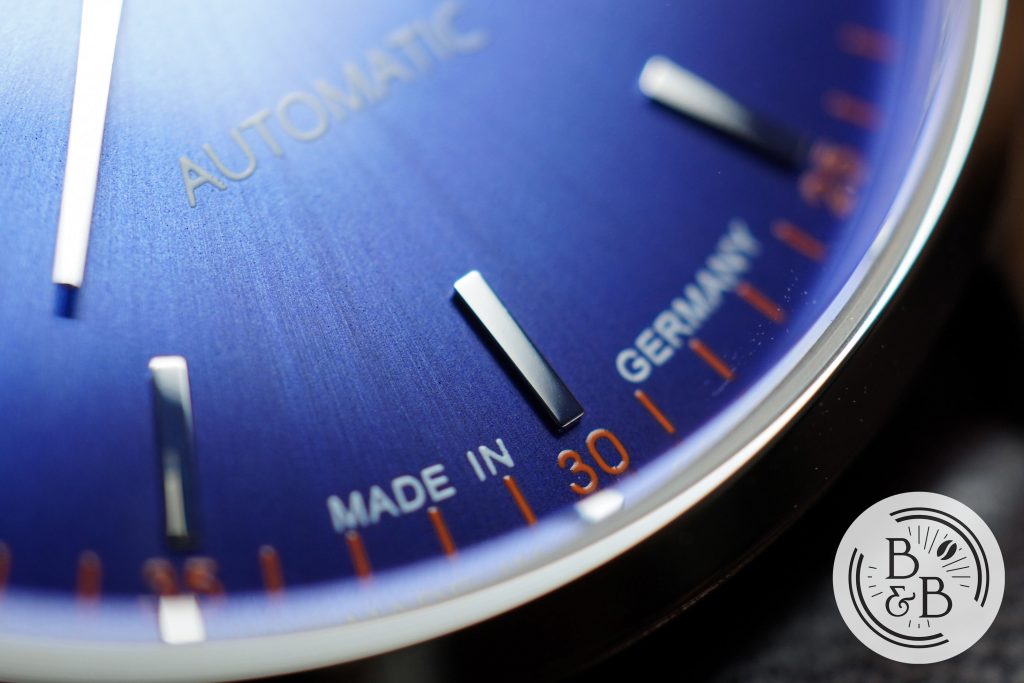 I like the bold 'Made in Germany' printed above the minute track at the 6 o'clock position too.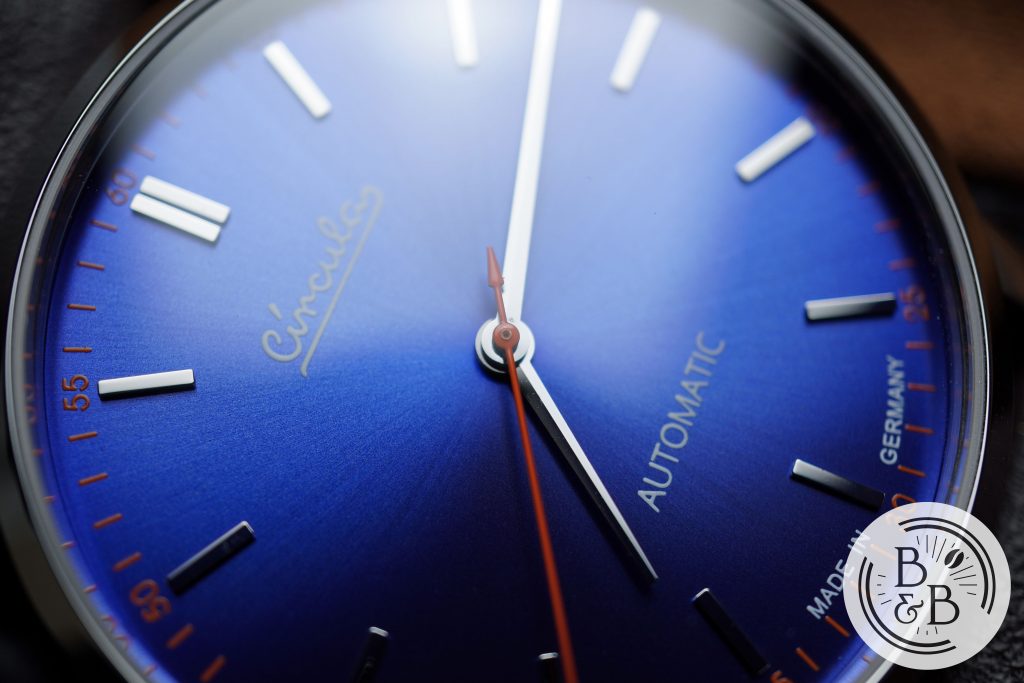 The hands are very sleek, and fit the overall dress watch aesthetic quite nicely. The finishing is adequate, but not excellent as I noticed some scratches and dust on them too. I do really like the orange seconds hand and the orange minute track though, and I think the dial looks great.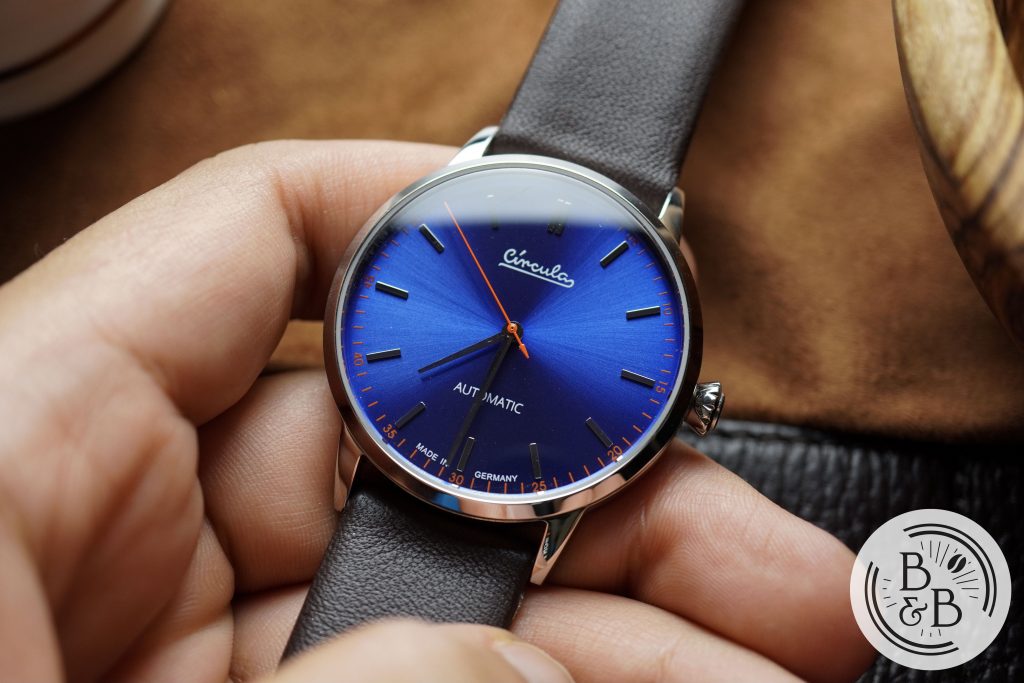 So, overall, the dial is well designed, and more than adequate for the price that you're paying. I wouldn't say that the quality control is great though, and is pretty much identical to what you'd expect from a Seiko watch in this price category, which is not really a compliment.
---
Movement
This watch uses a Miyota 9015 movement, which is quite good for a $350 watch. There is a ghost date position, which is completely fair given the price range. As with most Miyota 9xxx series movements, there is a significant amount of rotor spinning noise, and some gyroscopic wobble. But this is more to do with the movement itself, rather than the watch.
I was on a tight schedule with these two Circula watches so I didn't have enough time to do any accuracy measurements.
---
On The Wrist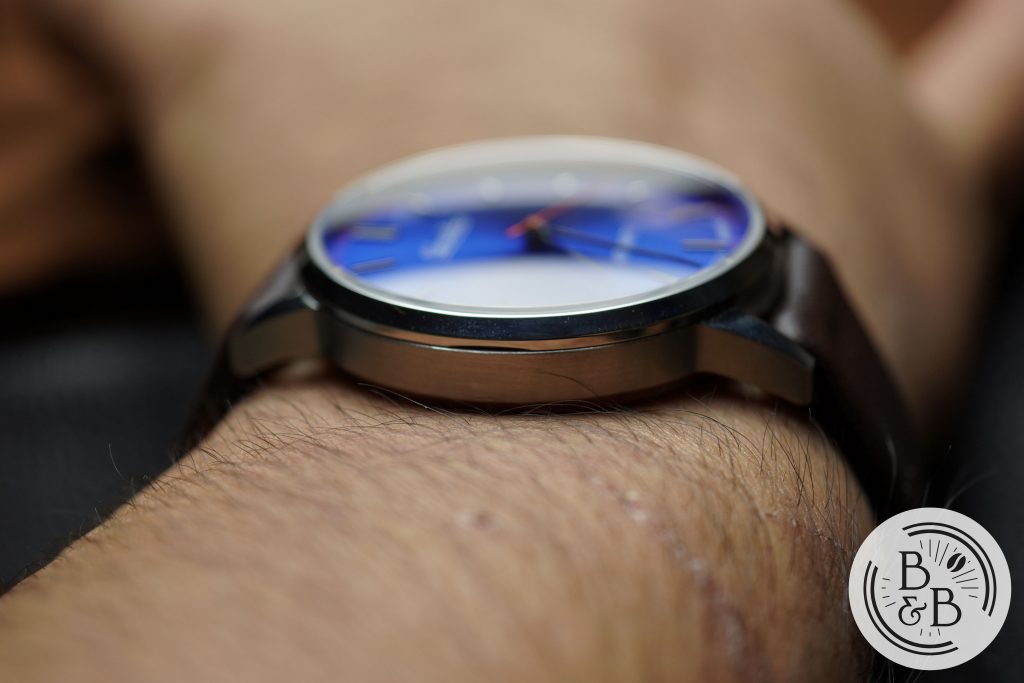 The dimensions make it a comfortable watch to wear on my 6.25″ wrist. If I were to compare this watch with the Seiko Presage Cocktail Time that I previously reviewed, this one wears much better and feels more like a dress watch, thanks to the 10.5mm height (versus the 12mm on the Seiko).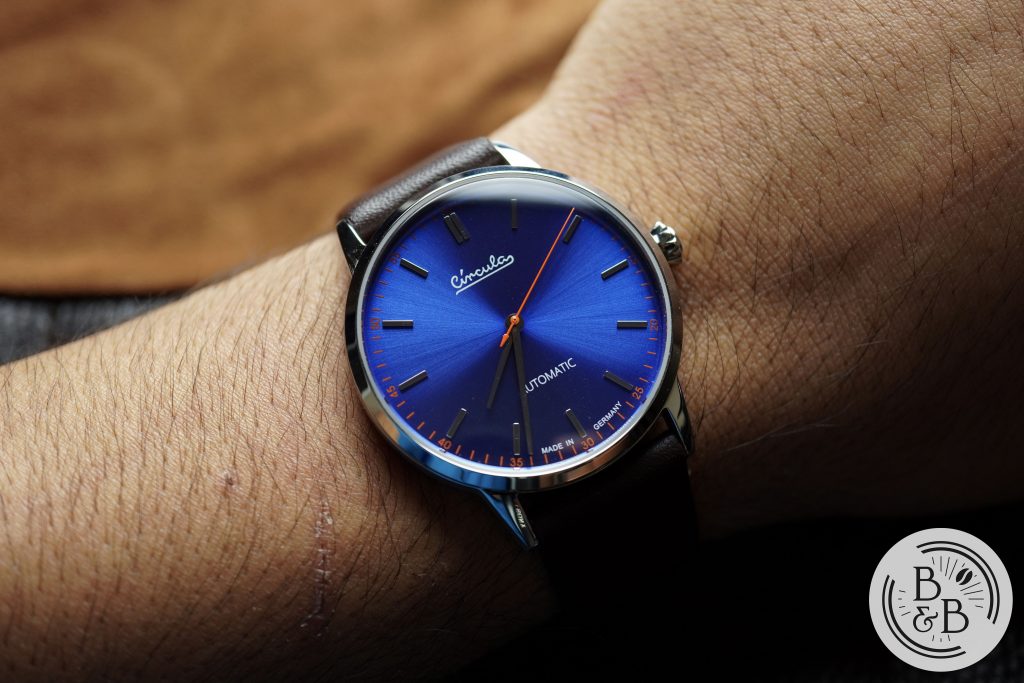 The lug to lug width is also more compact at 45.5mm versus Seiko's 47mm. I prefer my dress watches to wear smaller, but your preferences may vary.
It sits low, feels well balanced and wears exactly how I expect a dress watch to wear. Given the slim Miyota movement inside, I think they could've attempted to go sub 10mm in height, but I'll take this. The leather strap that they provide is good, with a signed buckle and fairly comfortable materal.
---
Concluding Thoughts
Overall, it makes a very good argument for providing value for your money. The case is well made and well finished, the dimensions are great and the movement is better than what you typically see from watches in this price range (Miyota 8XXX series).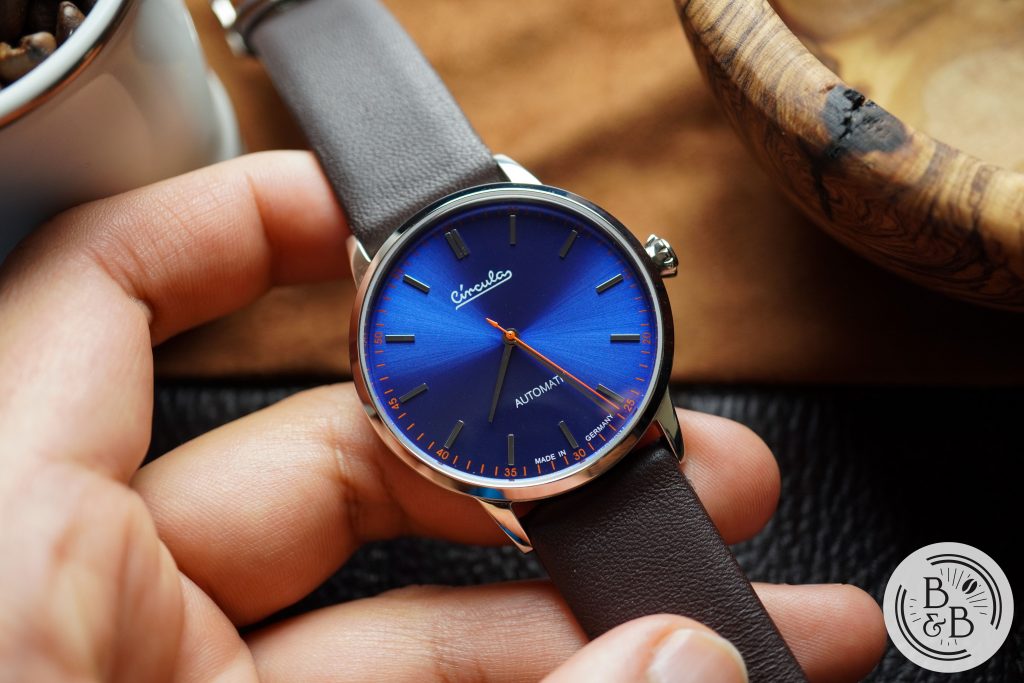 That said, I expect micro-brands to do better than mass manufactured watches like Seiko. And unfortunately the quality control on the dial of this watch was not really any better than the Seiko Cocktail Time that I harshly criticized a few weeks ago. So if I were asked to pick between these two watches, the main aspect that separates this watch from the Seiko is the more comfortable case proportions. And I personally prefer a Miyota 9 series to the Seiko 4R35, so the choice would be easier for me, but your preferences may vary.
---
Strap Change
---
Thanks for reading!