---
Disclaimer: This watch was sent to me to review, and I do not need to return it after my review is complete. This watch was given to me without restriction and is not contingent upon a particular outcome for my review. All opinions here are my own, and Vaer had no influence over the opinions stated here.
---
---
Contents
---
Vaer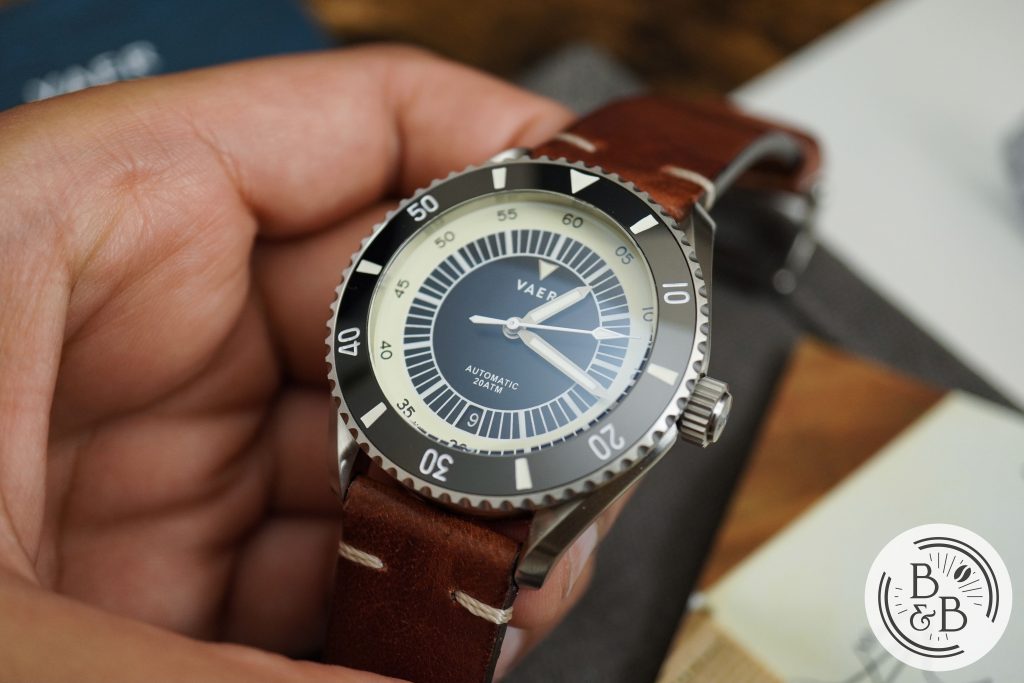 Vaer is an American micro-brand that has been on my radar for a while now. They've been around for quite some time, and they've been pretty well received by the micro-brand watch community. I discovered them as they were one of the early adopters of the Ameriquartz movement, a USA Made Quartz movement made by FTS.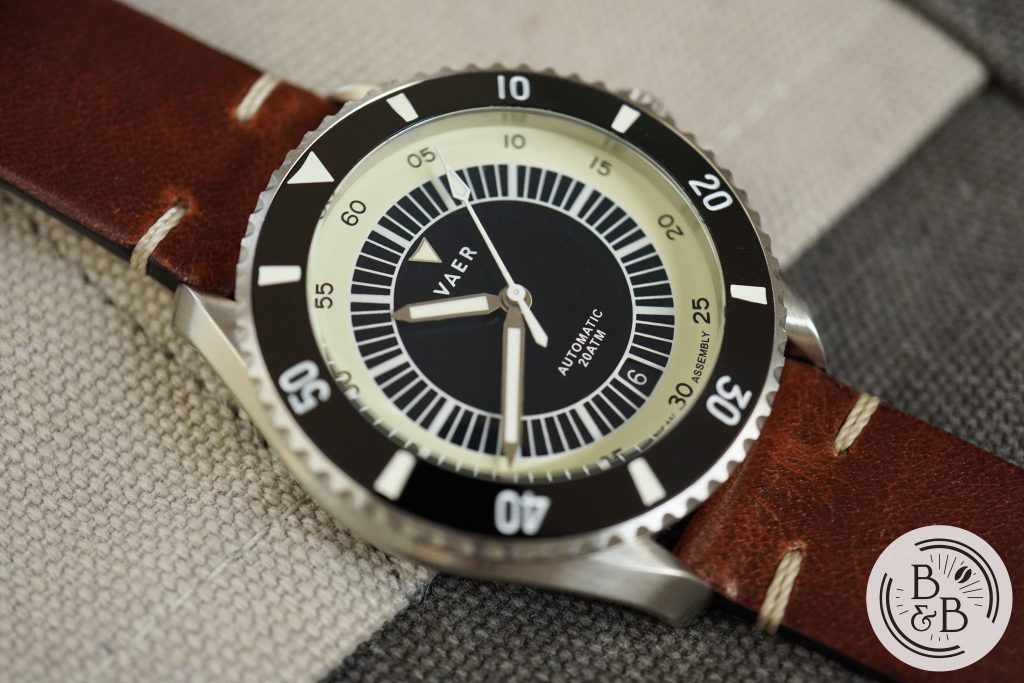 This watch uses an automatic Miyota movement though, and is from their lineup of dive watches that they released recently. This is the D5 Tropic and is easily my favorite design from the collection, because of the interesting dial design and the well executed roulette date wheel. This watch retails at $550 USD on the metal bracelet, and is assembled in the USA.
Let's check it out!
---
Case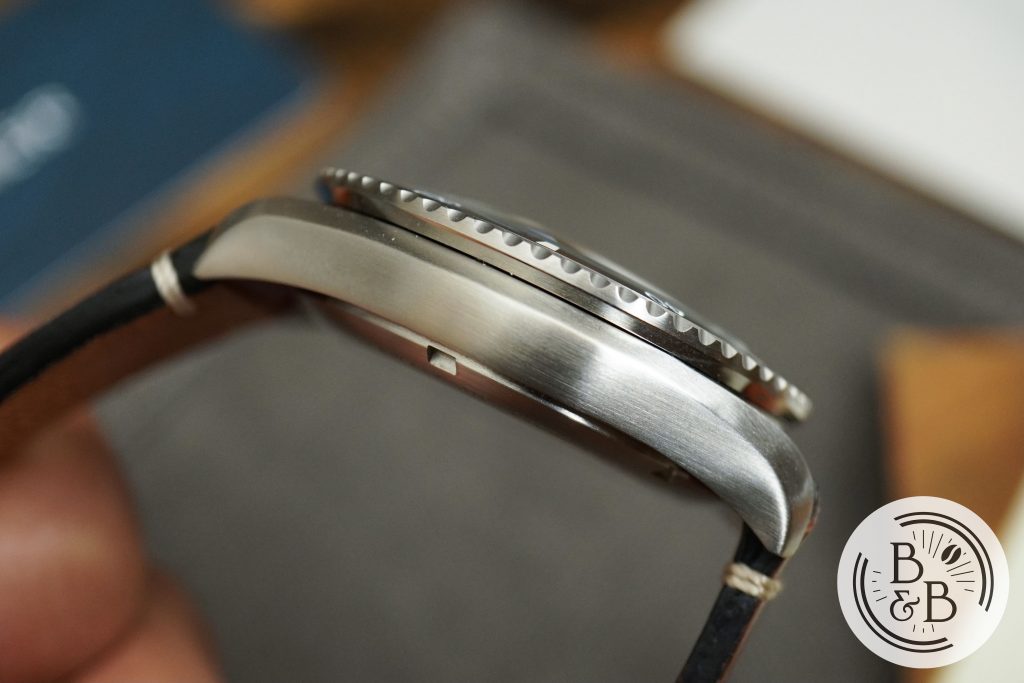 I measured the case to be 40 mm in diameter, 45 mm from lug-to-lug and a height of 13.3 mm that more realistically feels like 11.5mm since about 2 mm is the curvature of the crystal. The case is entirely brushed, and borrows heavily from Omega's twisted lug case design. The quality of brushing is good, and the dimensions come across as being more comfortable than most Omega watches on my wrist because of the flat case-back.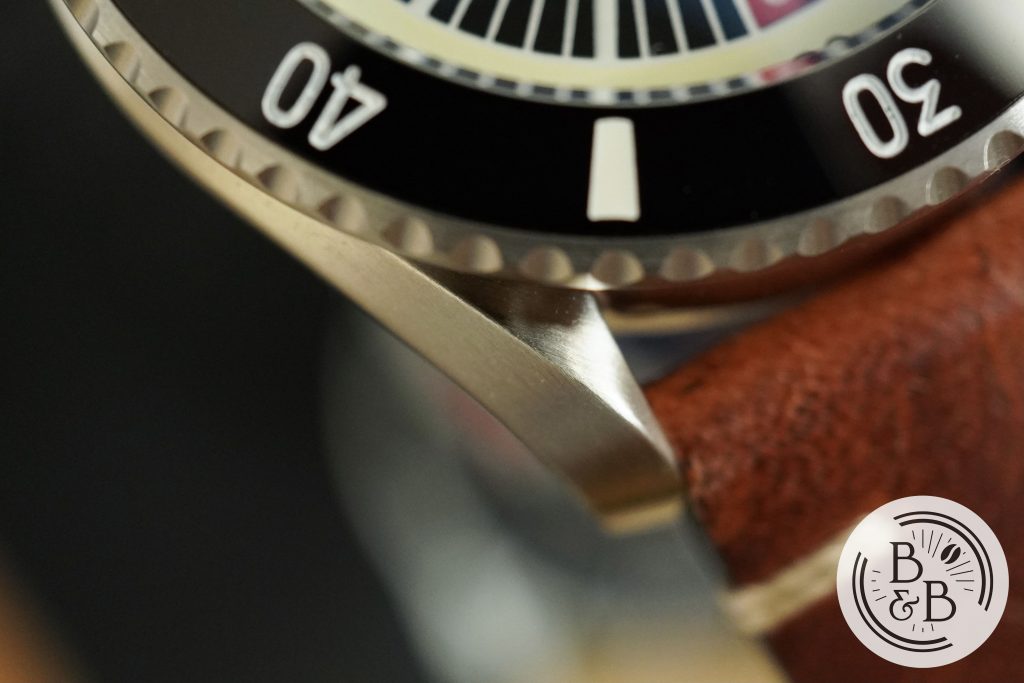 I love the twisted lug design, and its one of the main reasons I enjoy the Speedmaster and the old Seamaster 300 watches. It is well executed here, and I like the rounded edges between all surfaces.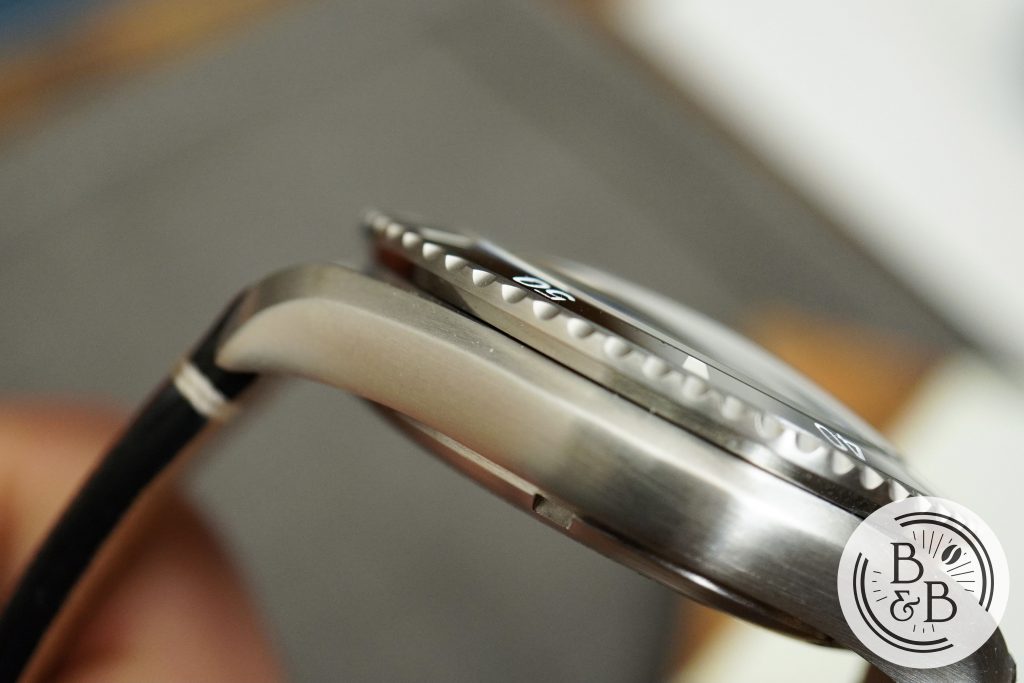 The bezel flares outwards from the case and has an excellent grip that follows the Rolex Submariner quite closely. It is easy to grip and operate, and the action is terrific. The insert is simple, with lumed markers and painted numerals. Everything lines up nicely and the bezel is easy to read.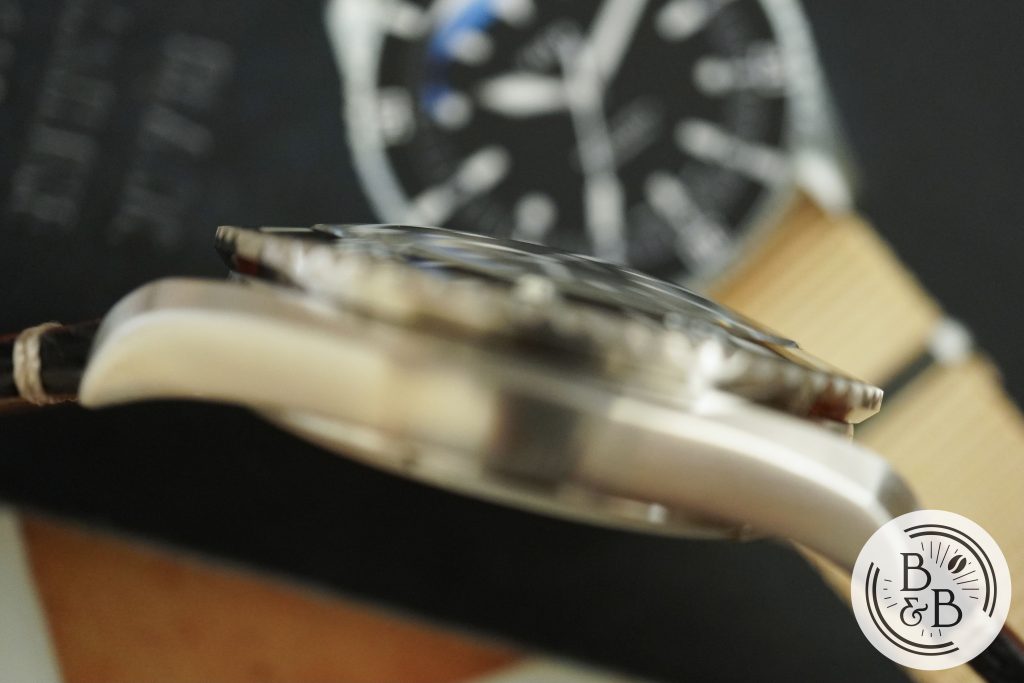 There is a domed sapphire crystal that looks great, and has a decent amount of AR coating. But the curvature of the crystal makes it pick up reflections pretty easily even with the AR coating. I love the curved crystal aesthetic, but I'm not thrilled about the reflections, so maybe more layers could help.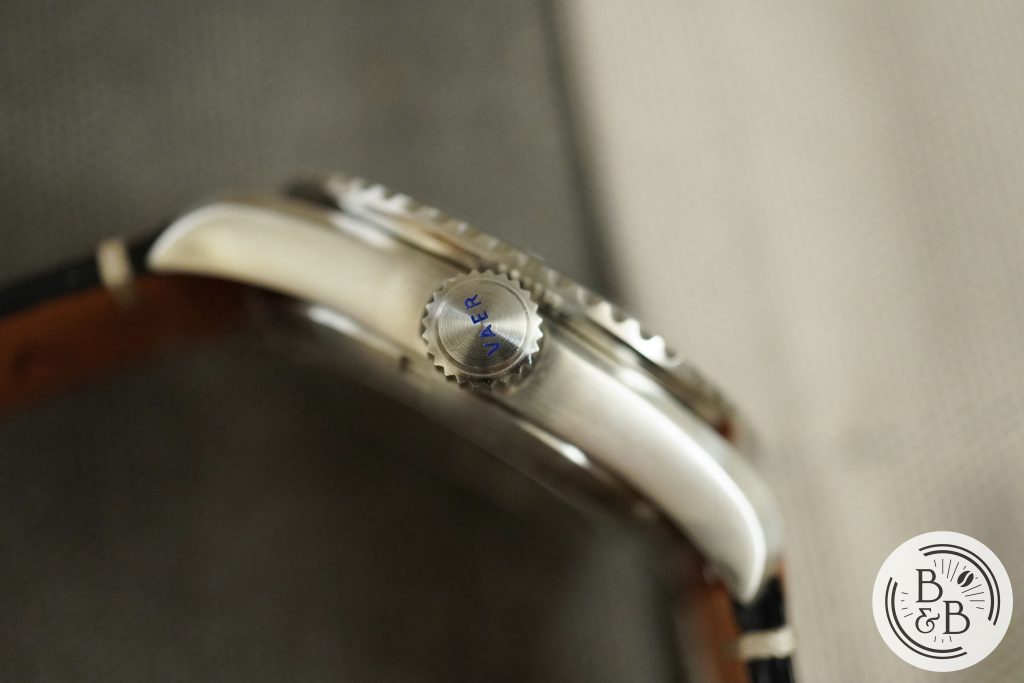 There is a 6.3 mm signed screw-down crown at the 3 o'clock position that is easy to operate thanks to the deep triangular teeth. There is a bit of wobble on the crown head, but nothing to worry about. The blue protective crown plastic appears to have melted into the engraved logo, but I was informed that this was a quality control issue that has now been addressed. I can clean it out with a toothpick if I wanted, but I decided to leave it be because it looked pretty cool.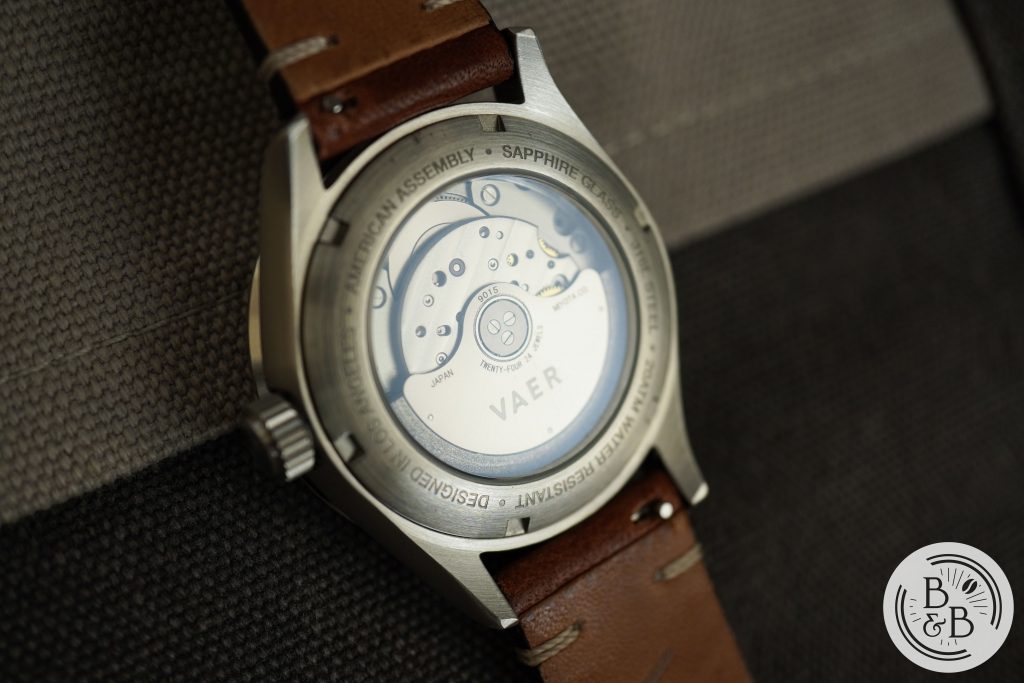 Flipping it over, you have a screw-down case-back with an exhibition window. Typically I'd say get rid of the exhibition window and give me a slimmer case-back instead, but I find this case-back to be comfortable already and the height has been managed well. This watch is rated for up-to 200m of water resistance.
---
Dial
I love the dial design, and that shouldn't come as a shock to anyone because the design was heavily inspired by the Jaeger LeCoultre Deep Sea Alarm and I love vintage JLC dive watch designs.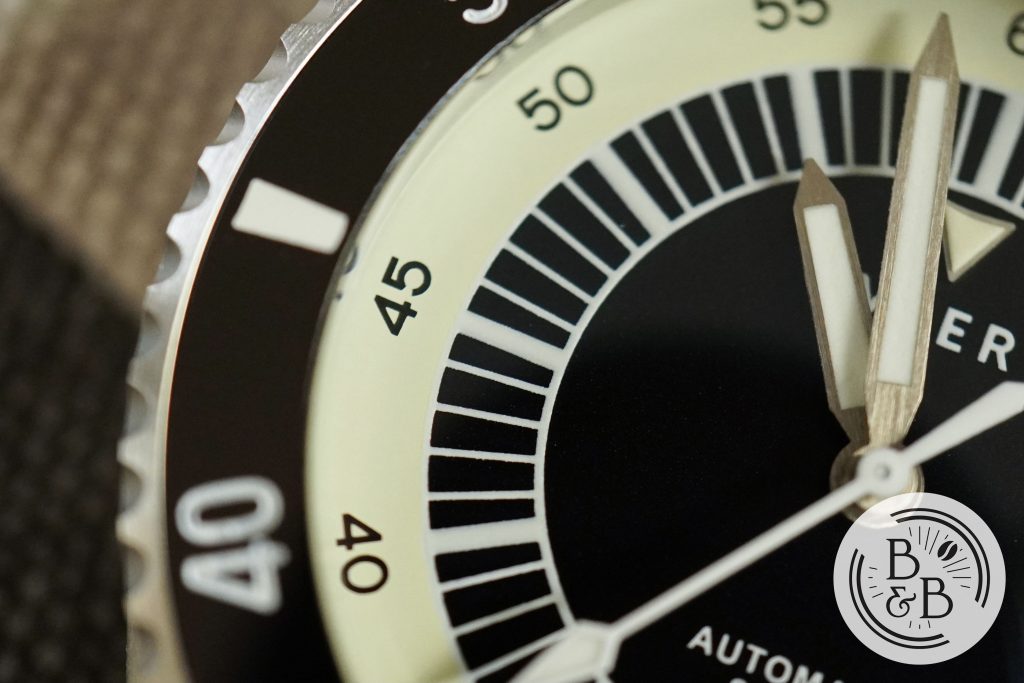 The outermost element is a ring of printed numerals denoting each five minute increment, printed in black against a cream colored background. The printing quality is good, and this somewhat atypical dial layout is refreshing.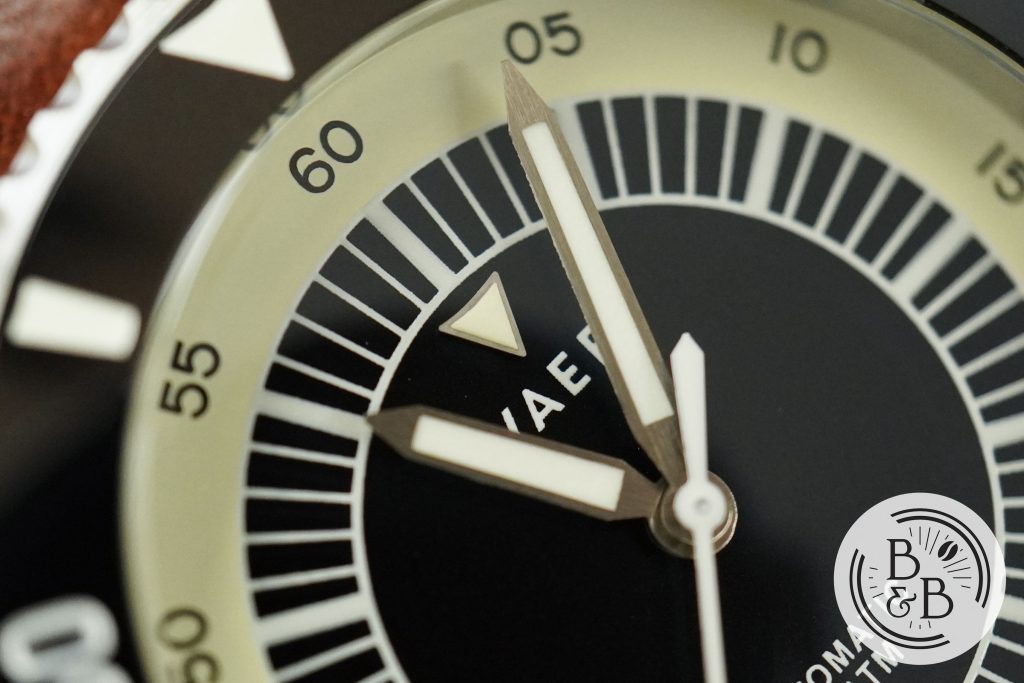 You then have an inner minute or seconds track that is printed in white against a black background. There are thick white lines for the five minute increments and slim white lines for the rest.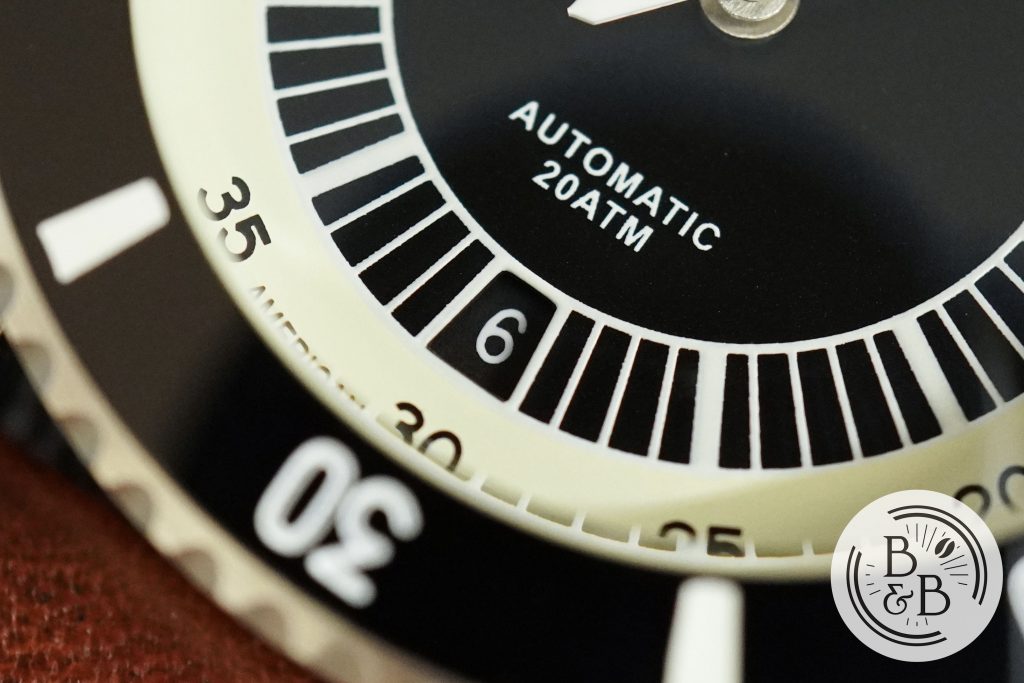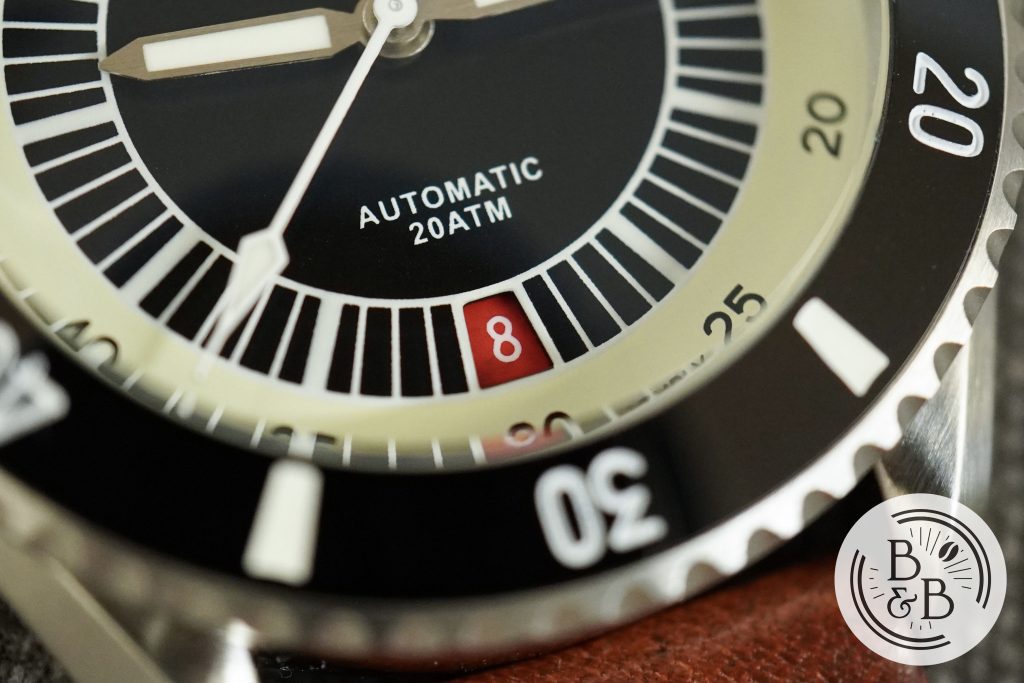 The best part of this section is the roulette wheel date window that is brilliantly integrated into the dial design. You know how much I love 6 o'clock date windows, and this one executes that by perfectly blending into the dial design. The date wheel alternates between cream, black and red. Excellent stuff here!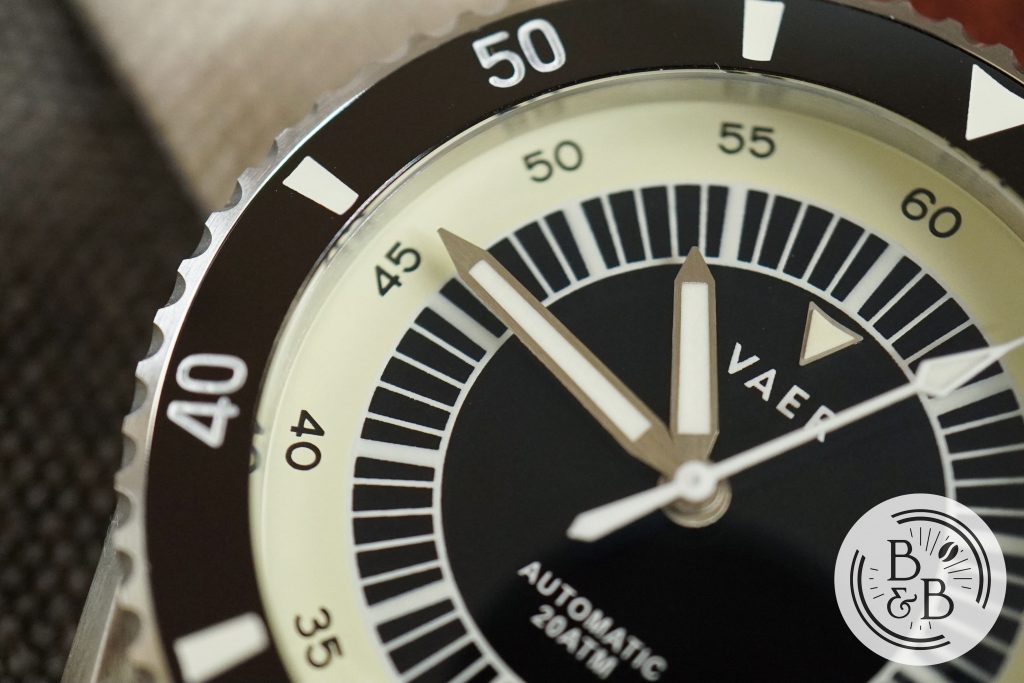 Moving inward you have a black circular section that has a triangle and the brand's name under the 12 o'clock, and some text above the six o'clock. Good printing quality and pretty good tidiness on the dial.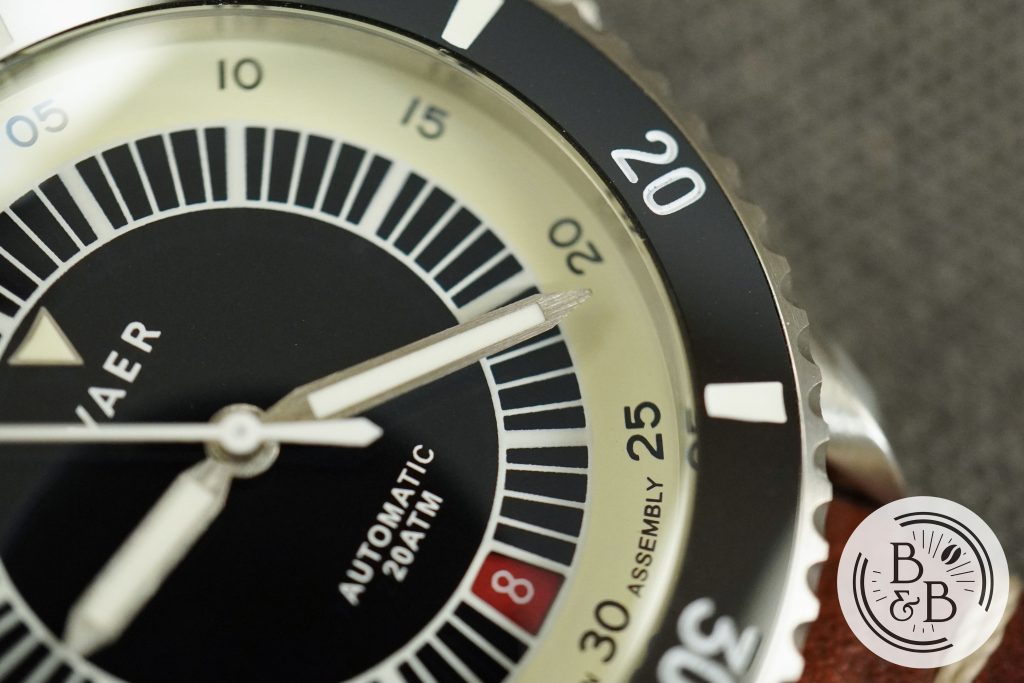 You then have brushed hour and minute hands with good proportions that make it easy to read. The hands have large lumed sections, painted seconds hand included. The finishing on the hands is good, and the brushed handset works with the entirely brushed case quite well. No complaints from me regarding the dial – I like it!
---
Lume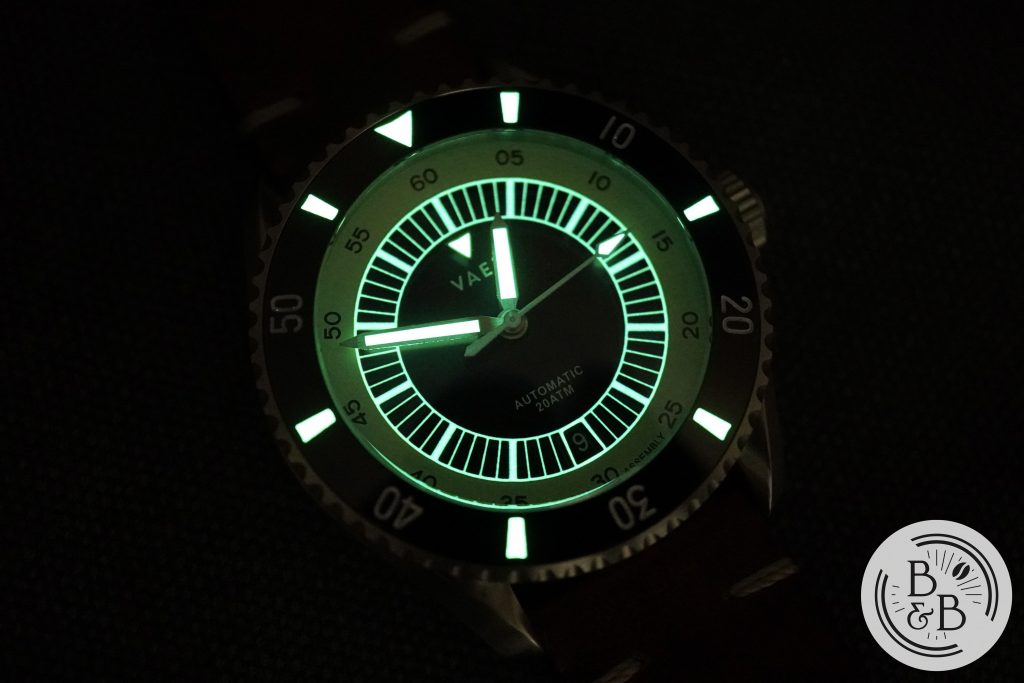 I love the lume design on this watch. Even though the watch design is very classically styled, the lume definitely feels more modern and futuristic because of the inner lumed ring.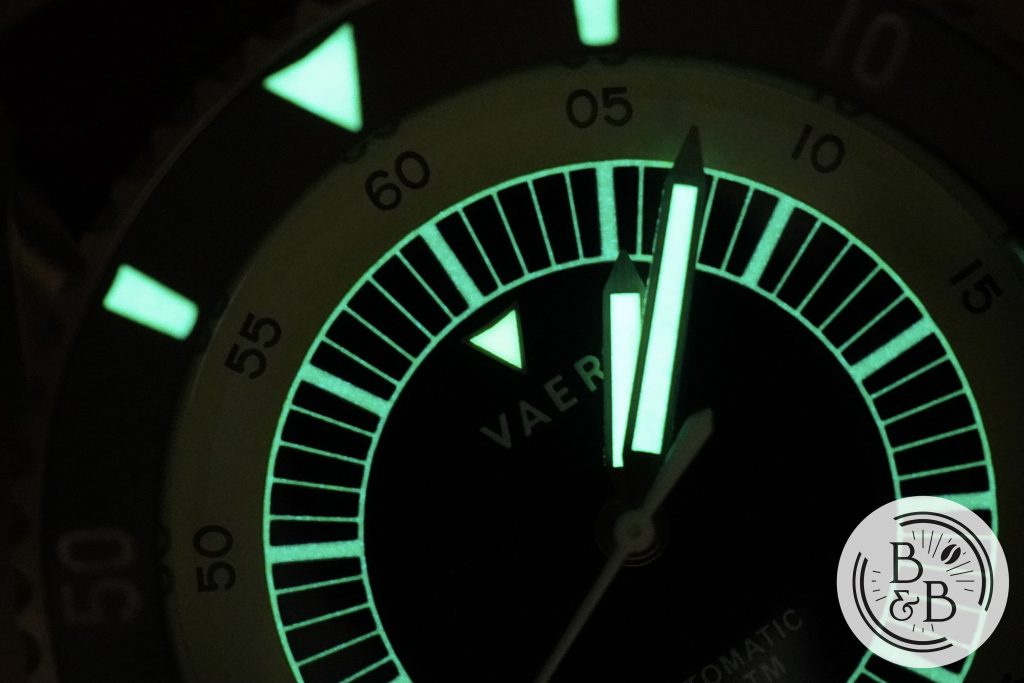 All the lumed elements are Grade X1 C1 Super LumiNova, and the larger elements glow bright and hold their charge well. The inner ring has narrow strips that naturally fade a bit quicker, but that is to be expected.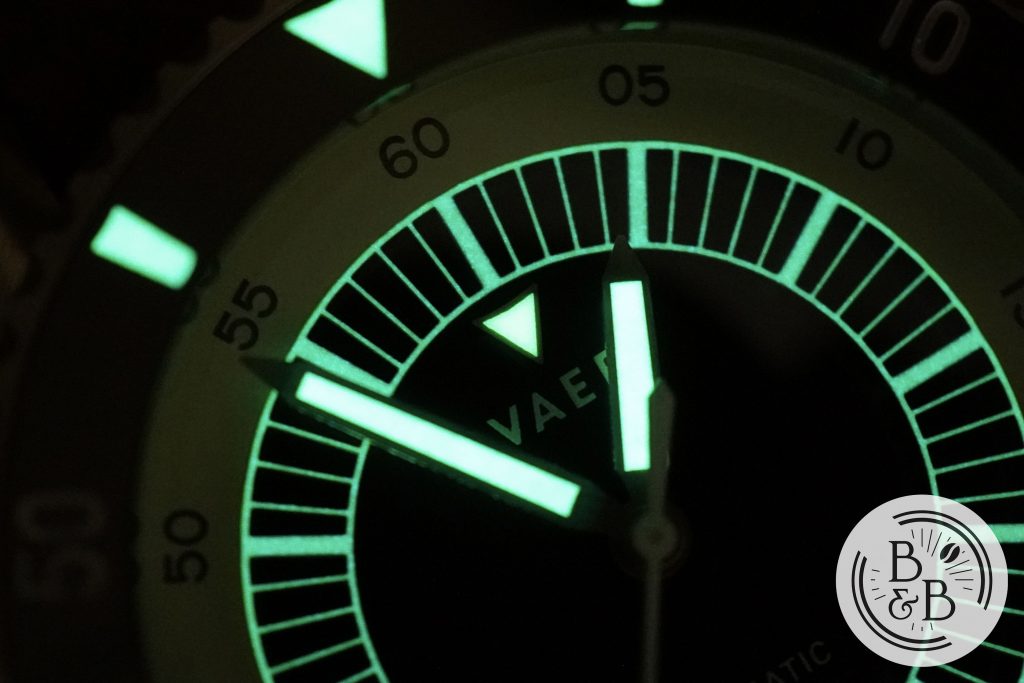 The hands and bezel are generously lumed, glow bright and have good longevity. The seconds hand is also lumed, and I love the small lumed triangular element on the dial, as it serves as an inner orientation reference when the bezel is being used. No complaints from me here at all.
---
Movement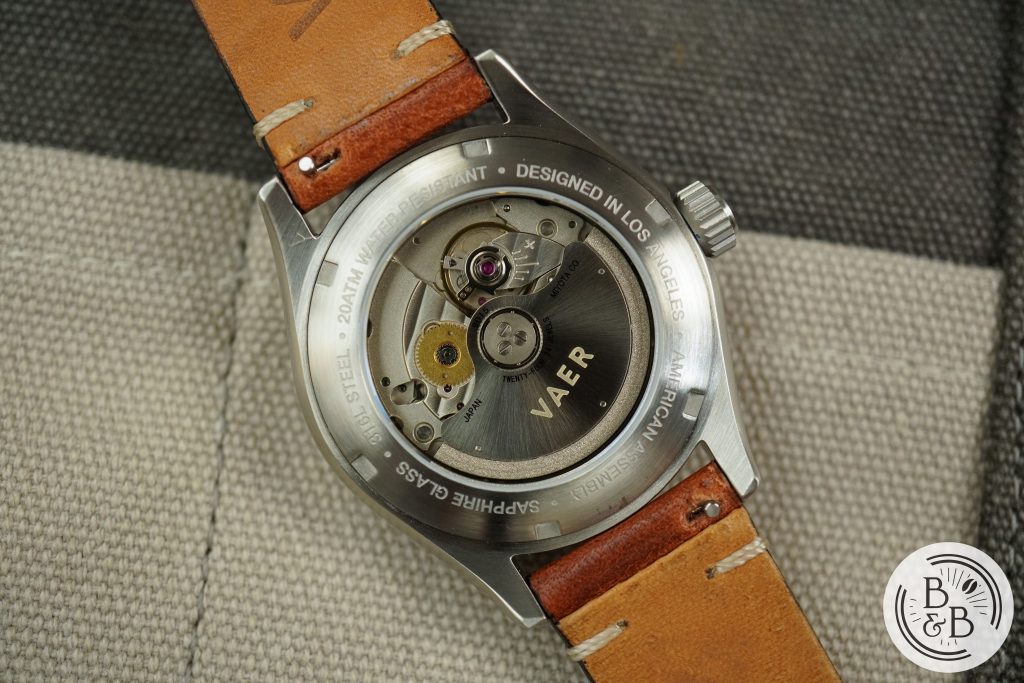 This watch uses a Miyota 9015 movement, which is on display thanks to the exhibition case-back. Miyota 9 series movements aren't the best in terms of decoration and have a very industrial approach to the design, but they certainly look a lot more appealing than Seiko NH35s so I'll take it.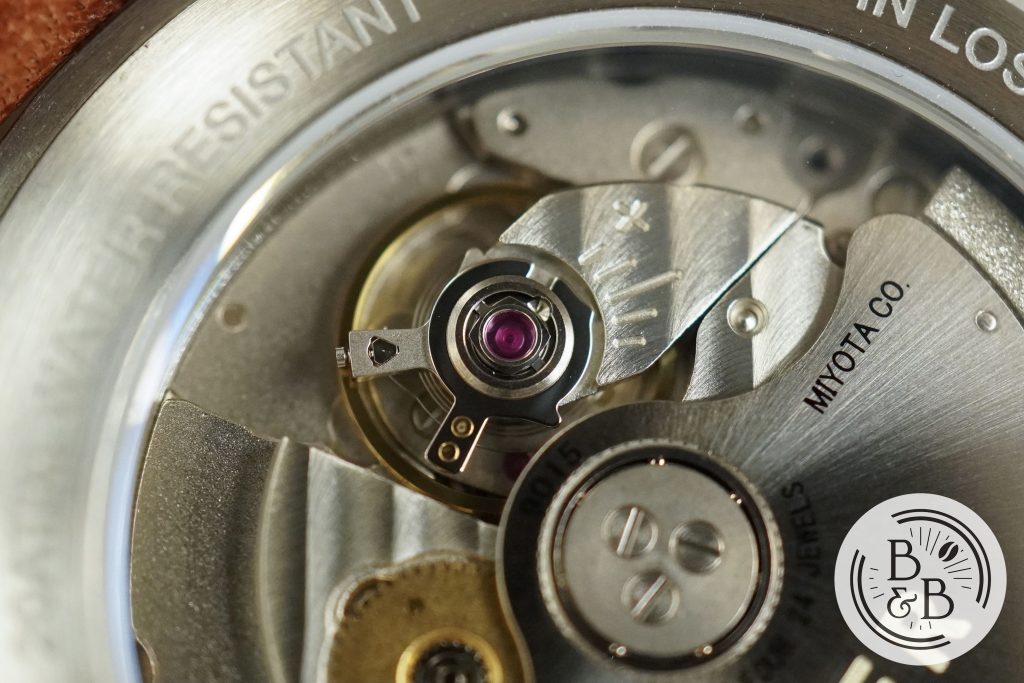 ETA and Sellita movements aside, I think the Miyota 9 series are an excellent choice for affordable watches, and the sleek design allows for a lot more flexibility in case design. And this particular movement is perhaps one of the cleaner examples I've seen of this movement, which is a testament of their assembly and quality control standards. There's less wobble here than on most Miyota equipped watches I've reviewed, but every now and then you'll hear it go into freespin mode.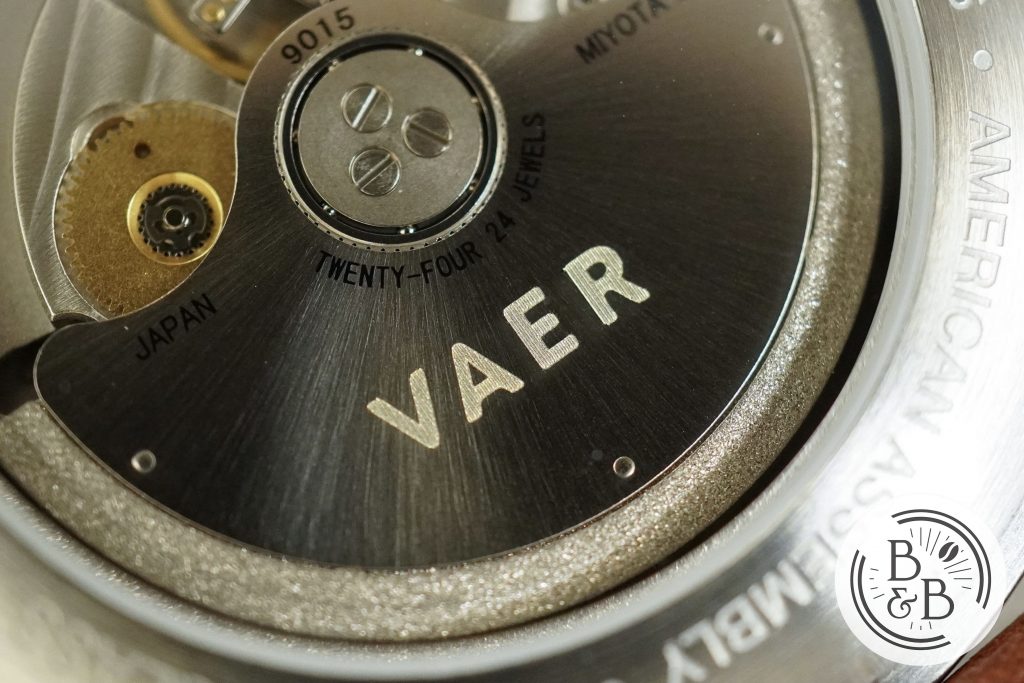 On my time-grapher, I observed roughly +6 spd in the dial up position, and +5 spd in the crown up position. So these movements perform well for the price, and they are fairly easy to regulate.
---
Bracelet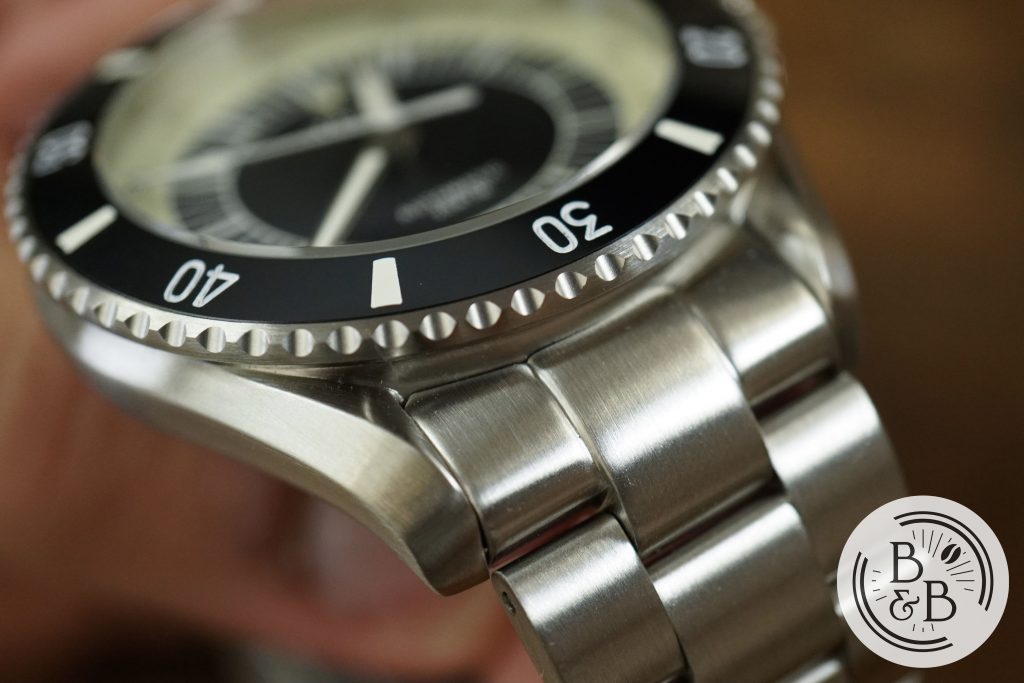 The bracelet is pretty standard micro-brand stuff, but the tolerances are good and it doesn't have any sharp edges or hair pulling links. The end link fitment is excellent, and the bracelet has quick release pins.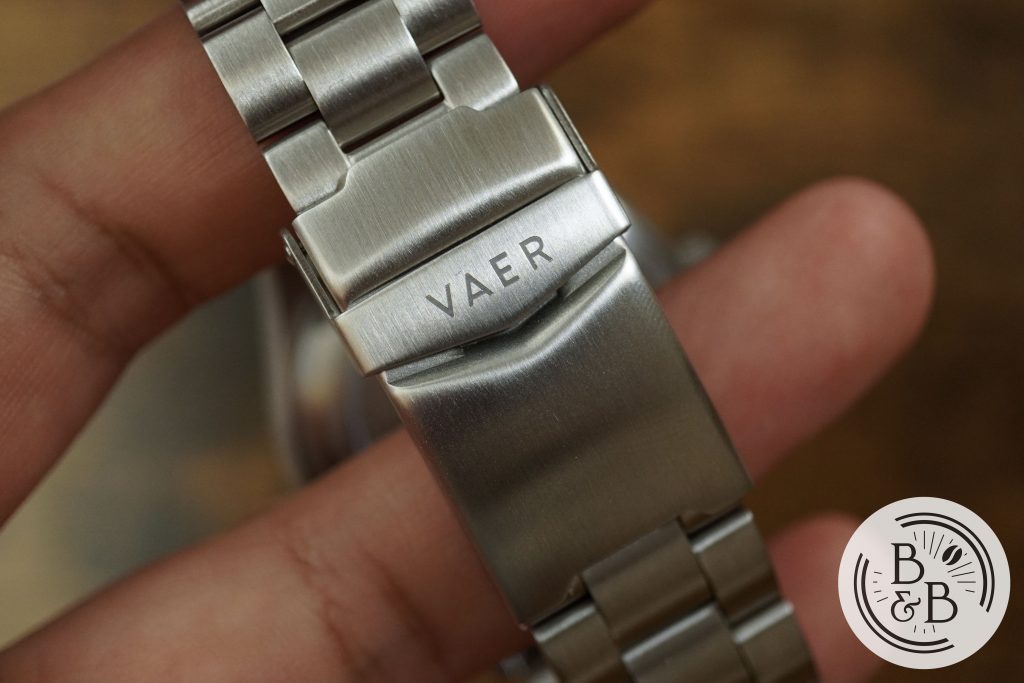 The links articulate reasonably well and the quality of brushing is pretty good. The clasp has a fold over lock, is friction fit and has micro adjustments. The clasp itself is pressed, but the inner assembly is milled. All good stuff, and nothing to complain about for the money.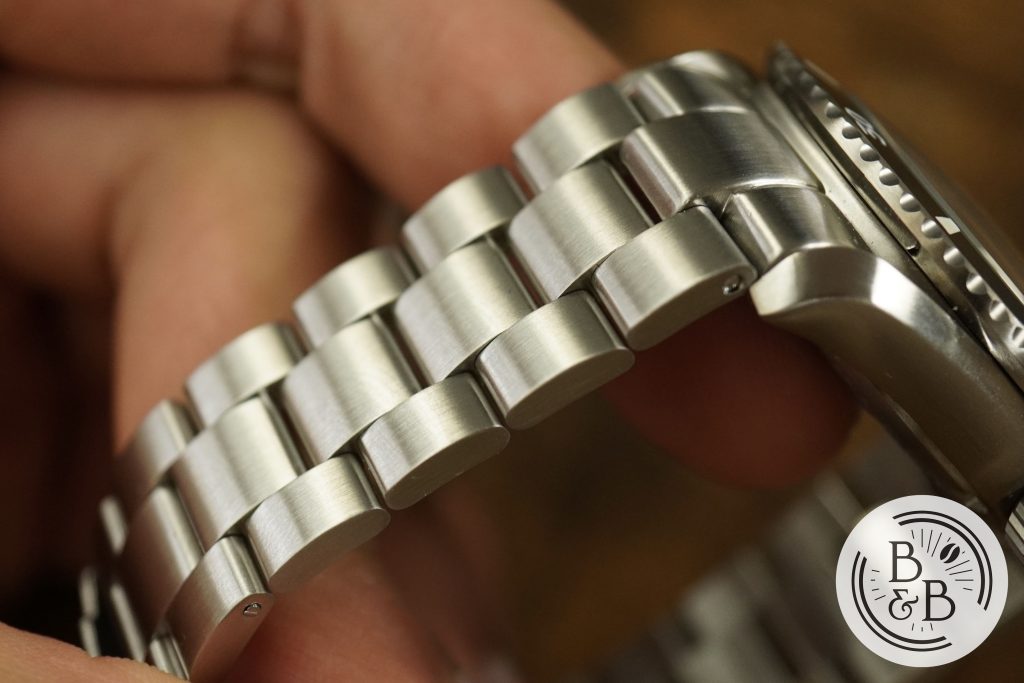 I did notice that if I wear the watch a bit tight, the quick release pins make contact with the skin on my wrist. Not enough discomfort to be concerned about, but worth noting for future improvement.
---
On The Wrist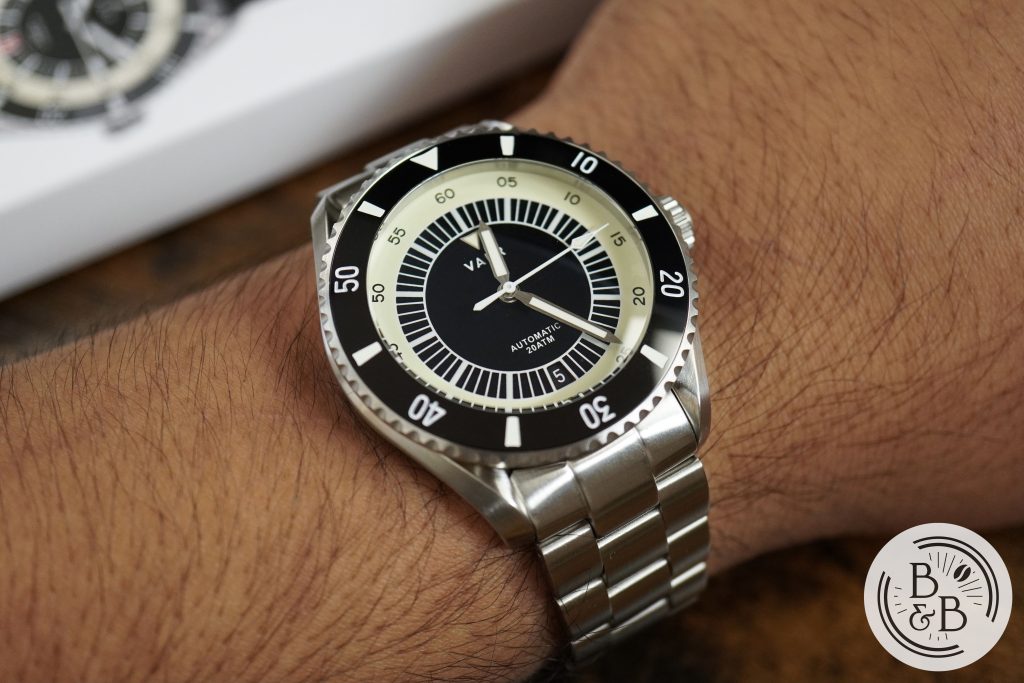 This watch wears great on my 6.25″ wrist, and I think that is because of the comfortable 40 mm height, together with the compact 13.3 mm (more realistically 11.5 mm) diameter and 45 mm lug-to-lug width.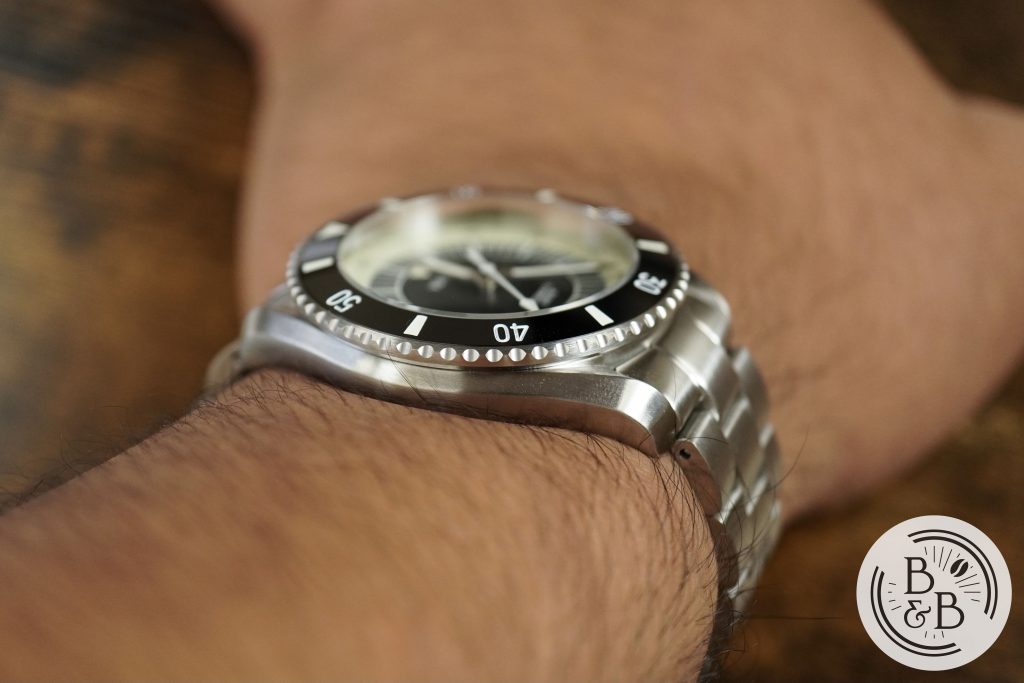 The case-back is slim, and helps the watch sit low on the wrist, made possible because of the Miyota 9015 movement.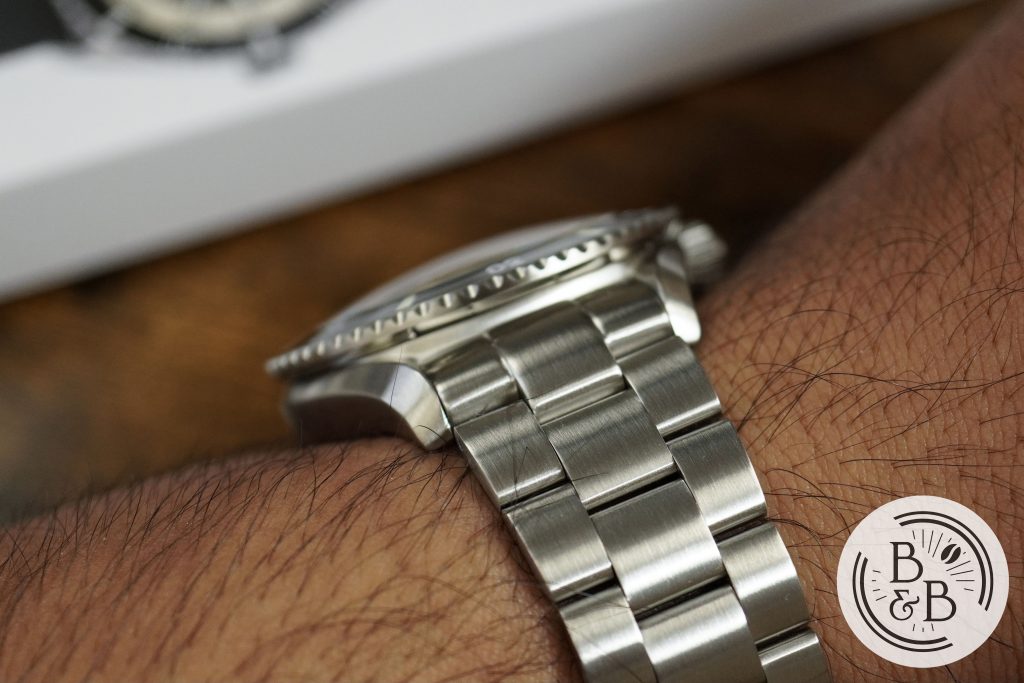 I've enjoyed wearing this watch for the last couple of weeks and I think the wrist presence is well executed.
---
Concluding Thoughts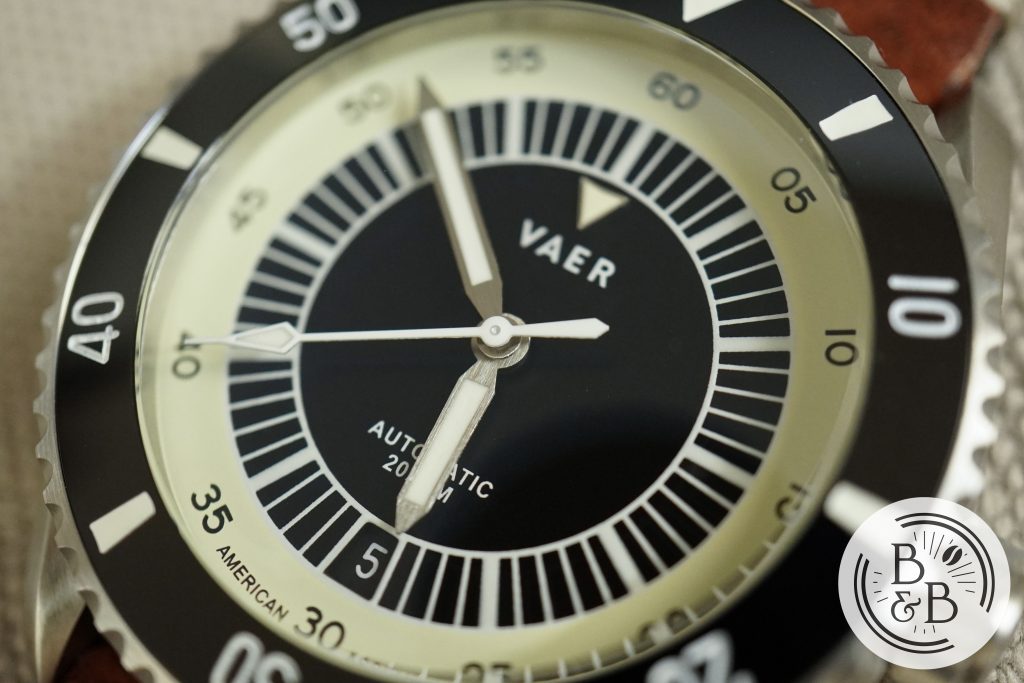 To wrap this up – I've enjoyed my time with this watch and it has appealed to me both from a design and comfort perspective. While individual elements of the watch may not be entirely unique, it has certainly done a good job of combining design elements that work, and put it into a package that is well built and affordable. I can't think of much to complain about or criticize strongly, and I think you're getting a solid watch for your money.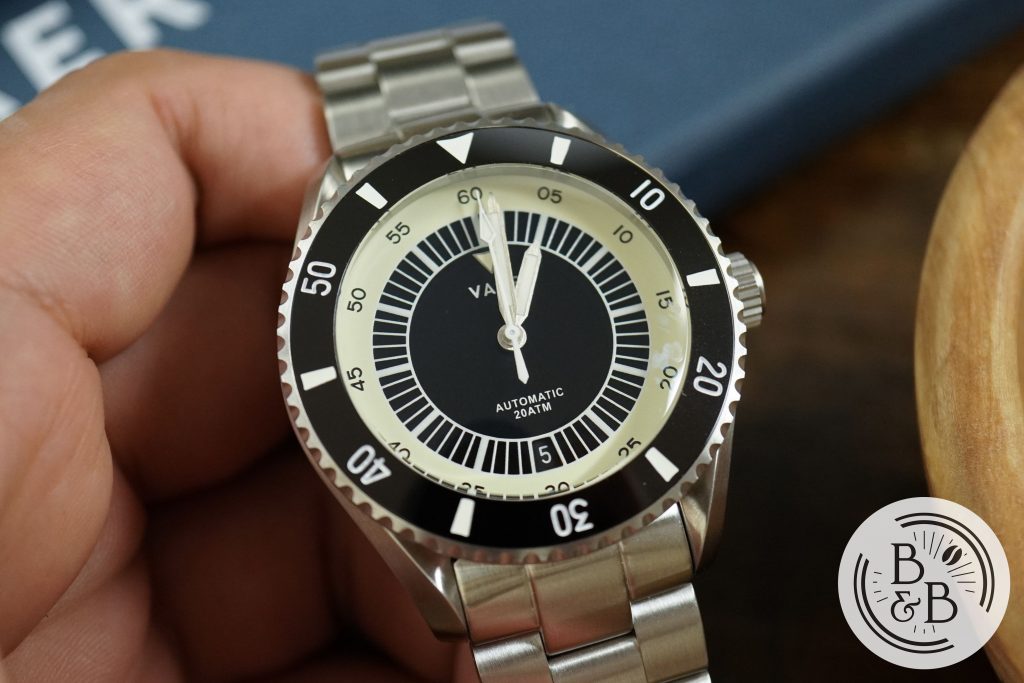 Overall, I'm excited for this brand because I think they are in an interesting position, as they are perhaps one of the few micro-brands in the US that have the necessary relationships, the right skills and the financial capabilities to bring to life a watch that is entirely Made in the USA. So I secretly hope they are working on sourcing some cases and dials locally. But I won't get ahead of myself, and I hope to see them release a line of automatic watches that use the latest Americhron movement for starters.
---
Strap Change
---
Thanks for reading!