---
Disclaimer: This watch was sent to me on loan to review and I was not incentivized in any way to make this review. This is in no way sponsored by Christopher Ward or any other entity. All opinions here are my own.
---
---
Contents
---
C60 #TIDE
A few weeks ago I bought and reviewed the Christopher Ward C60 BLUE. That was a limited edition release that marked the first collaboration between Christopher Ward and the Blue Marine Foundation (BLUE), and all profits were donated to the foundation, with a total of $275,000 being raised. I enjoyed reviewing that watch, and I loved the idea behind it as well as the design.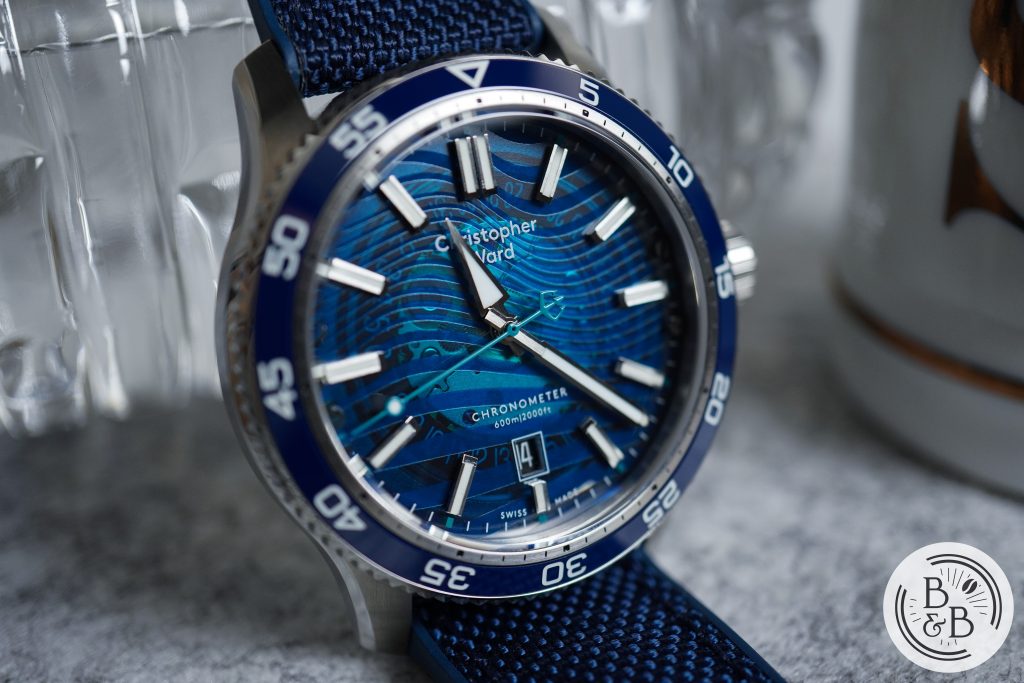 Christopher Ward is taking this collaboration and their #tide product line further, and recently released the C60 #TIDE, which joins their roster as a production model that also features their #tide straps made from recycled ocean plastic. This watch has a retail price of $1095 on the #tide strap, and $1215 on the metal bracelet. If you time your purchase right, you should be able to use one of Christopher Ward's $125 discount codes, bringing the watch on strap to under $1000, which I think is an incredible price.
Let's check it out!
---
Case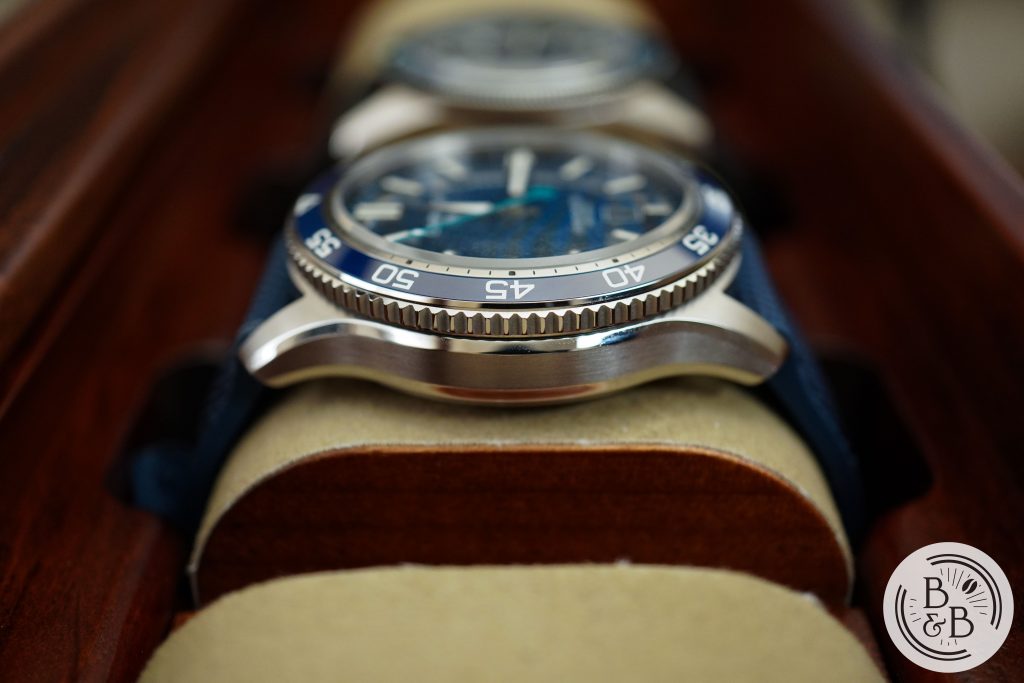 I measured the case to be 41.75 mm in diameter, 48.75 mm from lug-to-lug and 14.25 mm tall. I've said this multiple times, and I'll say it again – Christopher Ward makes some of the best finished cases in this price category, and even compared to a lot of "mid tier Swiss luxury" brands that cost 2-3x more. In a recent interview, Mike France said that Christopher Ward uses the same case supplier as Tudor, so that probably explains a lot of this.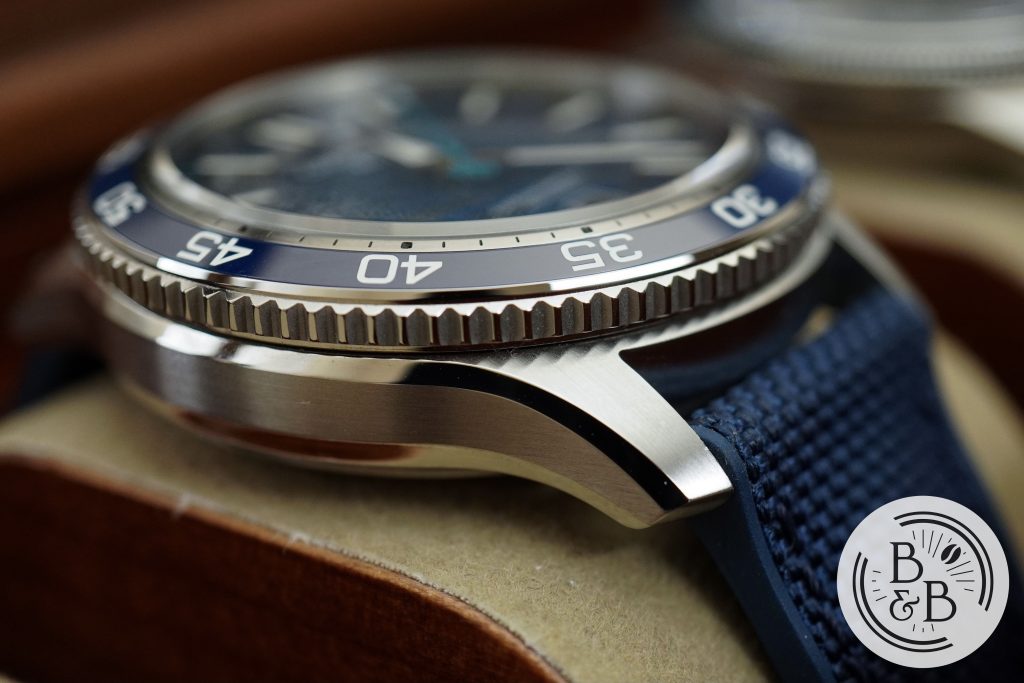 The mid case does a great job of carving out a lot of that 14.25 mm height, using a combination of brushed surfaces and polished relief edges. The mid-case extends out into a pair of short lugs that curve down towards the wrist. The lug width is 22 mm.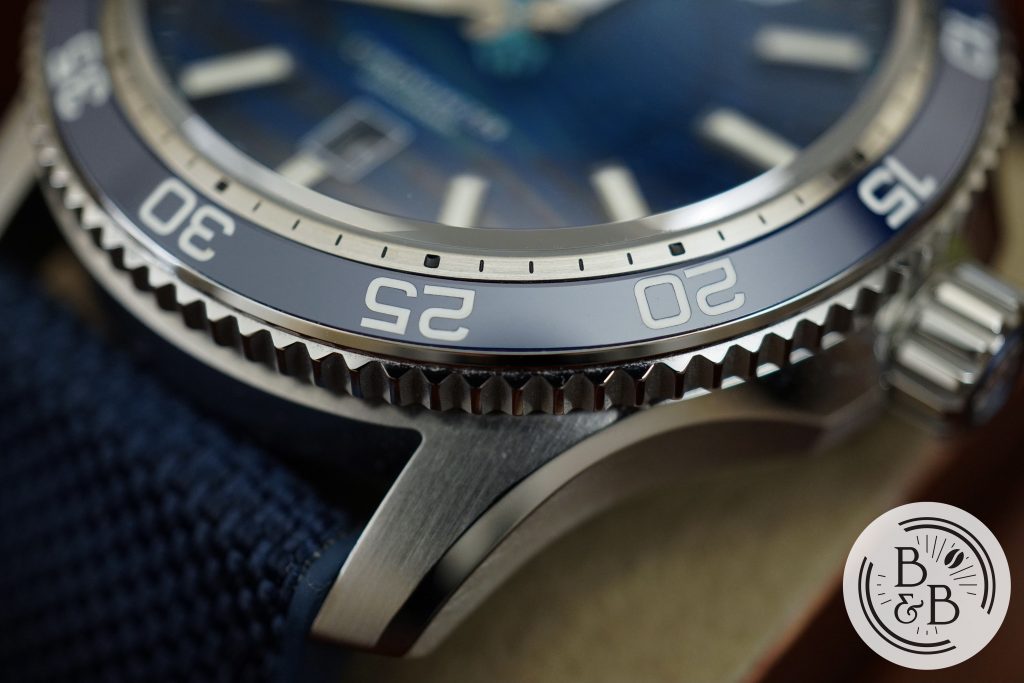 The bezel section accounts for a significant fraction of the overall height. The bezel grip is easy to grip and operate, and seats a beautiful ceramic blue insert with lumed numerals. In my opinion, this is a huge improvement over the all ceramic insert of the C60 BLUE, and adds a lot more steel elements to counter the abundance of blue on this watch. There is an inner steel bezel element which is part of the fixed case, and has etched markers that are filled with black paint. The bezel action is excellent and everything lines up great.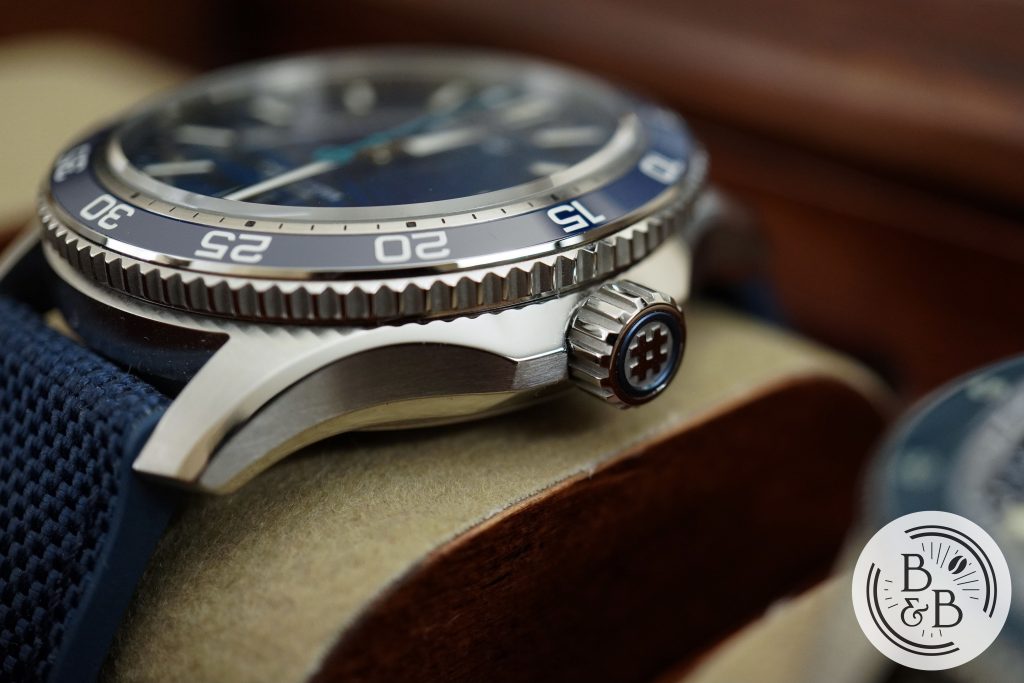 There is a 6.3 mm screw-down crown at the 3 o'clock position that is easy to grip and operate, and is also very well designed, with a blue ring and the #tide logo in the center. The crown is protected by a beautiful crown guard design that has elegant polished and brushed surfaces. This watch has a solid screw-down case-back and is rated for up-to 600m of water resistance.
---
Dial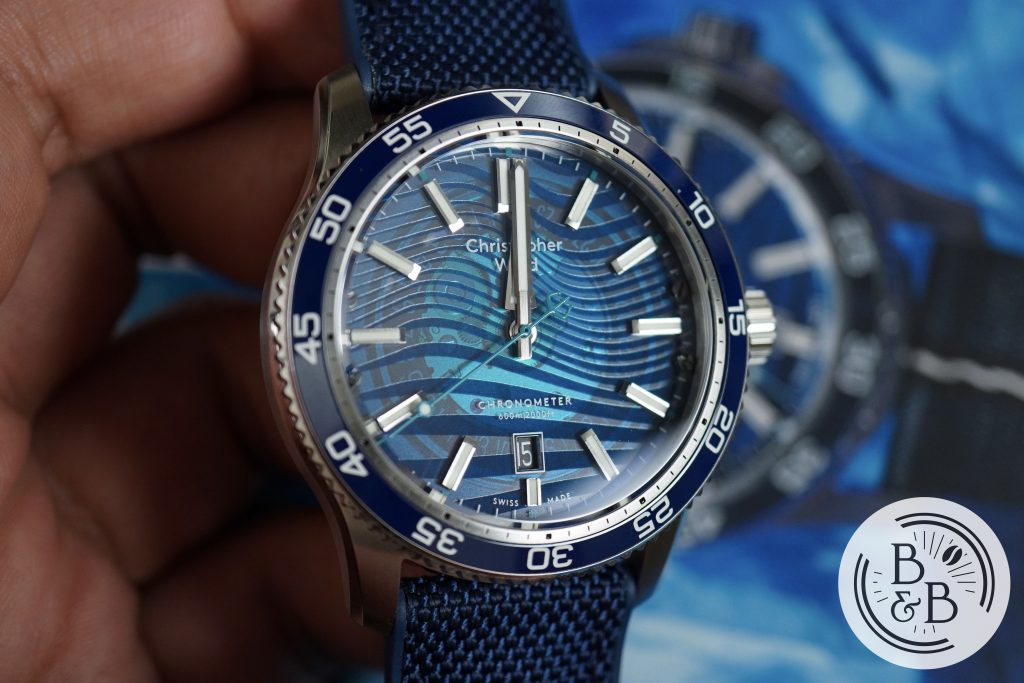 This dial follows the design of the C60 BLUE closely, with a few changes that I see as improvements. The base of the dial is sapphire, with the Blue Marine Foundation's logo motif printed on it in blue. I believe the base sapphire layer is tinted using a poly-carbonate layer, unlike on the C60 Black Sapphire, which is smoked.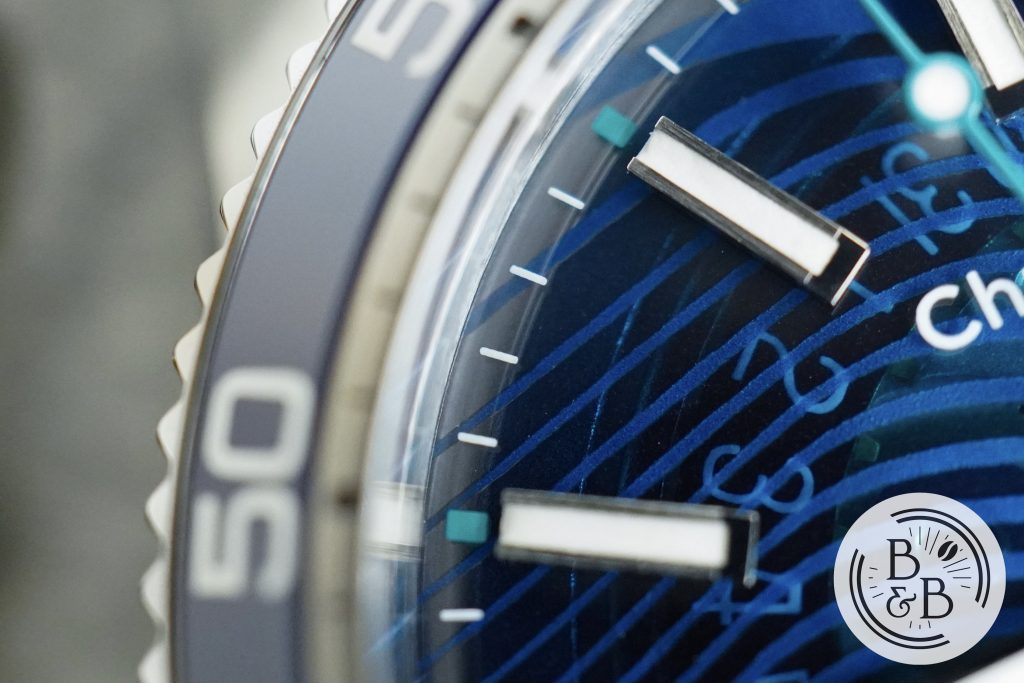 The quality of printing across the dial is good, including the outer minute track. This is printed in white, with pastel blue accents for the hour markers to match the seconds hand.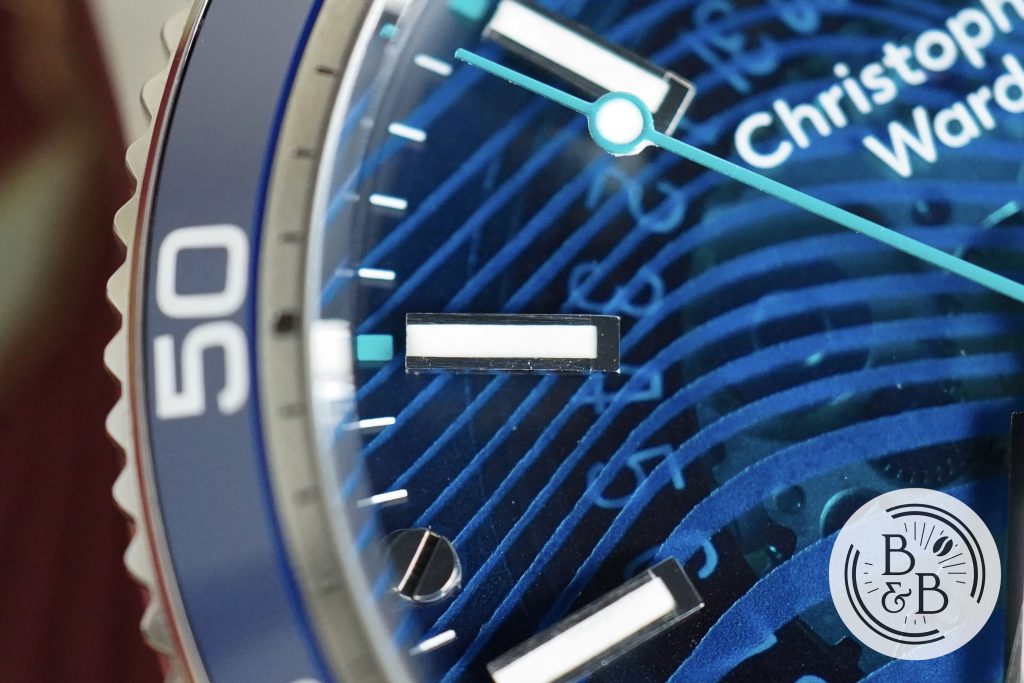 The indices are a trademark Christopher Ward style at this point, with a combination of brushed top surfaces, and polished and angled front surfaces. Unfortunately, the quality control on this particular unit is a slight departure from the excellent work that I've seen in the past 6-7 Christopher Ward watches, as I noticed some particles and debris on a few indices as well as some stray particles on the dial. But this is a prototype, and I've typically reviewed production units so I'm certain this is a one-off occurrence, and one that Christopher Ward would happily rectify if given a chance.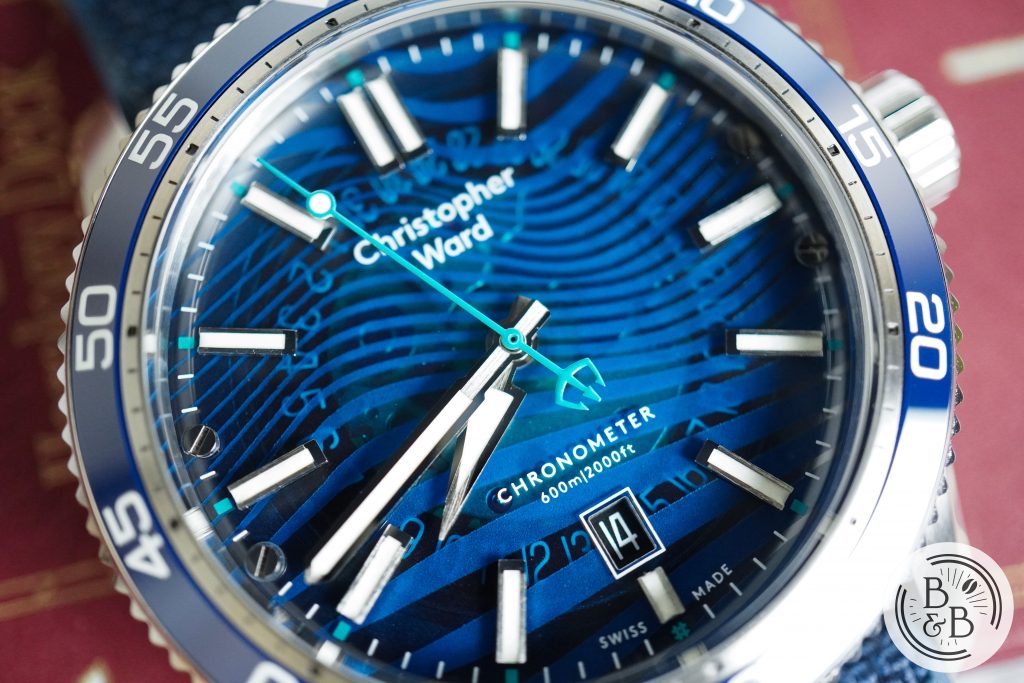 Critics of the 9 o'clock text can rejoice knowing that they moved it to under the 12 o'clock index, and this seems to be where the brand is heading based on their past few releases. I can't say I'll miss the 9 o'clock text, and I love this new era of Christopher Ward.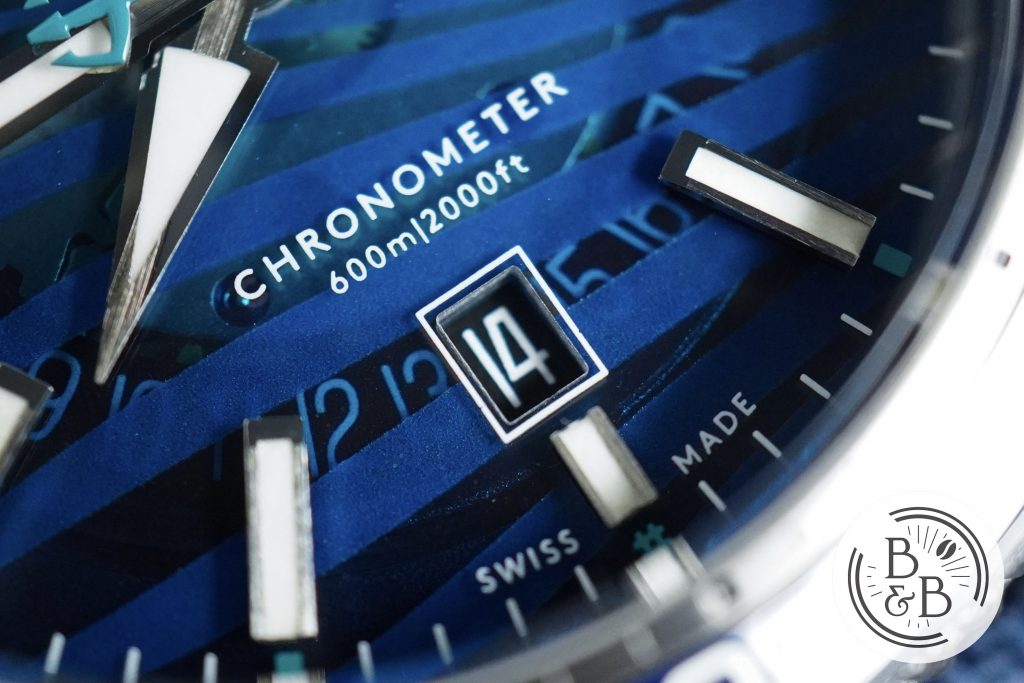 What this also brings is a beautifully symmetric date window at the 6 o'clock position with a dark blue date wheel with white text. I love that I can see the entire date wheel through the dial, and it adds tons of character to the dial and watch.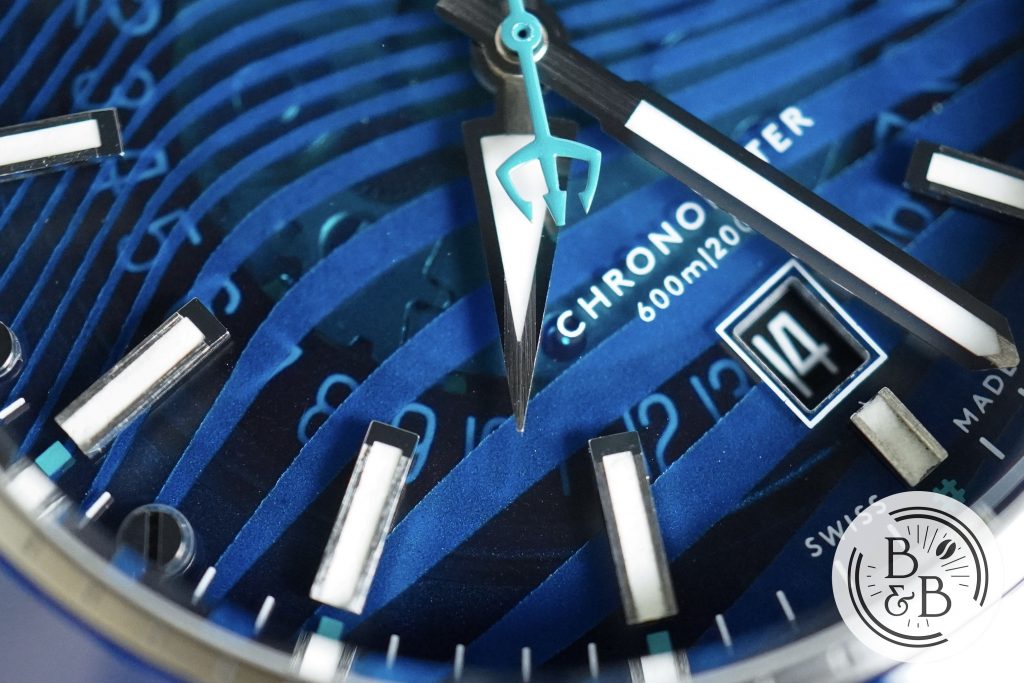 The hands are also typical of Christopher Ward design, with very good finishing and tons of light play. The seconds hand is painted in the same pastel blue color as the rest of the accents and I think it looks very good. Christopher Ward does great design, and this watch is just another on their list of design wins.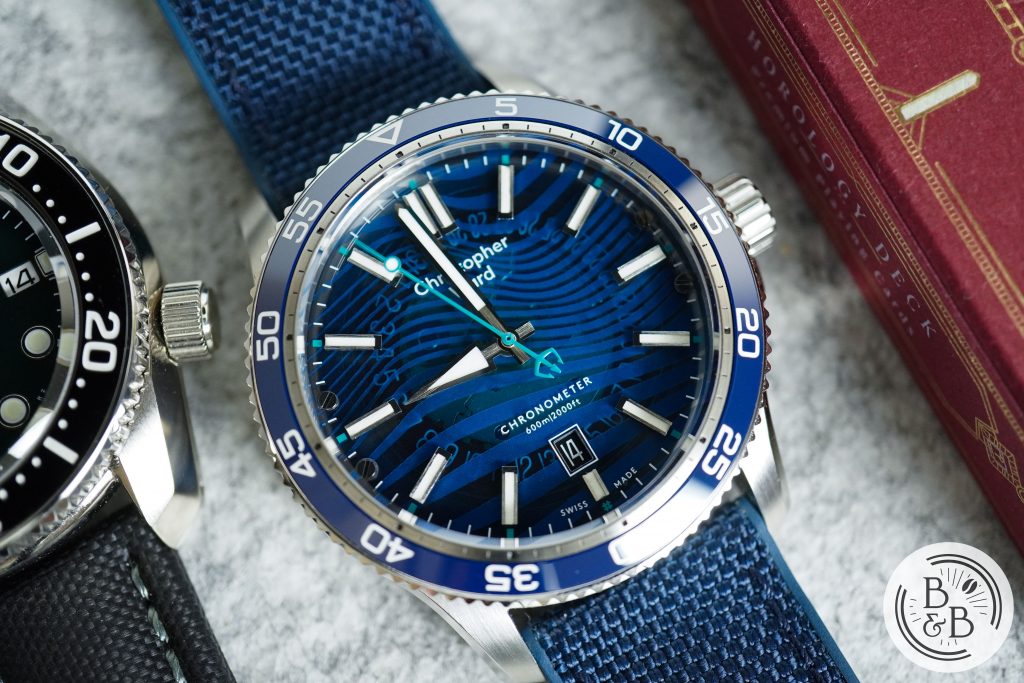 Overall, I love the design and I think this is my favorite sapphire dial from the collection. Everything just works and comes together beautifully.
---
Lume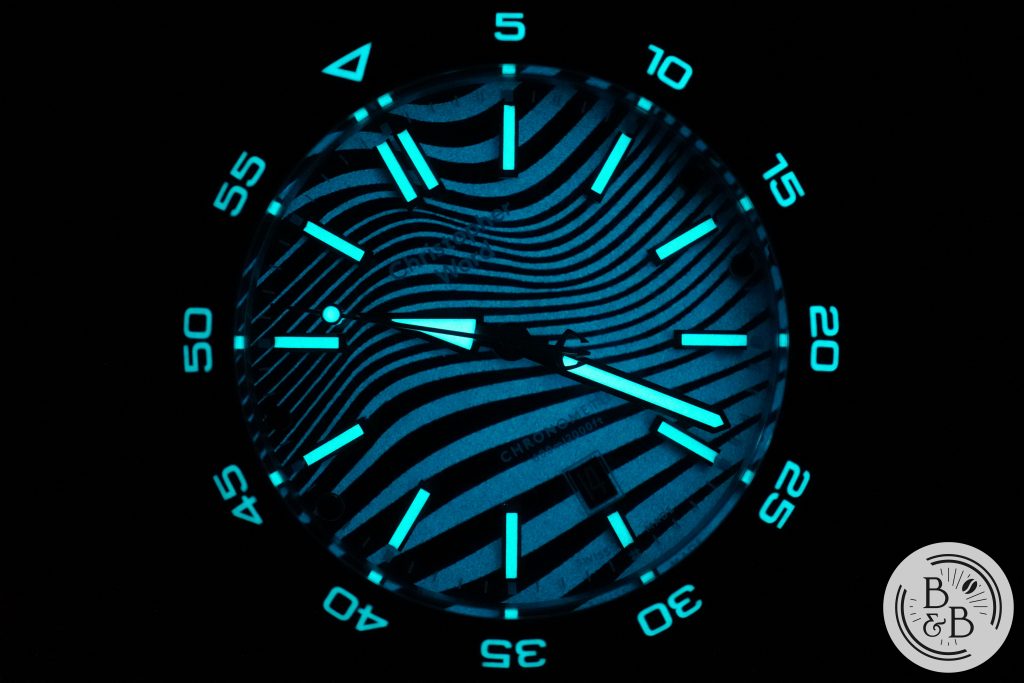 The lume on this watch is fantastic. Christopher Ward has really upped their lume game lately, and between this watch and the C63 Sealander GMT that I reviewed recently, I think they're heading in the right direction where lume is concerned.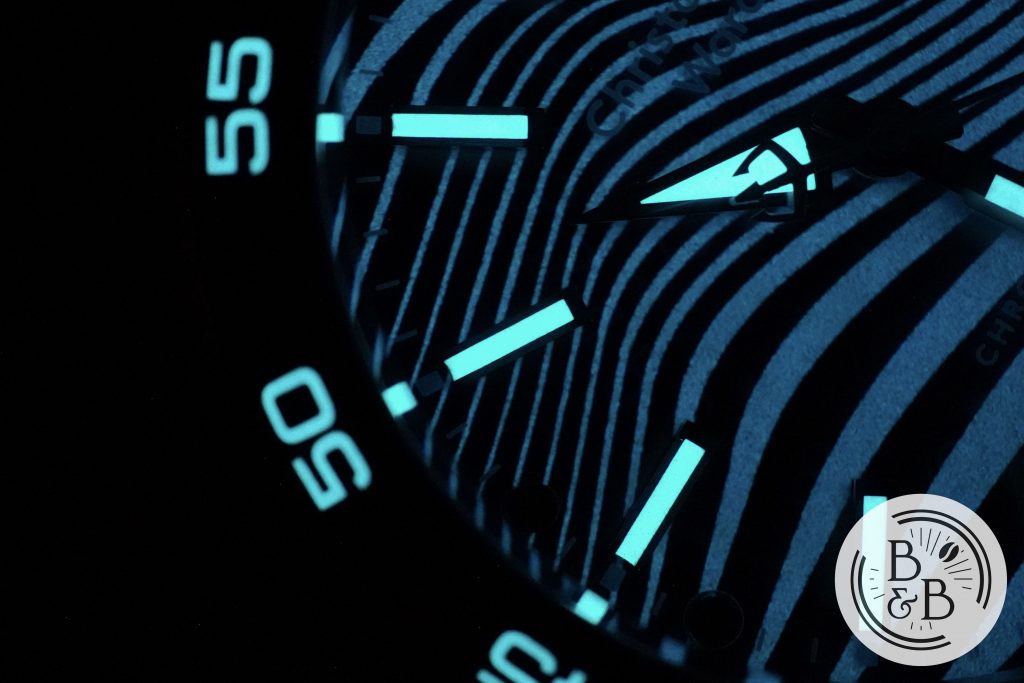 The wave pattern on the dial is also lumed, unlike on the C60 BLUE, and I think that's a great design addition. The lume doesn't last very long, as you'd expect given the proportions of that layer, but it's a neat little party trick and looks beautiful when lit up.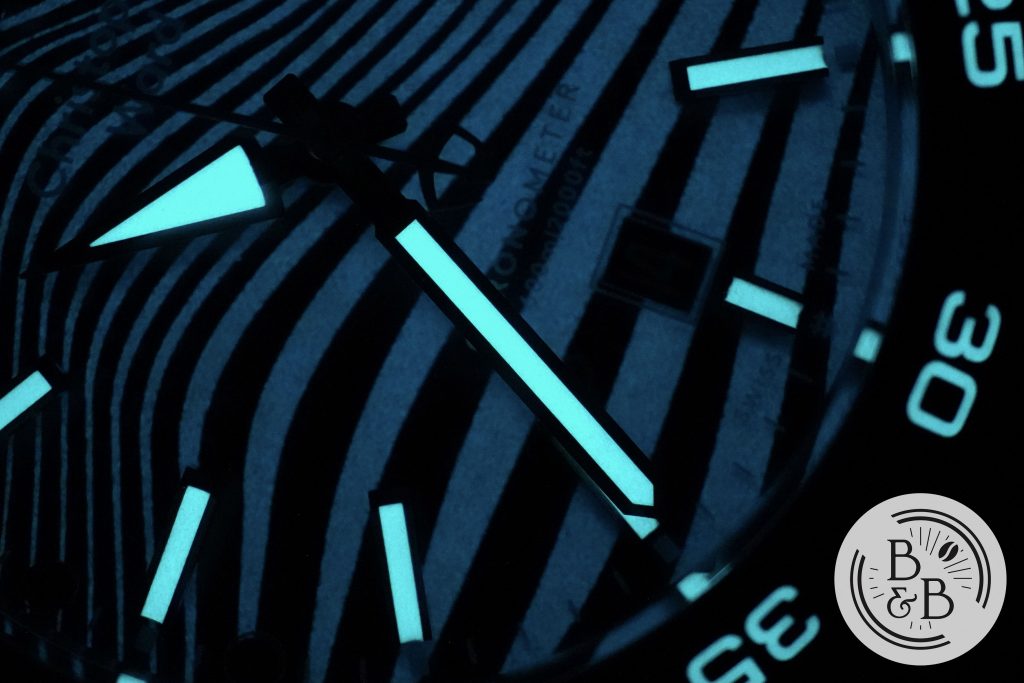 The hands and indices are all very generously lumed with Grade X1 BL C1 Super LumiNova, which I believe is the highest grade available. The hands glow bright, last long and are comparable with some of the better lumed watches on the market today.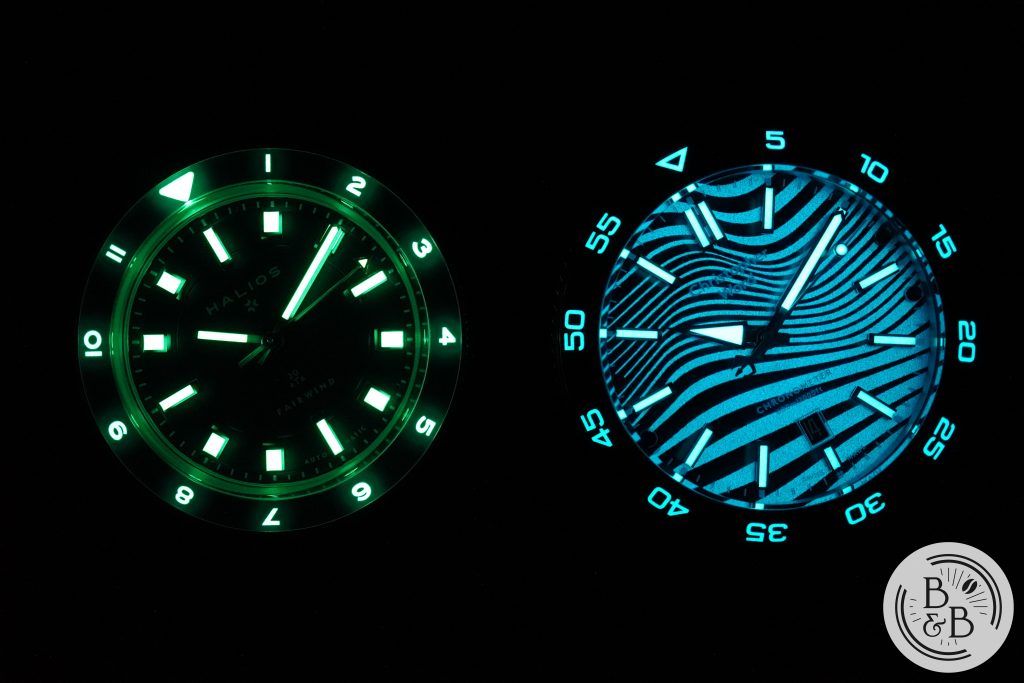 Here I compared the lume performance with my Halios Fairwind.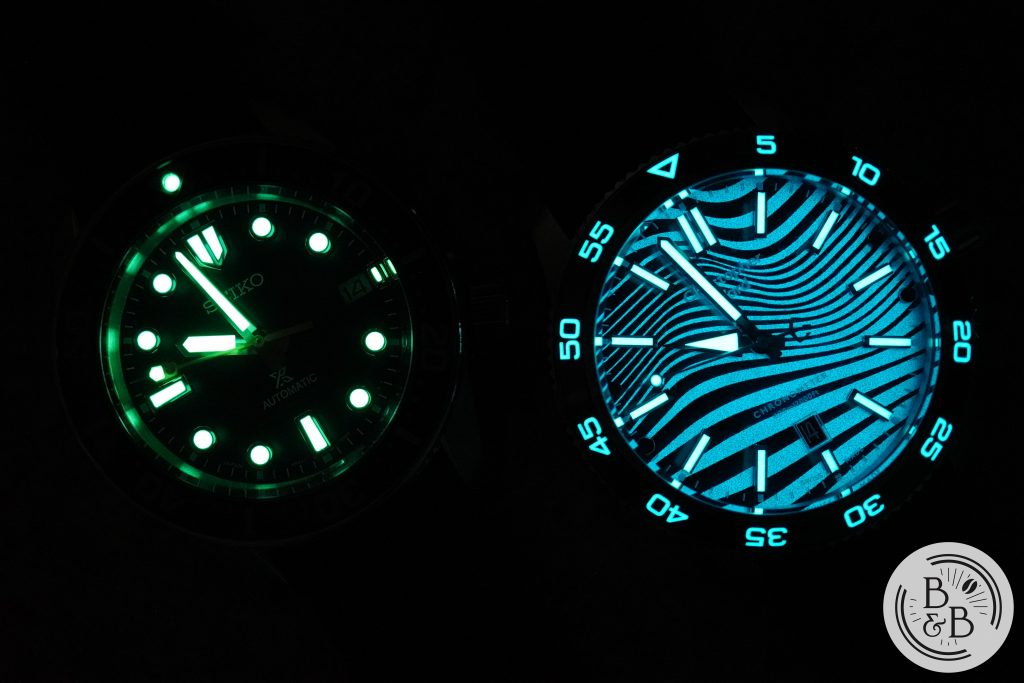 And also my Seiko SPB207J1, the "MM200".
---
Movement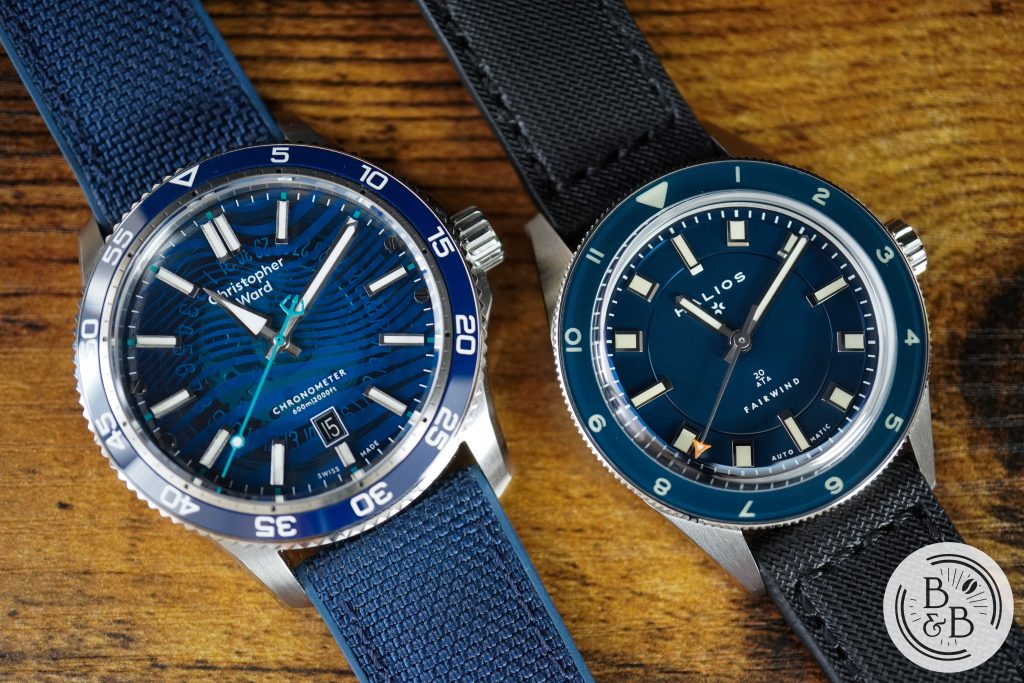 This watch uses a COSC Certified Sellita SW200-1 movement. We're all familiar with the Sellita SW200-1 by now, and I think it is a reasonable choice for this price range. The Chronometer certification is a value add to me, and is a commitment to much tighter bounds on accuracy. Aside from the performance guarantee, COSC Certified Sellita SW200-1 movements are also spec'd better than standard grade Sellita SW200-1 movements, so I always recommend people pay the extra for these movements if that's an option.
---
On The Wrist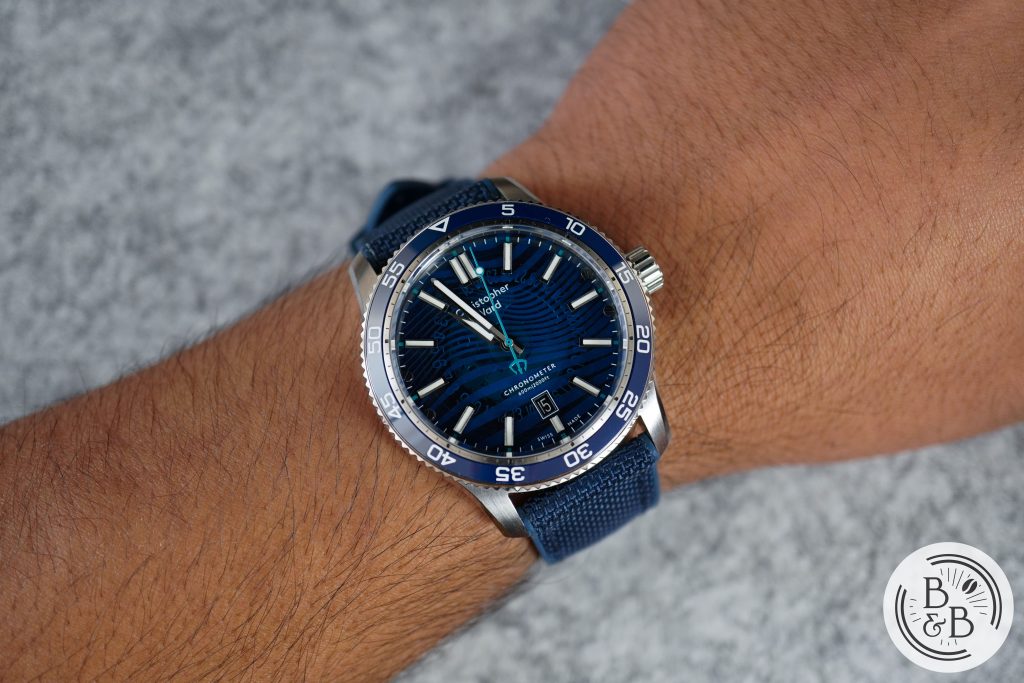 After owning and reviewing a bunch of Christopher Ward watches, I've realized that I tend to prefer their slightly larger watches even though I have a modest 6.5″ wrist size. I love the 41 mm C65 case, and this 41.75 mm C60 feels great too. The 48.75 mm lug-to-lug width really brings it together well, and it wears quite comfortably.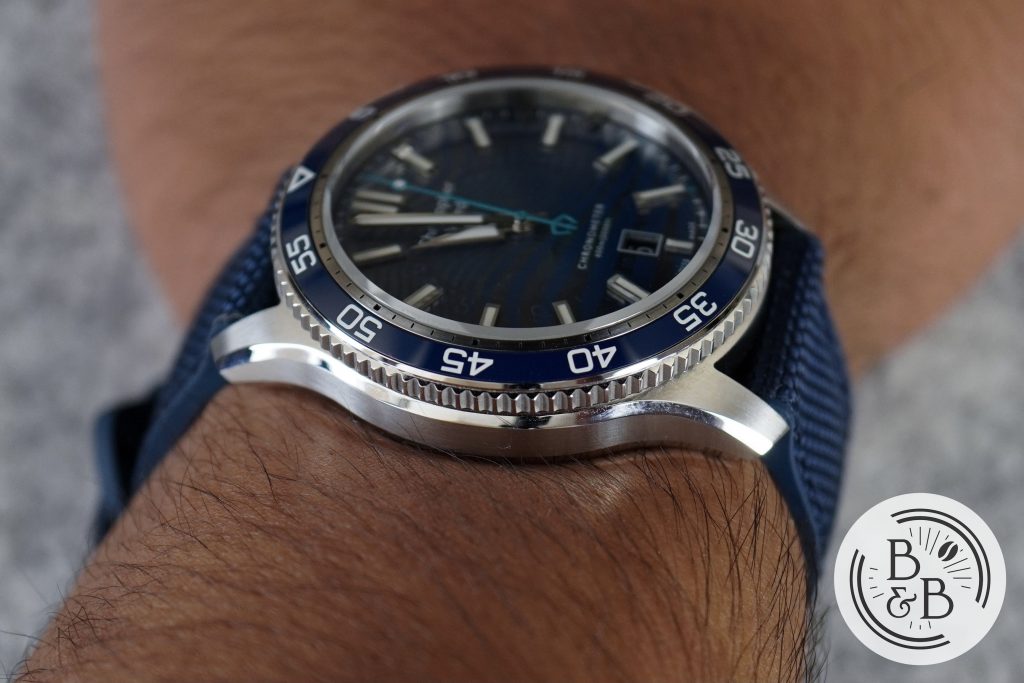 The 14.25 mm height is worth noting, and this watch definitely sits larger on wrist compared to a C65. But the height isn't visibly noticeable thanks to some excellent design work on the case sides, and a well constructed case back. That said, it is a relatively tall watch, so if you prefer your watches low on the wrist, this may not be for you.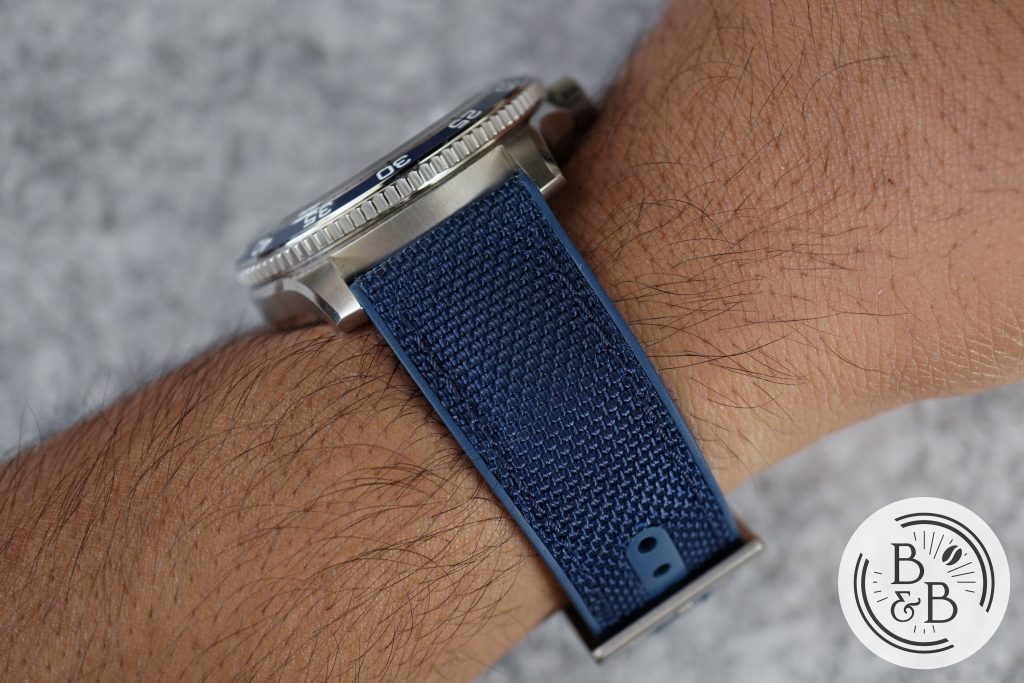 For the best balanced wrist experience, I would recommend their bracelet. The height is typically more exaggerated when on a strap. Their bracelets are excellent, and I would've loved to try this watch on it.
---
Concluding Thoughts
My final thoughts are that this is one of the best versions of the sapphire series till date, and definitely the best blue watch they've produced. The updated bezel design really goes a long way in balancing out the brightness of the ceramic. The center aligned logo and date window are welcomed changes and speak directly to my OCD. The lumed dial design is a lovely addition, and I personally like the bigger case size more, even though my wrists aren't too large.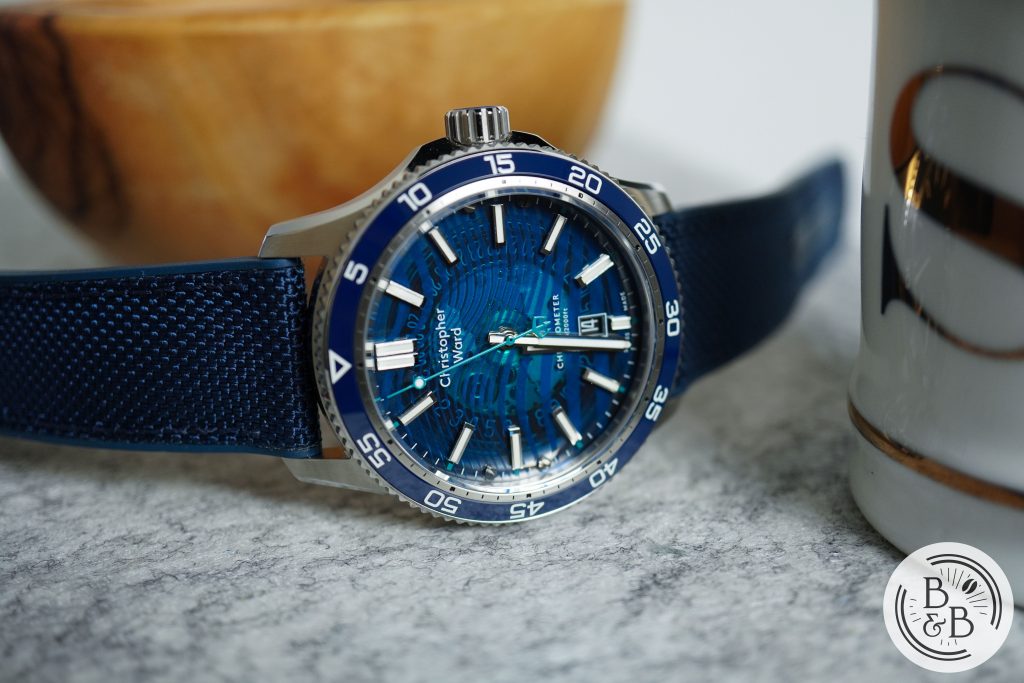 And to finally wrap this up – I would love to see them bring this dial and bezel style to the C65 case family. That would be something I buy immediately without a second of hesitation. But for those comfortable with a slightly larger watch, you will not be disappointed with this one.
---
Thanks for reading!