---
Disclaimer: This review is in no way incentivized by Japan Select (where I purchased this from), the Seiko brand or any other entity. I purchased this watch brand new for the purpose of this review. All opinions here are my own.
---
---
Contents
---
Seiko Tuna
If you watched my last Seiko watch review, you'll know that I haven't been a huge fan of Seiko's sports watches over the last 3-4 years, and I've had mixed experiences with Seiko quality control in recent times. But Seiko is undoubtedly one of the most popular watch brands in the affordable watch category, and I get a lot of requests to review Seiko sports watches. I figured I'd put some of my own money into buying and reviewing one, but I wasn't what I wanted to check out first.
The Tuna case has always stuck out like a sore thumb to me, and I could never appreciate the design or the size of the originals. But over the last few months, the Tuna design has been growing on me, and I've grown to appreciate the design for it's heritage and the fact that it is nearly indestructible* (*not a fact, and contains exaggeration). And with Seiko offering this design in a more modest size with the latest street series, I thought this would be a great one to check out. It has a very definitive Seiko design identity, and this colorway caught my attention immediately.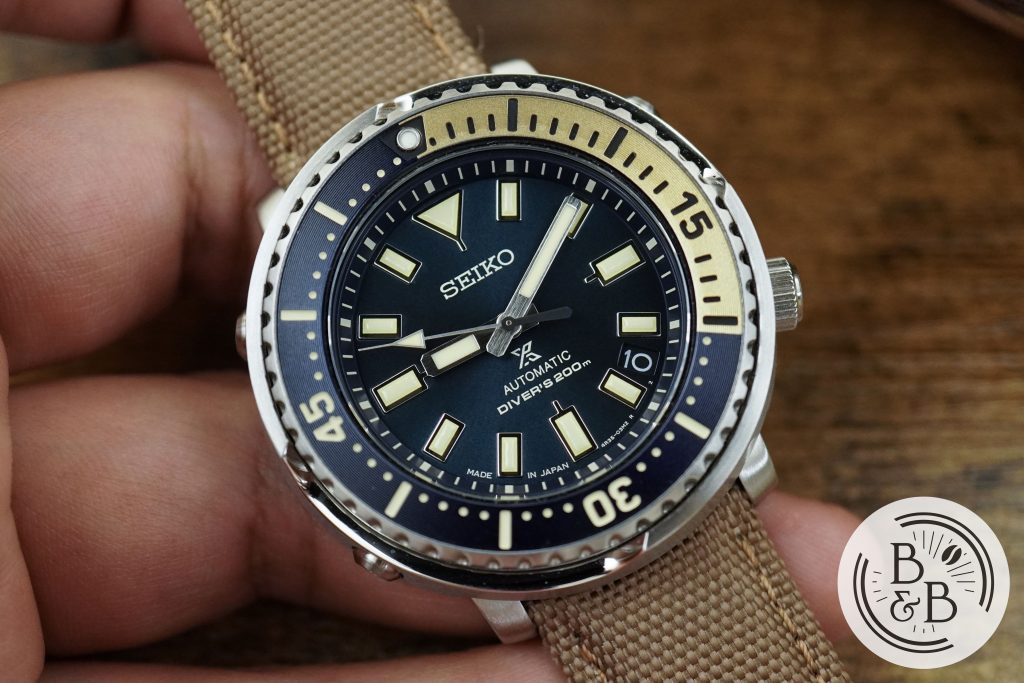 This is the SRPF81 or SBDY073, or the "blue and beige street series with the cool bezel" if you don't feel like trying to remember a string of random characters and numbers. I bought this watch from Japan the day it was released, but I'm not entirely sure if it is a JDM only watch, since they seem to be available in the UK, Canada and Australia too. So hopefully we'll see them in the US shortly. If not, you can always use your favorite JDM watch retail website. I bought this one from Japan Select, and I had a quick and smooth transaction. I paid $560 shipped to the US.
Let's check it out!
---
Case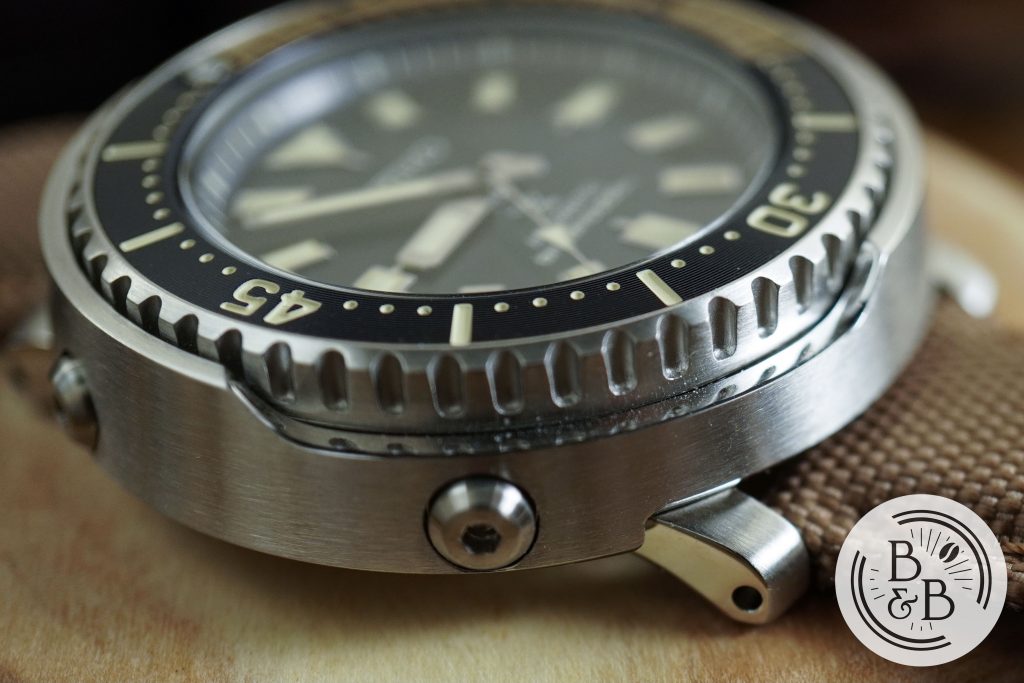 I measured the case to be 43 mm in diameter, with a 38 mm bezel diameter, 43.5 mm from lug-to-lug, and 12.75 mm in height. The case is made entirely of stainless steel, unlike the titanium and ceramic combo on the originals. The shroud is also made of steel here, and this is not a monocoque/monobloc case design like on the original Tuna. But where aesthetics are concerned, this watch looks like it has all the ingredients to give you an excellent Tuna design experience.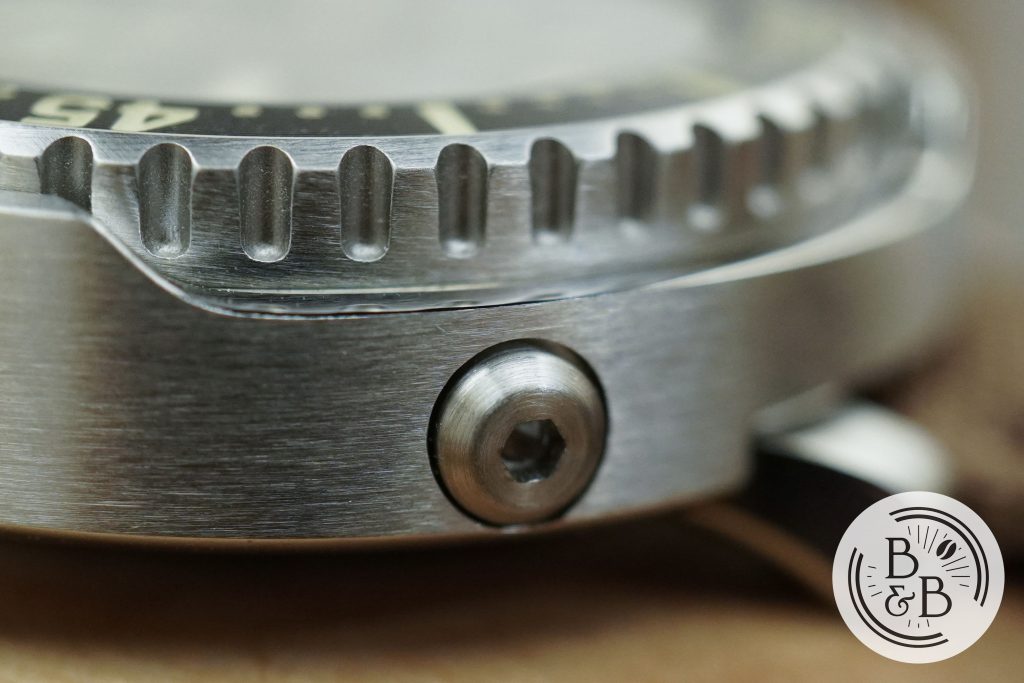 The shroud is primarily brushed with two polished top surfaces, where the shroud is cutout to expose the bezel grip. The shroud is brushed, and attached to the case by means of four bolts. An interesting note is that the shroud actually slightly tapers from 43 mm at the base to 41 mm at the top. This entire package feels indestructible, and this watch just begs to be thrown around and used without worry – an excellent example of a true tool watch case.
A pair of extremely short, and pudgy lugs sneak out of this monstrous case like a fat cat with tiny feet. But like any cat, these paws mean serious business, with extremely useful drilled through lugs and an appropriate lug width of 20mm. They made drilled through holes work on a lug design that most brands wouldn't bother with. Much respect!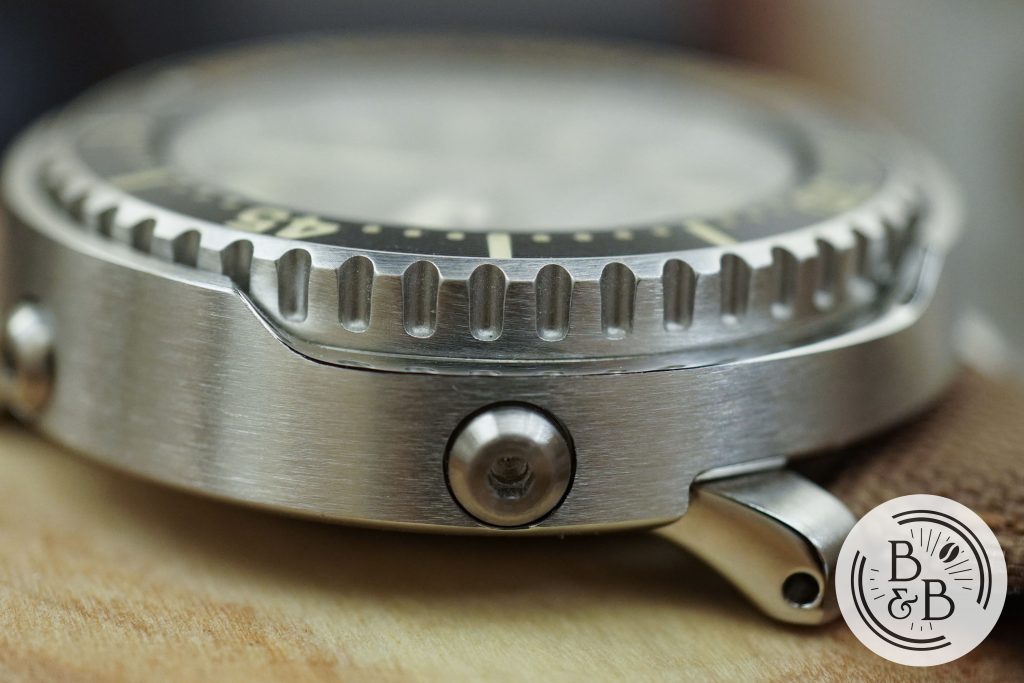 Tucked away safely behind the comfort and security of the stainless steel shroud is a 120 click uni-directional bezel that has excellent grip. The bezel teeth are deep, and offer excellent amount of friction, which is crucial to this design, since the bezel can only be operated from exactly half the circumference.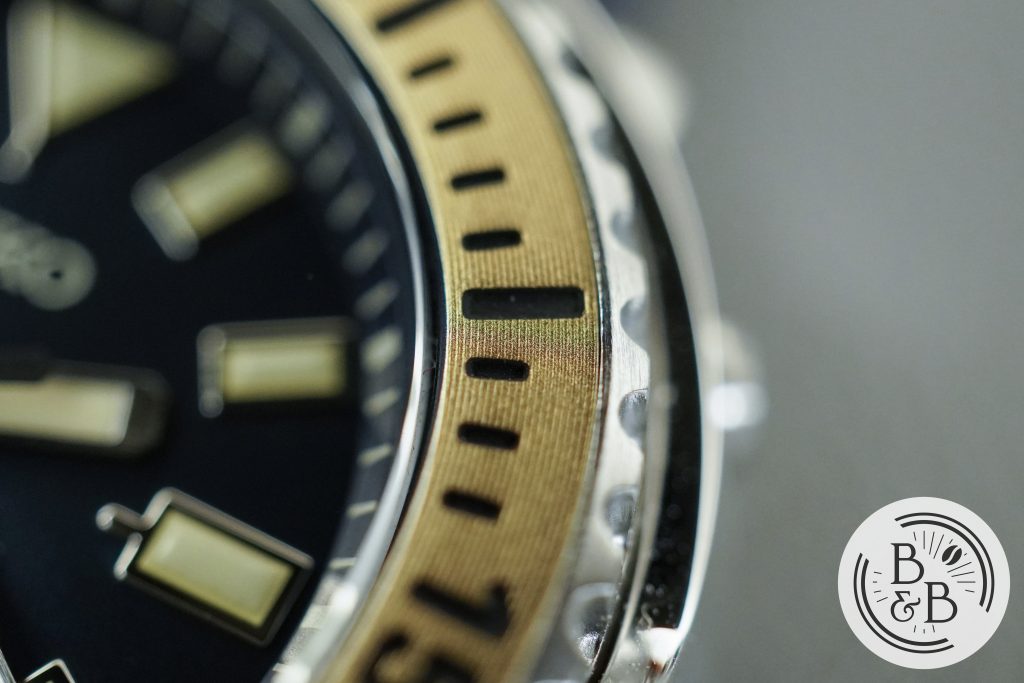 The bezel insert is likely the star of the show with this watch, and has a beige-gold 20 minute diver countdown section, and the rest is a deep blue color. The color of the text is the inverse of the bezel sections, and the insert has a satin finish because of the fine circular ridges running along the bezel. The colors look incredible, and the finishing is excellent too.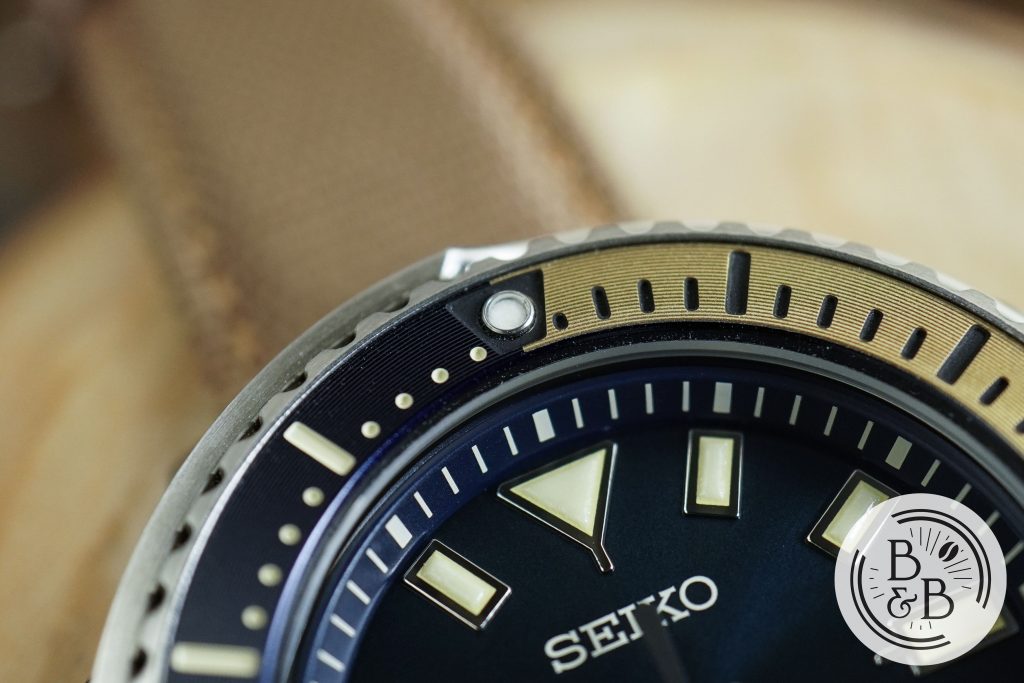 The bezel feels different from any other diver I own, and has an almost elastic-like action, with soft clicks that lack solid tactile feedback. But the clicks are spot on, and there is no back-play or misalignment. Don't worry, I'm as shocked as you are. The bezel also houses a flat hardlex glass, which is slightly disappointing for the $550 price tag, but the legibility is excellent, so at least there's that.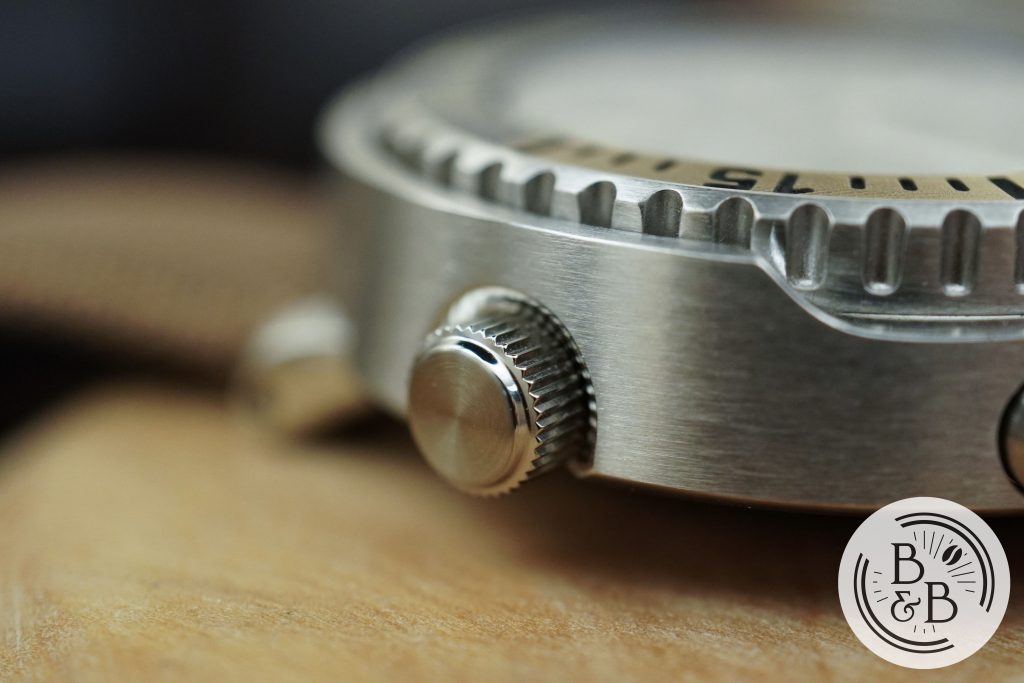 You have a relatively small 5.5 mm screw-down crown at the 3:30 position that only slightly protrudes out of the shroud, but is easy to grip and unscrew since it is exposed at the bottom. The crown feels OK, but the crown often needs to be back-turned to make sure the threads mate correctly before screwing it down. This was also normal operating experience with my $3500 Ming 18.01, so I won't hold this against Seiko.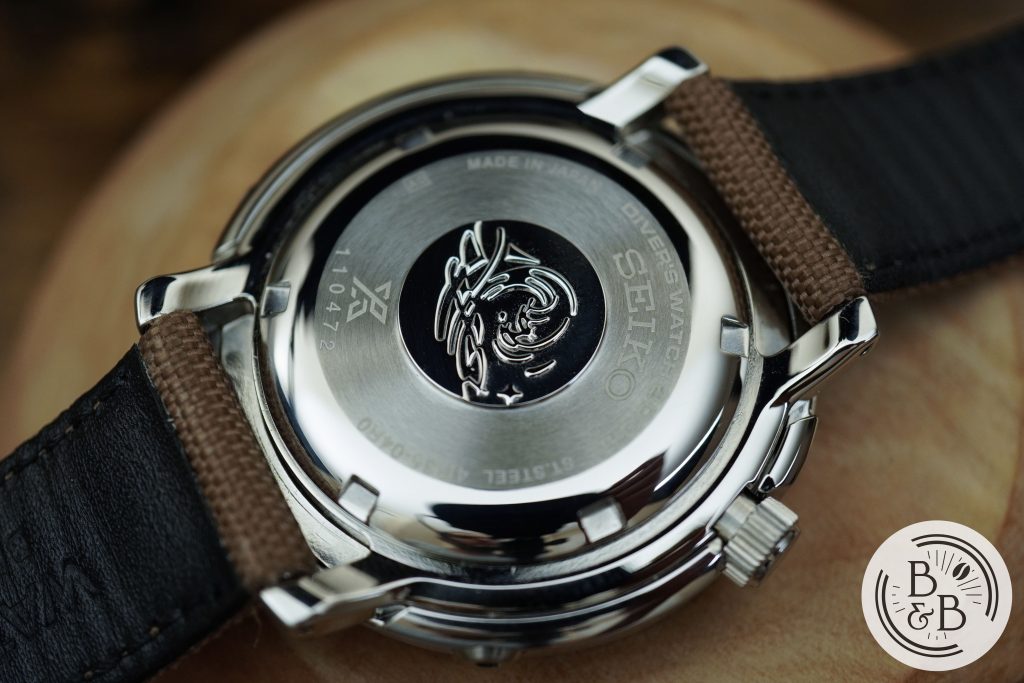 Flipping it over, you have a screw-down case-back, which is unlike the original monobloc cases. As much as I love the idea of a monobloc case design, I prefer having a screw-down case-back since the ability to service one of these is significantly easier, cheaper and less likely to mess up. This watch is rated for up-to 200m of water resistance.
---
Dial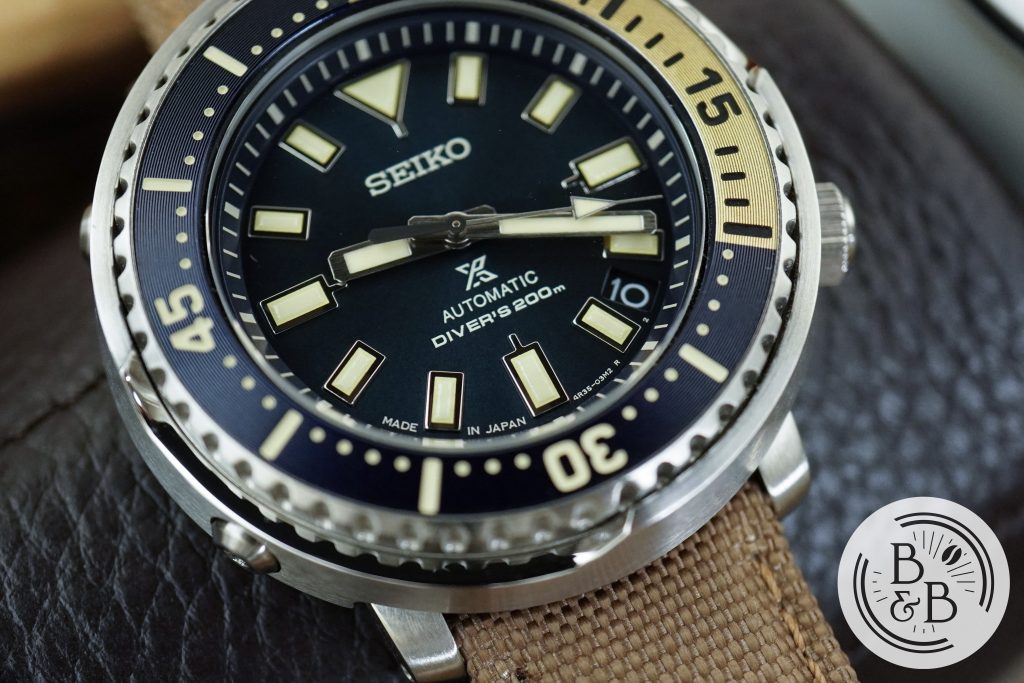 The bezel's color palette extends to the dial as well, and combines a subtle sunburst blue dial with beige printed elements and lumed material. I'll be honest – I wasn't expecting much where dial quality control was concerned, after my disappointing encounter with the Seiko Presage Cocktail Time. But this dial is excellent, and better than most $500 watches that I've reviewed.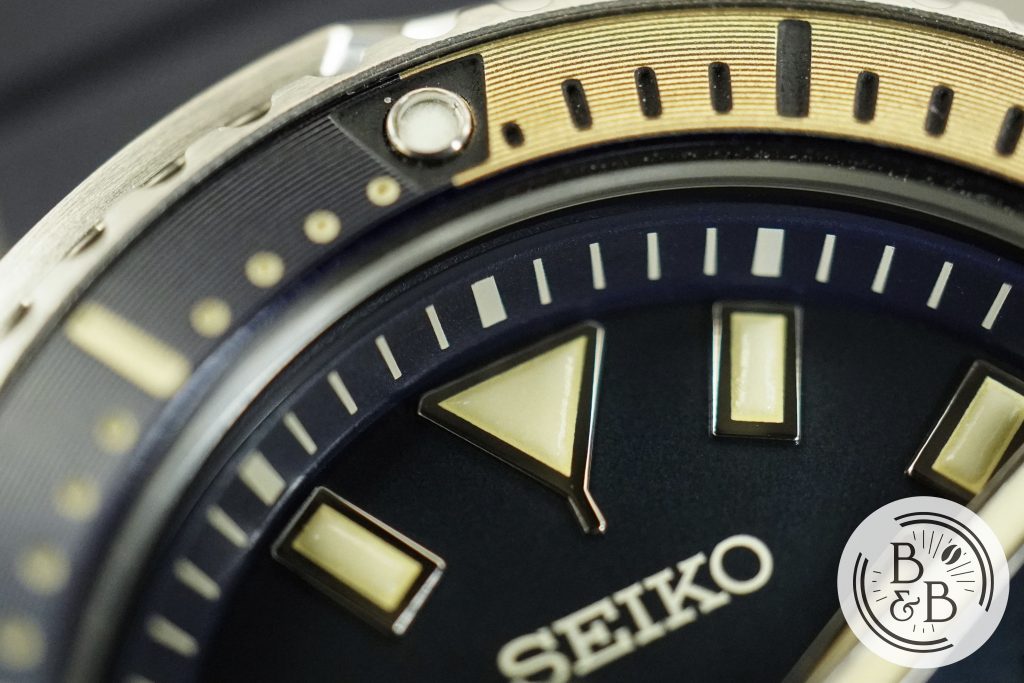 There is a sloped blue chapter ring that has beige printed elements, with large rectangular markers for the hour indices, and slimmer ticks for the minute markers. If you're looking to see if it is properly aligned, you might notice a small misalignment near some indices, but this is no different from majority of the other watches in this price range, so I won't hold this against Seiko. I'd consider this to be 90% there, and this is a pleasant surprise.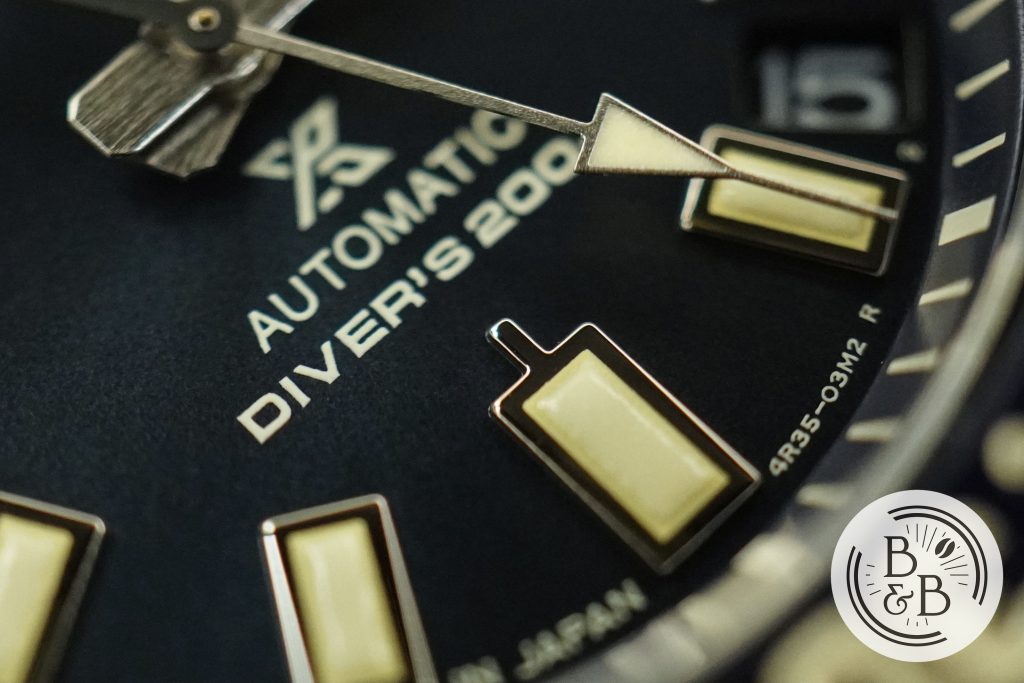 You then have large rectangular hour indices that are made of polished stainless steel, generously filled with an off-white lume material, and applied onto the dial. The finishing on these indices is excellent.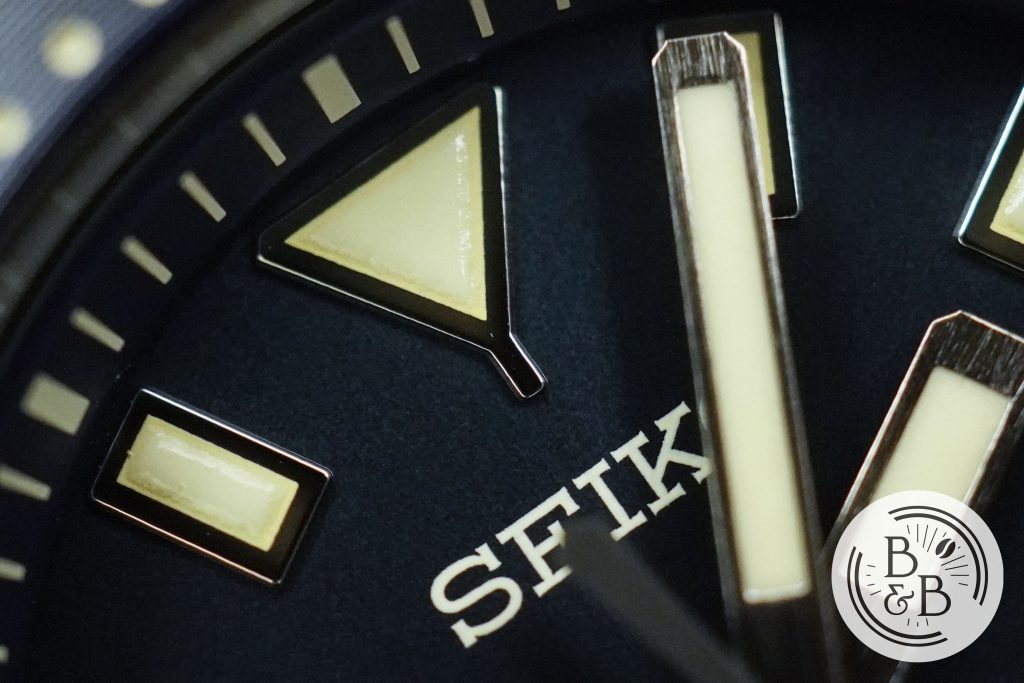 The 12 o'clock index is a large triangle, to help orient the watch. Additionally, all four of the primary indices have protruding steel sections that point towards the center of the dial like cross hairs. I'm genuinely impressed by the finishing here, and I think Seiko did a great job on this watch. There are some very small particles around, but nothing that can be found without hunting for it with a macro lens.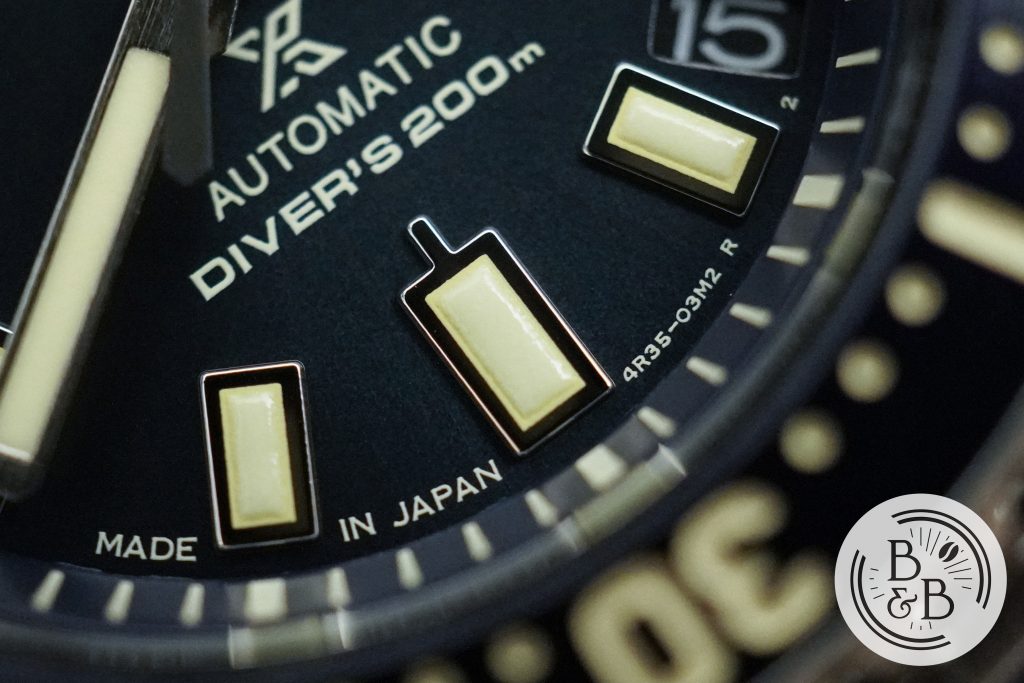 An interesting design element is the text printed near the 6 o'clock index. 'Made in Japan' is printed offset from the center, and the movement identifier and some other stuff I'm not Seiko-smart enough to recognize. I think they could've figured out a slightly more compact and subtle way to convey this information, but it isn't distracting so I'll let slide.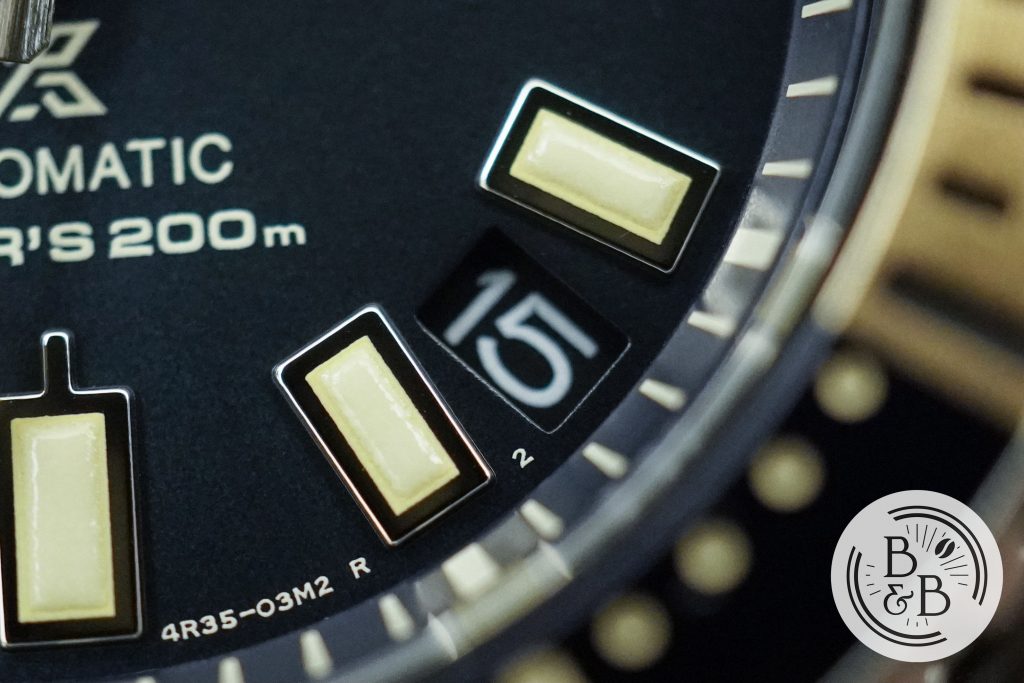 The date window is between the 3 o'clock and 4 o'clock hour indices, and while I don't usually like asymmetric date windows, this one is very well executed. The hour indices maintain overall dial symmetry, and the color matched date wheel allows the window to stay mostly hidden. Great job here, and the finishing around the date window is excellent too.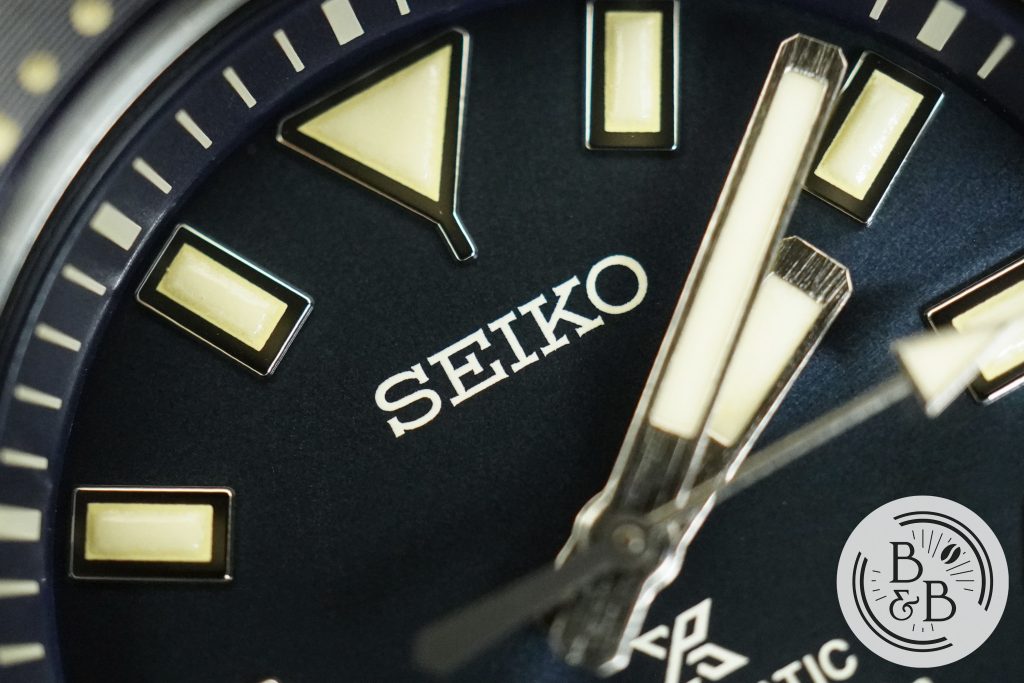 The brand's name is printed under the 12 o'clock index, and the Prospex logo and some some other text above the 6 o'clock index. Very clean printing quality, and the beige colors are perfectly matched with the lumed elements.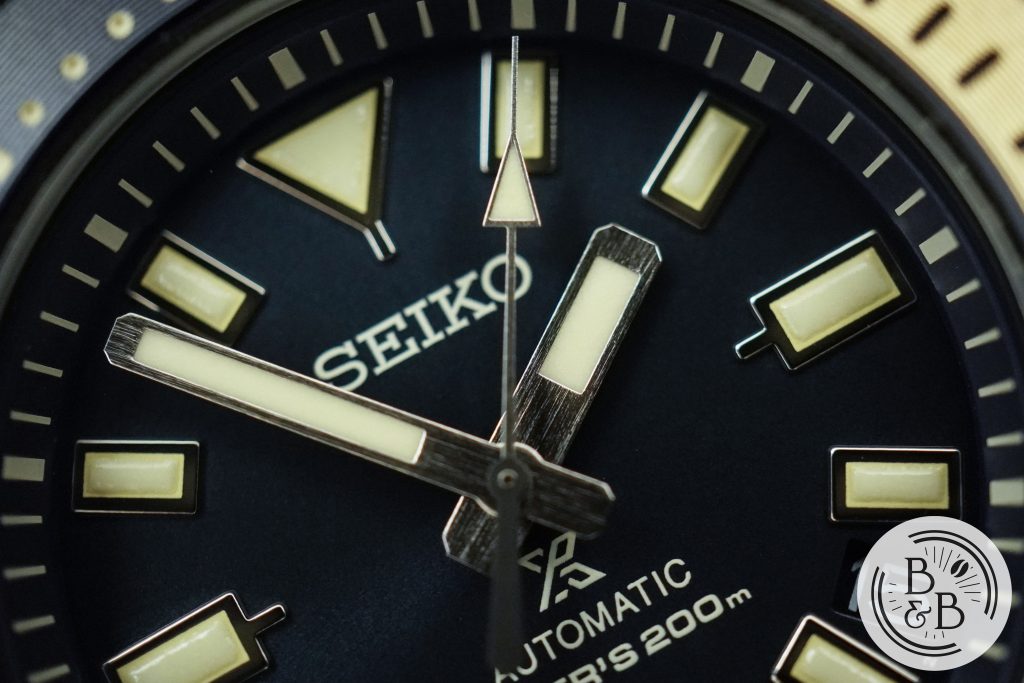 You then have a brushed stainless steel handset, with an overall rectangular design for the hour and minute hands. These hands are also generously filled with lume material, and they appear to be clean. The proportions are great, and the minute hand extends all the way to the end of the hour markers and close to the outer minute track.
The seconds hand is well proportioned, well finished, and plenty legible too. It has a large triangular lumed element and a tip that almost touches the outer chapter ring. Overall, this dial is very easy to read, and looks excellent too. No complaints from me here!
---
Lume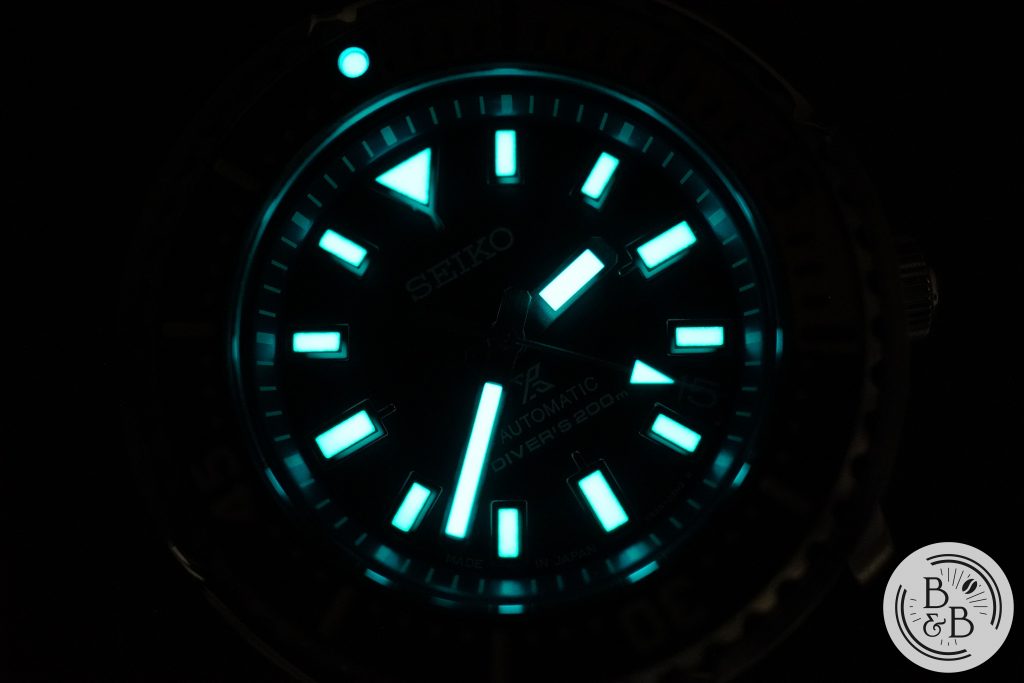 Typically, watches with faux patina or colored indices have poorer lume. But you don't need to be worried about this one, and this watch lives up to Seiko's reputation of having some of the best lume in the business.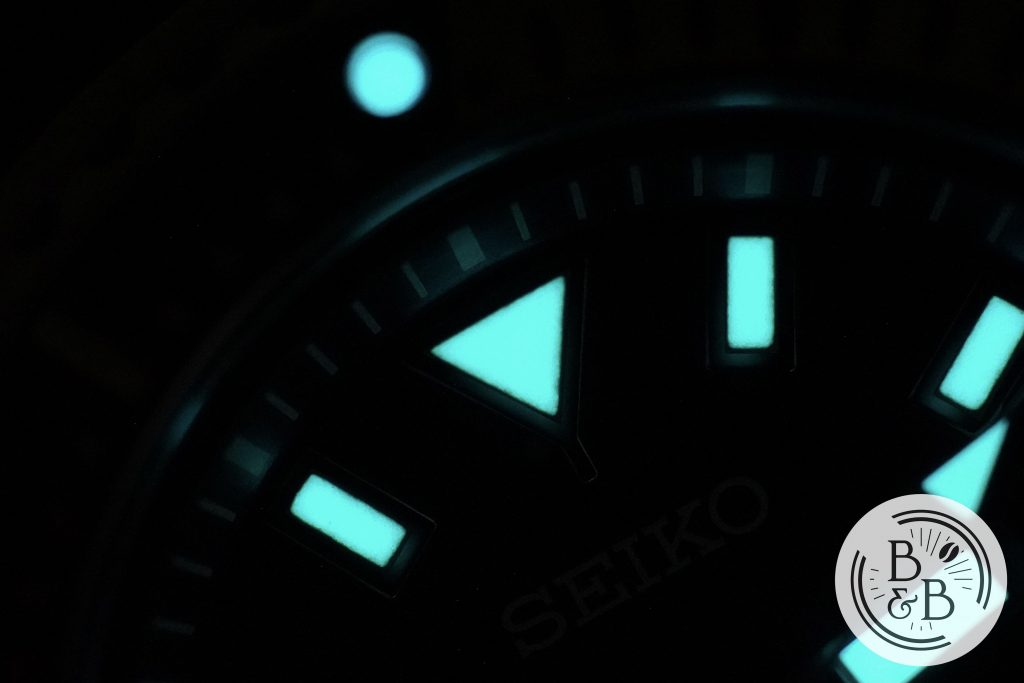 Only the circular pip at the 12 o'clock is lumed on the bezel, but I'm completely fine with this because of how well executed the bezel colors and finish are.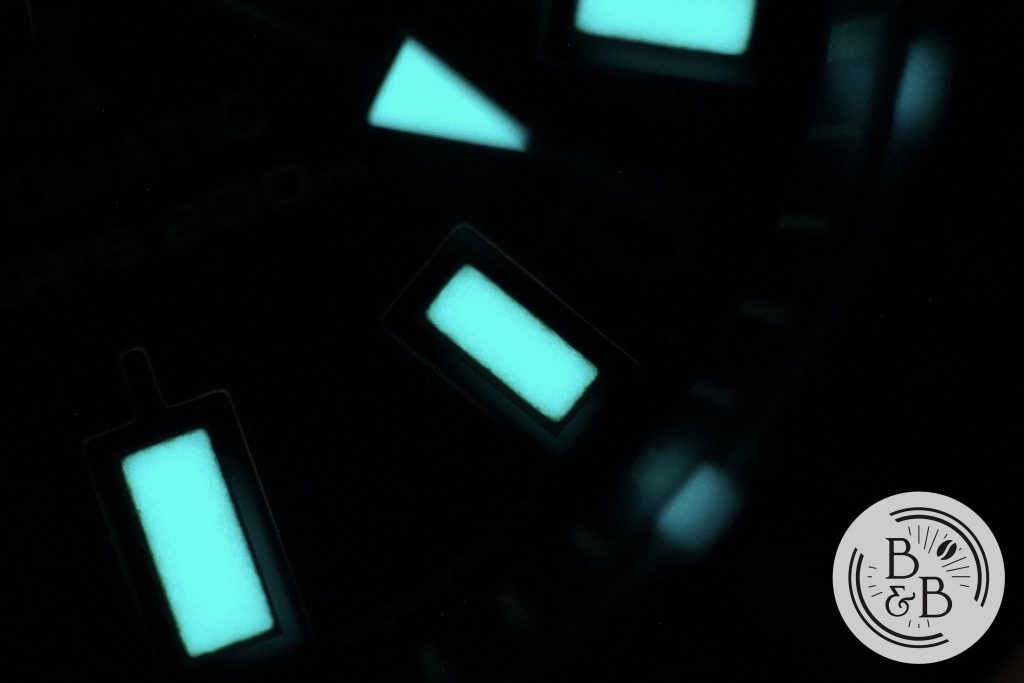 All the hour indices are very generously lumed, both because Seiko's LumiBrite is just superior to most brands, and because of how large these indices are.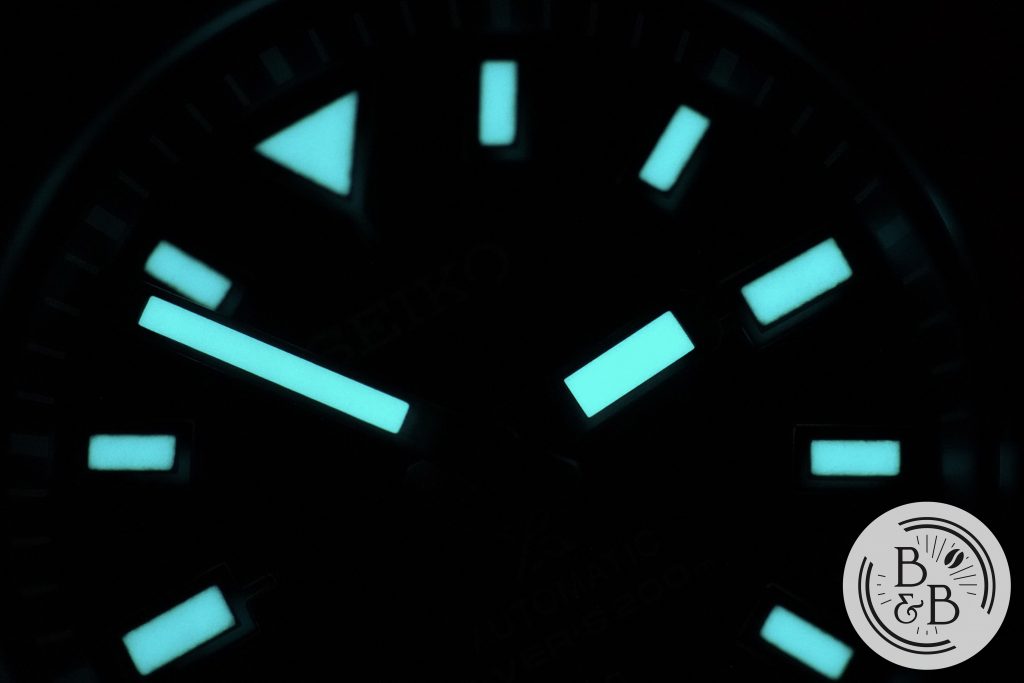 The hands are well lumed too, with lots of surface area and a generous application. The lumed triangular element on the seconds hand is impressively lumed too. Overall, this watch scores 100% where lume is concerned. You can pick this watch up in the middle of the night, and it will most certainly be legible.
---
Movement
This watch uses the Seiko 4R35 movement, which I believe is the in-house label for the Seiko NH35 movement. This movement is pretty common in the micro-brand universe, and is usually found on more affordable watches well within the sub $500 category. But the 4R35 appears to be more warmly welcomed within the Seiko enthusiast community in watches over $500, and closer to $1000 too.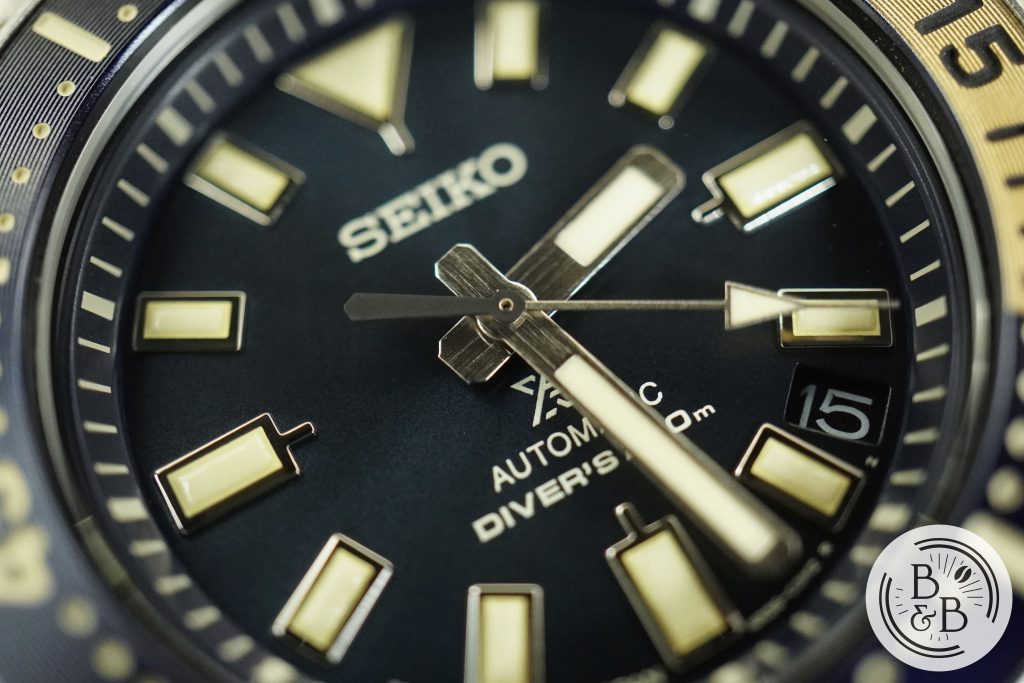 On my time grapher, I observed roughly +7 spd in the dial up position and +5 spd in the crown up position.
---
On The Wrist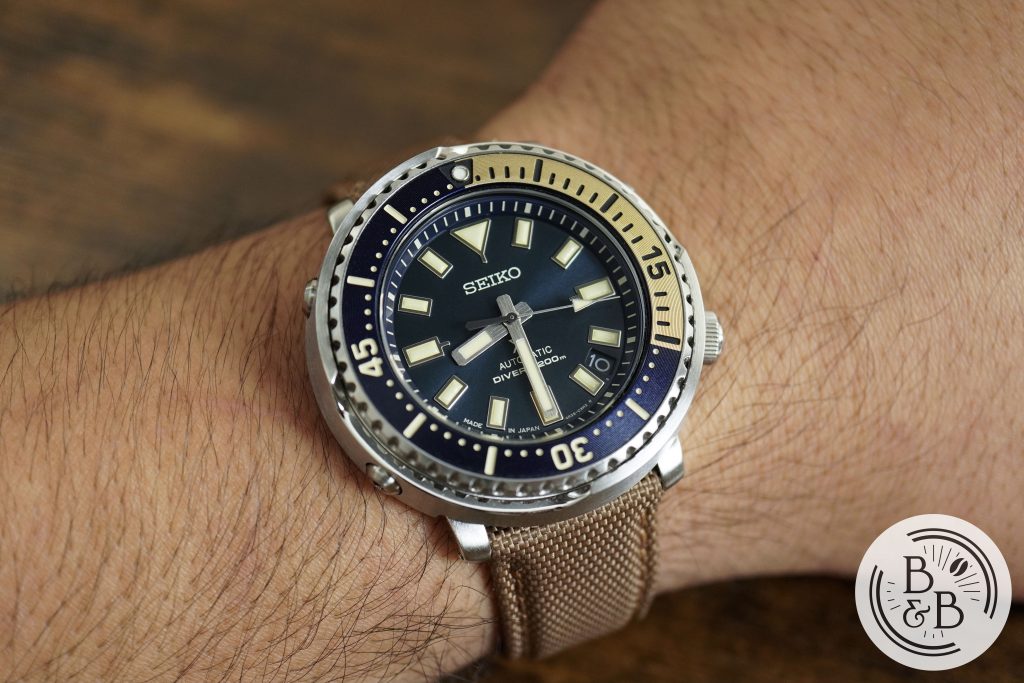 I've never considered the 'Tuna' lineup for myself before, because the case sizes were way too big for my wrist, being anywhere between 47mm and 49mm in diameter. But the 43mm diameter and 43.5 mm lug-to-lug width on this watch work great on my 6.25″ wrist, and I'm glad they are now making these smaller sized cases.
The overall height of 12.75 mm is another blessing too. Between the flat case-back and short but angled lugs, it is fairly well balanced on the wrist, and I've been wearing this watch non-stop for the last week.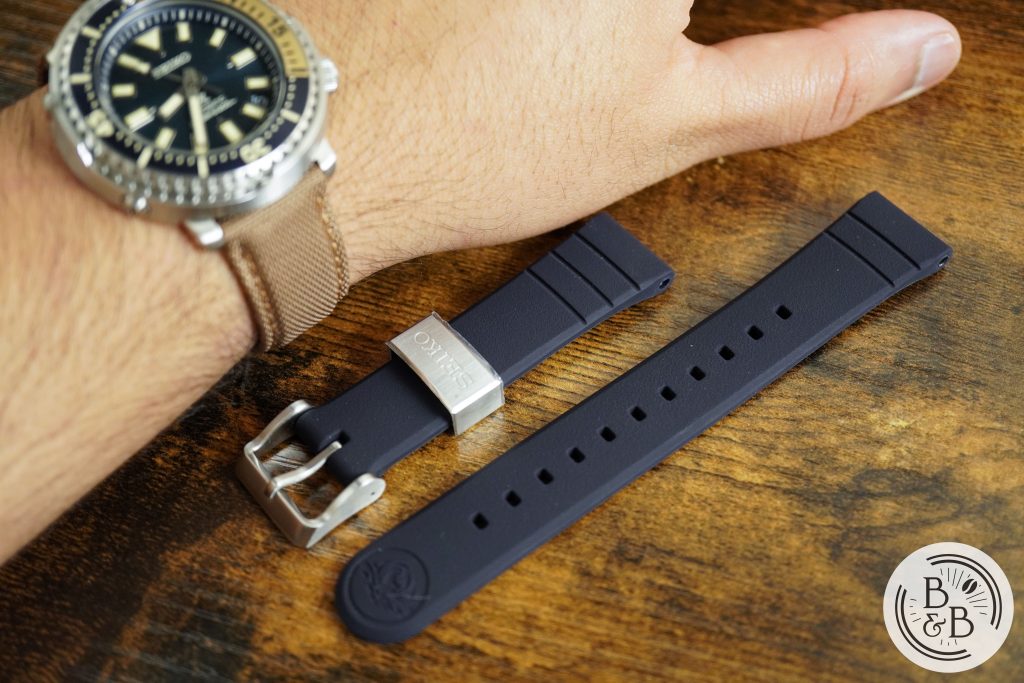 I wasn't a huge fan of the silicone strap that came with the watch. The quality of the strap is great, and the hardware is excellent too, but it is just too long and you end up with tons of strap just hanging around. It was a bit too flexible as well, which made the case feel less balanced overall.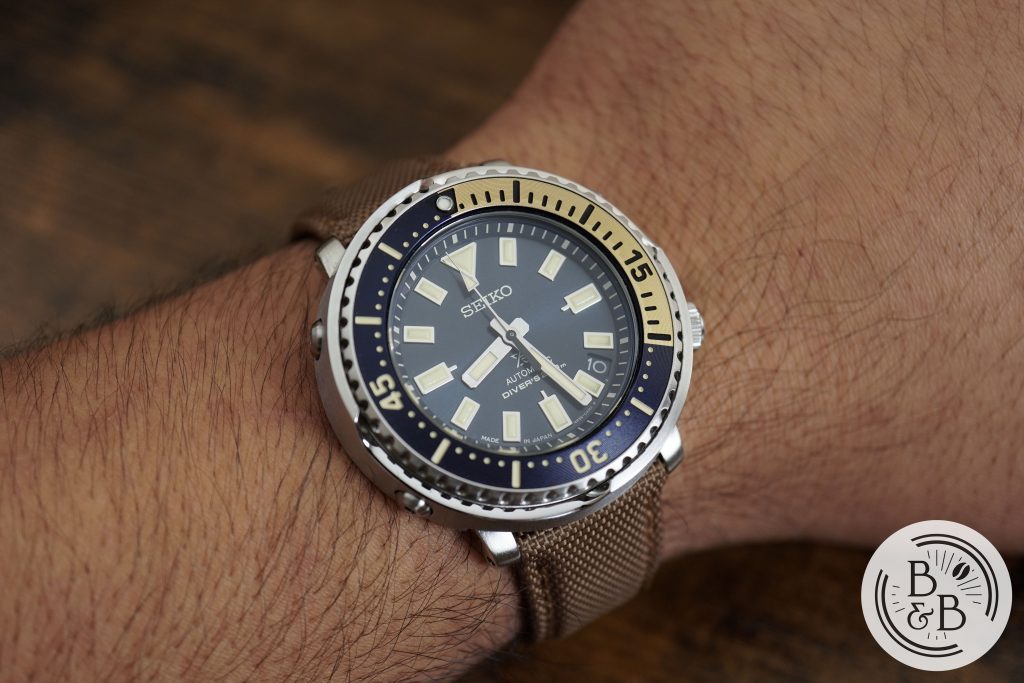 I swapped that out immediately for this khaki sailcloth strap from Watch Bandit, and I've been enjoying the muted colors across the watch and strap.
---
Concluding Thoughts
To wrap this up quickly – I love this watch, and I highly recommend it at around $550 and lower. I initially bought this watch only to review, and sell once I was done. But I think I will be keeping this one in my collection; for a few months at least! I love the build quality, design, and even the finishing.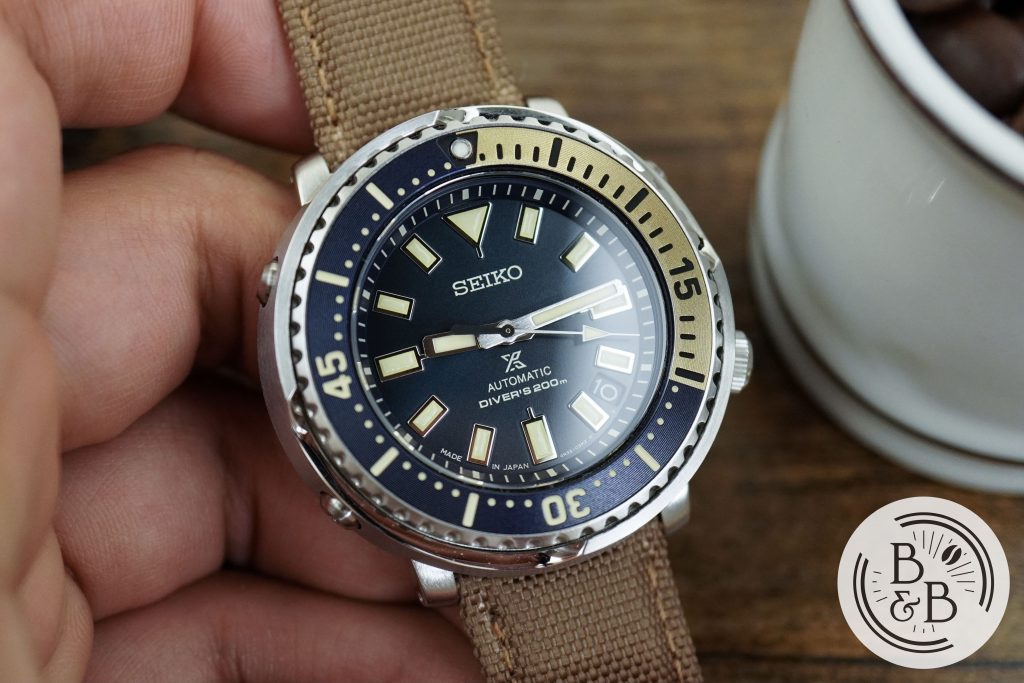 The Seiko 4R35 movement and hardlex crystal might be a turn off for some, and I think that's reasonable. But if you've got small wrists, and are looking for a seriously robust feeling dive watch design that has great looks and it's own design heritage, this one is worth checking out! And if you win the quality control lottery like I did, you will absolutely love the ownership experience.
---
Strap Change
---
Thanks for reading!