---
Disclaimer: This watch was sent to me to review, and I was not incentivized in any way to make this review. This is in no way sponsored by Audric or any other entity. All opinions here are my own. Since this watch was worn/used by other reviewers, please make note that the experience might differ from that of a brand new watch. This particular prototype seems to have taken quite a beating during it's travels.
---
---
Contents
---
Introduction
I'm definitely late to the Audric Seaborne party, but this Kickstarter project created quite a buzz a few months ago. I've been talking to one of the founders for a while now, and I'm glad to finally get my hands on one of the Seaborne prototypes. Before we get into this, I should make it clear that this watch is a prototype that has been used and abused by reviewers and bloggers for the last 6 months, and it's appearance should be a clear indicator of that.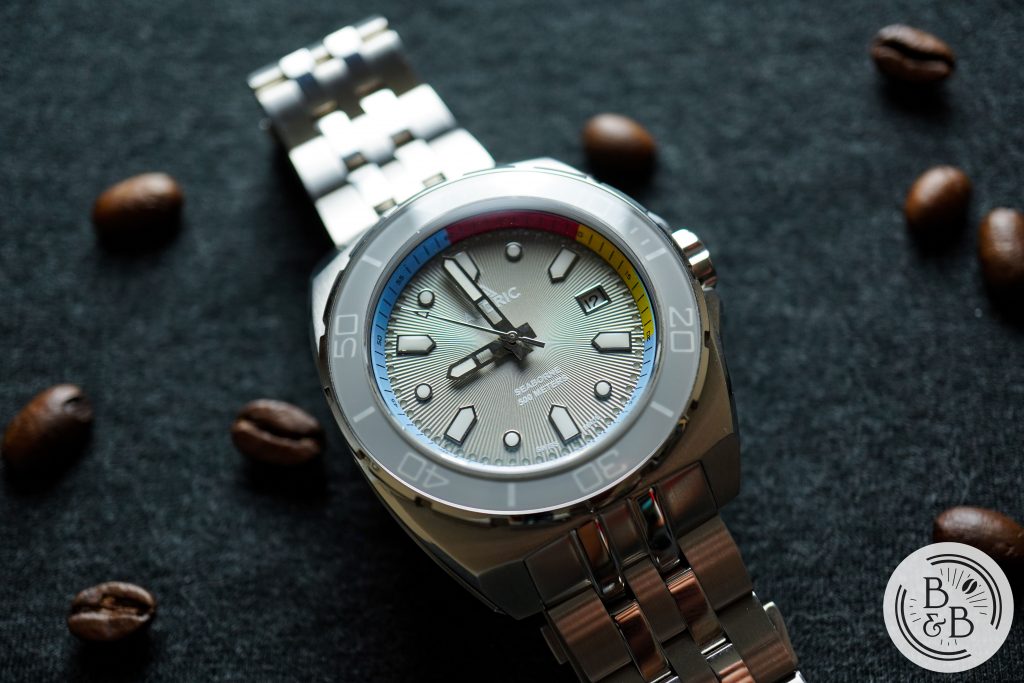 The Seaborne is a 500m water resistant diver, that had a Kickstarter price of $600 and will later retail at $1000. Roughly 140 backers brought this project to life, and the Seaborne was successfully funded in under 20 minutes. It can be pre-ordered right now for around $680 on Indiegogo, but I assume that will change to $1000 once they start shipping.
Let's check it out!
---
Case
The case is very well designed and manufactured. This 43mm diameter, 51mm lug-to-lug width and 15.4mm tall case is mostly brushed, with a few polished accents throughout. The case is very aggressively designed, with terrific angular accents near the lugs and crown guards.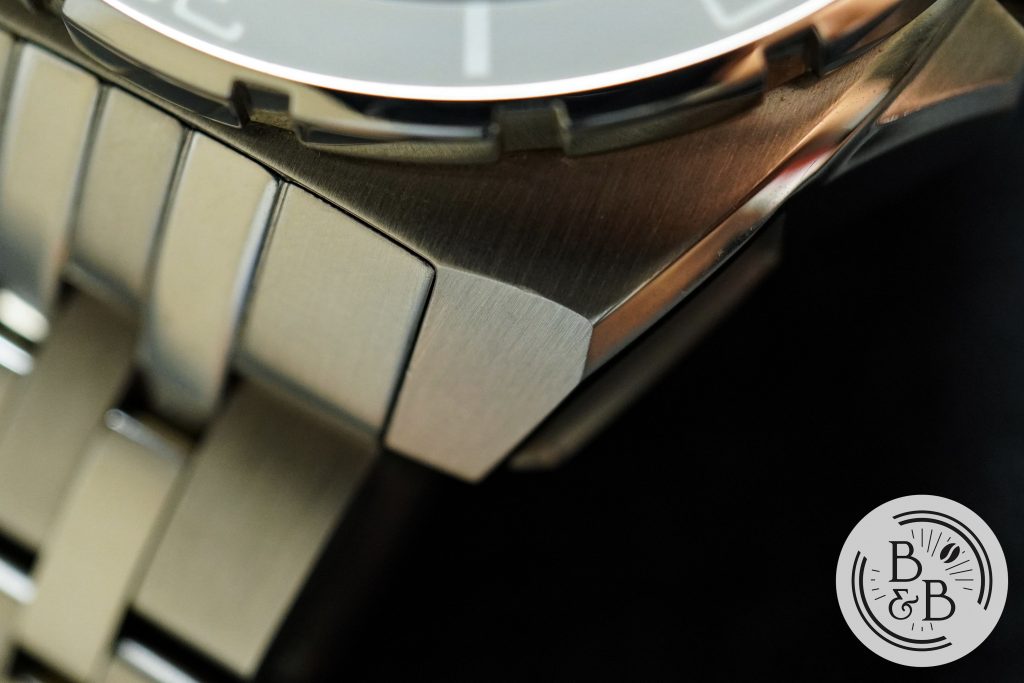 The lugs curve down towards the wrist and extend neatly into the bracelet through appropriately designed end links. It has a bit of that integrated bracelet aesthetic going, and I like it.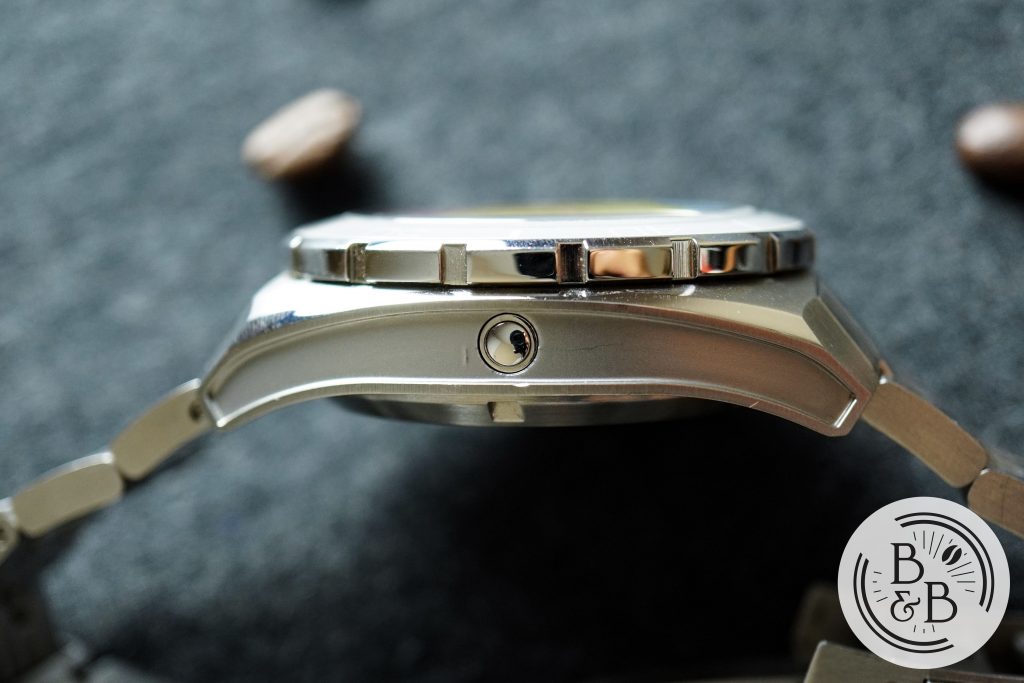 The side profile is very cool, with a recessed surface that is horizontally brushed and houses a Helium escape valve. I love the lines around this surface and it totally works on this piece.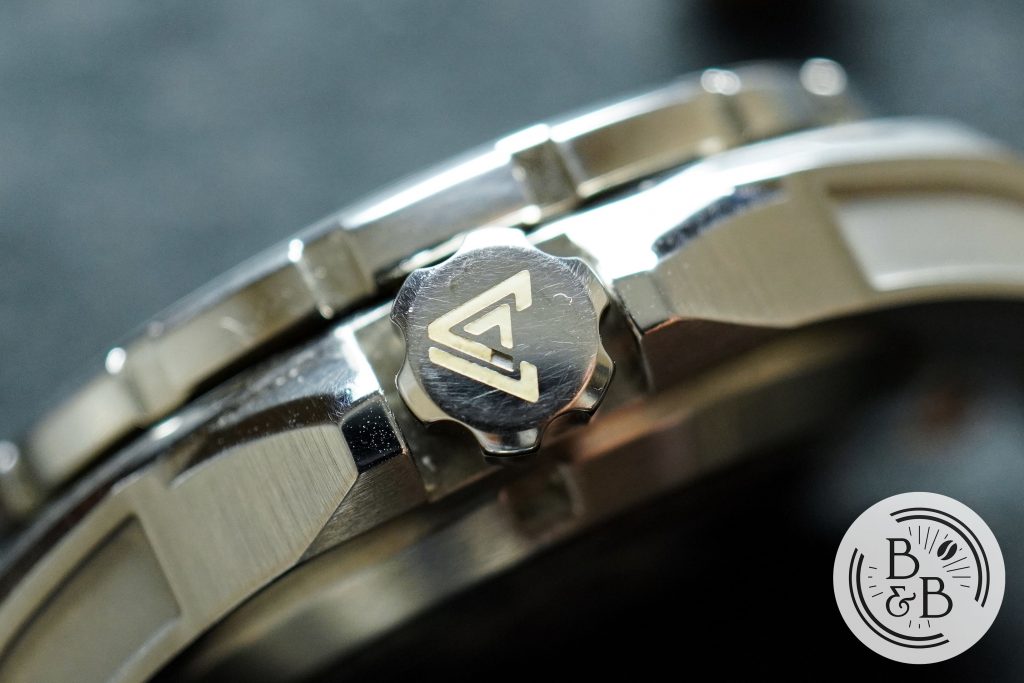 You see a similar design on the opposite side, but it is interrupted by a pair of angular crown guards, and a signed and lumed crown. Unfortunately the lume filling on this prototype seems to have chipped away during it's travels. Hopefully this wasn't too easy to achieve.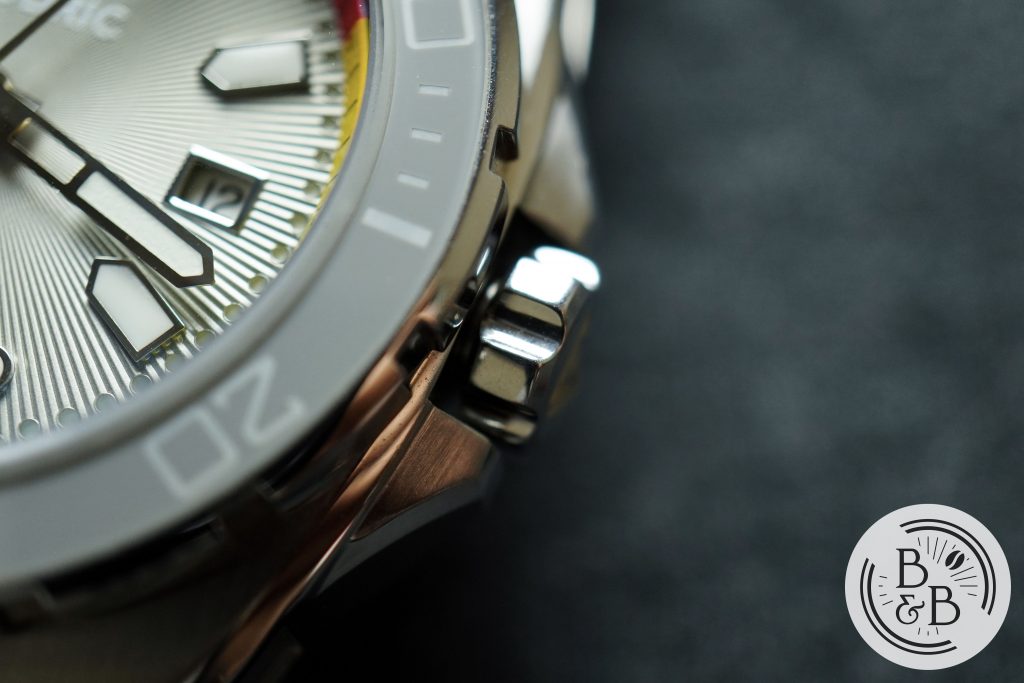 The crown has good proportions and is mostly easy to grip and operate. I say mostly, because the crown is high polished and if you have sweaty fingers, this requires some more effort. There wasn't any crown or stem wobble.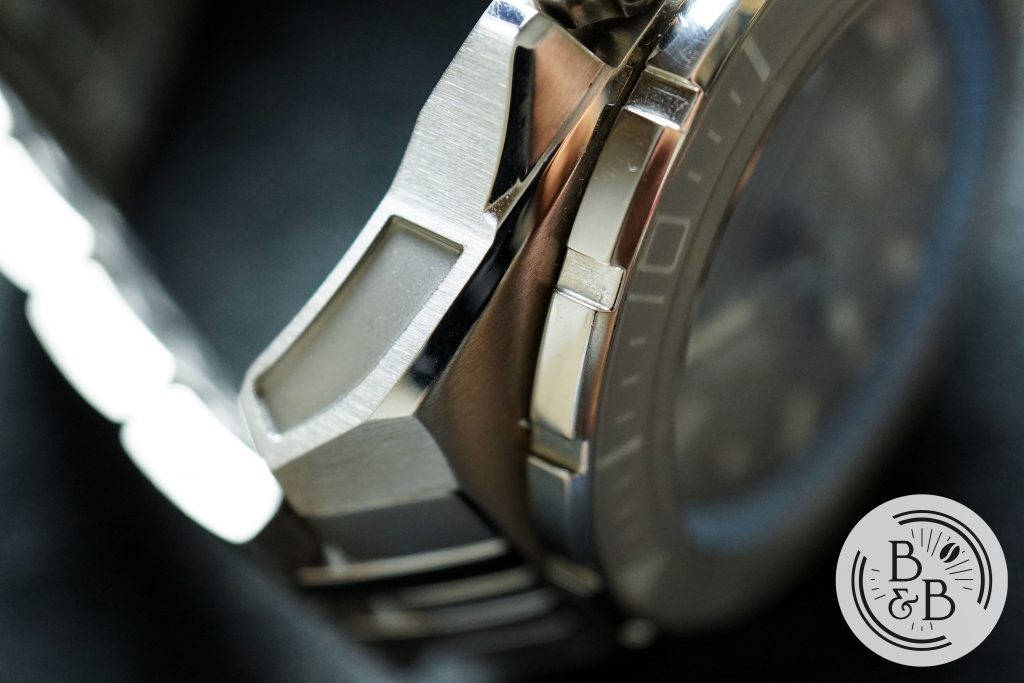 The 120-click uni-directional bezel has a sapphire insert with all lumed elements. The bezel action is excellent and has no back-play. The bezel grip is also polished, but is easy to grip and operate. Really good job on the bezel here!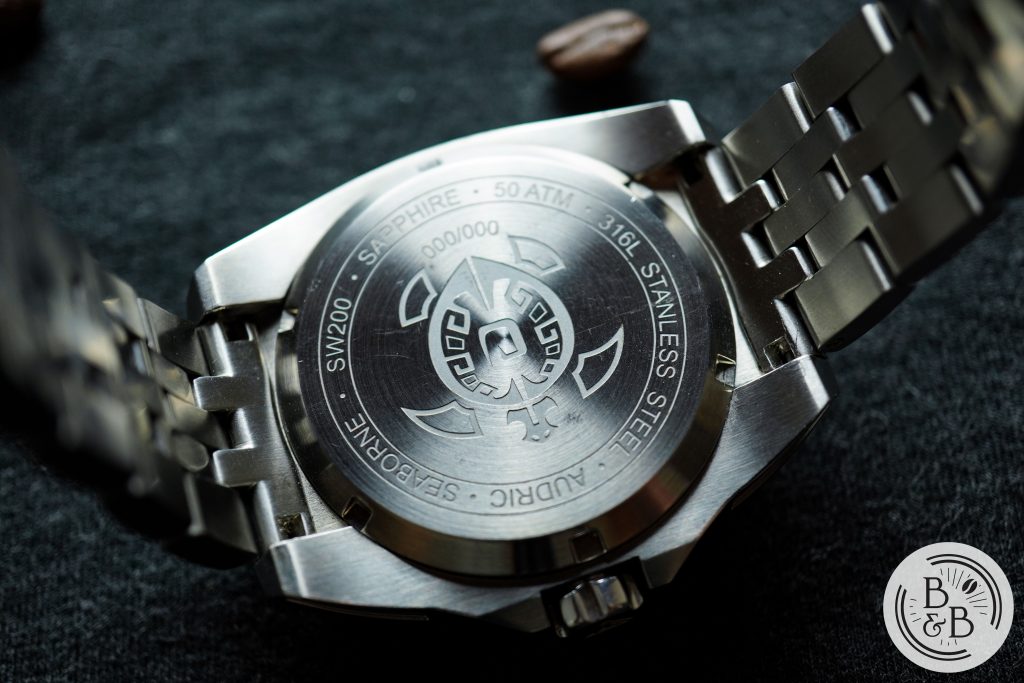 Flipping it over you have a simple, solid case-back with an etched turtle at the center. This watch is rated for an impressive 500m of water resistance!
---
Dial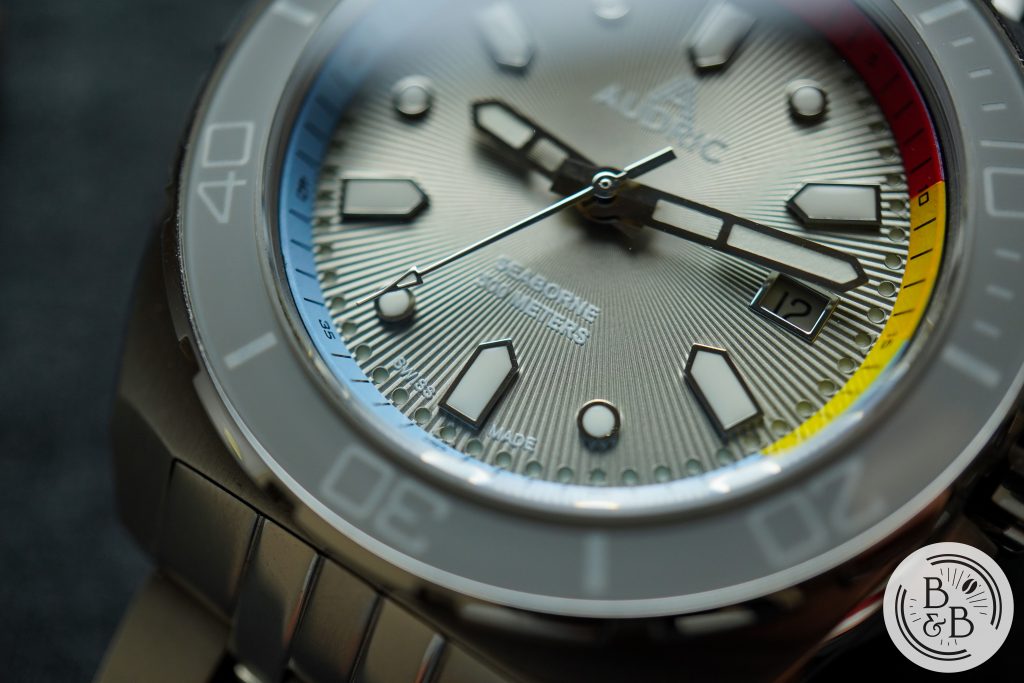 For a brutish, hefty and serious 500m dive watch, the Seaborne has a surprisingly beautiful, intricate and elaborate dial design. This watch manages to combine a textured sunburst base, with sandwich style recessed minute markers (that are also lumed), applied and polished indices, and rhodium plated hands. Oh, and did I mention the chapter ring also serves as a colored depth gauge? Let's take a closer look…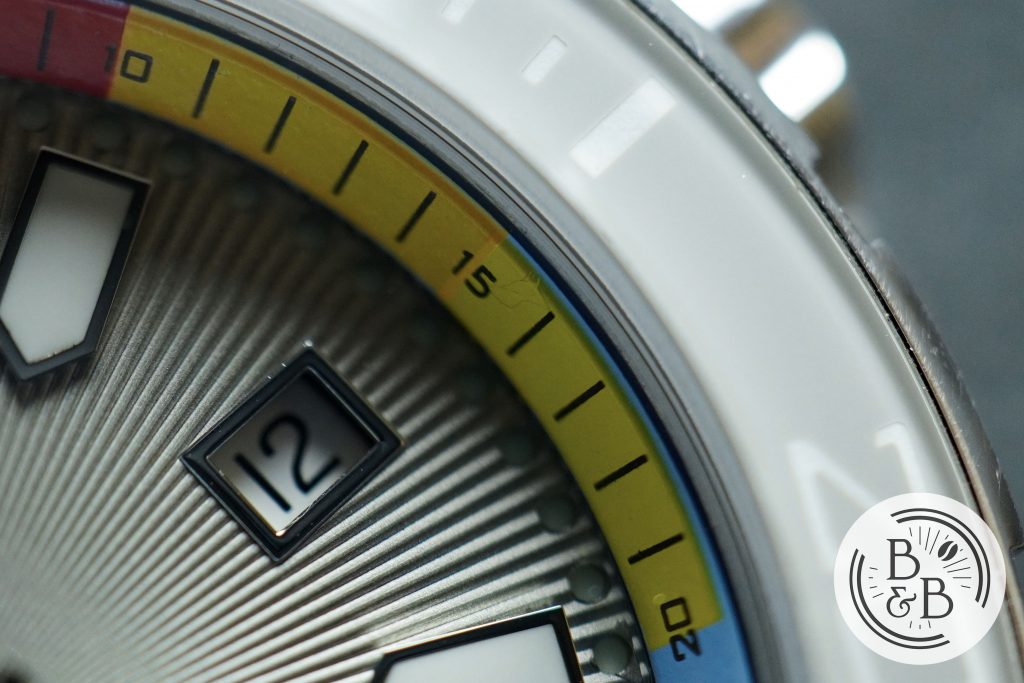 The chapter ring is colored to function as a depth gauge, the further down you go, the more of these colors will disappear. It's a neat feature for sure, and I like it. There are some small inconsistencies in the finishing on the different colored regions, but Audric has already addressed this and says that it has been fixed on the production units.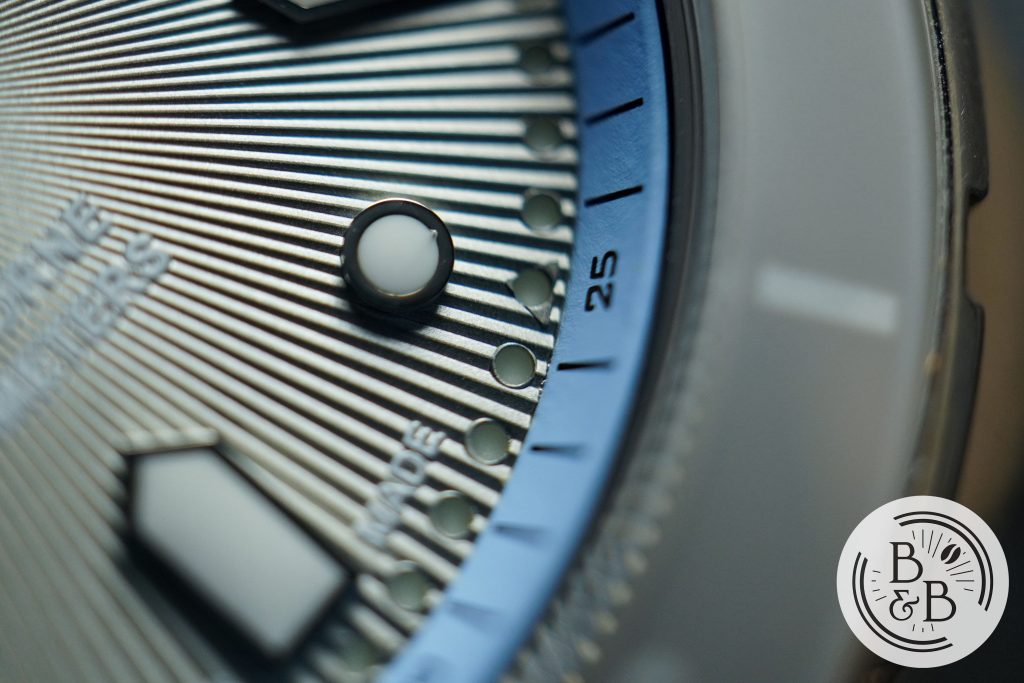 The recessed and lumed minute markers are a very neat design element, and I think this is my favorite aspect of the dial.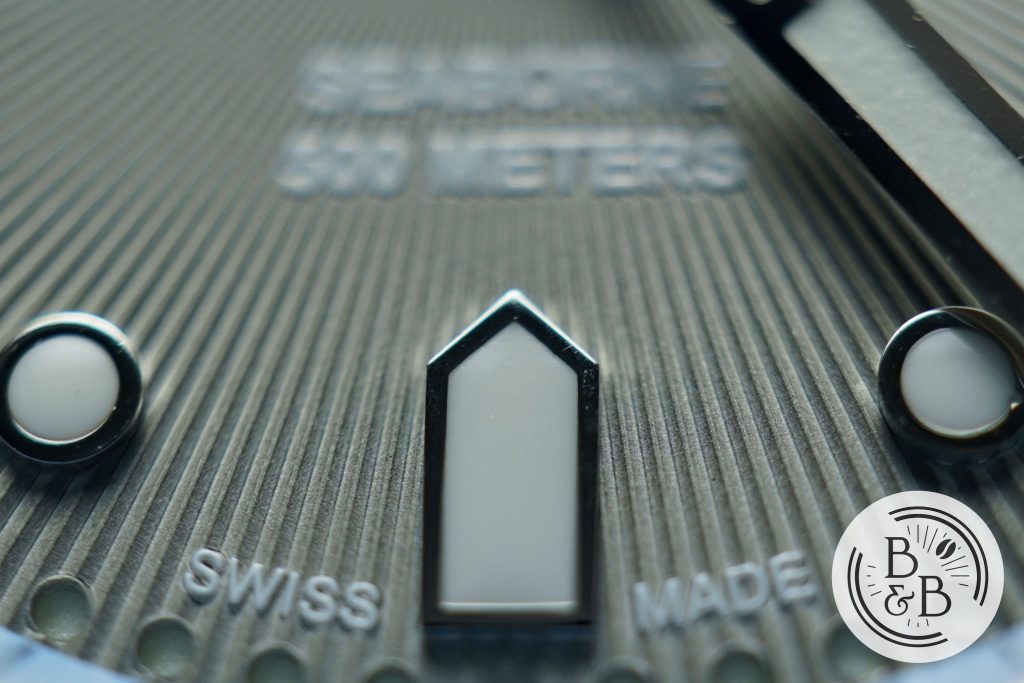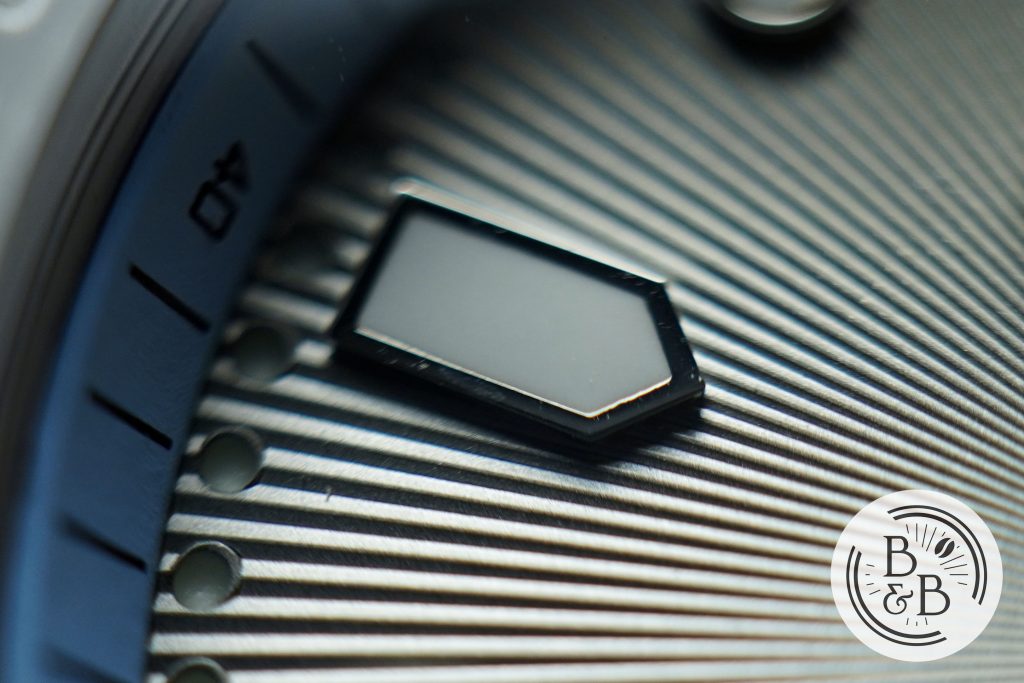 The hour indices are applied stainless steel and well filled with lume. These are rhodium plated and are finished pretty well. For $600, this is somewhat acceptable, but at $1000, I think they will have to be better, as I did notice some small marks and dirt on a few of them. Once again, this is a prototype, so it is reasonable to assume that the QC on the final units will be much better.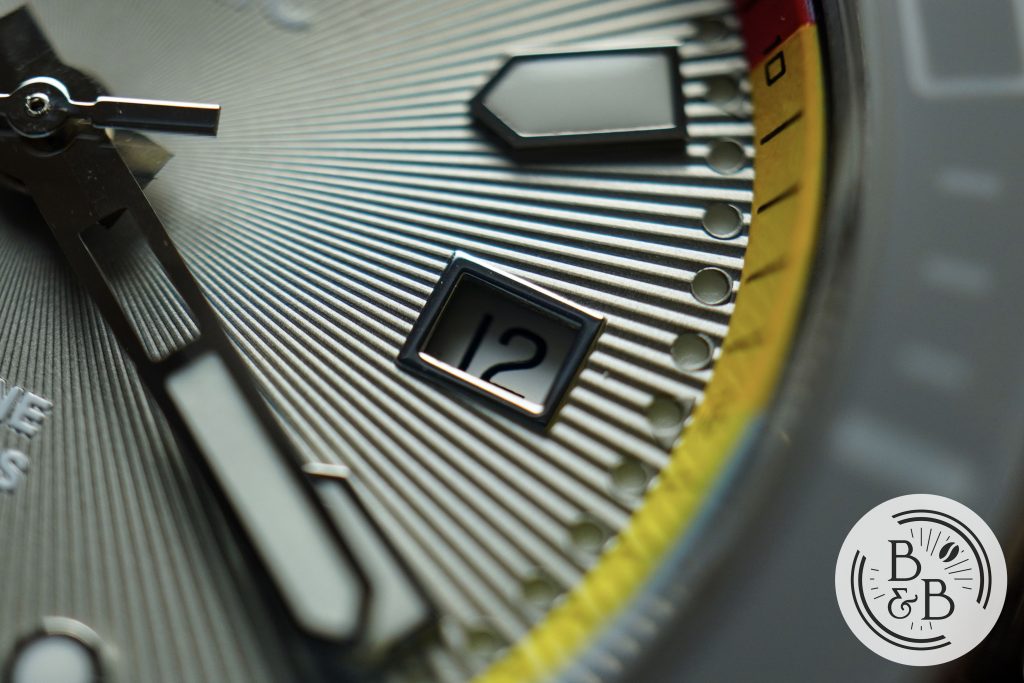 There is a framed date window at the 3 o'clock position, with a white date wheel and black font. The frame also appears to be finished similarly to the indices and I think this is well executed. You should know that I prefer date windows at the 6 o'clock, but for all you 3 o'clock-ers, this one is done well.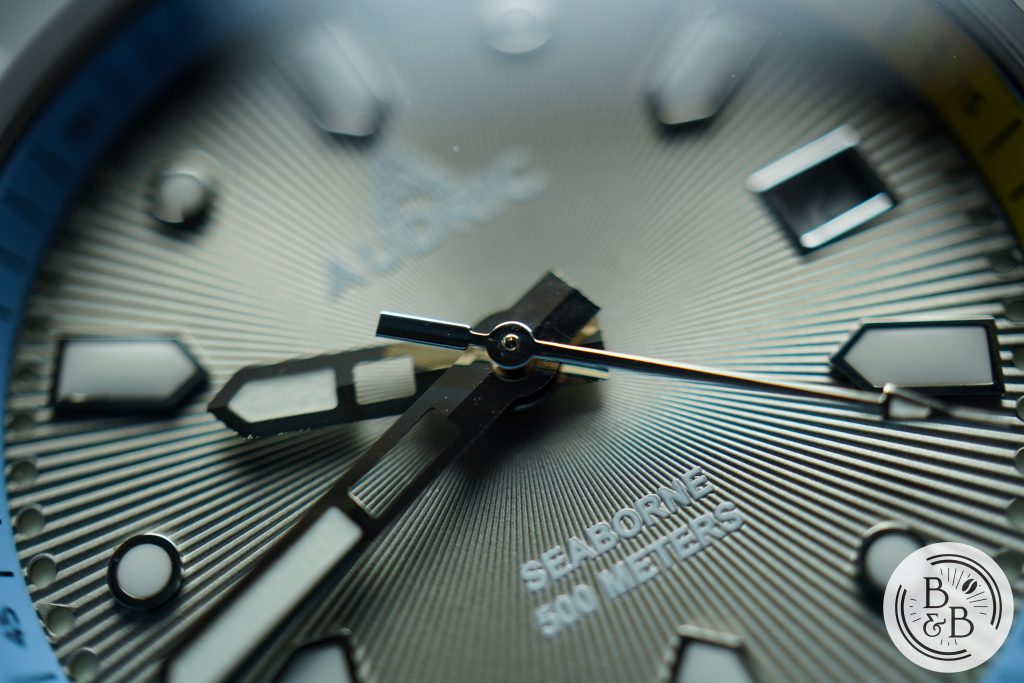 The hand-set is also rhodium plated and generously filled with lume.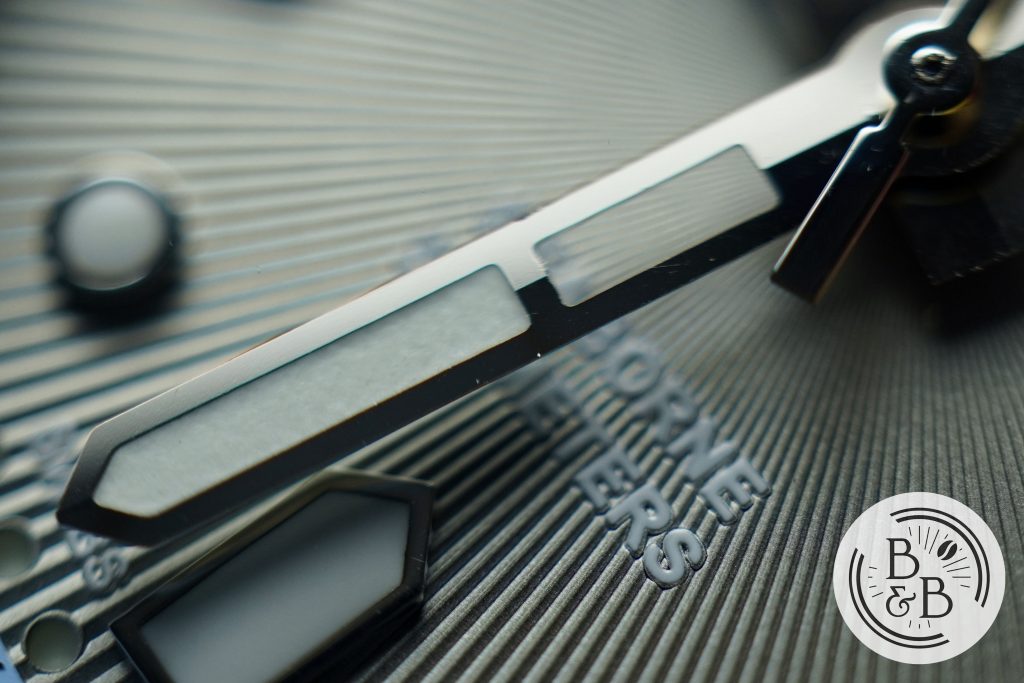 The hands do have some of the same small marks and irregularities on them, but these are only visible under a loupe or macro lens. I think the hands are well proportioned and are very easy to read.
I particularly like the lumed tip seconds hand, and this one was finished very well.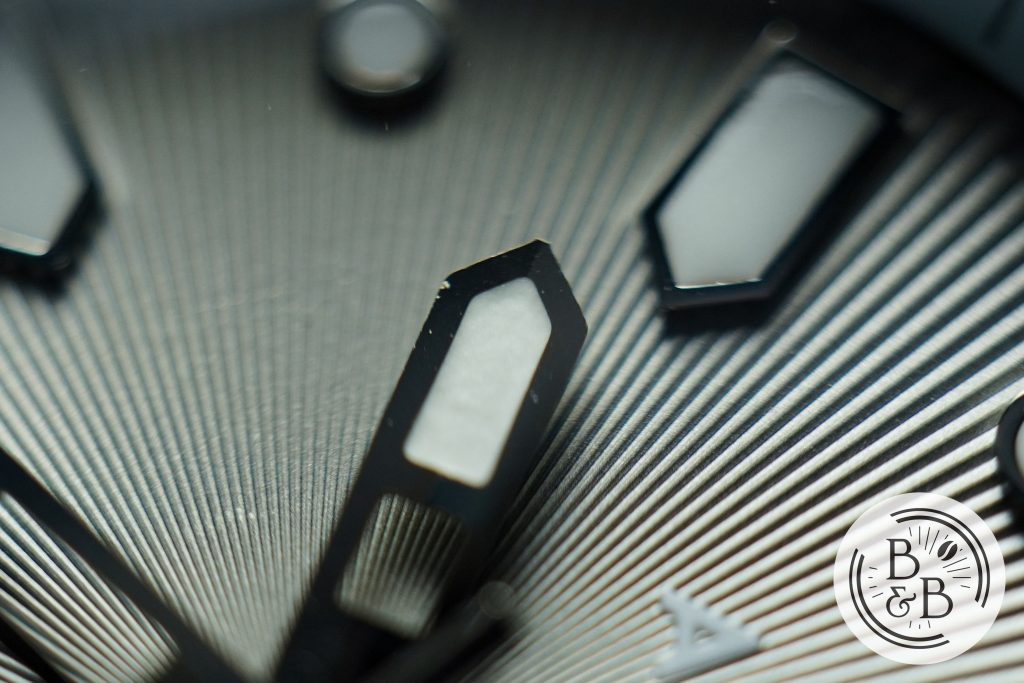 Overall, for a $600 watch, there isn't much to complain about with the dial, and I would be comfortable spending that money on this given the overall build quality, movement, lume etc. But the moment this starts costing $1000, these minor finishing anomalies will have to be addressed.
---
Lume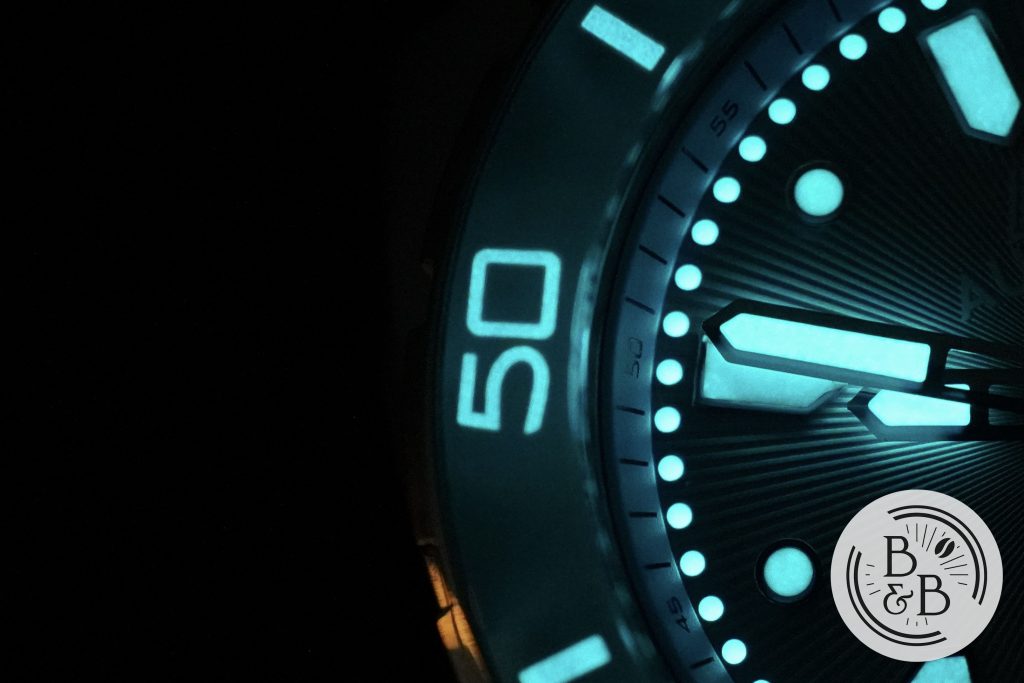 The lume layout on this watch is very cool. The recessed minute markers are also filled with lume, and this makes for quite an amazing experience.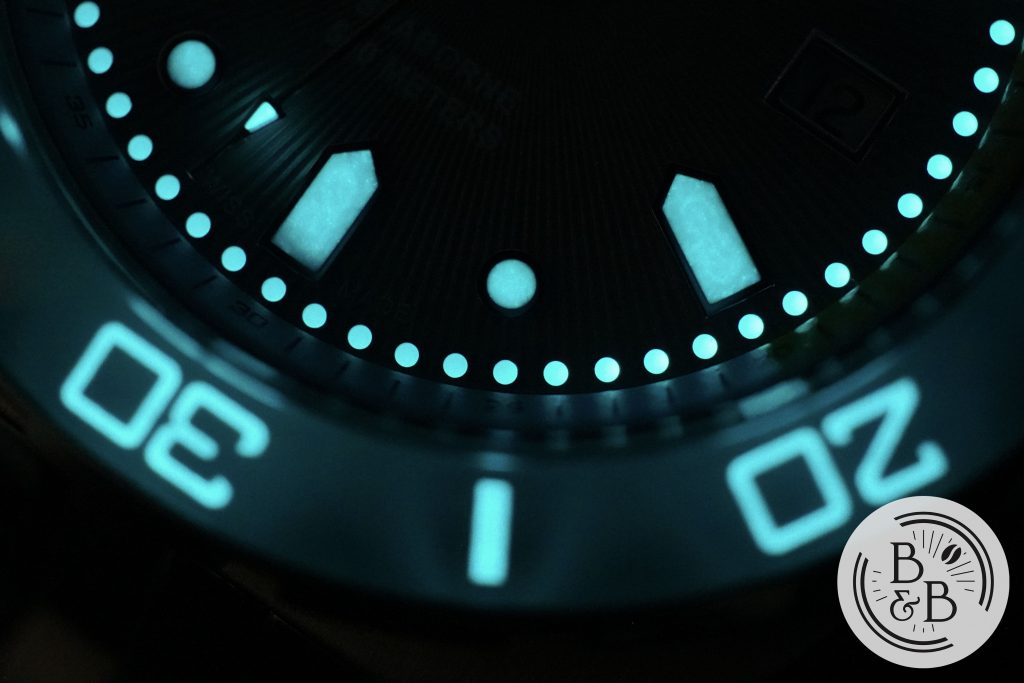 All the lumed elements are filled with BGW9 Super LumiNova and they are plenty bright and hold their charge well.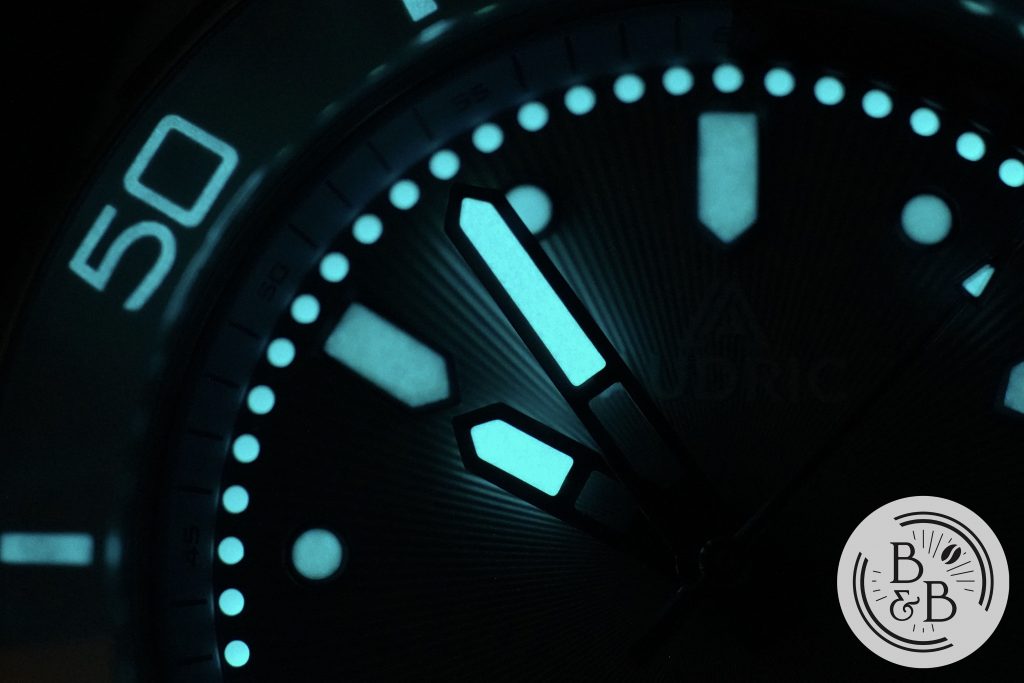 The hands are particularly bright as you would want, and the seconds hand has a lumed tip too.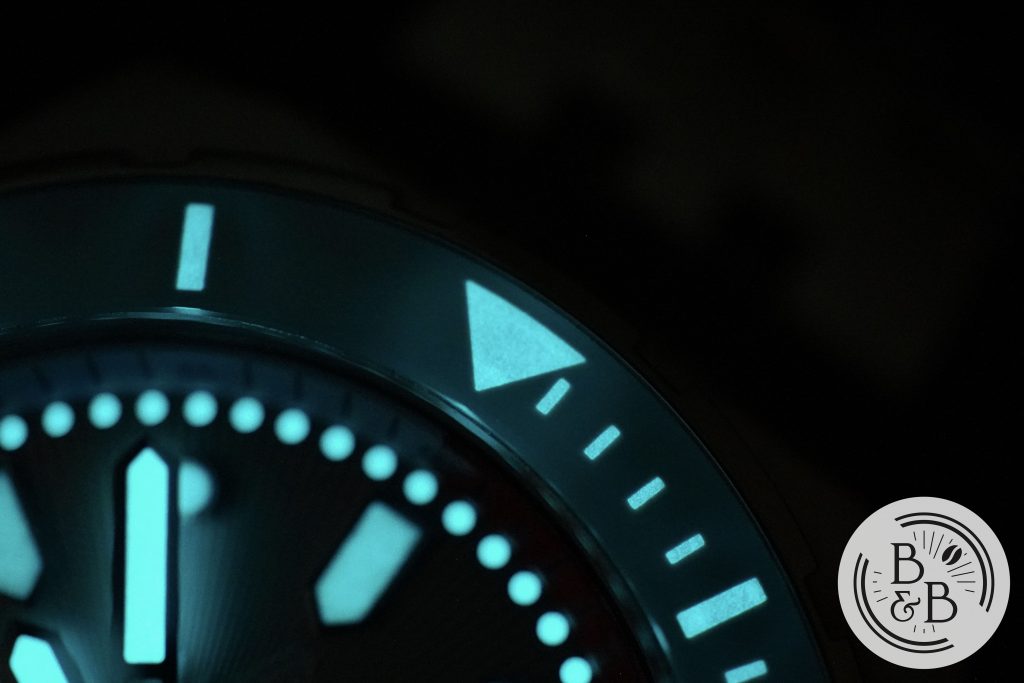 The hour indices and bezel elements are slightly less bright than the rest, but still very visible.
---
Bracelet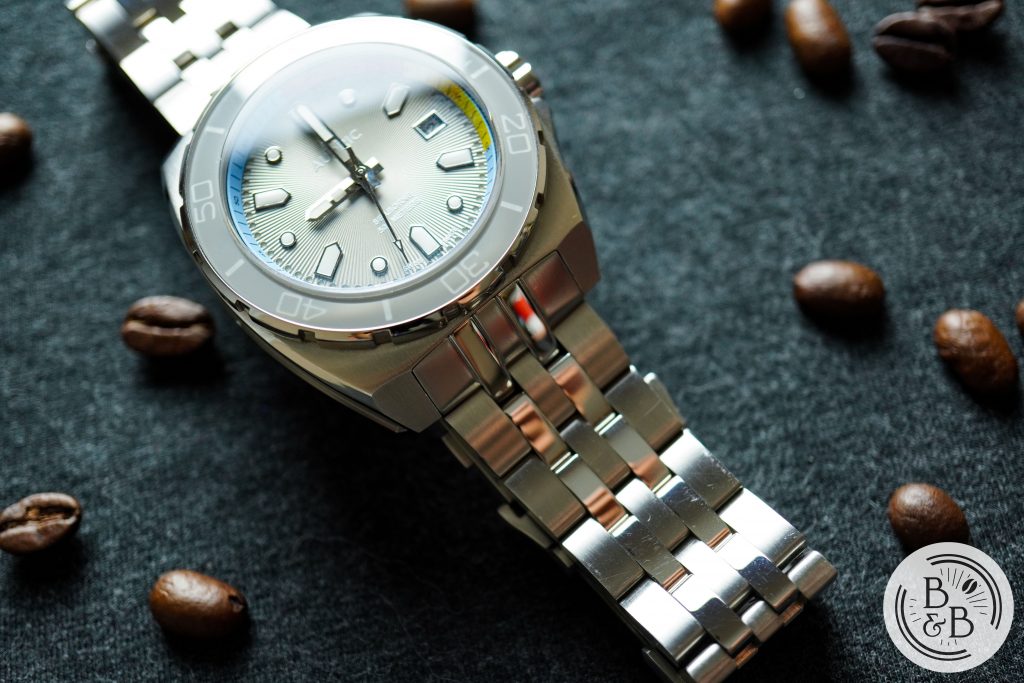 The bracelet, like the rest of the watch, is quite chunky. The screw based links are well machined and have polished center links against an otherwise brushed bracelet.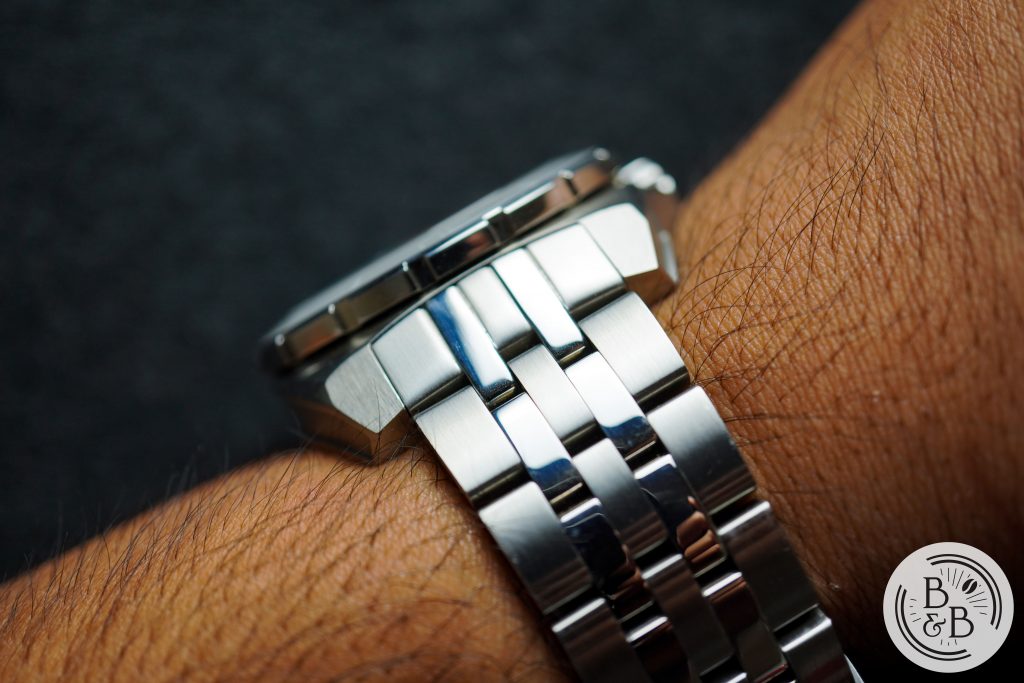 The end-link fitment is very good in the horizontal direction, but there was some wiggle in the vertical direction. I think this is fine, and a few high end watches do this too (my Omega Globemaster did this), for reasons I still haven't figured out yet.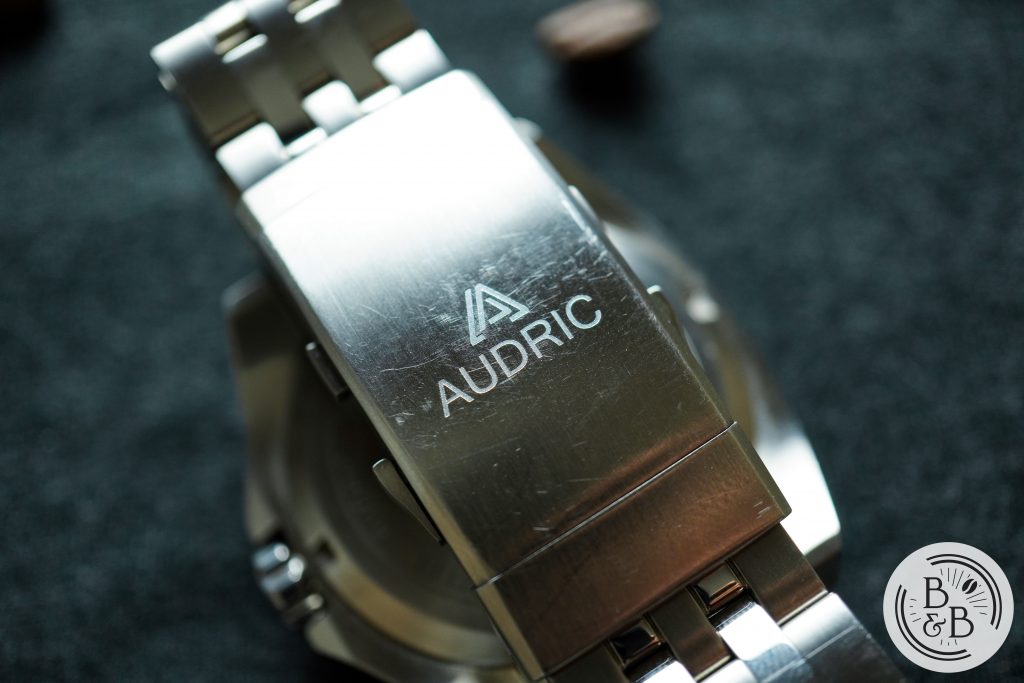 The signed ratcheting clasp is similar to a few other micro-brands, and I'm a big fan of this design, even though it is a bit hefty.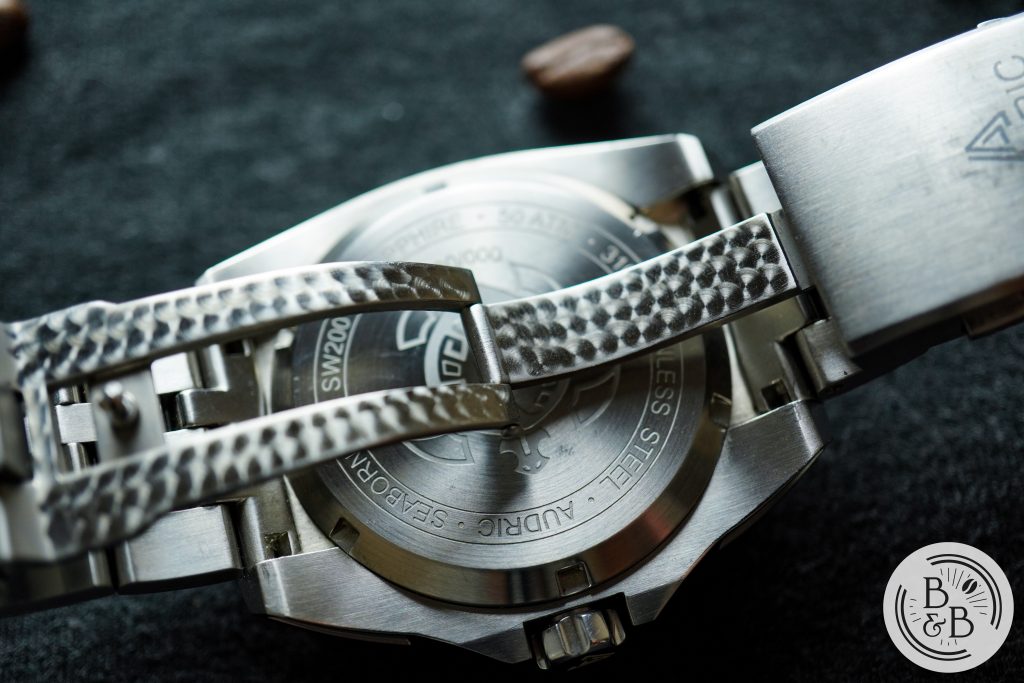 I could easily get a perfect fit, and there's even some perlage finishing on the milled inner pieces. I don't think they could've done better here.
---
Movement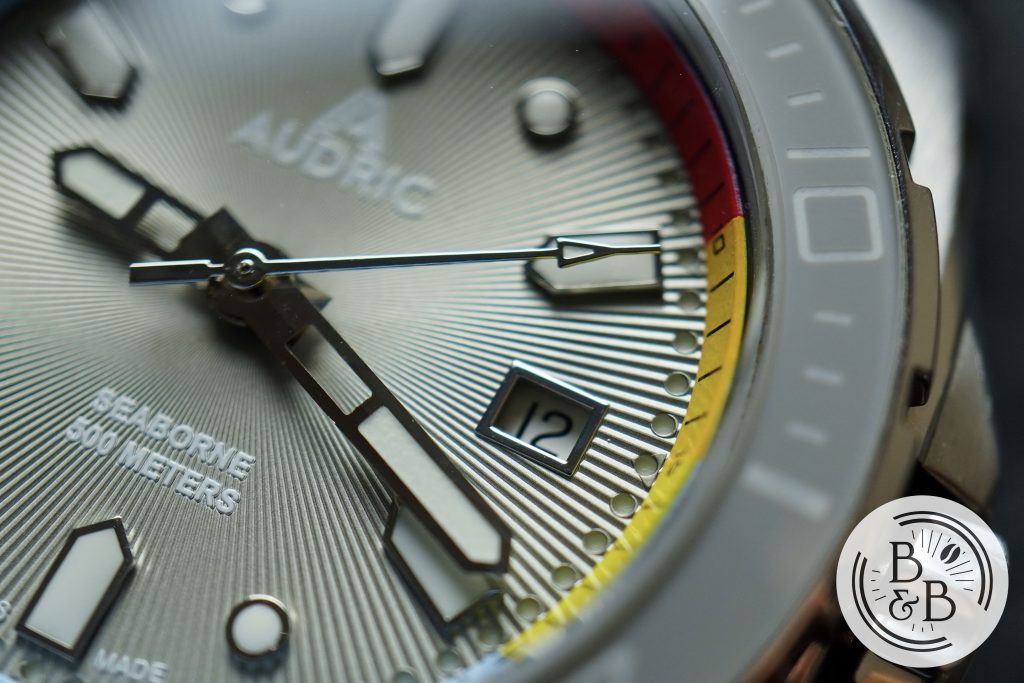 For a $600 Kickstarter and $1000 regular retail price, you're going to want a good movement, and the Seaborne delivers with an elabore grade Sellita SW200-1. As you may already know, I like this movement and I've got it in a few of my own watches.
I logged the accuracy of this watch over a 3 day period, and observed roughly +12spd. This movement can be better regulated, but considering this watch has been traveling around the globe for the last 6 months and looks like it's taken quite a beating, I won't hold them against it. The variance was good, so I'm certain it can be back to spec after a quick visit to the watch doctor.
---
On The Wrist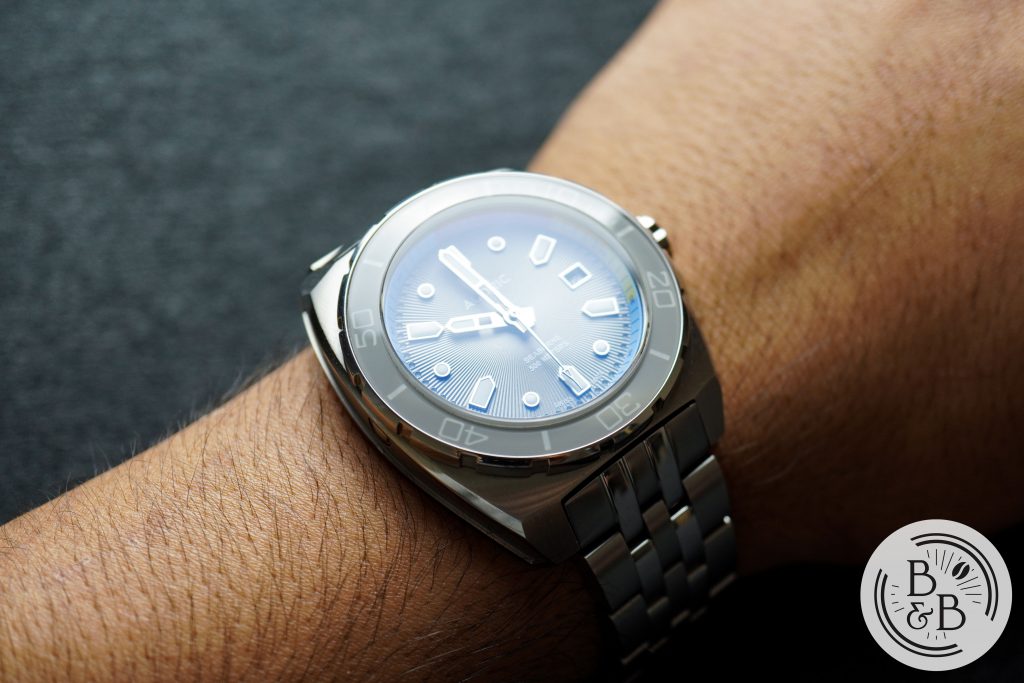 The 43mm diameter, 51mm lug-to-lug width and 15.4mm case is larger than any watch I would buy for my modest 6.25″ wrist. But if you haven't figured it out already, this watch was not made for skinny wrists.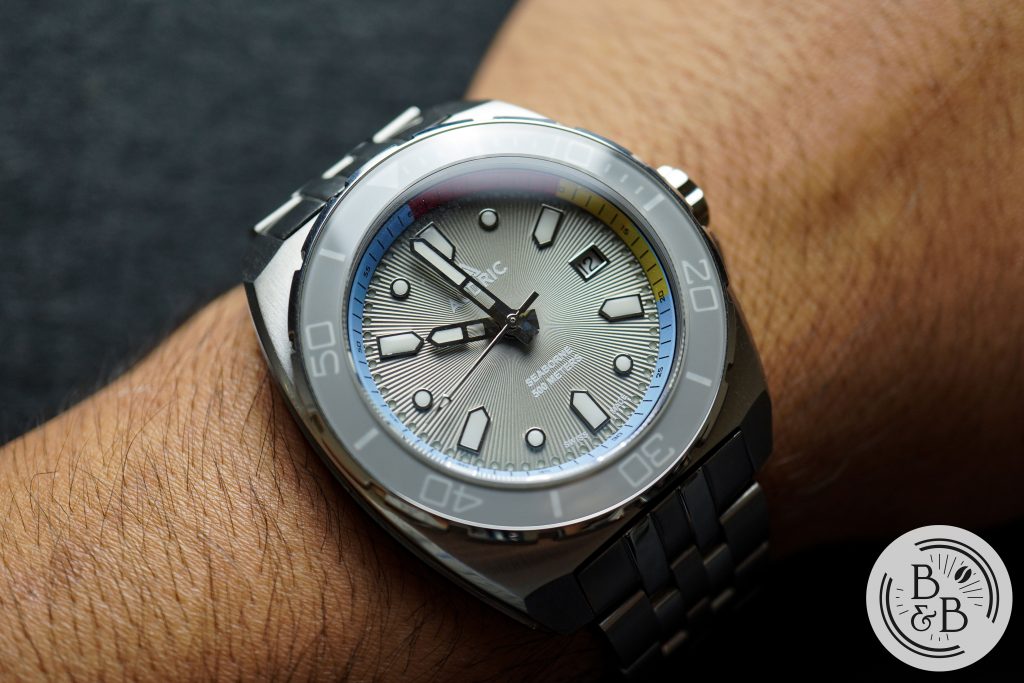 But even so, it wasn't uncomfortable at all, and I think it actually wears quite nicely. Folks with larger wrists (6.75″ and greater) will have a great wrist experience with this one.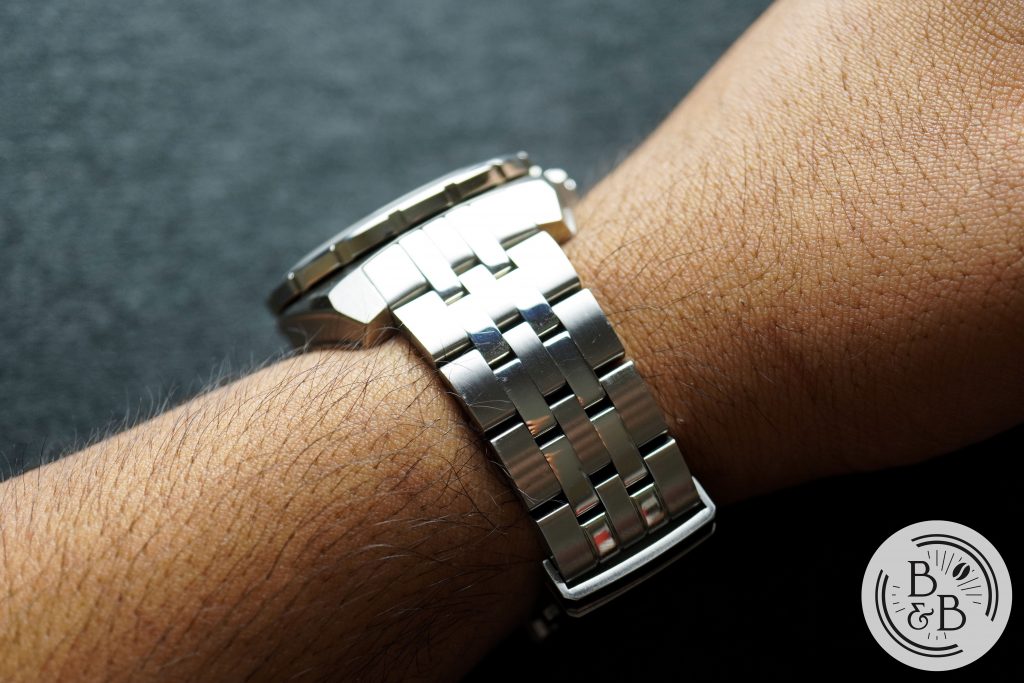 The hefty 230 g is distributed quite nicely, and the flat case-back and curved lugs help it sit low on my wrist and wrap around it well.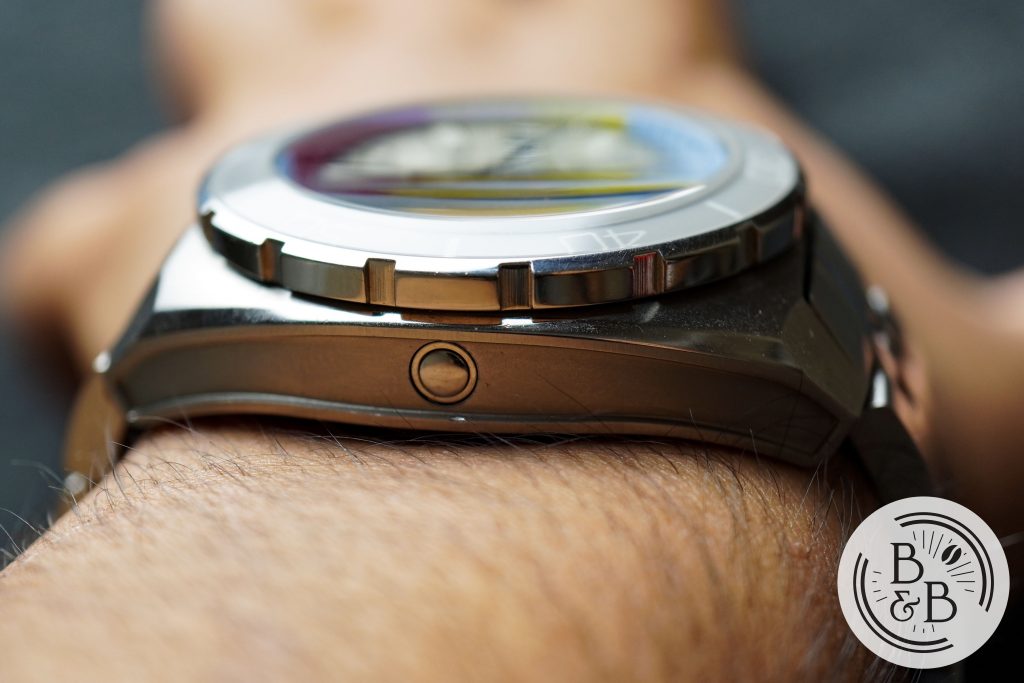 The 15.4mm height is actually well designed and doesn't feel awkwardly tall at all. Since my wrist size is clearly not within the target demographic, I won't say much more.
---
Concluding Thoughts
At $600, I think this is a pretty solid purchase. You're getting a hefty and well manufactured case and bracelet, a very intricate dial, great lume and a pretty good movement. This watch is not for skinny wrists, unless you prefer to wear slightly oversized watches. But for those looking for a larger watch, and those that have already backed this project, I think you're going to enjoy this piece.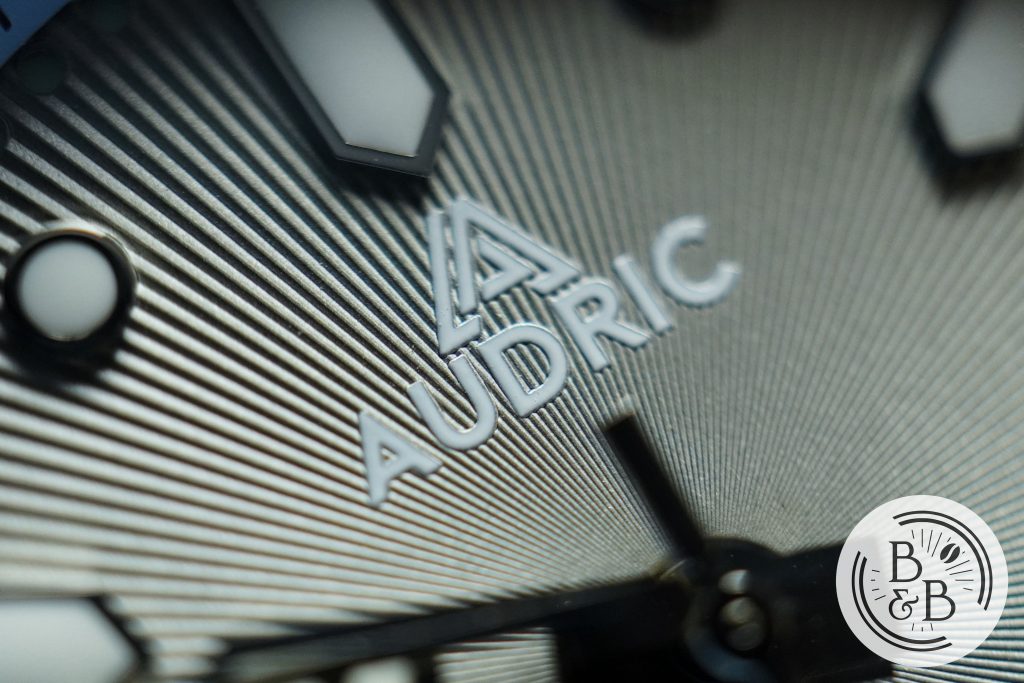 But is it worth the $1000 retail price? I'm going to reserve my opinion until I see the final production units. If they fix the finishing and minor QC issues on the dial and hands, and fix the slight movement in the bracelet and case fitment, I think it will be.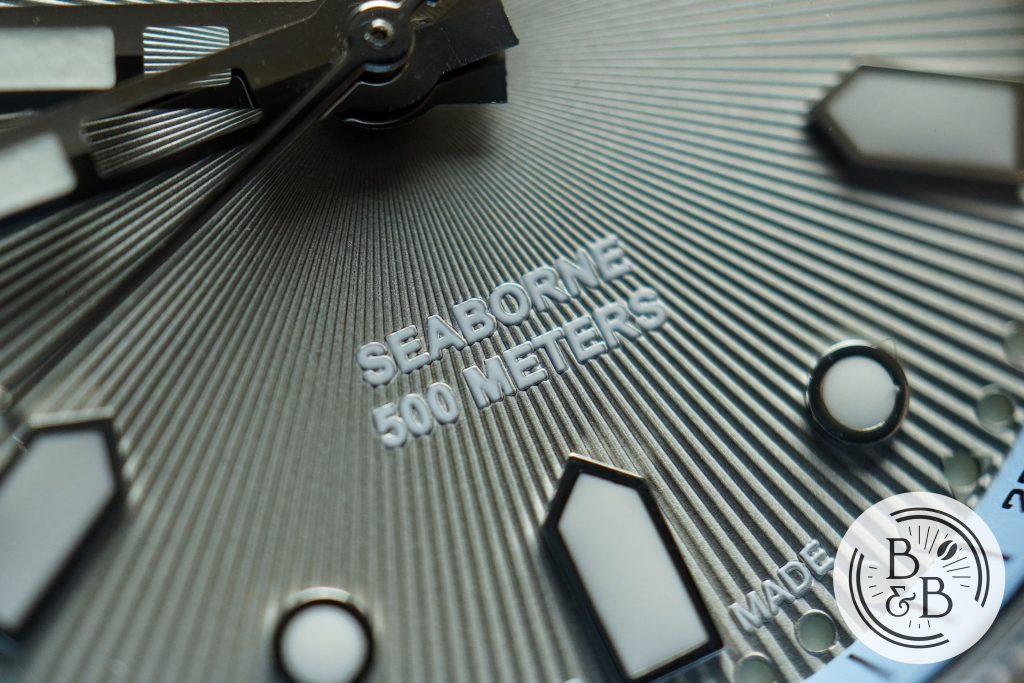 They have indicated on Kickstarter that these problems have already been addressed in the final production units, and a recent post on Kickstarter indicates that they're still on schedule for a December delivery. So we should see them in the hands of owners soon, and once the positive feedback starts flowing in, I think that's when I'd be ready to part with $1000 for this.
---
Thanks for reading!