---
Disclaimer: I purchased this watch new from Baltic for around $480 USD on the metal bracelet and was not externally incentivized in any way to make this review. This review is in no way sponsored by any entity. All opinions here are my own.
---
---
Contents
---
Baltic & HMS
This isn't my first encounter with a Baltic watch, and I've had a Baltic Aquascaphe in the collection for about a year now. This watch has held up quite nicely after being put through a lot of abuse, and I can safely say that it has earned it's own title of being a tool watch.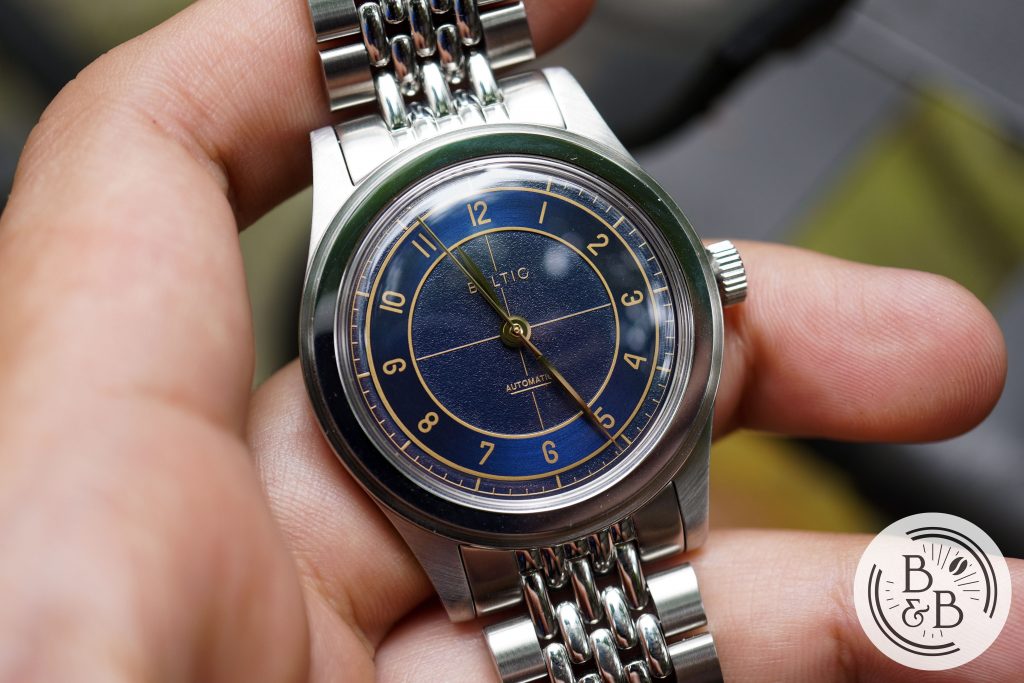 But now I'll be looking at something quite different, from their updated HMS lineup. This is the HMS002 in Blue Gilt, and continues the original Art Deco-esque design elements of the HMS001 with a beautiful sector dial, that draws inspiration from sector dial watches that I love from Longines and JLC, to name a few.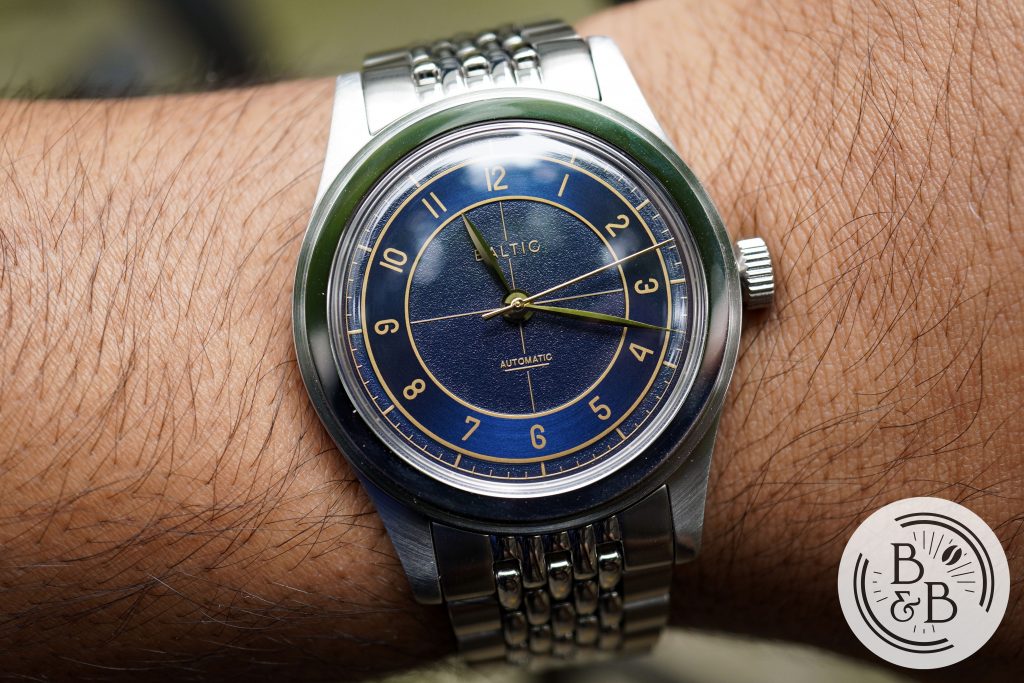 The design of this dial hasn't changed much since their extremely popular collaboration with Worn & Wound that resulted in the famous Salmon dial series. But these are now going to replace the HMS001 lineup and and are standard production models offered in three colors. It should come as no surprise that I bought the Blue Gilt variant.
Let's check it out!
---
Case
The case measures 38mm in diameter, 47mm from lug-to-lug and 12mm in height. But the 12mm includes the high domed hesalite crystal that sits above the stepped bezel. Without the crystal, you're looking at closer to 10mm.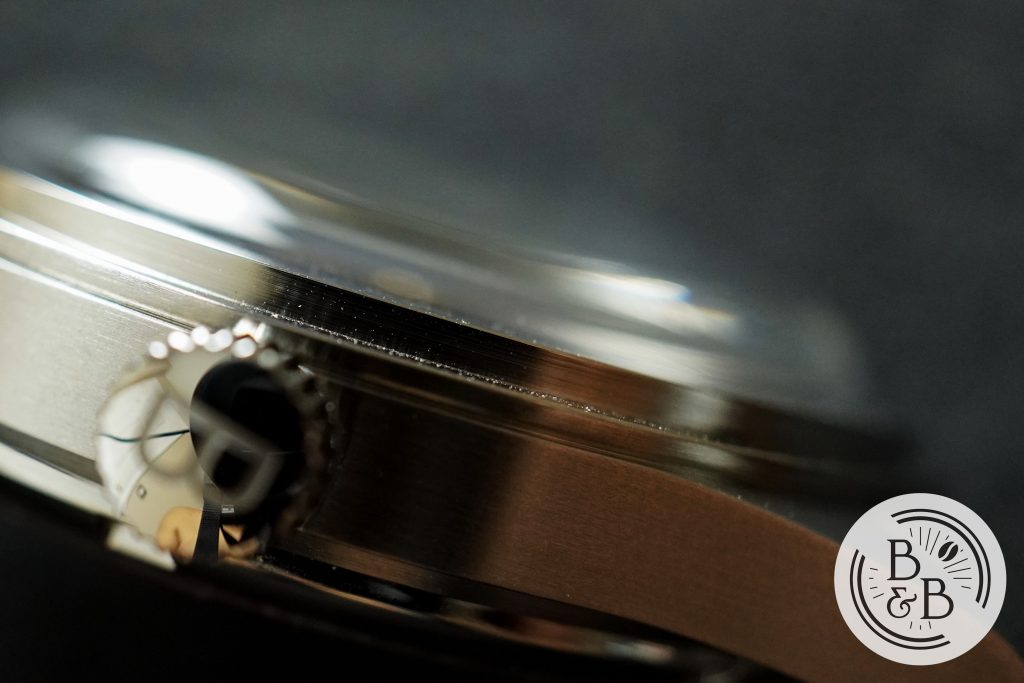 The entire case is brushed stainless steel, except for the two step bezel, which is polished. I like the stepped case design, but the high polish surfaces and the difficulty in easily accessing them with a cloth, makes them a magnet for dust and finger prints.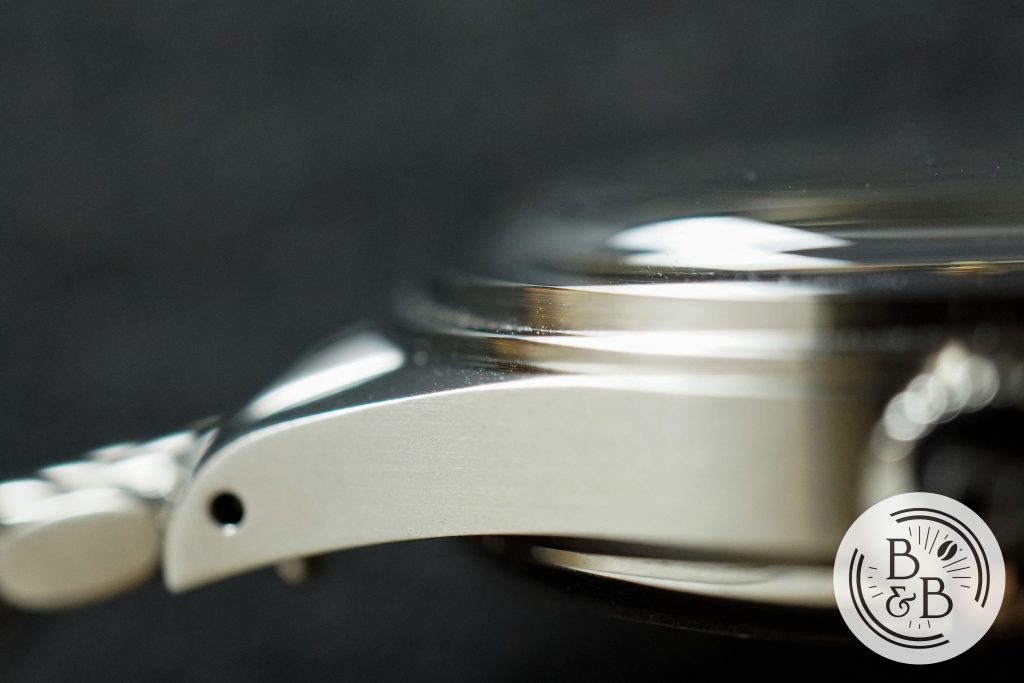 As mentioned above, the crystal is a high domed hesalite crystal. Hesalite does have a vintage warmth to it, which is what Baltic was going for with this design, but I'm not a big fan of non-sapphire crystals for everyday watches and would've preferred to see domed sapphire instead. Either way, if you're buying one of these, make sure you get a bottle of Polywatch too.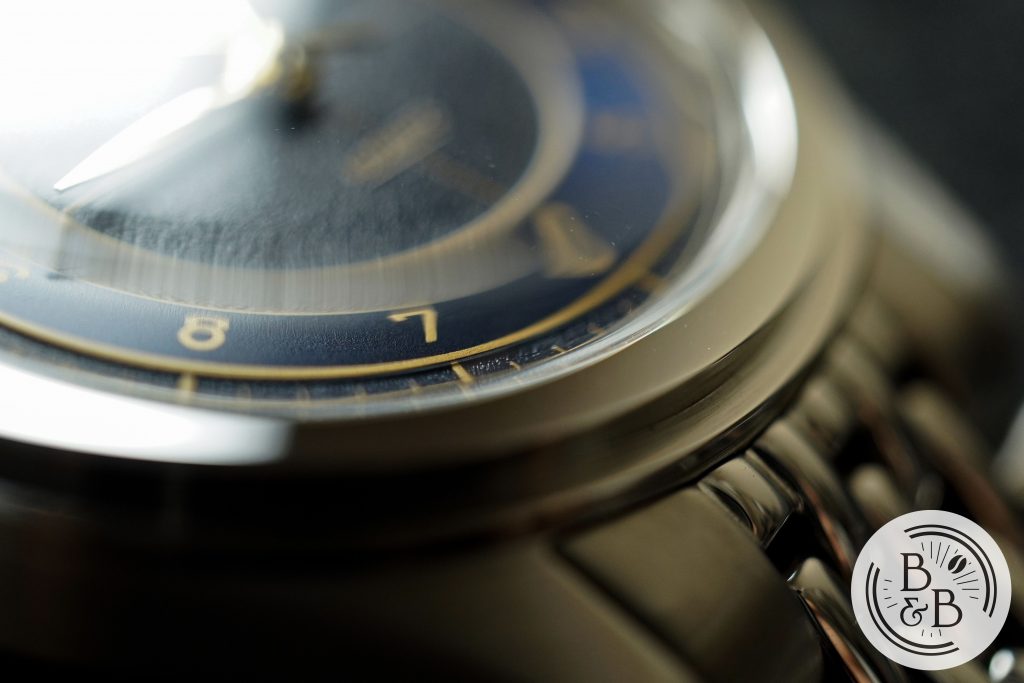 Admittedly, the hesalite does have vintage-esque distortion at the edges without really affecting legibility. I like this a lot more than I did the Lorier Gemini.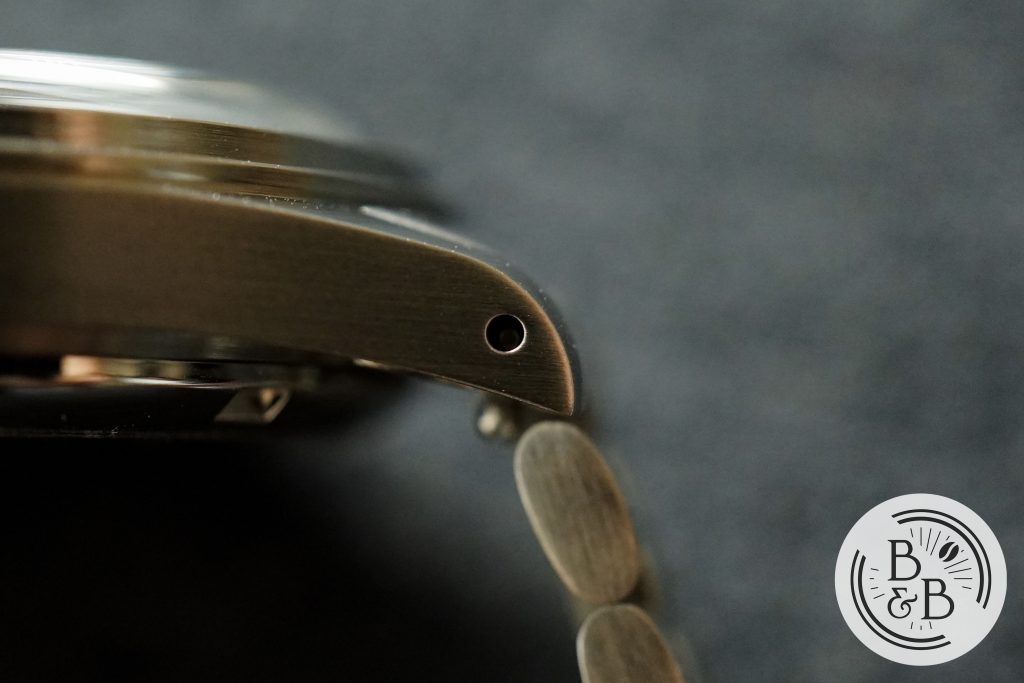 The lugs are well proportioned, and fit the vintage design language nicely. The drilled through lugs don't curve down much, and sit a bit tall on the wrist. I prefer more curvature, but this is in keeping with the rest of the design.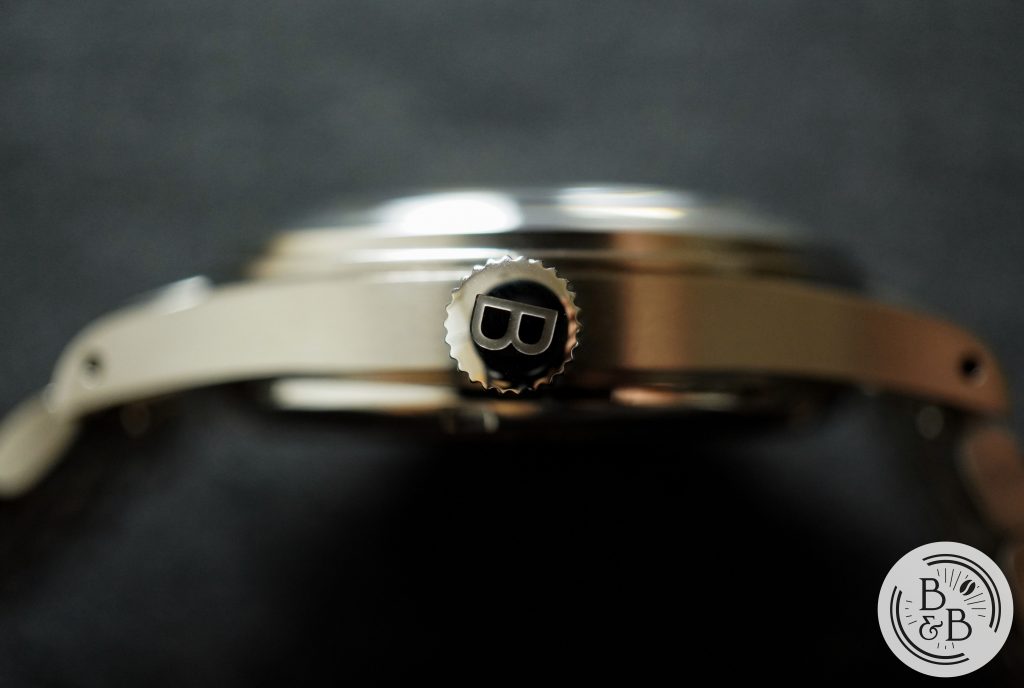 There is a push-pull crown at the 3 o'clock position that is very well designed. The crown is signed and polished, and has a very comfortable grip that makes it easy to grip and operate.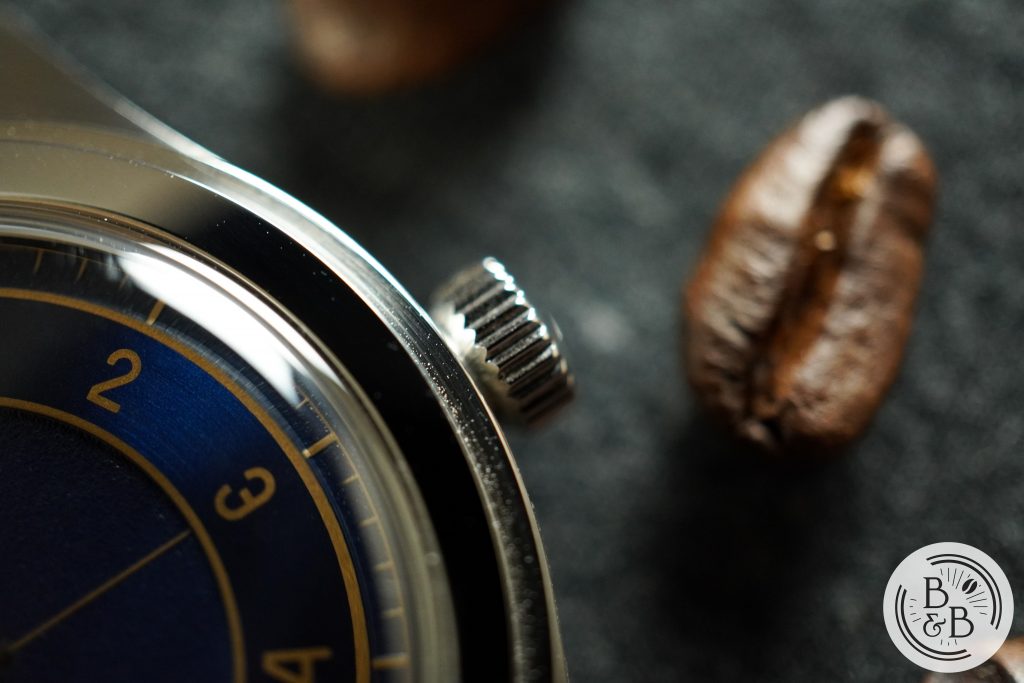 There wasn't any crown or stem wobble, and it felt quite sturdy.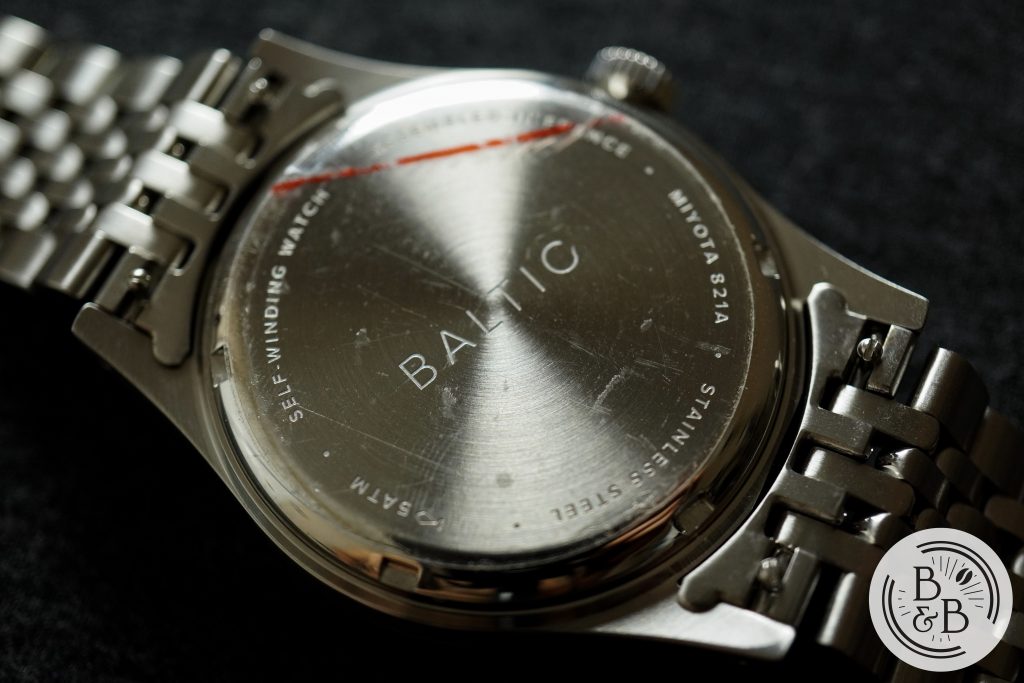 Flipping it over, you have a simple screw-down case-back with the standard engravings on it. You have the option of an exhibition case-back too, but I didn't think the decoration on the Miyota 821A was really worth exhibiting, for another $30.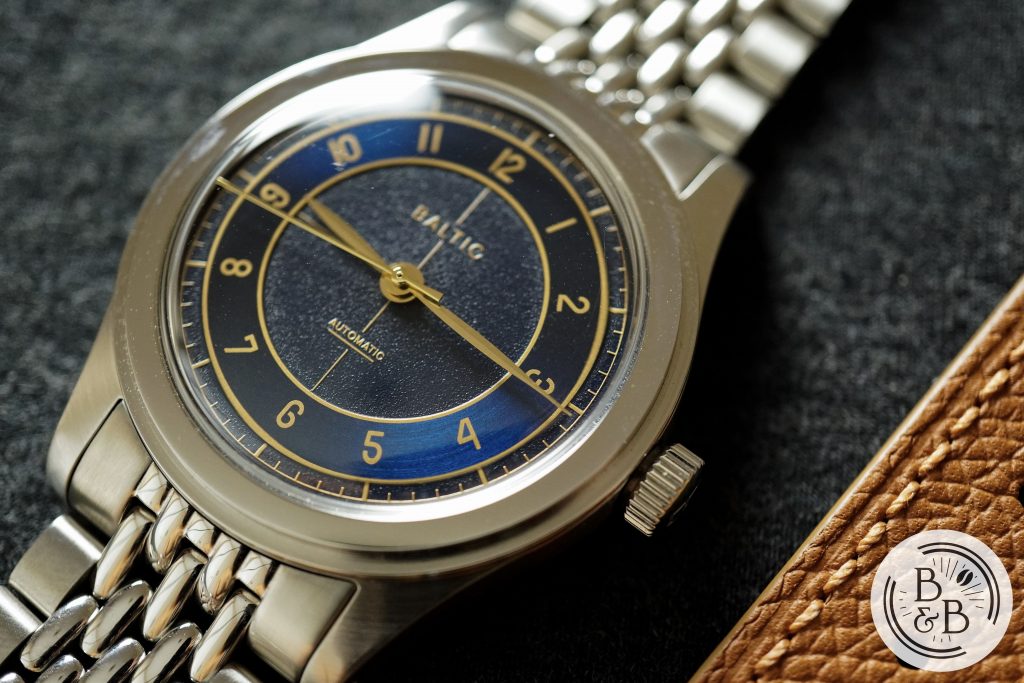 This watch is rated for up to 50m of water resistance, which isn't much of a surprise.
---
Dial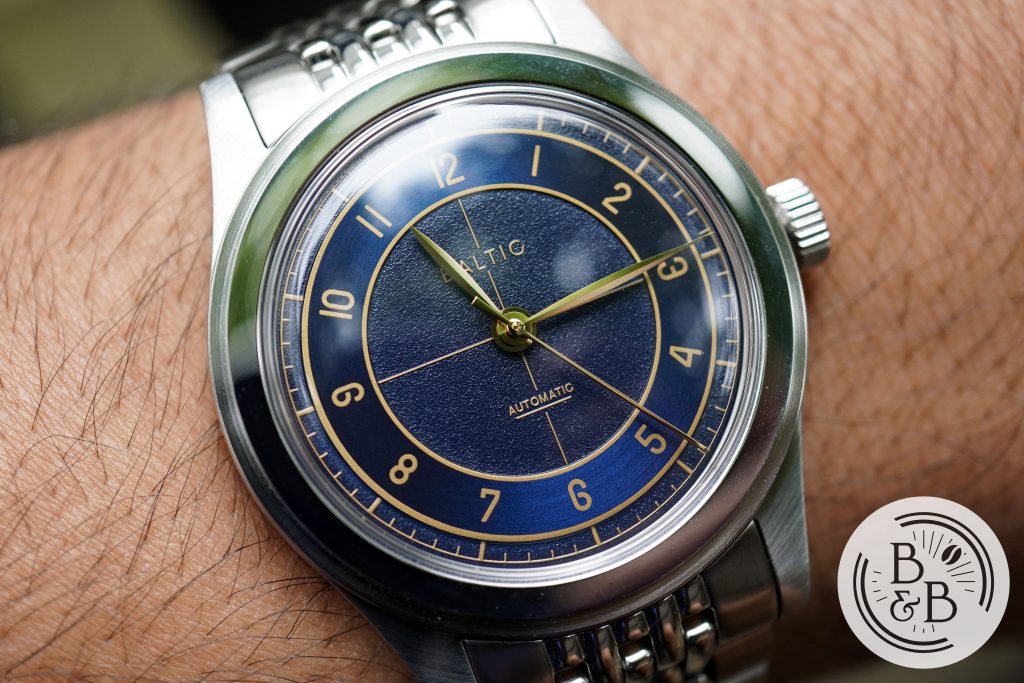 The cases on both this HMS002 and my Aquascaphe are nice, and for the price there isn't much to complain about. But what Baltic does best are dials, and the Blue Gilt dial on the HMS002 is no different. The dial design is a very Baltic take on the Longines and Jaeger LeCoultre sector dials, and I'm a huge fan of those watches, so to be able to get something similarly styled for under $500 is wonderful. We've seen this dial design already, on their limited edition Salmon dial series.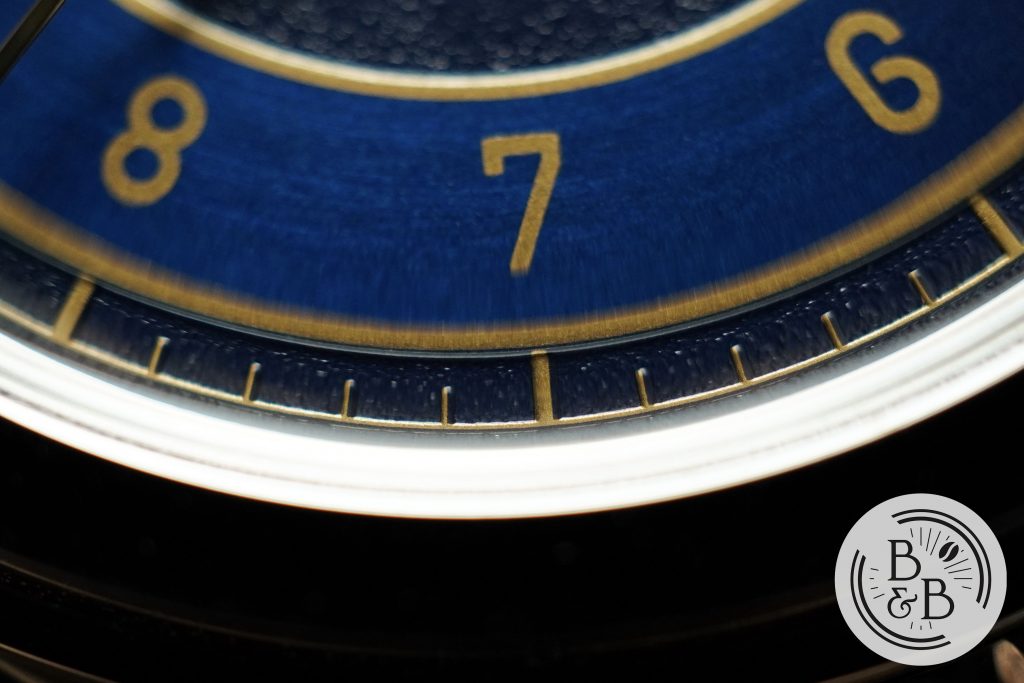 There is an outer minute track in gilt that is on a grainy media blasted surface. The minute track is very legible, even with the crystal distortion, and the finishing is spot on.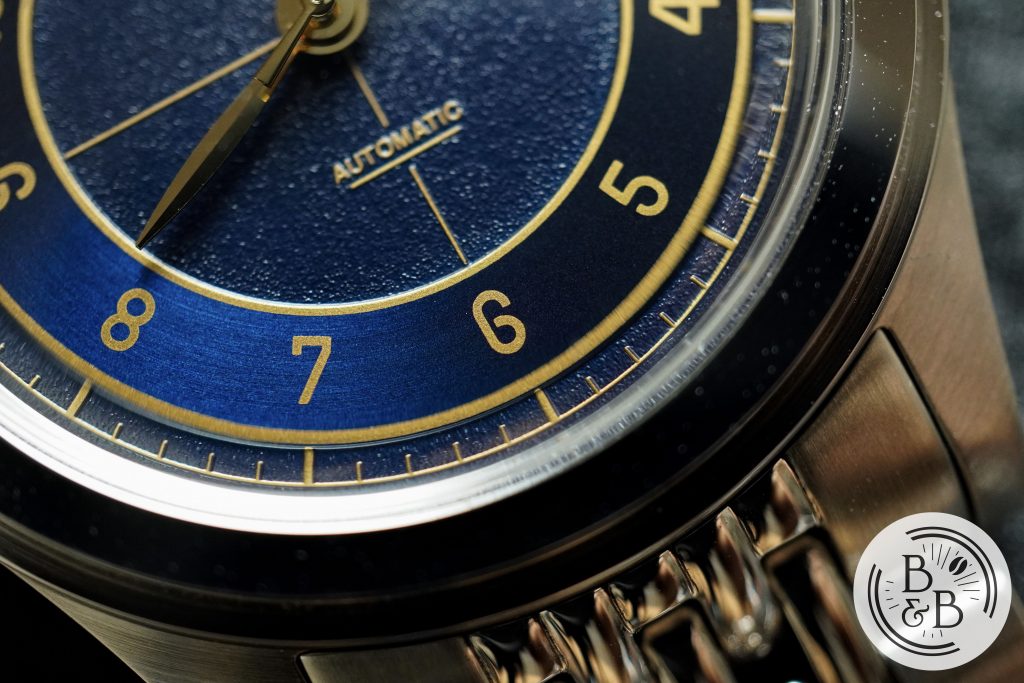 The next layer is the ring of hour markers, that are printed on a radially brushed blue surface. The finishing of this surface reminds me of the Aquascaphe's blue dial, and I believe the color is exactly the same too.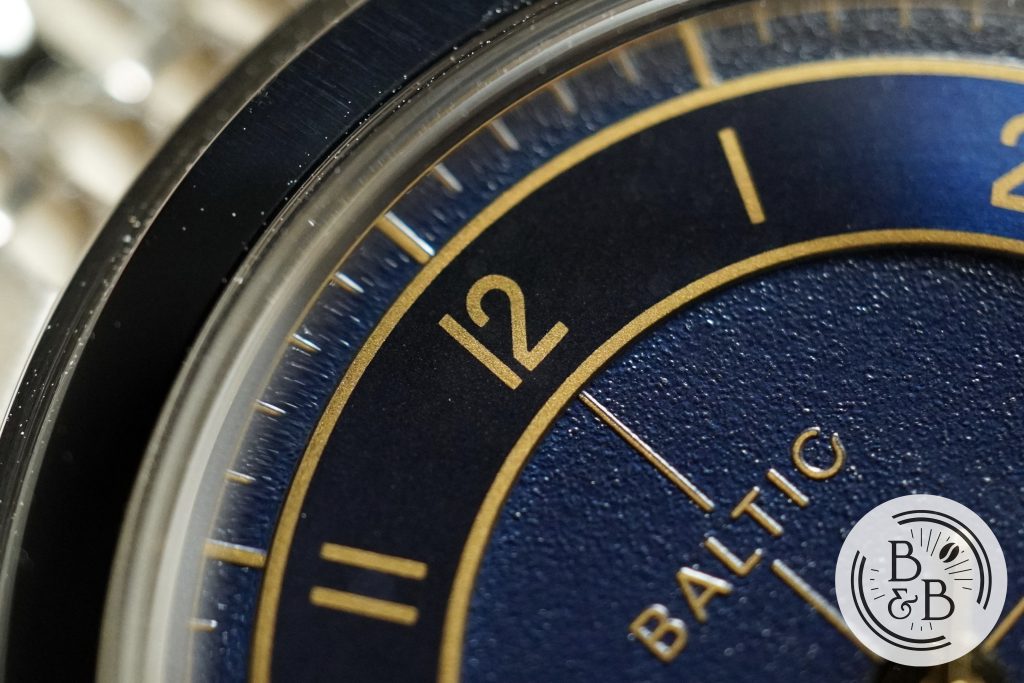 I wasn't sold on these numerals when they used it on the Bronze Aquascaphe, but I think it works well here. The finishing of the printing is excellent and the gilt borders on the hour marker ring are very well finished too.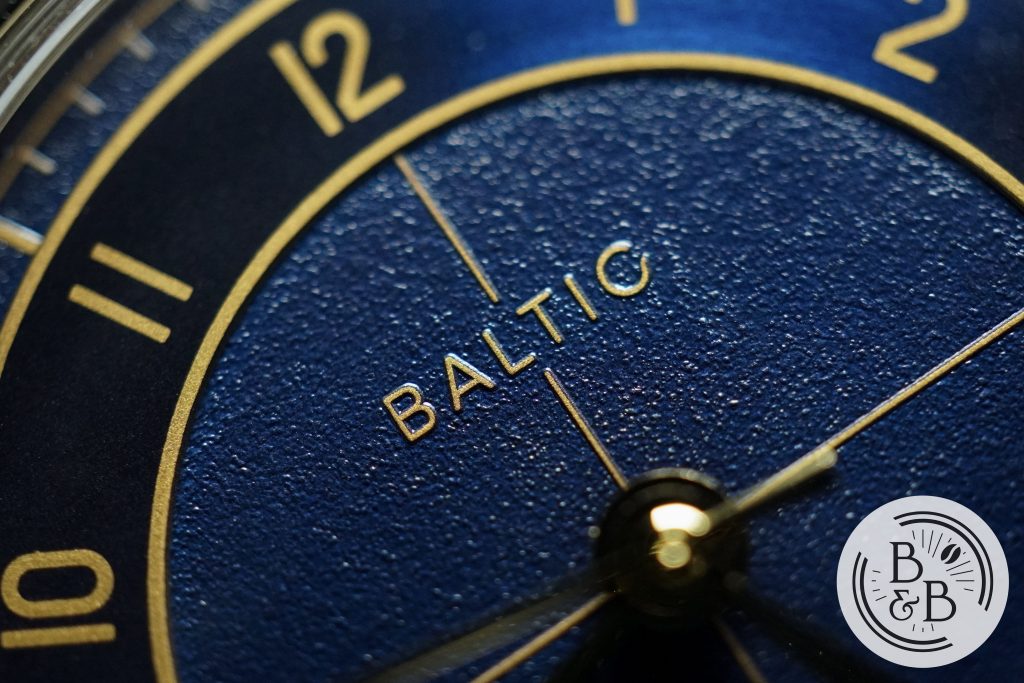 The inner most circle has the brand's name under the 12 o'clock, and automatic printed above the 6 o'clock. Both of these are very tastefully executed!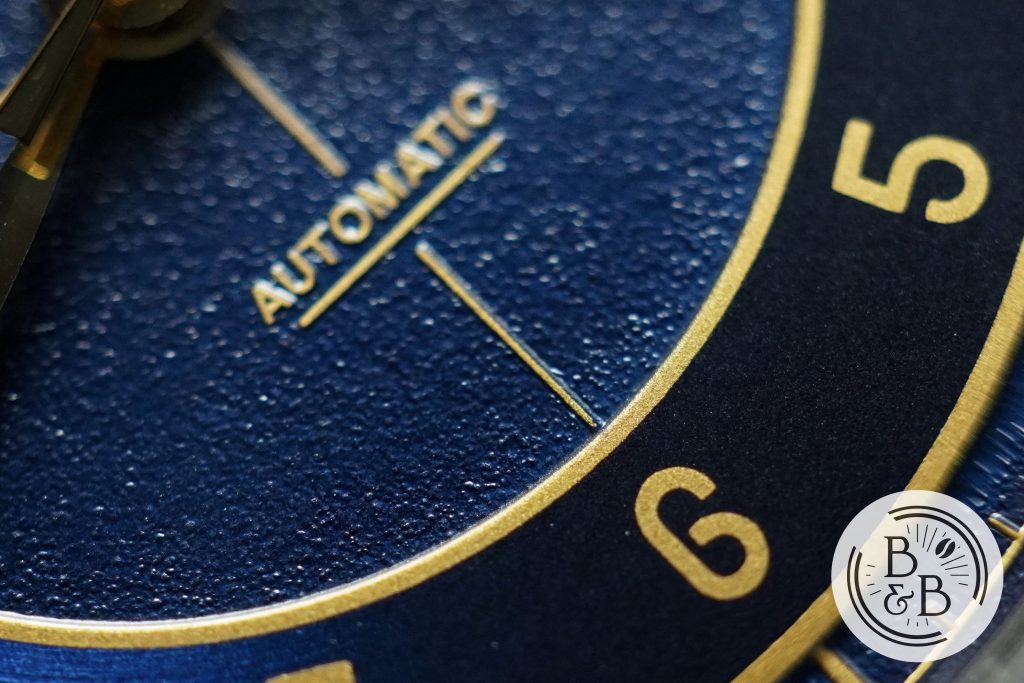 The base of this ring has the same media blasted finish, with four quadrants delineated by gilt lines. The finishing on the lines is very good for the money, but I have to be annoying and say that I noticed some uneven application of paint under my macro lens. But for a $400 watch, this isn't worth mentioning.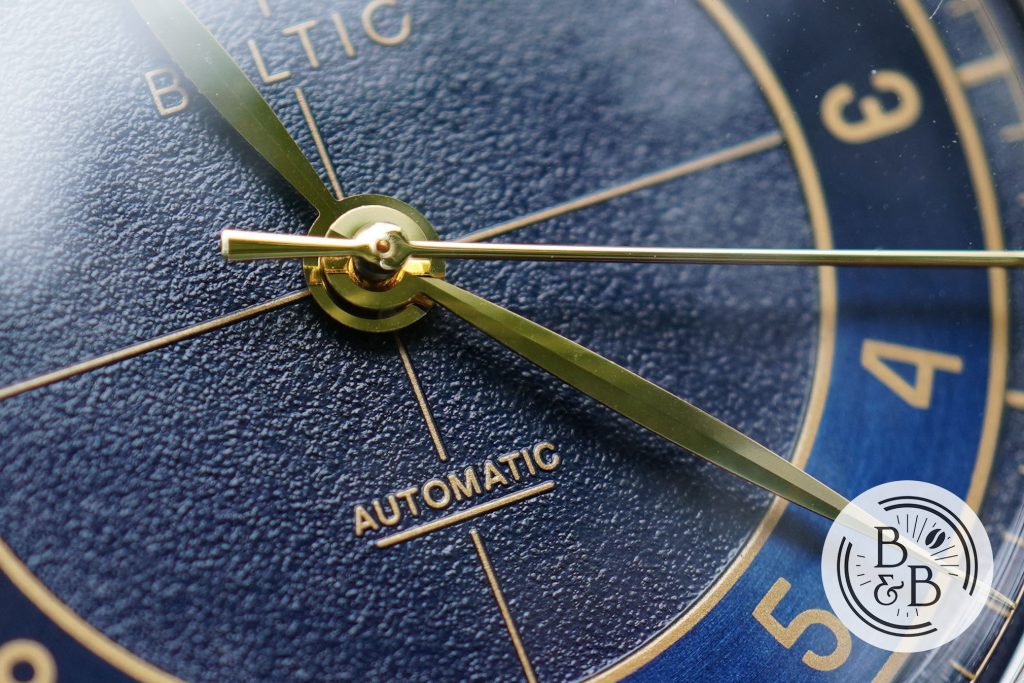 The hand-set is simple and suits this watch perfectly. The hour and minute hands are feuille or leaf-styled hands. The hour hand precisely meets the hour ring, and the minute hand extends right over the minute tracks. Excellent proportions here and they make for very easy reading.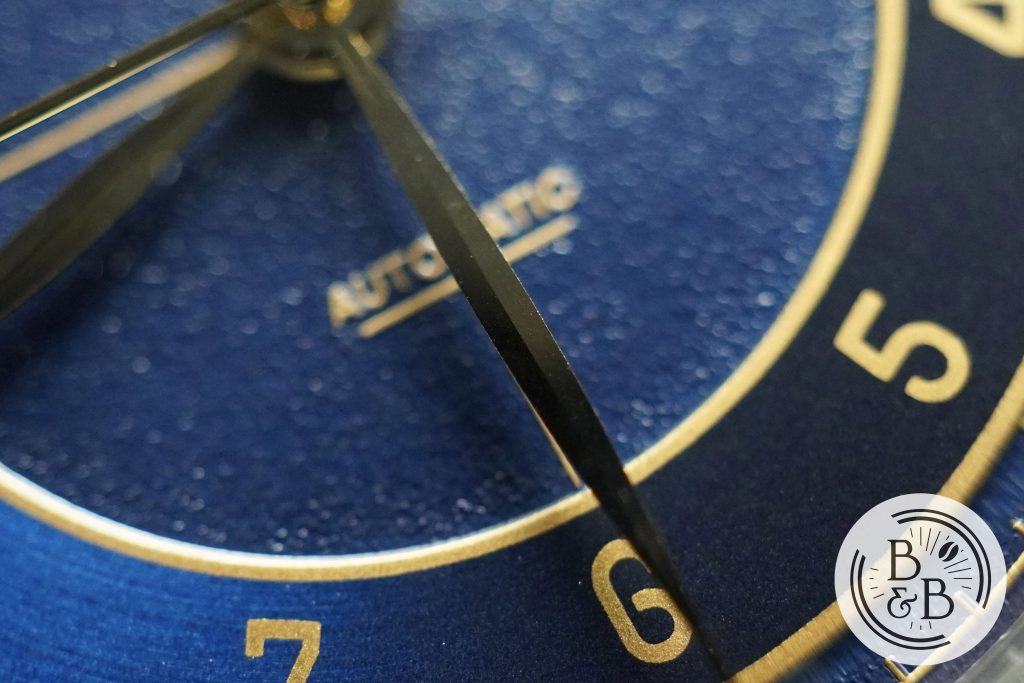 The finishing on the hands is good, but I noticed a few small dust particles on them. This is not uncommon for a $400 watch, so I think this is easily forgiven.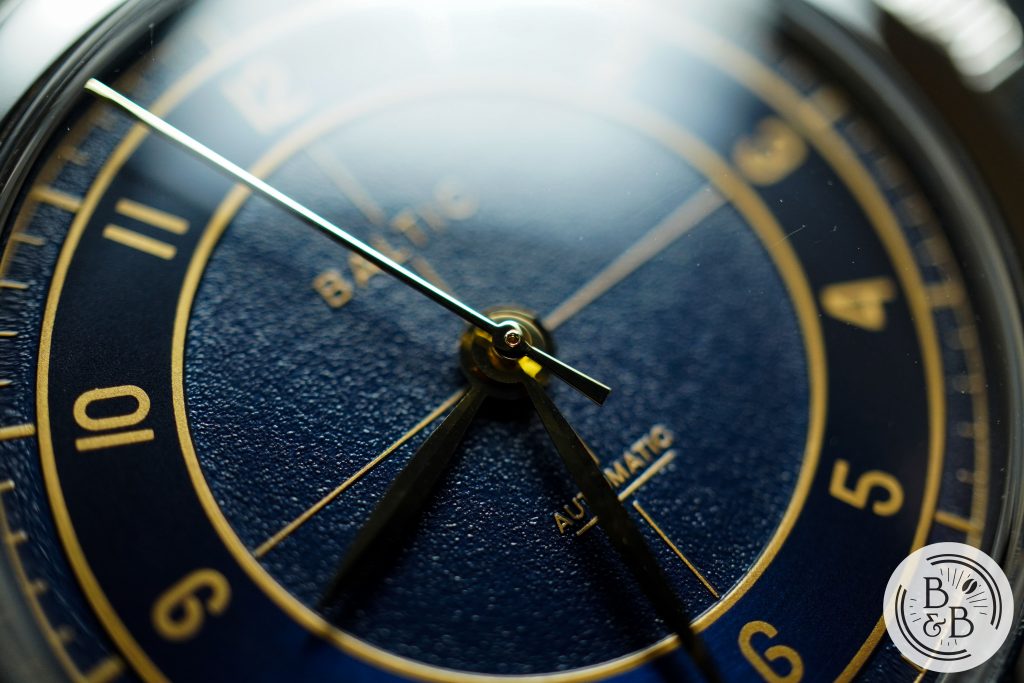 I love the seconds hand. It is quite thick, and extends all the way up to the seconds/minute track. The dimensions are perfect, and it is very easy to read.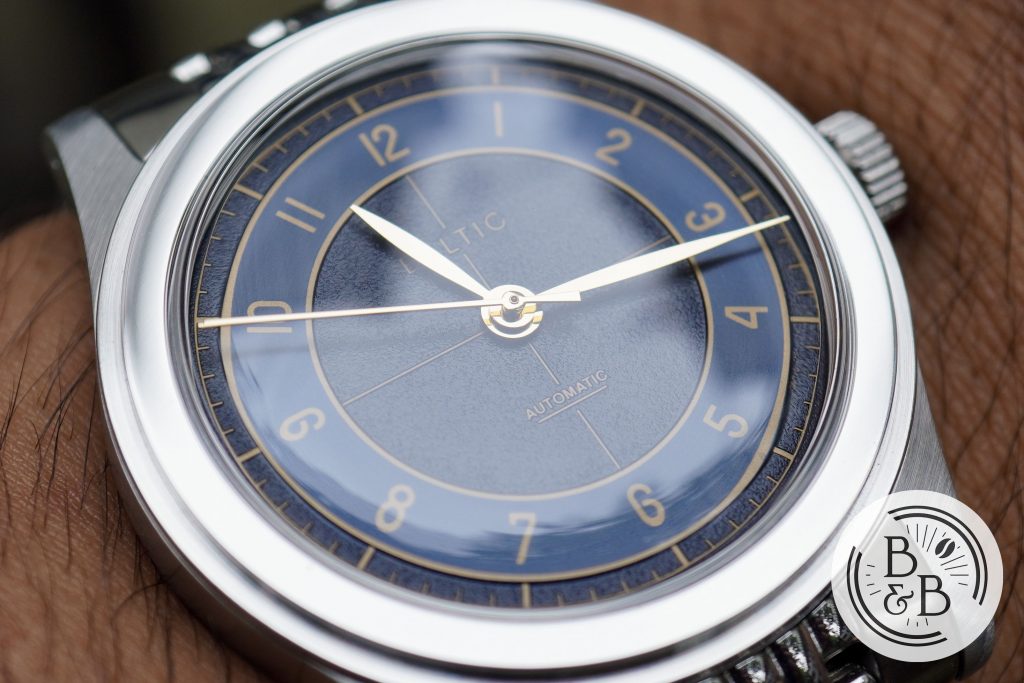 The polished hands are a bit tricky to photograph, but they play with light beautifully.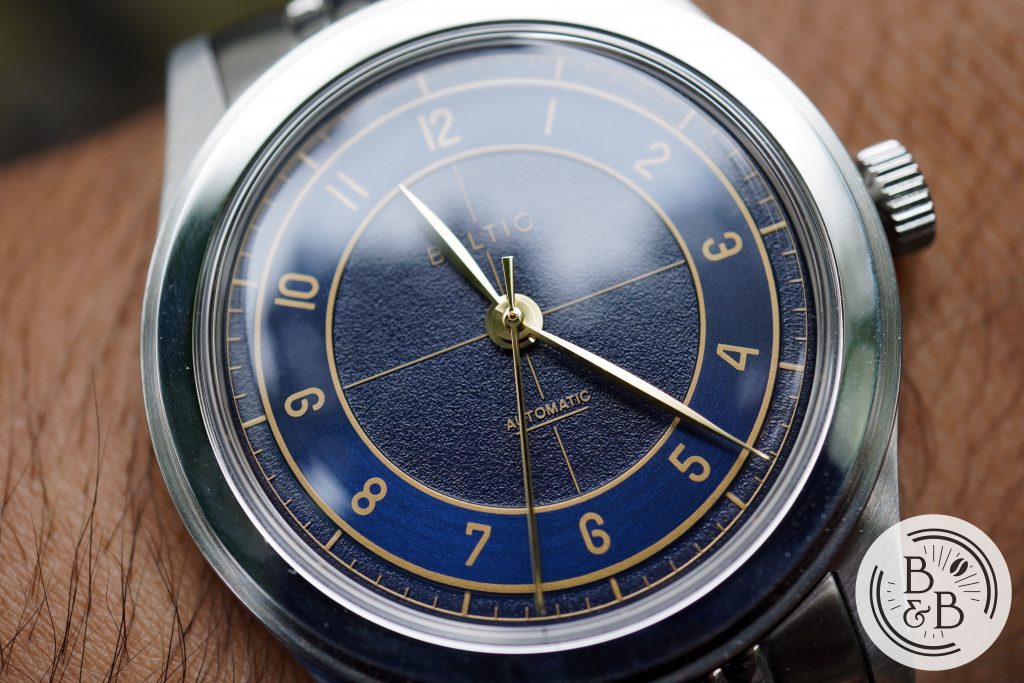 Overall, this dial is 100% a winner in my opinion. I don't really have anything to complain about. The design is excellent, the finishing is very good, and the hands are perfect.
---
Bracelet
I decided to get the watch on their beads of rice (BoR) bracelet. I have a lot of excellent leather straps so I didn't need another, and I'm quite familiar with this BoR bracelet from my Baltic Aquascaphe. This adds another $70 to the price of your watch, but if you're planning on making this your everyday watch and if you like metal bracelets, I highly recommend getting it.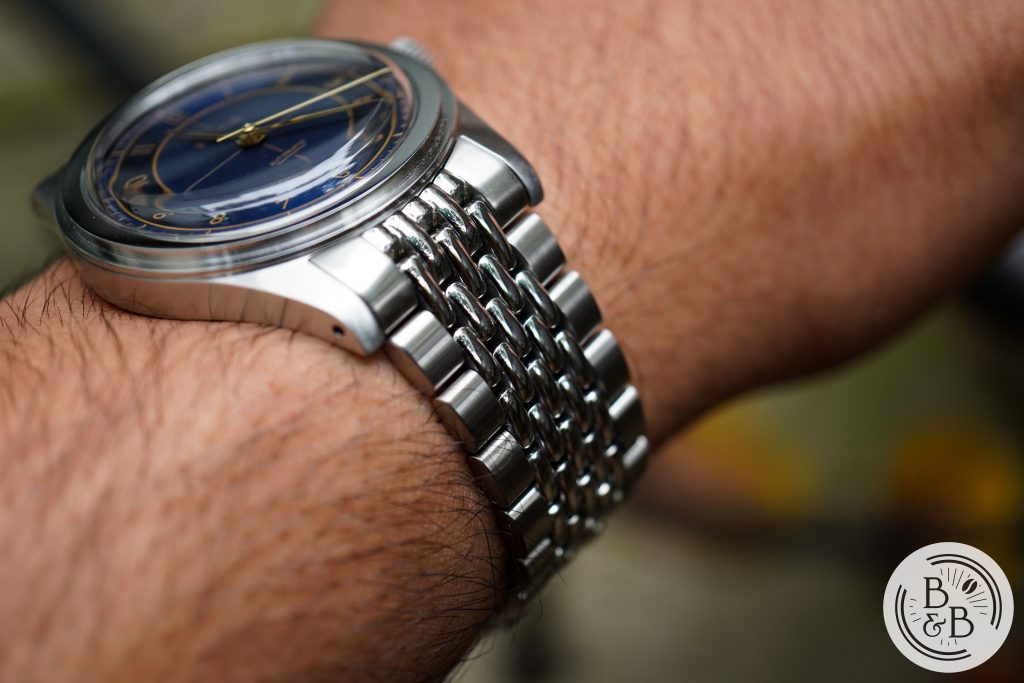 The end links articulate great, which is what you'd want from lugs that are more straight than curved.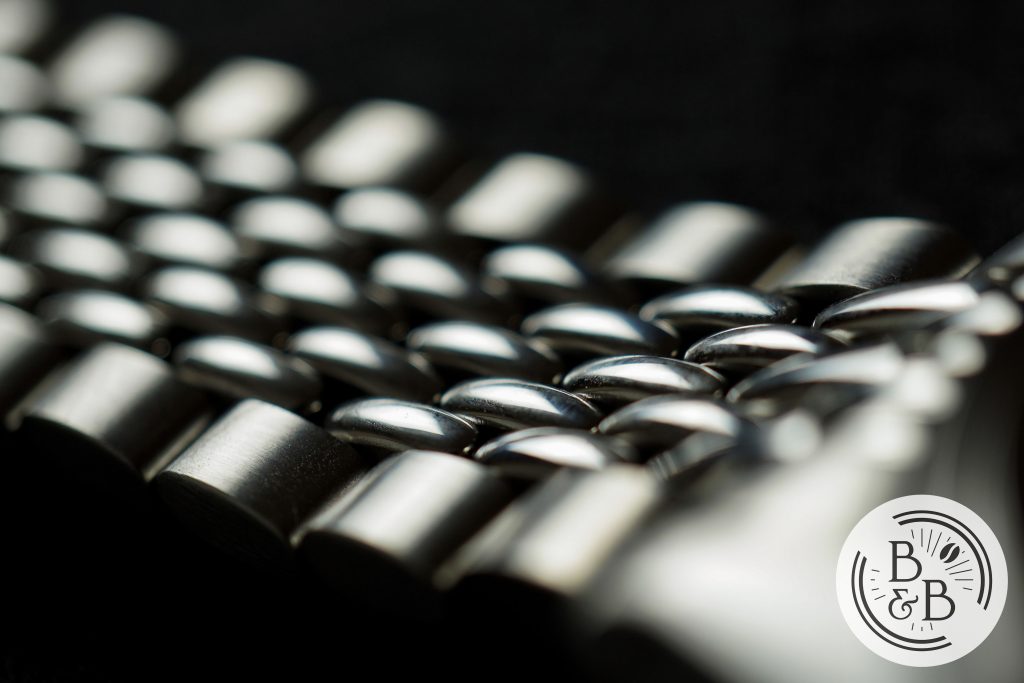 As you'd expect from a BoR bracelet, the rest of the links articulate really well too, and give you that fabric-like wrist experience.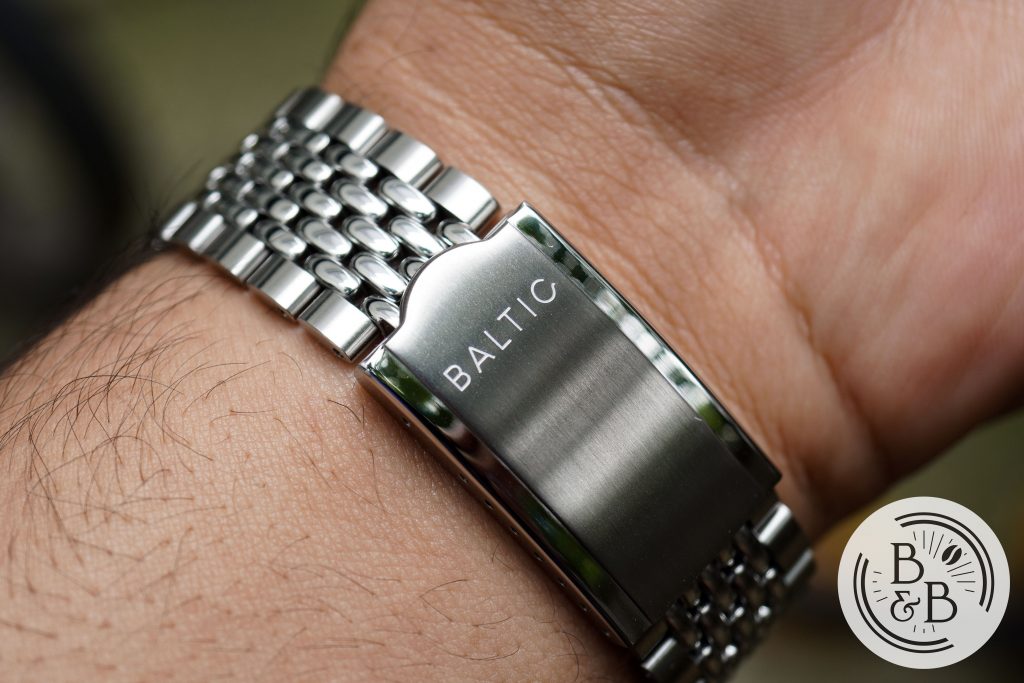 The clasp is signed and has a combination of brushed and polished surfaces. The clasp is press fit, but I've had this bracelet on the Aquascaphe for a year now and never had it come undone. Be warned that opening and closing the clasp takes a fair bit of effort – but that's a good thing, since it also keeps your watch from falling off your hand.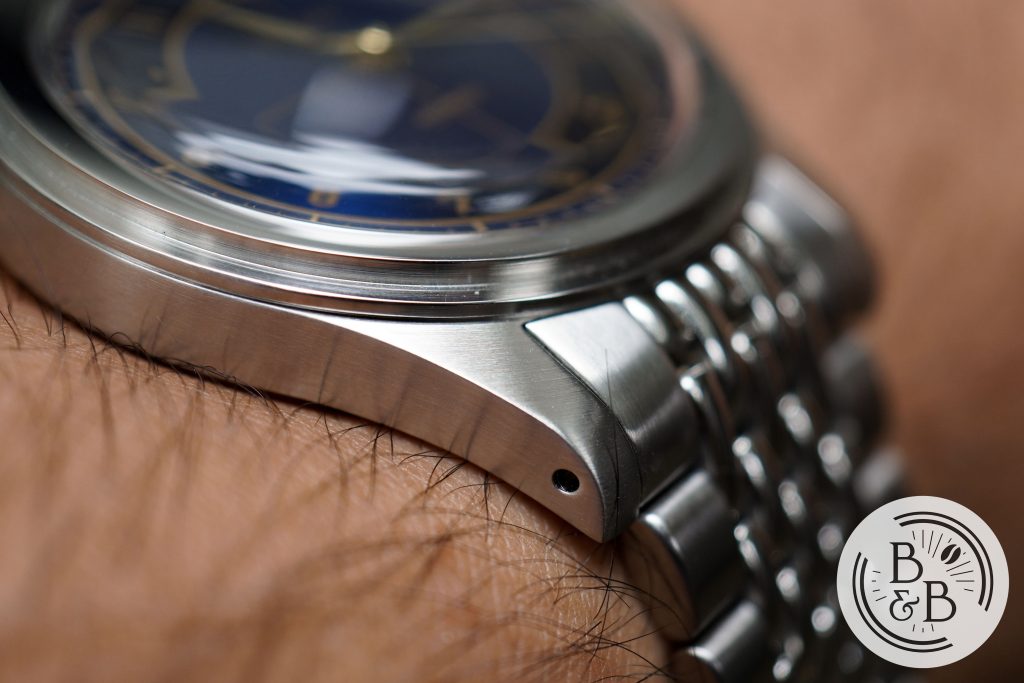 The case and end link fitment has some wiggle in the horizontal direction. The vertical fit is near perfect though.
---
Movement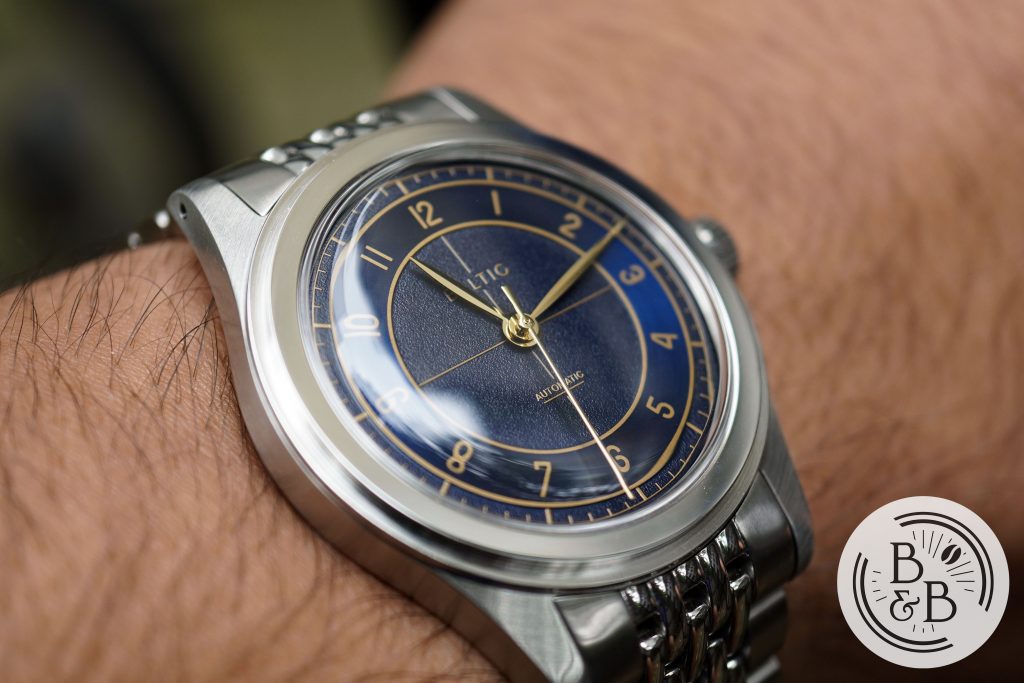 This watch uses a Miyota 821A, which isn't the best Miyota movement out there. But for a $400 watch, this isn't completely unheard of either, and the Laco Augsburg Blaue Stunde 39 that I reviewed a few weeks ago had the same movement for $410.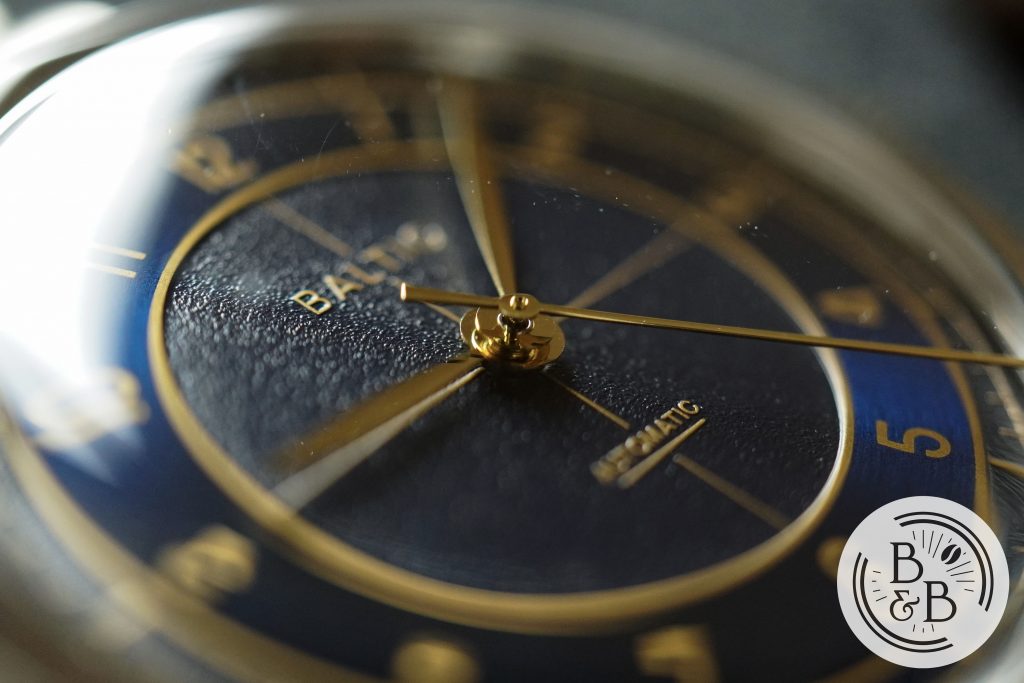 The rotor noise and gyroscopic wobble is significantly less than on my Miyota 9039 equipped Baltic Aquascaphe, and unless you go looking to hear it, you're not going to notice it.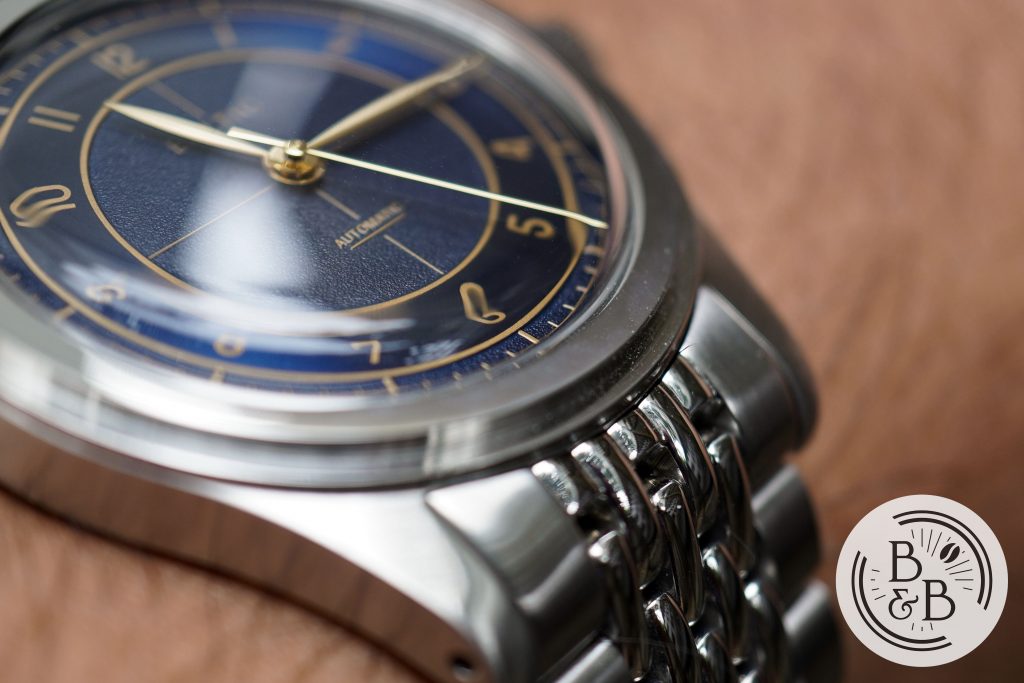 The most commonly heard complaint regarding Baltic watches is in their price to movement value, and I will admit that for $400 there are plenty of other micro-brands that are happy to give you Miyota 9039 movements, and if you're lucky maybe even Sellita SW200s. But a watch is often more than just a movement, and the Baltic does deliver plenty in the dial department. My opinion is that if they offered a sapphire crystal on this watch, the number of complaints regarding the movement would drop significantly.
I logged the accuracy of this watch over a 2 day period and observed roughly +9 spd. So this is pretty well regulated for a 821A.
---
On The Wrist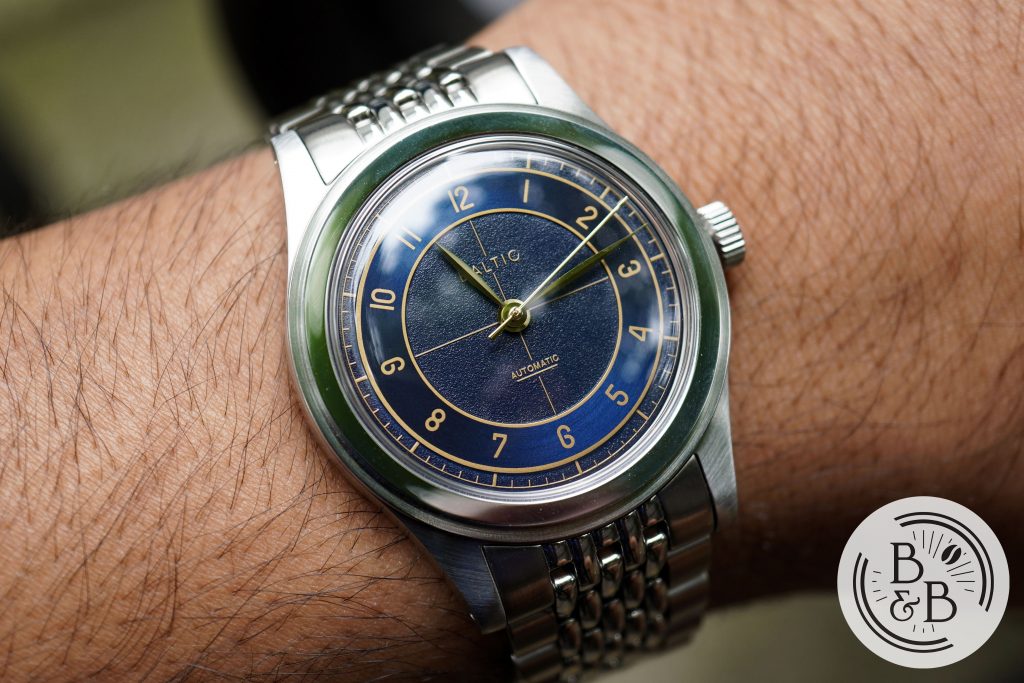 The 38mm diameter and 47mm lug-to-lug width make it appropriate for almost all wrist sizes.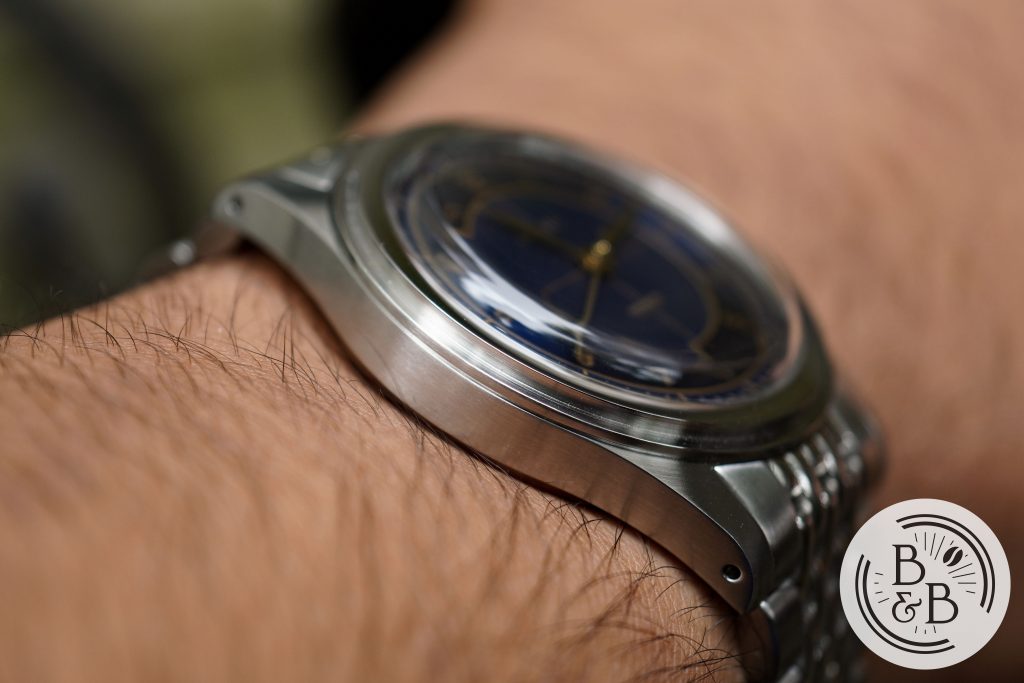 It looks great on my 6.25″ wrist and folks with large wrists can pull it off too because of the overall vintage aesthetic.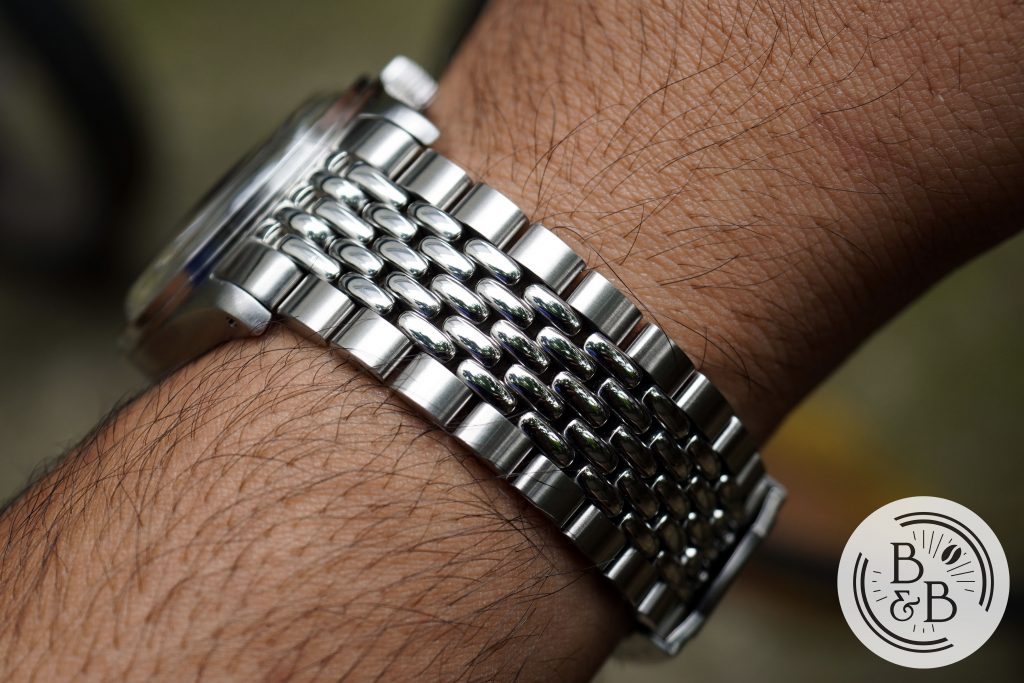 The 12mm height isn't worth worrying about because at least 1.5mm-2mm of that height is the domed hesalite crystal. The case does sit a little high on the wrist because of the straight lugs, but this has a negligible impact on wrist comfort.
---
Concluding Thoughts
I'll wrap this up quickly – this is another success from Baltic in terms of design and execution. For the $400 price tag, my only recurring complaint is the use of hesalite instead of sapphire. The main competitor in this category for vintage styled watches is Lorier, and with my limited experience with the brand's watches, I would go with Baltic instead.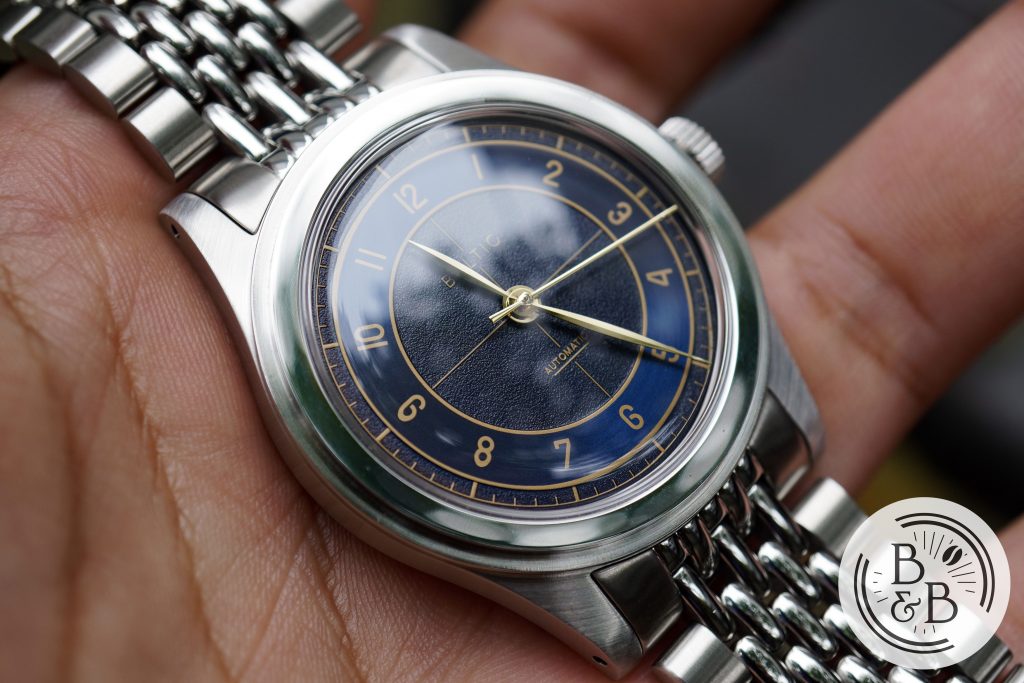 But if you're just looking for blue dial watches in the $400 range, the Laco Augsburg 39 is a top contender, with the same movement, excellent case and dial, and a sapphire crystal. But should you choose to go with the HMS 002 instead, you can do so knowing that you're going to get one of the best looking dials out there, in a watch that just comes together wonderfully. And get it on the bracelet for the full experience. It is worth it.
---
Strap Change
---
Thanks for reading!