---
Disclaimer: I borrowed this watch from a friend and collector (thanks Neil). Since this watch was worn/used, please make note that the experience might differ from that of a brand new watch. I was not externally incentivized in any way to create this review.
---
---
Contents
---
anOrdain
In my opinion, watchmaking is equal parts technical ingenuity and creative craftsmanship. The technical ingenuity is often hidden, with incredible complications and gear train designs, whereas the artisanal skills are shown off through intricate dial work. When you think handmade enamel dials, you often think of very high end timepieces that are upwards of $5000. But tucked away in the gloomy town of Glasgow, Scotland, are a team of trained artists that have been quietly producing breathtaking enamel dialed watches, that are consistently getting better and more popular. anOrdain have even recently made their way into the Museum of Modern Art (MoMA) Store in NY, which is a terrific accomplishment.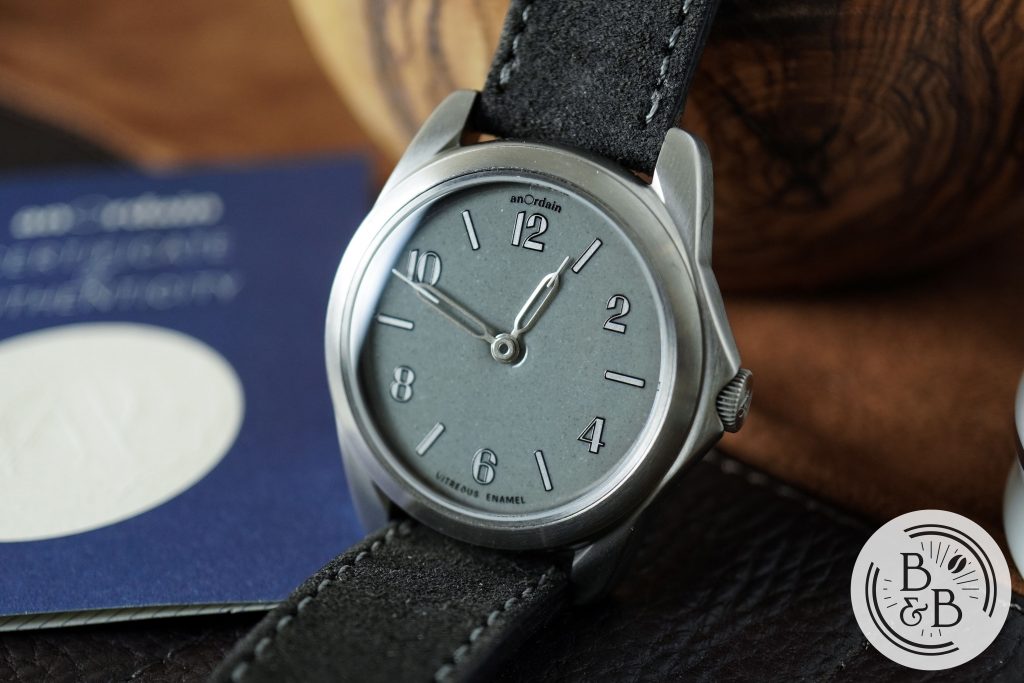 Watchmaking isn't the first thing that comes to mind when I think of Scotland, and that's probably because the thought of True Scotsmen wearing nothing under their kilts has left some scars in my imagination. But anOrdain is here to try and fix that with their beautiful dials, and even before checking out one of these watches, I considered them to be one of the few micro-brands that are truly original, and are unique enough to deserve your patronage. Today I'll be looking at the Grey Model 2, which was perhaps inspired by the wonderfully cheerful city of Glasgow, and has a retail price of roughly $1300.
Let's check it out!
---
Case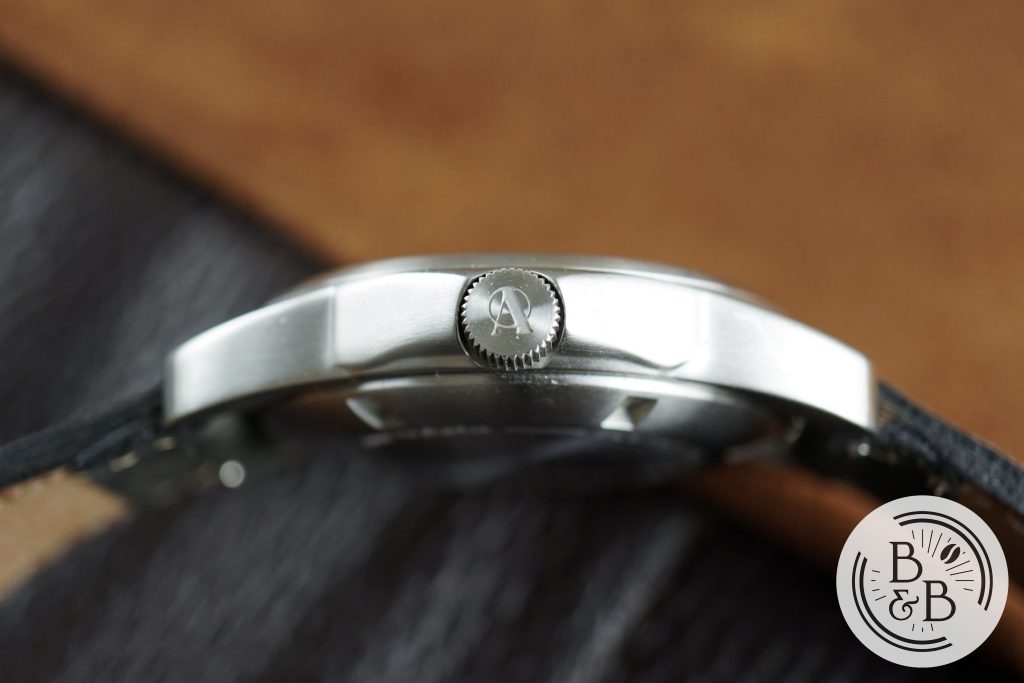 The case measures 36.75mm in diameter, 43mm from lug-to-lug and 11mm in height. The case is made of stainless steel and is entirely brushed. The finishing is great, and it feels very well built overall.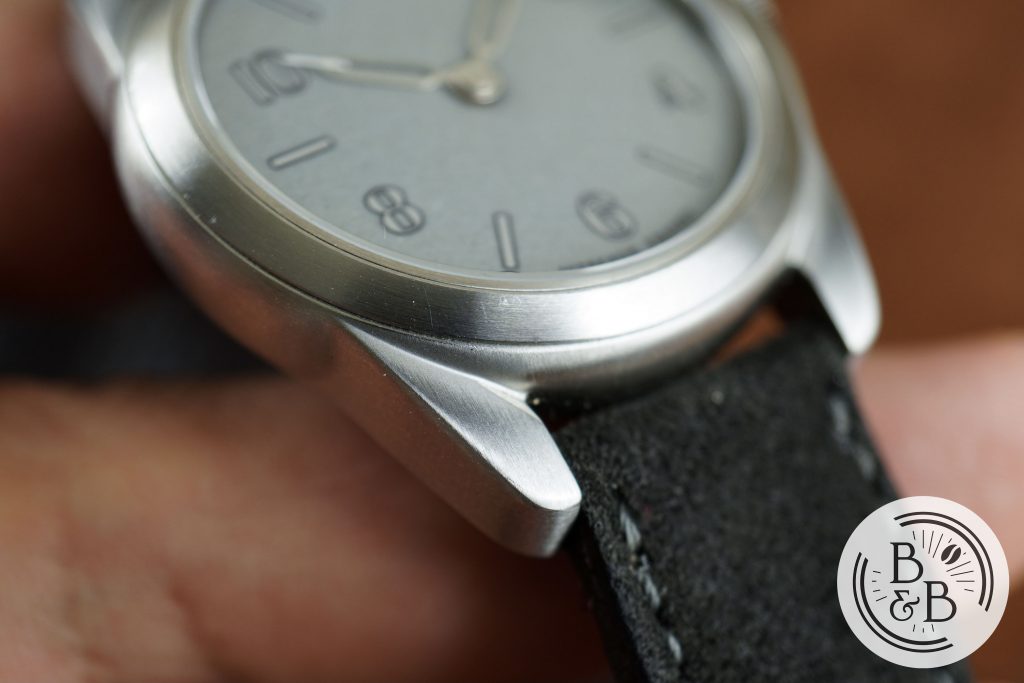 The lugs appear to grow out of the case with an interesting combination of angled surfaces and curves making it a very unusual case, but one that looks and feels great. The lugs don't curve down much, but given the 11mm height that's ok. The lug width is 18mm, which is appropriate given the diameter and lug-to-lug width.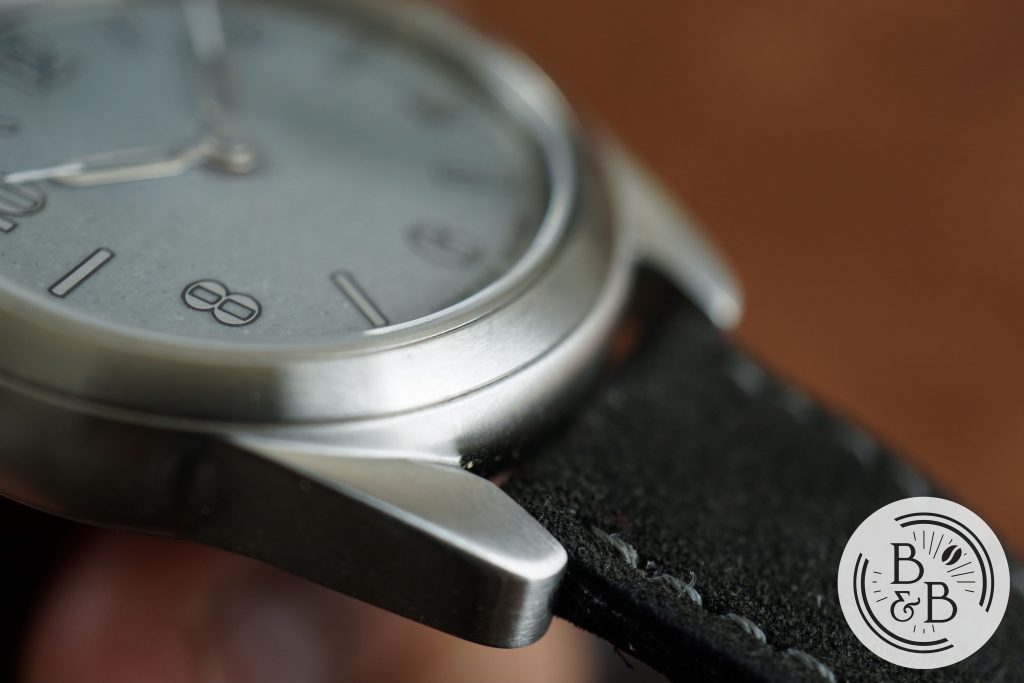 There is a short brushed bezel section which seats a flat sapphire crystal with AR coating on the lower surface.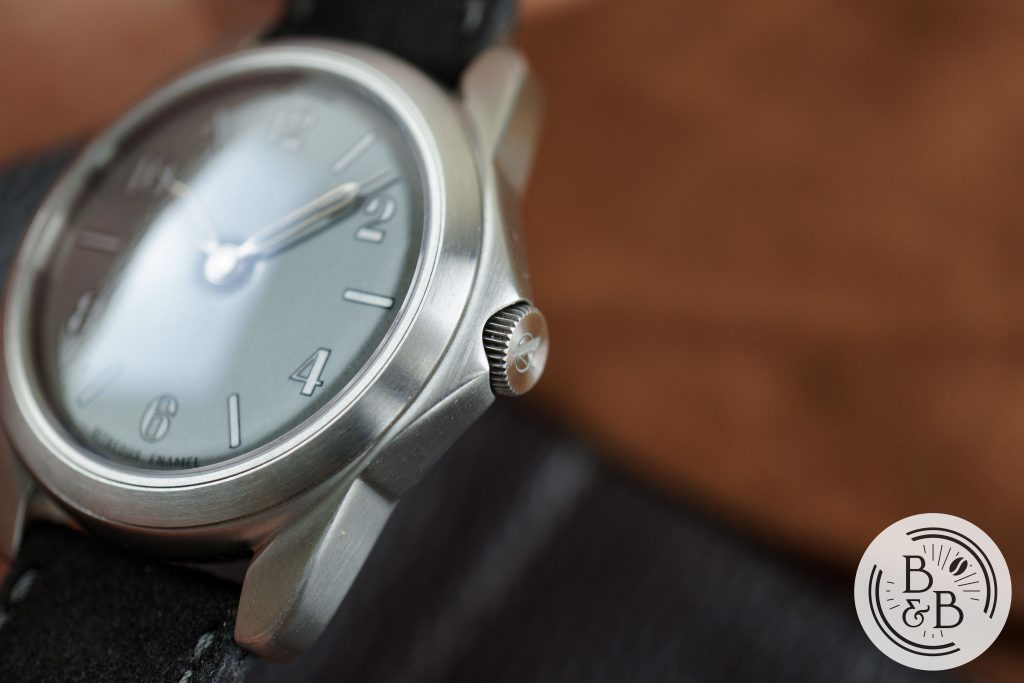 There is a signed 6mm push-pull crown, that is protected by a very well designed and comfortable crown guard layout, that is similar to some of the Ickler cases I've reviewed. Really well executed stuff here, and the crown has no wobble whatsoever.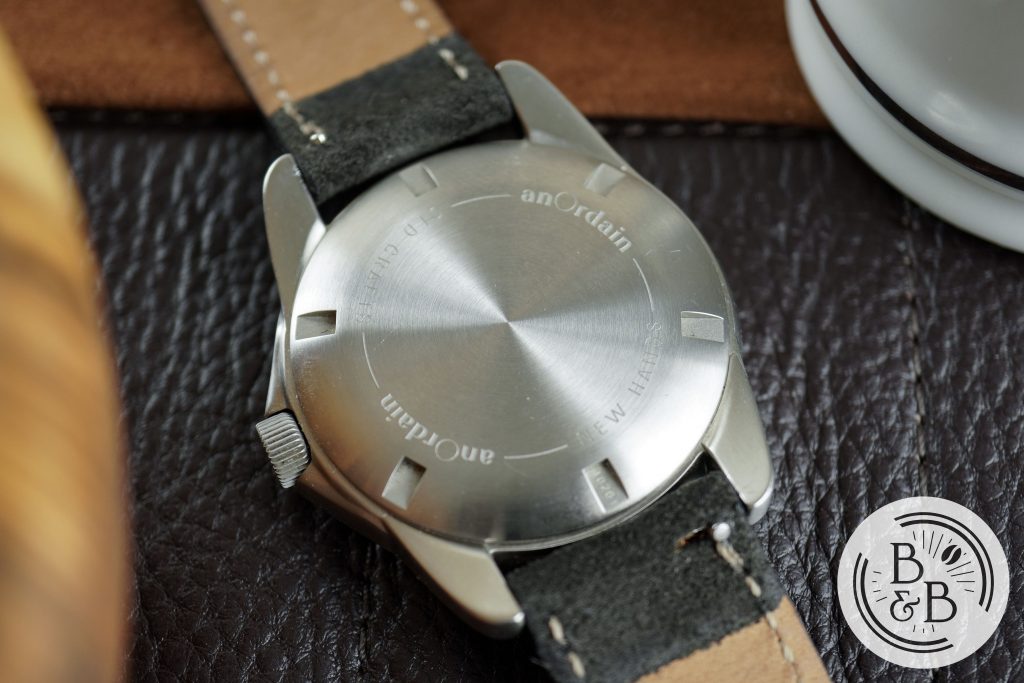 Flipping it over, you have a slightly curved screw-down case-back. This watch is rated for up-to 50m of water resistance.
---
Dial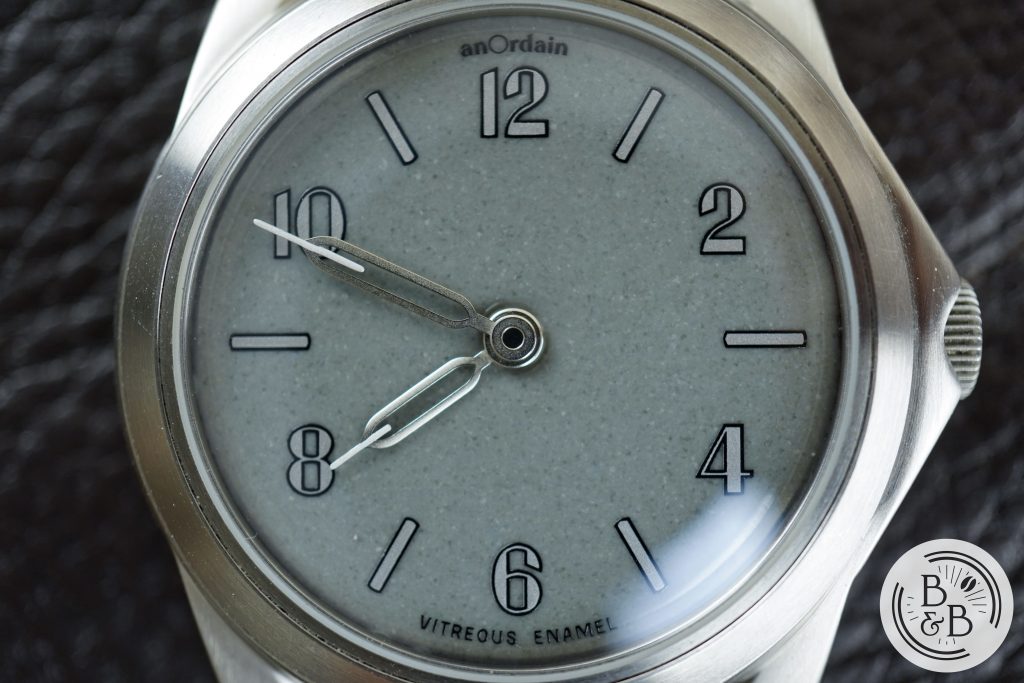 I'm almost 99% certain that this is dial is the reason you decided to read this review, so let's get into it. This dial is created using a vitreous enameling technique, which essentially means that the enamel is created upon a metal layer, copper in this case, by adding layer upon layer of enamel at around 800 degrees Celsius.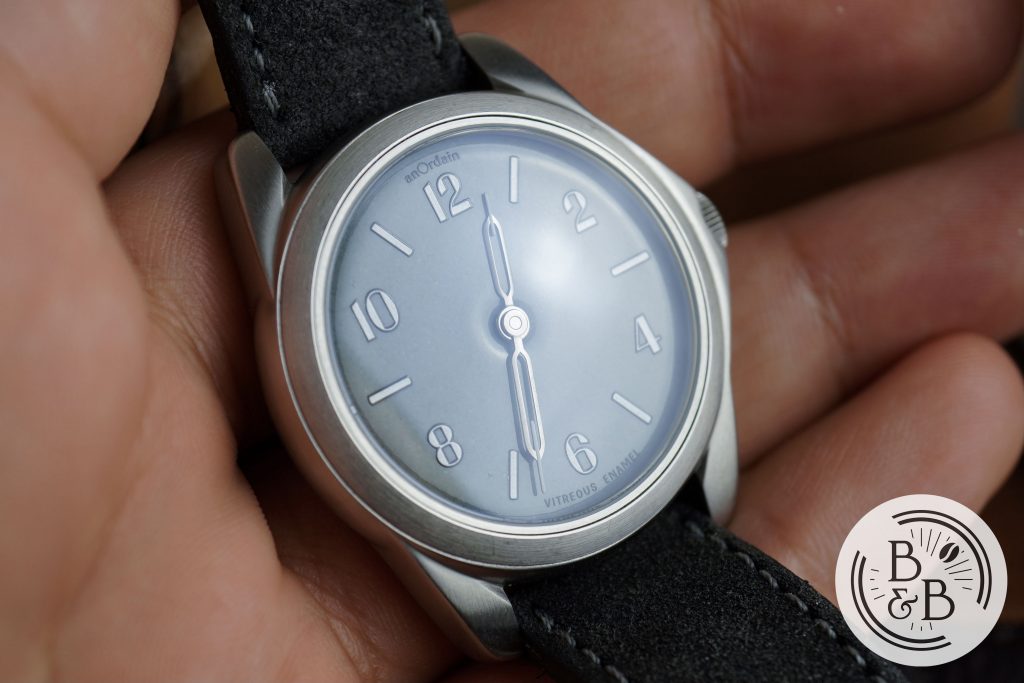 When you buy an anOrdain watch, you're getting a dial that was handmade by trained jewelers, and not something that was vomited out of a factory somewhere by the hundreds.
Given the handmade nature of this craft, and given the price tag, to expect absolute perfection in the dial finish is a bit unreasonable, and I did notice some areas of unevenness on the dial surface and maybe 1 or 2 micro particles that shouldn't have been there.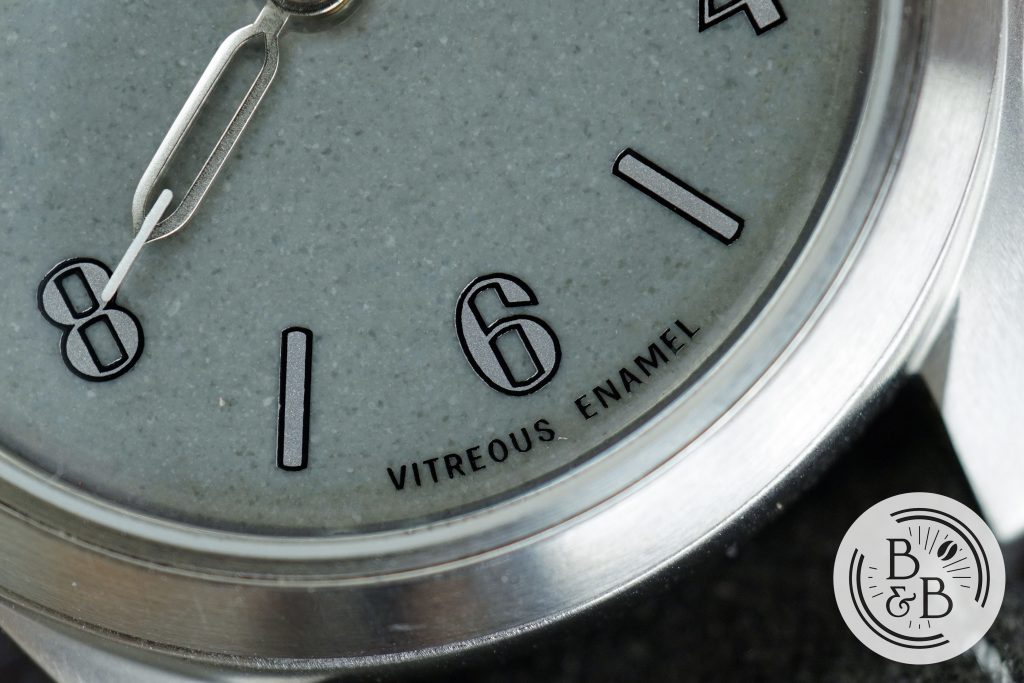 The rest of the dial design is fairly straightforward. The Model 2 is inspired by field watches, and has printed Arabic numerals for all even hours, and rectangular ticks for the odd ones. They appear to be printed in black, and filled with some kind of silvery gray paint. The quality of printing is reasonably good.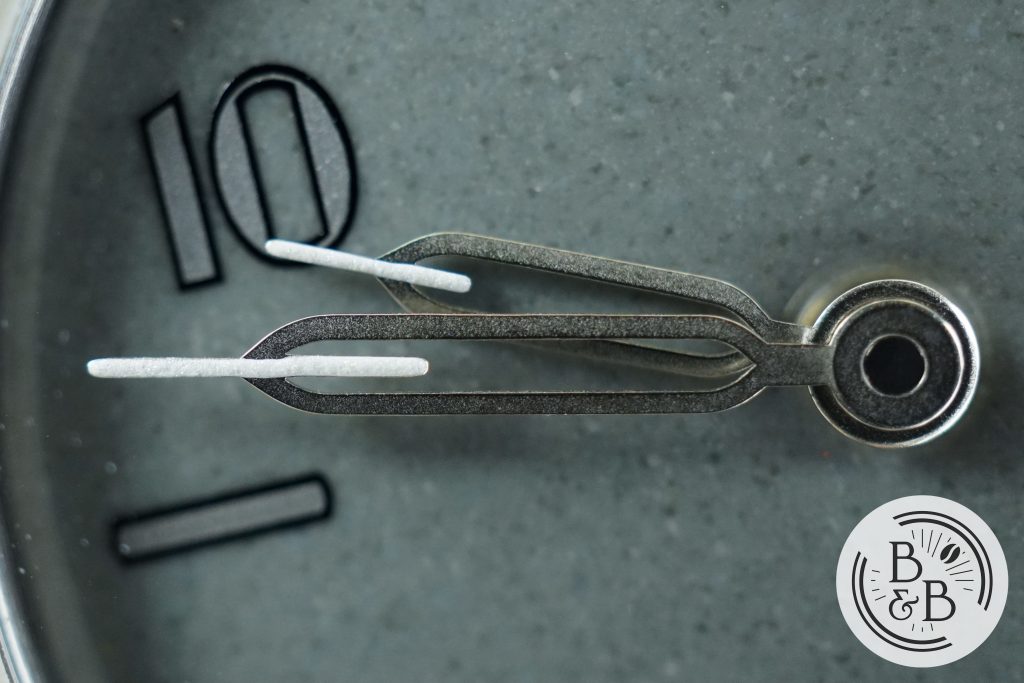 The hands appear to be well finished, and have a skeleton-like construction with lumed tips. I like the 'raw' unfinished texture of the hands, and I think it adds to the old world charm of this watch. I didn't bother with a separate section about lume, since the lumed tips aren't really worth writing about.
Overall, I love the dial, and I think the enamel is wonderful to look at, with so much depth and texture. And let me just say that this grey dial is among their more restrained colors and textures. Their fume dials must be a treat to look at. Hopefully someday soon I'll add one of these to my own personal collection.
---
Movement
The Model 2 uses a Sellita SW210-1, similar to the Ming 17.01 that I recently reviewed. I really enjoy this movement, and find the operating experience to be very good, with excellent crown action and great time keeping.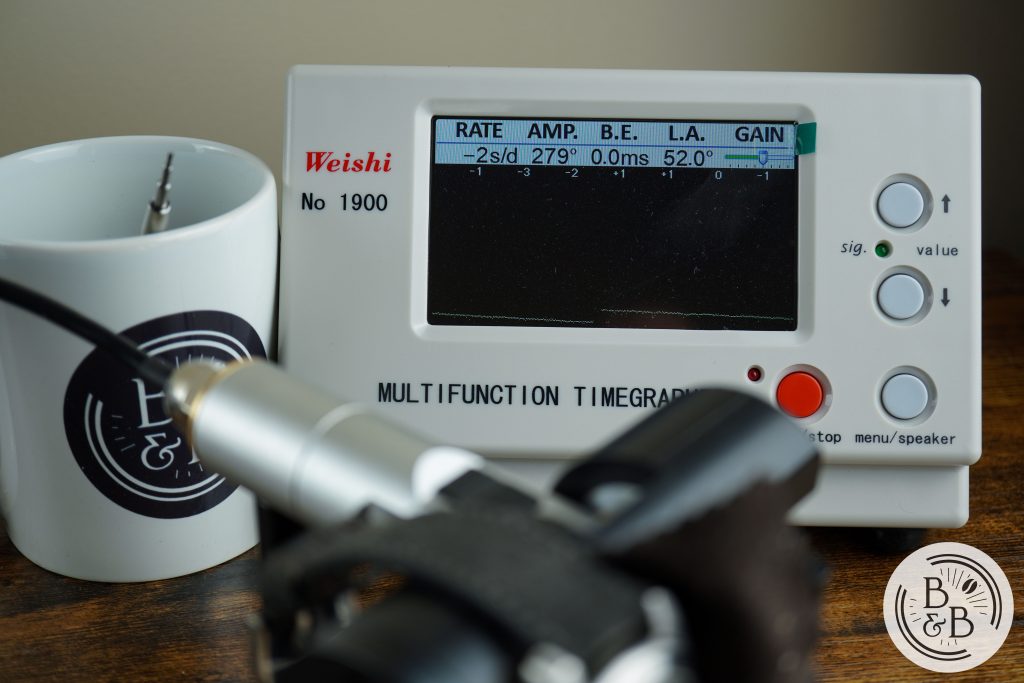 I put this watch on my time-grapher, and noticed about +/- 2 spd. There was more variance than I would've liked to see, but good numbers overall.
---
On The Wrist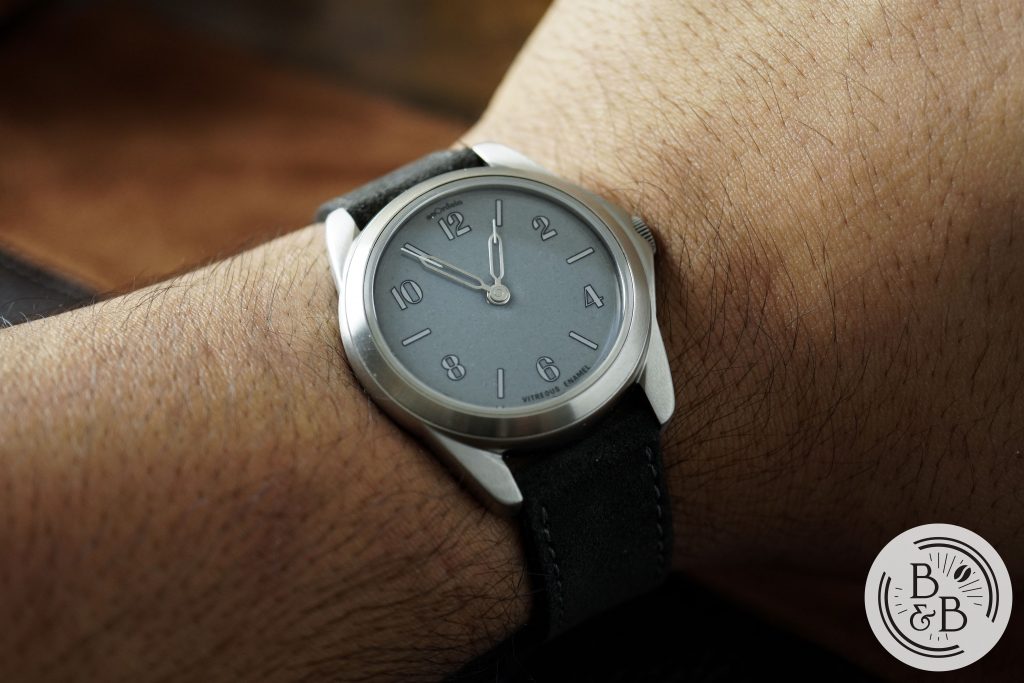 While I don't have a problem with smaller watches, I prefer the small watch aesthetic for dressier pieces. The Model 2 has a solid and almost tool watch case with impressive build quality. That robust design coupled with the 36.75mm diameter and 43mm lug-to-lug width make it feel a bit too small even on my narrow 6.25″ wrist. But if you just prefer smaller watches in general, this is an excellent watch to consider.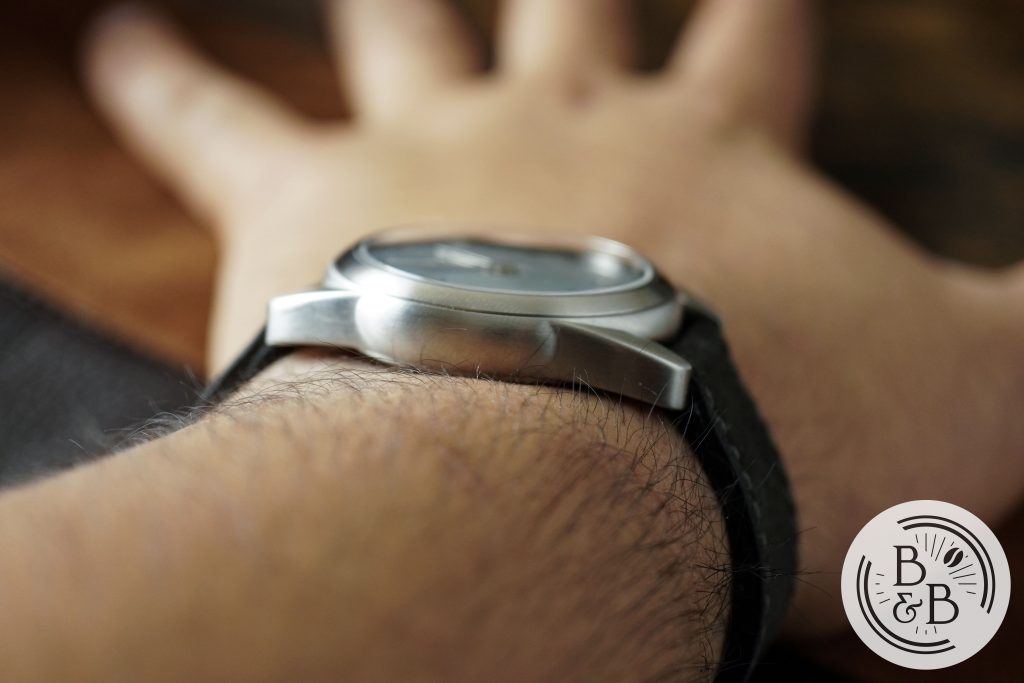 The 11mm case height, and well balanced case-back and lug design, allow it to sit low on the wrist and makes for a very comfortable wrist experience. No complaints from me in terms of comfort, and I think the x g weight suits the case perfectly.
This watch came to me on their suede strap, which is very comfortable and has signed hardware.
---
Concluding Thoughts
If you don't mind the small case and classic dress watch proportions, this is an easy watch to recommend. The case design and build quality are spot on, and the dial is gorgeous and unlike anything you'll find elsewhere. This dial was a bit hard to capture, but I'll say that it looks significantly more impressive in person.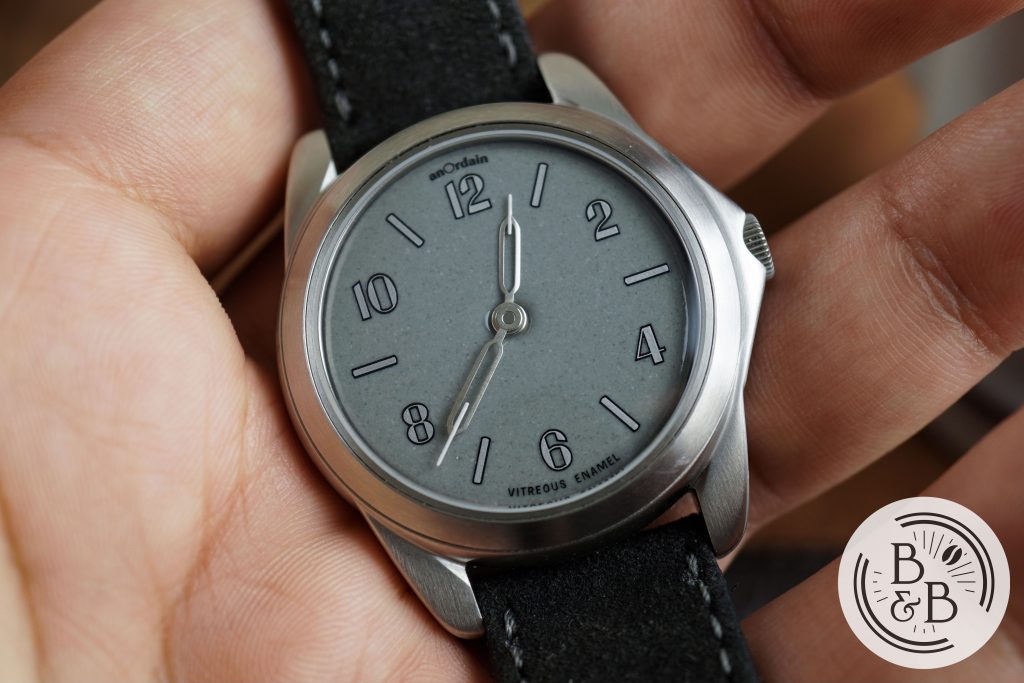 At close to $1300 new, this is an expensive watch, but given the amount of work that goes into making these dials, the finishing and the build quality, I think anOrdain have earned their right to charge these prices. They didn't really cut corners anywhere in terms of components, and they tick off the originality box as well. I wouldn't advise this as a first watch to someone jumping into the madness that is watch collecting since you probably want to check off some other boxes first, but this is one that is easy to justify adding to a medium to large sized collection.
---
Strap Change
---
Thanks for reading!