---
Disclaimer: This watch was sent to me on loan to review and I was not incentivized in any way to make this review. This is in no way sponsored by Formex or any other entity. All opinions here are my own. Since this watch was worn/used by other reviewers, please make note that the experience will differ from that of a brand new watch.
---
---
Contents
---
Formex
Formex is a brand that I've been watching closely for the last 2 years, and in my opinion have symbolized everything that I've hoped to see from a modern watch brand. While the original Formex brand was founded in the 90s, the brand in it's current form, with Raphael Granito as CEO, is fairly new. And really, that's the Formex brand that I've been interested in.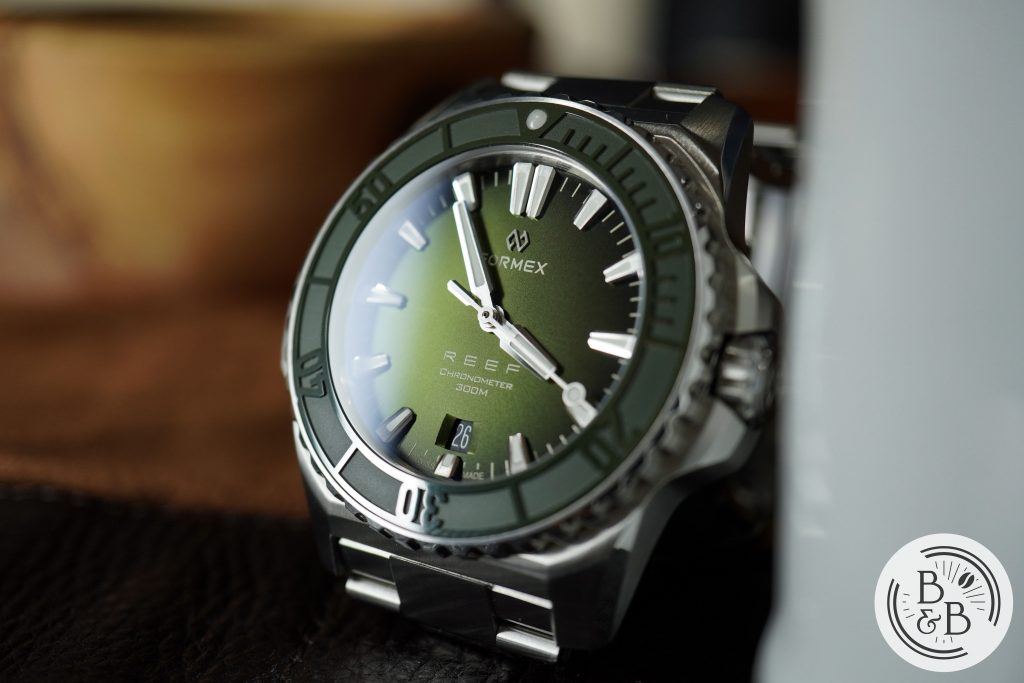 Raphael is not new to the watch industry though. And from what I've read, his father owns & operates Dexel SA, which has been developing and manufacturing watch parts for various luxury Swiss watch brands. Backed by Dexel's manufacturing and prototyping capabilities, Raphael has pushed the limits of typical watch design with some very clever case, bracelet and clasp systems. In my opinion, most watch bracelets and clasps today are still relying on pretty dated mechanisms, and it is about time we saw these components get redesigned with ergonomics and functionality in mind. And as someone who is very particular about watch comfort, it should come as no surprise that I'm a fan of everything this brand is trying to achieve.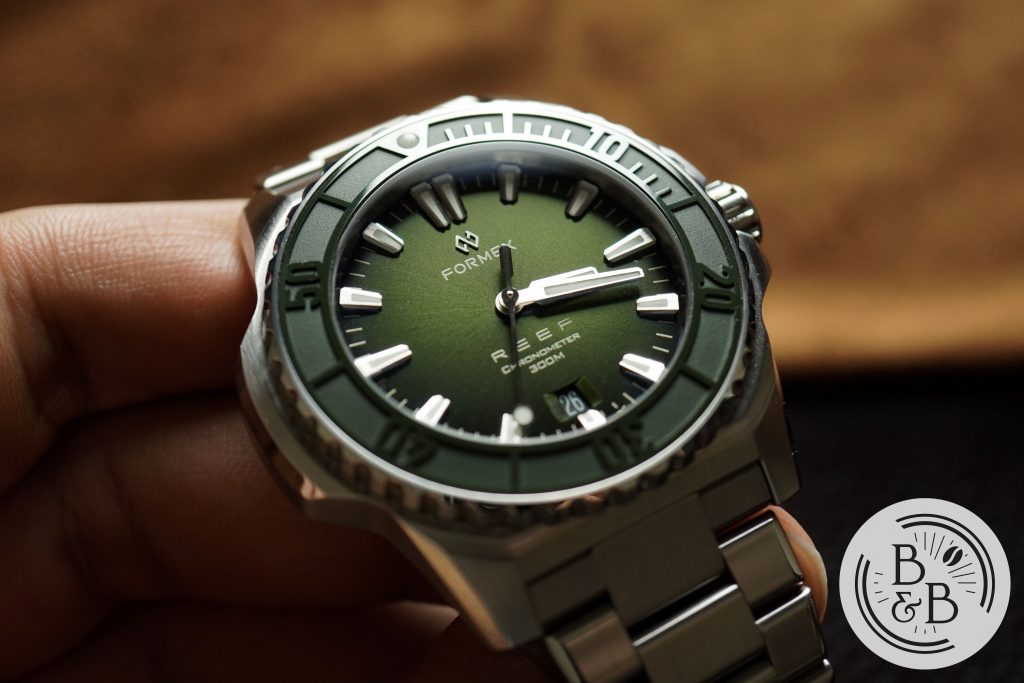 As I mentioned earlier, the original Formex brand was focused on motorsport inspired watches, with an undoubtedly 90s theme, and a line up of pretty massive and over designed watches. The Formex that we know today achieved their claim to fame because of their more elegant, and technologically sophisticated, Essence lineup. These watches featured their iconic case suspension system, but more importantly presented some of their fantastic bracelet and clasp designs.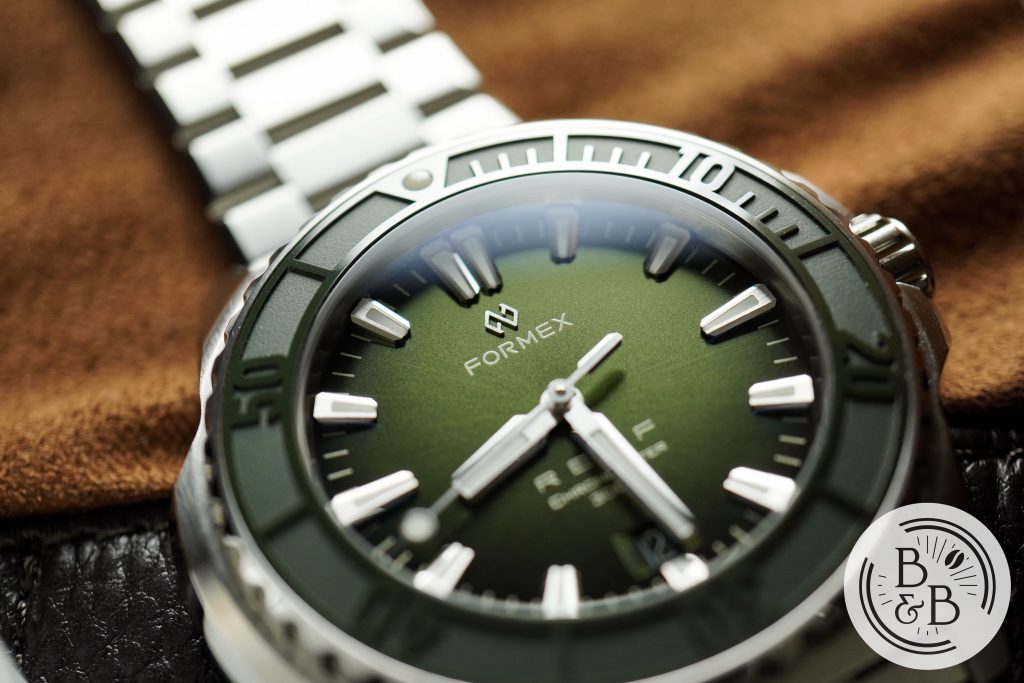 Today I'm very excited to be able to show you the Formex Reef, their latest dive watch. This diver carries almost all of the interesting engineering elements from the Essence, while also getting a few aesthetic upgrades.
Let's check it out!
---
Case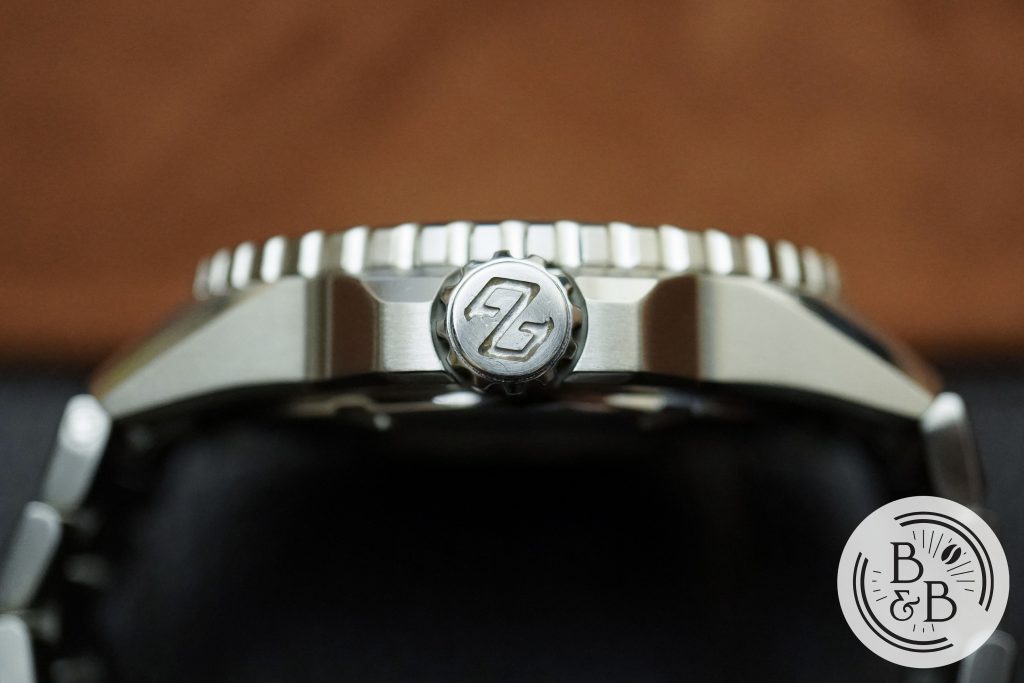 The case is my favorite aspect of this watch. I love the aggressive design, and all the different surfaces. The case feels familiar, yet the watch feels different enough to stand on it's own two feet. The case measures 42mm in diameter, from the 4 o'clock to the 8 o'clock. The width at the widest position, from 3 o'clock to 9 o'clock is 47.5mm. The lug width is 47mm from lug hole to lug hole and 49mm from lug tip to lug tip. The height is an impressive 11.5mm (roughly).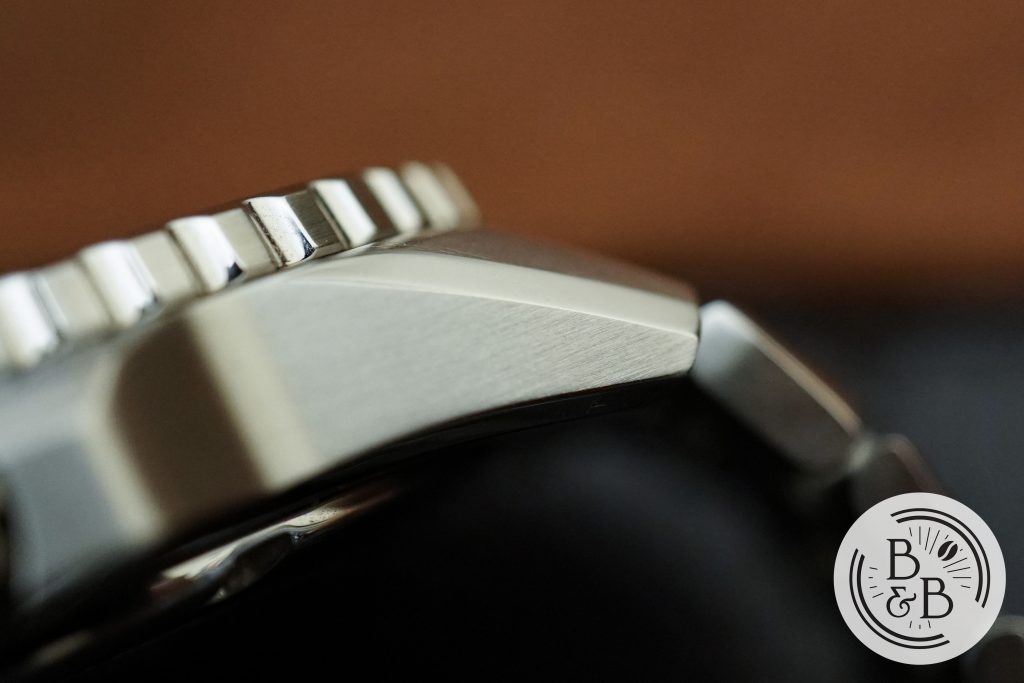 The case combines brushed and polished surfaces that play with light beautifully. The entire case is finished very well, and it feels like a mid-tier luxury watch, which is something most micro-brands don't easily achieve. The lugs are relatively short, and curve down towards the wrist. The lugs have some polished bevels, and a lug width of 22mm.
While they were clearly going for an integrated bracelet aesthetic, they managed to pull off a pretty amazing bracelet and lug design, allowing for third party straps to be installed with ease. So strap junkies can rejoice!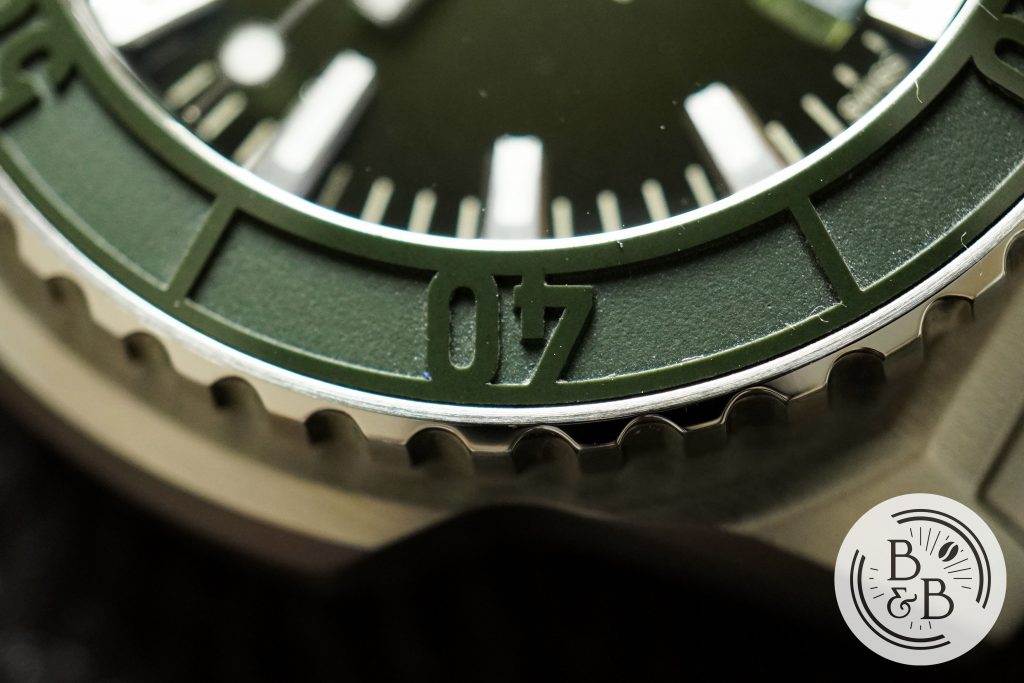 There is a 60-click uni-directional dive bezel that has an excellent grip and a very unique ceramic bezel insert. According to Formex, engraving a single bezel insert takes one hour (aside from the sintering and pressing of the core material) and is achieved by using a femto-laser manufacturing process. I'm pretty sure Formex just mentioned that because they know how much nerds love lasers.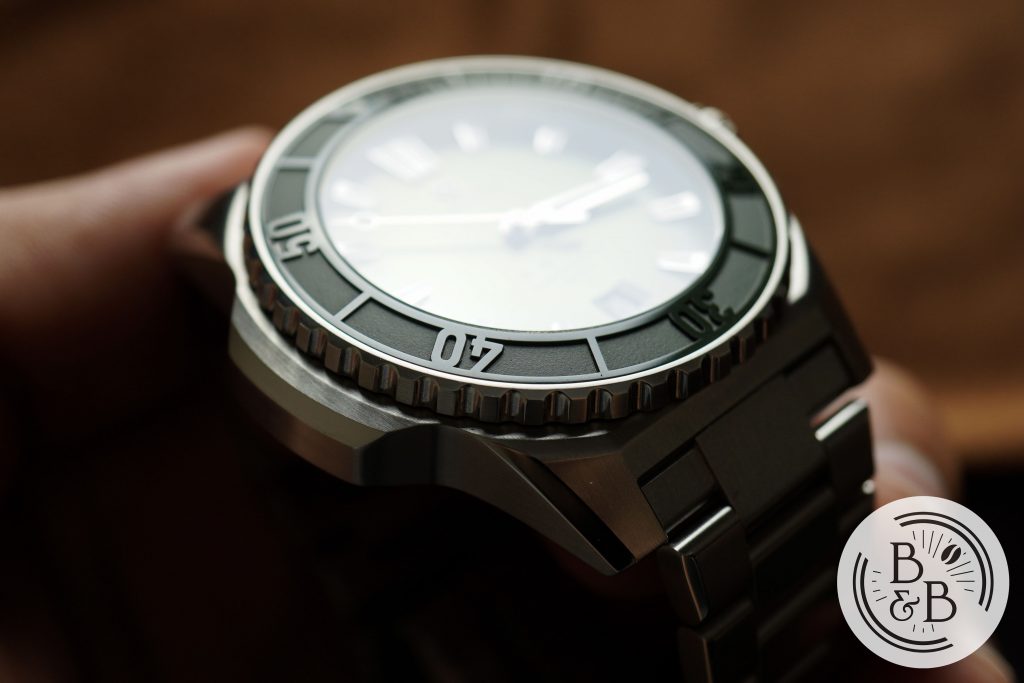 I've read a lot of online comments about the lack of dive time legibility on the bezel, and I don't disagree with that. However if there is sufficient light, the polished bezel gradations shine bright and are adequately legible. Low light visibility is a bit tricky, but I use my bezel to time pizza in the oven, and I usually do that with the lights on.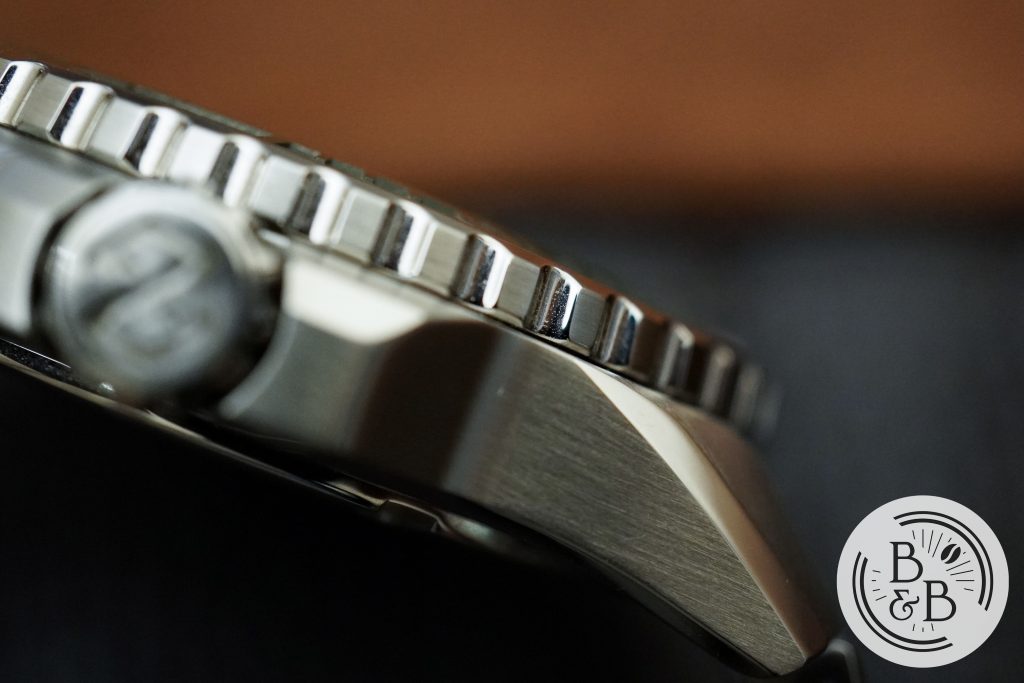 I was informed by Formex that the bezel action is a bit rough on the prototype and that the final production units will be smoother. They were right, and this feels a bit stiff in places, but it lines up well and there isn't any back-play.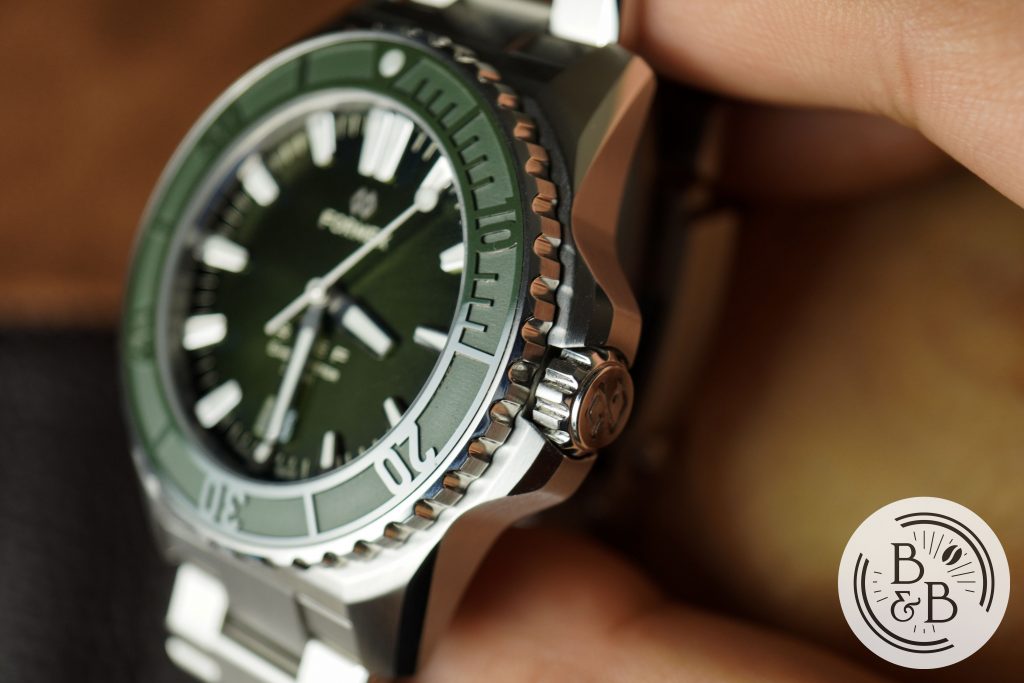 There is a screw-down crown at the 3 o'clock position, that is almost entirely protected by a pair of beautifully machined crown guards. Again I was told that the crown assembly will be drastically improved for the actual production units, and this one was a bit rough and there was a some stem wobble. The actual crown is easy to grip and has the brand's logo signed on top.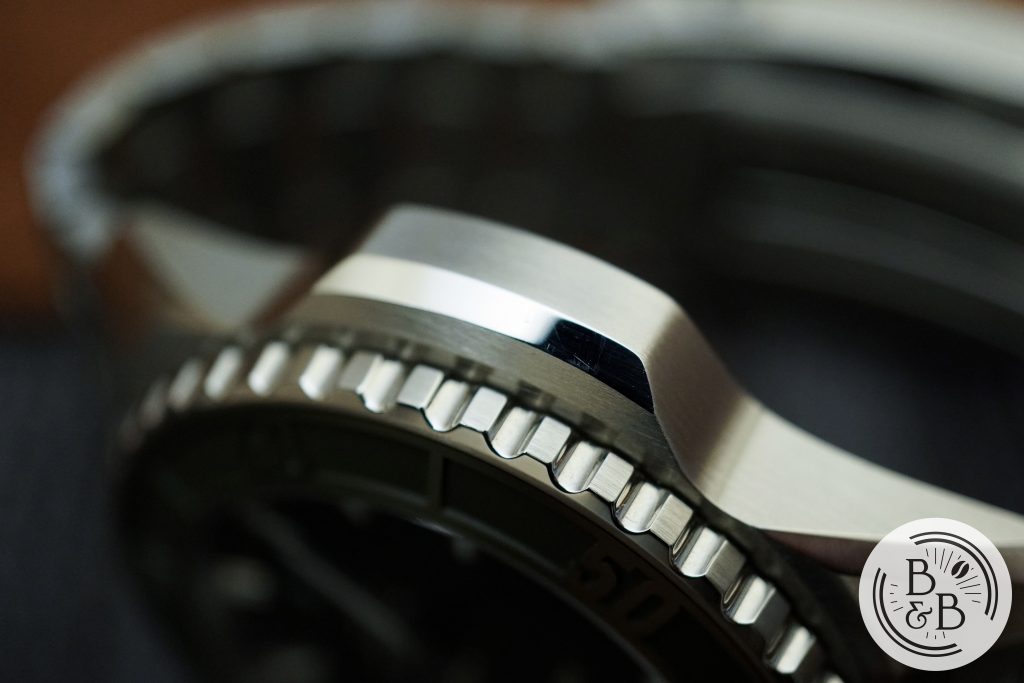 You all know how much I love symmetry, so I absolutely love the counter balanced case protrusion at the 9 o'clock, that takes some inspiration from the Patek Philippe Nautilus. I've seen mixed opinions regarding this, but I love it and I think it is one of my favorite elements of this case design.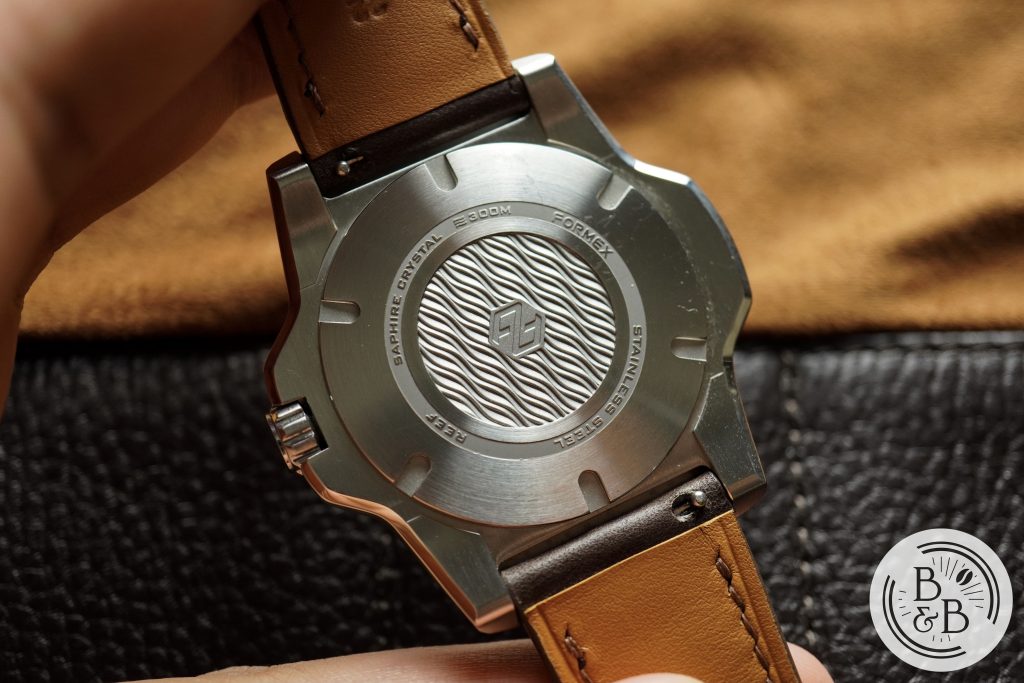 Flipping it over, you have a flat screw-down case-back with some waves engraves onto it along with the brand's logo. I love flat case-backs and I personally find watches like this to be very comfortable on the wrist. This watch is rated for up-to 300m of water resistance.
---
Dial
I've been wanting to add a green dial watch to my collection for some time now, so I'm glad this is the prototype that I get to play with. The base of the dial has a beautiful green sun-burst finish, and the finishing is good.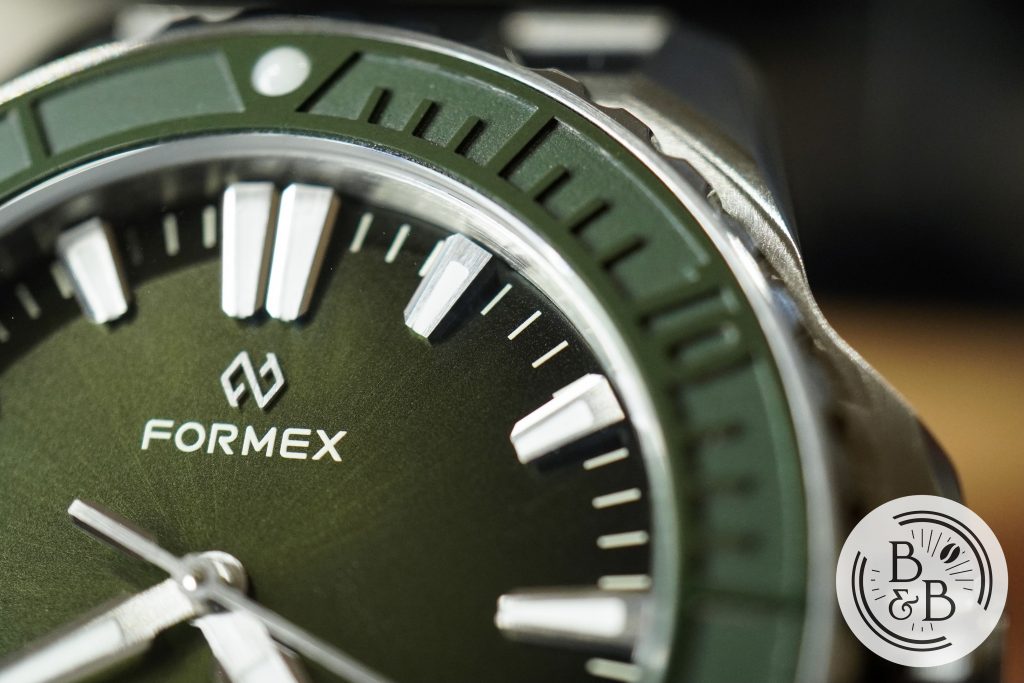 You have printed white markers between each of the hour numerals that are well proportioned and easy to read. The quality of printing is good, but I noticed a printing inconsistency on one of the ticks. I was assured that this is limited to the prototype due to their very tight schedule, and will not be on the final units.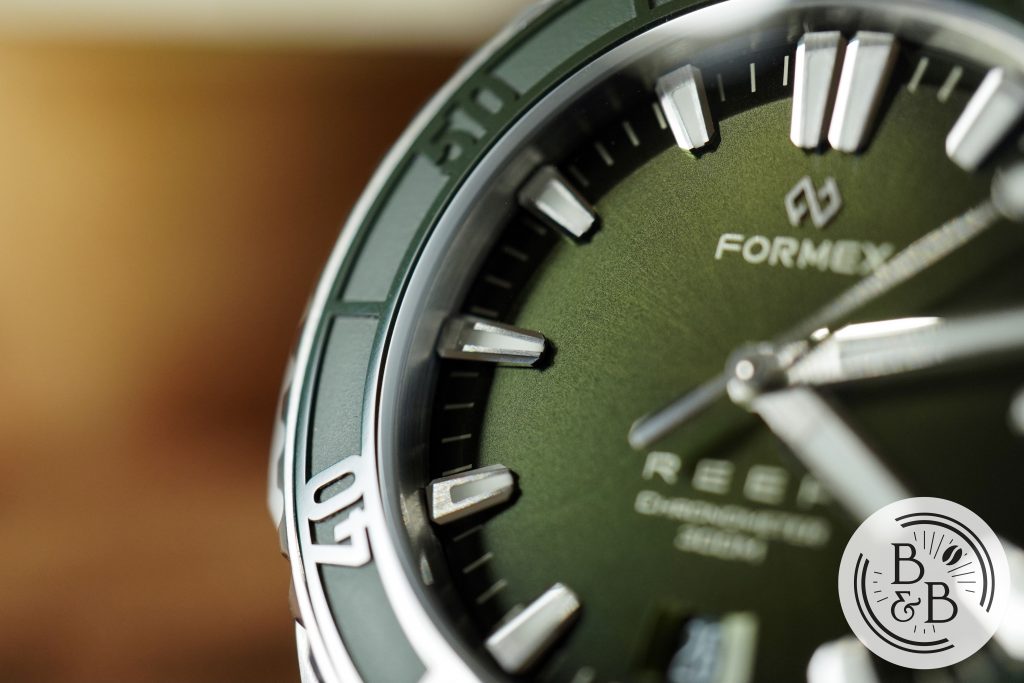 The hour indices are brushed stainless steel, and are well proportioned with sloped surfaces that give the dial tons of depth. There is a pair of double indices at the 12 o'clock, and all the indices are very generously filled with lume.
There is a date window at the 6 o'clock position (yay for symmetry), that is not framed, but cut into the dial with sloped sides. The finishing of the window isn't perfect, and I did notice a piece of fiber sitting above the date wheel. I talked to Formex about this and they indicated that this would not occur on the final production units. There is a color matched date wheel with white text.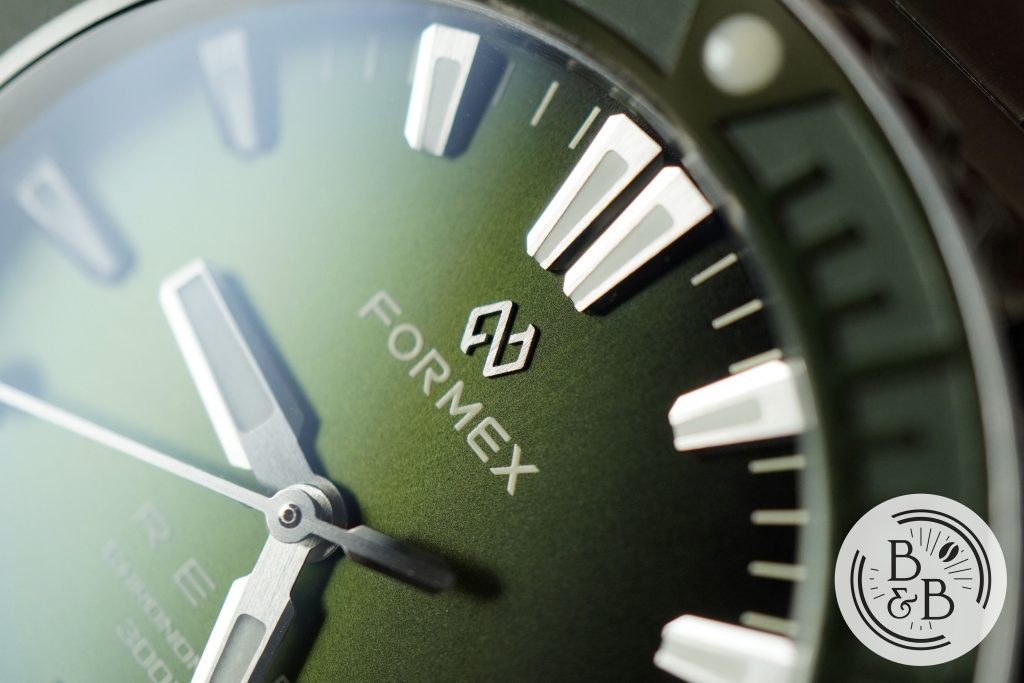 I know there has been much talk of the brand's old logo and how ugly it was. To be honest, I was never too bothered by it, and if you consider the fact that the original brand was formed in the late 90s with a focus on motorsport, that logo makes complete sense. The old logo looked like any other race-car sponsor from the 90s, whether that's a good thing or a bad thing is up-to you. That said, Formex listened to their fans and changed the font style and introduced a new logo, which arguably does look a lot better.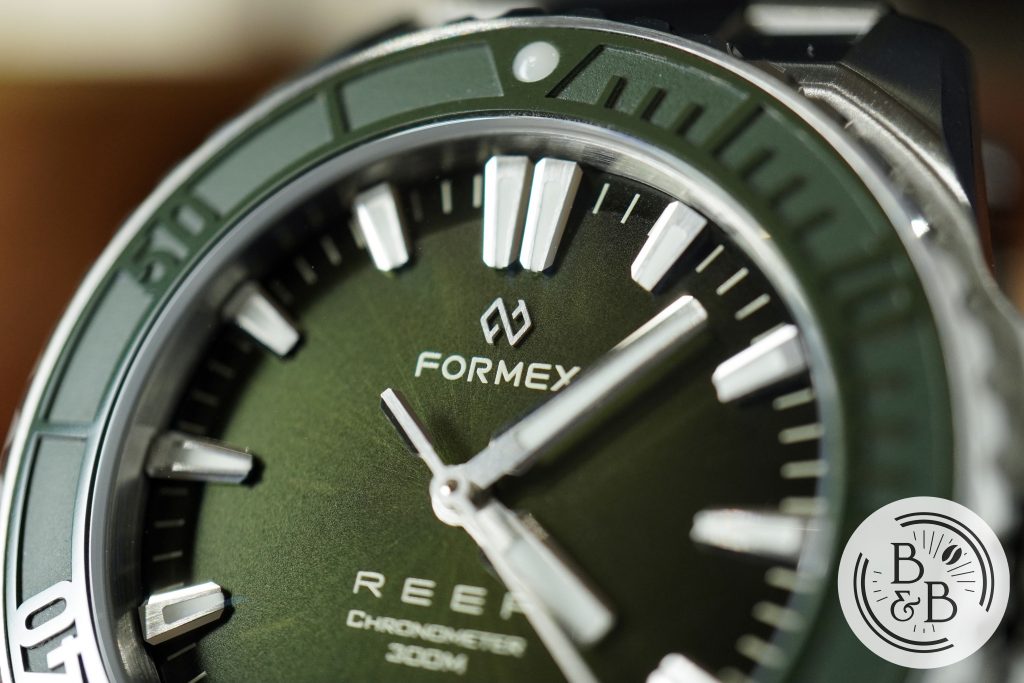 The brand name is printed, and the logo is applied. The finishing here is excellent, and I love the applied logo. You also have the model name and some text above the date window.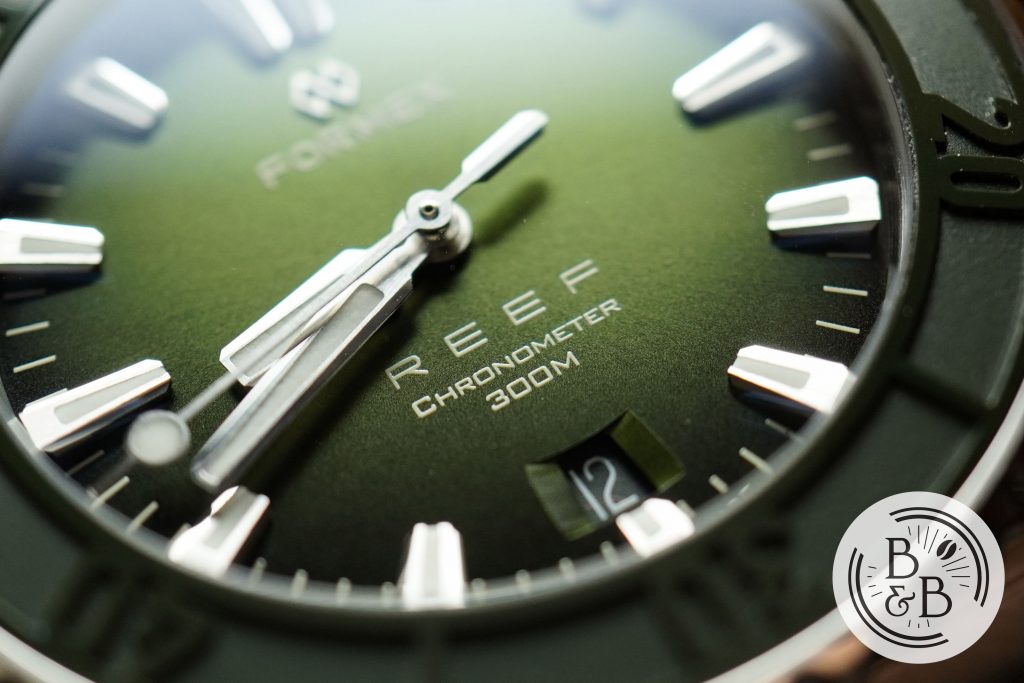 I like the hand set too, and I've read some comments regarding the lengths of the hour and minute hands. While the hour hand is short, I don't find the minute hand to be difficult to read at all. If the minute hand was any longer, I think it would clash with the hour indices. The seconds hand is very well proportioned, and has a lumed lollipop element.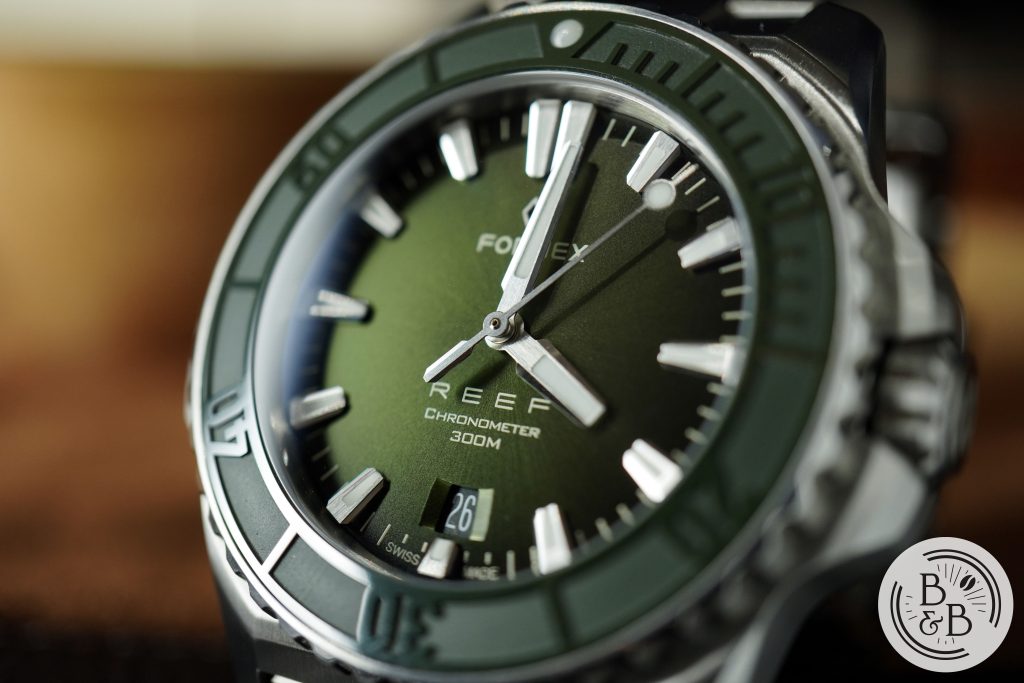 Overall, I love the dial design and I think it looks incredible in person. There are some minor finishing issues, but considering this is a prototype, I'm willing to believe them when they say the final production units will be perfect.
---
Lume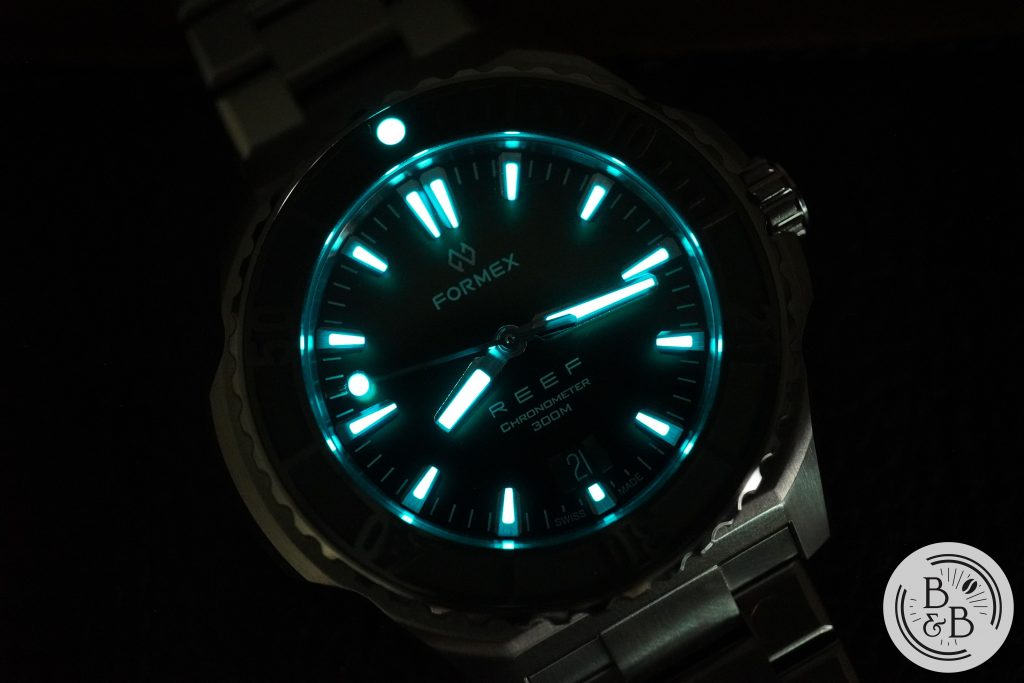 Those that are particular about their lume, will be quite pleased with this watch.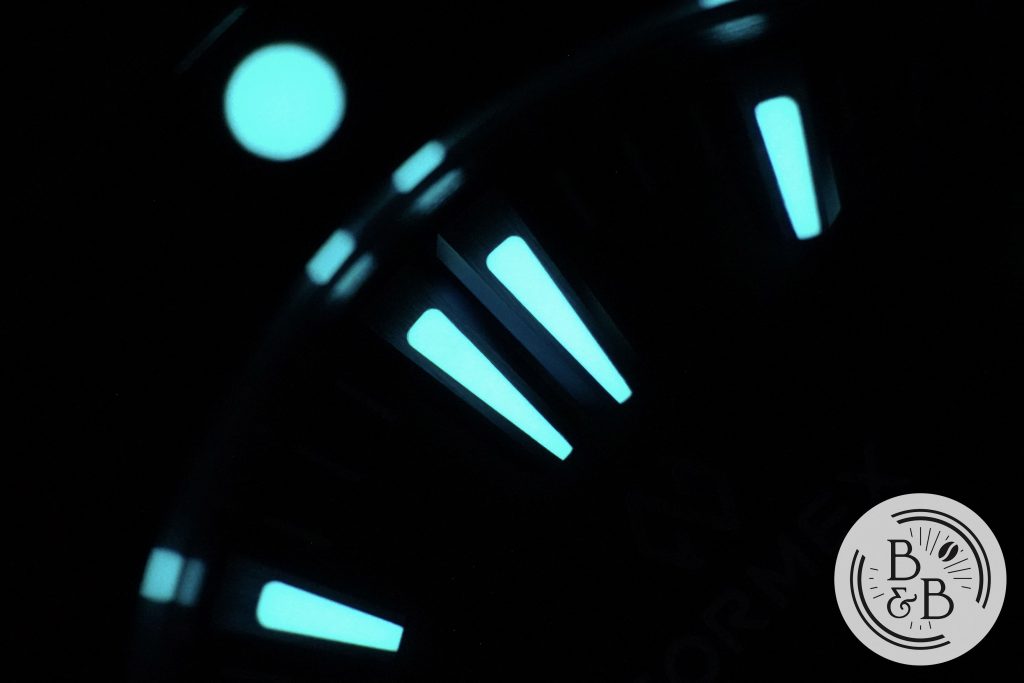 The tall sloping indices are generously filled with BGW9 Super LumiNova thanks to their volume. The lumed pip on the bezel is also surprisingly well lumed.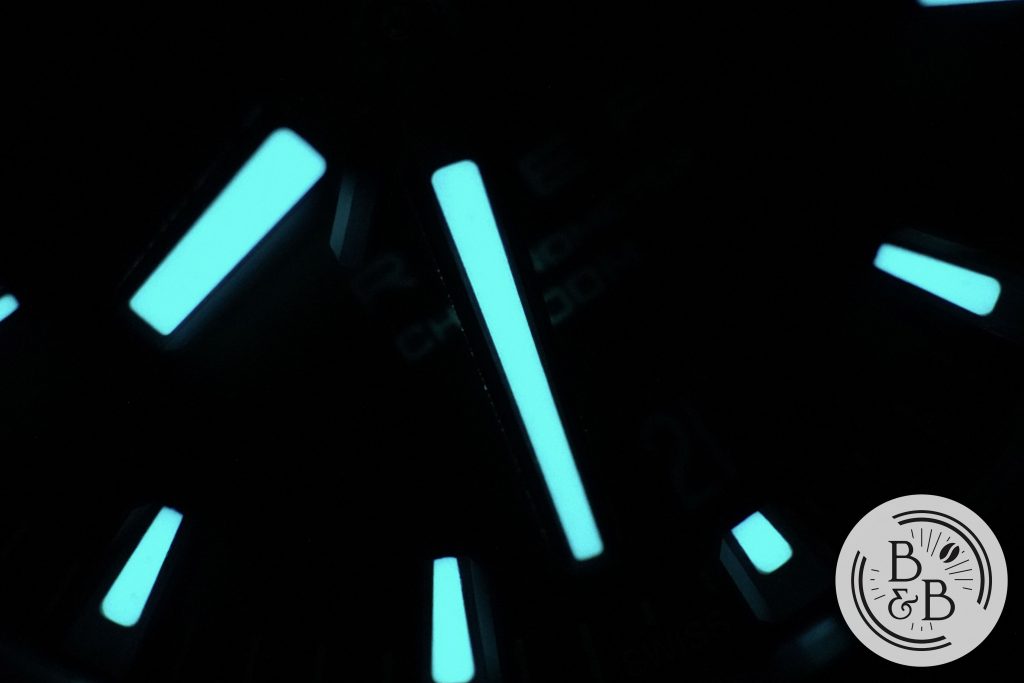 All three hands have lume, and they're almost as bright as the indices which is great, considering how much lume was put into the indices.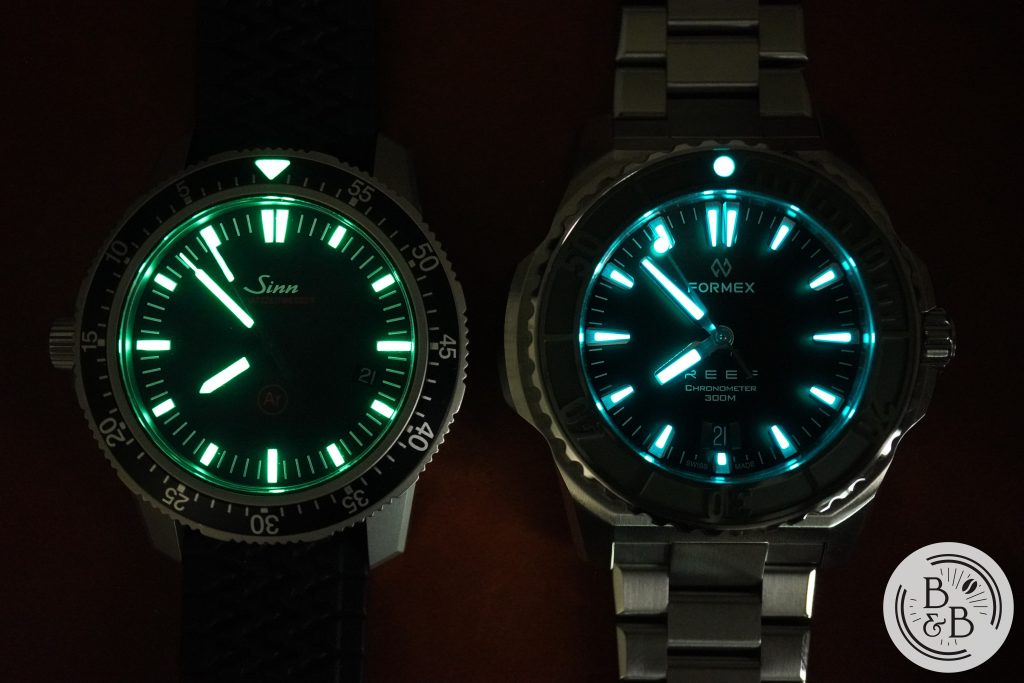 I compared the Formex Reef with my similarly priced Sinn EZM 3F. This comparison isn't completely fair since the Sinn is technically a pilots watch and not a diver. The Reef has marginally lower initial brightness but has better longevity.
I also compared it with a Rolex Submariner, and this was a bit harder to judge, but I think the Reef may have shown better longevity here as well. Watch the video and judge for yourself!
---
Movement
Formex has been able to offer some very good prices on COSC certified watches through their Essence lineup, and it should come as no surprise that they used a COSC certified movement in this watch too.
The Reef features a Sellita SW300, which is a terrific movement and one that I've had very good experiences with in the past. I suspect that they upgraded to this movement because of how much slimmer it is, and therefore allowing the case to be in the 11.5mm height range.
Since I didn't want to hold this watch hostage for too long, I didn't get to do any extensive accuracy measurements, but over a 3 day period I observed roughly +2 spd, which is definitely within acceptable limits for a COSC certified movement that has been traveling the world for months.
---
Bracelet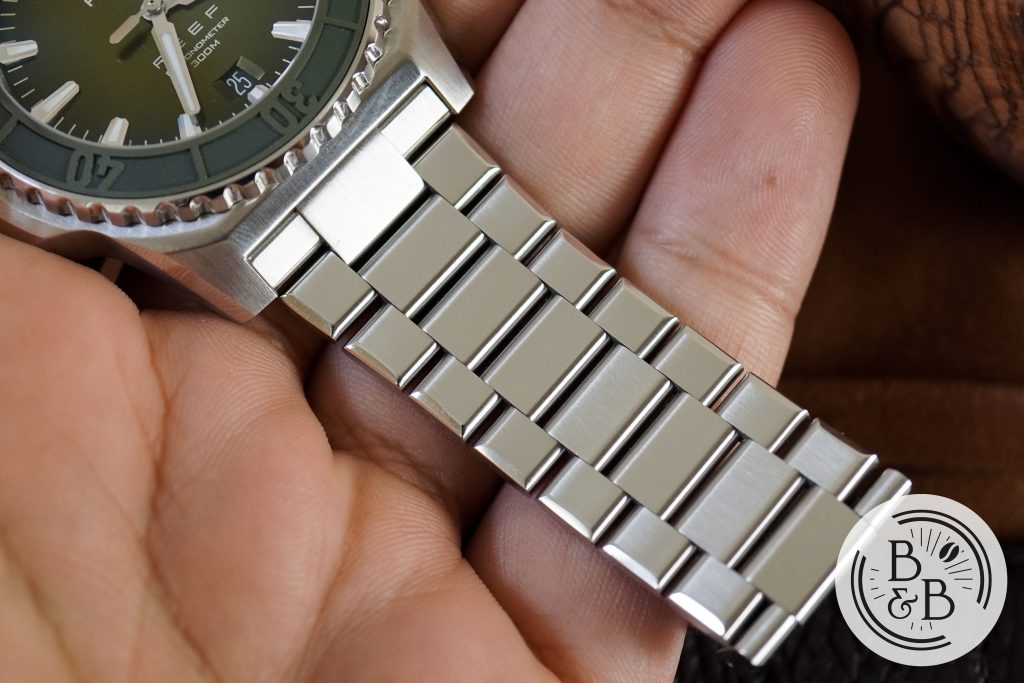 If you were to do a blind test with this watch, just based on build quality, finishing and holding it in your hand, you'd think this was a mid-tier luxury watch, like an Omega for instance. And that is mainly achieved because of the solid case build and the amazing bracelet.
The links are perfectly machined, have no sharp edges, and are attached together in a manner such that it is impossible to have any hair pulling.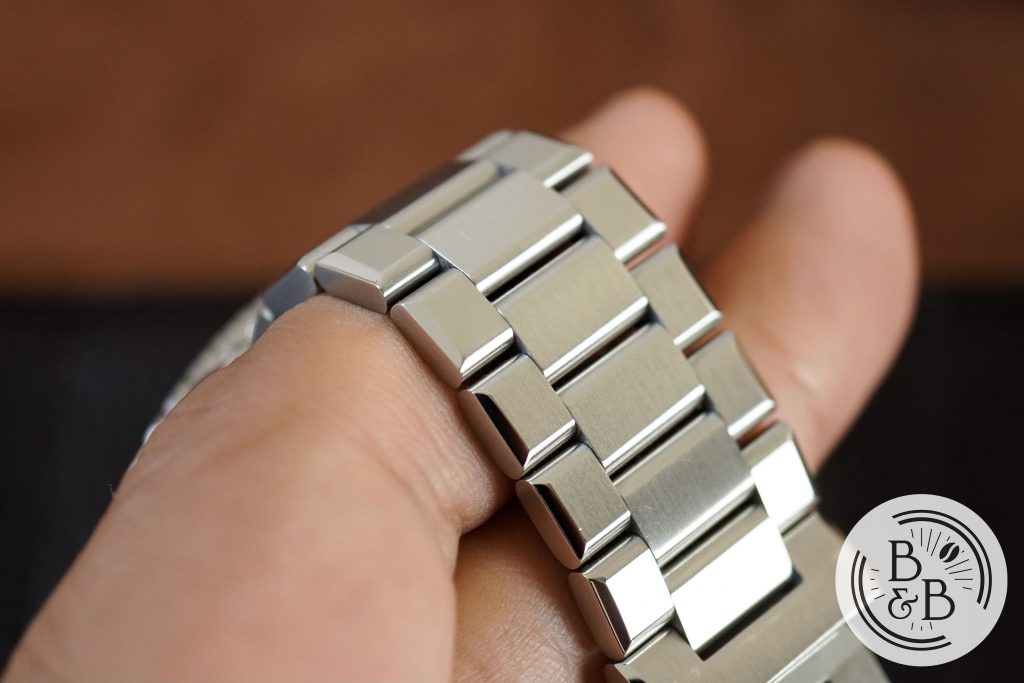 The links use a screw-pin based system and have smooth curved surfaces and beveled edges.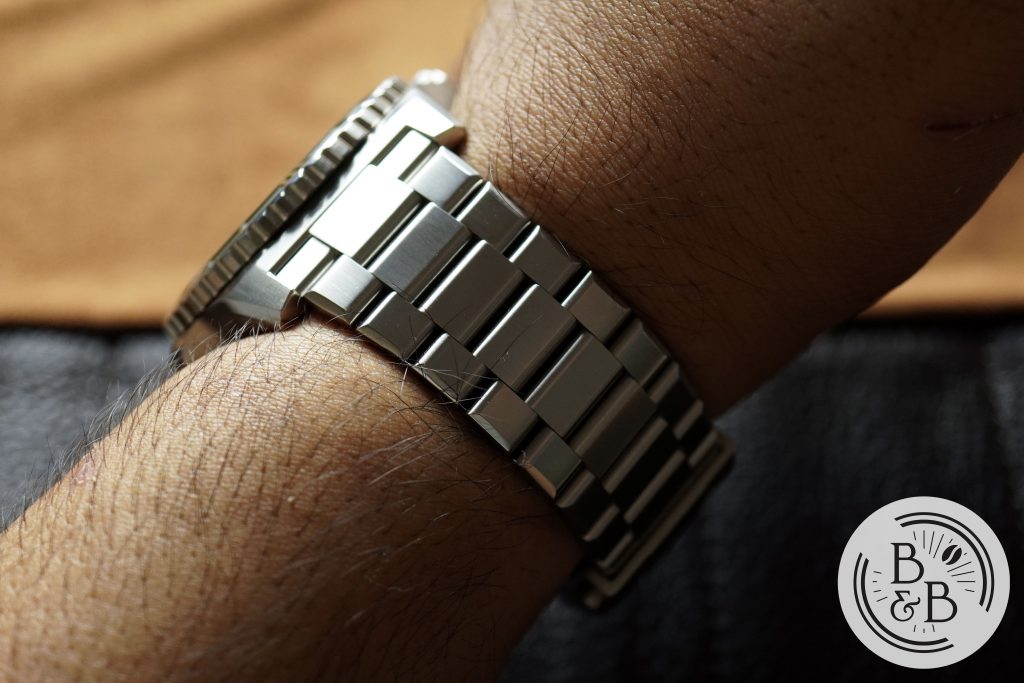 The entire bracelet articulates wonderfully and has a fabric-like feeling, which usually means excellent comfort.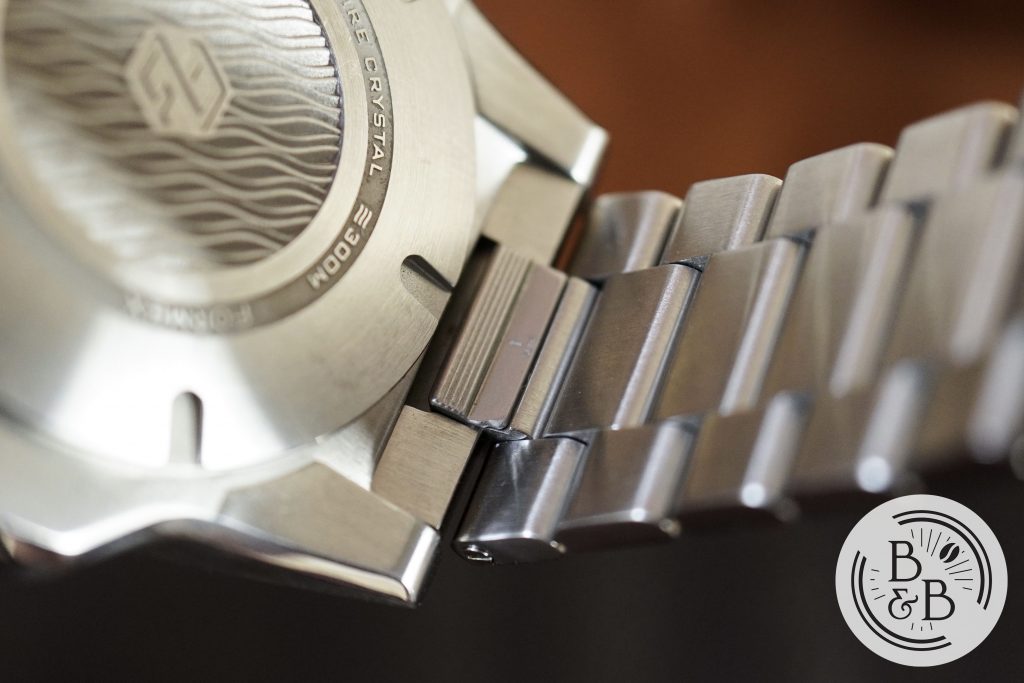 The bracelet has Formex's latest quick release system, which doesn't use protruding pins, but a well thought out sliding button release system instead.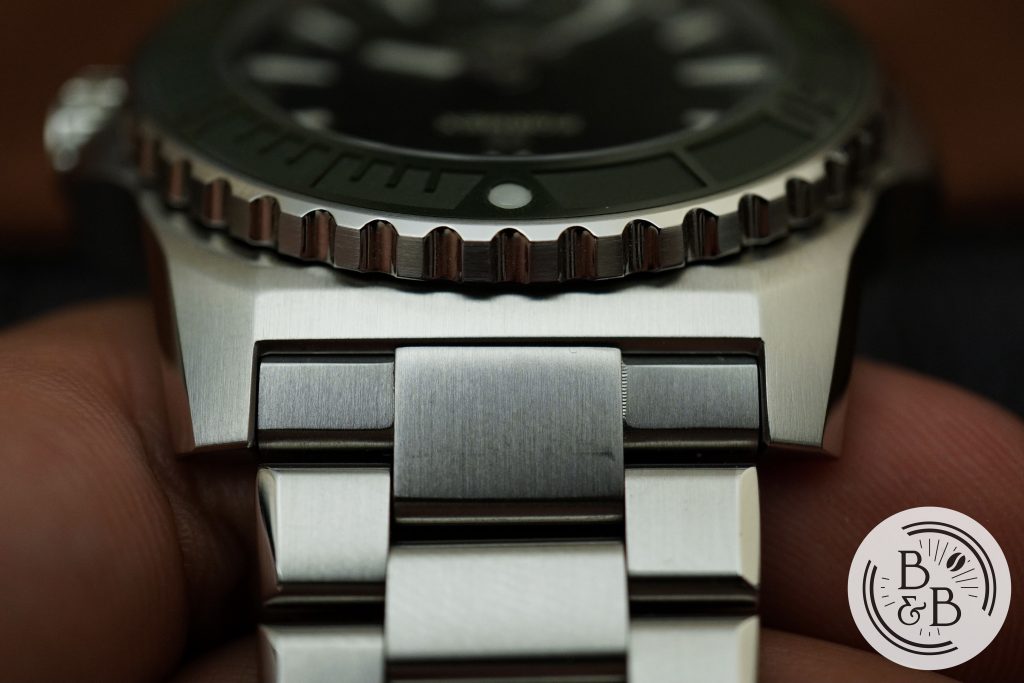 To add to this, the end links fit perfectly with no wiggle whatsoever.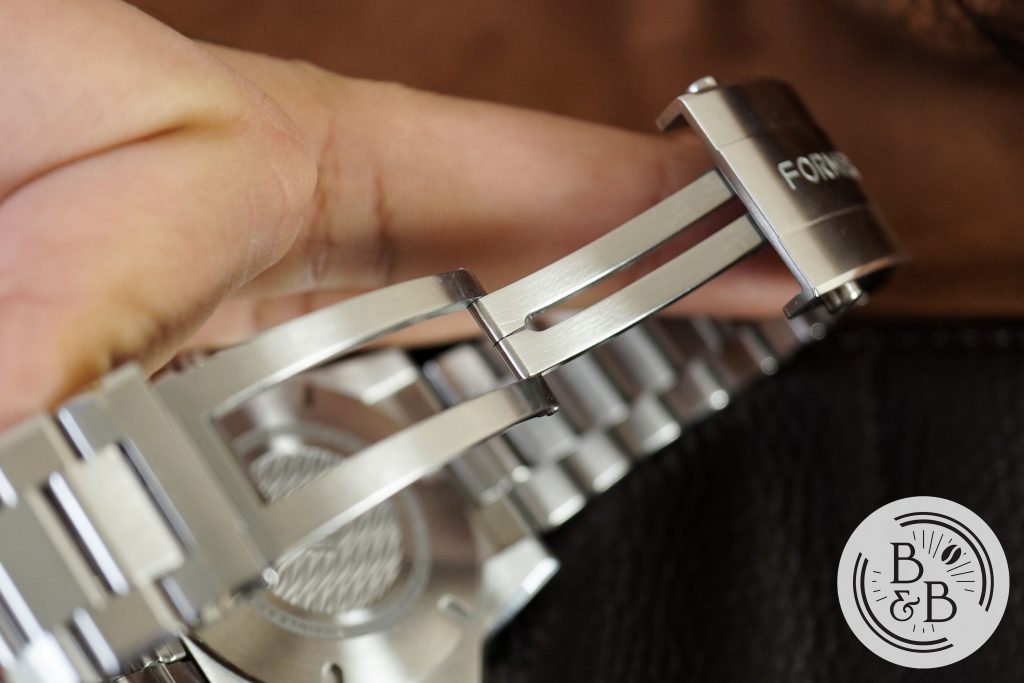 The clasp is incredibly well made, and makes a lot of similarly priced dive watch clasps look like toys. The entire assembly is milled and uses a similar sliding button based on-the-go adjustment system. Brilliant stuff here!

The signed logo on the final production units will be the brand's new logo and not their name like you see here.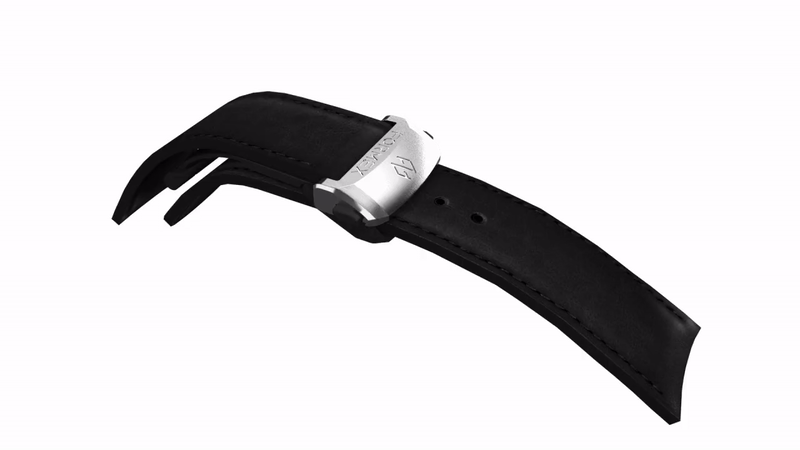 For fans of rubber straps, Formex has also designed a new clasp mechanism with on the go quick adjustment (roughly 10mm!) so you're going to be able to get a perfect fit on either bracelet or rubber strap.
---
On The Wrist
I know a lot of you have been worried about the size of this watch, and how it wears on smaller wrists. I have a small 6.25″ wrist, so this should be useful to many.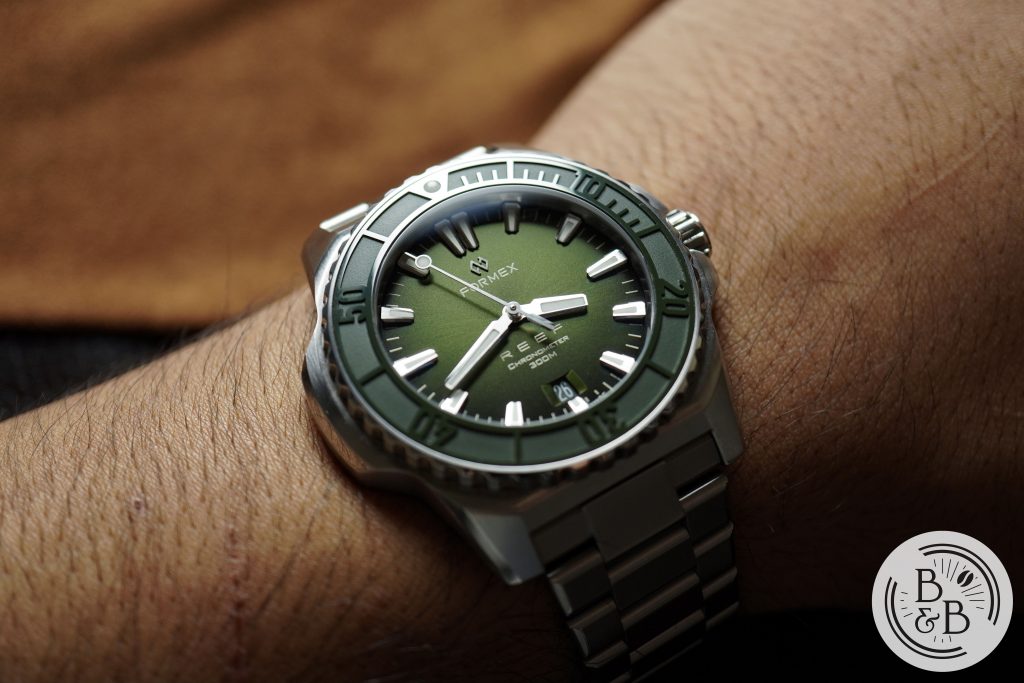 While the 2 o'clock to 8 o'clock diameter is exactly 42mm, the entire width from 9 o'clock to 3 o'clock is actually 47.5mm. If you like wearing your watch on or beyond the little bump on your wrist, then this might be a problem for wrist movement. But if you're like me and wear it above that little bump, it has little to no effect on wrist mobility.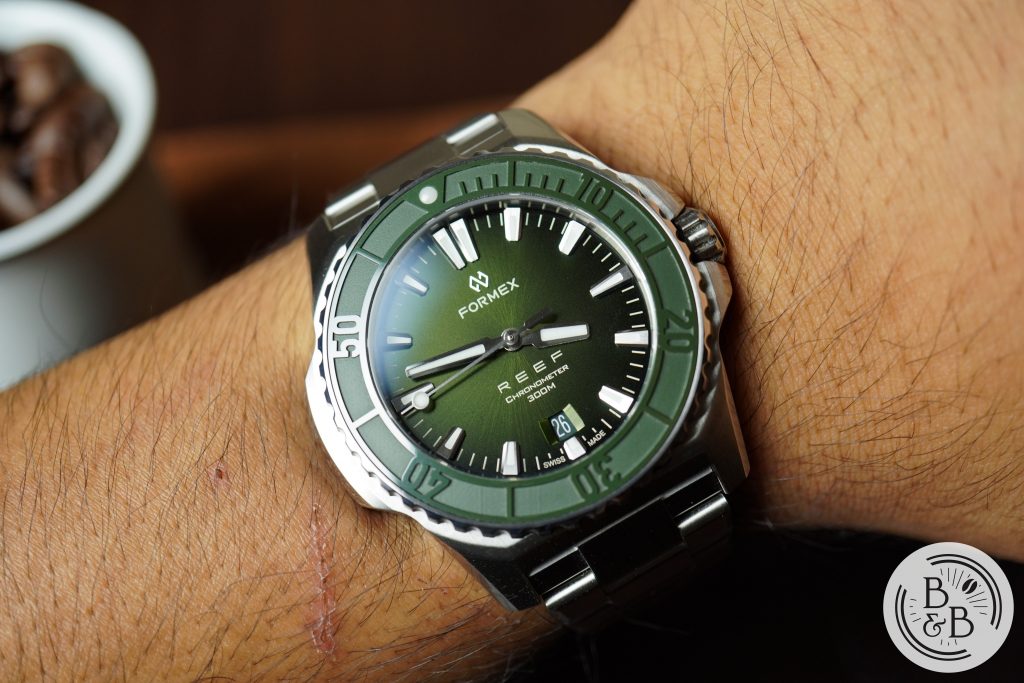 Now that we have the two diameters out of the way, let's talk lug-to-lug width. If you measure between the two extreme lug ends, you have just under 49mm. I believe their 47mm lug-to-lug width measures the distance between lug holes and not lug extremes, which is what a lot of brands use. For a wrist like mine, 47-48mm is the sweet spot, but I'll go up-to 50mm on some watches that have well designed lugs and case-backs.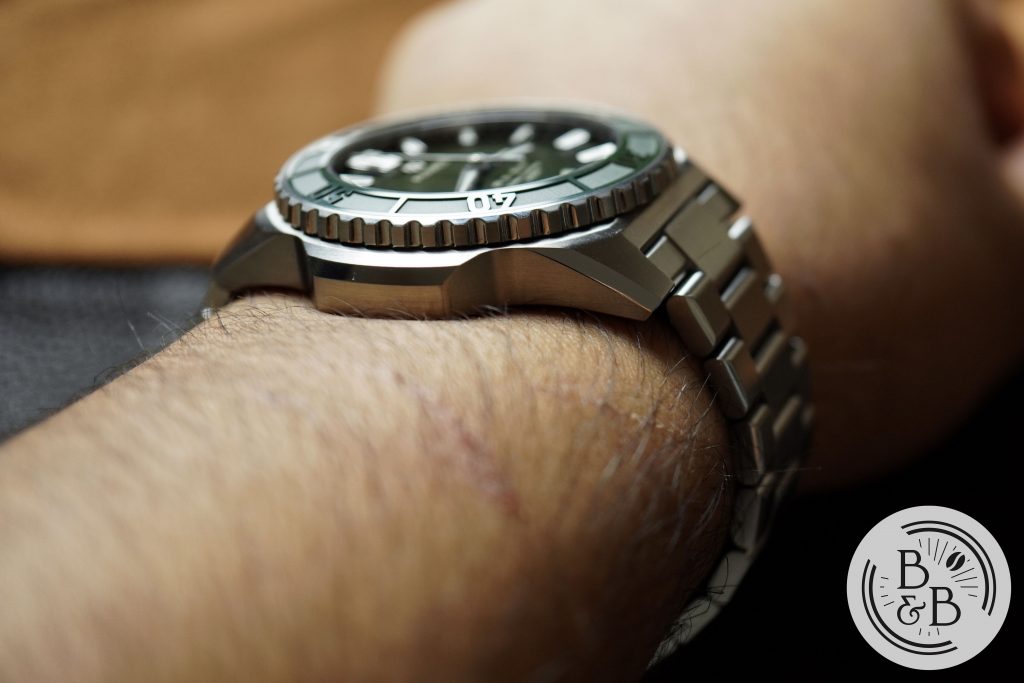 Another important dimension is the end link to end link width, which should give you an idea of whether you'll have any overhang on your wrist. The end links articulate just over 90 degrees, which is more than you'll need, and the distance between the two outer extremities is about 52mm. A quick way to test if this watch will fit your wrist is to check if the width of your wrist is greater or less than 52mm. If it is less than 52mm, then you should avoid it. My 6.25″ circumference wrist has a width of about 56mm where I wear my watch so I don't find it too large at all. Hopefully that will shed some light on how this will fit you, at least until their Augmented Reality app supports the Reef.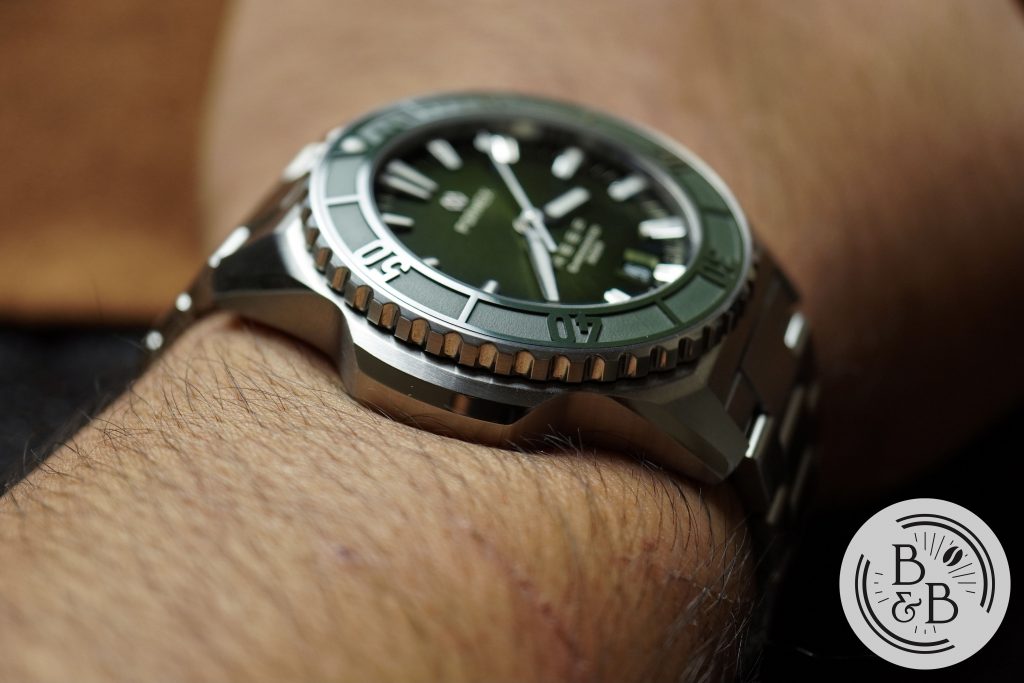 I'm very pleased with the way it sits on my wrist, and while it may be a tad bit larger than watches I usually wear, it is no less comfortable. The flat case-back, 11.5mm height, well proportioned lugs and the incredibly comfortable bracelet make it sit well.
---
Concluding Thoughts
So this has been a long review, so I'll wrap it up quick. I love the watch. The case build and finishing is excellent and the bracelet and clasp are no less impressive. The dial is gorgeous, with pretty good finishing. I'll reserve judgement here until I see the final units though, since this is a prototype; similarly with the bezel and crown.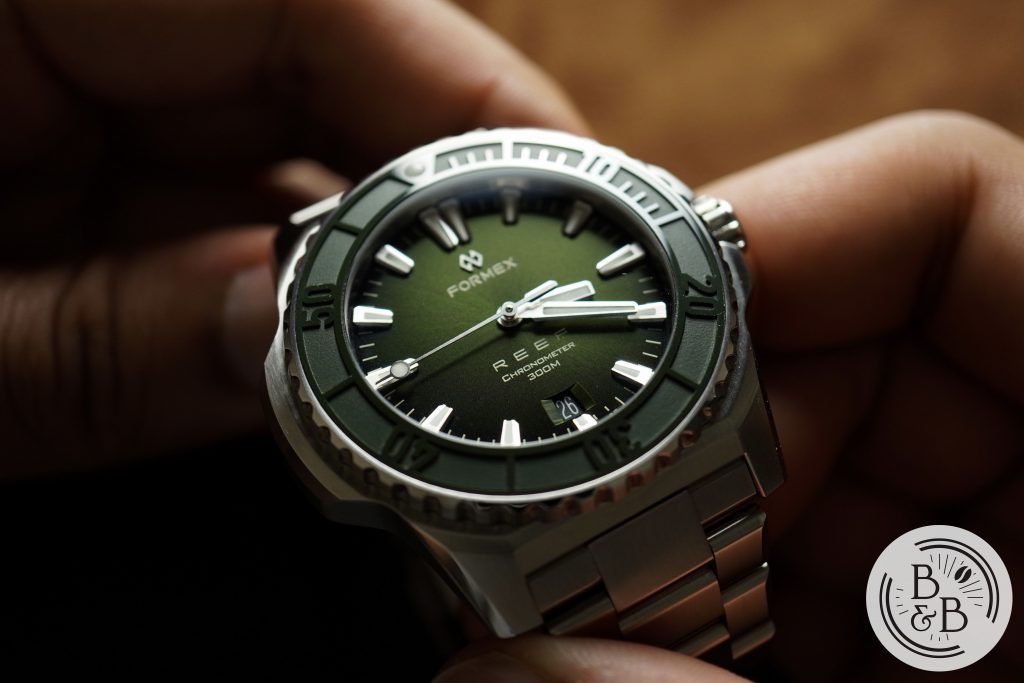 But overall, I think I'm sold. Enough so that I've been strongly considering buying one of these for myself. I love this design, and I love what the brand is doing. As I mentioned early on, brands like Formex are the reason why I enjoy micro-brands and I have a strong feeling I'll be adding one of them to my collection shortly.
---
Strap Change
---
Thanks for reading!