Karan Madan is no stranger to the Indian watch community, and is an active member of multiple large scale global watch communities. Karan's day to day life is a twist on your typical superhero story – playing Batman during the day and saving lives at his day job as a Doctor, and Bruce Wayne at night with his incredible collection of timepieces that widely spread across the collector spectrum.
---
Hello Karan! It is a pleasure to have you on as the first guest in the new B&B interview segment. Let's start this off with the most important and relevant question – Coffee or Tea? And what's your beverage routine?
Karan: Hi Shreyas, glad to be here. I have been following your blog and YouTube channel ever since you began, and I think you do a wonderful job at documenting your horological journey.
I guess you asked me the most loaded question right away – this can be debated until the end of time, just like MacOS vs Windows, Rolex vs Blancpain, but I prefer a simple English Breakfast Tea most days. The widespread availability and it being a staple in most Indian households has a huge role to play in my choice.
As an aside, I quite like the kick of caffeine from a chilled can of Diet Coke or an Iced Lemon Tea over hot beverages. I strictly limit my caffeine intake to one serving a day, and very rarely two, on days I need to push myself. This self imposed limit is to do with seeing both my parents loving hot tea to no end and gulping down cup after cup, pot after pot. And since I was doing the brewing for them as a teenager, I kind of fell out of love with caffeinated drinks very early on.
More than anything I will pick up a cold beer any day to unwind. I do like a variety of Malts and Scotch blends but I usually bring out the bottle when in good company. Plus, no great watch discussion ever took place over tea or coffee! 🙂
---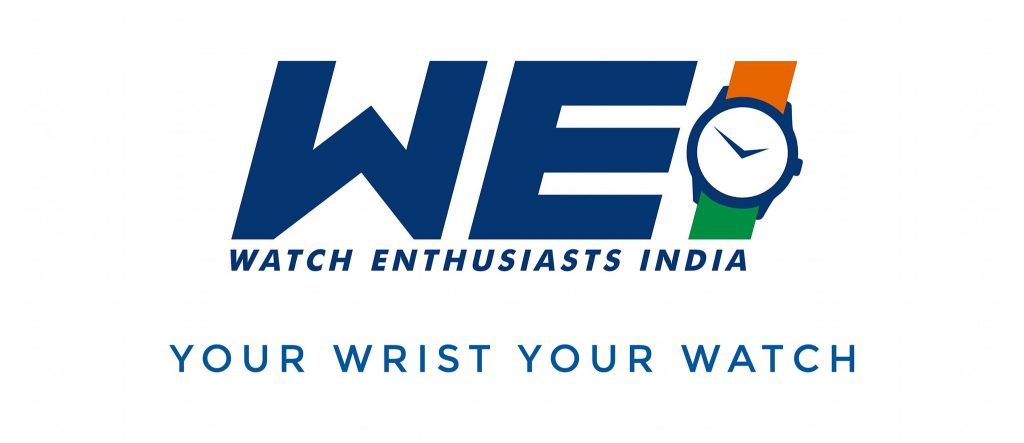 I've been part of Watch Enthusiasts India for about 6 months now and it has been a great experience. You have managed to curate some great intellectual discussions and have had very informative debates. What made you decide that you needed to start this community?
Karan: Thank you for the appreciation. I had been in the hobby for well over 18 months and most of my time was spent extensively reading various online forums. Along with the watches and informative discussion I was quite enamored by the trend of meet-ups, or GTGs (a.k.a G2G, get-together) that many hobby groups would hold regularly in the United States, England, Canada, Singapore, and Hong Kong. I saw hundreds of pictures of happy people sharing their passion for watches with fellow like-minded persons around their area, meeting new people, looking at and handling many watches, and generally letting the geek out.
When I looked closely into India and the culture of 'hobby' and 'leisure', I found a severe lack of representation not only for wristwatches but for most other hobbies too. I made a search on WatchUSeek (WUS) forums for people from India and messaged a lot of people to gauge their interest in being a part of a local India centric watch group. I sent out over 500 messages and received only 7 replies, and so I created a WhatsApp group with 8 of us and thus began the story of Watch Enthusiasts India (WEI).
We eventually shifted to Facebook because of the extreme lack of moderation capabilities on WhatsApp. Facebook, for all its ills and drawbacks, is very friendly towards private and closed communities and has excellent tools for moderation. Plus your privacy is ironclad once you are in a secure group like WEI. No one outside the group can see your activities, which is essential because we don't always want to share our hobby and passions with the world at large.
---
We don't wont our significant others seeing what we bought recently either! I definitely agree with your with regards to the lack of representation for hobby-based communities. I'm sure all the WEI members are glad that took the initiative! You have now grown to an active community of almost 2000 members. Was this growth mostly passive or were you actively trying to bring these watch aficionados together?
Karan: In our early WhatsApp days the group grew mostly via word of mouth, and members bringing in friends and family. I toned down messaging people on forums and hobby centered Facebook groups soon after, because it is essentially poaching and I too wouldn't like it if someone started siphoning off members from WEI.
I was analyzing the group's growth recently, and the one thing that retains members, and brings in new ones, is the quality of content posted and the quality of the people posting that content. The group is lucky to have some amazing people as regular members who bring top grade watches, pictures, and discussions to the feed, hence our quality is right up there with the best watch groups online, along with a very diverse member base from all parts of the world.
Nowadays, though, the group grows passively because of Facebook algorithms. Thanks to our members all over the country, the group is recommended to more and more people every day. We will soon surpass the 2000 members mark and we have only upwards to go from here. (Can you tell that I am very proud of the group and its achievements?) I must thank all the past and present Admins at WEI who have guided us along this wonderful journey.
---
One of the things I like most about WEI is the lack of discrimination – I don't like the notion that watch collecting is a hobby for the wealthy. It is true that a majority of socially determined 'collectible' watches are inaccessible to the average collector, but I think we can both agree that the idea of a collection goes beyond how much a watch costs. I enjoy the fact that you can post a picture of a HMT Pilot or a Rolex Daytona and engage the community in a similar manner. What is your advice to someone who wants to enter the hobby with a limited budget?
Karan: Let me tell you a little more about WEI to address the first half of your discussion. Managing this community has taught me many things over the last 5 years. An idea that I have always believed in is 'My Money, My Wrist, My Watch', which is also the motto of WEI. It simply encourages people to do their own thing without fear of judgement.
Not to forget, WEI has been through its fair share of controversies and politics. Every episode made us stronger, our guidelines accommodating yet firm, and today we have a set of rules in place that prevent miscreants from harassing peaceful people and their choices. All we ask from our members is to follow the rules, respect people, their watches and choices, and leave judgement and condescension out of the group. In all, the group runs itself because our members know a good thing when they see it, and stand up when required to support it.
Coming to the second part, which is an extension of the first – my advice to any budding watch collector is to enjoy themselves. Remember the WEI Motto – 'My Money, My Wrist, My Watch'. Get what YOU like, to hell with the rest. If you think you want one $5000 watch or ten $500 watches or a hundred $50 watches, you do you. Any of those paths is OK. At worst you will realize some time later that your chosen path wasn't right for you, and you can always change track at any time of your choosing. We learn by making mistakes, all of the collector community has gone through the same decisions and paths to get where they are today. Best case is that you are forever happy with your choices and enjoy the hobby and your watches to the max. Either way the hobby is all the richer for it. You might meet some of the most amazing people along the way and form lasting friendships, the stunning watches you acquire will have meaning to you, and you will have your own personal space, your own small getaway from the world. No one can take this happiness away from you.
---
I couldn't agree more! Last year you had a lot of exciting engagement with the WEI community, from meetups to online competitions and give-aways. I know this is a trying time for you in your professional life, given the COVID-19 situation, but have you thought at all about what this year will hold for WEI? The online meetups look like a lot of fun!
Karan: Our meet-ups have been the gold standard for all other watch groups in the country. WEI set the trend when we did our first ever GTG in Delhi in March 2016. We have done over 25 meet-ups in Delhi, Pune, Hyderabad, Bangalore, Chennai, and Mumbai since then. Not to forget, our annual mega event in Goa that has seen two massively successful editions already, and the third was being planned for this year but will most likely be postponed due to the whole COVID-19 situation.
Member engagement is the backbone of the group, and our contests, giveaways, and themes keep everyone thinking. The chain of themes and super awesome contest we did at the end of 2019 were some of the most active engagements I have seen online in some time, and I am part of over 150 groups!
Honestly, the group belongs to our members more than it does to me. They are the life and soul of WEI, it is they who make our events, online and offline, a huge success. They make the effort to travel to our events, they take the time to take and post pictures of their watches, they type out lengthy replies for the sake of content and conversation. I am proud of our members, some of whom are now my closest friends.
In light of the lock-down we did two online meet-ups recently, both of which were quite fun. I think the pent up energies of being cooped up at home brought out a lot of participation and knowledge sharing by old and new members alike. Since physical meet-ups seem a distant thing we will hold a few more online meets soon.
---
Switching gears a bit – tell us more about how your collection started and how it has evolved since you first started!
Karan: This story comes up quite a bit every few weeks or whenever I do an SOTC (State Of The Collection) post, and it's quite funny when I look back on it.
In November of 2013, the Indian Government announced the closure of its watchmaking division Hindustan Machine Tools Limited (HMT), and a few enterprising fans did a limited run of the classic White Pilot watch with blue lumed hands. The initial edition of 500 pieces was sold out on WUS within a matter of hours. Looking at the terrific interest at home, they did another 500 piece run for an Indian technology forum where I am a member and I got my name down for this run because of all the hype (building high performance gaming computers and gaming used to be my hobby before I got into watches). At the end of December 2013 I received my HMT watch which cost me barely $20, and I was generally enjoying the watch and reading what the more knowledgeable members were writing about it. Couple of weeks later someone posted a Hublot watch worth $22000! I was astounded at the price difference between two watches and I really wanted to know what justifies such a gap. I made a simple search on Google, landed on WUS forums and began reading, and when I resurfaced after 12 weeks of gaining knowledge I knew I was a full blown Watch Nerd. Since I don't have an exact date to mark my descent into madness, I regard 30th March 2014, when I made an account on WUS forums to ask questions, as the day I caught the bug.
To sustain any hobby one needs to sink money into it, and my first real watch purchase was the Seiko Monster, which kind of set the tone of my collection. I absolutely love Seiko watches for the variety they offer across all budgets and genres, their staggering in-house manufacturing capabilities, and it's nice to be involved with a global fan base that is quite passionate.
In March 2019 I took stock of my collection and I was shocked to learn I had 94 watches! A resolve to bring that number down by selling some watches and consolidating the collection to a more manageable figure to which I can devote more time and love was quite successful.. As of March 2020 I have 57 watches, and ideally I would like that number to go down further but right now I am at a good stage where there is enough love to give to each watch. Maybe I will sell a few, but I will definitely acquire more watches this year. It's good to have both short term and long term goals for your collection, but at the same time it is important to keep things fluid.
---
I do remember the day HMT made that announcement – together with a friend, I rushed to the HMT factory in Bangalore and bought myself a HMT Pilot and a few Kohinoor watches! Next is an unavoidable and predictable question – what is the one watch that you consciously or subconsciously gravitate to? For me, it is my Tudor Black Bay Blue (ETA). If I don't want to overthink my "Watch Of The Day", my hand automatically reaches for that watch.
Karan: I'm not too rigid with these things, I will pick up whichever watch suits my fancy in the morning. I will gladly pick up my Tudor Pelagos (ETA) on days I can't decide which watch to wear. It's my Go-Anywhere-Do-Anything (GADA) all time favorite watch. That said, it is fast being replaced by the all steel GMW-B5000 G-Shock these days. For all our purist talk of mechanical watches the functionality and ease-of-use of a multi-function quartz watch simply cannot be beat.
---
Your grail watch and why?
Karan: Again, not too hung up about the concept of 'grail'. To me a grail is something I can never achieve, try as hard as I may and throw as much money as I can, something that will forever be out of reach. In today's time there is almost nothing that sufficient effort cannot locate and enough money cannot buy, hence, to me, the idea of a 'grail' is moot.
However, I do have a list of ultra high-end and expensive watches that I would love to own someday when I have enough funds and no more responsibilities. I try and keep this list short but as with any other wish-list it keeps expanding with time. It features, but is not limited to –
---
Those are some excellent watches! Let's do a full 180 – what is the one watch you regret selling, and why?
Karan: Oh man, you touched a raw nerve there. In these six years I must have gone through over 300 watches and if I am left with about 60 imagine the number of watches I have sold! I do regret selling a few, and ones that stand out are the Hamilton Pan Europ Chronograph, the Hamilton Khaki X-Wind Chronograph, the Oris Aquis Great Barrier Reef III Limited Edition, Oris Aquis Der Meistertaucher Regulateur, the all black Seiko Ninja Turtle SRPC49 to name a few. I do miss a few micro-brand (MBs) watches too but nothing too special that I can't acquire again.
---
The blue dial the Great Barrier Reef is to die for! On a similar note, what is one watch that you regret buying, and why?
Karan: Any watch that I regret buying is usually sold off quickly enough. I think it is a constant struggle for us collectors to keep the collection stable. We make mistakes all the time and try and keep things balanced with sales and new purchases. To put it another way, there are no regrets with my current collection. If, however, I were to fall out of love with a watch for whatever reason then it won't hang around for sentimental value, it will be sold and something else will come into the fold. There is no shortage of watches out there and hundreds of pieces that look fun to try out.
---
Fair enough, I think I can resonate with that idea as well. I rarely come across a watch that I absolutely regret buying. I'm mostly able to pass it on quickly and make corrections to the direction in which my collection moves forward. Moving on, what is one watch that you think everyone should have in their collection eventually?
Karan: The all steel Casio GMW-B5000 G-Shock. Trust me, it will surprise you like no other watch.
---
Ha! That is a great recommendation. On two occasions I've had that watch in my hand, about to buy it but decided not to in the very last minute. I was a bit skeptical about the high polish, but recently I've noticed that these watches tend to age quite gracefully so I might pull the trigger on one soon.
Next, A slightly controversial question but which price bracket do you think delivers the most value for money? Let's narrow down the criteria to build-quality, movement ingenuity and aesthetics. I know this is mostly subjective, but let us hear your take on this!
Karan: Interesting. I think this is more subjective than controversial. It would be controversial if I claimed so-n-so watches are best in a particular price bracket.
From all my experience, I understand this quite clearly – price brackets, willingness to spend, value proposition (actual or perceived), and to some extent even quality are all subjective. Some people don't consider anything other than Rolex because of history, heritage, build, quality, service, etc. and at the same time other people will consider Seiko to equally uphold all of those same criteria as well. Neither side is wrong, nor are they all fully correct. With so many brands and products available, there truly is something for everyone out there, they just have to find it.
If you talk about which price bracket affords the most value for money, I suggest people forget everything mainstream and look at micro-brands for they offer good builds, movements, quality, and value for money for comparable, sometimes a lot less, sums of money than mainstream Swiss and Japanese brands.
If we have to vote with the wallet, and it almost always is the case, then the cheaper the better; but there comes a point where you get what you pay for. Obviously a $20 watch won't be the same as a $2000 watch. The real problem, as an example, comes up when one is deciding between a $1000 watch and a $1200 watch, or simply put when the price, brand value, build, quality etc are very similar, because at that point the differences are negligible to factor into the buying process. Personal preferences then become the single biggest guiding factor.
---
Now for a quick rapid-fire look into your watch preferences:
Watch Type – Sports or Dress?
Bracelet – Metal, Fabric, Hide or Rubber?

Metal >>>>>> Rubber > Fabric > Leather

Region – Swiss, German or Japanese?

Swiss = Japanese = German

Case-back – Exhibition or Closed?
Complication – Date or No-Date?
Rolex – Batman or Hulk?

In a pinch, Batman. Otherwise neither.

Build Quality or Movement?

Design is my first preference.

What gets you hyped more – Micro or Mainstream?

Short term – Micro-brands; Long term – Mainstream
---
On that note, tell us a bit more about your love for micro-brands. When did you get started with this passion, and what part of the micro-brand experience drew you to them?
Karan: I totally resonate with the idea of how micro brands originated. Visionaries and hobbyists, disgruntled with repetitive and mundane mainstream offerings, decided to take things into their own hands. They had some cool ideas, and paired with manufacturing and assembly points in China that were willing to work with small businesses, they started putting out high quality watches at a fraction of the cost of mainstream brands. This led to a greater choice range for the modern hobbyist, more variety in the market, and easy accessibility to excellent watches for everyone.
If you hang around on forums and hobby based Facebook groups there is absolutely no way to escape the presence of micro-brands (MBs). I think the hobby is all the richer and vibrant with the widespread phenomenon of micro-brands. When I got into the hobby in 2013 there were about 9 micro-brands around that were popular among enthusiasts, and now there must be over 300 brands putting out watches regularly. A lot of those brands have already come and gone, some being one hit wonders, others never really making a mark, but there are about 15-20 micro-brands in my books that are truly inspirational and make some gorgeous watches across all price brackets.
What also sets micro-brands apart from mainstream brands is easy accessibility to the owners, founders, and designers of micro-brands. They are literally just a message away for most of us. Potential buyers can direct questions, long term customers engage in friendly banter, and we can easily bounce ideas off them and give feedback without fear of being shut down or insulted. Can one say that about Omega, or Rolex, or any heritage brands? I am proud to call some of these amazing people my good friends and have met them personally at the Diver's Watches Facebook Group (DWFG) events mentioned below.
---
What do you think of Kickstarter as a platform for watch launches? Over the last few years a few brands have come out of Kickstarter with some success but there have been plenty of failures, each failure leaving a trail of disappointed customers who become ever so slightly more suspicious during the launch of the next game changing Kickstarter brand?
Karan: Kickstarter is a double edged sword. It has helped some of the best micros launch into the stratosphere, some of the best designs and products become reality, and it has also shown us scams and unscrupulous manipulation of the system, and even unworthy products getting limelight. I think some common sense and quick google-fu should always be done before backing a project. I personally do a check on the following aspects before backing a project, not necessarily in order –
Prior projects, and whether they were successful or not.
The brand owner's online presence, whether they actively engage with the community or not.
What designs are being advertised? Are they actual prototype pictures or basic 3D renders? I understand that this can be hard to follow up on, considering widely available photo manipulation technologies, but one can learn to distinguish the difference given sufficient time and exposure.
Product and brand feedback from former owners and backers, and hobby groups like forums and Facebook communities. People, in such scenarios, are more than willing to help.
There is a whole economic micro-ecosystem based around Kickstarter and I doubt it is going away any time soon. I also think that the long wait times and inevitable delays associated with product launches on Kickstarter have more to do with frustrations setting in, rather than actual lemons being delivered. Only a couple of brands with massive success on KS have gone on to defraud people and deliver bad products, the rest are delivering exactly what is shown (mostly cheap low quality stuff), and the few brands that actually deliver a high quality product become famous enough to go towards direct pre-order/order system off their websites and with online retailers.
For any creator I have only this to say – your idea may be the next big thing, your product may turn lead into gold, but if you are poor at communication, go incommunicado for long periods of time without updates for the people who have pledged money to you, or cannot answer basic (admittedly repetitive) questions, then think really hard about hiring someone who can manage this aspect of your business. The crowd is the core of Kickstarter and crowdfunding, and if you muck that basic fact up then you and your product are going nowhere.
---
Apart from WEI, I also noticed that you are an admin on one of my favorite watch groups – Diver's Watches Facebook Group which has about 55,000 members! Tell us more about this and other groups that you are a part of.
Karan: I am lucky to be an Administrator at Diver's Watches Facebook Group (DWFG) and to have worked with some of the most upstanding people in the hobby. To manage an Indian group is one thing, but to gain experience in an International group is totally different. Interacting with thousands of people from all across the world truly broadens your horizons. It shows you what people like, how they make decisions, and I have made life long friends through the group. With 55000 members the scale of activity and responsibilities is far greater and we are always on our toes trying to keep things in check, managing the feed, and generally moving the group in a positive direction. Needless to say, there are a lot of common ideas that I implement on both DWFG and WEI and I am glad for this wonderful opportunity. The Admin Team are now close friends of mine, some of whom I met during our past DWFG events in Singapore, Athens, and London.
Like I said previously I am a part of more than 150 groups but I am active on only a handful where there is inspired interaction with friends and fellow members. I do post a few comments here and there on a few groups but I consider it active participation when I make the effort to post pictures and initiate discussions, and that is limited to some brand themed groups (Seiko, Oris, Rolex come to mind). On DWFG and WEI I try to make at least one post every day because these are my virtual homes and I love talking to people on there.
---
I've heard whispers of your involvement in multiple micro-brand watch designs. I would love to hear more about some of the watches that you had a voice in designing and how these designs came to life.
Karan: Almost all the DWFG limited editions we did with various micro-brands have had some of my inputs. Obviously I don't go into detailed 3D drawing or the actual manufacturing process, but a lot of ideas go into dial aesthetics, colors, choices of components etc. I am happy to contribute in any way a brand desires, and most of all I help with watch reviews and social media exposure.
---
Let's quickly segway into your latest collaboration – Can you tell us more about your latest collaboration with BOLDR?
Karan: BOLDR Supply Co. is a brand that I have the pleasure of interacting with from their nascent stages. I met the owners in Singapore and we have been friends ever since. I think they are the most receptive towards product feedback and future ideas, and are not afraid to bring out competitive and modern watches.
My latest collaboration with them is the Venture Field Medic, a light and functional watch made out of Titanium that is tailor made for doctors, nurses, paramedics, and health care workers. The chronograph doubles up as a Pulse and Respiratory Rate counter with the custom calculated scales on the dial and chapter ring. Because of the graduated scales the wearer needs to count 30 pulses or 15 breaths on the patient once they activate the central chronograph seconds hand. Once the count is done and the chronograph stopped, the numbers that the central seconds hand points to are the actual Pulse or Respiratory Rates. Nifty piece of technology that has already been done in the past, but my contribution came in the form of calculating the scales to a smaller case size and calibrating them with real life tests on a paper cutout.
The chief designer for BOLDR, Danny Luis, based out of Luxembourg, is also a good friend of mine and we both bounced ideas off each other throughout the design process. Keeping the watch uncluttered and yet adding so many features was a challenge that we took head on. Leon from BOLDR was very happy with our ideas and immediately offered his support. The prototypes are in production as we speak and I should receive one for testing and review later this month.
I am proud of the fact that I could contribute more than my daily work as a physician to the world's fight against Coronavirus, and the icing on the cake is that BOLDR has pledged a part of the proceeds from all sales of the Venture Field Medic will be donated to The Red Cross, Doctors Without Borders, and various other organizations in need during these testing times.
---
These look great! Do you have any plans on working on a WEI limited edition piece? I know plenty of us WEI folks are itching for something like this!
Karan: Laughs. The idea of a group watch has been floating around ever since WEI began its journey. I have turned down offers from a few micro-brands for a custom watch because, sadly, India is not the right market for micro-brands. In all these years I have come across only a handful of MB enthusiasts in India. Indians living abroad are another story, as you are quite the micro-brand lover yourself. Plus any brand making a special edition would ask for a MOQ of 50-100 watches and Indians, unfortunately, are more interested in either the absolute cheap HMT stuff or the ultra expensive branded Swiss stuff (no judgement there). I am trying to bridge this huge gap by sharing my knowledge on the vast variety of micro-brands available out there but it is slow going. I guess it'll be a few more years before micro-brands perceive India as a lucrative market.
That said, 2020 being the 5th anniversary of WEI, I had terrific plans with a entry level Swiss luxury brand, one I cannot name yet, for a special WEI watch, but those plans have been put on hold until we are all mentally and financially ready to begin splurging on watches again.
---
That's a fair point, and I'm inclined to agree. Anyway, this has been a wonderful discussion and I'm very grateful for your time and effort in answering all these questions. Thank you very much for doing this interview. Do you have anything else you would like to mention?
Karan: It helps a lot when I gain followers on Instagram and my fledgling YouTube channel. It motivates me to put out better content for my friends and the hobby in general. I do this for the love of watches, for meeting extraordinary people, and for promoting the hobby culture in India. Indians these days are well-traveled, educated, upwardly mobile, and they need to diversify their interests into fulfilling and personal projects that give them a higher purpose and satisfaction. I found talking about watches, enjoying my timepieces, and sharing my passion with others gave me a broader perspective of life, and I strive to find ways to keep the community engaged.
It is not easy, mind you, to be able to drive content on a daily basis, and I am quite irregular with my Instagram posts and even worse with the videos I want to share on my channel. For example, I have shot over 20 videos but don't have the time to edit and post them! Heck, even the video setup and actual shooting takes a lot of time from my schedule, which is why I subconsciously shy away from it. I will keep trying though, giving up has never been an option for me, and I hope I can continue to contribute to the community in an ever meaningful way going forward.
Recently Oris, a brand very close to my heart for all the work they do for wildlife and marine conservation and for making outstanding timepieces, did a tremendous campaign on social media where they honored local heroes around the world who are leading the fight against Coronavirus. They pledged to give away 50 watches to 50 people worldwide. I am very pleased to announce that India's leading watch retailer Ethos Watch Boutiques, the sole retailer for Oris in India, nominated my name and gave me a beautiful watch – The Oris ProPilot X. I am totally floored by this beautiful gesture from both Oris and Ethos, and I thank the lovely people involved who have provided a boost of motivation and purpose to my work, both as a physician and as a leader in the watch community in India and abroad.
Thank you, Shreyas, for this interview. I have so many experiences and opinions that I want to share and discuss with everyone and this was a delightful opportunity to speak my mind. To the readers – never underestimate the power of your appreciation, and thank you for reading..
Go follow Karan on Instagram and subscribe to his channel on YouTube!
If you want to read more about the Venture Field Medic watch, you can find more information on the BOLDR website.