---
Note: This is first in a series of many guest reviews that will be featured on the Beans & Bezels website. This review was written by guest author Paul HS, who is an avid fan of motorsport and watches. TAG Heuer is his thing, so I enjoy hearing about the stories behind each of his watches.
Disclaimer: Paul HS purchased this watch on the secondary market, and was not externally incentivized in any way to make this review. This review is in no way sponsored by TAG Heuer, or any entity. All opinions here are his own.
---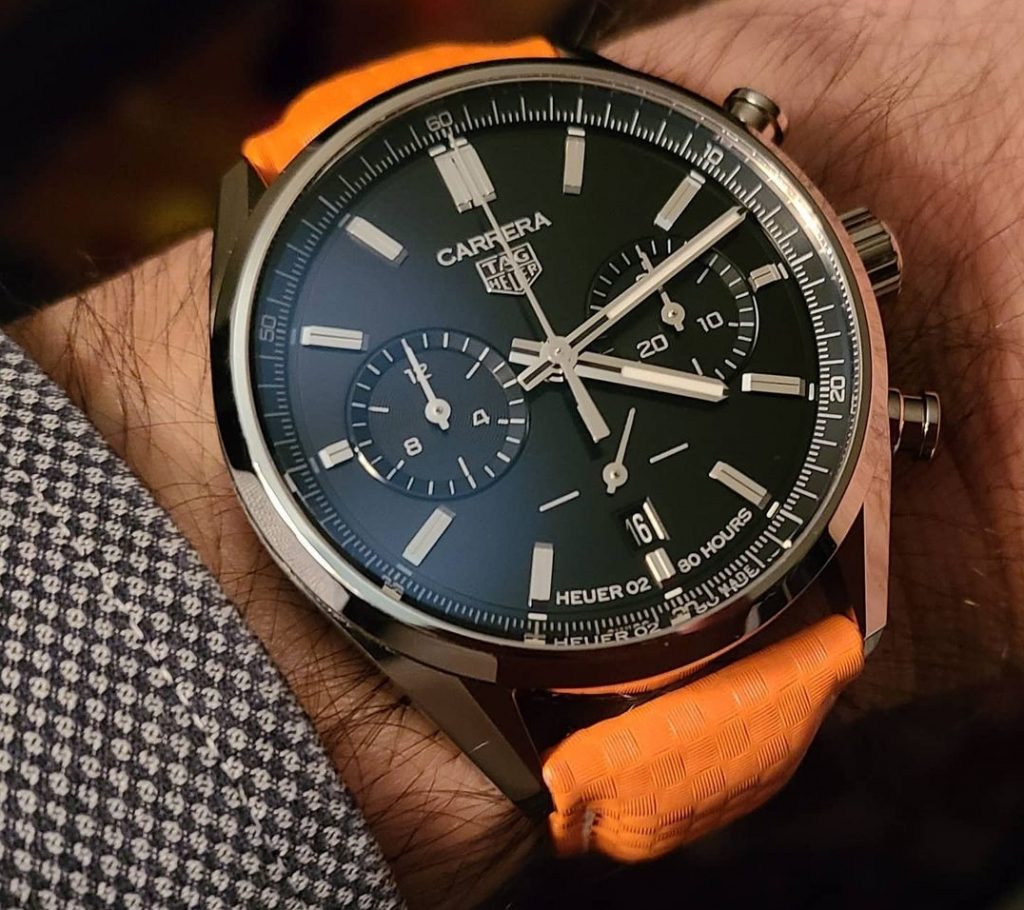 Michael Delaney once said, "Racing is life. Anything before or after is just waiting." If that is true? And I believe it is. Then this driver will only measure that anticipation with a TAG Heuer Carrera on my wrist. And let me tell you why…
Many feel that the Monaco is the flagship of modern TAG Heuer. And while it is a beautiful watch, with historical significance, the Carrera is the true gem in the range. And for good reason. For one, it was Jack Heuer's favorite watch. The only Jack Heuer re-editions are Carreras. In 1963, Jack Heuer became fascinated by a dangerous race run on the public roads of Mexico, the Carrera Pan-America. After hearing about it in 1962 at the 12 Hours of Sebring, another endurance race held in Florida.
Before a watch was even envisioned, he decided on that name, "Carrera". Translated into English, it means, "race." It was to be a racing chronograph before pencil was ever put to paper. In a time when being on the ball looking for new suppliers and technology was the way to win, Jack Heuer was ahead of the game. He found a new tension ring that attached to the crystal, and bought exclusive rights to it along with an exclusive case.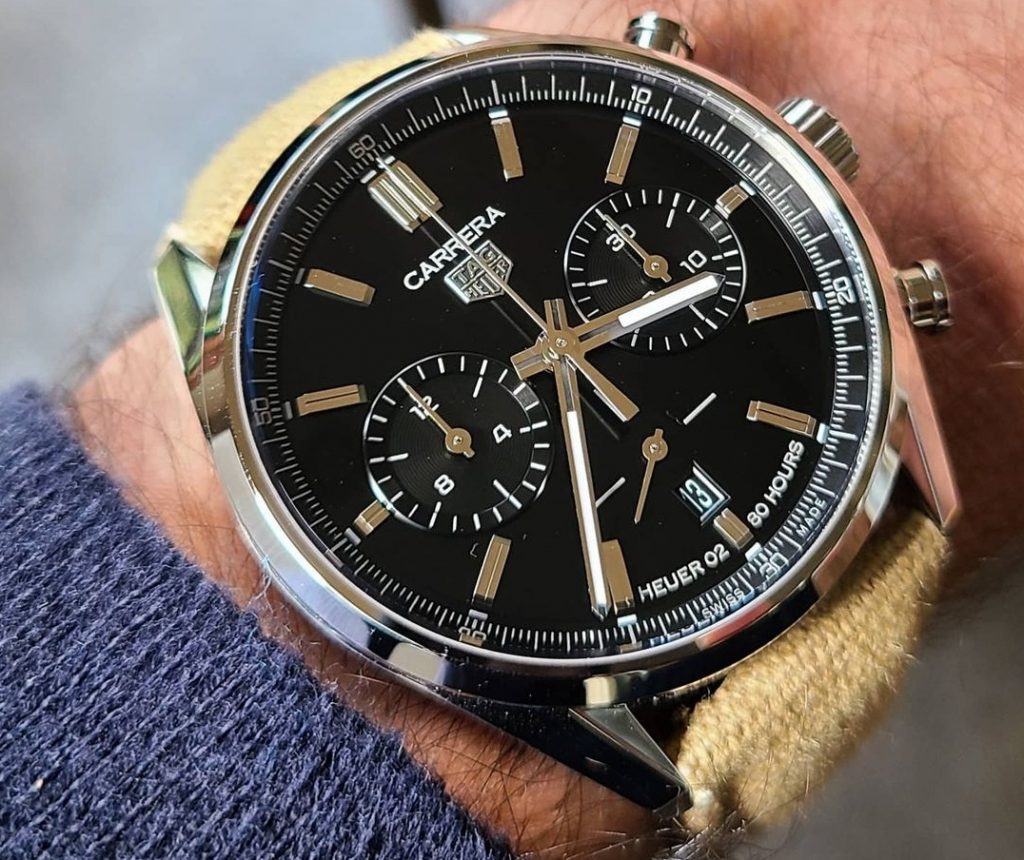 "So the dial needed to be uncluttered and easy to read by drivers at a glance at high speed. Then I put to use my knowledge of industrial design and refined it so it would be both sporty and elegant. This is probably the most unconventional part of its conception: using rules that normally apply to dials used in thermal power plants and taking advantage of a new watch case construction presented by our best case partner," he told GQ magazine in 2020.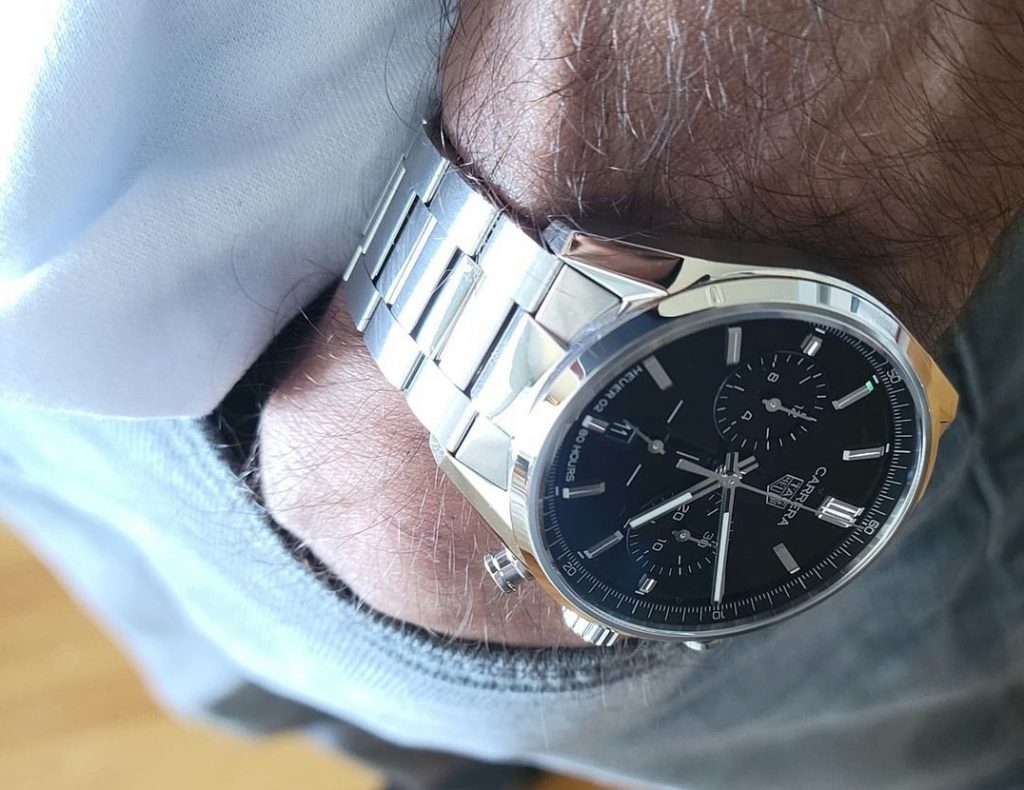 In 1963 the watch was released and has been, for the most part, a staple in the Heuer/TAG Heuer catalog. The racing history is rich, but not enough on its own to justify why I'm wearing a modern ~$5000 TAG Heuer Carrera chronograph. The watch has to be as good as the history. Fortunately, I'm glad to tell you that it is.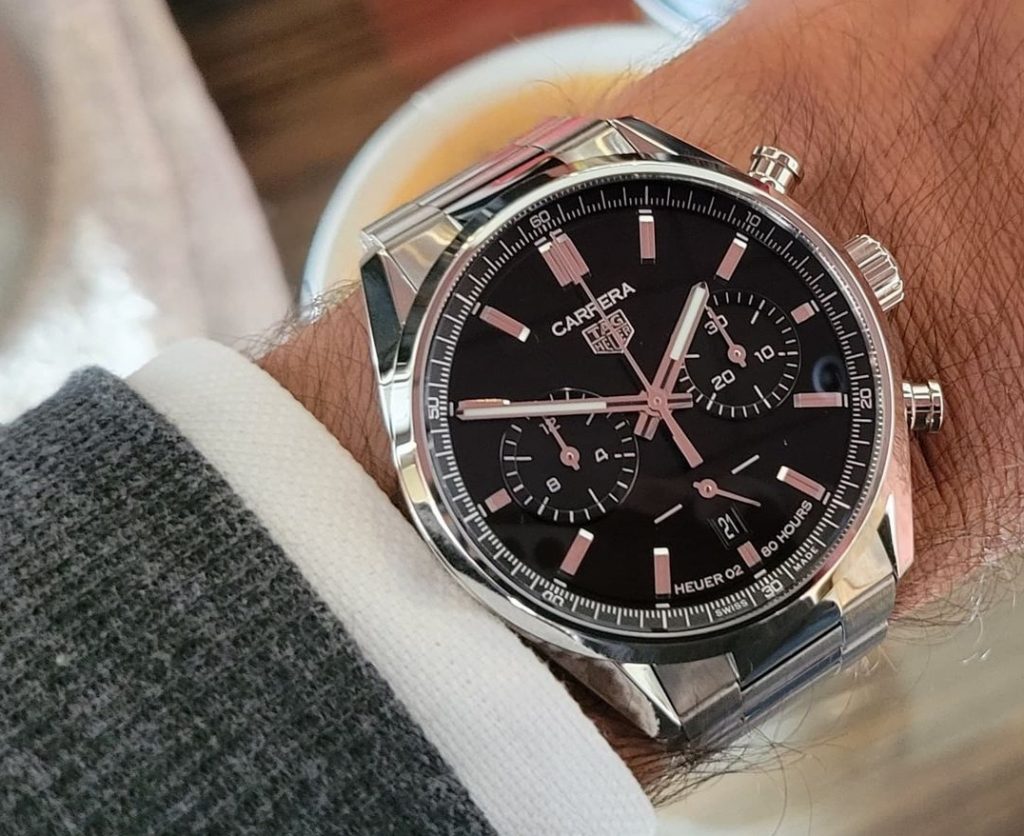 So let's take a deep dive into the TAG Heuer Carrera 42mm Elegance 02. This version is 41.6 mm (width) x 48.2mm (lug-to-lug) x 14.4mm (height). It is a modernized version of the 1968 Carrera. Do I wish it was smaller? Of course. I have a 6 inch wrist – a very strong 6 inches. But not perfectly suited to this case size. But I wanted a modern Carrera and not another reissue. I was pleased to see a few of the changes and not so pleased about some others.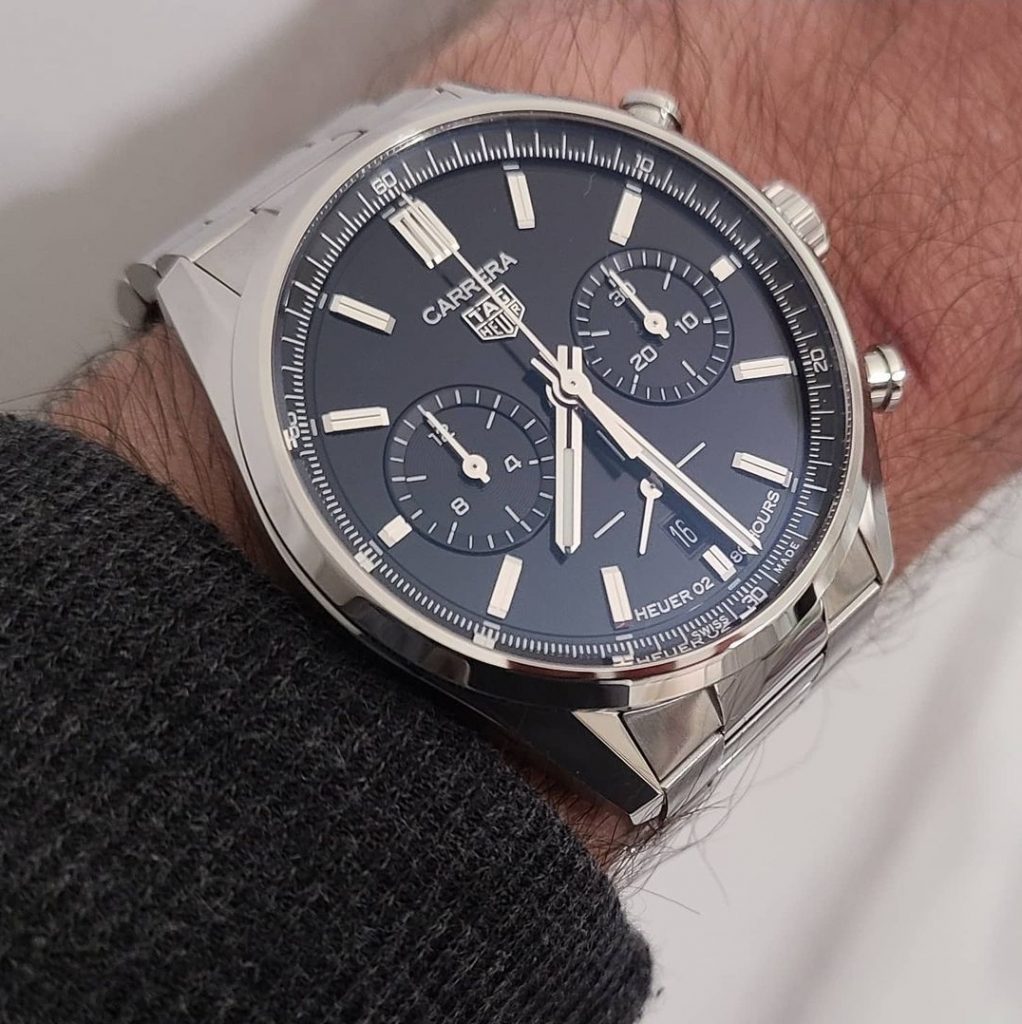 The free floating seconds dial without markers denotes form over function. Not my favorite choice for a driving instrument. It's nicely executed but decorated with a nod to functional tradition. For a chronograph, the dial is clean and free from clutter. The font is sharp, defined and easily read. The Carrera logo is bold and large. Definitely large. Crisp and voluminous printing. White. As is the lume. This is a modern watch. That minute track is located off the dial as mentioned earlier, with classic motor sports hands. Again highly legible and all polished with Rhodium plating all around. Brushed hands may have played better here towards functionality over form. This is a modern watch. But this is a modern luxury watch.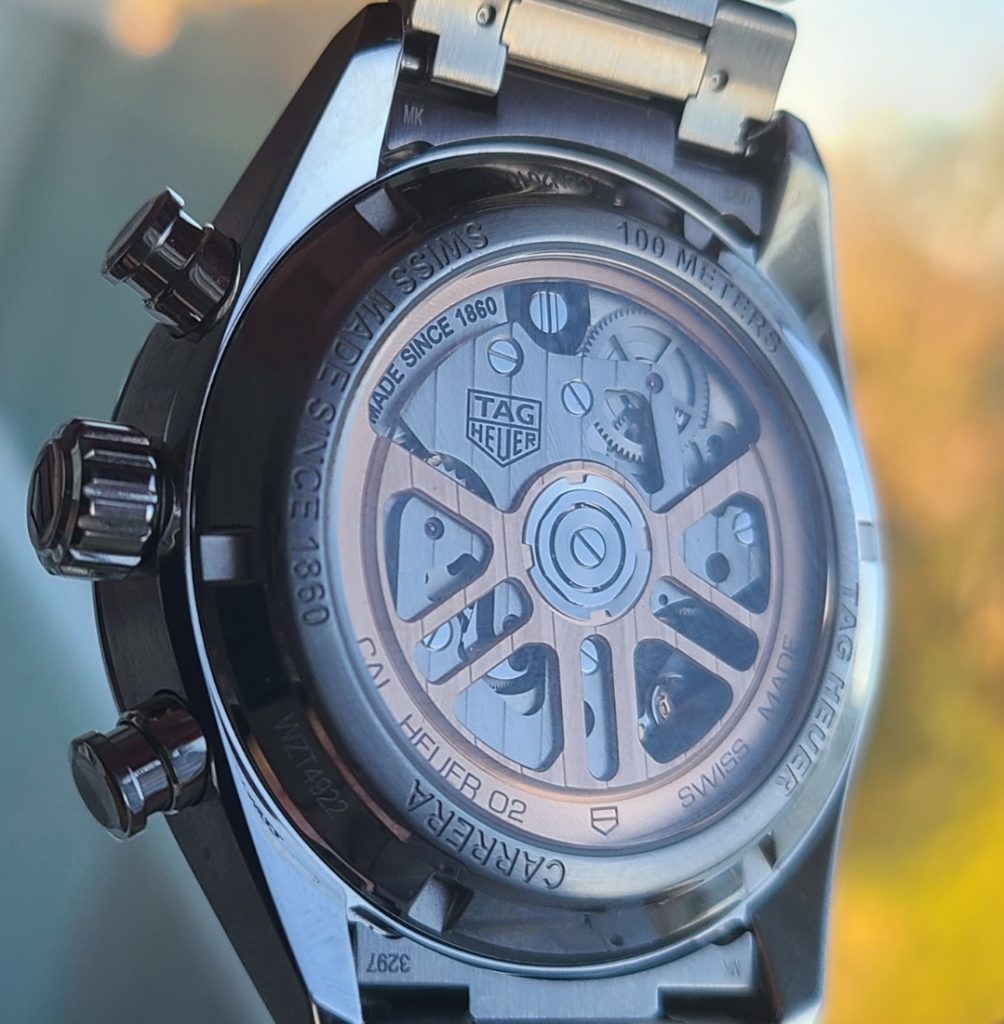 The case profile is taken in on the sides like a slim fit suit. Most likely to hide the girth of what is a larger but elegant watch. The case is compacted in height. And the hallmark length of the lugs is lost a bit. With female end-links, this does make it a true 48.2mm lug to lug. That strong wrist I mentioned earlier appreciates it, so a nice compromise. But a compromise nonetheless. There is no micro adjustment on the bracelet,But pins and collars on the thin and nicely finished links. I prefer this. As an instrument to be used, screws could possibly, "shake out," with constant vibrations through the steering wheel.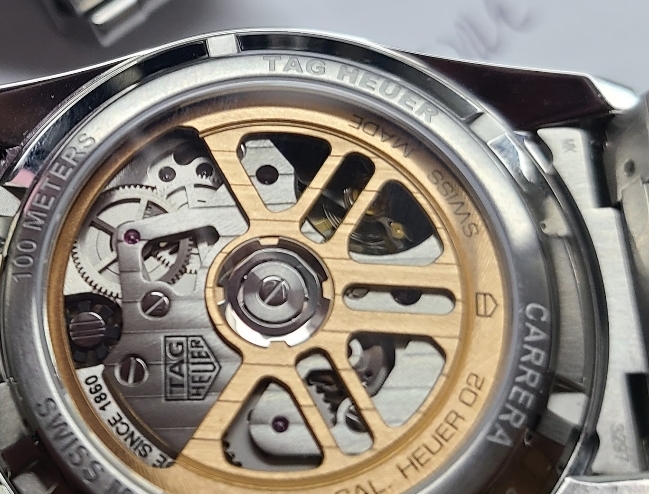 Powered by the all new and in house, TAG Heuer 02 movement, the Carrera now has the engine it needed. Fully integrated, 80 hour power reserve, with a vertical clutch and a column wheel. The pusher action is crisp, with a nice tactile feel and an overall sense of solidity. It is engineered with low maintenance in mind, and high shock resistance and long service intervals. The engine now matches the chassis.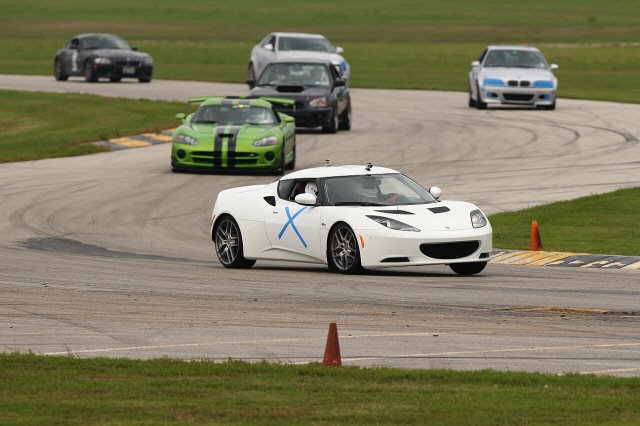 In summary, I do feel that modern Carreras deserve more respect. It was designed with a singular purpose. I can understand there is no appeal for those that have no taste for motorsport. Since the age of 7, I too had one singular purpose. And for a brief moment, I was able to fulfill it, at 160 mph on a closed track in Hethel. With a TAG on my wrist, of course. It did not crack under pressure, and neither did I. There will always be a Carrera on this driver's wrist. Gentlemen, it is now time again, to start your engines…
Thanks for reading!
---