---
Disclaimer: I purchased this watch pre-owned and was not externally incentivized in any way to make this review. This review is not sponsored by Tutima, or any other entity. All opinions here are my own. Since this watch was purchased pre-owned, and worn/used, please make note that the experience might differ slightly from that of a brand new watch.
---
---
Contents
---
Tutima
Tutima is a brand that I was very interested in reviewing last year when I was going through a German watch phase, but they didn't respond to my multiple emails to get a review unit, and I wasn't ready to take the secondary pricing hit after buying one new. But thankfully a friend of mine was letting this go and in mint condition, so I jumped at the opportunity to finally check one out. I was also lucky that this is the exact reference that I was hoping to review, the M2 Seven Seas in the yellow dial on the kevlar hybrid strap.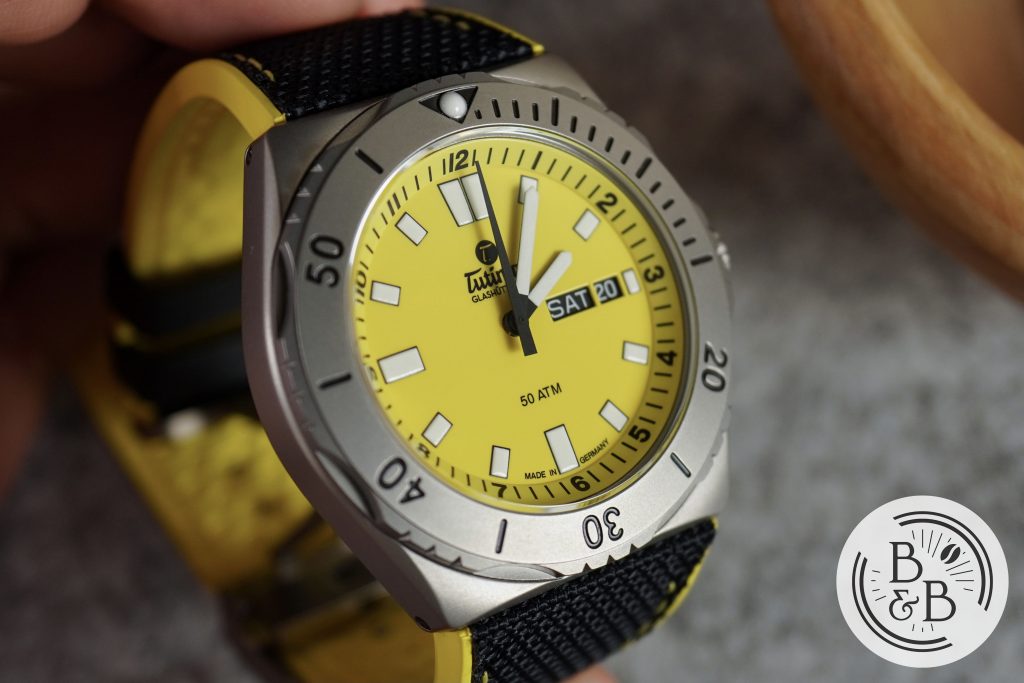 Tutima is from the Glashütte region, which is home to some of the finest watchmakers Germany (and Europe) has to offer. The Glashütte region hold themselves to much higher standards than the majority of watchmaking establishments, and their quality is usually evident even from a quick glance at brands like A. Lange & Söhne, Glashütte Original, Moritz Grossmann and NOMOS just to name a few.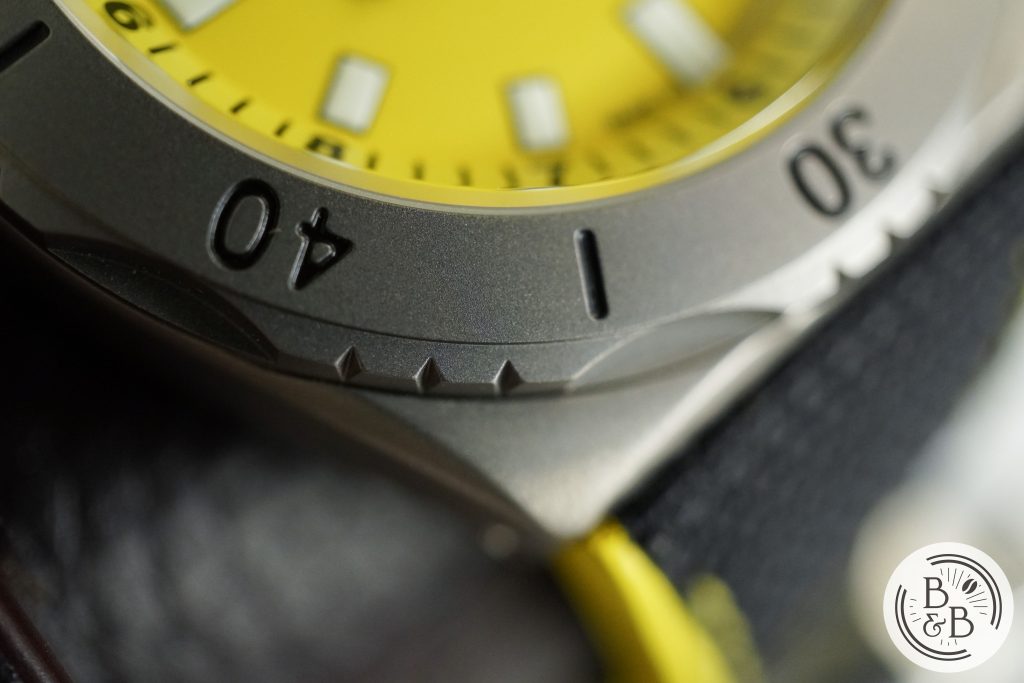 This is the M2 Seven Seas from their diver collection and has a retail price of around $1900 USD. Tutima has a rich history in making excellent tool watches, and I feel like the modern M2 collection is a good way to experience the brand. Although I would also love to check out the Patria collection next.
Let's check it out!
---
Case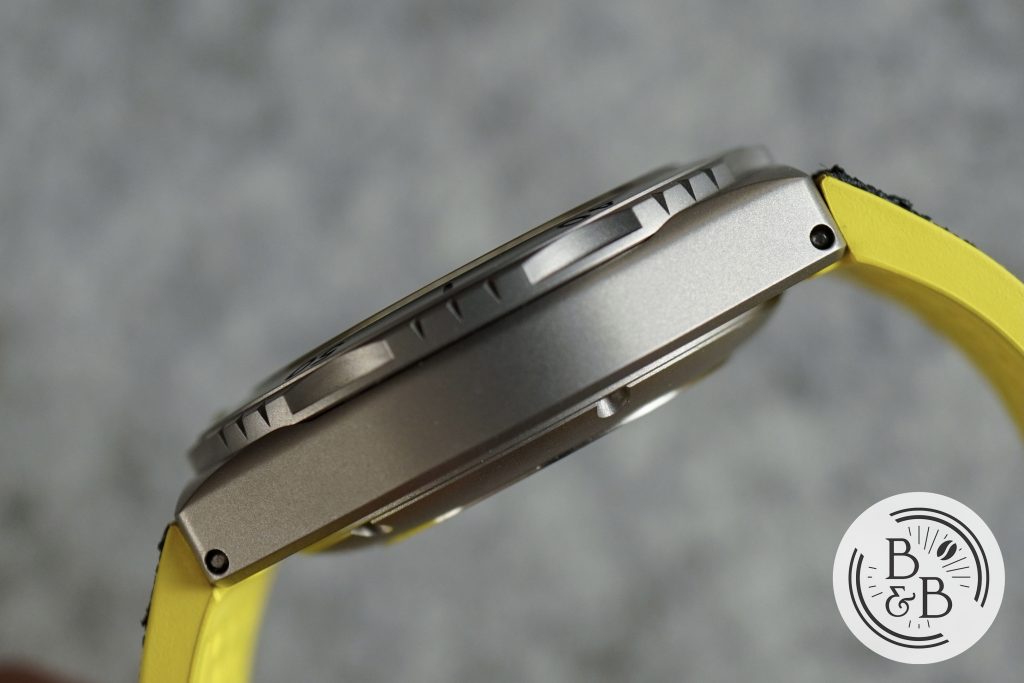 I measured the case to be 44 mm in diameter, 43.5 mm from lug-to-lug and 13.1 mm tall. The 44 mm diameter shouldn't scare you off, because the hooded lug design allows this watch to wear compact on wrist with it's 43.5 mm lug-to-lug width. The overall case feels more like a 40mm – 42mm watch.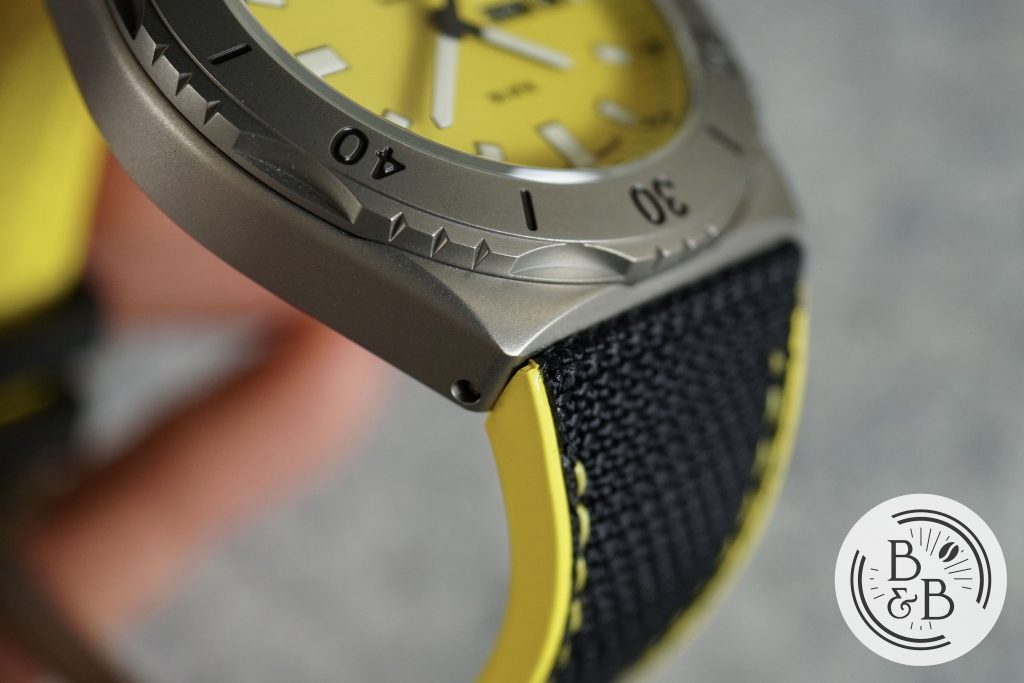 The case is made of Titanium (Grade 2, I believe) and in true German tool watch fashion, is entirely bead blasted and is very well finished.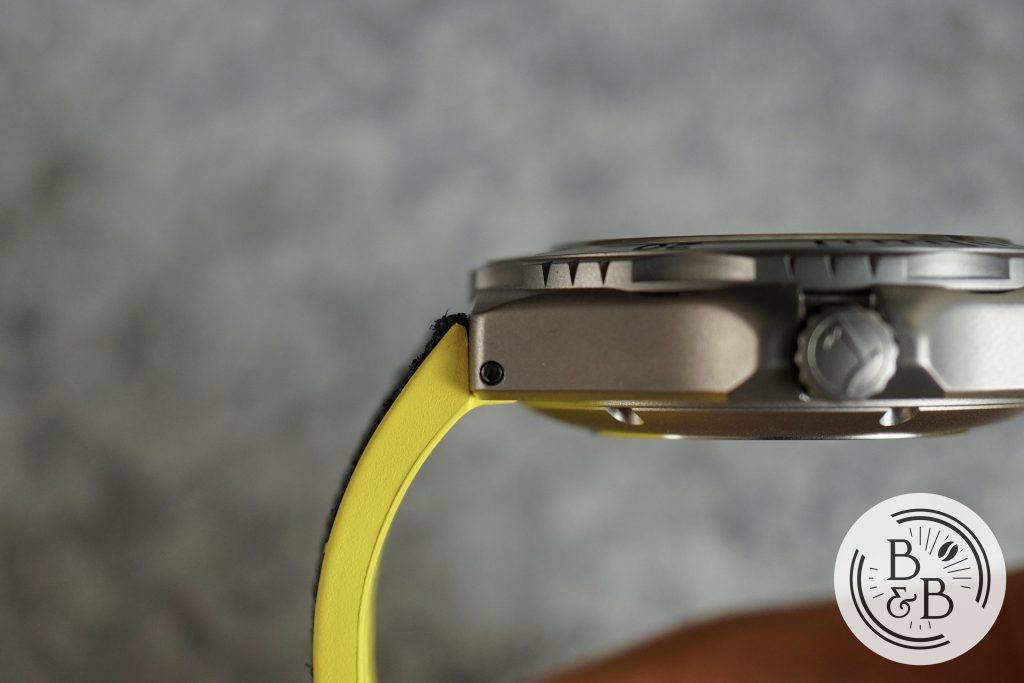 The hooded lug design seems to split people down the middle, but I personally love it, and I enjoyed owning the Archimede Outdoor Protect when I had it. The lug width is a very drastic 26 mm, so you're likely stuck with Tutima's bracelet and strap options. That said, this strap is one of the best I've ever come across, so you shouldn't be needing to swap it for a third party one anyway. The lugs are drilled through.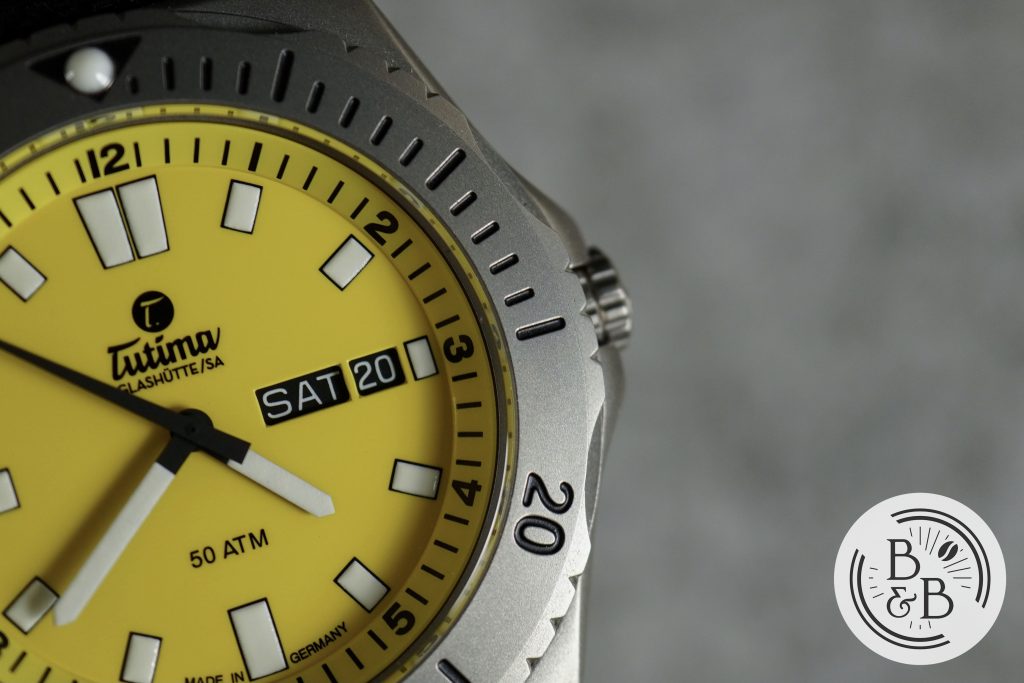 There is a very precise 60-click uni-directional dive bezel that appears to be made out of a single piece of titanium, with engraved and filled markers, and a lumed pip at the 12 o'clock position. The bezel action is exceptional and everything lines up perfectly. I also love that a fraction of the bezel sits slightly recessed within the mid-case.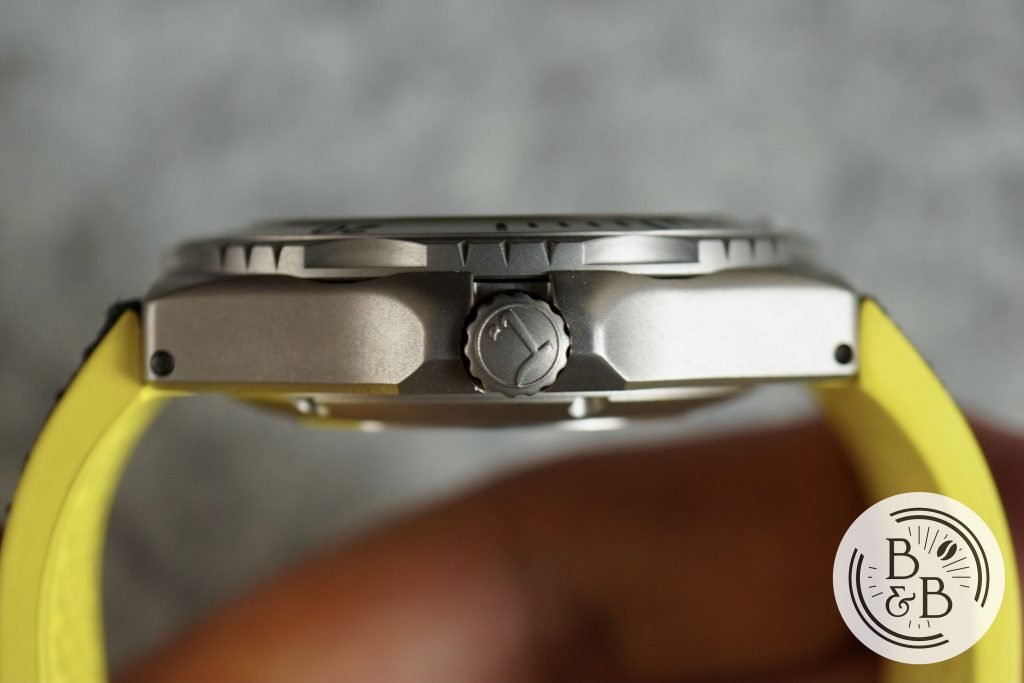 There is a 5.25 mm screw-down crown at the 3 o'clock position that is easy to grip and operate, and is protected by an integrated crown guard design that works well with the rest of the watch. The crown action is one of the best I've experienced south of the Rolex Submariner, and might even be better than my Sinn U50.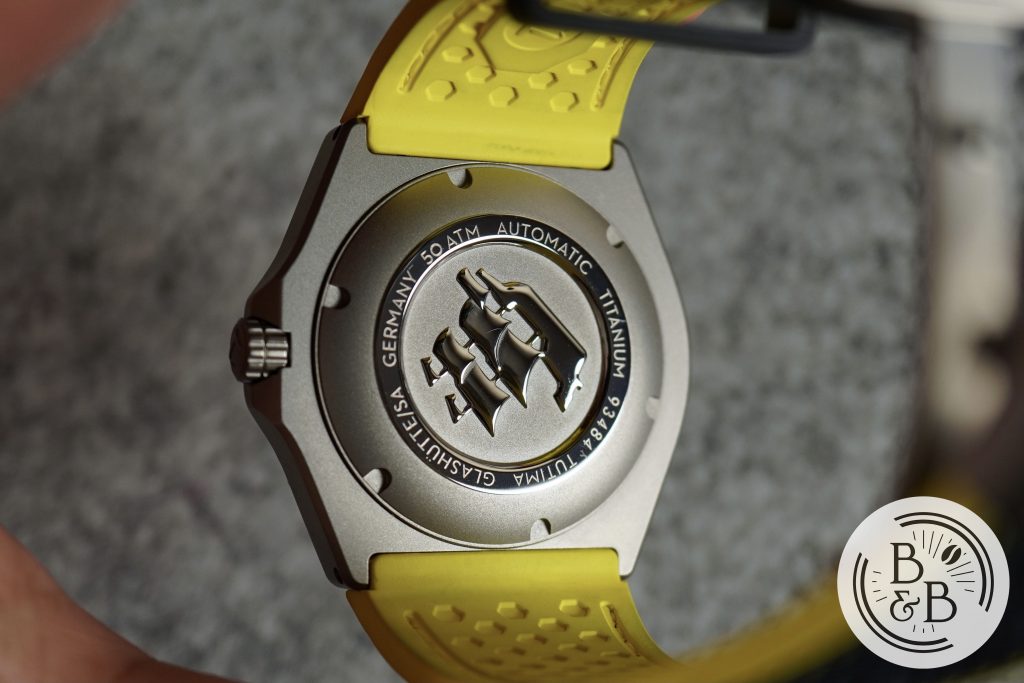 Flipping it over, you have a solid screw-down case-back that has a slight bulge, but is relatively well balanced. This watch is rated for up-to 500m of water resistance, which is similar to the Sinn U50.
---
Dial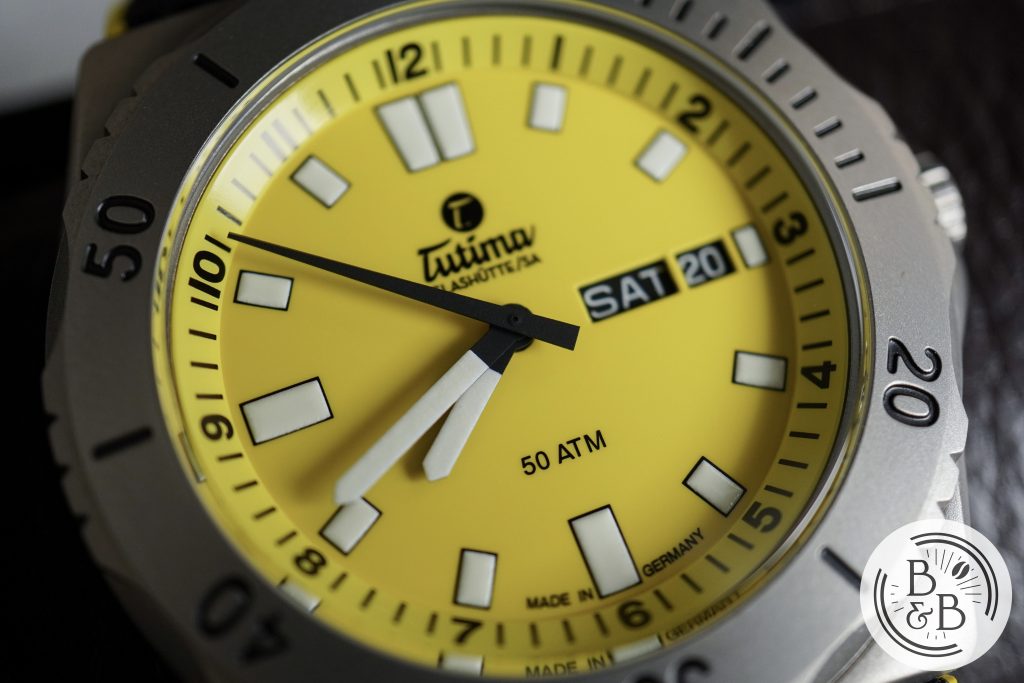 Tutima has managed to create a dial that is fun, but also very German und functional. You might've thought that those two things are mutually exclusive, but this watch is here to prove you wrong with its cheerful matte yellow dial that has high contrast hands and indices that make it extremely legible and a pleasure to read.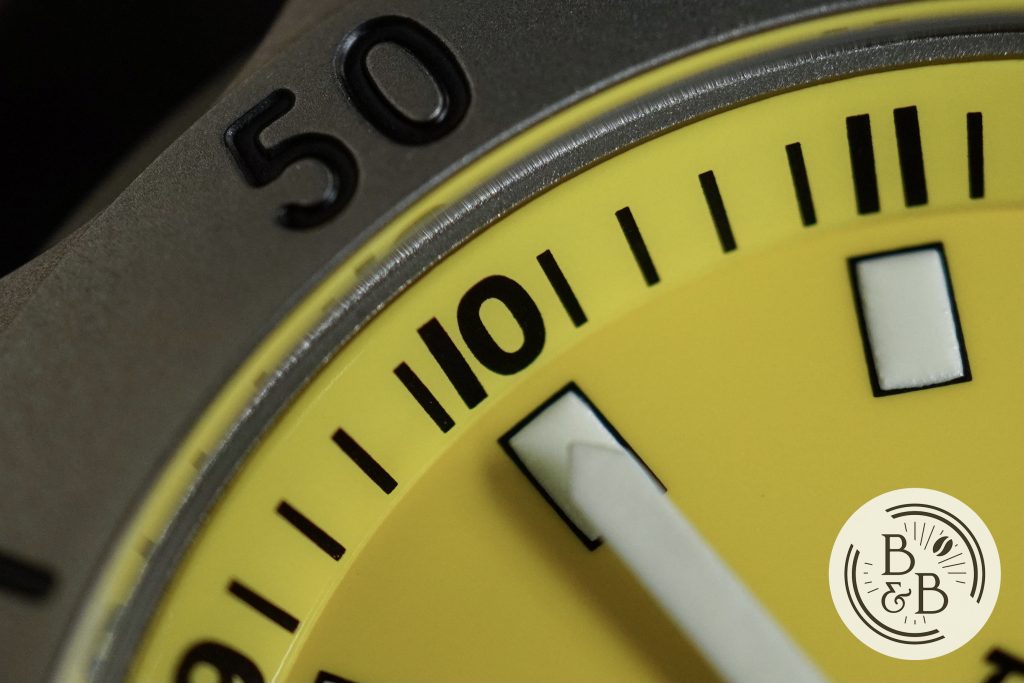 There is a sloped chapter ring in yellow with printed black ticks, and large Arabic numerals for the hour markers. The printing quality is excellent and the quality control is exemplary too.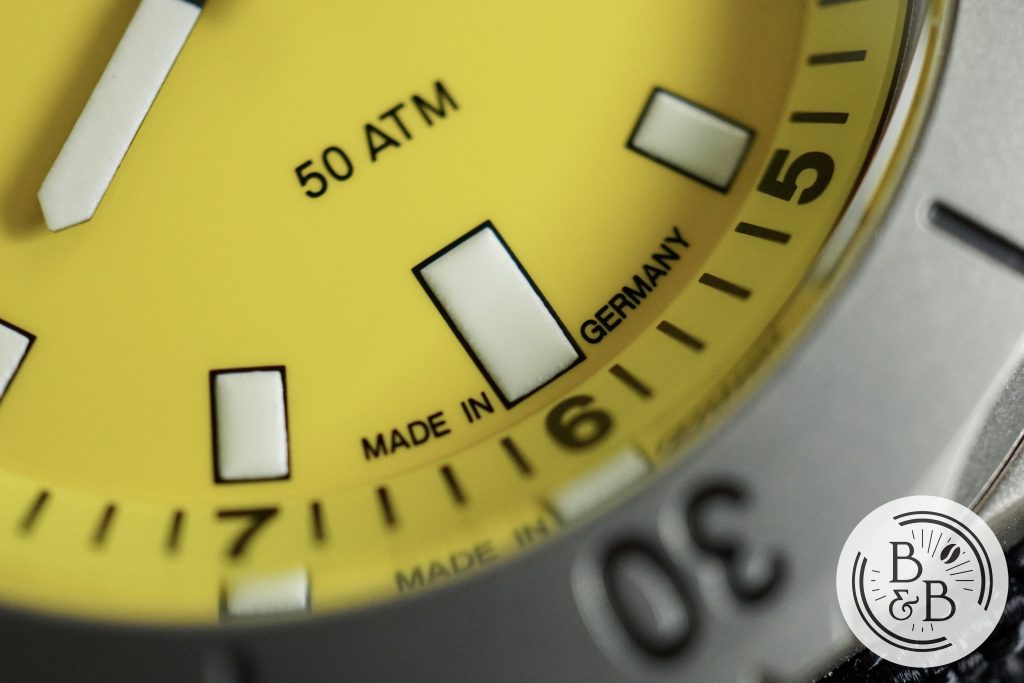 You then have large rectangular indices for the hour markers that have black borders and are generously filled with lume, with double markers at the 12 o'clock position.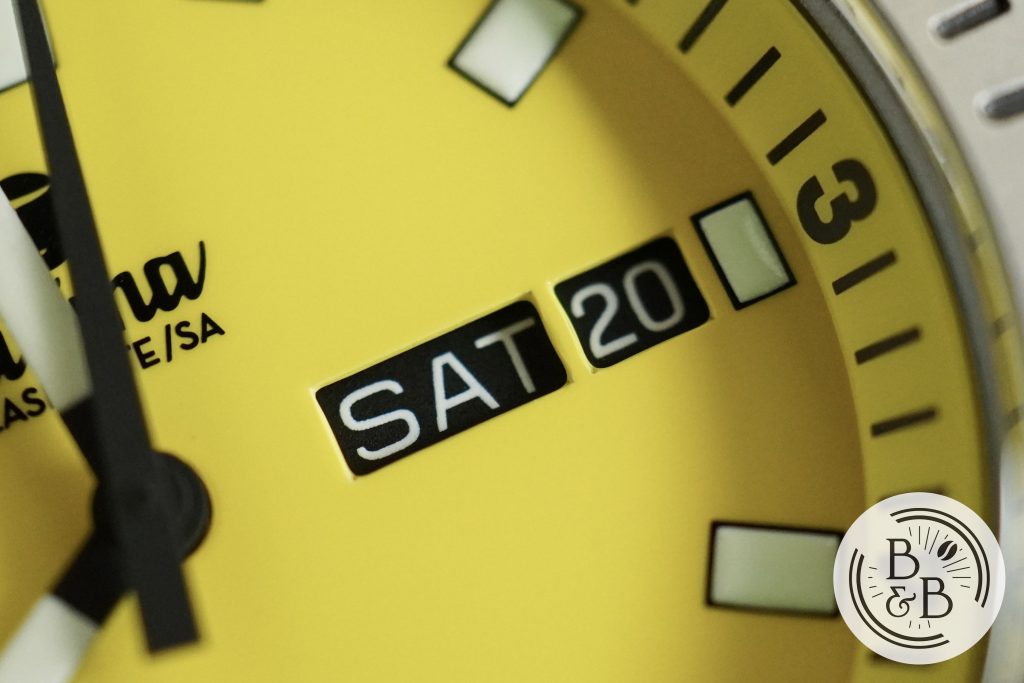 There is a day-date window at the 3 o'clock position with a black date wheel and white text. I think this was a great choice, and this window doesn't attract more attention than necessary.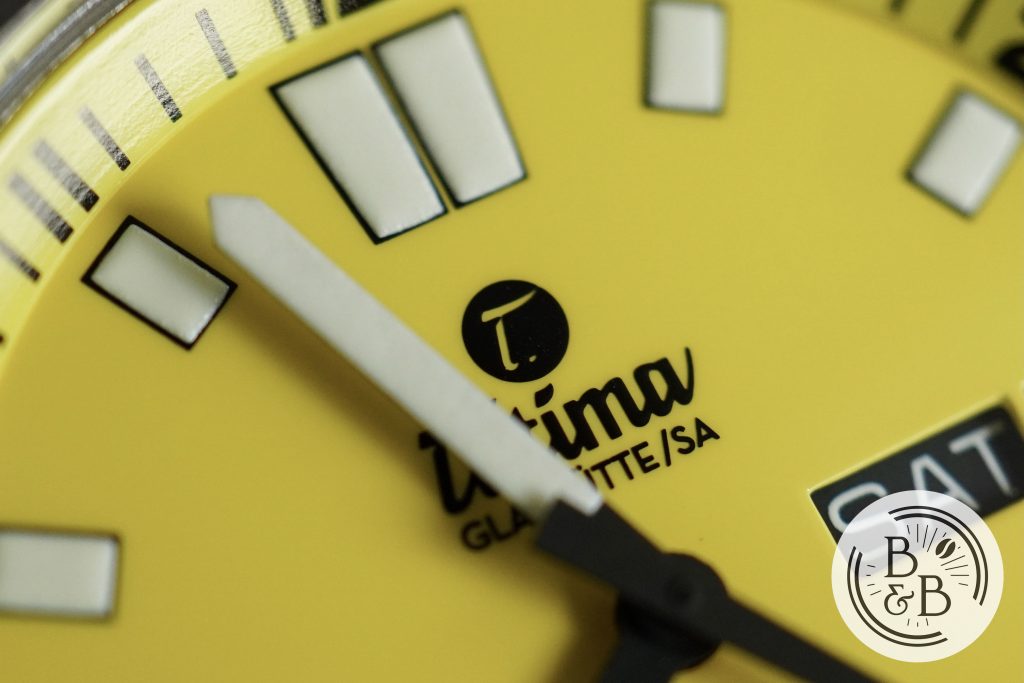 The brand's logo is printed under the 12 o'clock index, and the printing quality is excellent.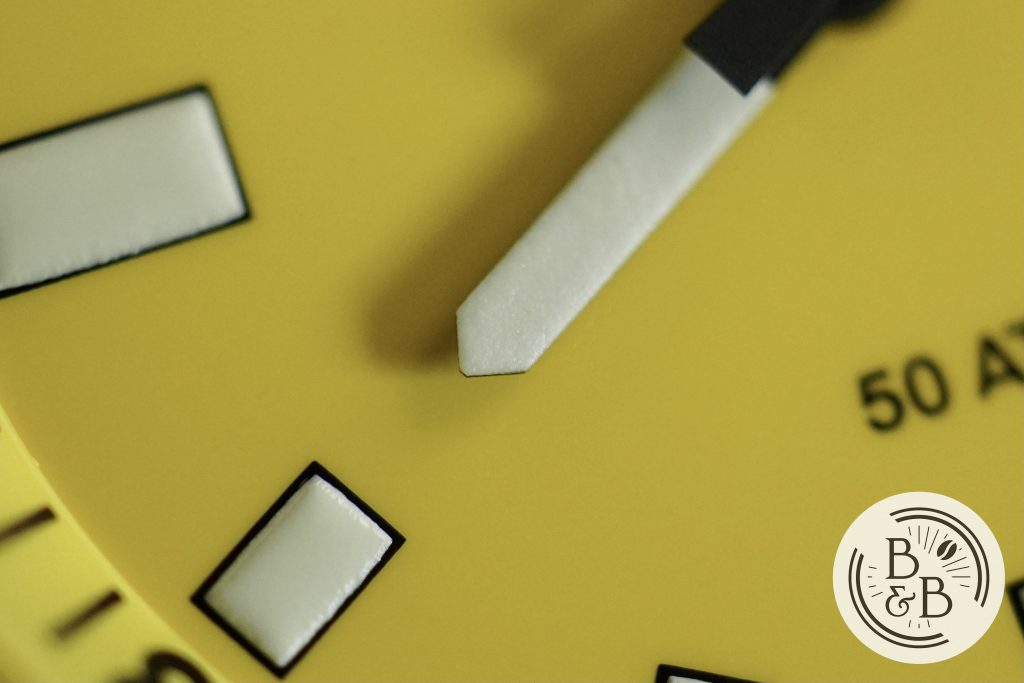 The hands are traditional German tool watch hands, and you'll see the same style across many fliegers and divers alike. The hands are painted and lumed, except for the second hand which is only painted black.
The finishing on the hands is good, and they are well proportioned and easy to read. So overall, I love this dial, and all it took was a great choice of color and contrast to breathe some excitement into a somewhat boring and functional dial design.
---
Lume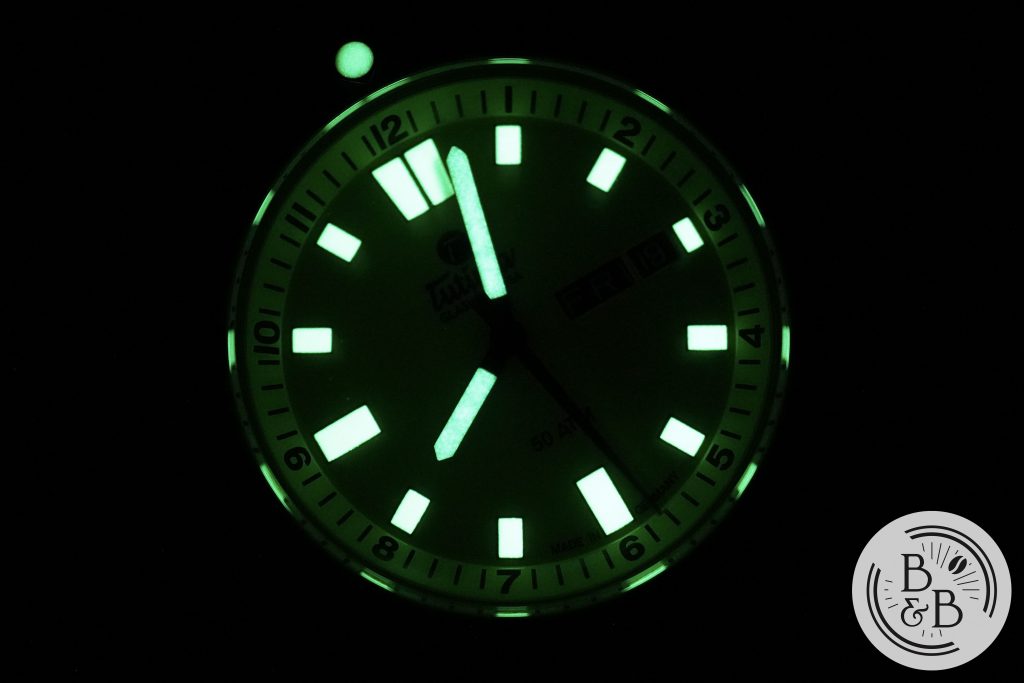 Similar to most German tool watches, all the lumed elements are printed on the dial, but this one performs well. The hour markers glow bright and hold their charge quite well.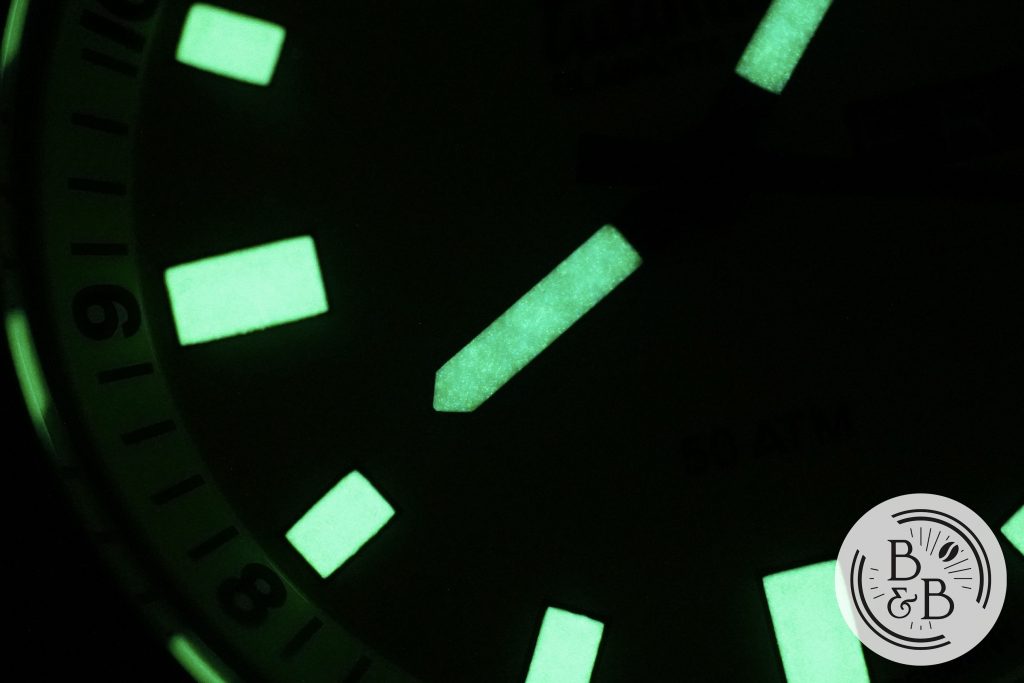 The hands are also painted, and therefore are a bit grainy, similar to the Sinn U50. Its just something you need to get used to, if you're coming from lume filled hands.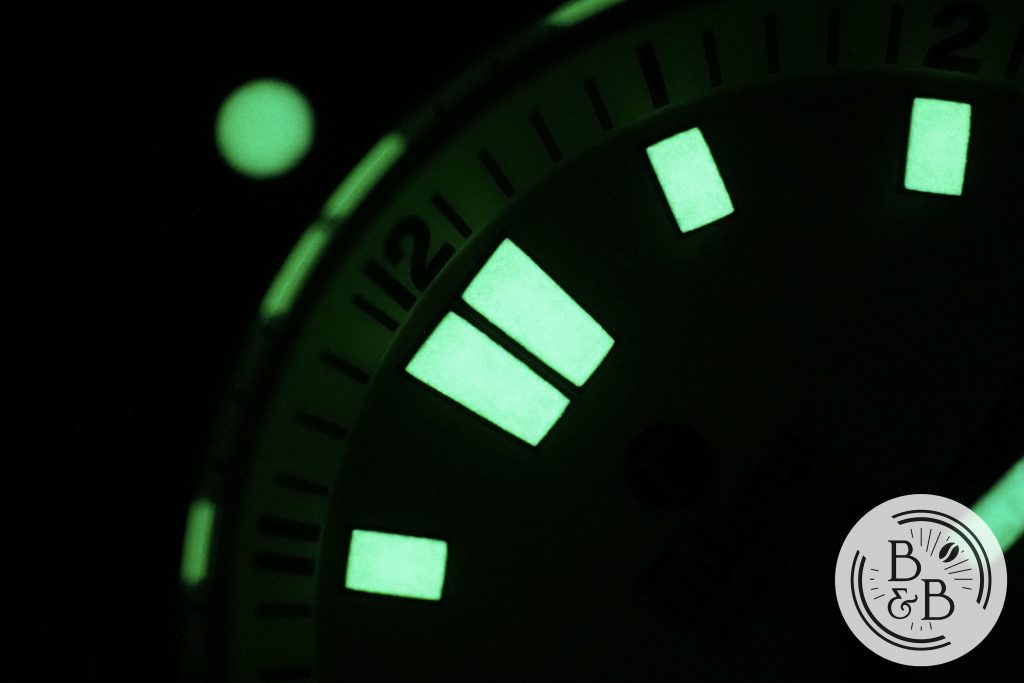 But the overall performance is good, although I wish the seconds hand was lumed.
I compared it with my Sinn U50 and I think it performs well, but maybe not as good as the Sinn.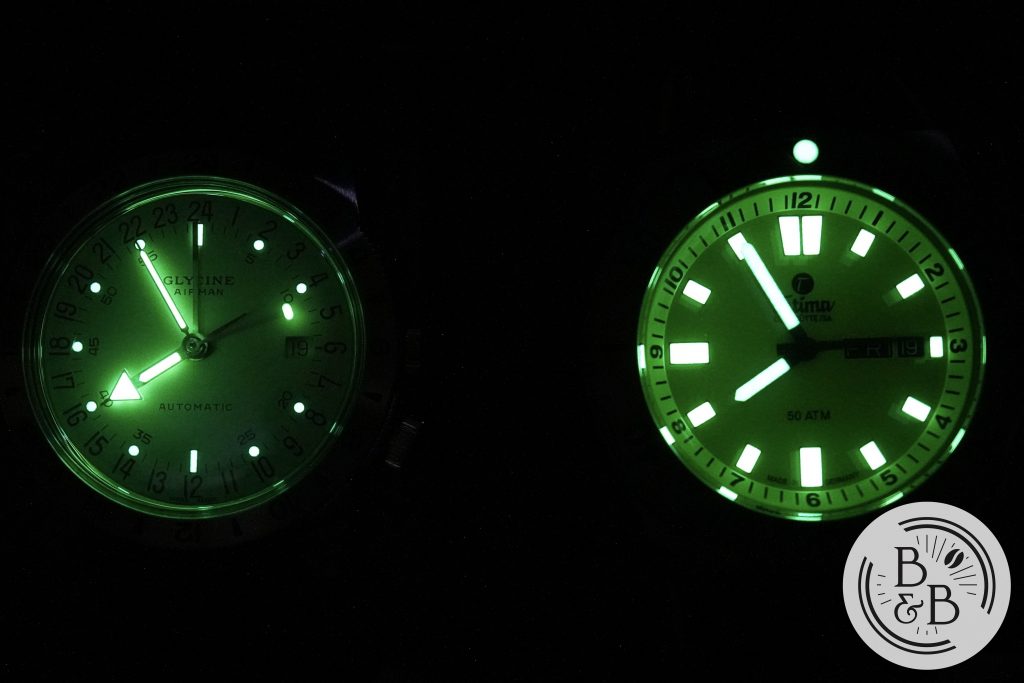 I also compared it with the Glycine Airman GMT that I was reviewing at the same time, and the Glycine surprisingly out-performs the Tutima.
---
Movement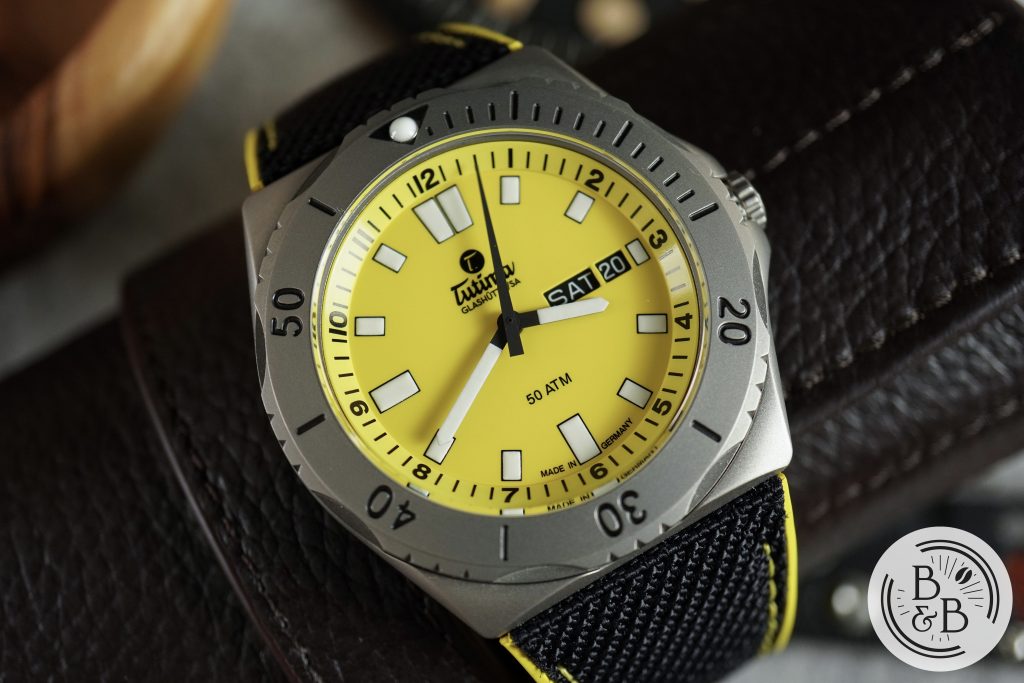 This watch uses an ETA 2836-2 movement with a custom Tutima rotor. On my timegrapher, I measured roughly +5 spd on average in the dial-up position and +5 spd on average in the crown-up position. Great numbers, and in line with what you'd typically expect from a well regulated ETA 2836-2. No complaints with their choice of movement for the price.
---
On The Wrist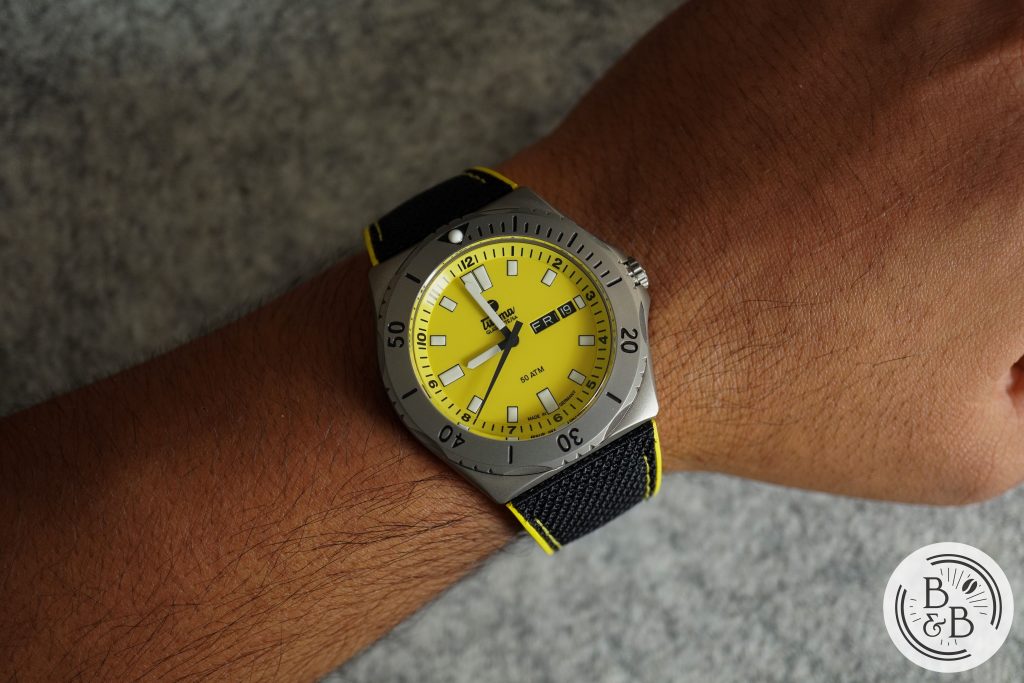 The actual case wears well on my wrist, and the 44 mm diameter and 43.5 mm lug-to-lug width should not scare off smaller wrists. The height of 13.1 mm is not the most sleek, but is well balanced.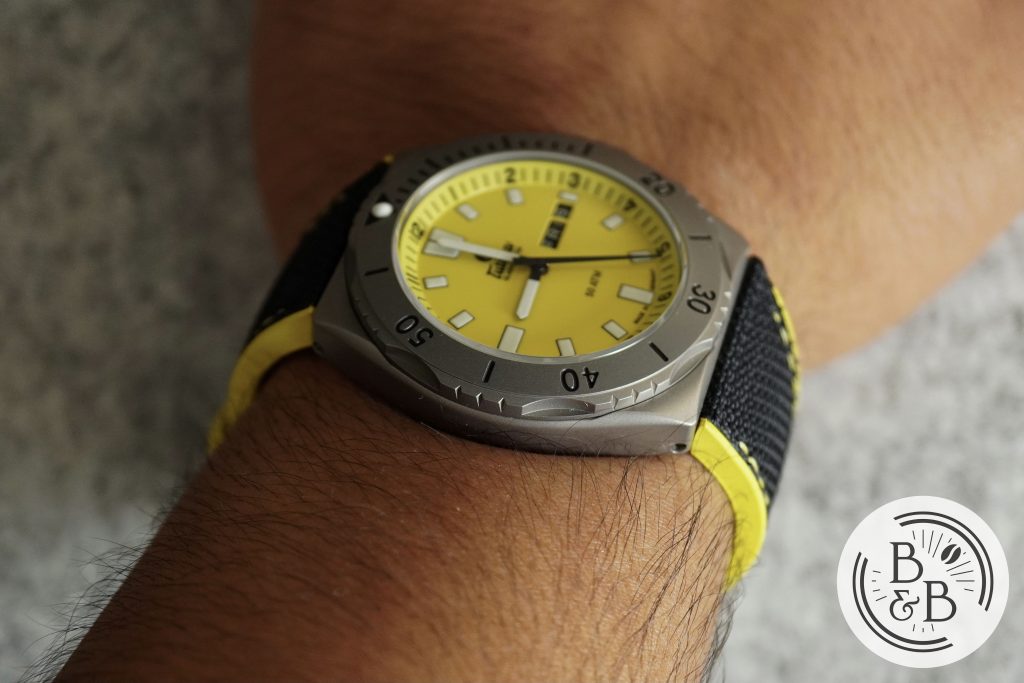 I cannot however recommend the kevlar rubber hybrid strap for small wrists, because the strap tends to flare out quite a bit at the lugs, and the fantastic deployant clasp tends to ride high on small wrists. So I would say small wrists should go for the bracelet option to fully appreciate the compact case proportions.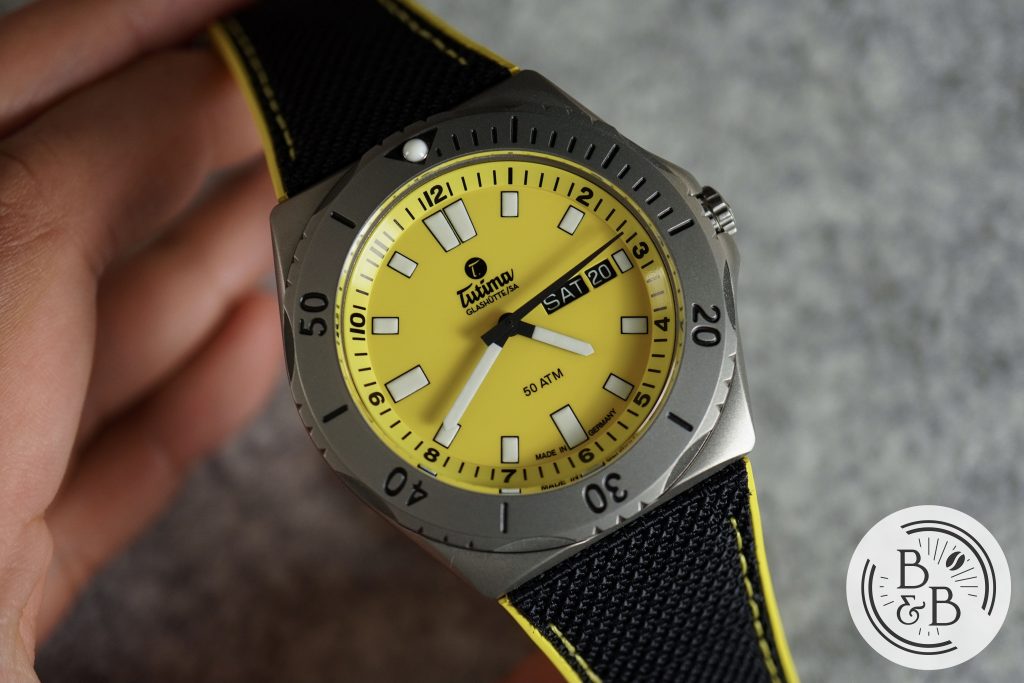 The strap is however incredible, and one of the best hybrid straps I've seen so far. The quality of the rubber is very good, and the kevlar material is excellent. The clasp is brilliant as well and the whole package just screams quality. You won't be disappointed.
---
Concluding Thoughts
Overall, I'm very very impressed with this watch. Tutima is a brand I always heard of but never took too seriously. I'm not sure why, because it seems like I was missing out on some fantastic watches. I think for $1900, this watch is going to live up to most expectations and deliver a casual bright watch, that is still very much German and very much functional.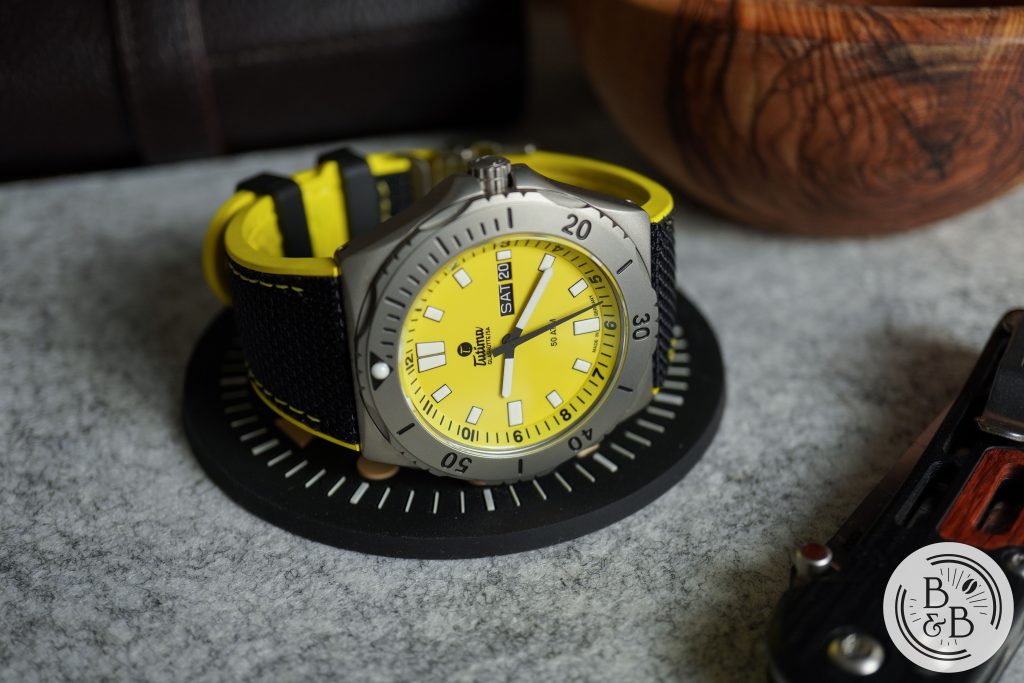 I will re-iterate – if you have small wrists in the 6″ range, I would skip the Kevlar/Rubber strap and go for the bracelet. Unless the bracelet has fixed end links, I suspect the bracelet will be a much more comfortable option for small wrists. But that's the only real criticism I have of this watch, and I'm glad I got to check this out.
---
Thanks for reading!