---
Disclaimer: This watch was very generously donated to the website/channel by a kind friend (thanks Mike). I'm not being externally incentivized in any way to make this review. All opinions here are my own. However, since this watch was worn/used, please make note that the experience might differ from that of a brand new watch.
---
---
Contents
---
Intro
A few of the earliest watches I ever wore (and remember) were from Timex, so this review is highly biased and purely fueled by childhood nostalgia. Take everything I say here to be coming from someone seeing this watch through rose tinted glasses. I avoided purchasing this watch when it was first released, and I successfully avoided it when the hype died down too. But thanks to a very kind friend and supporter of this page, I finally get to spend some time with it. Thanks Mike!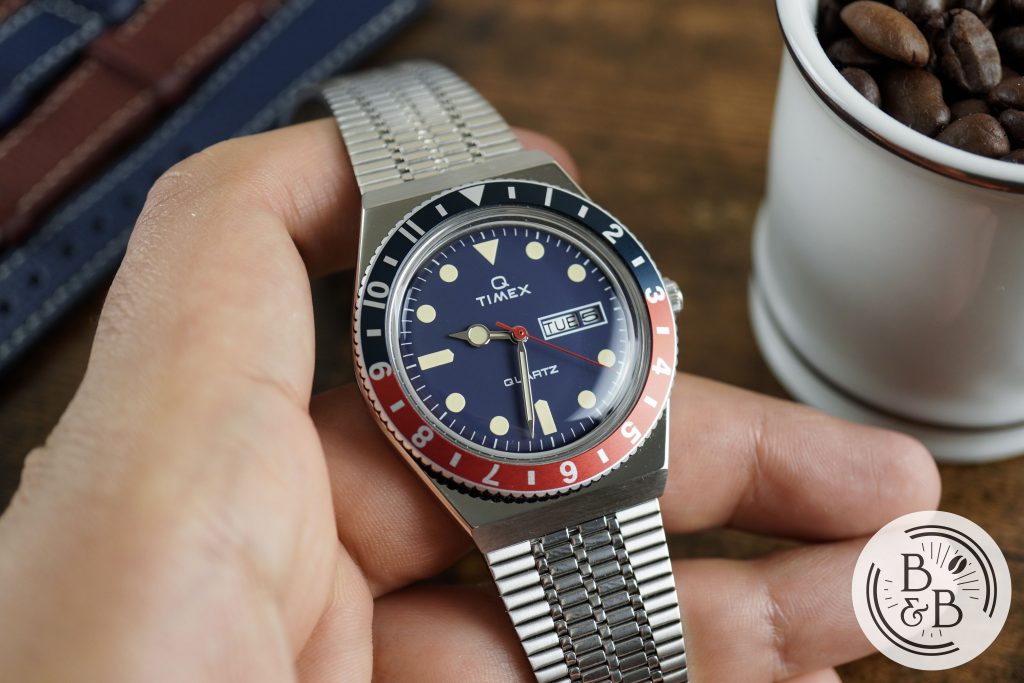 This is the Timex Q Reissue, which manages to combine both 90s Timex nostalgia, and my love for 70s watch design. With a Rolex Oysterquartz styled case, and a Pepsi bezel color, this watch is a very difficult one to resist at $180. These watches were impossible to get hold of after they were first released, but things seem to have settled now, and you can get them from the Timex website without much hassle.
Let's check it out!
---
Case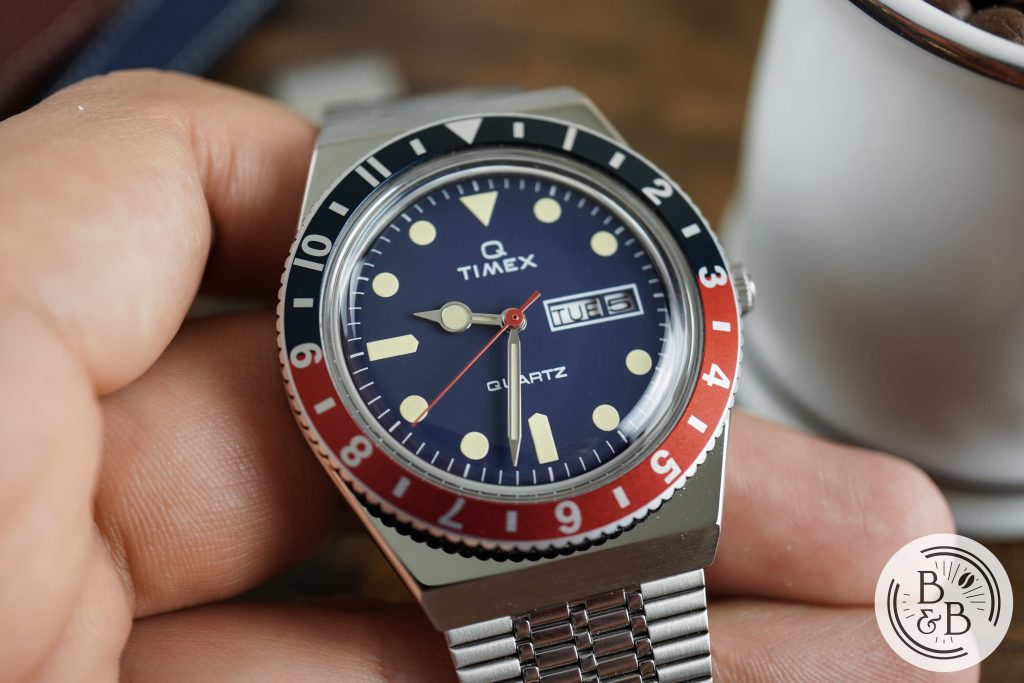 I measured the case to be 38mm in diameter, 44.25mm from lug-to-lug and 11.75mm tall. The 11.75mm includes the pretty tall boxed plexiglass, and the little bump of the battery compartment. So the actual perceived height is much shorter, and closer to 9mm.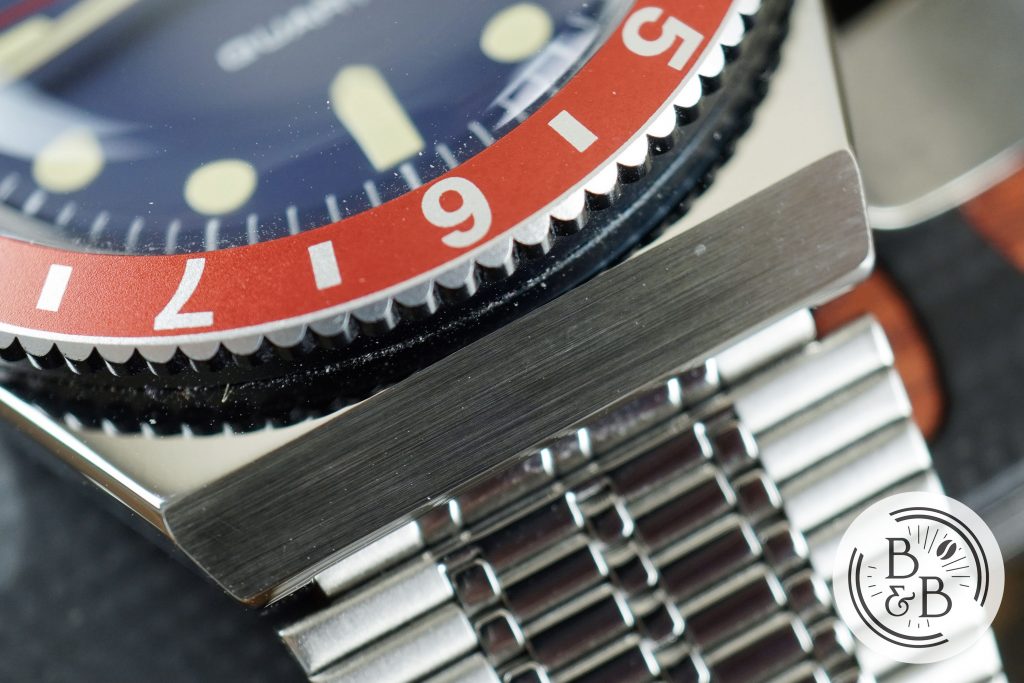 If you're wondering where corners were cut to make this watch available at $180, the case finishing is one of them. The polished surfaces are decent, but the brushed surfaces aren't the best.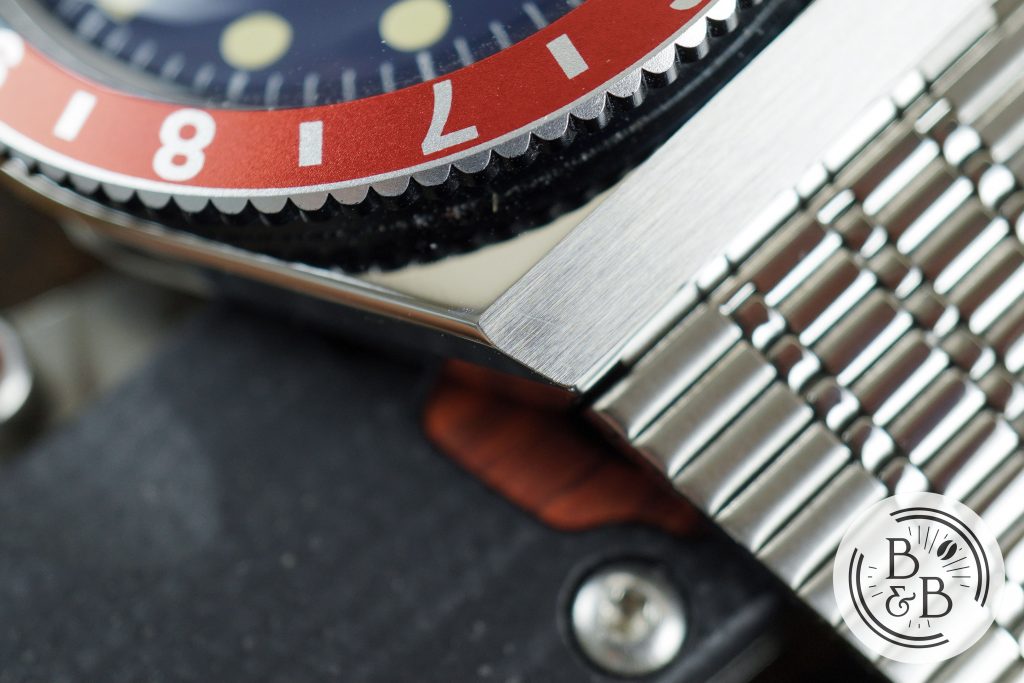 In true 70s fashion, you have an angular case design with lots of flat surfaces. The lugs are hidden by the brushed case surface, with a flared bracelet joint from 18mm to 21mm.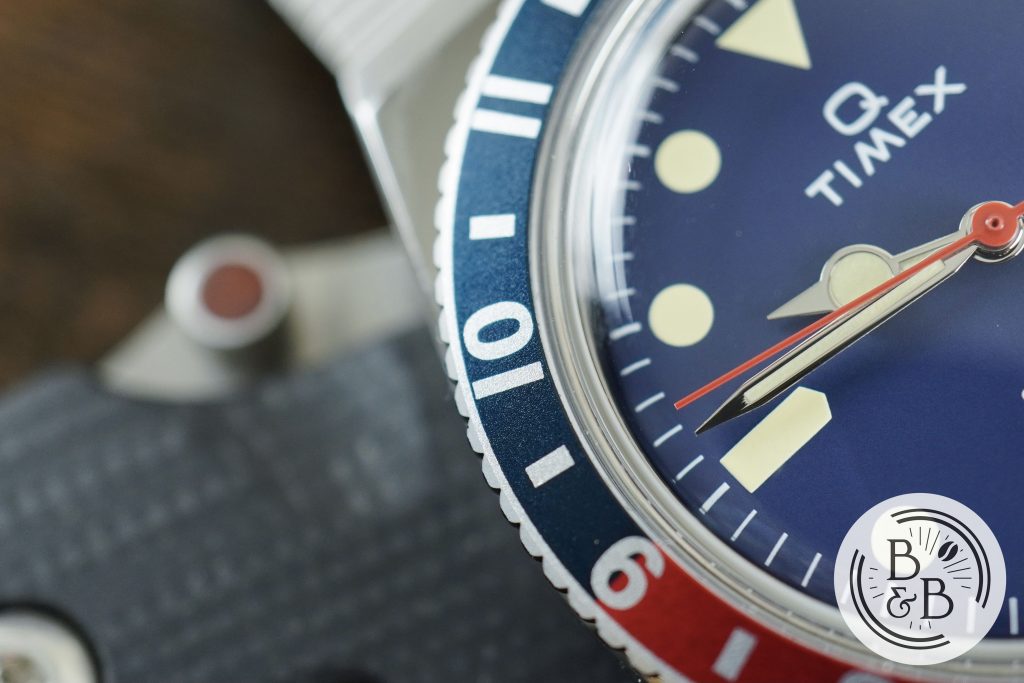 The bezel is friction fit and has pretty good grip, so the alignment is as good as you want it to me. Timex calls this bezel a top ring, which is an interesting way to describe a bezel, and is made of aluminum. The quality is pretty good, and I think the printing on it is well executed too. I don't expect these bezels to age very well, but they sure look great.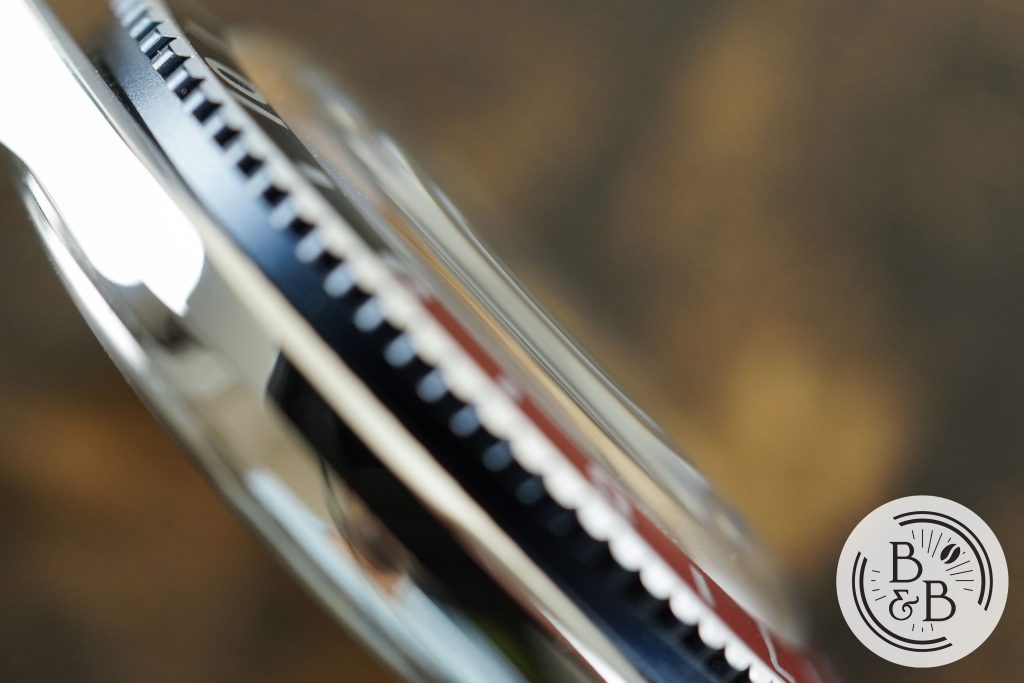 The bezel seats a boxed plexiglass crystal, which definitely echoes the vintage aesthetic that they were going for. And I understand why they'd go for plexiglass, since an equivalent sapphire crystal would increase the overall price of the watch by at least 30%.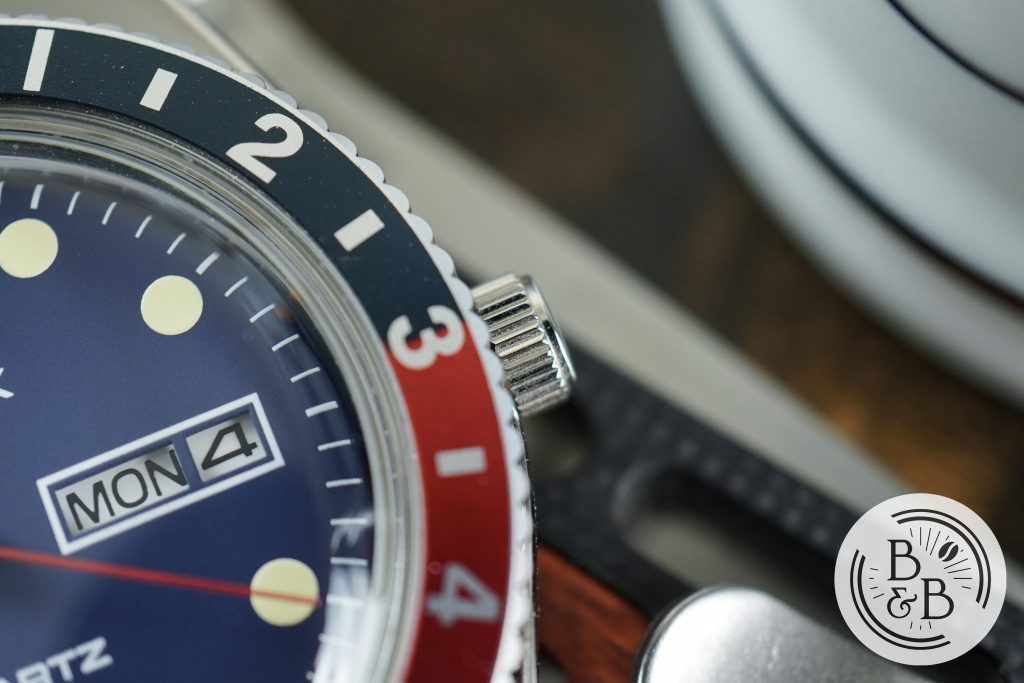 There is a 4.5mm unsigned crown at the 3 o'clock position that isn't the easiest to grip, but had good action with no crown or stem wobble.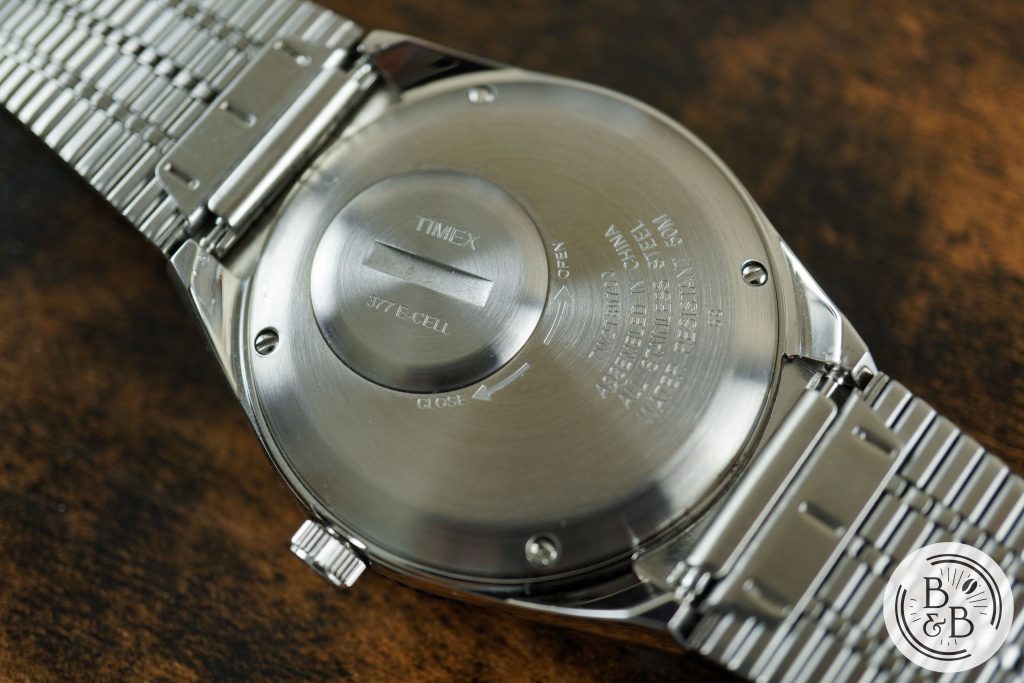 Flipping it over you have four screws that screw the case-back into the case, as well as a bulging battery compartment that will allow easy battery changes. This watch is rated for up-to 50m of water resistance, but I would keep this one as far away from water as possible.
---
Dial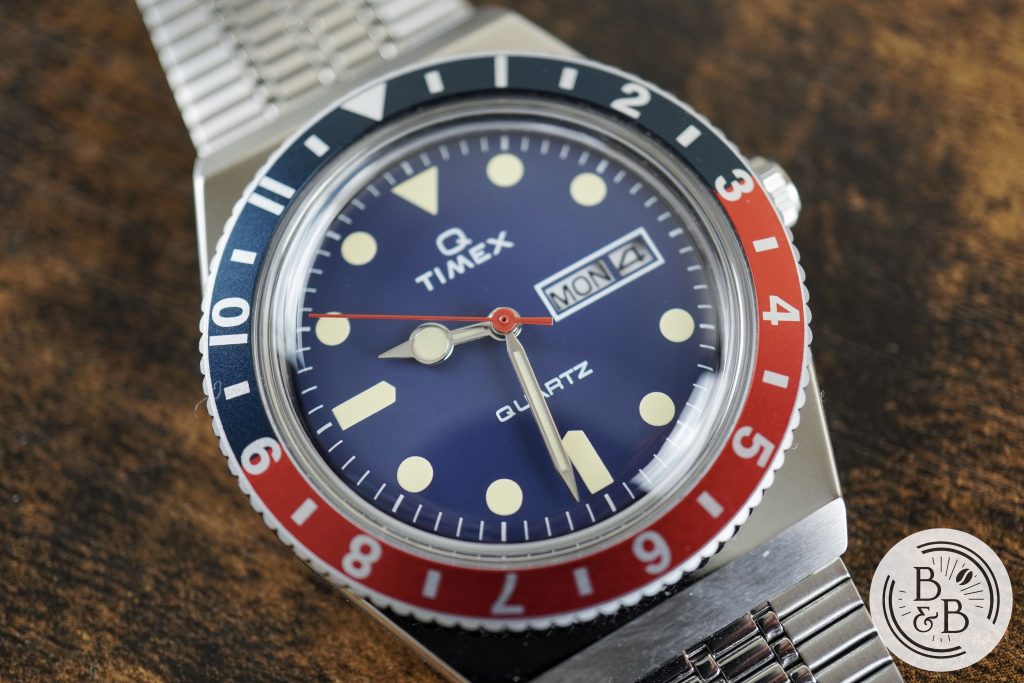 The dial is simple and effective, with a dull blue base finish that matches the "Pepsi" bezel perfectly.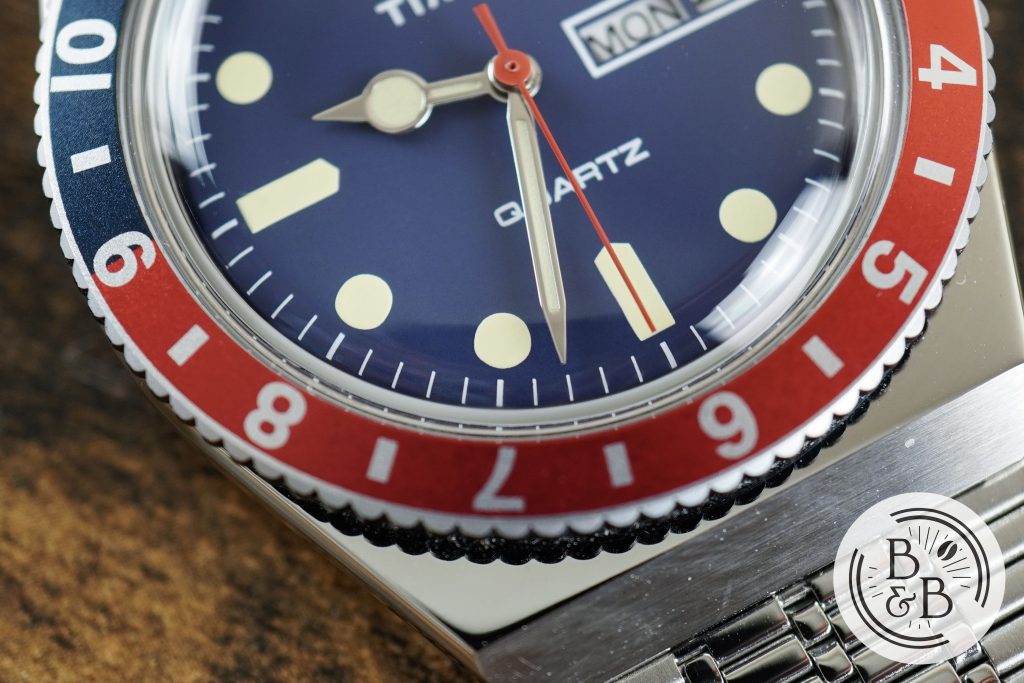 There is an outer minute track that is printed in white, and the quality of printing is great.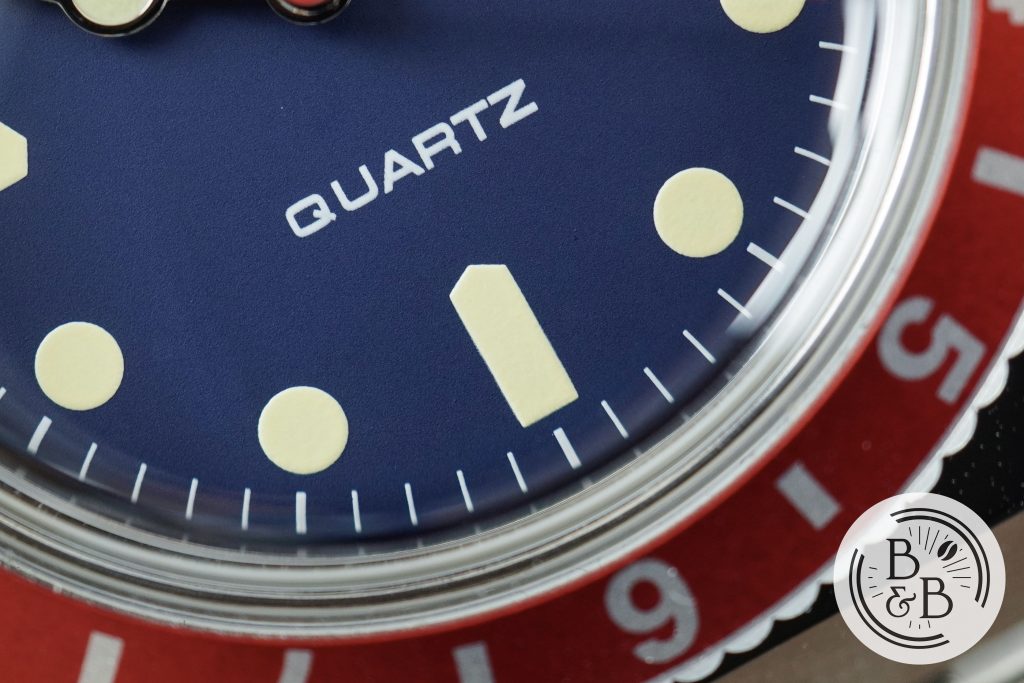 You then have large printed indices that are entirely covered with a faux patina lume material. I'm usually not a fan, but I think it works here and the faux vintage color isn't obnoxiously yellow or orange.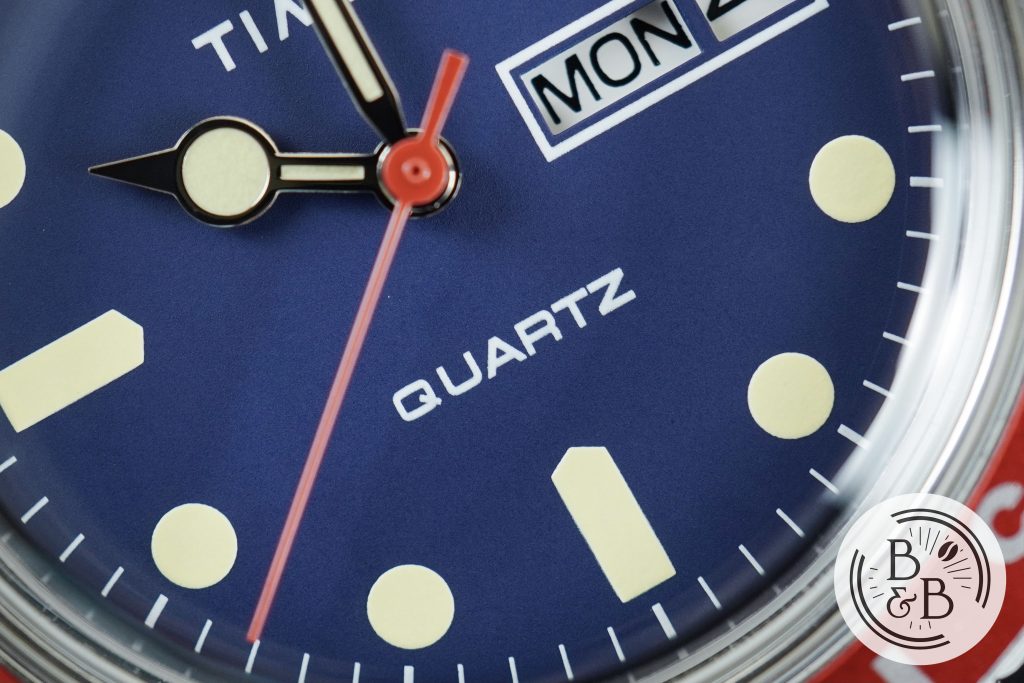 You then have the brand's name printed under the 12 o'clock index and quartz above the 6 o'clock index. The quality of printing on this dial is surprisingly good for the money.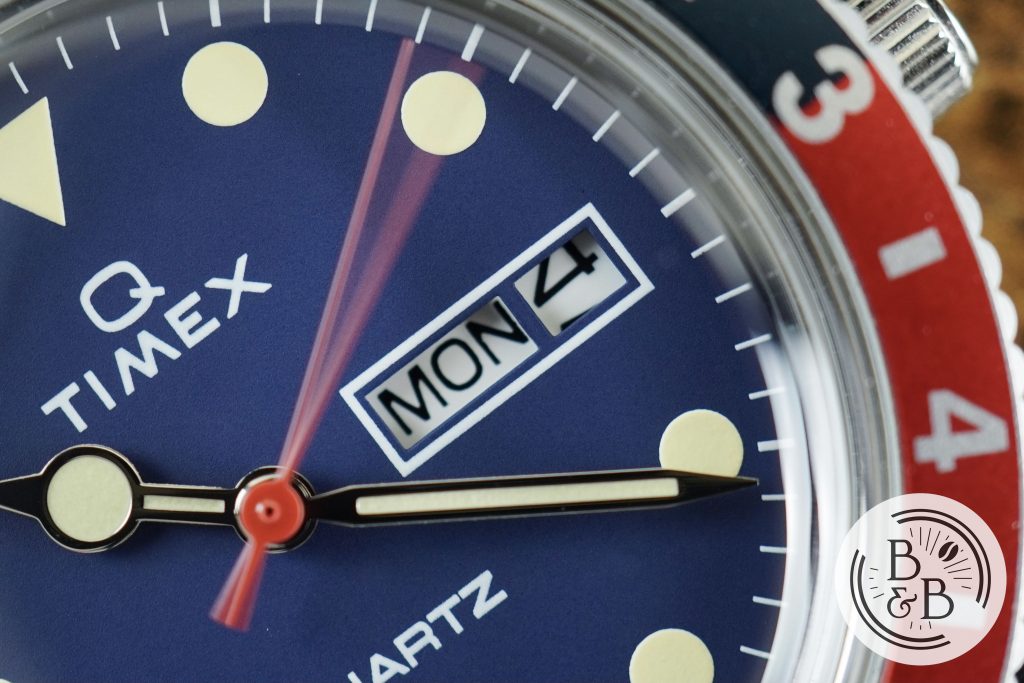 There is a day and date window at the 3 o'clock position that has a white border, a white wheel and black font. Given the amount of white on the dial, I think this works and just based on the designs from this era, I think it is appropriate.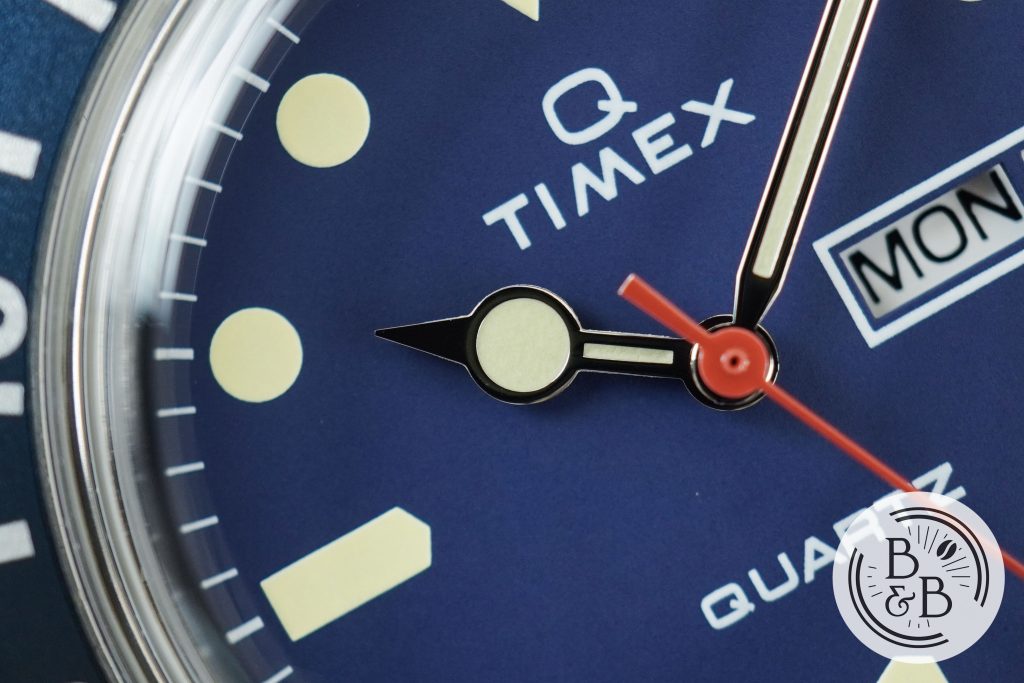 You then have polished stainless steel hour and minute hands that are surprisingly well finished, and contain a good amount of lume application.
The proportions are good too, with the minute hand just about reaching the minute track and the hour hand touching the hour indices. I can't tell if the seconds hand is painted red or just made out of plastic entirely, but either way it looks good.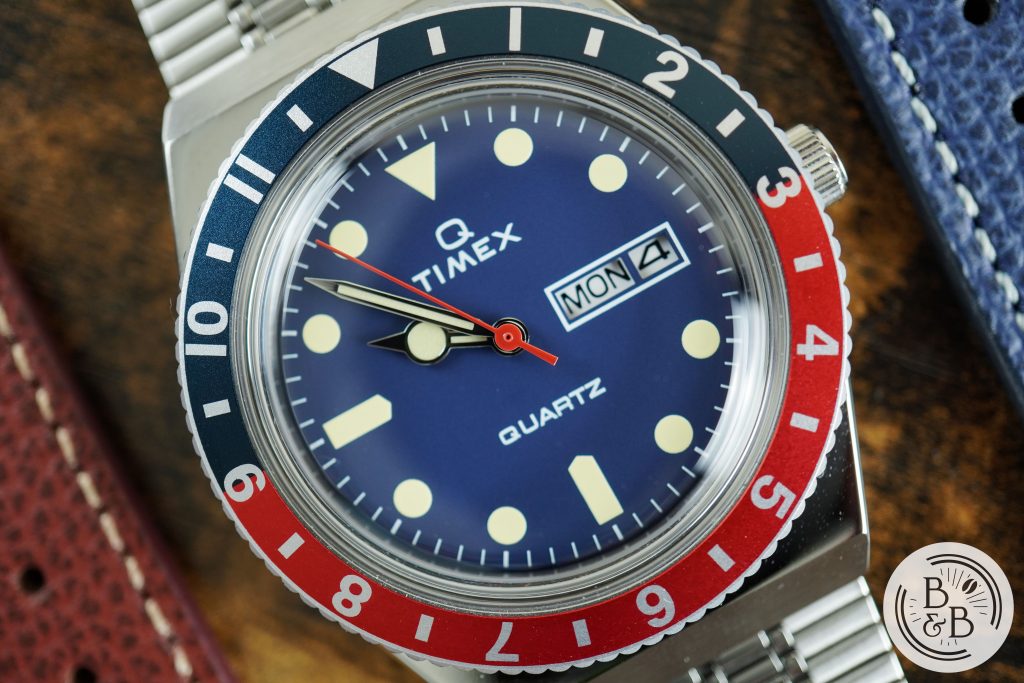 Overall, I like the dial design and I think the finishing is great too. The colors are great, and this dial is the reason why this watch is so much fun to wear.
---
Lume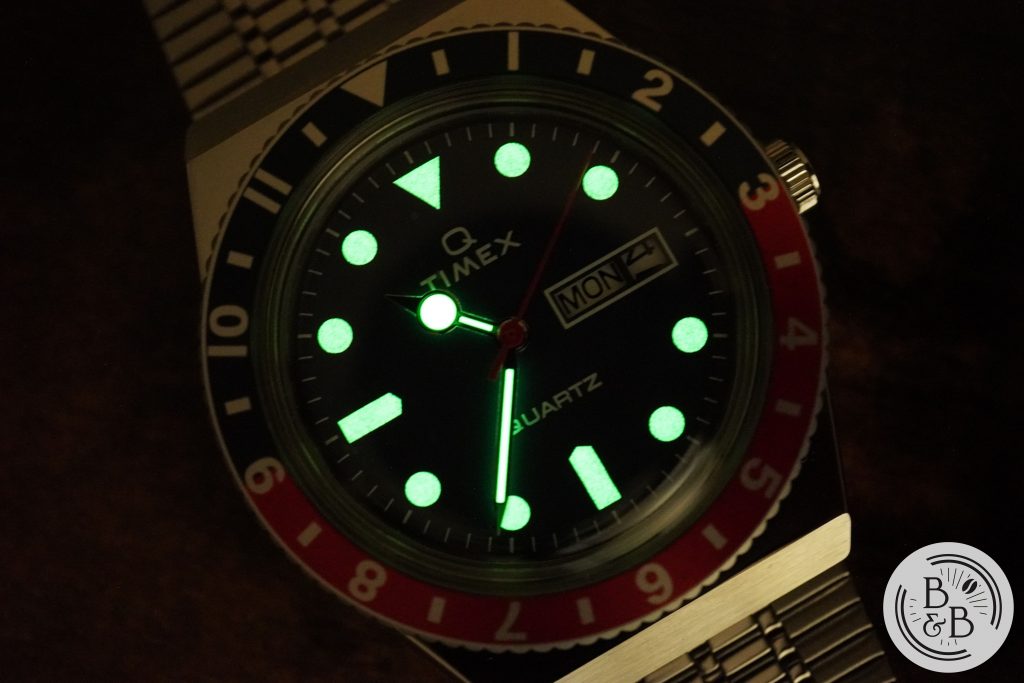 To be entirely honest, I was pretty surprised that this watch had any lume at all. And while it isn't great lume, it is decent and should last at least an hour or two in the dark.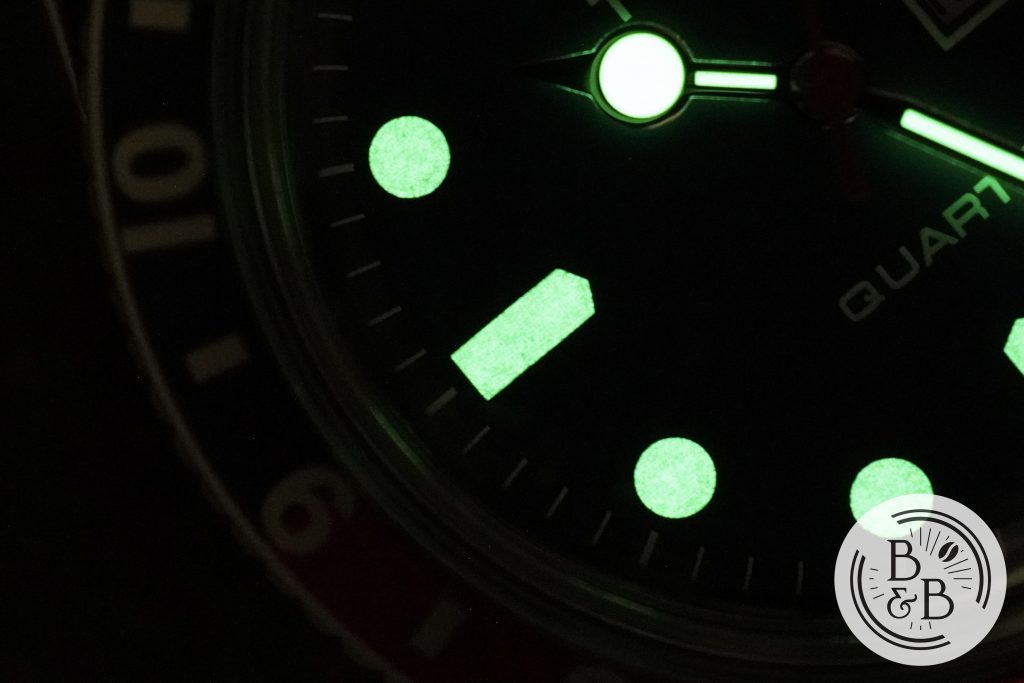 The indices are quite large and are entirely lumed, so when the lume kicks in, the whole dial is very easy to read and the legibility is great while it lasts. I think the issue here is that not enough lume was applied.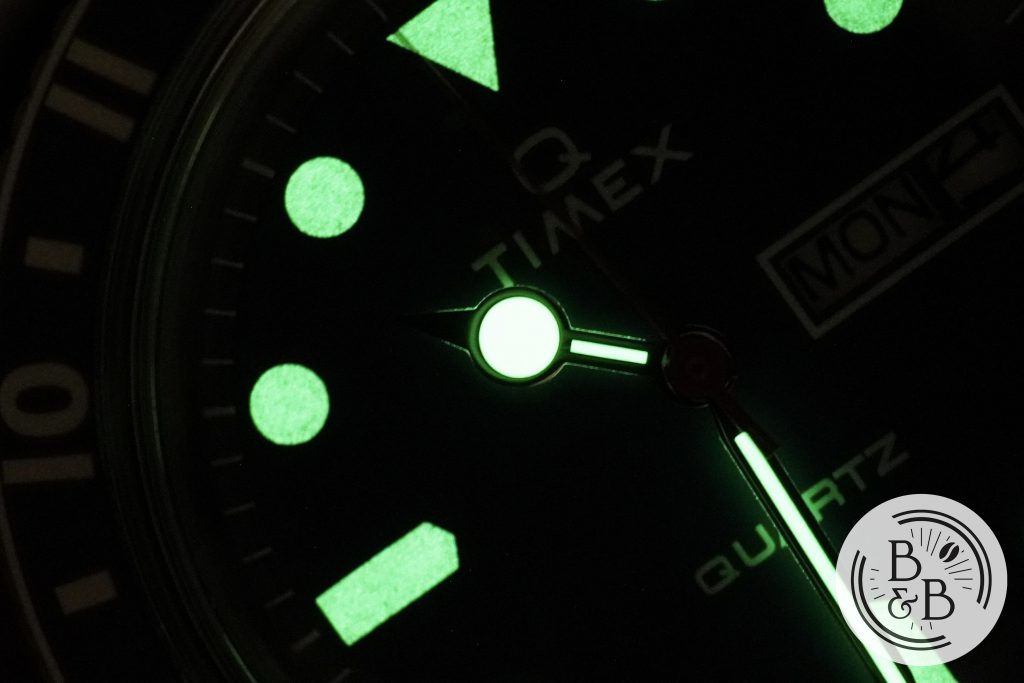 The hands have plenty of lume surface area as well. Overall, I can't really fault this lume too much, even though the longevity isn't great.
---
Bracelet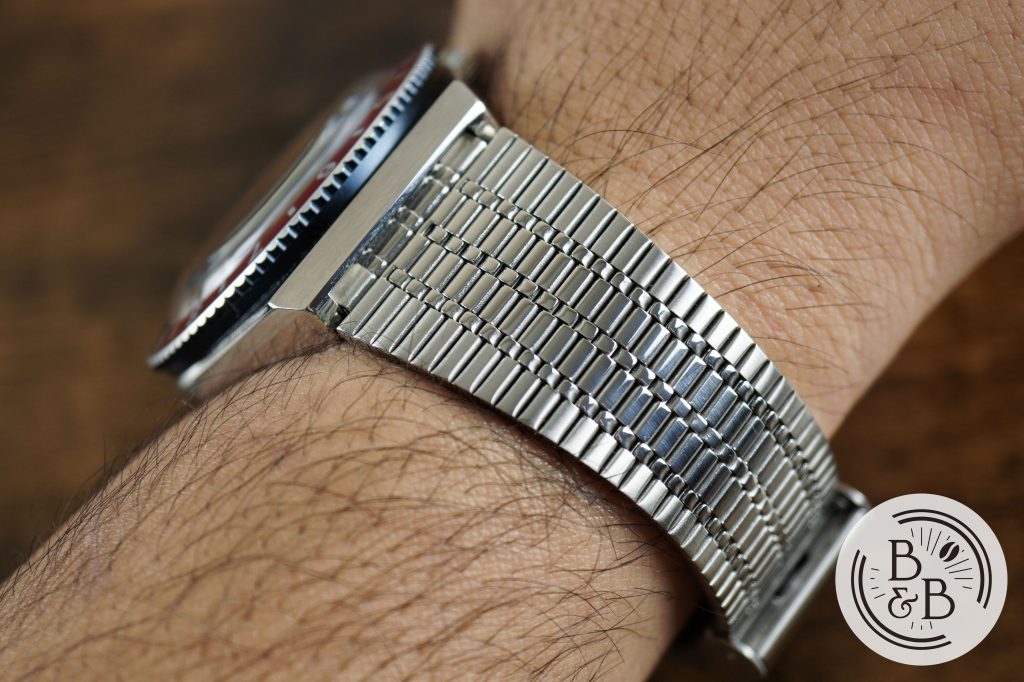 For $180, I didn't expect much from the bracelet. And the bracelet doesn't deliver much either. In terms of design, it does look good and fits the 70s theme quite nicely. But from a comfort perspective, you don't want to spend too much time with this bracelet if you have hairy wrists. Prepare for a complimentary wrist wax, courtesy of Timex.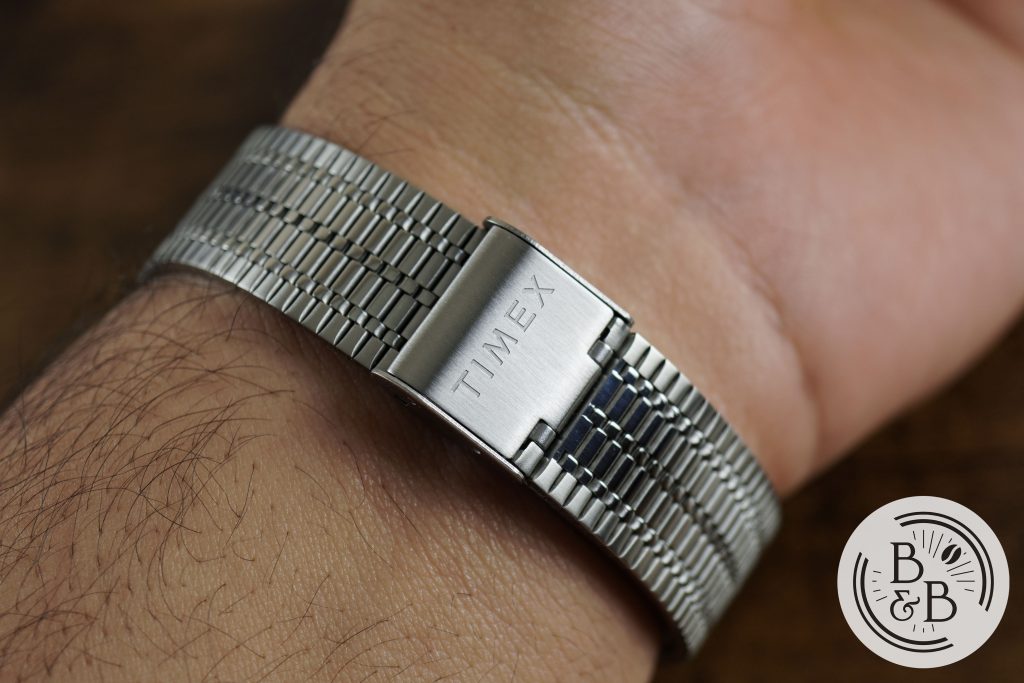 The hardware is decent, and equivalent to any $10-$30 mesh bracelet you'd find on AliExpress or eBay. There's a signed buckle and you can dial in a good fit fairly easily.
---
Movement
The movement in here is one of Seiko's quartz movements, and I haven't been able to find too much information on it. I will direct you to Two Broke Watch Snob's review if you're interested in the movement, as they opened the case-back and did a little digging into the movement and it's specs.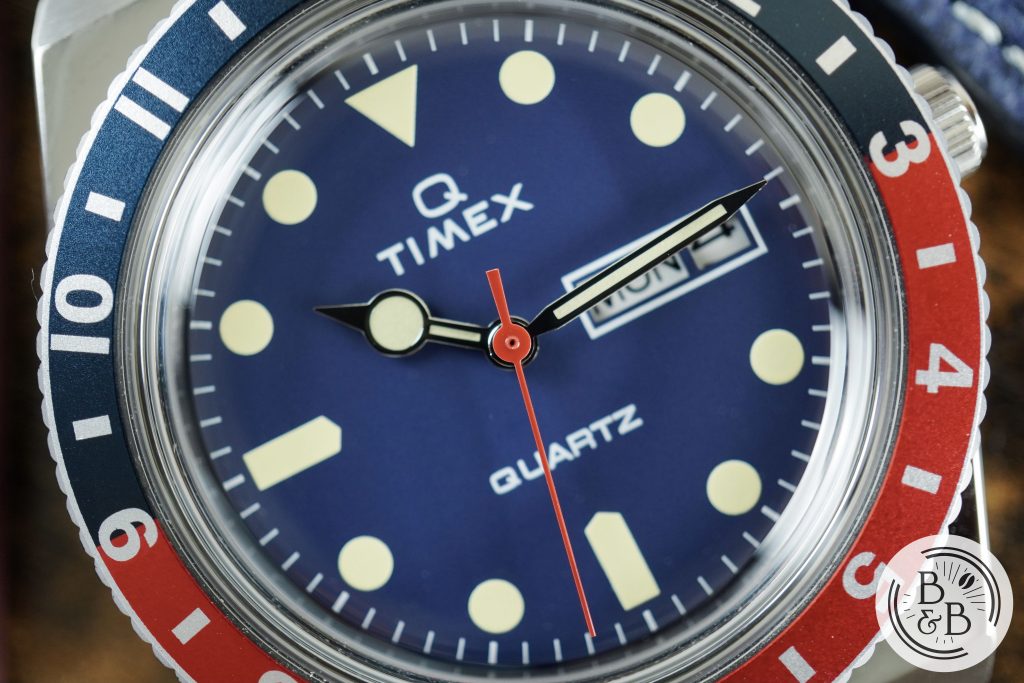 I will say that this movement leaves room for improvement, and if you pull the crown out, or push it back in, the minute hand often jumps around a few minutes forward or backward. But based on how we all reacted to the latest $3500 Oris automatic watch, I think we've convinced ourselves that this is fair game, so seeing this on a $180 quartz watch shouldn't upset us.
---
On The Wrist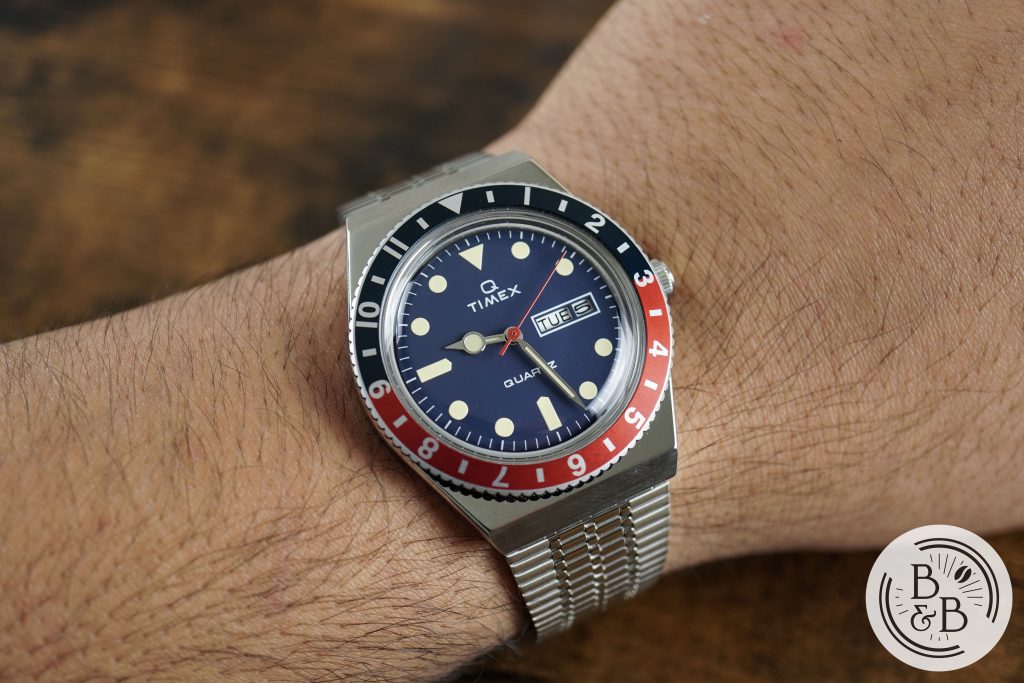 If you ignore the hair pulling from the bracelet, the dimensions of the watch are very comfortable. This fits perfectly on my 6.25″ wrist, with it's 38mm diameter and 44.25mm lug-to-lug width. The bracelet articulates great, so the lug to lug width is an accurate representation of how wide it will wear.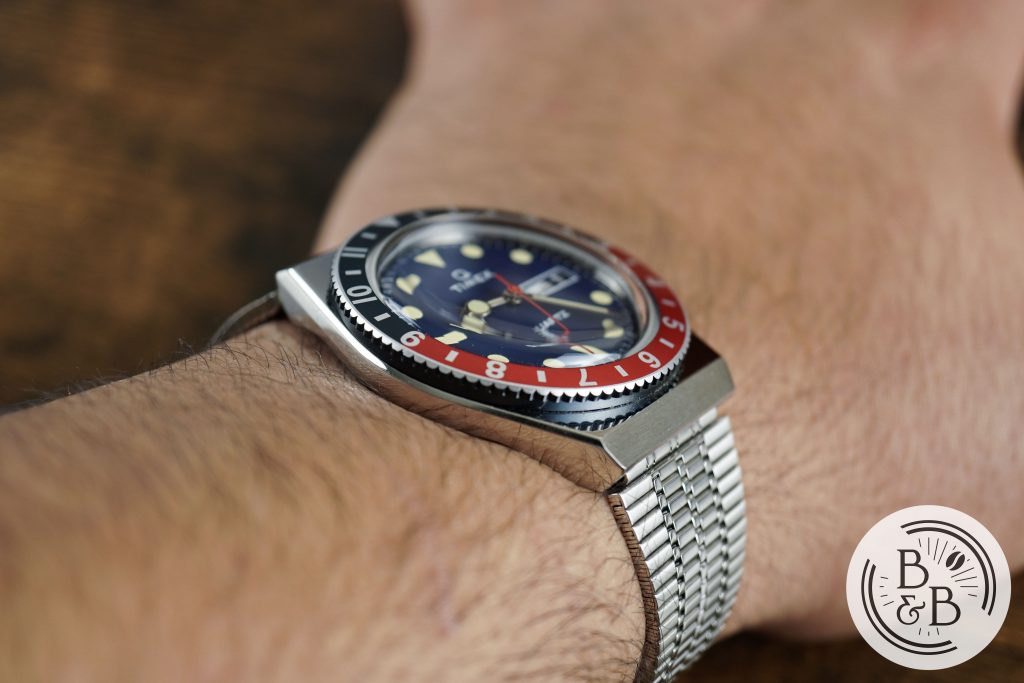 The height of 11.75 mm includes the boxed plexiglass and the bump for the battery cover, so the actual height on the wrist feels closer to 9mm watch.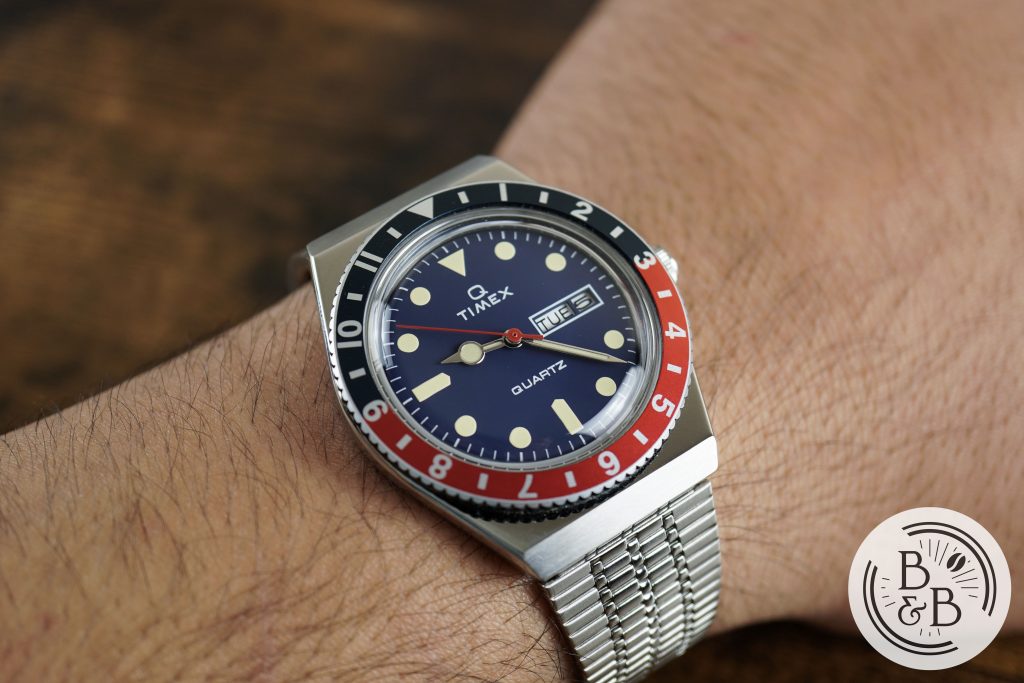 It's a fun watch to wear, and the wrist presence makes it come across as being a much more expensive watch than it really is. But don't worry, every couple of hours you'll have a hair ripped out of your arm to remind you that you paid $180. Timex will keep you humble.
---
Concluding Thoughts
This is a difficult watch for me to objectively review, since it is a watch that is automatically elevated because of it's brand name and design appeal. If someone came to me and said they want to buy the best watch available under $200, I don't think I'd be recommending this one over some of Citizen and Casio's watches.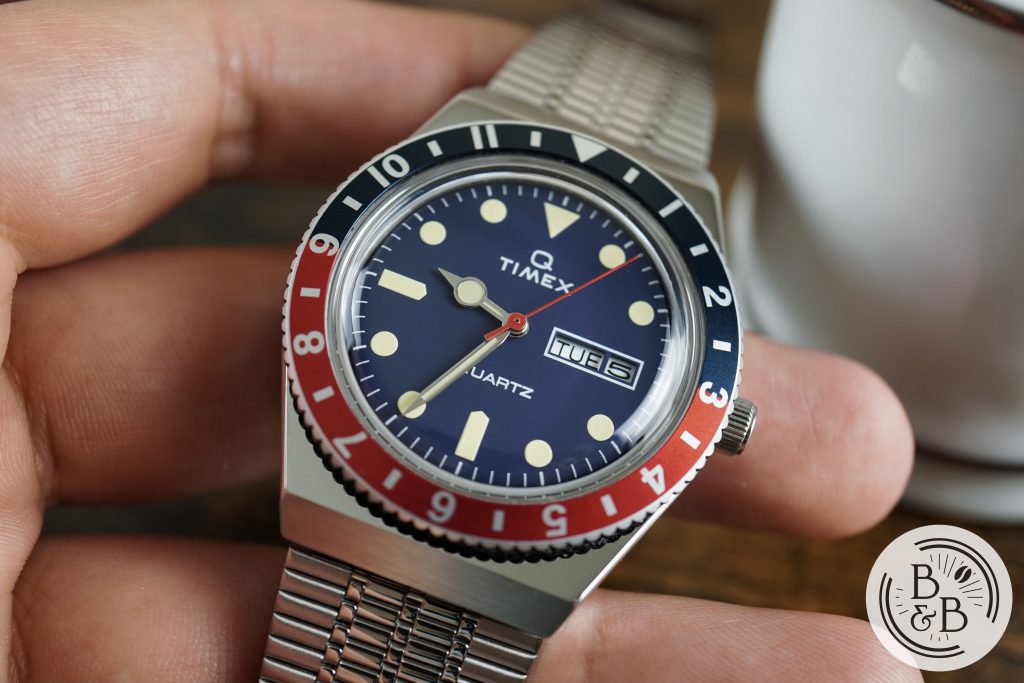 But if someone with an existing collection wanted to spend some money on a fun watch that will exist purely to entertain it's owner, this one is perfect for the job. And if you grew up seeing the Timex name on your watches, or your friends watches, spending time with this piece is clearly going to bring back memories.
---
Thanks for reading!