---
Disclaimer: I purchased this watch new and was not externally incentivized in any way to make this review. This review is in no way sponsored by Sinn or any other entity. All opinions here are my own.
---
---
Contents
---
U50
Last year, I had the opportunity to own what I thought at the time was the best Sinn watch for me – the Sinn EZM 3F. In my review, I went as far as to say I had found the perfect tool watch. I stand by those words, and I still believe it is an excellent tool watch. I ended up selling it since I had other watches to buy and review, and I was on a finite budget. But ever since selling that watch, I have constantly wanted to join the Sinn family again. There's something special about these watches, and they manage to deliver a watch experience like no other.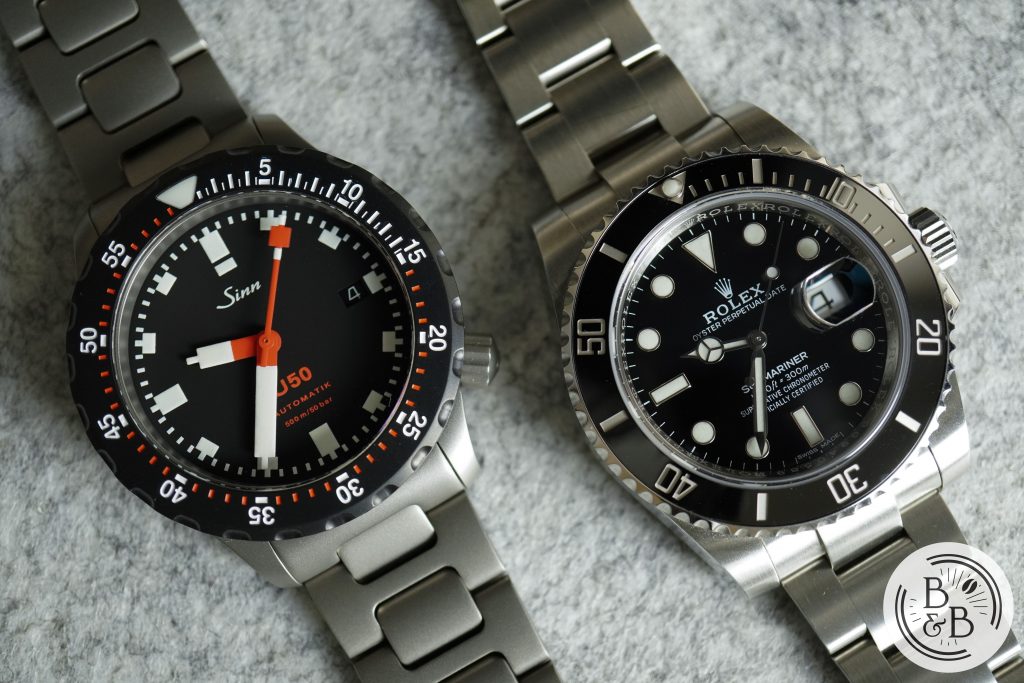 The Sinn U50 has been one of their most successful watches to date, and I was blown away when these watches were first released. As someone with skinny wrists, the U50 was a perfect alternative to the U1, and in many ways a significant improvement to the U1. I decided to wait until owner reviews started to trickle in, and for the month long wait-lists to disappear. But since it's launch, it's popularity hasn't dwindled much, and these watches are still back ordered by a couple of months.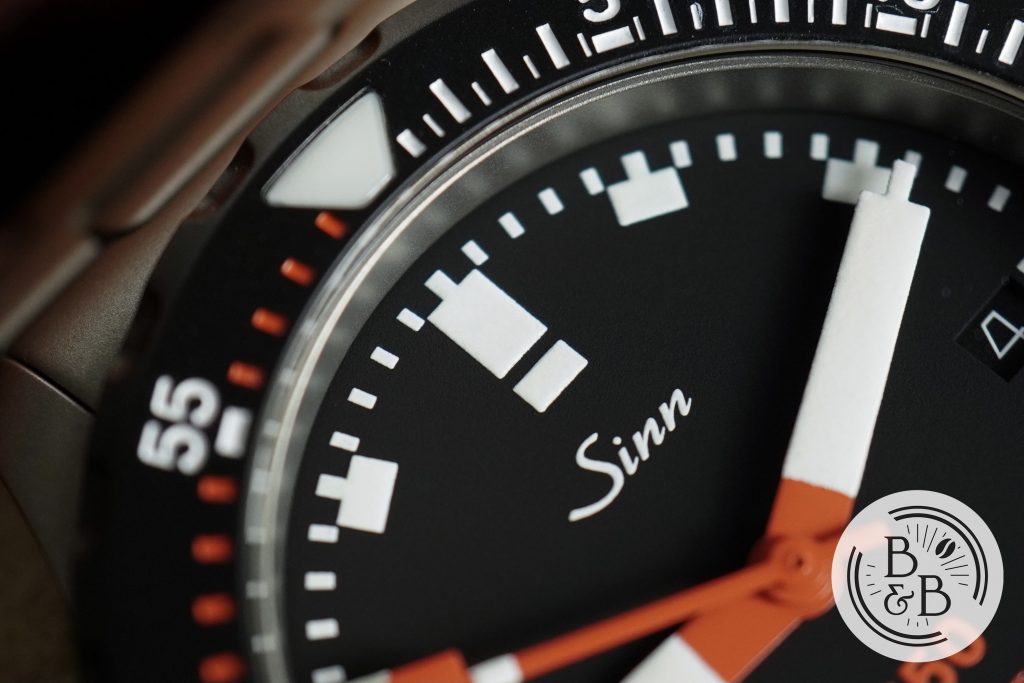 I ordered this Sinn U50 SDR-T from WatchBuys in the US, and they delivered ahead of schedule, and were very nice to work with. Folks in Canada can reach out to Roldorf & Co. as they are now an authorized retailer and service center for Sinn. Those interested in Sinn watches in Nepal and India can get in touch with Swiss Timepieces Nepal. I'm just glad to see the Sinn brand get more recognition, as I still believe they continue to deliver great value for your money, if you're into the instrument and tool watch aesthetic. This watch had a total retail price of $3250 on the bracelet, and is fully tegimented.
Let's check it out!
---
Case
I measured the case to be 39.5 mm in diameter (40.65 mm if you include the bezel), 46.5 mm from lug-to-lug (50.25 mm if you include the end links and center links) and 11.1 mm in height. The case is made entirely of tegimented steel, which is a surface hardening process that Sinn is famous for. This hardening process is applied to their slightly unconventional but impressive German submarine steel, which has more robust anti corrosive properties compared to regular 316L stainless steel.
Rolex's particular mixture of 904L steel also has additional anti-corrosive properties, but their recipe and high polished finish tends to age quite poorly where scratches are concerned. But there is no doubt that the Submariner is positioned more towards luxury these days, so it works well for them. Personally, I fully welcome the entirely bead blasted case and bracelet on the Sinn, and after about a month of ownership, I've only seen light scratching appear on the clasp.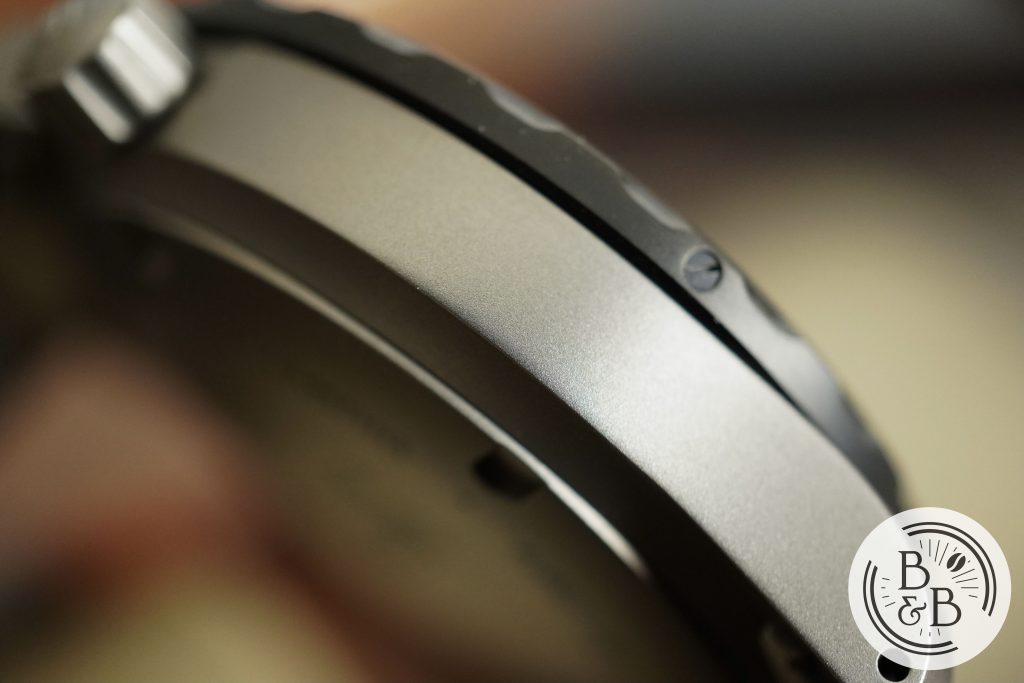 The case construction is impeccable. I really can't think of anything that they could have done better. The case feels solid, well finished and screams precision. Sinn uses S.U.G to make these cases, a brand that Lothar Schmidt is also part of, and which more famously supplies A Lange & Sohne with their precious metal cases. I believe the most important aspect of building a tool watch is the case. How it reacts to the environment, age, and how that case transfers impact and to the beating heart inside of it are all critical to the end product. And I'm convinced that Sinn has done the best they can here.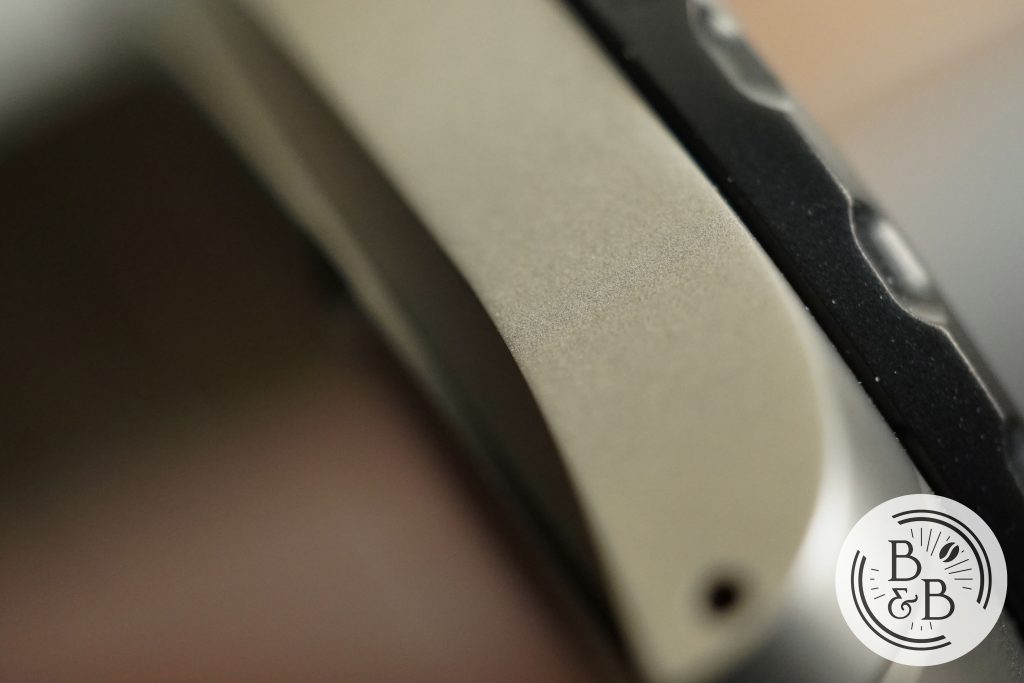 The metal case lacks any fanciful chamfering or relief surfaces, and that's completely fine by me given the impressive 11.1 mm overall height. The case extends into a pair of short lugs that curve down towards the wrist. The lug width is 20 mm and the lugs are drilled through. I will say that having the tegimented case means you're unlikely to seriously scratch the back of the lugs anyway, so if you don't want the convenience of the drilled lugs, go nuts with your shaky hands and $2 spring bar tool, you'll be ok.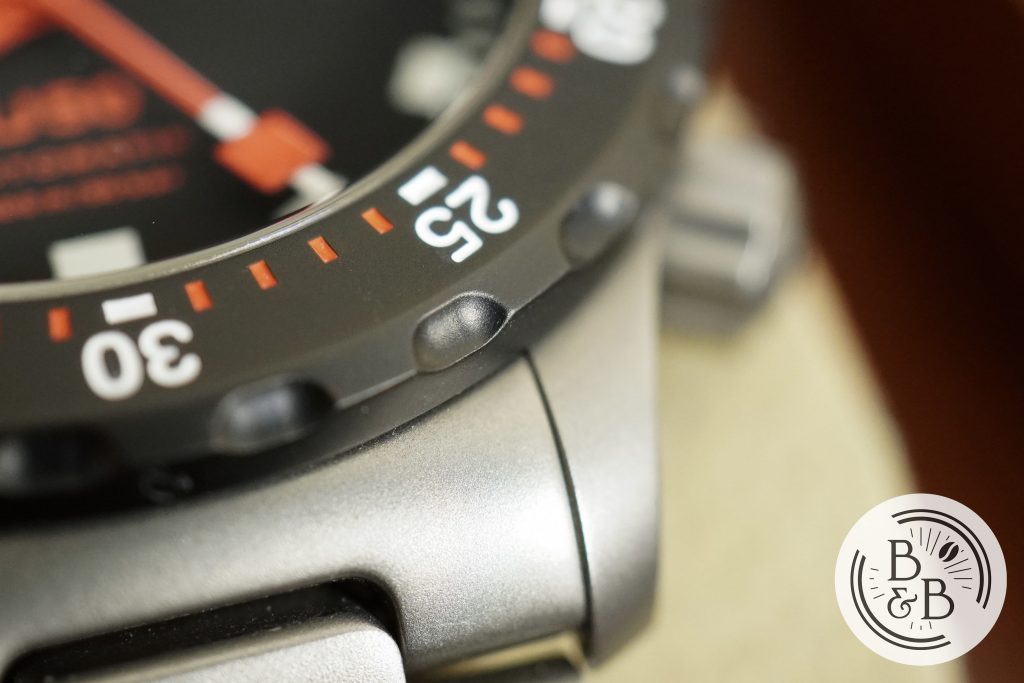 I've tried to understand my addiction to dive watches, and I think a huge part of the appeal for me is the bezel. I love physically interacting with my watch, and the bezel, crown and clasp are really the only three components that require physical interaction. Unless of course you include caressing your beautiful watch when the light hits it just right. But back to the bezel – I've heard people's mixed feelings towards Sinn's bezel technology, and I can't relate. I think they're fantastic and deliver some of the best feeling bezels on the market. They're definitely different, when compared to the clicky and tactile click-spring of a Rolex Submariner, and has a more muted thunk instead. But the 60-click bezel is excellent to grip and operate, and there is little to no backplay here. And the captive bezel system is arguably more robust than what you find on typically press fit bezel layouts.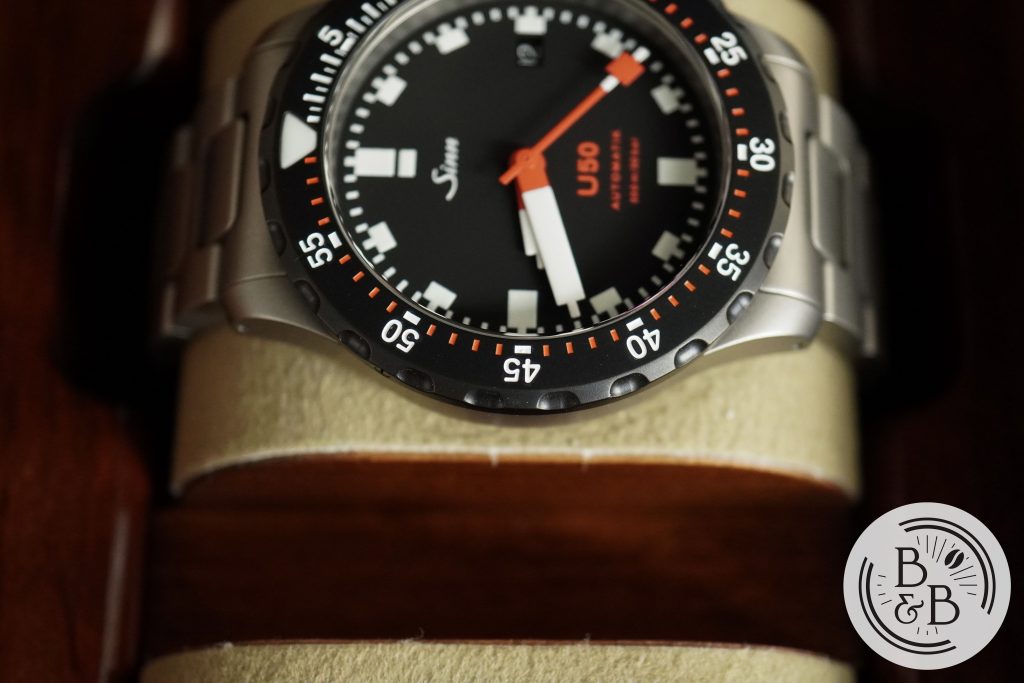 I chose to go with the SDR bezel, which has a black DLC coating on the tegimented base layer. I like the continuation of the black-red-white theme from the dial, and I love the contrast between the black bezel and the gun-metal grey case and bracelet. The DLC bezels also offer a bit more hardness and is supposedly more resistant to scratches. Only the triangular marker at the 12 o'clock is lumed on the bezel.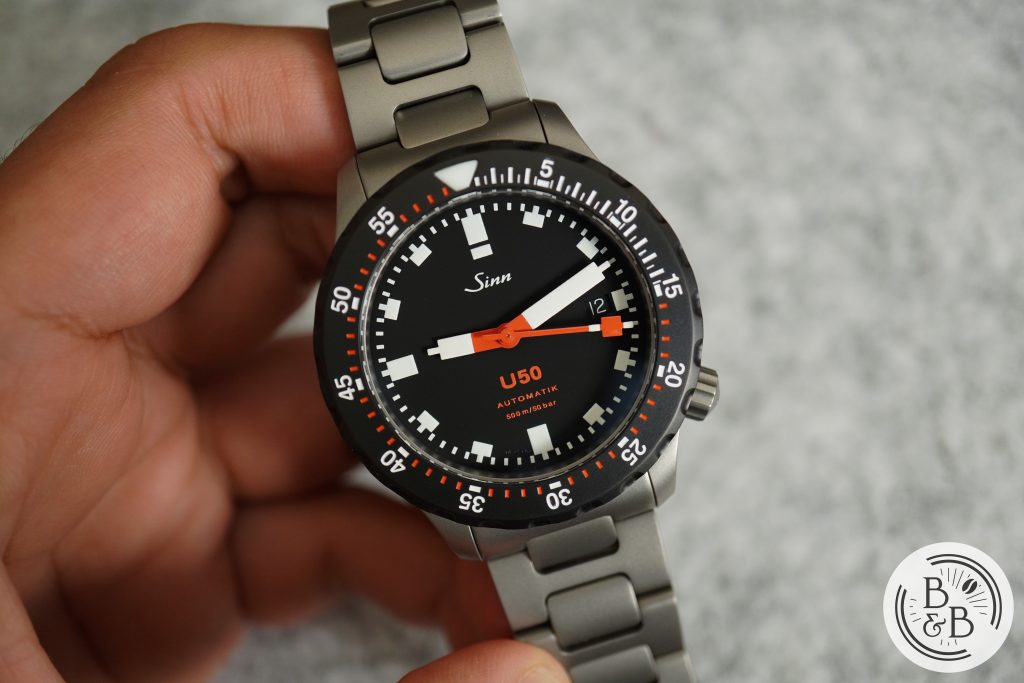 For a tool watch, legibility is the most important aspect of the experience and Sinn definitely delivers. There is a flat sapphire crystal with plenty of AR coating both on the crystal and under it. While this is a bit of a finger print magnet, it also delivers one of the best viewing experiences I've seen, and it looks as though there isn't a crystal at all 90% of the time. This comes at the cost of potentially scratching the AR coating on the top surface, but that's a trade-off I was willing to make.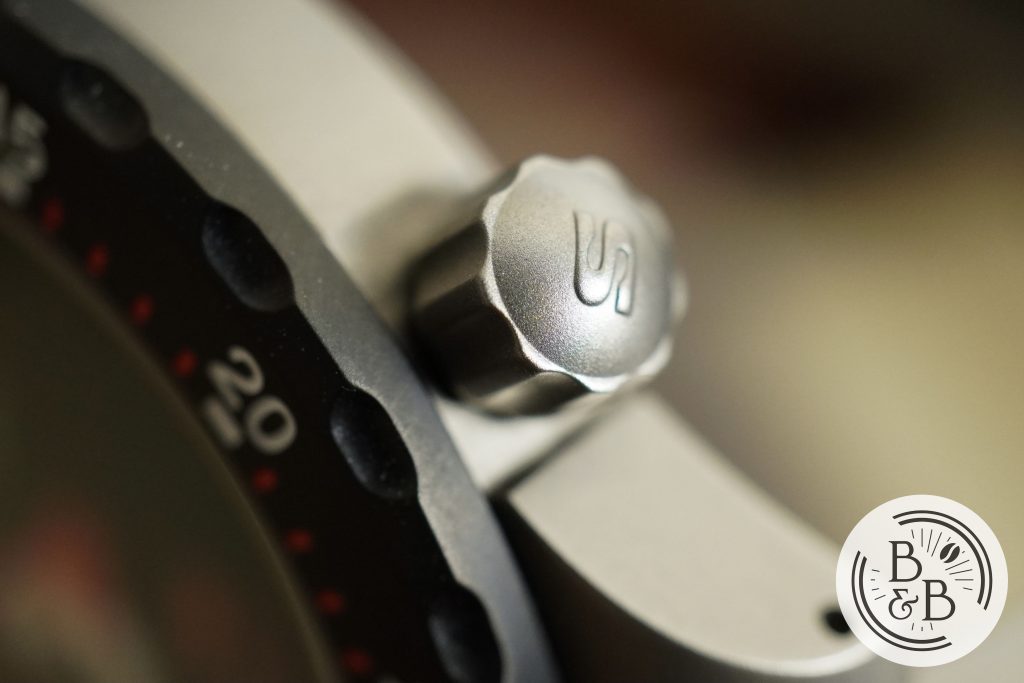 There is a 5.25 mm screw-down crown at the 4 o'clock position that is very easy to grip and operate. The action on this crown is exceptional, and has a sturdy pop when you unscrew it, no crown or stem wobble, and feels buttery smooth when you're screwing it back down.
Flipping it over, you have a solid screw-down case-back with some text engraved onto it and no fanciful artwork. The case-back is slim and slightly curved. This watch is rated for up-to 500m of water resistance.
---
Dial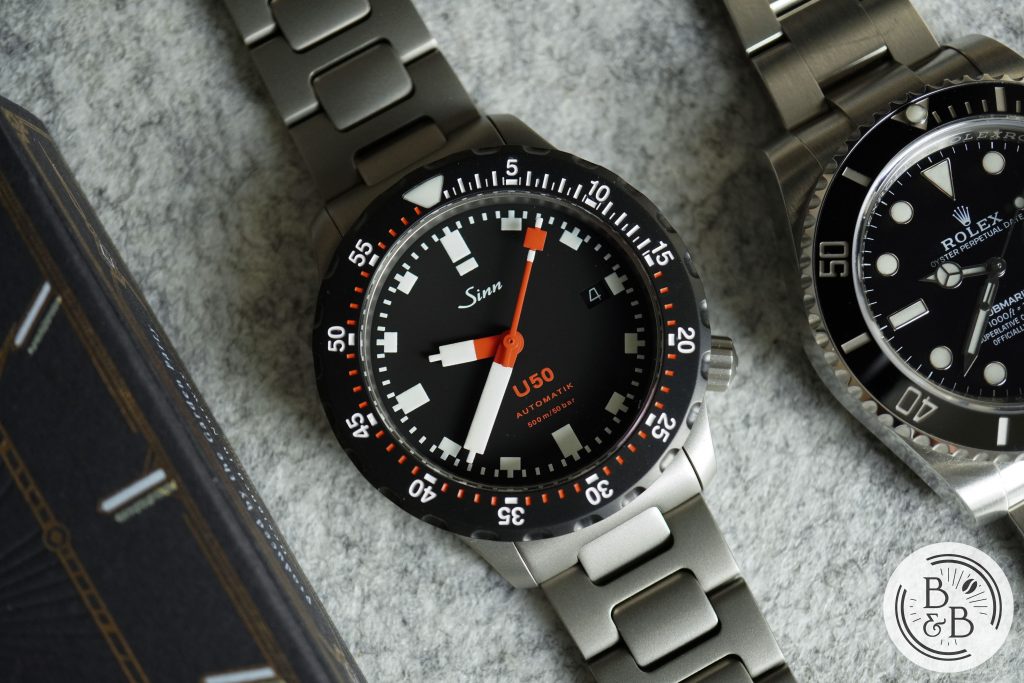 The high levels of sophistication ends with the case, and the dial is simple and legible, and purely exists to serve the purpose of presenting the time. Don't get me wrong, I think it is a good design too, but you're not going to get fancy textures, jewelry like polished indices, and extravagant hands. The dial is very German, and very functional.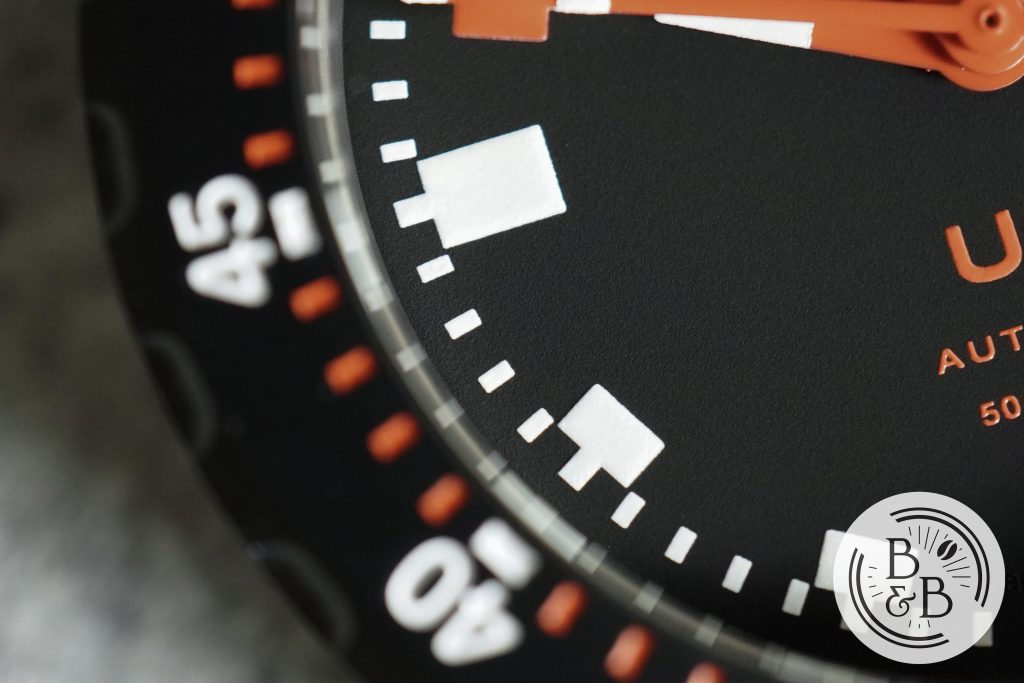 You have an outer minute or seconds track that is printed in white against the matte black dial base. The printing quality is good, and this track is very easy to read. You then have inner rectangular indices, with large indices at the cardinal axes, and shorter rectangles for the other hour markers.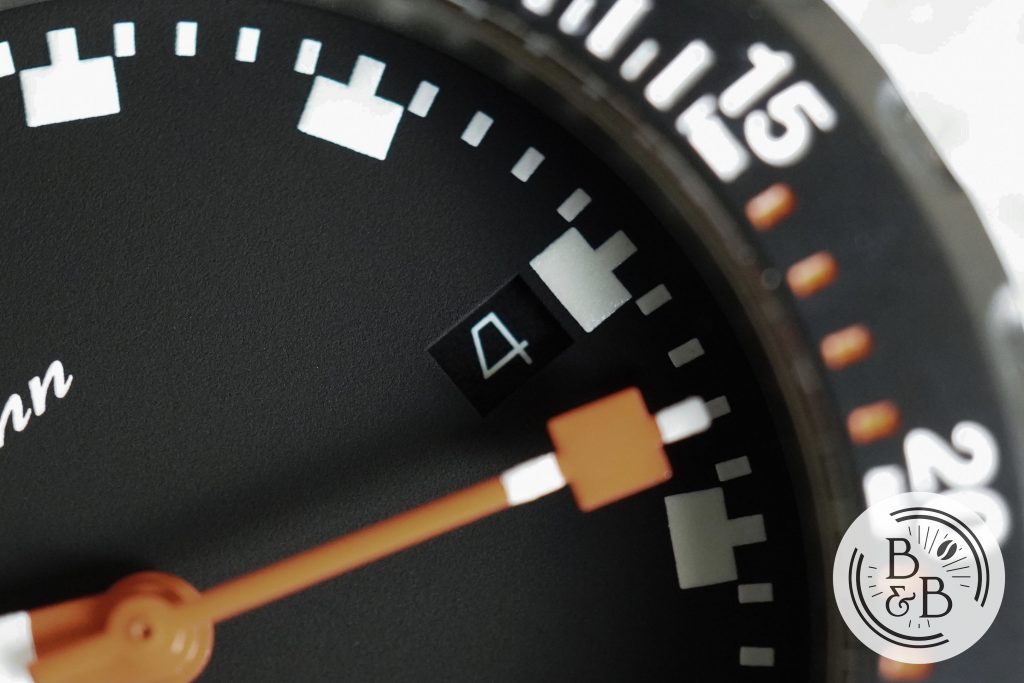 There is a date window at the 3 o'clock position, with a black date wheel and white text. I'm usually a 6 o'clock date wheel person, but Sinn manages to integrate their date wheels well, and this one blends into the dial and is barely noticeable.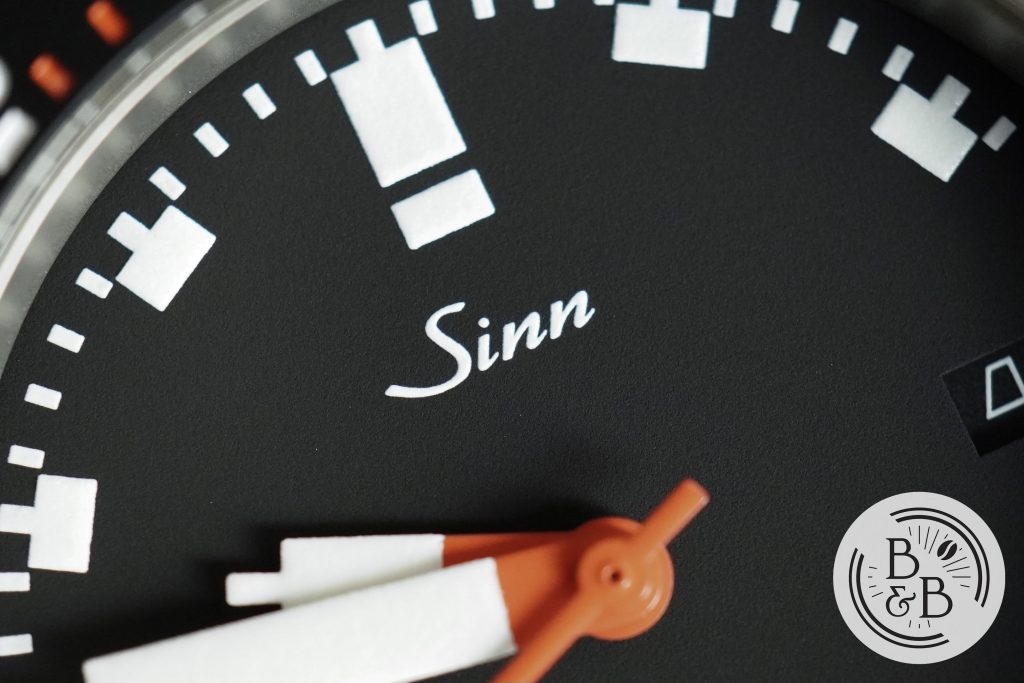 The brand's name is printed below the 12 o'clock marker in white, and the name of the watch above the 6 o'clock marker in red.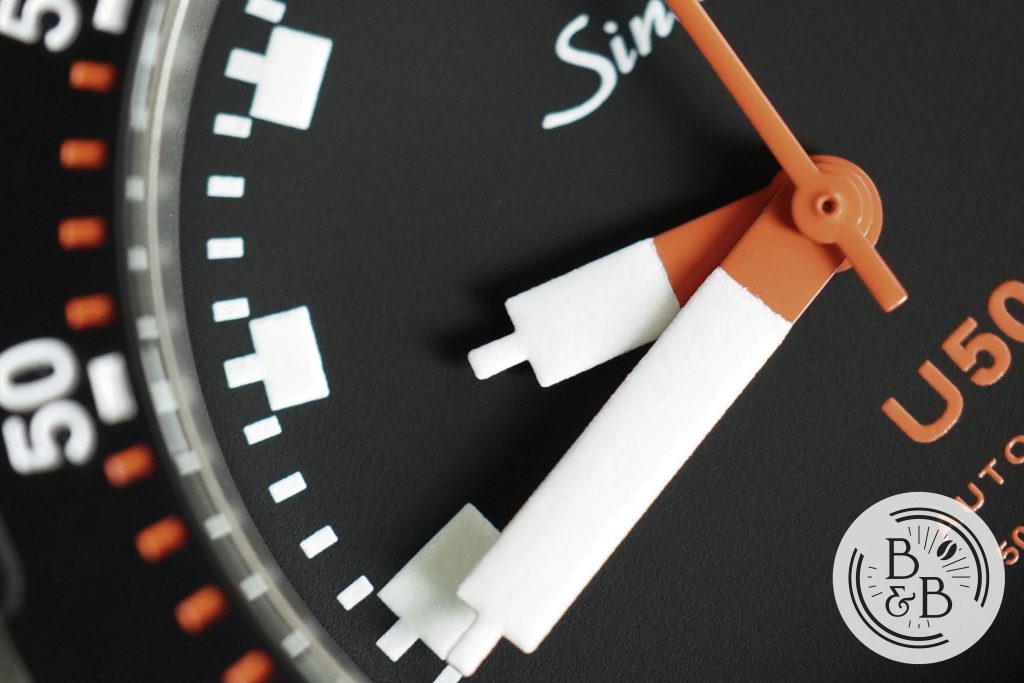 The handset follows the same Minecraft-esque rectangular theme nicely, with small protruding tips for more accurate timing. The hands are entirely painted, with red accents at its base. The seconds hand is also painted red, with a red rectangular element, and two lumed accents on either side of it.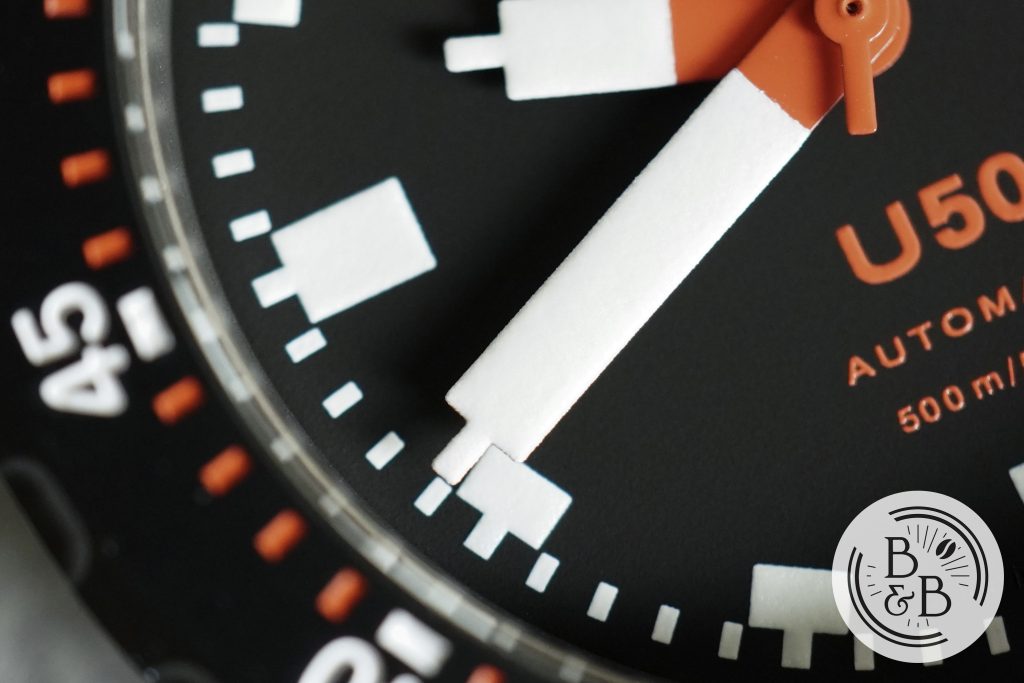 I completely understand why this design tends to split people down the middle. It isn't elegant and it isn't pretty. But it works, and has been surprisingly easy to read. I thought all the rectangles would confuse me, but this whole layout just works.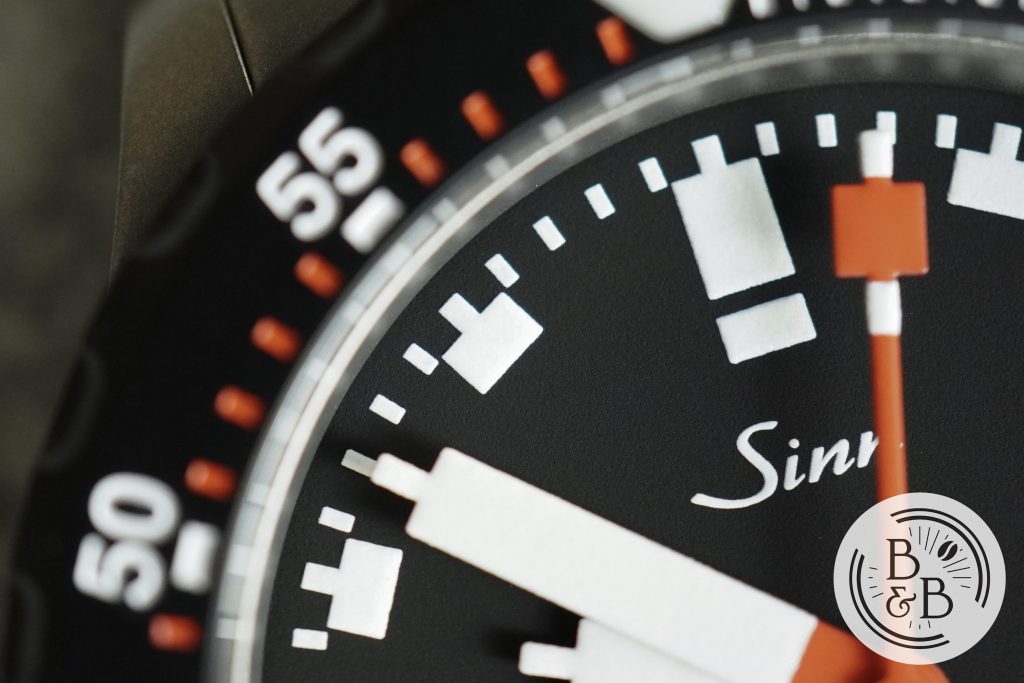 In terms of finishing, you're going to have to set your expectations accordingly, since this is an entirely printed dial with painted hands. You're not going to get Grand Seiko levels of attention to detail, because that's not the purpose of this watch. Similarly, most Grand Seikos lack any kind of practicality where bracelets and mirror polished everything is concerned. One is pretending to be a piece of fine jewelry, and the other is pretending to be a badass time keeping instrument, so pick your poison. But for me personally, I have other watches to satisfy the itch of a meticulous and extravagant dial, and this dial is more than adequate given everything else that the watch does.
---
Lume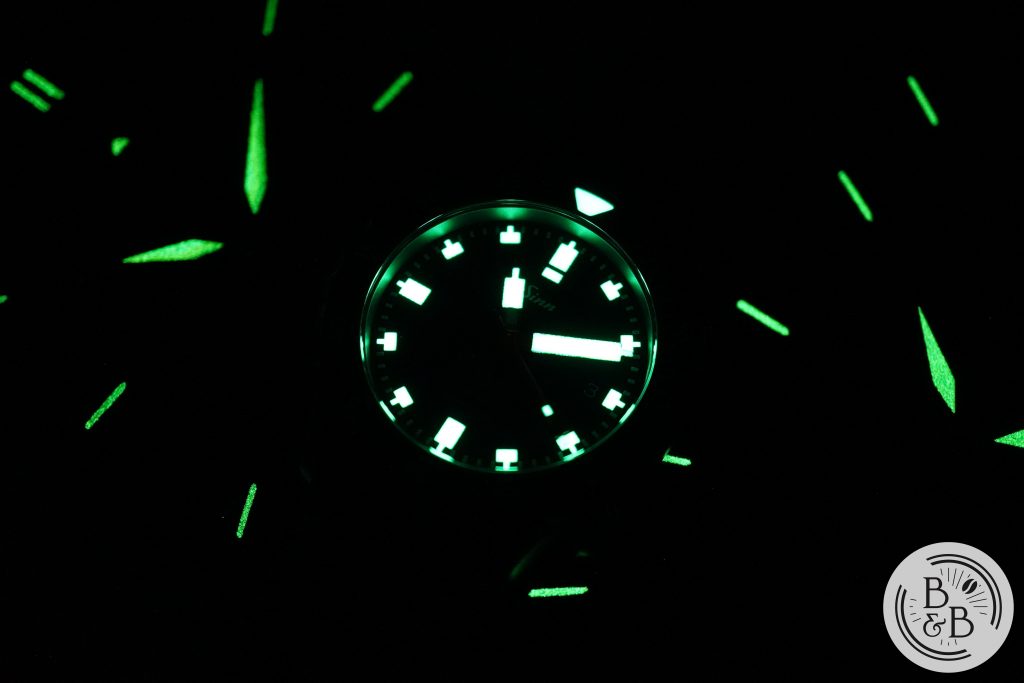 Most Sinn watches have pretty polarizing lume. The lack of initial brightness is what most people will quickly label "poorly performing lume", but this is done by design. I'm not sure what lume they use exactly, but they have traded glaring instantaneous brightness for more even brightness and increased longevity, and I can't help but think that's probably the smarter way to design a dive watch.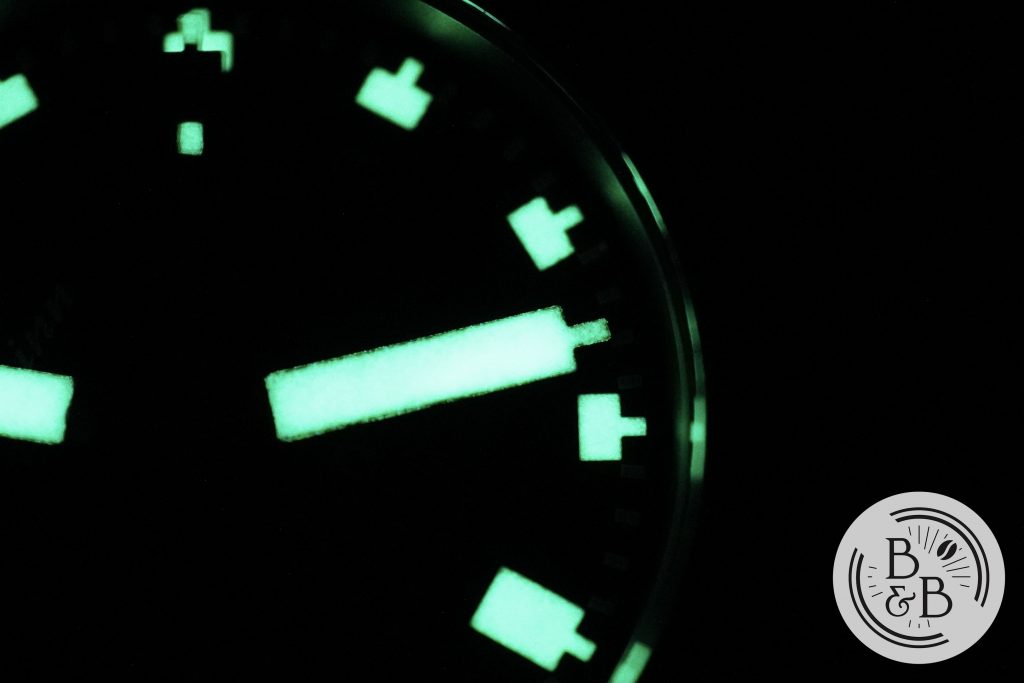 All the lumed elements, except the triangle on the bezel, are painted onto the dial and hands. As with any painted lumed element, the edges are a bit uneven, and the surface of the hands appears rough at the boundaries. This initially threw me off when I owned the EZM 3F, but I'm used to it now. For a tidier layout, they'd have to upgrade to metal hands and applied indices, but that doesn't fit within their design ethos for the U Diver series, so I won't hold my breath.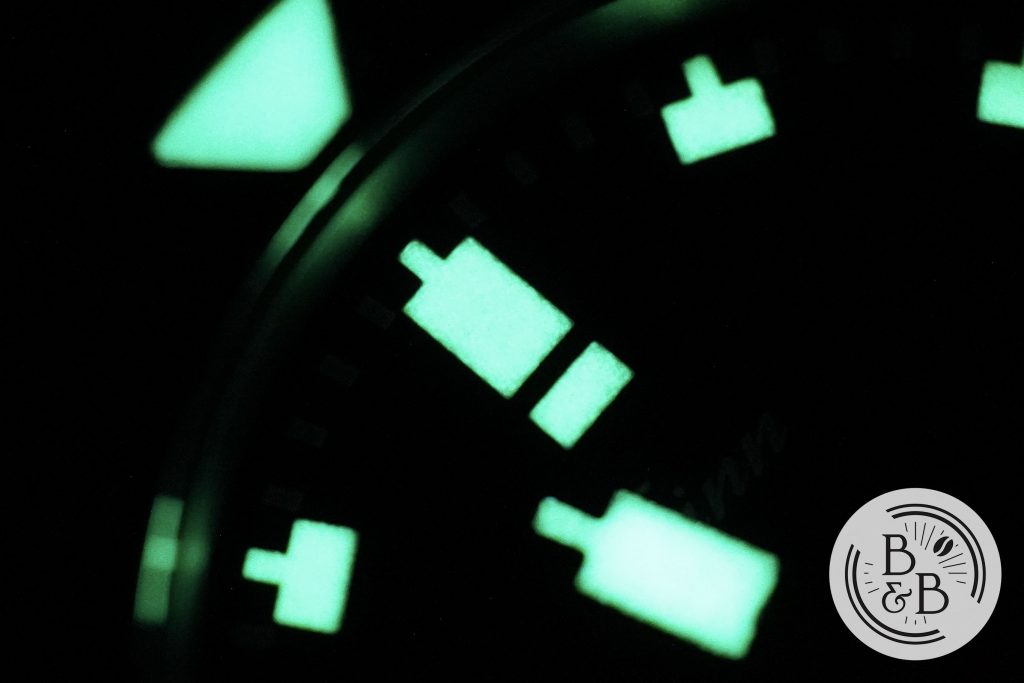 These elements are blocky and squared out, with a lot of surface area that makes it extremely easy to read in the dark. And whatever the watch lacks by not having three dimensional indices, it makes up for with it's incredible crystal, that also shows off it's clarity in the dark.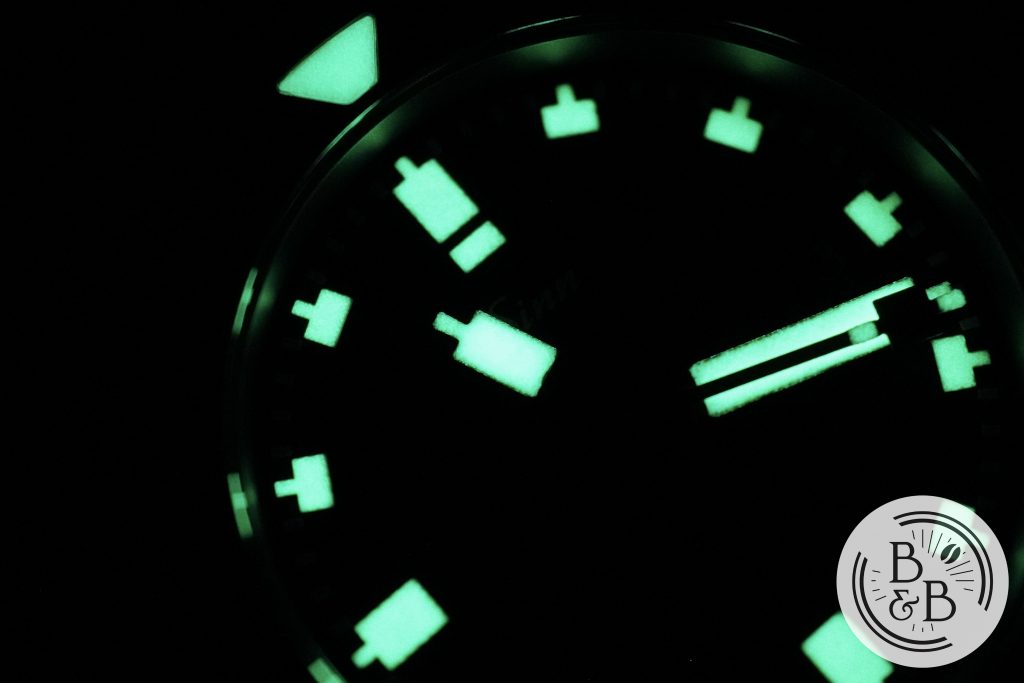 So I think the lume will disappoint those that want Seiko-like brightness, but it is more than sufficient for anybody that purely cares about night time legibility, because this watch is easily legible through the entire night.
---
Movement
This watch uses a top grade Sellita SW300-1. I like this movement a lot, as I've typically experienced better performance from them compared to the Sellita SW200-1. This movement is also slimmer, which means you can design a sleeker watch around it.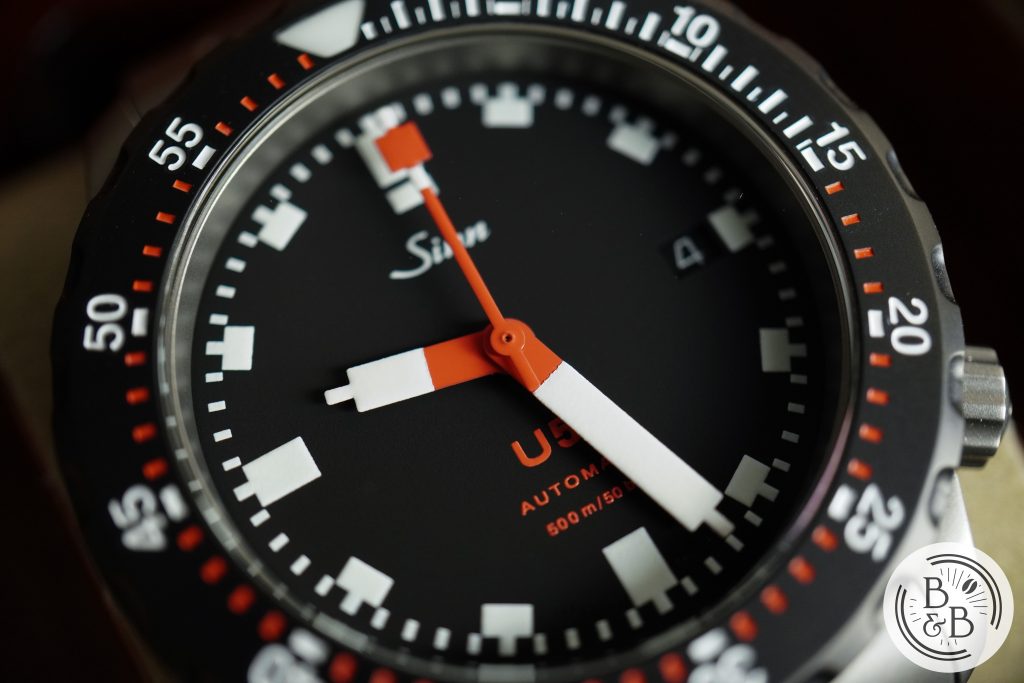 While this movement isn't Chronometer Grade, it has been keeping excellent time. On my time-grapher, I observed roughly +3 spd in the crown up position and +2 spd in the dial up position.
---
Bracelet
This watch sets a very, very high standard with it's case build quality and finishing. Everything about it screams precision, and it is hard to really imagine a tool watch case that is executed better. And you would expect that same level of delivering state of the art materials and manufacturing to extend to the bracelet too, but it sadly does not. It comes close, but fails at the clasp.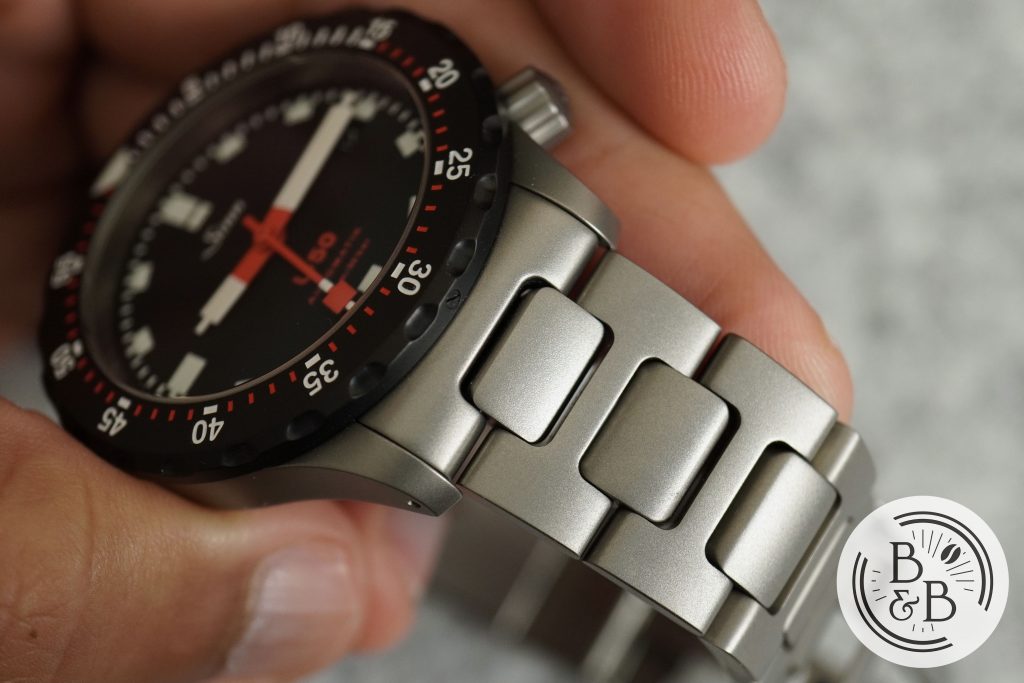 The end link fitment is great with minimal horizontal wiggle, and the case to end link transition is good. The links are extremely well made, feel solid, and wear comfortably without any hair pulling. The links are fastened together by means of hex-screws on both sides, with a floating bar between them that will prevent the screws from coming undone while the links articulate – a small detail, but one I appreciate.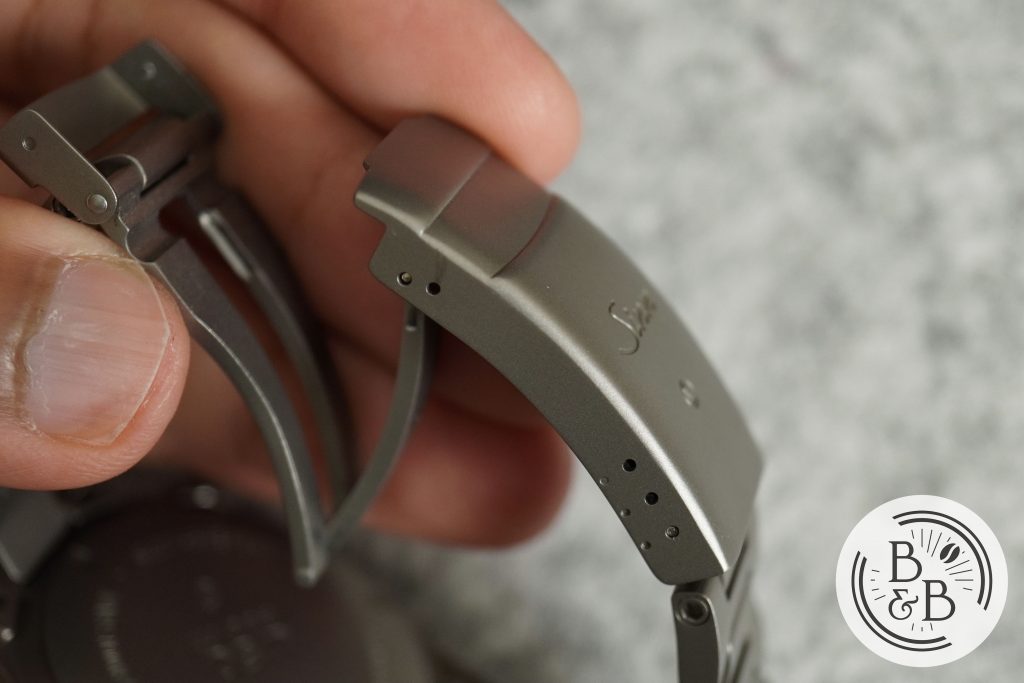 The clasp is where this brand let's you down, because it just doesn't live up to the engineering excellence you see throughout the rest of the watch. This is a pressed clasp with a somewhat flimsy fold-over lock. The clasp fits well with the rest of the bracelet because of how sleek it is, and does offer three micro-adjustment positions and a divers extension.
But I think what most of us would've liked to see is a slightly more robust design with some form of tool-free micro-adjustment. There are brands doing this at 1/5th the cost of this U50, so I think it is time for Sinn to flex their design and engineering muscles and show us how it's done. I can't help but think they're working on one as we speak, and will debut it over the next year or two. With a high-tech and ergonomic clasp, this watch could likely be one of the best dive watches on the market today.
---
On The Wrist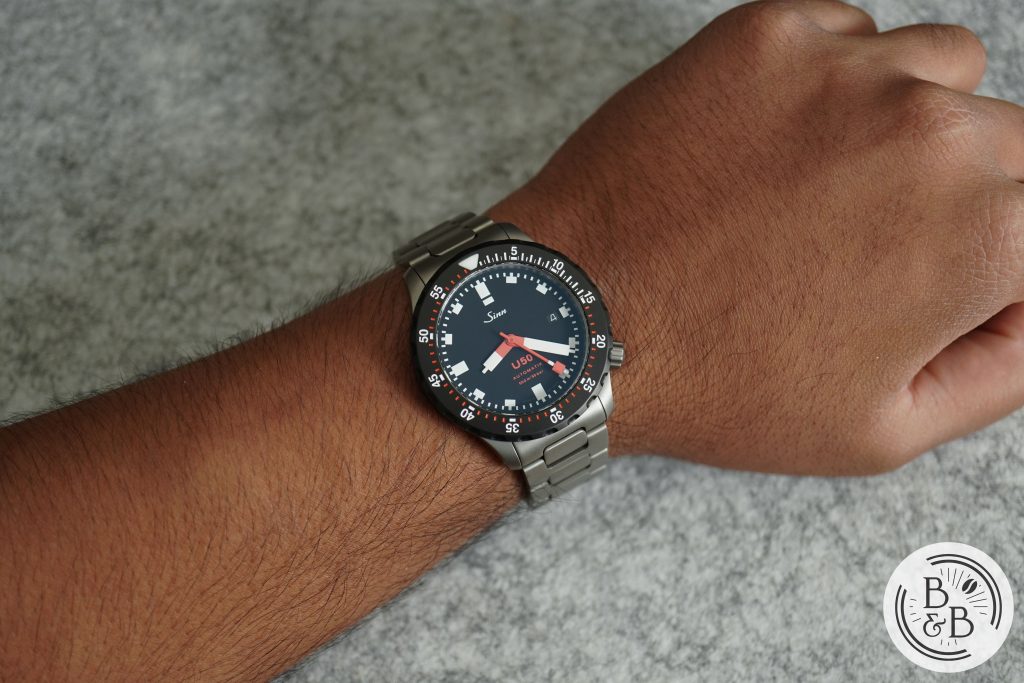 As you'd expect, this watch wears incredibly well on my 6.5″ wrist. It might just be one of the most comfortable divers I've owned, even with the shabby clasp and lack of on-the-fly micro-adjustment.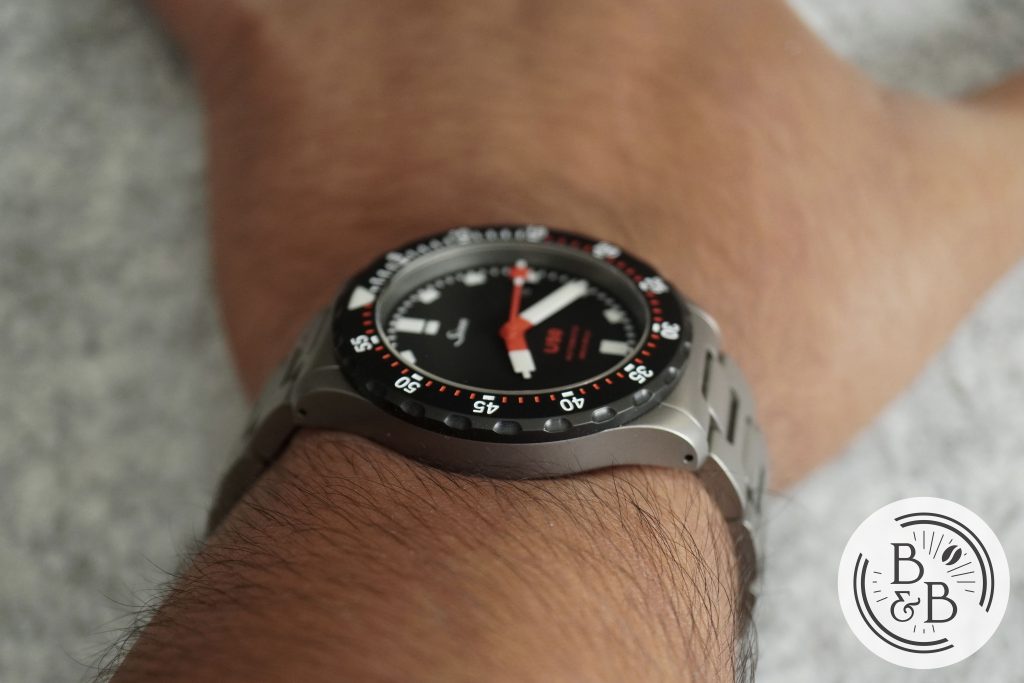 The 40.65 mm diameter and 46.75 mm lug to lug width fit well on my wrist, and I'd say it is a perfect combination of proportions for my wrist. The 11.1 mm height is what makes this watch what it is though. The case sits low, and is very well balanced. Excellent work from Sinn!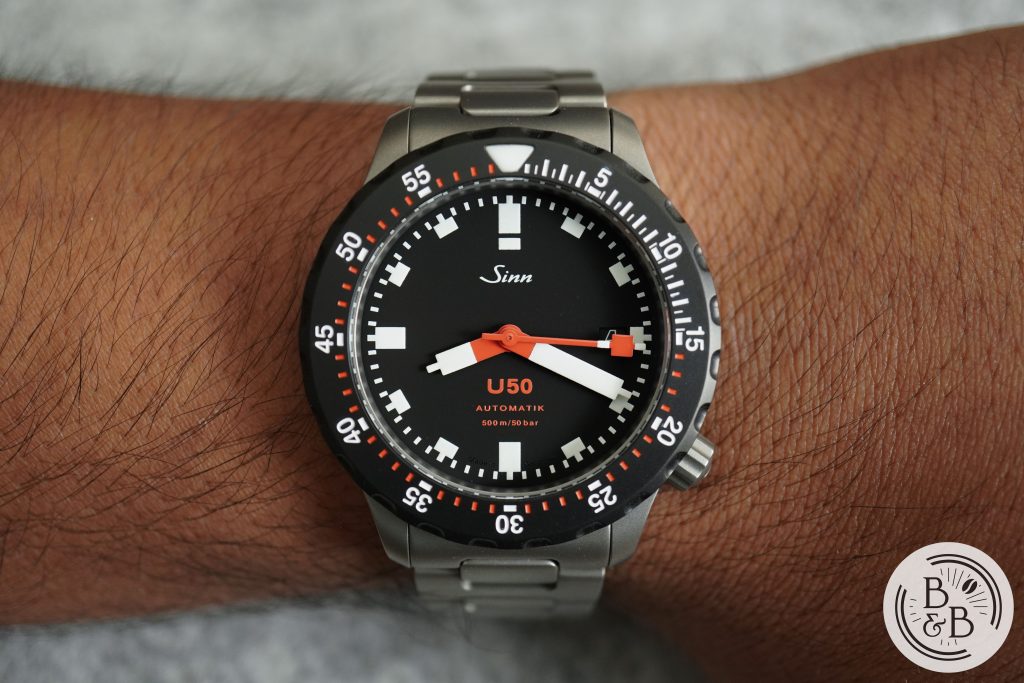 There's nothing about these proportions I can complain about, and even the 4 o'clock crown goes a step further in making this a more comfortable watch on wrist. This watch disappears on your wrist, and stays out of your way during your day. I can't think of a better wrist experience for a tool watch.
---
Concluding Thoughts
I'll try wrap this up quickly. This watch is fantastic, and I don't regret my choice at all. I understand that there are plenty of options in this price range that you might consider to be objectively better, such as the Tudor Black Bay 58 or a pre-owned Omega Seamaster Professional 300. But while this watch does not have an in-house movement and a widely accepted brand name, it has an extremely unique design, incredible case and an amazing wrist experience.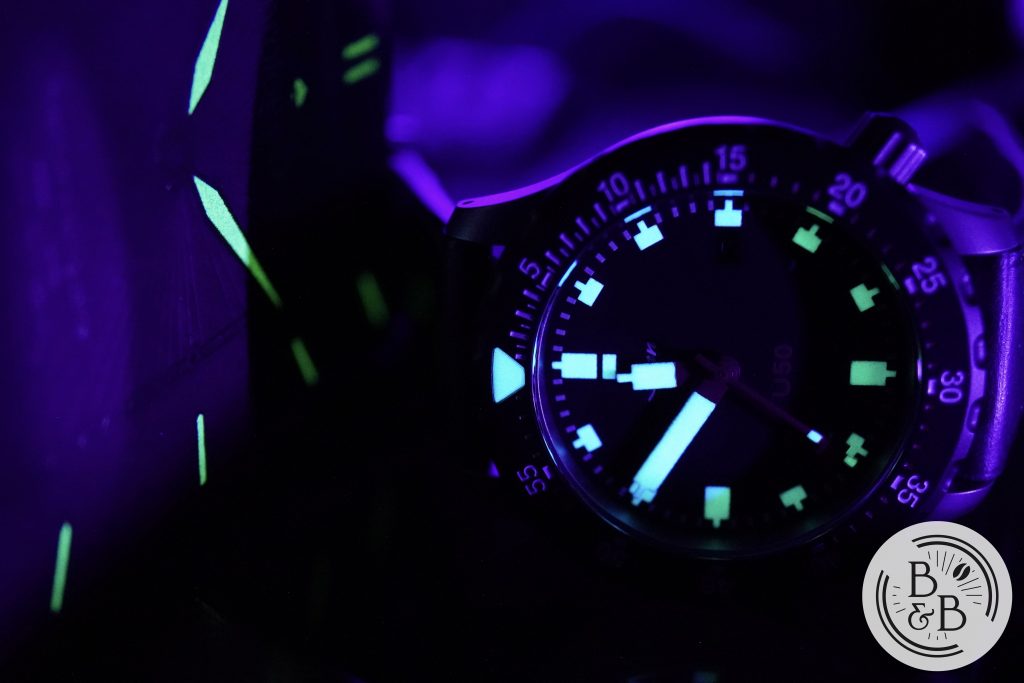 And while most mainstream brands try to deliver more "luxury" for your money, Sinn's focus remains on making instruments that are as tough as nails, with the ability to resist any kind of harsh environment. And that is an idea, although mostly romantic, that I can fully get behind. But I believe that their pursuit is real and the evolution of this product line is enough of an indicator of this.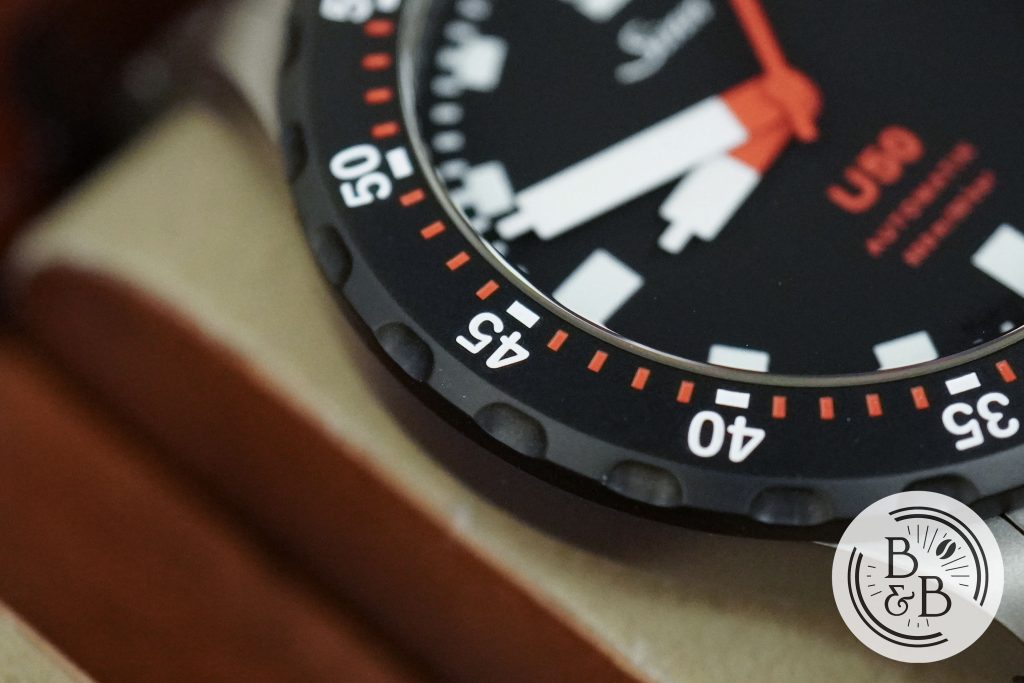 So if you want a watch that trades brand value and the superficial aura of luxury for technical prowess and excellent manufacturing, the Sinn U50 is an easy choice. But be prepared for a mediocre clasp, a dial that lacks the kind of depth you'd experience with applied indices, and lume that trades instantaneous brightness for functional longevity. This watch looks great to me because it isn't trying so hard to. It has a singular purpose – to be an excellent watch for diving. And with minimal pretense, it does that job like no other.
---
Strap Change
---
Thanks for reading!