---
Disclaimer: This watch was sent to me on loan to review. Upon completion of this review and prior to shipping this watch back, I was very generously gifted this watch. This watch was given to me after my review, and without restriction; and was not contingent upon a particular outcome for my review. All opinions here are my own, and Hemel had no influence over the opinions stated here.
---
---
Contents
---
Hemel Watches
If you're part of any interesting watch communities on Facebook, you've likely already come across Hemel and it's founder, Marvin Menke. Marvin is the Admin of League of Watch Microbrands, and has curated one of the most enjoyable watch discussion groups on Facebook. He is also the founder of Hemel Watches, a micro-brand based in the US, and has a very interesting line-up of utilitarian and good looking watches. Marvin has a background in design, and it is evident in the cohesive design language across the entire range of Hemel watches.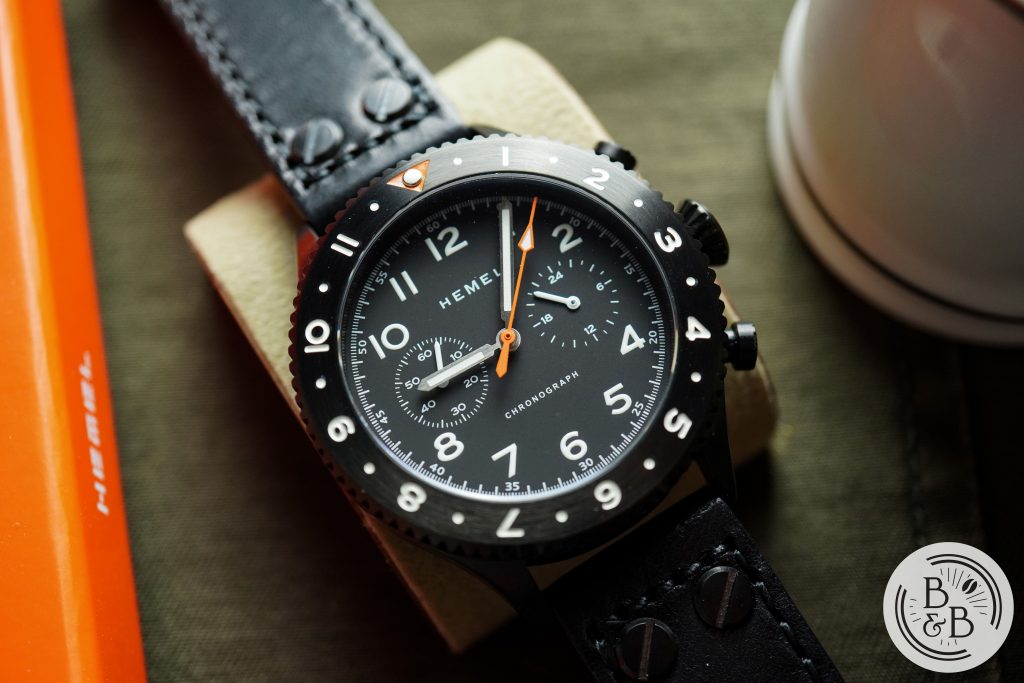 I've heard great things about his watches, and I was eager to get my hands on one to review. He was kind enough to loan me this HFT20 Night Ops, from the HF collection of aviation watches.
Let's check it out!
---
Case
The case is 42mm in diameter, 49mm from lug-to-lug and roughly 13.5mm tall. This is the Night Ops variant of the regular HFT20 series, and has an all black case made of stainless steel. The entire case is brushed, with a combination of horizontal and vertical brushing. The overall build is hefty and solid, and makes the point that this is a watch is ready to be tossed around without worry.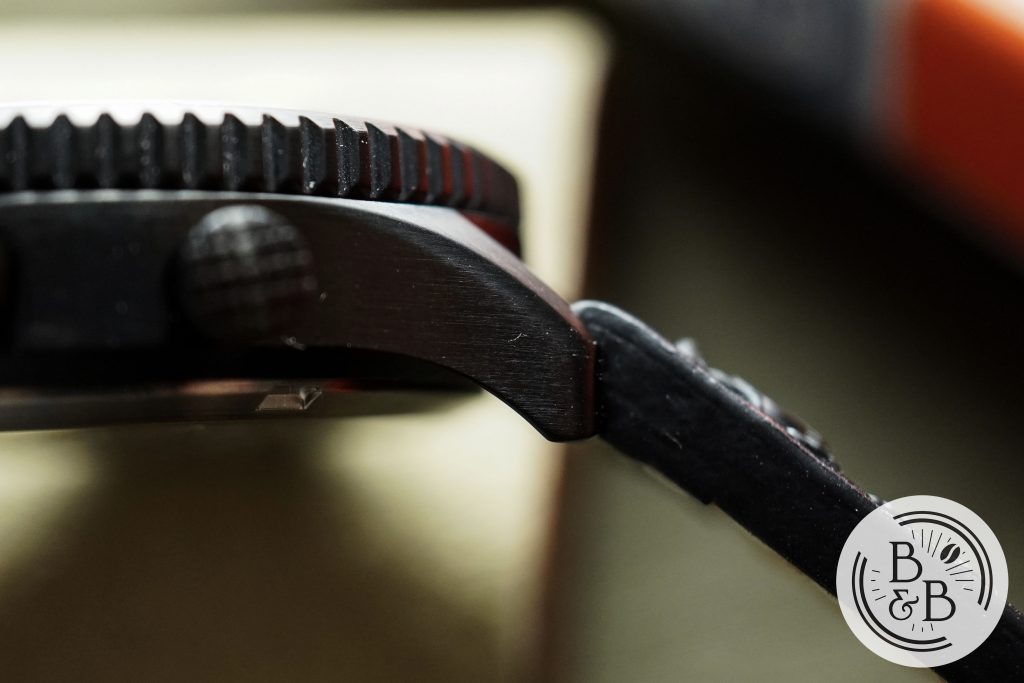 Compared to the case dimensions, you have pretty short lugs that curve down towards the wrist. The lugs are not drilled through, and the lug width is 20mm.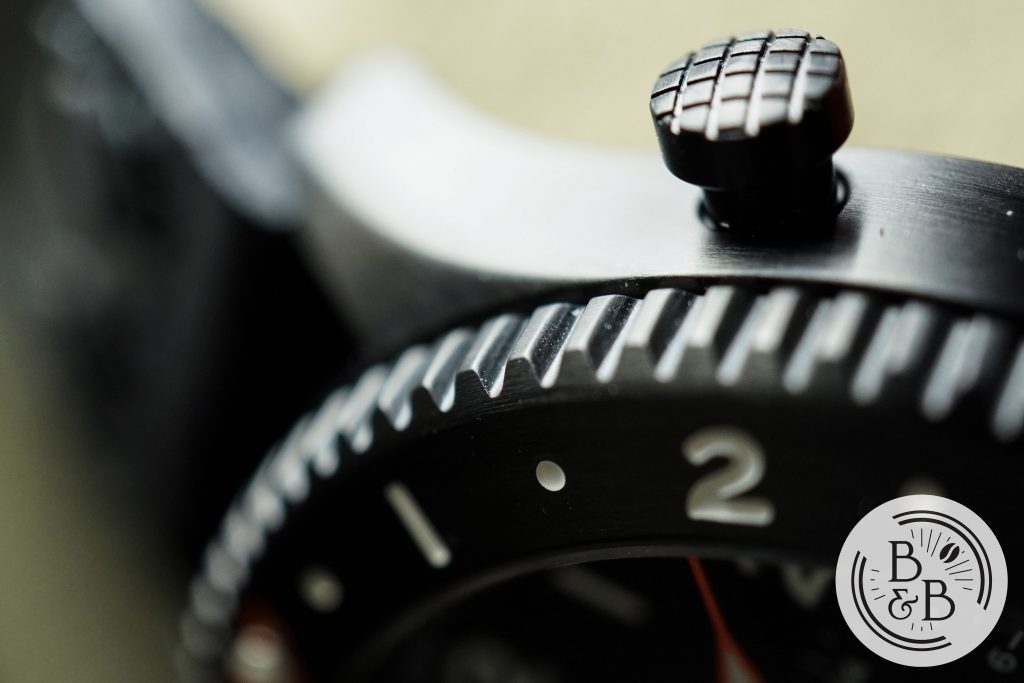 You have a very robust feeling bezel with a black ceramic insert. This is the GMT bezel option, and has 120 uni-directional clicks. I would've preferred for the GMT bezel to be bi-directional, but since this is a swap configuration with the dive bezel, I don't blame them for not making two completely different bezel units.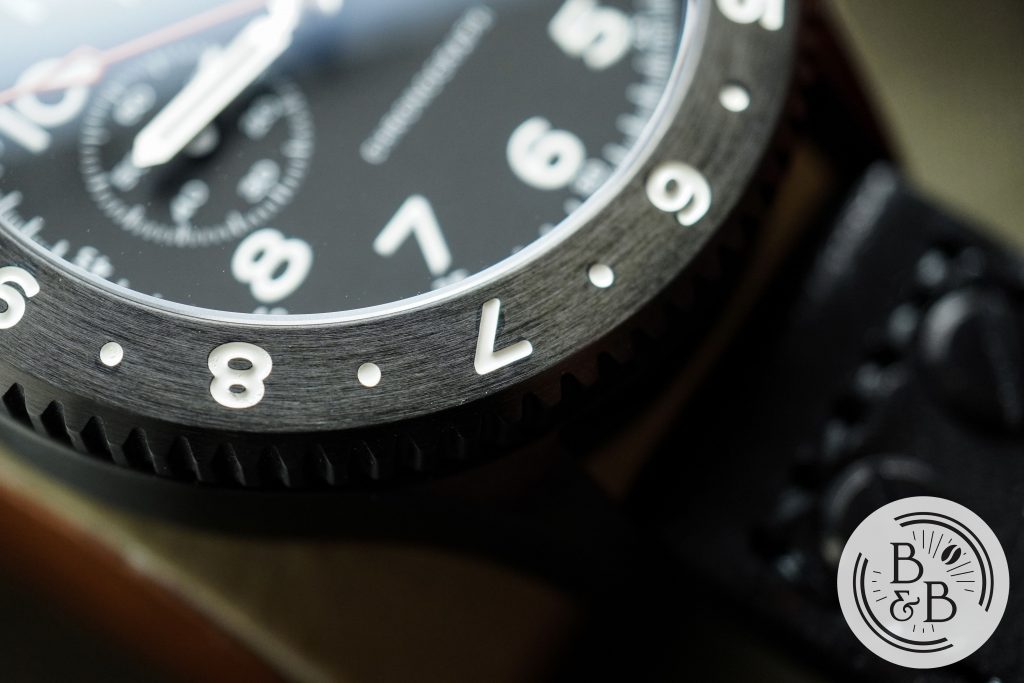 The bezel action is very solid, takes a decent bit of effort to move, and has no back-play. A good recipe for a serious tool watch. The finishing of the filled indices is very good for the price.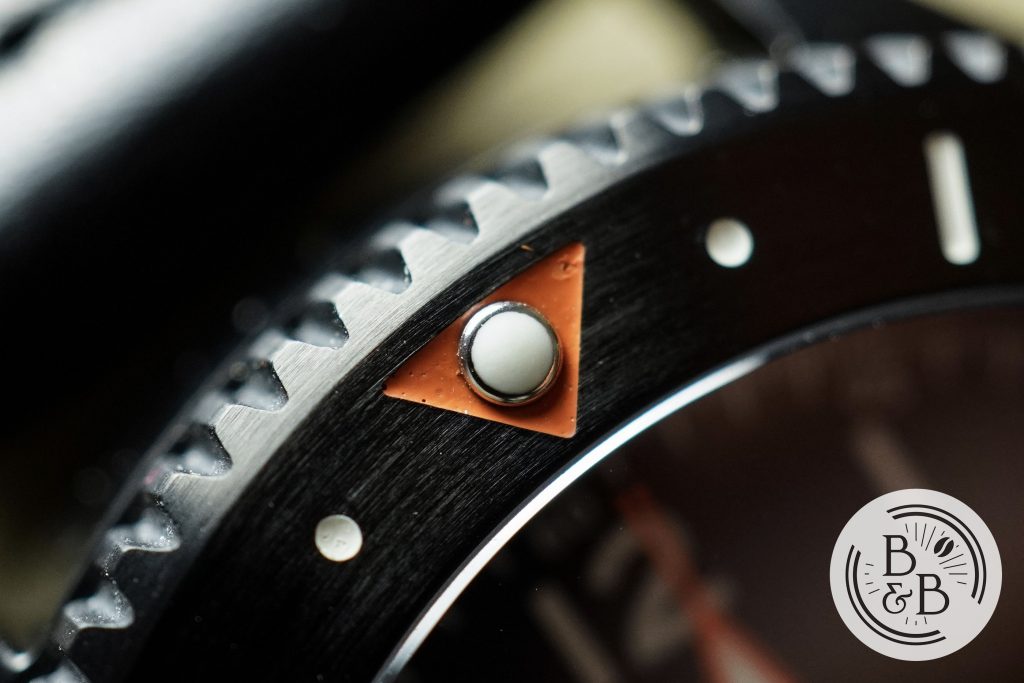 You have a lumed pip at the 12 o'clock position that sits at the center of an orange triangle. The finishing on this isn't as good as the rest of the numerals, and has a few holes – none that are visible to the naked eye though. And at the $450 price tag, nothing to complain about. The bezel houses a sapphire crystal with a light blue AR coating.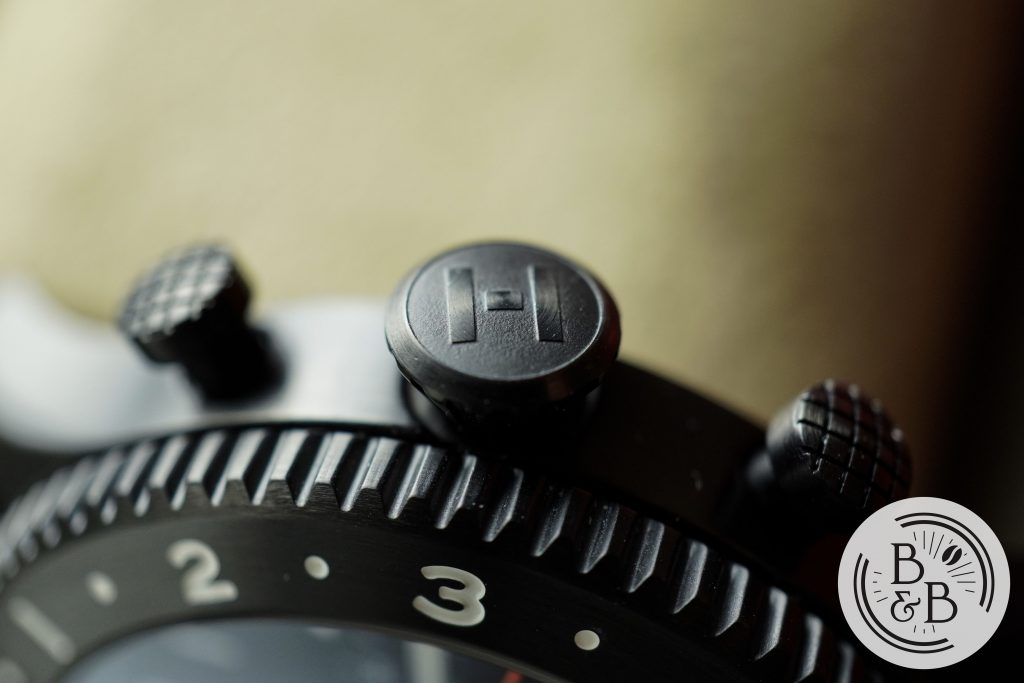 There is a push-pull crown at the 3 o'clock position that is conical in shape, paying respect to heritage pilot watches. The crown is signed, and is easy to grip and operate. I didn't notice any crown or stem wobble.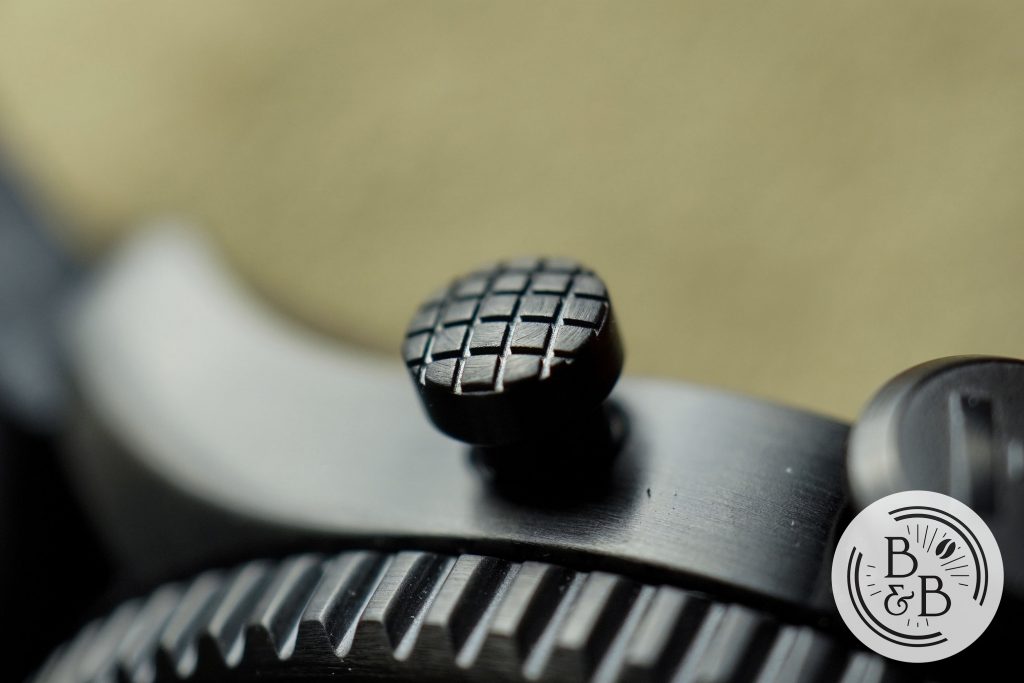 The pusher buttons are pretty neat too, and are patterned to make for easy operation.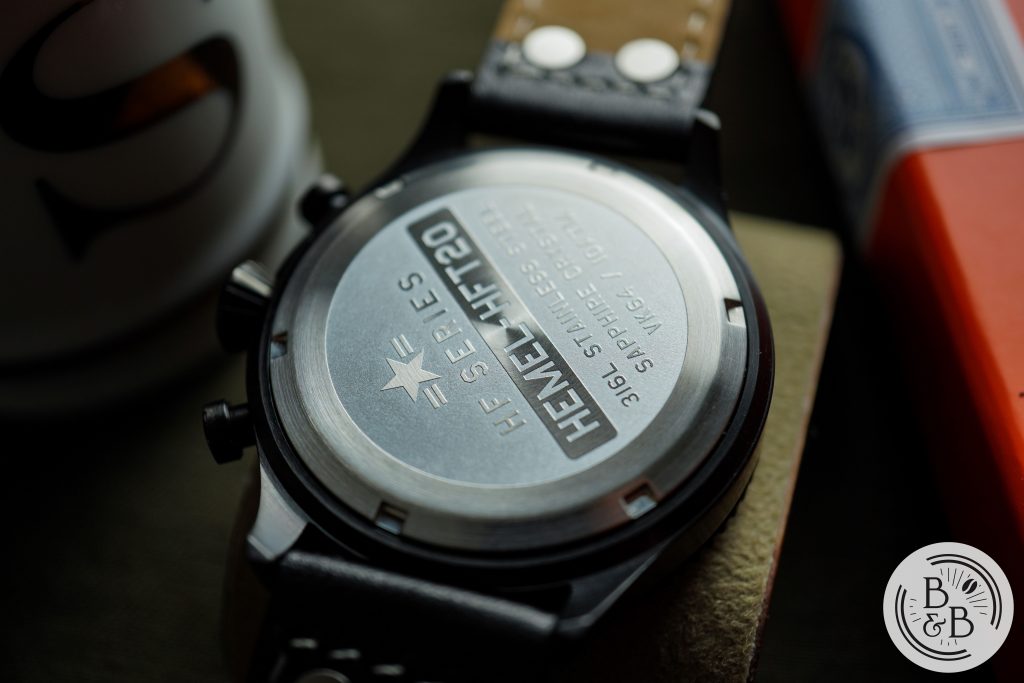 Flipping it over, you have a simple solid screw-down case-back with some text. The watch is rated for up-to 100m of water resistance.
---
Dial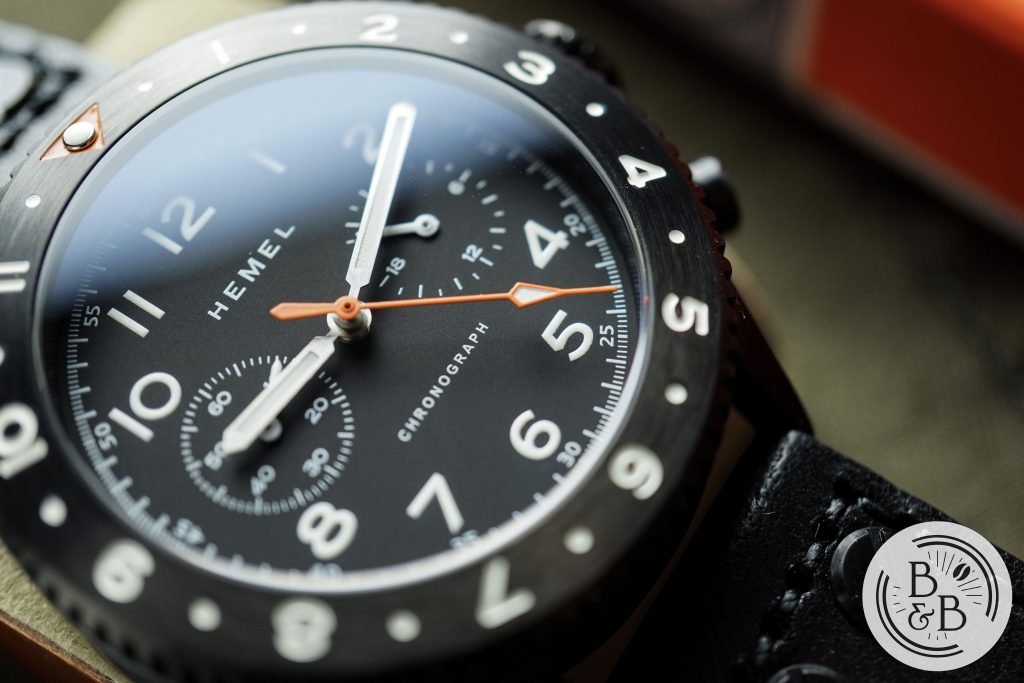 The dial is inspired by the Type 20 layout, and is clean, legible and looks very utilitarian. If you've read my review of the Vandaag Schallmauer, you'll know that dials like this appeal to me very much! The Hemel is also very, very well finished and the quality control is remarkable for a sub-$500 watch.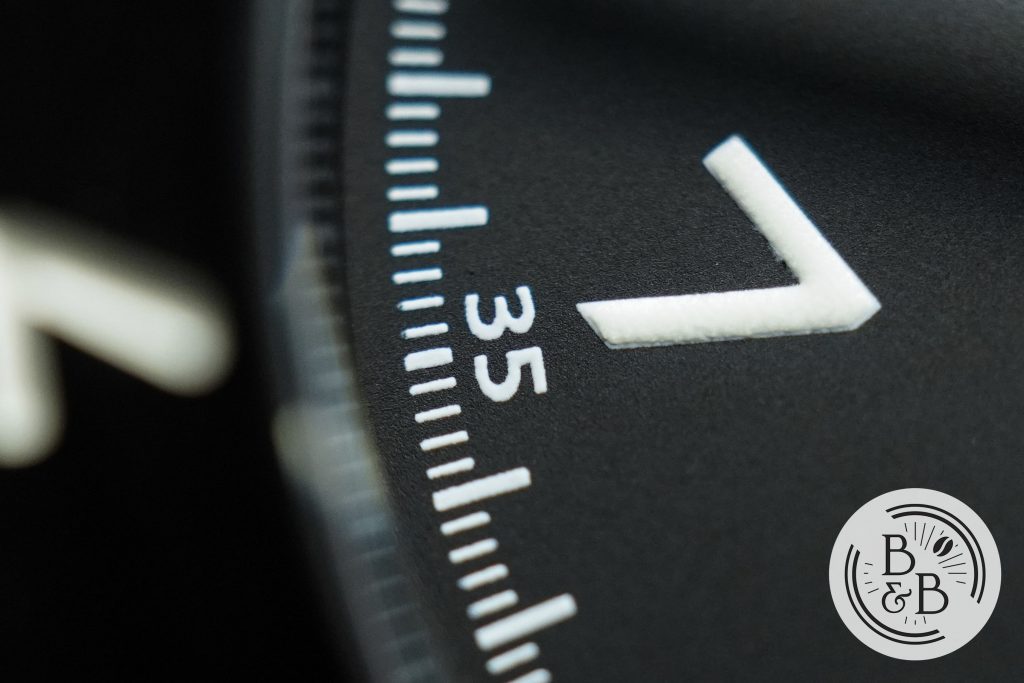 There is an outer minute and seconds track, with Arabic numerals for every increment of five. The quality of printing is excellent!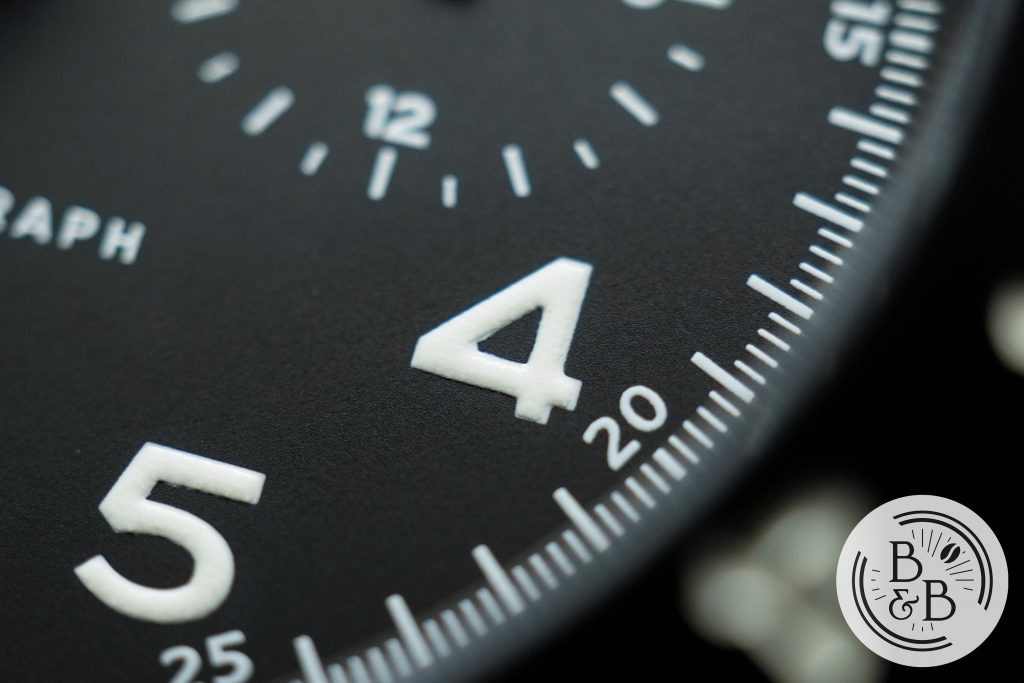 You then have well proportioned, and generously lumed hour numerals that are clearly inspired by classic pilot watches. Once again, the finishing of the printing is great for the money.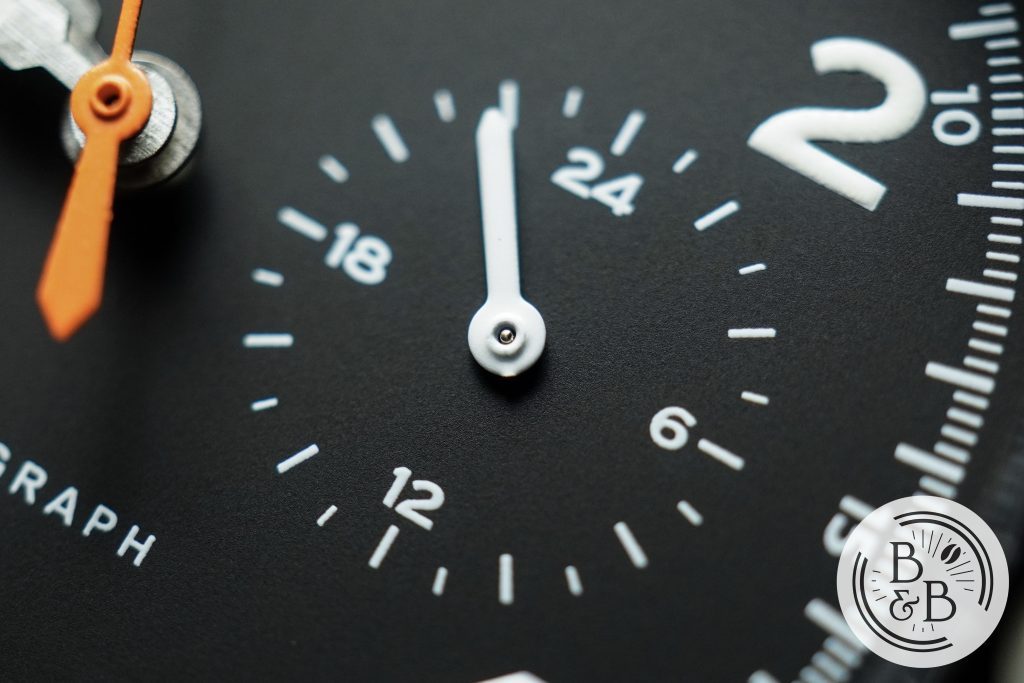 This is a two register chronograph with a 60 minute counter at the 9 o'clock position and a 24 hour indicator at the 3 o'clock position. Again, the printing is excellent on both registers, and they're both very easy to read.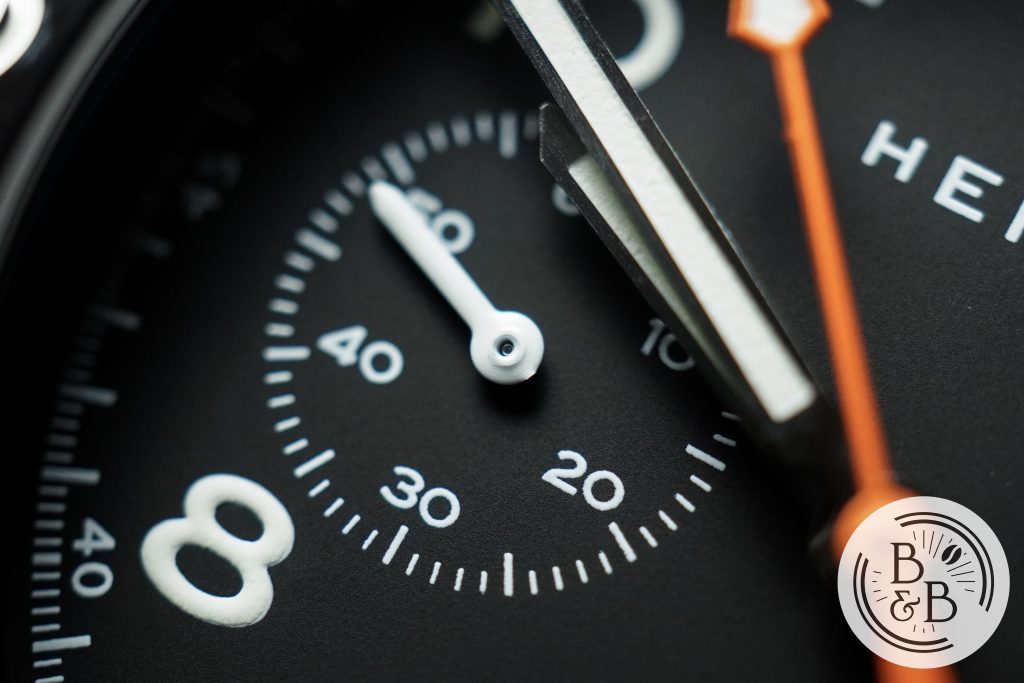 An interesting choice, and one that I very much appreciate is the fact that both the sub-dial hands are entirely lumed. It would've been completely fine if this wasn't, but they decided to do it anyway. Respect!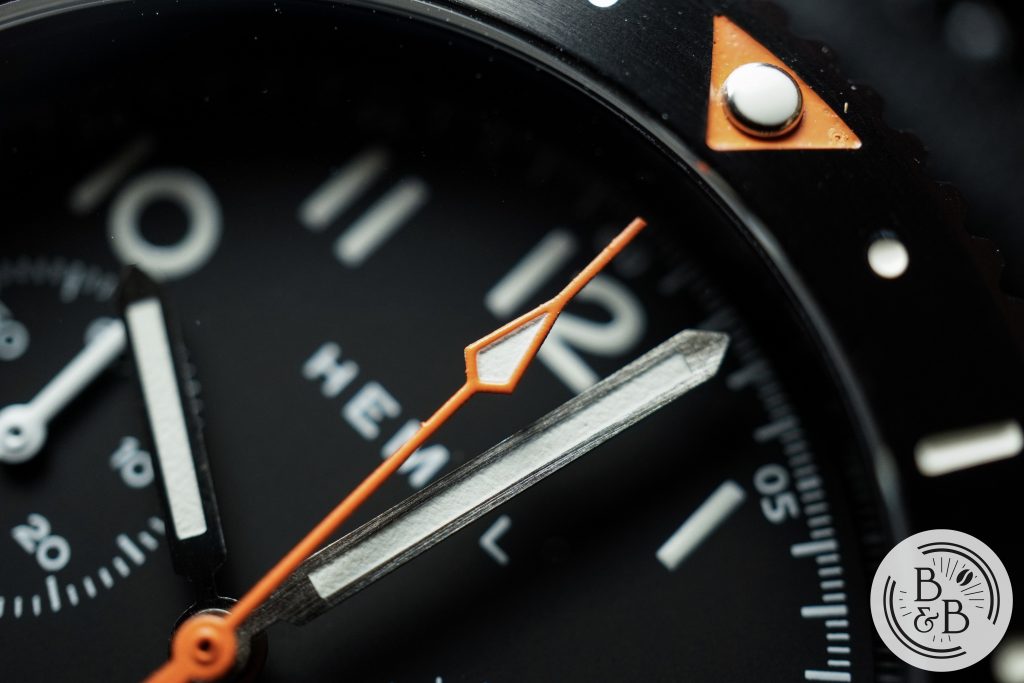 The hour and minute hands are brushed stainless steel and are generously filled with lume. The proportions on both these hands are excellent, and the minute hand reaches all the way to the minute track.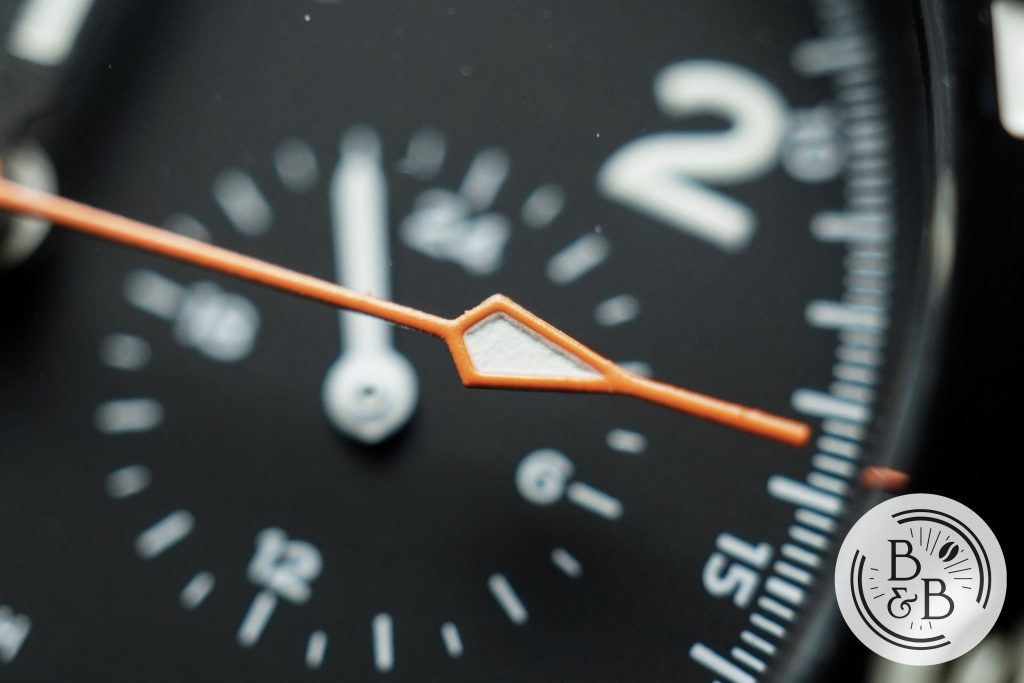 The seconds hand is painted in orange to match the orange accent on the bezel. I love the contrast between black and orange on a watch. The seconds hand is well proportioned too.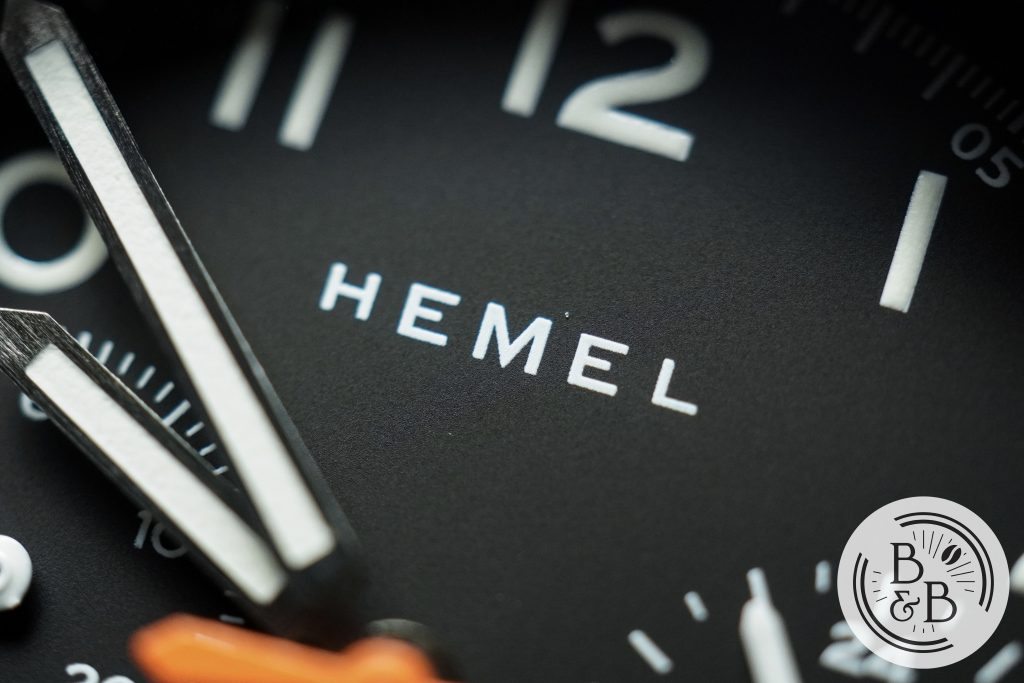 Overall, the design and finishing of this dial is very, very impressive. I'm sold on Hemel's quality control if all their watches are this clean. But as you must already know, I am a bitter and annoying man with a macro lens, that refuses to let a good thing be, so I will point out this microscopic particle of paint above the letter 'M'. Did I also find such a particle on my Tudor Black Bay that is roughly 6 times this in price? Yes.
---
Lume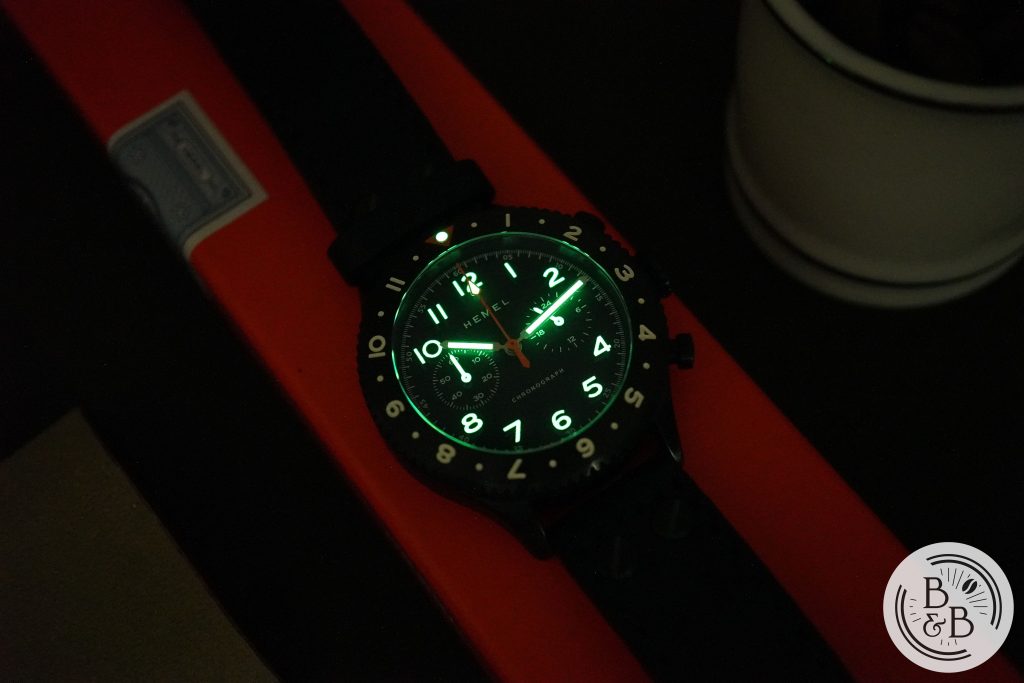 The lume is great, and I'm pretty sure it will satisfy most people's daily requirements for brightness and longevity. All the lumed elements are C3 Super LumiNova, and they're generously applied.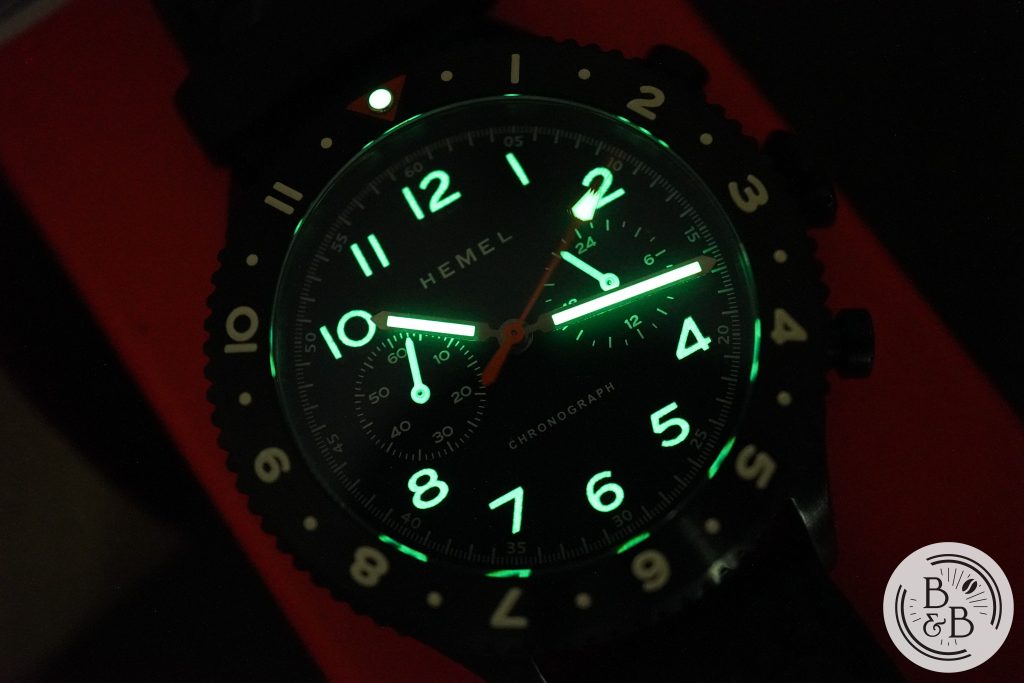 The lume design is excellent too – with bright hour numerals and very bright hour and minute hands.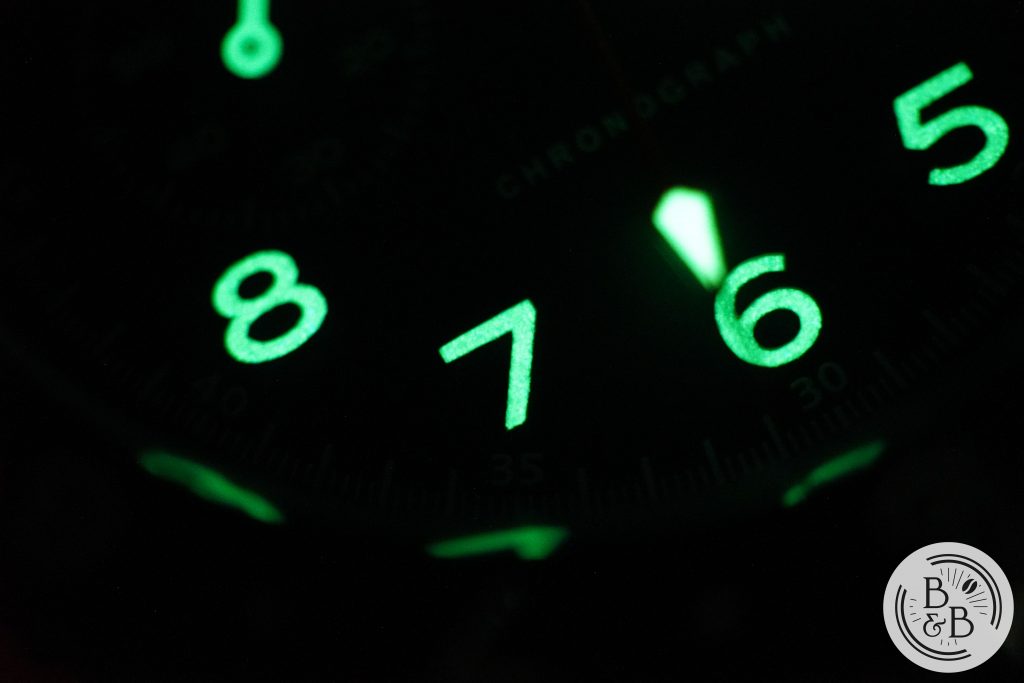 The seconds hand tip is also generously lumed, and so is the circular pip at the 12 o'clock on the bezel.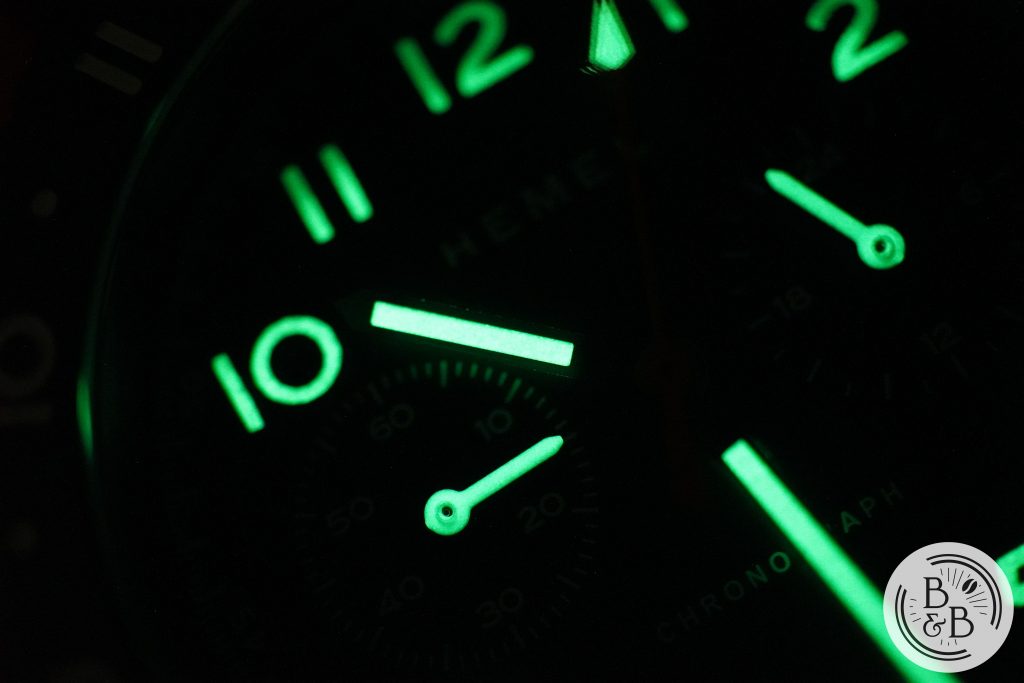 What impressed me most is the fact that the chronograph sub-dial hands are also entirely lumed. I think this is brilliant, and you don't see this on most chronographs, affordable or not.
---
Movement
This watch uses a Seiko VK64, a hybrid meca-quartz movement. If you don't already know, I'm a fan of this movement and prefer it to entry level chronograph movements like the Seagull ST19.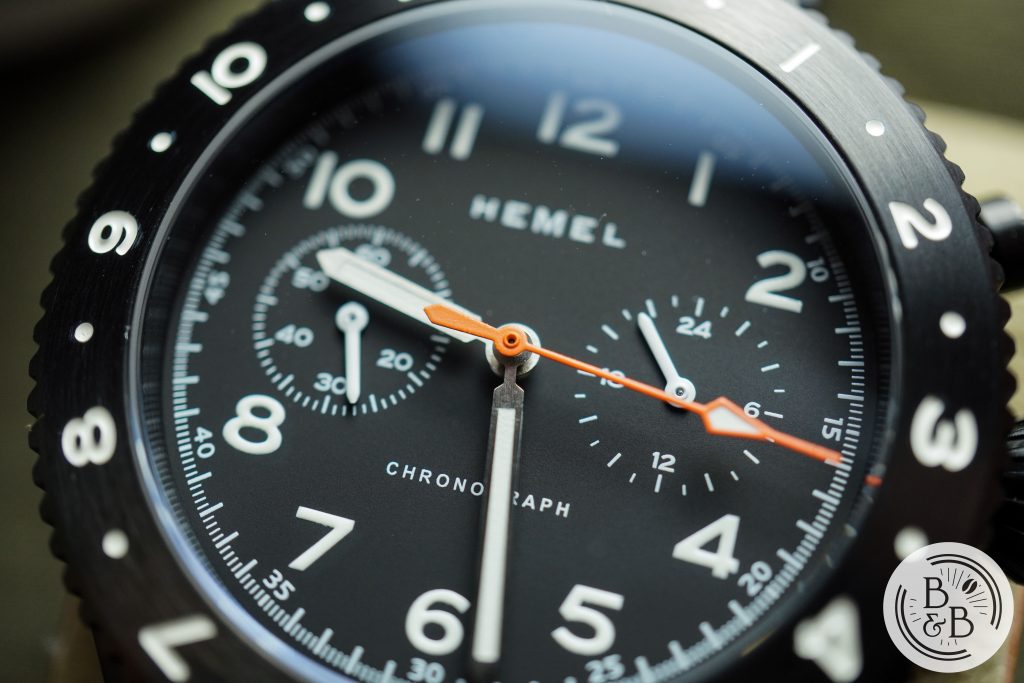 For a watch that is built like a tool, and is telling you to knock it into stuff…just because it can handle it, a movement like the Seagull ST19 would completely negate that robustness. So I think the choice of movement is very appropriate here. That said, if you are a fan of that movement and want something a bit more…dare I say…vintage inspired, they currently offer an ST19 equipped limited edition run for members of the League of Watch Microbrands on Facebook.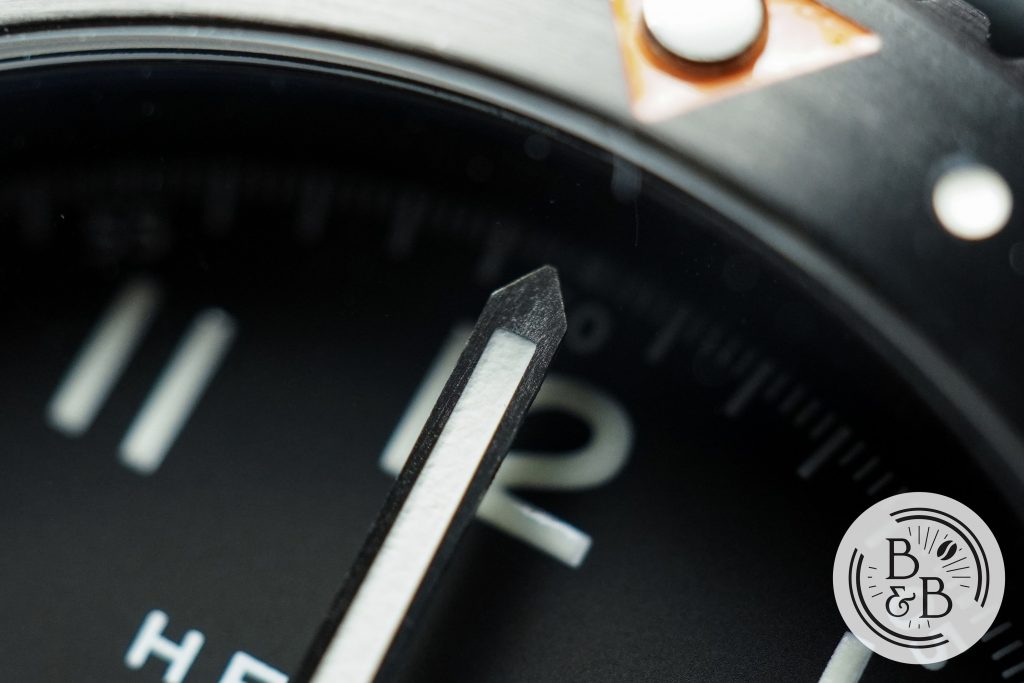 At the price of $450, you're still in the affordable category, but you can argue that it is on the higher end of quartz and meca-quartz watches. With that in mind, I would've preferred if it didn't have a ghost date position. I'm not very familiar with this line of movements, so it is possible that a no-date option just does not exist.
---
On The Wrist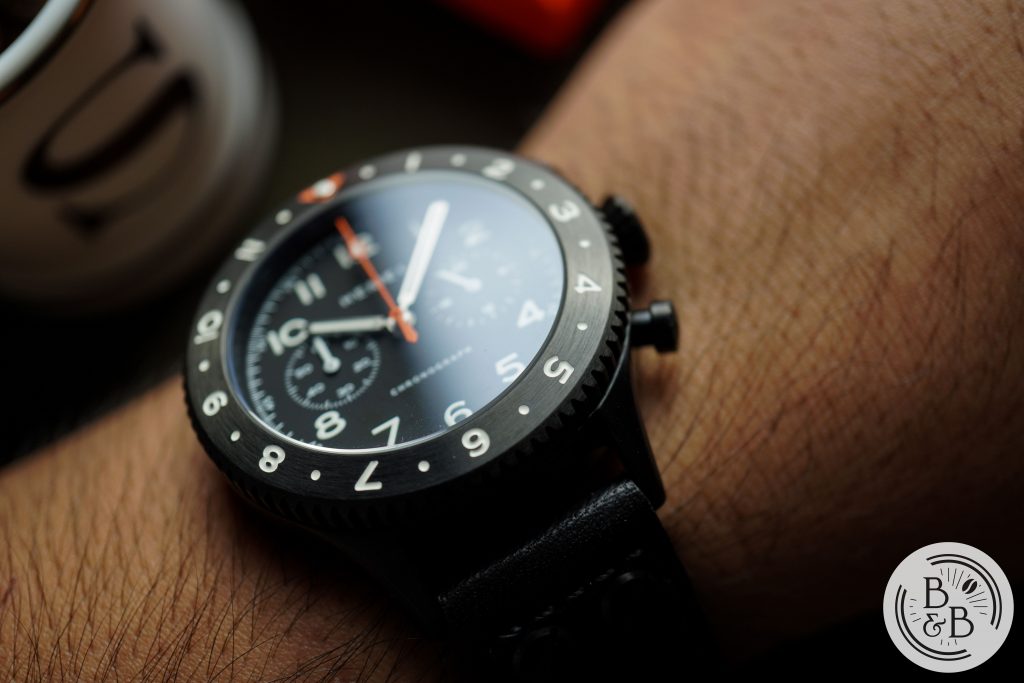 The 42mm diameter, 49mm lug-to-lug width and roughly 13.5mm tall case gives it a substantial wrist presence. On my 6.25″ wrist, it sits on the larger side of watches I'd wear, but it's not uncomfortably big thanks to the 49mm lug-to-lug width.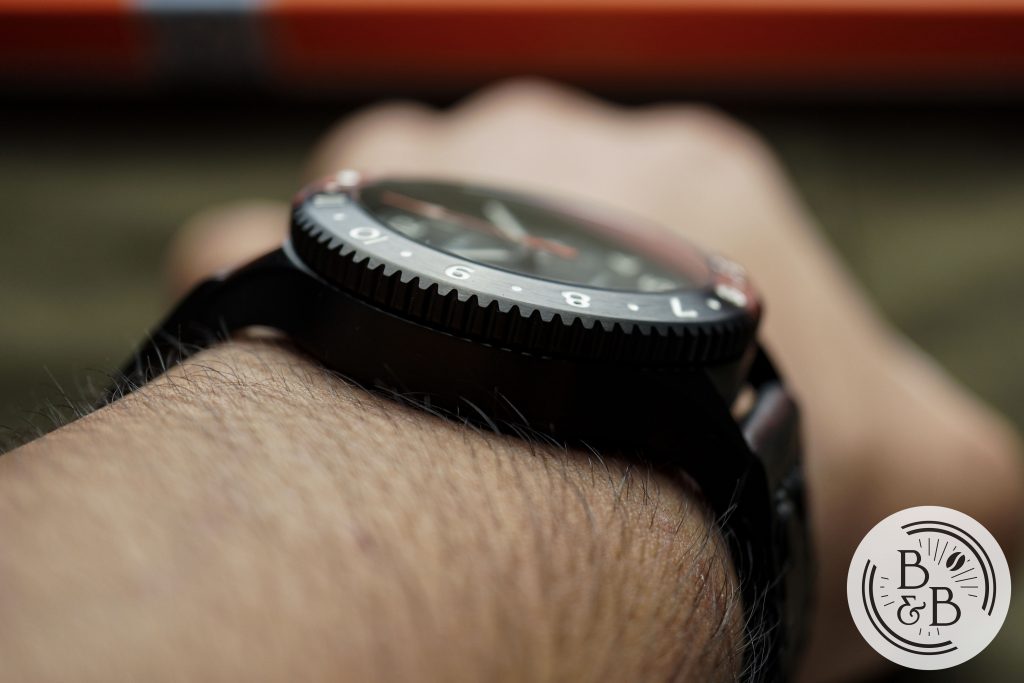 When you think quartz (meca-quartz in this case), you often think of a very light watch without much in terms of weight and heftiness. But this watch caught me by surprise with it's weight of 100 g on the leather strap.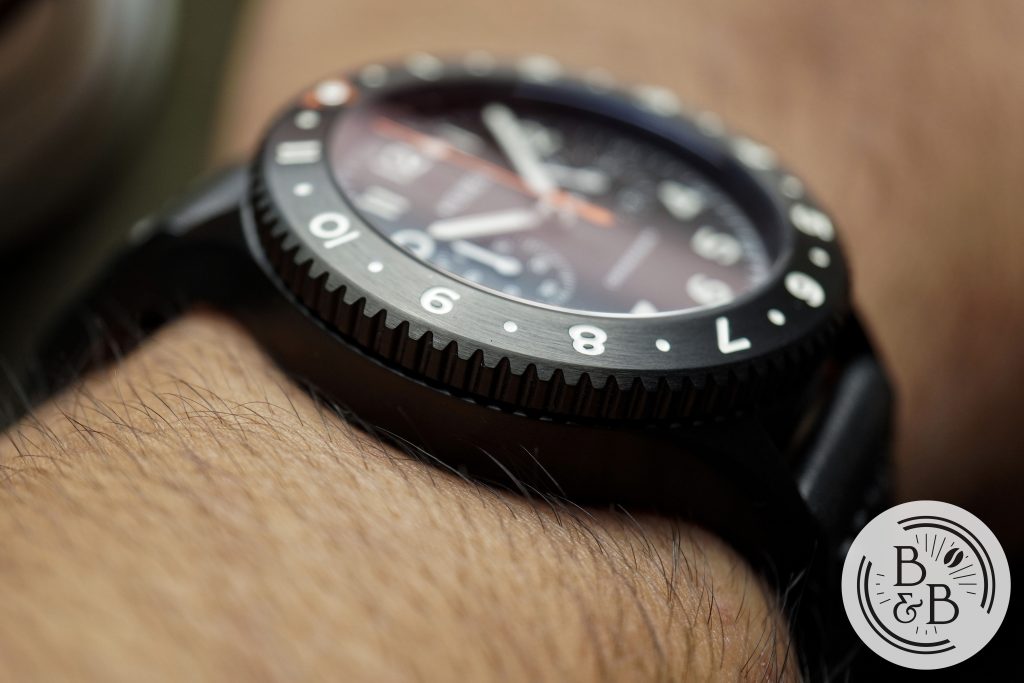 The watch is reasonably well balanced and the curved lugs help it stay grounded on, and around the wrist.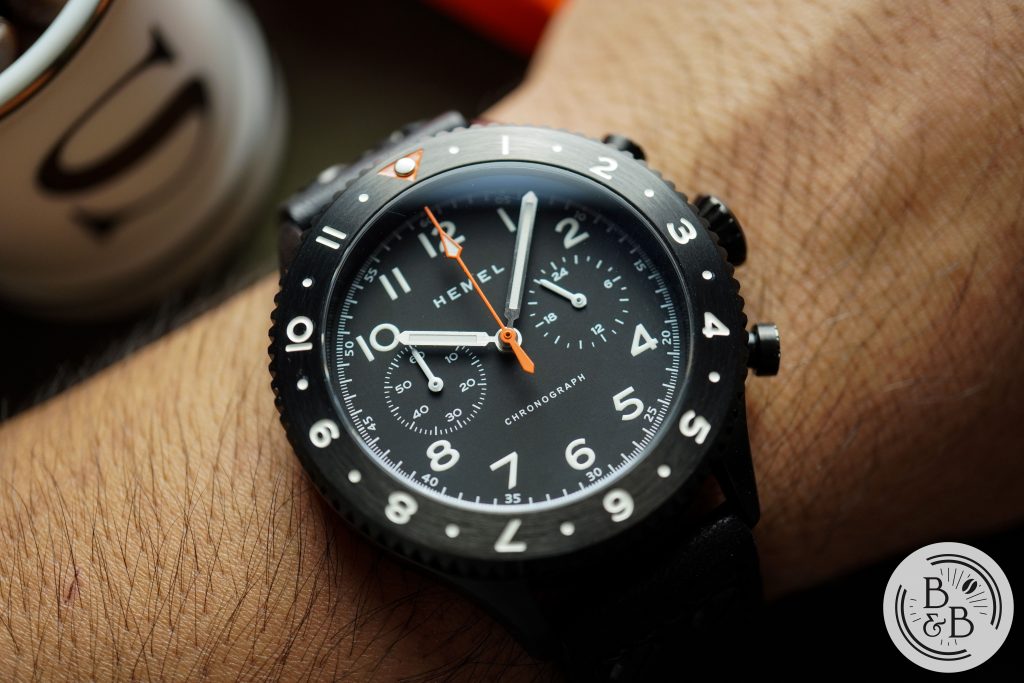 The overall build quality and dimensions make this watch feel very much like a tactical tool that is ready to take a beating, and the wrist presence backs that up.
I'm not a huge fan of the strap that it came with – it is very thick and looks like it'll need a good while before it breaks in. But as with most straps like this (I'm looking at you Horween), once you break it in, it'll sit well and last a good while thanks to the thickness and robustness.
---
Concluding Thoughts
To wrap things up, if you're like me and have no problems with owning a meca-quartz movement, and if you can appreciate a watch that is built like a tank, you're going to love this.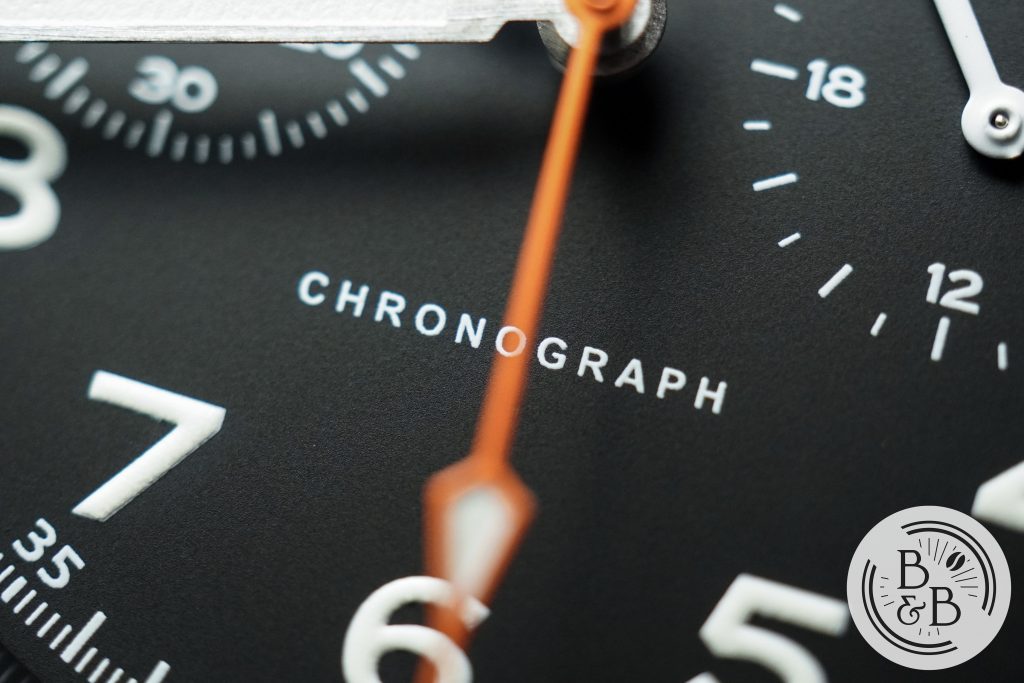 The build quality is great, the design is simple but very well executed, and the finishing and quality control punches well above it's weight class.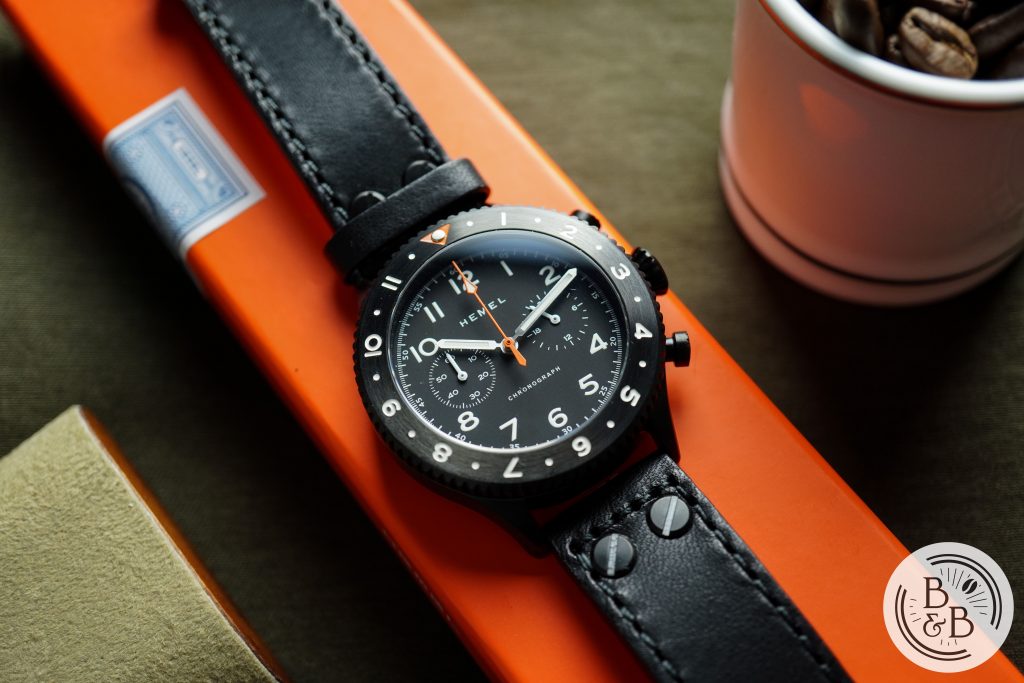 If you had a gun to my head, or worse a Filippo Loreti to my wrist, and asked me to list some complaints – the only thing I can think of is the very thick strap, and maybe the lack of drilled through lugs. Both of these are not remotely close to being problem areas, so if you are in the market for a meca-quartz chronograph, you'll want to check this one out.
---
Strap Change
---
Thanks for reading!