---
Disclaimer: I purchased this watch new from Gyre by backing their Kickstarter campaign for around $255 USD and was not externally incentivized in any way to make this review. This review is in no way sponsored by Gyre or any other entity. All opinions here are my own.
---
---
Contents
---
Gyre Seacleaner
This watch, and this review, might come off as a slightly out of place, since it isn't like anything else I've reviewed before. Gyre is a brand based out of the Netherlands, and they were on Kickstarter in June 2020 to try and launch the Seacleaner project. Their goal was to create a watch out of recycled plastic, and the plastic would be collected as part of the larger ocean cleanup effort. 'Ghost nets', i.e discarded fishing nets, are collected and sold to recycling facilities that turn it into plastic pellets, which eventually get made into these watch cases. These ghost nets are collected from the Indian Ocean Gyre, and an extra 5% of the profits were promised to be donated to the Ocean Cleanup Foundation. Additionally, The NATO strap is made entirely out of recycled plastic bottles.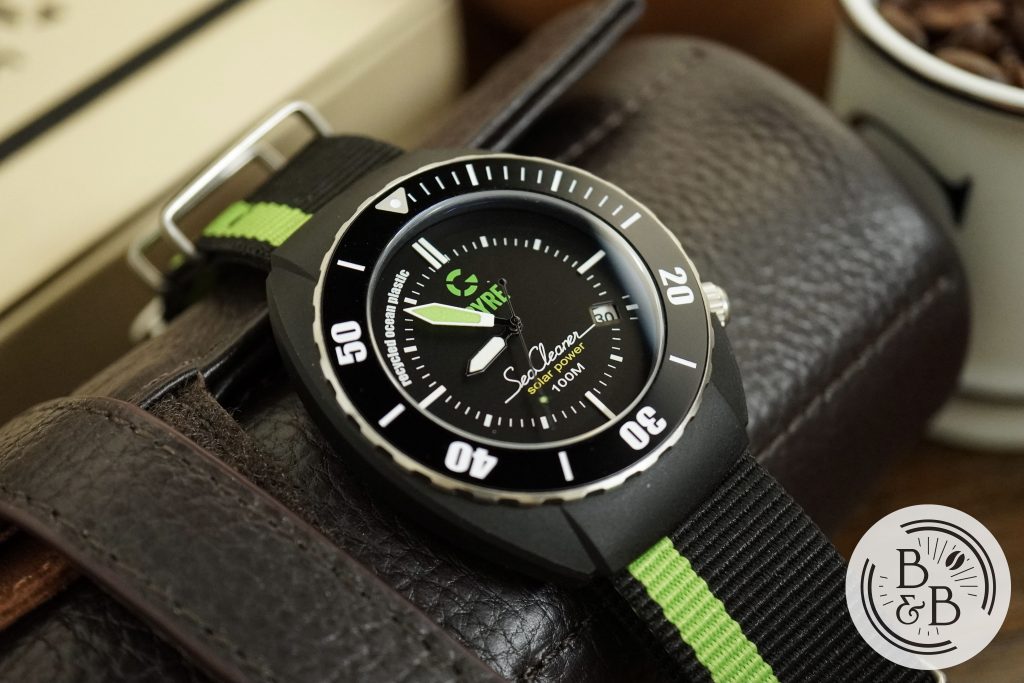 As a watch enthusiast, I liked this idea and respect this noble cause. Gyre are not the only players in the game with this idea, and Alpina released a similar watch, the Seastrong Gyre, last year for around $1500. Smaller names in the watch industry, like TRIWA and Tom Ford also have similar watches, at $150 and $1000 respectively.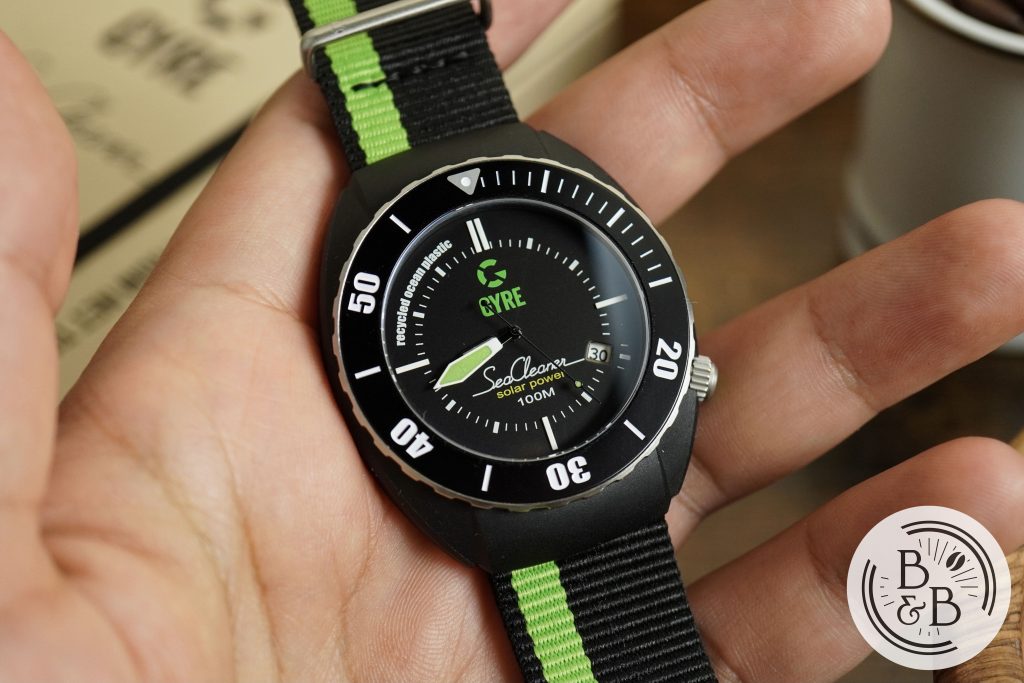 This is also the first Kickstarter watch project I've ever backed. I usually don't do this because I'd rather not tie up my money for 6-8 months, but this is a cause I was happy to support, and given the $250 price of this watch, I was comfortable with forgetting about it for a while. If you're not a watch person, and you backed this project and received your watch, I'm sure you're thrilled with it; you got to support an interesting cause, and you got a neat watch out of it. But since I'm a self proclaimed watch critic that thrives on nitpicking at watches, I thought I'd take a closer look at this to see how good the watch actually is.
Let's check it out!
---
Case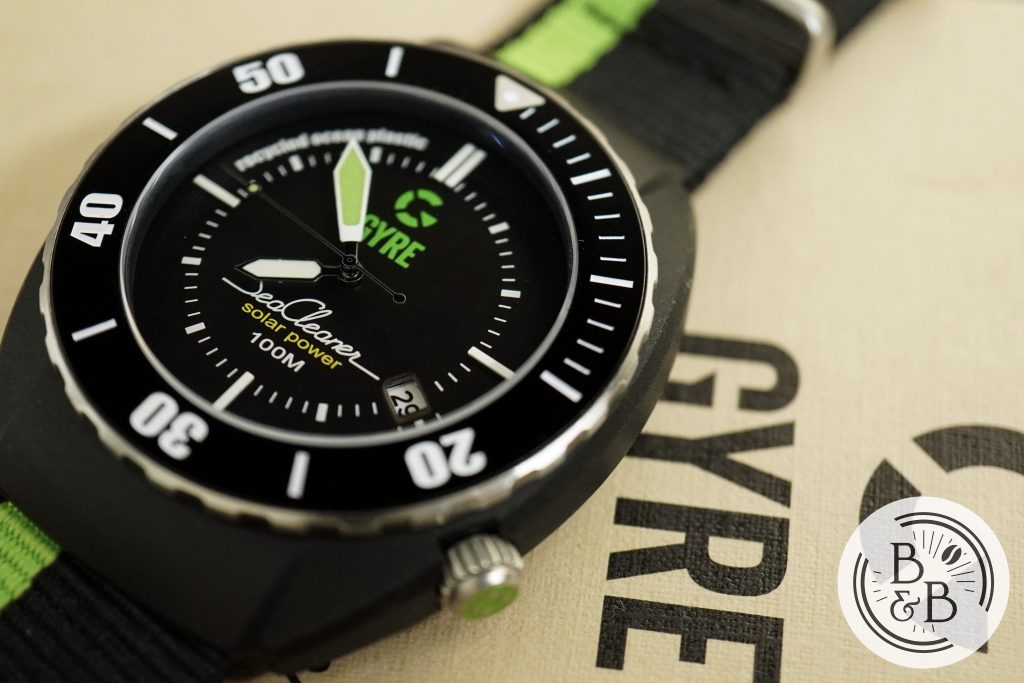 I measured the case to be 42 mm in diameter, 50.5 mm from lug-to-lug (if you can call them that), and 11.25 mm in height. The case is mostly made out of recycled plastic, but there are some steel elements like the bezel, crown and case-back. The plastic has a matte finish and doesn't look like cheap glossy plastic.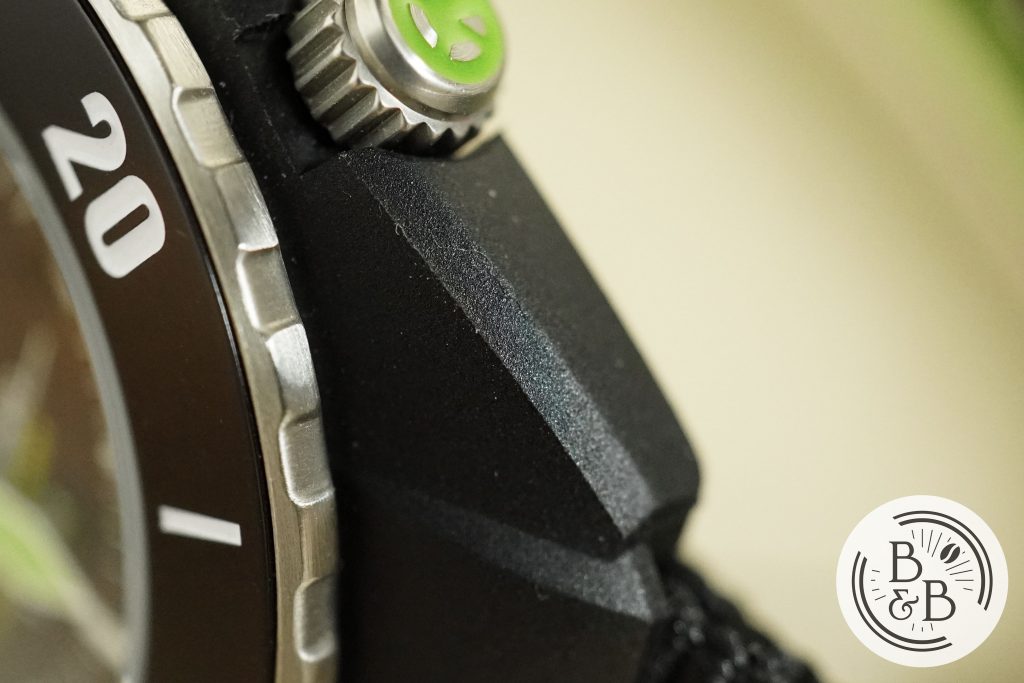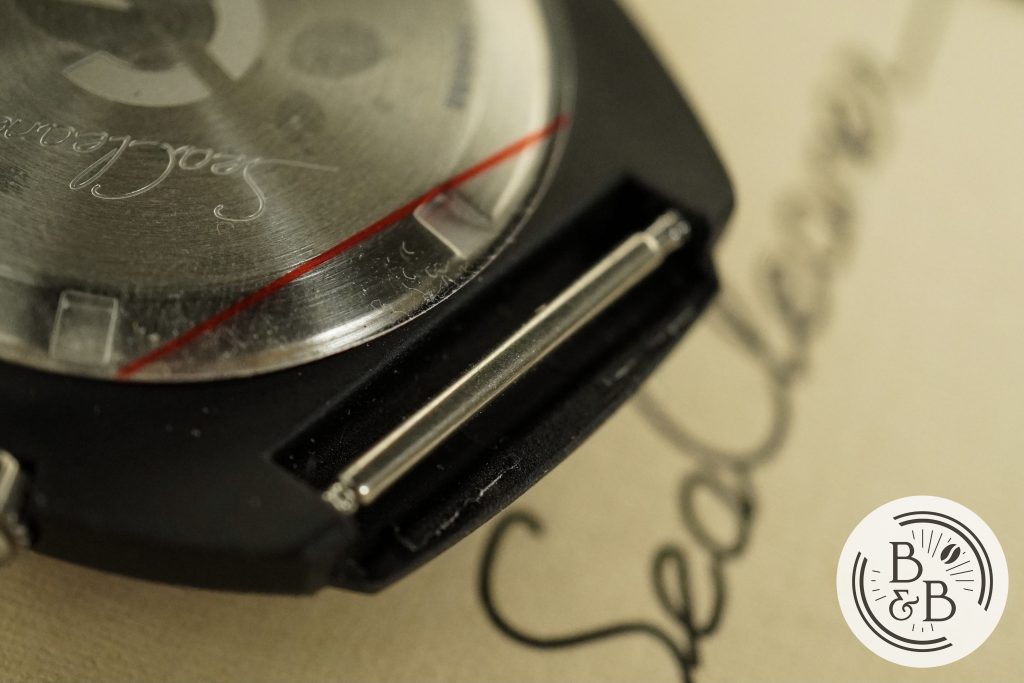 The case design has a tonneau style silhouette, with an interesting hooded lug design. The lug width is 20 mm.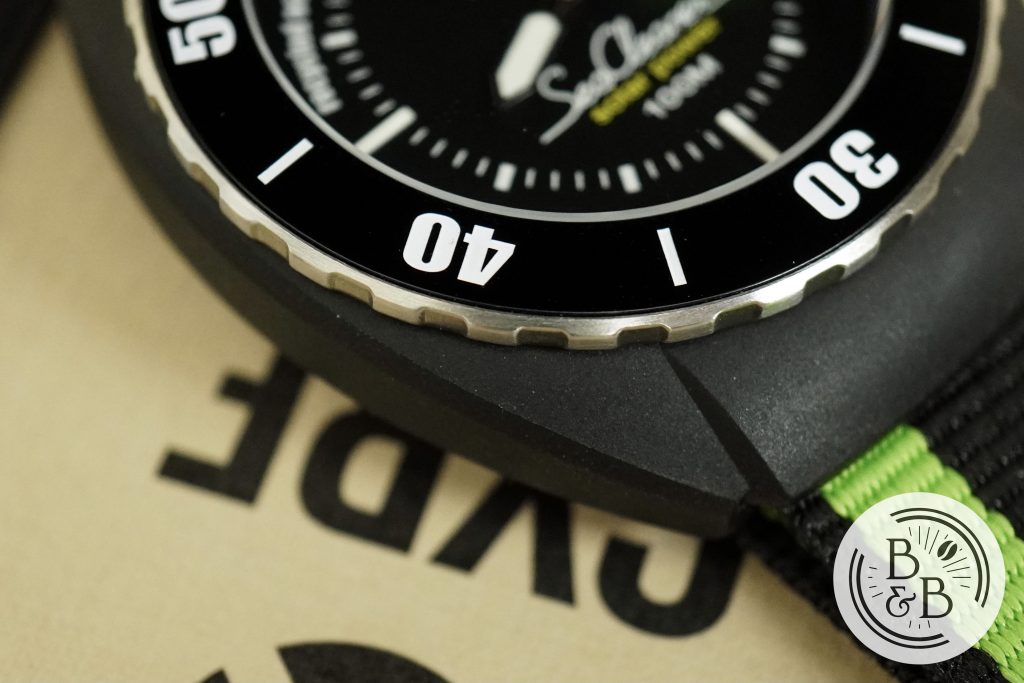 You then have a slim 120 click uni-directional dive bezel made of stainless steel. The bezel requires a little effort to grip, but has excellent action and no back play. Given the plastic case, I was expecting a pretty shabby bezel system, but this bezel action can give most dive watches a run for their money.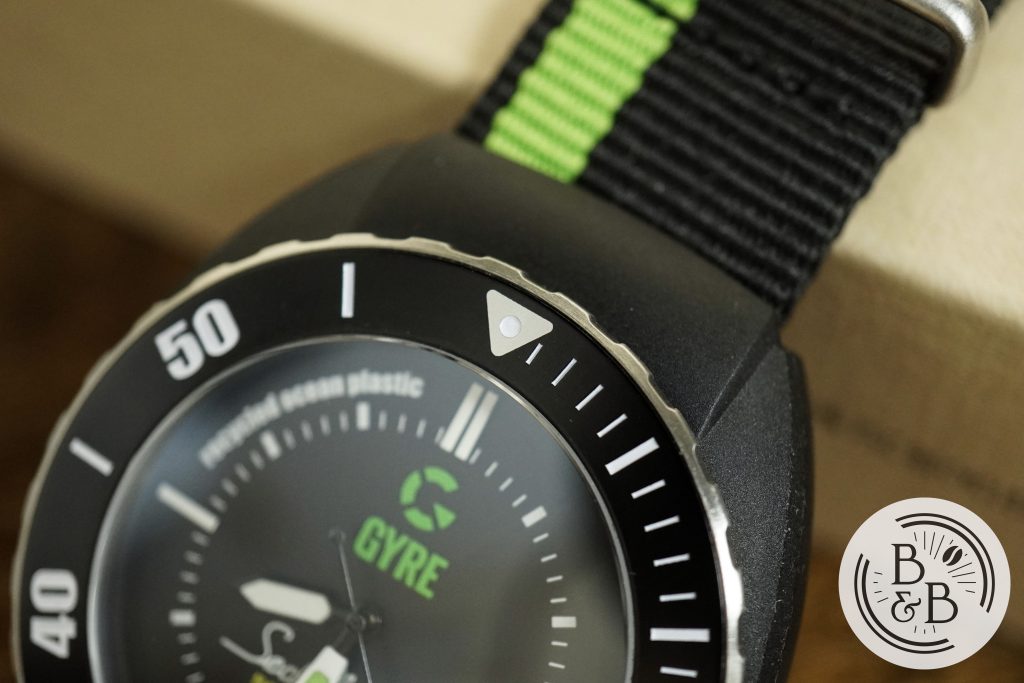 The bezel does not have any lumed elements, and contain painted elements only. When I backed this project, it was supposed to have green painted minute ticks on the bezel and a green painted pip in the triangular marker, but they seemed to have changed their mind when this went into production. I'm not particularly impressed by this design change.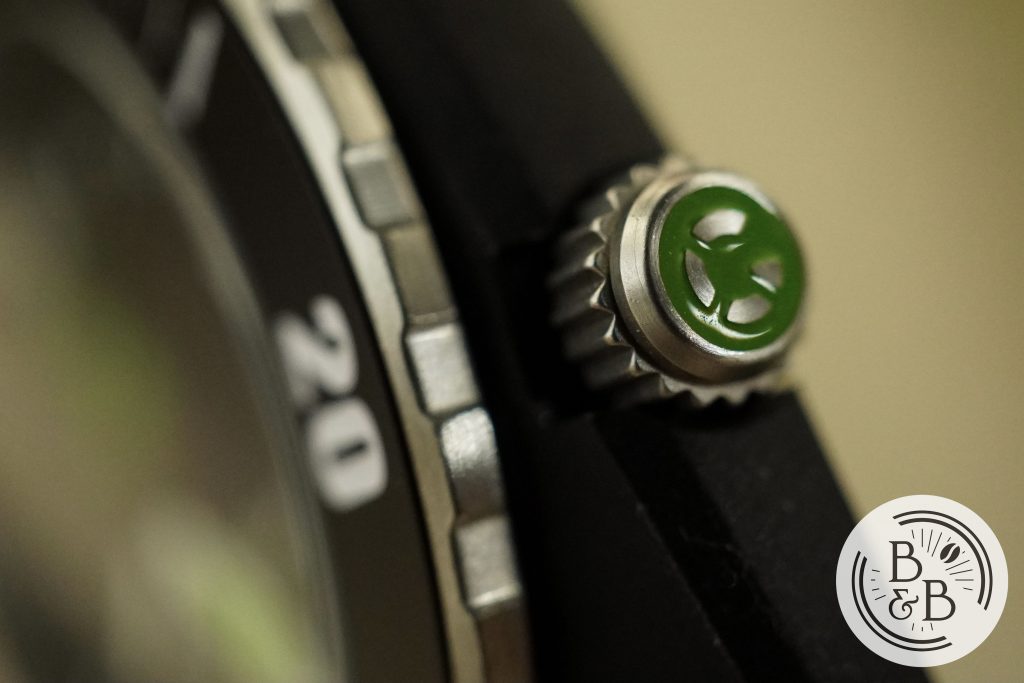 There is a 5 mm steel crown at the 4 o'clock position that is recessed into the plastic case. The crown is signed with some green paint. I wish they had placed a larger order for the green paint and used it on the bezel too, like we were shown initially, but that's just me being salty.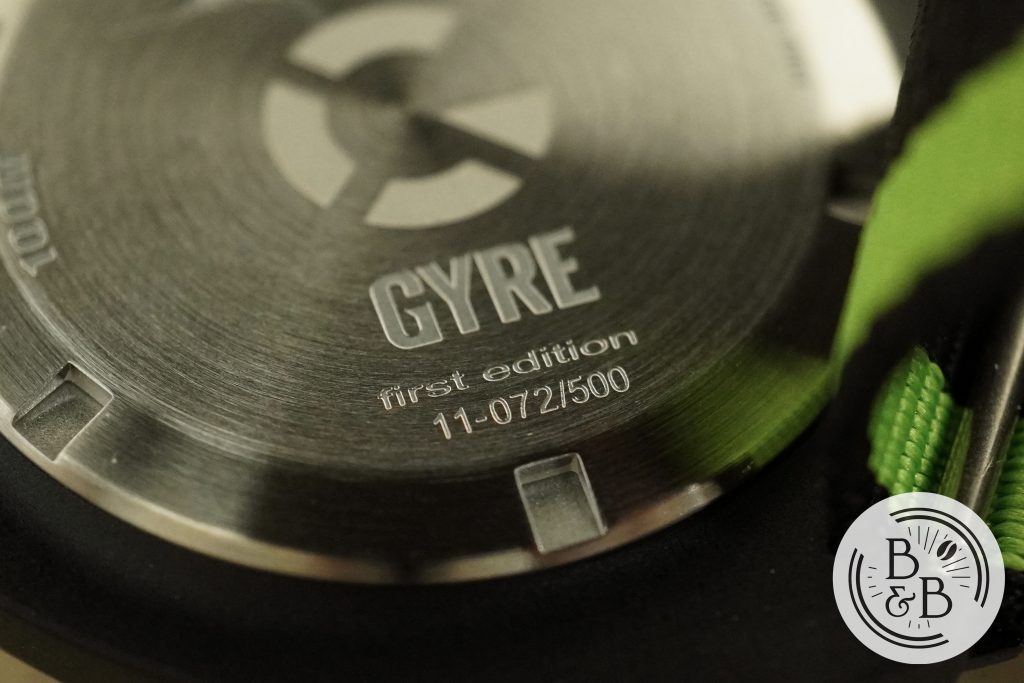 Flipping it over, you have a screw-down case-back with some detailed etched onto it, along with 'first edition' which is what I suppose all the Kickstarter backers will get. This watch is rated for up-to 100m of water resistance.
---
Dial
I had hoped that this project would unlock the blue dial option when I backed it, but it didn't meet that funding goal. I was happy with the green dial, until I found out they were going ahead with the blue dial anyway, just after the Kickstarter campaign. That made me a little annoyed, but this wasn't a very serious watch purchase for me anyway, so I'll survive. And I can overlook these poorly handled decisions because of the "bigger picture" problem that drives this product.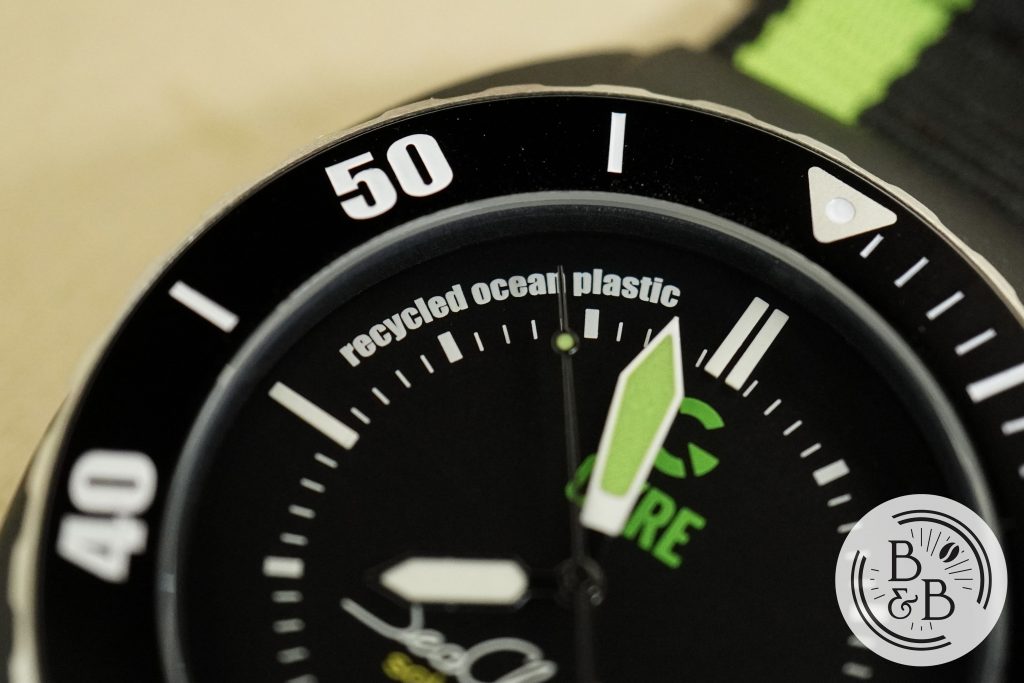 I was surprised to learn that I actually like this dial design. The first design element is actually the four primary hour markers, and the text that reads "recycled ocean plastic". That is to make sure you haven't forgotten why you bought this watch. The four hour markers are filled with lume, with a double painted index at the 12 o'clock position.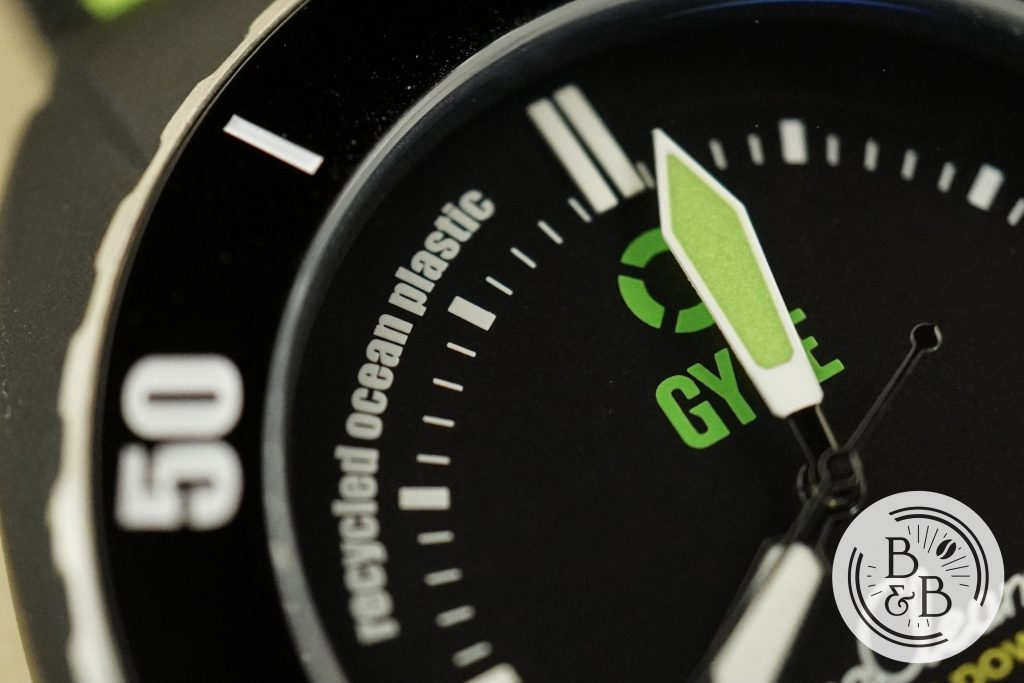 You then have a painted inner track, that uses small ticks for the minute markers and larger rectangular ticks for the other hour markers. The printing quality is OK.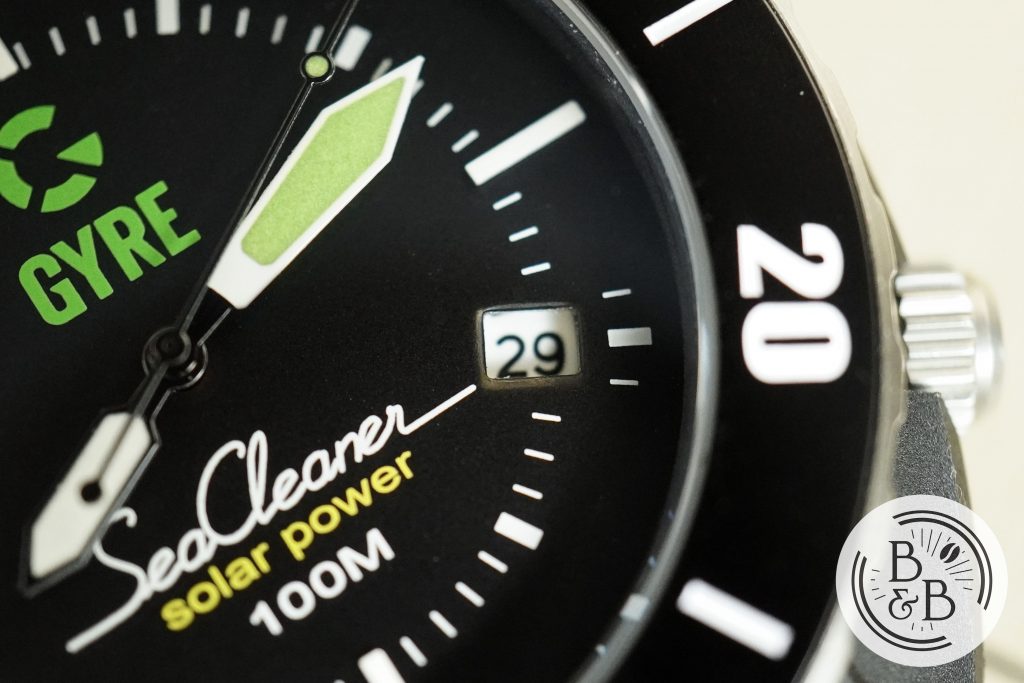 There is an angled date window at the 4 o'clock position that is cut into the dial. It has a white date wheel and black text. But the non-color matched date wheel does not bother me as much as the ugly offset markers printed to the right of the date window. I can maybe come to terms with the idea that it is practical, but it does not do any favors to the design.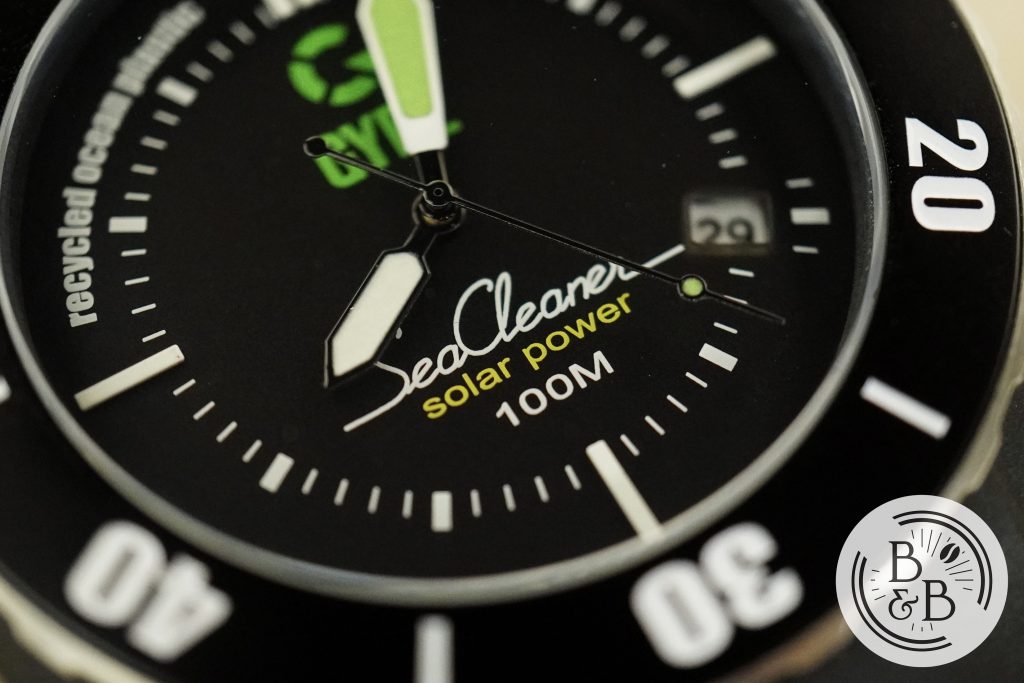 You then have the brand's name and logo printed below the 12 o'clock index, and the watch name and some details above the 6 o'clock index. I like the use of green on the logo and yellow for the 'solar power' text. It is definitely a very casual watch, so there's no harm in making it a bit colorful.
The handset is pretty unique, and I can't say I'm sold on the design. The hour hand is short with a narrow black border and a large surface area for lume. But it is a ways off from being close to the hour markers.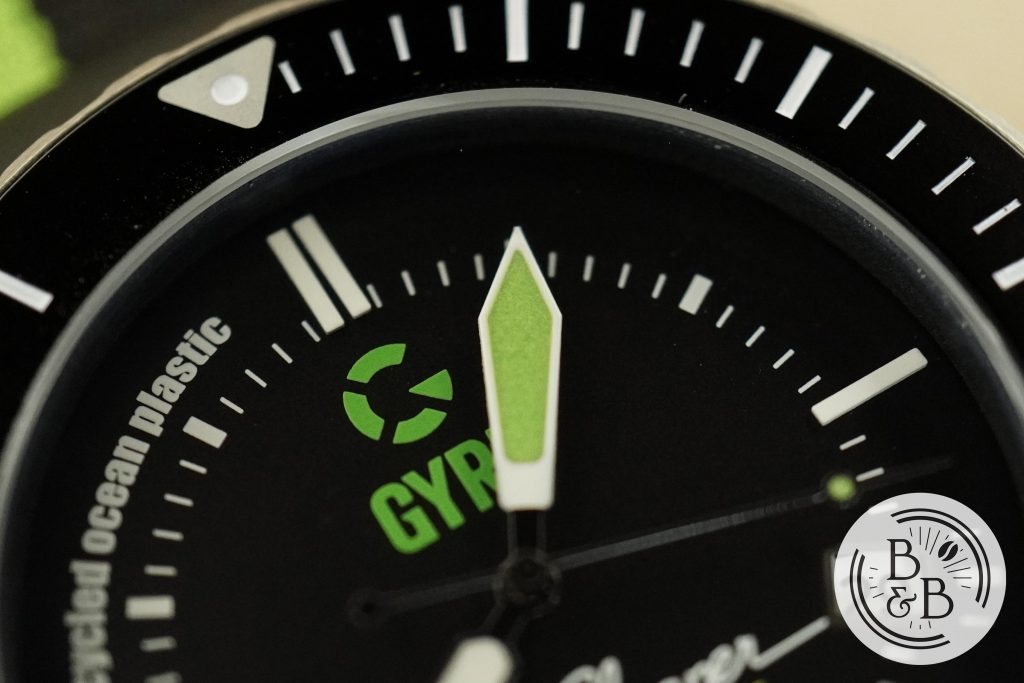 The minute hand is awkwardly large with a thicker white border and green lume to match the rest of the accents. I think the green lume is cool, but I would've preferred if the hand was a bit smaller. You then have a painted black seconds hand that extends well beyond the seconds track, but has a green circular lumed element that is a nice touch.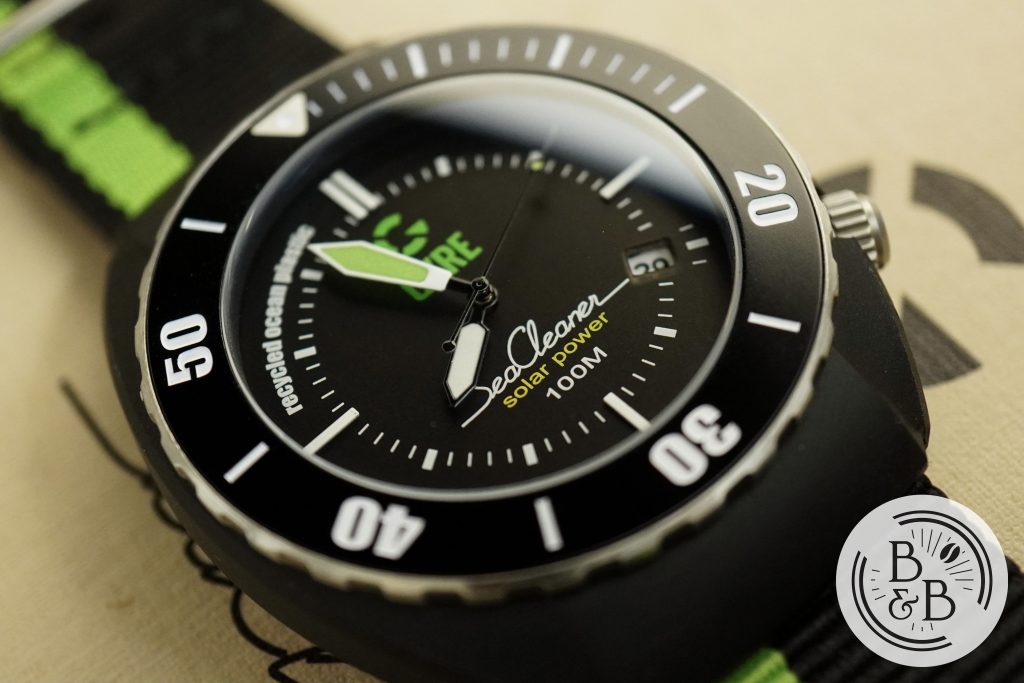 Below the dial are the solar cells that power this watch. And in certain angles you can see them, which is pretty cool, and goes to show how thin the outer dial layer actually is. Overall, I don't think this is the greatest watch design, but it's not horrible either.
---
Lume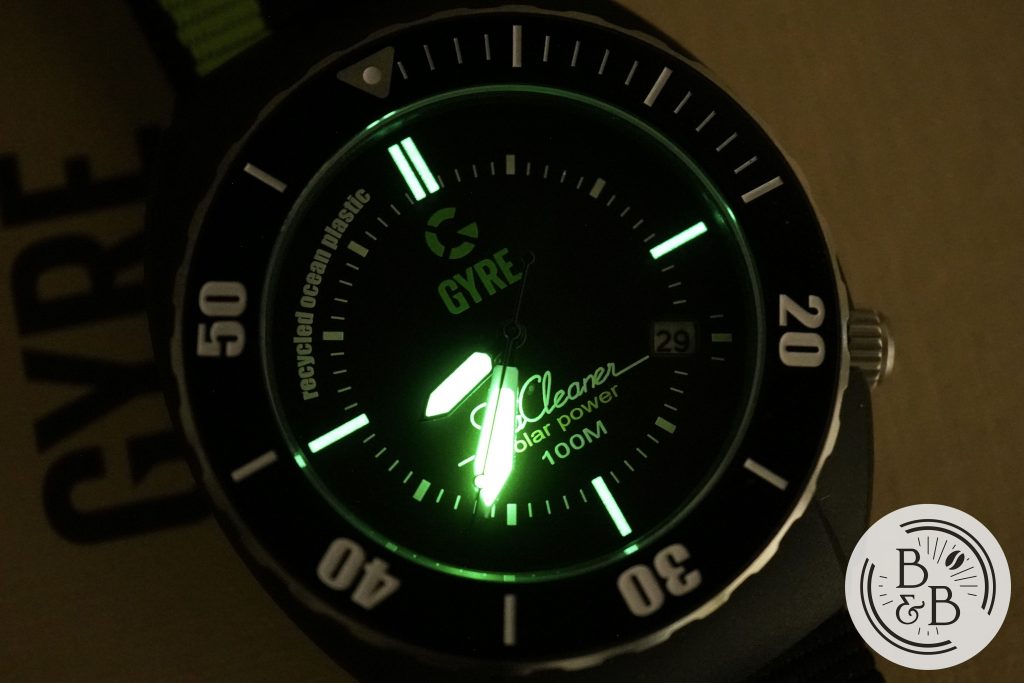 The lume design on this watch is decent, but the indices are too weakly lumed to earn this watch any praises. It isn't very bright, and fades quickly.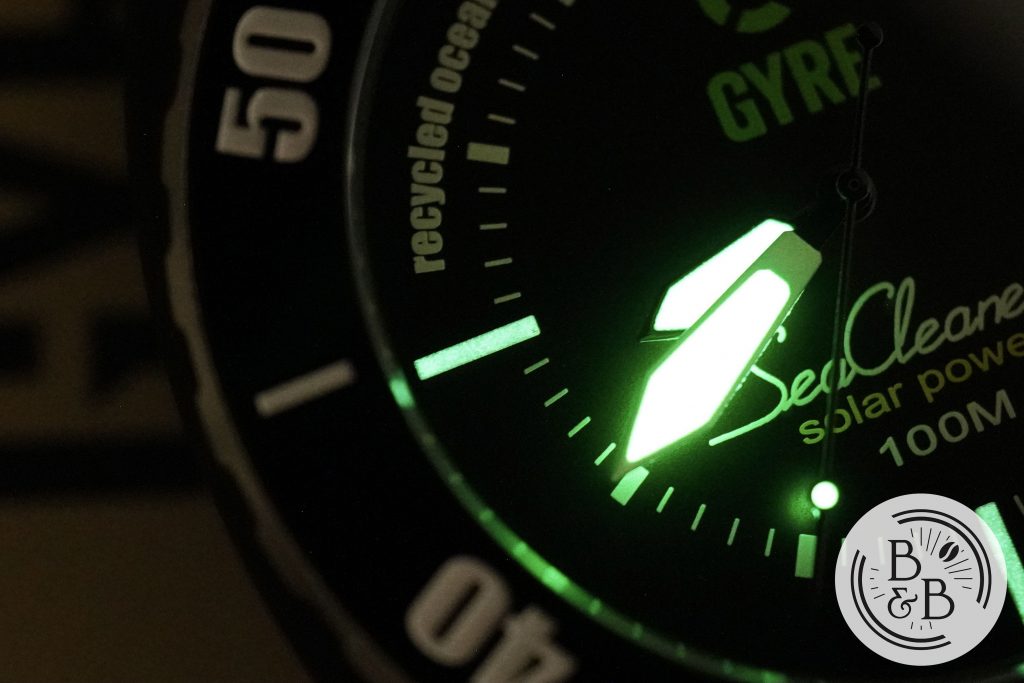 The hands are pretty generously lumed, and the minute hand in particular ends up being the brightest element around. I think the most interesting aspect of the lume is the fact that the seconds hand has a small lumed element too. I don't think I've seen that on many quartz watches before.
---
Movement
As I mentioned earlier, this watch uses a solar powered quartz movement. Unfortunately, I haven't been able to find out which movement was used specifically, and all that was mentioned was that it is a Japanese movement. I suspect that this is either from Citizen or Seiko.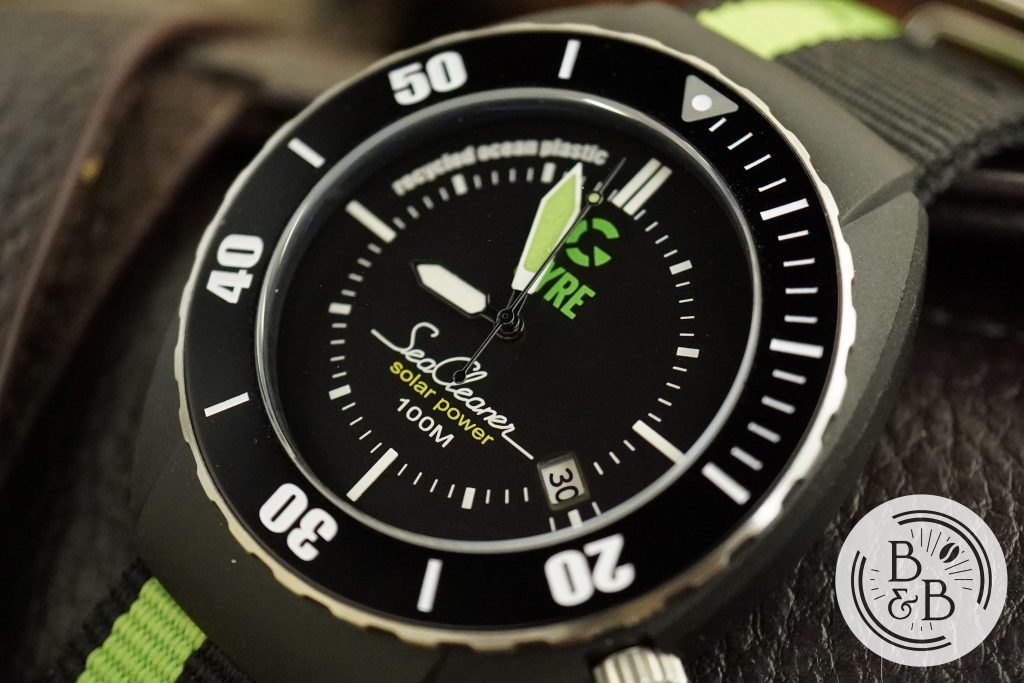 I like that it is a solar powered movement, and it is another commitment to the theme of this watch, and it's purpose.
---
On The Wrist
The 42 mm diameter and 50.5 mm lug-to-lug width, together with the lack of conventional lugs and a NATO strap make this watch appear pretty bulky on my 6.25″ wrist.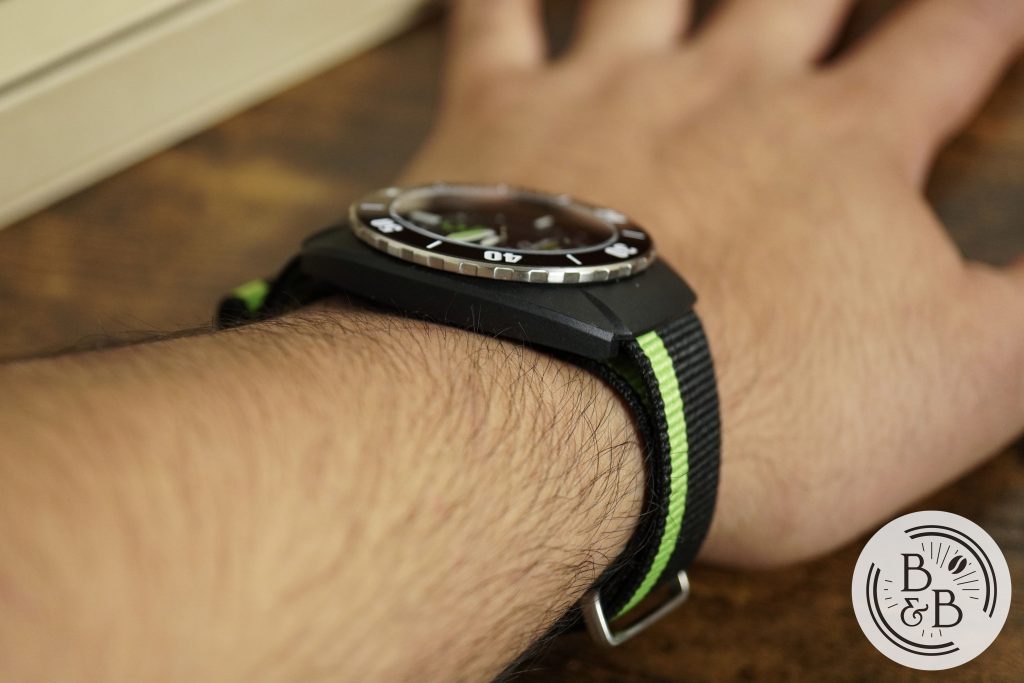 The height is reasonable at 11.25 mm and I don't have any complaints regarding the comfort. The plastic makes it pretty light, and the overall flat profile helps it stay balanced.
The straps are pretty cool as they're made entirely from recycled plastic bottles, and unlike the metal loop pin shown on the website, the pin on this buckle appears to be made out of recycled plastic too.
---
Concluding Thoughts
At the end of this, you must be asking yourself why I'd bother scrutinizing this watch so heavily, when in fact it is less of a product than a means to support a project focused on environmental impact. And you're right, I've asked myself this same question a few times throughout the course of working on this review. But a watch is a watch, and Gyre's goal was to make a good watch without losing sight of sustainability and innovation. So its only fair to hold them to their word.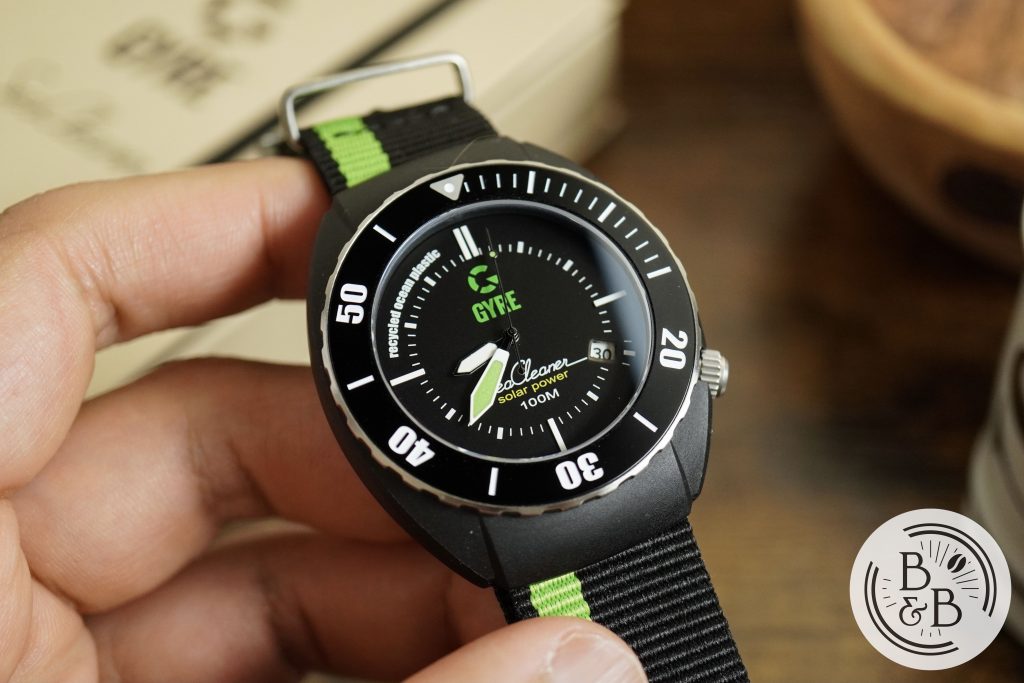 And all things considered, I think they did a pretty fine job. I don't regret spending a single penny on this, and while it may not be the best watch you can buy for $250, it looks unique, has a fun color scheme, and will be a testament to the fact that you can make interesting products out of all the junk we throw into the oceans each year. As I watch enthusiast, I felt obligated to check this out and support this, and I think some of you might find this interesting too.
---
Thanks for reading!