---
Disclaimer: This watch was sent to me to review, but I was not incentivized in any way to make this review. This is in no way sponsored by Feynman or any other entity. All opinions here are my own. Since this watch was worn/used by other reviewers, please make note that the experience might differ from that of a brand new watch.
---
---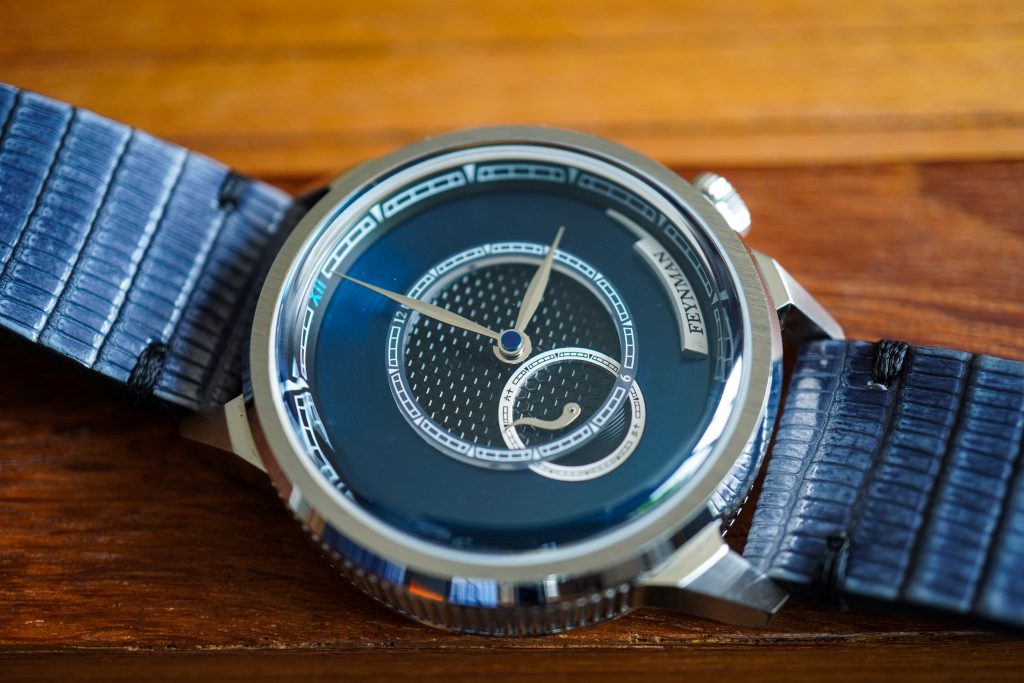 Brand
Feynman is a micro-brand based in Singapore, and in the short time that they've been around, they've made a name for themselves for producing very creative and artistic watches. I came across this brand about a year ago and I've been trying to get hold of one of their watches since then. Yong Keong Lim is the founder of Feynman, and he was kind enough to let me borrow this watch for a week to check it out. I will be looking at the Feynman One "Eclipse", which was their first and very successful release.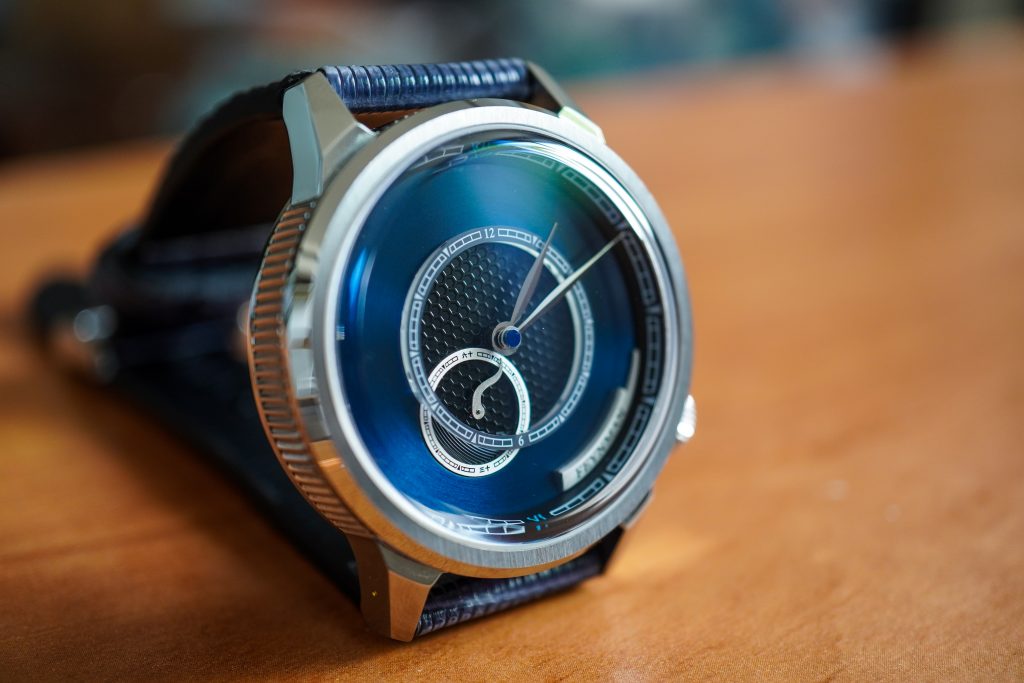 The brand is named after his son, Feynman, but I can't help thinking of Dr. Richard P. Feynman and his incredible lectures that I spent many months attempting to digest as a teen.
---
Case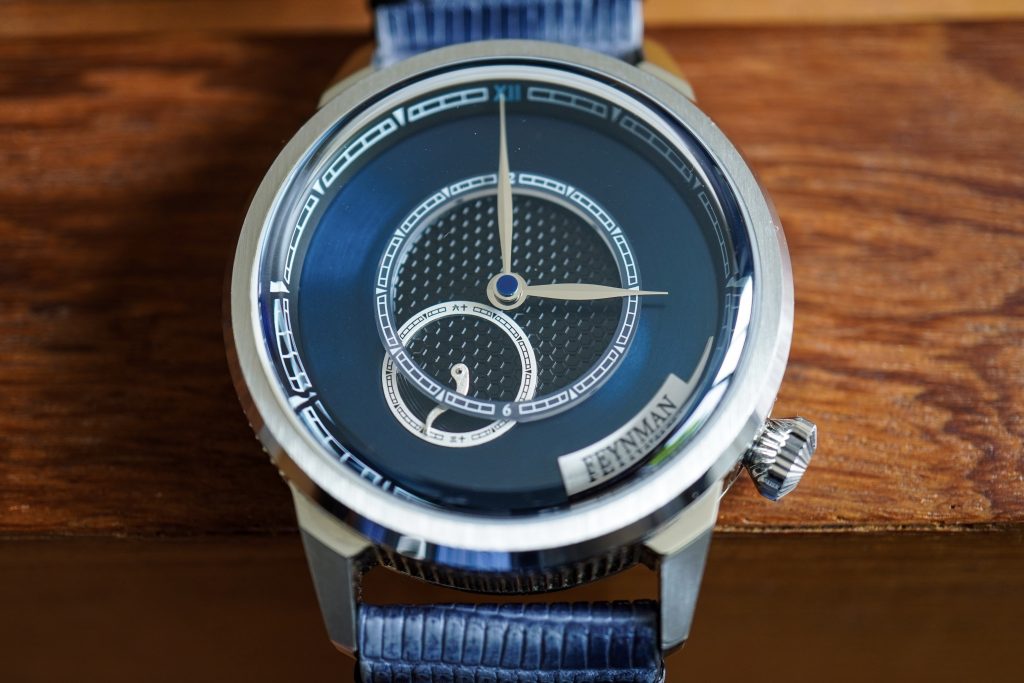 Let's put aside the dial for a second and deconstruct the case design. The overall case shape is a traditional 39mm diameter circular case, but that's about all that is traditional with this watch. The case is extended by a pair of aggressive angular lugs, that take the conservative circular case design and transforms the watch silhouette to something sporty. The lugs dramatically angle towards the wrist and are perfectly sized, resulting in an extremely comfortable 45mm lug-to-lug width.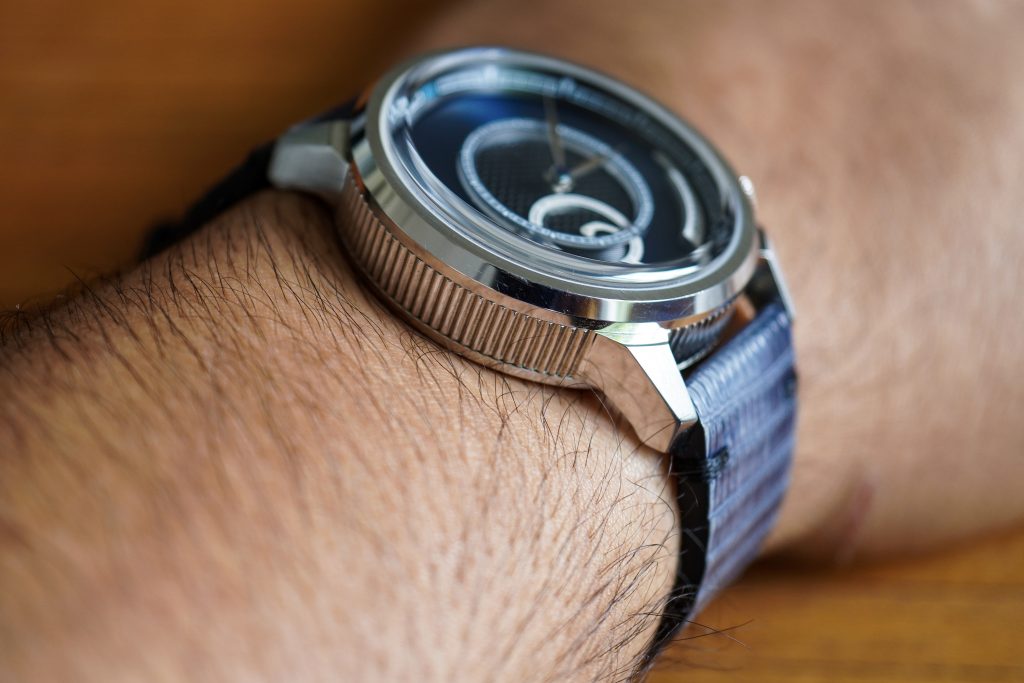 The overall case height is 12.5mm and is on the taller end of the spectrum for typical dress watches. But this isn't a typical dress watch, is it? The entire case is coin edged, which adds character to this watch. The crown isn't perfectly centered along the height of this watch and the coin edge, but as I understand it, this was a result of the deep dial construction. Although offset, it does improve the crown winding experience by being closer to the bottom of the case.
The use of a manual wound movement results in a non-screw down crown. The case-back has a sapphire crystal that has an interesting mechanical mount, making use of four outer screws that and four inner screws. These two features restrict the watch to be rated to up-to 50m of water resistance. But this is a dress watch, so it shouldn't be on your wrist during your beach vacations.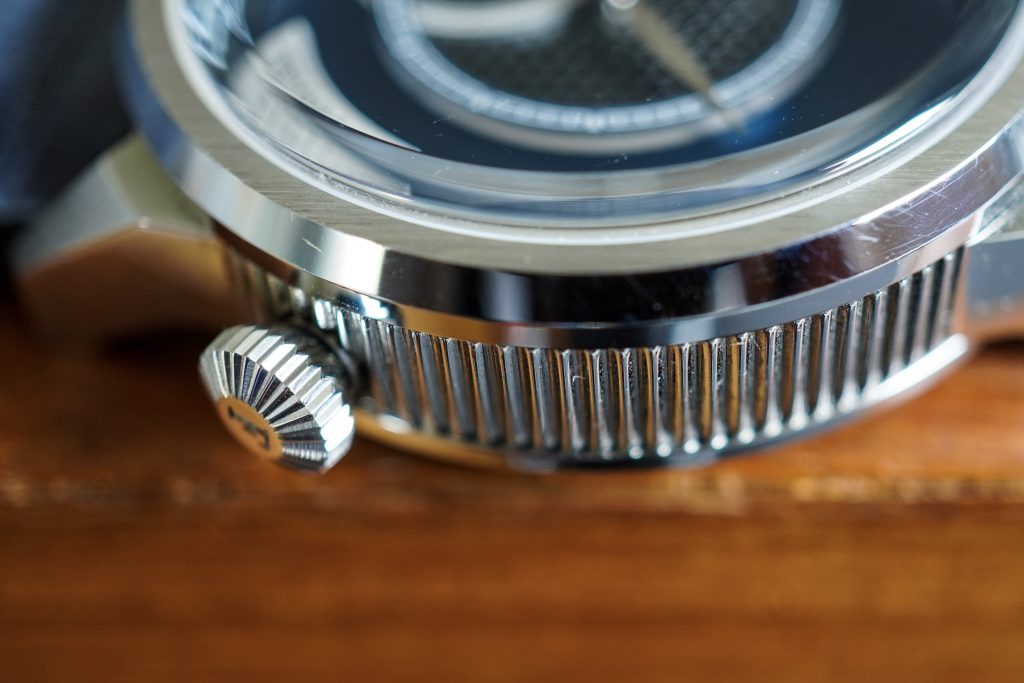 The signed 6mm diameter crown is traditionally designed and looks like it was inspired by vintage pocket watches. Given the location of the crown and the limited room between crown and lugs, I think this was a reasonable choice. However, for the overall case aesthetic, I might've preferred a non-tapering crown. In their defense, the crown is comfortable and easy to adjust. Given that this is a manually wound watch, a good winding experience is absolutely critical and this watch (and the ETA7001 inside it) delivers.
---
Dial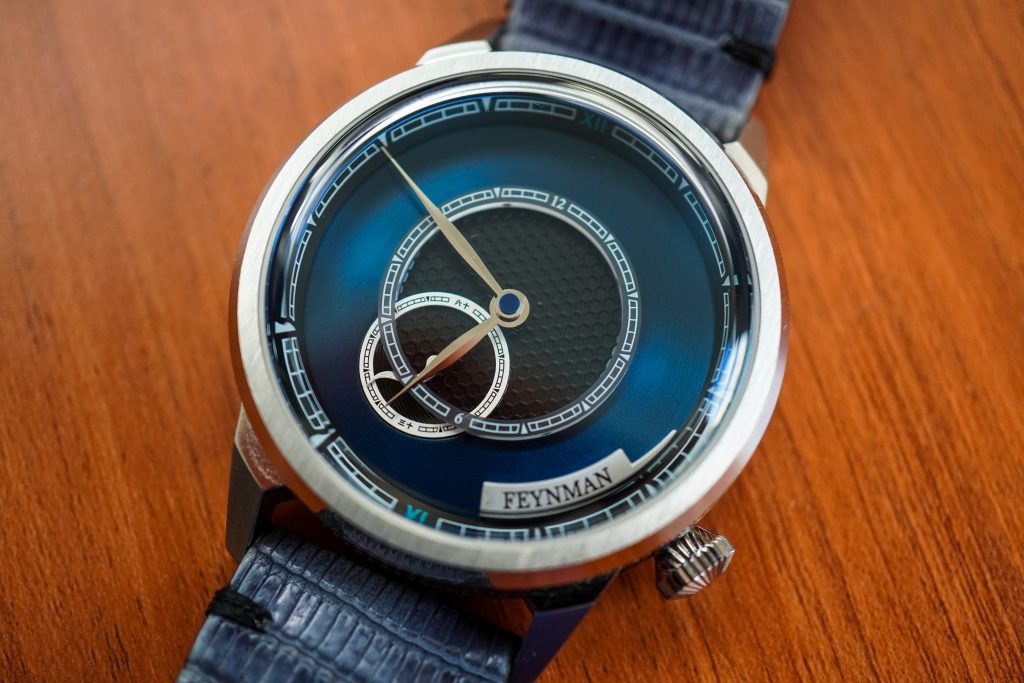 Moving on to the star of the show, the dial. I love all things space and astronomy related, so when I found out this watch was called "Eclipse", I couldn't shake off the the similarities between the dial design and an actual celestial eclipse. The dial has three components stacked upon each other, giving you an immersive sense of depth.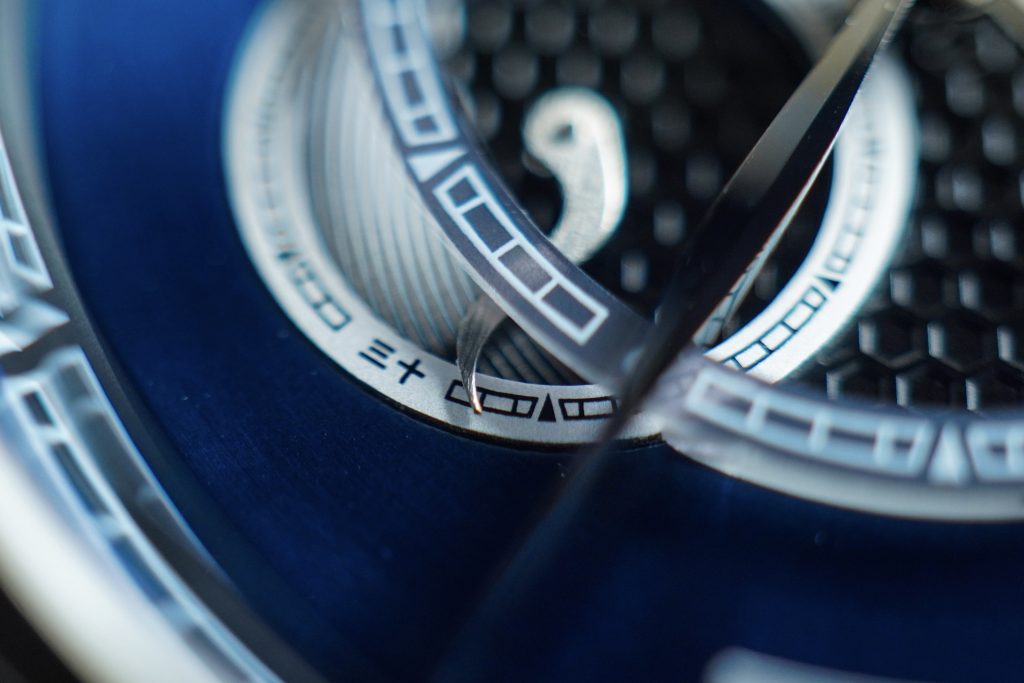 The first component lies a fraction of a millimeter under the hour hand and is what I refer to as the hour ring (celestial body #1). Giving character to this semi-transparent ring is a gorgeous honeycomb patterned black plate that lies at the bottom of the dial. This is textured and not printed so add that to the list of three-dimensional patterns on the dial. The hour ring has "12" and "6" marked in Arabic numerals and triangle markers for the rest.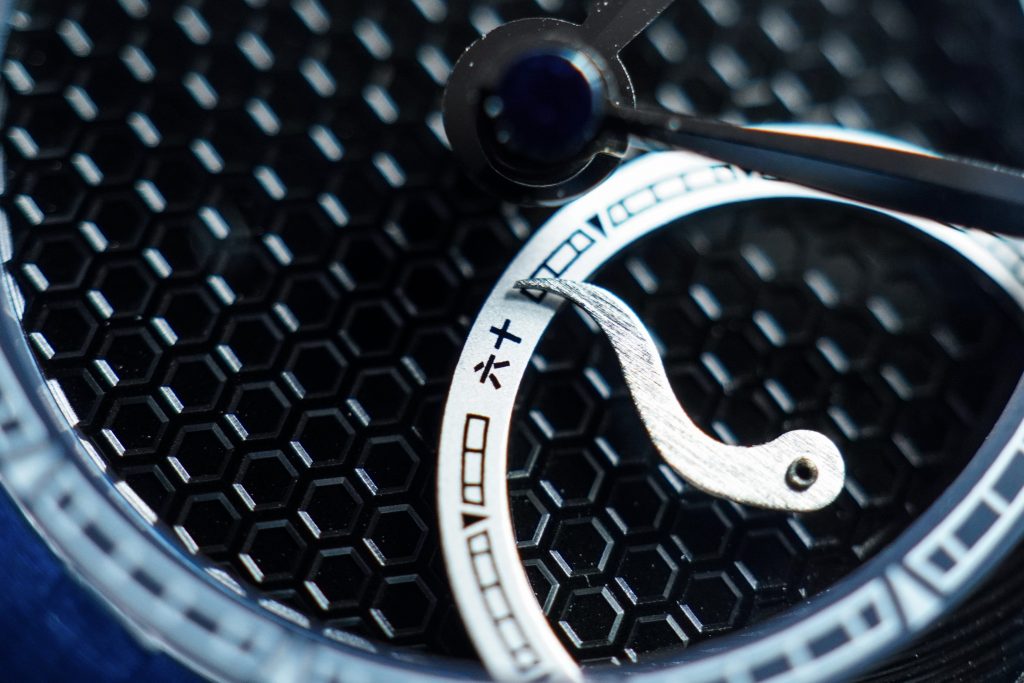 The second component (celestial body #2) lies between the hour ring and the base of the dial. This is the seconds ring and once again sits right under a brush finished curled seconds hand (lizard tail). This ring is not transparent and has a color and texture similar to aluminum. I reached out to Yong Keong Lim to ask about the Chinese characters on the seconds ring:
It means 60 and 30 in Chinese characters which marks the 60 and 30 seconds, we used 3 commonly used languages to pay tribute to the watch industry. If you notice, Roman (chapter ring), Arabic (hour ring) and Chinese (seconds ring).

Yong Keong Lim (founder, Feynman Timepieces)
The "Eclipse" moniker, even though given only to the blue variant of the Feynman One, is very fitting as the dial looks like a snapshot of a celestial eclipse. I love this! I have seen something similar from Russian watchmaker Raketa, where the hour and seconds hands are circular and attempt to mimic an eclipse. The vintage Raketa Copernicus (Kopernik) line are much better looking than their current lineup, and this watch reminds me of the vintage pieces. I do prefer this fixed body design without the moving objects, and I think Feynman has executed this very well.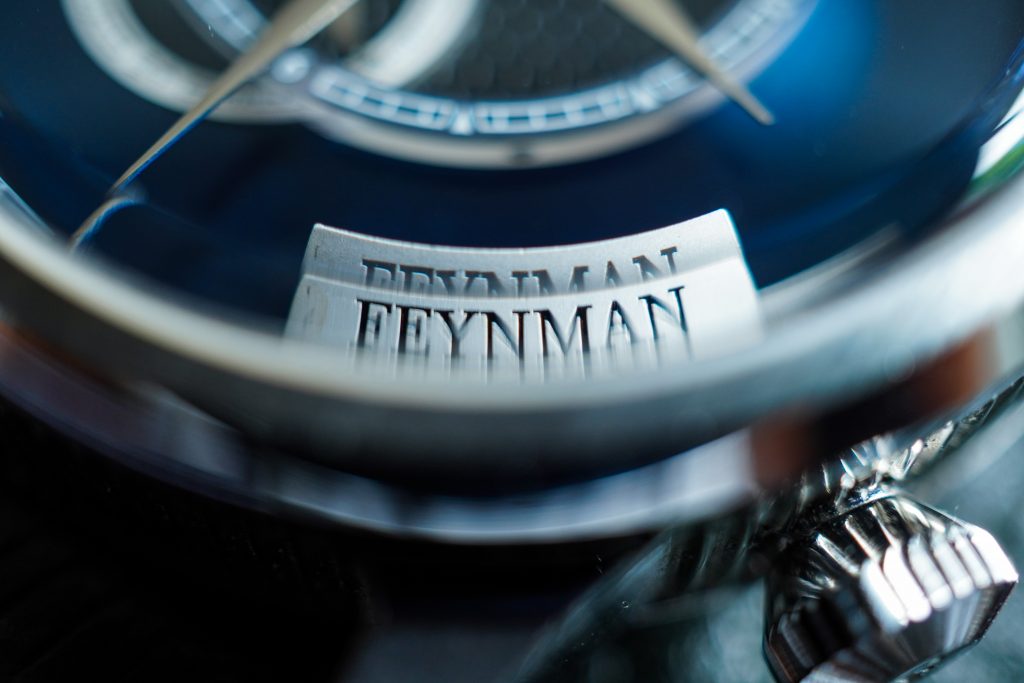 The last component, and one that gives it it's identity, is the name plate at 5 o'clock. The lizard motif is repeated once again, with a little tail stretching out of the plate up-to the 3 o'clock position (almost). This reminds me of luxury watches like Urban Jurgensen, Ophion, Laine, etc.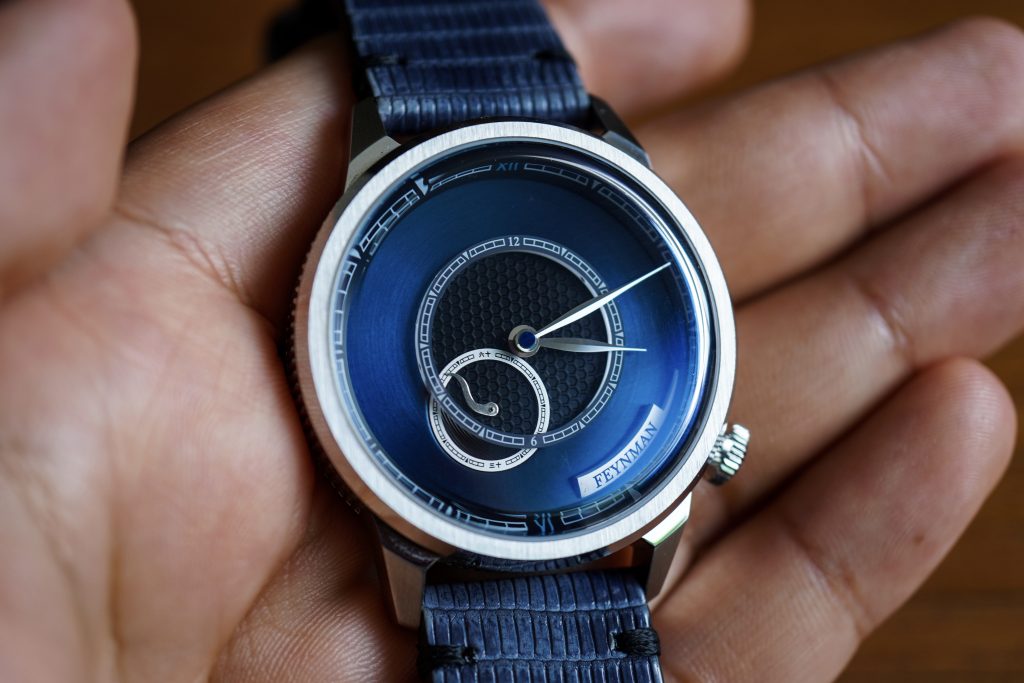 The hour and minute hands are polished leaf hands (feuille) and they are perfectly chosen because they remain unobtrusive and allow the beautiful design from under it to come through. On the outer edge of the dial, there is a chapter ring with 60 minute increments, and the sleek minute hand hovers just above it. Unfortunately, this is difficult to appreciate given the distortion at the edges of the domed sapphire crystal.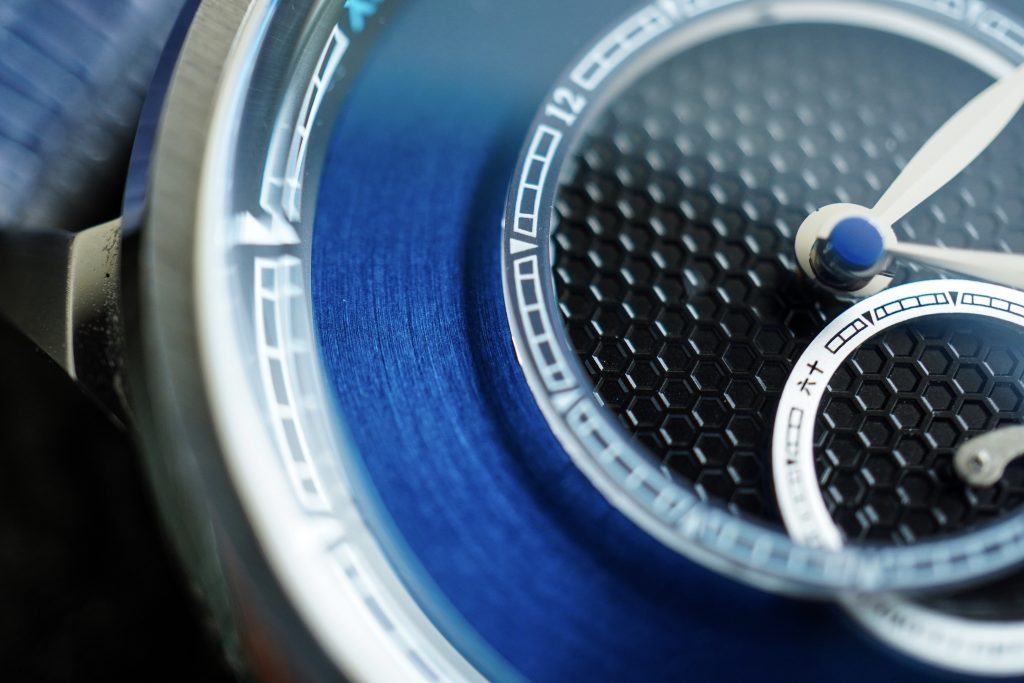 Keeping with the astronomical theme so far, the rest of the space (pun intended) is filled with a stunning radially brushed blue. The color of this dial plays beautifully with light and takes on many personalities, from dark blue under artificial light to an almost oceanic blue under natural light. This helps the watch stay versatile without looking too casual.
Under a loupe and macro lens, I've noticed a few scratches on the nameplate and dust particles on the hands and dial. The dust isn't visible to the naked eye, but the scratches on the nameplate are. I've been told that this particular piece is a demo unit and the commercially available units are subjected to proper quality control.
---
Movement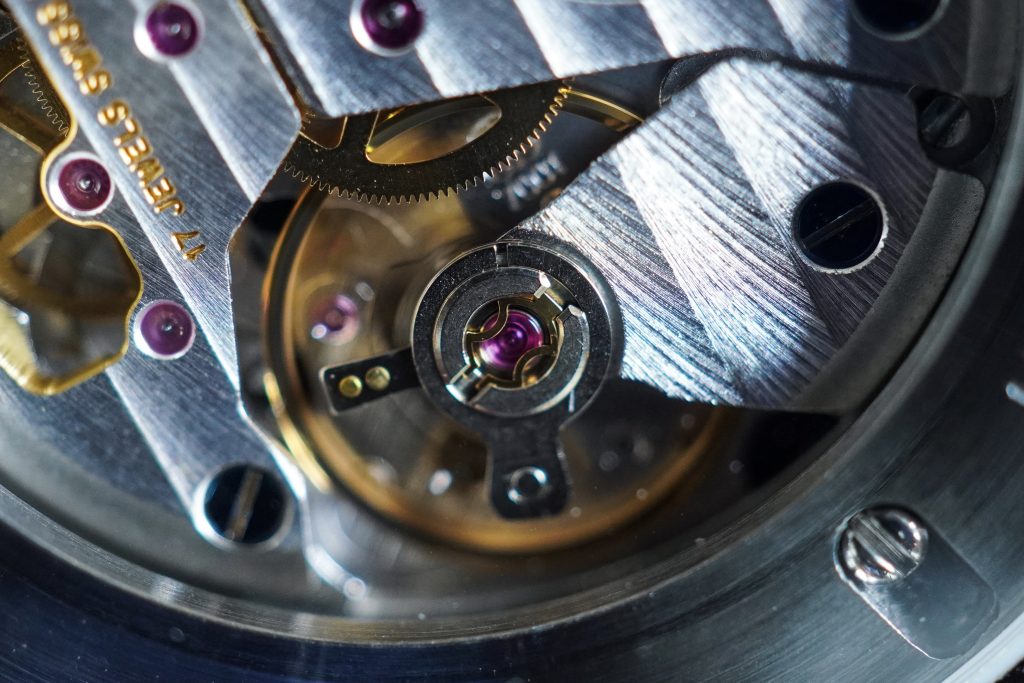 This watch uses a manually wound 3 Hz ETA 7001 and is the top grade version. This means that you have a beautifully finished movement on full display at the back of the watch, with thermally blued screws and Geneva stripes. This movement is gorgeous and is used by Stowa in their Marine Classic 36mm. Given the small seconds hand, the slightly lower frequency (3 Hz vs 4 Hz) goes almost unnoticed.
I've typically found manually wound movements to be loud and annoying, but this watch is particularly quiet. I'm not sure if this is the ETA7001 or the case design, but I'm a happy man if I can work without my wrist ticking louder than my mechanical keyboard. I logged this watch for a few days and observed an accuracy of roughly +10 spd. I believe the ETA7001 can be regulated much better than this, but this watch has been traveling for quite a while now and been on a lot of different wrists, so I won't dwell on this too much. Overall, Feynman couldn't have done a better job picking a movement for this watch. Kudos.
---
On The Wrist
The short lug-to-lug width together with the angled lugs results in a comfortable wrist experience. These watches ship with a 20mm lug-width lizard leather strap and is of great quality and comfort. The signed buckle keeps with the angular design of the lugs and is very well made.
---
Concluding Thoughts
Overall, I'm very impressed with this watch. The micro-brand universe is filled with too many derivative and unimaginative designs. Every day I find myself discovering a handful of new micro-brands and more often than not, they look like they were just picked out of a catalog from a manufacturer in China. In this polluted micro-brand microcosm, the Feynman One is a breath of fresh air. This is a dress watch; a statement piece. Not often do you find watches under a thousand dollars that are functionally capable (ETA 7001) and also have a unique design going for them. But Yong Keong Lim took a bunch of risks in this design and that's what I hope to see more of, from micro-brands.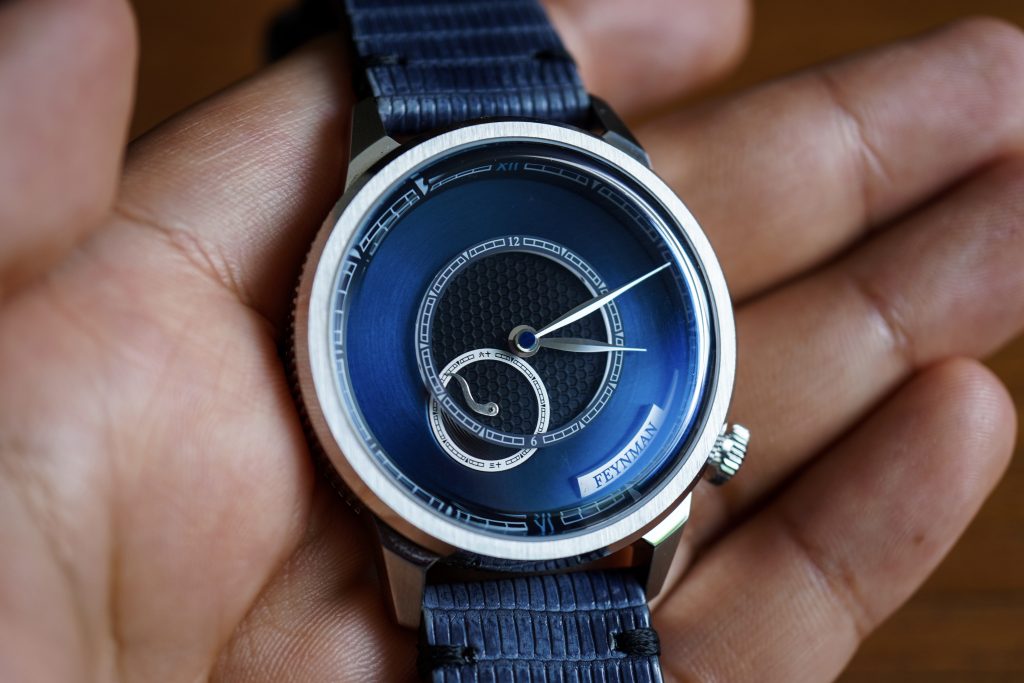 In terms of negatives, I would've loved to get hold of an actual commercial unit to judge the overall finishing of the dial, but there must be videos online of owner reviews that can confirm this. The crown design is a bit dated and dainty for an otherwise aggressive case and lug design. Maybe in the next iteration of the One (the Two?), we'll see a slightly different crown.
I asked Yong Keong Lim about the future of the Feynman One and he said that he's not ruling out the possibility yet, but they are currently focusing on their latest release, the Feynman Cove.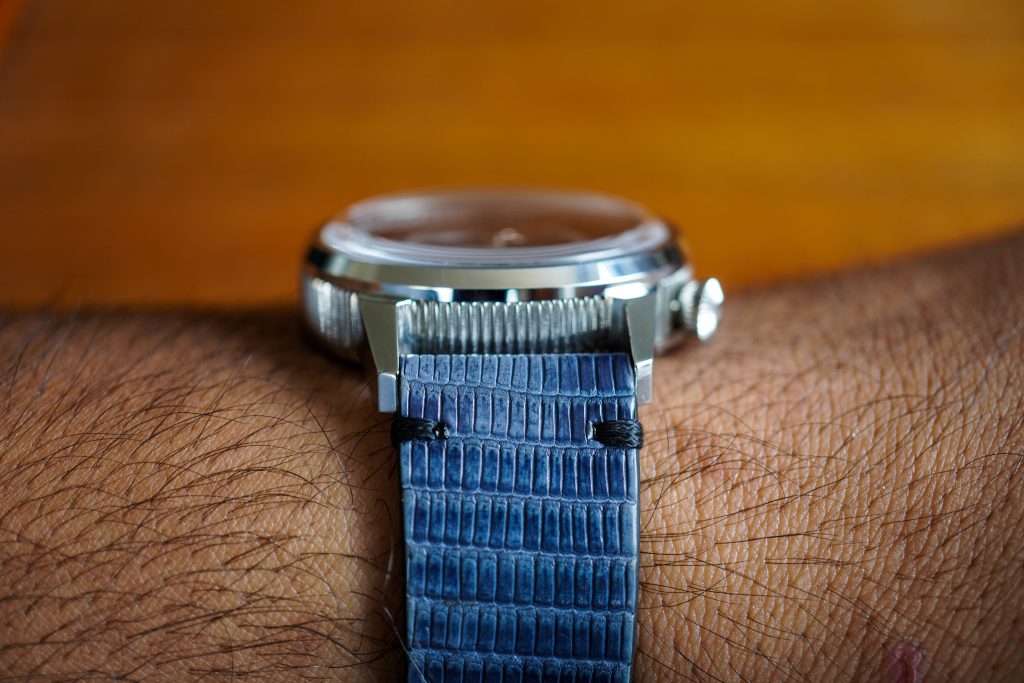 I also believe that with some clever engineering, they could shave off about 1-2mm from the case height by reducing the height of the chapter ring. While 12.5mm is not objectively tall for a watch, it is on the taller end of the dress watch spectrum, and I think this piece would look incredible at around 10.5 – 11mm. This could also help center the crown placement.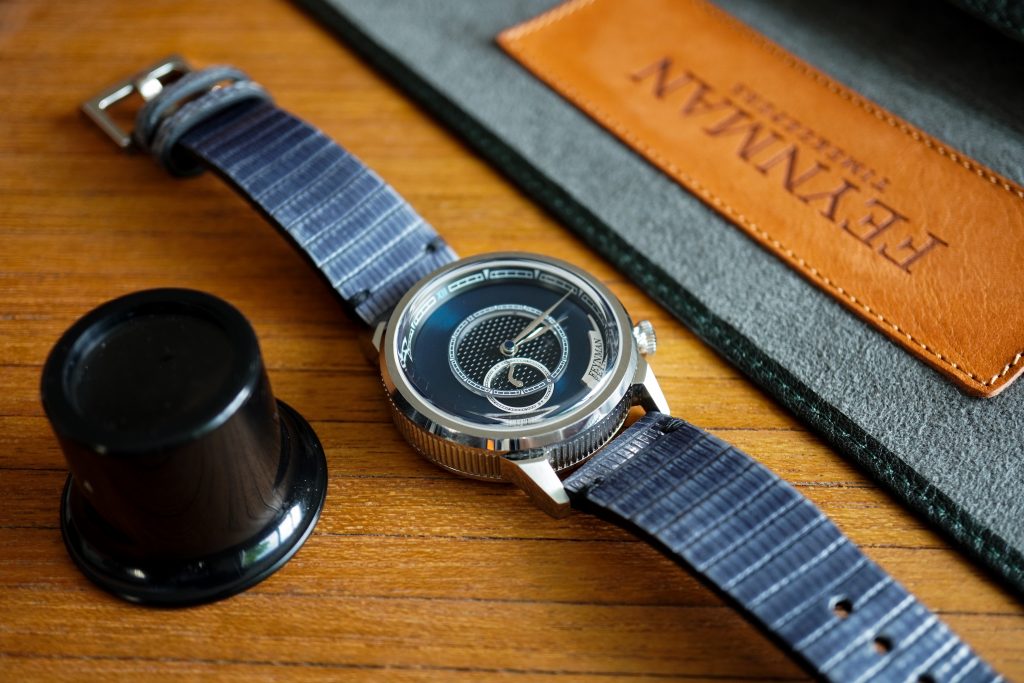 With all that said, if I wore dress watches I would absolutely buy one of these. This kind of out-of-the-box design thinking is what I wish to see more of among micro-brands, and I think as micro-brand enthusiasts we should celebrate this little victory, and hope that others follow more creative paths. I'm excited to see what Feynman does next and I hope they continue to stay creative.
Thanks for reading!