---
Disclaimer: I purchased this watch on the secondary market, and was not externally incentivized in any way to make this review. This review is in no way sponsored by Christopher Ward, or any entity. All opinions here are my own.
---
---
Contents
---
C65 Trident L.E
At this point, I've lost count of how many Christopher Ward watches I've either bought or been loaned to review. It is no secret that I'm a big fan of the brand, and more so their design direction over the last year and a half. Every watch I've handled in this period has been extremely well built, well finished and delivered an impressive amount of value at their respective prices. I've owned luxury watches from Rolex, Omega, Tudor, etc., and Christopher Ward is one of the few brands that manages to live up to their promise of delivering luxury watchmaking at affordable prices.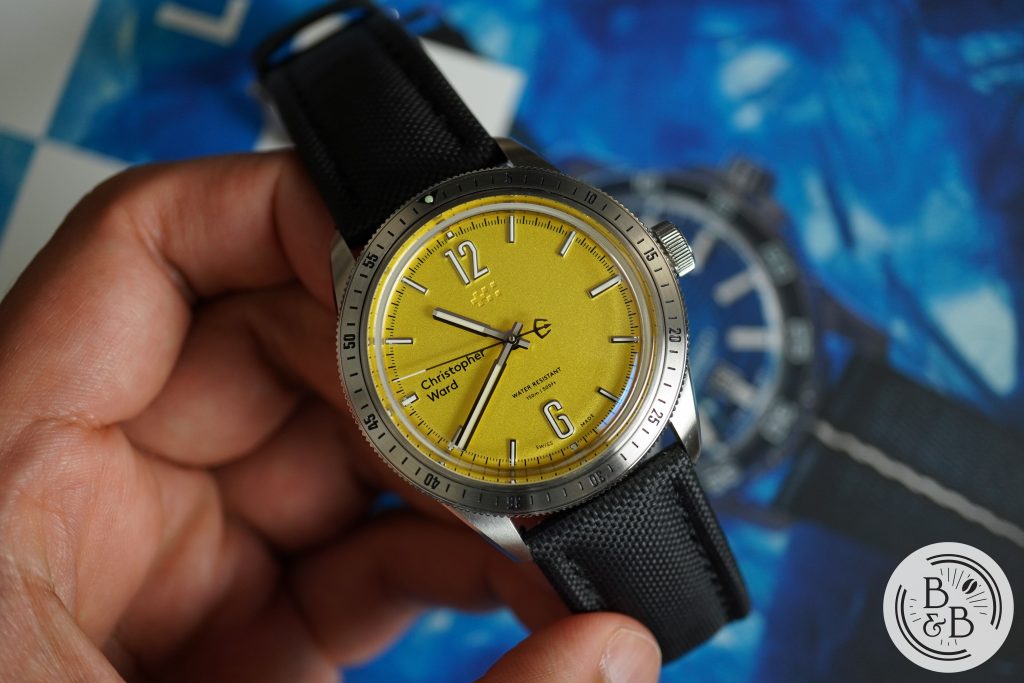 This watch was released about a year ago, and was a limited edition release of 316 units. At the time of the release, I was entirely put off by the 9 o'clock logo and refused to give it a chance. But over time, this design element has bothered me less, and the quality and value made up for the polarizing design choice.
If you haven't noticed already, I've been stepping out of my blue watch comfort zone and exploring more diverse and extravagant colors. I've been on the look out for a yellow dial watch, and this Limited Edition C65 Trident caught my eye immediately. I attempted to chase one down a few months ago, but wasn't successful. I found one recently and jumped on it immediately. This watch had an original retail price of between $700-800 depending on whether you went with a strap or the bracelet.
Let's check it out!
---
Case
I measured the case to be 40.75 mm in diameter, 46.5 mm from lug to lug and an impressive 11.5 mm in height. This is their C65 Lightcatcher case design, which I find to be the most attractive and comfortable of the lot. In terms of design, I think they created something unique with excellent finishing and build quality. I posted a side profile photograph on my Instagram and asked people to guess what watch it was – nearly everybody guessed it right, which goes to show the pervasive design identity of these cases.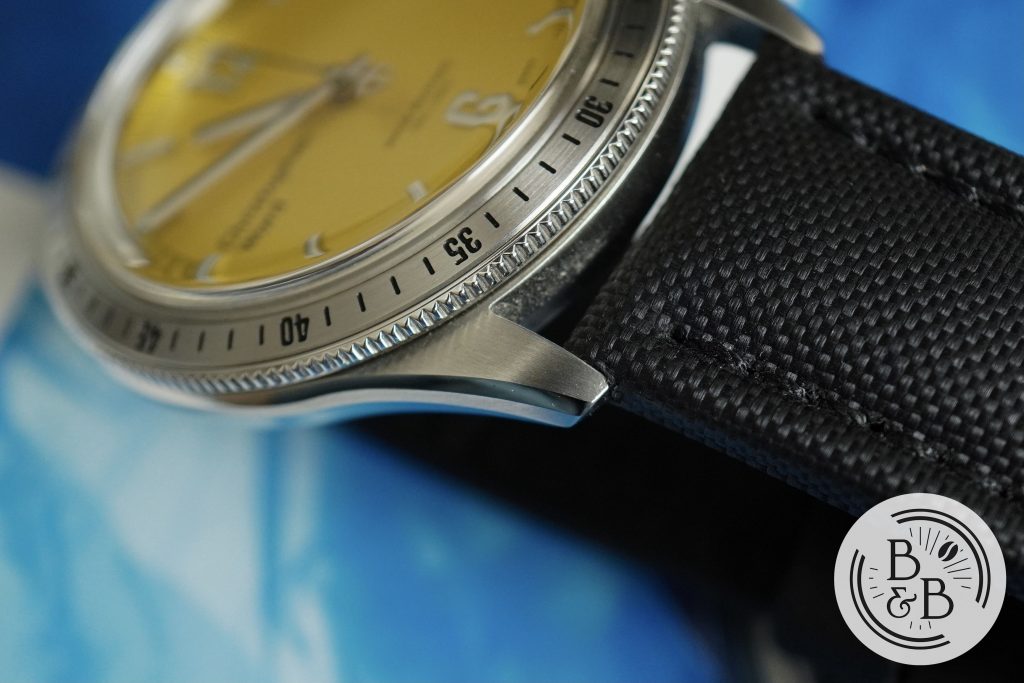 The lug width is a broad 22 mm, with short lugs that curve down towards the wrist. The top of the lugs are brushed, with polished accents on the side.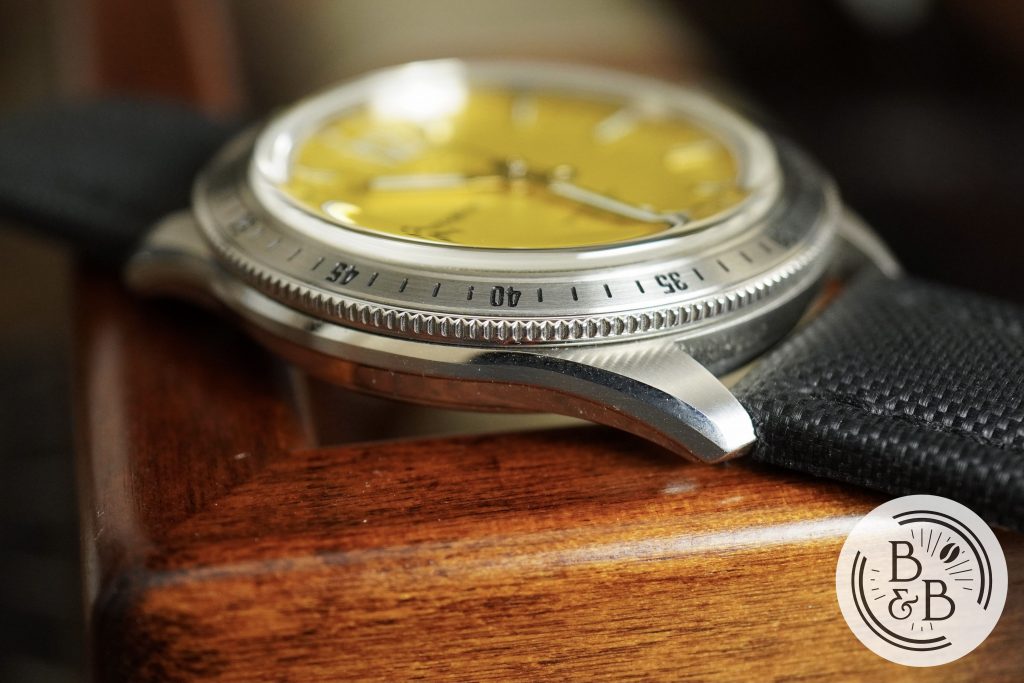 There is a narrow 120-click unidirectional dive bezel with a steel insert and a lumed pip. The action is clicky and tactile, and the bezel aligns perfectly with little to no back play. You have a boxed sapphire crystal with sufficient AR coating, and a bit of distortion at the edges at certain viewing angles.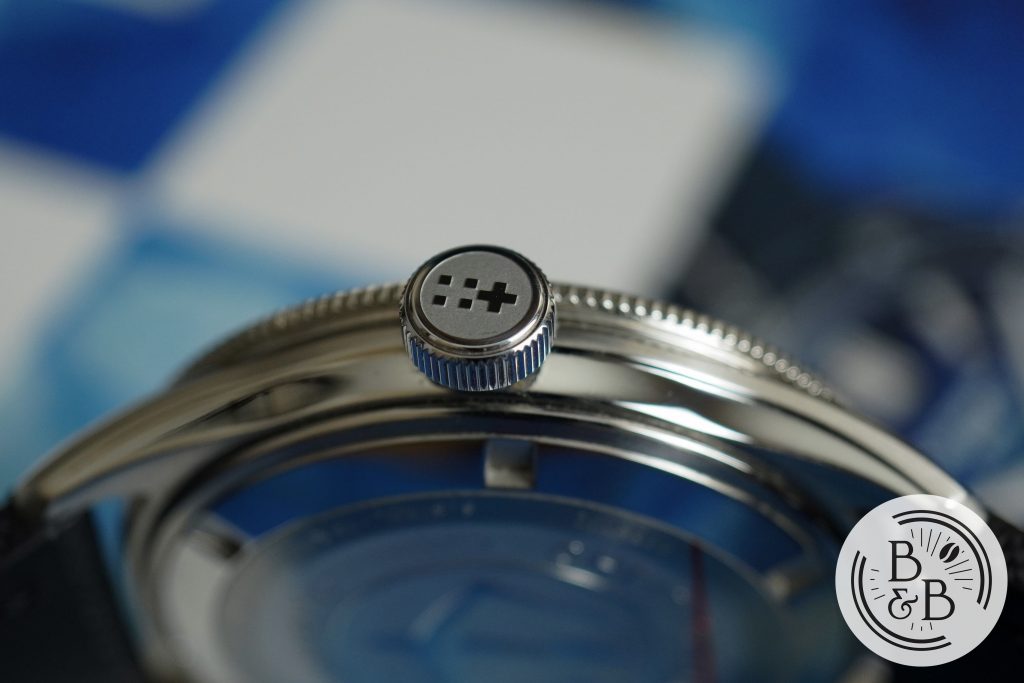 There is a 6.35 mm push pull crown at the 3 o'clock position that is easy to grip and operate. The crown is signed and there isn't any crown or stem wobble, which is particularly important on hand wound watches without screw down crowns, in my opinion.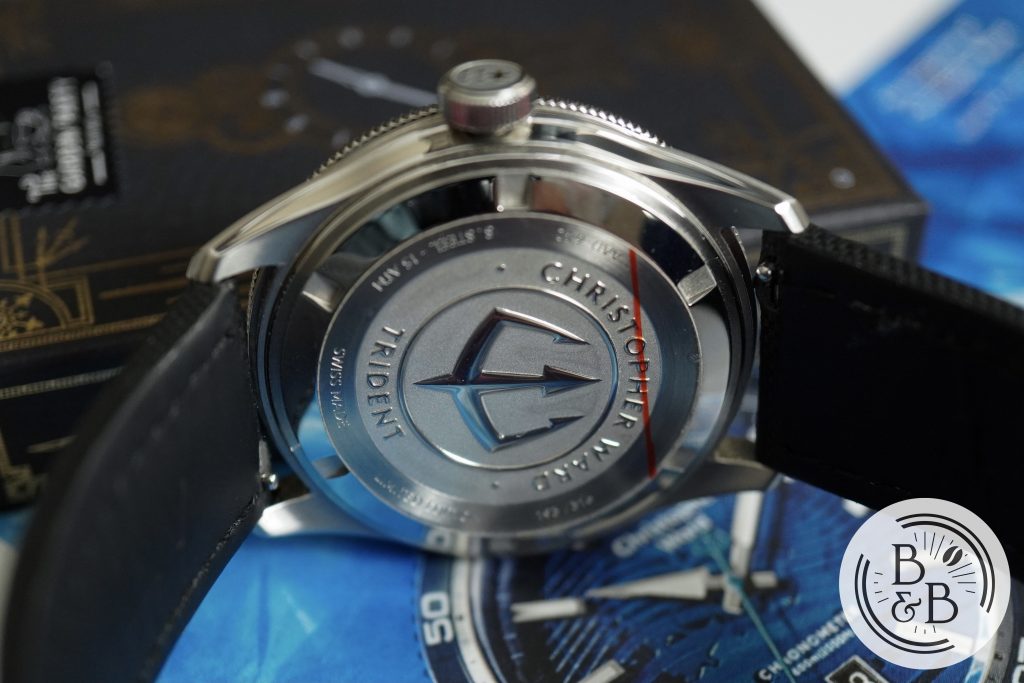 Flipping it over you have a solid screw down case-back with some case back decoration and specs. This watch is rated for up to 150 m of water resistance, which is interesting given the lack of a screw down crown and it's relatively slim case.
---
Dial
While there is no doubt that the case is exceptional, the dial really is the star of the show here, with it's beautiful yellow base that is equal parts metallic and matte finished. The shade of yellow is bright, summery and just screams fun. Which is the polar opposite of my own personality, but I'll go with "opposites attract" for this purchase.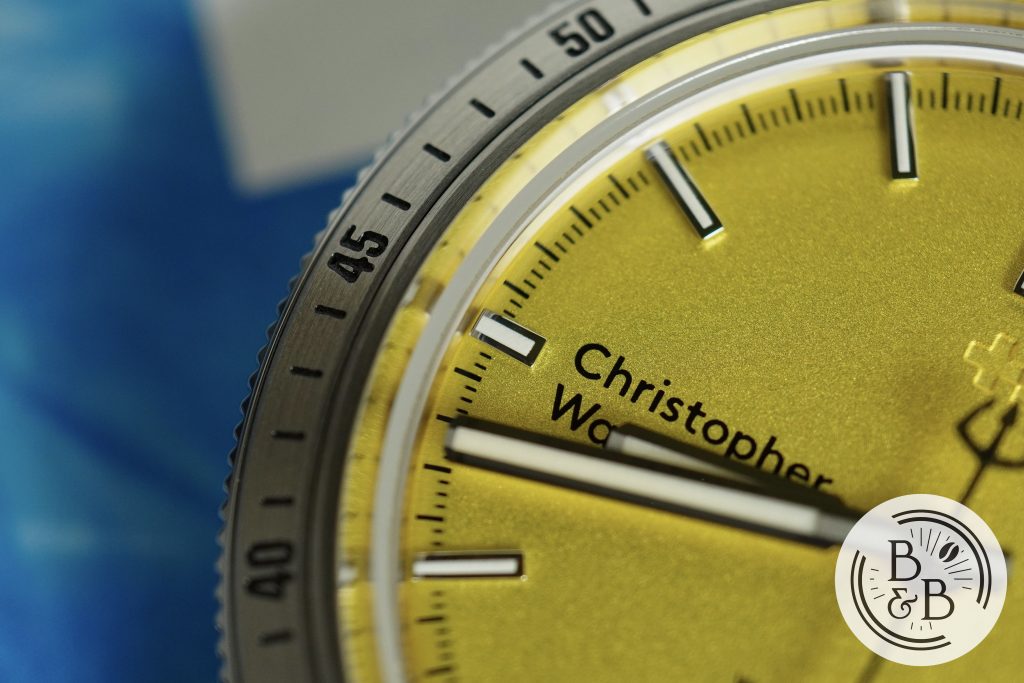 The outer track is surprisingly utilitarian in it's design, and feels very "instrument"-like with it's fine graduations for minute and millisecond markers printed in black. The printing quality is good, and it is easy to read, even with the slight crystal distortion at the edges.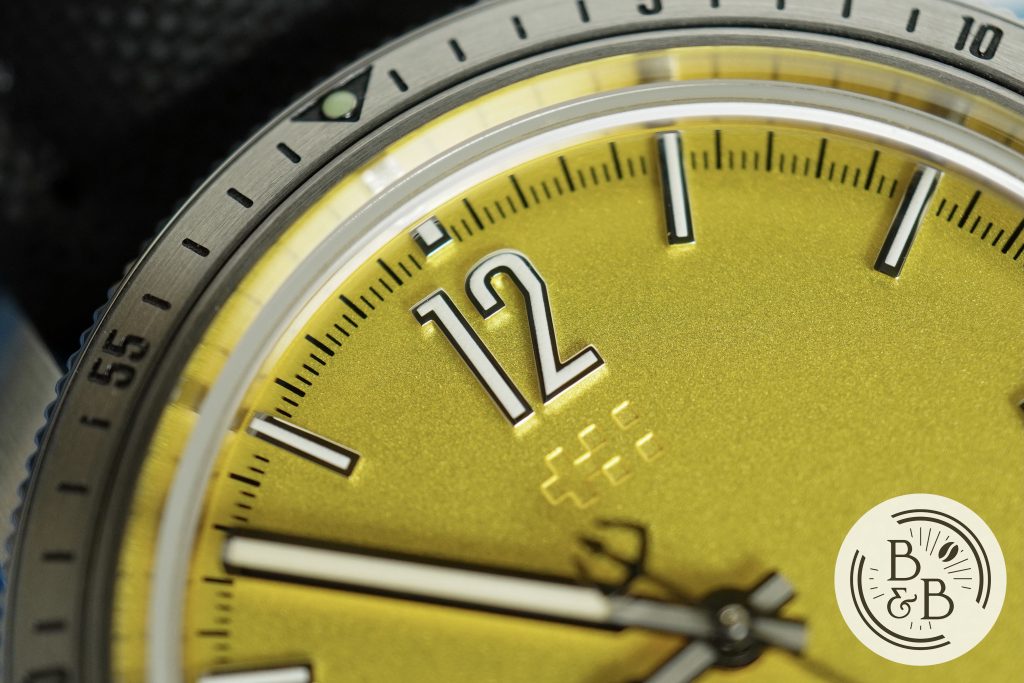 You then have applied steel indices for the hour markers, combining rectangular indices with large Arabic numerals for the 12 o'clock and 6 o'clock markers. The finishing on these indices is excellent, and they're all filled with Super LumiNova lume.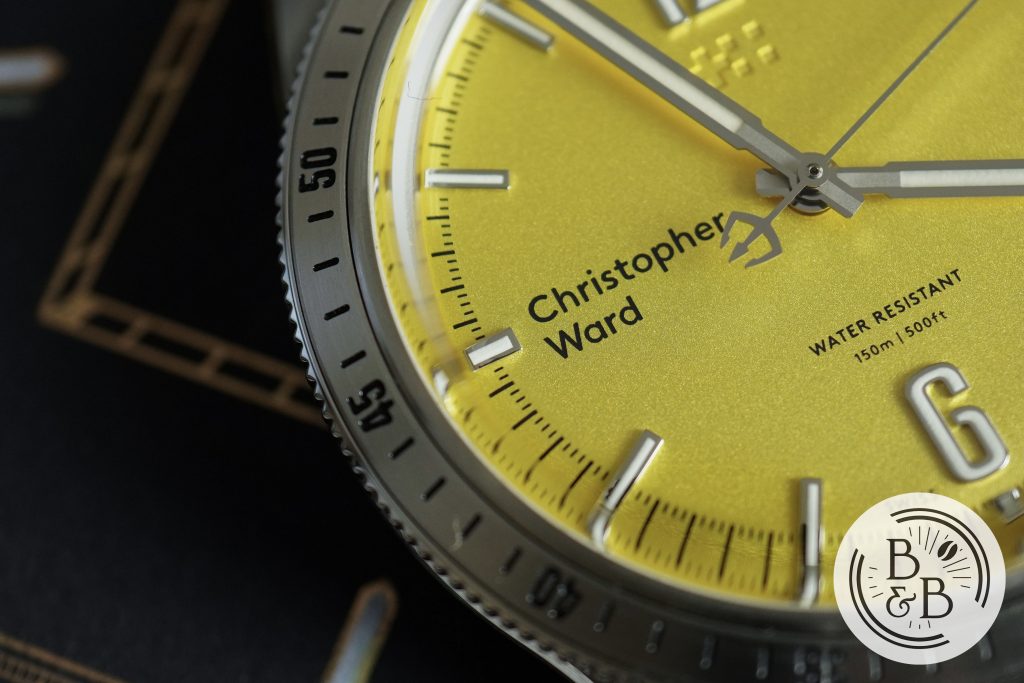 The brand's logo is printed at the 9 o'clock with the twin flags logo embossed below the 12 o'clock index. While I would've preferred a 12 o'clock printed logo, or just the twin flags, the 9 o'clock logo doesn't bother me anymore. It seems to be polarizing, but I've been conditioned to now accept it as somewhat unique design element.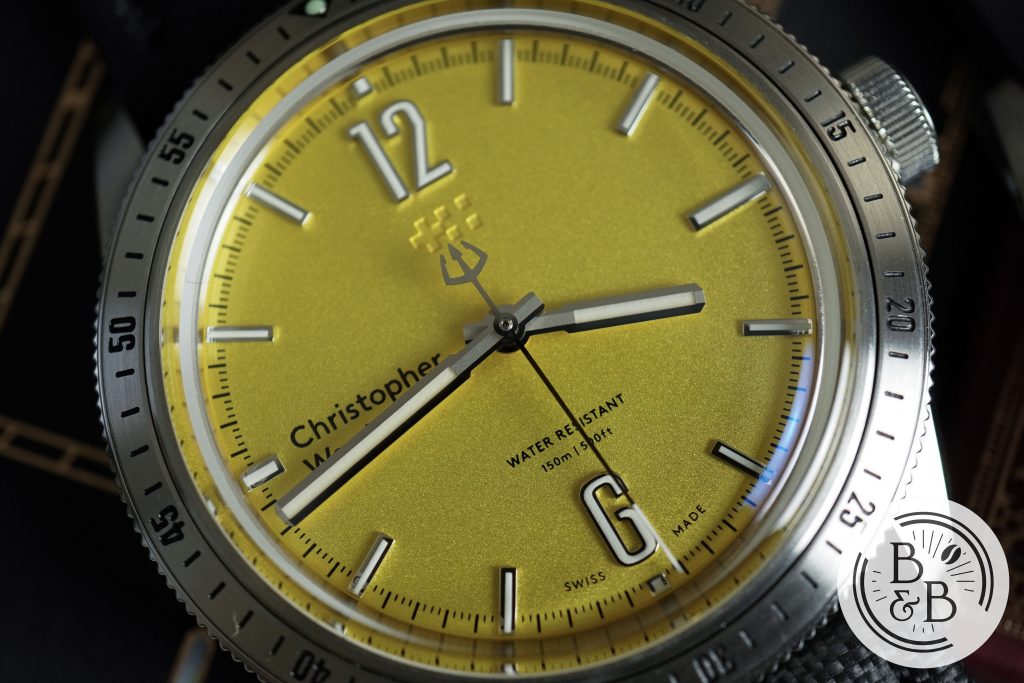 The hand set is a typical Christopher Ward design, with good proportions, good finishing and a legible layout. The seconds hand has a painted lumed tip and their iconic trident counter balance. Overall, I think this is a very good looking dial, with a nice design and excellent finishing and quality control for the money.
---
Lume
Unfortunately the lume on this watch isn't great, and not as good as some of the other popular brands out there like Seiko, Halios and Zelos, and some even their own watches like the C63 Sealander, which have excellent lume.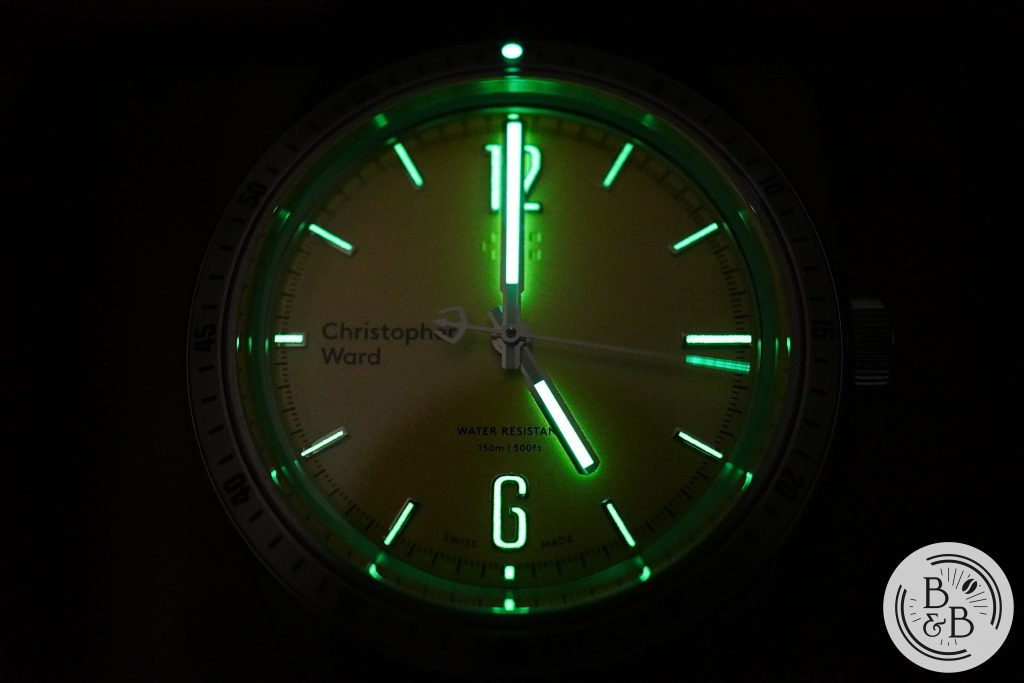 This appears to be due to the size of the indices, which are thin and not very tall, which just means less lume in general.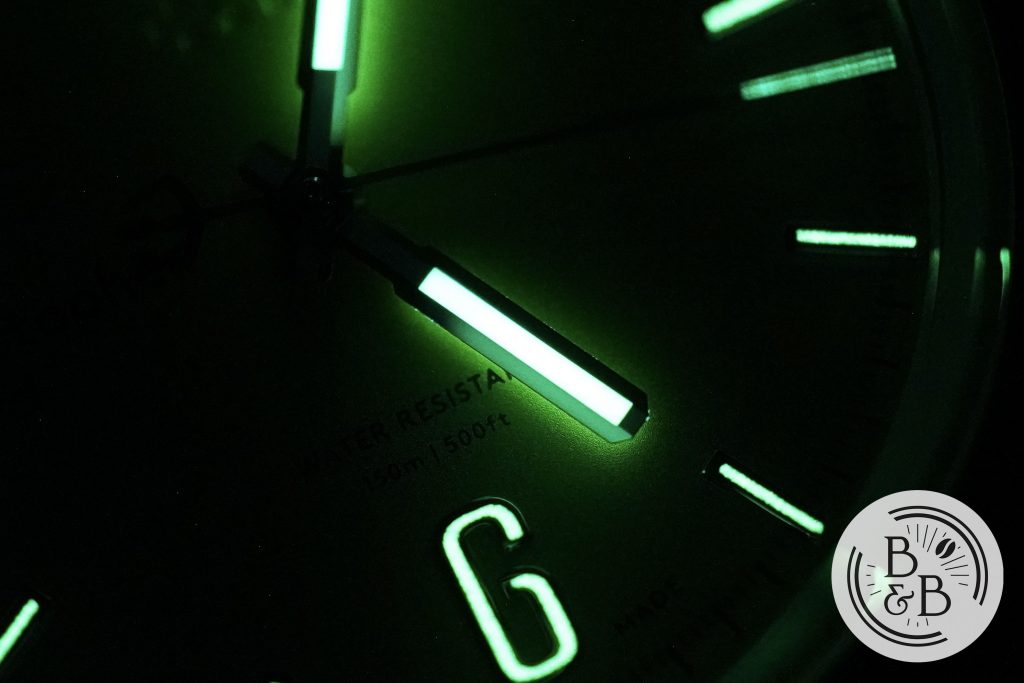 The hands are better, and more in line with the lume performance of their other watches. As a result, the indices fade out first, leaving the hands brighter for longer.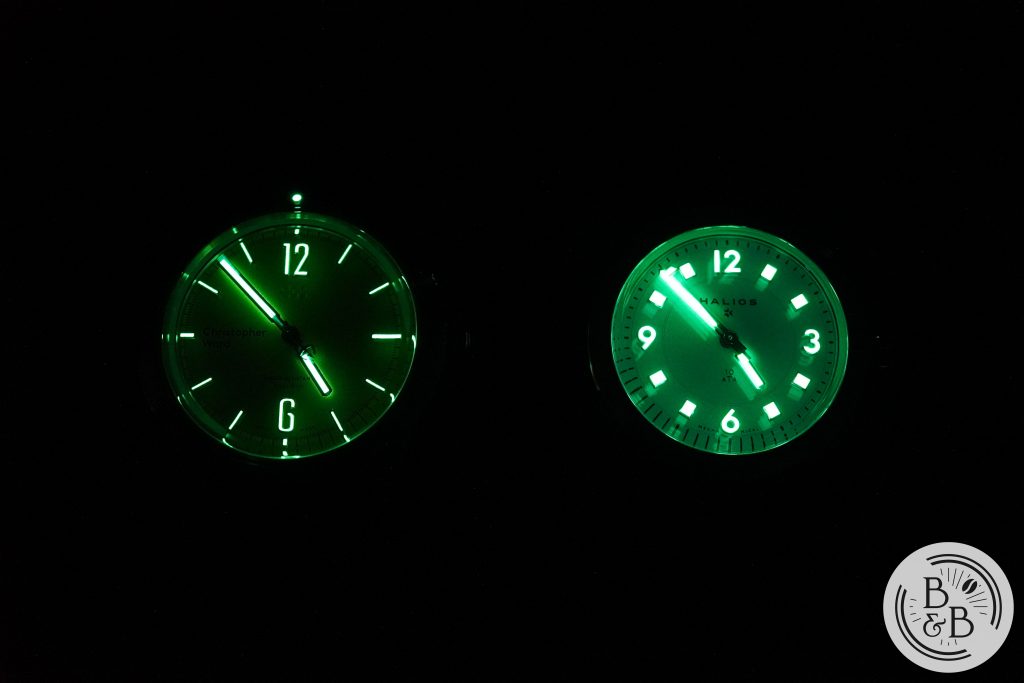 For a comparison, here I compare it with my Halios Universa.
---
Movement
This watch uses a hand wound Sellita SW210-1 movement. I've been enjoying hand wound watches a lot of late, so this movement choice was the icing on the delicious yellow cake.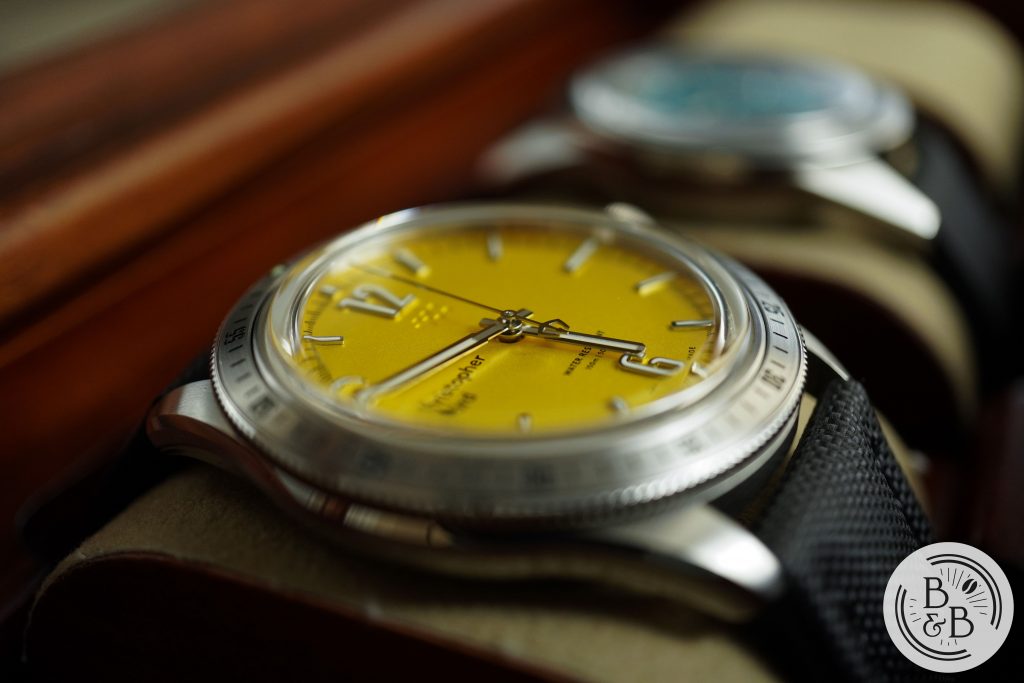 The movement is very easy to operate – buttery smooth with just the right amount of tactile feedback. In contrast, my Halios Universa with the same movement offers a lot more resistance to winding.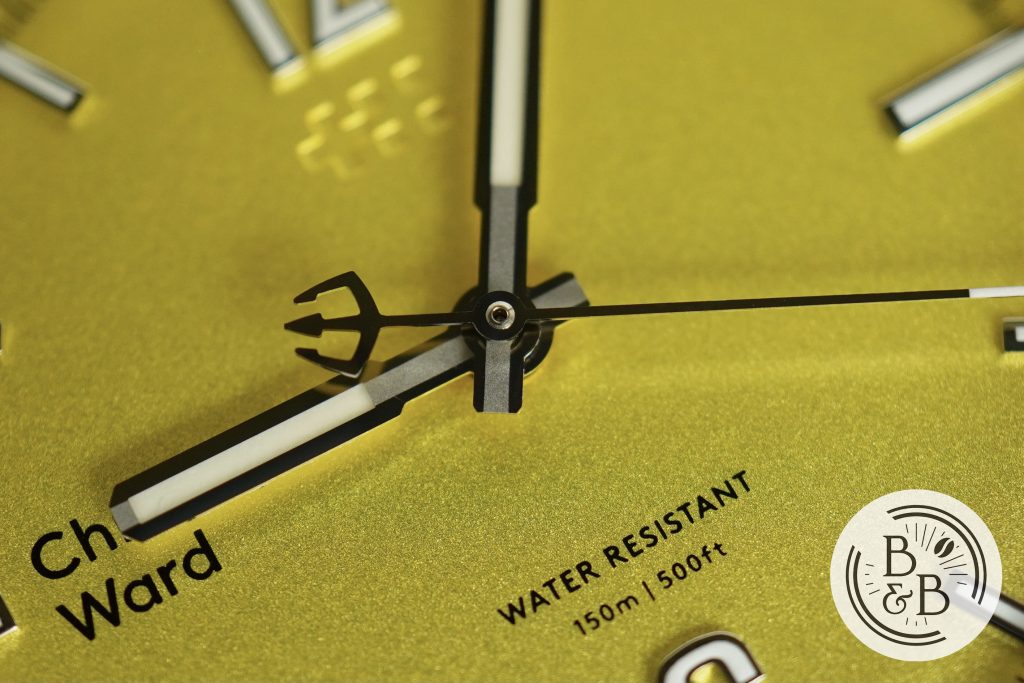 On my time grapher, I observed roughly +3 spd in the dial up position and +2 spd in the crown up position. So great performance to close off a good movement experience.
---
On The Wrist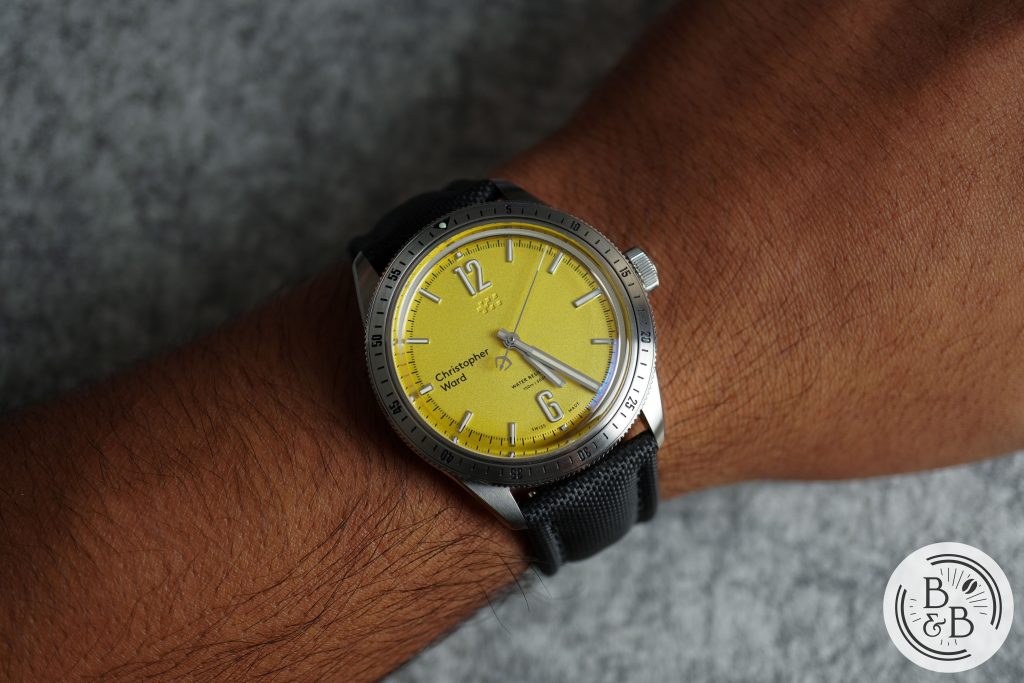 The 40.75 mm case diameter may be of some concern to small wrists, but I love how it wears on my 6.5″ wrist. The 46.5 mm lug to lug width reigns in that case diameter and makes it fit comfortably on my wrist, but with the right amount of wrist presence for that beautiful dial.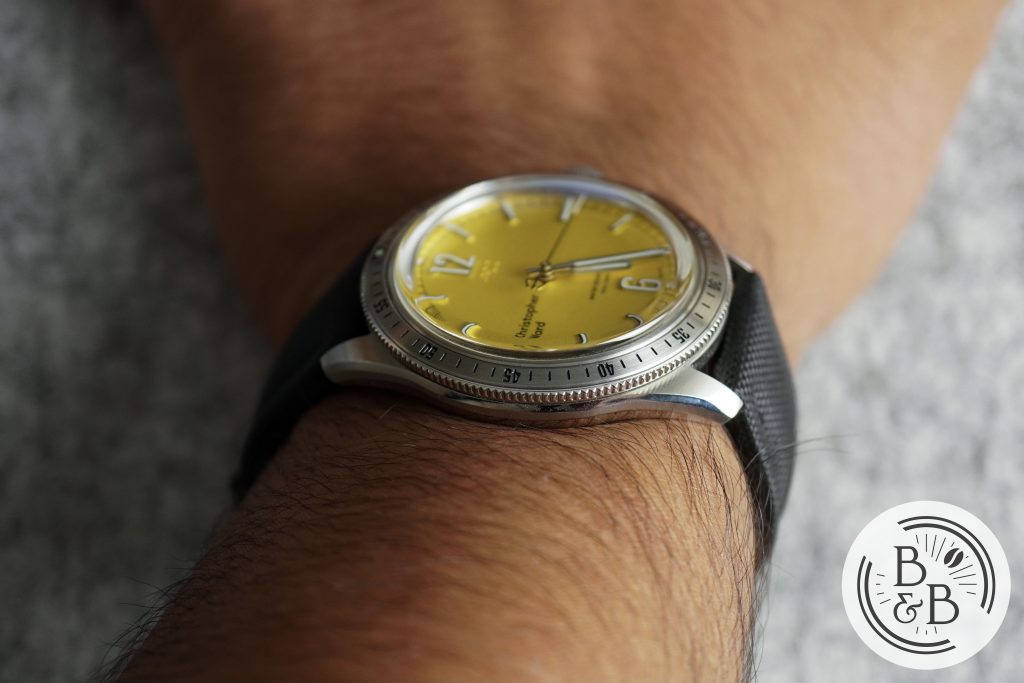 The C65 lightcatcher case is easily my favorite from their lineup, and the sleek side profile is only made better by the very comfortable 11.5 mm case height.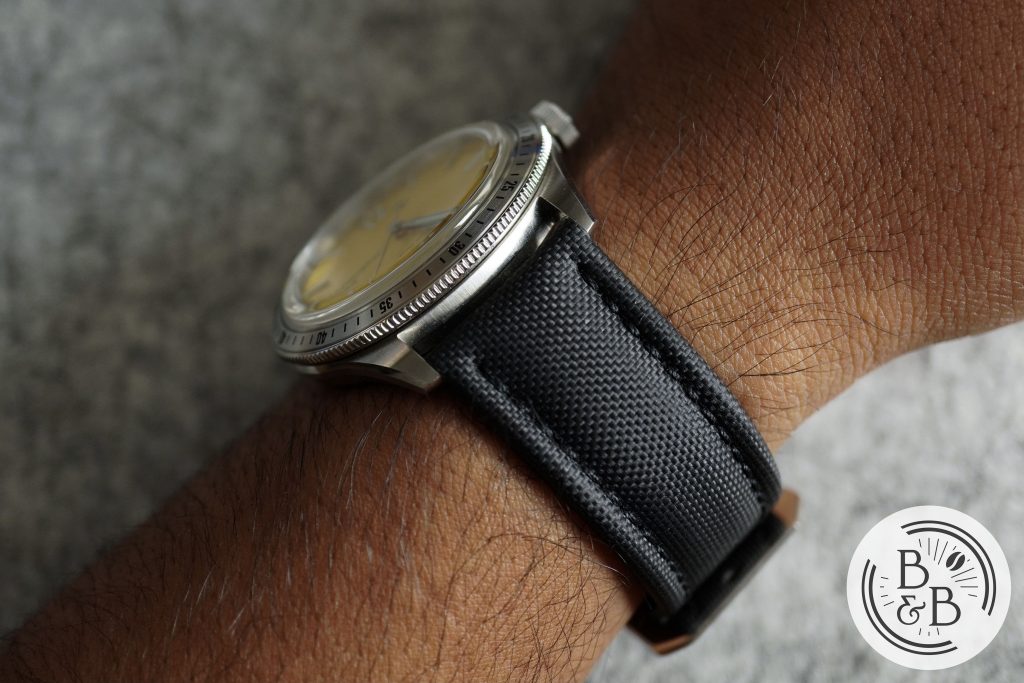 Overall, this is an excellent watch on wrist, and while I currently don't have the bracelet, I think the bracelet takes it up a notch where comfort is concerned.
---
Concluding Thoughts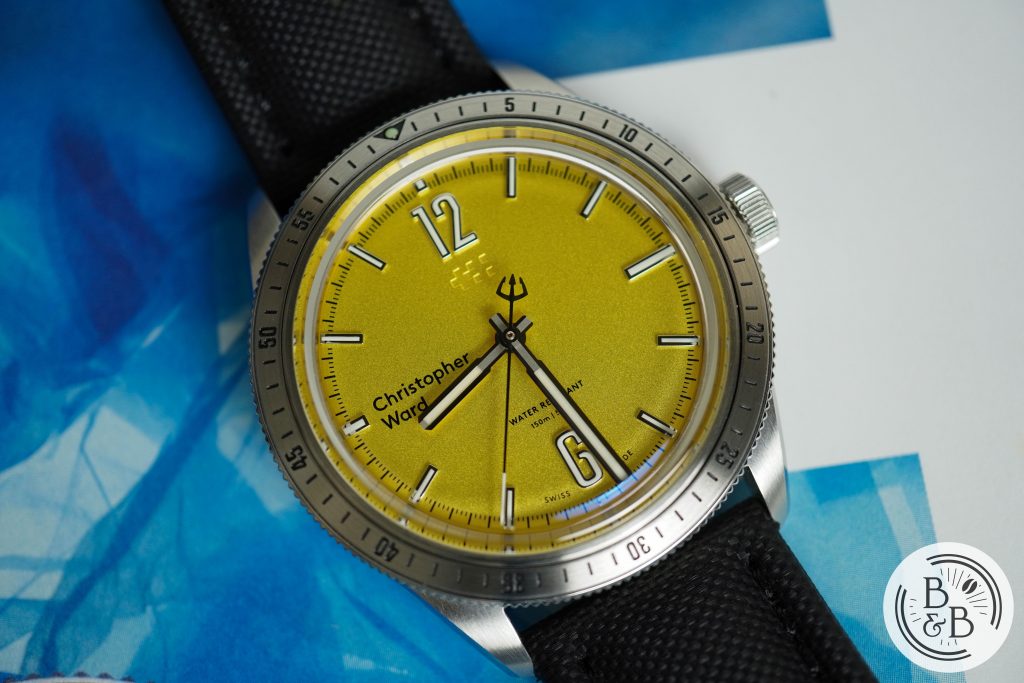 To wrap this up – as usual, Christopher Ward delivered an excellent case design, with solid build quality and terrific finishing. The dial design is good, the finishing great and their quality control fantastic. The lume isn't the best, but you should be able to get 3-4 hours of dial legibility in the dark before you're left with just the hands. I love the fact that this is a hand wound movement, and the slim case height results in a very comfortable wrist experience. If you like what you see and come across one of these watches, I highly recommend getting it. It is a ton of fun at a great price, while also being just an all round well built product.
---
Strap Change
---
Thanks for reading!