---
Disclaimer: I borrowed these watches from seasoned Doxa collector Hari Krishnan (@reluctantsnowman). Since these watches were worn/used, please make note that the experience might differ from that of brand new watches. This review is not affiliated in any way with Doxa or any other entity. All opinions here are my own.
---
---
Contents
---
Doxa SUB 300 & Aqualung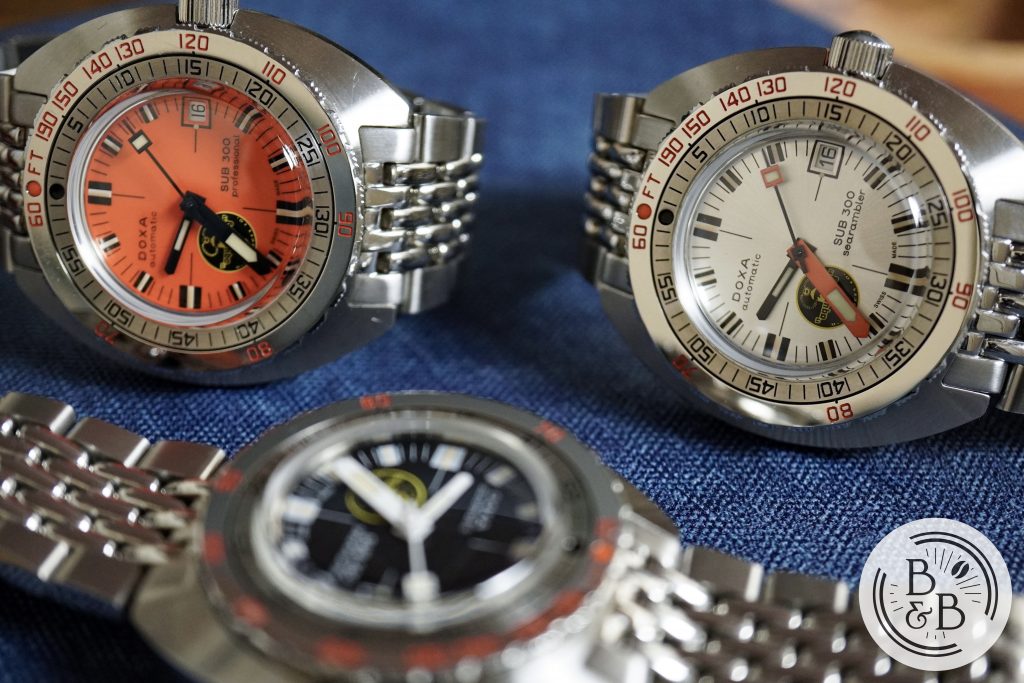 When you think of dive watches, and get into the world of popular dive watch history and heritage, you often only hear talk of the Rolex Submariner and the Blancpain Fifty Fathoms. These historically functional and practical tool watches have almost entirely transitioned into symbols of wealth, and are pretty much just expensive fashion statements now.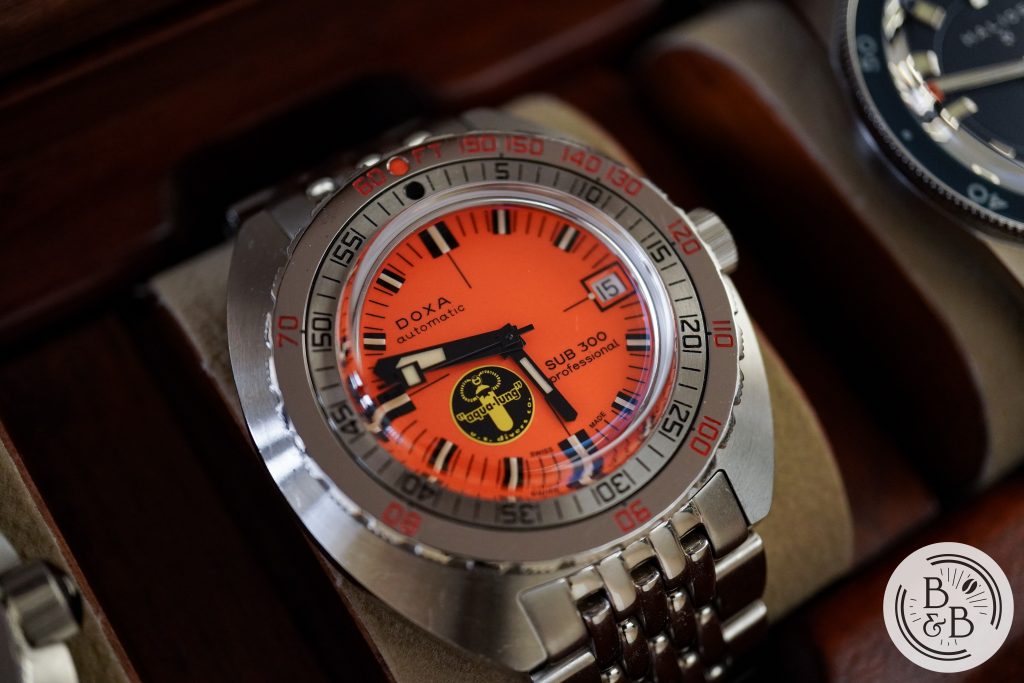 One brand that typically stays out of the spotlight, but has enough tool watch pedigree to warrant a spot at the table, is Doxa. These watches, and the elusive watch enthusiasts that wear them, often stay out of the sight, but gather in very tightly knit communities of die hard enthusiasts. There's just less pretense, and more genuine passion for these watches – and I'm starting to really like that ethos.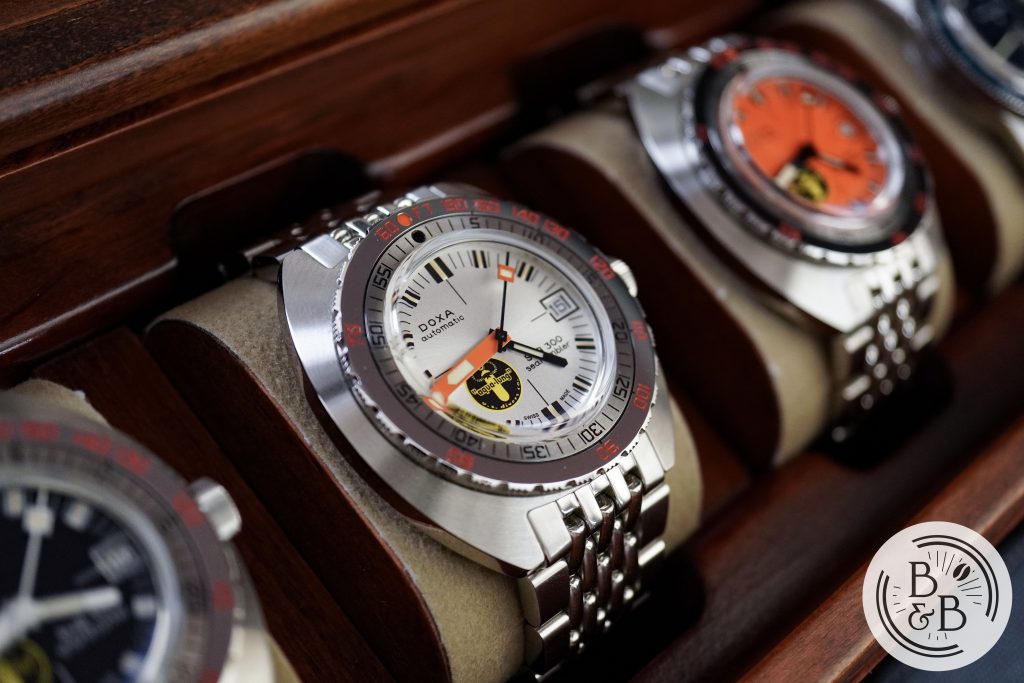 I'm not oblivious to the fact that no dive watch is really a necessary diving instrument anymore, but everything about these watches feels true to the aggressive, raw and functional nature of what they were in the past. The manicured and pedicured sheen of the Rolex Submariner is absent here, and what is left is pretty special. I wish I could tell you that these watches are a ridiculous bargain too, but they are priced to reflect their heritage. Doxa knows what they have, and they're going to make you pay for it.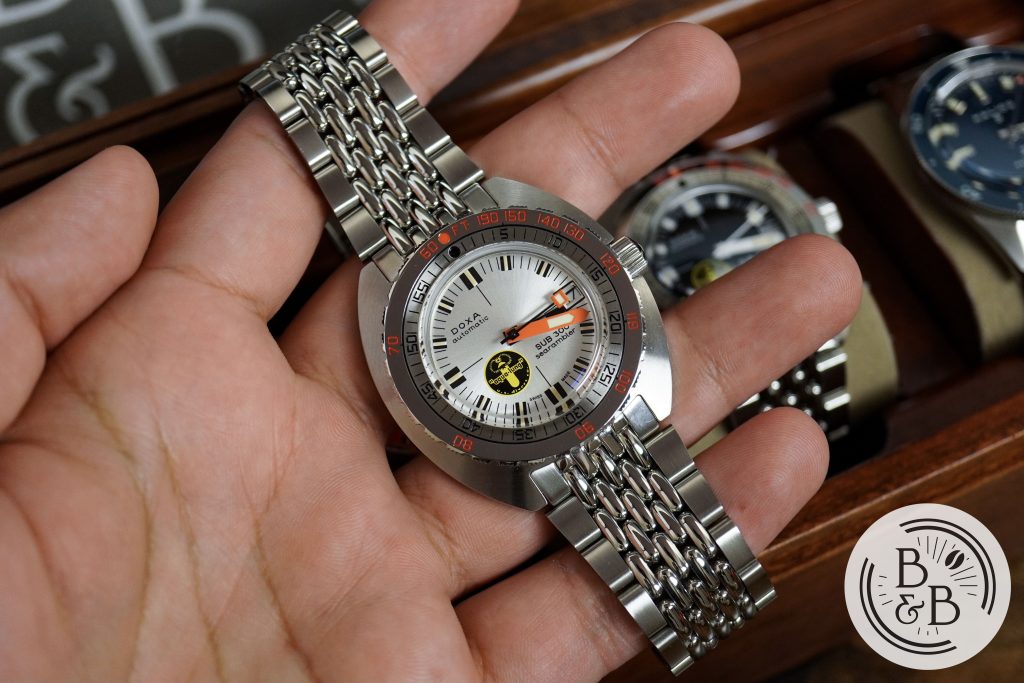 Let me now introduce you to the cast of today's episode – we have three watches that are quite rare on their own, but even more so to find them all in one spot. This trifecta was loaned to me by Hari Krishnan, who very kindly let me babysit them for a few weeks to create this video. We have three of the 50th Anniversary SUB 300 Aqualung divers in the Searambler (silver), Professional (orange) and Sharkhunter (black dial) options respectively.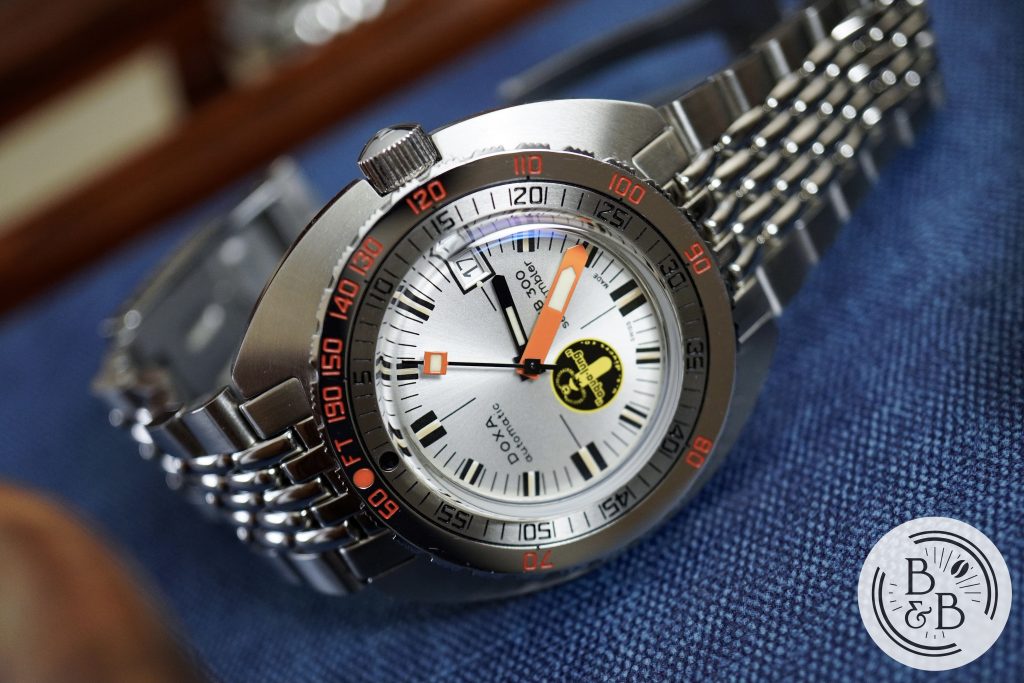 I believe these watches initially retailed at between $2200-2500, but finding these now is a bit challenging, and you're looking at prices anywhere between $3000 and $5000. The good news is that you can buy a standard production SUB 300 with a few changes that appear to have been made after Rick Marei's departure. And these currently available SUB 300s cost roughly $2500 new.
Let's check them out!
---
Case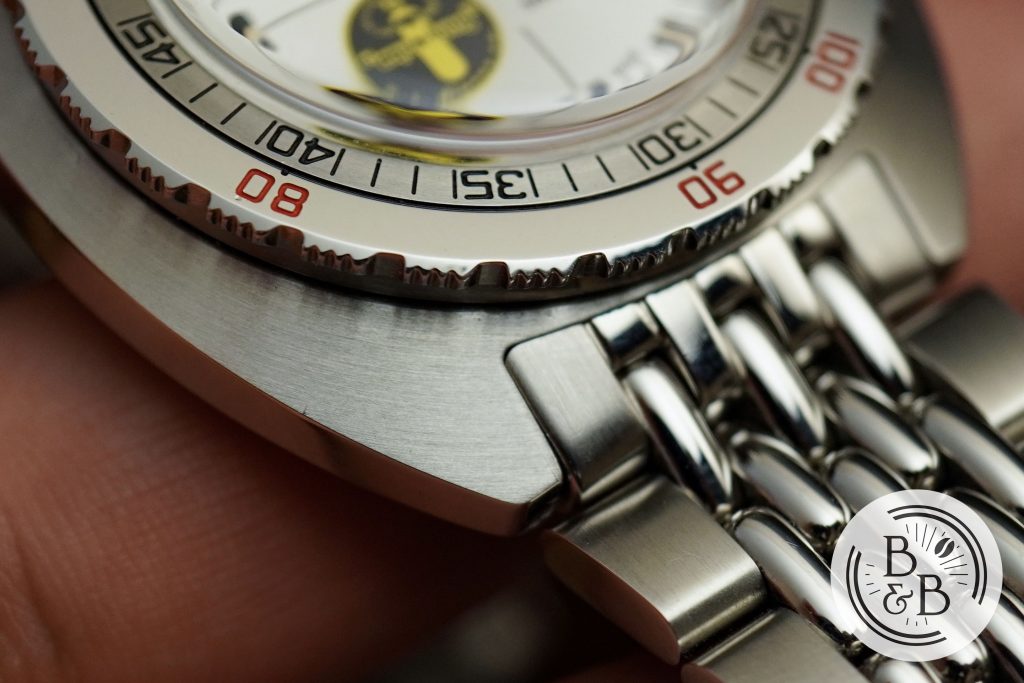 I measured the cases to be 42 mm in diameter, 44.5 mm from lug-to-lug and 13 mm tall. The 13 mm height includes the roughly 3 mm crystal, so the effective height is closer to around 10 mm. The tonneau style case is primary brushed and the quality of finishing is good. I think the height of the mid-case is perfect, and this extends out into a pair of short lugs, with a lug width of 20 mm.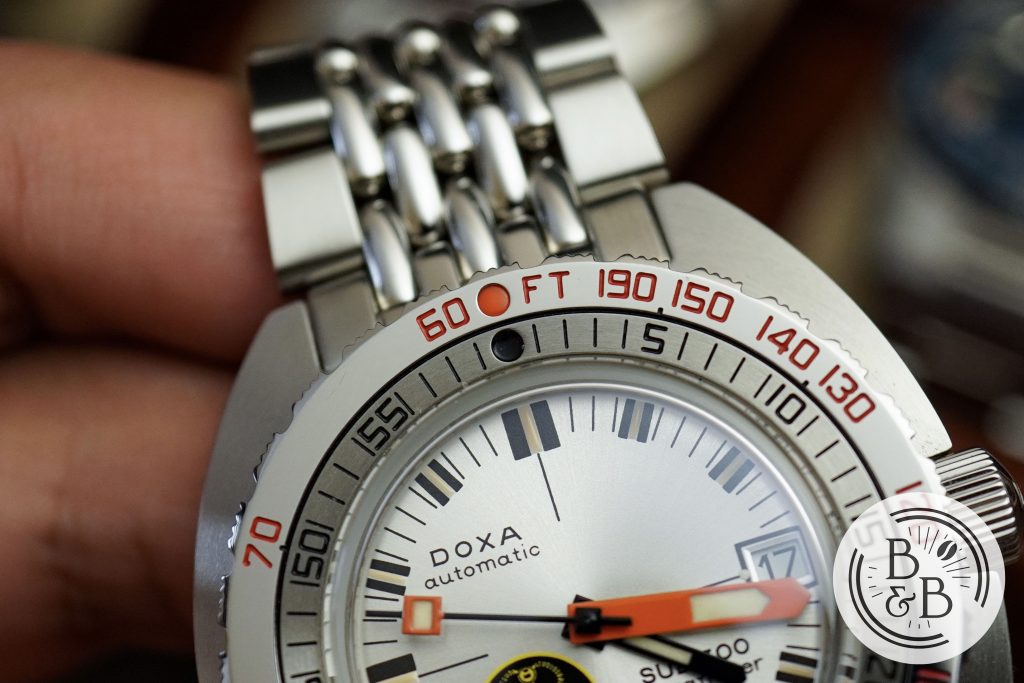 The bezel outer diameter is about 36 mm and the actual visible dial is approximately 27 mm. The bezel action is very good, with loud clicks and no back-play. Doxa uses a two layer bezel system with markings for dive timings as well decompression markers. It is a unique design and I like it. The bezel seats a moderately tall boxed sapphire crystal, for that vintage dive watch charm.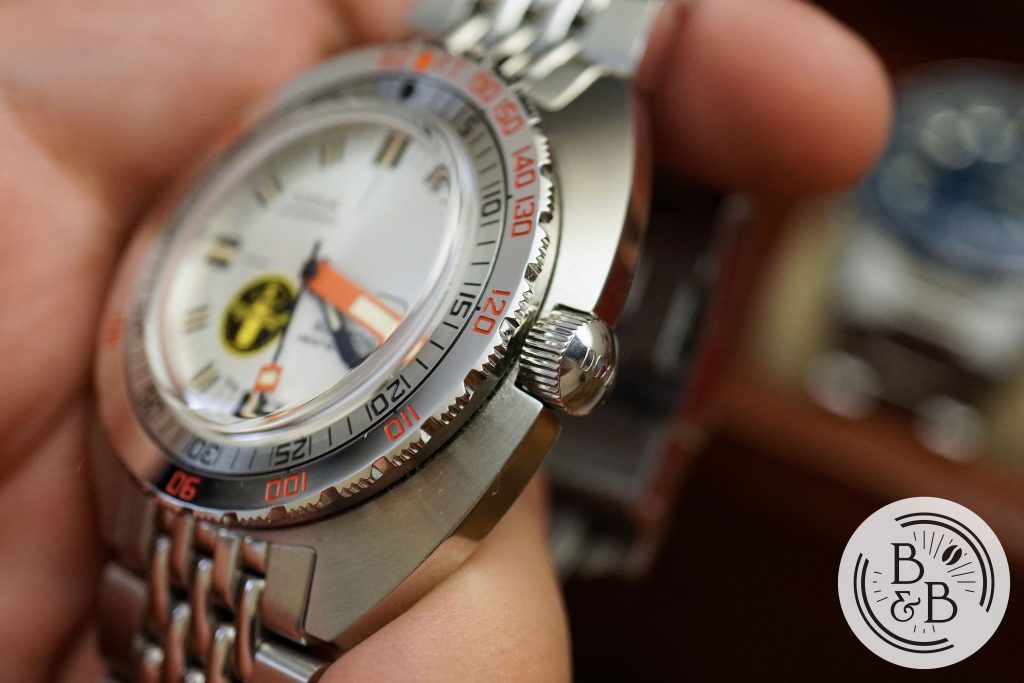 There is a 5.75 mm screw-down crown at the 3 o'clock position that has DOXA embossed on it. I love this, and prefer it to the new orange Jenny fish on the current iterations. The crown action is good, but I noticed a bit of crown wobble on all three of them. Nothing to be worried about, but not the kind of impermeable crown interaction you'd experience with a Submariner.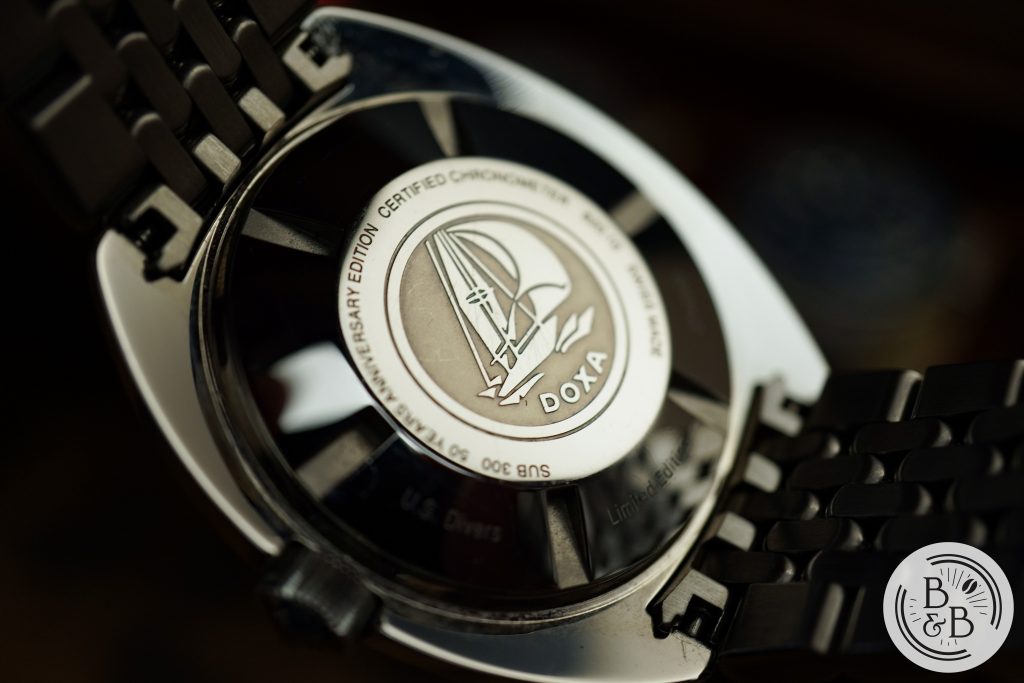 Flipping it over you have a slim screw down case-back. To me, this one feature is enough to justify spending the extra money over the SUB 300T. I found the case-back on that to be too tall, and it didn't wear as comfortably as this watch. This watch is rated for up-to 300m of water resistance.
---
Dial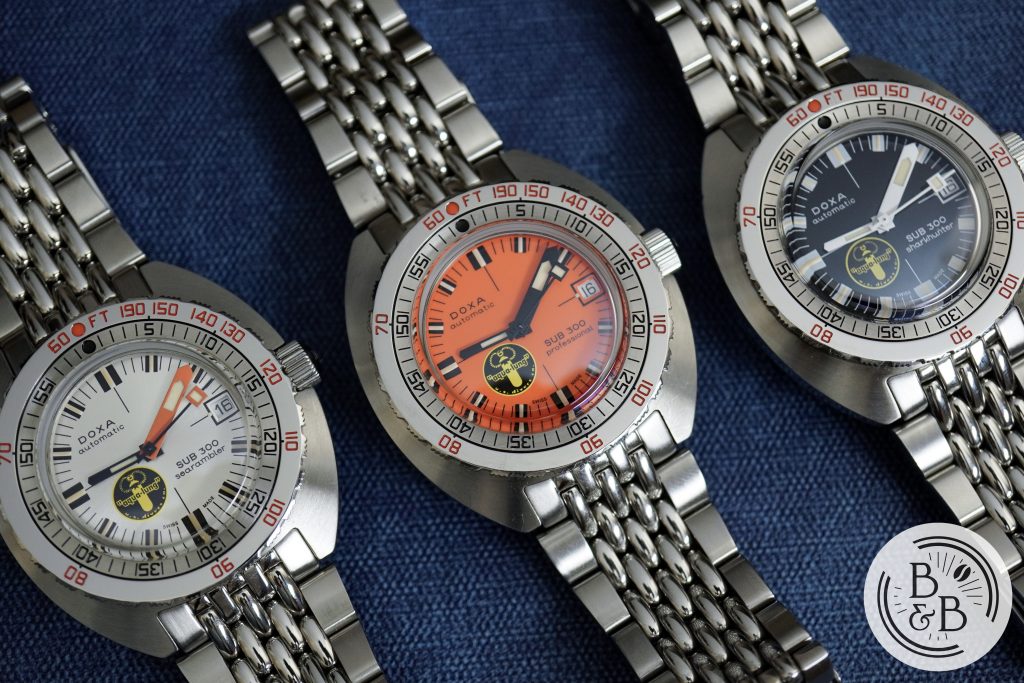 All three watches have identical dial layouts, with slight variations in colors.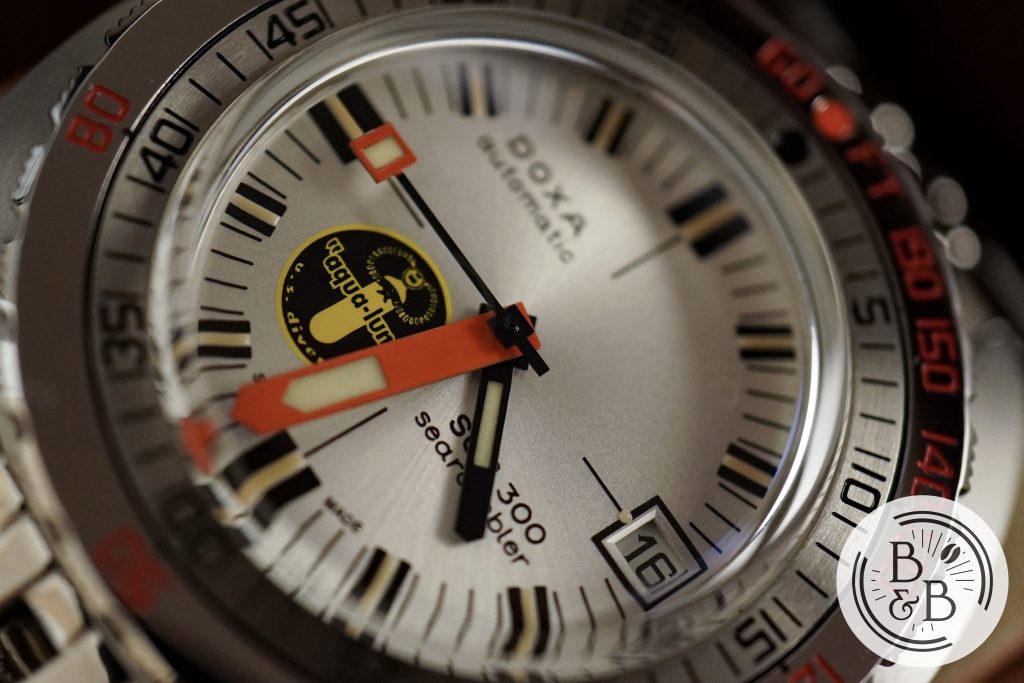 While the Professional and Sharkhunter have flat glossy dials, the Searambler is my favorite, with a beautiful sunburst texture in a subtle silver color.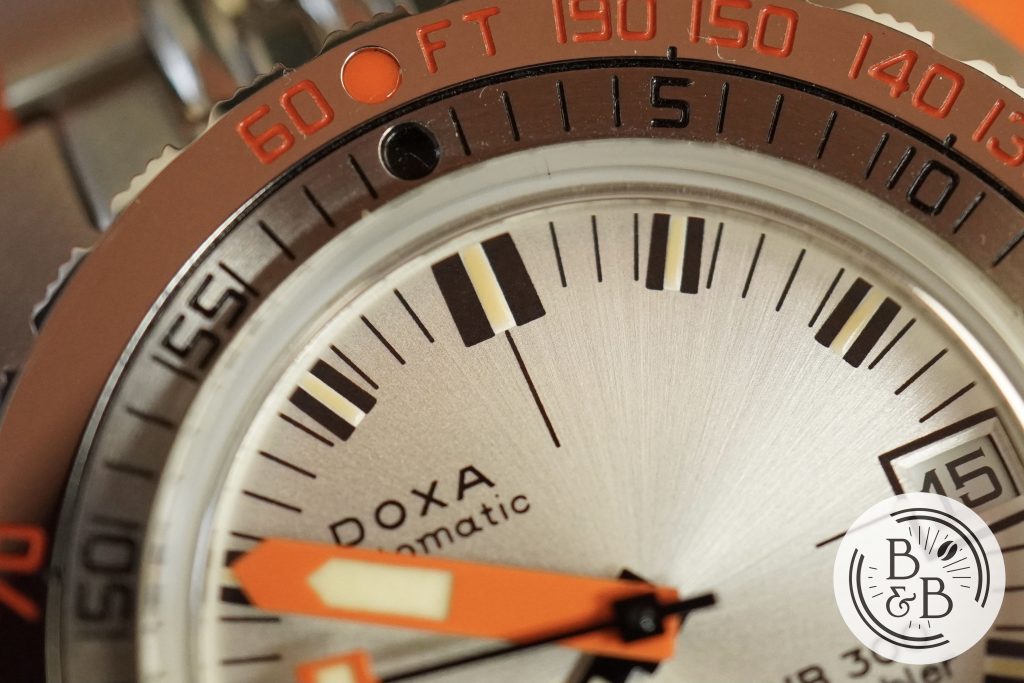 There is an outer minute track that is surprisingly legible even with the distortion from the crystal. This is easy to read and the quality of printing is good. You then have printed hour markers with lumed elements. The markers are easy to read, and the contrast looks great, even on the Searambler.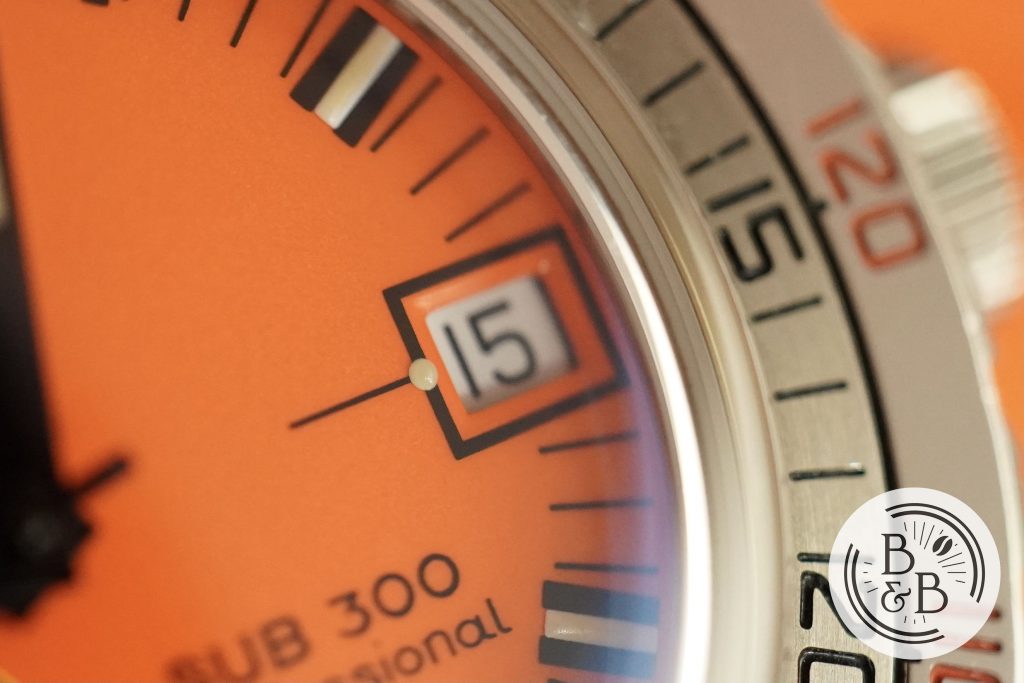 There is a date window at the three of clock position that has a printed black border, and a line that extends out into one of the axes of the cross hair design on the dial.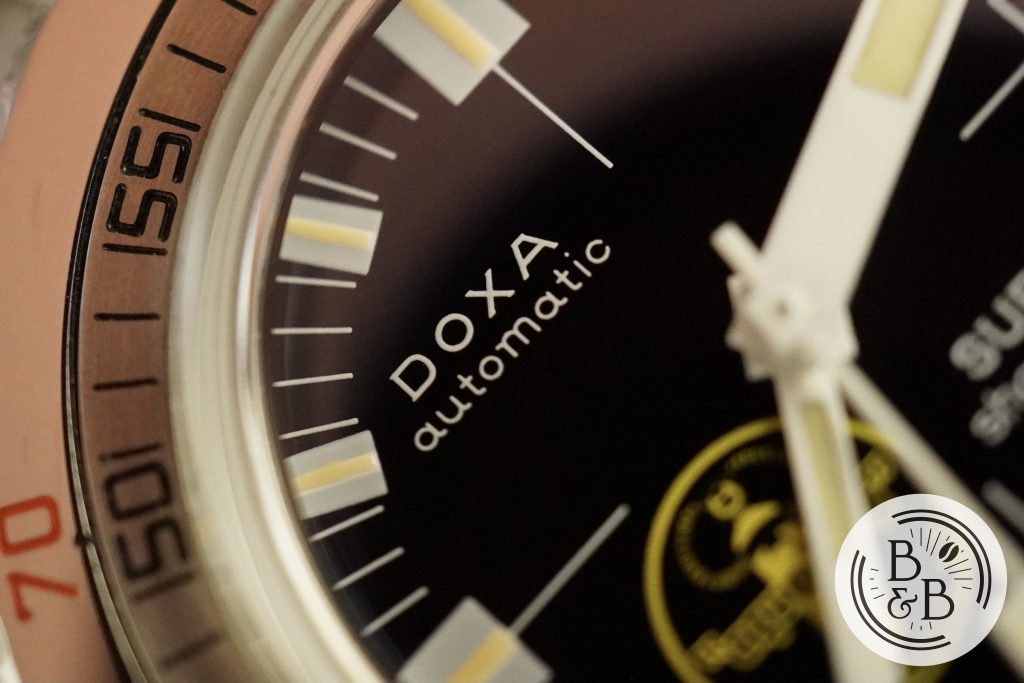 You then have the brand's name in the top left quadrant and the printing quality is good. The name of the watch is printed in the bottom right quadrant. There is a slight difference in font styles used across the three watches, but difficult to tell unless you have them all together.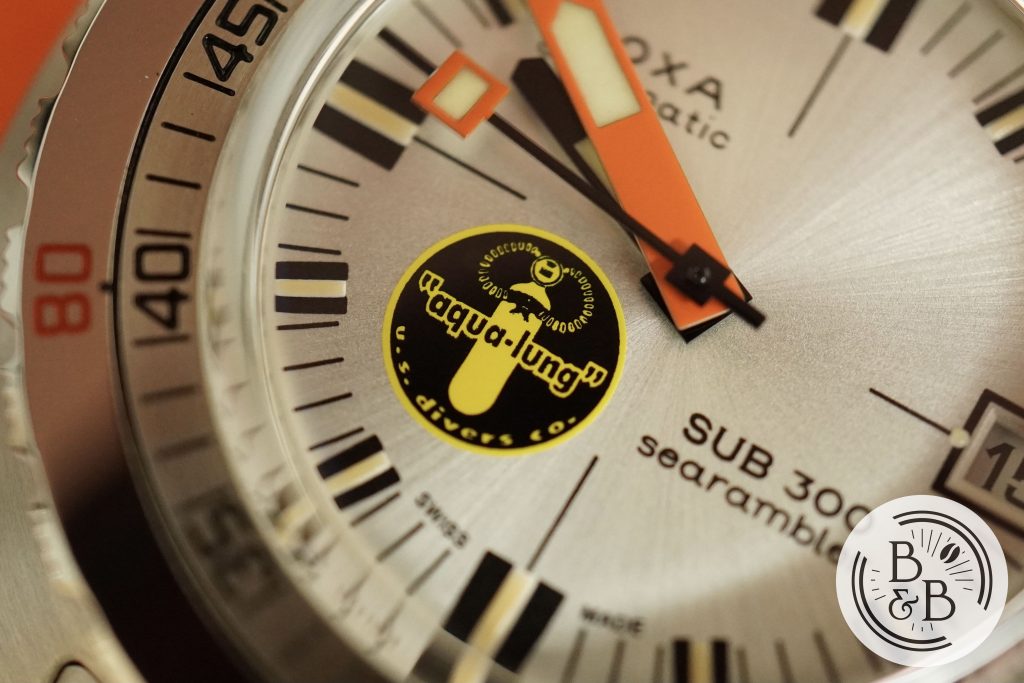 And the star of the show is the Aqualung logo in the lower left quadrant which denotes the special edition nature of these watches. The U.S. Divers insignia is a prized element to have, and bears significance to the brand's history and their role in early S.C.U.B.A diving.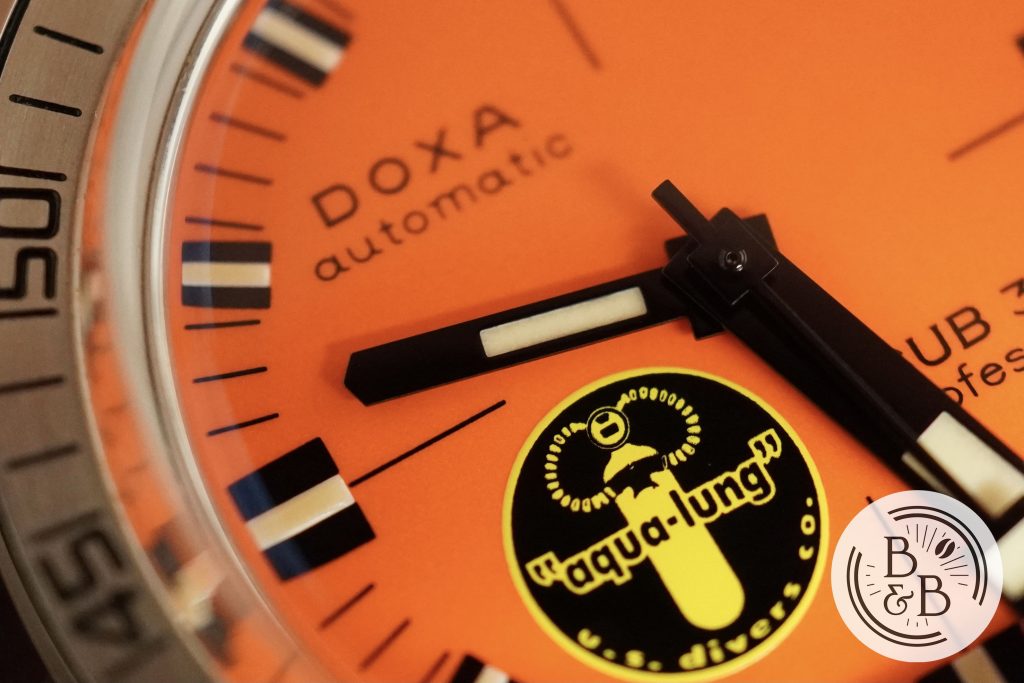 Appropriate high contrast hands are chosen for all three dial types with identical proportions that are excellent for legibility. There is a generous amount of lume applied, and the hands are finished and painted well. The seconds hand has a rectangular lumed element to meet the requirements for a certifiable dive watch.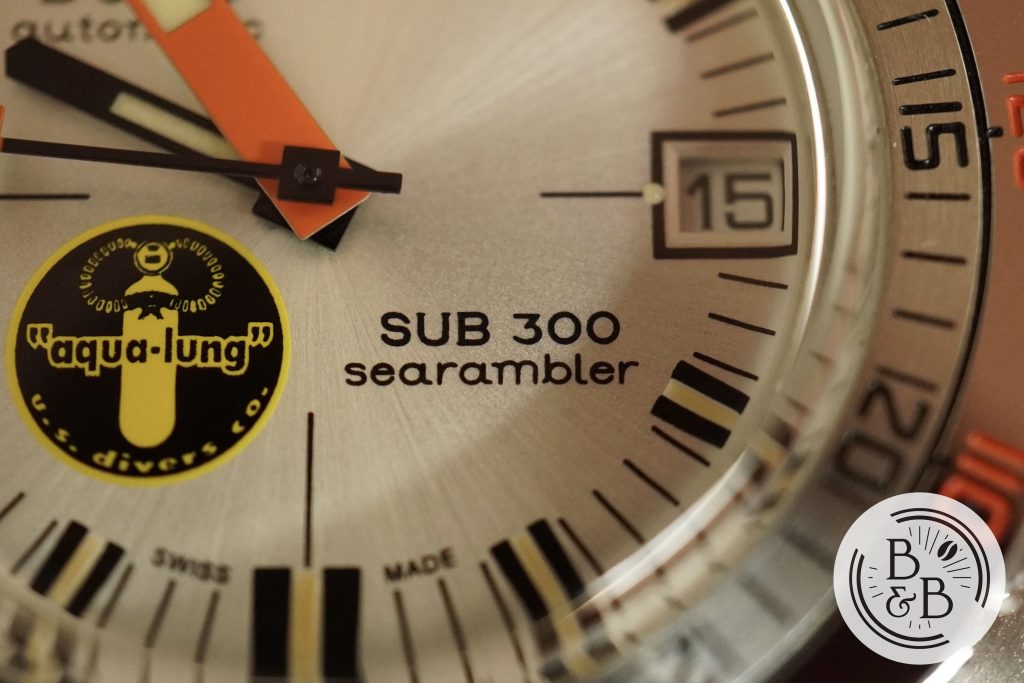 Overall, I love all three dials, but if I were to pick one, I'd go with the Searambler or the Professional. While I'm more attracted to the Searambler, I think it would be a crime for my first Doxa to not have an orange dial. You're Terrific has an excellent clip in his review of why orange was picked as a practical dial color.
---
Lume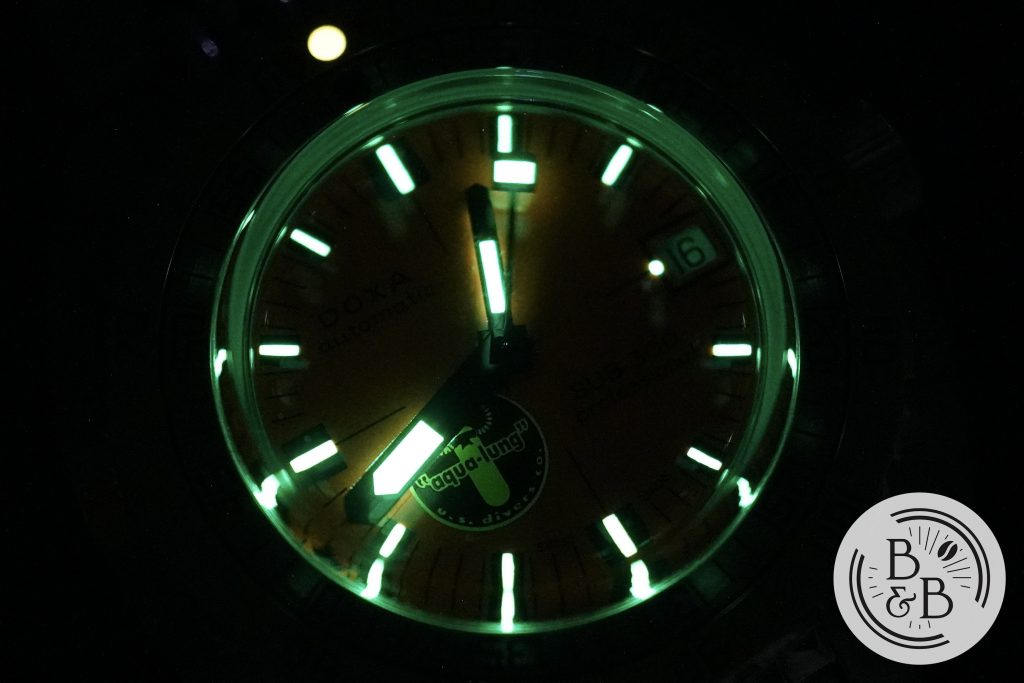 The lume across all three models is good, with all the hour markers being lumed, along with a small lumed pip at the date window. The bar is set high where lume is concerned, and the micro-brand community have been spearheading this desire for brighter and longer lasting lume. So I can't say this watch is as good as a lot of the popular micro-brands, or even Seiko's Lumibrite for that matter, but realistically you're not going to need more than this.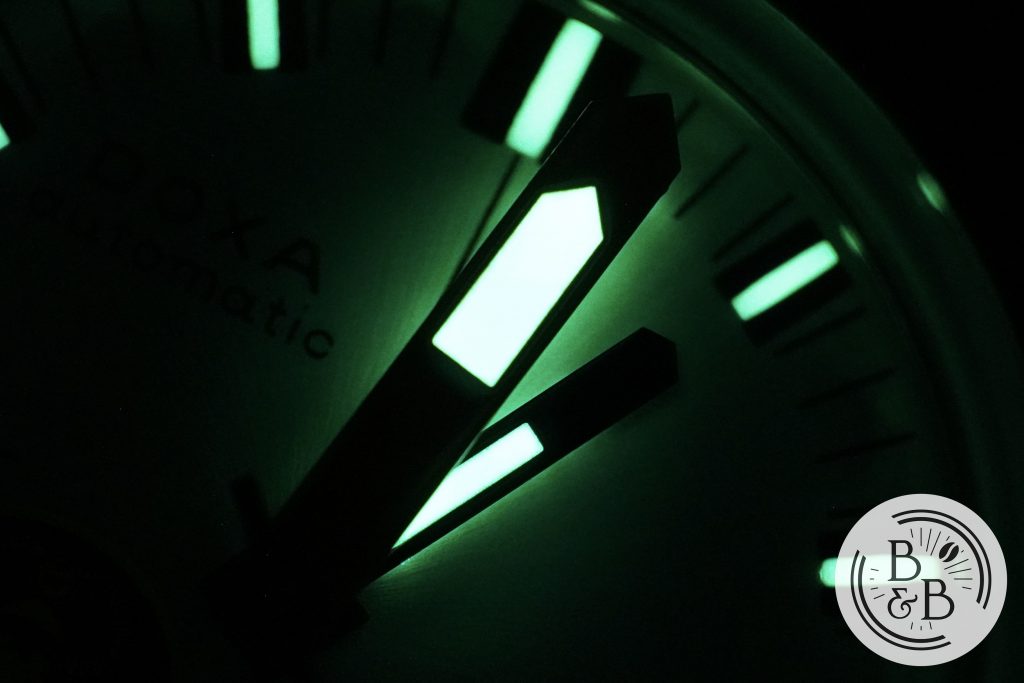 The hands are generously lumed with large lumed segments. They glow bright and hold their charge well. Even the seconds hand has a large rectangular lumed element that is very easy to read.
The brighter dials seem to be brighter than the Sharkhunter, but I think that's just because these surfaces and colors are just reflecting light more intensely.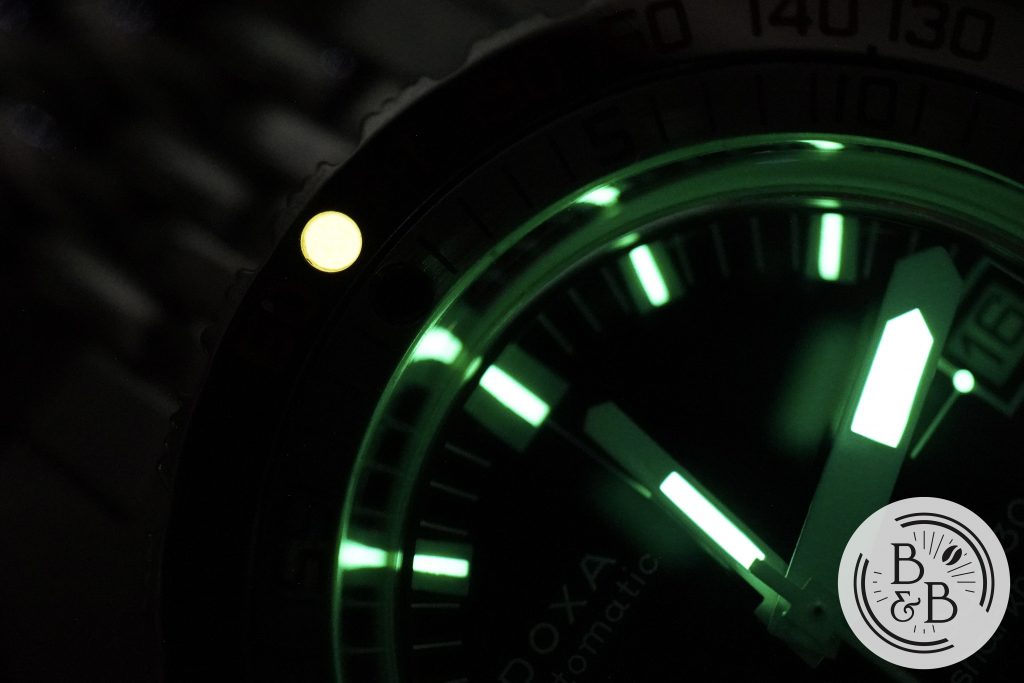 There is a large lumed pip on the bezel at the 12 o'clock position. This isn't as bright as the rest of the watch and appears to use a different lume pigment. All said, I think the lume design and performance is good.
---
Movement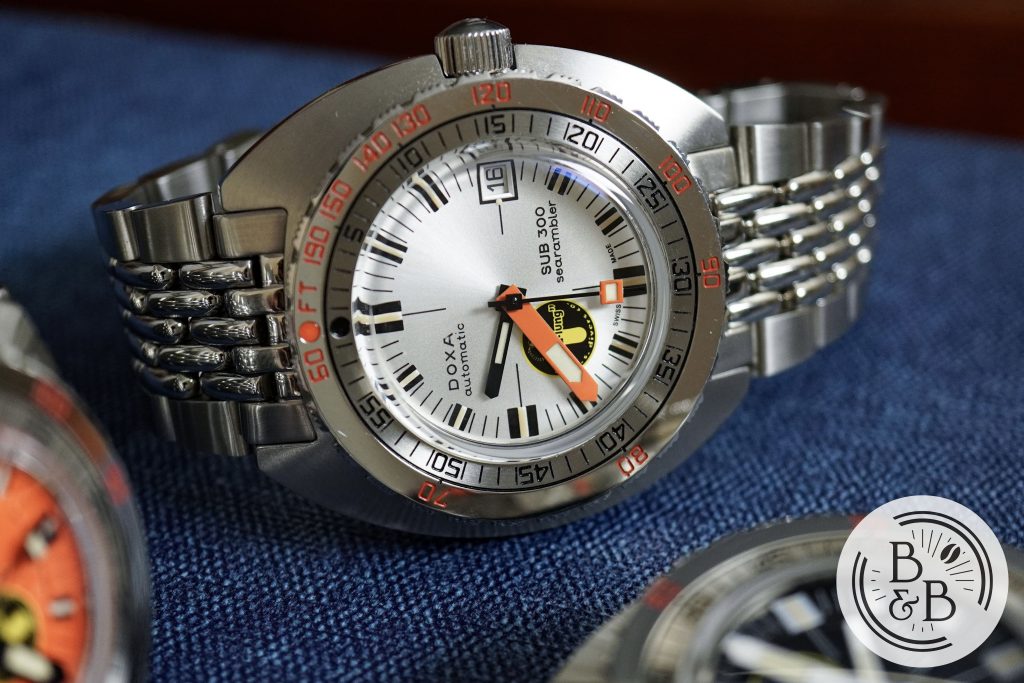 All three watches have C.O.S.C certified ETA 2824-2 movements, so you can expect excellent time keeping. I didn't measure the accuracy of these watches as they are at least a couple of years old now, and I'm unaware of any service history or regulation. But I've typically had good experiences with all the C.O.S.C certified movements that I've owned.
---
Bracelet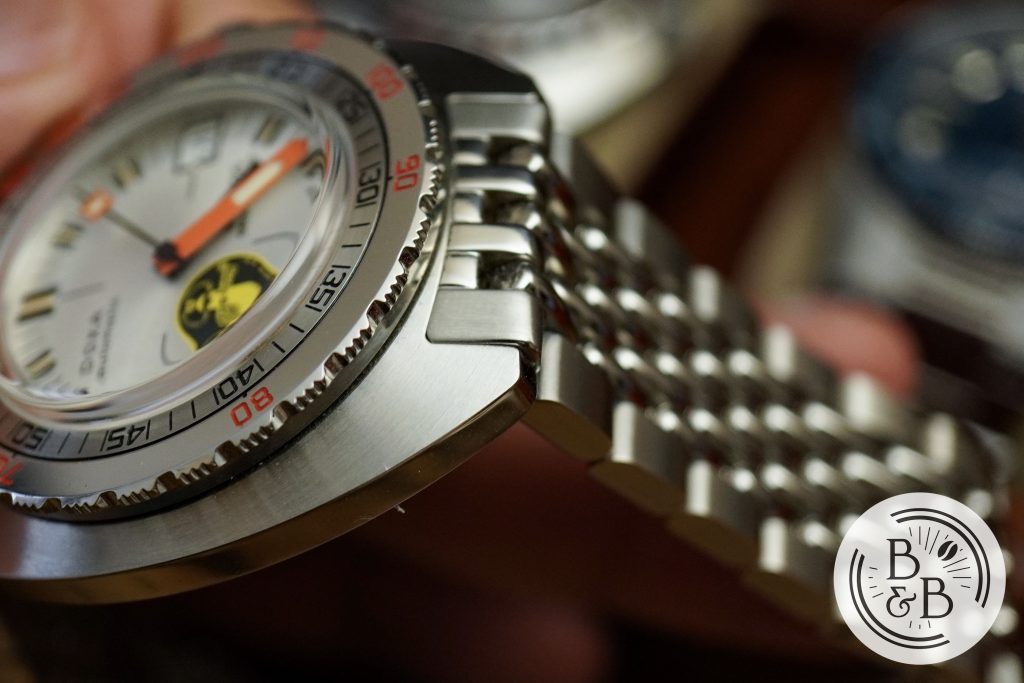 The 20 mm bracelet flares out to about 22.5 mm and tapers down to about 19.5 mm, with a 20 mm clasp. The end link fitment on these watches is great, and the design is pretty well integrated, unlike on the SUB 300T, which just looks weird with the protruding end links and a very strange way of articulating.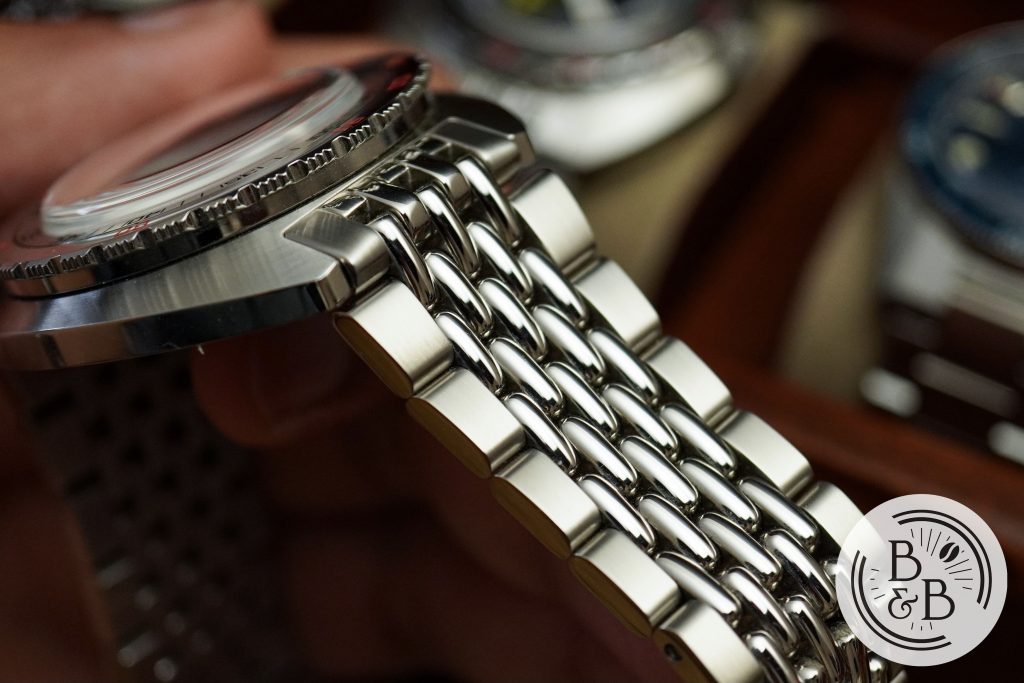 The links are true to the beads of rice style with individual elements that feel very comfortable while on the wrist. The links are screw-based and end in a signed clasp.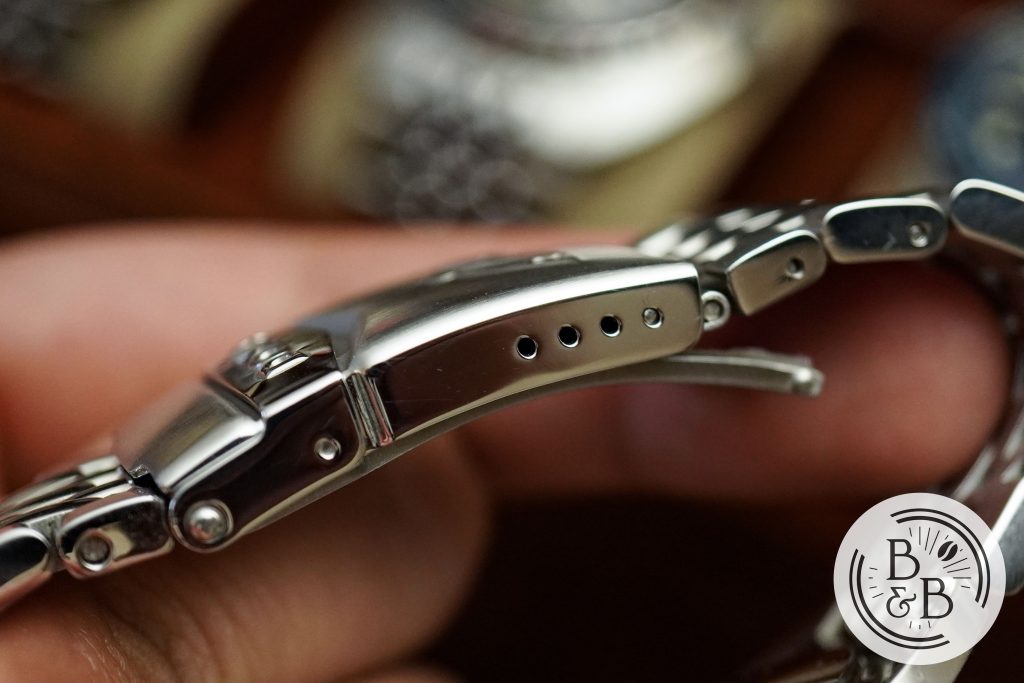 The pressed clasp isn't much to brag about and looks like something you'd find on a $500 micro-brand. I much prefer the bulkier ratcheting clasp on the SUB 300T, even though I think the Doxa purists prefer this one. This does look very vintage-esque, but clasps like these are outdated at this point. There are micro-adjustment slots and a divers extension, so functionality isn't really an issue and if you're looking for a smaller profile clasp, this is the one to go for.
---
On The Wrist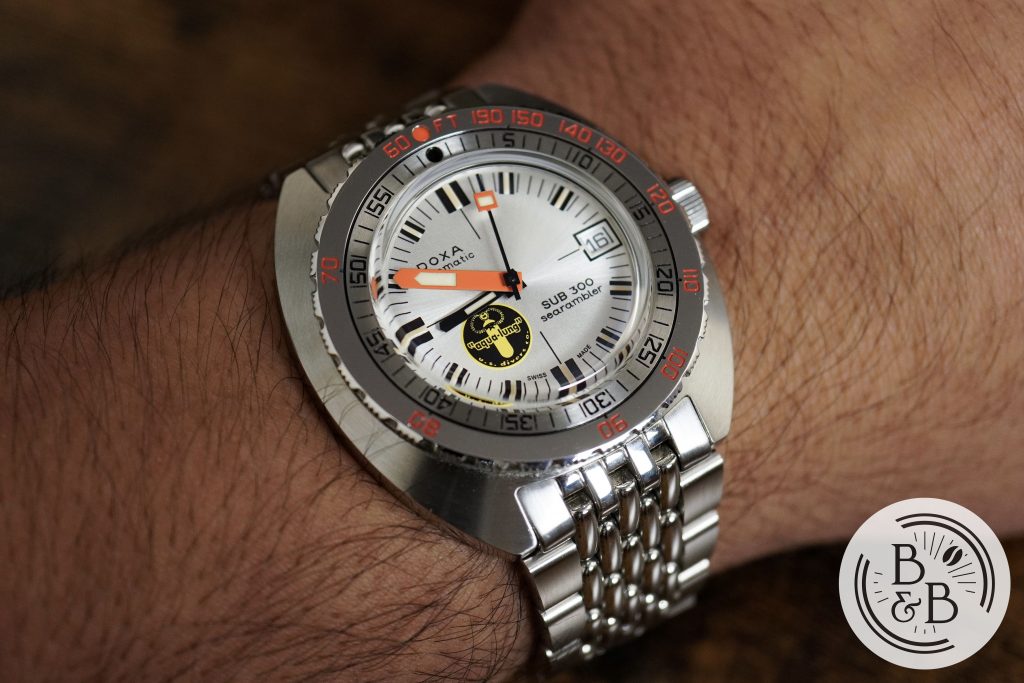 While this watch may look bulky, it fits great on my modest 6.25″ wrists. I think this is where the SUB 300 really earns it's premium over the SUB 300T for me. The 13 mm case height is realistically closer to 10 mm because of the protruding crystal, and together with the flat case-back the weight is very well distributed and the watch sits low on my wrist.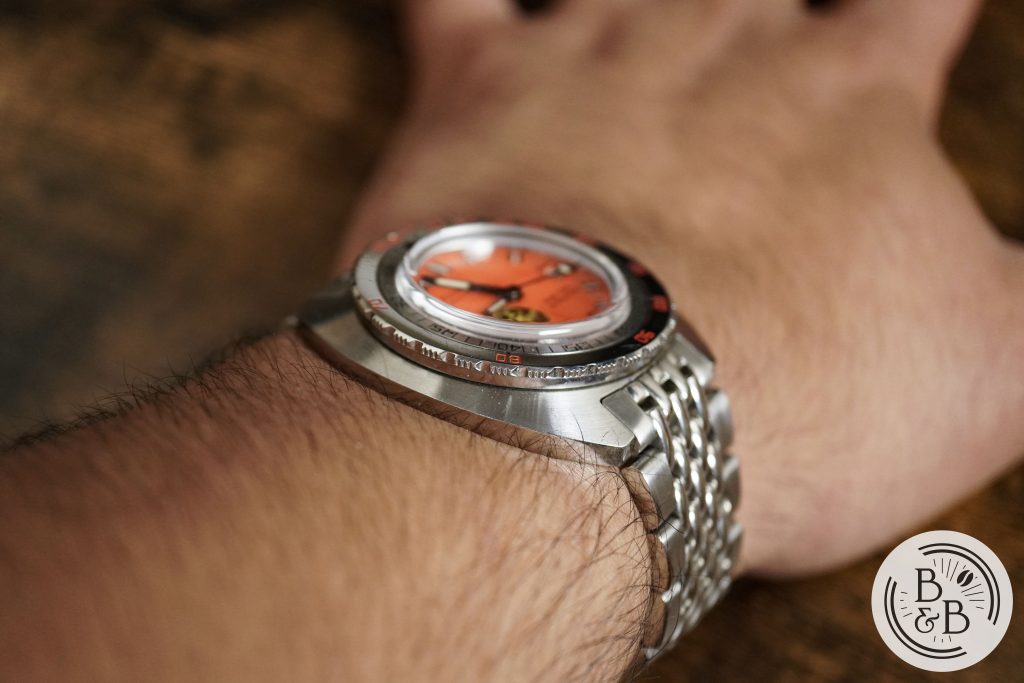 I love the wrist presence and I think its just a well designed watch overall. The SUB 300T is similar, but sits much higher on the wrist and just doesn't feel as well balanced as these watches.
---
Concluding Thoughts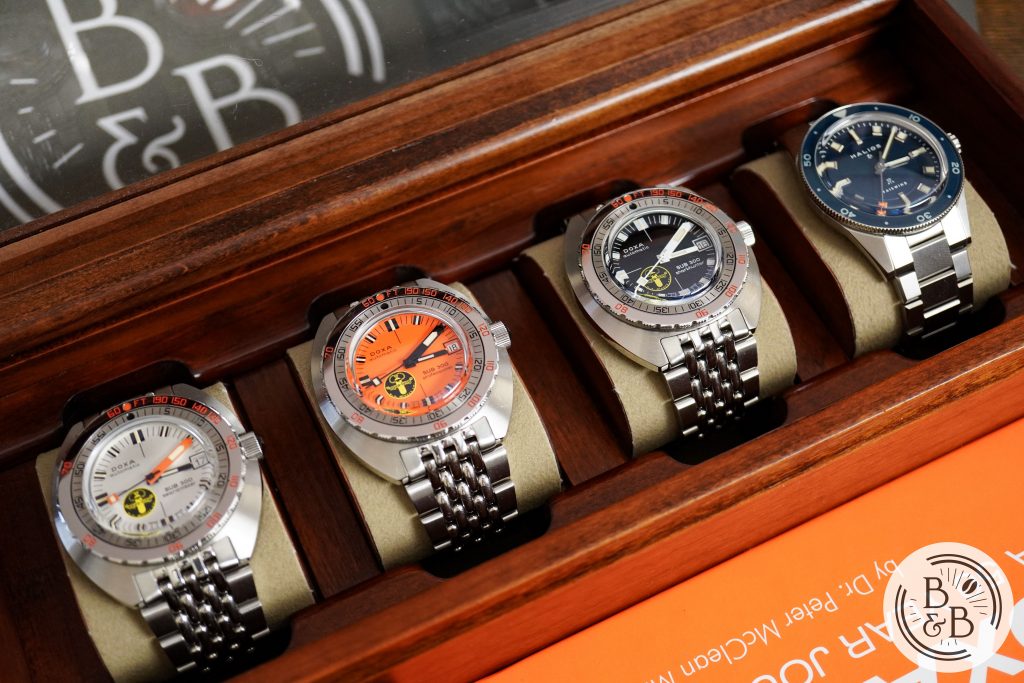 So to wrap this up, I've fallen in love with these watches and during the course of my review, I even visited a nearby DOXA Authorized Dealer to look at some of their present day offerings, which is where I was able to compare the SUB 300 and the SUB 300T. I'm very tempted to purchase a SUB 300 for my own collection, but it is a considerable amount of money, so I'll be thinking this over for a while.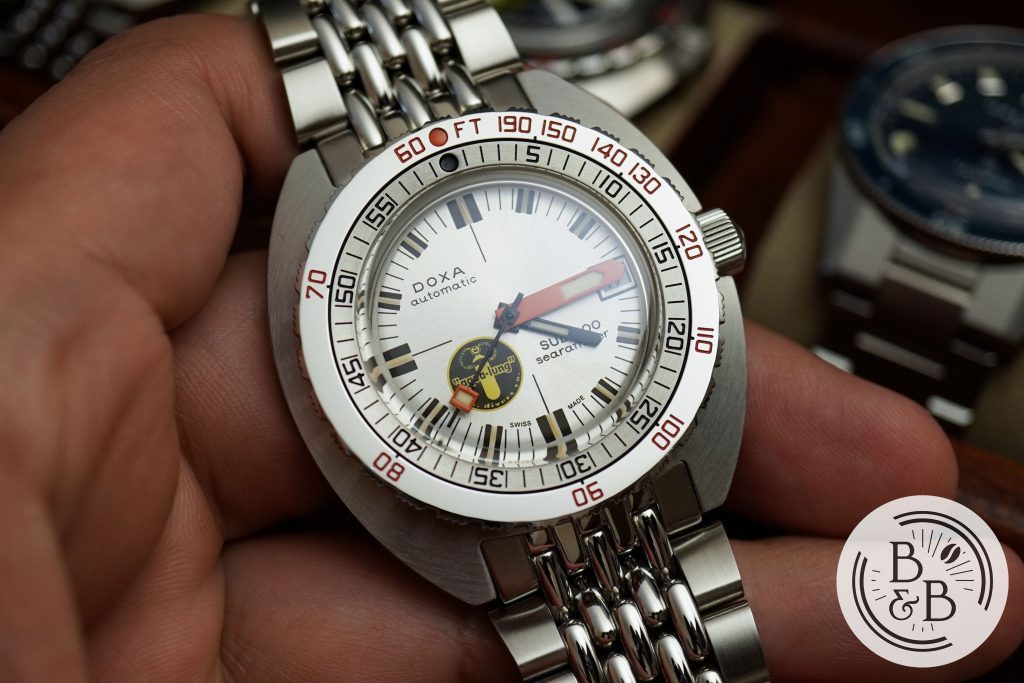 If I've made any technical errors with this one, I apologize, and I admit to being a complete novice in the world of all that is DOXA. I'm still working my way through the two DOXA bibles written by Dr. Peter Millar, that Hari was kind enough to also lend me. For those unable to buy these books, check out the 10 Years of the DOXA SUB e-book that he's made freely available on his website.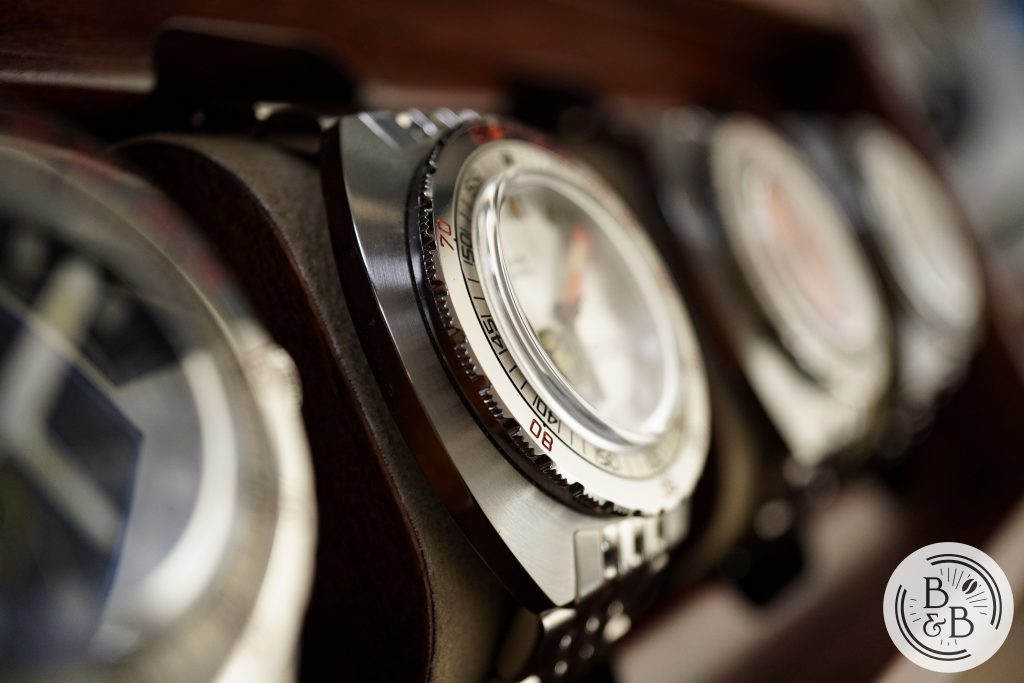 Once again, I'd like to thank Hari for sending these watches in. I appreciate the opportunity, and I'm grateful to have been able to spend time with these wonderful watches.
---
Thanks for reading!