---
Disclaimer: this article was not sponsored by Delugs, but the strap Folio in this review was gifted to B&B. But it was I that reached out to them to put this article together given how frustrated I was becoming with my previous strap organization system. Delugs had no influence on the contents of this article.
Delugs Strap Folio (Large): https://delugs.com/collections/strap-folio/products/strap-folio-large-brown
---
Review:
Over the last 3-4 years I've collected a sizeable amount of straps – leather, rubber, silicone, nylon, canvas, etc. Brands have generously gifted me a lot of these (Delugs being one of those kind entities), and I often try to gift them on-wards to friends and family. But every now and then I'll find one that I absolutely cannot part with. And over a long enough period of time, it shouldn't be a surprise that I ended up with over 50 straps, and strong opinions about strap storage and organization. Yes, this hobby is precisely that silly (and awesome) that I get to have opinions (and write) about how I store my straps.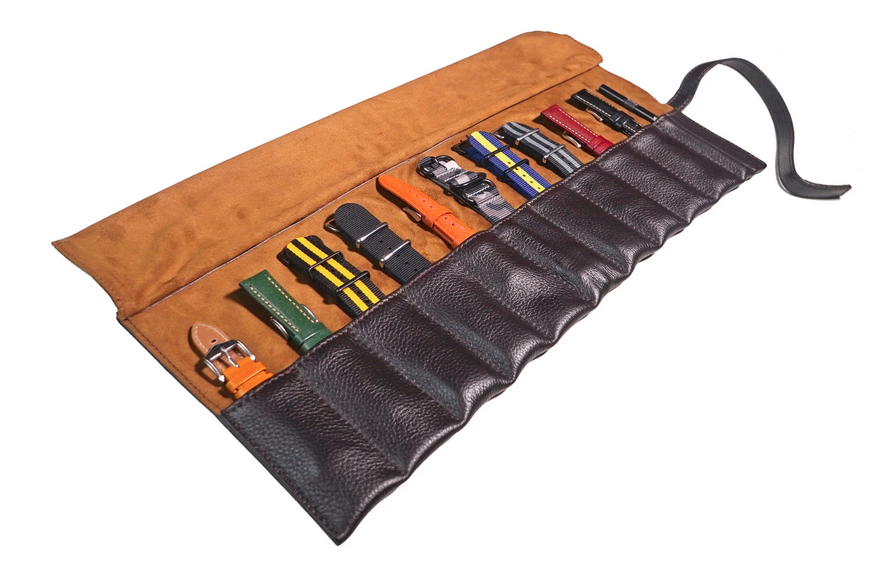 I started off with just storing them in a simple re-used cardboard box, as one does. But then you tend to want something a little nicer, as one also does. Thankfully, the folks at Nomad Watch Works sent me one of their 10 piece strap rolls right around that time. I felt elevated, and I threw away my $0.15 cardboard box, and used this strap roll for at least a couple of months. But 10 straps is surprisingly easy to outgrow, and now I just saw this 10 unit strap roll as a brown leather muzzle, holding me back from reaching my true strap collecting potential. I gifted this roll to my brother, who I'm ashamed to admit, has only three straps – "Eww, peasant!".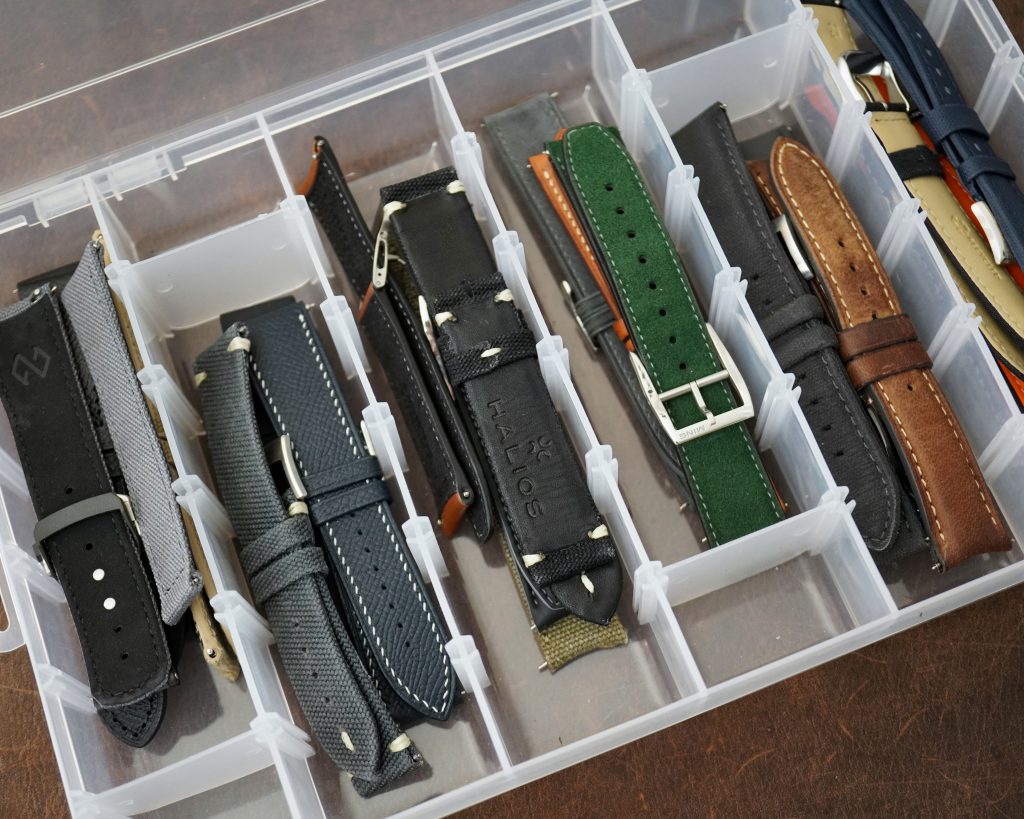 Back to box I go, but this time I decided to treat myself to a nicer plastic one. After some intense mathematics, I realized that this $13 plastic organizer box would fit standard watch straps if I arranged them vertically. And after a few more intense brain cycles, I calculated that I would likely be able to fit at least 18 straps in each box. $13 would get me two of these boxes, so I was definitely getting ahead of my problem, and also accounting for future growth. Those brain cycles paid off, and I finally had a solution.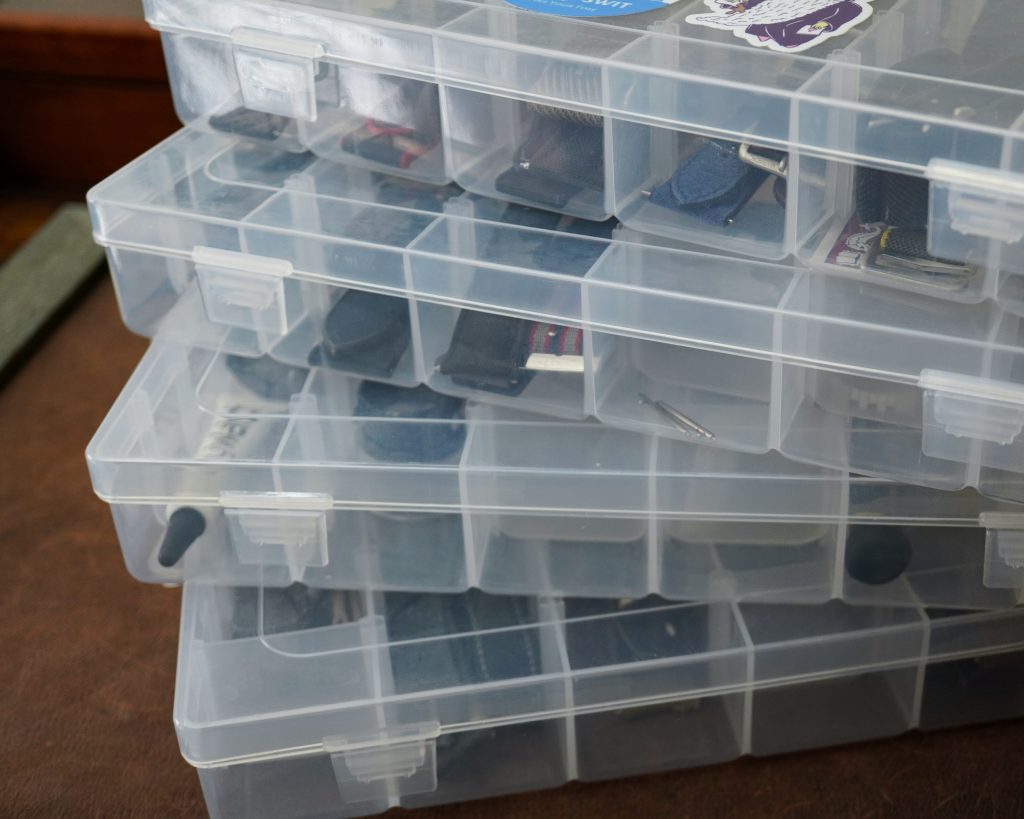 Fast forward to one year and at least two dozen straps later, I was now stuck with four of these 11.3″ x 7.7″ x 3.7″ silly looking plastic boxes, and about to buy two more because I was running out of room again. "This cannot scale!", I told myself, as I started to re-evaluate all the life choices that led me to that moment. I looked at my stack of four boxes in disgust, and did the only sensible thing I could think of – check out Etsy for a more practical (and preferably cheap) solution.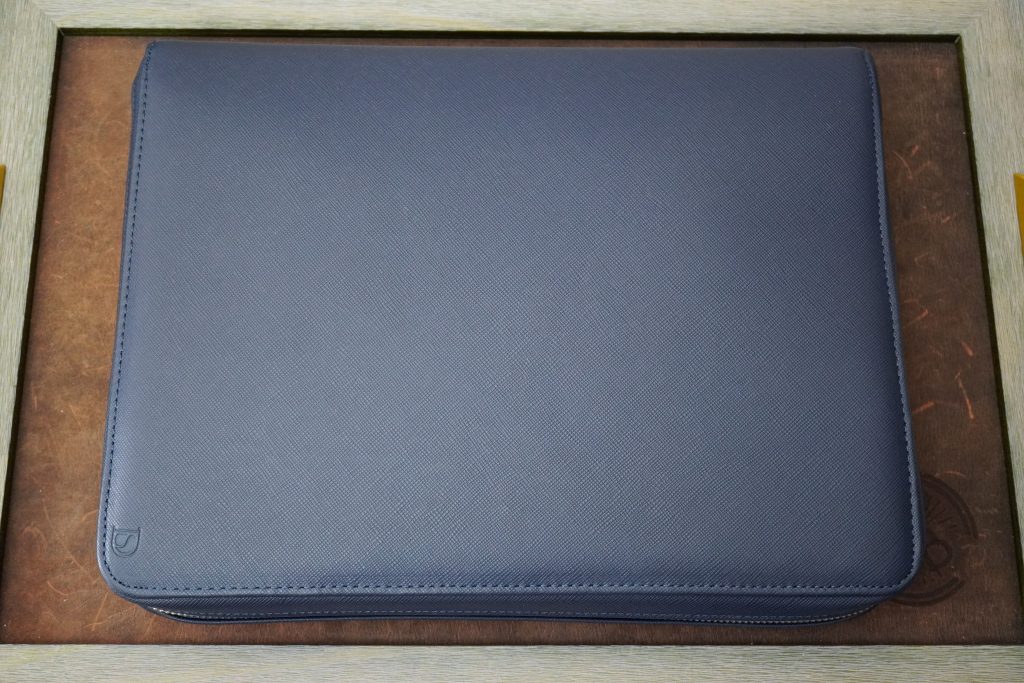 Unfortunately, all the strap organization solutions on Etsy looked absolutely terrible, and most of them seem like worse ideas than my stack of plastic boxes. They were either too specific (for Apple Watch straps), too limited (for less than a dozen straps), or just too ugly (everything else). At this time, I already knew about Delugs' beautiful strap organization folios (because their Instagram marketing game is always on point), but I was trying really hard not to spend $275 for the 75 piece strap folio, or $150 for the 12 piece strap folio. And I held out hope for something cheaper, even if it meant not looking half as good as Delugs products do, or being as well made.
For months I tried to fight off the version of myself that insisted that the Delugs way was the only way, but I was left defeated and ashamed. Not a single alternative solution for strap collecting addicts that need to store between 50-80 straps. "How is this possible?", I asked myself. "In a hobby as ridiculous as watch collecting, how is it possible that nobody else thought of this only-slightly-more-ridiculous thing?". The cost of admission now seemed fair given the convenience of a single folio to store (and transport) up-to 75 straps in a package that is as luxurious as a lot of the straps themselves.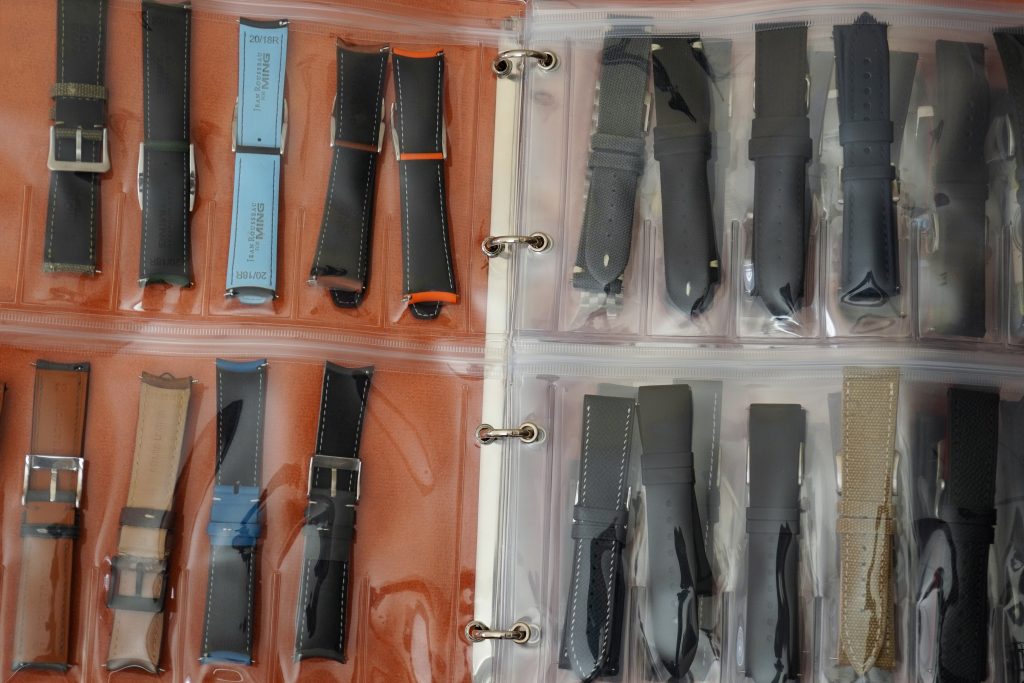 I reached out to Ken at Delugs with words of praise for his nifty and elegant solution to this problem, and shamefully whispered "take my money", because only I knew that I had spent months trying to not buy this product. He offered to send me one of these folios at no cost, and asked for my honest feedback and review. Ever since I began interacting with Ken, it has been clear to me that he genuinely values direct user feedback, and is constantly probing the watch enthusiast circles for ways to improve existing Delugs products, or to create solutions for problems. This is also how Delugs was able to become the leading watch accessory brand in such a short period of time.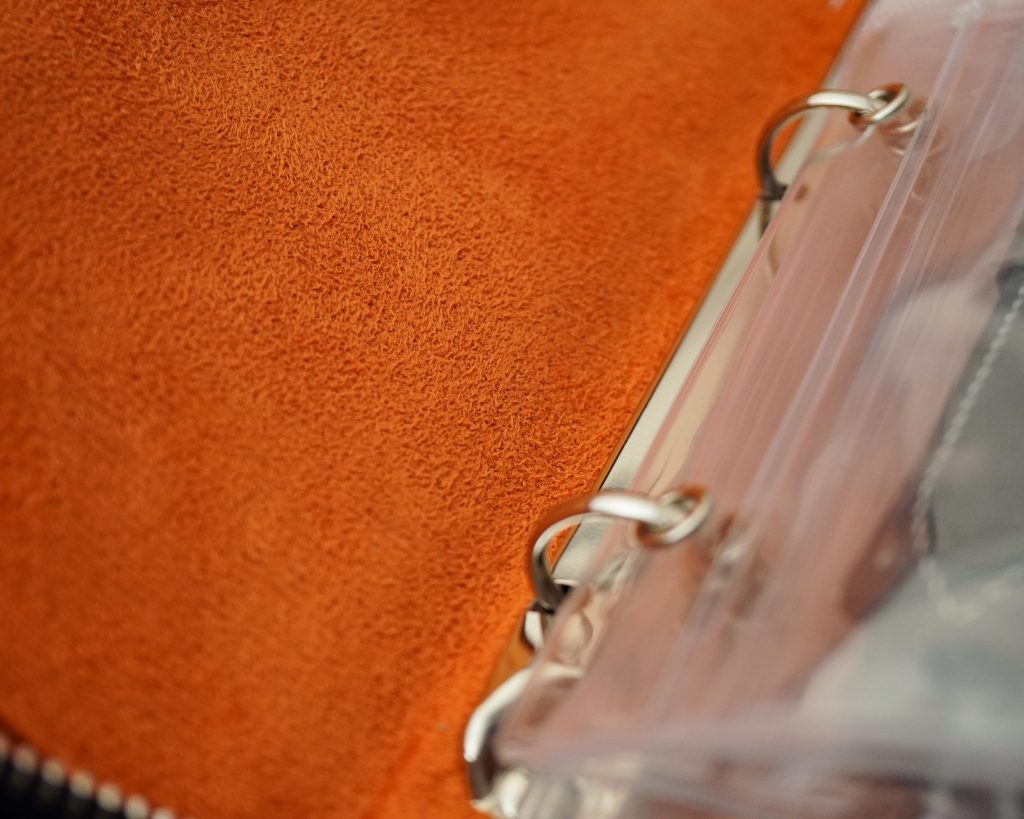 I went with the Navy Large Strap Folio, and this turned out to be even more impressive in person than it looks online. The Saffiano leather exterior is equal parts rugged and good looking (which is also how I see myself). There is a velvet-y microfiber interior which is very luxurious and soft to the touch. I went with the blue folio because I liked the contrast between the deep navy blue exterior and the bright orange interior. The zipper and hardware feel great to operate, and this certainly feels like a premium product, in addition to looking like one.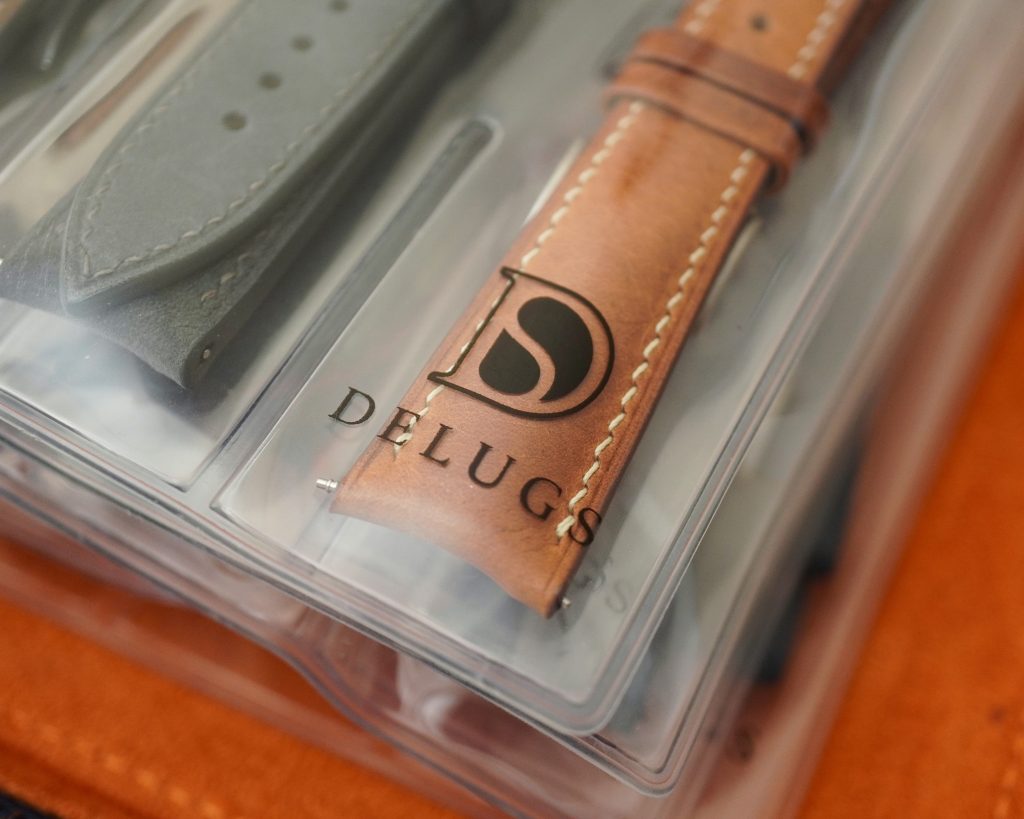 The interiors use a binder-and-insert system, with custom designed inserts to store individual straps. The inserts are available in either a frosted or clear finish. I went with the clear inserts for a better view of my straps. Getting the straps into the insert is fairly straight forward, and both rows have ziploc-style seals. With my plastic boxes, I began to store strap related parts too – like spring bars, strap changing tools, screw drivers and extra links.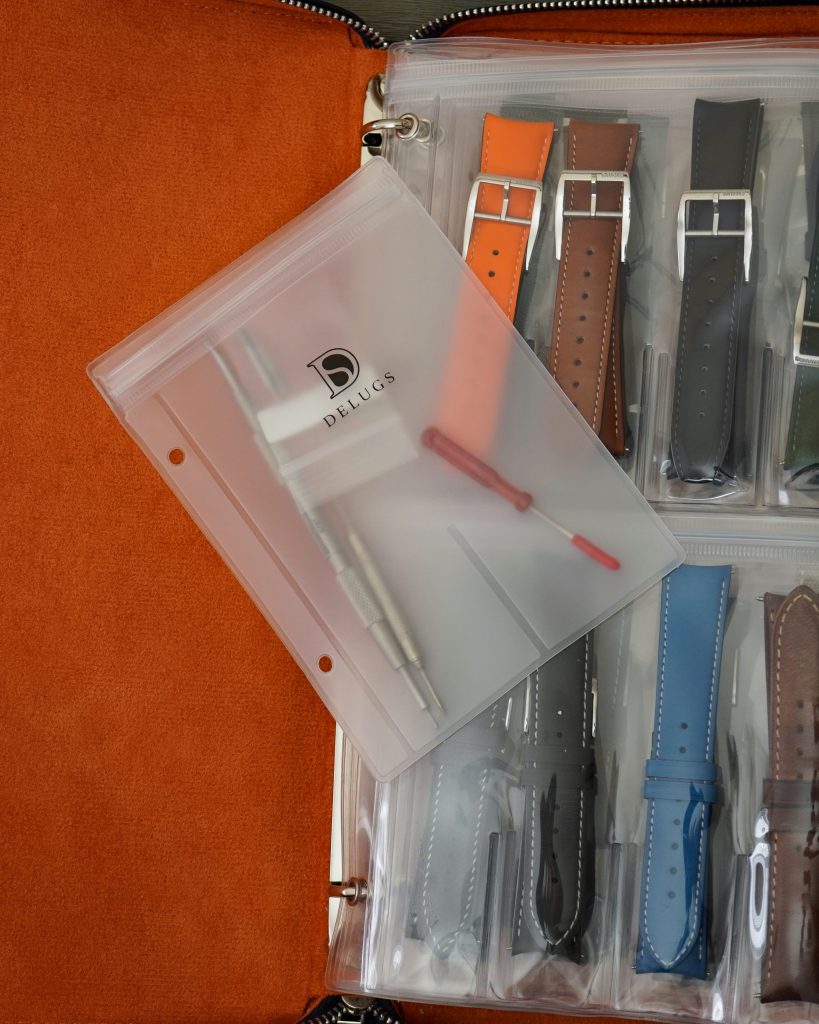 I found homes in the folio for all of these items, and I used some of Delugs' single strap inserts to store some of my larger straps – like the Delugs CTS Rubber Strap, Artem Sailcloth w/ Deployant and my Formex Deployant straps. As a future addition, a custom insert for spring bars, tools and links would be a nice to have.
But overall, this product is exactly what I wanted it to be. It is easy to transport, occupies less room than my previous setup, and looks and feels excellent. Apart from a few different insert configurations, I can't think of anything I would do to improve this folio. Delugs, once again delivers an exceptional product that is well worth the cost of admission. I can't wait to be the coolest nerd at the watch meetup with this folio, and I'll have Ken to thank for that. And if you feel similarly about your strap organization, I highly recommend you get one of these. There isn't anything else out there that comes close.
---