---
Disclaimer: This watch was sent to me to review, and I was not paid to write this. This is in not sponsored by Alcadus, or any other entity. All opinions here are my own. Alcadus will send me a watch from this collection if/when it goes into production, but they have no control over the content of this review.
---
---
Contents
---
Velos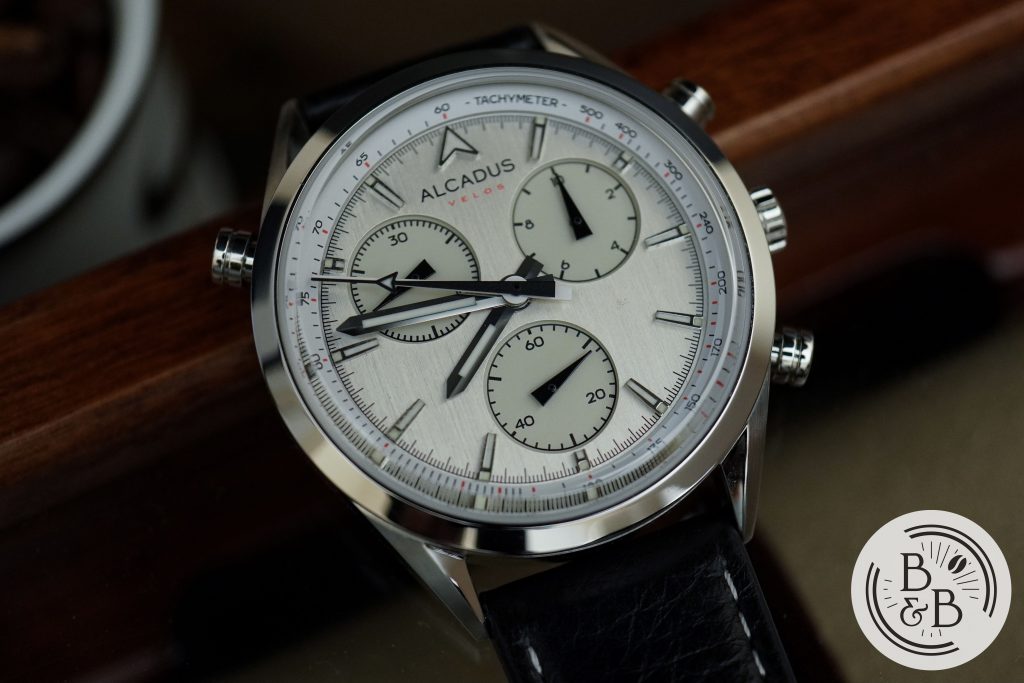 I reviewed a watch from this brand last year, the Alcadus Opus, and I remember liking it quite a bit. I thought it was well built and well finished. My only issue with that watch was the amount of distortion on the crystal and how that impacted legibility. I had no other complaints, and I was otherwise pretty impressed with the rest of it.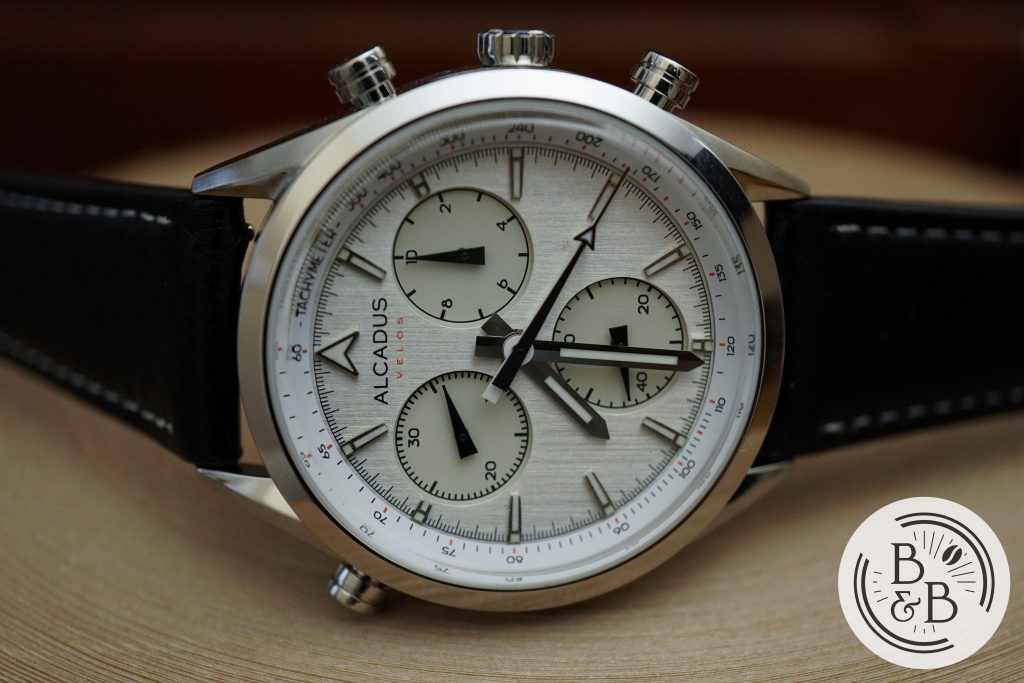 This is the Velos and is the brand's latest offering. This is an ETA 251.294 KP Flyback Precidrive™ quartz powered chronograph with some neat features, good build quality, interesting dials and a reasonable price tag. The Velos is scheduled to launch later this month at around $400 on Kickstarter.
Let's check it out!
---
Case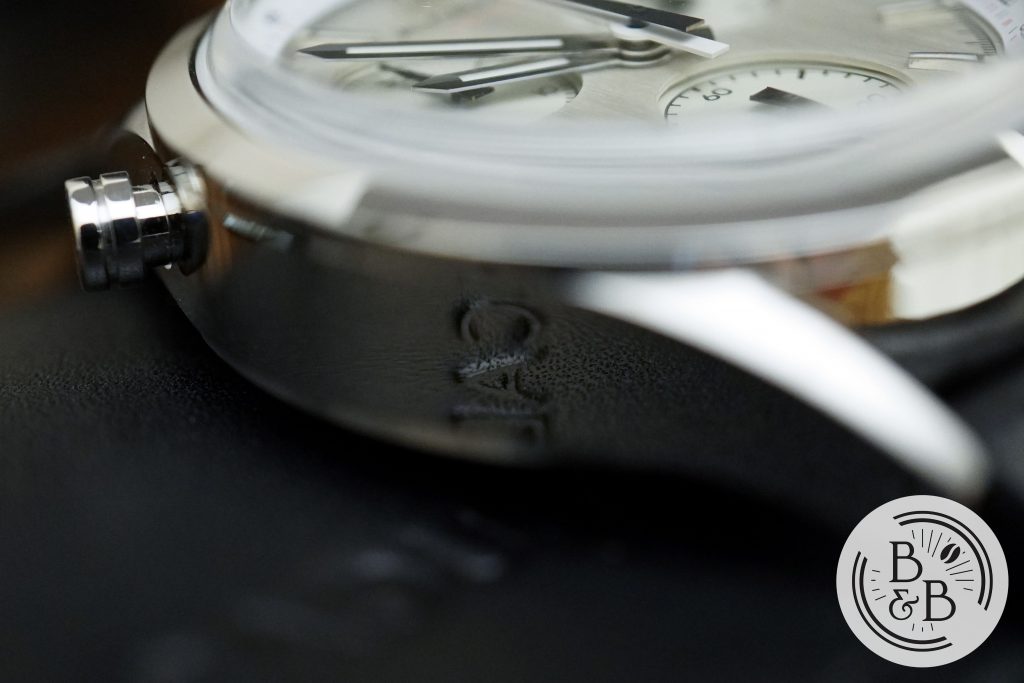 I measured the case to be 38.75 mm in diameter, 45 mm from lug-to-lug and 12.3 mm in height. What stood out to me immediately was the excellent case finishing. The case is mostly polished with a few brushed accents, and the polishing is excellent. It is nice to see a well polished case on an affordable watch, and this one definitely delivers.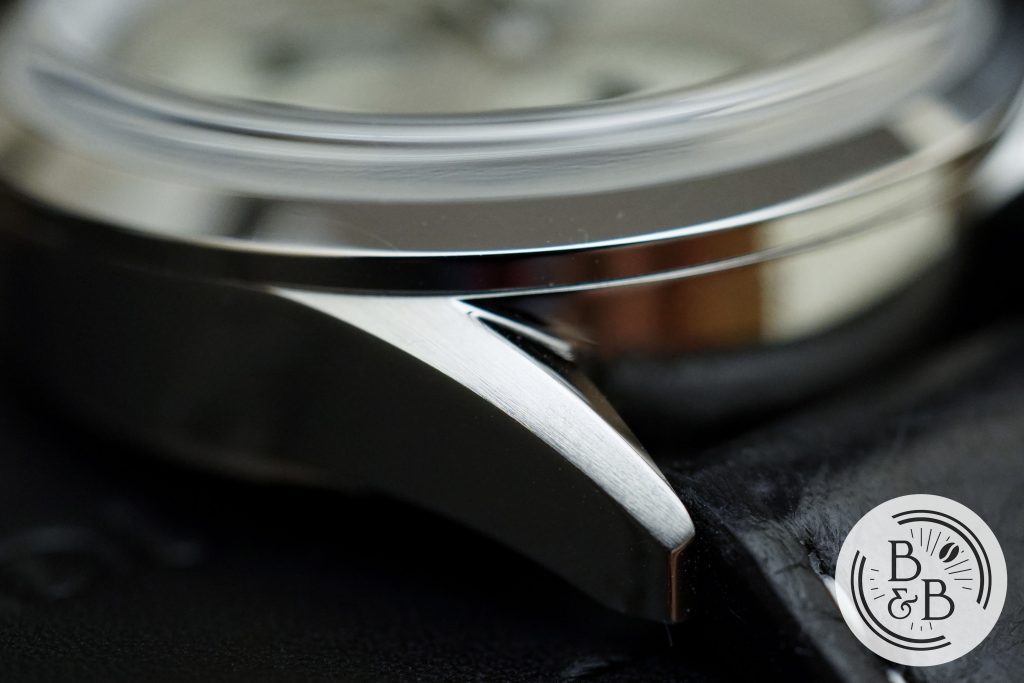 The case extends out into a pair of short and curved lugs. The lugs have brushed top surfaces, which creates an interesting transition of texture and finish. The lug width is 20 mm.
This is a three piece case construction with a polished fixed bezel section that seats a boxed sapphire crystal. Unlike their last offering, the distortion is just perfect and does not interfere with the visibility in any way.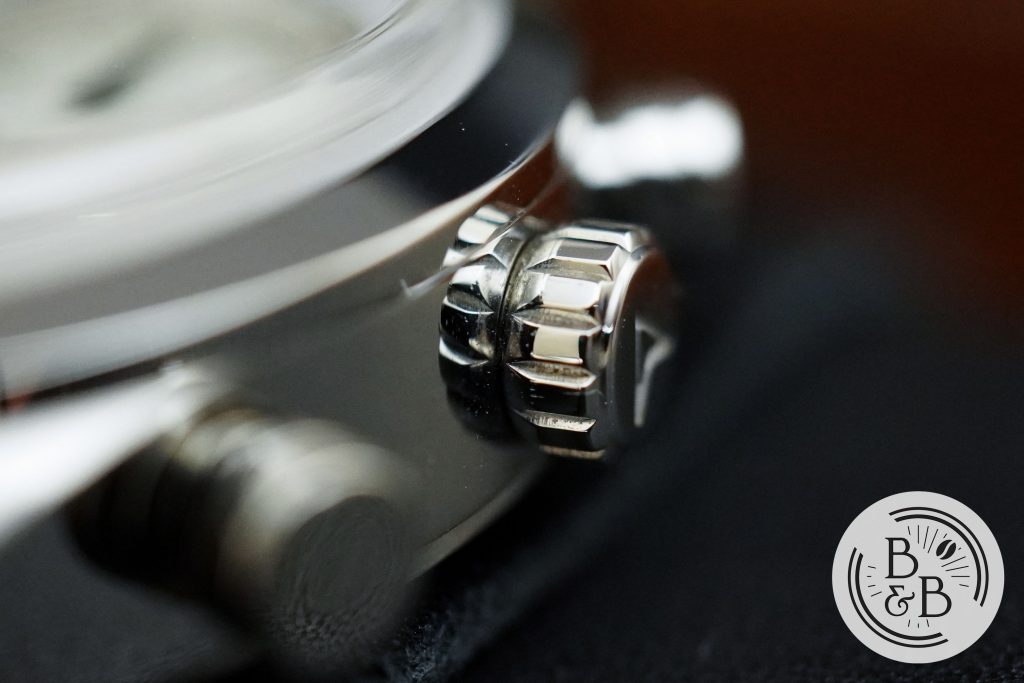 There is a 4.65 mm screw-down crown at the 3 o'clock position that is easy to grip and operate. There are also two 4 mm chronograph pushers on the right side of the case, and one on the left to operate split-second mechanism.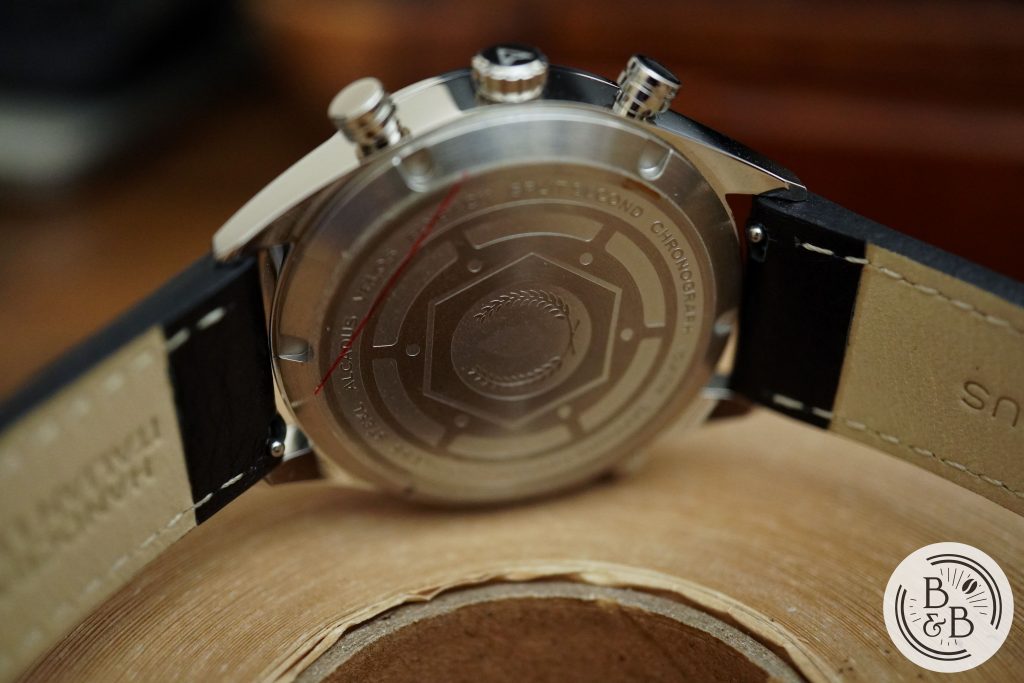 Flipping it over, you have a solid screw-down case-back, and this watch has a water rating of 100m.
---
Dial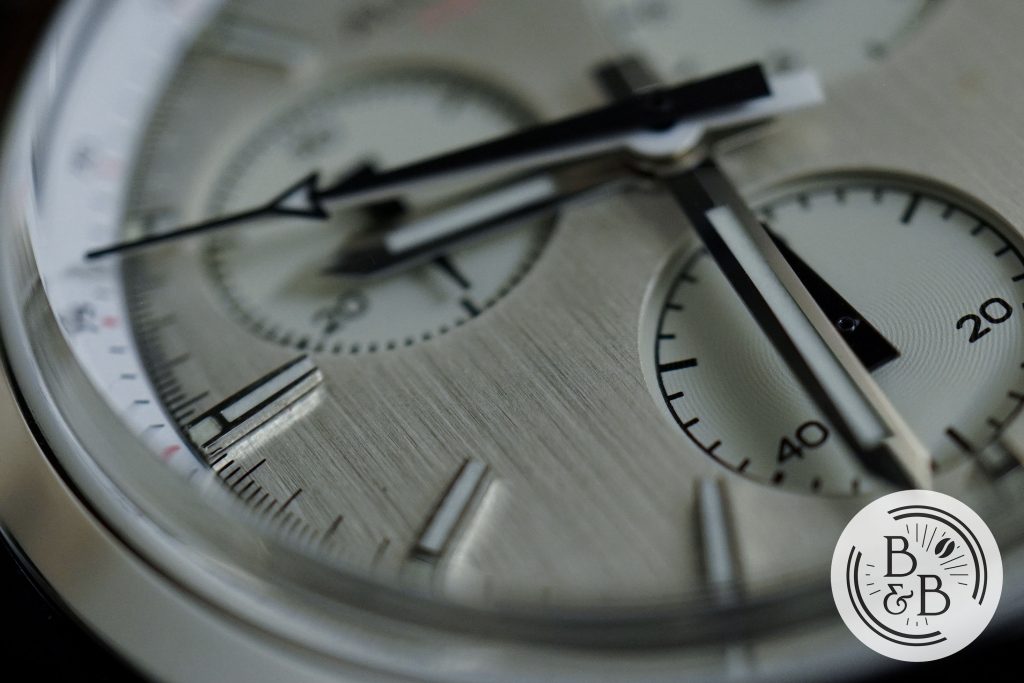 This watch will be offered in five different dial options, and this is the grey textured dial. The base of the dial has vertical brushing with a metallic finish. The watch looks a bit more bright and closer to silver, than the grey that's displayed on their website and 2D renders.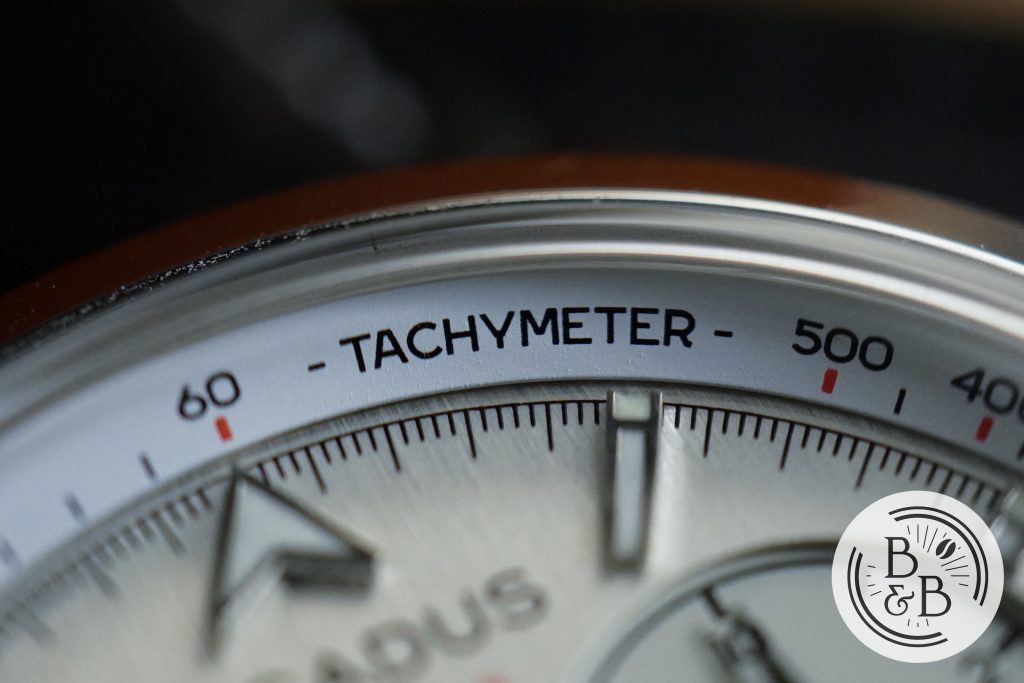 There is a sloping white chapter ring that serves as the chronograph scale. The scale is printed in black with some red accents. I like these colored accents and I think they could've been a bit more prominent.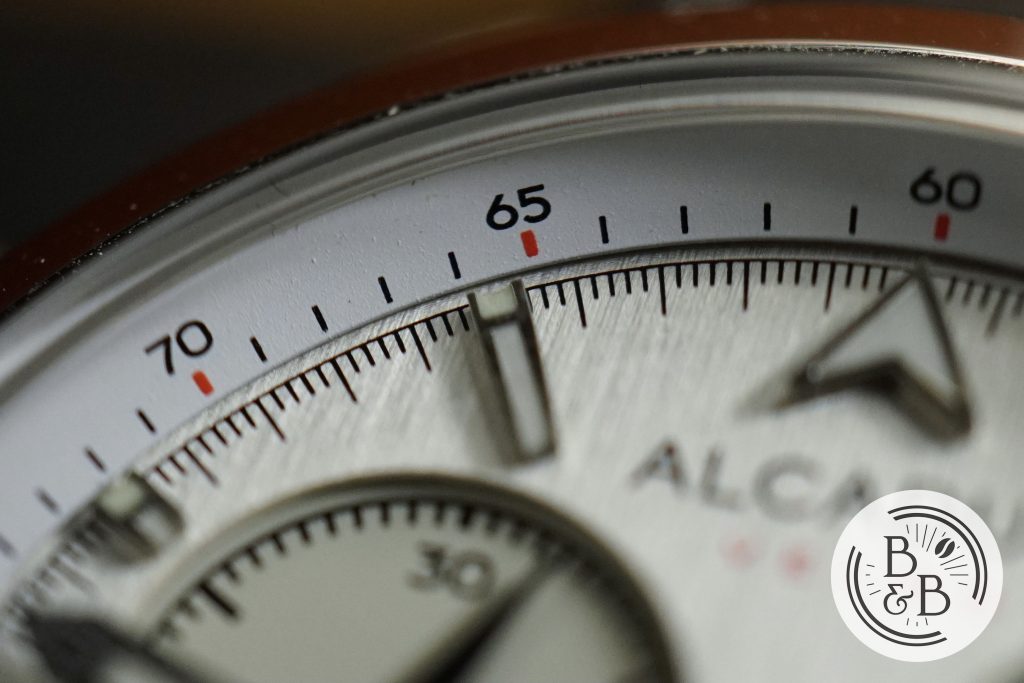 On the dial base, you have an outer minute and seconds track, with medium sized black ticks for the minutes and short ticks for the milliseconds. The printing quality is good, and the black on silver contrast is very easy to read.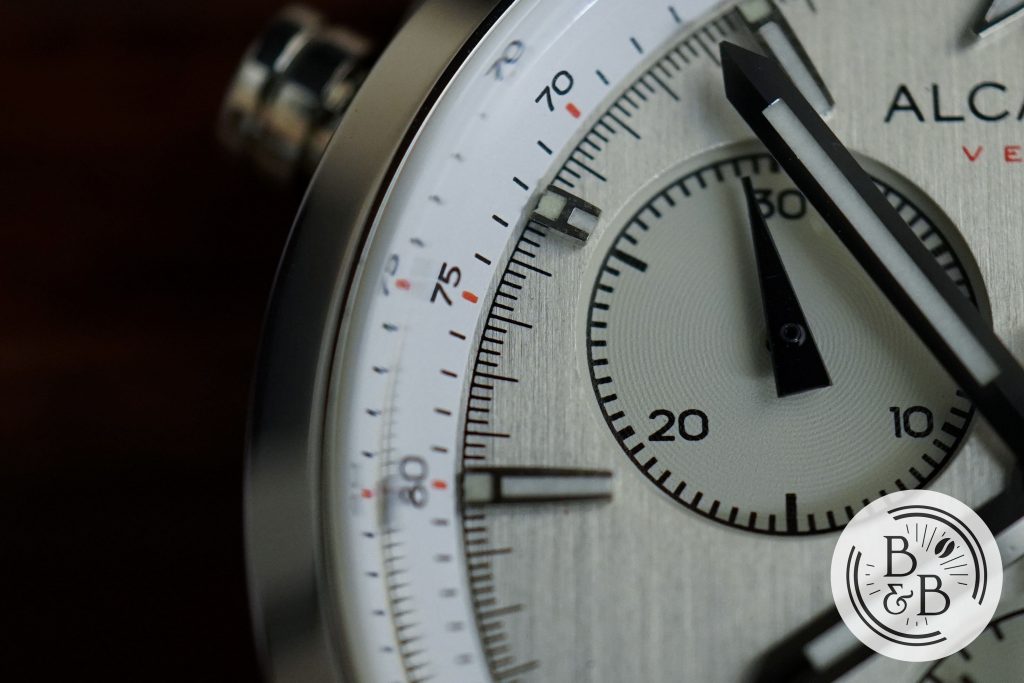 You then have applied stainless steel indices for all the hour markers. I love chronographs that figure out a way to maintain symmetry of all indices and markers, and this one does a good job of that. Some are shorter than others to make room for the sub-registers, but none of it is an eye sore.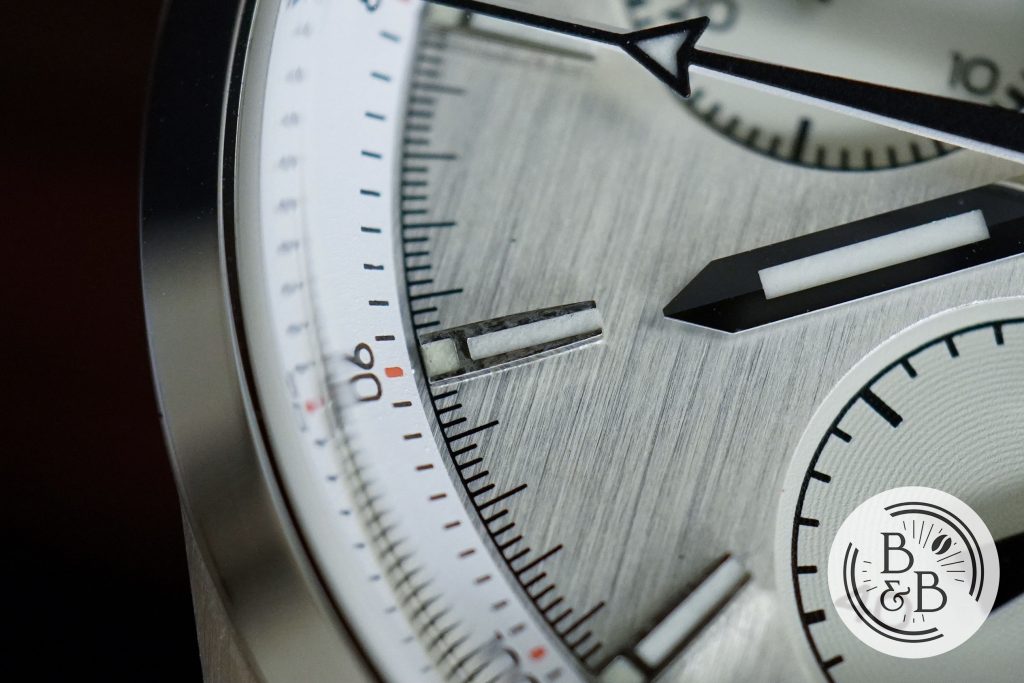 The quality control on these indices is actually pretty bad, and there's a bunch of glue or gunk on them, which makes it almost look marbled or textured. This is a prototype, so I suspect things will get better, and I'm confident that the brand is capable of good finishing based on the production Opus watches I reviewed last year.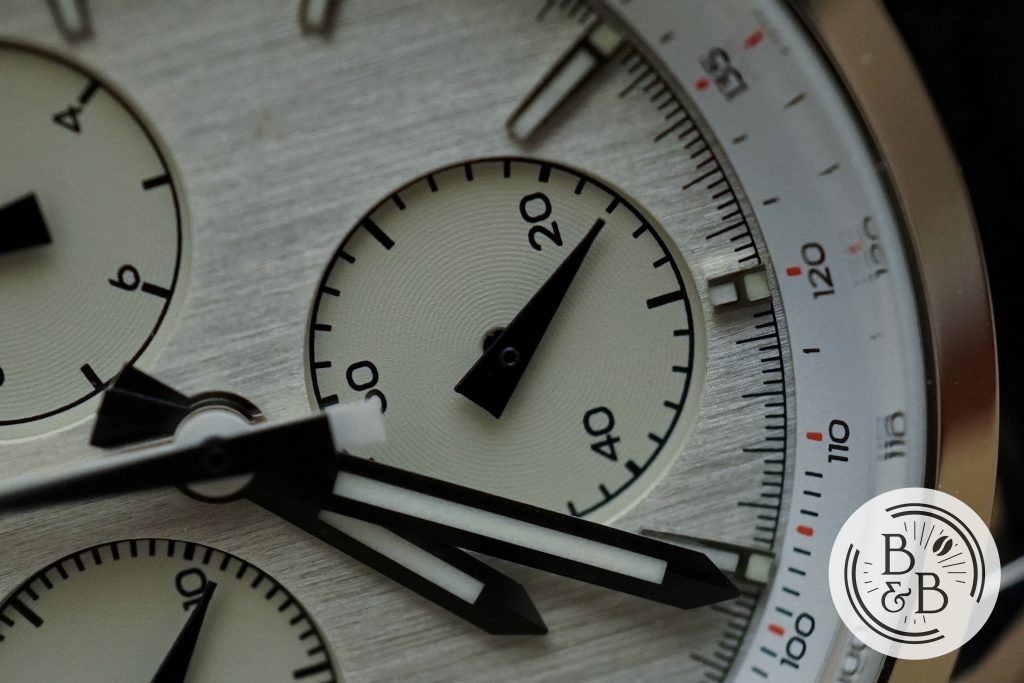 You then have three recessed sub registers for the running seconds hand at the 6 o'clock position, elapsed time counters on the top. These have circular ridges painted off white, with black text and flat black hands. Great legibility on all the registers.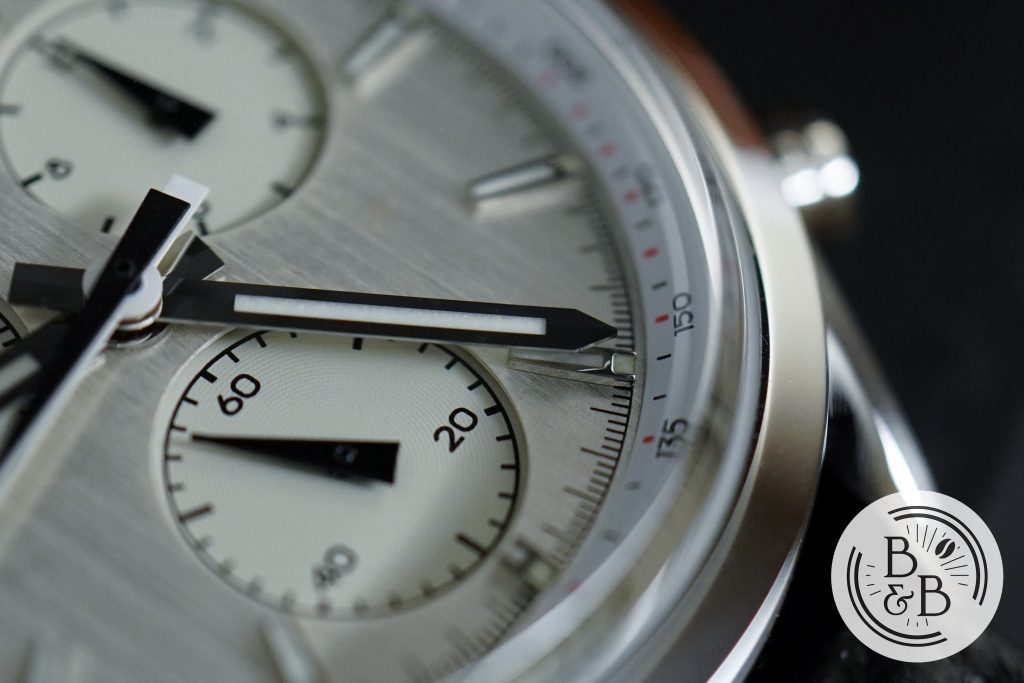 There are polished stainless steel hour and minute hands with lume filled sections. The quality of finishing on the hands is good and the proportions are good too.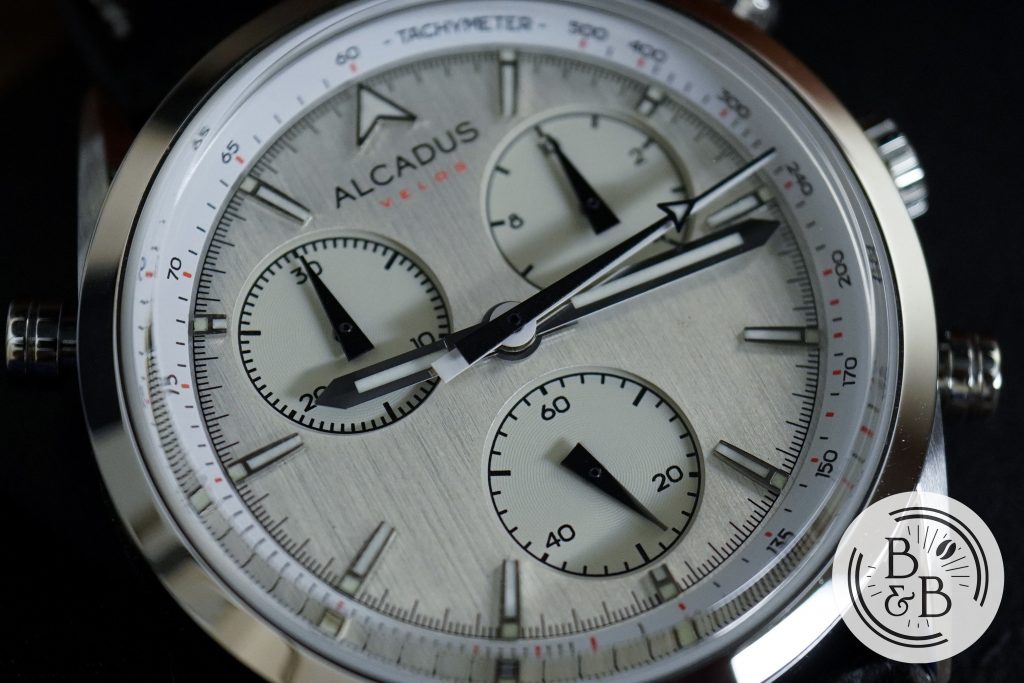 The chronograph has two seconds hands – a black primary hand, and a white split seconds hand under it. These hands will tick together unless the split second mechanism is engaged. When engaged, the black hand halts while the white hand proceeds. You can realign them to tick together by pushing the left pusher once more. The finishing on these hands is simple, with flat painted surfaces and good proportions. The main chronograph seconds hand has a lumed tip, which I thought was a neat addition.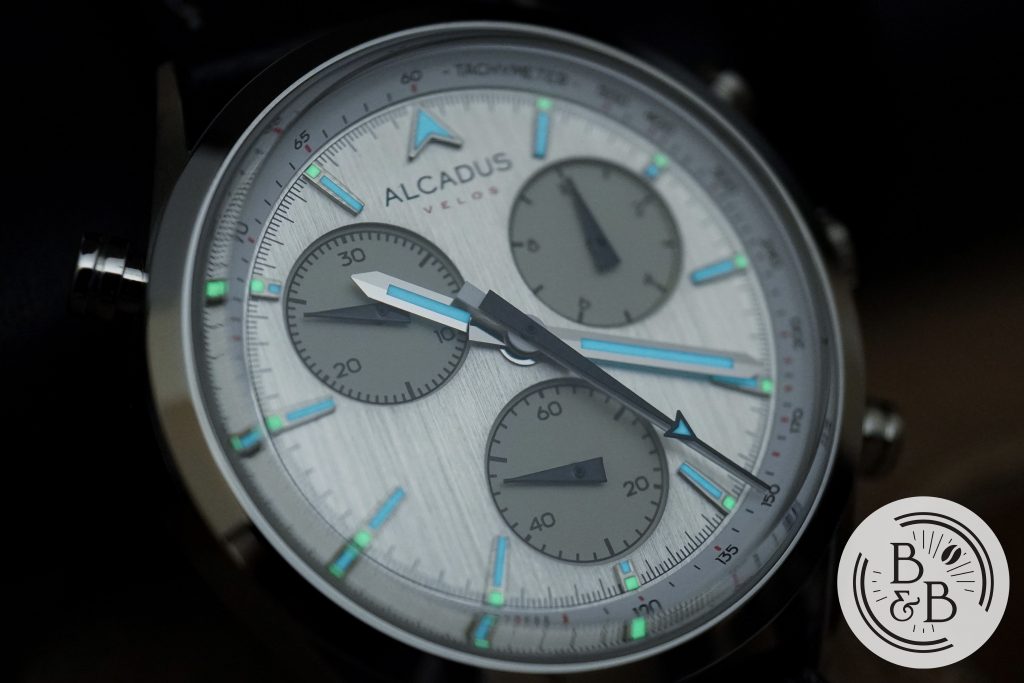 Overall I like the dial design. I think it is easy to read, not too chaotic and has excellent contrast. The finishing on the indices needs to be improved, and I also noticed some dirt under the right register that is likely limited to just this prototype.
---
Lume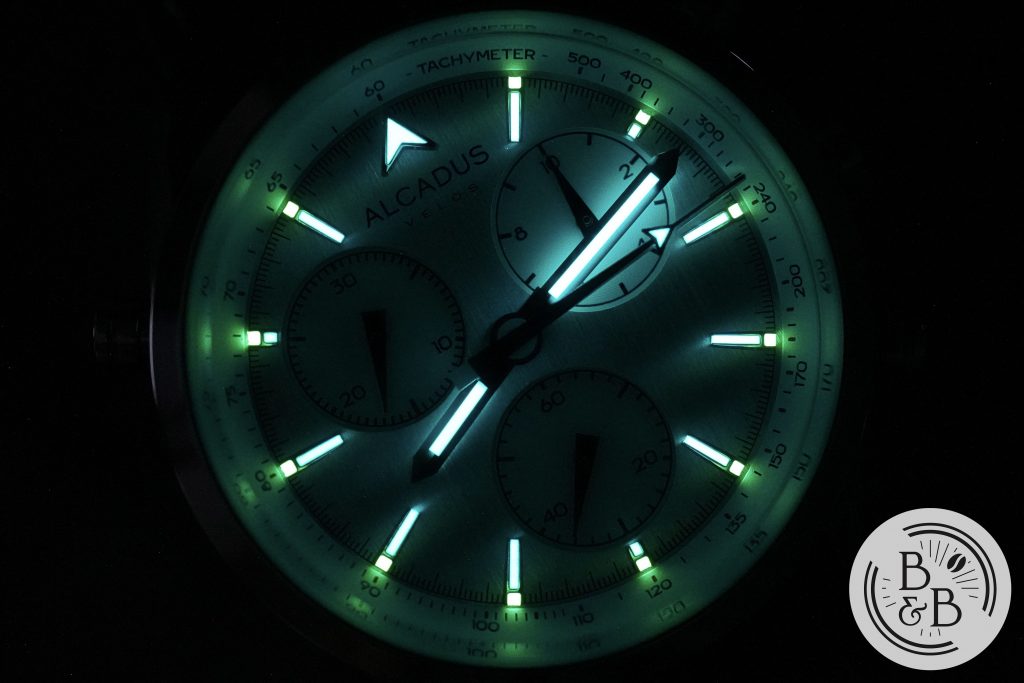 Racing inspired chronographs don't generally focus on night time legibility, and the lume is often lacking from both a design and performance perspective. The lume on this watch is good though, and all the indices are lumed.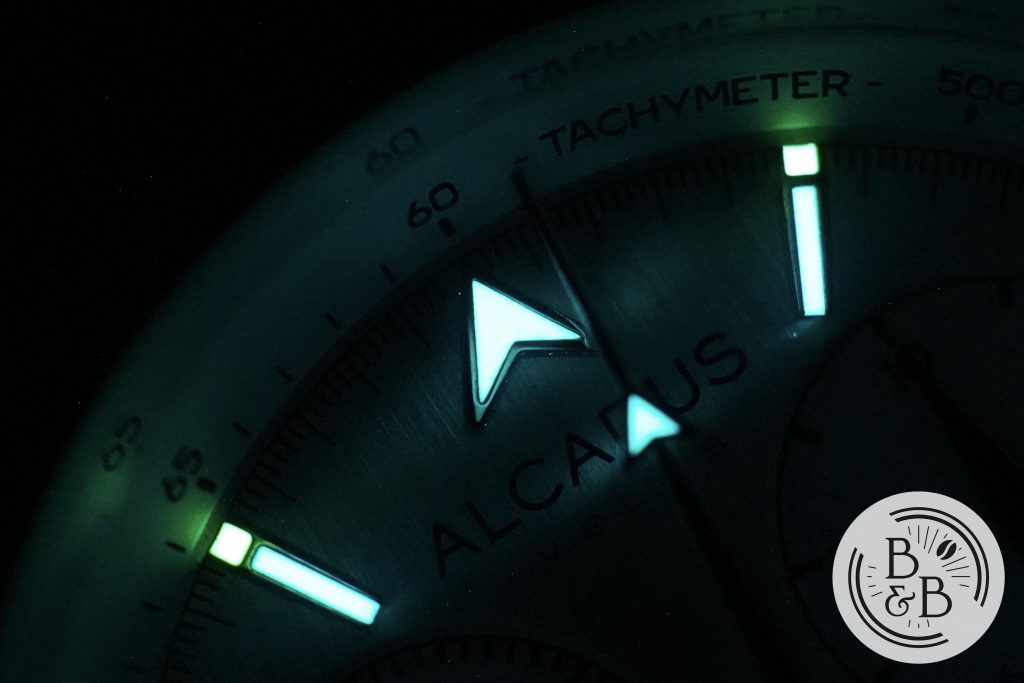 The three primary hands are lumed, with large lumed sections on the hour and minute hands, and a lumed seconds hand element. All the lumed elements glow reasonably bright and hold their charge well.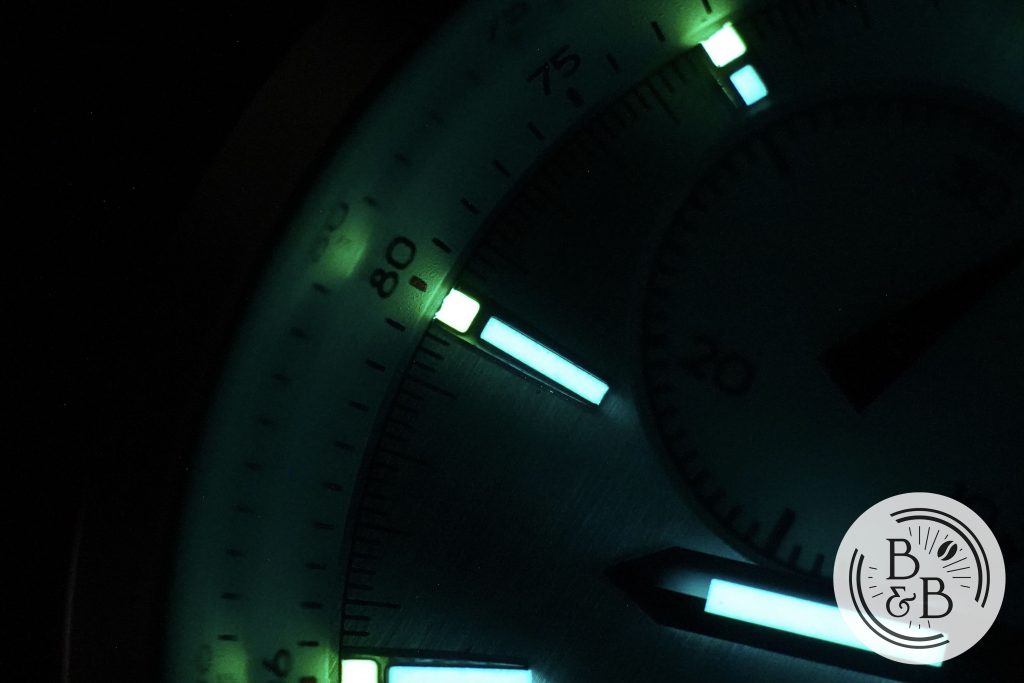 I like the use of bi-color lume on the indices, and I think that's a nice design element. Overall, this lume is more than adequate and I don't think anyone is going to be disappointed with it.
---
Movement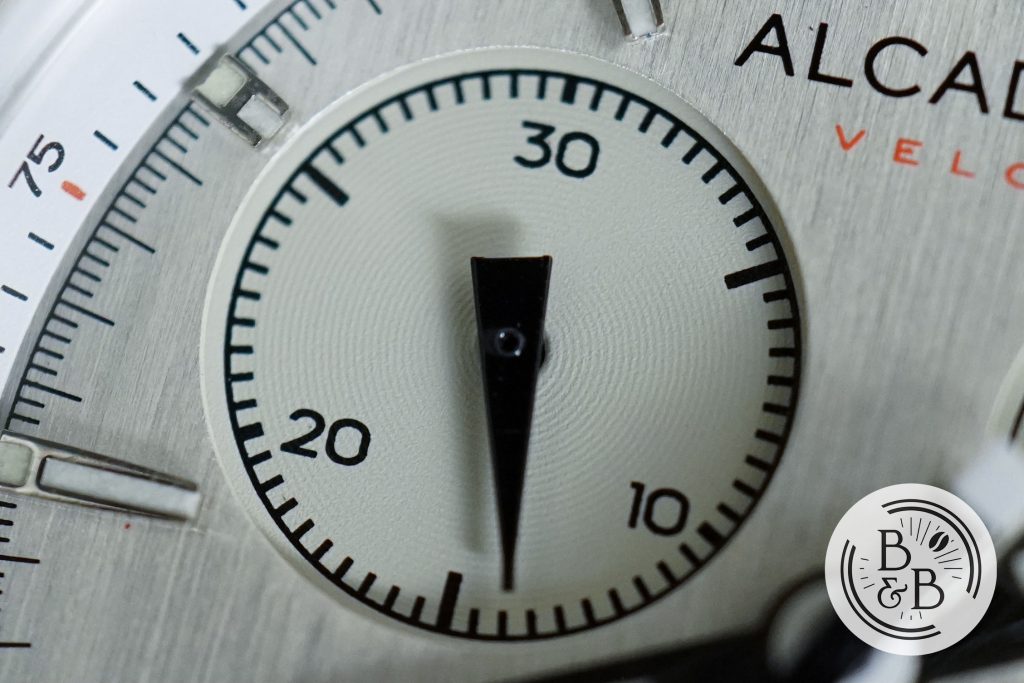 This watch uses the ETA 251.294 KP Flyback Precidrive™ quartz chronograph movement. This is my first interaction with one of these movements, and I definitely enjoyed it. I tend to prefer quartz movements for affordable chronographs anyway, and to get a flyback seconds hand as well as split seconds is a nice added bonus. These are both complications that were very popular among motorsports, so it is very fitting to have them on this watch.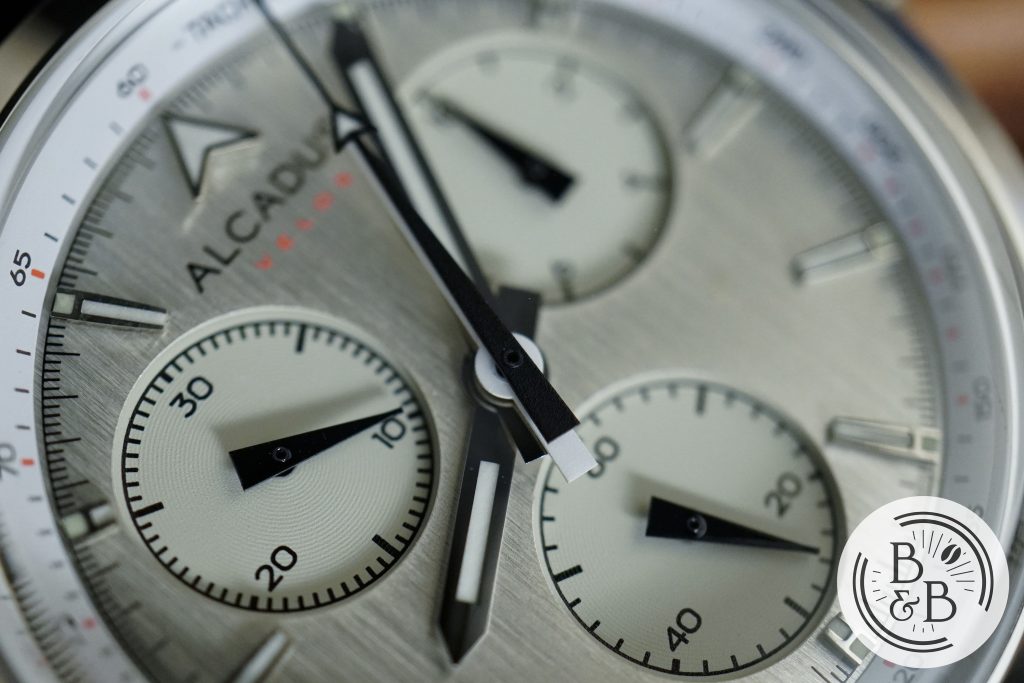 The button action is great, and the movement works as it should. While some may be put off by the fact that it is a quartz movement, I think others will find the flyback and split seconds very appealing.
---
On The Wrist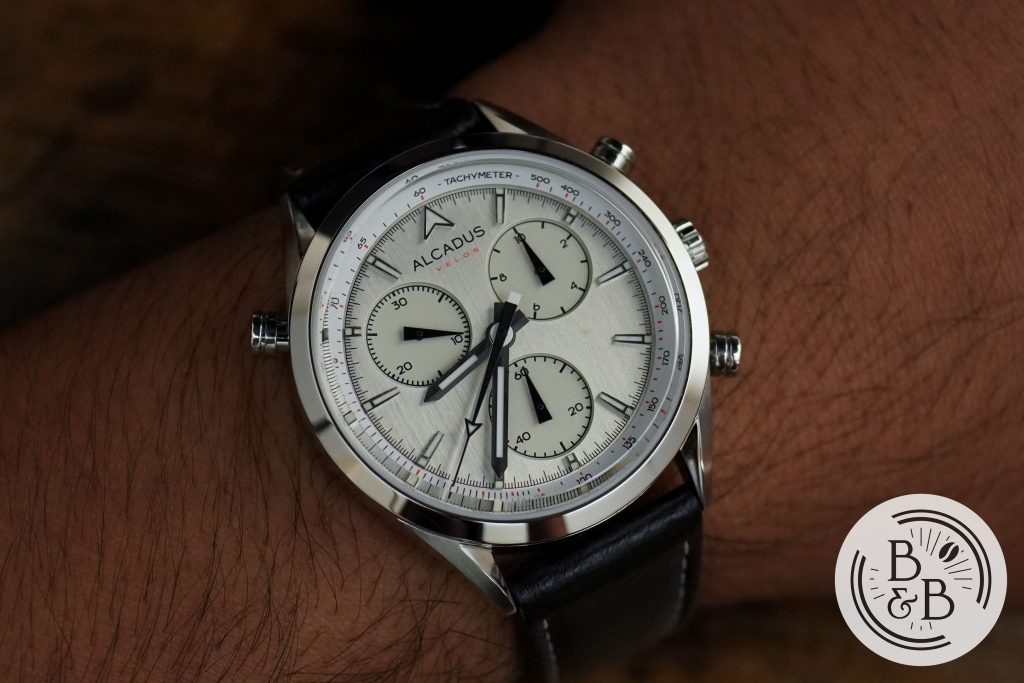 The 38.75 mm diameter and 45 mm lug-to-lug width translate into a compact wrist presence on my 6.5″ wrist. The 12.3 mm height is good, and the watch is well balanced on the wrist.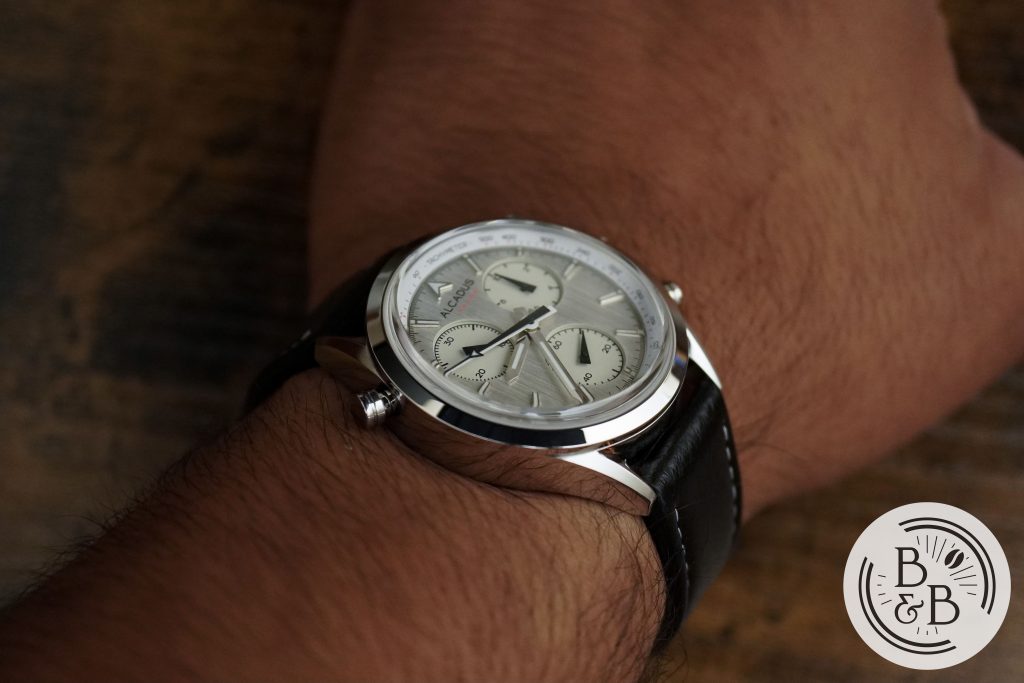 Many quartz watches end up being too light, and I've heard from many enthusiasts that weight is often associated with quality. This watch isn't too light but it's not as heavy as an equivalent automatic chronograph either.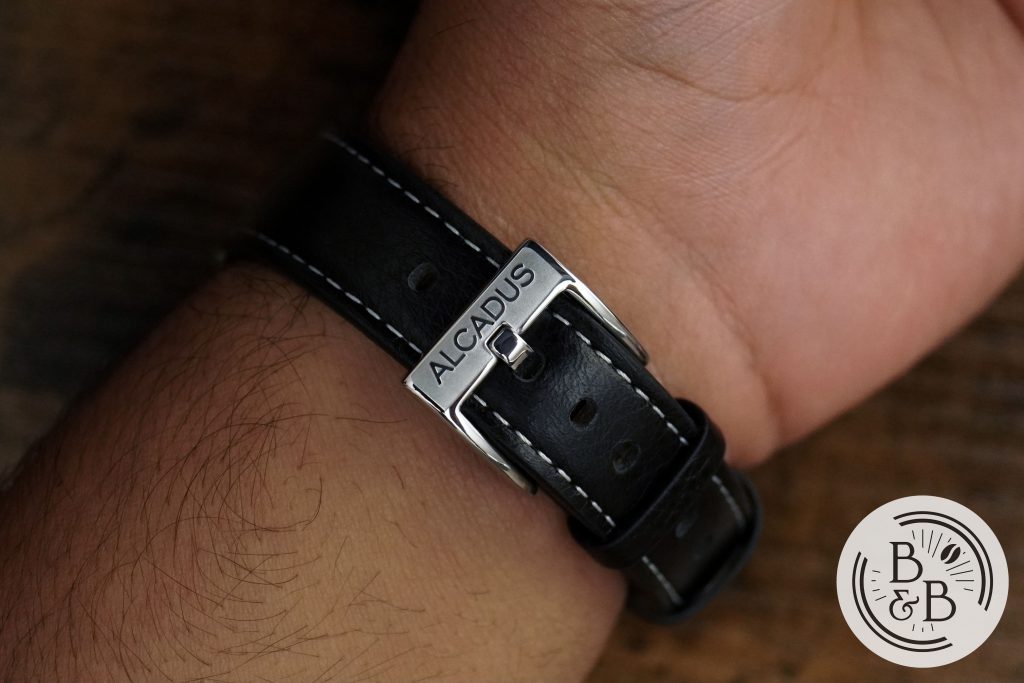 But overall I like how it wears, and they've done a great job supplying some high quality straps to go with their watches. You won't be swapping these straps for sure.
---
Concluding Thoughts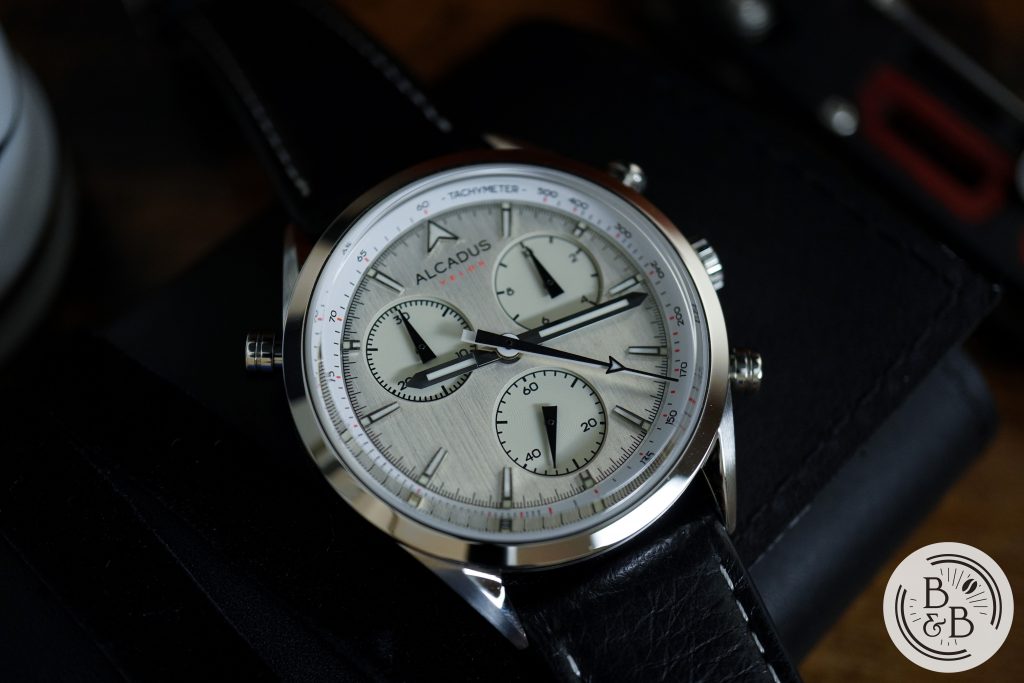 To wrap this up – I like this watch! Having a chronograph with a fly-back seconds hand and split seconds has been more fun than I expected. And since it is a quartz movement, you can't really mess it up so easily, which means fidgeting with it is even more fun. I think the designs are good and the case is built and finished well. The dial needs some more attention at the QC step, but this is a prototype and their last production model was finished very well, so I wouldn't be very concerned. At around $400, I'm going to say this one is worth considering if you're open to a quartz movement and if you're a fan of chronographs.
---
Strap Change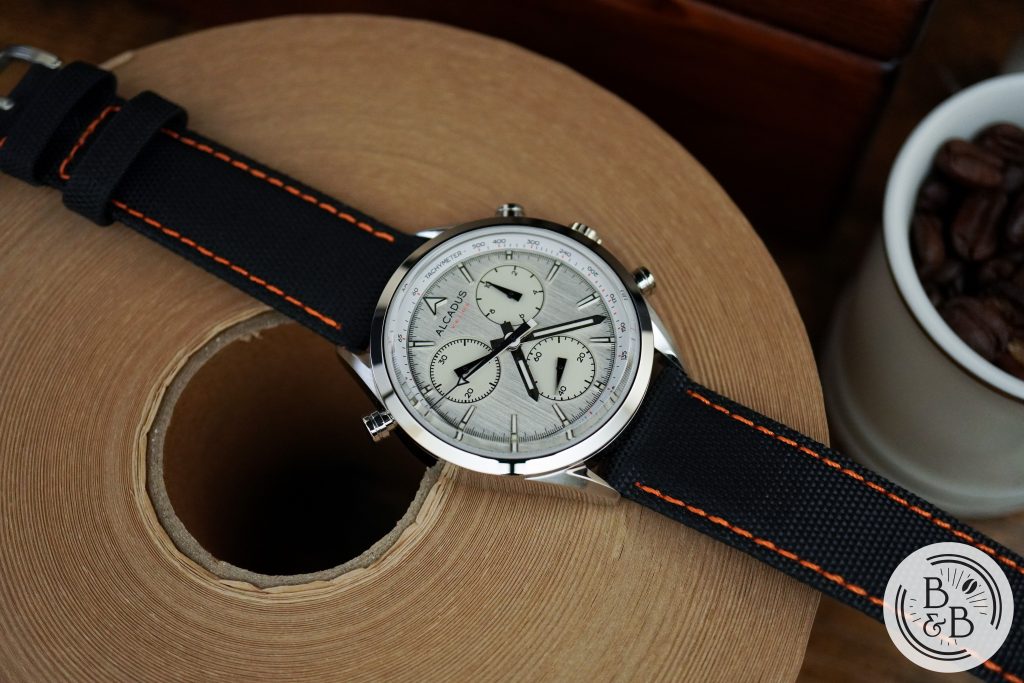 ---
Thanks for reading!